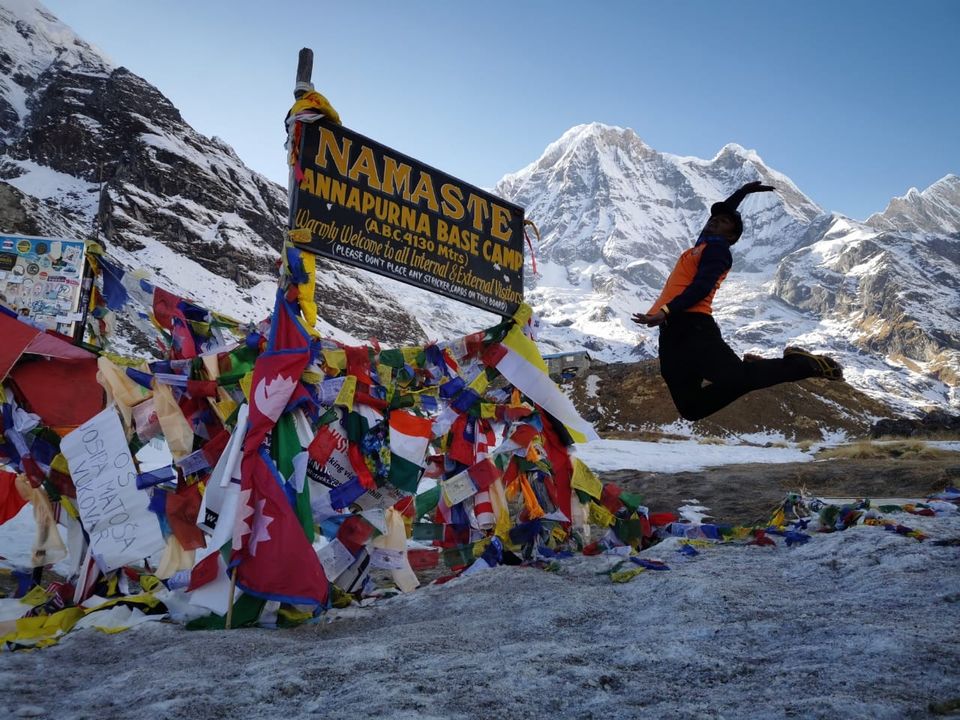 So this is about my long awaited solo trek trip to country i wished to visit one day.
When we hear himalaya another country comes in mind after India is Nepal. So after done Sandakhpu trek in dec2018, I wanted Nepal should be my next destination & I want to do it solo.
So after lot of search & different fb pages I decided to do Annapoorna Base Camp trek(ABC) with other small trek enroute.
I have decided this time because less tourists, mid snow, clear sky & winter just beginning. Trust me if you want to do ABC, mid December to mid January is best time. This time you can get all types weather conditions like days are warm & nights are cold, just proper packing makes it perfect. Because of time constraints(16days only) I travelled to & fro by flight.
My Travel route
Mumbai - - Gorakhpur - - Sonauli -- Pokhara - - Nayapul - - Ulleri - - Mohredanda - - Ghorepani - - Tadapani/Chuile - - Upper Sinua - - Deurali - - MBC - - ABC - - Upper Sinua - - Myutki - - Pokhara - - Kathmandu - - Mumbai.
So let's start journey
First Day 21st Dec 2019 I started from Mumbai to Gorakhpur via flight(since gorakhpur near to nepal & cheaper to travel). From Airport(3pm)reached near gorakhpur Junction by share auto(50rs) at 3.30pm. From there you will get lot of options like public transport bus, share taxi & pvt separate cab to reach nepal border sanauli(border town) . Since i have to reach border early i have taken share cab(300 inr) which took 3 hrs.
Its very easy to cross border you just have to walk through gates with no one is there to ask. You can exchange some INR to NPR(1inr=1.6npr) since in nepal carrying cash is better option also inr also accepted in most cities of nepal but not in many villages. . I got 7.30pm night local bus(normal)(750npr) to Pokahara. Reached Pokhara by 5.30am, take taxi(300npr)to backpackers hostel(550npr/day) where I got bed in dormitory with 10 beds.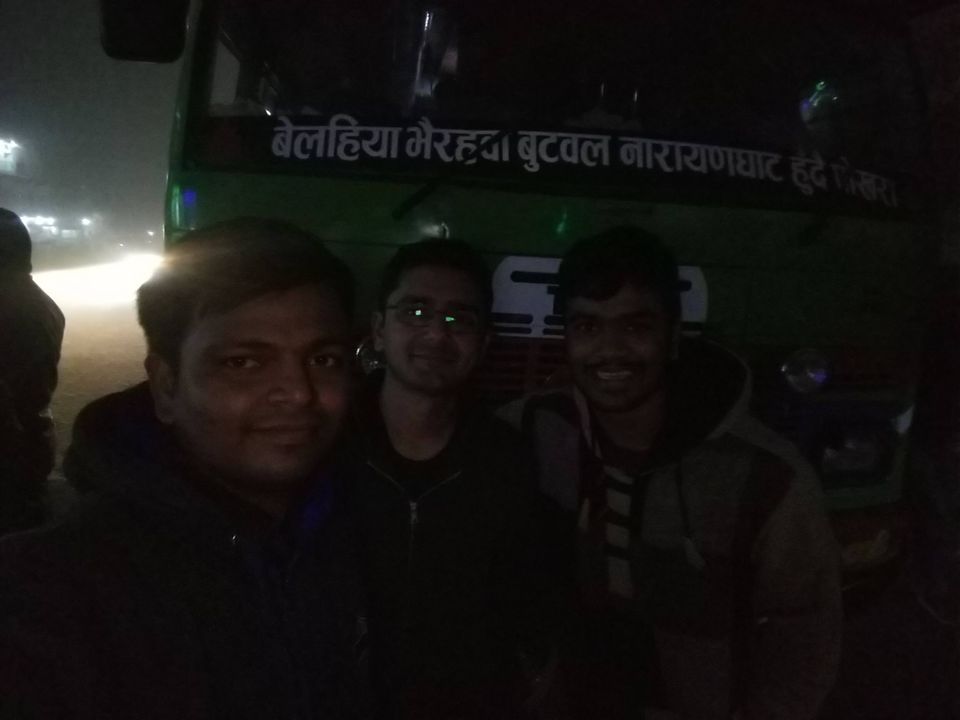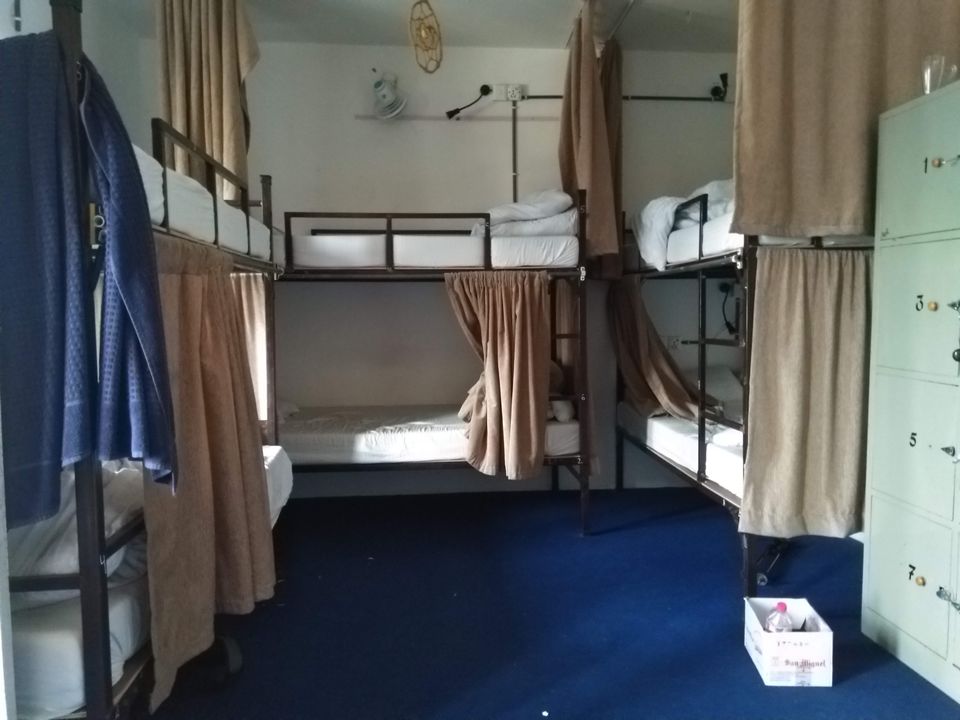 22nd December 2019
This day is relaxation & arranging documents for trekking.
For Solo trekkers you can get permit at Kathmandu & Pokhara. If you are going with agency then they will arrange it. Remember there is color code for agency & solo.
I got Trek permit(TIMS) & National park(ACAP) permit at Pokhara, both are necessary for trekking in annapurna region.It costs 2000NPR.This documents are very important & will checked enroute at checkpost.
This trip i made with Co traveller from Kolkata whom i met on facebook. Also discussed about plan & our dates are so decided to travel together.
Visited Pokhara lake, Had lunch & dinner near lakeside restaurants.Sleep early so that we can start journey early.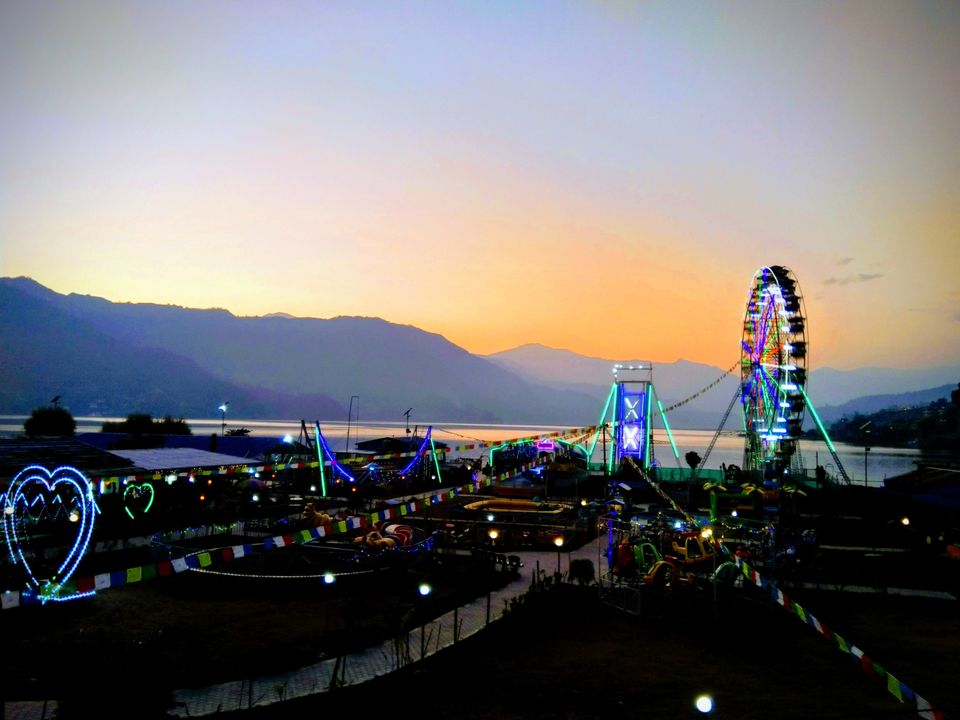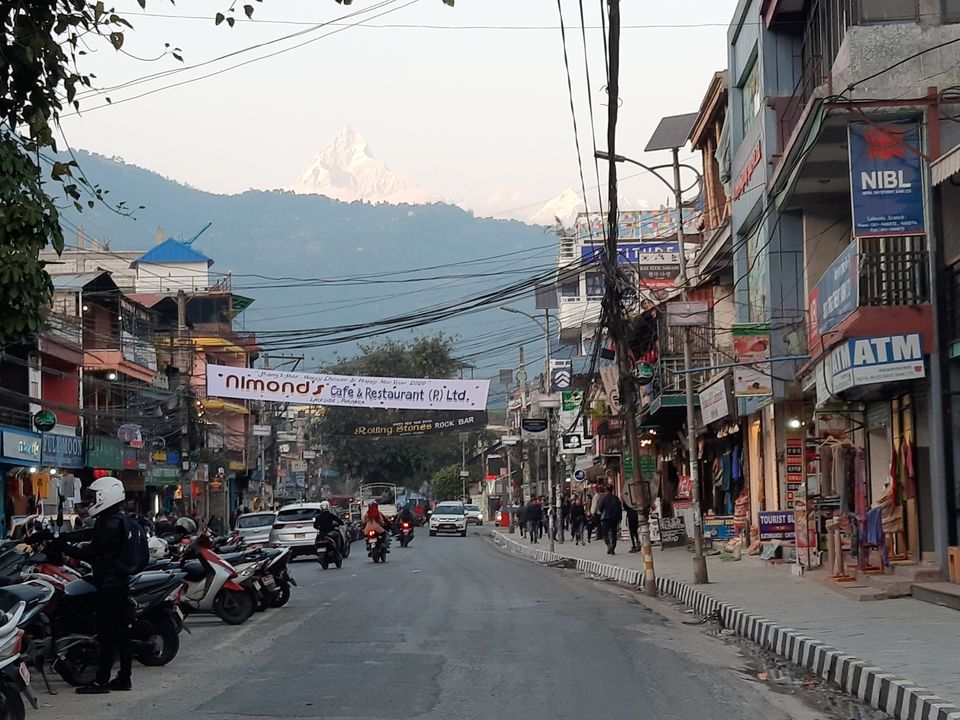 23rd December 2019
We started from Hostel to nayapul by bus around 6am. Rather than stop at nayapul we deboarded at Tikhedunga since most of the trekking was on road till tikhedunga(500npr).
From Tikhedunga we started our trek till upper Ulleri(2hr by walk) & stop at Himalayan guest house(2200mtr approx) . Host were very friendly & warmly welcome us since this is off season not much crowd & reasonable rate for staying. For food it will cost around 1000-1500NPR(breakfast, lunch & dinner) daily. First day hike with 12kg backpack was quite hectic since body is not properly acclimatized but it was ok.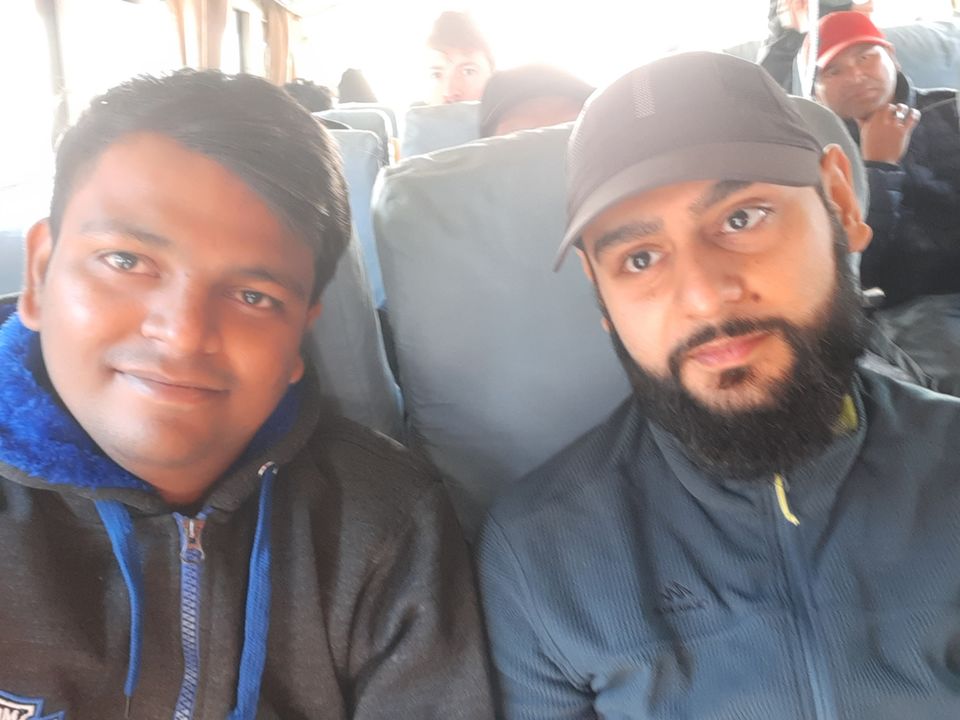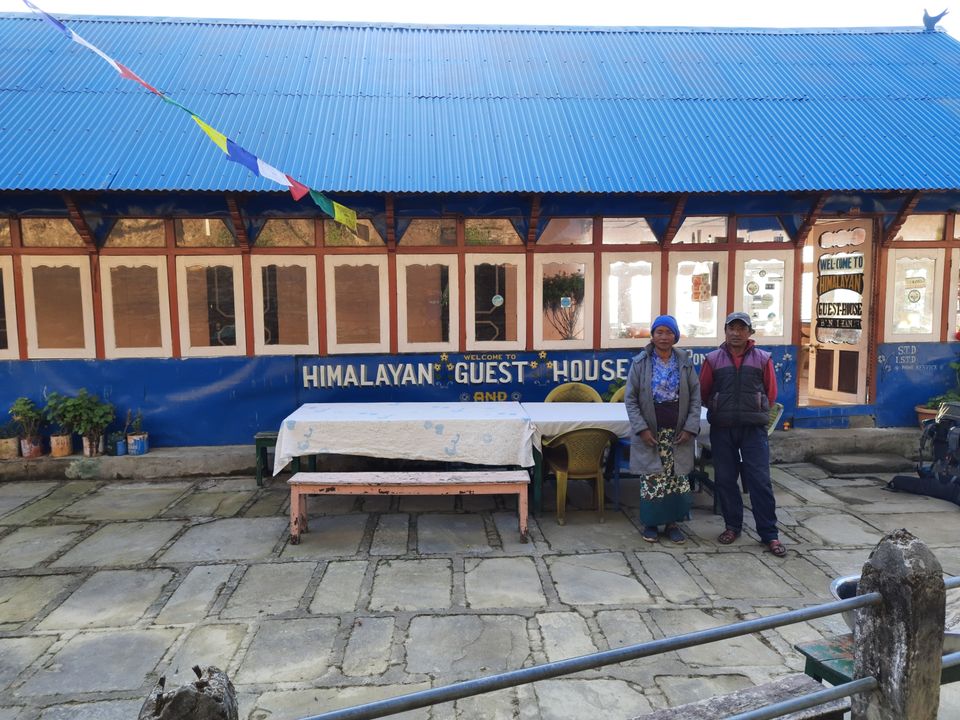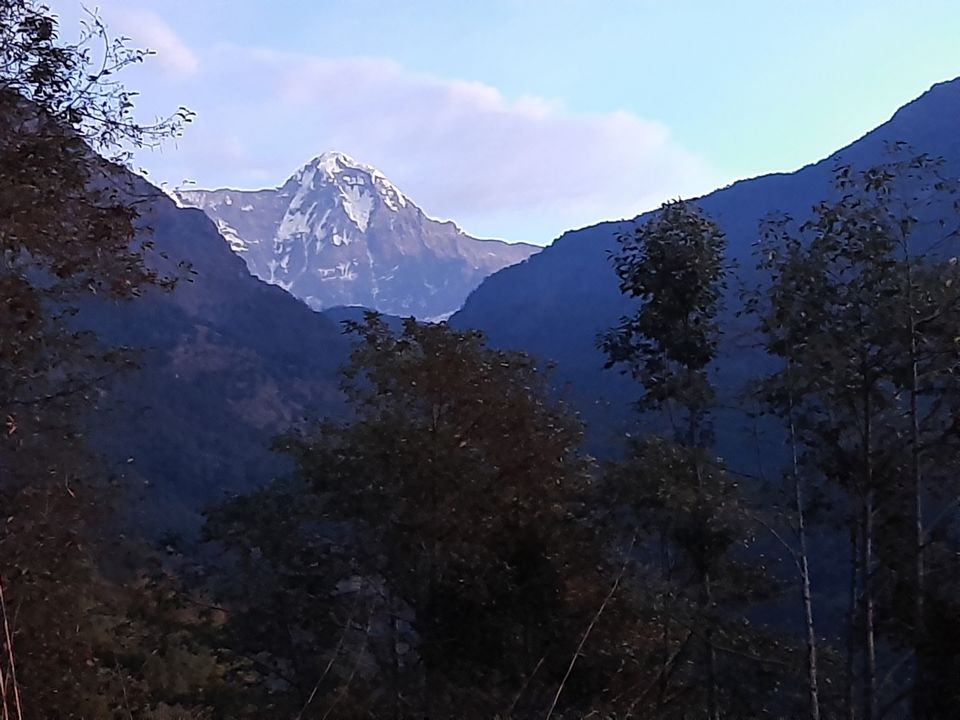 24th December 2019
For this day we planned hike to Ghorepani but last night we have good chat with owner of guest house & they suggested better place to visit.
So with this new destination we decided to change plan & proceed to new destination.
We don't know router but owner said follow white & blue strip which are flag/symbol/sign of local community till top.
First we lost route so we gone back to guest house then Owner showed proper route.
While going on this route & follow sign I can say once route meets dense forest its very difficult to follow proper path.
With Flag symbol marks on Trees are faded & not easy to find. Lot of time we used basic insticts & proceeded accordingly. This was very hectic our water was close to finish.
We seen 2-3 under development guest house but no one was there. With sun going down after 4pm we were little anxious. Our Water finished. Finally around 5.30pm we saw guest house & some person at top. We literally run on snow to get there before too dark.
This place is Moharedanda(3300mtr)
So once we reached local guest house the view is mesmerizing. This place is totally occupied by snow after 15 December snow fall.
Not many peoples come here but view from this place is awesome. You can see Dhaulagiri range & Annapurna range better than poon hill.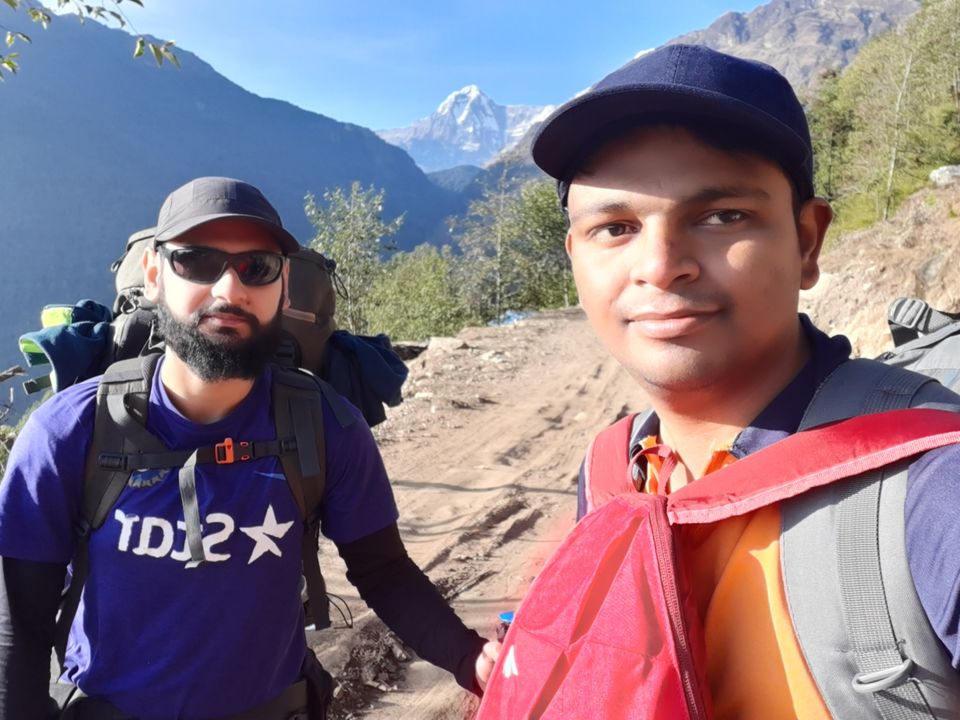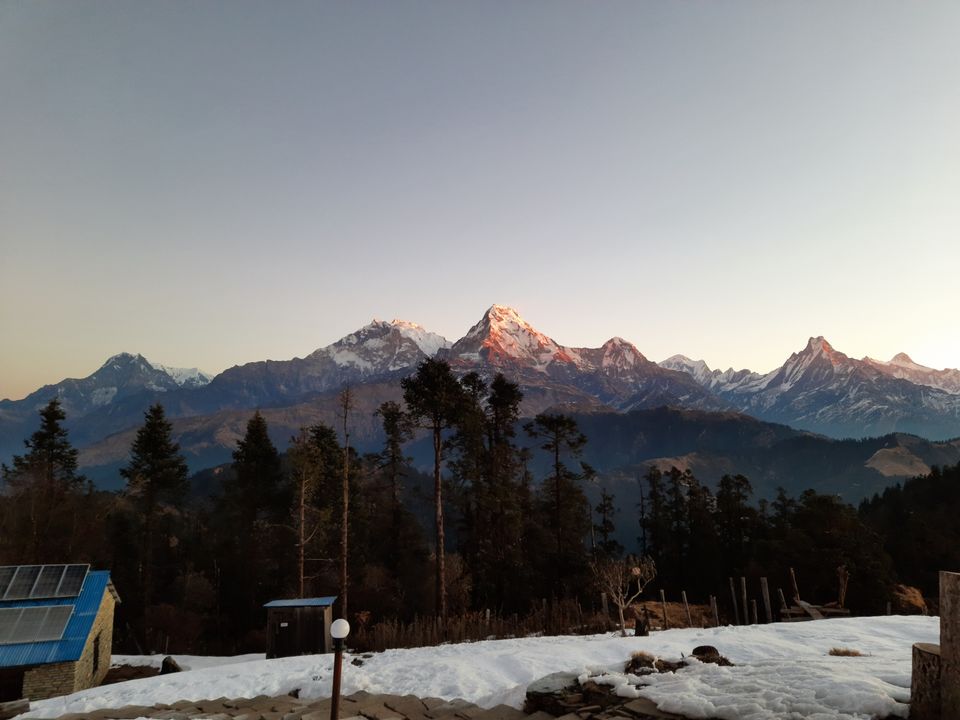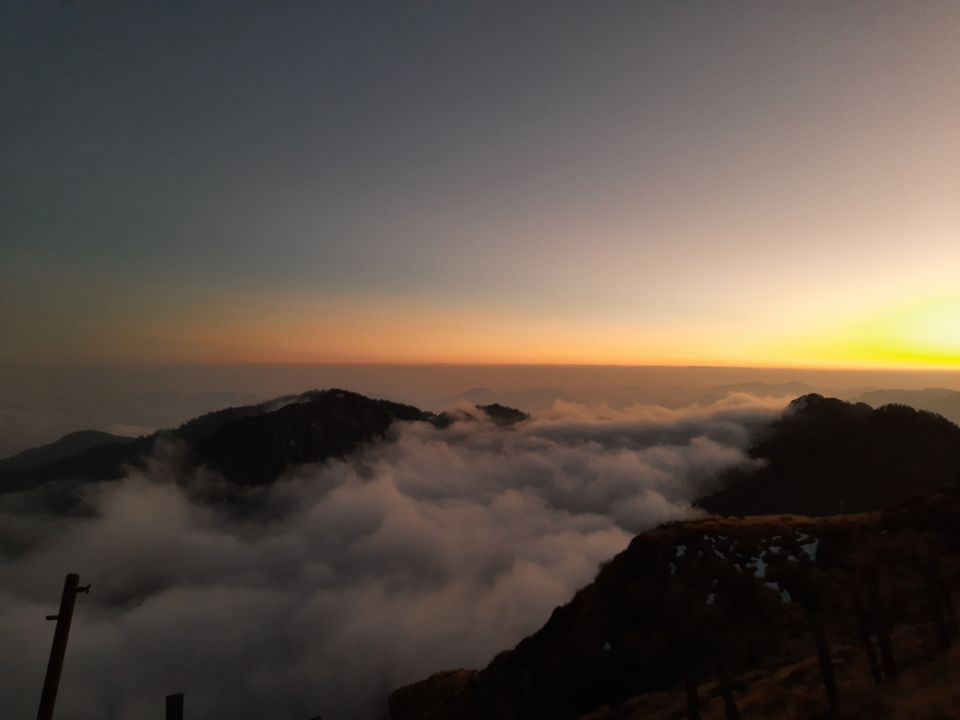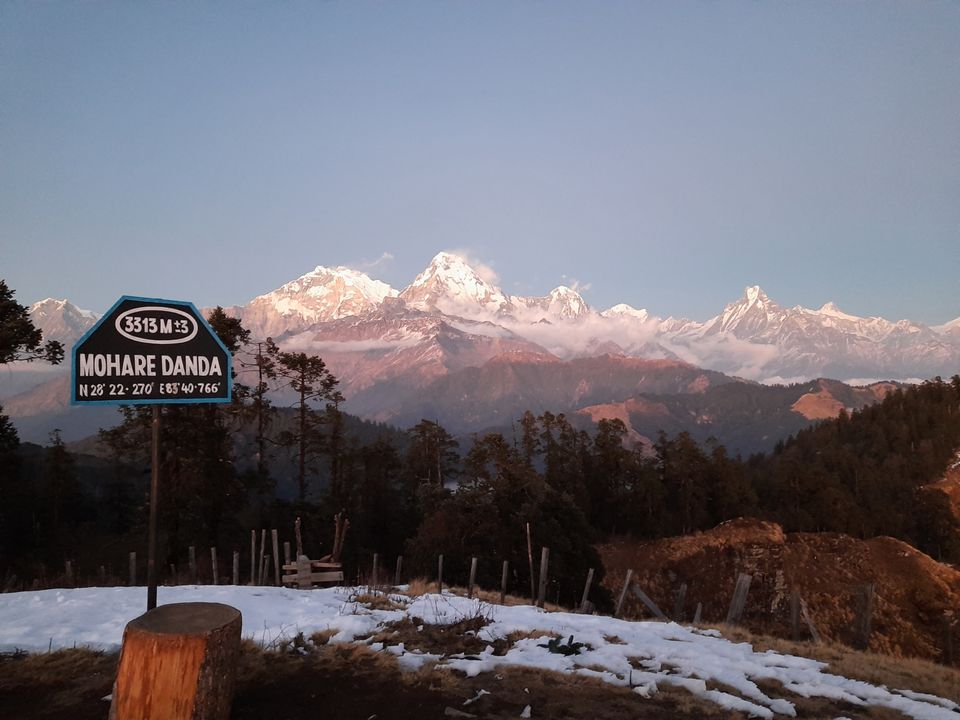 25th December 2019
This day we both are very relaxed no early morning wake up, good sleep & good food helped to gain all strength which we lost due to previous day long journey.
We enjoyed each moment here.
Locals informed us that normally trekkers comes via Poon hill to Moharedanda since proper route is there & go down by same route or by forest route with guide.
But they appreciated us that we followed local people route but advise next time come with guide if you want to explore unwanted route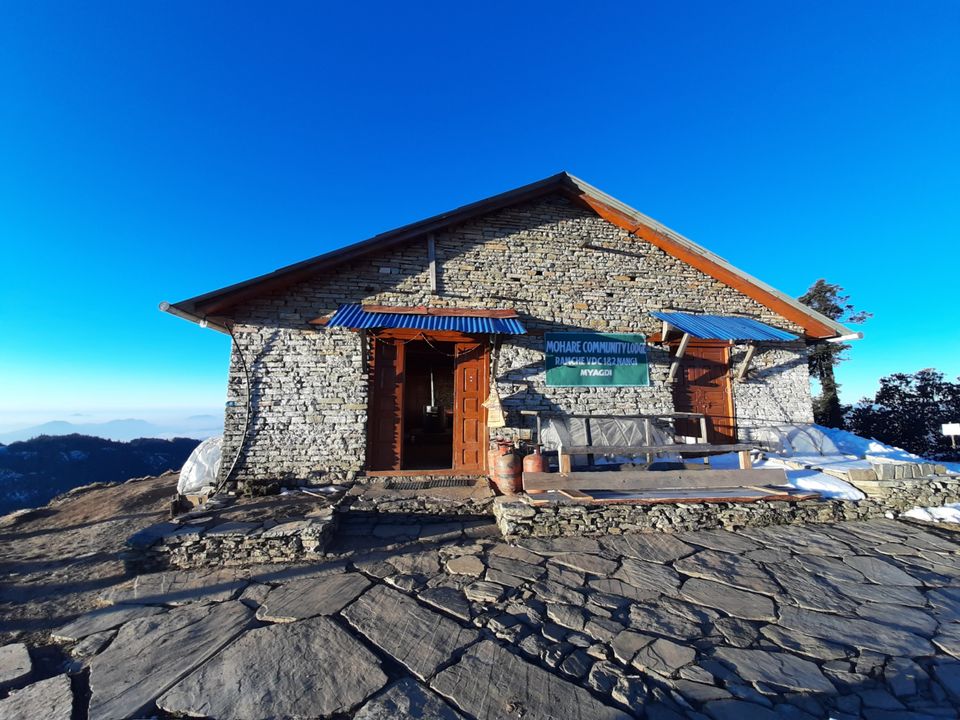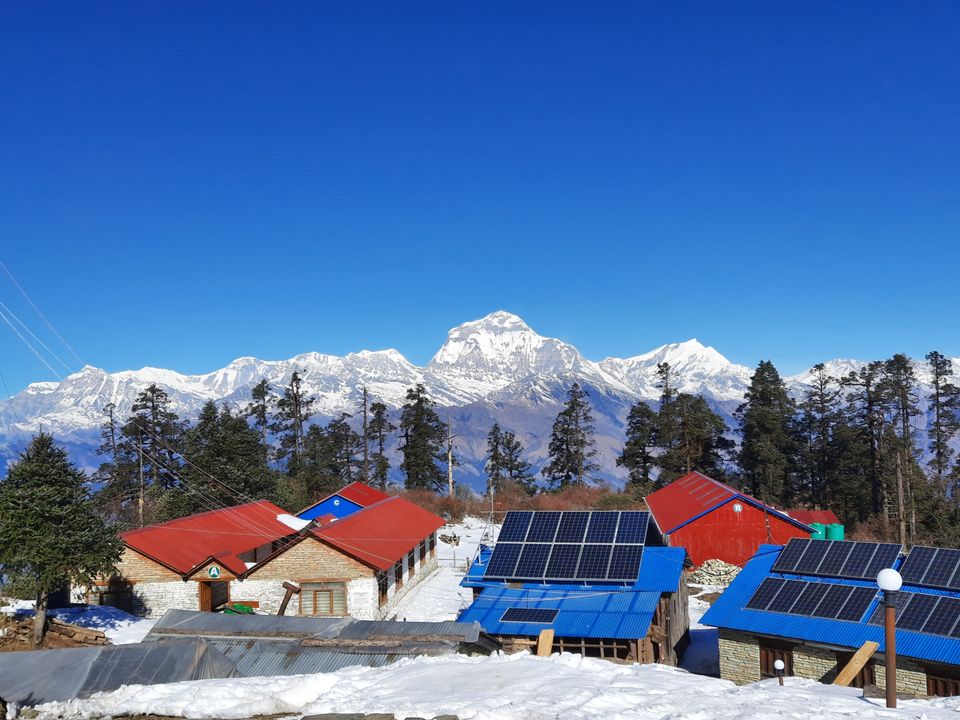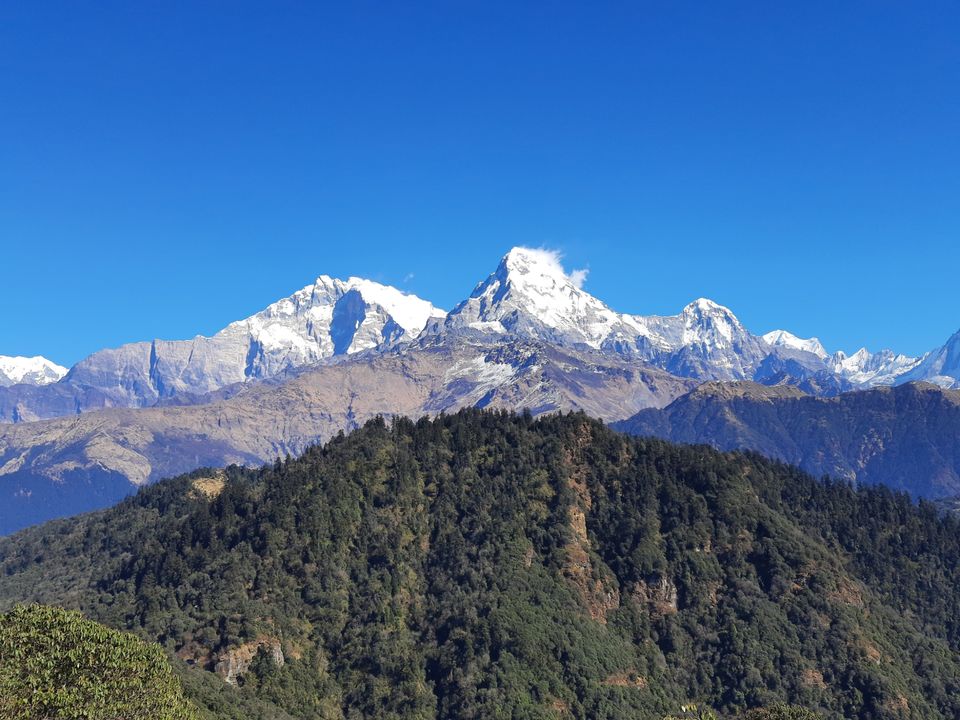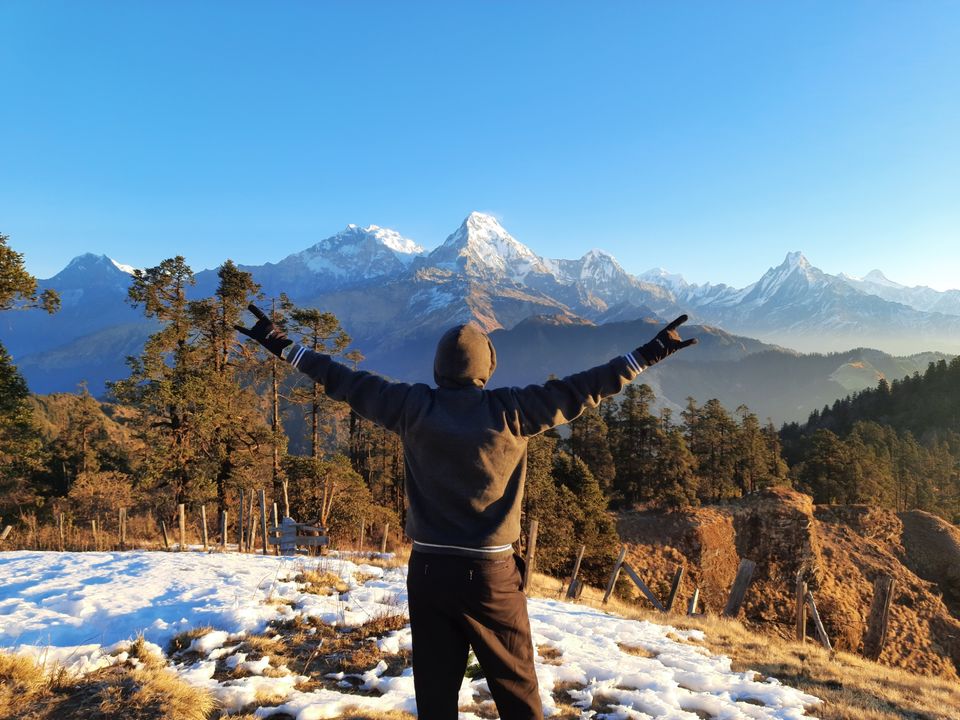 After breakfast we decided to reach ghorepani till lunch time since it was all descent.
It was hardly 2hr trek but due to snow route is very slippery, also ice was melting which made our speed but still we manage before 2pm.
This route is via Poon hill. Till Poon hill lot of snow after Poon hill to Ghorepani proper route.
Ghorepani I have hot water bath, This is after 3 days. Nice food, meet lot of follow trekersfrom all countries, many guides from Nepal.
From here route to ABC is common so most of the people we met again.
This day was very realxing for body but in mountain you can't relax since more danger is coming our way next day😂.
26th December 2019
So early morning we decided to leave, due to long trail & some descent & ascent.
This route is full of snow, ice❄️, here descending is very difficult since all route have stone stairs & there was ice layer on it which made it very slippery. As we started early we have got enough time for descending but without crampon its very difficult. Most of the people stucked this route, Those who have planned for Chuile have to adjust at deurali.
1 person beoken his leg due to fall, even guides also find this few times at such route in decade.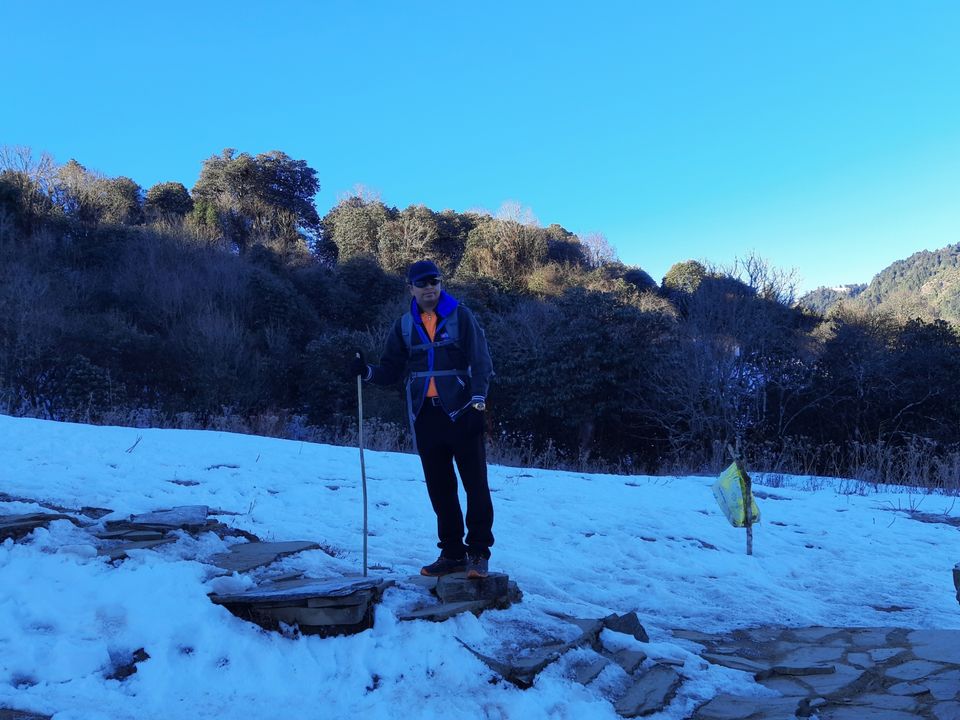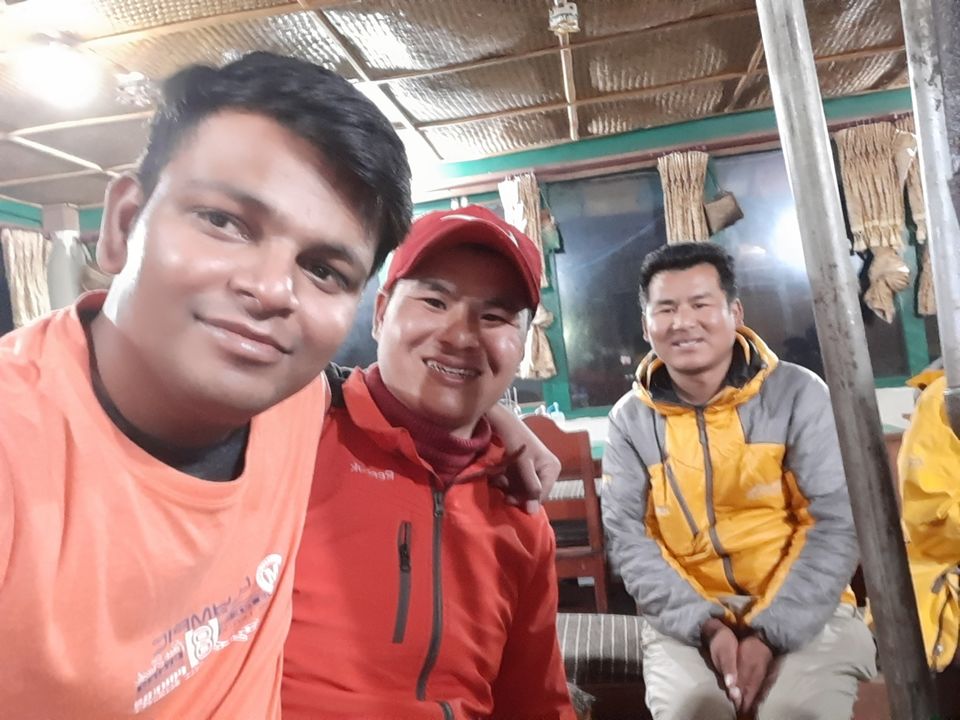 27th December 2019
Today we moved from Chuile to Upper Sinua.
This day its normal walk, little descent & ascending. Its hot while trekking, you can see bamboo & Rhododendron forest on route.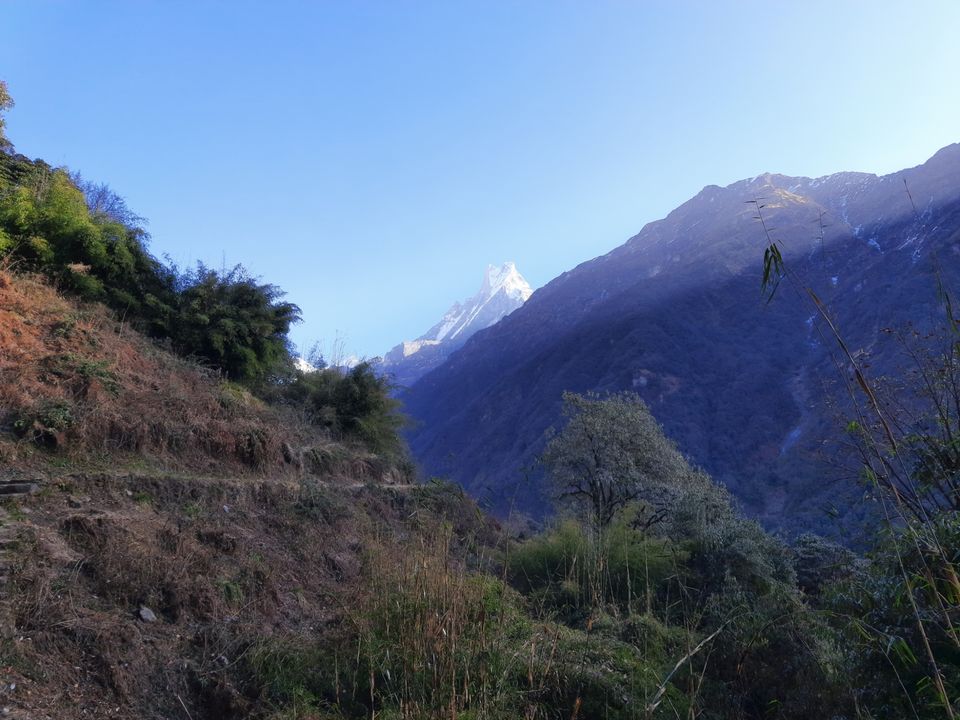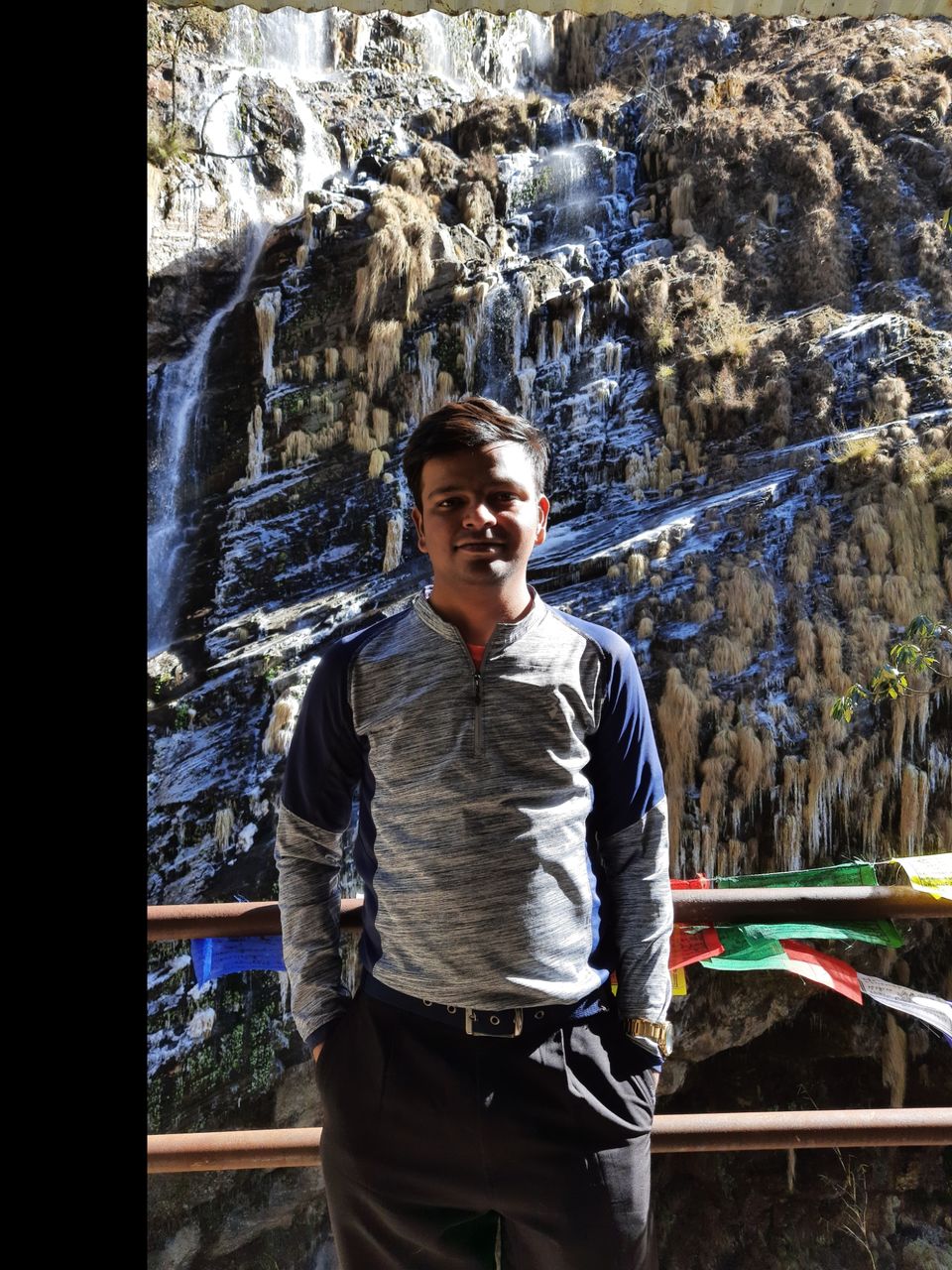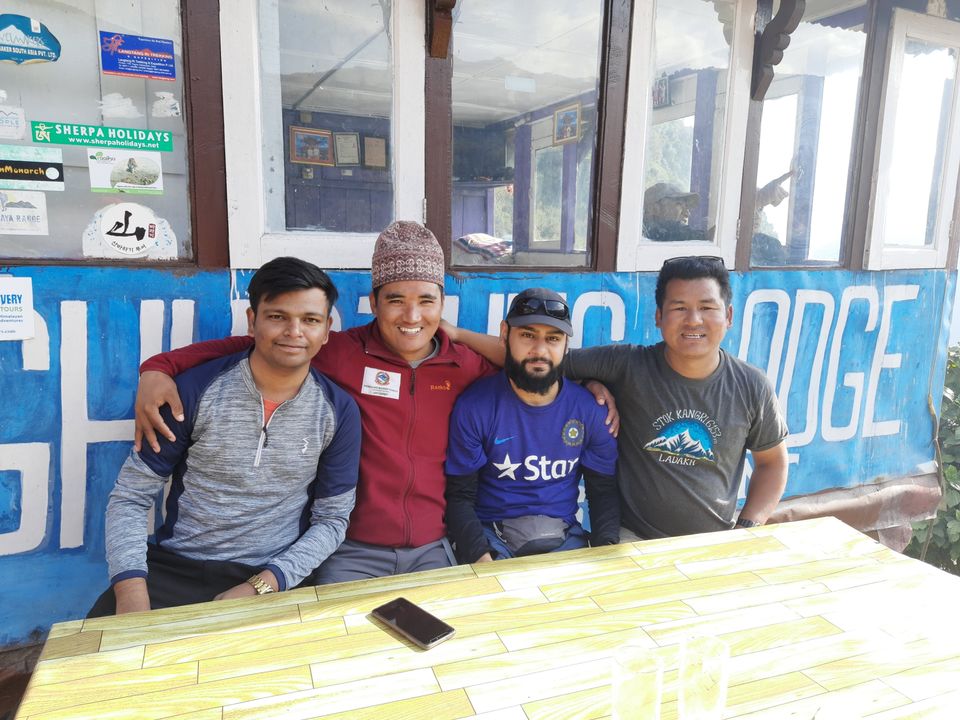 28th December 2019
From upper sinua to deurali total ascending, proper route for trekking.
Note: you can keep extra luggage at Upper Sinua or deurali.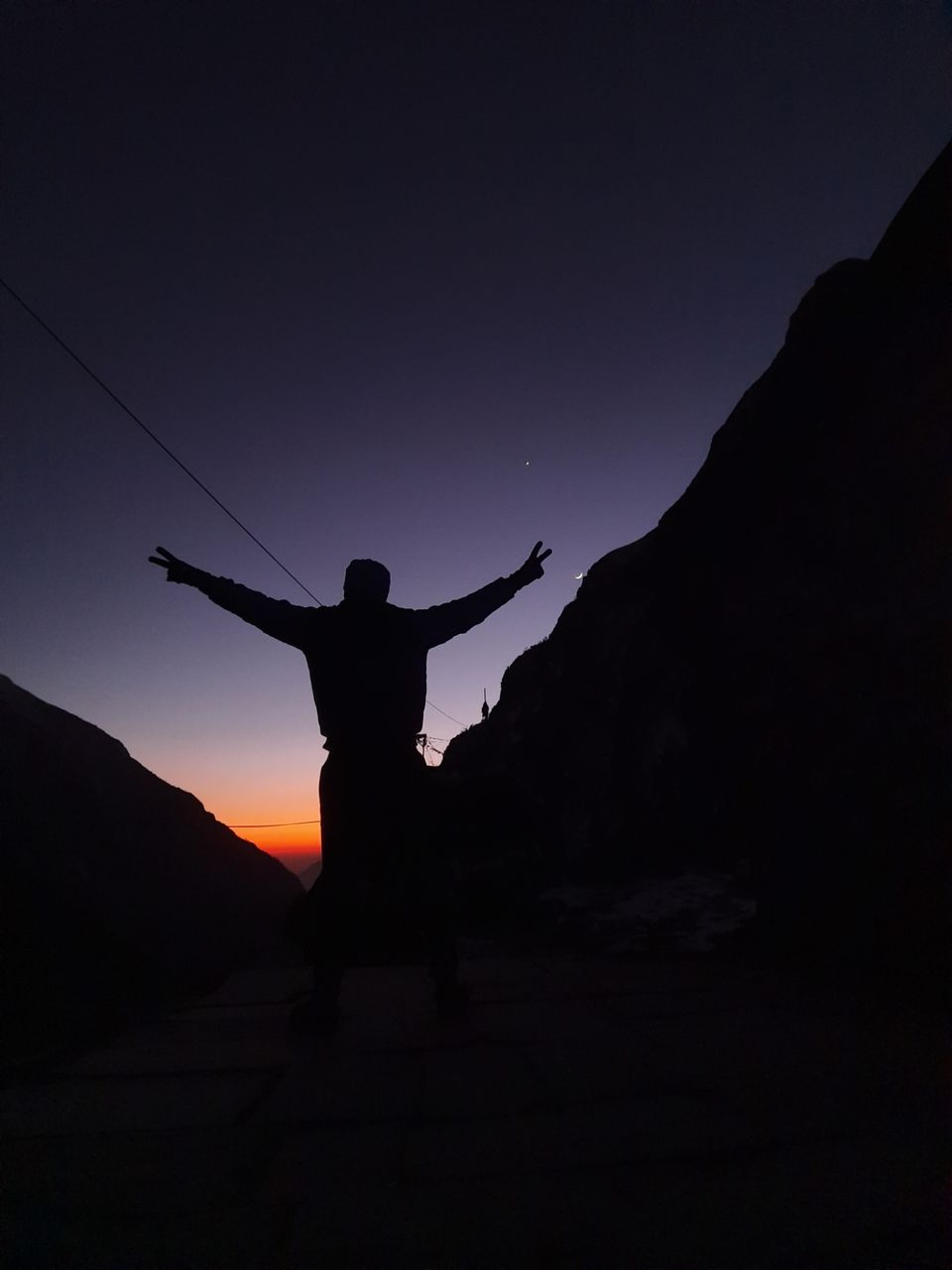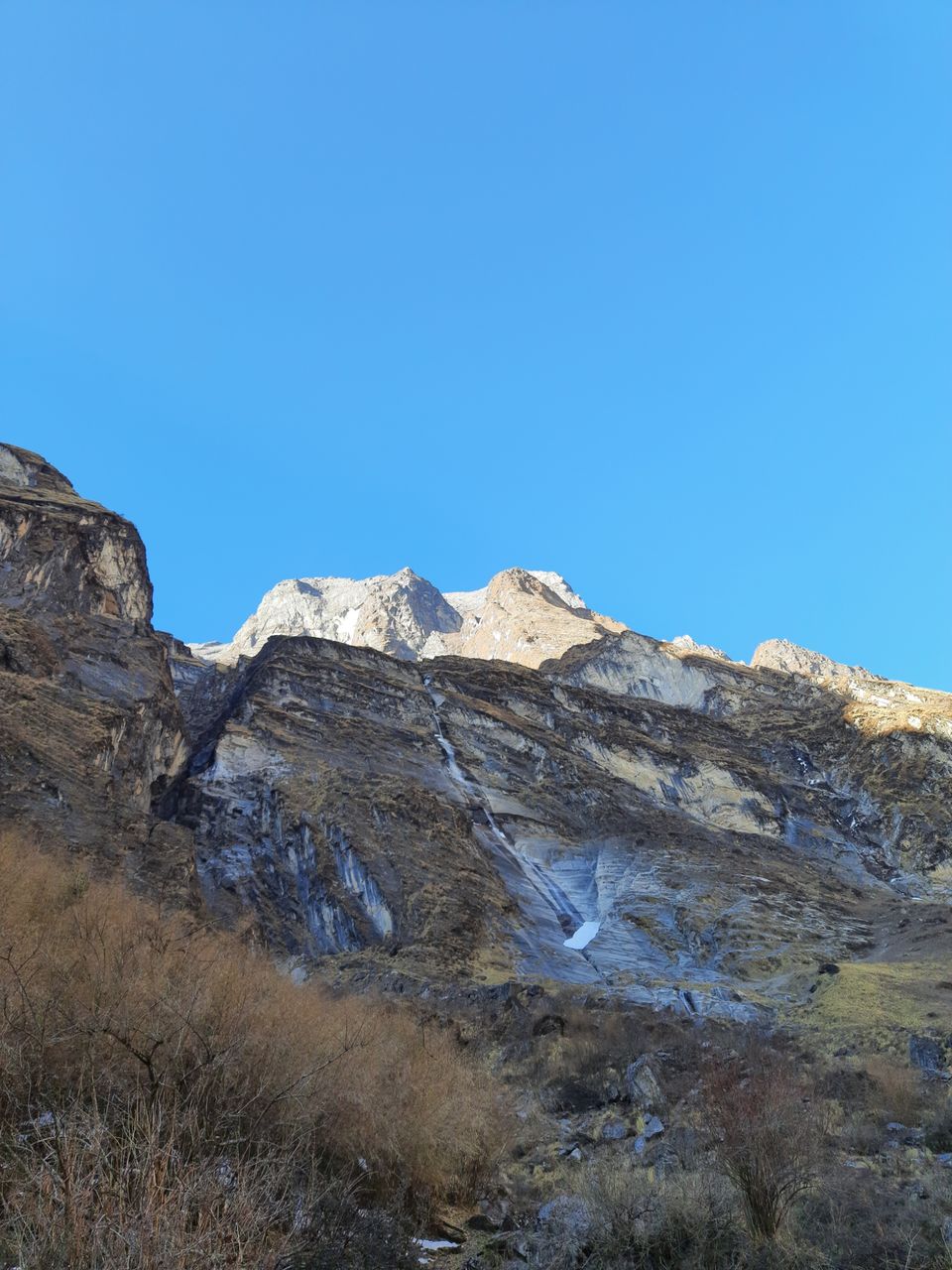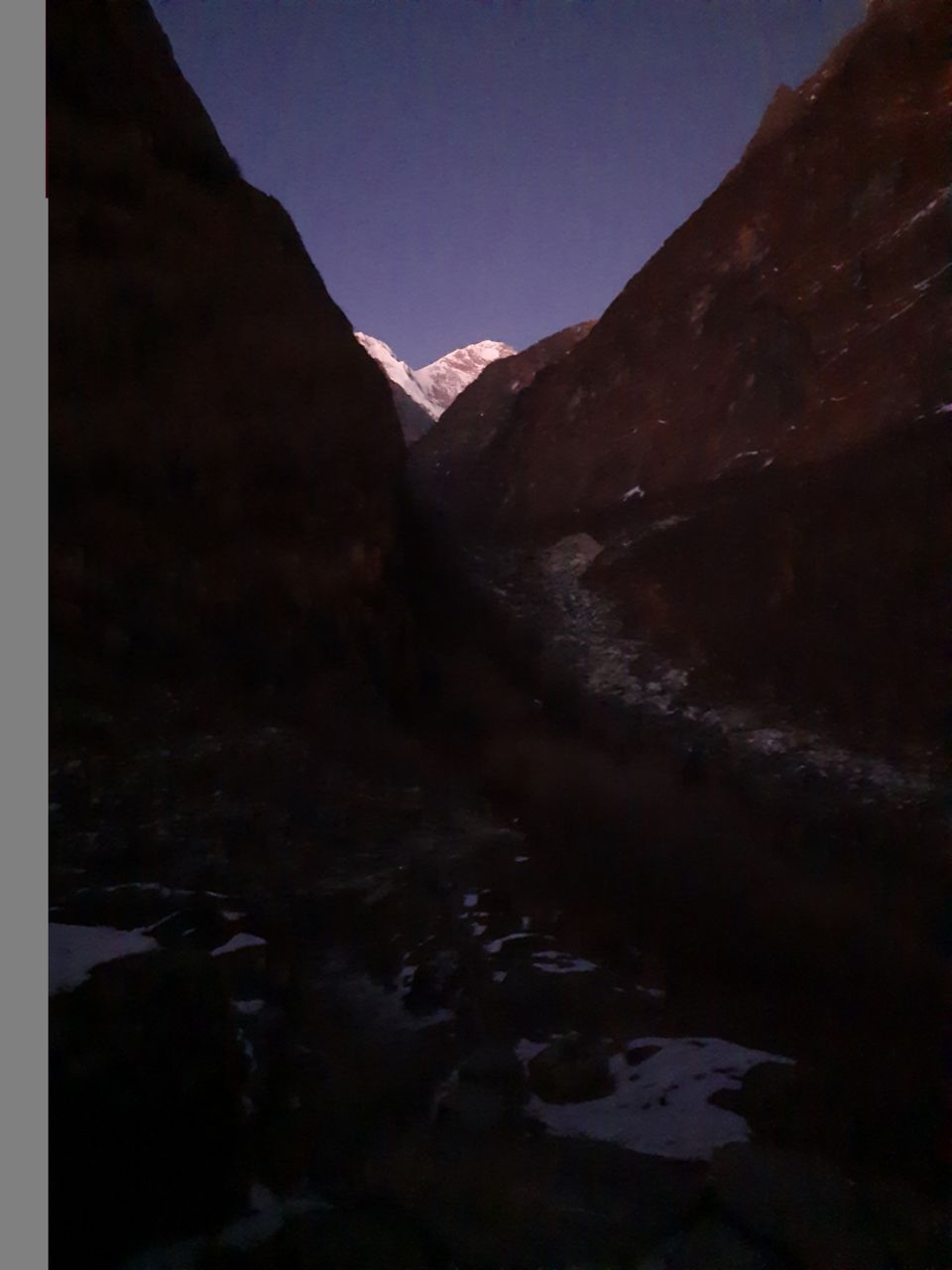 29th December 2019
Deurali to ABC this day its less distance but its ascending also with routes have snow & rocky patches. Lot of fun while trekking we reached afternoon have fun in snow with fellow trekkers. Its awesome experience to complete this trek. All ABC camps surrounded by mountains. Its very pleasant, also you can view galaxy.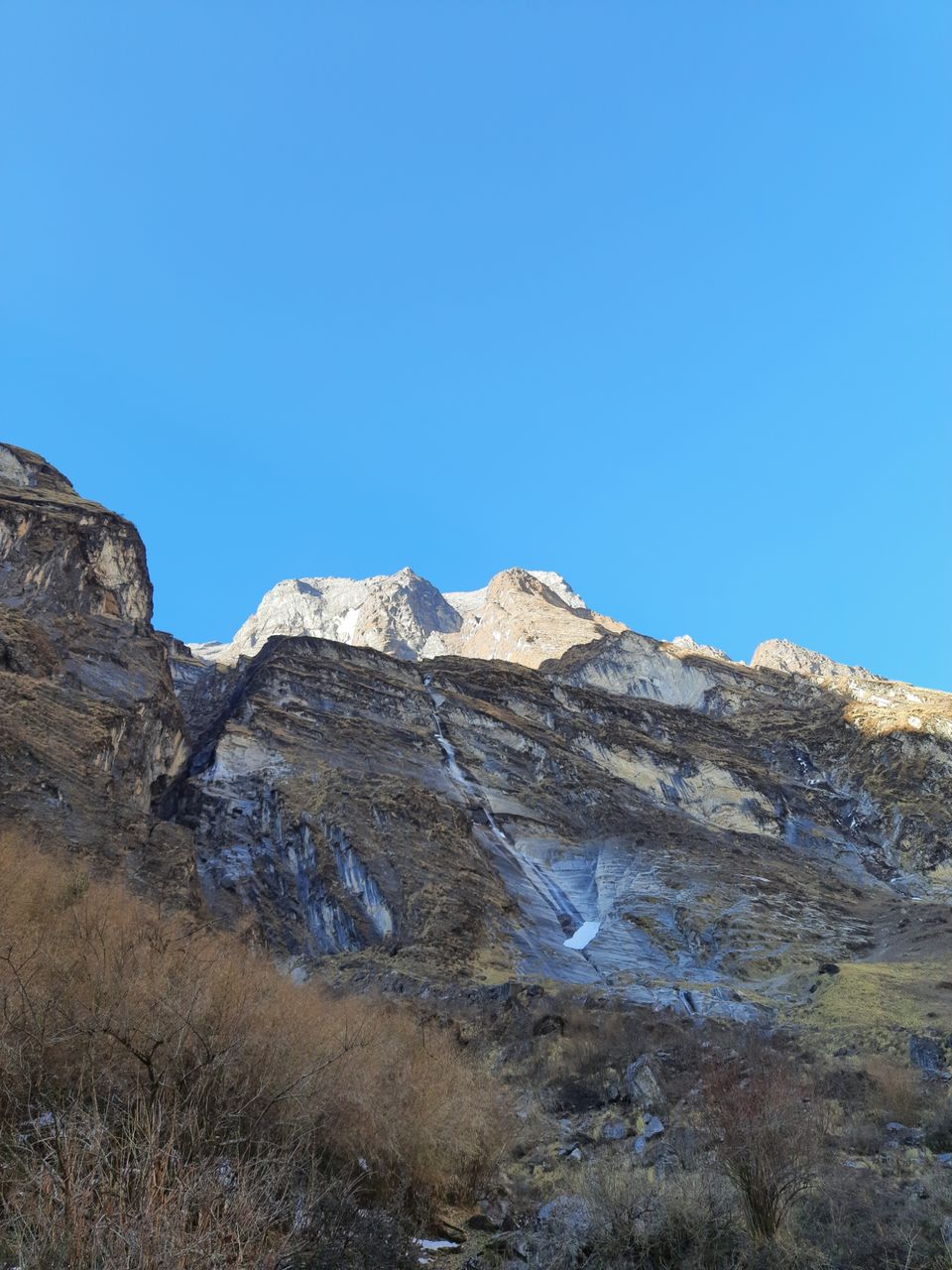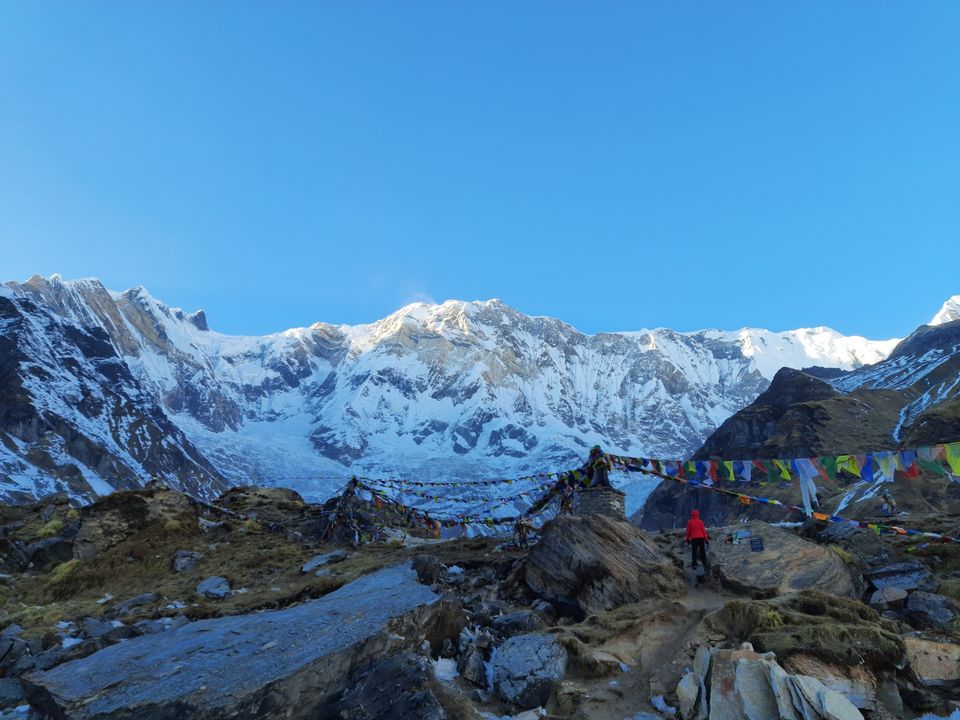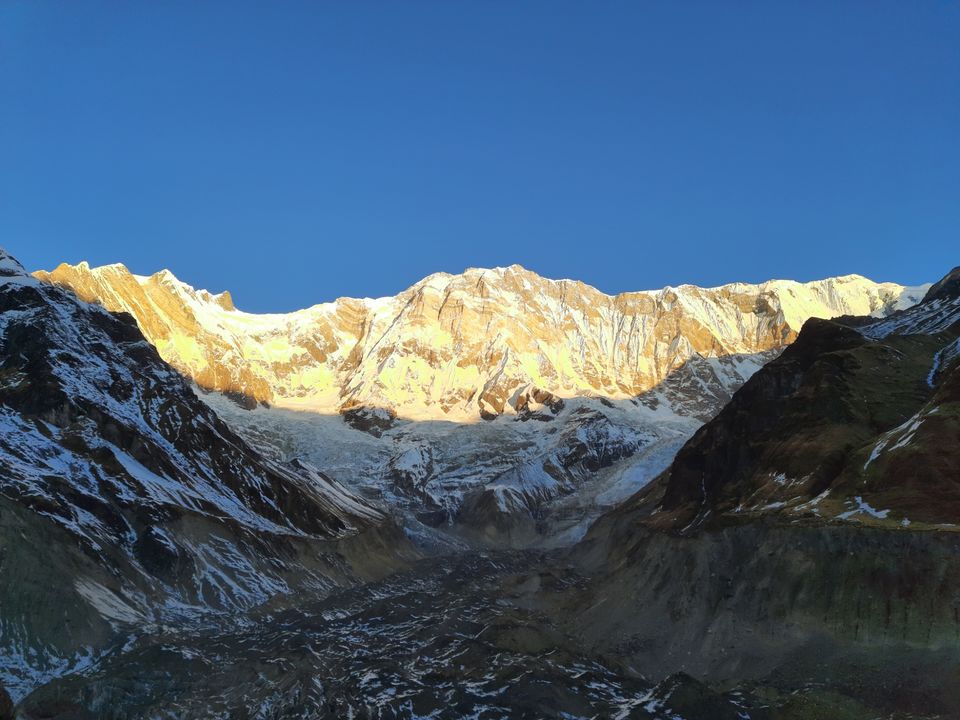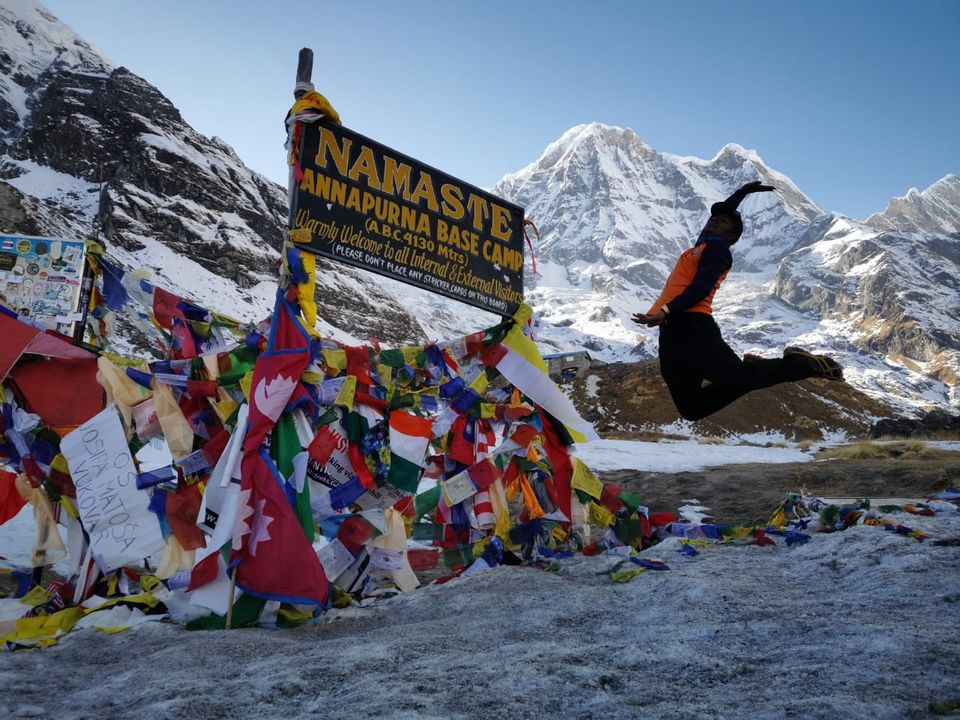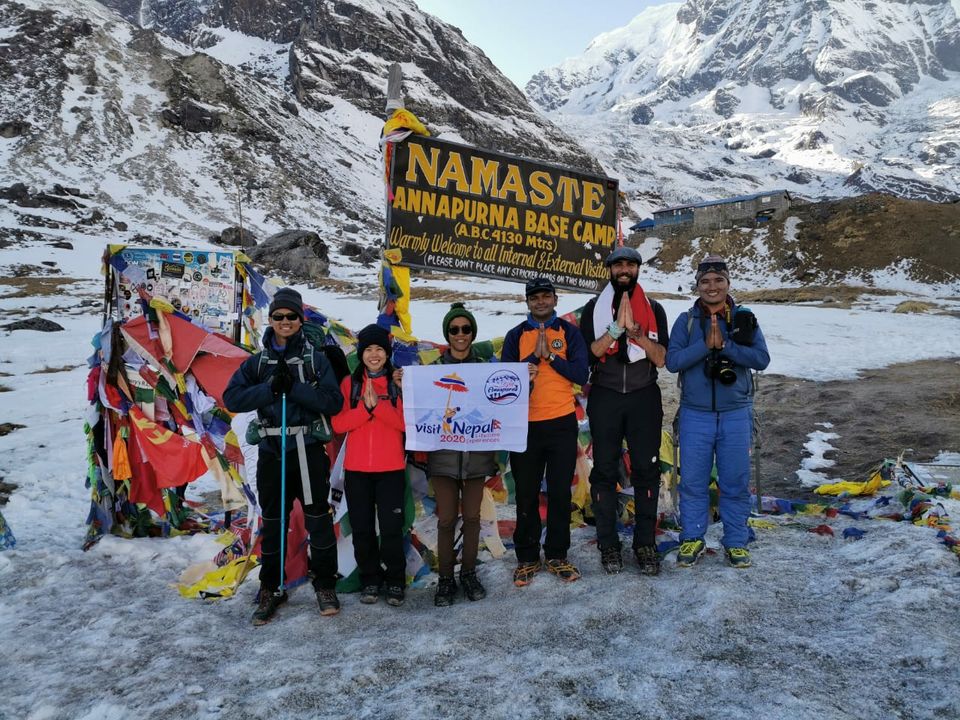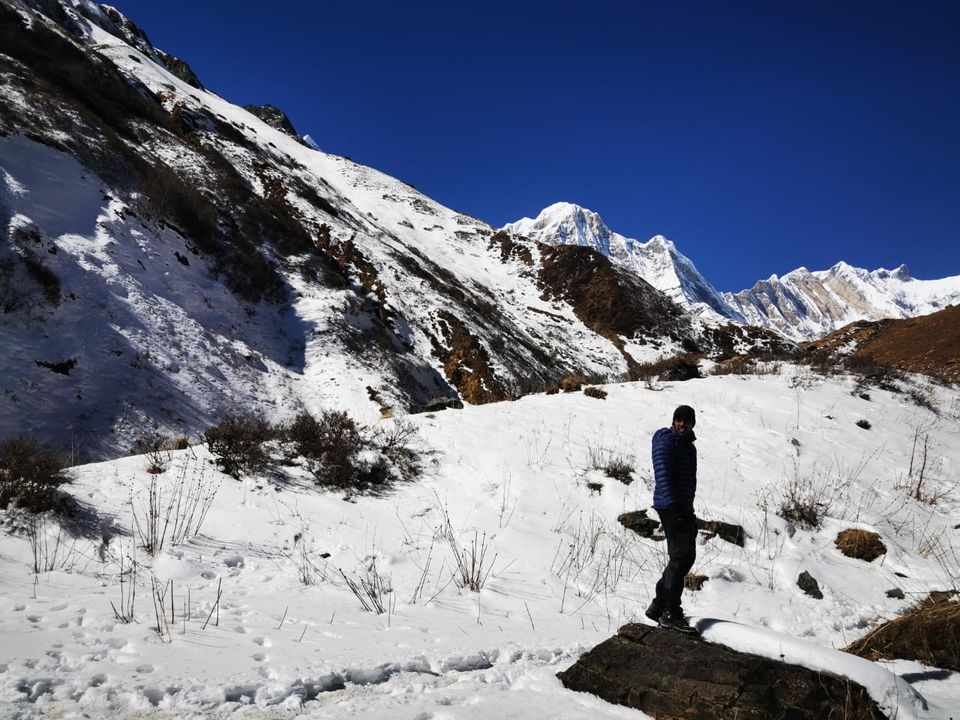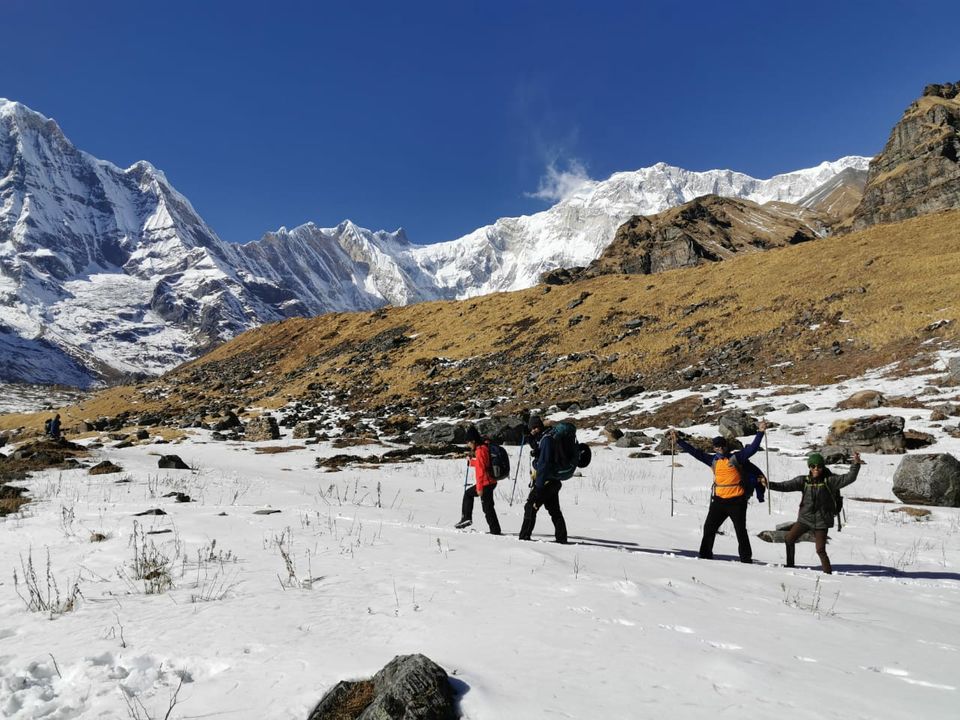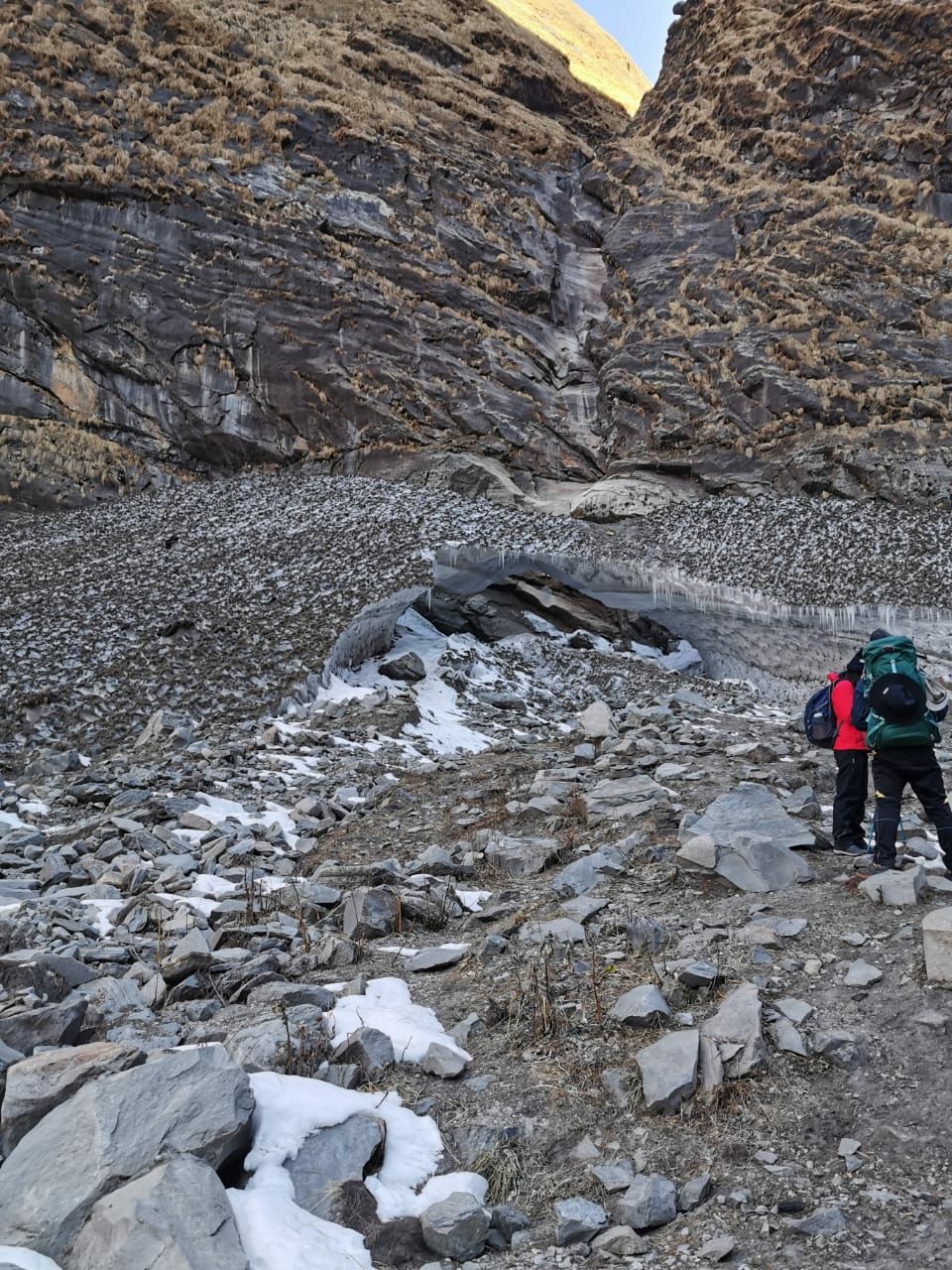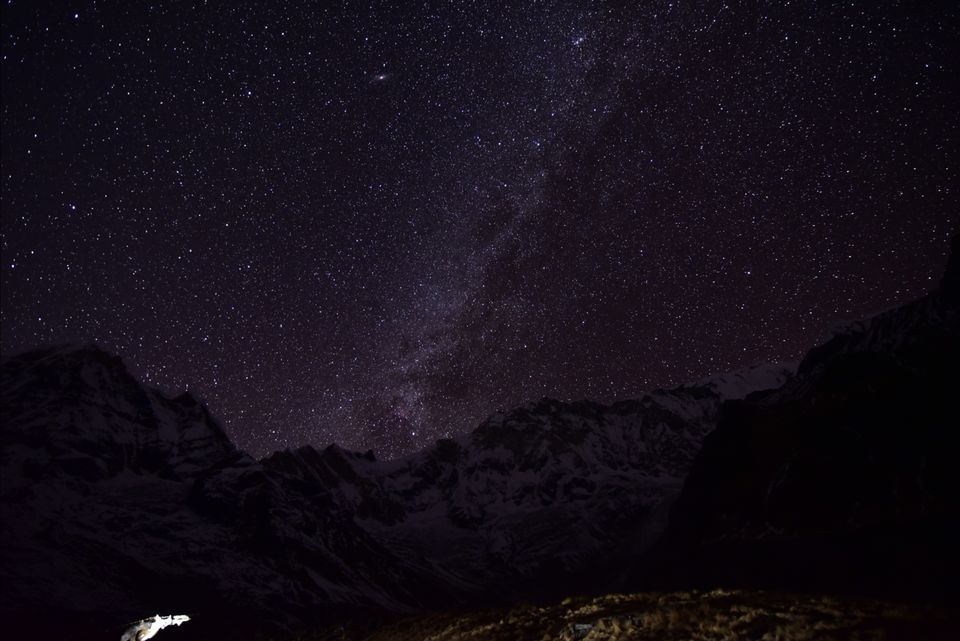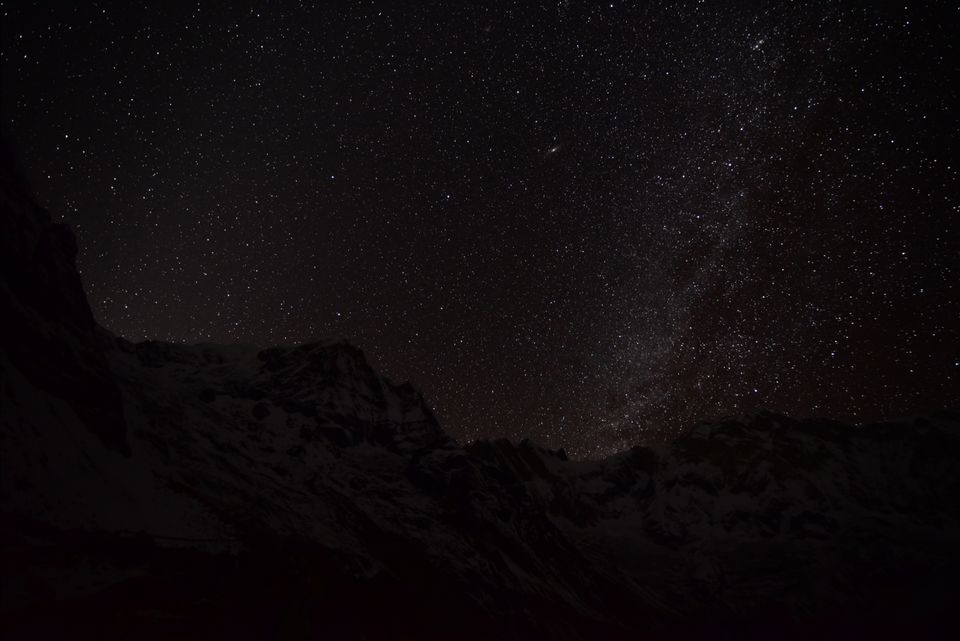 30th December 2019
It was very cold night temperature drop till -25degC. But lodges have facility of warm mattress & bedsheets which is good. Early morning we have wakeup to view sunrise. As people say "The best view comes with hardest climb" As morning sun rays drop on snowy mountains its all become golden. This golden view of mountain is must watch. From ABC we moved to Upper Sinua. Its all downward journey.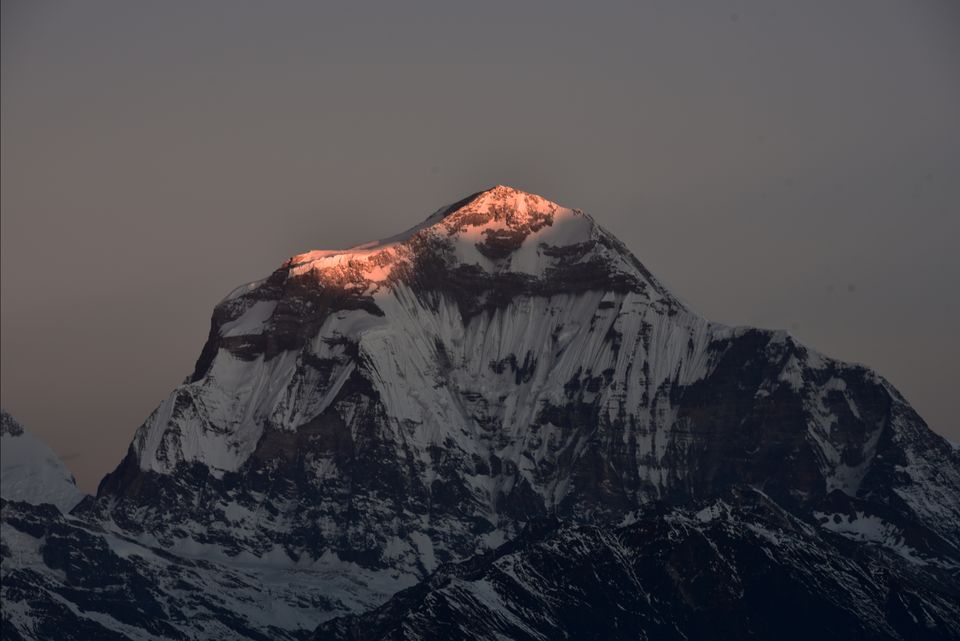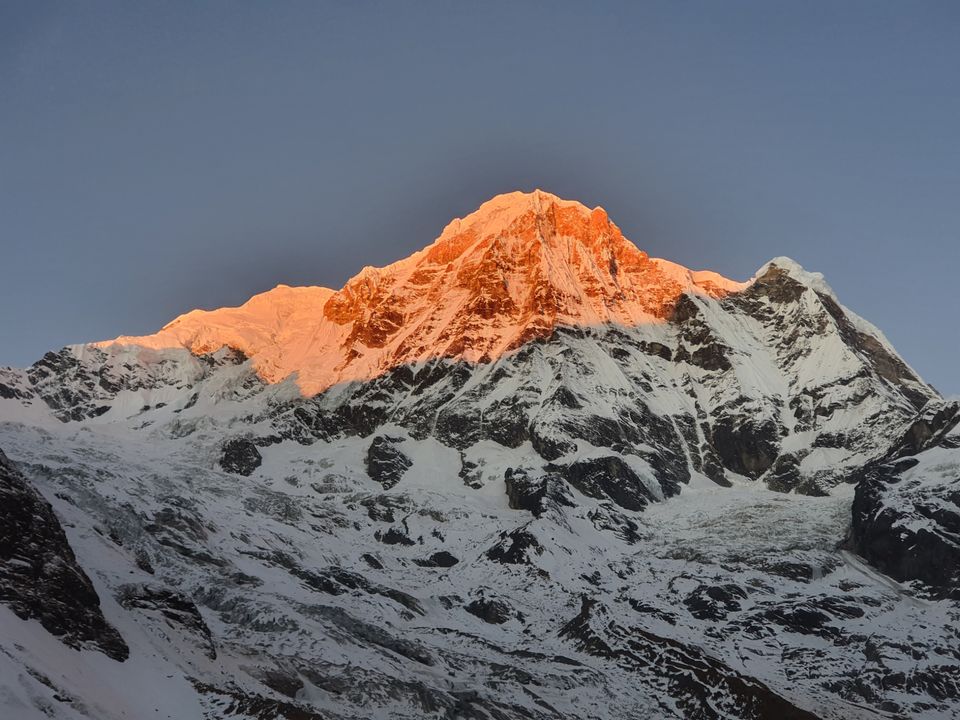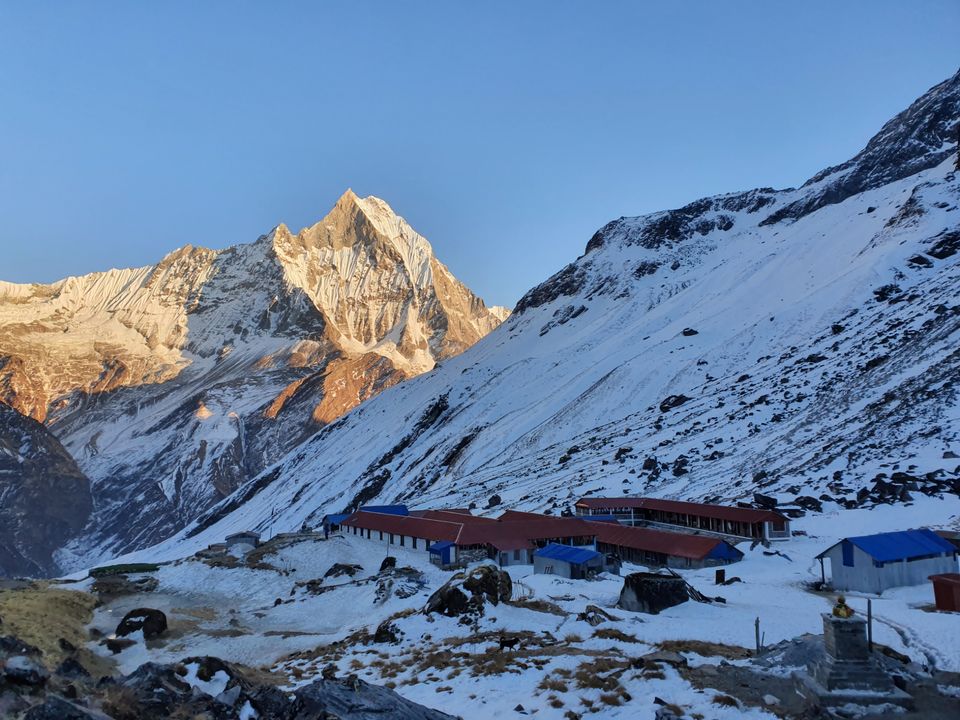 31st December 2019
From Upper sinua to Myutki then from there we took bus to Pokhara.
It between we have passed through 255mtr hanging bridge. We missed Jhinu hot spring since weather getting bad. From Pokhara boarded night bus to Kathmandu.
Finally completed ABC trek