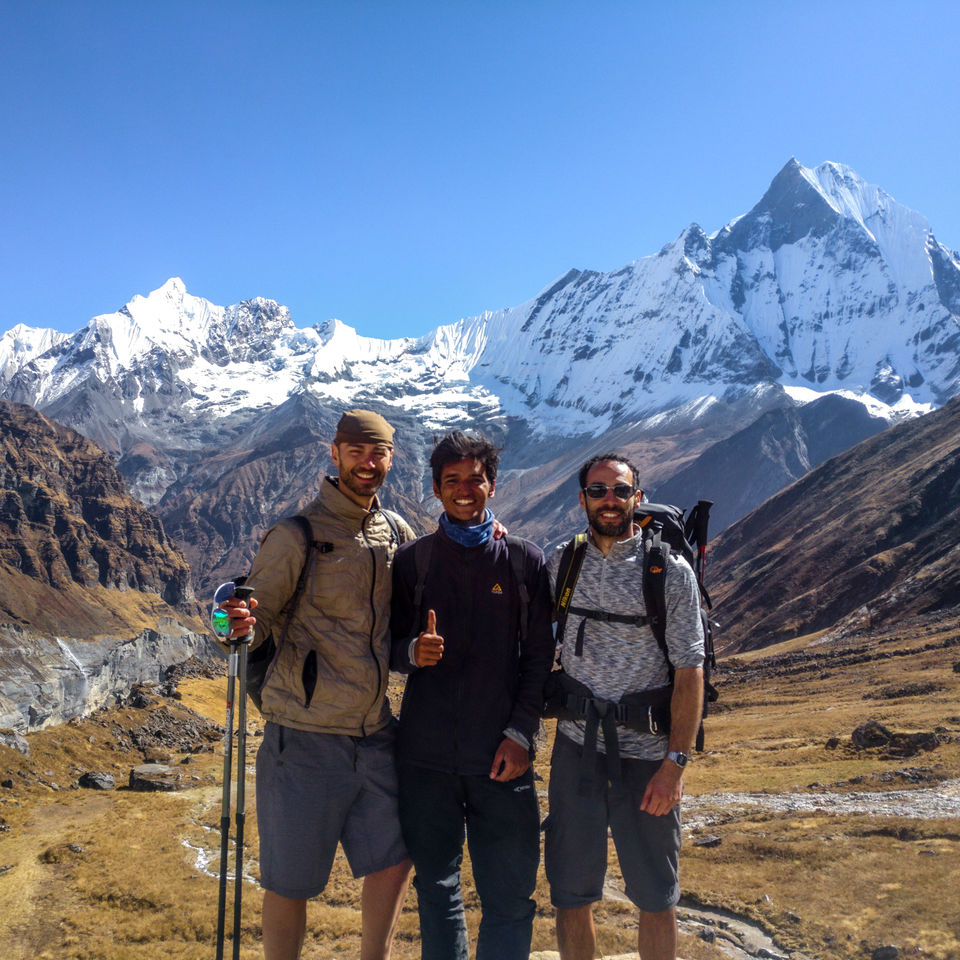 Starting point: Ghorepani (2870 m)
Ending point: Dovan (2505 m)
Date: 24th October 2019
Distance covered: 34 Km
Gross altitude gain: 2200 m
After witnessing one of the most beautiful sunsets at the Poon hill (3200 m) on 23rd October 2019 we were ready to start the hike towards the Annapurna Base camp (4100 m). We started our trek from Ghorepani at 05:45 am and after witnessing a beautiful sunrise near the Deurali pass we continued walking.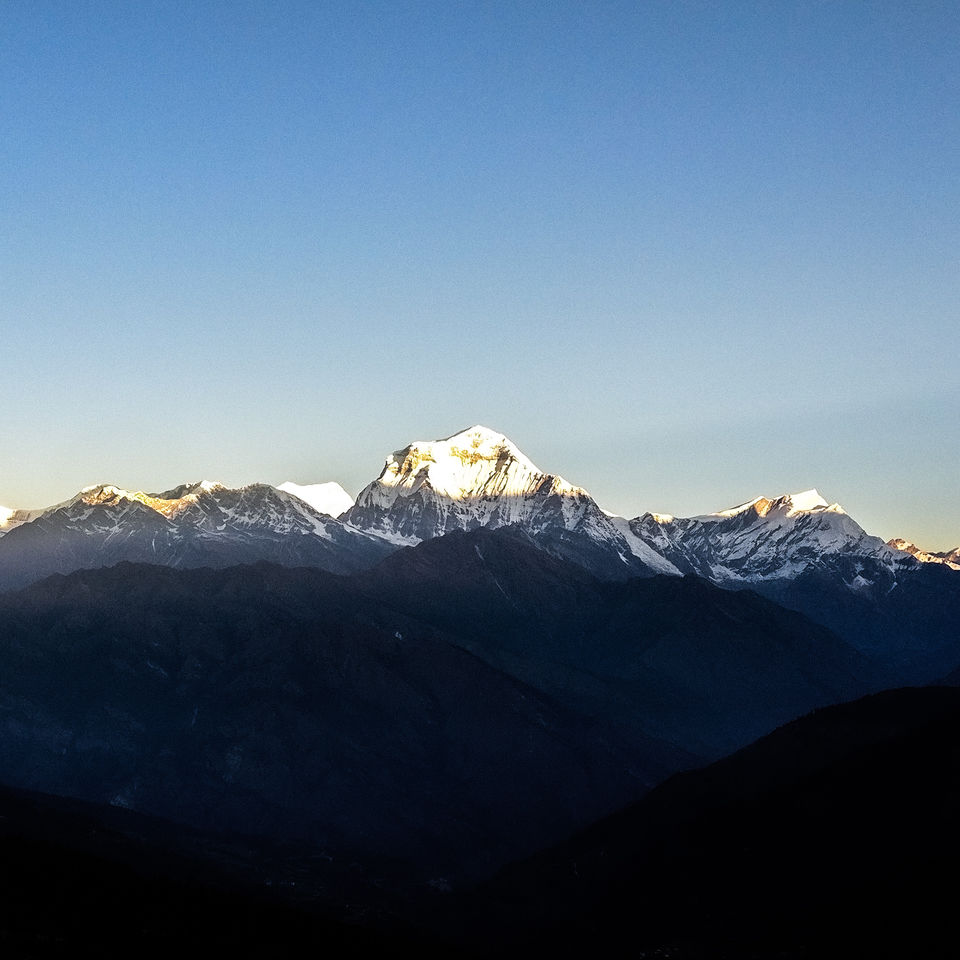 Picture 1/10
I would suggest everyone to stop near the Deurali view point (saved on Maps.Me) for a beautiful sunrise over the Dhaulagiri (8171 m) mountain range. One could see all the five peaks of the Dhaulagiri range (from left to right) namely; Dhaulagiri IV (7661 m), Dhaulagiri V (7618 m), Dhaulagiri III (7715 m), Dhaulagiri II (7751 m), and Dhaulagiri I (8171 m) along with the Gurja peak (7193 m) in the extreme left.
Picture 2/10
The benefit of standing on the ridge is that you are able to see 360 degrees and the sunrise towards the valley was also really beautiful. In my personal opinion, this point is way better than the Poon hill (3200 m) to watch sunrise because, the Poon hill itself lights up pretty fast and all you see is the sun coming from behind the Annapurna South. However, if you want to witness the sun rays falling over the landscape and lighting it up gradually then the Deurali viewpoint is a better place to be in.
Picture 3/10
I really wish that I would have carried a DSLR with me but I think I am pretty happy with the details and the colours that the phone camera lens could capture. Though these cannot be printed in high quality, they very well bring back the memories.
Picture 4/10
As we hiked further we crossed a number of small hamlets namely; Deurali (2960 m), Banthanti (2194 m), Tadapani (2630 m), Chuile (2050 m), Siprong (1830 m), Ghurjung (2050 m) Chhomorong (1950 m), Sinuwa (2340 m), Bamboo (2190 m) and Dovan (2505 m). It was definitely a pretty long day. It was at Tadapani that we took a small break for 10 minutes and absorbed the beauty of Annapurna South and the Machapuchare mountains.
Picture 5/10
The trail ahead till Ghurung (2050 m) village was a steep descend down the stairs and since it was a bright sunny day, the ascend in between these hamlets were really dehydrating me and Kal (the British lad). We found many people hiking in the opposite direction as they were the 'Panaroma Annapurna hike' which is basically an easier trail where you see few peaks of the Annapurna massif from a distance and the trek ends at Nayapul after doing the Poon hill (3200 m)
Picture 6/10
As you descend down, the big mountains will start to hide behind the smaller ridges. I want to emphasize on point that the Annapurna base camp is 90% stairs and 10% forest trail. So make sure that you go easy on your knees and if you are a beginner then do carry a pair of trekking poles with you. Keep a cramp bandage for ankle twists and a knee band for emergency.
Picture 7/10
It was in the hamlet of Ghurung (2050 m) where I could find small homestays and hotels in the middle of agricultural farmlands and if you are are someone who would love to experience 'living local' then you should definitely stay in such a place. The place neither seem commercial nor crowded.
Picture 8/10
I was already impressed by the swings that I had seen couple of times in the Annapurna circuit but this swing just blew my mind. It was a really simple and intelligent design. I just sat here for 15 minutes observing the kids having fun.
Picture 9/10
We took a lunch break at Chhomorong (1950 m) at around 02:00 pm. Make sure that you make an entry at the check post in Chhomorong and remember to make the entry again when you cross Chhomorong after finishing the ABC trek. The trail or rather stairs from Chhomorong (1950 m) and all the way to the next hamlet called Sinuwa (2340 m) was a STEEP CLIMB and since we had a couple of hours left we really pushed hard and crossed the largest hamlet called Bamboo (2190 m) and decided to stop at Dovan (2505 m) as it was already 06:00 pm and it was pitch dark. We covered the last 500 m using our headtorches and I think it was the longest day as we hiked for almost 12 hours.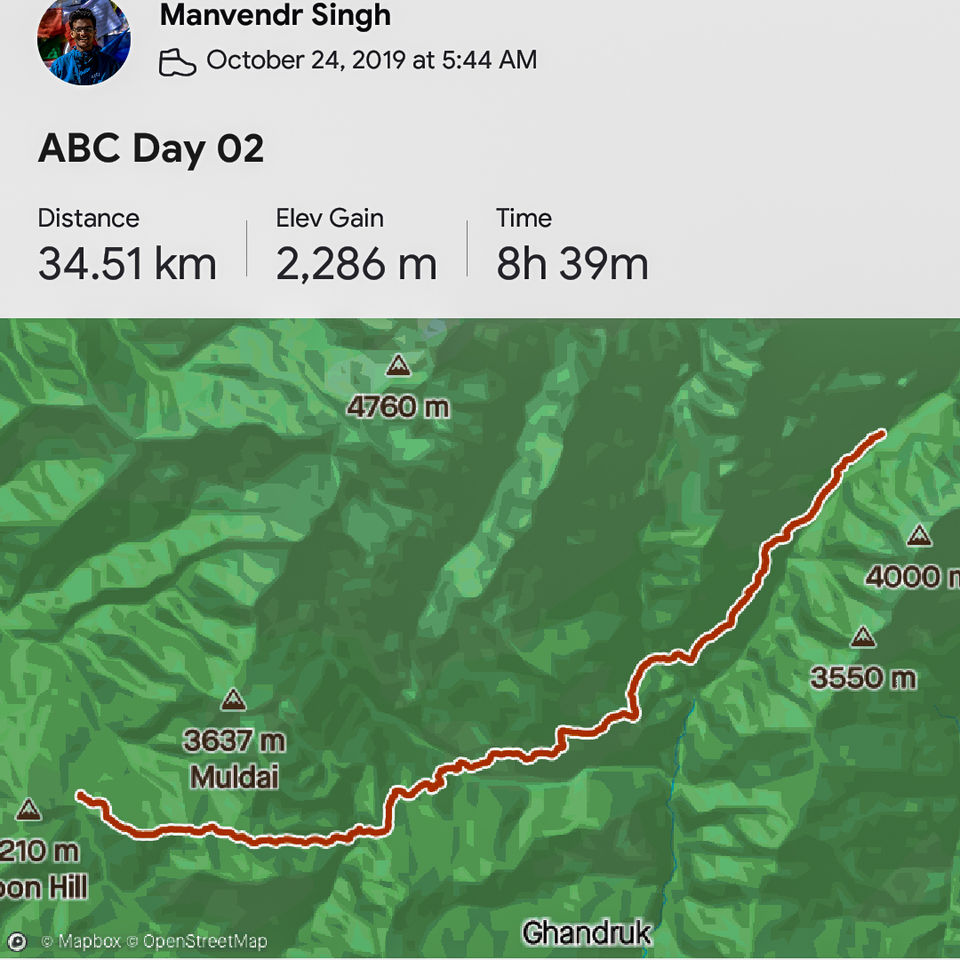 Picture 10/10
Strava data showing the distance covered and the altitude gain pretty accurately. However, the time that we hiked for is obviously around 12 hours and NOT 8 hours.
I just want to share the fact that both me and Kal were very comfortable and happy hiking at an average pace of 4 Km/hr and therefore we were able to cover this much distance. We were carrying 6-8 kilo weight in our backpacks and we had thoroughly discussed the plan to complete the Annapurna Base camp trek in 2 days starting from Ghorepani. Further, acclimatization was not a problem for both of us as we already did the Annapurna circuit where we had crossed Thorang la (5400 m) and we hiked up to Tilicho lake (4919 m) and the altitude of the ABC was just 4100 meters. So, please plan your trek according to your fitness level, trekking experience and make sure that you acclimatize well.
Day 02 of the Annapurna circuit was crazy. I walked the longest distance in the Annapurna Conservation Area on 25th October 2019. Read the next travel story to know more.
Frequent Searches Leading To This Page:-
Annapurna base camp trek blog, how to prepare for annapurna base camp trek, annapurna base camp avalanche, is annapurna base camp trek safe