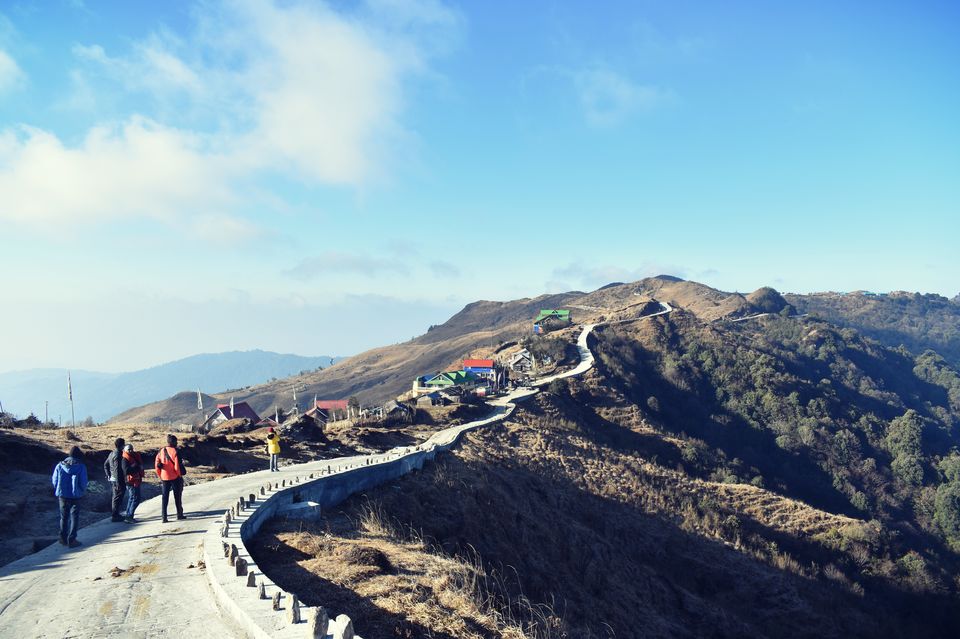 The frame changes completely when you take the world on foot. Firstly you realize how limited your materialistic necessities are. Because what you pack is what you have to carry yourself. Secondly, when you travel , you actually walk a hundred miles not only on earth but also to your inner self. It's something the concrete walls around your workplace totally restricts you from.
The story goes like this: A 20 year old girl of Kolkata completes her second semester exams at 5:30 on a Friday and by 11:15 on the same day she's up on Padatik express from Sealdah for a new adventure. Two days after is Christmas eve. This time she's going to wear a bandanna watching Kanchenjunga, roaming around Park Street in a Santa cap is something she isn't built for. She has grown up in a house surrounded by gardens. She has watched trees and birds grow up with her. Jack London and Bill Bryson have filled half of her bookshelf. And what you read is what you want to become. 'Far removed from the seats of strife' as the early explorer and botanist William Bartram put it, she has always wanted to take 'the road less traveled'. Here's an account just to put yourself in her shoes (urm, trekking boots! ).
The train was crowded as ever and they got only 4 berths reserved for 9 people! No sleep the entire night, they made it to NJP in the morning. A group of vagabonds, as you can already guess, they had booked no transport. No headache. A jeep was arranged right on spot and they rode all the way to Maneybhanjan. Again no booking, but Maneybhanjan provided them a good dormitory(search for Masterji). Nobody knew each other and it was finally time for breaking the ice. As cups of coffee arrived, the Bengali vagabonds made their way into each other's hearts through Feluda , communism and ofcourse travel tales.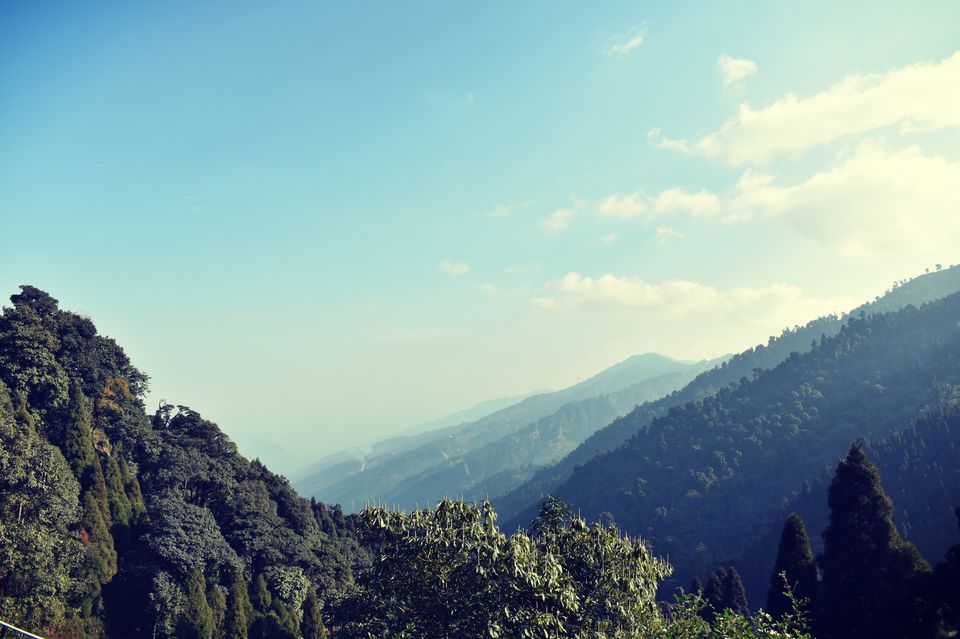 The next day was a real good morning. The little town woke up to a bright sunshine. Plus, a cup of tea and the mountain-view from the balcony: nothing can make you go more philosophical! Breakfast done quickly , all decked up in their trekking gears they started off for Tonglu.
The climb upto Chitrey was steep and full of stairs. The sky was blue and the grass green as ever. They could not hope for a better weather. The girl was the youngest in the group, her brother had accompanied her to the trek. Piku. Just 10months older ,he was on his first trek and excited like anything. The other guys on team were : Avik (the most genuine team leader), Bhaskar, Somnath (whose little punchlines would make you go rofl) , Nilanjan (the chhupa rustam). The girl power was no less, Poushali (the pretty trekker) , Samadrita (the physics scholar) and ofcourse Riya (the selfie addict).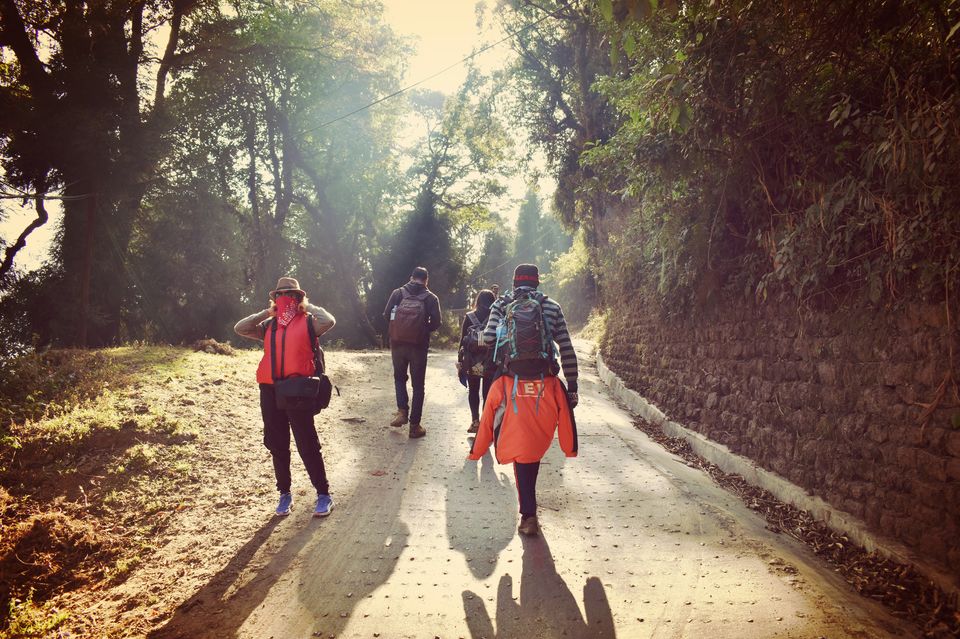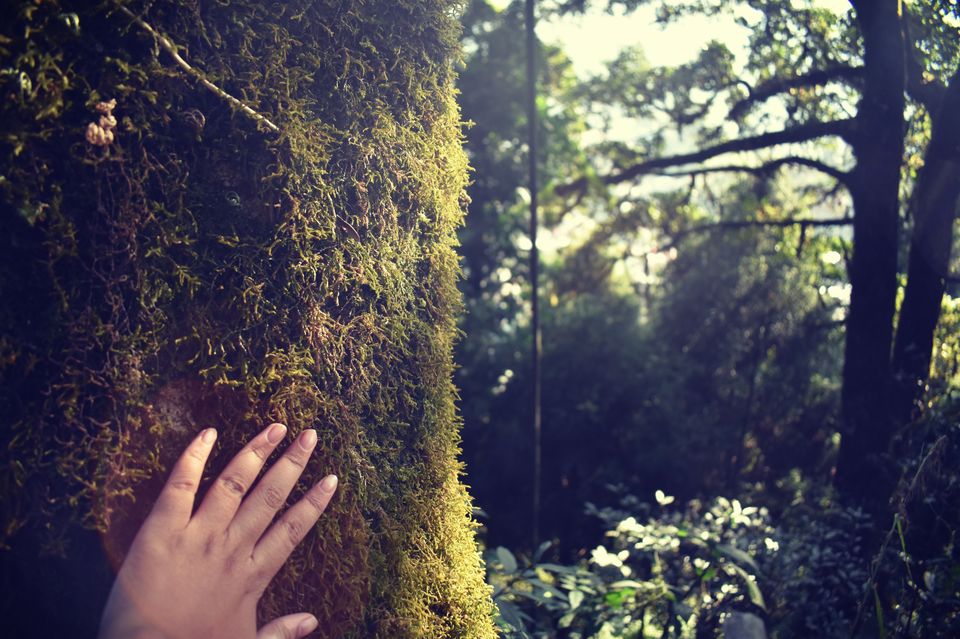 Chitrey is a vast green expanse. Also Chitrey's special, because they met two amazing women: Malini and Taishi. Just a two women army: they had travelled all the way from Kolkata all by themselves only. What was even better was they joined the trek . The girl and Poushali took up a high pace and soon were nowhere near. The others too went on. Avik leading all the way, Somnath cheering up everyone and Riya ofcourse filling her selfie gallery.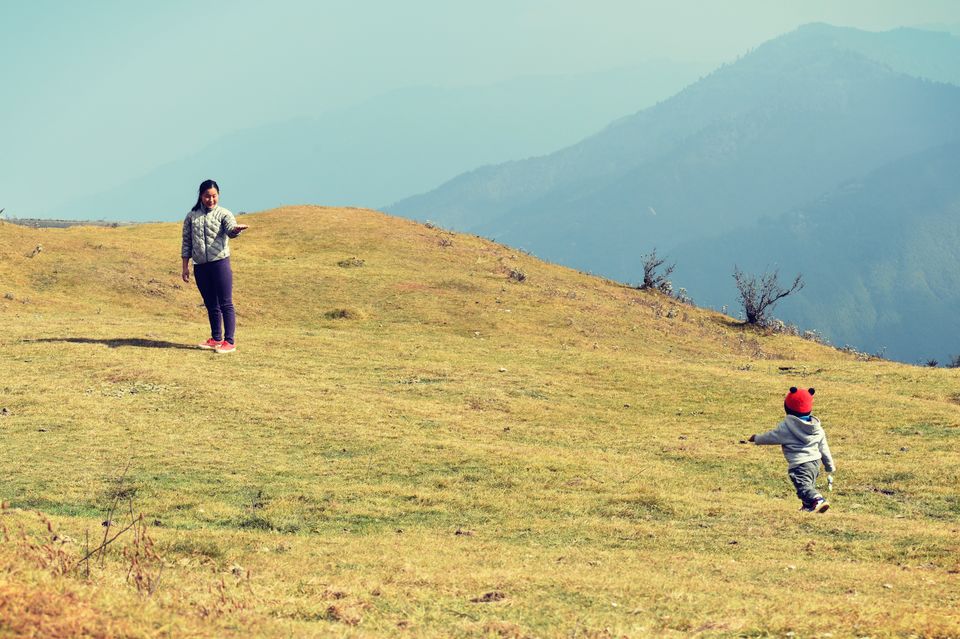 They soon reached Lamadura and from there to Meghma, the abode of clouds, and found the girl and Poushali digging into a hot bowl of noodles already. Reaching Meghma was literally walking through clouds. Spreading arms, they hugged and felt the moisture of the cotton clouds. Life couldn't get any better.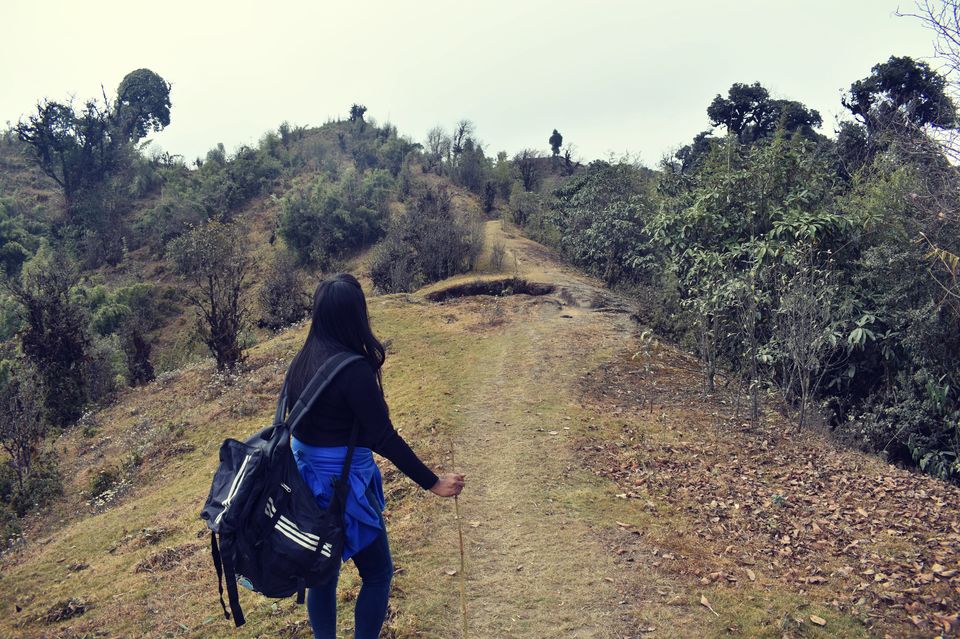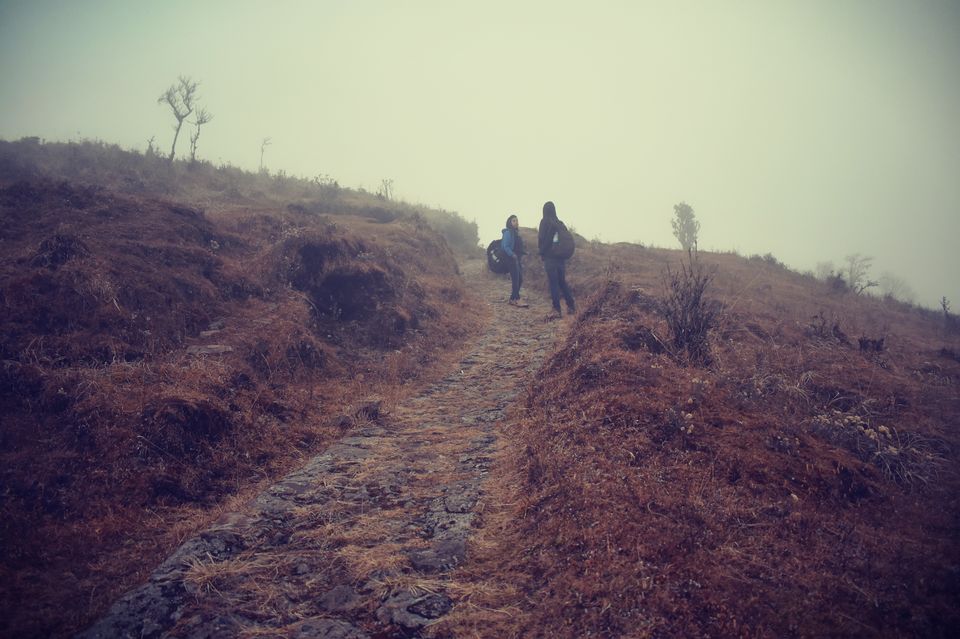 Now, the climb from Meghma was a serious one. It was steep all the way upto Tonglu. The narrow trails were all covered with little wild flowers. Hikes allow you to get the very tiny and often-ignored 'sights' of nature. It's not just about the big snow capped mountains! As you stand and rest for a while, you get to notice these little 'sights' - the green moss on ancient trees, dew drops on petals, a bug on a fence or even a colourful pebble. Hikes make you appreciate nature and life as a whole. Contrastingly, nothing can please you as much as the sight of the destination, specially if you've travelled all the way on foot. The snow capped mountain wasn't missed by her and Poushali: as the sun set on her majesty, Kanchenjunga , they feasted their eyes on her beauty.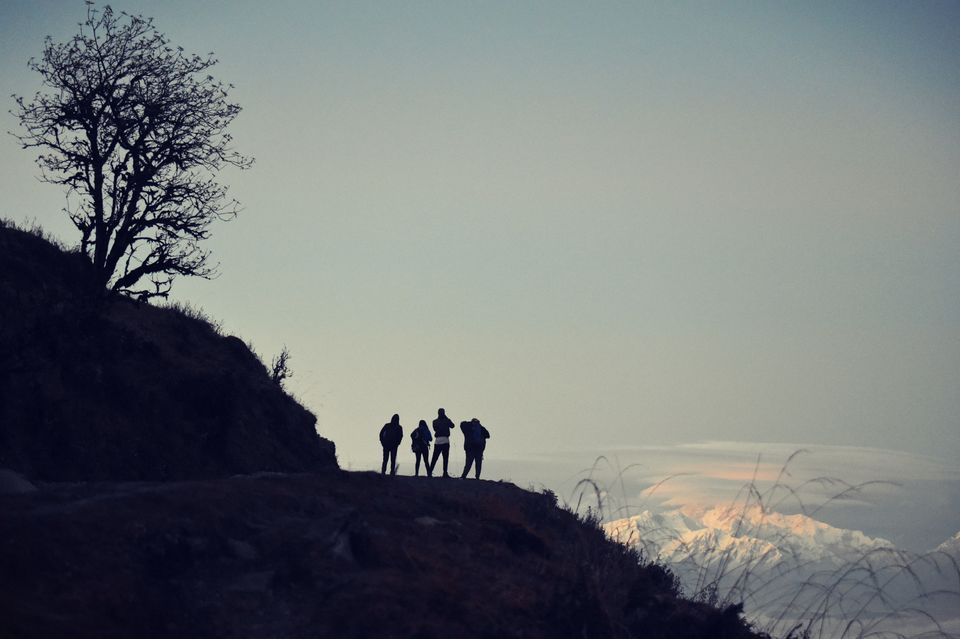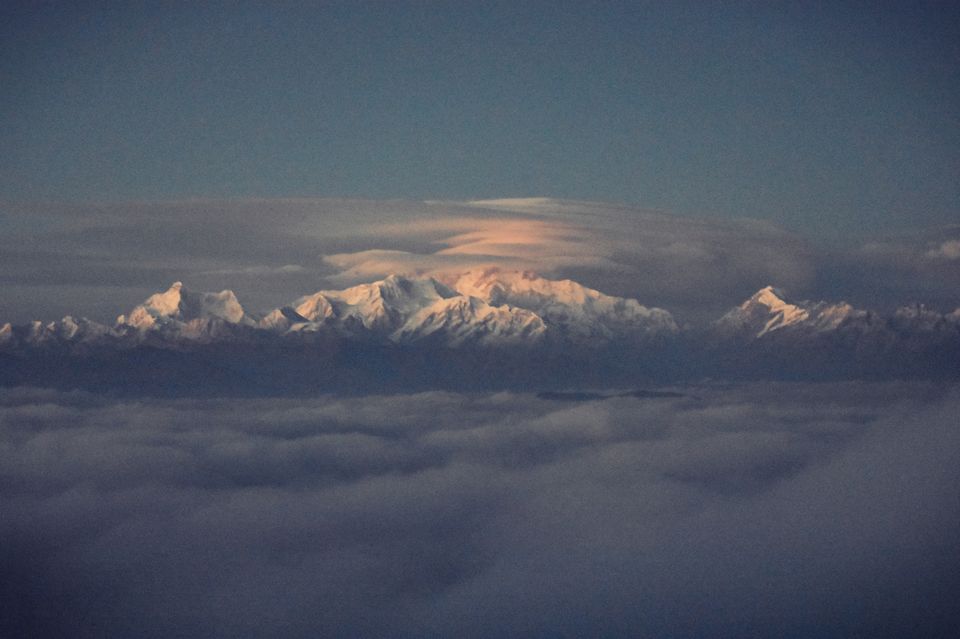 It was just a few minutes and soon the clouds brought the curtains down. The others arrived too. Now it was time for finding a shelter for the night and Tonglu couldn't provide them with one. In the evening, in the darkness of Singalila , they had no choice but to trek downhill to Tumling. Little did they know that would be the best part of the trek. "Cause you're a sky full of stars"- and boy , it was literally so. No light pollution around , the sky glittered! They counted stars, wished upon shooting stars and walked in the darkness , moonlight showing them the way. There was dense vegetation beside the road. And rich plant life attracts rich animal life including the cute red pandas and not so teddy-like black bears . However, Tumling didn't upset them ( a village in Nepal, though the road that goes beside it is of India). A warm and cozy shelter was found (this time, search for Siddharth Gurung). On reaching there, they made it a point to dig into a millet based Nepalese alcoholic beverage called Tongba. Tastes a lot like beer and apple juice mixed together. The glass is filled with grains and filled and refilled with hot water 3-5times.( Taste it next time you're off to North Bengal or Sikkim and ofcourse Nepal!)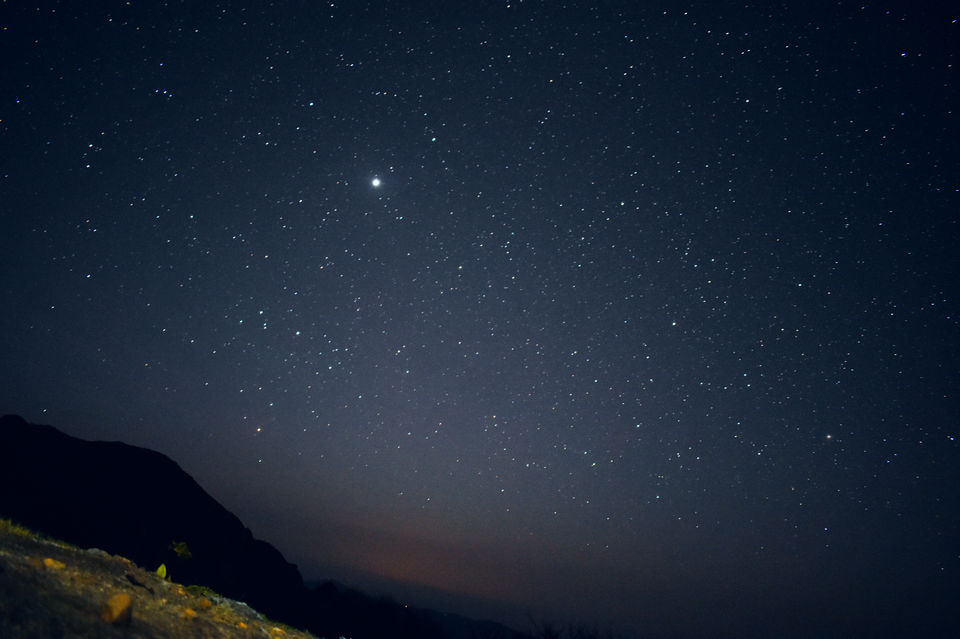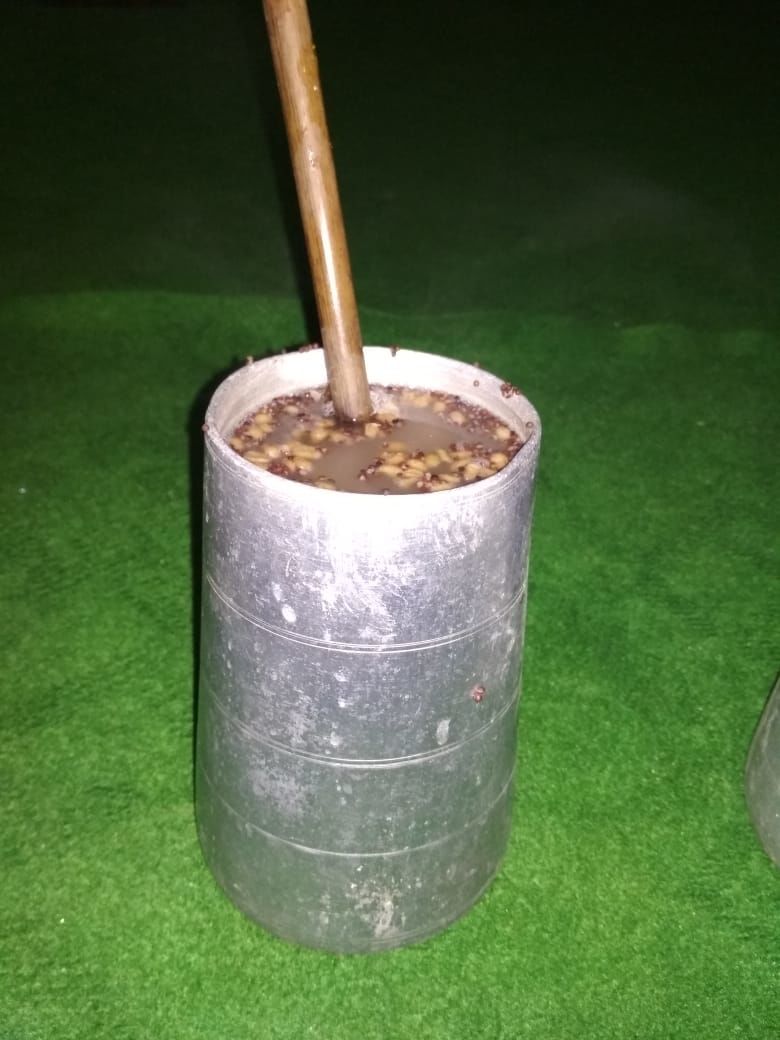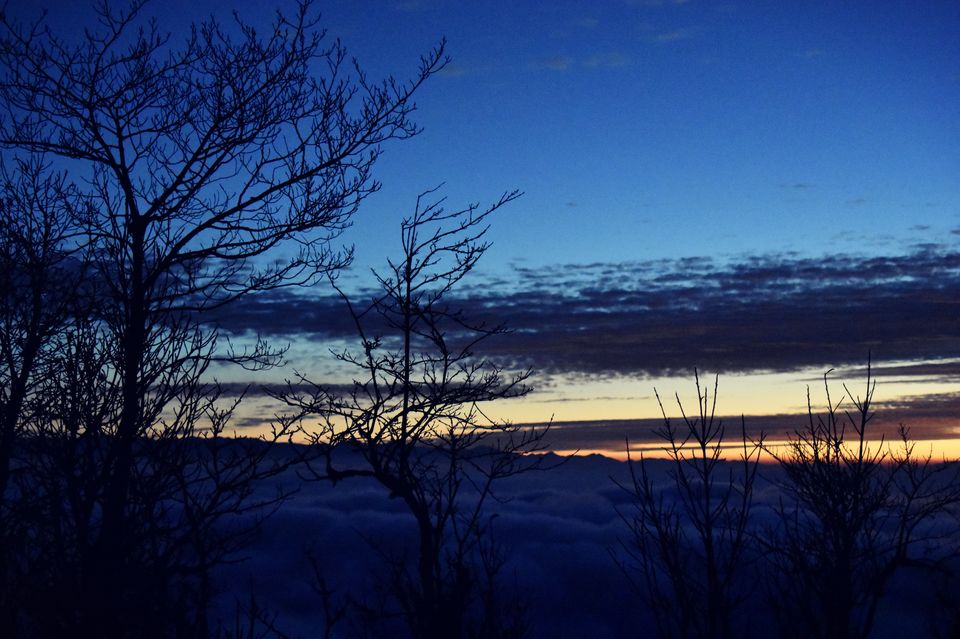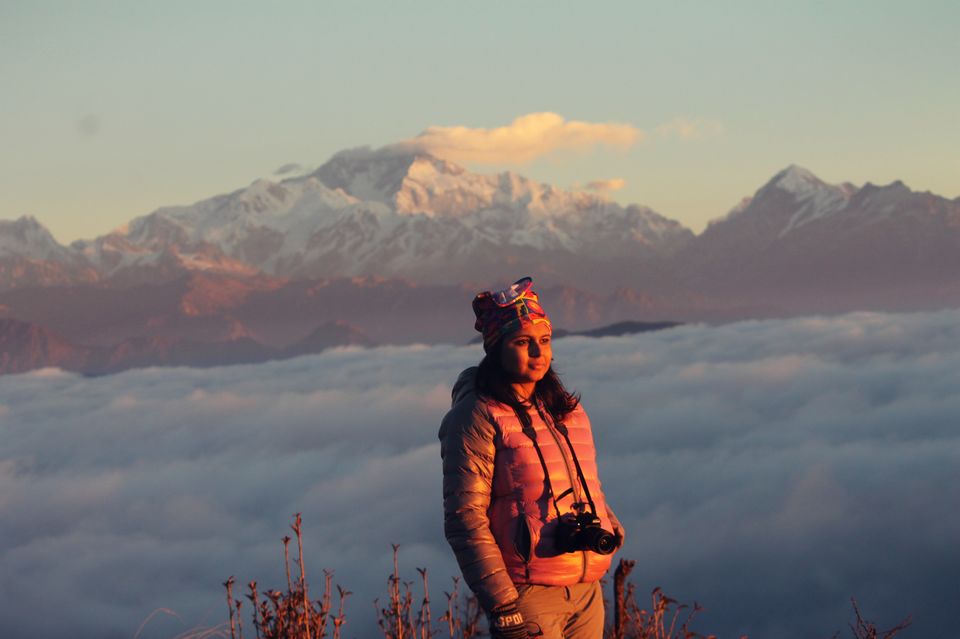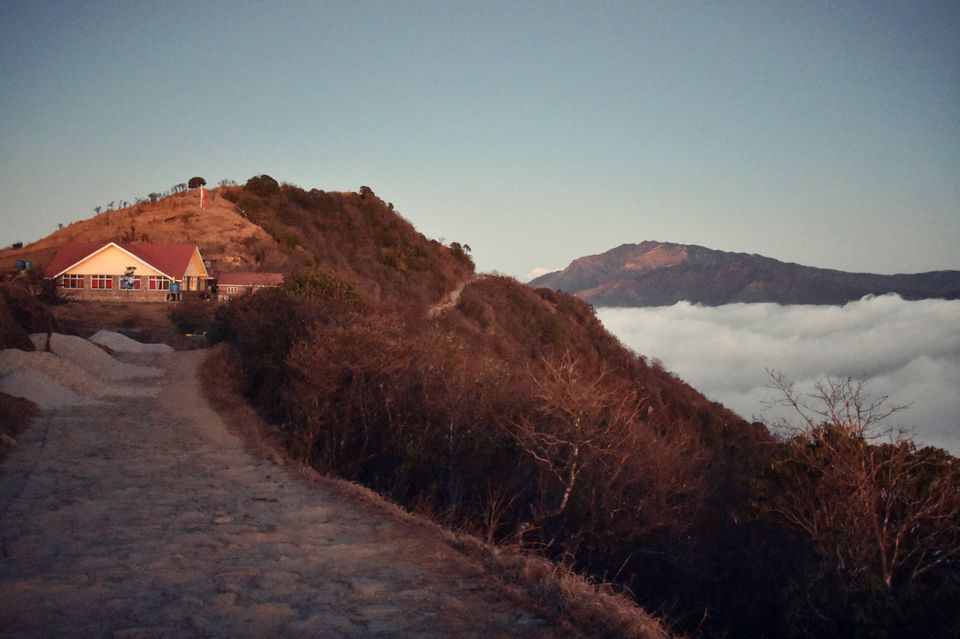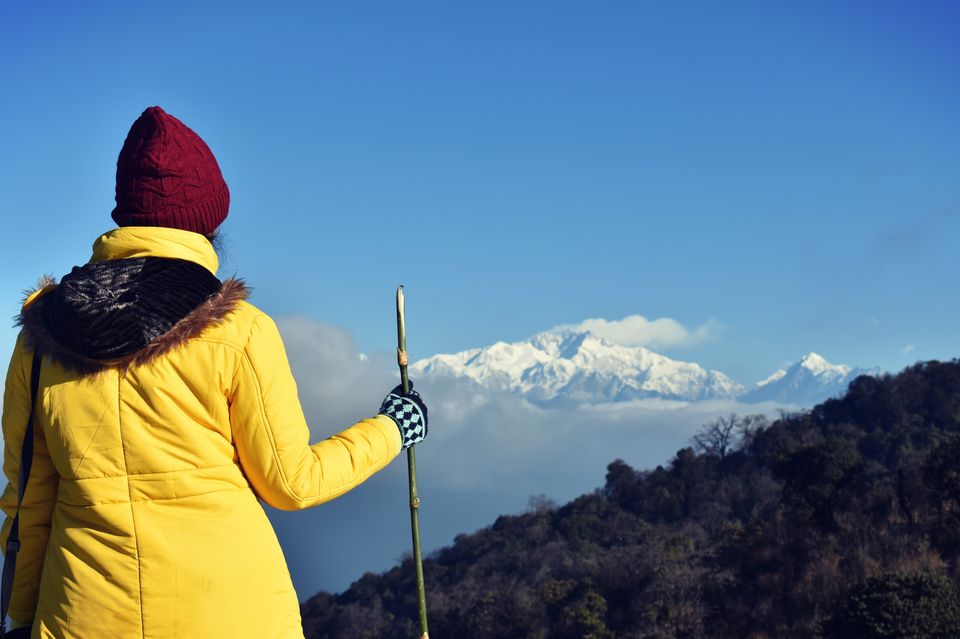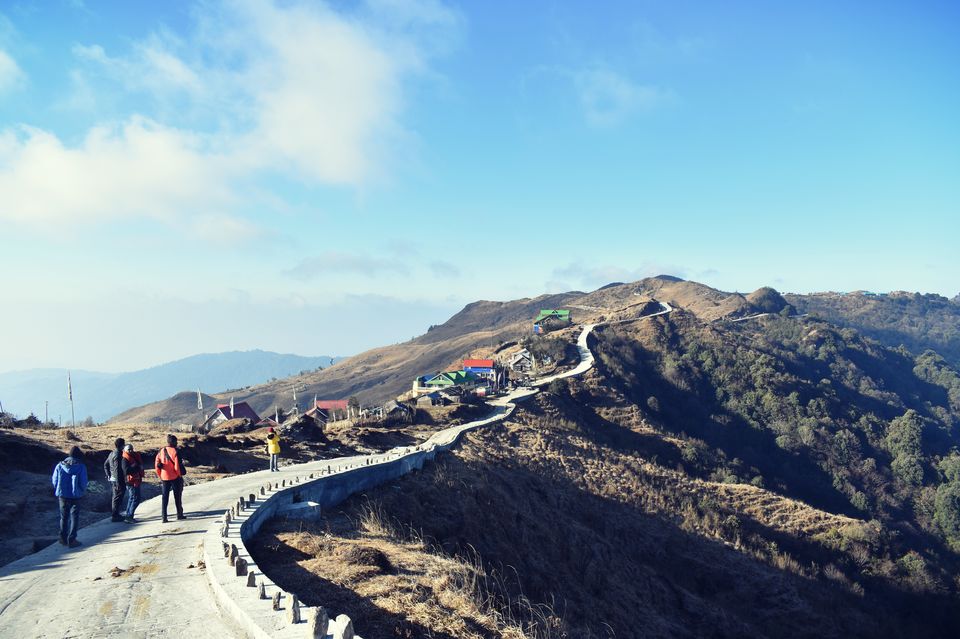 And that's how it ended. Christmas sorted. With a heavy heart, they went back to the plains the very same day. Goodbye wasn't easy.
And lastly, A girl has a name. A girl is A…Asmita (no not Arya)!
The desire to live in the ancient of human conditions in the extremes of nature lies in our very arteries. And by this I mean before coins came into existence, before economy developed, before the invention of cheeseburgers-cokes-flush toilets, when we had only nature to ourselves.
Went on days without combing my hair or changing the clothes I was in! Drank pure river water instead of relying on filtered one. Ate cold mush. Even shat in the woods instead of a proper toilet. But then, when was the last time you fell asleep on grass? When was the last time you lied down on a rock under a Kojagori-full moon lit sky? And when was the last time you fell asleep to the lullaby of a flowing river? I did things which I could only dream of till then. In the wilderness I sang to the rising moon, no human soul around for a dozen of kilometers.
But strangely, I don't know why I always had the urge to go back home. To become groomed and civilized after some days and let the Wild sleep in me. Maybe that's what life has made out of us!