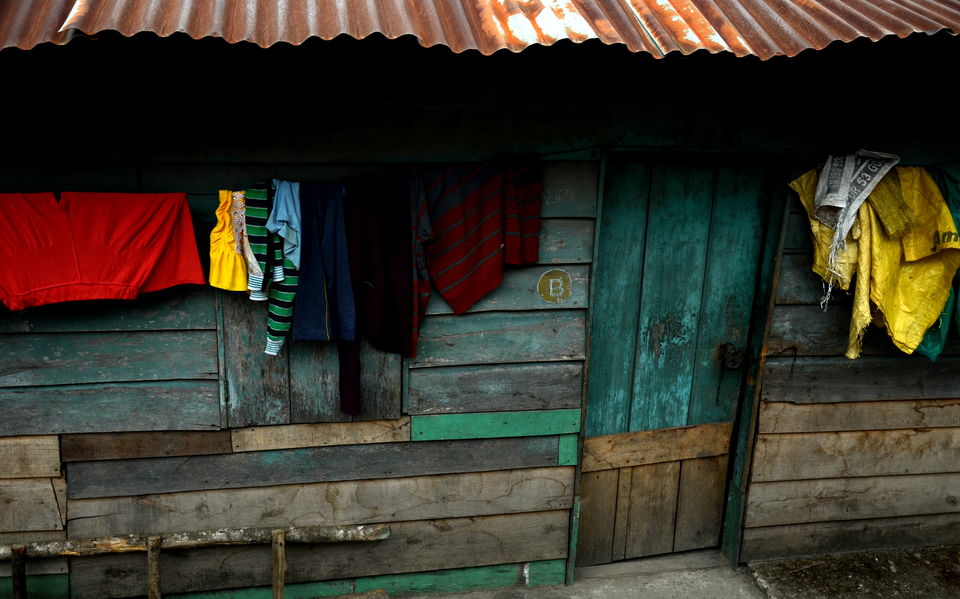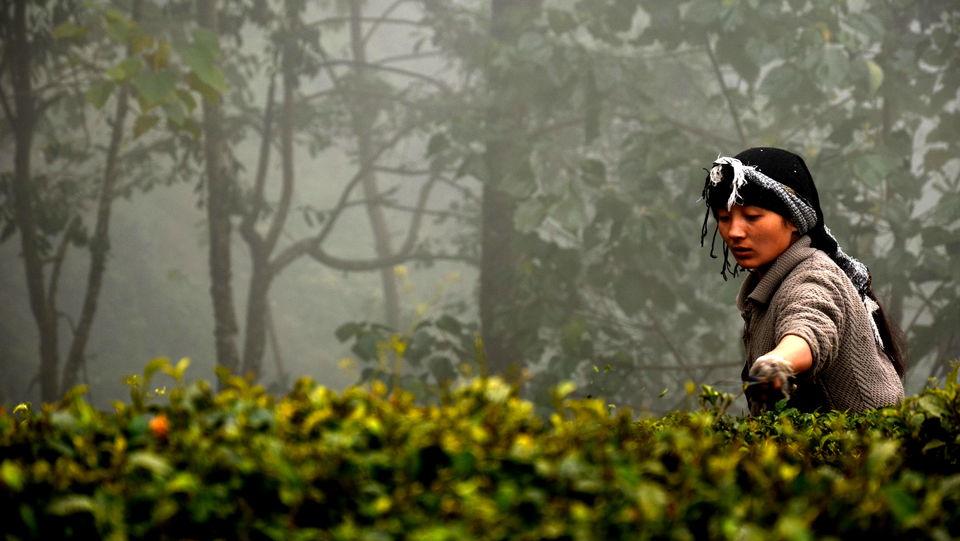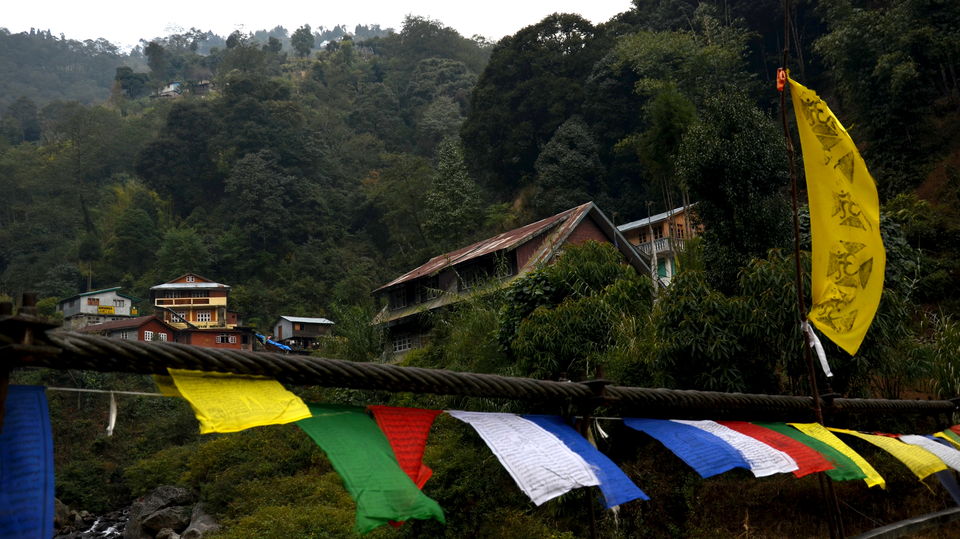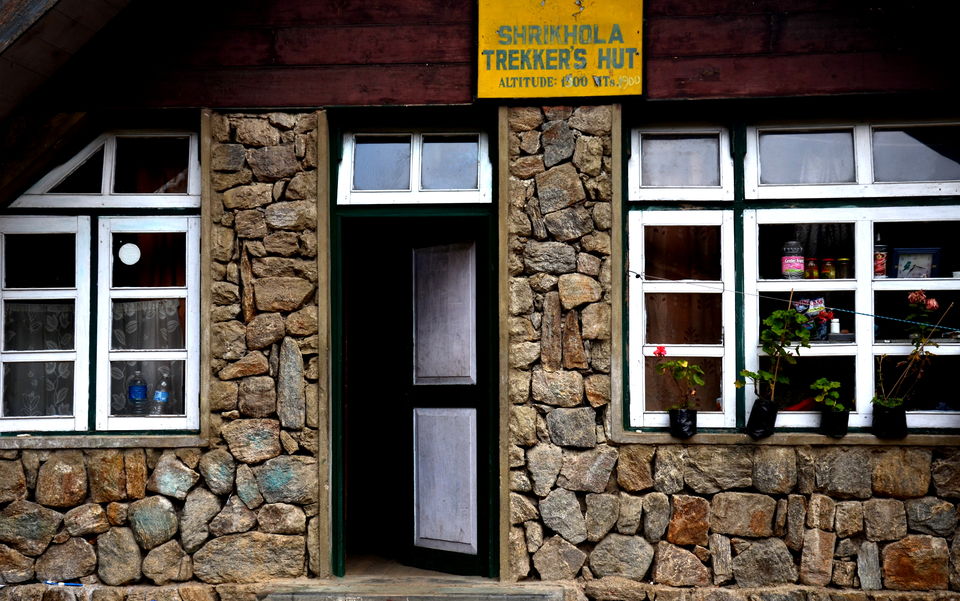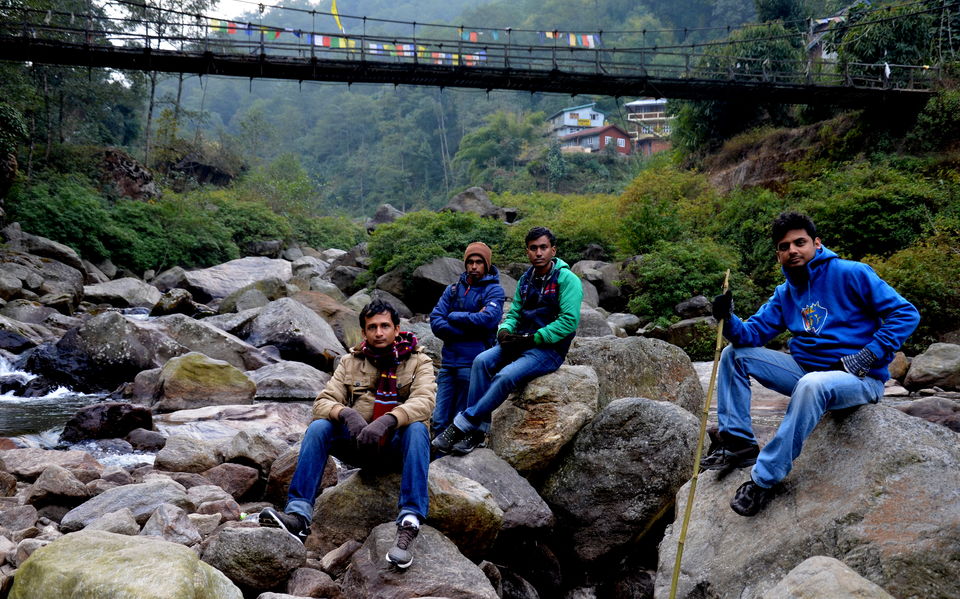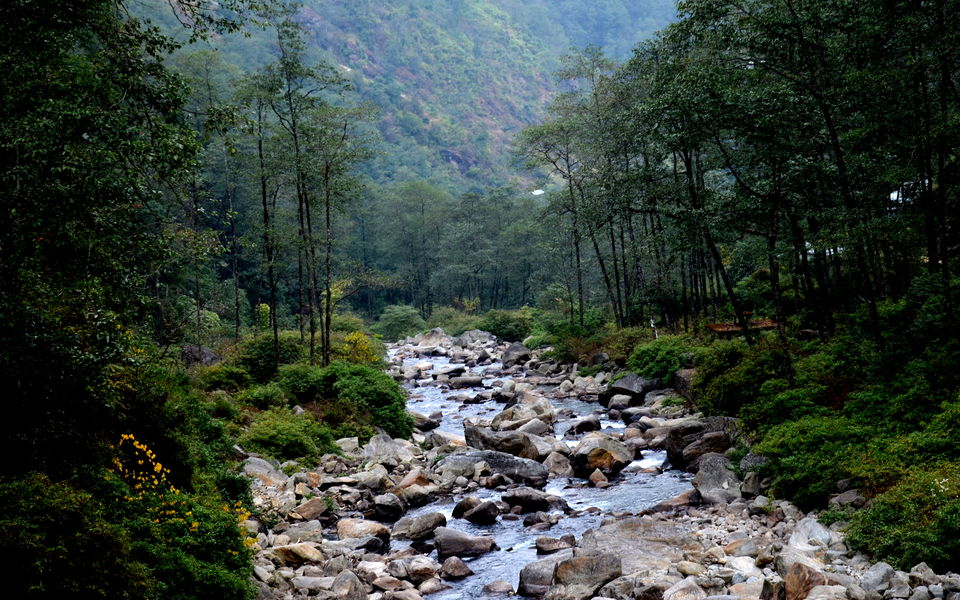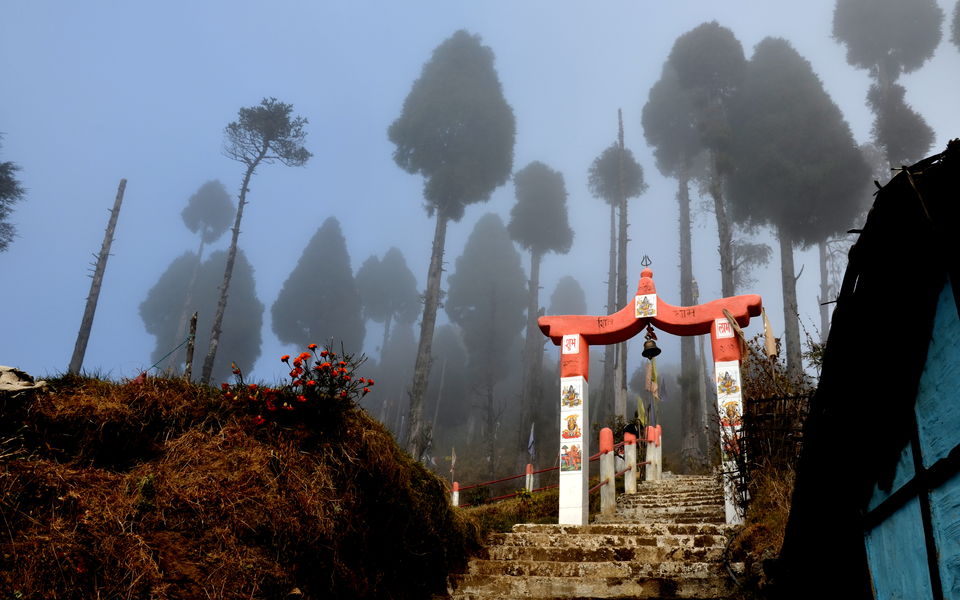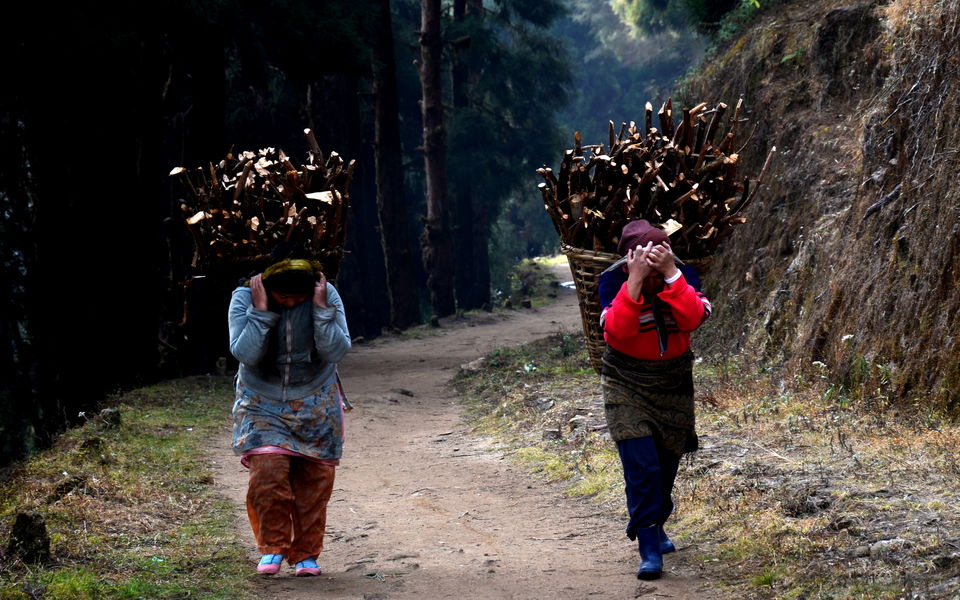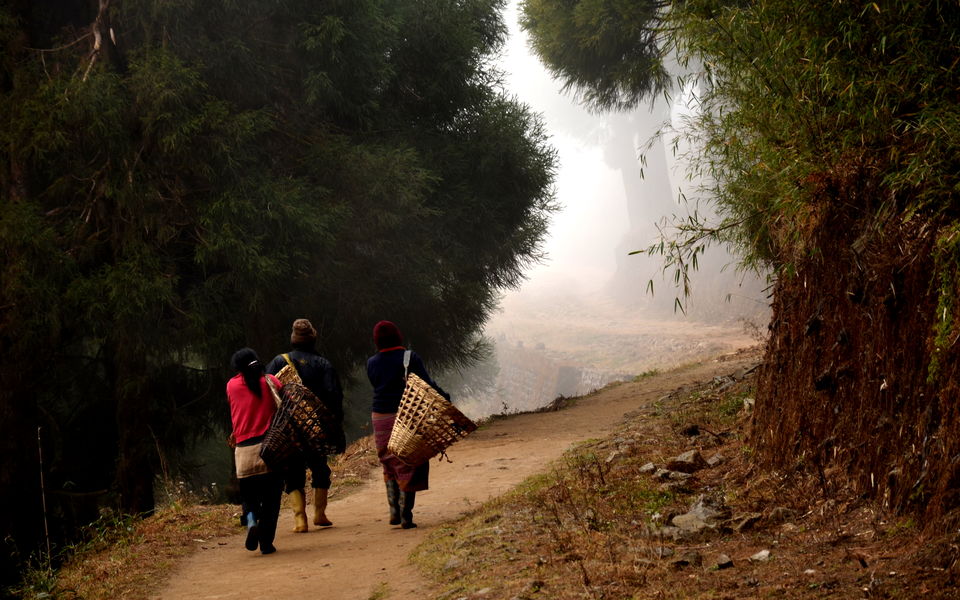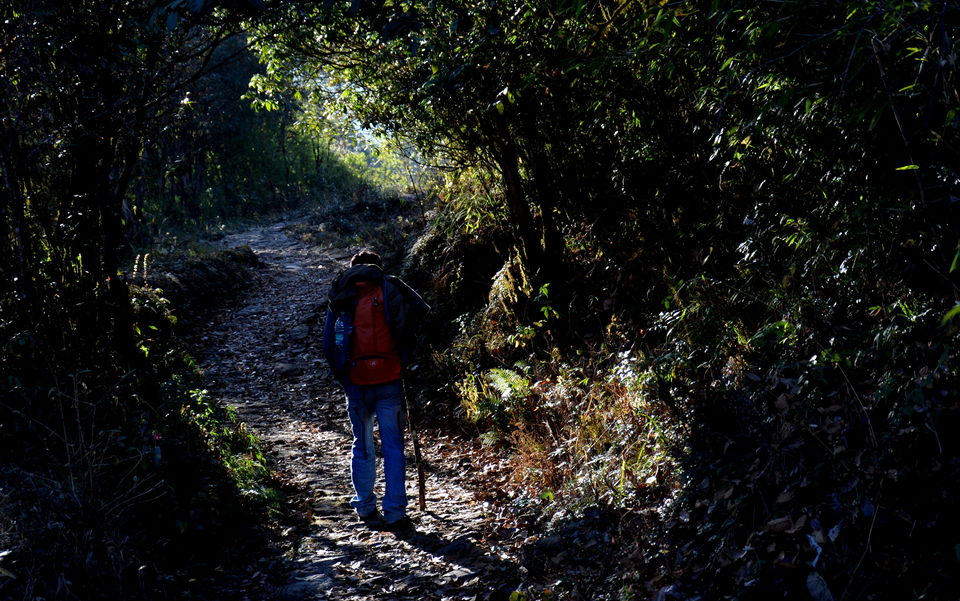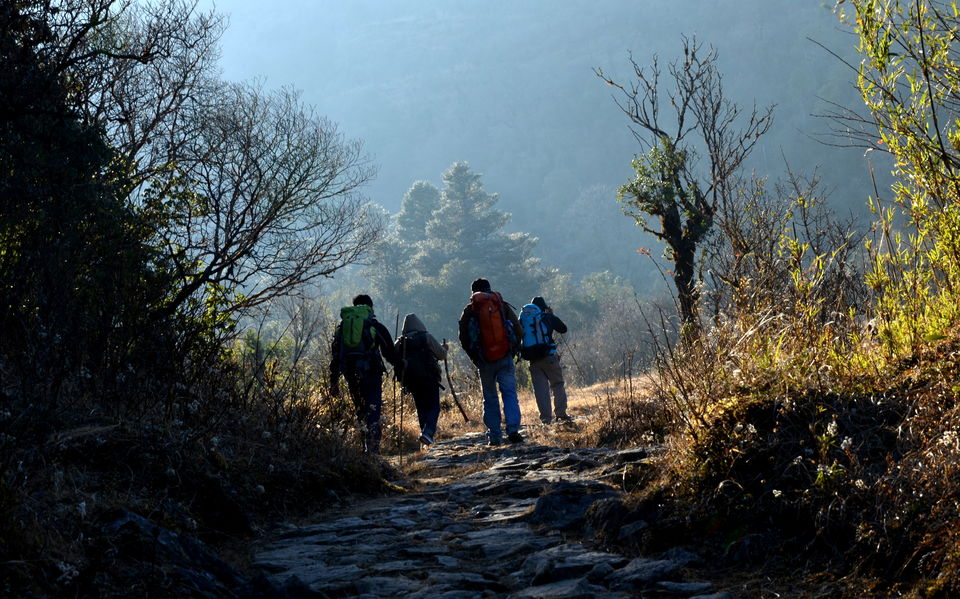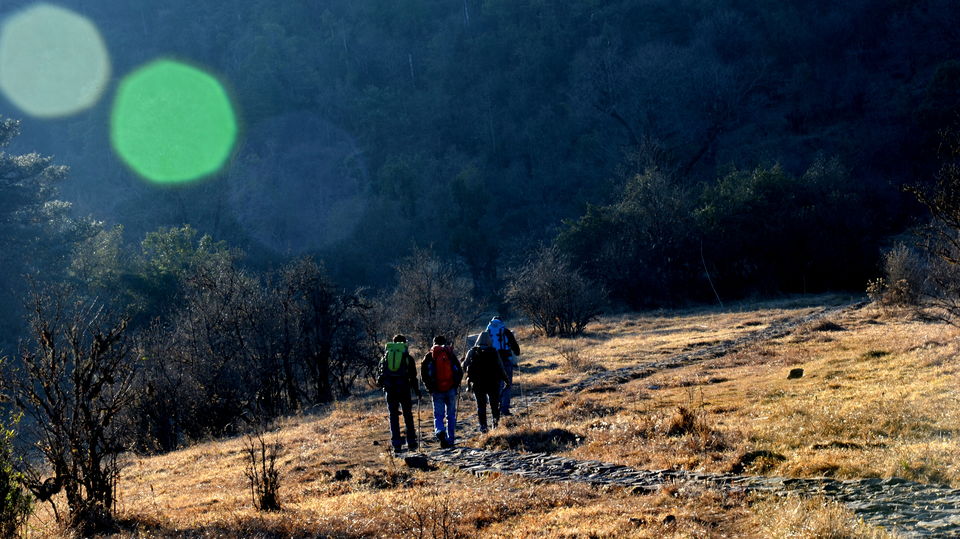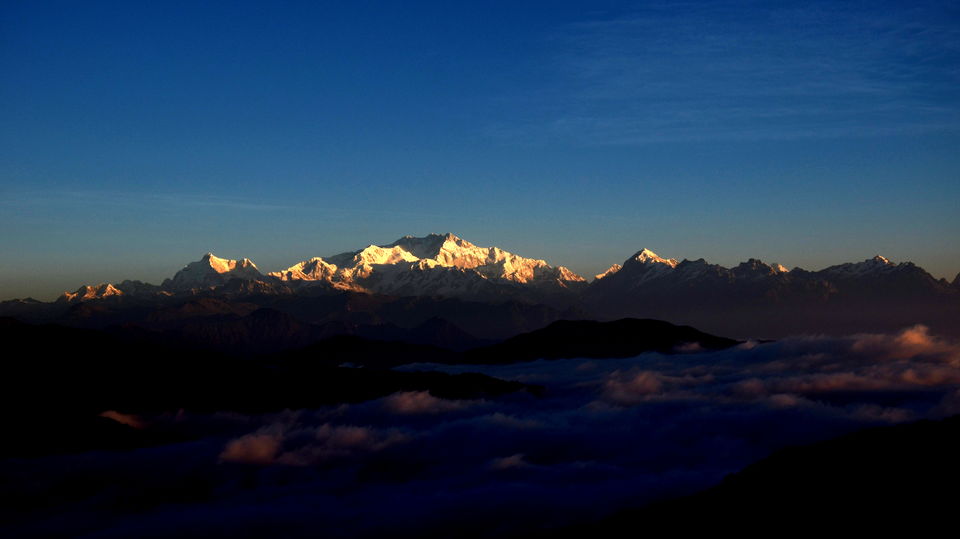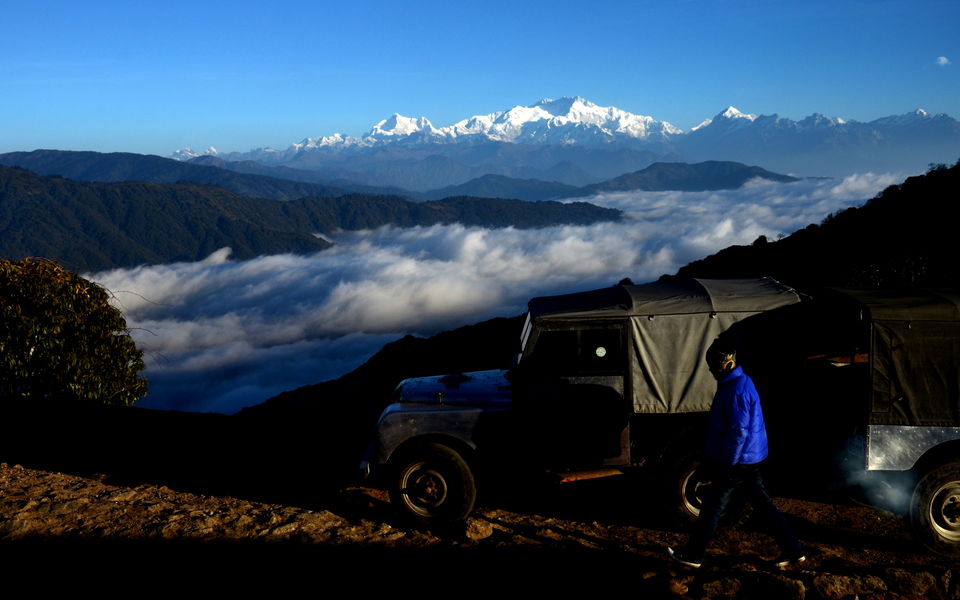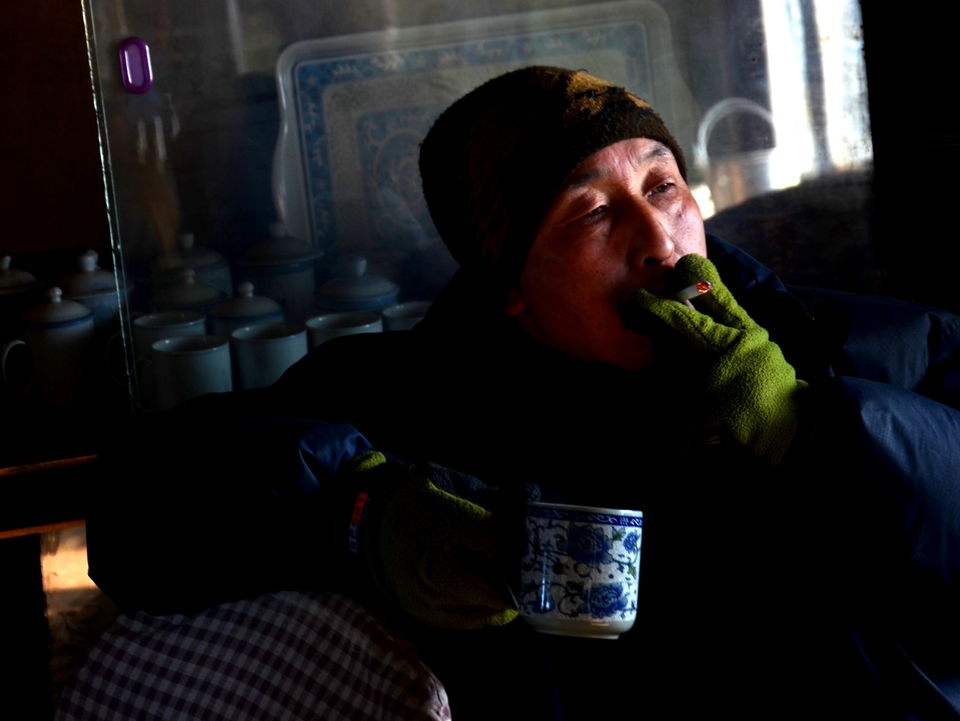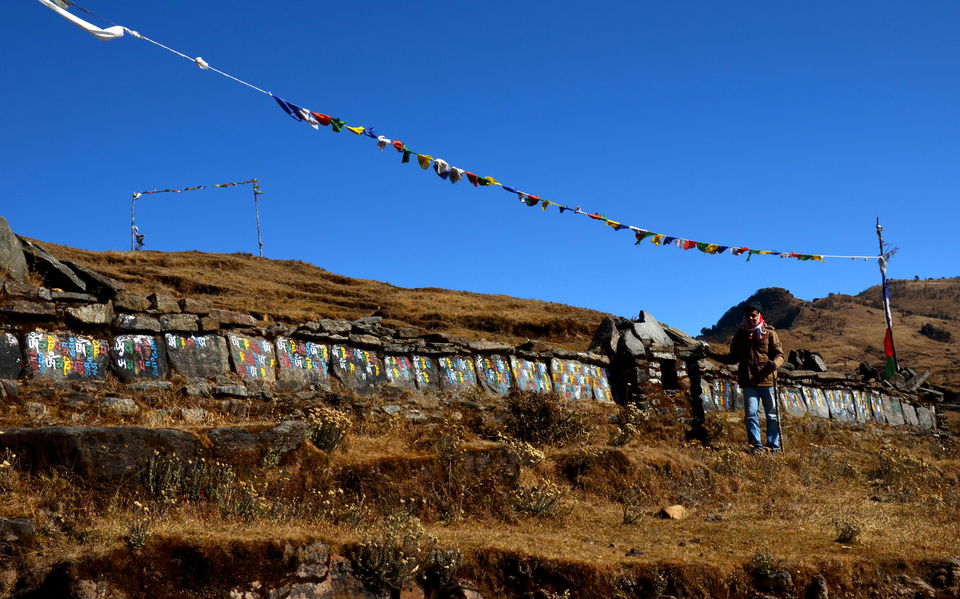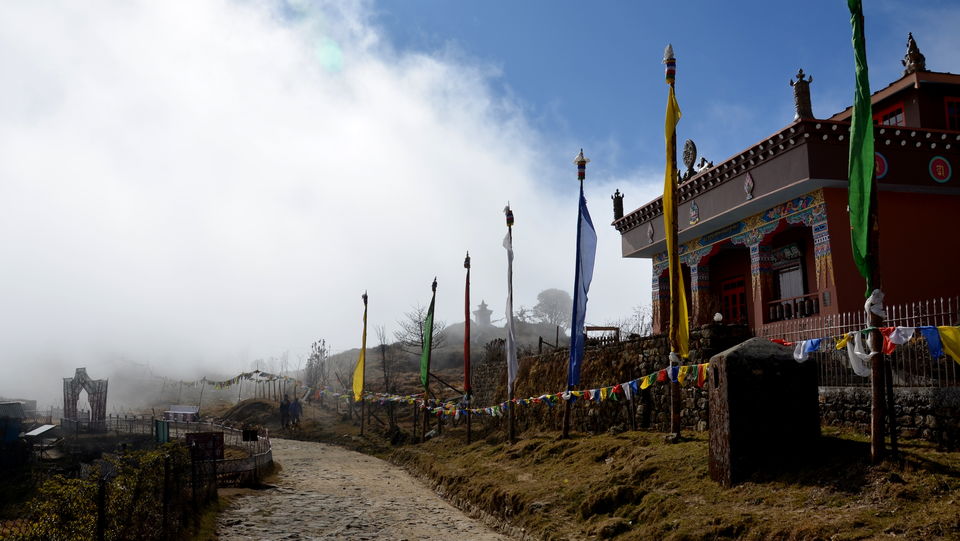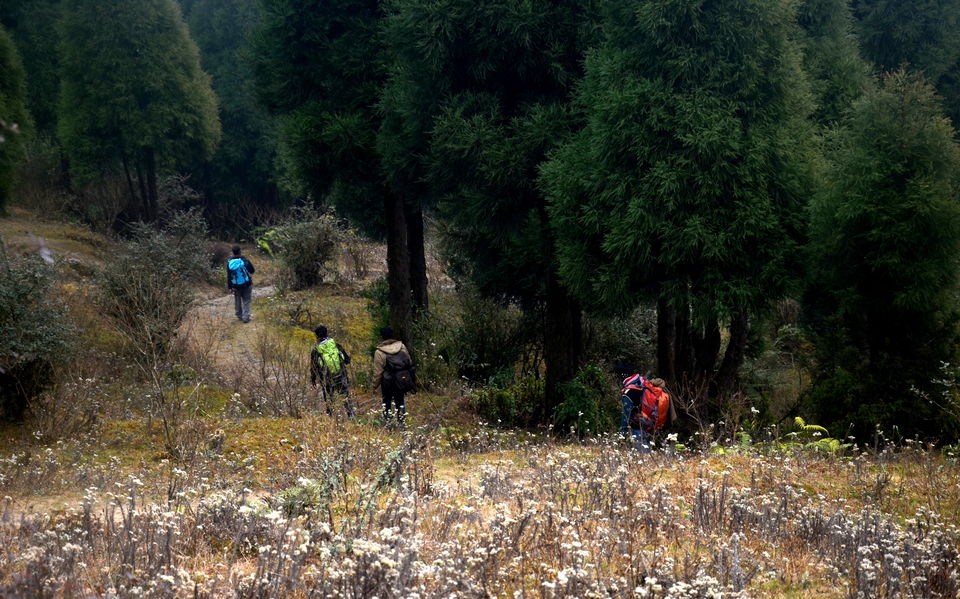 Mane Bhanjan is the gateway of all the trekking activities in Sandakphu region. One can reach Mane Bhanjan by afternoon (around 1:30 pm) if one starts from NJP railway station around 9'o clock. This is a small town busy with various activities. It hosts a school and a playground attached to it. Nothing much scenic though. But it was really foggy and cold at that time. You can get your trek guide from here. We though had our guide booked beforehand. He already arranged a delicious bengali lunch in a small homely restaurant. We had our lunch there and started towards Rimbik by the car we had from NJP.
Shrikhola is a beautiful little place amidst the green hills. It basically hosts a Trekkers Hut and some private lodges with a few localites huts here and there. Your car will leave you at a point, around 2-3 kms from Rimbik. You have to walk around 1-1.5 km. to reach Shrikhola. You will cross a old hanging bridge, called Shrikhola Bridge and cross the Shrikhola river underneath and thereby the name of the place, Shrikhola. We had our room booked by our guide in Trekkers Hut. But what we did not know that Trekkers Hut does not have electricity but the private lodges do. We were actually became happy knowing that as it allows one enjoy nature to the fullest. The trekkers hut is just beside the river, and as you know the sun sets early in the mountains. Once it goes dark, there is no sound other than that of the river flowing down the sloppy terrain just beside the place. All the huts and lodges are basically on the left side of the river, while the right side hosts hills covered with dense trees. The valley is really narrow enough to provide an eerie feeling we were looking for. There is nothing to do in the evening, other than endless gossiping and chatting, and fortunately we had cards and we were 4 friends, so it was like dream for us playing cards under the light of candles in the gloomy wooden rooms of the trekkers hut with the only sound coming from outside from the Shrikhola river.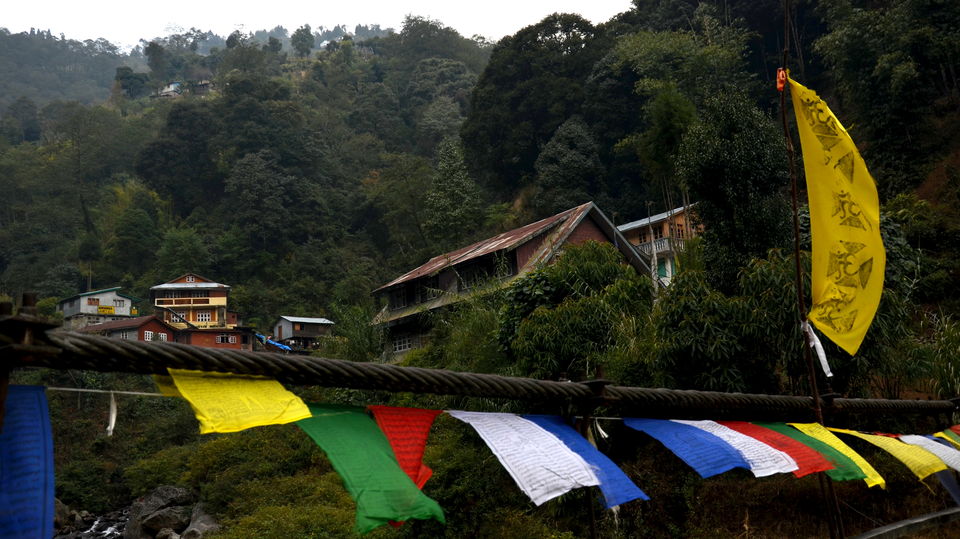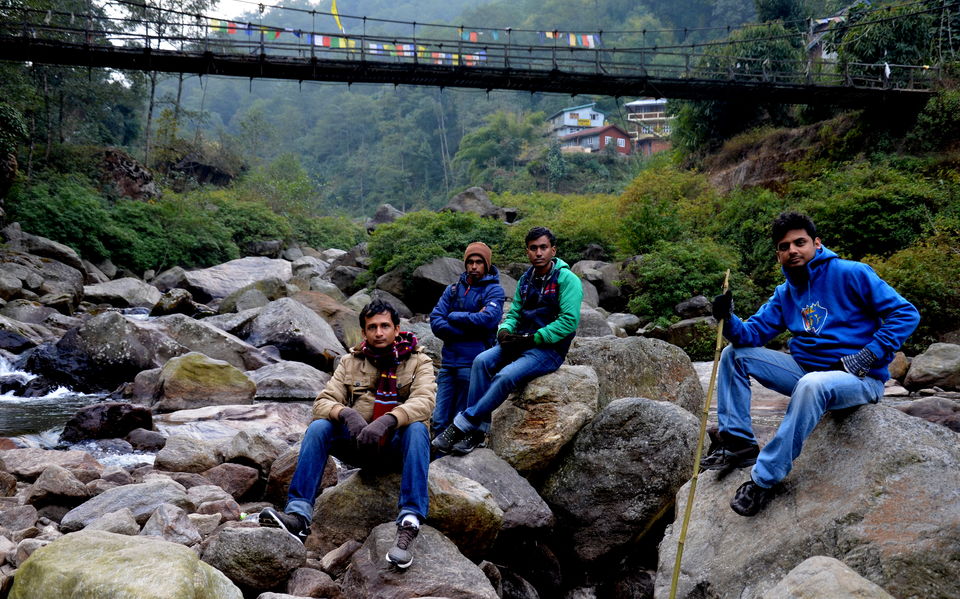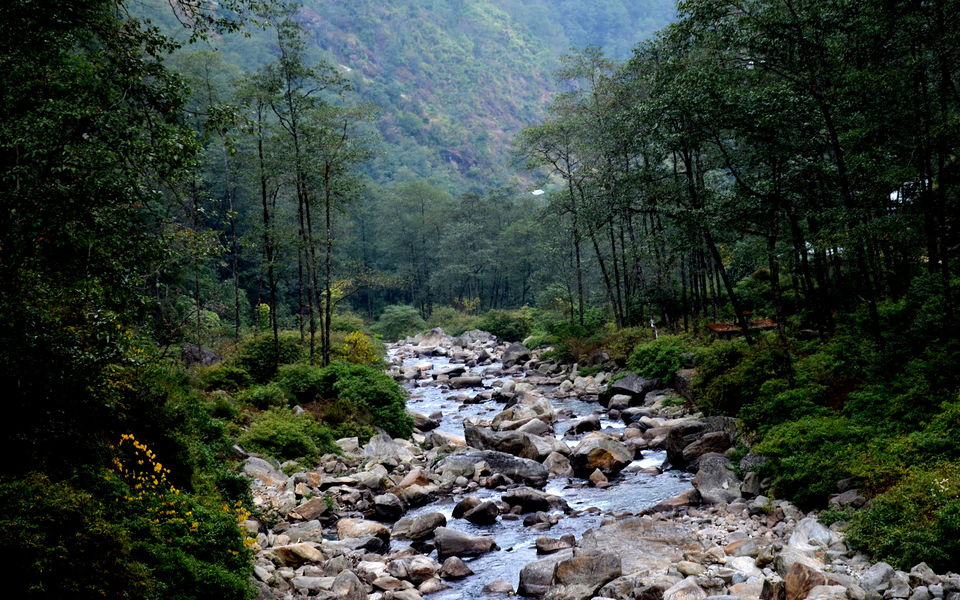 We trekked the route from Shrikhola to Tumling. It was easily a 5-6 hour trek for a fair walking speed on a 30 degree to 45 degree steep trail. The treak route is basically a path for localites, through the forest first, then into open place for a 15-20 min duration, then goes again into forest which decreases rapidly with height increase as you ascend onto Tonglu peak. While on the trail, Mt. Kanchenjunga suddenly appears on the right side of the trail. The sight really boosts your energy up for the rest of the trail. From this point on, Kanchenjunga will be your companion for the rest of this trip. We reached Tonglu at around 4:30, we started the trek from Dhotre at around 12'o clock. At Tonglu we had soupy noodles at a localites house, which seemed utterly delicious for we were tired and fascinated by the view from Tonglu peak at the same time. We had a great sunset view from the peak over Mt. Kanchenjunga. There is a trekkers hut in Tonglu too, one can stay there instead of Tumling if one wants to be on the higher peak as Tumling is about 100 m below Tonglu. But nothing to worry much as the view of Kanchenjunga, as I felt is even better from Tumling. From Tonglu, it's a easy descending/straight path to Tumling for around 30-45 minutes. When we reached Tumling, it was full dark, with stars blinking up over the clear black sky. We had our lodge (Mountain Lodge) booked by our guide. After putting down our backpacks, we came out. It was most probably the most pristine time I ever had! It was all quiet, only light was from our torches, we looked up at the sky, it was full of stars, had never seen such vast star-carved panorama. We clearly spotted milky-way. Next early morning (at 4'o clock), we set out to see sunrise from the Tumling peak. In December, the sky is so clear, that you will get great view of everything and sunrise did not disappoint us as well. Tumling being just a halt en route Sandakphu Trek, there is nothing much for sight-seeing. We actually did not plan for Sandakphu that time, instead had planned for two nights relax at Tumling. We roamed around Singalila National Park, which starts 2 km from here, in the morning. Chichatted/Played Cards in the afternoon/evening. The following day, we started descending towards Mane Bhanjan. Had Meghma Monastery, Chitrey village on the way down.