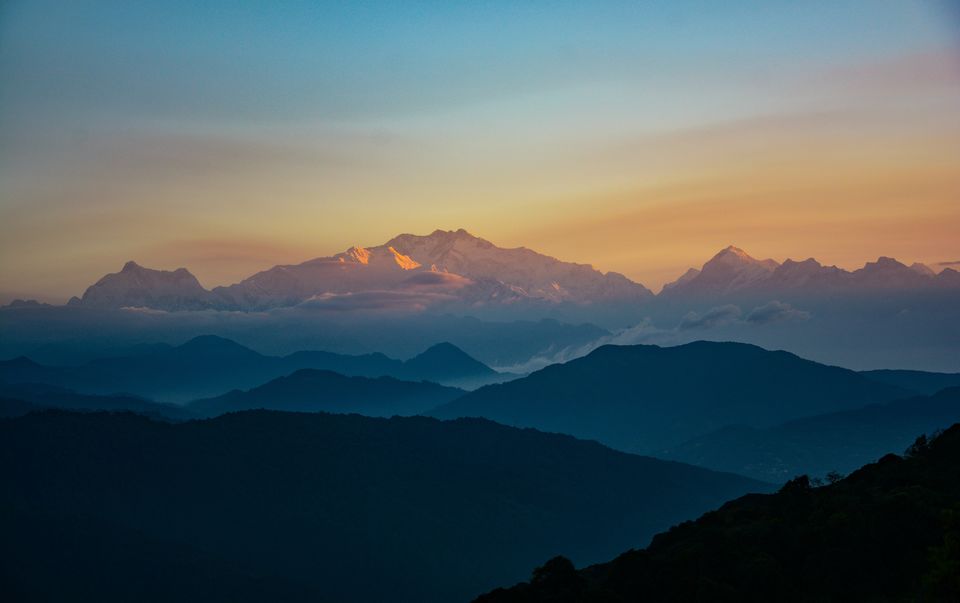 Three of our family members including myself, my mother, father and one of my cousin brothers recently came back home from a short trip to the highest point of West Bengal - Sandakphu. We started from Kolkata - our home town.
The next day, after an overnight train journey (~12 hrs) we reached New Jalpaiguri (NJP) station around ~10 am. From there, our pre-booked Mahindra Bolero drove us straight to Maneybhanjang (6325 ft) check post. Luckily, we reached there just in time.
Please note - after 2.00 pm no car is allowed to cross Maneybhanjang towards Sandakphu.
From here we changed our car and hopped on to a reserved vintage Land Rover - almost 70 years old. Note that only these fleet of 4x4 beasts ply on this terrain as public mode of transport (imported from England by British tea planters of Darjeeling region). Thanks to their super skilled drivers who negotiate the extremely steep inclines and treacherous boulder-filled bumpy terrain - almost effortlessly.
By 2.30 pm we reached Chitre or Chitray , 3 kms from Maneybhanjang - our first destination and overnight halt.
Chitray serve as the first halt for the trekkers too, who trek along the mind boggling Maneybhanjang - Sandakphu - Phalut circuit. This trek route passes through the Singalila National Park and from Sandakphu one can witness at a glance (on a clear day) 4 of the world's 5 highest mountain peaks - Mt. Everest, Kanchenjunga, Lhotse and Makalu.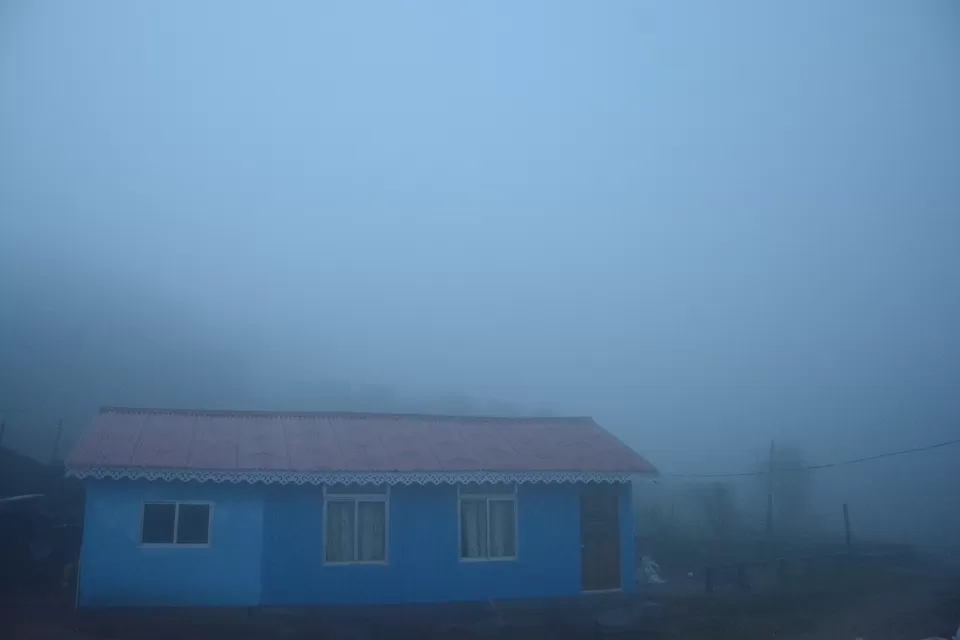 We stayed in Hawk's Nest - the only option for fooding & lodging available in all of Chitray and this lodge actually falls within the borders of Nepal.
Note - all along the terrain up to Sandakphu, one would drive along India- Nepal border, sometimes through Nepal too. There are no walls !! Only in some places one would find a vertical concrete slab with India written on one side and Nepal on the other.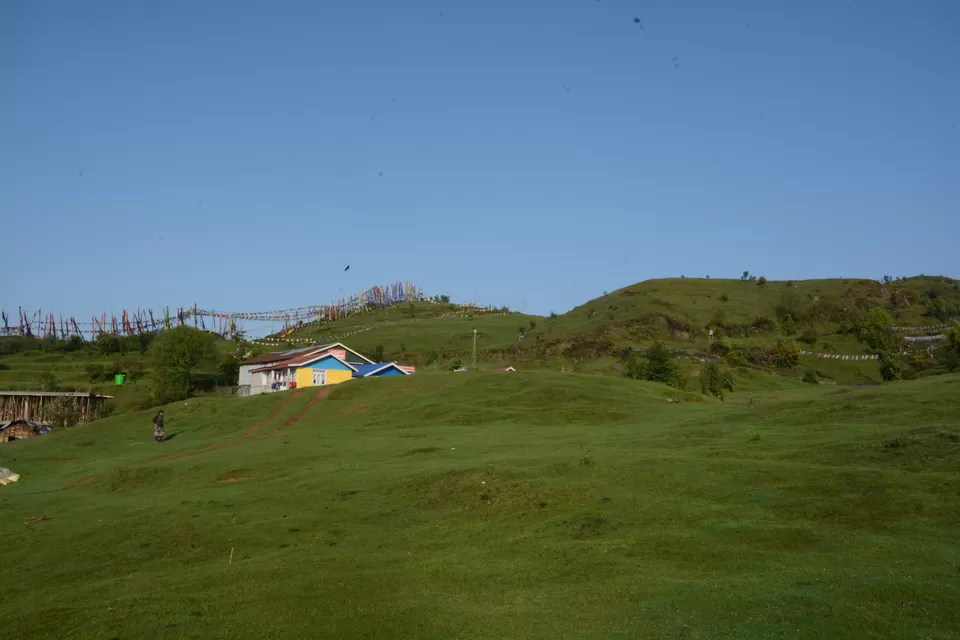 Chitray is a sleeping mountain hamlet with eye-soothing contours of meadows at an elevation of ~8300 ft.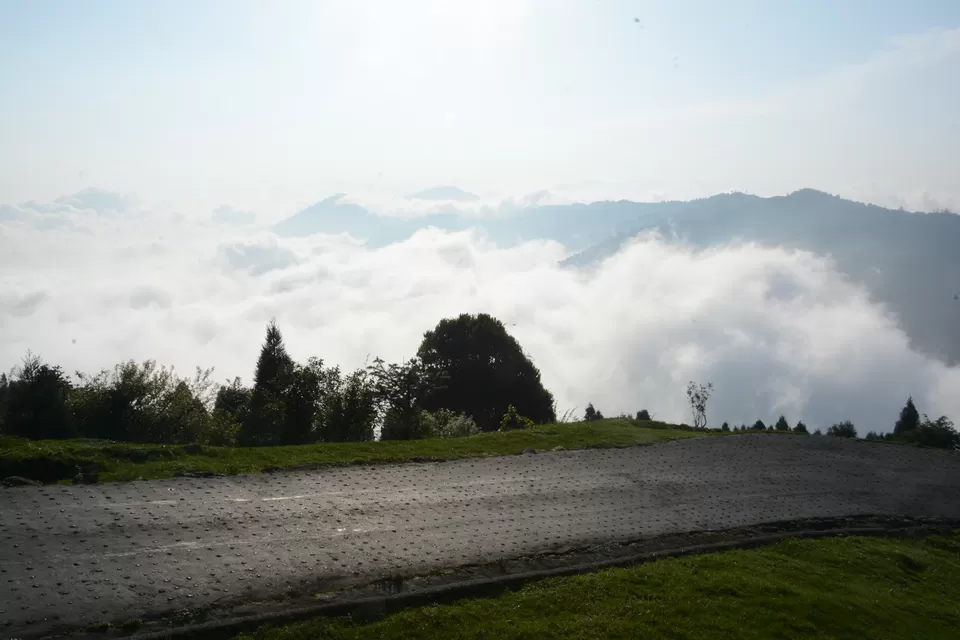 Food and amenities you would get all along this circuit would be mostly very basic , given the remote location and steep gradient of the places.
The menu would be quite common almost everywhere in this region - something like this: soup noodles / noodles in breakfast, rice-dal-sabji-papad in lunch, khichdi-papad / omelette in dinner.
Also, there are few other things a city dweller from the plains has to forget while traveling in this region, like - wasting water, electricity, cell phone network and of course internet.....!!!
In most places, electricity is from solar or generator. In Sandakphu electricity would be only for 2 hrs - 6 pm to 8 pm in the evening. In very few places, sometimes, if you are lucky, momentarily you may get Jio/Airtel/BSNL network.
Well, after encountering a few leeches at night on the grassland beside the lodge, it was a good night's sleep :)
Next day we started for Sandakphu - 29 km from Chitray.
Note that, all Land Rovers take around 5 to 6 halts of ~10-15 mins each en route to Sandakphu. There may be few reasons for that - firstly, its a very steep and difficult terrain to drive on and the controls in the 1950s' Land Rover model is obviously not the easiest one to use, let alone automatic. So after a strenuous driving for 5-6 kms a break is a must needed one. Secondly, these halts give the car engine the cooling time necessary, after each of the steep and bumpy climb. Thirdly, it also in a way, help the travelers to get acclimatize to the increasing altitude and decreasing oxygen level.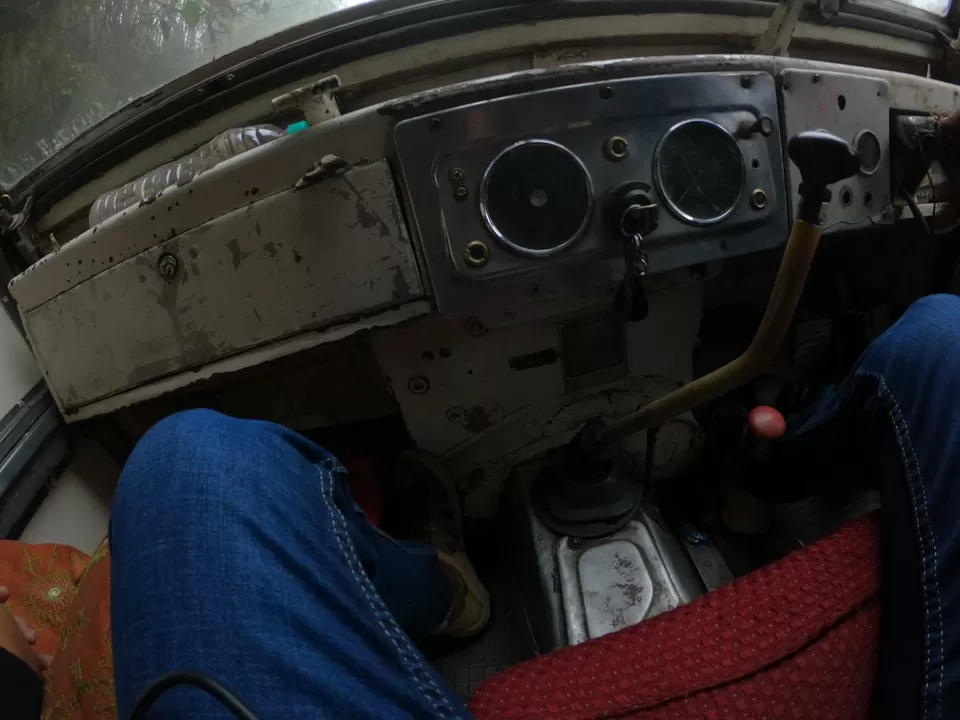 The general halt points in the ~32 km circuit, both for trekkers (mostly trek through the mountain forests, less through road) and Land Rovers are : Maneybhanjang-Chitray-Lamey Dhura-Tumling-Gairibas-Kalapokhri-Bikeybhanjang-Sandakphu.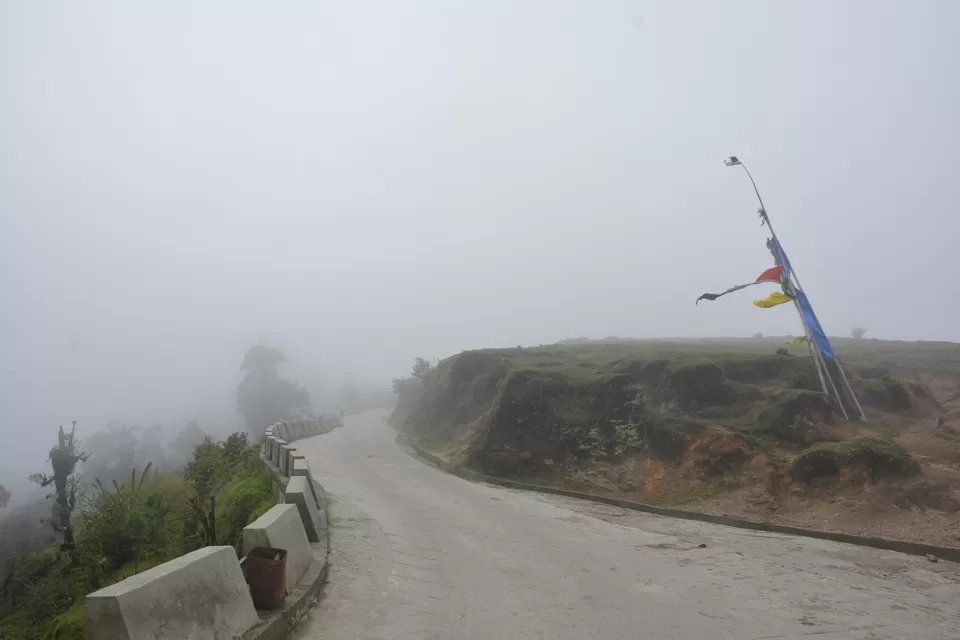 Thus, our first halt of the day was at Lamey Dhura. There were two little shop-cum-tea stalls. We met an amicable lady who was owner of one of the stalls...her smiling face did give me a chance of photographing my first portrait of the trip (and yes, I did seek her permission before taking the photo) !!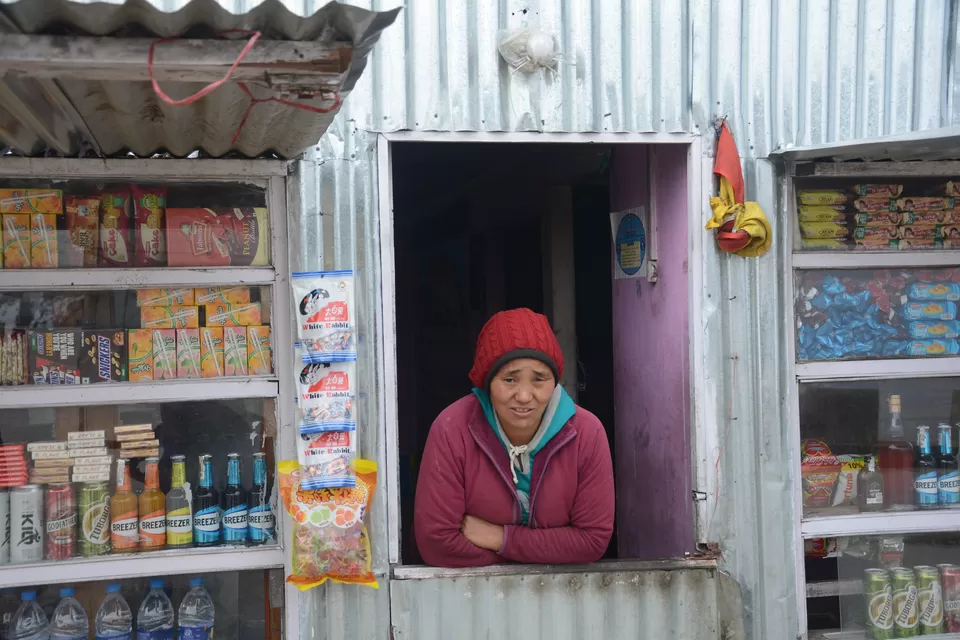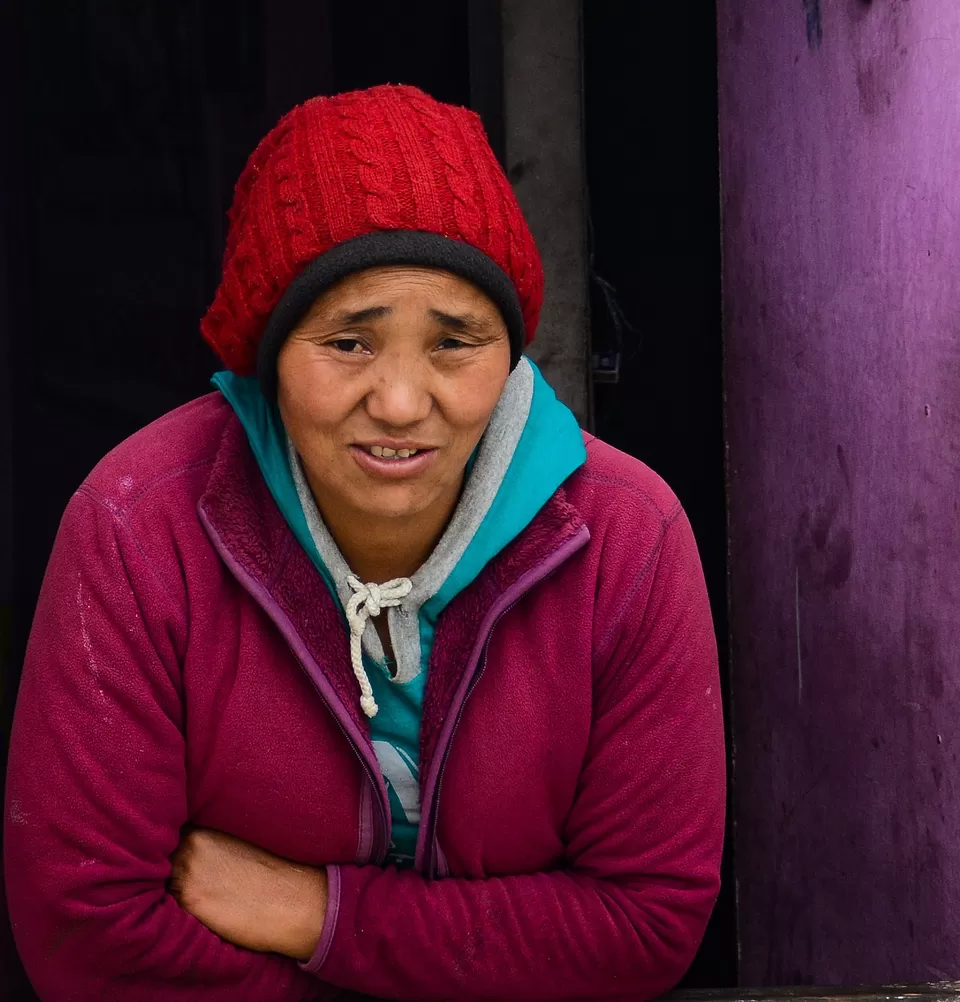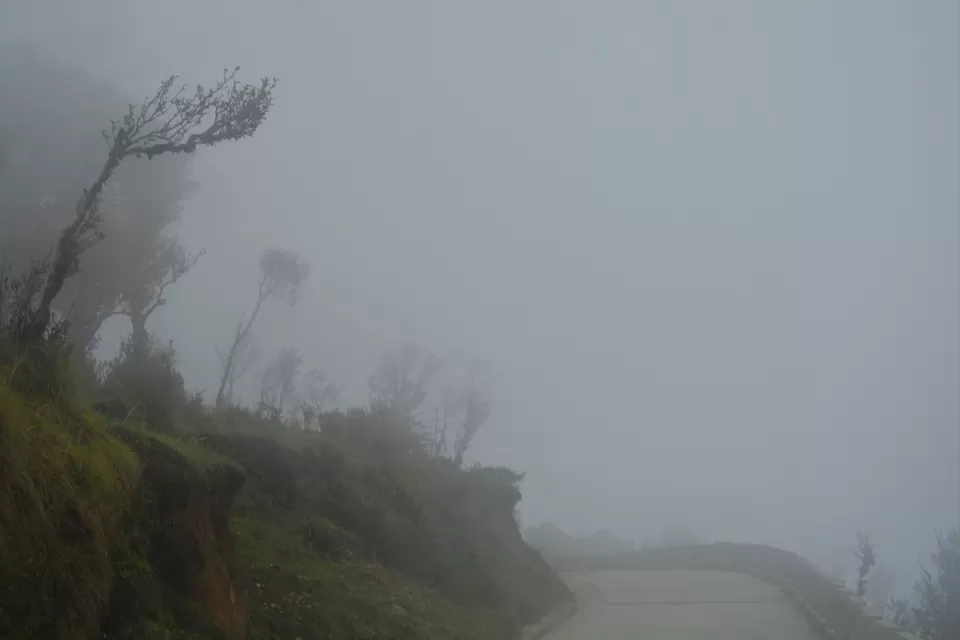 Next, our 2nd halt of the day was Tumling. We did stay at Tumling for one night but while returning from Sandakphu. Before Tumling, there are two beautiful places on the way, where people often stop to soak in the beauty of nature - Meghma and Tonglu (2 kms apart). Further 2 kms ahead of Tonglu lies Tumling. However, we decided to visit these places while descending from Sandakphu.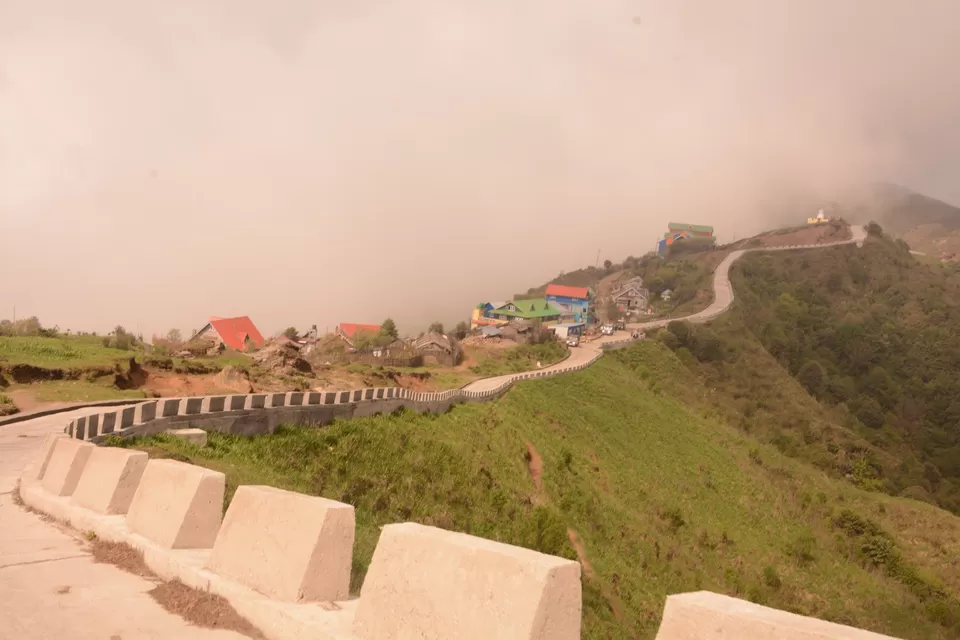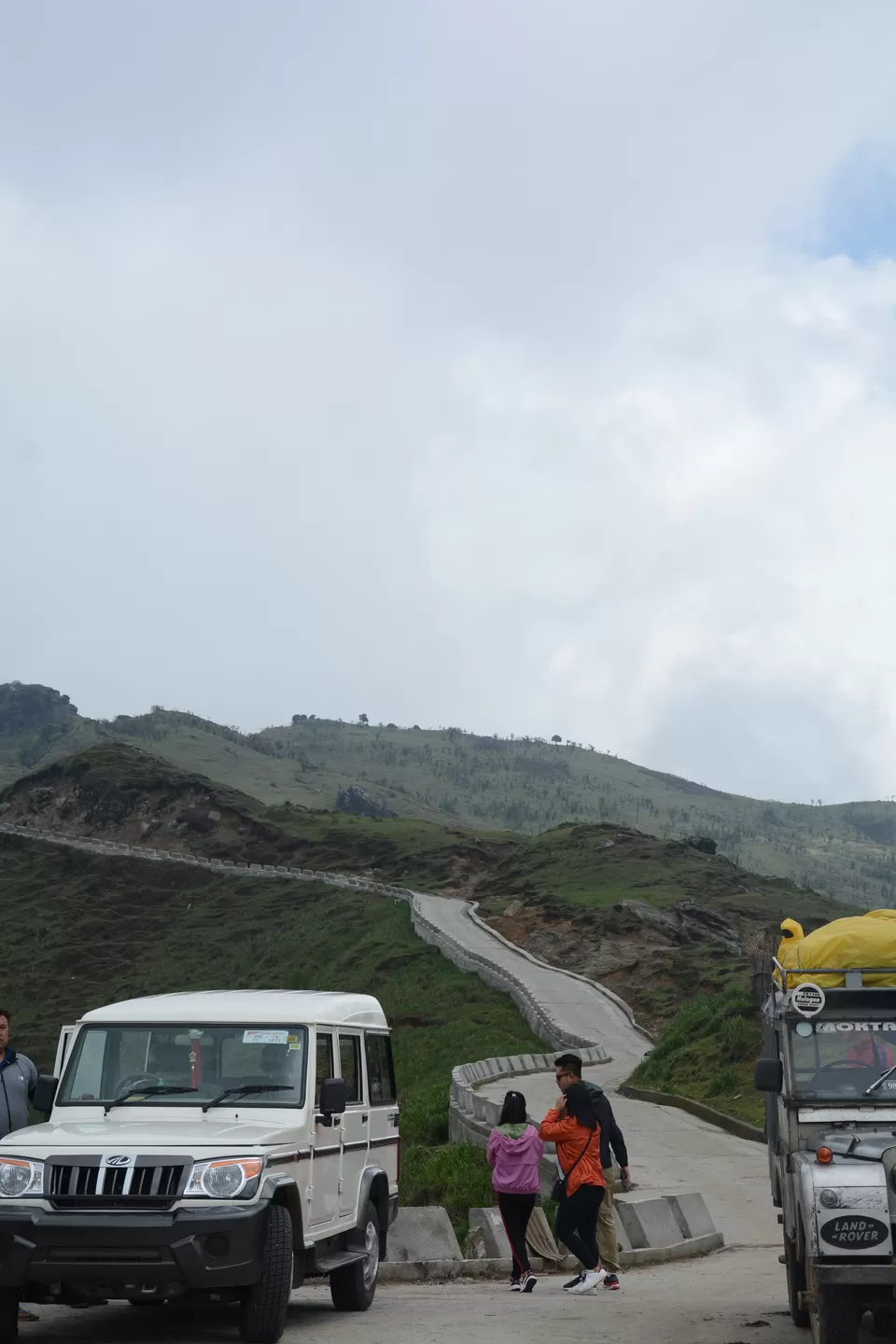 From here, the concrete road and barriers on the very steep incline look like a mini version of the Great Wall of China!
All the accommodations or eateries available here are located within boundaries of Nepal, ie left of the road - when one is going towards Sandakphu. The place consists of around 10-15 Nepali families who run the three to four lodges present here or are primarily associated with these in some ways.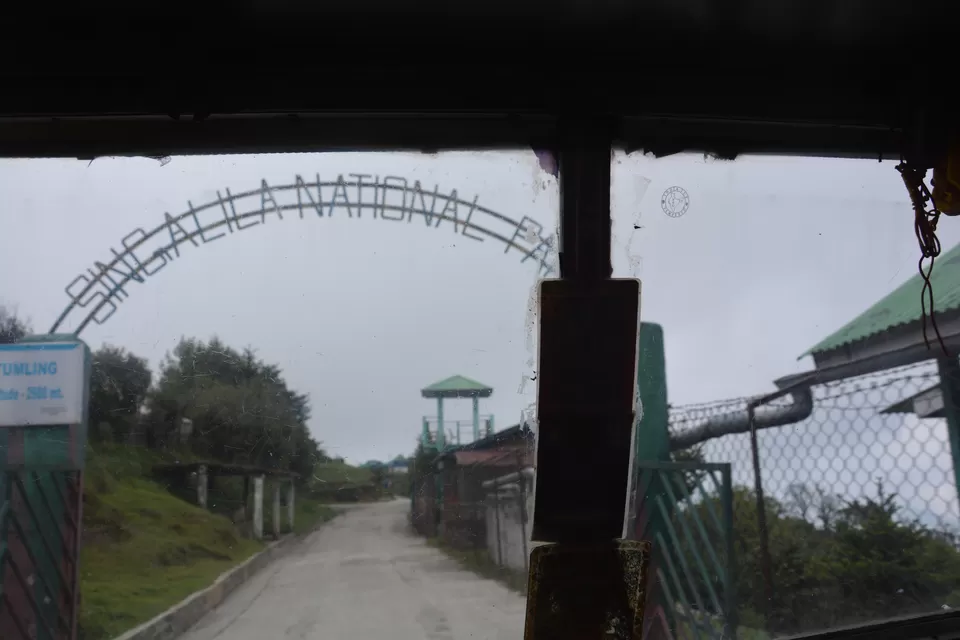 After a 15 min break here, we again embarked on our journey towards Sandakphu. One lovely thing any nature lover would enjoy here in this circuit is the continuous hide and seek play of the sun and clouds. If its sunny this second, the next second its zero visibility due to clouds !! Even when you are in your room clouds may still follow you there :) Its a real pleasure for any mountain and nature lover, in general.
Our next stop was at Gairibas (8600 ft). There is a small tea stall here, serving tea and breakfasts. Also, a GTA trekker's hut located close by is on high demand because of the scenic beauty surrounding it. Especially, in spring (ie, in April - when rhododendrons are in full bloom at this elevation) - its dormitory are always packed and you would not get any accommodation if not booked in advance.
It is noteworthy that all the halt points in this route have good facility of clean toilets - located either inside the tea-stalls or as a stand-alone structure.
Opposite to the tea stall at Gairibas is an Indian Army camp - which cannot be photographed as per order from the concerned authorities.
Up to Gairibas, the road for cars has been upgraded to a smooth concrete road. But the road after Gairibas all the way up to Sandakphu is boulder-filled and bumpy. It is a real slow, almost continuous roller coaster ride by Land Rover from here on for the next ~15 kms.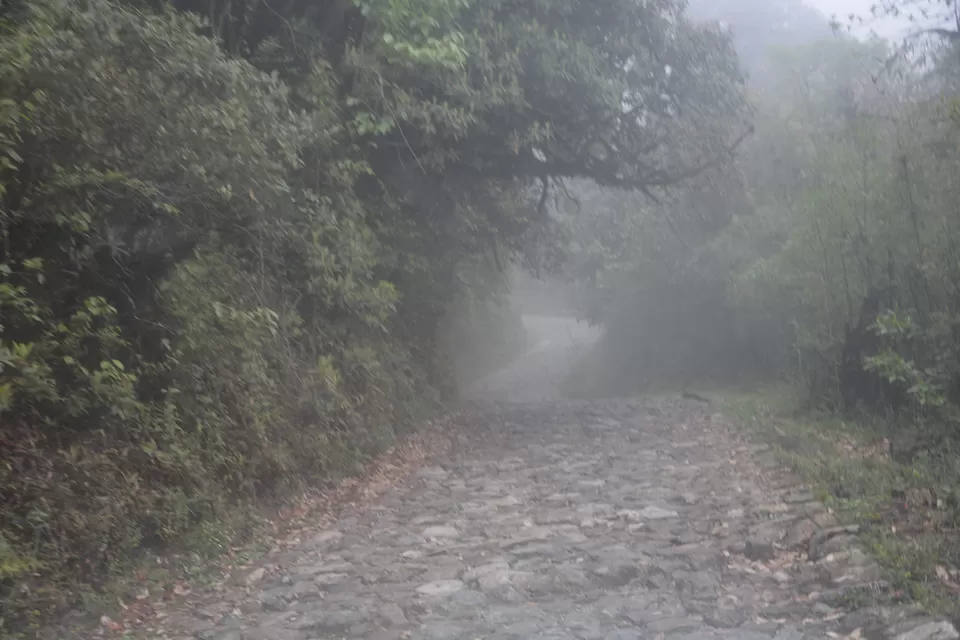 After Gairibas, we braced ourselves for the jerky journey ahead. After few minutes got used to it, though ! Next stop - Kala pokhri (or Kali pokhri) Lake (10,450 ft). The name in local language means black water body (kala = black, pokhri = water body). The small muddy lake looks blackish, especially in winter and it never freezes. The lake is considered sacred by the villagers here. There is also a legend about this lake as we heard from the locals. It is said that, one cannot find any dry leaves at any given time in the lake. Also they say that there is a particular species of bird which clears off any dry leaf from the lake as soon as it lands on the lake water - and that, these birds have been witnessed by only a handful of villagers !!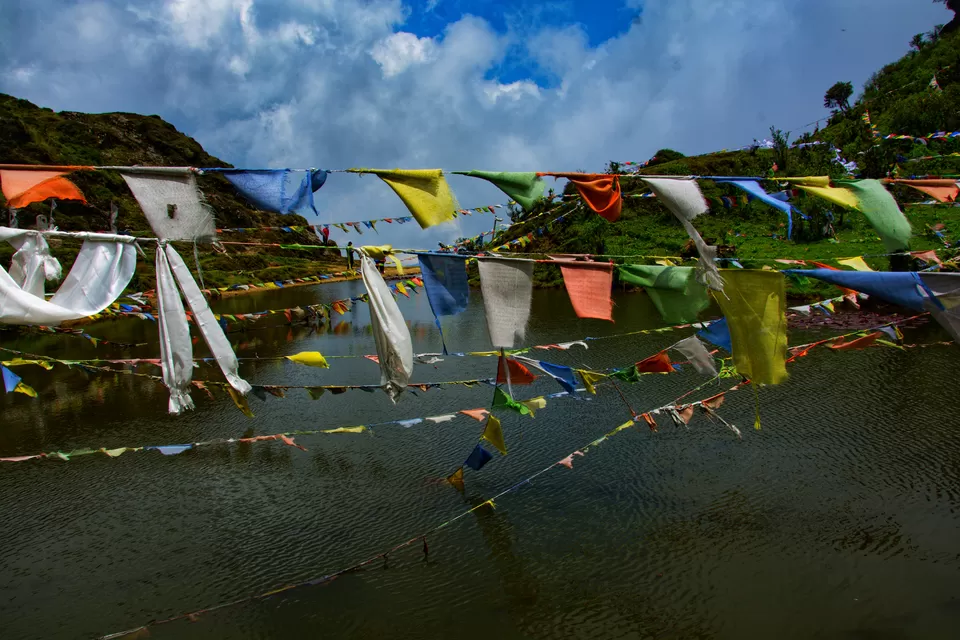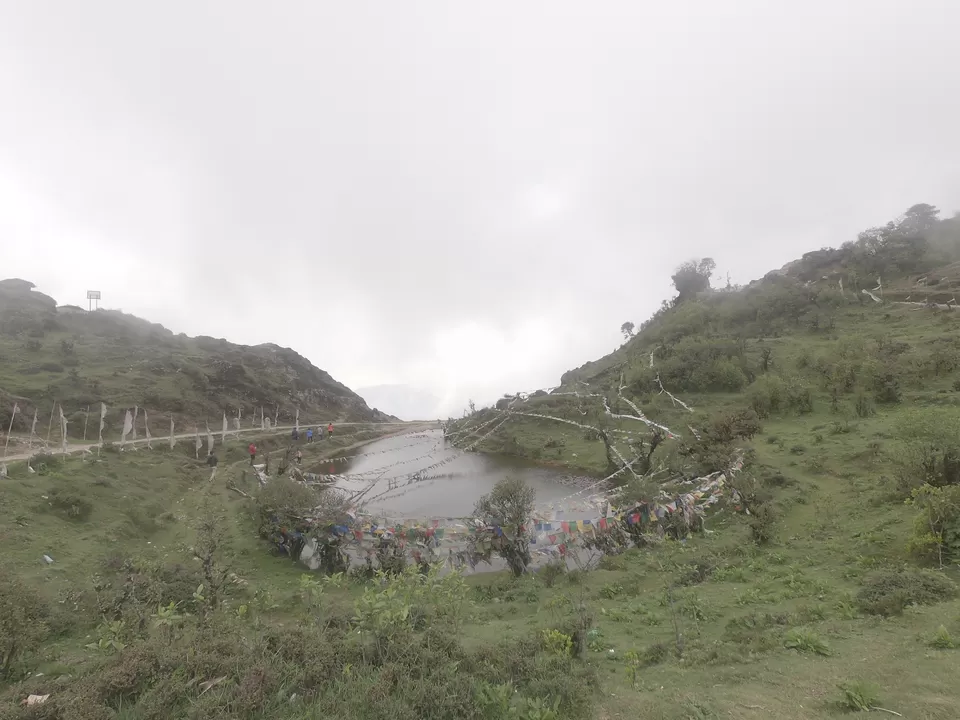 After spending some time at Kala Pokhri, we again took our seats in the Land Rover and resumed our journey. Next, we stopped for a brief period at Bikeybhanjang - from here Sandakphu was at a distance of 3 kms.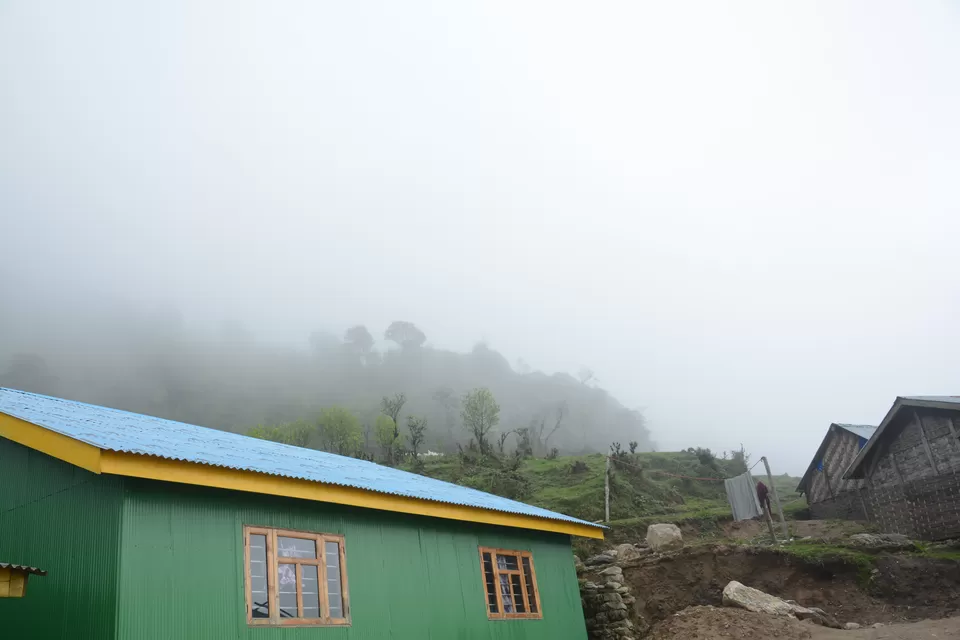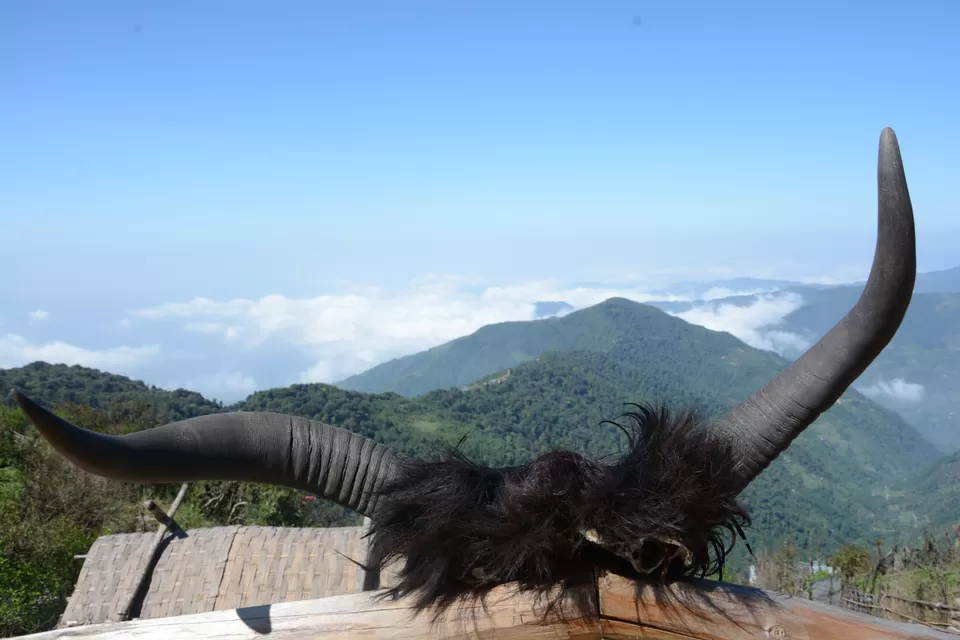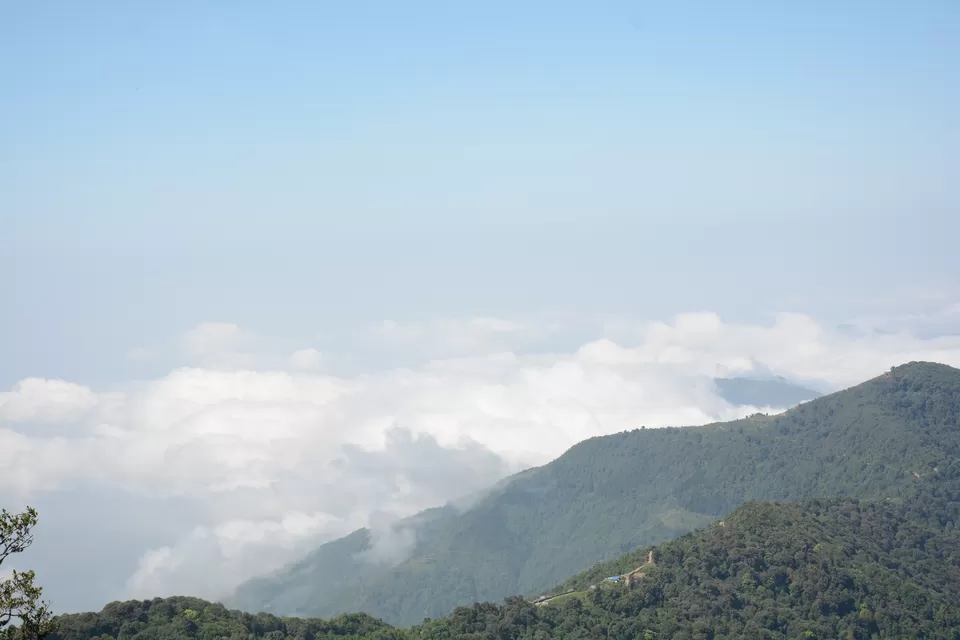 From here, a 20 mins drive took us to our destination - Sandakphu. The last 1 km stretch was probably the steepest with sharp bends.
Finally we reached Sandakphu around 2.30 pm (started from Chitrey around 9.30 am). Here, we stayed in Namo Buddha Hotel which falls in India. There are few other accommodations like - GTA Trekker's Huts and a Forest Bungalow within the Indian border. Further up (about 100 mts) there are two somewhat bigger accommodations - Sherpa Chalet and Hotel Sunrise, both in Nepal.
Behind our lodge was an Indian Army camp. From our small room we could see the Indian Tricolor fluttering continuously from dawn to dusk. As I mentioned, Sandakphu is known for its unparalleled mountain views and also for the bone-chilling cold Himalayan wind.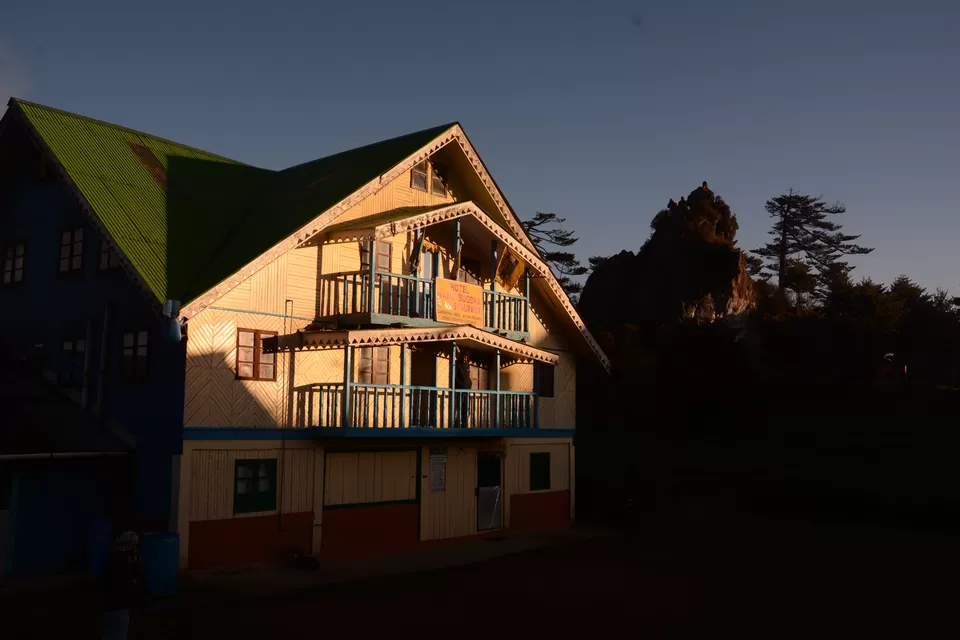 The young owner of the hotel reminded us that Sandakphu is a place with acute shortage of water and that sometimes, water has to be bought from Bikeybhanjan at Rs 1/- per litre . Though we had attached bath, it was without any wash basin or toilet flush. An Indian style toilet with a bucket full water is what you get. But, on our request the ever helpful caretaker-cum-staff-cum-cook would refill the bucket as soon as he could. Sometimes, it would be from the rain water stored in large barrels. It was really a nice experience - forgetting our urban, injudicious and mechanical ways of life and understanding the value of things we usually take for granted !!
That night, it started raining heavily after midnight. We were literally shivering under our heavy double blankets. But, we were happy inside....heavy rain at night often paves the way for a clear and sunny morning the next day. And what more can you ask for when in Sandakphu than a clear sky, with a view of the mighty Himalayan peaks in Nepal, India, Bhutan and Tibet.
And we did find a clear sky - we realized that around 4.30 am in the morning , when the elderly caretaker of our lodge knocked at our door for waking us up.
Within 5 mins we were at our feet, ready with 3-4 layers of clothing, woolens,jackets, caps and gloves. We walked up to the open space near Hotel Sunrise to witness one of the most beautiful mountain views in the world. Gradually, light replaced darkness....and we were awestruck!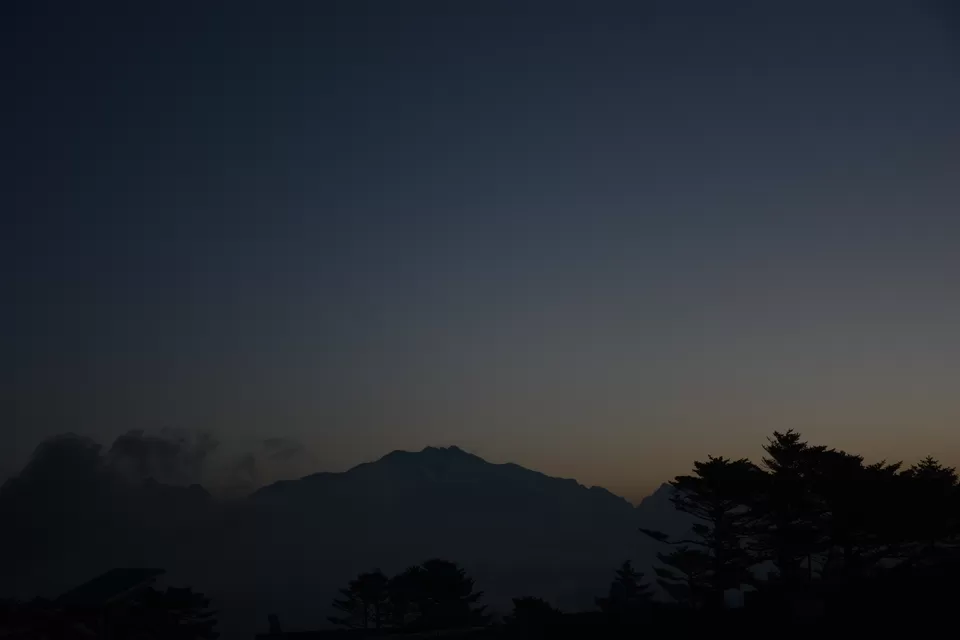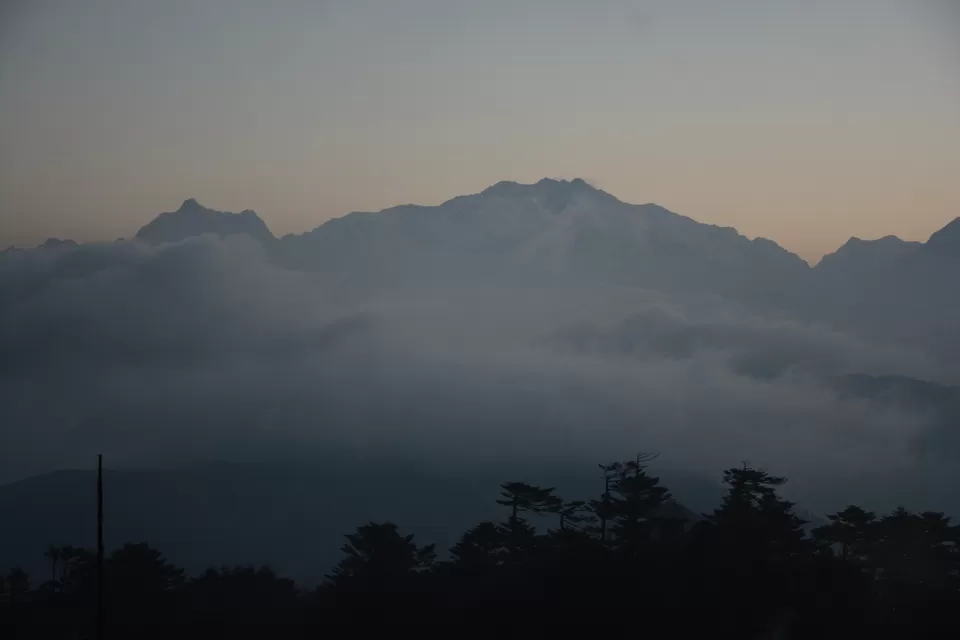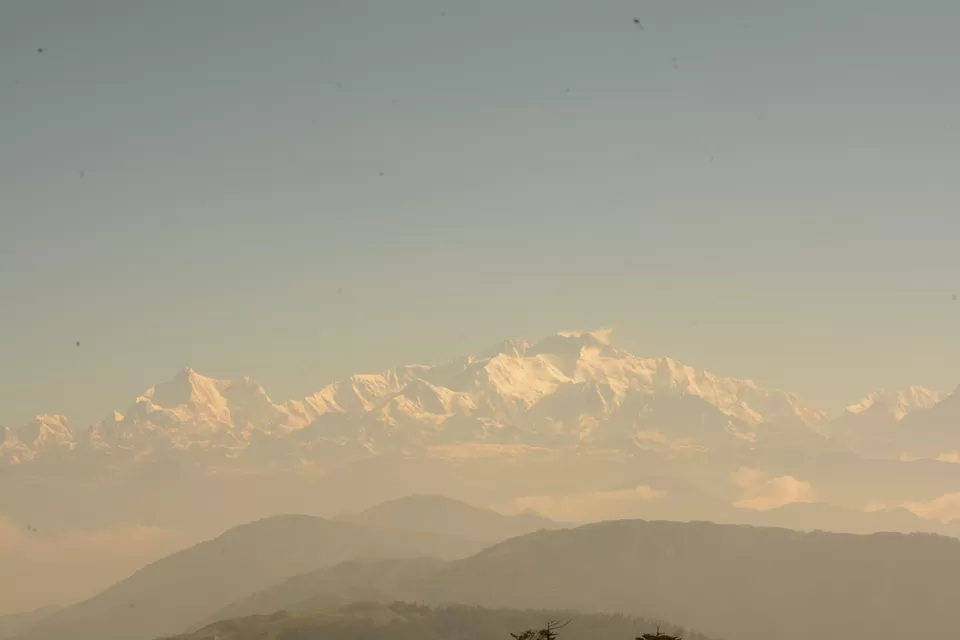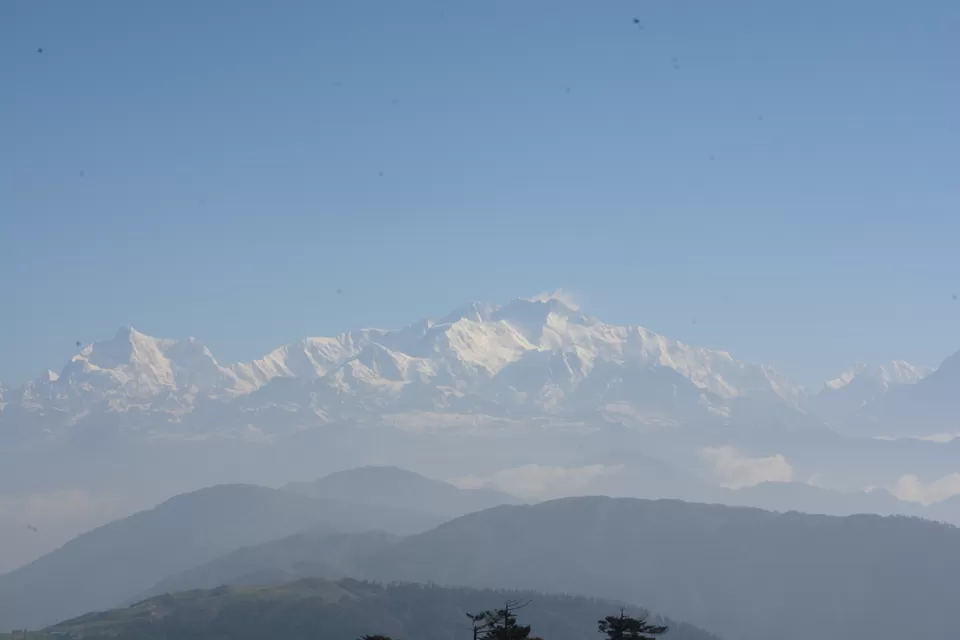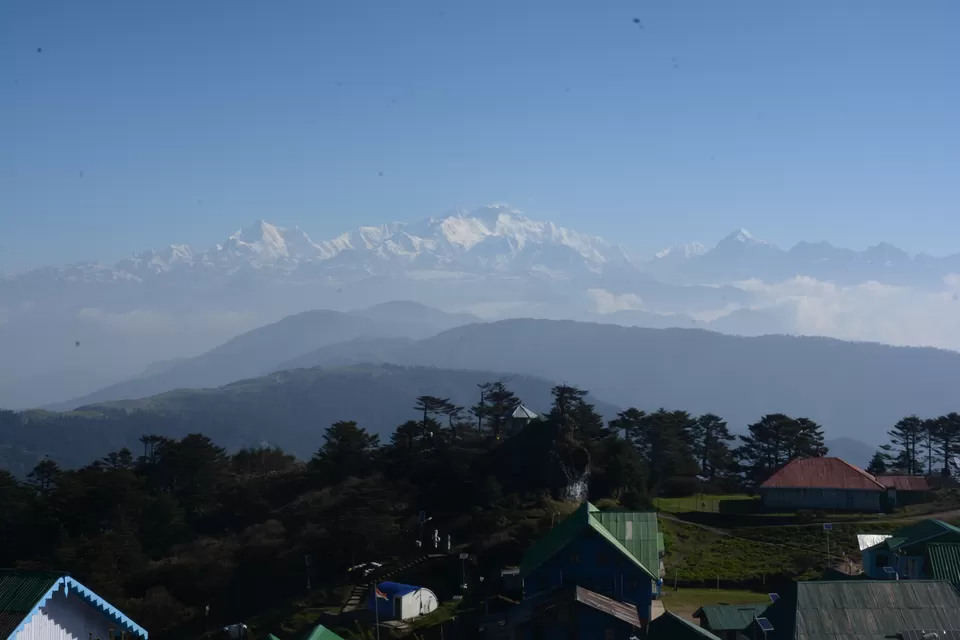 The world famous Sleeping Buddha formation comprising Kanchenjunga and other Himalayan peaks lay before us - a sight which remains in your mind for a lifetime. The arrangement of the peaks from distance looks like a human figure sleeping on his back - his head/nose pointing at the sky above. Actually, its like a profile photo (right profile) of a person lying down straight on the ground with his face towards the sky. The belly portion of the formation is actually the Kanchenjunga peaks.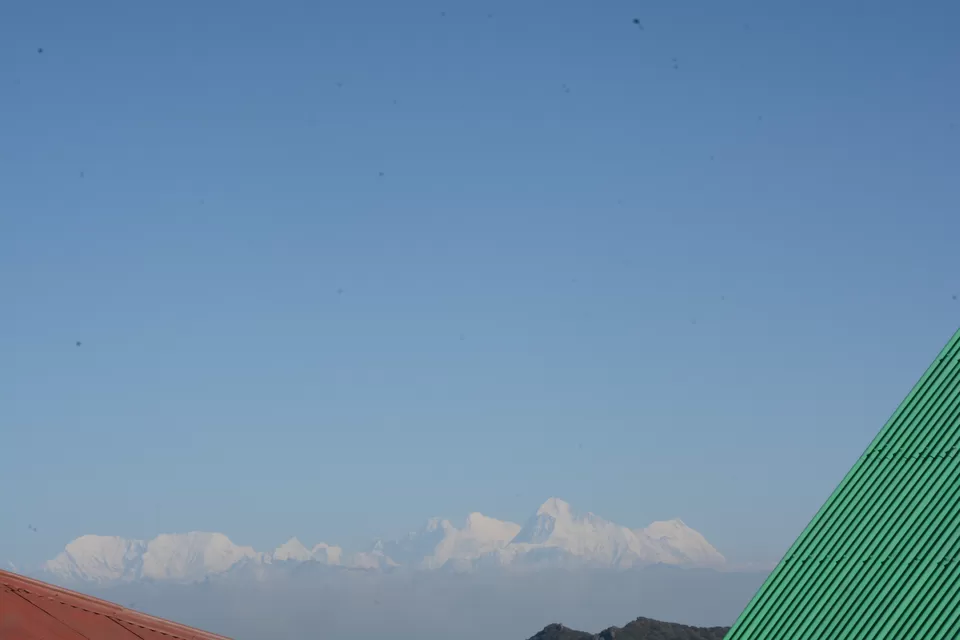 After sunrise, we were also able to view the peaks of Mt. Everest too nestled between two other peaks - Lhotse and Makalu.
Before we could sink in the ethereal experience, our driver called us. As per him, now that we have already seen the Sleeping Buddha at sunrise and the weather being clear - it would be wise to drive to Thokum, 6 kms off Sandakphu towards Phalut. It is a picturesque village in Nepal with the same majestic mountain views.
Though we planned to go for a day-trip to Phalut, it got cancelled due to excessive rain in Phalut region for the last three days. The roads were not safe and no Land Rover drove towards Phalut that day.
So, Thokum seemed a good option to explore. And indeed it was !
The road to Thokum can't be called a road in truest sense. It was one of the most deplorable road in the whole circuit with loose boulders and steepest of inclines with sharp bends. The ride here tested our mettle and the driver's too.
However, as they say the best views come after the steepest climb - this was again proved in Thokum....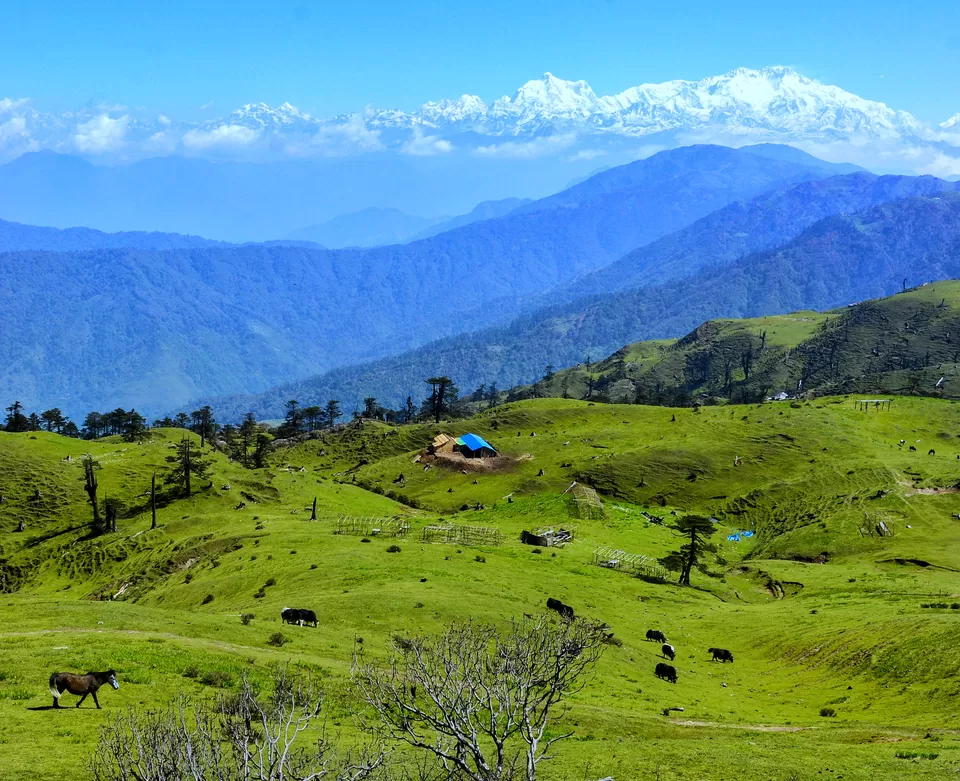 The beauty of the Nepali village in the meadows below simply left us spellbound. But, my fingers became numb within minutes while I tried to take some photos of the landscape. The wind blowing on the top was so cold - our hands almost froze. We were literally shivering even with the sun shinning brightly. So, carry your gloves always whenever you venture out in Sandakphu.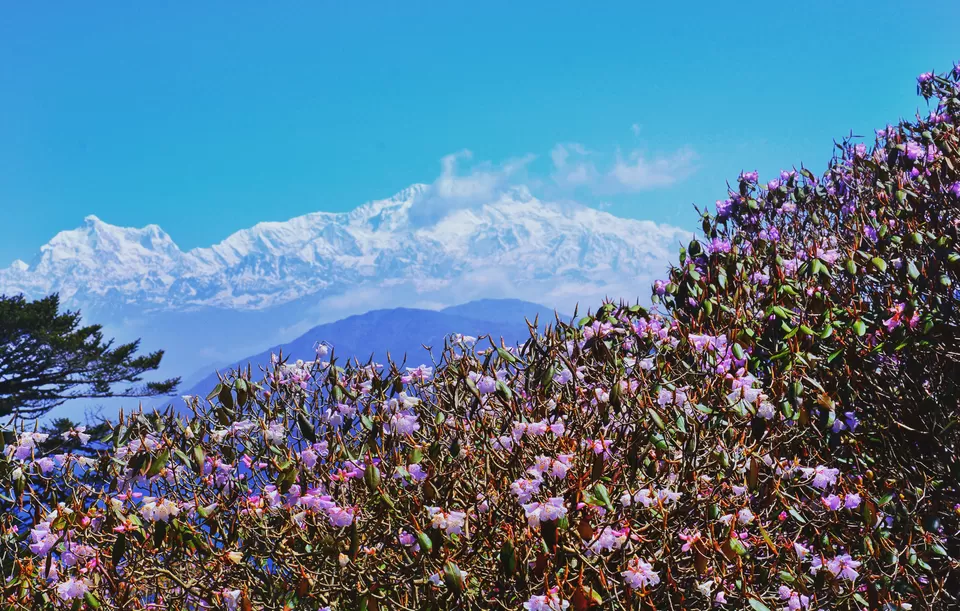 Also, in this trail we noted numerous types of Rhododendrons. They were in plenty here. Rhododendrons blossom abundantly in upper region (after Tumling/Gairibas) in this circuit. In March-April it starts blossoming and may continue till May. In lower regions, the blossom is very less in current days - may be due to global warming.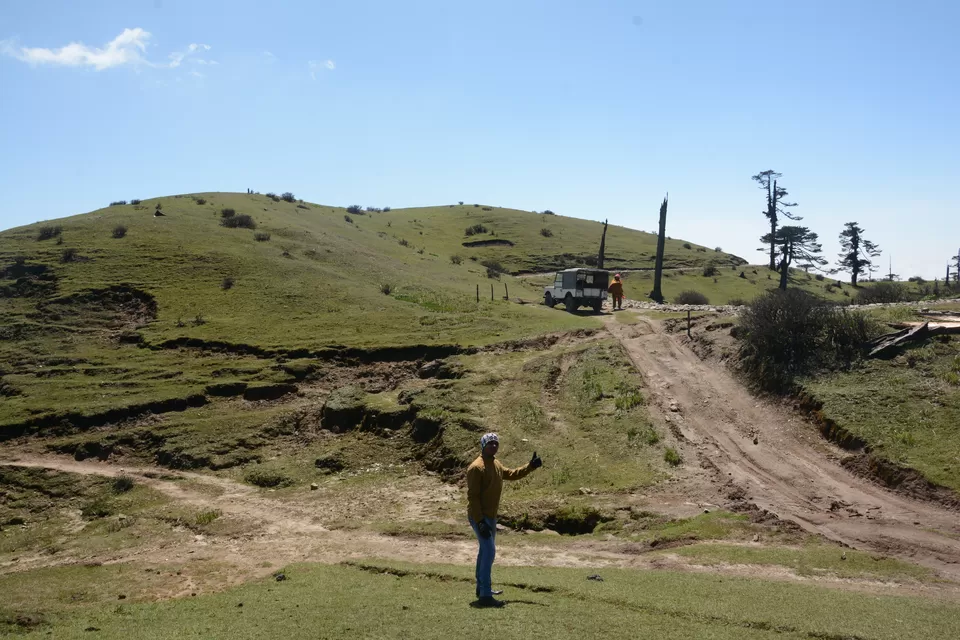 Indeed it was a great decision to visit Thokum...!! We returned to our hotel in Sandakphu after spending about an hour in Thokum.
Next day, post breakfast we started for Tumling. So, our descent from Sandakphu began...
We reached Tumling around 10.30 am in the morning and put up at Mountain Lodge - already pre-booked. There are other two-three decent lodges here like Sikhar Lodge and Siddhartha Lodge - but the view from one of the 1st floor rooms of Mountain Lodge is probably the best. That day though, we did not get to see the Sleeping Buddha from Tumling. We hoped next day we would ......
We spent the rest of the day loitering on the concrete road just in front of the lodge, photographing the uphill road which looks like the Great Wall, chatting with drivers and the locals.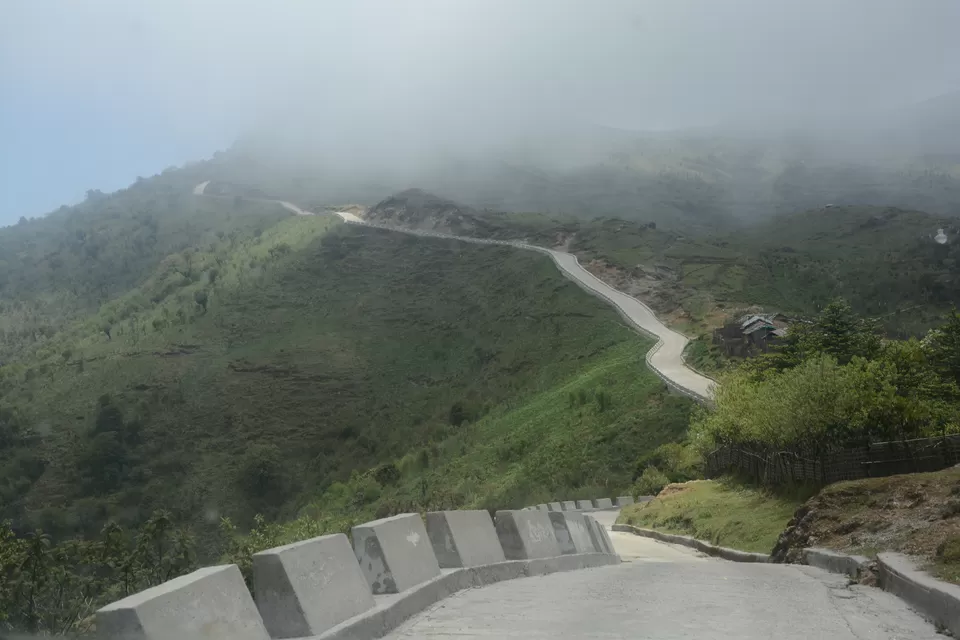 That day it again rained a lot, with hail this time.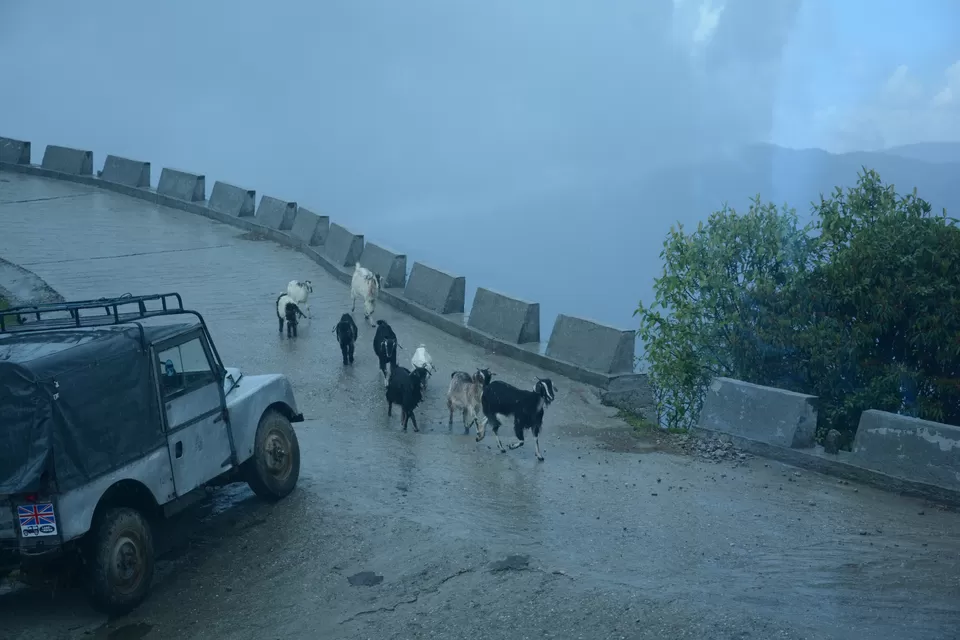 That night, for the first time in the trip we got chapati in dinner in place of rice. Had a great meal with egg-curry !!
We waited for the dawn to arrive, in anticipation of witnessing the Sleeping Buddha yet another day. And we did witness the magical views yet again the next morning.....this time from the window of our room !!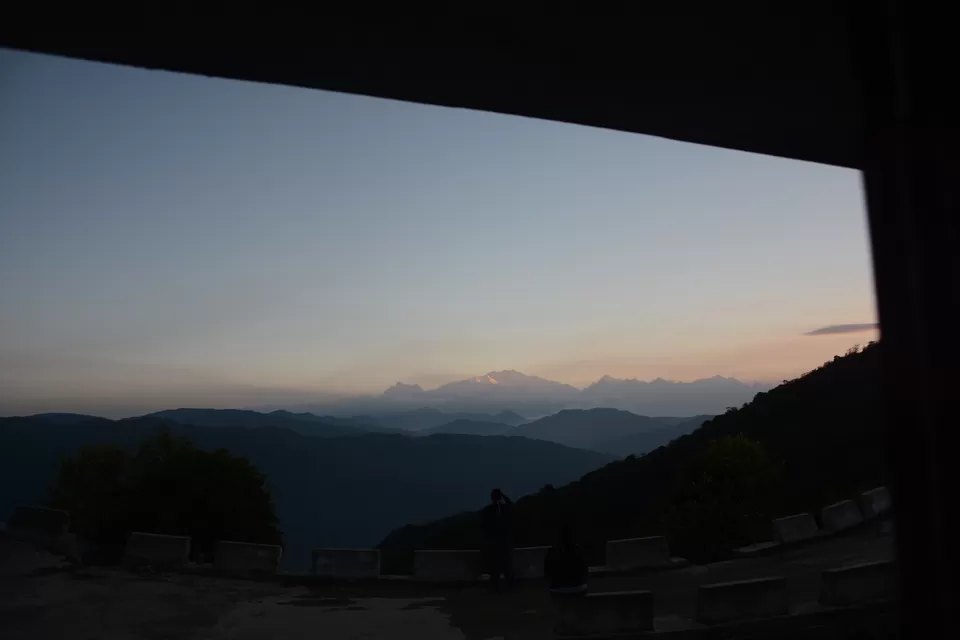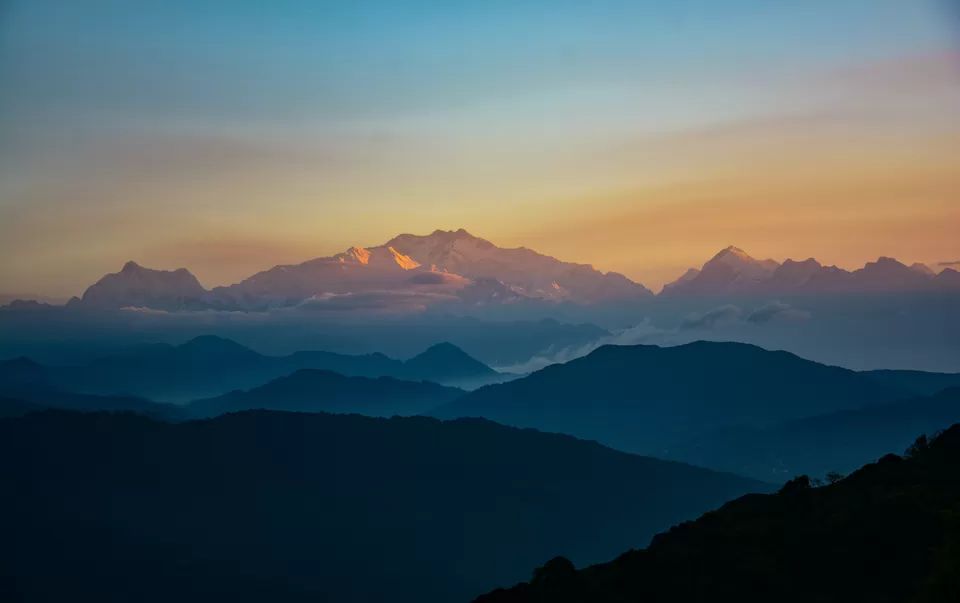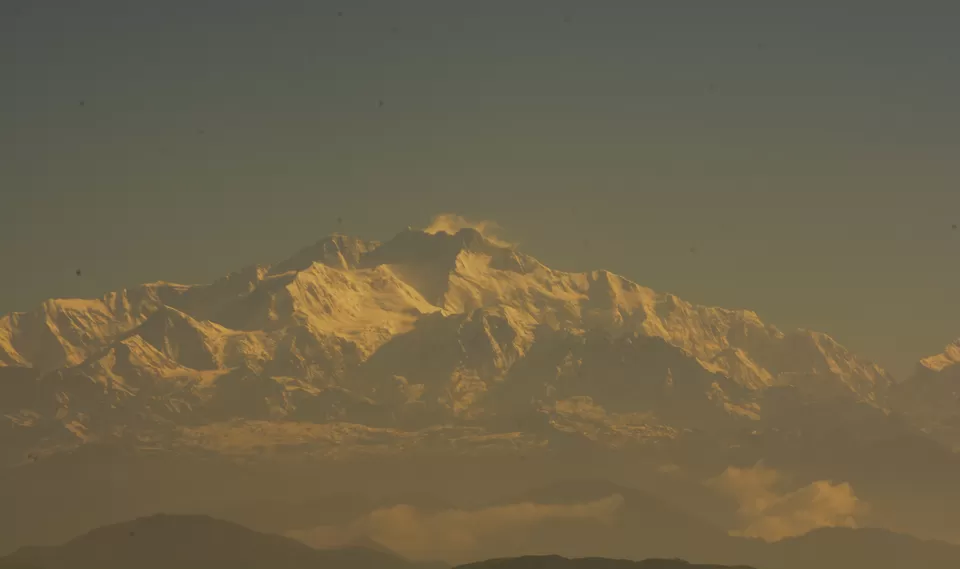 Thus, once again we were blessed by the Sleeping Buddha...!!
Next morning we had a new item in our breakfast - Tibetan bread. After gorging on the mild sweet bread with a potato sabji, we got ready for descending to Manebhanjang.
On the way we took a stop over at Tonglu, 2 kms from Tumling. On a clear day, Tonglu too only offers a great view of the Sleeping Buddha peaks. Also Darjeeling citylights can be seen from here during night.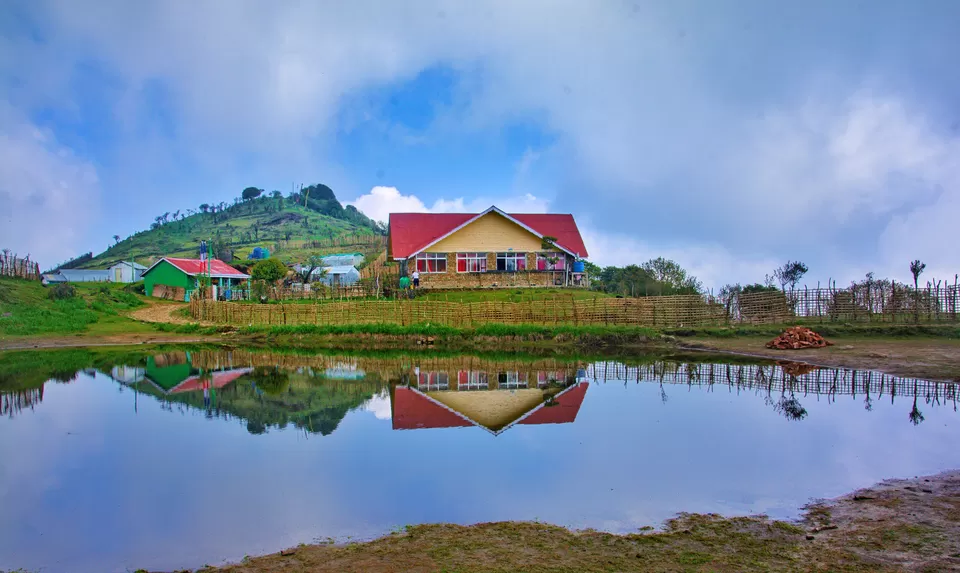 2 kms ahead of Tonglu lies Meghma - our next stop. There is a very beautiful monastery in Meghma, which falls in Nepal. Opposite to the monastery, on the other side of the road is an Indian Army camp.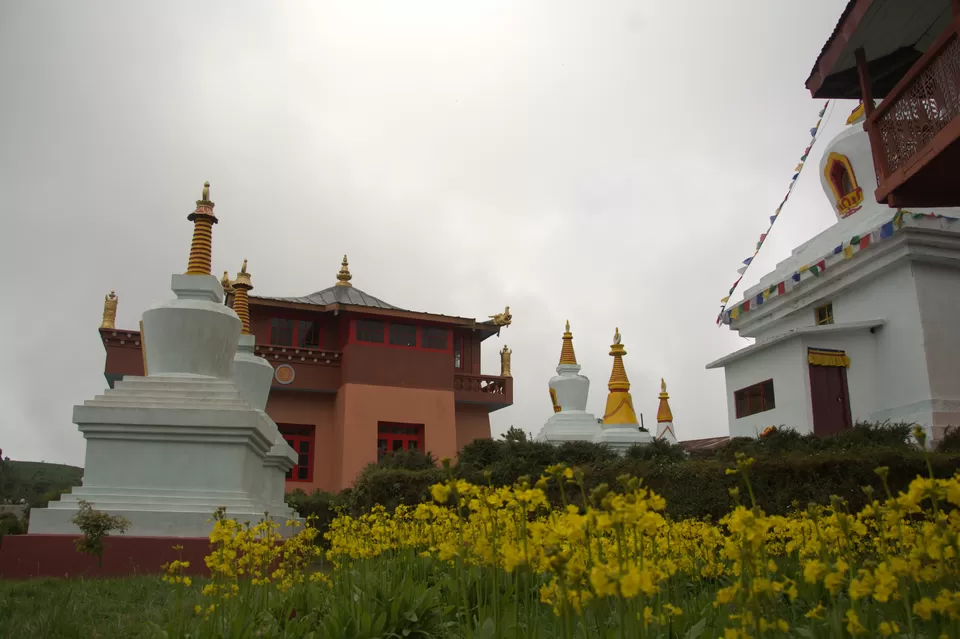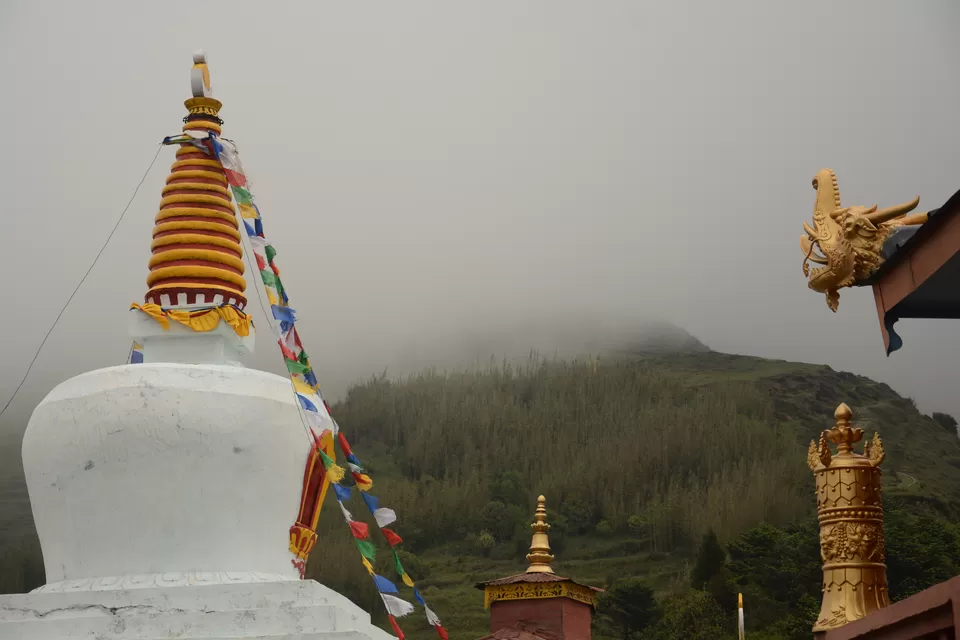 After a great road trip in the Singalila ridge, soaking in natural beauty in its purest form, learning about how mountain people survive on bare minimum and traveling along the India-Nepal border where geographical division is just a formality - we started our journey back home .....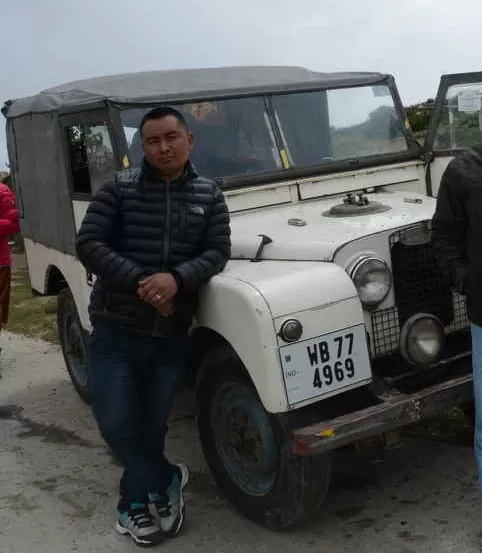 In a nut shell:
Trip days :-
Day 1 - Kolkata station
Day 2 - NJP to Maneybhanjang to Chitrey
Overnight stay at Hawk's Nest, Chitrey
Day 3 - To Sandakphu
Overnight stay at Namo Buddha Hotel, Sandakphu
Day 4 - Thokum visit; Overnight stay same as Day 3
Day 5 - Overnight stay at Mountain Lodge, Tumling
Day 6 - Tonglu and Meghma visit ; to Maneybhanjang and NJP
Car, Land Rover and Lodge bookings by - Majestic Himalyan Treks & Tours (Siliguri); http://www.majestichimalayan.com/contact.php
P.S : All photographs used here were taken by me
Frequent Searches Leading To This Page:-
Sandakphu trek from west Bengal, sandakphu trek operators, sandakphu trek experience, sandakphu temperature, tumling to sandakphu distance