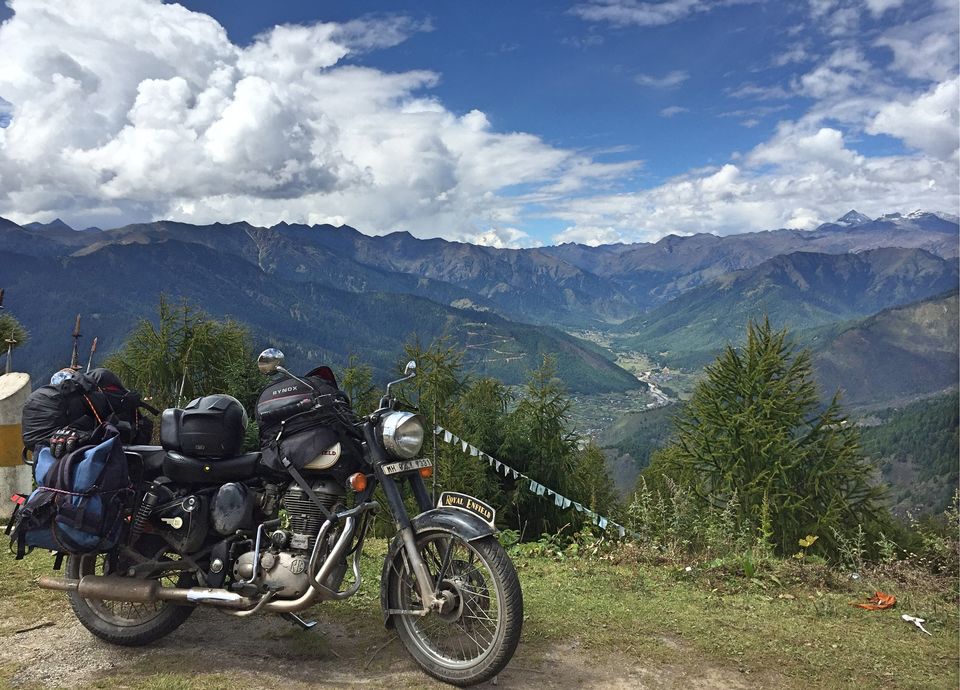 'Something's just need to be done, even when your mind and body say no'. As I posted this on Facebook, sitting on the bed in my hotel room in Thimphu, I could finally reflect on what I had just done. Curious? Read on.
Only a few months back, on my 30th birthday I got myself a tattoo. My motorbike, a Royal Enfield Classic 350, features very prominently in it. Ever since I got the tattoo, I've been itching to simply get on the bike and hit the road.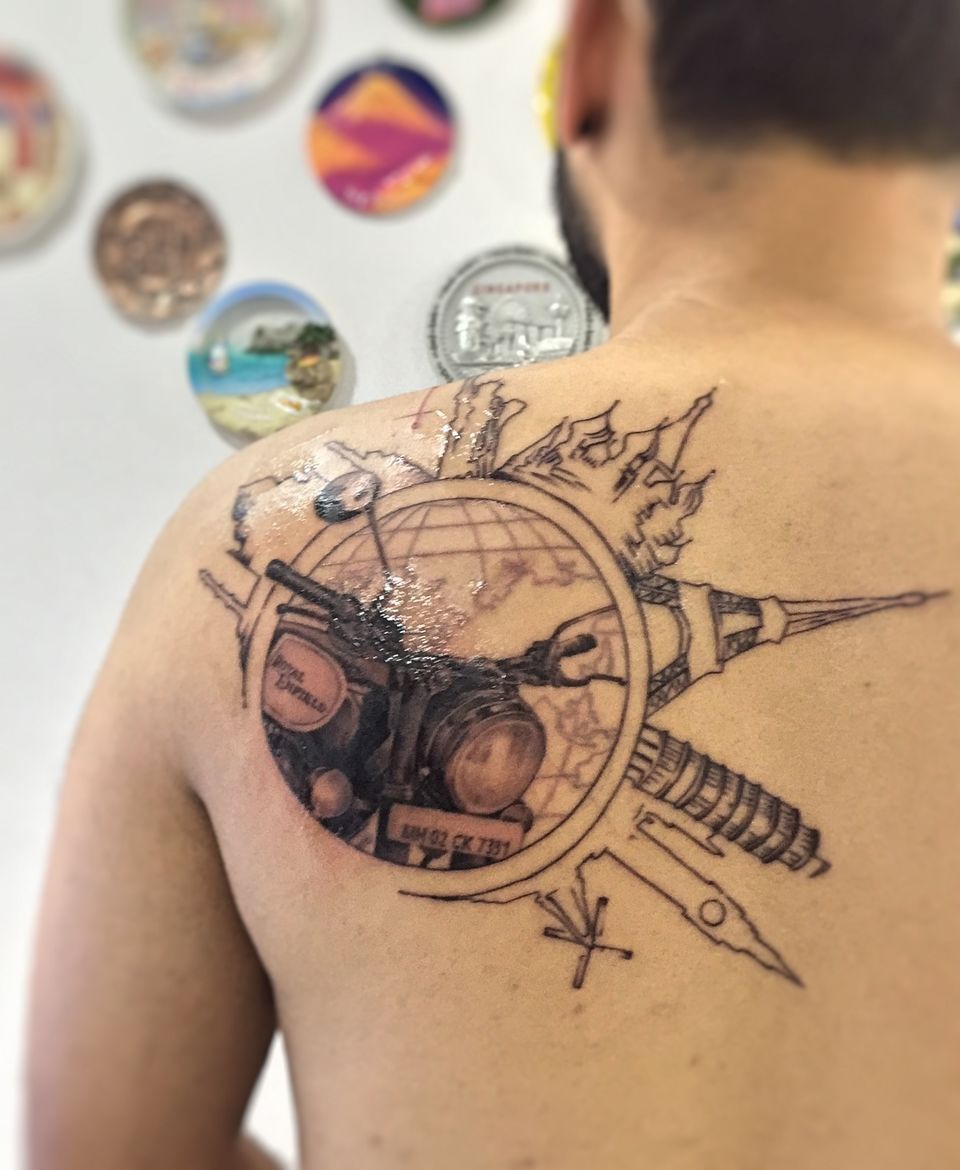 However, there were quite a few reasons that made me doubt myself – I hadn't done a long ride in more than 2 and a half years, my back wasn't in the best of shape and also wasn't particularly in a great frame of mind. Add to this, the reaction you get when you tell someone you're planning a solo ride from Bombay all the way to Bhutan. Yup, you read that right, I wanted to do a solo ride from Bombay to Bhutan. Nonetheless, all the reasons I mentioned filled me with dread about doing this trip.
Having rode to various parts of India, riding in Bhutan has always been high up on my bucket list. I had never given this a serious thought. Until now!
Slowly but surely I started preparing for the trip. I began with the small modifications needed on the bike and purchasing safety gear for myself. But to be honest, it wasn't until a week before I left that I actually decided on doing this ride. I picked up some more accessories that I needed and I was all set for the ride.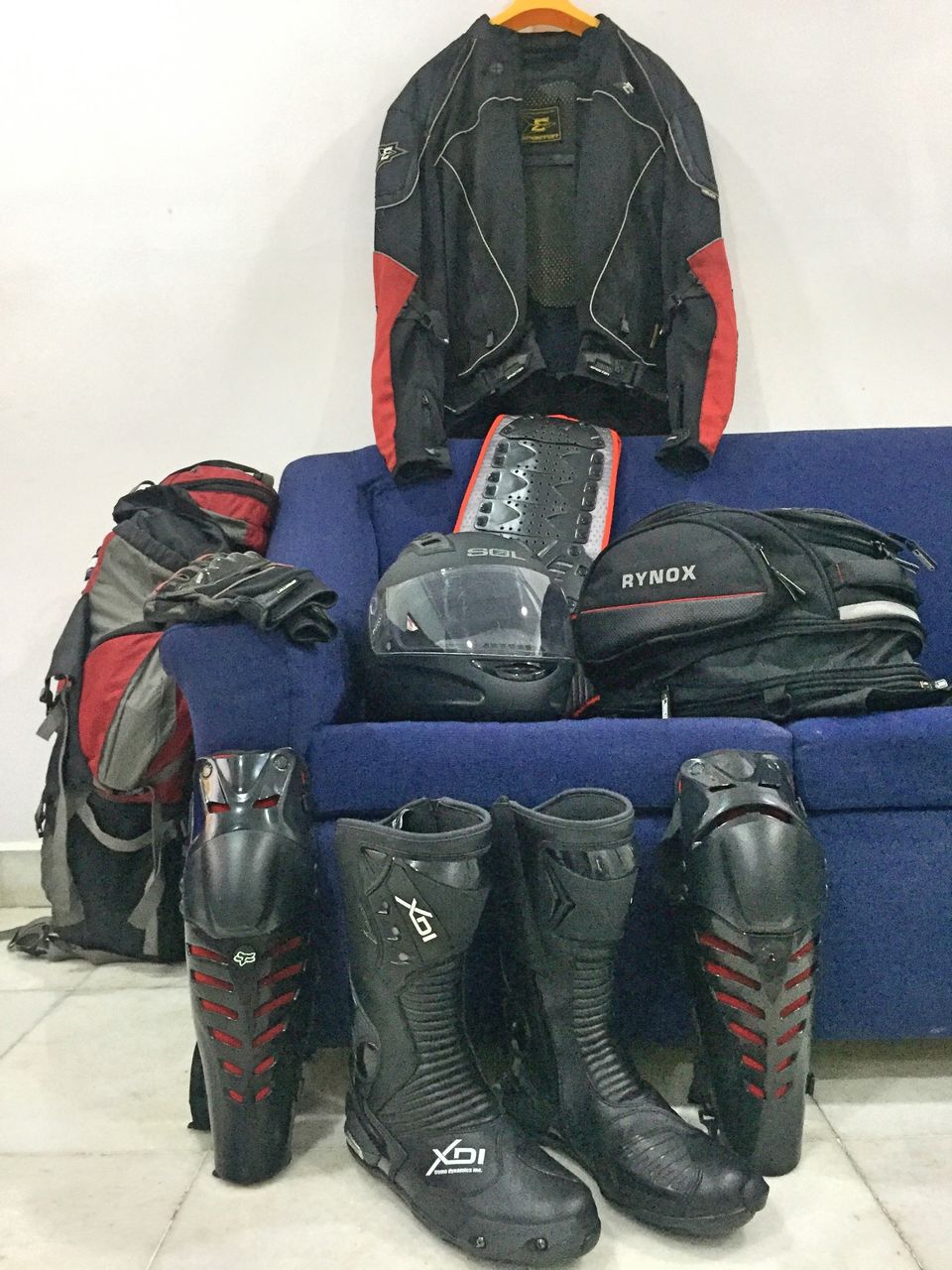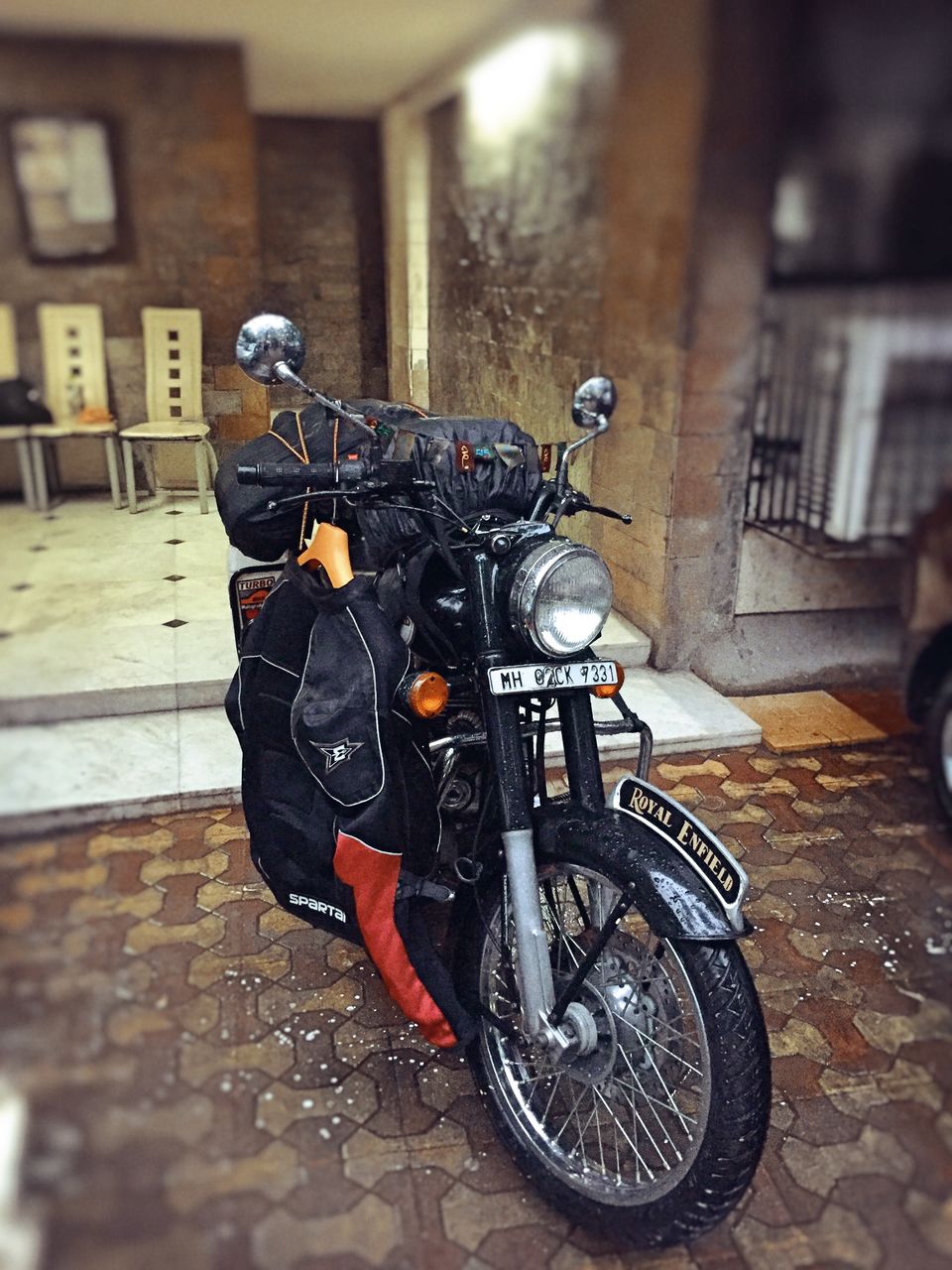 Wanting to ride in states I hadn't before, I charted out a route map for myself. In hindsight, it was a poor decision (more on that in a while). It had been pouring for a few days in Bombay and so I knew it was going to be a wet ride. Only if I knew what was in store for me.
And so, on a very rainy Wednesday morning in September I set off on a ride of a lifetime.
For the first 100 kms I continually rode in the rains. But once you are out of the city and on good highways, the rains only tend to be a minor hindrance. I stopped at dhabas for breakfast and lunch and would take breaks at regular intervals. After riding for almost 600 kms I reached Mhow army base, my pit stop for the night. It was a rather uneventful day but quite a satisfying one. Having had a good ride, I took a shower and called it a night feeling very positive about the rest of the trip.
The next day I was up early and started riding at the break of dawn. I had done about 200 kms in 2.5 hours and was making good time when I decided to stop for breakfast. Knowing that I was only 20 kms from Bhopal and had around 350 kms left to reach Jabalpur - my next stop, I was feeling quite upbeat. Since I had stopped for breakfast, I also decided on fueling up. As the petrol pump was just 3 kms from the dhaba, I decided not to wear my gloves because I would have to take them out again.
I was riding only at around 50-55 kms an hour, as I did not want to miss the pump. There was a truck 25-30 meters ahead of me on my right. It was in the parallel lane moving in the same direction. Suddenly, out of nowhere, a dog runs onto the road, in front of the truck and then right in my way. With no time to react, I banged the dog. I was thrown off the bike and took a couple of tumbles. Luckily, there were no vehicles behind me. I managed to get back on my feet on my own. As it always happens in India whenever there's an accident, a crowd gathered around in no time. With help from a few people, I picked up the bike and put it on the main stand. I started assessing the damage to the bike. Everyone kept asking me if I was okay and only when someone pointed out that I was bleeding from my left palm did I realize it. I then quickly started taking of my gear to check if I was hurt anywhere else. Thanks to the gear I wasn't, except for a few bruises on my arms and both my knees. But I was shaken up and how!
A couple of guys took me to a doctor nearby. After getting the wounds cleaned and bandaged, I rode the bike to a petrol pump and sat there for a very long time. I was told that I would have to go to Bhopal to get the bike repaired. The entire 20 kms to Bhopal I rode very slowly. The only thought that kept going through my mind the entire way was just to give up and go back home. I found a Royal Enfield workshop and gave my bike to get the repairs done. I didn't think I could ride further and had another 1800 odd kms just to reach Bhutan. And so I started to look for trains to put the bike in and bring it back to Bombay.
During lunch, I called my brother and told him about the accident. I requested him to check if he could arrange for me to stay at the army base in Bhopal that night. I told him that I will not be continuing further and will head back home.
While I waited for the bike to get repaired, two things kept eating me from within. One – I will be giving up on something that I set out to do. Two – if I go back home with the bike in the train, I will be too scared to ride again in my life. I didn't want either of that to happen and so I decided that I am going to ride to Bhutan, come what may.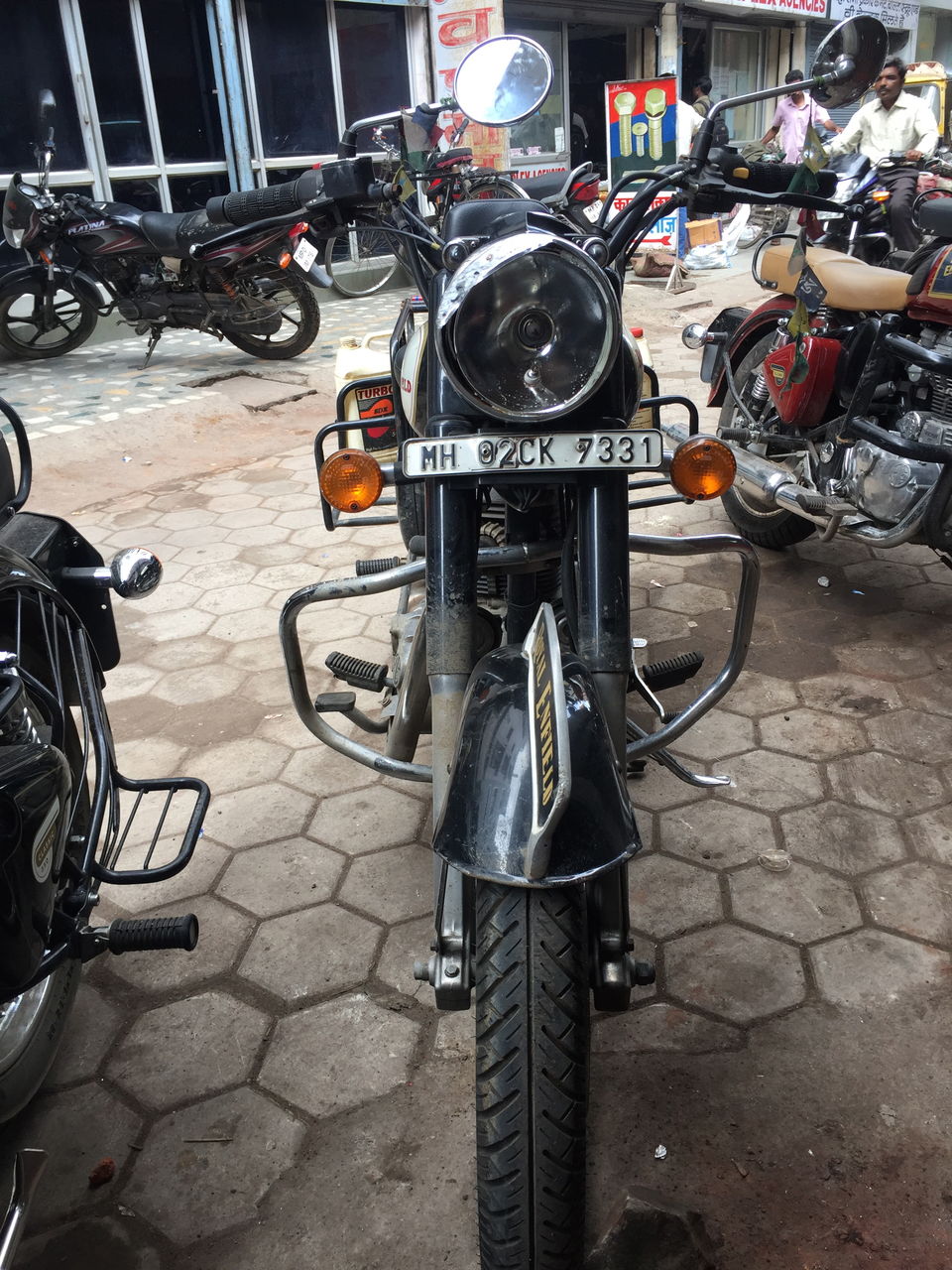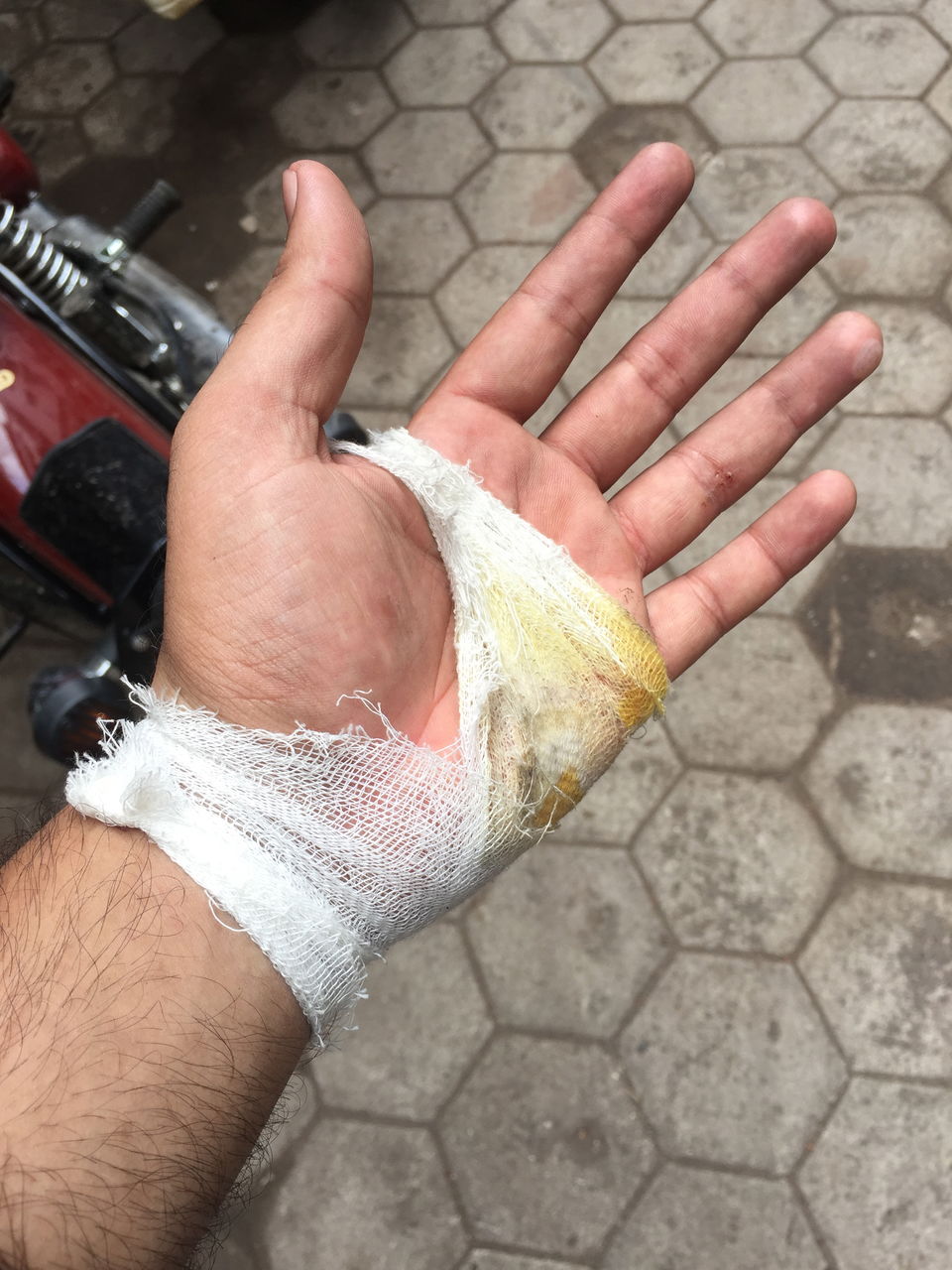 The next morning, since I decided to take it nice and easy, I started early even though I had to ride only about 400 kms to Jabalpur. Although it wasn't a major accident, I was scared while riding today. It kept playing on my mind and was a difficult ride mentally. I tried real hard to push through the self-doubt creeping in and stay positive.
By the next day I had got into a routine of waking up at 4:30 and start riding by 6. I would ride till about 6 in the evening and sleep by 7:30. Today I was supposed to cross into Uttar Pradesh and ride till Varanasi. But in the afternoon it started raining cats and dogs. I have never seen such dark clouds in my life and it felt like they were closing in on me on a long open lonely highway. After a while the rains got so heavy that I had to stop under a flyover for a couple of hours. When the rains subsided a bit I started riding again and soon reached the border. Although I was running late, I felt I still had enough time to get to Varanasi. But I couldn't have been more wrong.
UP welcomed me with a stretch of the worst roads imaginable. So I couldn't reach Varanasi that day and stayed at a small town called Mirzapur. Because of the bad roads I even punctured my back tyre. A few locals told me only that stretch of the road was bad and it gets better ahead. I even sat down a truck driver and made him chart a route for me for the next day. He departed saying that since I am on a bike, the roads wouldn't be a problem. If only I knew!
The road from Mirzapur ahead was even worse. The potholes were never ending. In fact, truth be told, they cant even be called roads. They were that bad. Right after breakfast, the rear tyre got punctured again. While getting it repaired, I had by now realized the roads were not going to get better anytime soon. Without exaggeration, at one place I even saw an entire mini bus fit into a pothole (if it can be called that). I had a good laugh looking at this. Saying that even people who were walking on the roads, had to at some point or other step into a pothole can sum up the condition of the road. Laughing at this thought, I decided on getting to the nearest National Highway as soon as possible, even if it meant taking a longer route. From Gorakhpur I got an excellent 4-lane highway. However, with my experience of UP roads I wasn't very optimistic about entering Bihar. I was actually dreading it.
But Bihar smashed all misconceptions I had about the place and how! Till date among all the states I have rode in, Bihar has the best National and State Highways. After the UP roads, those roads felt like they were God sent. I was even very surprised to see how pleasing the Bihar countryside was. Never in my life had I imagined it to be so beautiful. I also had the best aloo parathas ever in small dhaba at a place called Darbhanga. I just couldn't stop eating them, and in no time had eaten 4. Phew!
This day I got to know that the day I was supposed to enter Bhutan, the immigration office would be closed because of elections. So there was no point in rushing and I took it real easy. I rode till Bagdogra that day and next day the 160 kms to Jaigaon felt like a piece of cake.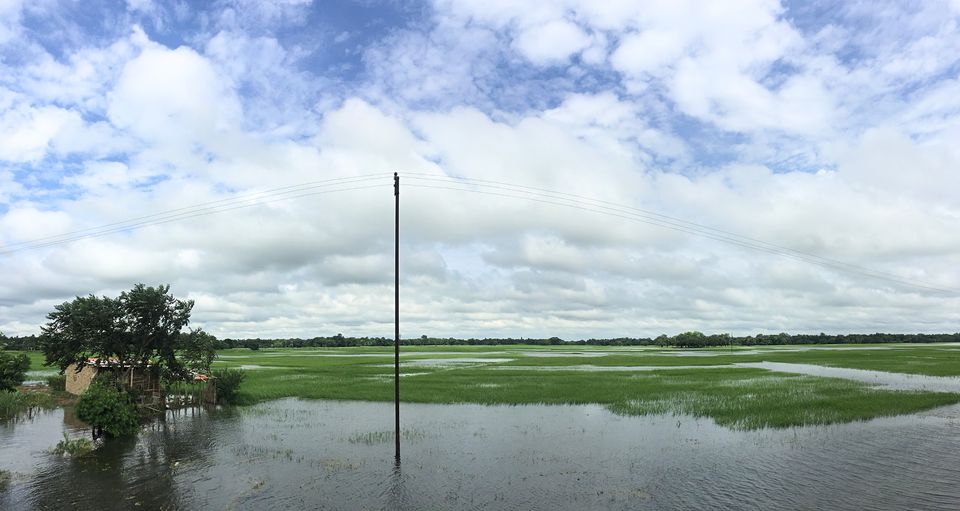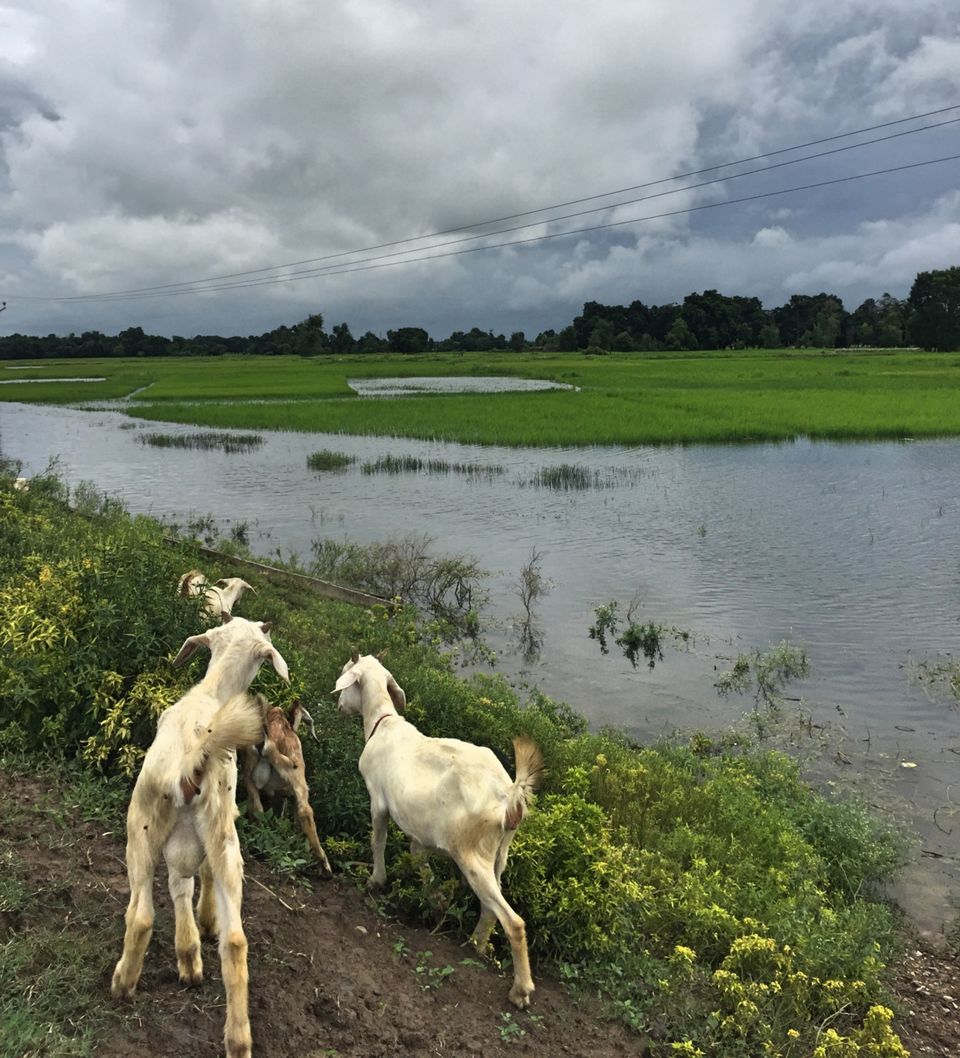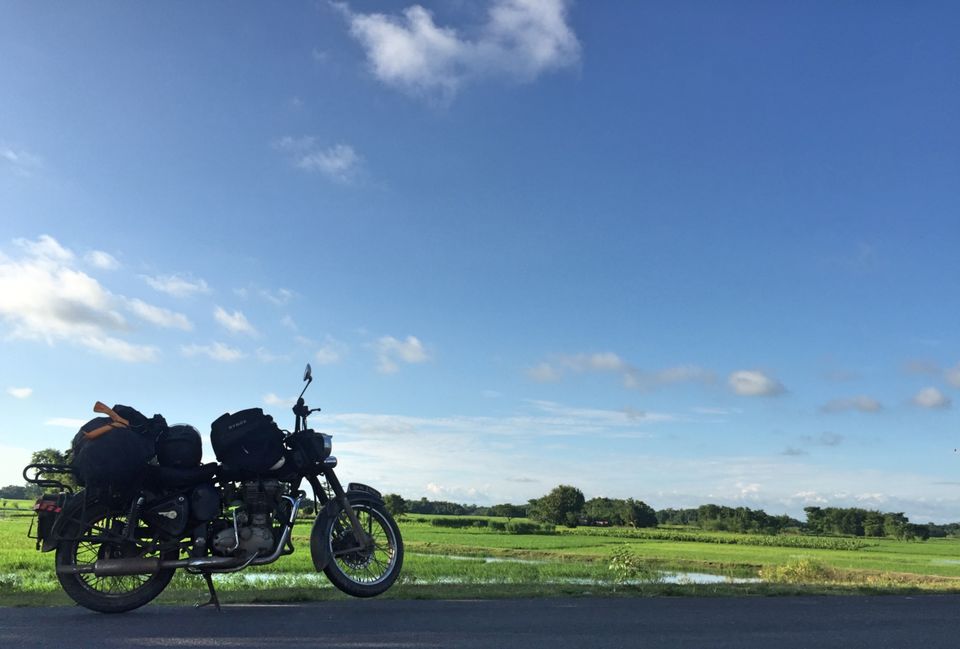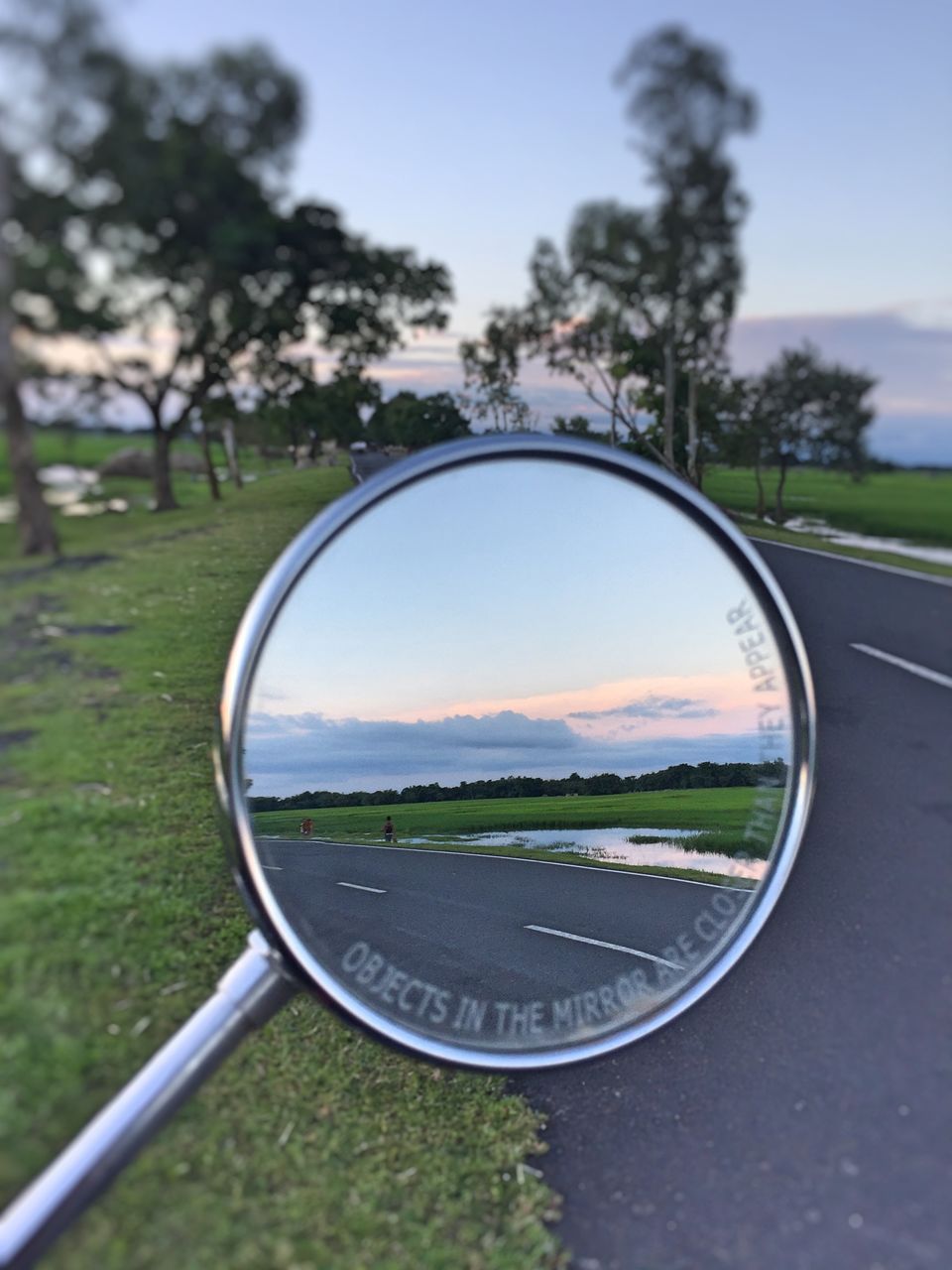 Jaigaon is the last town in India before crossing into Bhutan. The day I reached here, I simply rested the entire day. In the evening I met with my host, Lt Colonel Amit Sharma for a chat and dinner and drinks. In spite of having met quite a few army officers over the years, I am still amazed with the knowledge that they possess. Having got a few tips from Col. Sharma, I called it a night, since I had to wake up early the next morning.
Finally the day I was eagerly waiting for had arrived. I tanked up and went to the immigration office for my entry permit and then the RSTA office for the bike permit. All this was completed quickly and soon I was on my way. I was so happy to be finally riding in Bhutan. The entire day I had this huge smile on my face while riding. The feeling when I finally entered Thimphu can never be put into words.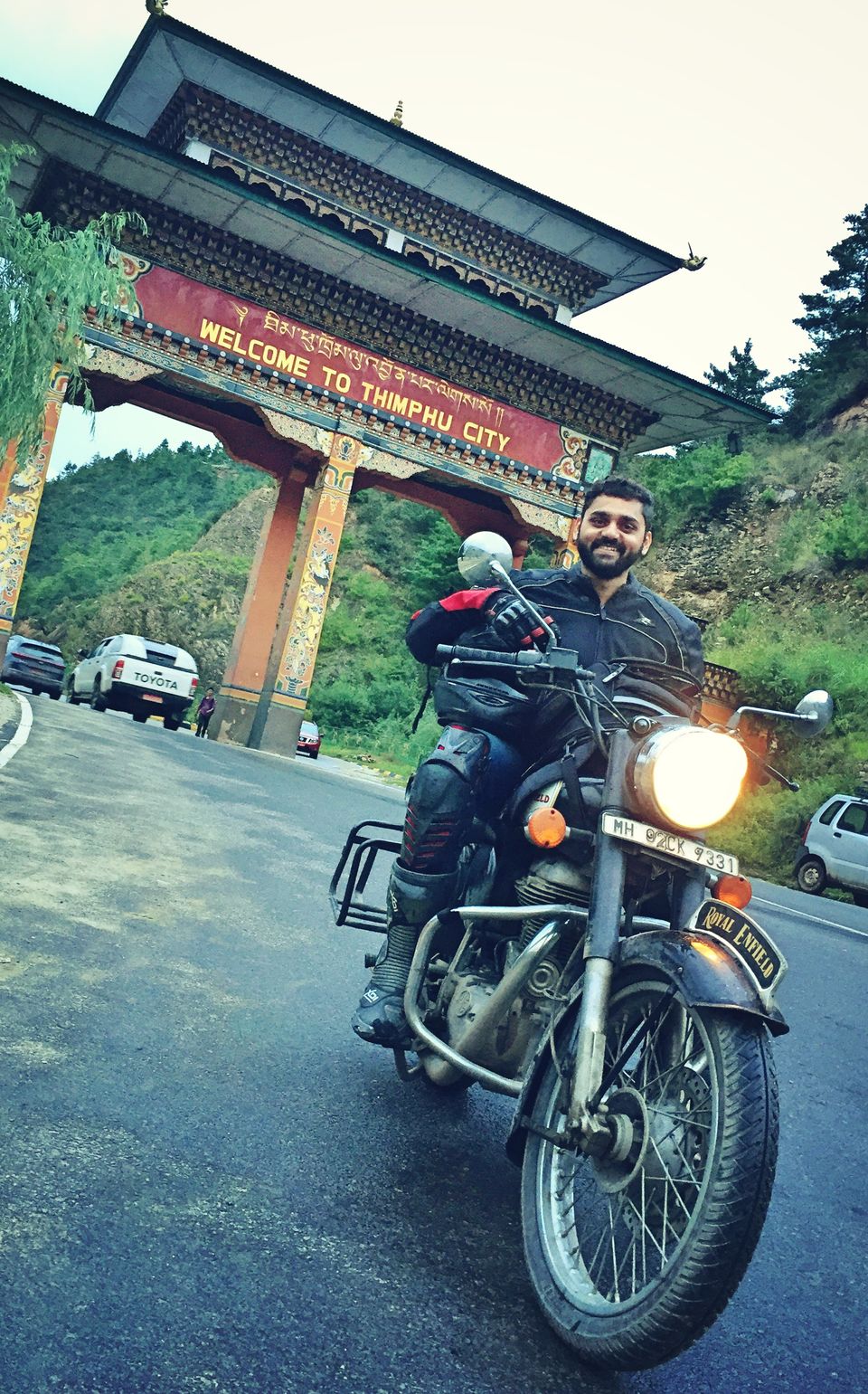 And so, after riding for around 3000 kms I was in my hotel room in Thimphu on 28th September 2016, updating my Facebook status.
I rode in Bhutan for the next 10 days covering a few places other than Thimphu like Paro, Punakha and the beautiful and untouched Haa Valley. Initially I had planned on riding to the eastern part of Bhutan as well but the on going roadwork didn't allow me to do so. So I rode south to Gelephu and then onto Guwahati. I put the bike in a train bound for Bombay and took the next flight out.
This journey to Bhutan was all about fighting against the odds, about overcoming self-doubt! Overcoming some of the unwanted situations I found myself in has reaffirmed my belief that if you truly want something and work towards it earnestly, absolutely anything can be achieved.
However having said that, when I look back at this ride, there are two things that stand out the most for me; how the children everywhere I rode through, would gape at me with wide opened eyes. At times when I would stop for a break kids would surround the bike and me and simply stare with amusement. This made me feel like a superhero. Cheap Thrills! Ha-ha.
The second thing, which is something I will never ever forget, is how loving and innocent the people of Bhutan are. Everyone just seemed so friendly and helpful and they were truly very genuine people. And so I end this with something I wrote for them:
I thought I've met a lot of good people..
I thought I know a lot of good people...
I thought I was a good person....
And then I came to Bhutan!