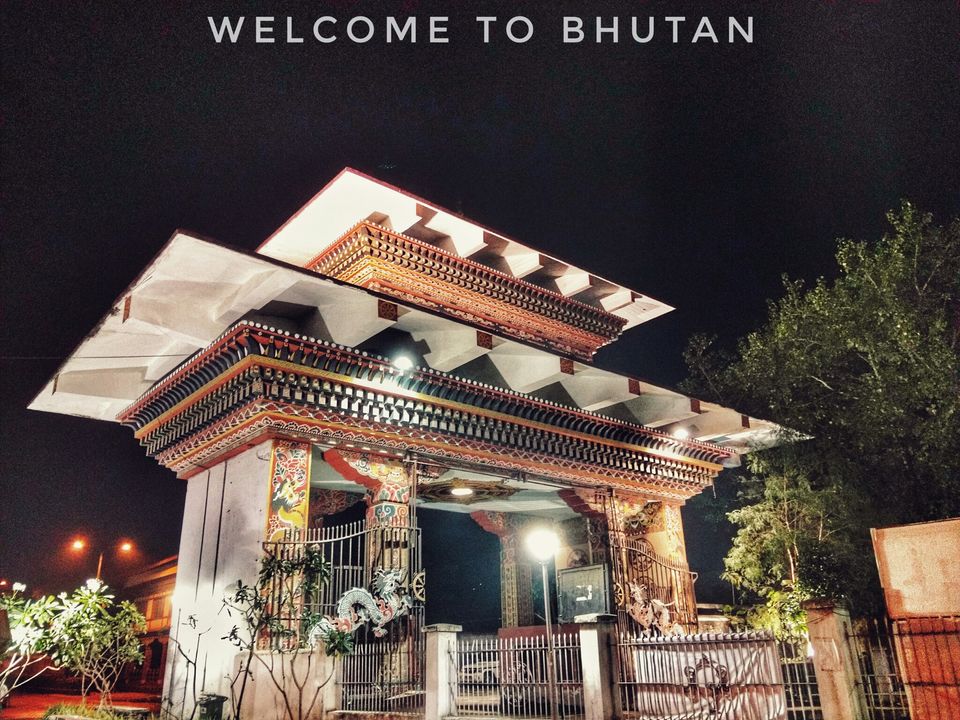 Of the billions  of people in the world, only 1% would opt for something like this. It takes guts, sure. But more than that, it takes passion. And riding is our passion. But for us, riding is not just a passion, it's a feeling. Riding is what defines us. Riding is what bonds us.
From highways to ghats, roads to no roads, low lying valleys to high mountain passes, sunshine to snowfall, we crossed it all. We braved it all. And it was not one bit easy. Our bikes were tested, body was tested, patience was tested, endurance was tested. Bikes and bones creaked, hands turned blue due to the cold. We felt like giving up. We felt like stopping it all. But we didn't. We reminded ourselves why we were doing it. We reminded ourselves of our passion and we kept on going.
Across 8 Indian states we rode. Crossed Bhutan from the west to the east. Battled through the thick fog and the darkness. But no matter what, we reached our destination without a scratch.
We were asked questions that made us laugh from the belly, but the one that keeps coming back to me is "Aap ka mission kya hain?" And to that my answer would be "Humara mission humara passion hain!!"
To summarise it all, lots of memories made, new friends made, bonds made stronger, experiences of a lifetime earnt. And yes, lots of photographs clicked too
14/02/17: Pune to Dewas (710 kms)
Route taken: Pune - Aurangabad - Dhule - Indore bypass - Dewas
Dewas: Dewas is a city on the Malwa plateau in the west-central part of the Indian state of Madhya Pradesh
6:30 am was decided as the departure time from Pune.. 5  of us would be riding all the way from Pune whereas the rest were joining us by flight at Patna..  4 Royal Enfields and 1 Avenger.. Bikes fuelled up, bags packed and loaded, we were ready to set off for our dream journey.. A smooth and wonderful ride with beautiful highways all the way.. We could maintain speeds of 90-100 kmph almost continuously.. We managed to cover 710 kms in 13 hours with breaks for breakfast, tea and lunch.. As we hadn't pre-booked a hotel, we had to search quite a bit for a decent one.. After quite a bit of searching, we finally found Hotel Akash Ganga and checked-in for the night..
The next destination on our itinerary was Khajuraho, A UNESCO World Heritage Site!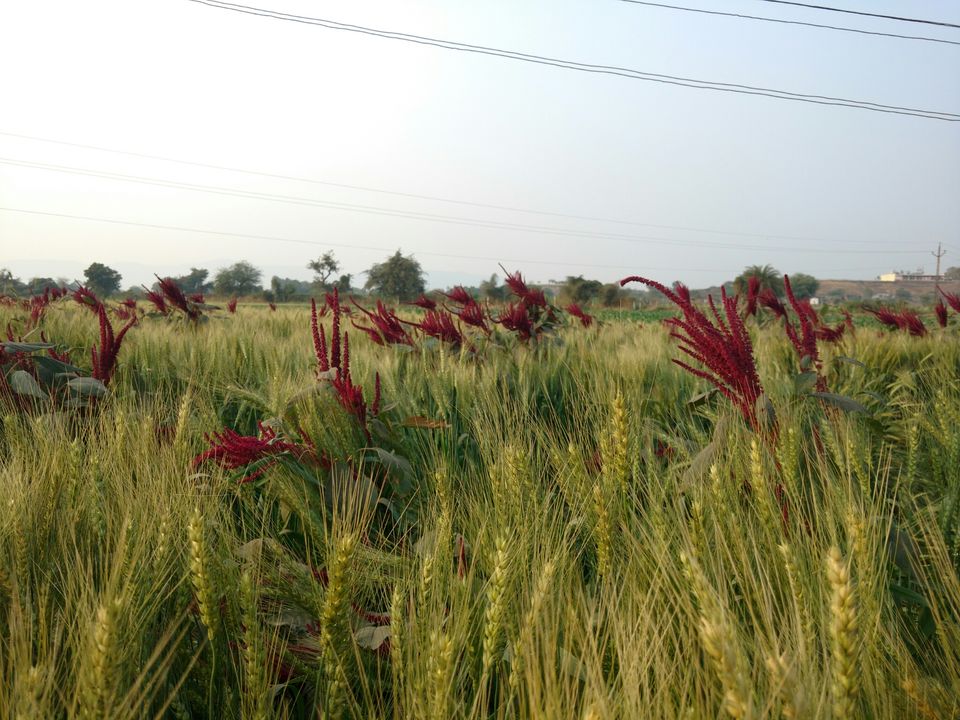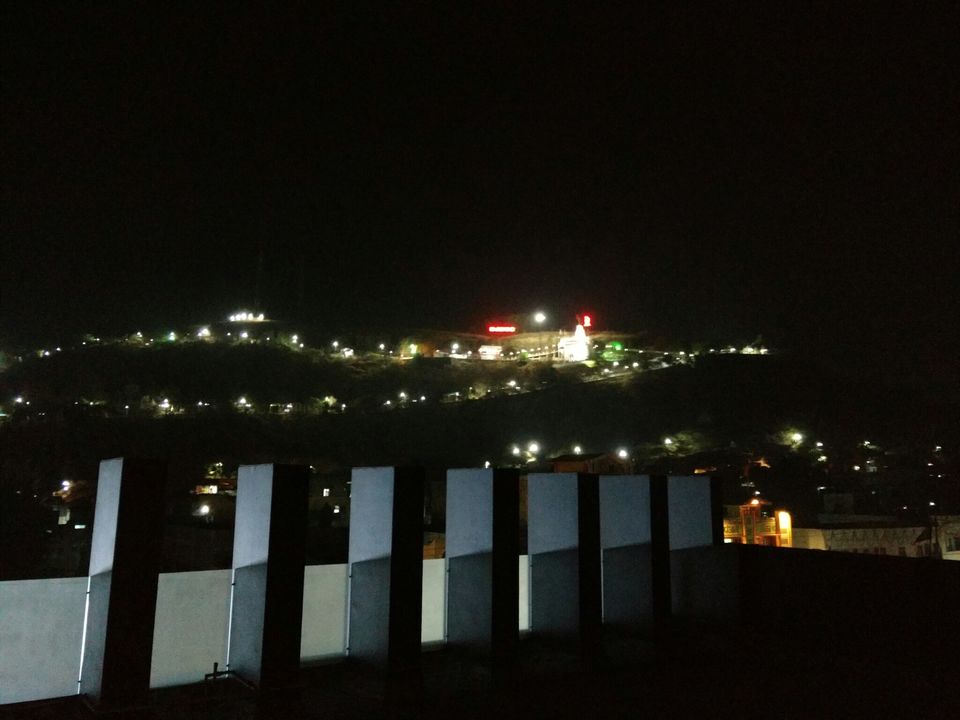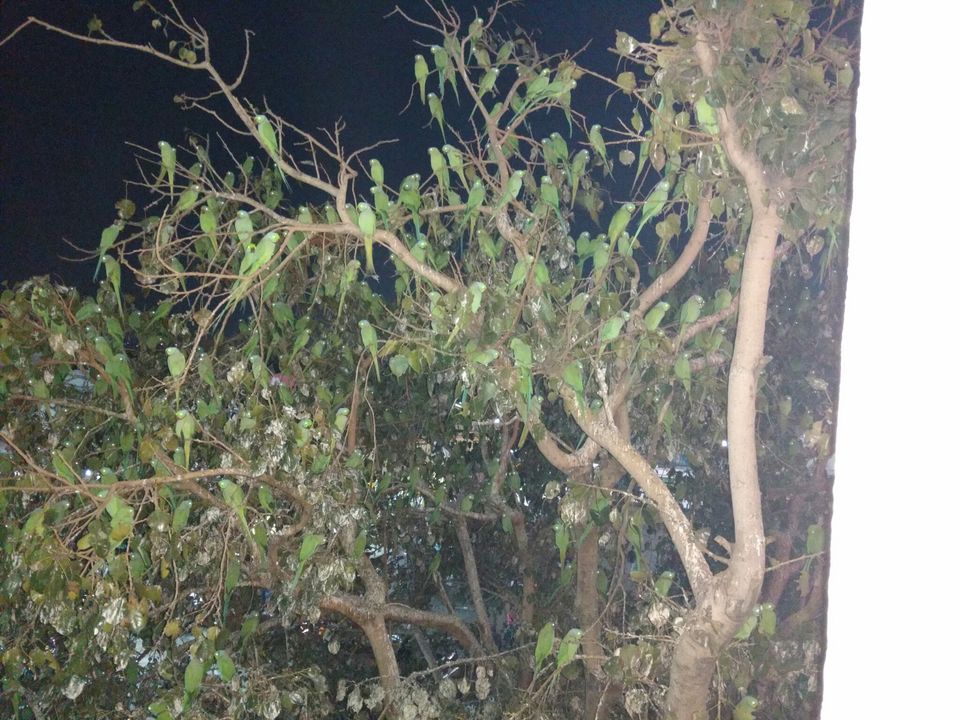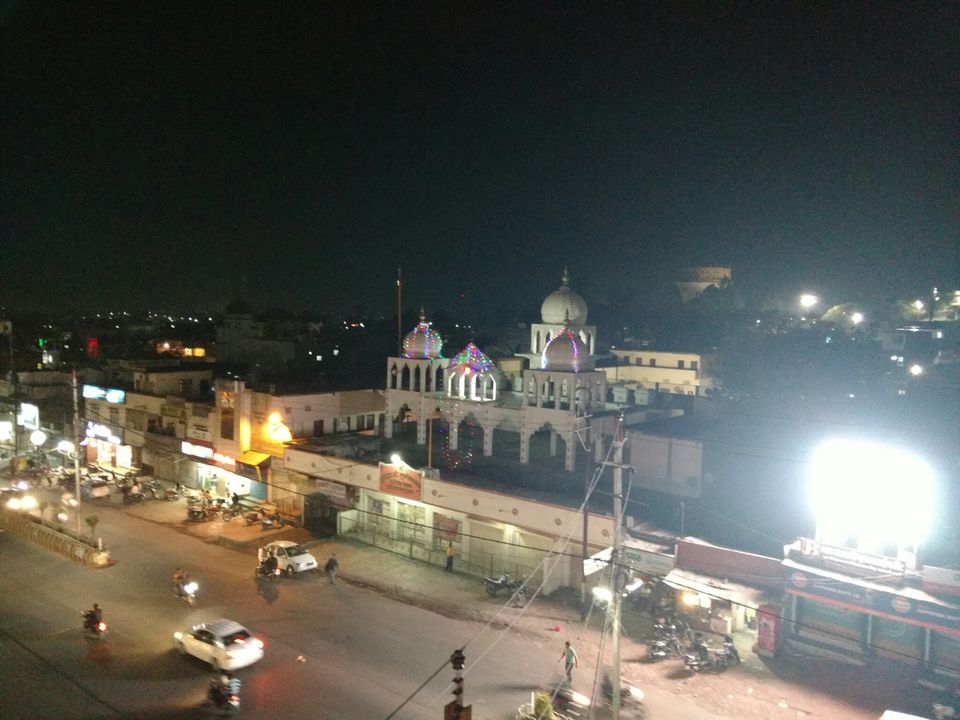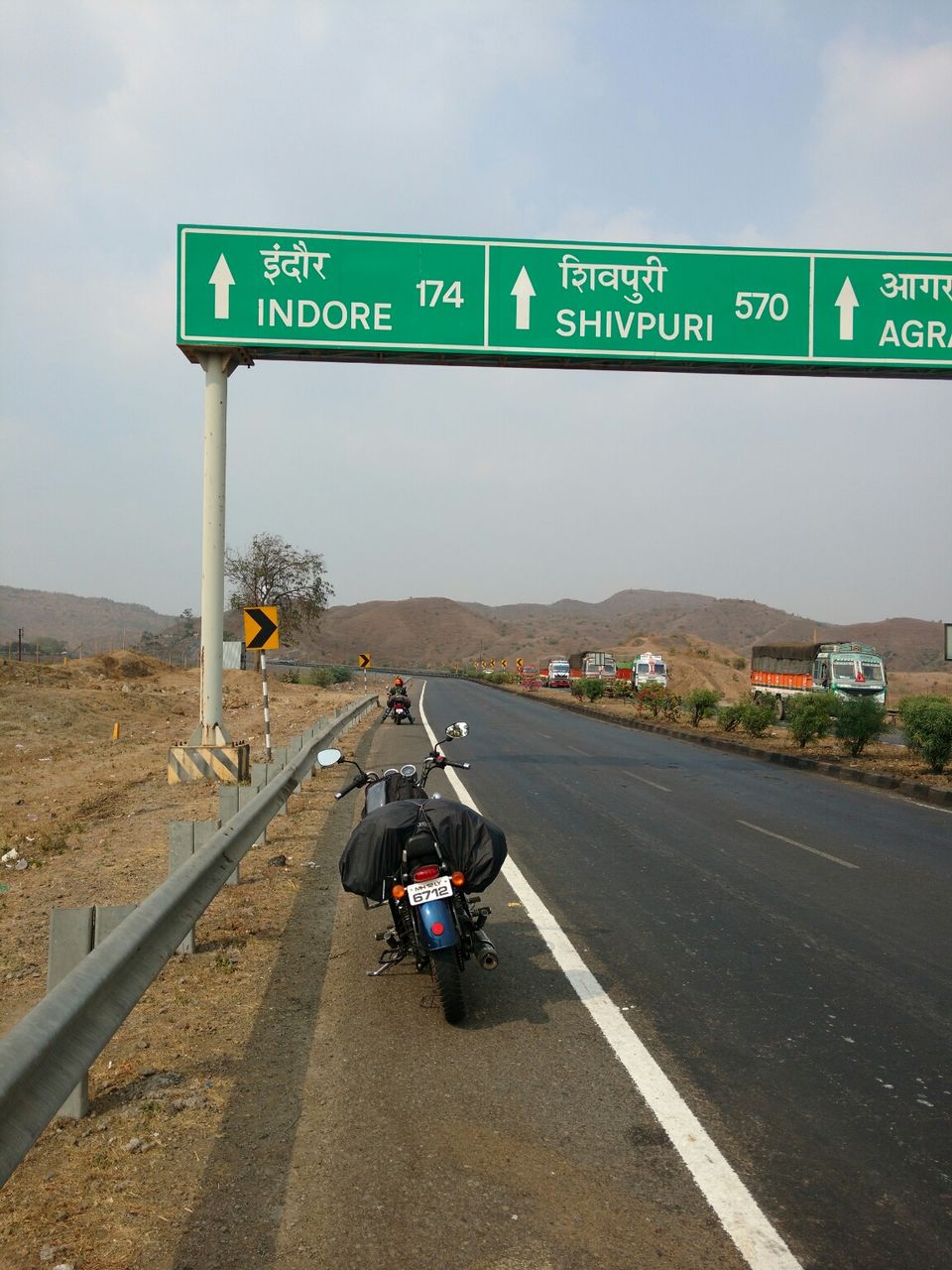 15/02/17: Dewas to Khajuraho (560 kms)
Route taken: Dewas - Sagar - Khajuraho
Khajuraho: The Khajuraho Group of Monuments is a group of Hindu and Jain temples in Madhya Pradesh, India, about 175 kms southeast of Jhansi.. They are one of the UNESCO World Heritage Sites in India
Another smooth ride with beautiful roads, passing through jungles a couple of times.. Once again, average speeds of about 100.. But a fairly relaxed ride as compared to yesterday.. We started from Dewas post breakfast at 9 am.. A few bad patches of roads added a bit to the travel time.. We even crossed the Tropic of Cancer on the way and stopped for a photo session over there.. Reached Khajuraho by 7:30 pm.. We had pre-booked a hotel online for our 2 night stay there.. But it turned out that the photos had gravely mislead us as the hotel turned out to be totally hopeless.. So we searched for a better place and luckily found a nice one quite nearby..  Hotel Harmony.. They told us to park our bikes inside the hotel so that they'll be safe.. A funny experience..after finding out the previously booked Hotel Plaza was worthless.. Tomorrow's​ agenda is exploring the Khajuraho monuments!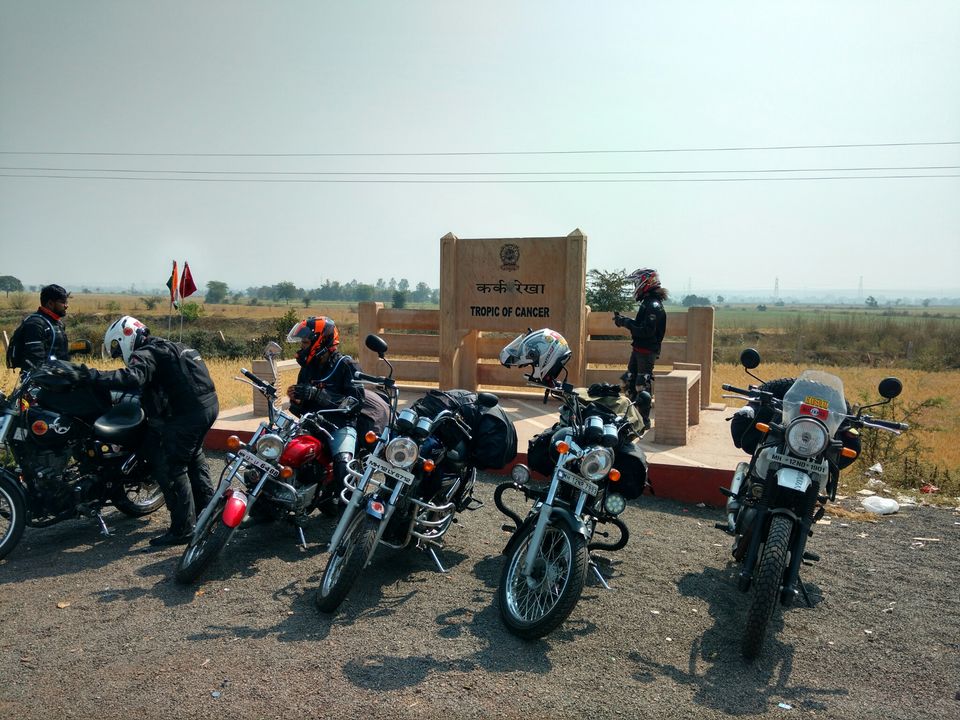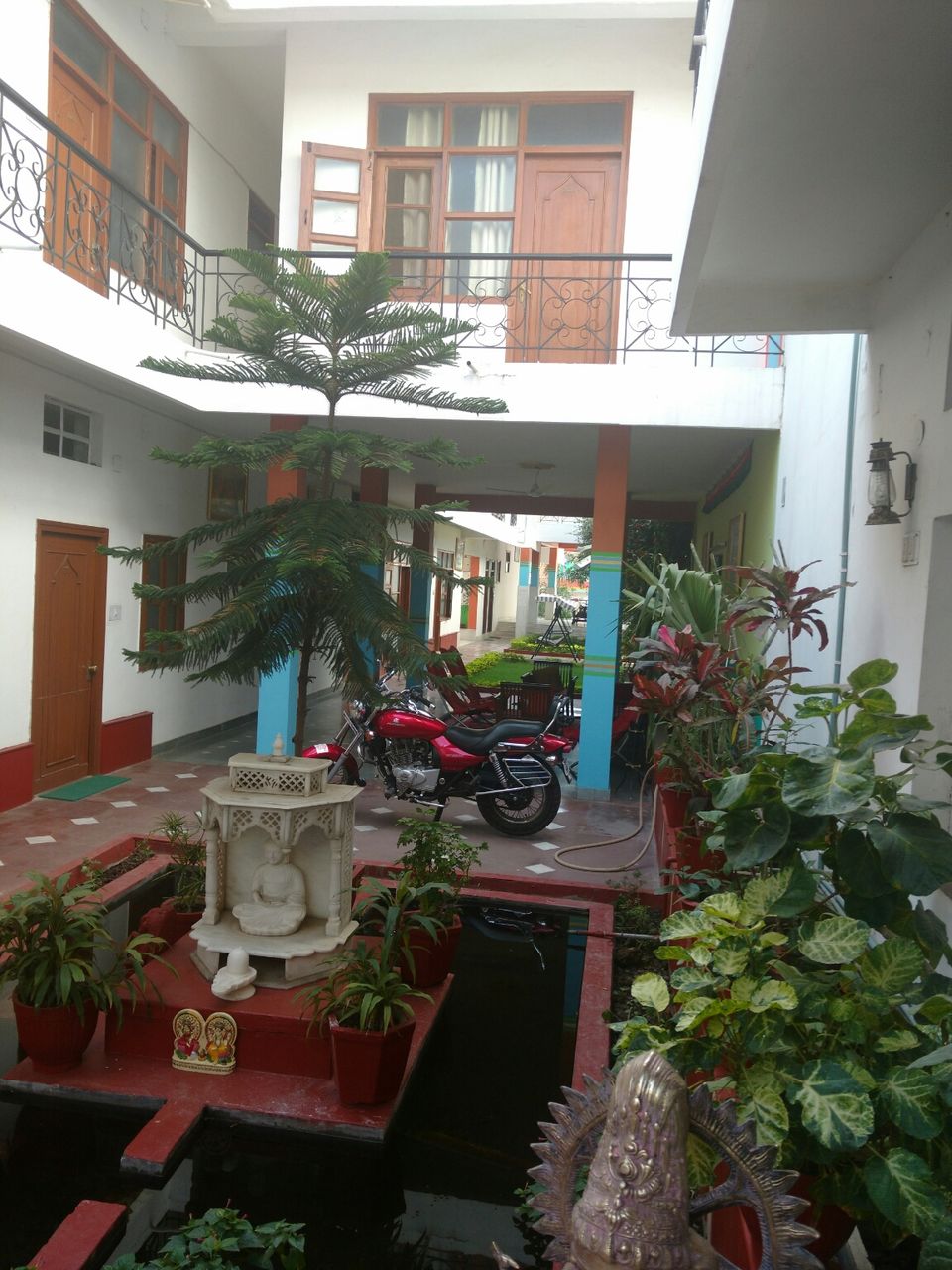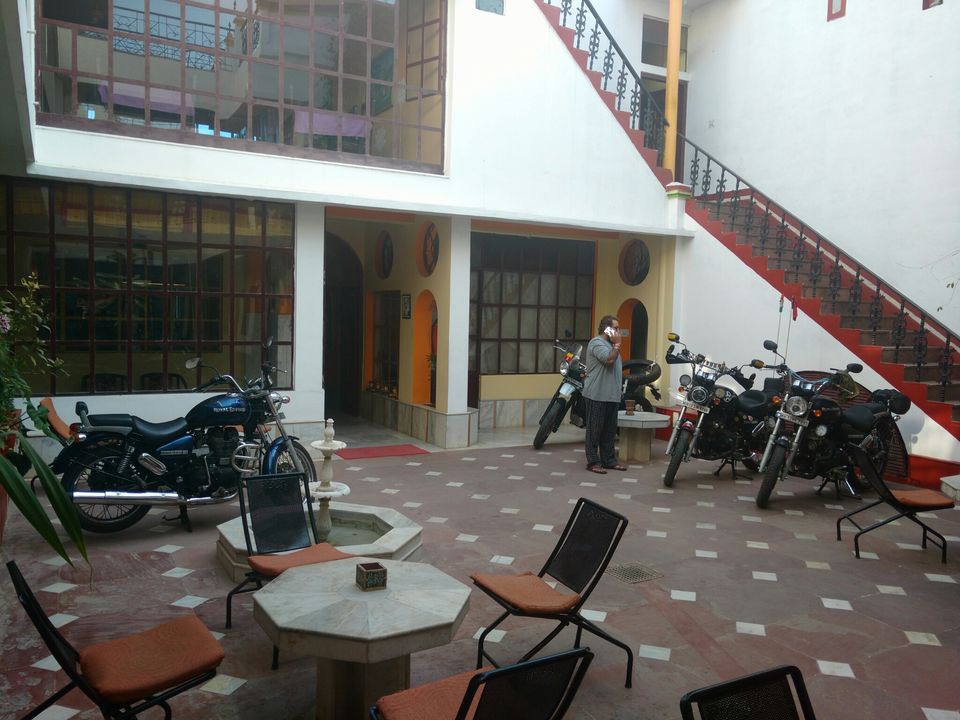 16/04/17: Exploring Khajuraho monuments
Got a good night's rest and woke up without any hurry in the morning.. Today's plan was to see the Khajuraho monuments.. There are 4 different groups of temples but the most important one and the most beautiful one is the Western Group of Temples.. So we decided to visit that.. Since it is a UNESCO World Heritage Site, it is very well maintained and kept very clean.. The temples and truly magnificent and one can just marvel at the architecture for hours.. Just as we were about to finish seeing all the temples there, one of us checked Google Maps and found out that Patna was 716 kms from Khajuraho.. A little bit of panic set in and we were planning on leaving the same evening.. But after much debating, we decided that we would leave by 4 am the next morning so that we could reach in time.. So it was lights out at 8 pm for us that night.. Next stop, Patna!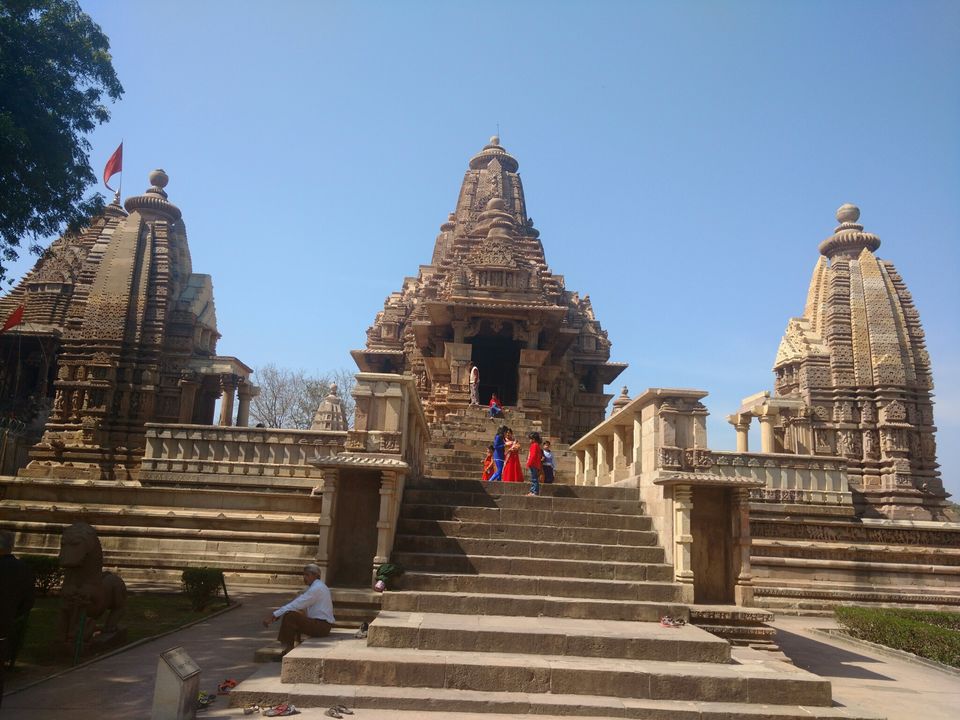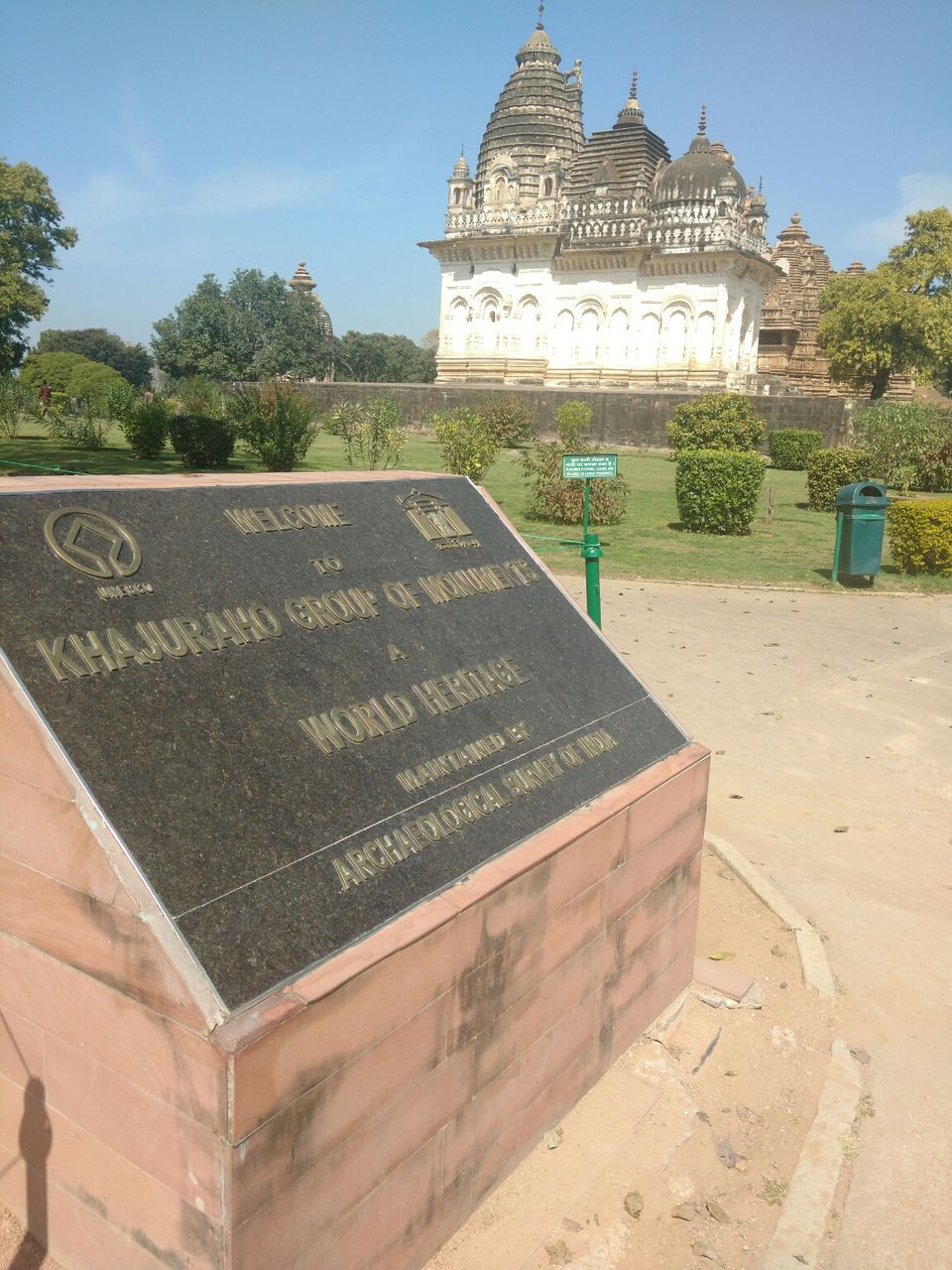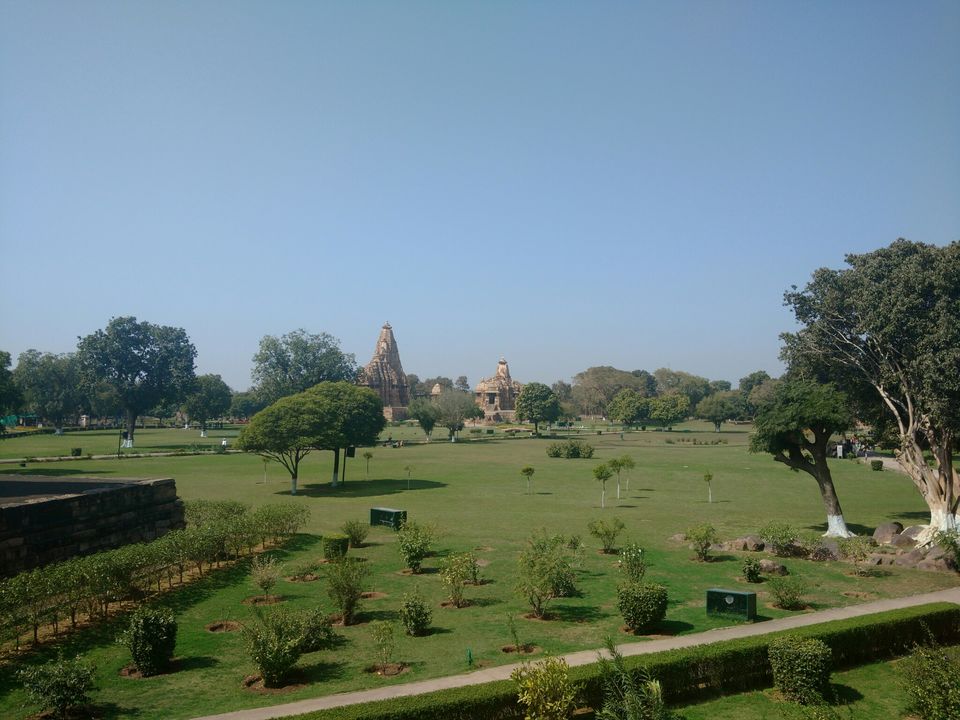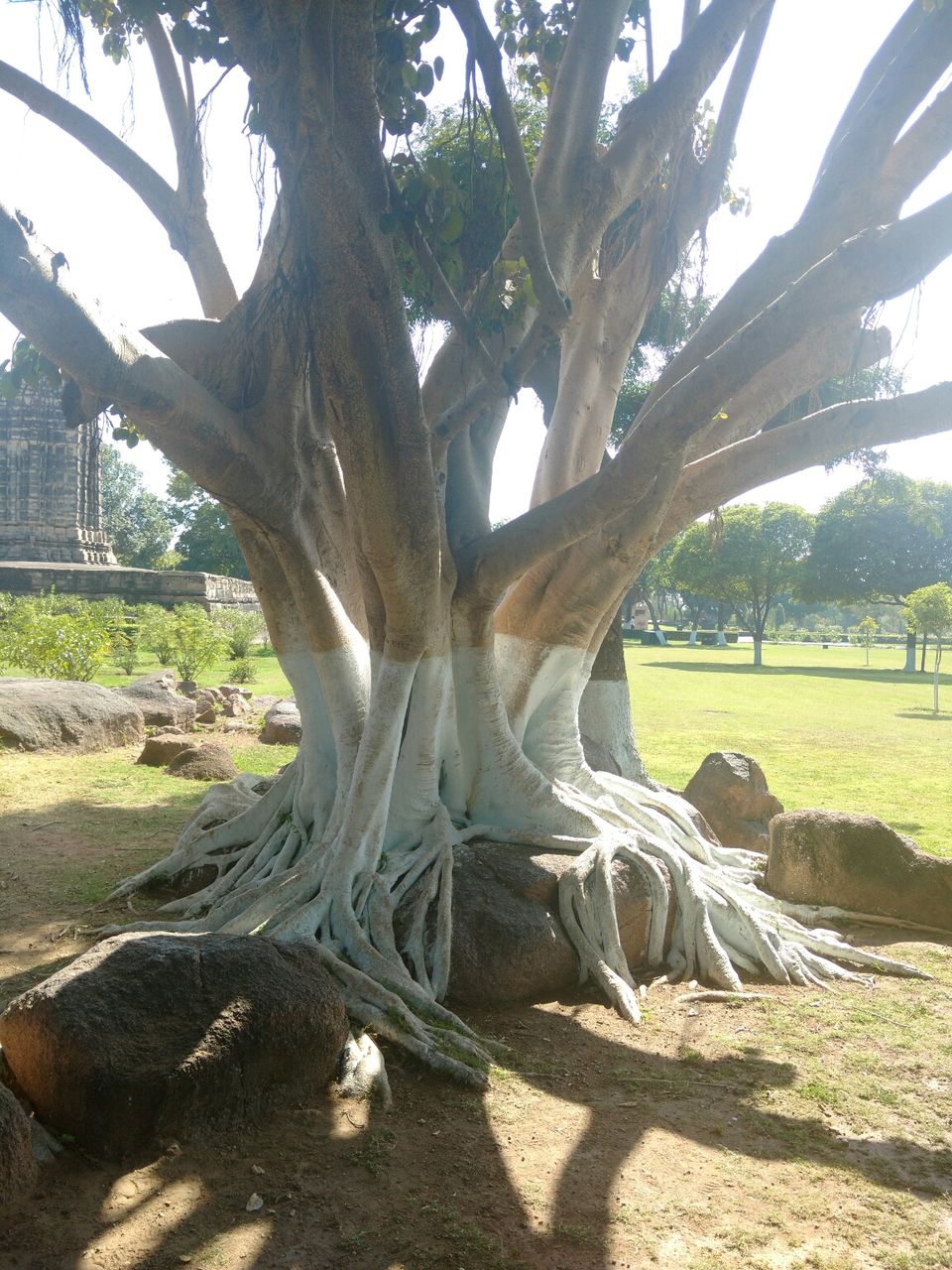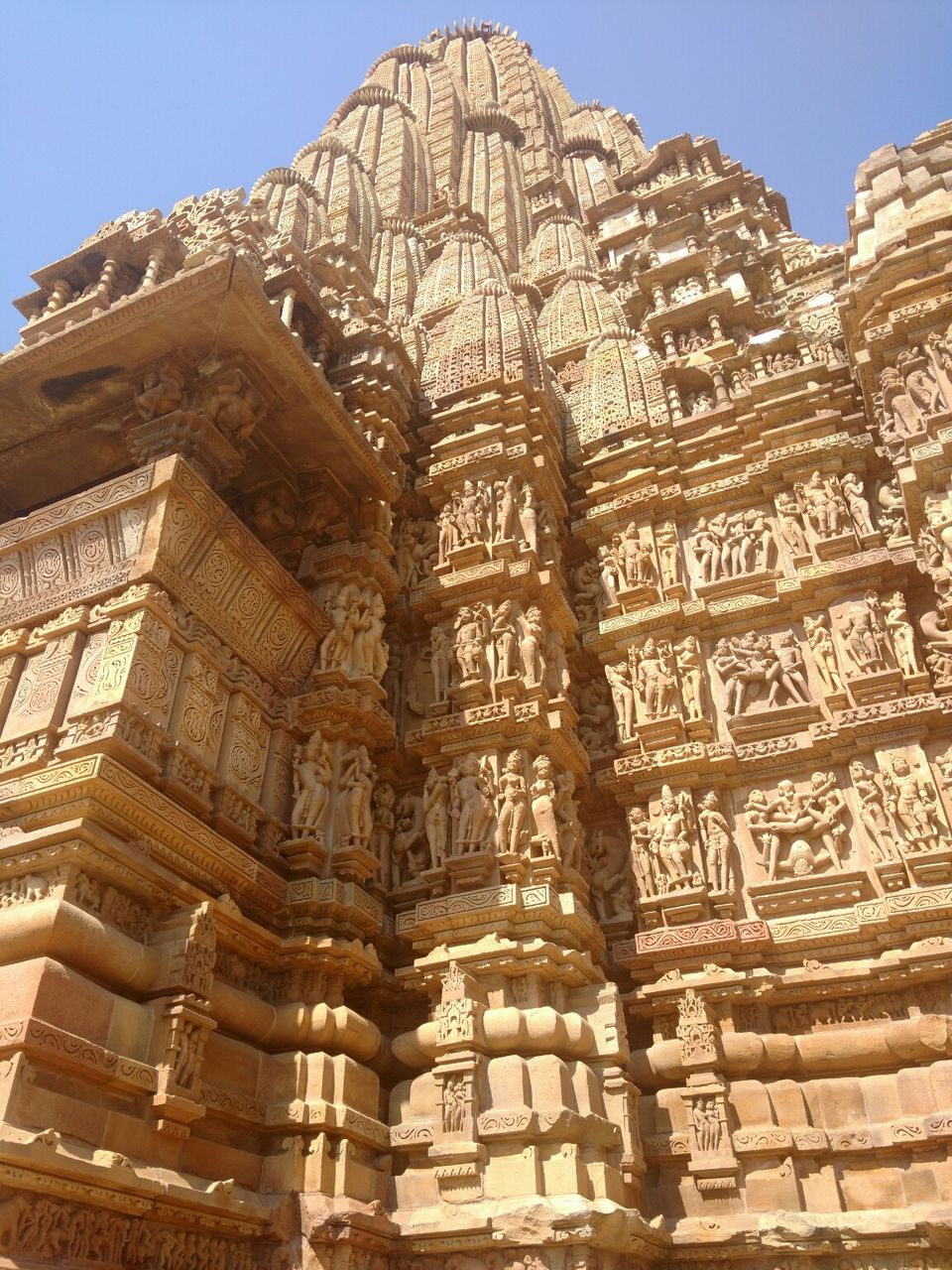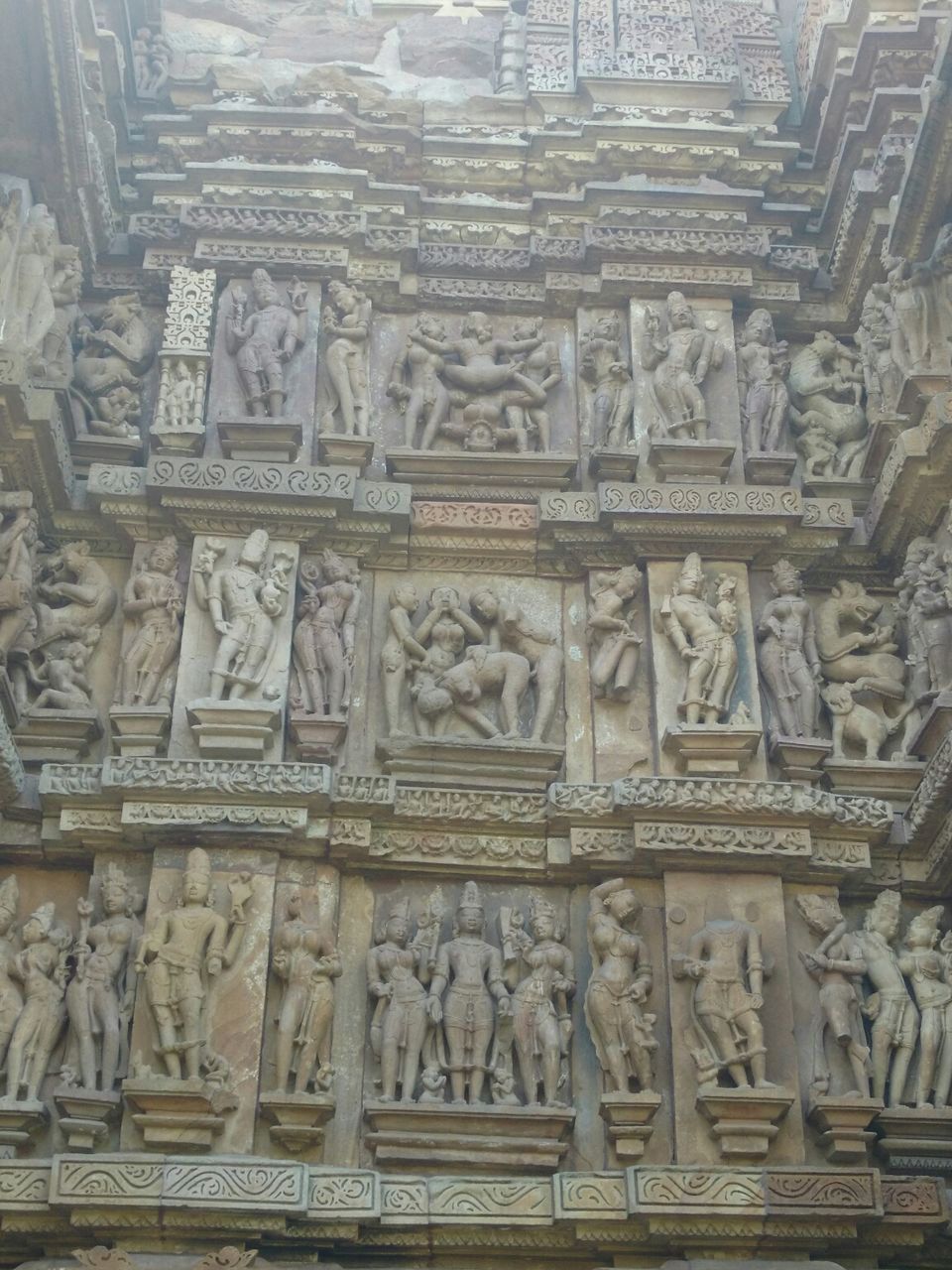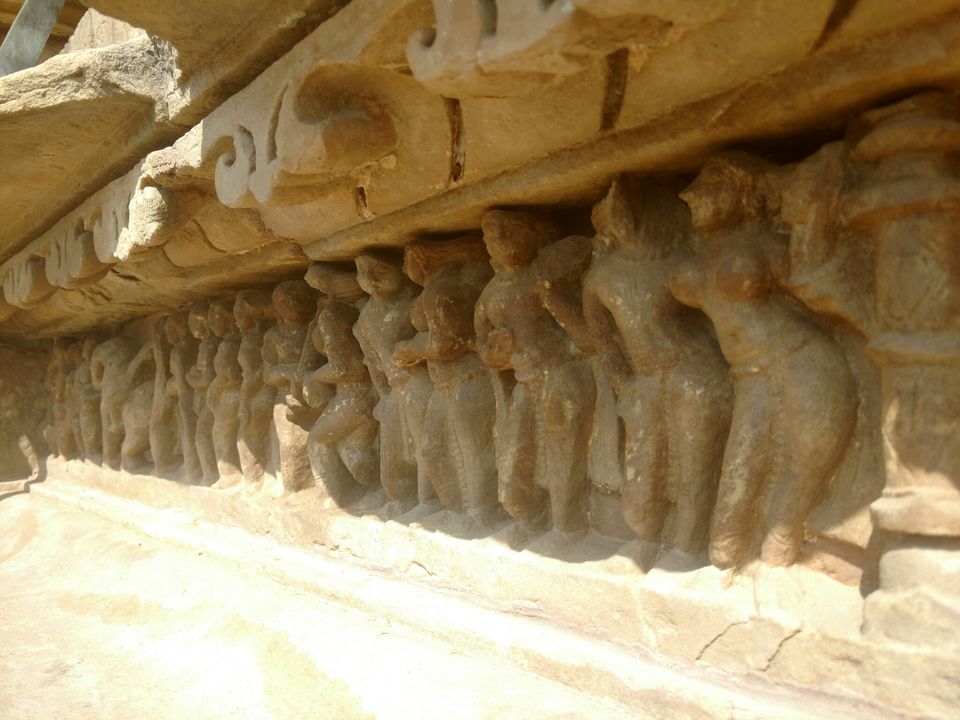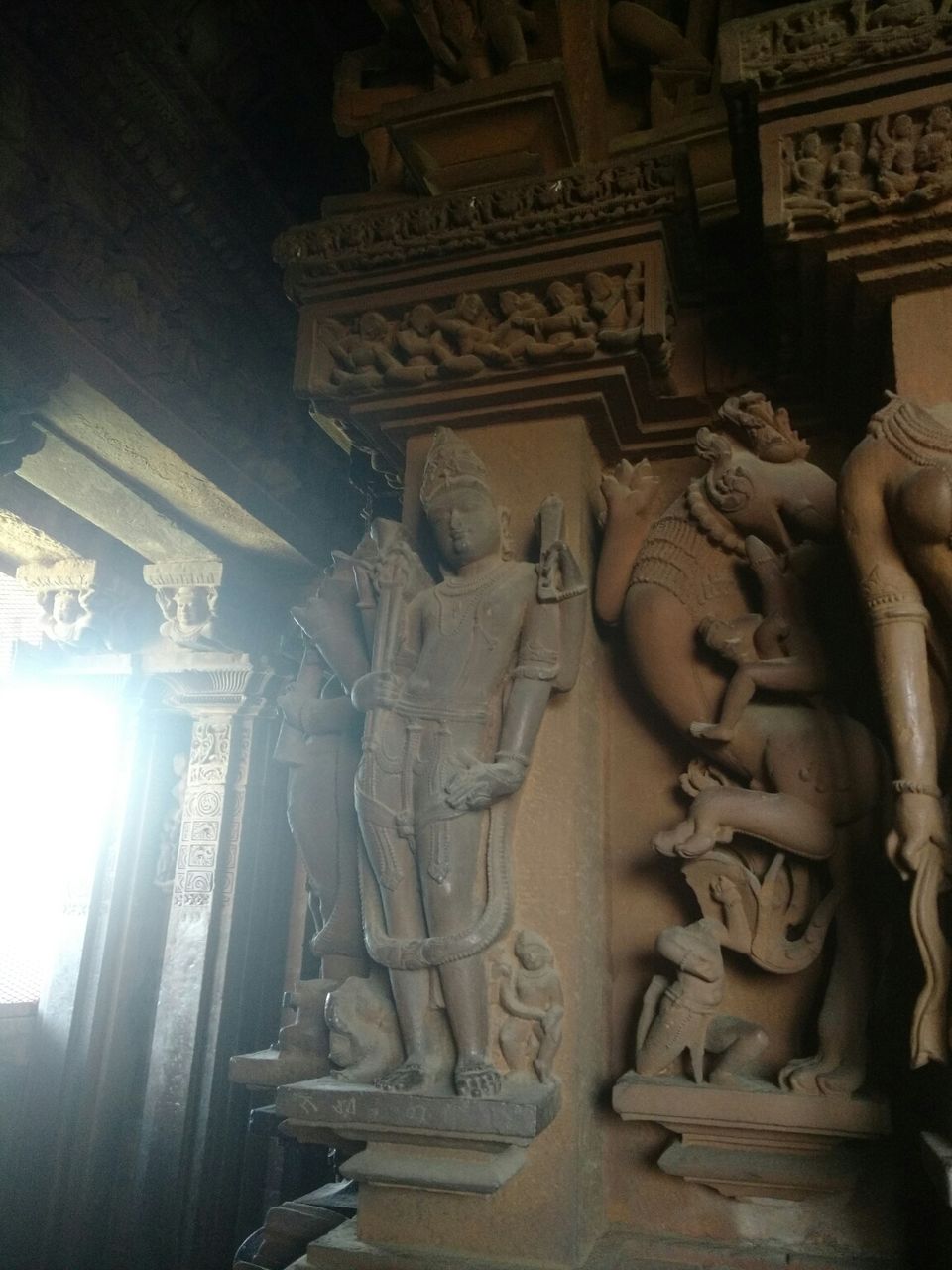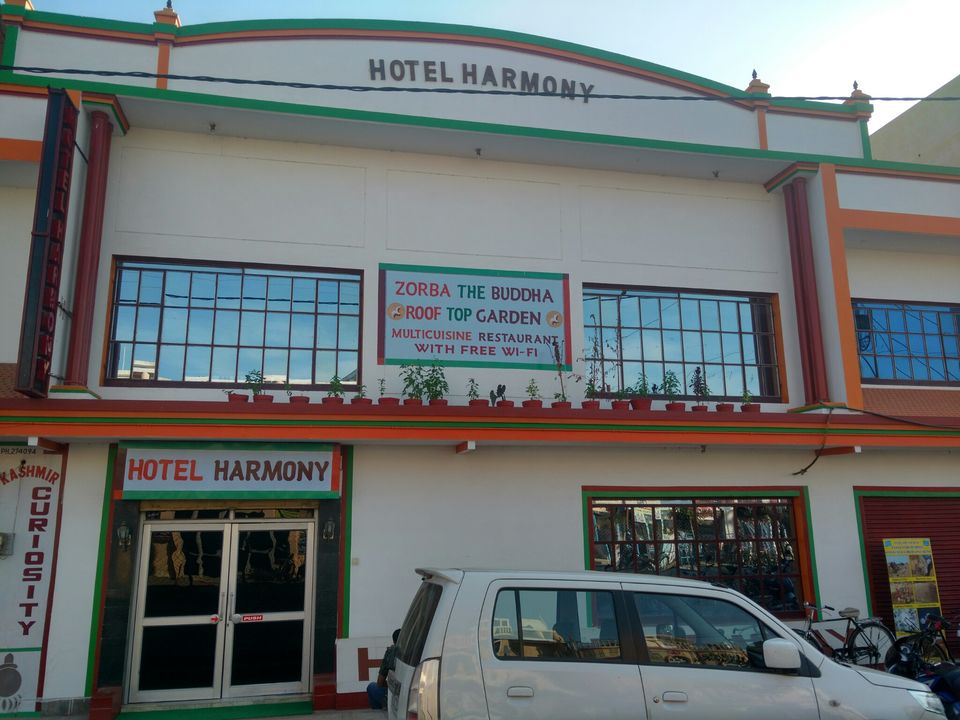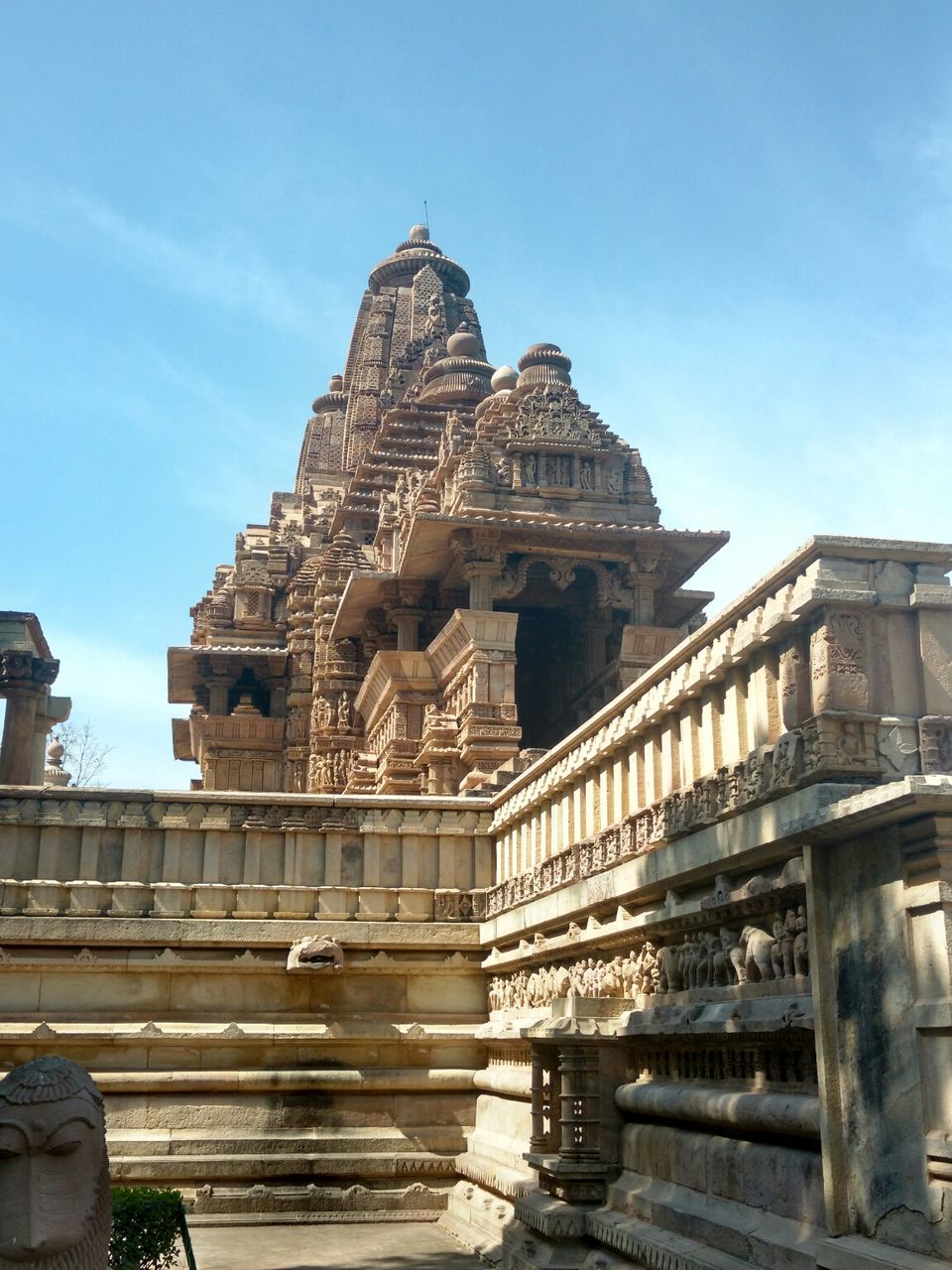 17/02/17: Khajuraho to Patna (725 kms)
Route taken: Khajuraho - Allahabad - Patna
Patna: Patna is the capital and largest city of the state of Bihar in India.. Patna is the second-largest city in eastern India after Kolkata
So as decided, we started at 4 am from Khajuraho in extreme cold and total darkness.. We needed to reach Patna it time hence an early start was necessary.. So on we rode through jungles, pitch darkness and the freezing early morning cold.. We managed to cover 640 kms or so by evening since the highways were quite good.. But the last 85 kms were absolutely gruesome.. It took us almost 2.5-3 hours to cover those last 85 kms.. Bikes and bones shrieked continuously for all that time.. Finally we reached Patna at 9:30 pm.. This was by far the longest I've ridden in a single day.. 16 and a half hours.. Thankfully the next day was a rest day in Patna so we could fully recover from the treacherous ride.. 1994 kms covered so far from Pune!
18/02/17: Rest day at Patna
After a much needed and much deserved good night's rest, the main agenda for the day was servicing our bikes.. Almost 2000 kms of riding has been done and the bike needs a thorough check-up.. The other members of the group arrived by flight today.. The group is almost complete now.. The 2nd leg of our trip will start tomorrow and the first destination of the 2nd leg is Siliguri!
19/02/17: Patna to Siliguri (560 kms)
Route taken: Patna - Muzzafarpur - Devbanghar - Siliguri
Siliguri: Siliguri is a city which spans across the Darjeeling and Jalpaiguri districts in the Indian state of West Bengal.. The city is located on the banks of the Mahananda River and at the foothills of the Himalayas
We had decided to start at 4 am once again today.. But the early start got delayed due to tyre pressure issue of a fellow rider.. As a result, we ran into heavy traffic on the road leading out of the city.. Later, we found extremely dense fog on the highway before Muzzafarpur.. Could hardly do 60-70 kmph.. Visibility was barely a few feet.. After a lot of tea stops, finally found a place to eat and had lunch at around 4.. We reached Siliguri by 6:30 and checked in to Hotel Aamravati.. Off to Phuentsholing tomorrow, the first town on our Bhutan itinerary!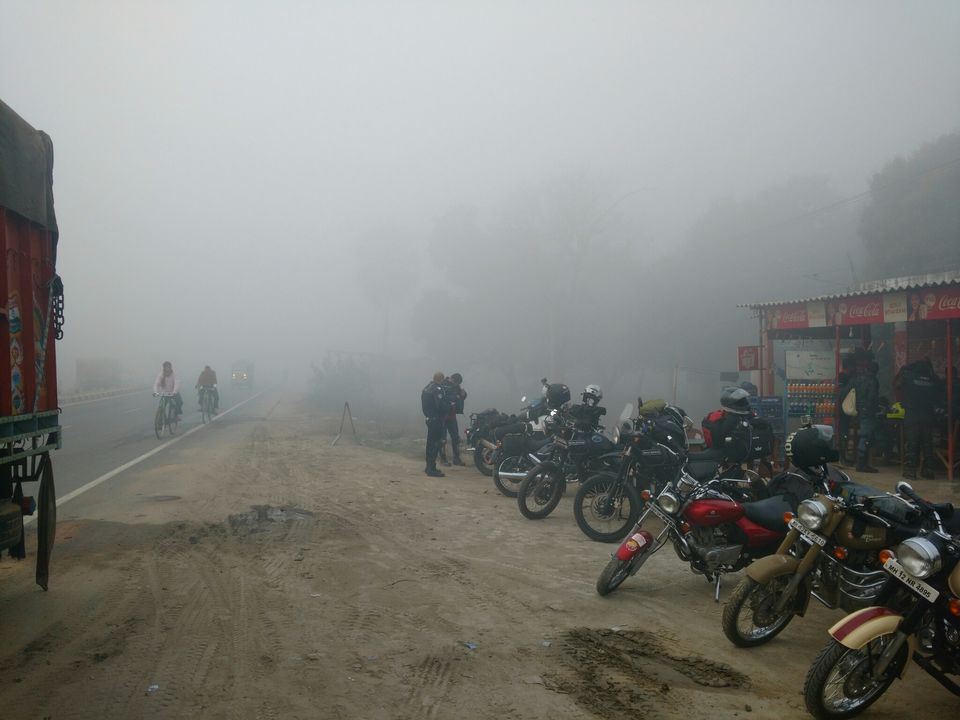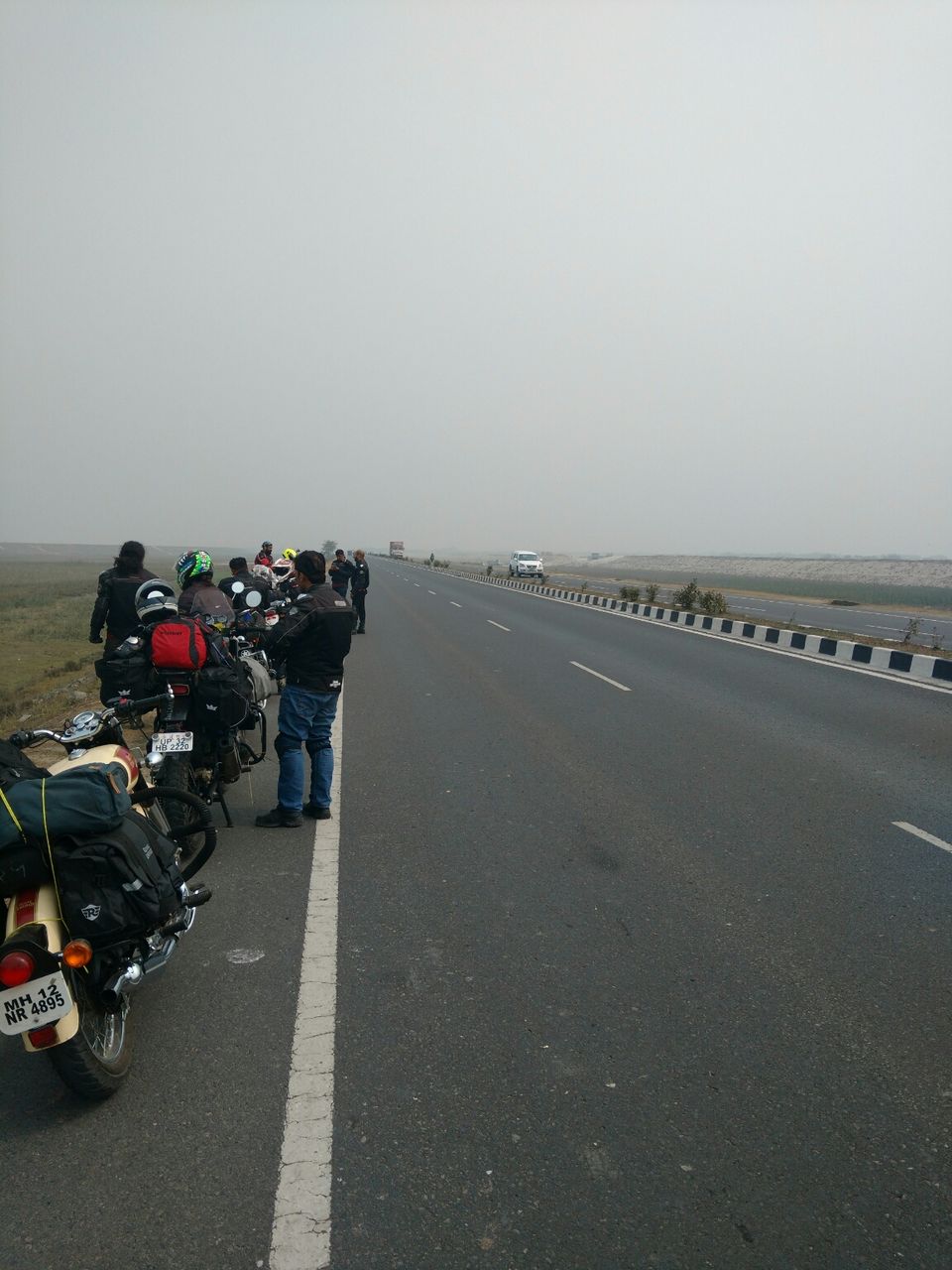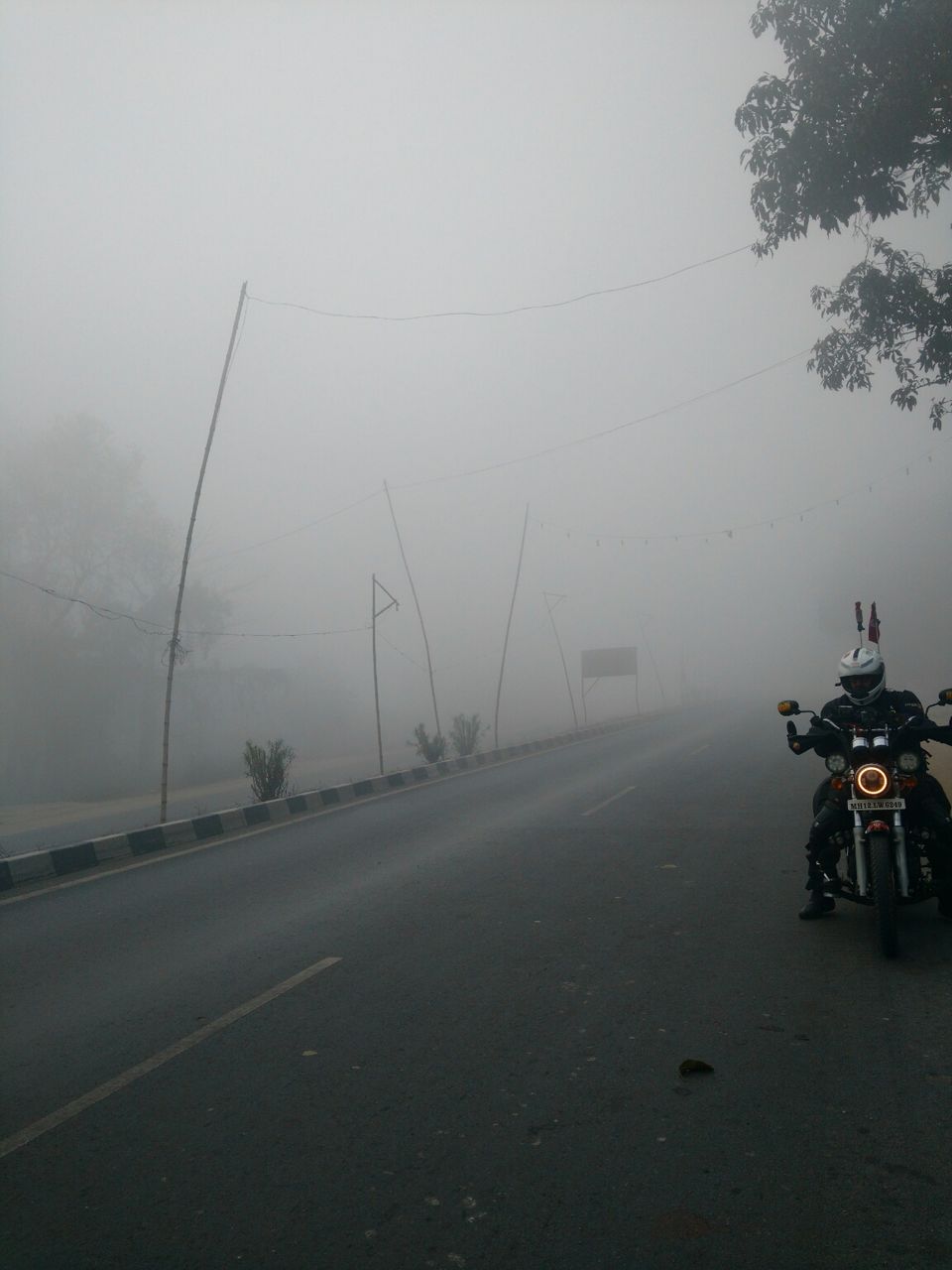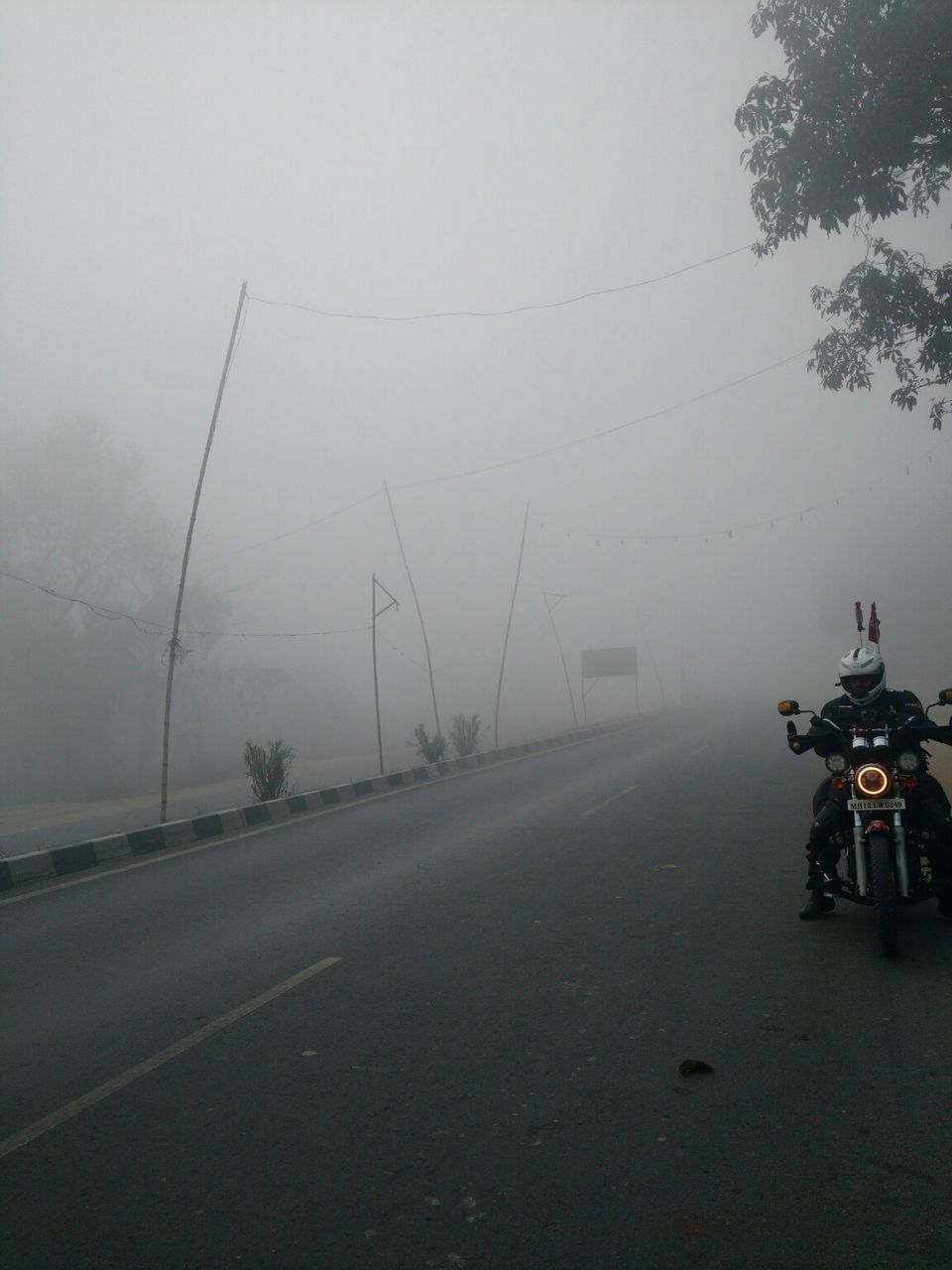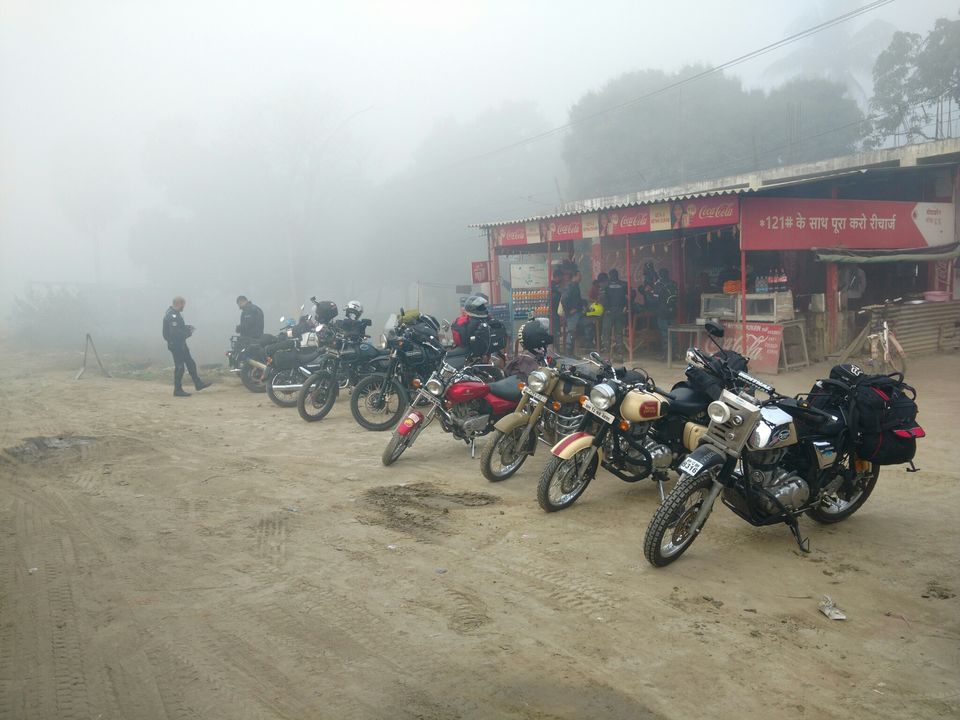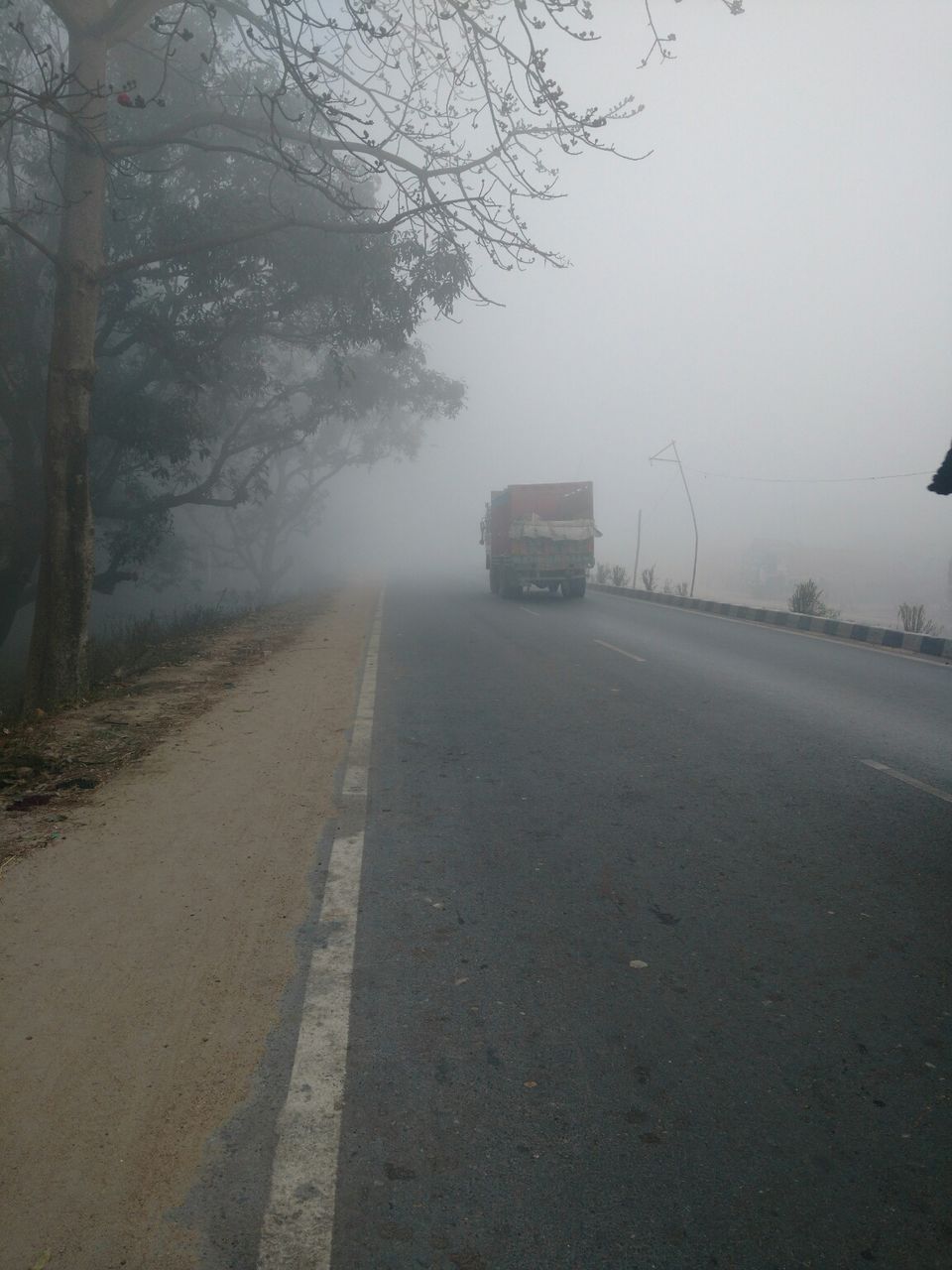 20/02/17: Siliguri to Phuentsholing (160 kms)
Route taken: Siliguri - Hashimara forests - Phuentsholing
Phuentsholing: Phuentsholing is a border town in southern Bhutan.. It adjoins the Indian town of Jaigaon..
Our ride started early morning at 5 am since we had to reach Phuentsholing before 10 am.. Our main agenda was to go to the immigration office and apply for the entry permits and later go to the State Transport Authority office and get the bike permits.. We feasted on some great pork and beef in Zen Restaurant for lunch.. All permits were done and we were free for the day.. Roaming around in the market and clicking pics at the border is what we did..  Next stop, Paro !!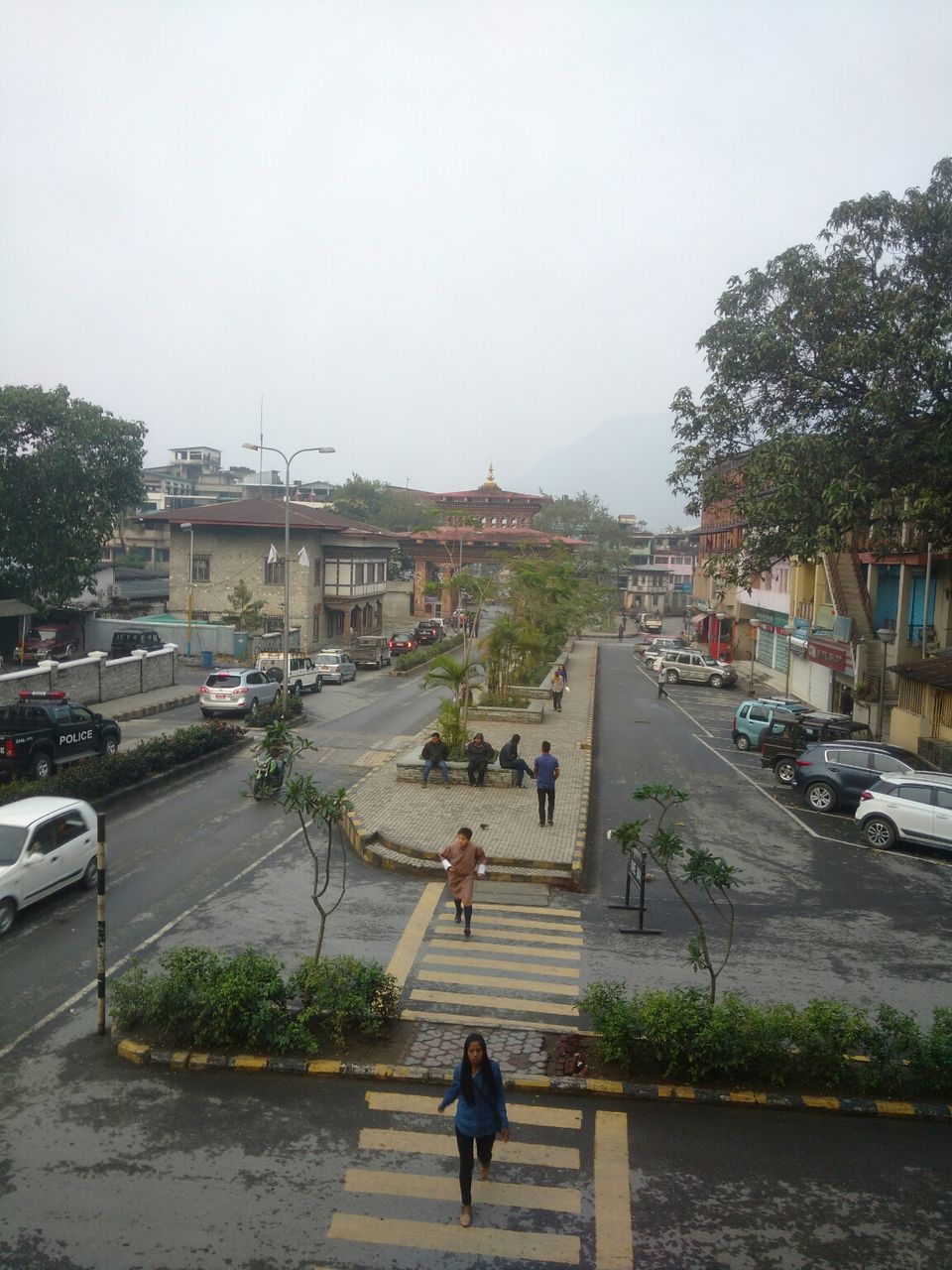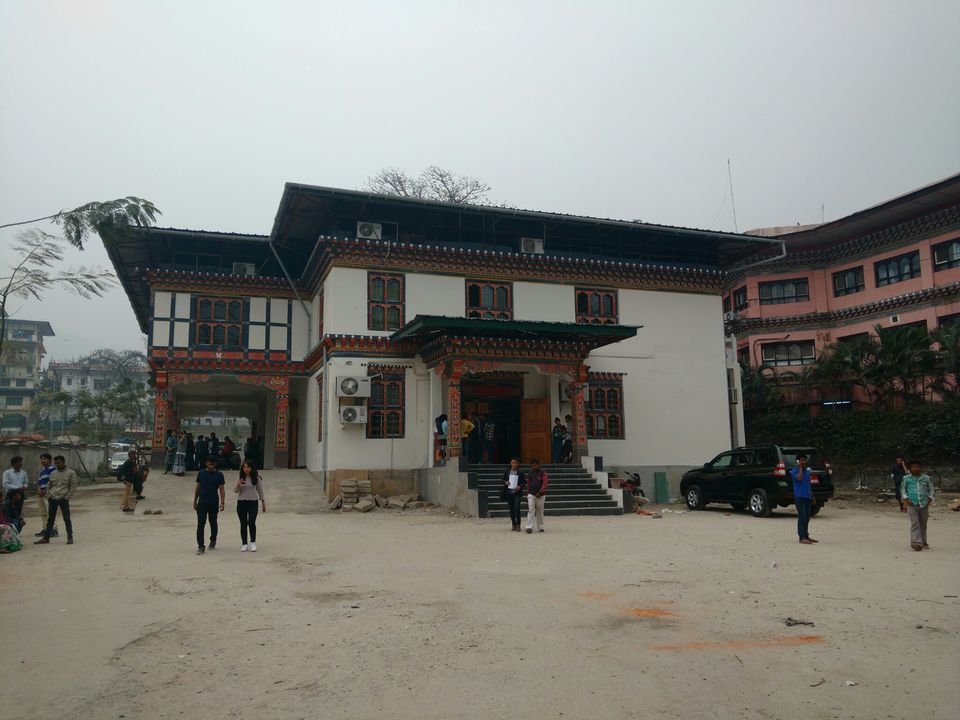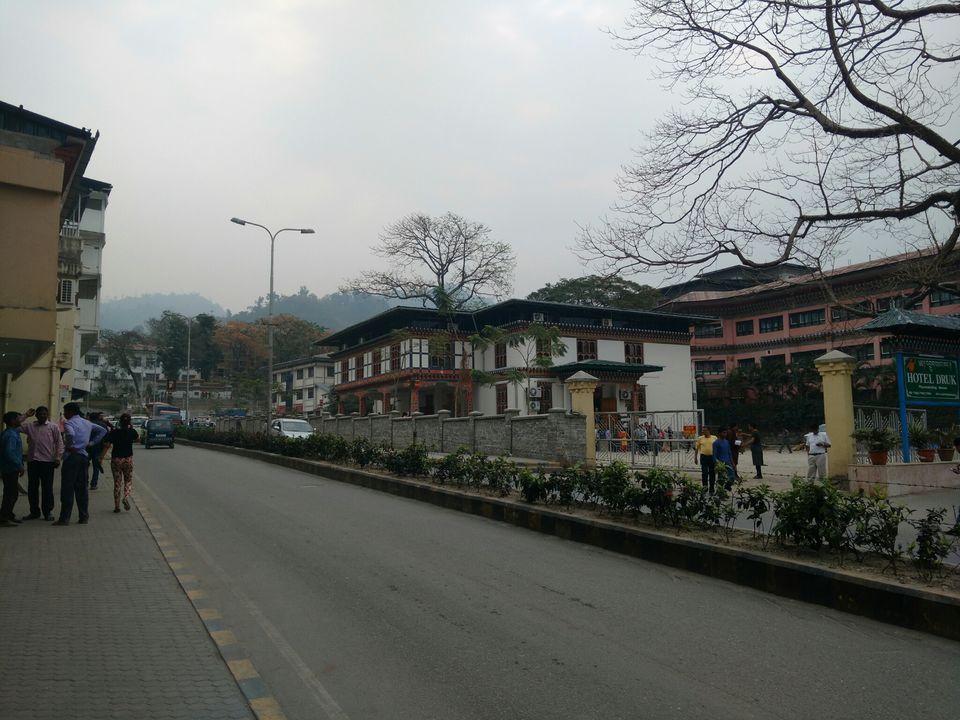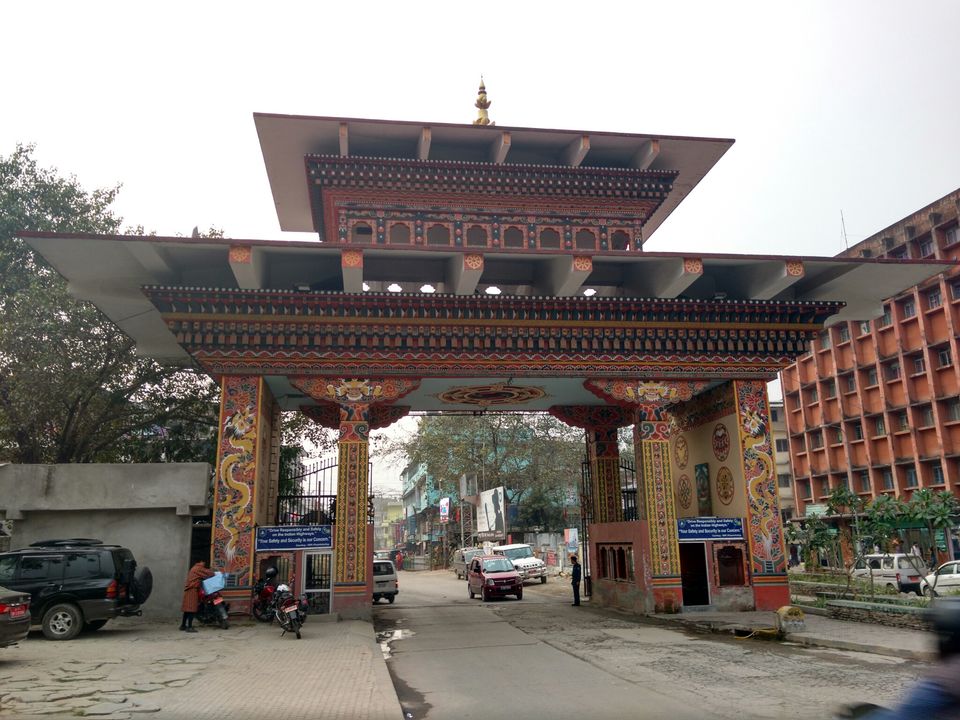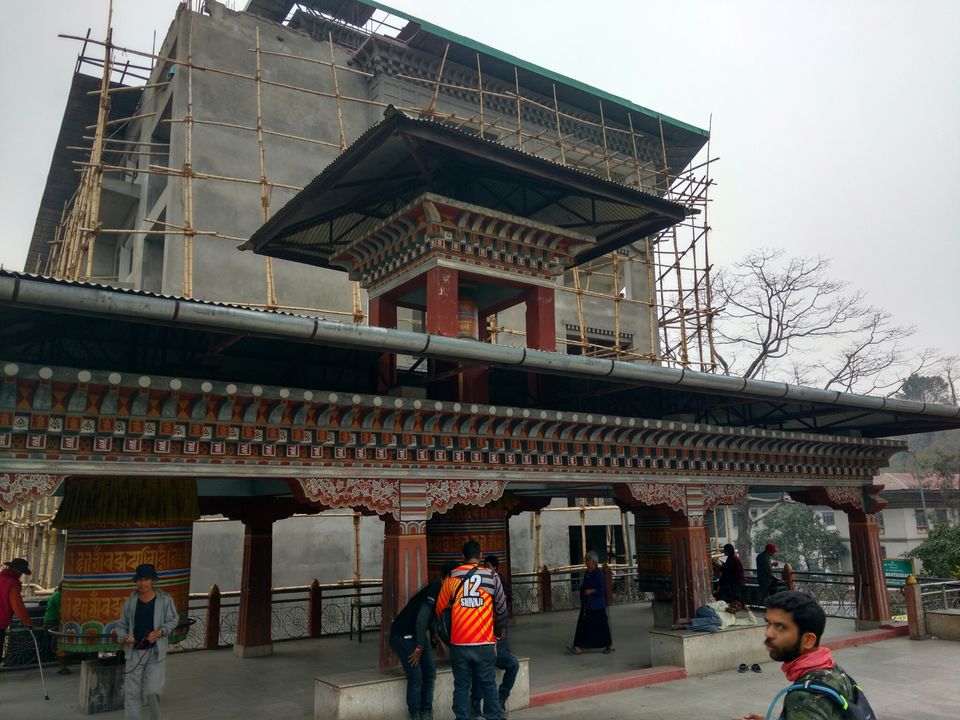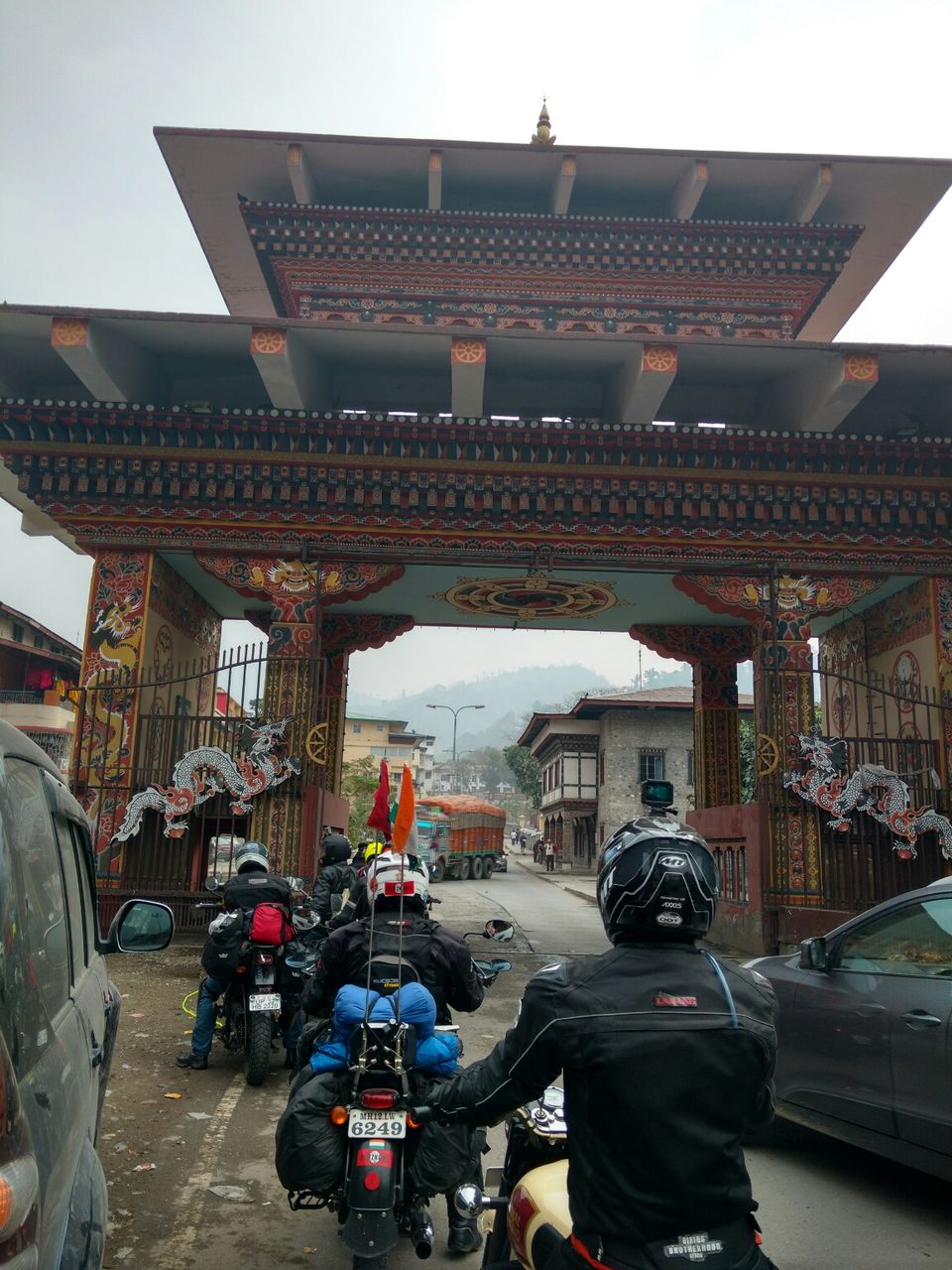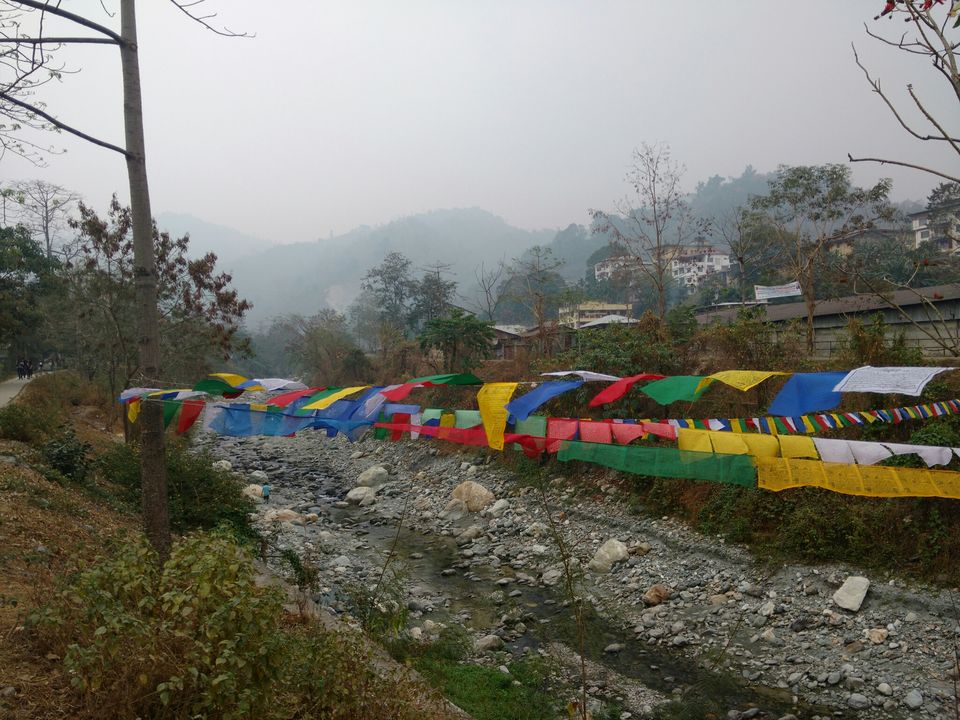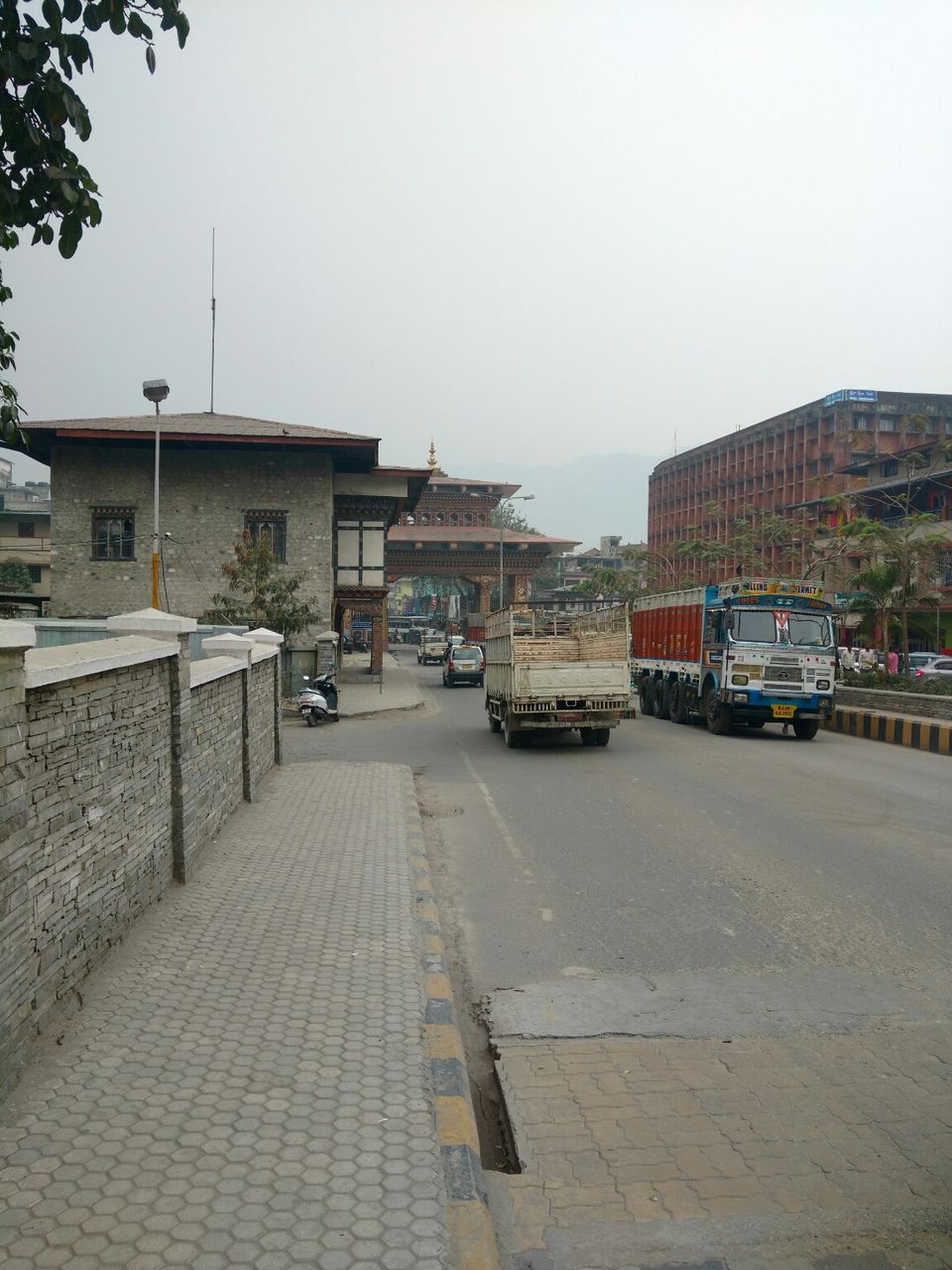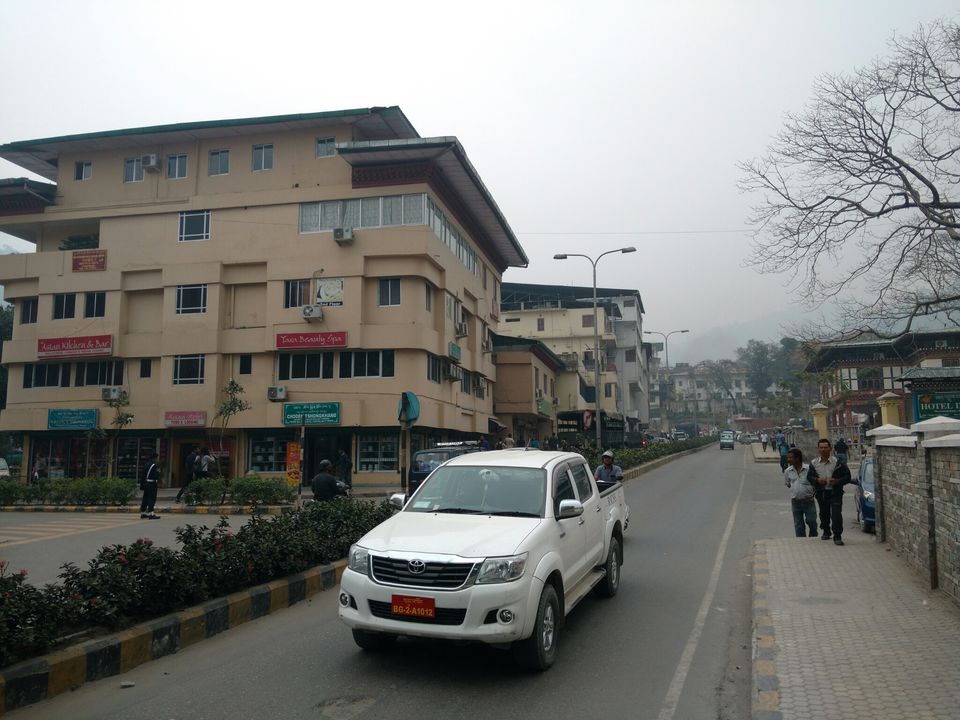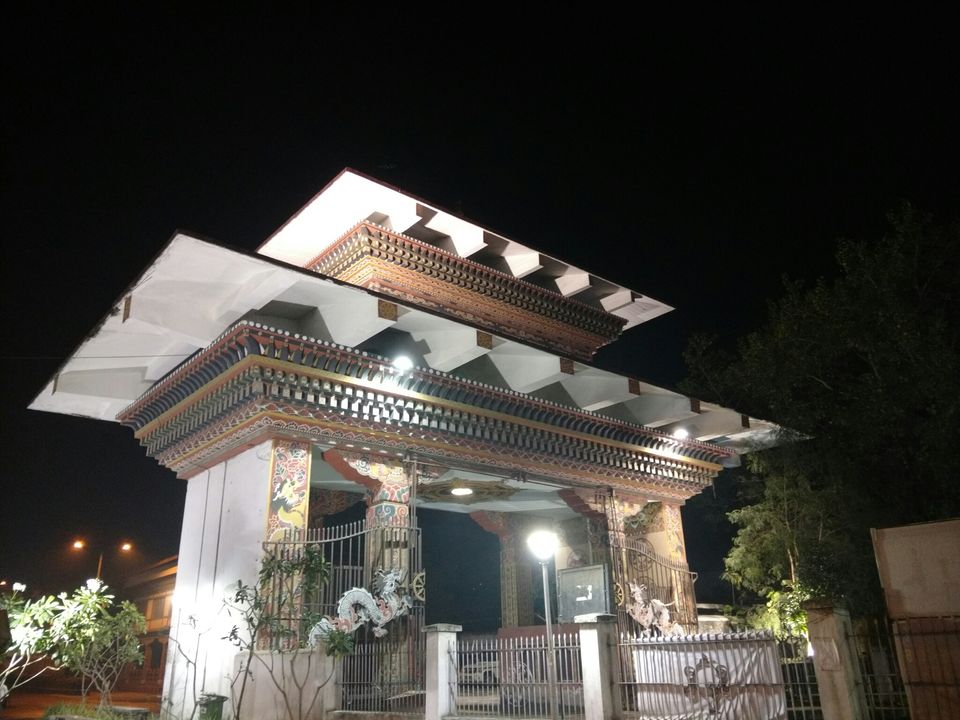 21/02/17: Phuentsholing to Paro (165 kms)
Route taken: Phuentsholing - Paro
Paro: Paro is a valley town in Bhutan, west of the captial, Thimphu.. It is the site of the country's only international airport and is also known for the many sacred sites in the area..
A super eventful day.. Just as we were about to leave, one of the guys had a puncture.. As the puncture was being removed and we were waiting outside, one of the guy's had his phone stolen from his bike.. At the same time, a nut broke while the mechanic was fitting back the puncture removed tyre.. Fortunately, the phone was recovered within 2 hours, thanks to the locals who identified the thief.. Finally we left, almost 3 hours later than planned, and hit the beautiful and scenic ghat till Paro.. Super dense fog on the way, could hardly see anything.. A Maggi lunch stop on the way, we reached Paro at around 8.. Dinner and drinks and then it was time for a good night's sleep.. 2 good days in Paro awaited us!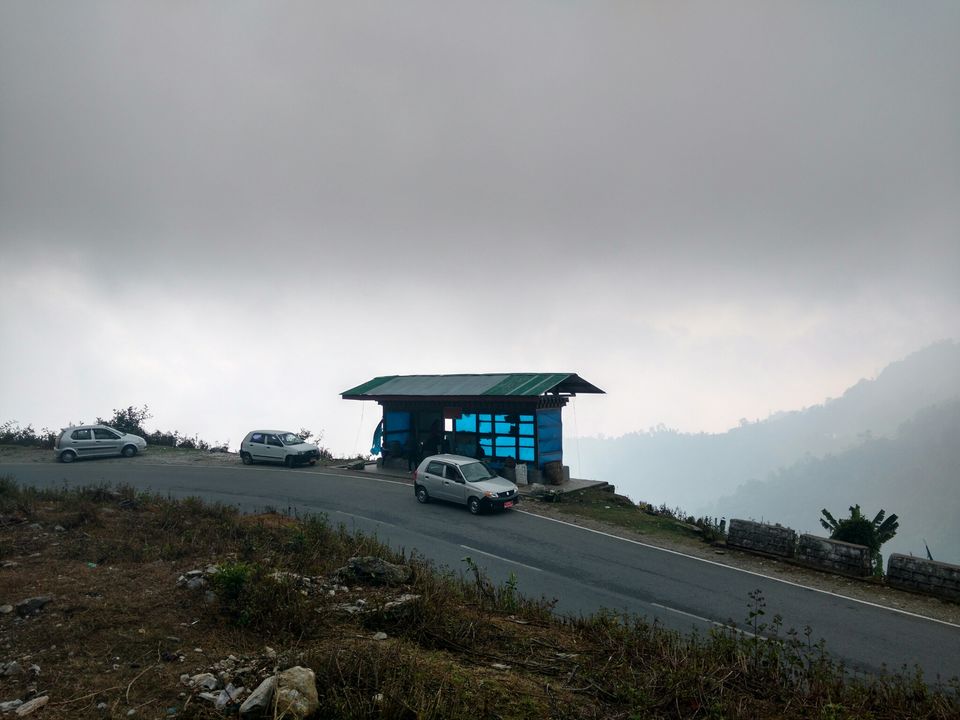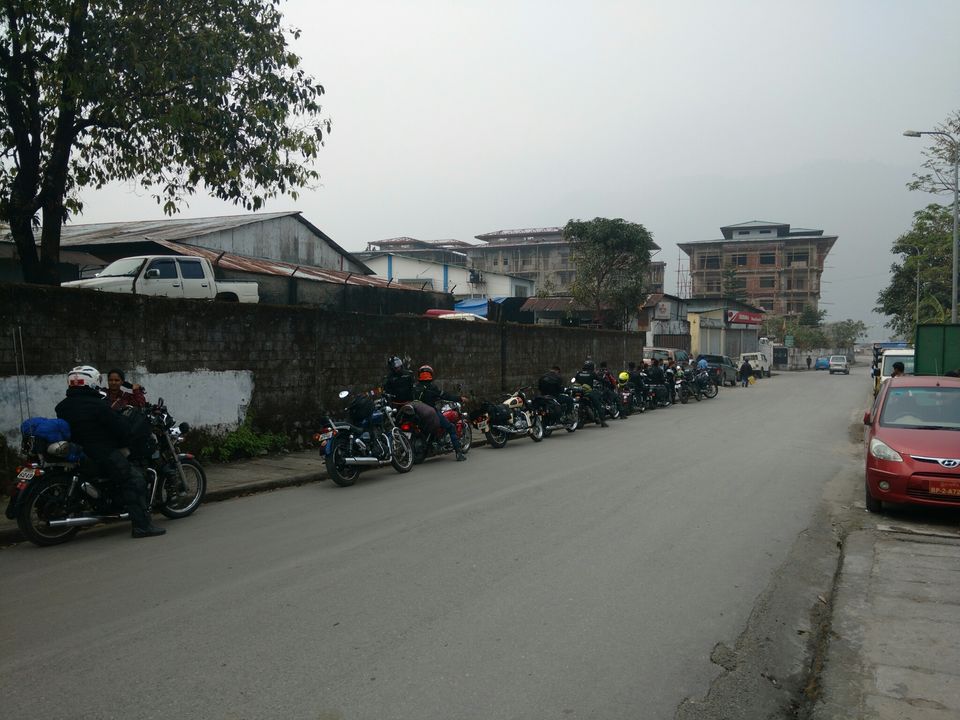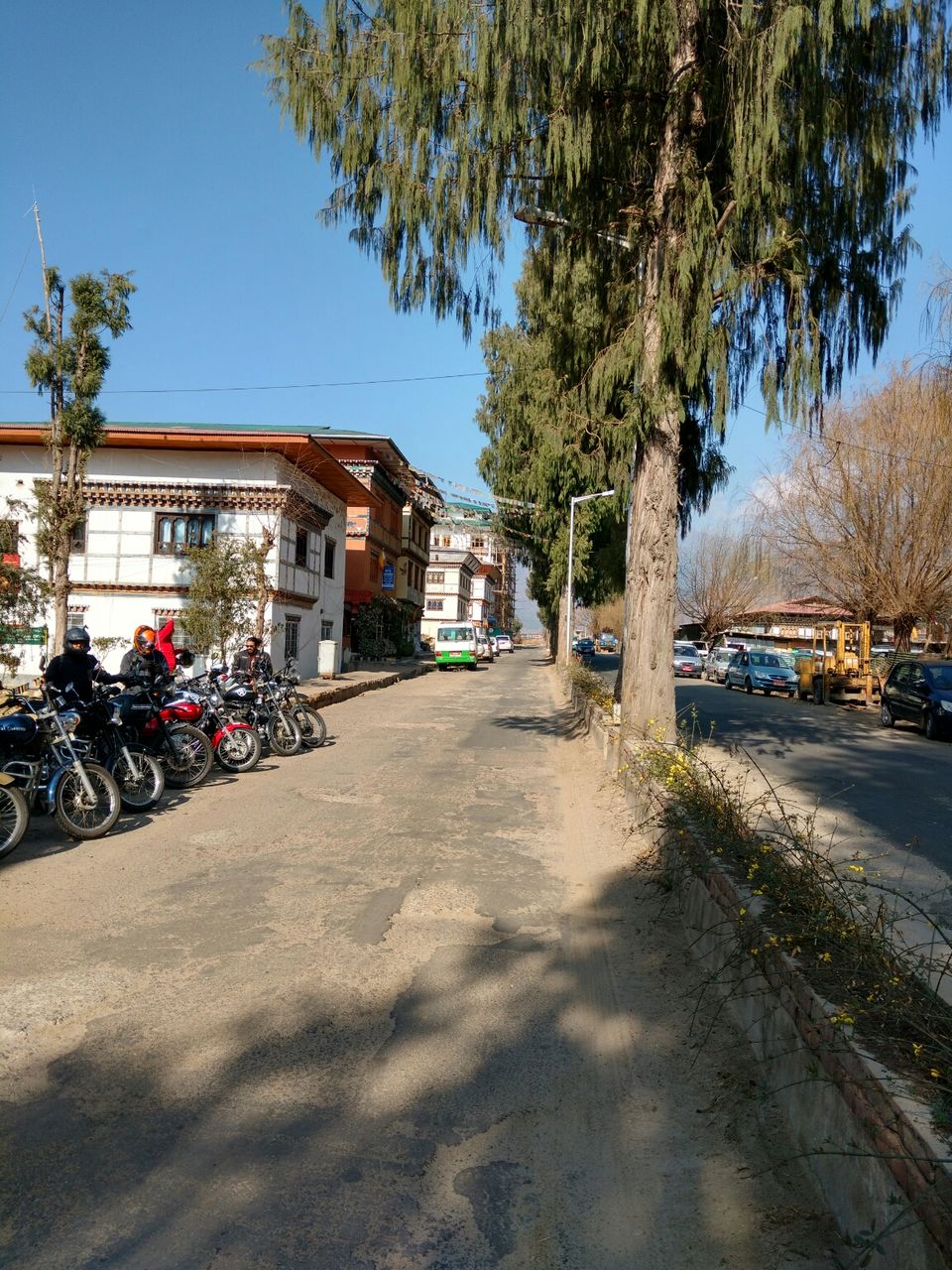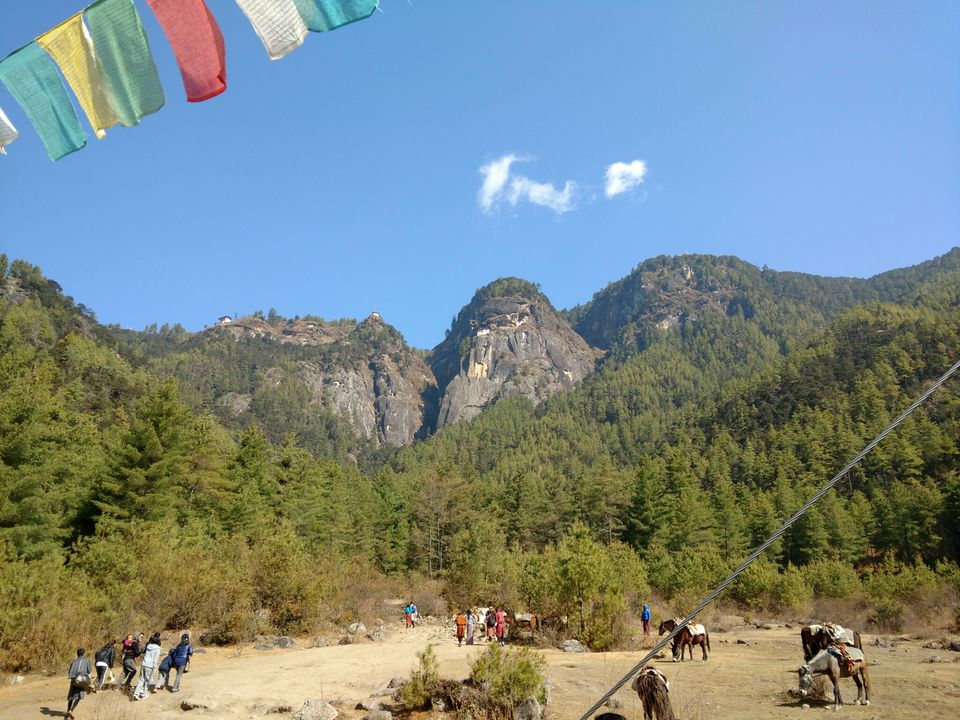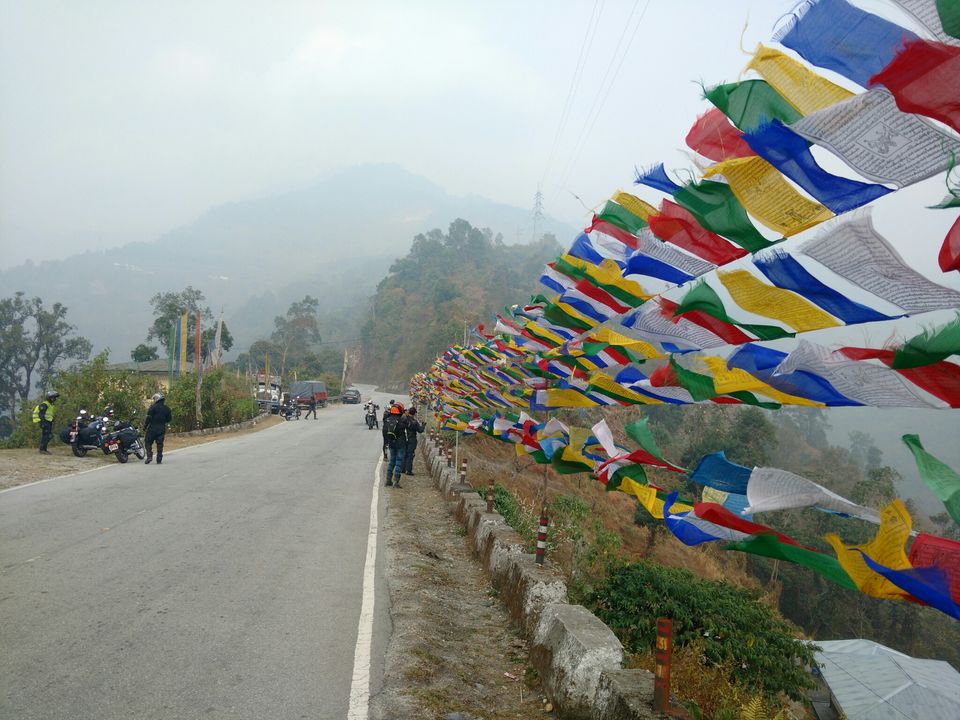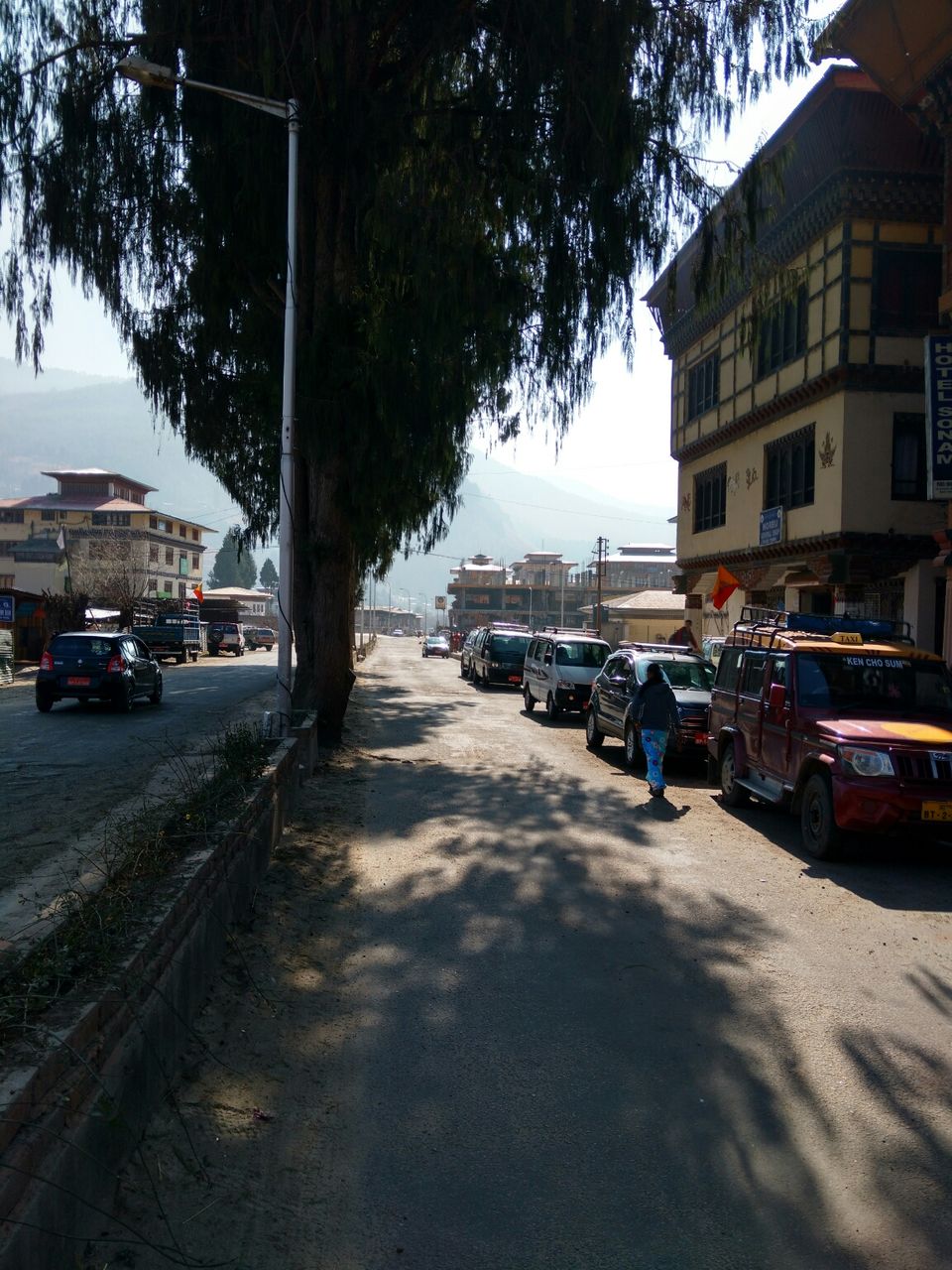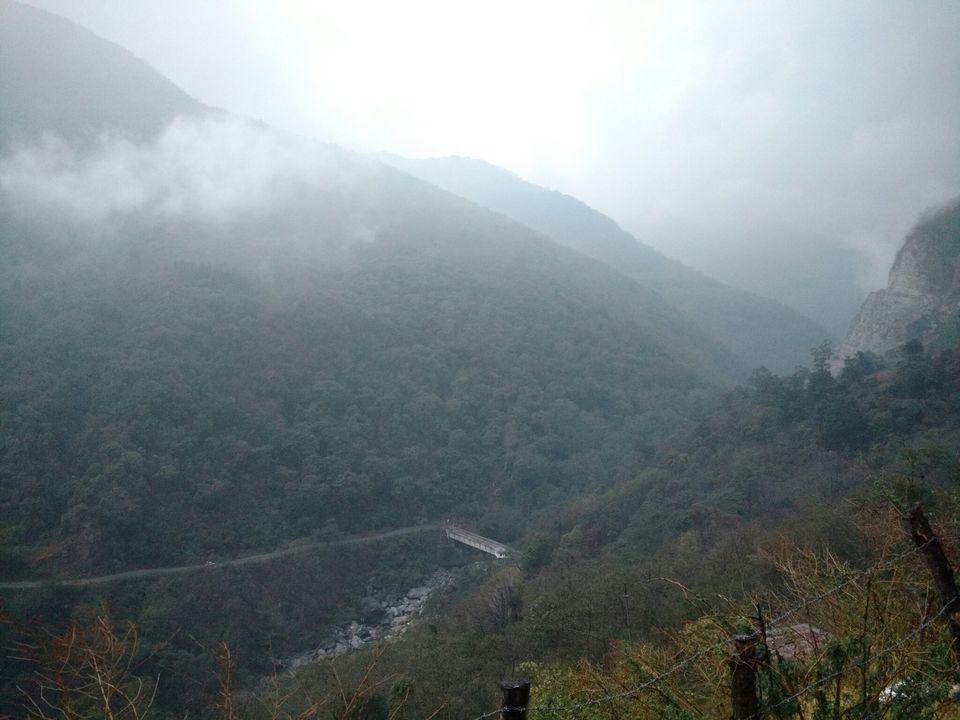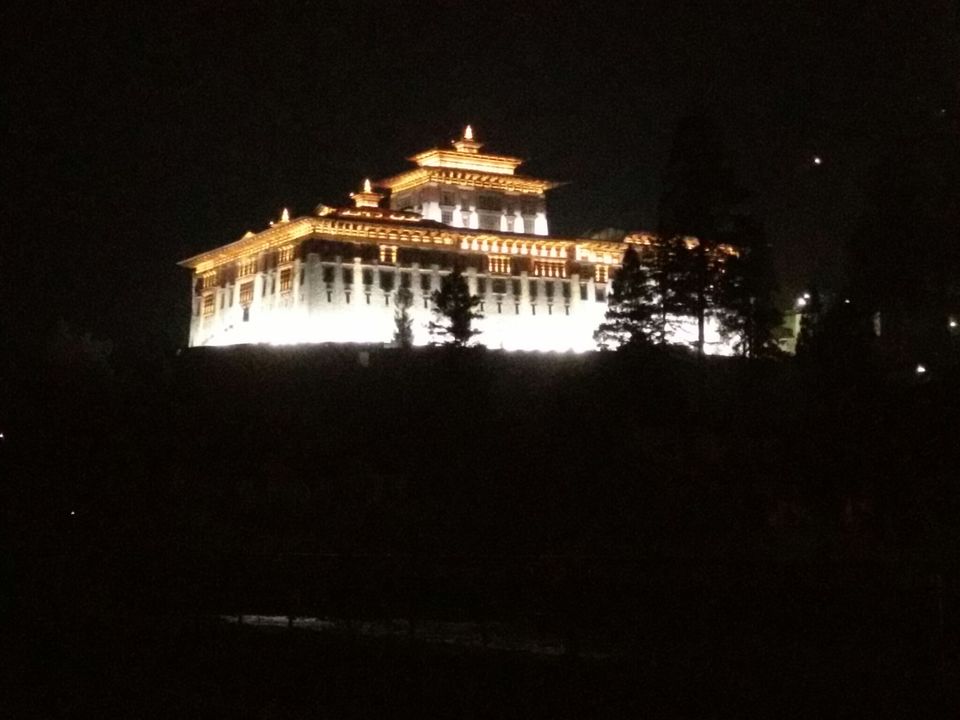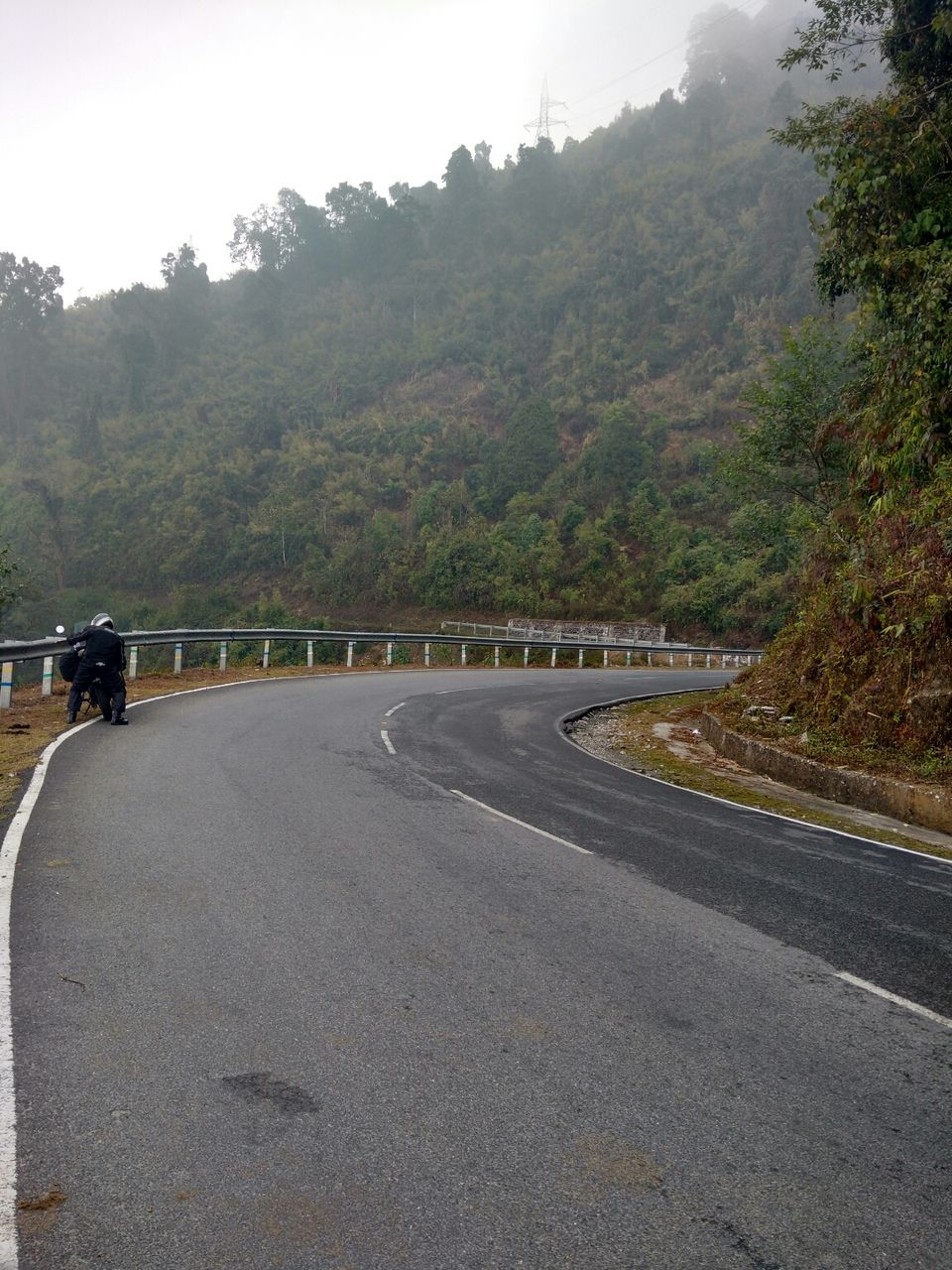 22/02/17: Paro to Tiger's Nest (25 kms)
Paro Taktsang (Tiger's Nest): Paro Taktsang is a prominent Himalayan Buddhist sacred site and the temple complex is located in the cliffside of the upper Paro valley in Bhutan
A rest day in Paro, but not really so.. Agenda was to visit Taktsang La or Tiger's Nest, a monastery built high up in the mountains.. About 20 kms from our hotel, we parked our bikes and started the long trek up.. 3 hours later, we were finally at the beautiful monastery.. There are many different small monasteries inside and it is really beautiful.. After resting for a while, we started the trek back down and it took us 2 hours to get down.. There are a few little souvenir shops at the foot of the mountain where one can find lots of Bhutanese souvenirs, and yes, we also bought some.. Had late lunch at 5 pm in the evening and headed back to our hotel for some well deserved rest..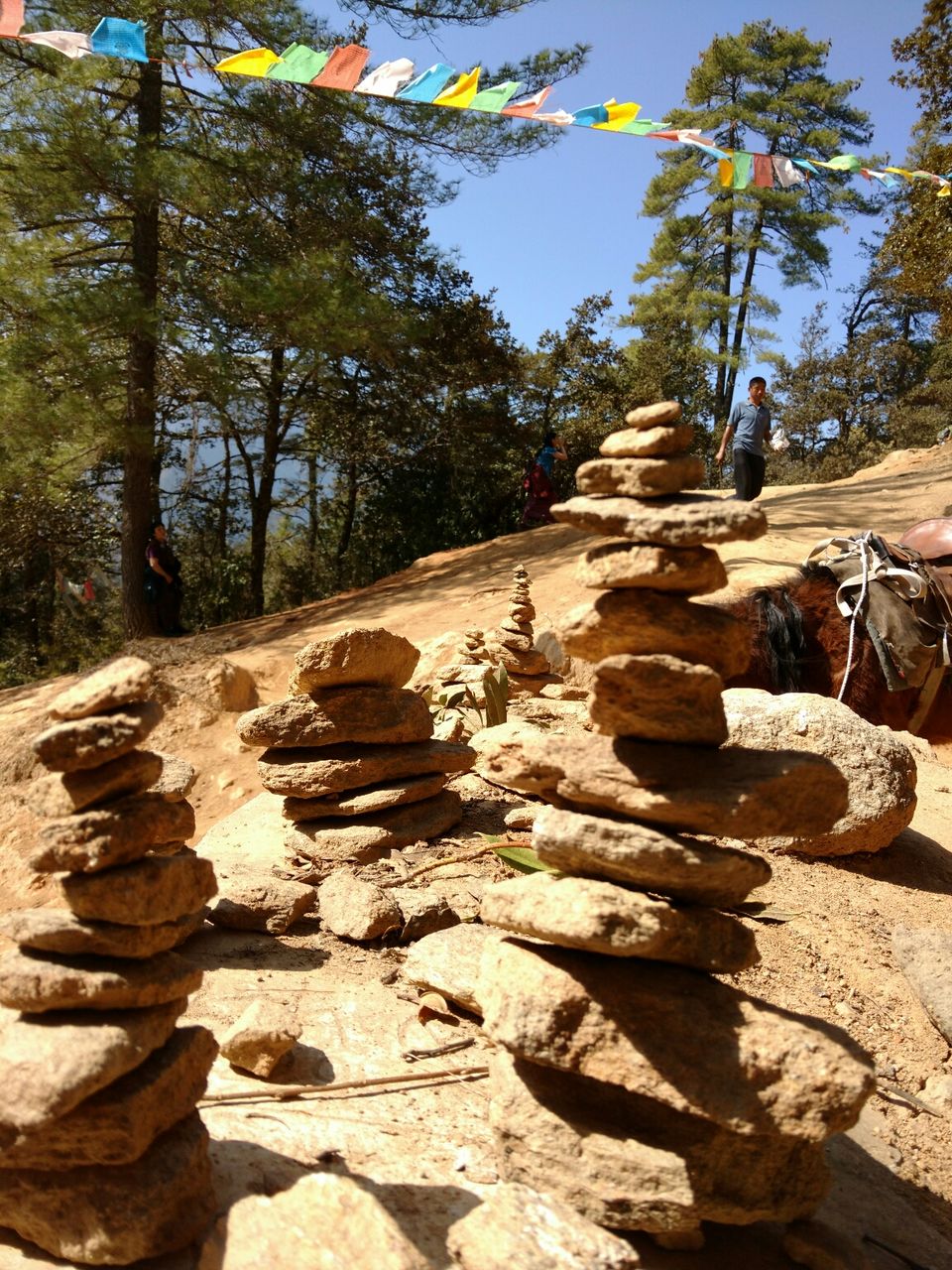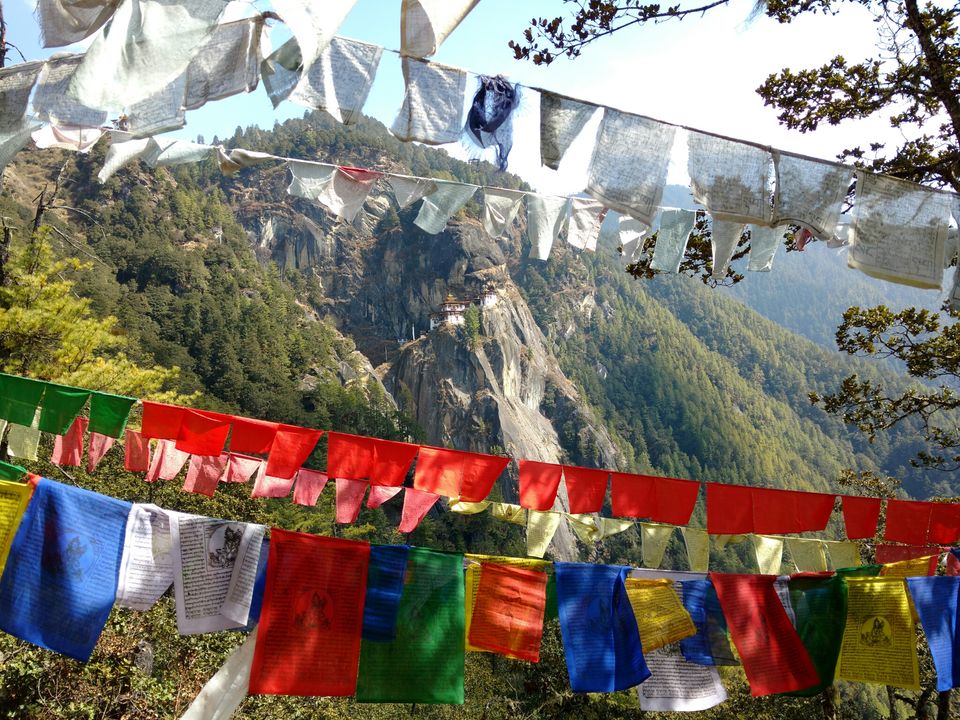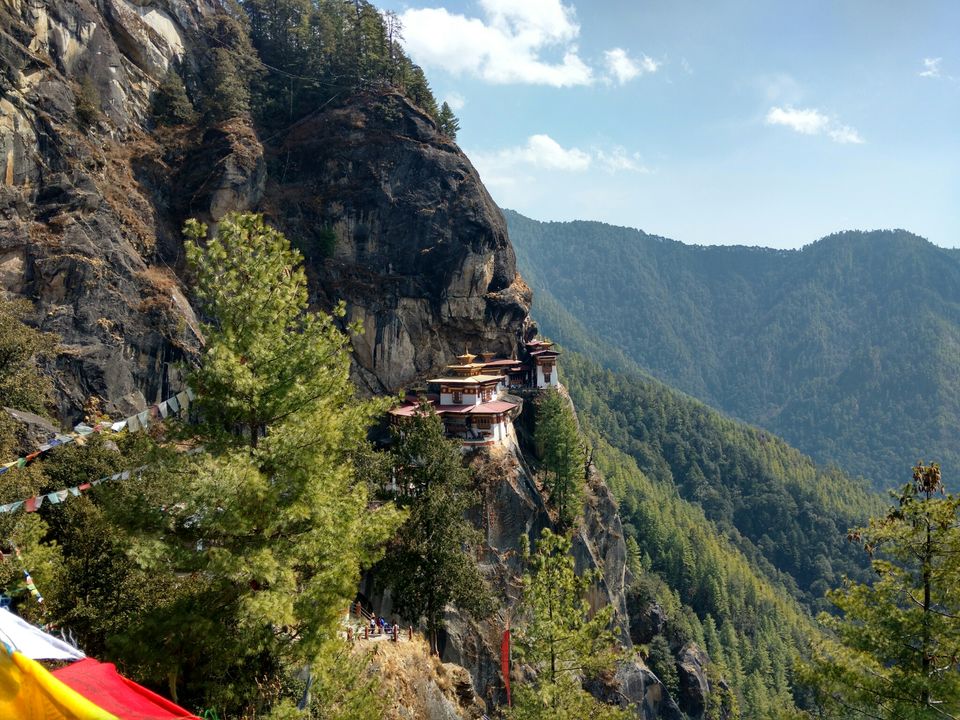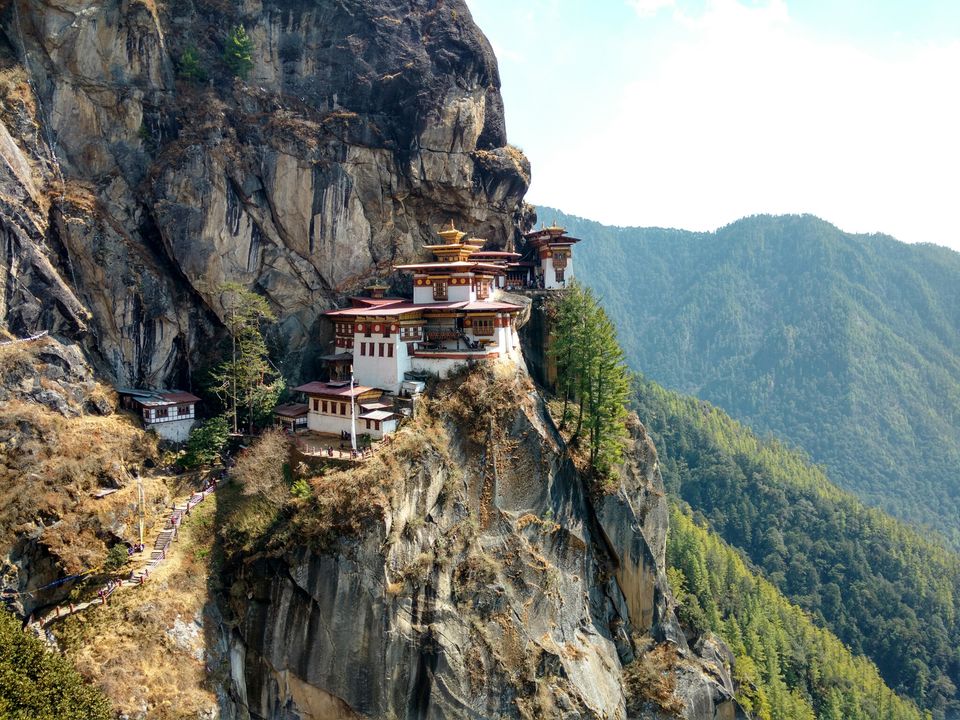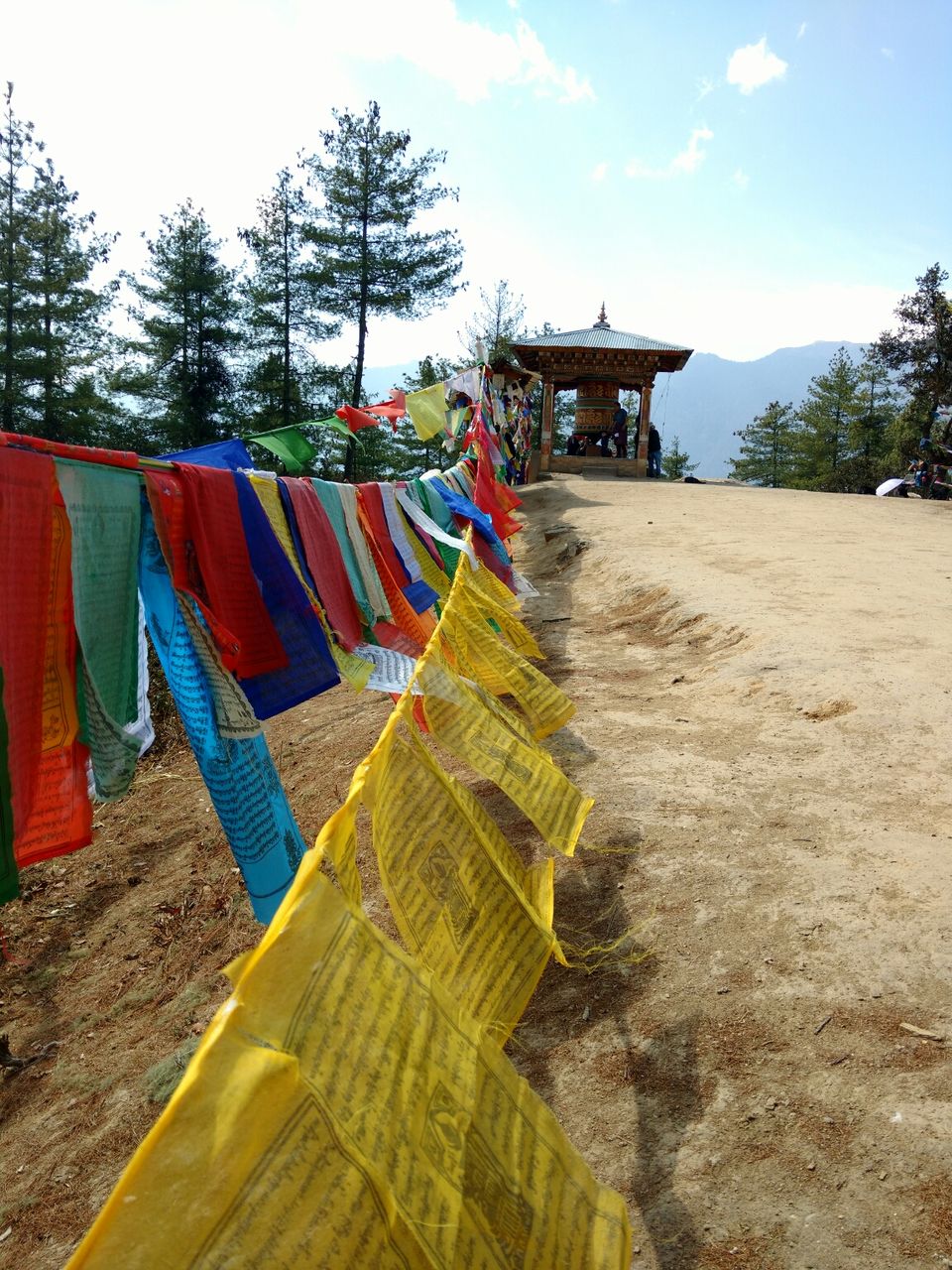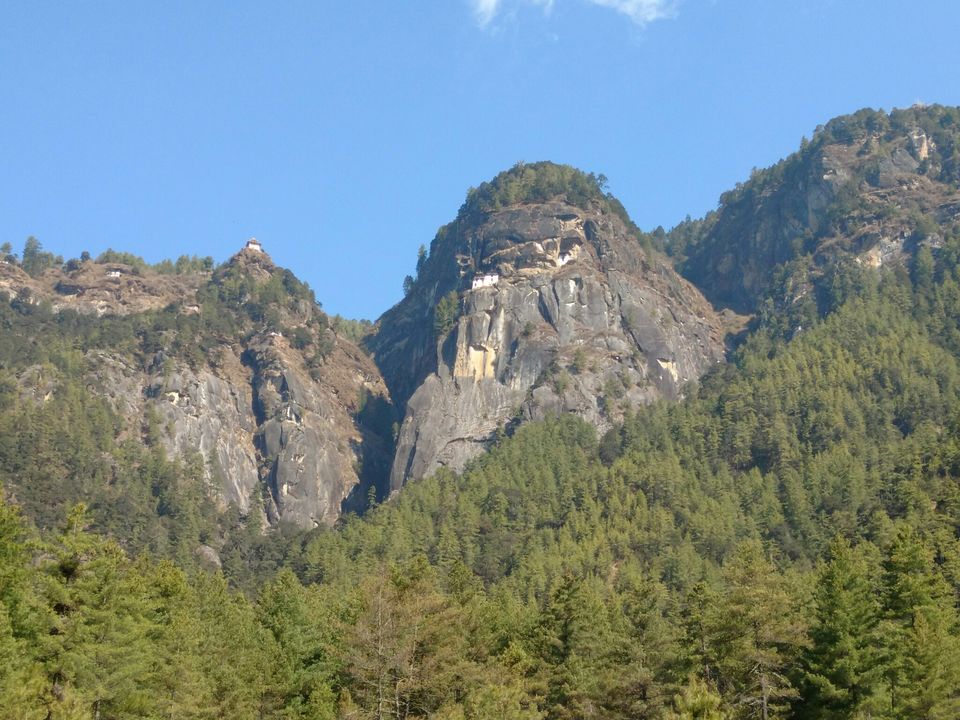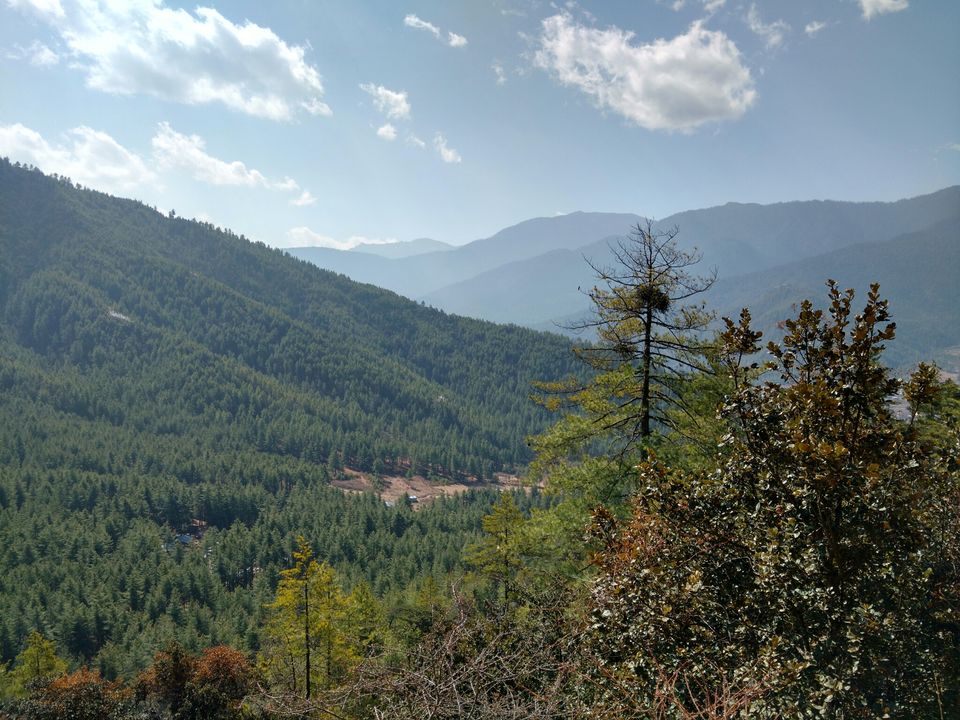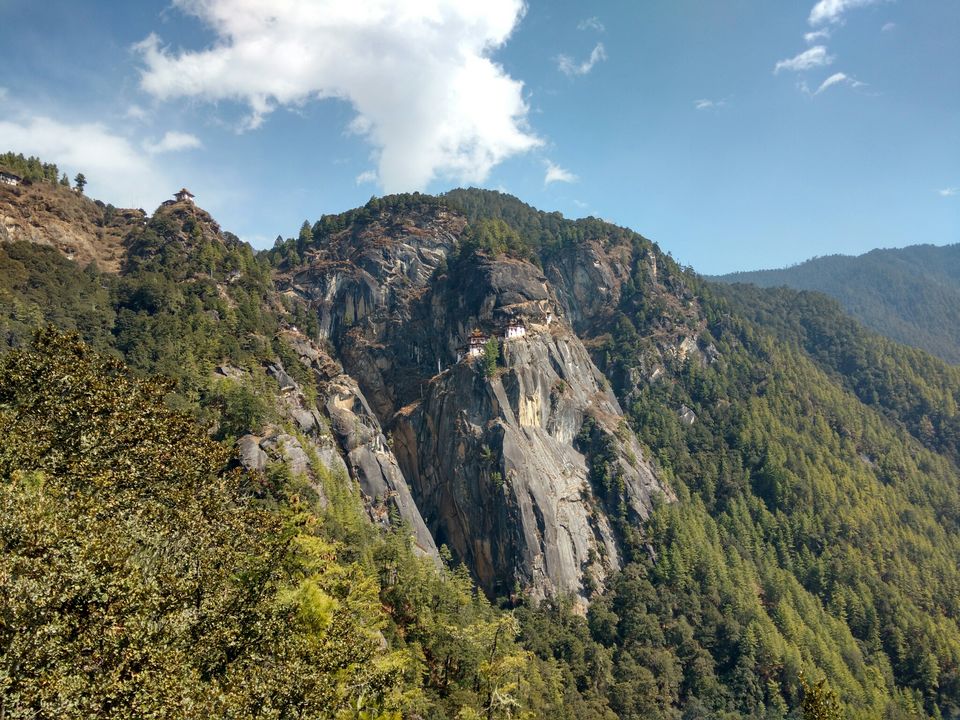 23/02/17: Paro to Chele La (40 kms)
Chele la: Chele la, at an elevation of almost 4000 mts, is considered to be one of the highest motorable passes in Bhutan.. An hour's drive from Paro, it passes through lush valleys, pine and rhododendron forests.. The pass provides stunning views of the sacred mountain Jomolhari and Jichu Drake
A short ride to a pass at almost 4000 mts above sea level.. A fairly relaxed ride but in super cold weather.. Riding through hairpins, snow and the beautiful ghats, we finally reached Chele La, the highest point on the Dantak road.. A scenic view of the Himalayas awaited us, with China on one side and Tibet on the other.. Being the off-road junkies that we are, we immediately turned for it when we found a off-road patch on the way back.. Finally back at the hotel at 5 pm and once again a late lunch.. Dinner and rest was next.. Thimphu was the next destination on the list!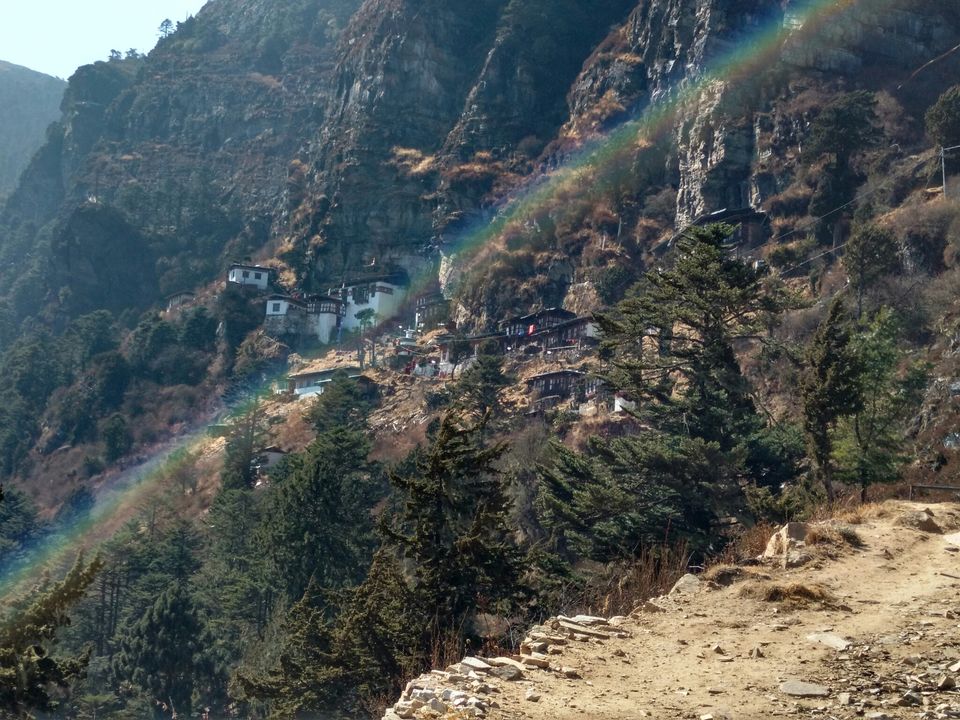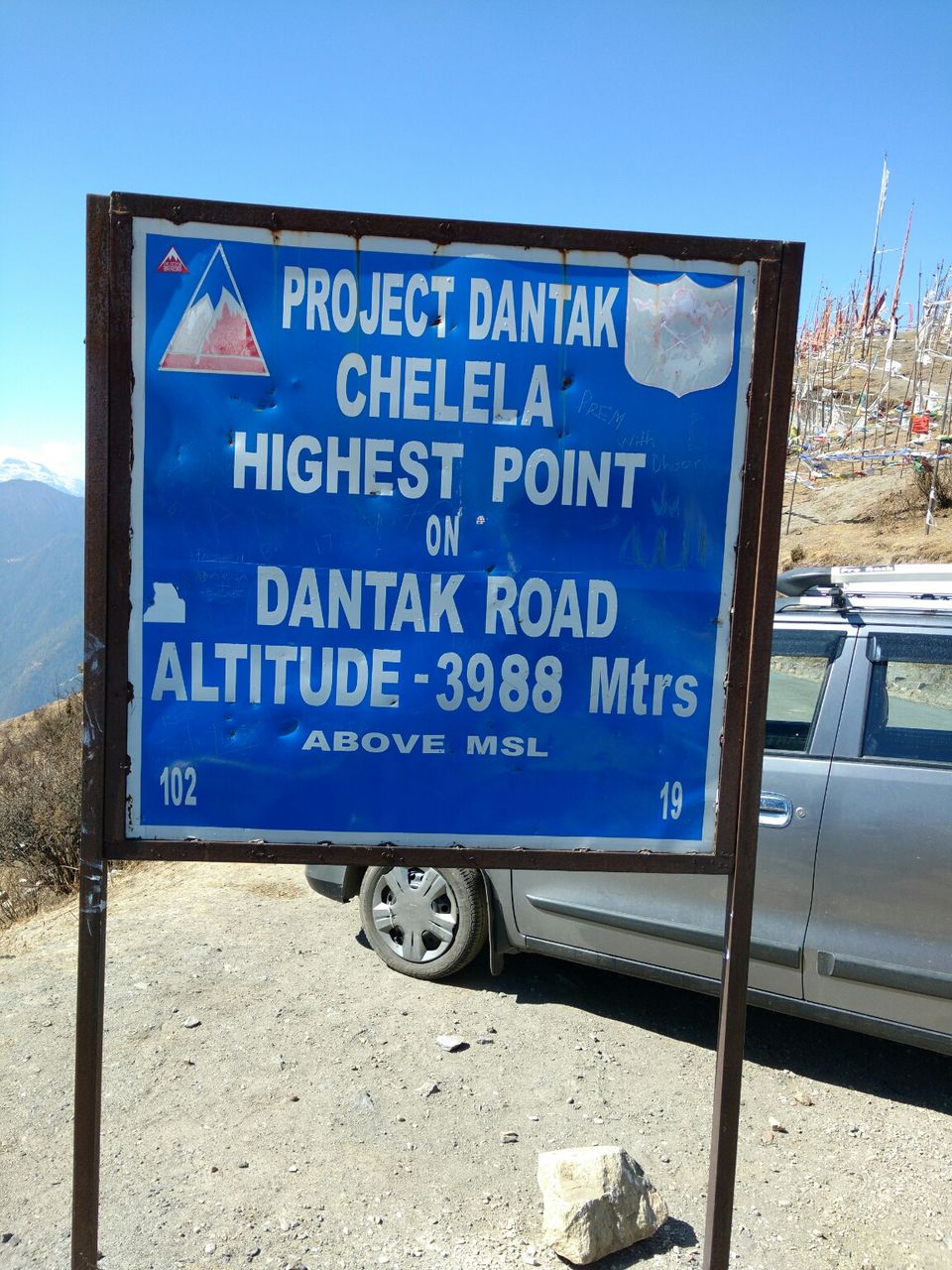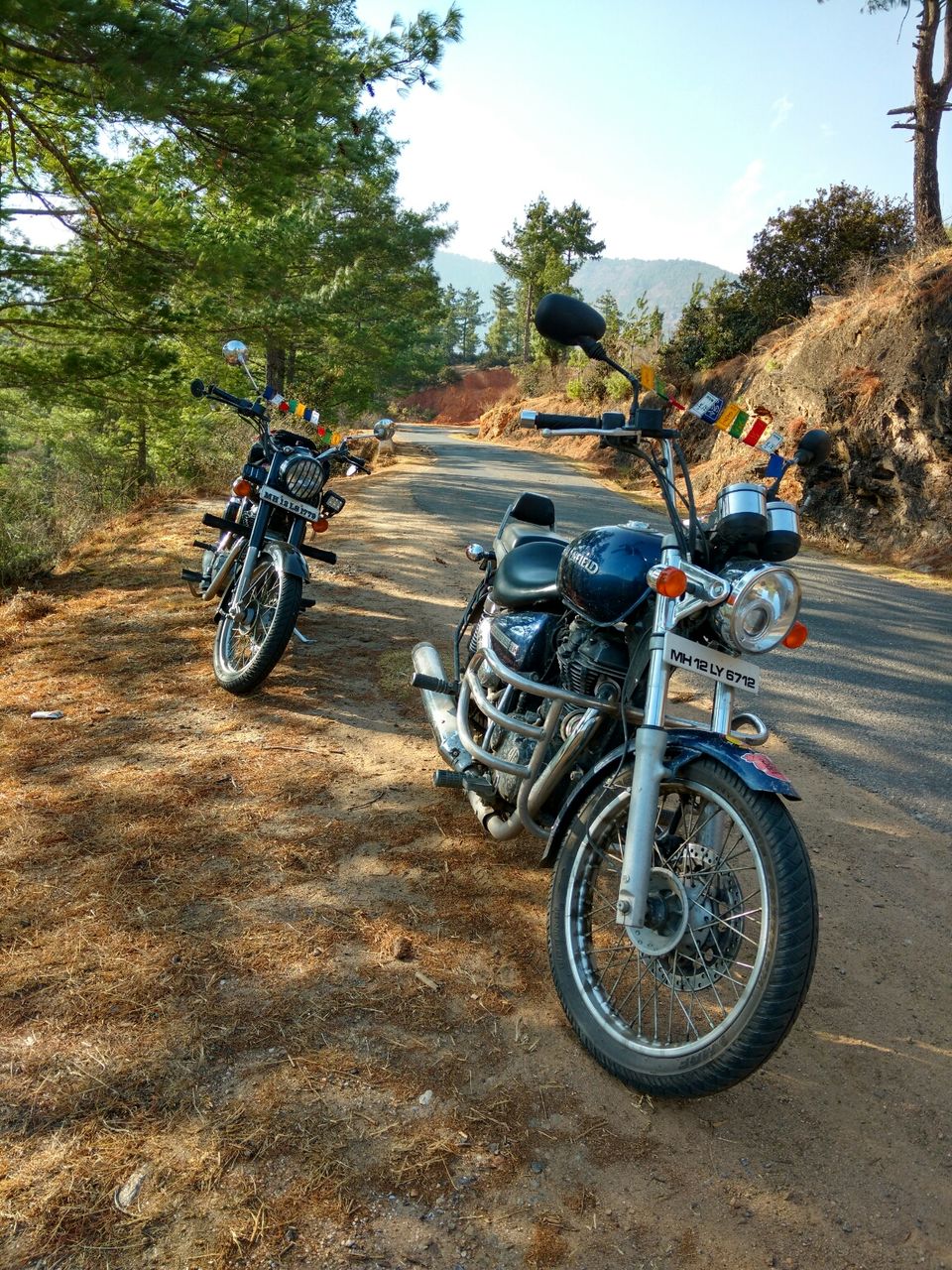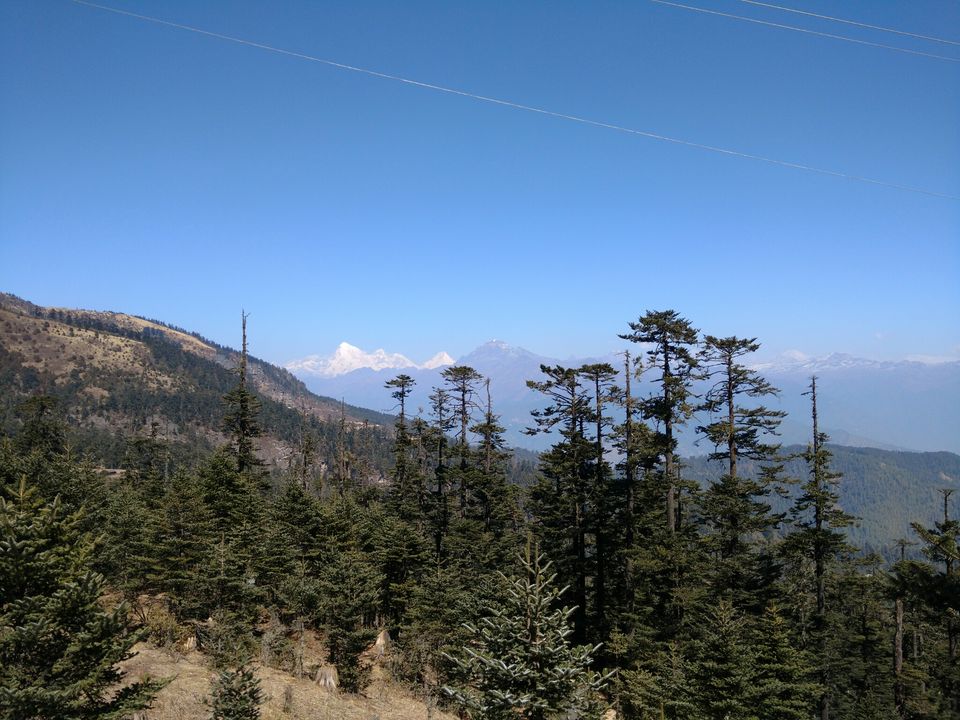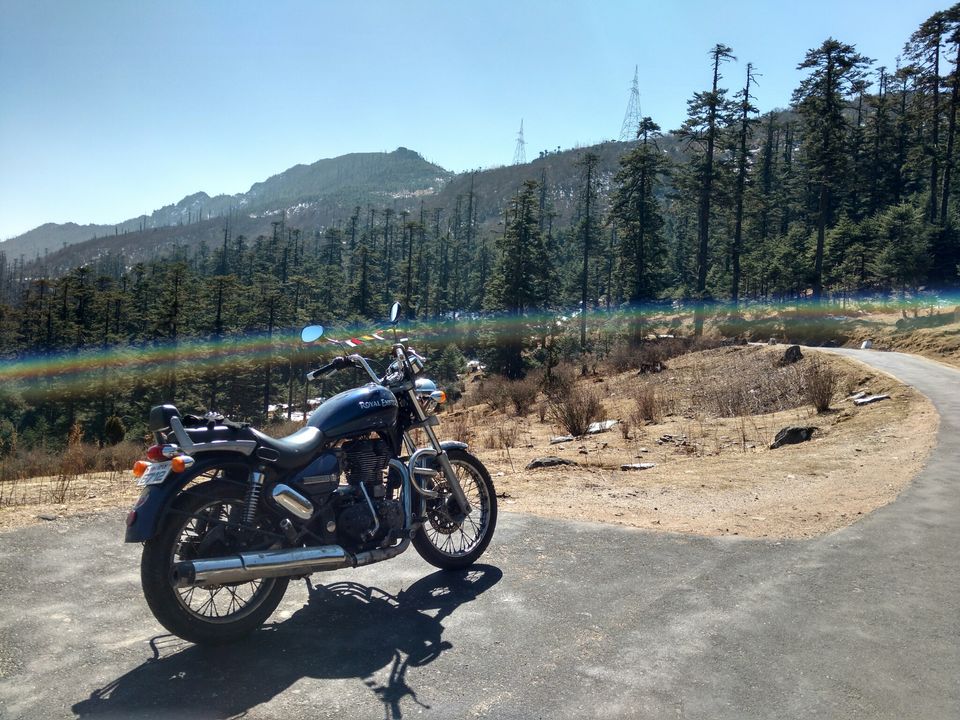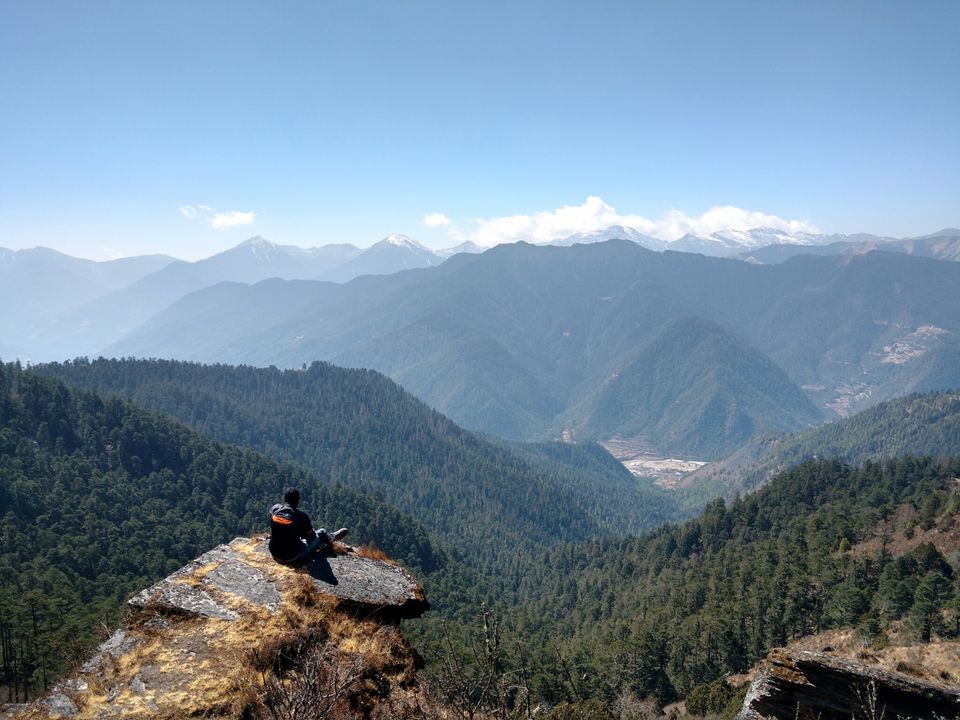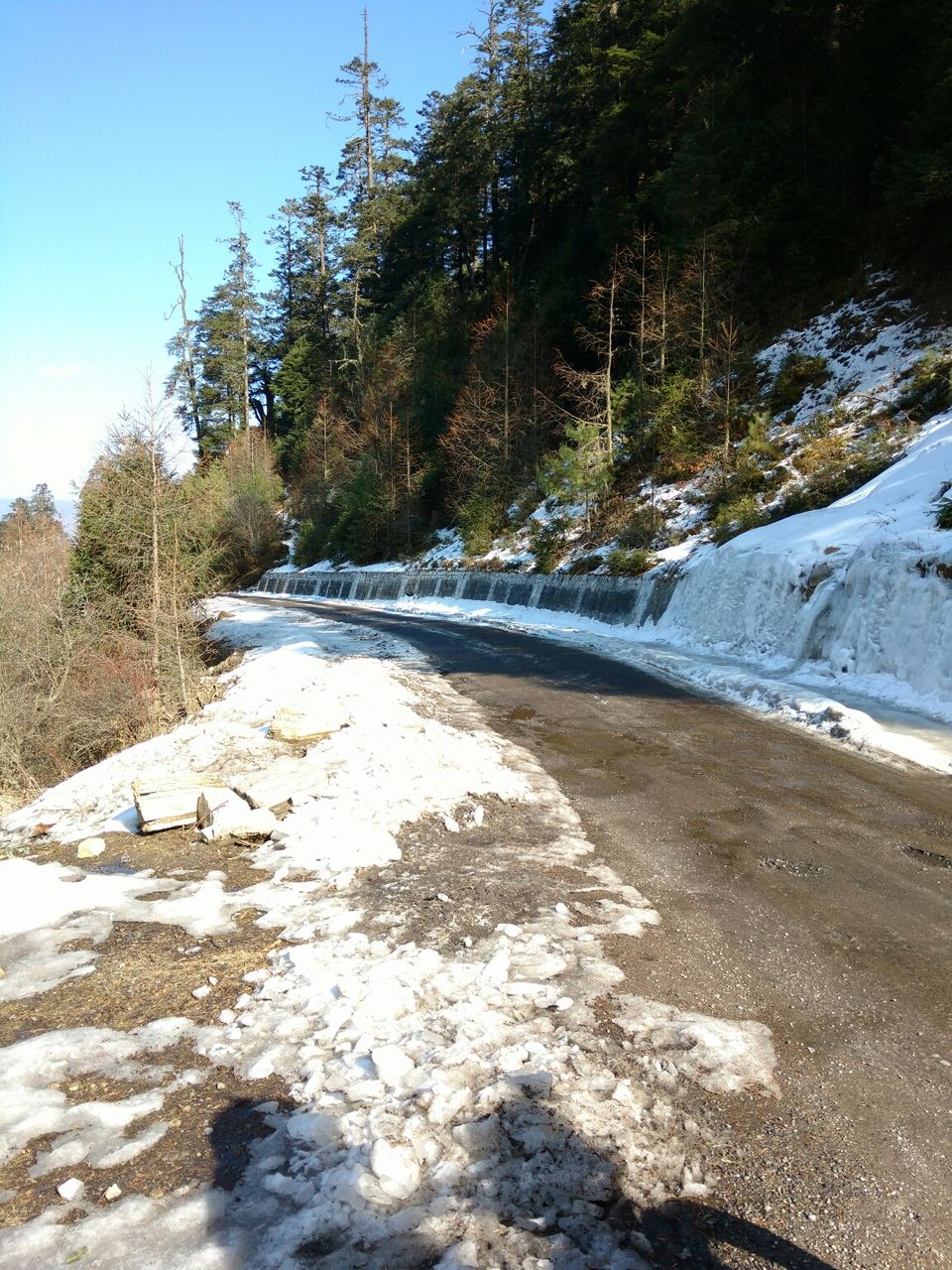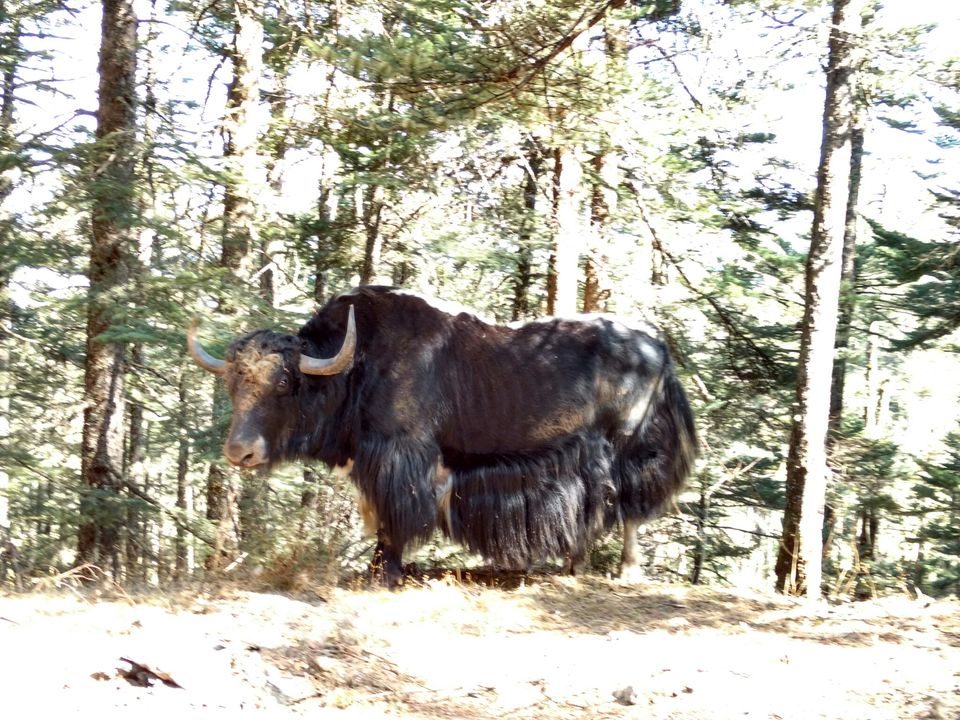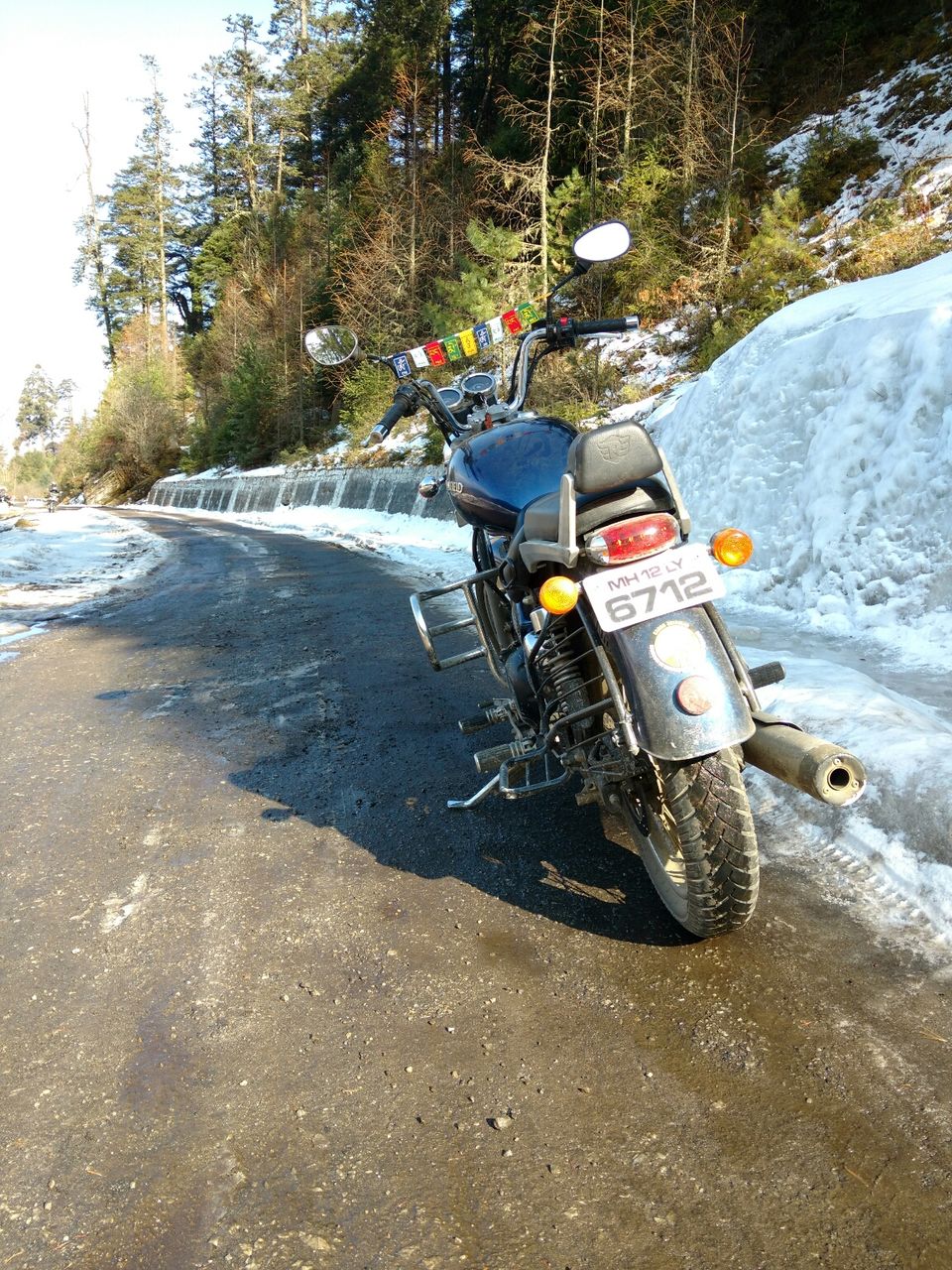 24/02/17: Paro to Thimphu (56 kms)
Thimphu: Thimphu, Bhutan's capital, occupies a valley in the country's western interior.. In addition to being the government seat, the city is known for its Buddhist sites
Though the distance was just 56 kms, the cold made it feel like 560.. Once again an early start was needed as we again needed to get permits for further areas.. And the early start was accompanied by extreme cold that almost gave us a frostbite.. We reached Thimphu at around 9-9:15 am and went to get the permits.. Then checked into the hotel and went out for some sightseeing.. First we went to see the newly built Buddha statue.. It's a magnificent piece of architecture.. A fully bronze Buddha statue, 169 ft in height.. Then we saw the king's palace.. One cannot go inside the palace but it can be seen from a viewing point on a nearby hill.. In the evening went to the market to buy souvenirs and had dinner and came back to our.. Tomorrow going to Punakha, about 75 kms away..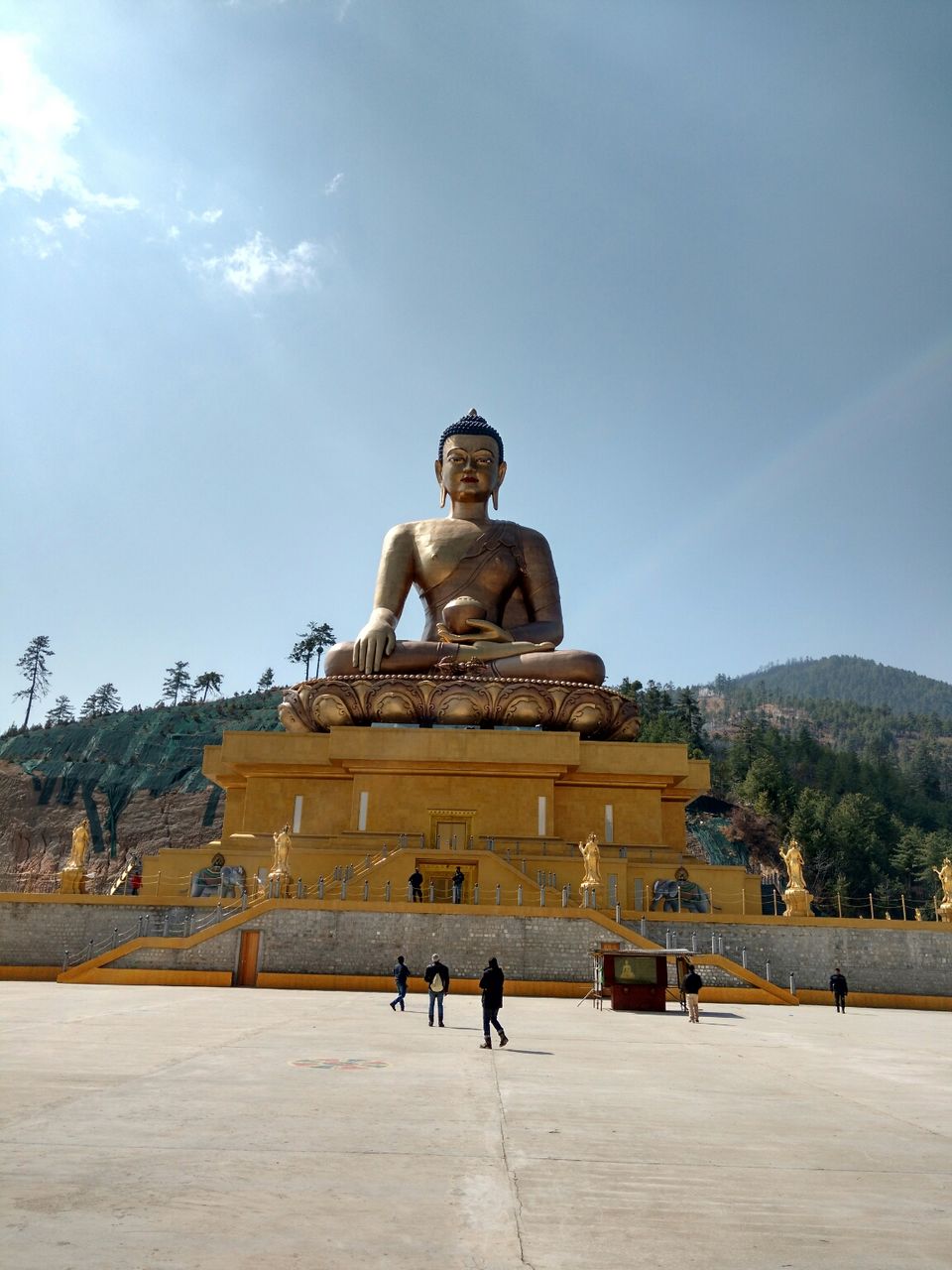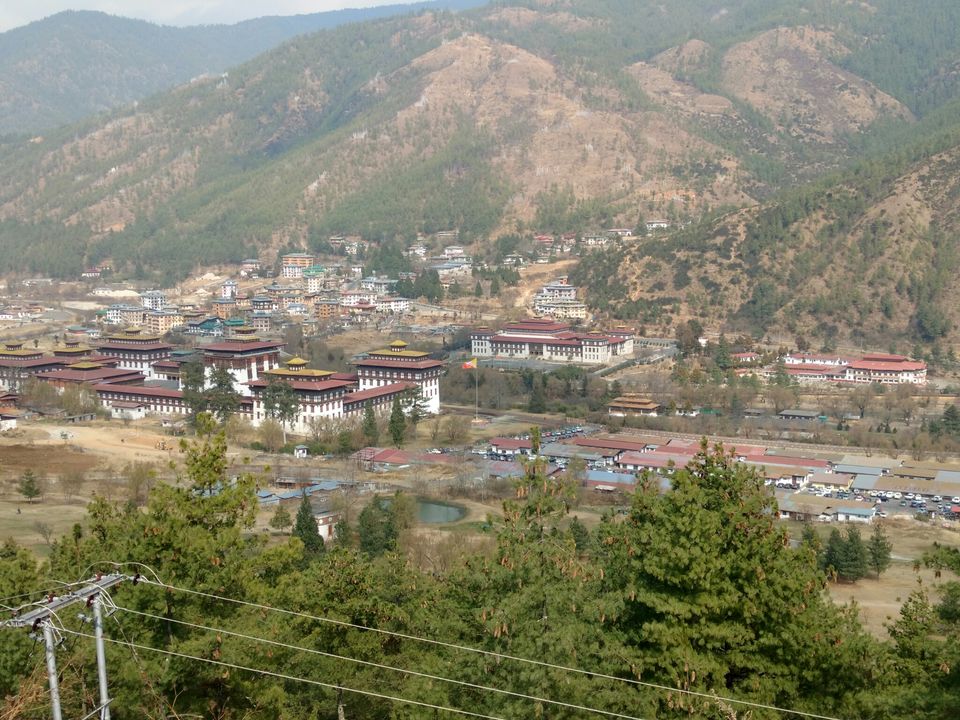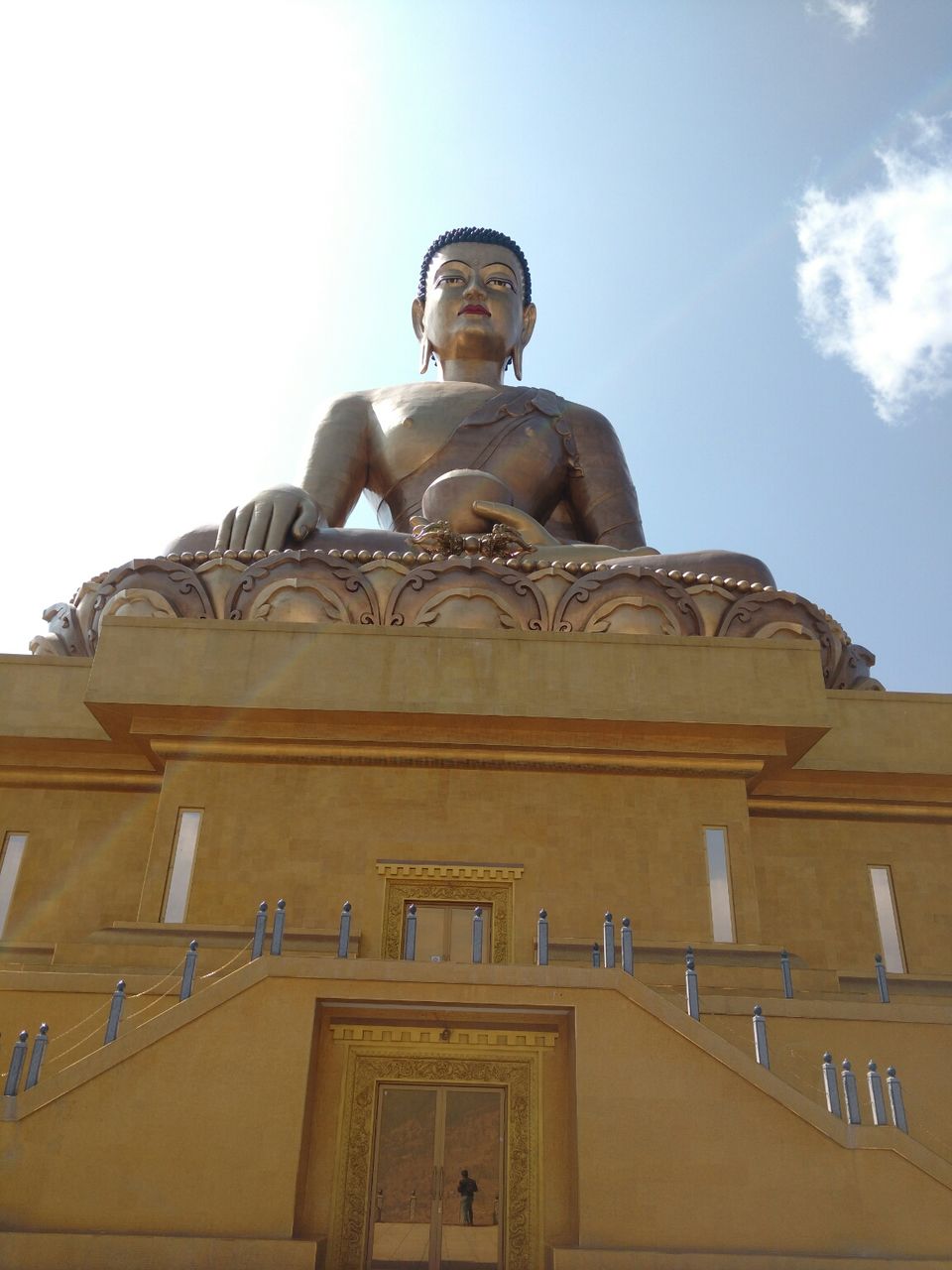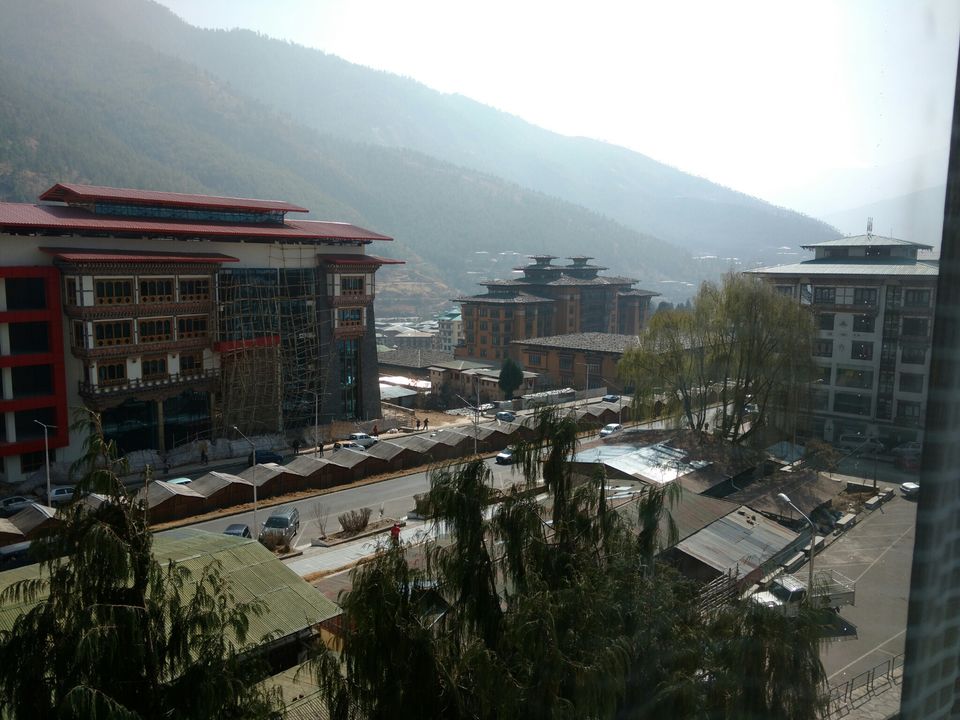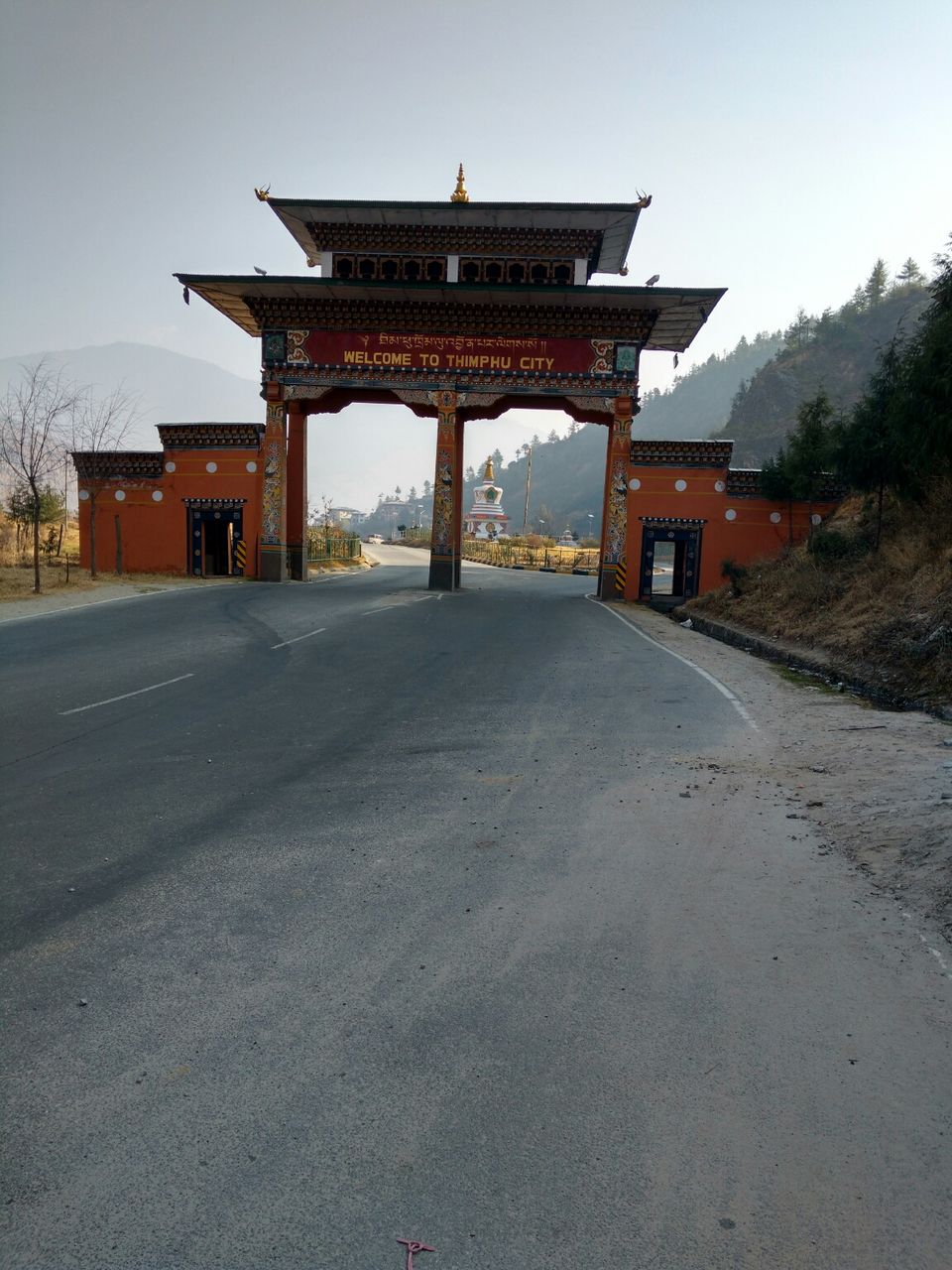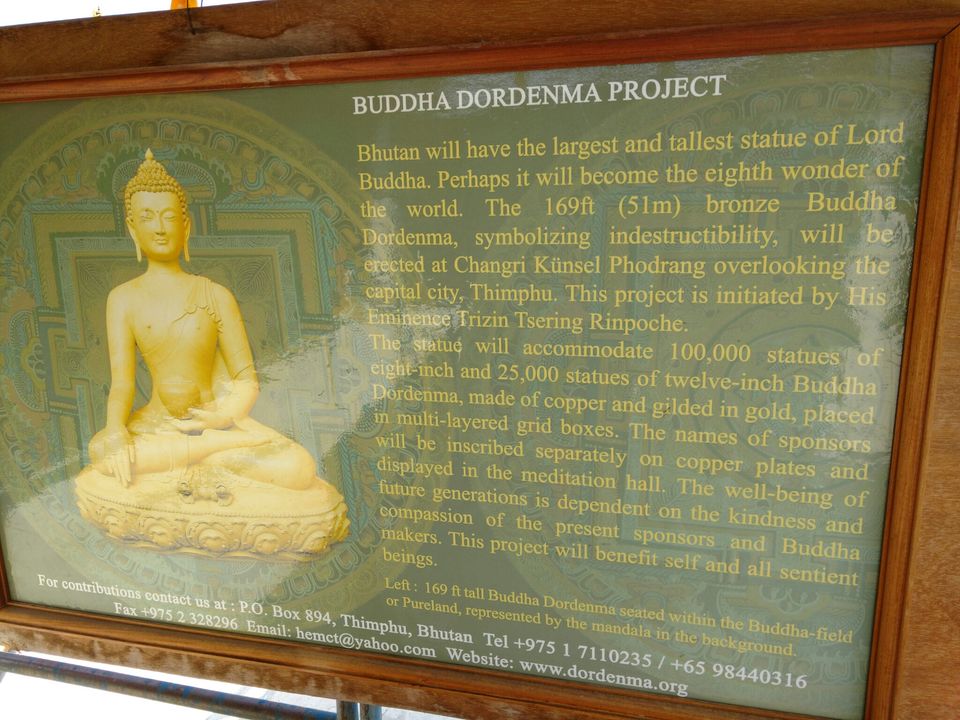 25/02/17: Thimphu to Punakha (76 kms)
Punakha: Punakha is a town in the Himalayas of Bhutan.. It's known for the Punakha Dzong, a 17th-century fortress at the juncture of the Pho and Mo Chhu rivers.. The fortress hosts the Punakha Tshechu, a religious festival featuring masked dances and music
Started late from Thimphu as the distance was less and we wanted to avoid the early morning cold.. Stopped at Dochula Pass on the way.. A beautiful pass with 108 stupas.. Beautiful winding ghats waited for us ahead and we reached Punakha by 4 pm.. Had lunch and went to see the Punakha monestary.. The monestary closes at 5 pm so we could see it only from the outside.. We made a nice bonfire by the river behind our hotel that night.. Leaving for Trongsa early morning tomorrow..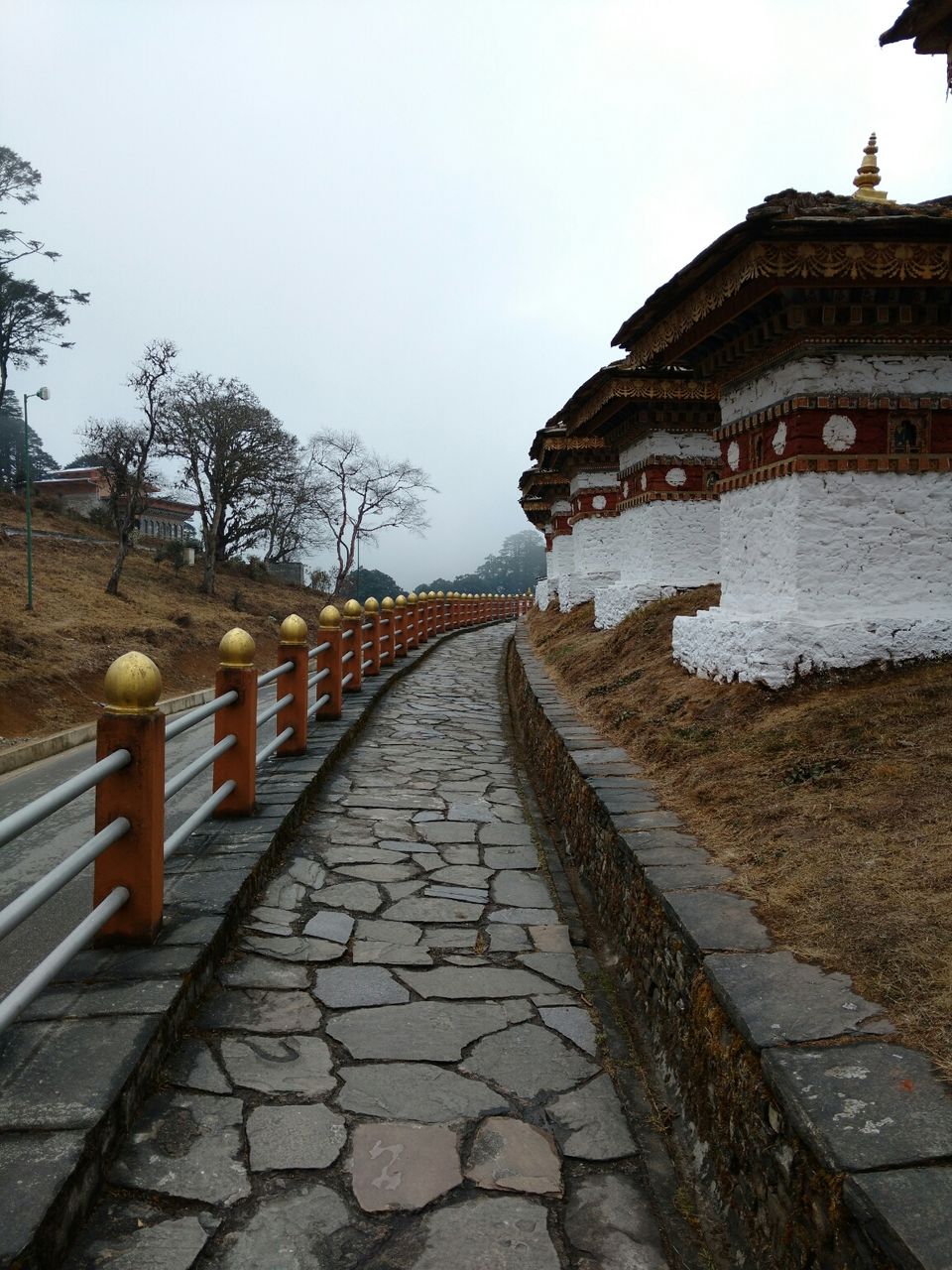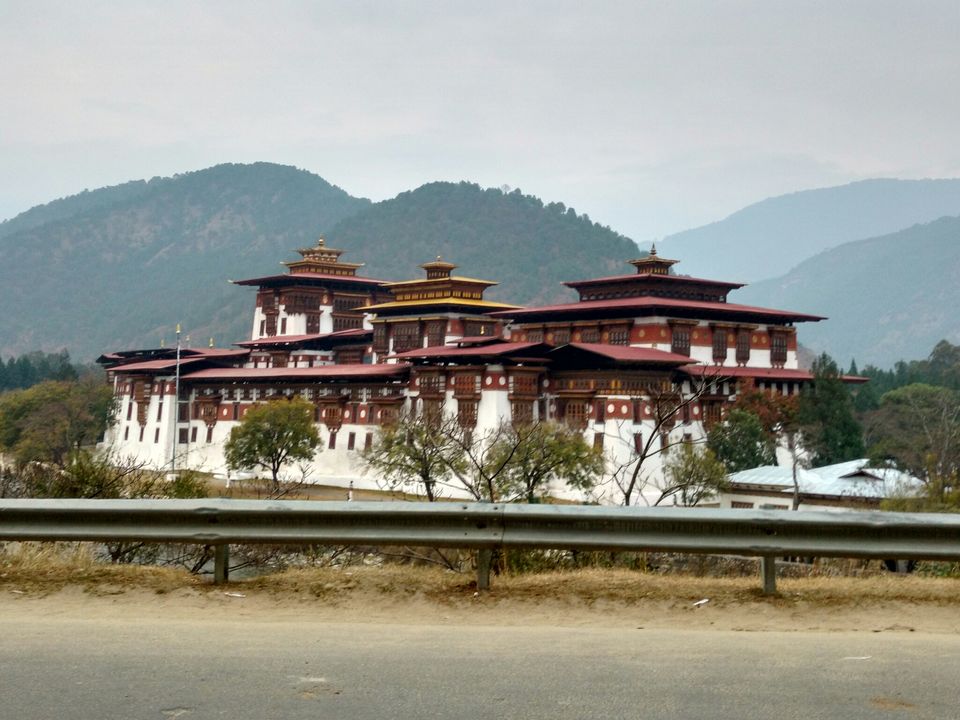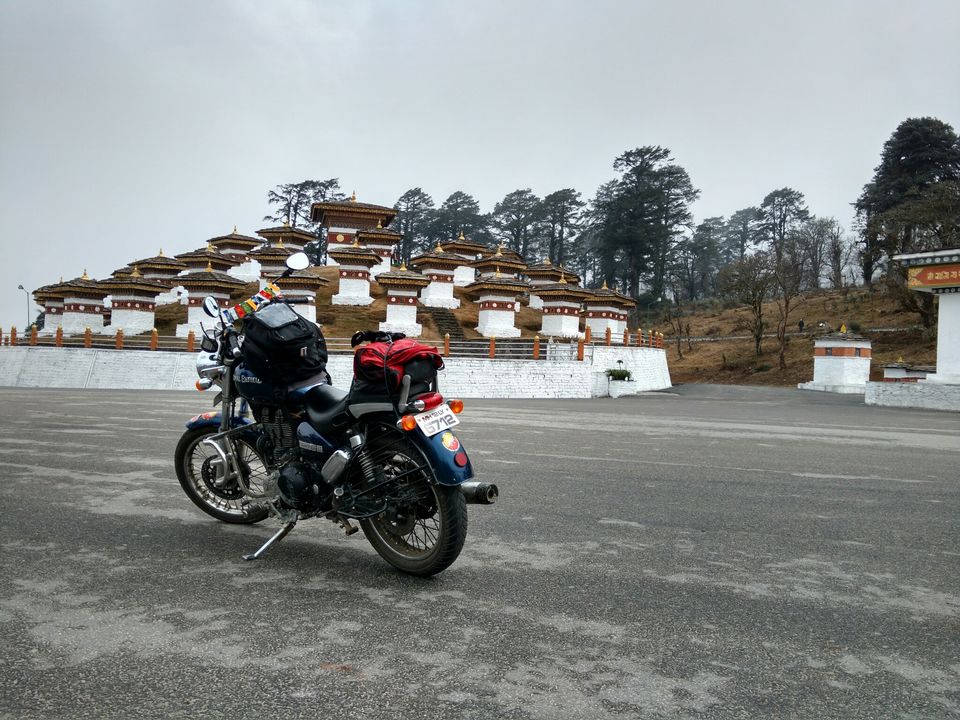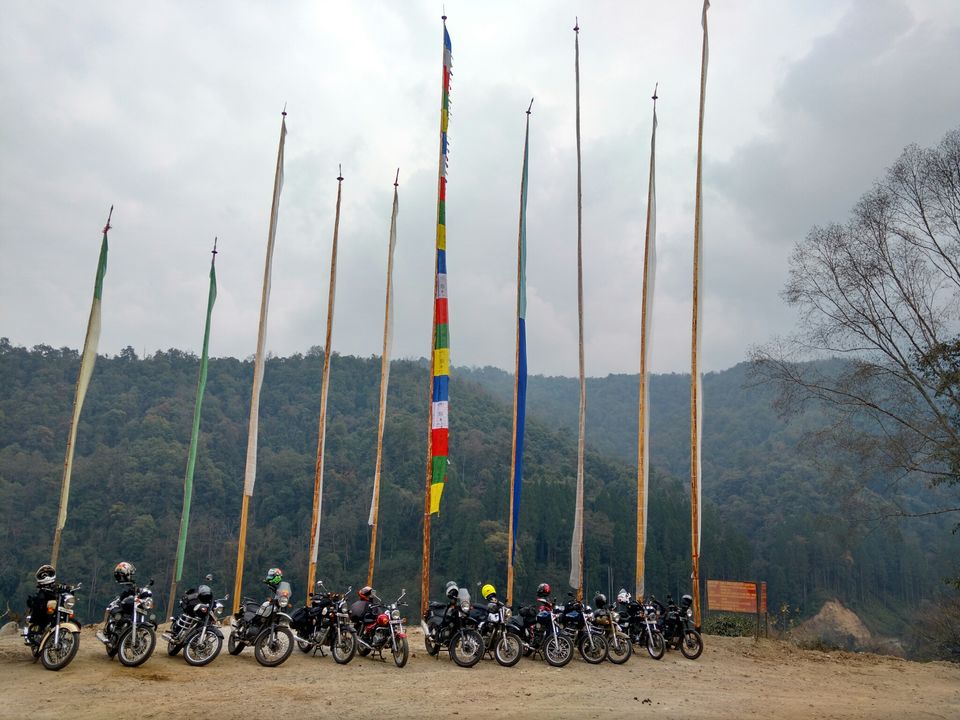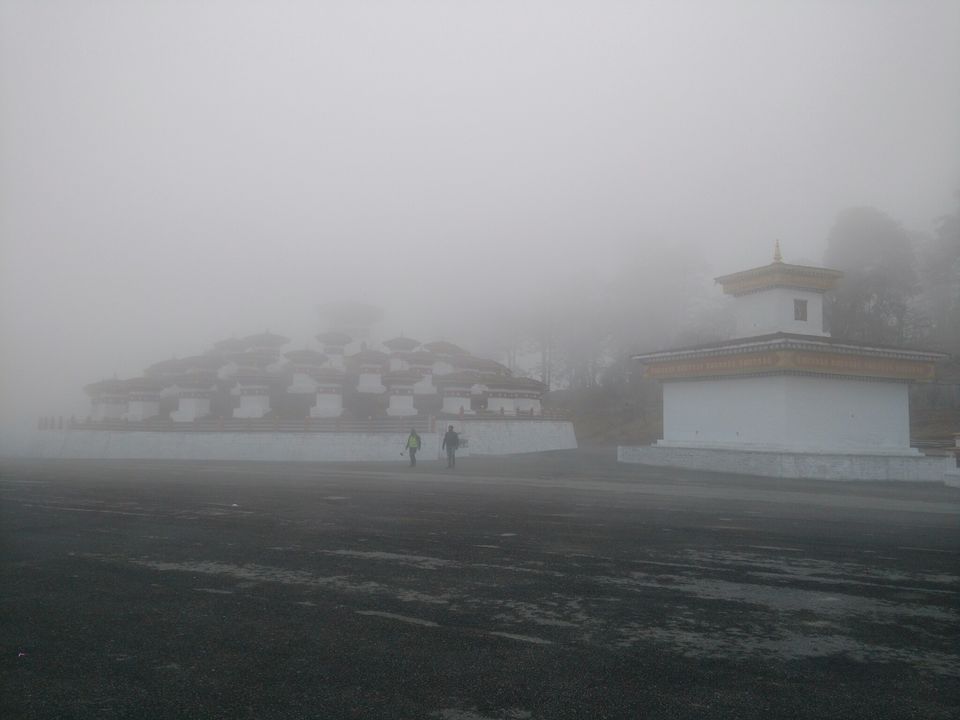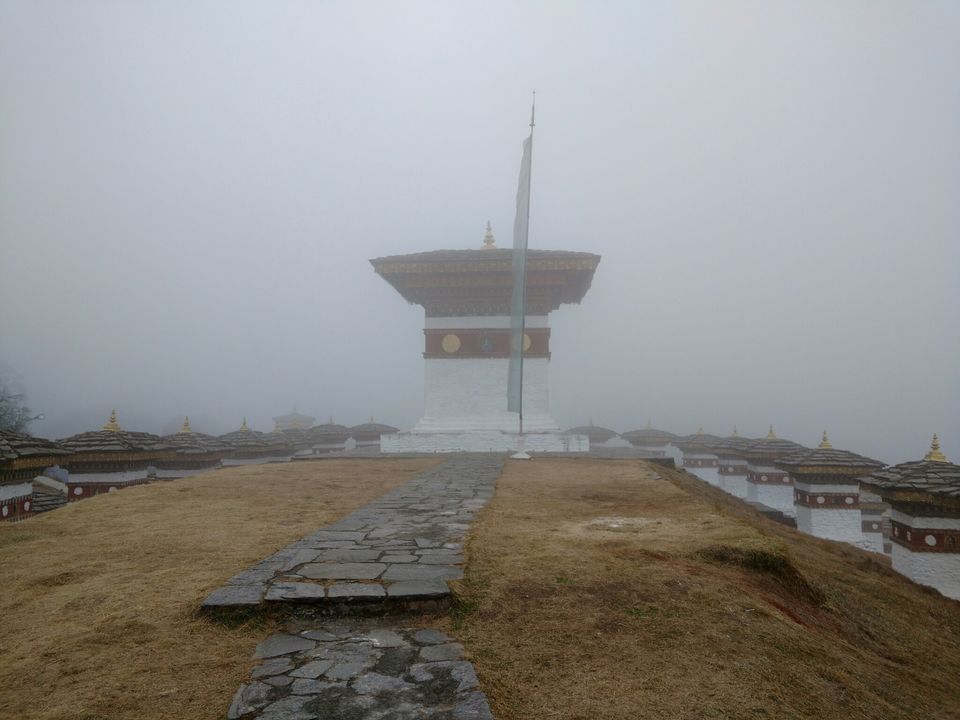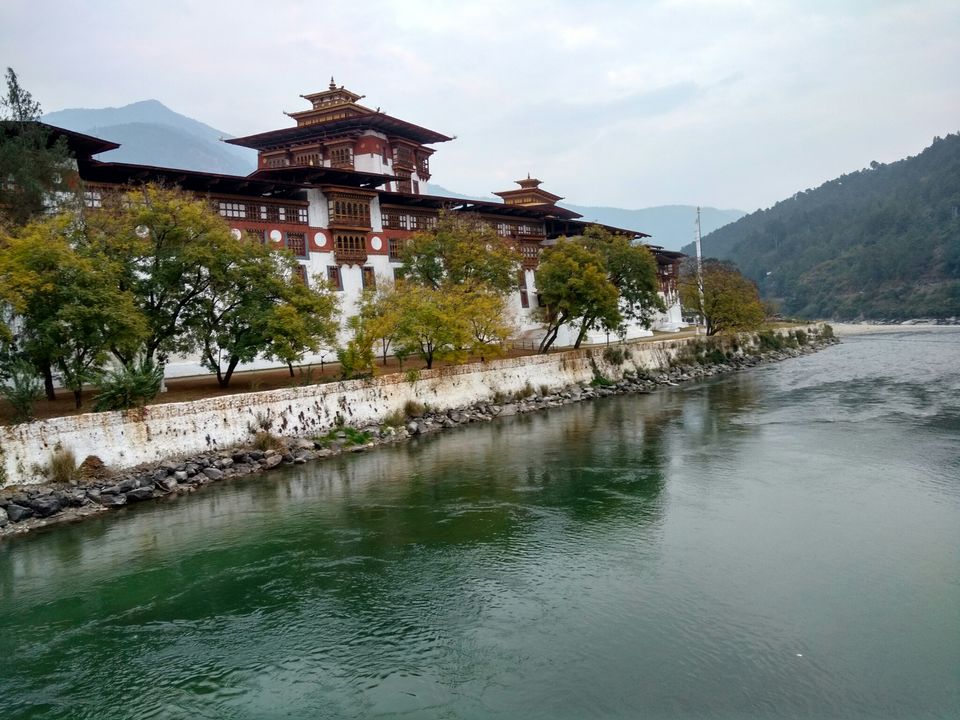 26/02/17: Punakha to Trongsa (137 kms)
Trongsa: Trongsa, previously Tongsa, is a town and capital of Trongsa District in central Bhutan.. The name means "new village" in Dzongkha
Started from Punakha by 7:45 am.. Distance was less, but it was a full off-road ride due to undergoing road expansion work.. Cold started increasing as we climbed up the mountain.. We even experienced some snowfall at the top.. One of the riders had a puncture in his rear tyre so we lost some time in repairing that.. Finally, after 137 kms of off-roading, we reached Trongsa at 4:30 pm.. Trongsa is a small town where there isn't much to see except for a monastery.. It was Bhutanese New Year that day so many of the hotels were closed and we had a hard time searching for one.. It rained a bit in the evening, making the weather more cold.. Next stop, Mongar!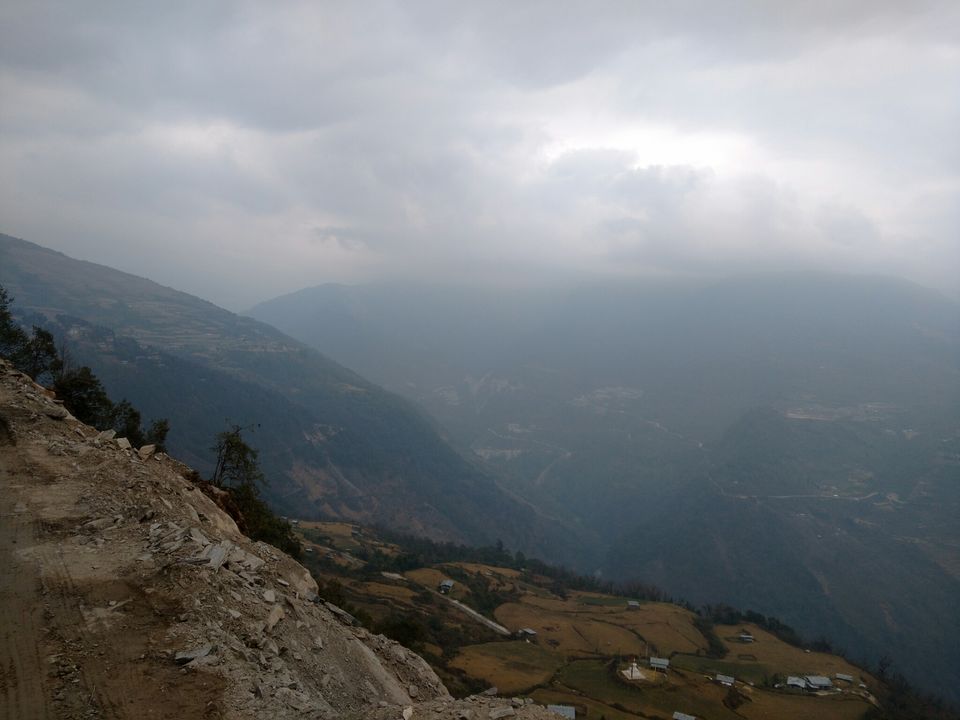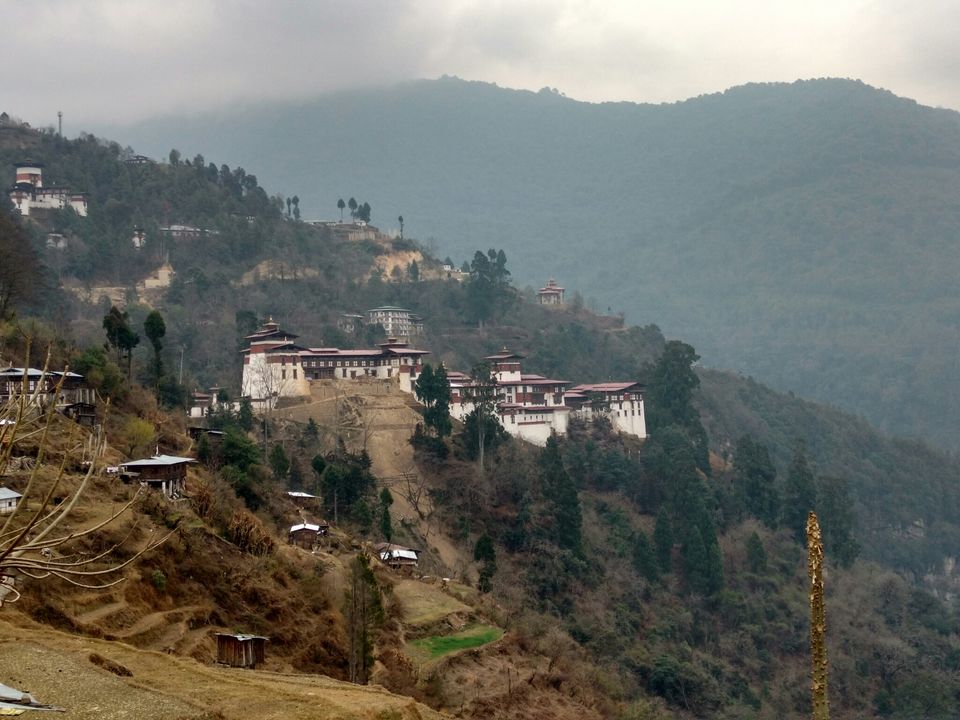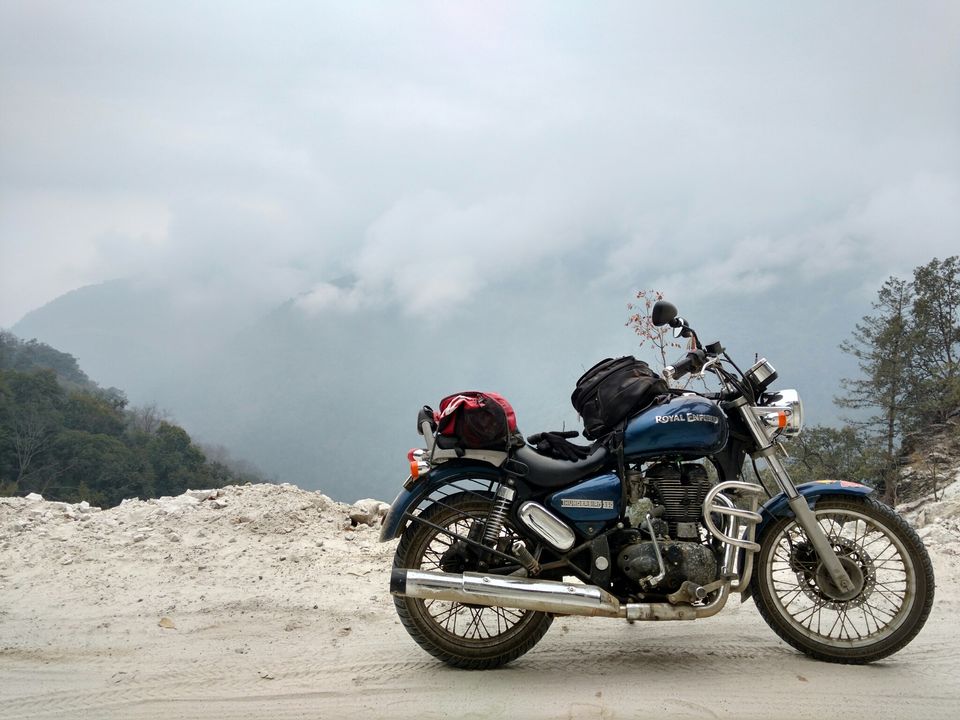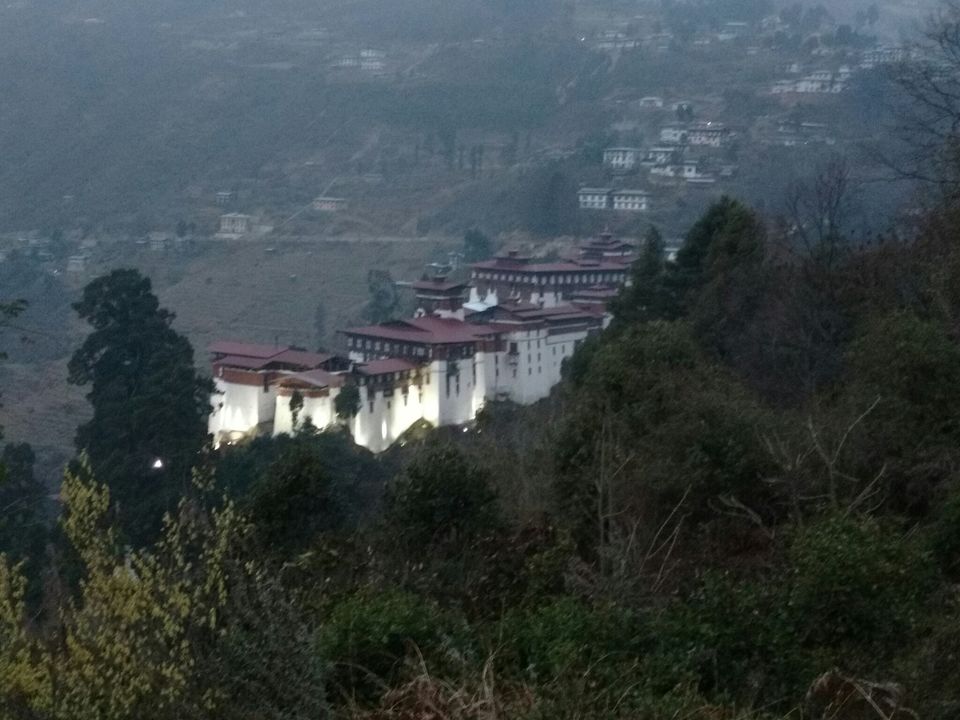 27/02/17: Trongsa to Mongar (232 kms)
Mongar: Mongar District is one of the 20 dzongkhags comprising Bhutan.. Mongar is the fastest-developing dzongkhag in eastern Bhutan
As if yesterday's 137 kms wasn't enough, today the off-roading was almost 170-180 kms.. Planned departure time was 6 am which got delayed to 9:30 am due to the puctured tyre of a rider.. Our efforts in repairing it the day before had gone in vain.. We repaired it yet again and we were off.. The route started with off-roading in slush due to rain the night before.. But soon the roads got better and the temperature started dropping drastically.. We crossed Bumthang, also called as the Second Switzerland.. Its a small but extremely beautiful town in a valley.. Then came Thrumshing La, the second highest mountain pass in Bhutan, connecting it's central and eastern regions across the otherwise impregnable Donga range.. The temperature had dropped to about -3 degrees that day, which made it very difficult to ride.. There was snow and dense fog all along the road and it was a really beautiful sight.. Stopped at a couple of scenic points later on the way and finally reached Mongar at 7:30 pm.. It was by far the best day of the entire trip.. Off to Samdrup Jongkhar tomorrow, our last stop before exiting Bhutan..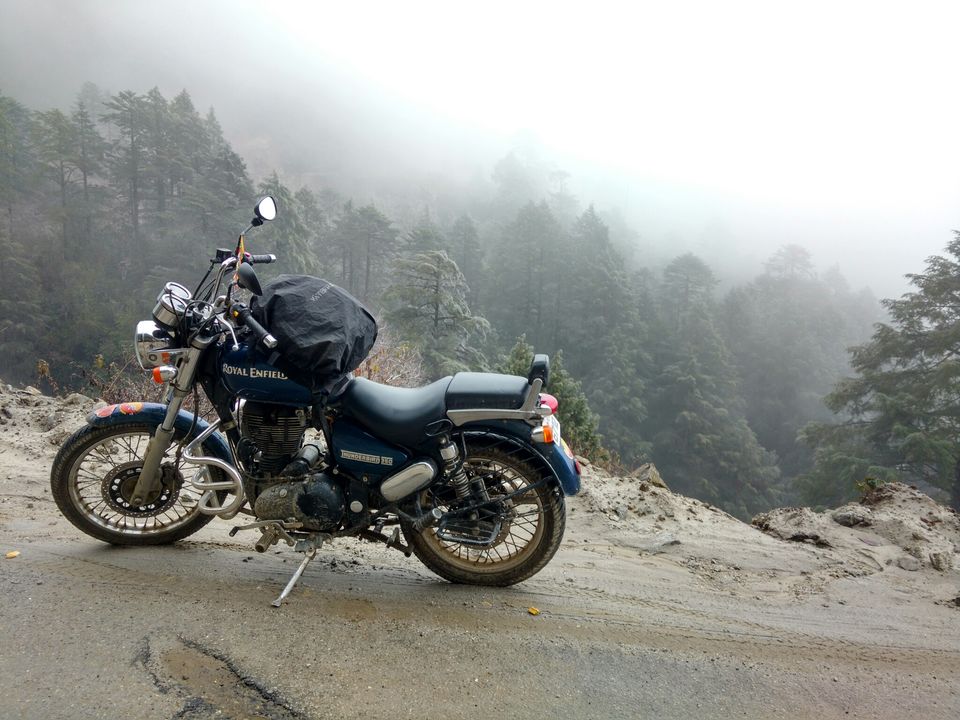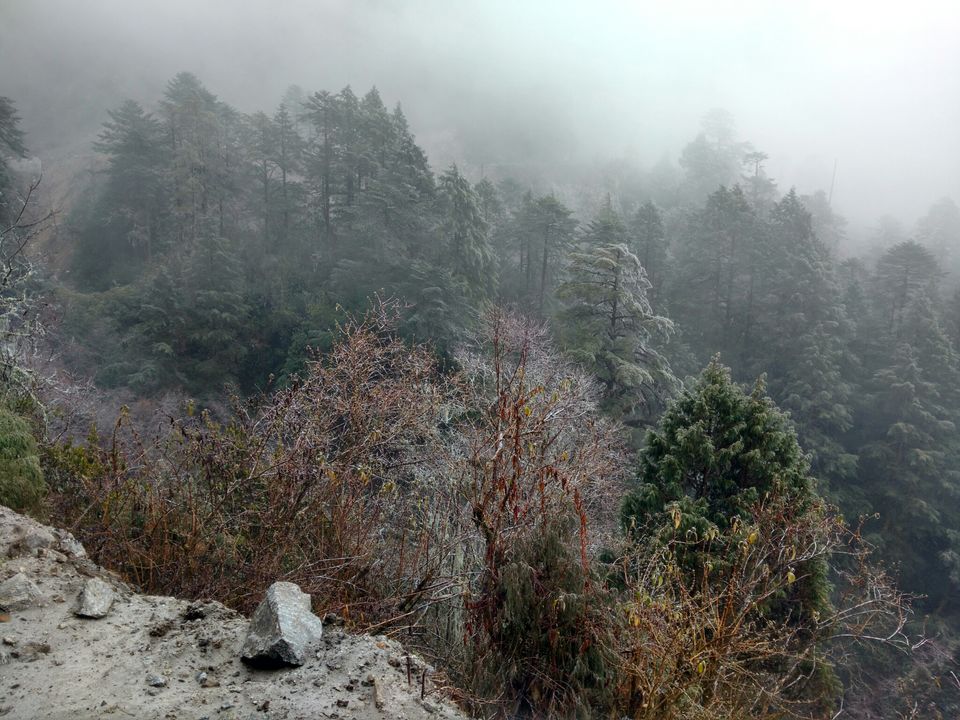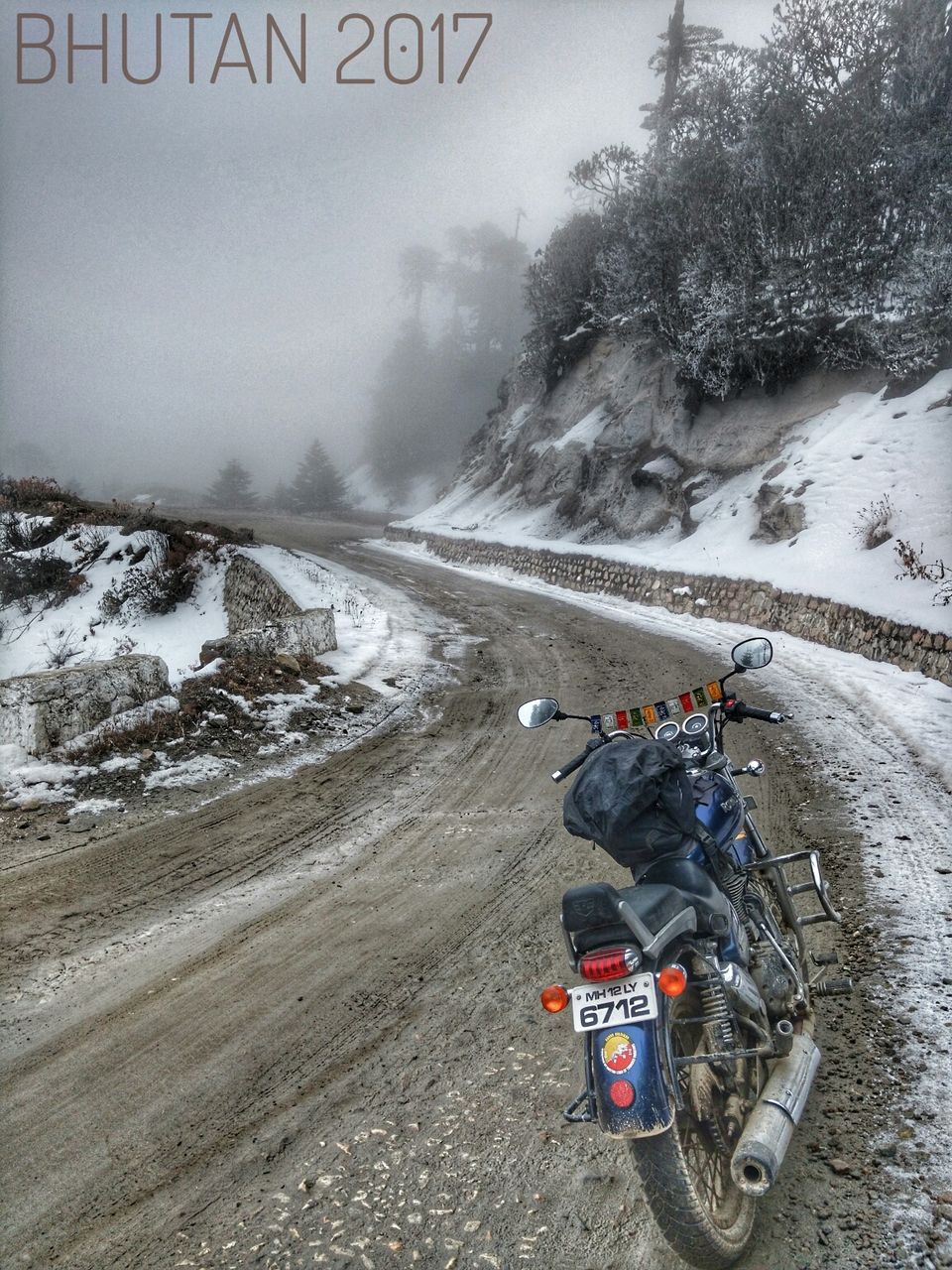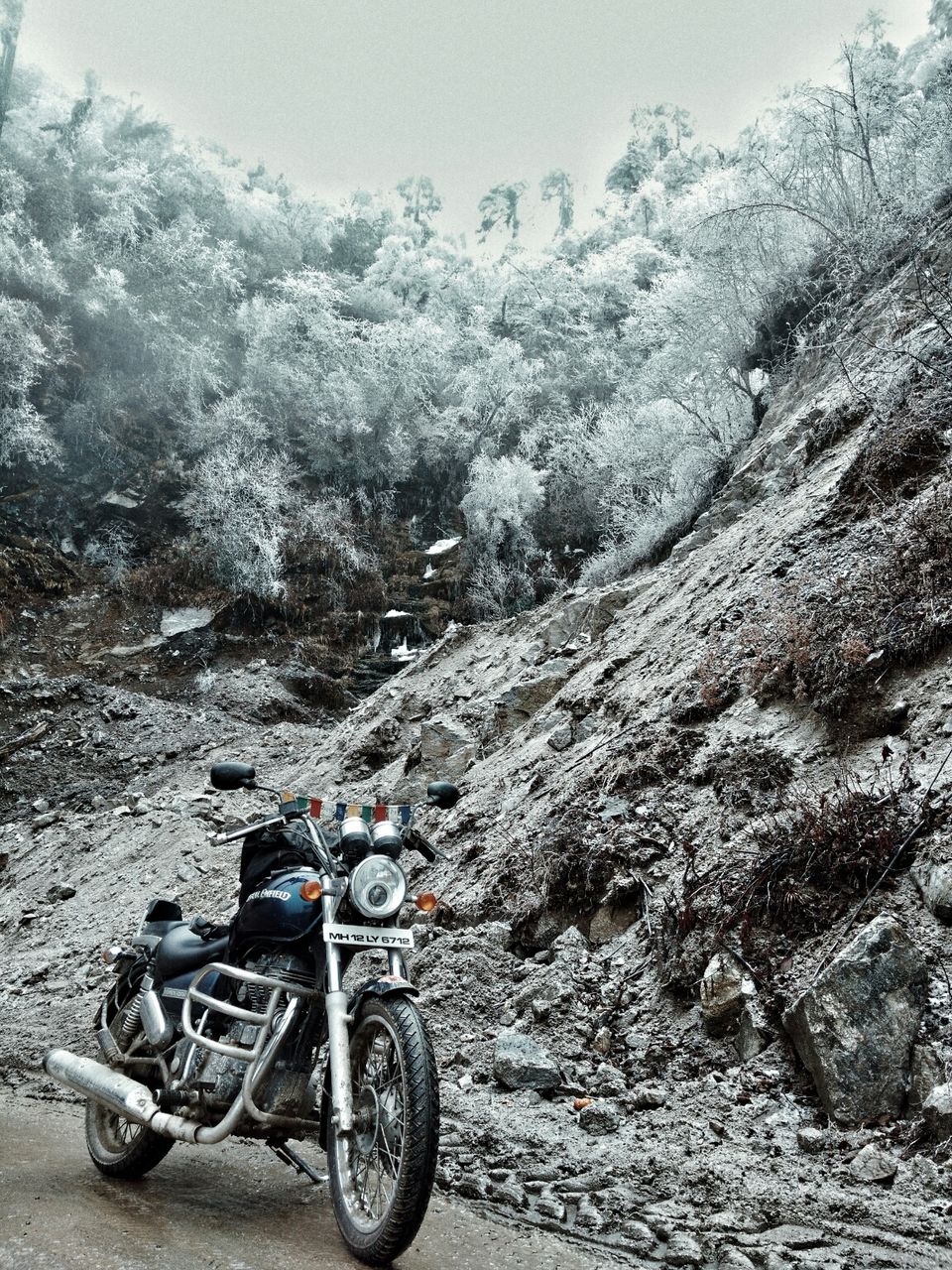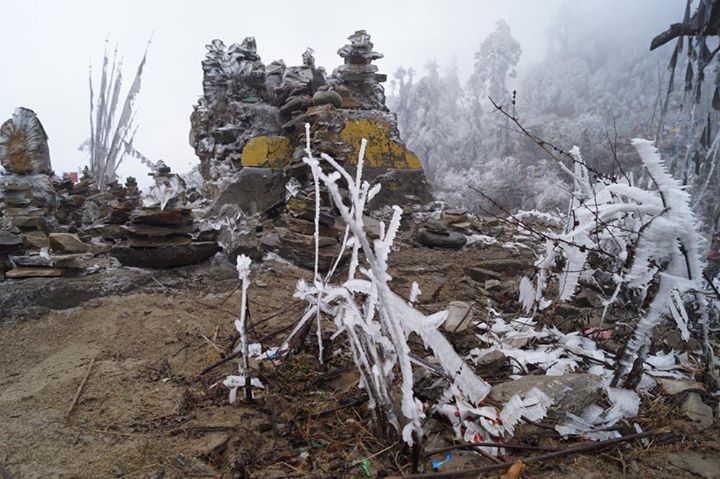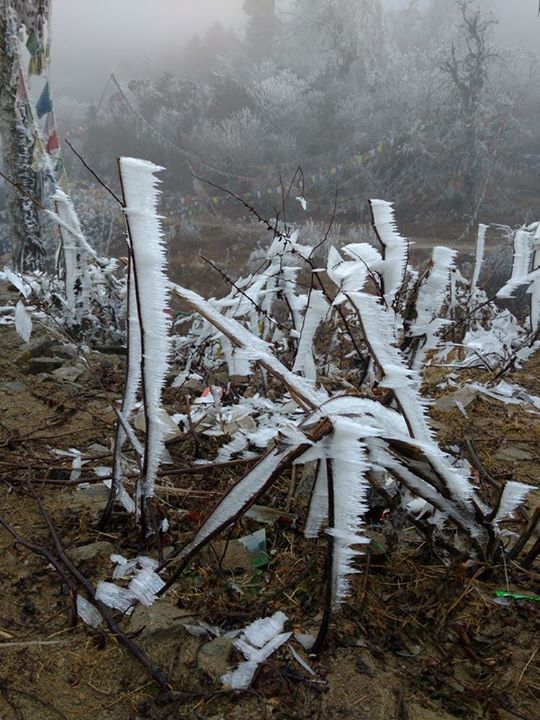 28/02/17: Mongar to Samdrup Jongkhar (270 kms)
Samdrup Jongkhar: Samdrup Jongkhar is a town and seat of Samdrup Jongkhar District in Bhutan.. The town is located at the south-eastern part of Bhutan and borders the Indian state of Assam
Our last day in Bhutan.. Temperature was quite normal.. Roads were mostly bad with a few good patches.. Ride was very tiring and somewhat boring.. Left Mongar at 9 am and reached Samdrup Jongkhar by 6:30 pm.. An uneventful day as compared to the last few days.. We cross back into India tomorrow, heading to Shillong!
01/03/17: Samdrup Jongkhar to Shillong (210 kms)
Route taken: Samdrup Jongkhar - Guwahati - Shillong
Shillong: Shillong is a hill station in northeast India and capital of the state of Meghalaya.. It's known for the manicured gardens at Lady Hydari Park
Fuelled up our bikes and crossed the border into India at around 10 am.. Beautiful highways awaited us and we started ripping as soon as we hit them.. We reached Shillong by 4 pm and went to see Elephant Falls.. Elephants Falls is a 3-step waterfall that was named so by the British because there was once a rock there in the shape of an elephant which got destroyed in an earthquake later.. Had some nice pork and beef on the way to the hotel.. One of the guys had arranged for stay at a government guest house which is amazing.. Some of the local bike group guys came to meet us later that night.. Few of us went for a short city ride with them which was insane fun.. Tomorrow leaving for a day trip Mawlynnong and Dawki!
02/03/17: Ride to Mawlynnong and Dawki (290 kms)
Mawlynnong: Mawlynnong is a village in the East Khasi Hills district of the Meghalaya state, India.. It is famous for its cleanliness and natural attraction.. Mawlynnong was awarded the prestigious tag of 'Cleanest Village in Asia' in 2003 by Discover India Magazine
Dawki: Dawki is a town in West Jaintia Hills district, Meghalaya, India
We started from Shillong at 8:45 am.. Had breakfast on the way and reached Mawlynnong at 11:30 am.. Saw the Living Root Bridge.. It is really a beautiful place.. Next went to Mawlynnong village.. It's the cleanest village in Asia.. We had lunch over there and then headed for Dawki river.. The water is so clear that you can literally see the bottom of the river and it feels as if the boats are floating in air..Then we went to the Bangladesh border.. Later headed back to Shillong.. Reached at 8:15 pm.. A tiring ride.. Final stop of the trip tomorrow, Guwahati !!!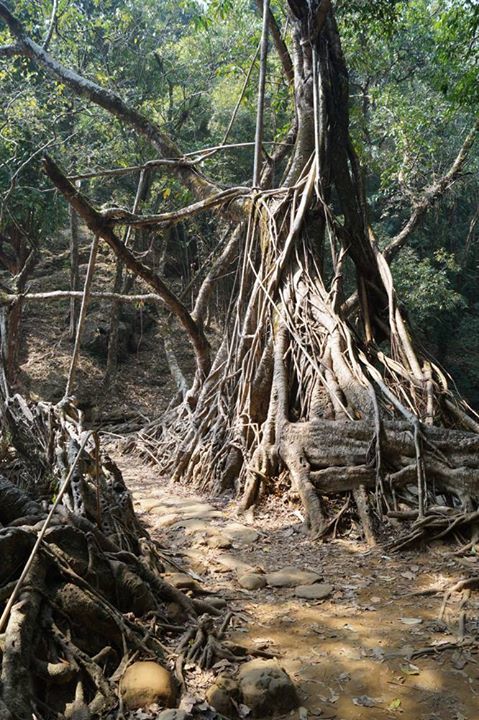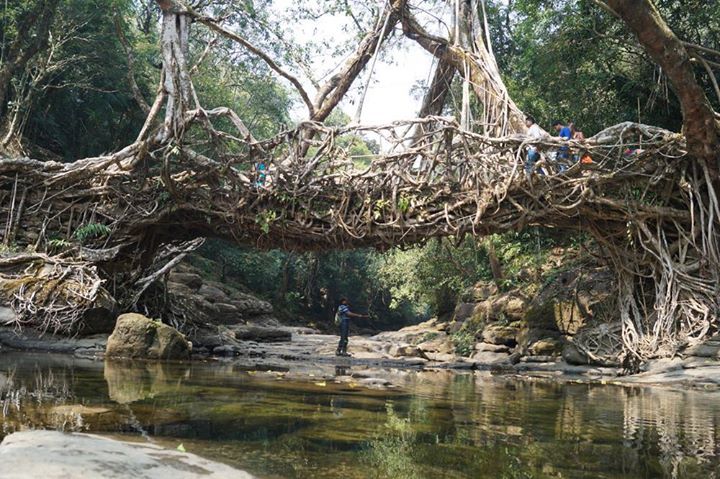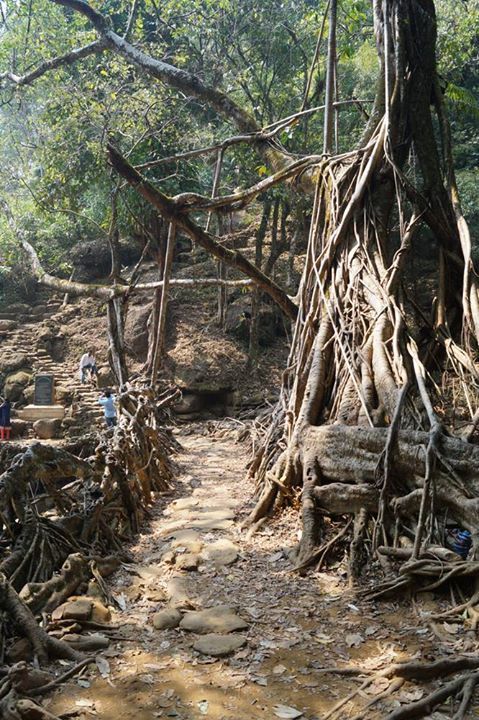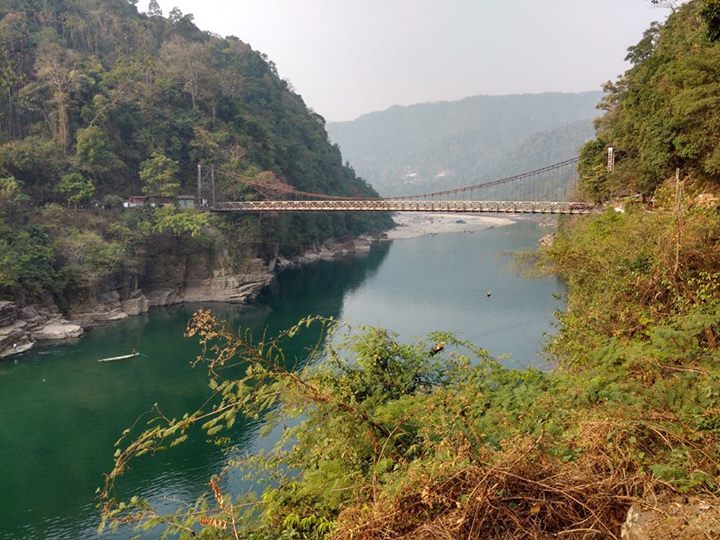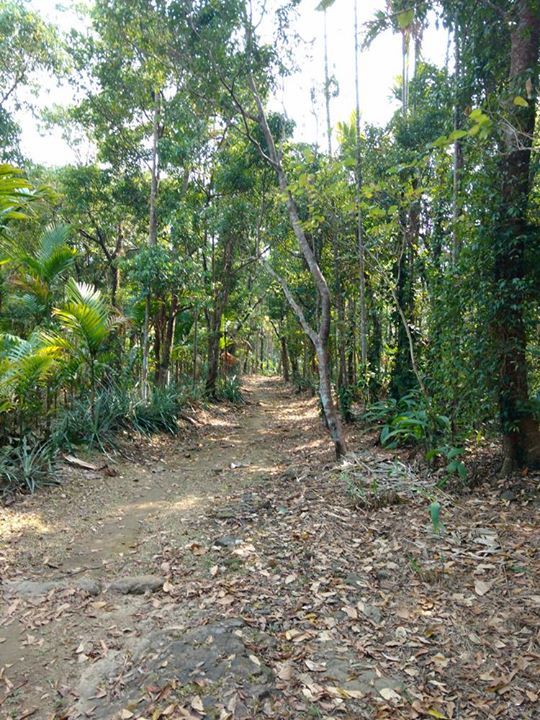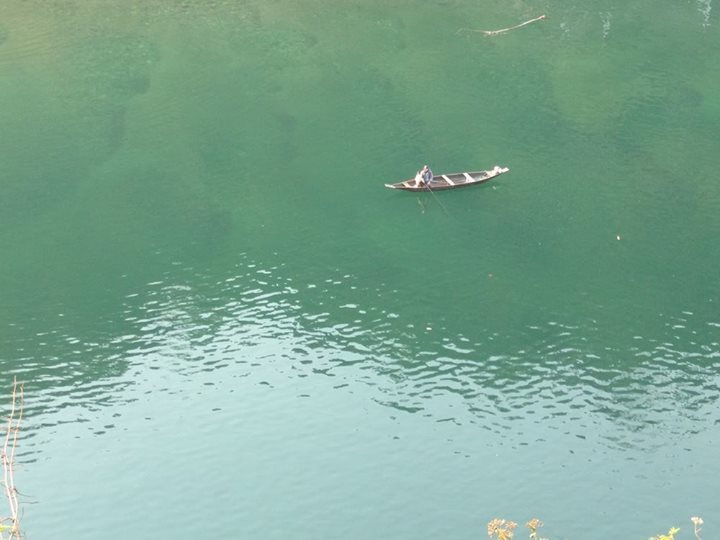 03/03/17: Shillong to Guwahati (110 kms)
Guwahati: Guwahati is the largest city of Assam and Northeastern India, a major riverine port city and one of the fastest growing cities in India, situated on the South Bank of the Brahmaputra River
The final ride.. Left from Shillong after breakfast and reached Guwahati post lunch.. One of the guys is from Guwahati and his family awaited us in Guwahati for a very special felicitation since we had traveled to the North East all the way from Maharashtra.. After some sweets and coffee, they felicitated us with mementos and an Assamese hat.. It was indeed a very special welcome.. We then headed to SafeXpress to transport our bikes to Pune.. After all the formalities had been done, we checked into the hotel.. We celebrated the last night of our trip and took some much needed rest..
04/03/17: Guwahati to Pune
We had booked a 5 pm flight out of Guwahati.. Had lunch at Naga Kitchen in Guwahati, a place well known for Naga food, and boy, it was delicious.. After a sumptuous meal, we checked out of the hotel, said our goodbyes and headed to the airport..
It was an extremely memorable trip and surely one worth cherishing for a lifetime!