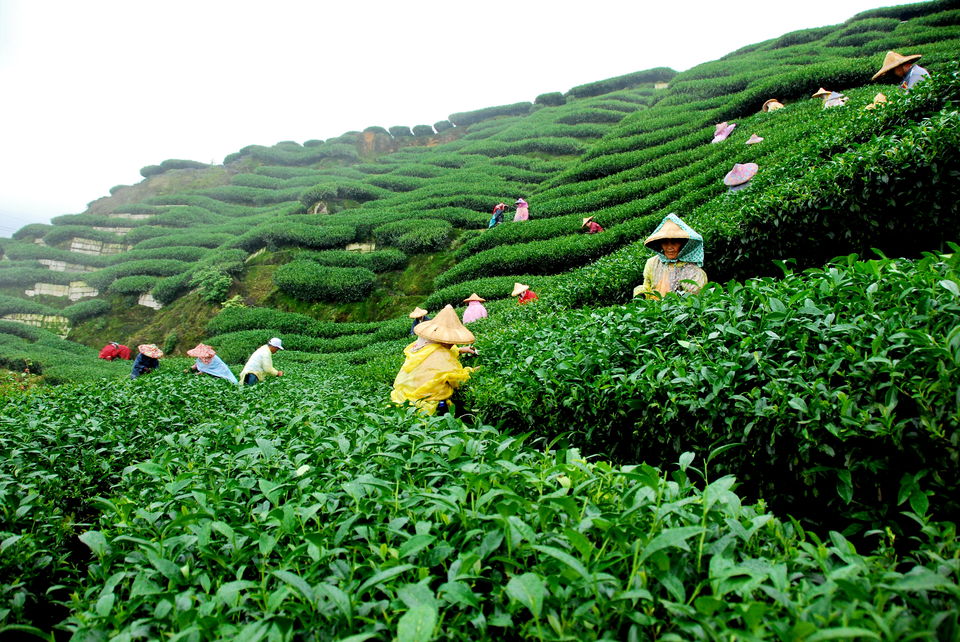 The bond between the bikers is formed instantly through talks of passion for long, tiresome albeit rewarding road journeys, pleasant or unforgiving weathers, aromas of tea from those small energy boosting tea stalls along the way and sometimes stories about abundance of stupid drivers on the roads. Yet at the bottom of it all, is the people discussing a strange kind of freedom which only bikers are truly aware of.
I met Anoop during a Vipassana meditation course and soon we were discussing our enthusiasm for bike trips and decided to go on a bike trip as soon as an opportunity presents itself.
Didn't have to wait long for the opportunity to knock as in September'16 Anoop was planning to go on a 3 month long bike trip covering most of NorthEast part of India and invited me to join. He was off work; I wasn't. Thus had to turn down the offer. But the thoughts of missing a bike trip fed the travel bug within and made it stronger with each passing moment. So I decided to take few days off to join the trip and fly back home whenever my holidays would be exhausted.
Anoop started his journey from Dehradun on his Bullet and I planned to join him in Moradabad and took a train to reach there. I was pretty astonished to see the modifications he had done to his bike for the trip. He had a carrier fixed on 3 sides of the bike which were big enough to hold large backpacks. Two backpacks were tied to them already so I claimed the third spot and tied my backpack using two Bungee ropes which I was asked to carry beforehand.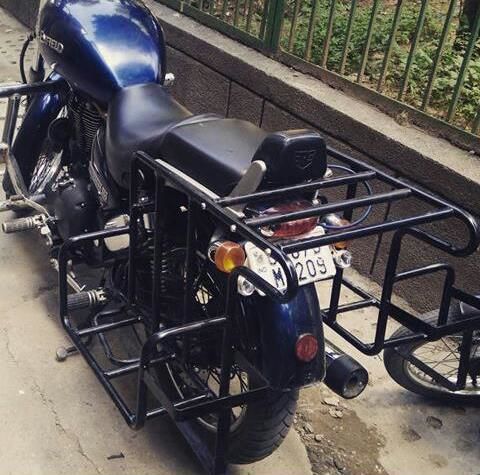 The scorching heat prompted us to hit the road as soon as possible. I don't know if the feeling of being a roadie or the wind took away the heat but it made the weather a friend again. After crossing the lush green stretches of Bareilly, we took our first break for having the lunch. It is said to make God laugh, tell him your plans. We made a rough plan about the journey ahead. We were heading towards Guwahati in Assam and planned to halt at Lucknow for the first day. The ride till Lucknow was a sweet symphony of the road, the wind, passing vehicles and the exhaust sound of our Bullet. After reaching, we stayed at a nice hotel named "York Inn" close to the train station.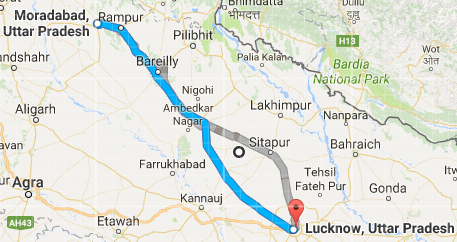 The next morning, chef of the hotel safeguarded Lucknow's image by serving delicious breakfast. I wanted to spend more time in the socially rich city but staying on course for the next journey didn't provide the opportunity. So promising to come back again to explore the city and relish the food variety offered, I bid adieu to Lucknow and we began our excursion. The plan for the second day was to cross Uttar Pradesh(UP) and enter Bihar.
While on our way, we noticed a Gurudwara proudly displaying name of Sant Kabir embossed on it. It surely tickled my curiosity and I was eager to know the association. We realized that we were in a town called "Sant Kabir Nagar", named after a great poet and philosopher Sant Kabir. It is believed that he spent his last days meditating here. The town is a clear testimony to the philosophy of Sant Kabir. People here have embodied the true essence of his teachings and the same is reflected by the perfect harmony and peace with which Hindus and Muslims are living together. The epitome of communal harmony is again seen as "Mazaar" and "Samadhi" of Sant Kabit are lying side by side.
Carrying the true spirit of "unity in diversity" in our hearts, we hit the road again and decided to stay in a nearby town named Kushinagar.

Kushinagar is a place where Buddha attained Parinirvan after his death. It is an important Buddhist pilgrimage site visited by followers from around the world. We woke up right on time to visit "The Mahaparinirvana Temple". After climbing few steps we ventured inside the corridor and laid our eyes on a huge 6m long excavated statue of Lord Buddha which was in a Parinirvana position. The tranquility of the temple reminded me of my Vipassana days for a moment.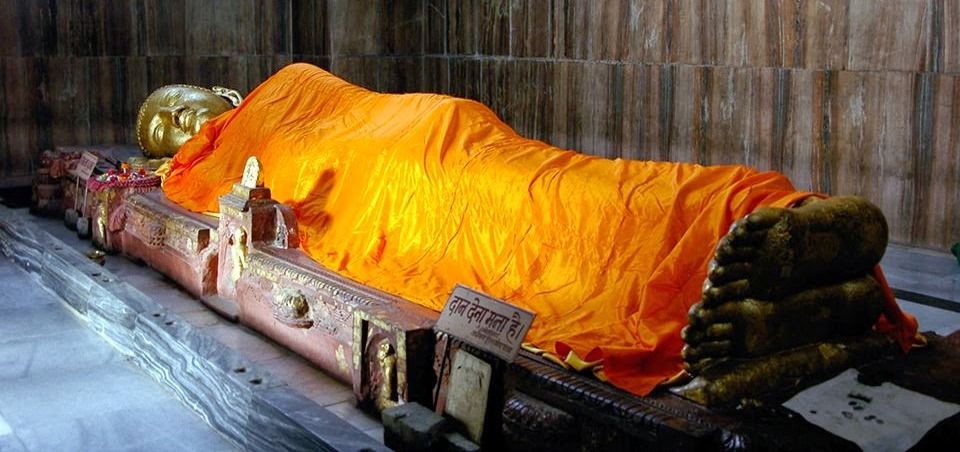 The time had come to cross UP-Bihar border. It was the third day of our trip and we planned to reach Siliguri in West Bengal by the end of the day. But we knew its not going to be easy as in front of us lay a 580km road inviting yet challenging and ready to test the endurance of us bikers. The challenge was accepted by the biker minds and the body had no other choice but to follow it. Contrary to my preconceptions, Bihar was excessively green and clean or at least the roads we were taking were that way. The hurry to cover as much distance as possible was evident from the fact that we were trying to take as few breaks as possible.
Interestingly, most of the dhabas in Bihar have a keyword "Line" in their names. It was like a middle name for the hotels. We randomly stopped at a place which did not have this middle name. The owner of the place told us that the Line hotels are for truck drivers. Although anyone can eat there; but the trucks will stop only at "Line" hotels. The said owner was in fact planning to rename his hotel as business was pretty slow at his place.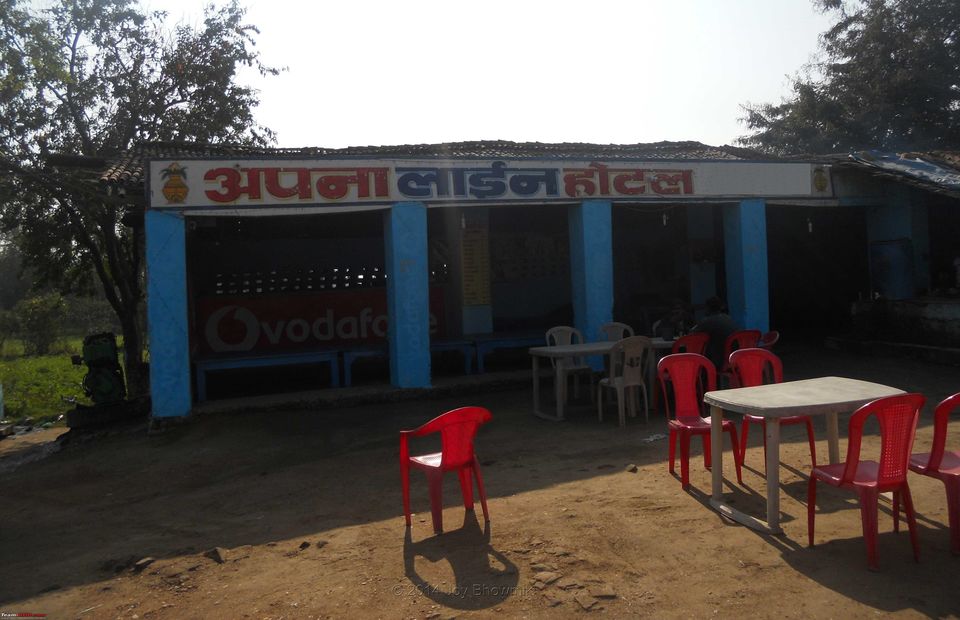 Little before entering Kishanganj in Purnea district, we halted for a tea break whilst enjoying the setting sun. I am convinced the true elixir exists and its the tea which you have while riding. We casually asked the waiter about the condition of the road ahead as we would be crossing Kishanganj during the night and he was so bewildered and stunned with the sheer idea of it . With wide eyes he advised us to halt and cross Kishanganj in the morning as the stretch is notorious for many robberies of the motorists during the night. This made us enquire more and take multiple opinions from the local people to be sure before we could embark on further journey. We were told not to stop anywhere in-between and to keep riding behind a car or a truck. To be honest, I was little scared but the adrenaline after riding the whole day helped take the decision to keep moving ahead.
After starting, as advised, we rode behind a truck all the while hoping for the best. I breathed a great sigh of relief when we saw long line of trucks waiting at a toll booth to enter West Bengal. The tail-lights of those trucks might have been red but I was relieved to know the possible danger is behind us now.
We were starving to death so we stopped at the first tea stall or shall I call it the fountain of elixir. I was greatly delighted to see a woman making tea at 9 in the night. Call it a UP-Bihar effect or any other thing but it was a great sight to see her working and have conversations with men who were stopping to enjoy the tea and unwind. Flashes from Satyajit Ray's films rolled in my mind. Female characters were mostly strong, independent in his works. This working woman was a standing symbol of all those values.
Before we could finish our tea, it started drizzling. We covered ourselves and the bags with raincovers and decided to begin again. It was already 9:30pm and we were still 100km away. Before we could realize the drizzle has turned into a downpour. But stopping was not an option and we rode those 100km non-stop and reached Siliguri by 11:30pm.
We took the challenge of 580km at the beginning of the day and emerged triumphant. But the joy of the victory was short-lived. We needed to find the hotel and lo and behold, one mobile phone has died because of the rain and the other did not have an iota of battery juice. The roads in Siliguri are usually deserted after 10pm. We started looking around and found some good human souls who trusted us enough to make calls using their mobile phones. We finally made to the hotel by midnight only to find all the clothes in the bag were wet despite the raincovers. With heavy hearts and bodies, trying to fend off the sweet angel of sleep, we managed to empty the bags and put the clothes out to dry and crashed into the bed.

The next morning we were in no hurry. It was a pleasant lazy morning and we wanted to take time and plan things out. We went and met one of my friend's bother-in-law who is a travel agent to get information about the towns we will visit during our journey till Guwahati and to zero in on a possible halt in-between. Upon realizing that he doesn't have much idea about it, we arbitrarily chose a town named Bongaigaon, which looked big enough to have hotels and a place we could halt at. During the ride we were greeted by extremely beautiful tea plantations all around. The greenery and the freshness of the air took away all the tiredness of the previous day and filled us with newfound energy so much so as to make us feel as if its the first day of our trip. We had amazing lunch at one of a little places in Assam.
We were at ease; we reached Bongaigaon, the town we had planned to halt at, around 9pm. We ate at a little grimy place. The foodie inside me wasn't so thrilled with it but unfortunately looked like it was the only place open at that hour. The deserted streets reminded me of the same from Siliguri. We began our hunt to look for a hotel to stay. Despite trying our hard, we weren't able to find a place. All the hotels were turning us down possibly as most of them were full or weren't ready to offer place for an unmarried couple. The possibility of finding a place to stay turned dimmer and dimmer. It was already around midnight and we were extremely sleepy. We planned to stay here for the night and now the God was laughing.
With no other option in sight, we thought of continuing our journey through the night. We talked to some army guys; gathered some courage, gave a shoutout to the biker within and began riding towards Guwahati.

With both of us feeling sleepy, the only way to not fall asleep was to keep talking. I advised Anoop to constantly keep talking to me so that he doesn't nod off. Furthermore, on the slightest of the chance, I take the reins of the bike before it gets past the point of no return. It was definitely a sheer will that was helping us keep moving forward. After around an hour of blabbering, Anoop stopped talking. I asked him to immediately stop the bike. We crossed the road to have tea at a nearby dhaba as he indeed was feeling extremely sluggish. While sipping on hot tea, we started chit-chatting with few truck drivers who were having their dinner. The conversations were saviours in multiple ways. It was great to talk and meet people plus it was keeping our minds active and away from sleep. While talking I found out that one of the truck driver was from the place where I grew up in Haryana. The look in their eyes was showing a clear sign of appreciation about how a girl from Haryana is riding a bike at 3 in the morning. They were so pleased to talk to us that they insisted on having another round of tea. After finishing our teas when we tried paying for the same, they said its on them. The warm and loving gesture really touched me. This small gesture helped me connect with those on a human level who are often belittled by society.
The thought of resting on the cots at dhaba was way too tempting. We rested on them for a while but to my amazement, the sleep had abandoned me. So we decided to began riding and stop only after reaching Guwahati. I was riding the bike now and Anoop was sleeping pillion. We crossed barren yet beautiful villages on our way. The shimmering lights from those villages filled my heart with peace and tranquility.

Soon, the Sun was rising in front of me as if welcoming and congratulating me for the ride. It was one of the most beautiful journeys for me. The Assam was basking in its full glory with the dawn and with a grin on my face. We reached Guwahati by 8am.
Frequent Searches Leading To This Page:-
Delhi to Guwahati trip, weekend bike trip from delhi to guwahati, weekend getaways from delhi, road trips from delhi, getaways from delhi