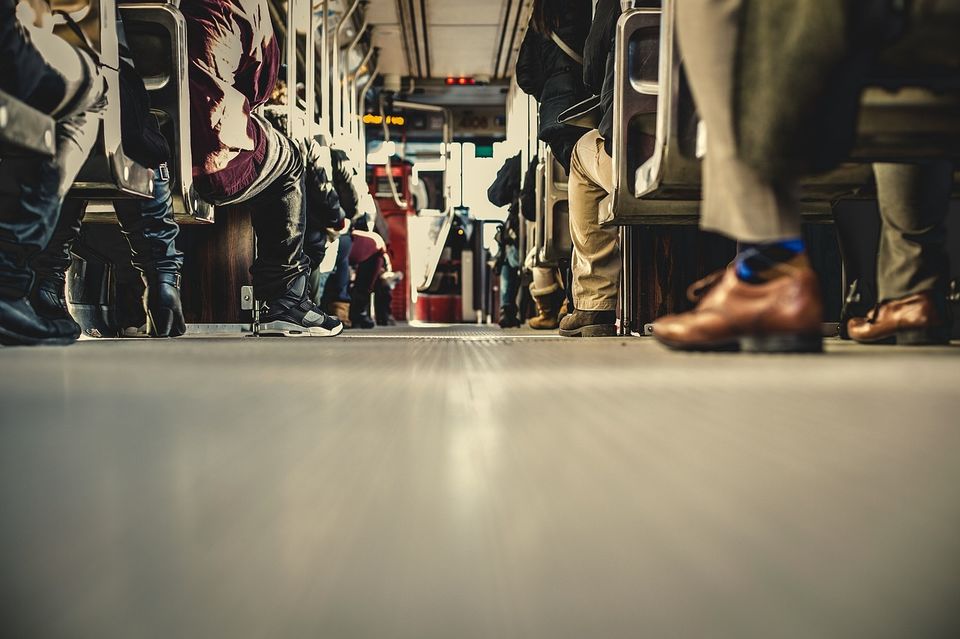 If you happen to be a budget traveller on the move in India who doesn't have the luxury of hiring a cab, or if you simply want to enjoy the experience of travelling with locals, knowing the dos and don'ts of using public transport in India will go a long way.
And thanks to India's diverse culture and geography, this doesn't apply just to the foreigners. Even if you are an Indian travelling solo in some other part of the country and are not used to public transport there, you might find yourself struggling while getting from one place to the other!
But to calm your nerves, here we are with some great tips on what you should do, and what you should not do, while travelling in public transport in India. This will not only simplify your budget travel plans but also make your travels in India more enjoyable.
Dos
1.) Leave early or traffic will stall your plans:
This might seem like a universal rule, but when in India, this rule is 3x relevant, or even more. Traffic jams in India can be any traveller's nightmare, especially during rush hours. According to the data provided by Ministry of Road Transport and Highways, there were 21,00,23,289 registered motor vehicles in India; and this was three years ago.
You have to deal with traffic and the best way to beat this inevitable hassle is by starting early from your place. So, even if locals say that it's an hour's journey from here, you better start at least an hour before what locals suggest. You will thank yourself later.
Tip: Avoid travelling by roads in major cities of India during rush hours. Instead, opt for metro train or tram services wherever possible.
2.) Go online:
If you have a device with internet (laptop or smartphone), you will be able to bypass a lot of hassle that's associated with the usage of public transport in India. Nowadays, several transport-related services, both state and privately-owned, are available online which include booking air, train and bus tickets. In major Indian cities, you can even hire cabs online from Uber, Ola, Meru, and other internet-based transport service providers whenever you need to.
SIM cards issued by most of the telecom service providers offer a lot of call and internet-related offers at very pocket-friendly rates. So, make the most of it while you can.
Tip: Applications like Google Maps and Google Translate can really help you when you travel locally in India. Use this link to book trains.
3.) Wear modest and comfortable clothes:
You might like to be in the spotlight on social media and with your friends, but while you are travelling on a bus or a train in India, it's a different ball game altogether. Irrespective of your gender and ethnicity, it's highly recommended you wear modest clothes so that you don't attract unnecessary attention from co-passengers.
Tip: Take your time to know your co-passengers, especially during long journeys.
4.) Hold on to your luggage, like it's your life:
Travelling in public transport in India, especially in trains and buses, comes with a challenge of keeping your belongings safe unless you are travelling first class. Make sure you care for your luggage like your life depends on it, because it nearly does.
Whether you are seated, standing, sleeping or eating; hold on to your travel bags tightly. Safety lock straps for travel bags might come handy.
Tip: Don't leave your luggage in the custody of fellow travellers, no matter how friendly you get with them over the course of your journey. We recommend, taking your bags with you even when you go for a restroom break. But for that, you got to travel light.
5.) Be careful with your mid-journey breaks:
You may have been on board for long and we understand the urge to stretch your legs, pee, or buy something from nearby shops during that mid-journey break, but don't forget to get back in your seat before you are left behind. This has happened before to many people!
Whether you are travelling by train, bus, or shared cabs, keep track of time. Especially while travelling overnight by bus in India; if you think that it might take a while for you to get back during that short break, inform the transport official in charge of the vehicle. If you miss, you may not find another bus, or taxi very soon.
Tip: Save the contact number of your bus driver/conductor in your phone.
6.) Plan your visits on weekdays:
If you notice the crowd in the above picture of Taj Mahal, you will understand what we mean. Most tourist attractions get heavily crowded, by both Indians and foreigners, especially on weekends. The process of entering the premises of the place might demand you to wait in long queues.
Therefore, it's better to plan your visits on weekdays so you can avoid crowds and experience it the way you set your expectations before the visit. Less crowds mean you can take great pictures too!
Tip: Take time to research about the place you plan to visit so you are aware of the timings and entry fees, if any.
7.) Be nice, not naive:
There is no doubt that you have to be polite and nice when you are using public transport to travel in India, especially while you are asking something from people around you. But that doesn't mean you act like it's the first time you are outdoors without your family. There's a difference between being nice and being naive.
Learn to say 'No' when you are being pushed to buy something. When you ask for directions from locals, ask 2-3 different people to verify the information you are getting. A little awareness and caution goes a long way.
Tip: Take some time out to learn a few words of the local language of the place you are visiting.
Don'ts
1.) Don't expect hardcore punctuality:
Let's face the truth, India is still in the process of development and so is its public transport system. Add to this the travel needs of over 1.27 billion citizens and it will be easier for you to accept the fact that public transport in most parts of India is not as punctual as you might have experienced in Japan or the West. Delays can range from a little over two minutes to over 12 hours, especially in the railways.
This doesn't mean that it will happen every time you travel, but the chances are higher. However, never rely on the delays. You must reach the boarding point well before time. If there's a delay, you can always read a book, shop around, eat out, or click pictures of whatever you find beautiful.
Tip: Keep yourself updated with the latest news and announcements related to public transport. Events like elections, rallies, protests, etc. might cause changes in schedules of trains, buses and flights.
2.)Don't trust touts:
There will be occasions, especially during festivals and tourist seasons, when getting a ticket from an utterly crowded ticket counter at a bus or a railway station will seem beyond your reach. And then you may come across those guys who promise you a bus/train ticket to your destination, albeit for a higher price. Well, there's 90% chance you will end up 'paying the price'.
If you really wish to travel during festivals, plan your bookings well ahead of time, try using online facilities to book your tickets. Just don't rely on getting tickets from the touts.
Tip: Almost every Indian state has government-run bus services with dedicated portals to book tickets. Keep that a priority.
3.) Don't accept food and drinks from strangers:
This has to be the something that you should never do while travelling in public transport in India. Bring your own food and water so as to avoid any scenario of accepting stuff from strangers-turned-friends while travelling. Someone sitting in front of you might offer you his or her tiffin, or bottle, but you should decline the offer politely.
It doesn't look nice to have dinner without sharing it with your co-passengers, but sadly there are countless cases of naive travellers getting robbed after they consumed sedative-laced food or beverages.
Tip: Don't drink water from local roadside dhabas which is usually offered for free.
4.) Don't drink and travel:
Yes, you read that right. If you don't want to lose out on some must-have experiences, and perhaps, your belongings, do not drink just before you are supposed to head out and travel by public transport in India. You don't want to be out of your senses when you are out there with your luggage, in a coach full of strangers, all by yourself. Not only do you risk exposing yourself to troubles of all sorts but also destroy the very purpose of travelling like a local and experiencing the real India.

If you really want to drink, make sure you have enough time to regain your senses before you head out, or you can delay the party until you reach your destination.
Tip: If you really have to attend a party right before your journey, it's better to book yourself a first class ticket.
4.) Don't expect much privacy:
It comes down to 'crowd' again. We hope that, by now, you have a fair idea of how many people rely on public transport in India. So if you get aboard a crowded bus or train, don't expect for a private little bubble for you in which you can use your smartphone to do whatever you wish to without having people glancing at your screen.
Hands brush, shoulders may be grazed, somebody may just step on your newly-bought shoes; but don't let that raise you temper and create a situation. However, if you feel that the line is being crossed, don't shy away from expressing your discomfort politely.
Tip: Crowded buses and trains are the places where you are most likely to be targeted by pick-pockets one word. Keep your wallet and other expensive items safe in your bag.
5.) Do not indulge in religious discussions:
Cultural diversity in India is something that will intrigue you, but it is also a very sensitive subject. Religion and politics are two such topics we suggest you stay away from.
People in India practise different religions and have different stances on ongoing issues. Getting involved in such discussions and saying something that which can hurt sentiments of a particular community or group can land you in big trouble. You are out to travel, explore the country in ways that most videos and documentaries won't show you. Enjoy that!
Tip: Plug in your earphones, read a book, watch a movie on your smart device, or just look out of the window and enjoy watching the scenes that change with every curve.
6.) Don't judge the whole nation:
While exploring India by using its public transport, there's every chance you will come across, both good and bad experiences. Don't expect everything to go according to your plan. It rarely happens anywhere in the world.
We suggest that you take in those bittersweet experiences with the same grace and not judge the whole nation on the basis of one or two accounts. That will keep your mind open and allow you to look beyond the most obvious in this country.
Follow these points and you will come back with memorable experiences of using public transport in India. Let us know in the comments if you think you have more suggestions that can be helpful, or create your own piece to share your views.
Subscribe to Tripoto on YouTube and watch out for great travel videos.