'Somewhere between the bottom of the climb and the summit, is the answer to the mystery why we climb.' Greg Child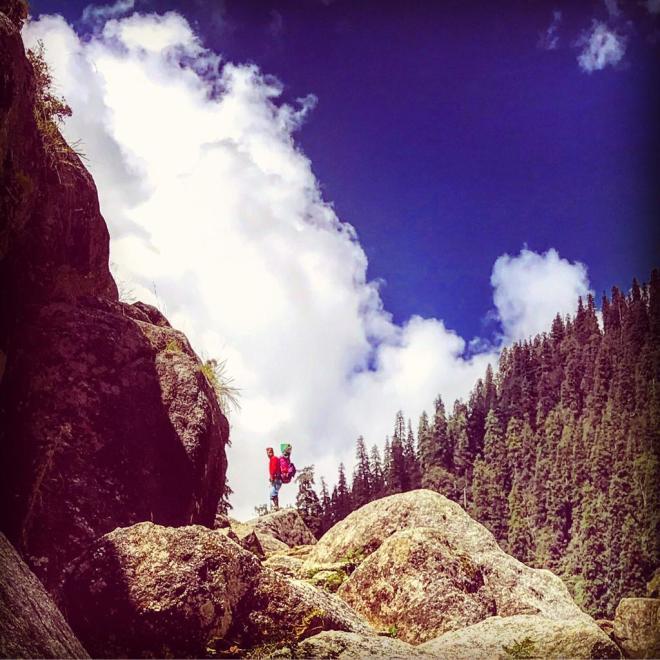 Faint rays of the much missed Sun gently kissed the farms across my bed side window! Sunshineee! I yelled 'Goooood Morning'! Tee was taken aback to see me all enthu at 6:30am! I've never been a morning person and the exuberant display looked fake on me! But I was mighty happy that morning for I would finally get to see the lake after three days of torrential rains and many impatient hours spent waiting! I opened my door to Cheeru displaying the same kind of euphoria on seeing the long lost Sun and wagging his tail, stretching himself out towards me, hinting at a belly rub. There was a clear blue sky and the cows were already out of their sheds, their cowbells breaking the stillness of an early morning calm! The dew on the farms slowly melted away while kids could be seen cleaning up under the open hand pumps, some adorning their crisp white uniform T-Shirts ,getting ready to walk down miles to their school ( a mountain trek in itself). That moment, the village seemed to have gotten back to its tempo, a tad bit faster than the last three days. And along with the hamlet, there was another entity who paced faster than ever before .The gorgeous yet elusive...the constant yet unstoppable... the divine yet vengeful and unforgiving ...The Stream!
At around 8am, I slipped into my shoes, gobbled down a paratha and zipped up my rucksack, rearing to start the hike. Tee was somewhat better today, and was sitting in the outside porch soaking up the warm sunshine. I kind of felt sad to leave him behind but an honest shameless confession here. The excitement of being finally able to do this hike and a good one after almost a year and a half overpowered the sad feeling of leaving him behind. But it was also because I knew he'd be fine with Auntie and Arun around who actually took care of him like family. I left my trekking pole behind for Tee, to help him walk and help me feel a lil less guilty about going solo!
The warm sunshine and the slippery rocks tired me out in just a couple of minutes. I was doing a trek in the high altitude after a gap of two long years. Back in Bhutan, climbing mountains had become a routine, so much so that Dasher and Haachu (my mutts) and to some extent even I couldn't sleep well at night the day we didn't trek. Ever since we moved to the city here, my physical activity was anything but physical. And I could see the effects now. Since the day had just begun and the sun shone brilliantly, the villagers were all out, some with their legs dwindling by the houses roof, smoking up on hookah already while quite a few leisurely embracing the sunshine warmth in their farms. Manoj would greet every one who'd come our way. He seemed to know everyone, touching the feet of the elderly and high fiving the youngsters...he knew all the wagtails around, petting them and scratching their ears with love. And he obviously knew the trails way too well for he didn't have to watch his steps...he knew exactly how many puddles...the size of boulders and the number of streams that flowed by. I followed him, trying hard to emulate his steps to avoid all the slips and bumps.
While walking through all the slush, my mind drifted to the brightly lit flawless manicured streets of my city. I wondered how many neighbours of mine would high five me early morning. I wonder if at all, i'd even find them out in their houses. I thought about how many dogs I knew around my house apart from Muddy and Browny whom I fed occasionally and if at all I knew a road so well that I hadn't have to use the Google Maps! Just then Manoj obstructed my thinking, 'Dhyaan se...landslide ho rakha hai'....a part of the trail had been obliterated. He lend me his hand to pull me through the slush. By now we had left the houses far behind. The village looked like a tiny speck, deep down in the valley surrounded by the striking backdrop of the snow capped Dhauladhars.
Manoj told me how we'd soon be at the Niyund stream that had to be crossed to reach the other side of the mountain which then had to be trekked up to reach the lake. He expressed his concern over the river catching up pace in the last three days and hoping that it wasn't as bad as the villagers had been telling. He asked me if I had climbed up to a mountain lake before. I showed him the pictures of Dungtsho and Nubtshonapata in Bhutan to which he exclaimed...'Hamara Himachal aur bhi sundar hai..Dekhna aaj aap!' His words just added on to my excitement and my mind started conjuring all kind of pictures of the route ahead and of the lake that would be home for the night.
After crossing the Salli road, we could now see Niyund. It was swollen and angry and furiously lashed out against trees and debris in its way. We walked in the dense forest where the sunlight crept in through the thick bushes illuminating the branches, lavishly clothed in moss. The climb was some what steep and extremely rocky. But I've always loved ascents more than descents. Half an hour of climb inside the forest and voila...there she was...brimming with all her might, gurgling & meandering its way...as clean and pure as she could be but as I got closer, I witnessed fury as she pounded the mighty rocks boulders that put up a feeble resistance to her flow. What sounded like a sweet river symphony from far away, was in real quite like a deafening uproar. This wasn't a good sign!
We all knew that Himachal was hit by an freakish rainstorm in the last three days. Schools and govt offices were shut and people were warned to stay away from any kind of water bodies. The Manali Bus video getting washed away with the floods, flashed in my mind. The super paranoid hydrophobic soul that I am, shuddered. The water had risen ten times the normal level. Both me and Manoj, patrolled the area to find a spot where we could find quieter torrents and prominent rocks. But alas, all in vain. He got a heavy wooden stick to check the depth of the water, but the moment he dipped it, the furious rapids washed it away. We didn't want to head back home and decided to stay put there for an hour or so hoping for a bigger group to turn up. While Manoj jumped over the rocks in the river bed trying to find a way, I couldn't stop yelling at him, telling him not to take a chance. He maneuvered around the menacing waves so effortlessly. This was his childhood playground. I laid down on the rocks praying hard for a miracle. An hour and a half later, I saw a group of teenage kids with three adults and a couple of village porters walking towards me. There they were, my guardian angels for the day!
Like me, everyone else seemed to be in a daze. The water was at least five feet deep. But it wasn't the depth that bothered us. The fury it flowed with is unexplainable. One slip here or there, and I might have taken a one way ticket from the lake, directly to Bhakra Nangal Dam in Punjab. After seeing the river state and keeping everyone in mind, we decided to fix ropes to aid in crossing the river. There were just two trees on either sides to tie the rope on but those were right at the point where the river meandered. Just a few inches away from the bend meant maximum flow and force. But we really didn't have much of a choice there. The male teacher from the group was the first one to cross...he took some tiny calculative steps and managed to reach the other side. Another boy followed him and successfully hopped on to a rock. Just when I was getting all confident about doing this...the kid who went next, lost his balance and slipped bad. The calm was shattered by a cacophony of shrieks. I felt my heart explode and the girls around me were all teary eyed. The local guides who stood in the water, managed to catch hold of him. After two long minutes of battling the torrents eagerly trying to swallow the kid, he managed to hop on to the rock and come back on our side. He was shivering crazy and cried about how he couldn't feel a thing in the water and how the wave thrust him down. His sipper and other essentials in the outside pocket were all swept away by the ruthless stream. I told myself in my head, "You don't have to do this today. The lake can wait." The three teachers in the other group seemed unsure too. They told the guides to shift the rope farther from the bend and tie it to a boulder and that if only the porters would stand inside the river forming a chain of six men, would they continue or else they would drop the idea of hiking up to the lake. All our eyes were fixed on the stream. I shivered with cold and I was scared to death. I don't remember the last time I ever felt this way. I mean the sixteen year olds being paranoid was understood, but here I was twice their age, who felt like she was going for her first bike riding lessons. The rope was finally shifted inside. The porters stripped and got inside holding every kid and adult while crossing, making sure they don't loose their balance. I crossed in the end. The water came up to my stomach and my feet turned numb. Every step felt laborious, the torrents not letting my feet move. Akash, one of the porters didn't leave my hand until I got on to the rock. Later he carried the luggage and crossed over just holding the rope. I was filled with awe and gratitude for these men.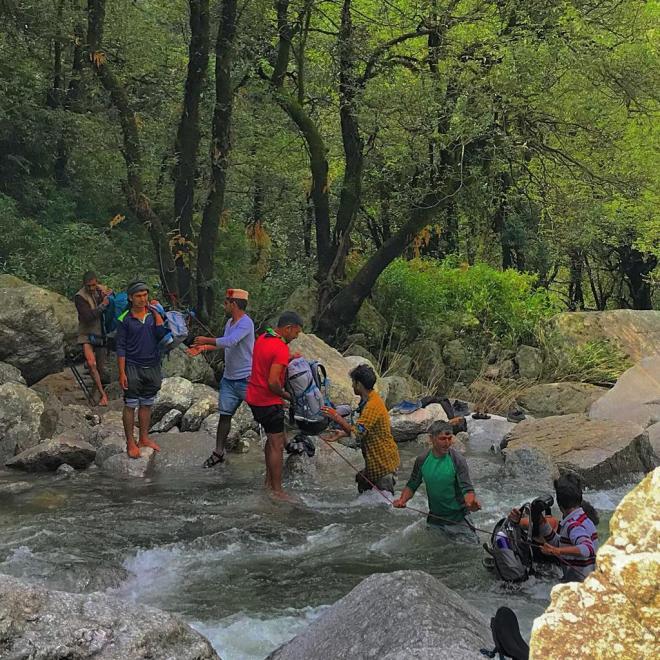 The river crossing saga
If it wasn't for the group and the porters, I would have never been able to do the hike that day. After sunning up a bit and thanking all of them, I started walking further ahead. Manoj and the porters lead the way, sharing jokes and their load around never leaving the moment dull. We hiked through endless mossy hurricane trails, spotted a huge cave on the other said of the mountain that apparently was used till just last year by the shepherds, sat under inter twined trees, laid on the wet green grass, watched the sky change from indigo to dull grey and chased the river all along. Leaving another mountain behind, the water turned only more transparent, making a thousand splendid pools. Once in a while, you'd see a lone shepherd's hut, in the middle of no where on the mountain top with countless sheep grazing around...DREAMHOUSE... like the one Alia Bhatt craved for in Highway! Sigh.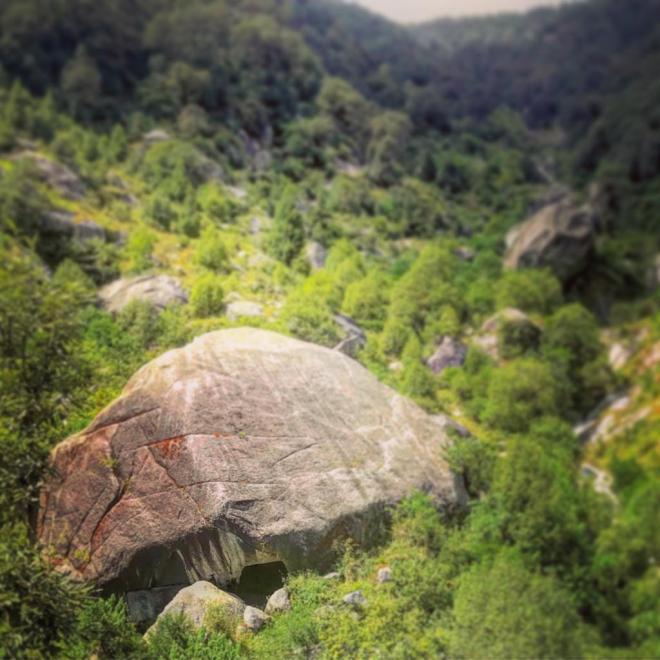 Cave under the stone monolith
The terrain slowly changed from enormously dense forests, to more open trails with valley on one side and green carpeted giant mountains, pines descending all the way from top to the river below. The fleeting clouds made me play the strip and dress game, at times feeling hot, the sun charring my skin and in no time getting goose bumps courtesy the plummeting temperatures as we climbed higher. The place looked surreal. I remember Tee describing his experience in Gurez Valley in Kashmir.
This place looked akin to that. With no habitation to the farthest of sight we had covered a little more than half the distance. Just when I was singing this silly PUMP ME UP SONG in my head "I can do it, I will do it'" to make my tired inexperienced legs feel better, there came yet another hurdle to be crossed. With the rivers left far behind, the jagged stone adorned trail now awaited us with a mischievous glee. The group was far behind but Manoj and couple porters were luckily around. Having crossed the river, I was a tad bit less paranoid this time and packed my shoes in the rucksack and jumped in. This time around we had to climb the rocks in that gushing icy cascade. Never in my life did I indulge in things that scared me the most.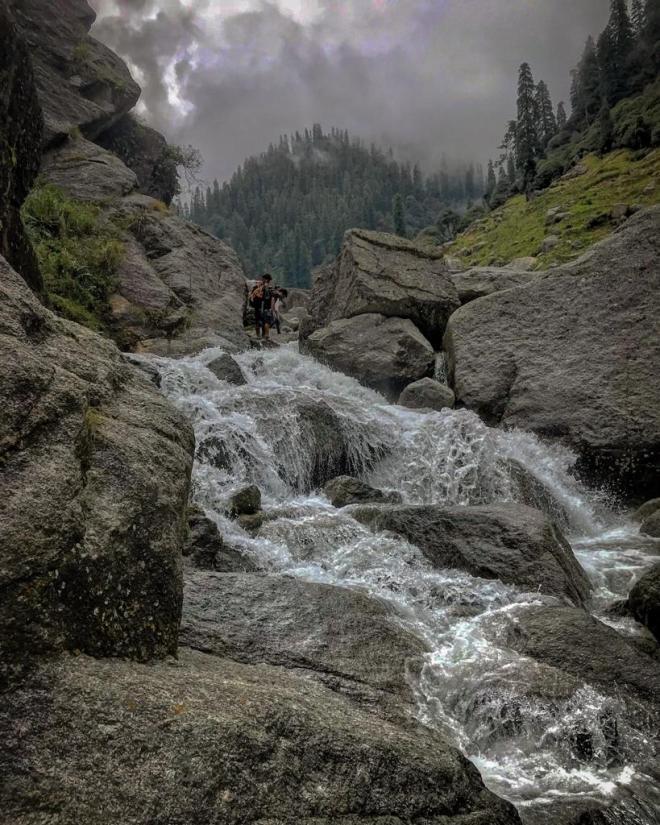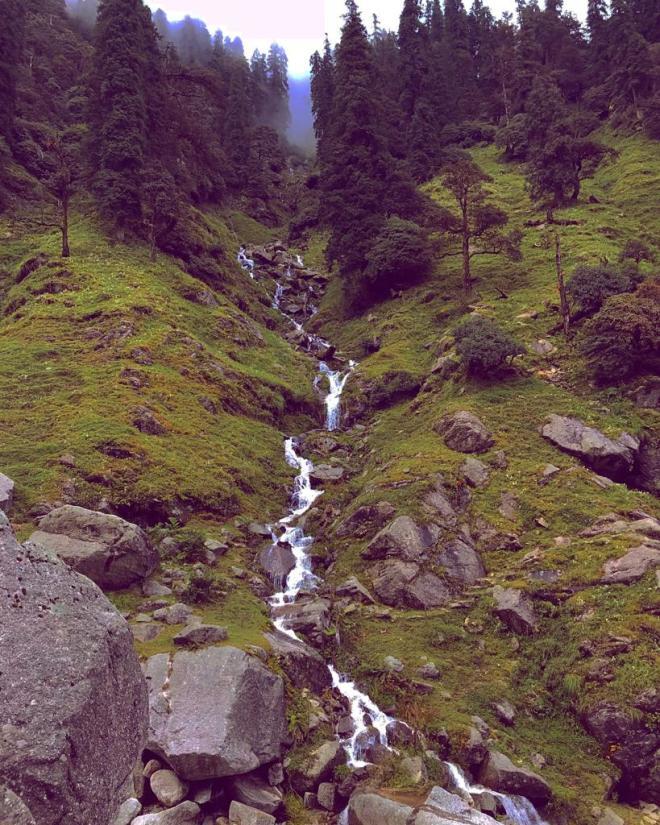 Kareri for sure helped me conquer my demons this time! After finally reaching the top, I looked down on that flooded trail of rocks and didn't shudder this time but smiled. My feet were numb once again but quite comfortably. After crossing the rickety iron bridge, I left Manoj behind with his porter friends and told him I'll continue walking by myself and he could catch up later. The urge to walk that path with just my shadow alone overpowered the inhibition of lugging my way through the unknown rocky trails. The river now gushed right beside me and I was tempted to splash that icy chilled water on my burnt face. My feet had already got their share for the day. A small lil shack stood on the mountain across the river. I wondered if the folks who owned it relished the solitude as much as I did or was it killing for them to live there forever.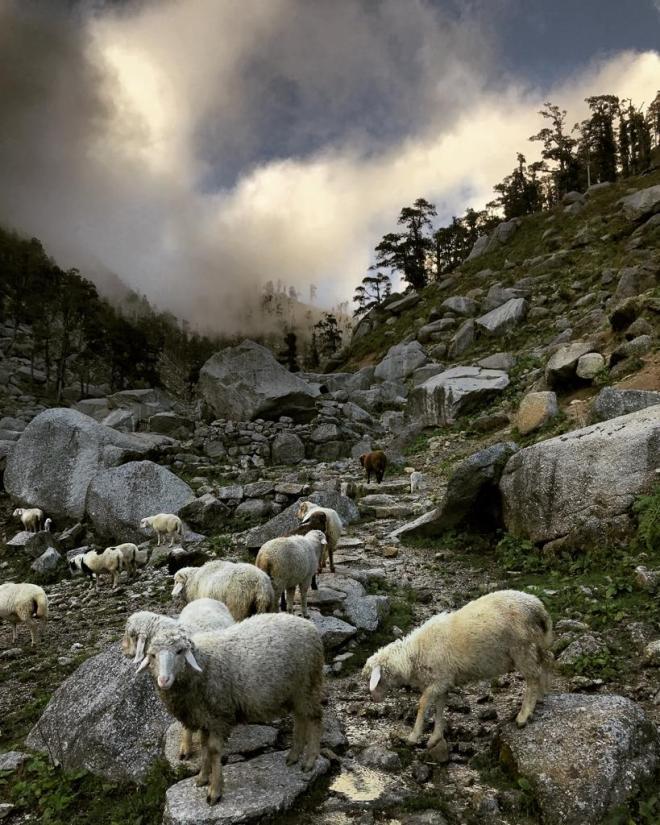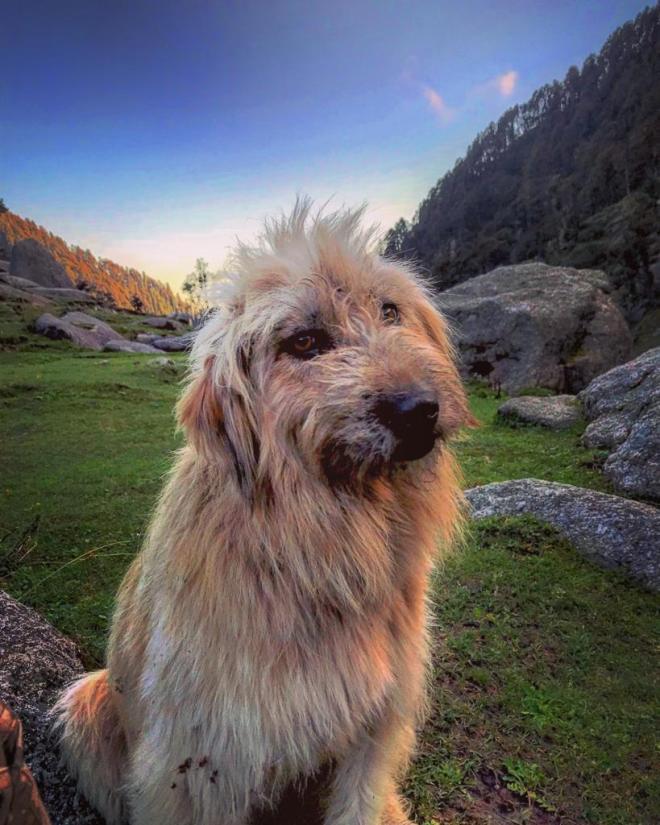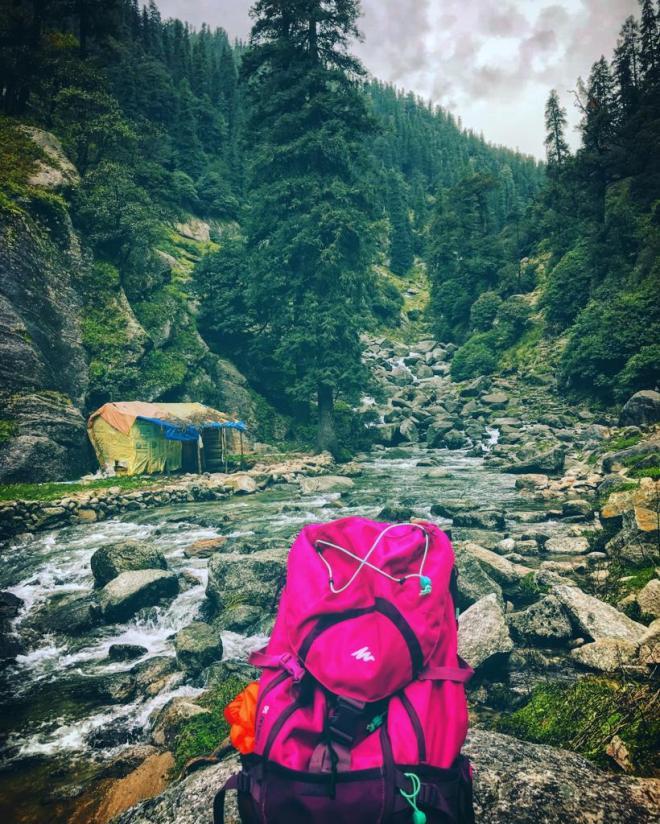 As I walked further ahead, the landscape grew more unreal. It seemed as if the nature had carelessly strewn boulders all across the mountains and tiny polka dot like elements dotted the mountains all over. I rubbed my eyes out of disbelief. The sheep had covered the mountains all over, making it look like a green dress decked with black and white polka dots! It felt like I was on some other planet of the universe where I was the only human with only sheep and mountains and river and trees around. Just then, he came out of no where climbing the rocks ahead of me. FURRY! Was this for real. The picture of my neverland only got better. I wasn't alone now. Two of us walked along with our shadows into the setting sun that started to paint the sky orangish.
We laid down on this green meadow, waiting for others to catch up with us. I scratched his head gently, staring into the horizon far far away where the sky was still blue. I asked Furry who he belonged to. He just tilted his head, nudging me to scratch him more. I didn't say anything more and did as he ordered. That hour of dusk I sang with all my happy heart to the little Pawiee and the mountains
'Oh We don't know what's coming tomorrow
May be its trouble or sorrow
But we'll travel along
Sharing our load
Side by side...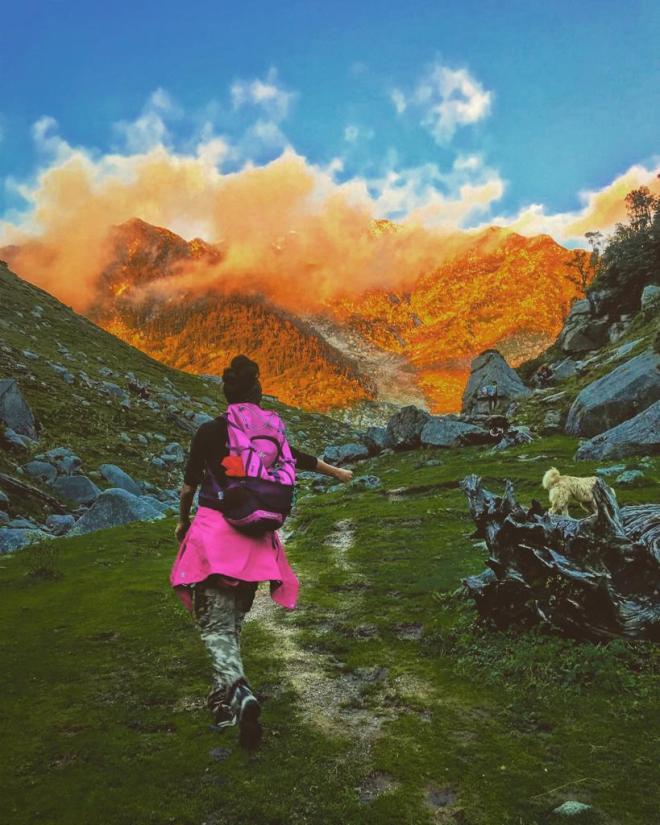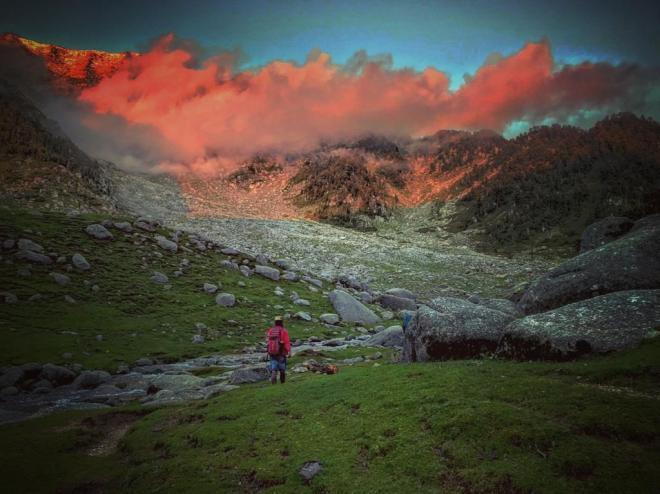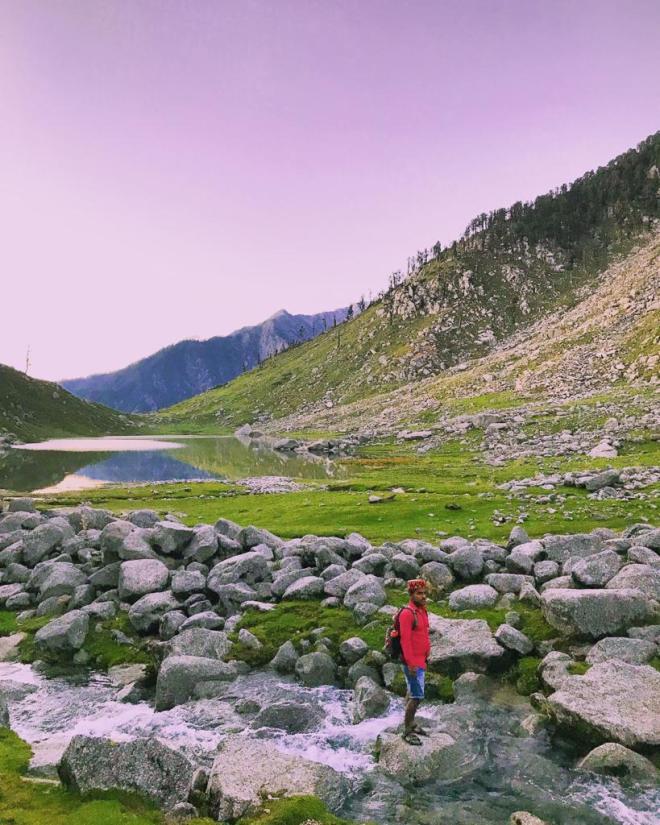 As we got closer to the lake, the deep cold barren mountain beamed all coppery in the sunset. DÉJÀ VU! The Sunlight...the most precious gold on the earth was crossing over to the other side of the earth but only after showering upon us a warm exquisite welcome. A purple dusk over tangerine icy giants, that razored into the blue far above and the lake reflecting the candy cotton clouds hovering over them. This couldn't be real! Furry quickly found his spot on the rock, facing the lake guarded by the snow hooded mountain. He took me back to my long lost furry pals, especially Browny whom I met during the Phajoding hike! It was all a Déjà vu...for places might have changed, but the mountains.. they're the same old. Same old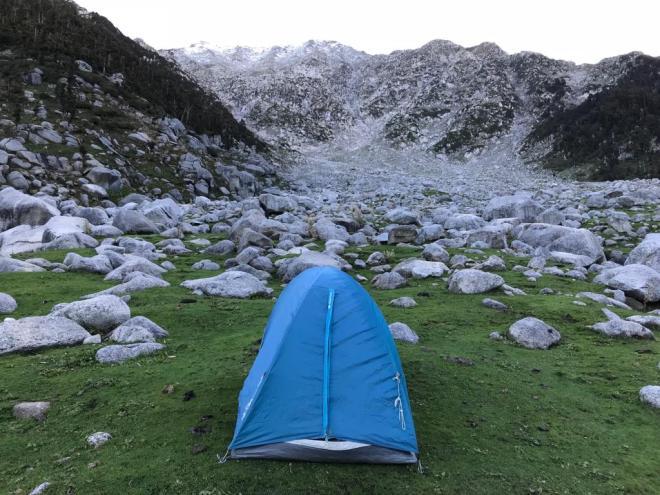 Manojs folks (the bakkarwals) lived in huts on the other side of the lake. I was happy for I'd have the place to myself since other hikers camped on the opposite side. We crossed the glacial streams and after a bit of walking, landed at our campsite. Manoj's Uncle, whistled out loud to get his sheep fall in at one place. In no time, I was surrounded by hundreds of them, most of them shy while some didn't mind being petted. I suddenly had a new ambition in life...I wanted to be a bakkarwal.
Manoj asked me if I wanted to sleep inside the hut with all of them but I obviously insisted on camping outside by the lake. I asked him if it were safe. He quipped, "Yahaan koi insaan hee nahi hai" I excitedly got the tent out and both of us fixed it in no time. I hoped to stay brave late at night and not imagine dreadful things around me here in the wilderness... While he went off to the hut, I quickly changed inside the tent and wrapped myself up in layers. After getting drenched twice in the morning, I was still cold. While sitting in the darkness, I stretched my legs out of the tent and listened to the only sound that existed then...of the stream. I thought of the morning encounters with the mother nature and patted myself on the back. Well Done A! The moon was rising up behind me, reflecting the mountain that stood across my campsite. It illuminated bright as though it basked in a thousand chandeliers. Turns out, it was a full moon night. The hindi horror movies sidey plots struck me for a moment. Purnima ki raat ko bhoot aata hai and all that jazz. But right now I wasn't ready for any of that jazz. I was in the mountains after the longest time. I was this vulnerable yet content after what felt like eons. I was sitting under a million stars and the brightest moon; in the middle of the snow clad Dhauladhars, right beside a lake with countless glacial streams bickering around and a shepherd's hut a stones throw away from my tent. And all of this was well deserved after all the adventures of today and the past three days of wait. This certainly was one of those bed time stories I'd dramatically tell my kids.
While gazing dreamily at the million galaxies above me, I lay beneath the stars, salting the sky, wondering about all their theories. Of how they burn for a million years to eventually light up and however tiny they come across as, in real they're all way bigger than the Sun. I also pondered on how we've always grown up hearing that our loved ones after passing away shine on as a Taara in that sky, which further took me back to my long forgotten loved ones, my grandparents and my little stray pup RAINBOW who I adopted as a kid...I wondered if they were up there too, watching over me at this hour. I asked them why they never shone so bright in my city sky.
Well that night I put myself to sleep, listening to my favorite Himachali folk song " AMMA PUCHDI'. The last few words in the song, along with the stars in the sky made me feel closer to my TAARAS who knocked my window of childhood memories after the longest time. I tell you...Things that mountains do to you!
Kutthi jyaanda Chandrama
Kutthi jaandein taare ho
Oh Amma ji, kuthi jaandein Dillan de pyaare ho!
( a lil girl asks her mother, where do the moon and stars go..and where do our loved ones disappear?
Chuppi jyaanda chandrama
Chuppi jyaande taare ho
Ho jiye bhala naiyo chup de, Dillan de piyaare ho!
( the mother tells her kid, The moon and stars do hide themselves at times but our loved ones never fade away...they're always there!)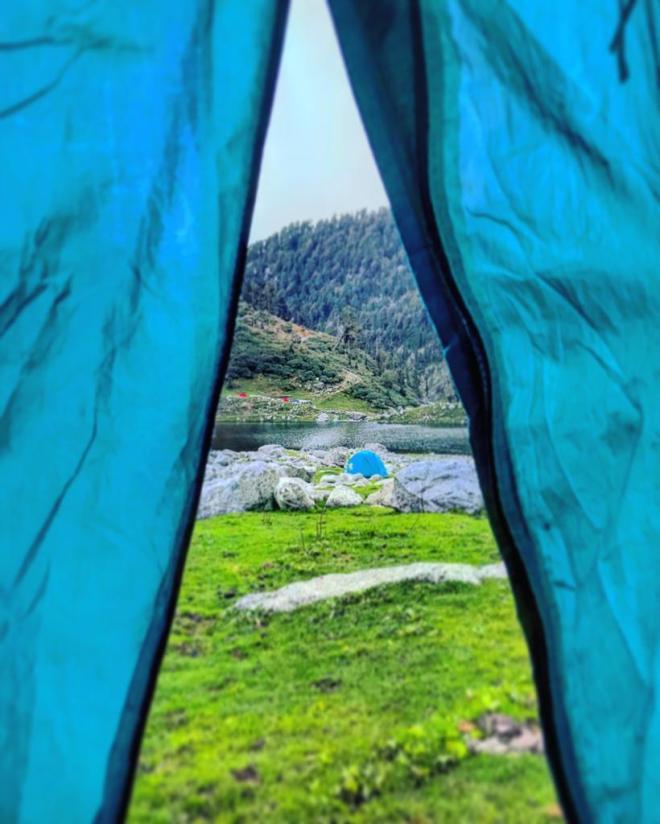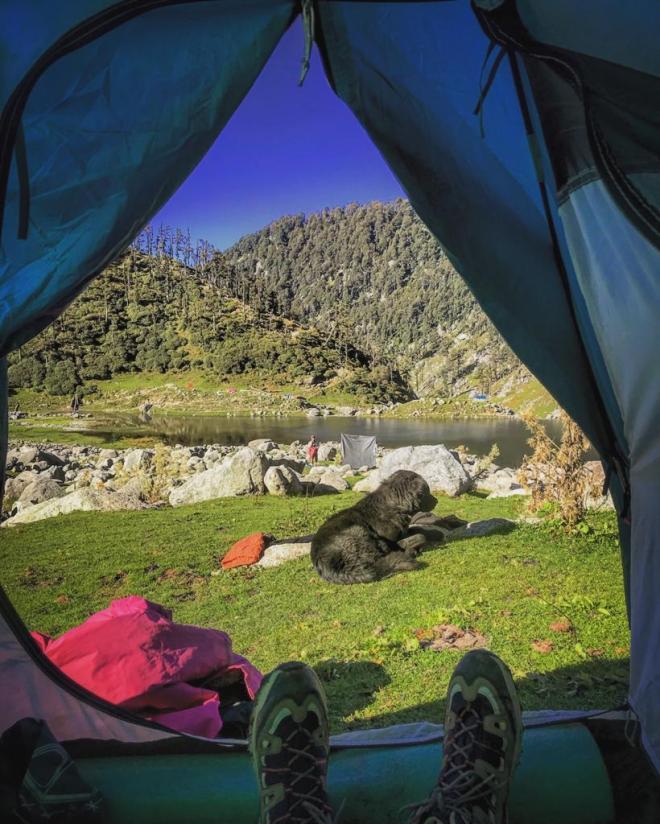 Late at night, at around 2AM, I woke up to some footsteps around my tent. Few seconds later, someone just brushed along my tent walls. I could hear him breathe heavily! ' WTF'! I shrieked out of fear in my head. I quietly reached out to my rucksack, my hands frantically searching for the knife I carried along! All kind of evil plots popped up in my head. Is it a man lurking around the tent...probably drunk ( people say Pahaadis drink like fish) or what if it were some wild animal that came down the mountain, hoping to catch one of those sheep as its prey and instead hitting a jackpot finding this 5:10 long bony human, taking care of his month long meal. Its funny how that eerie hour of crisis made my brain so creative! I froze and decided not to move myself or make any kind of sound. Five longest minutes later I heard this living being munch on the grass...and thereafter crapping the shit out! Good Heavens! Never ever did anything so unpleasant as pooping around make me feel so comfortable!
After all " A howling wilderness doesn't howl, it's the imagination of the traveller that does the howling"......Henry David
At the crack of the dawn, I woke up to the mist on my tent's roof, miraging my early morning view! I unzipped the tent and Holy Cowww! I had two guards watching over my tent ...I guess the same ones who happily pooped around to make me feel better, the previous night. The moon shone across the lake, ready to fade away while the morning light steadily set in around. I saw another tent some metres away. Turns out the bakkarwals had more guests late at night (imagine villagers walking in at midnight in this wilderness) and since the hut was small to accommodate everyone, two of them pitched a tent outside. Ahh! What life!
The stillness of the lake was interrupted by the glacial stream gushing down the Dhauladhars. The Shiv Shakti Temple reflected on it, and countless sheep hovered around. The green grass was interspersed with a million boulders and hundreds of these mountain folks...the fuzzy warm sheep. I decided to walk down to the lake. It was 6am and no one was up so far except the bakkarwals. Pummels of smoke spiralled out of their hut.
I sat on one of the many boulders beside the lake, just when, this little black fur baby, Haachu's Doppleganger emerged out of the rocks. The next two hours were spent walking around with him...feeding him Maggie ( I had nothing else ☹) singing songs by the lake side, drinking green tea in my coal flavoured hot water, soaking up the sun like id seen it after years, watching the young porters dance ecstatically to the himachali folk songs and listening to Manoj try out his flute. A reluctant retreat awaited me. This time around, I had company for the hike. The bakkarwals (Mama and Mami) along with three other men to help them relocate back to the village until April, a herd of cows and a lil lamb whom I named Fighter! Mami ended up becoming my favourite for a lot many reasons. We not only gave each other company all the way back home, but also on the final day of leaving the village, Mama and Mami tagged along with us in our car till Chambi (a town close to Meti). She was no less than a superhero yet the sweetest at heart. She in spite of carrying meager amount of food, shared it with all of us and two random villagers we met enroute. (I who go by 'Joey doesn't share his food philosophy' was mighty impressed! On reaching the deadly stream again, (the flow was a tad bit slow this time) she displayed her daredevil stunts. This 50 years old lady effortlessly climbed a water pipe hanging over the furious brook and scrambled to the other side in no time. I was left absolutely dumbstruck! On asking her who trained her for all of this, Manoj intervened saying how I must see her climbing up giant lofty trees like a pro. It's then when I felt how over rated trekking up to high altitude areas were. The village folks, twice as old as us, carrying ten times the weight of our rucksack and wearing just slippers are way fitter and bolder! I had my 'TAKE A BOW MOMENT' there!
Rarely do I use my camera or senses to capture anything on my return. Like I said earlier I love ascents more than descents. Probably because a major part of me is this whiny kid, reluctant to leave and also because my knees tend to give up especially on a rocky trail like this one.
That night, while I limped around with Tee and we had our post trek date at our fav café in the village 'out of the world' every bit of my skin and bone ouched happily!
The following day was the hardest for the roads were finally opening up and it was time for us to bid goodbye to Kareri which luckily went on to become our home for 6 days from just one! I am thankful for the rainstorm to have gifted me such an incredibly adventurous trip. Without it my experience would have been quite different or dare I say, a bit mundane. Auntie packed some cucumbers and corns for me, freshly plucked from her farms and waved byes until we didn't disappear on to the other side of the hill. Cheeru followed us till the car thinking I was taking him for yet another short hike around the village. It broke my heart to see him standing there, staring at our car until we faded out of the village. And with a whole lot of heart break, sun burns, bruises, coal stench and leach bite marks, I brought along with me a brand new me, a better me for once again the mountains reaffirmed my faith in magical neverlands with fairy tales and pixie dust.