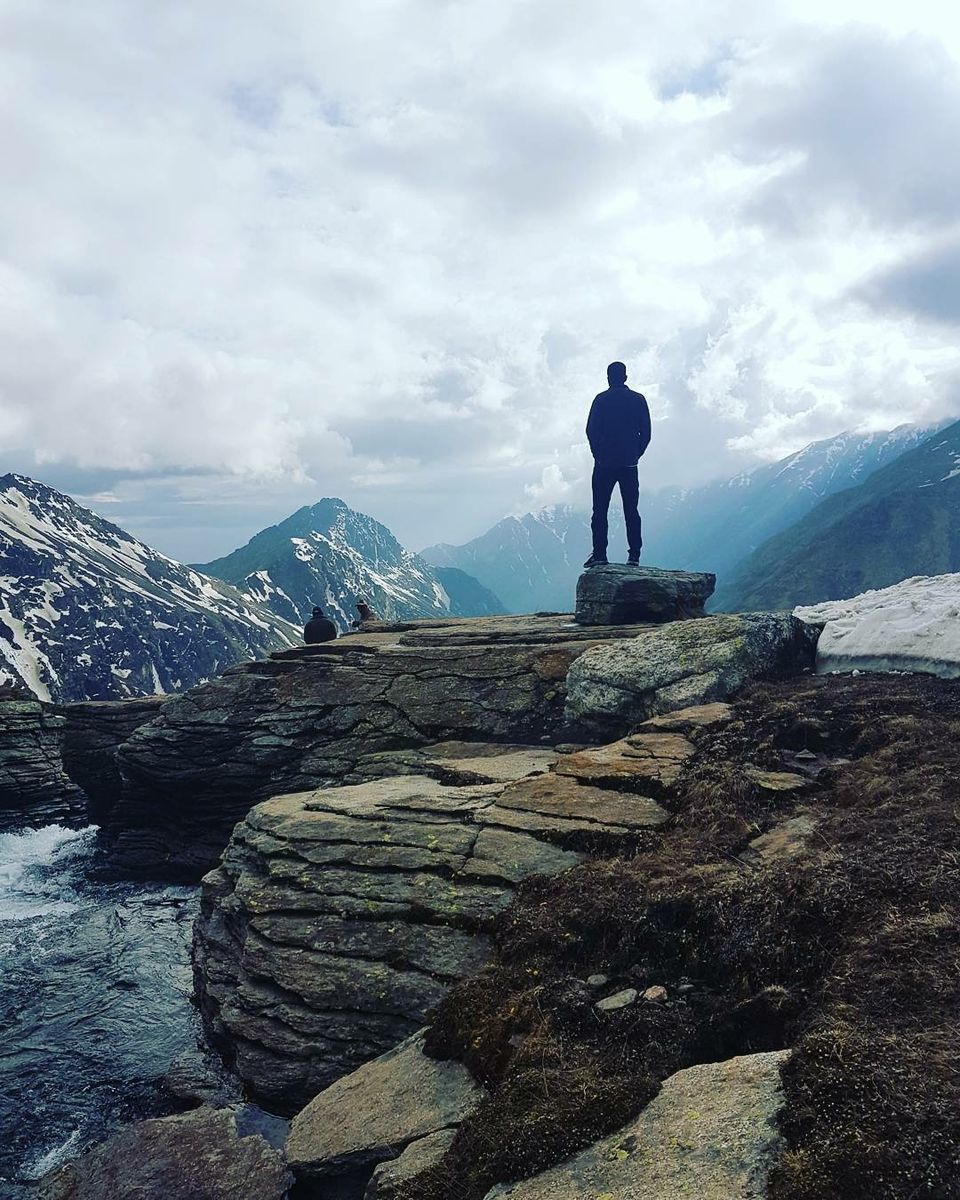 Journey and destination are often associated with life and goals. As today's world portrays quality of life in materialistic things and luxuries, I on the other hand decided to break the matrix and meet the mother Nature through trek trail for the first time.
Yes! I committed myself to go for a trek, Rupin pass. The journey to start the rejuvenation, contemplation and introspection of my life.
I am Sally Cyril Lopes, a fashion designer and traveller. Let me take you through my first trek.
DAY 1 - Dehradun to dhaula via naitwar,(approx 180kms)
So we were to reach dehradun and then take it from there as decided by the trek leader . The sum of people were 25 .Our journey by the bus started around at 7.30am in the morning following the breakfast at kempty falls ,watching the small crowd of mussoorie and then followed by a hault at nowgaon village for lunch and then straight to the destination of dhaula village through jeeps from naitwar.We reached the village by approximately 5.30pm......
The astonishing beauty of the surrounding made me lose myself.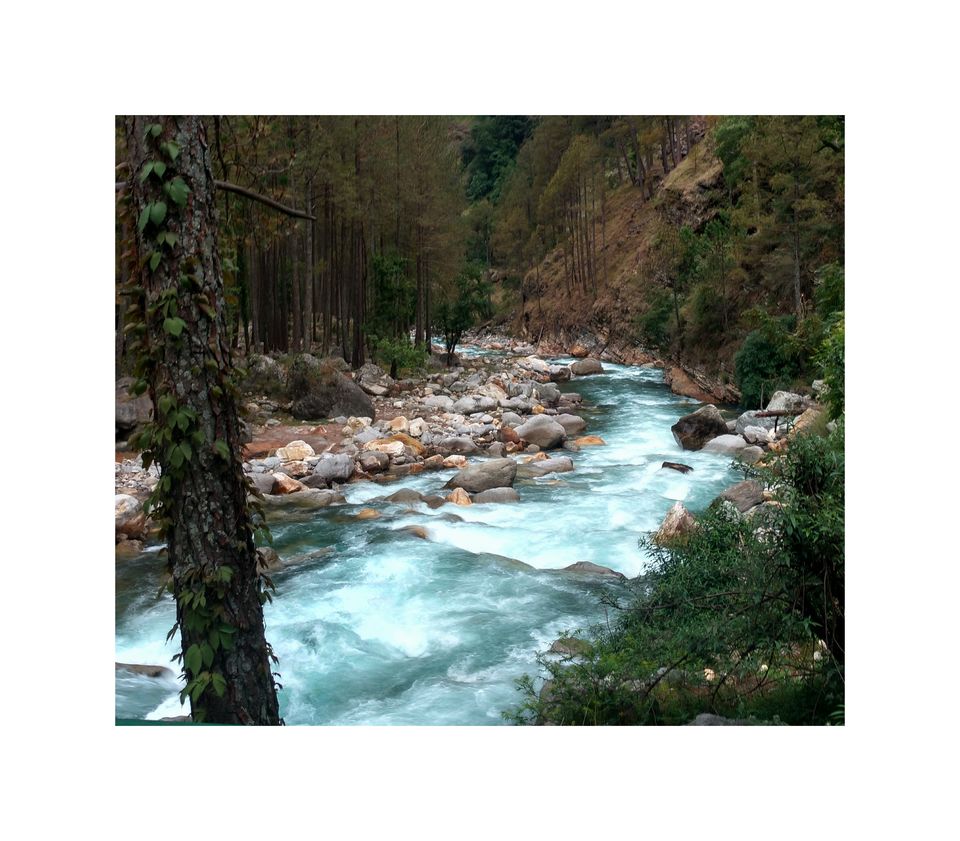 I think I took 40 minutes to reach 100mtrs.????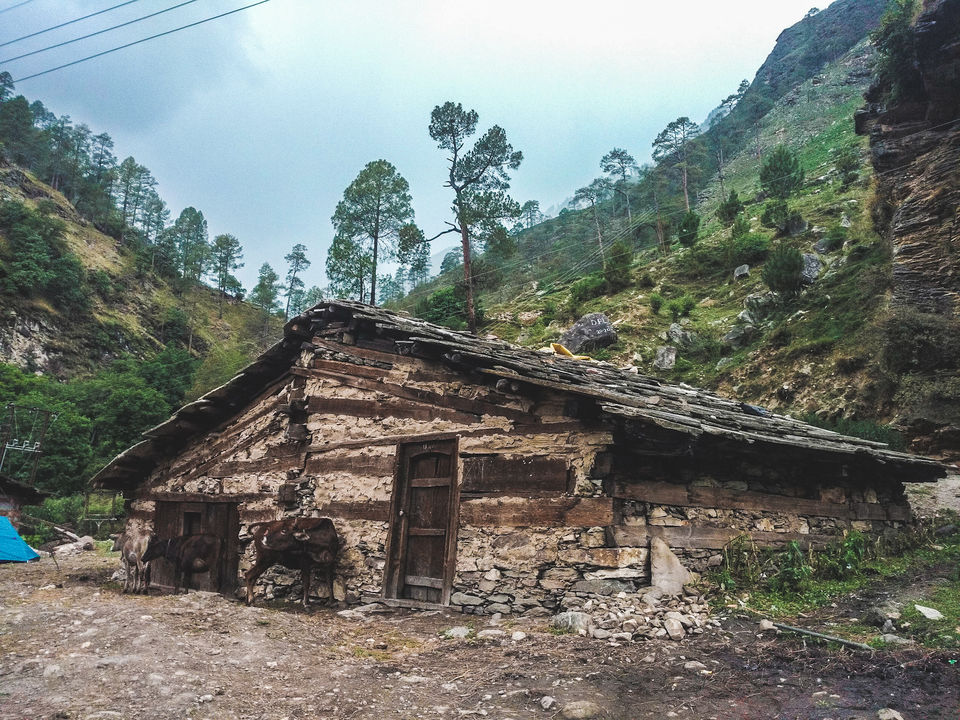 I had lost it....I was looking at every direction and all i could find is beauty.......It was cold and a little windy.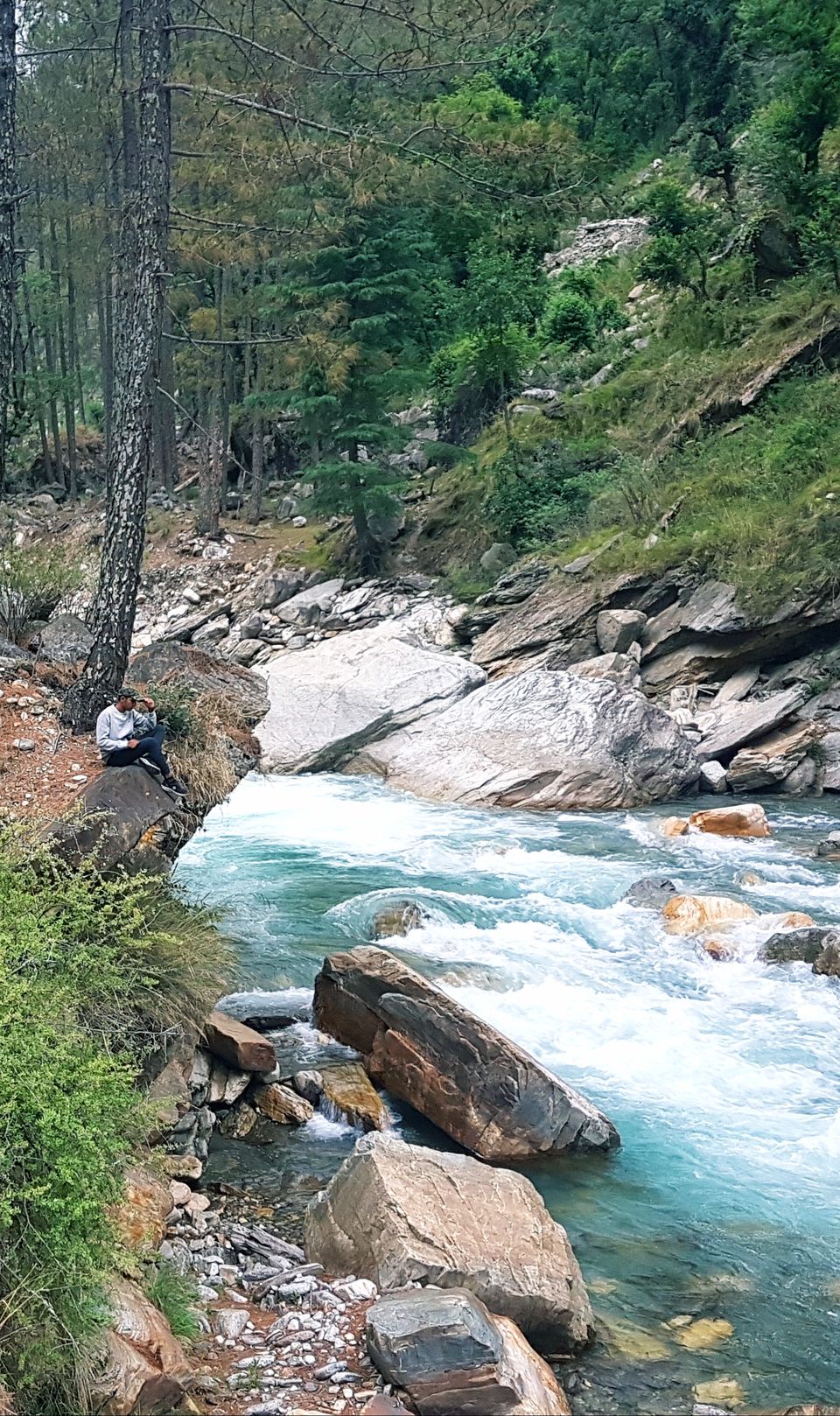 After reaching to our first base camp which was a nice vintage kind of house with wooden walls,we were offered with some lemon tea and biscuits followed by the dinner at around 8.30pm.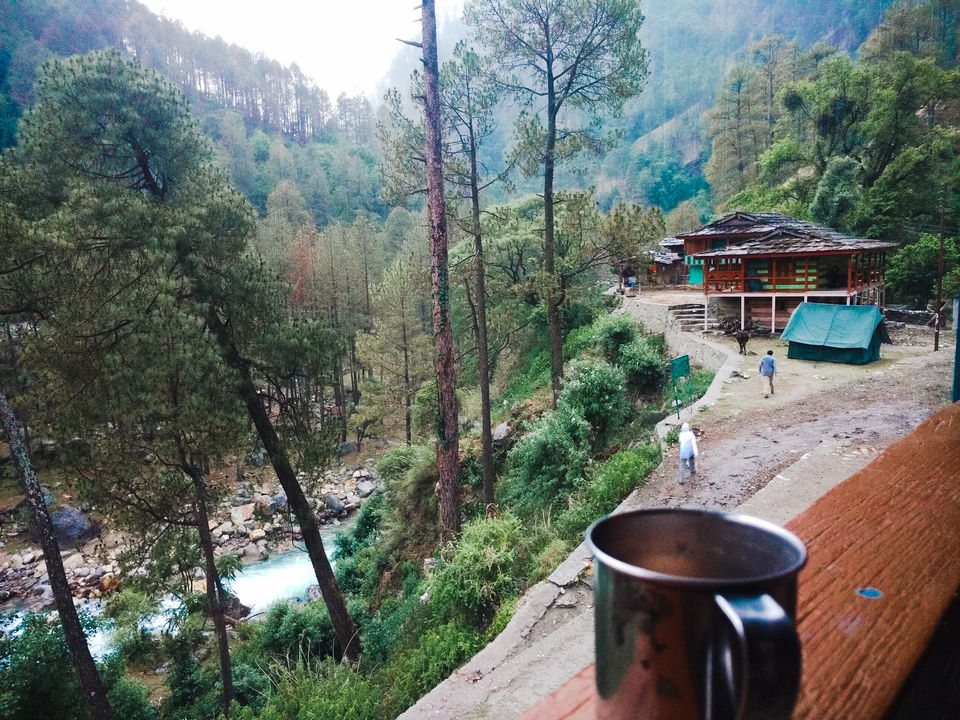 The first day jitters had but my stomach,the first day of trek in mighty himalayas . The sleeping bag provided the cozy abode and the night went on to welcome the carmine sun . The best part was
NO CONNECTIVITY.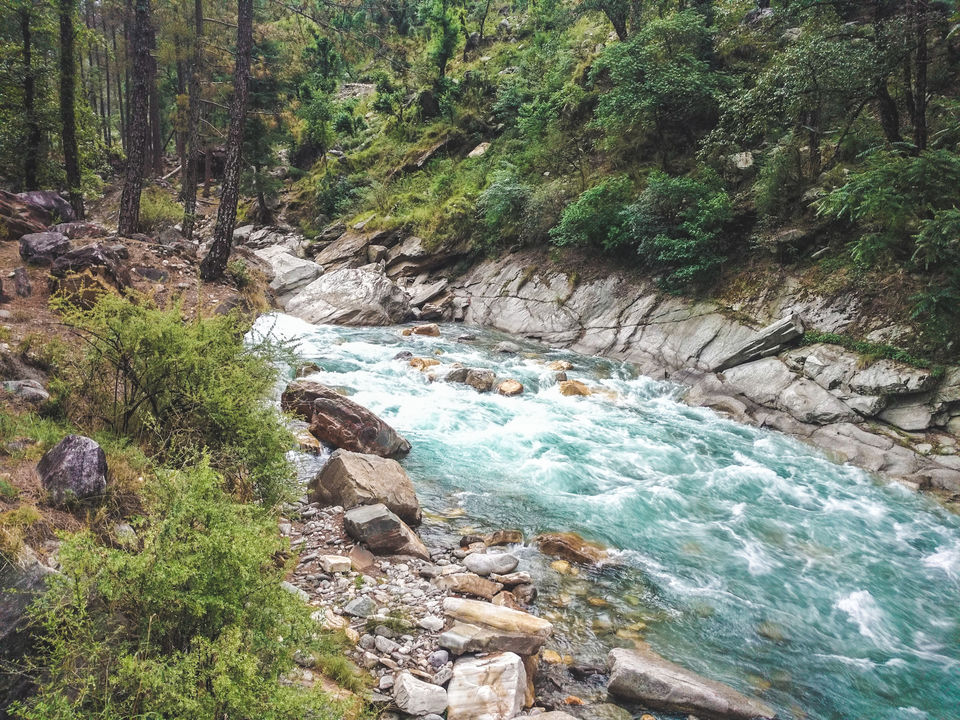 DAY 2 - Dhaula to godsangu via sewa village(12kms)
......Andddd ....offf to the rumpy ride already,the journey was graced by menstrual cycle as I had forgotten to take the pills.We had a good breakfast egg bhurji bread and jam.
We started our trek at around 8 am in the morning.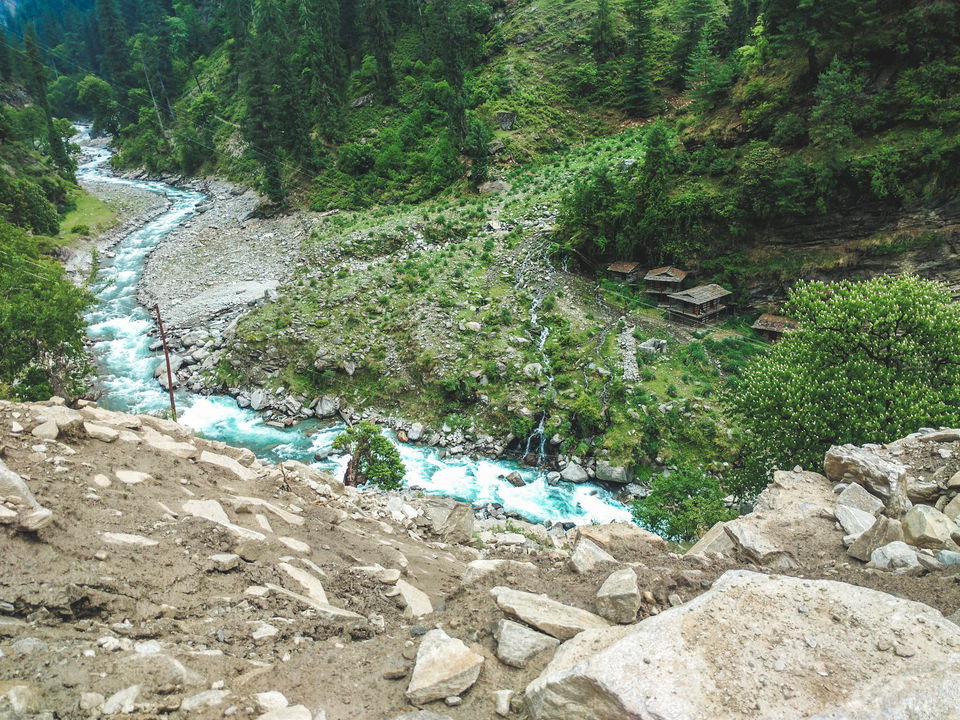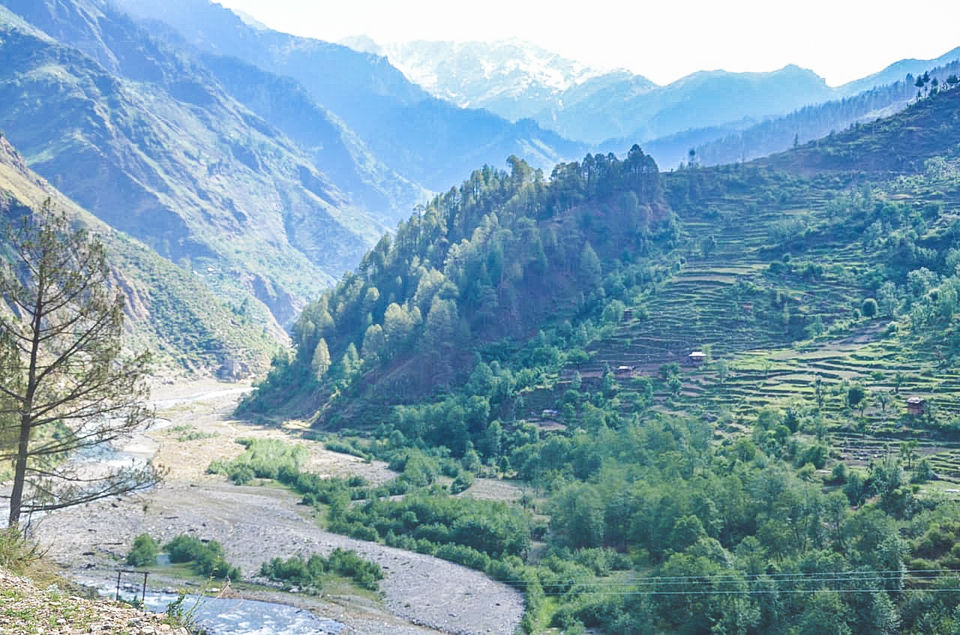 Upon entering the village sewa,we could not ignore a posing Goat as if asking for attention or to click a good picture.We passed by sewa village.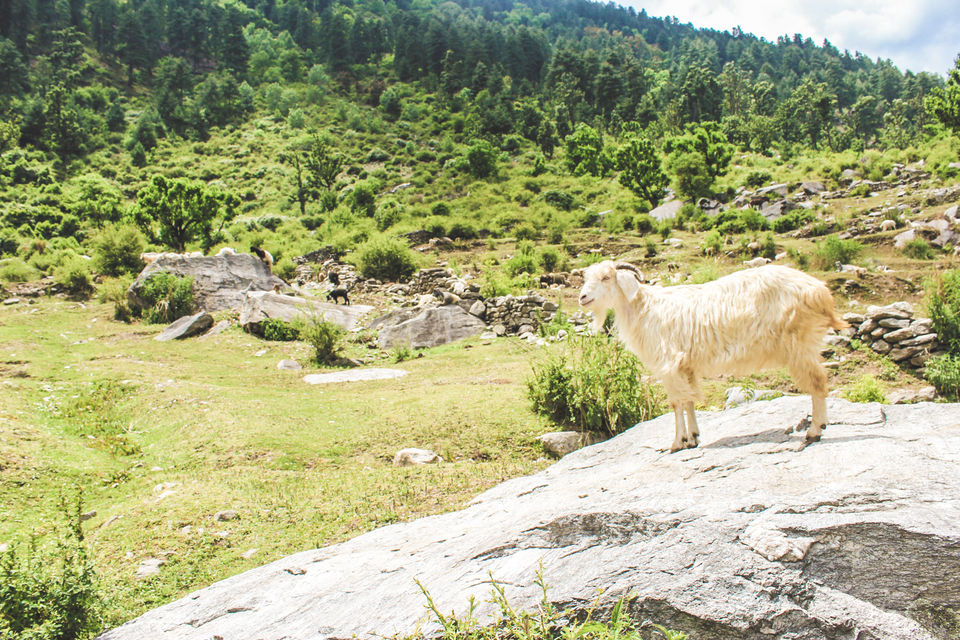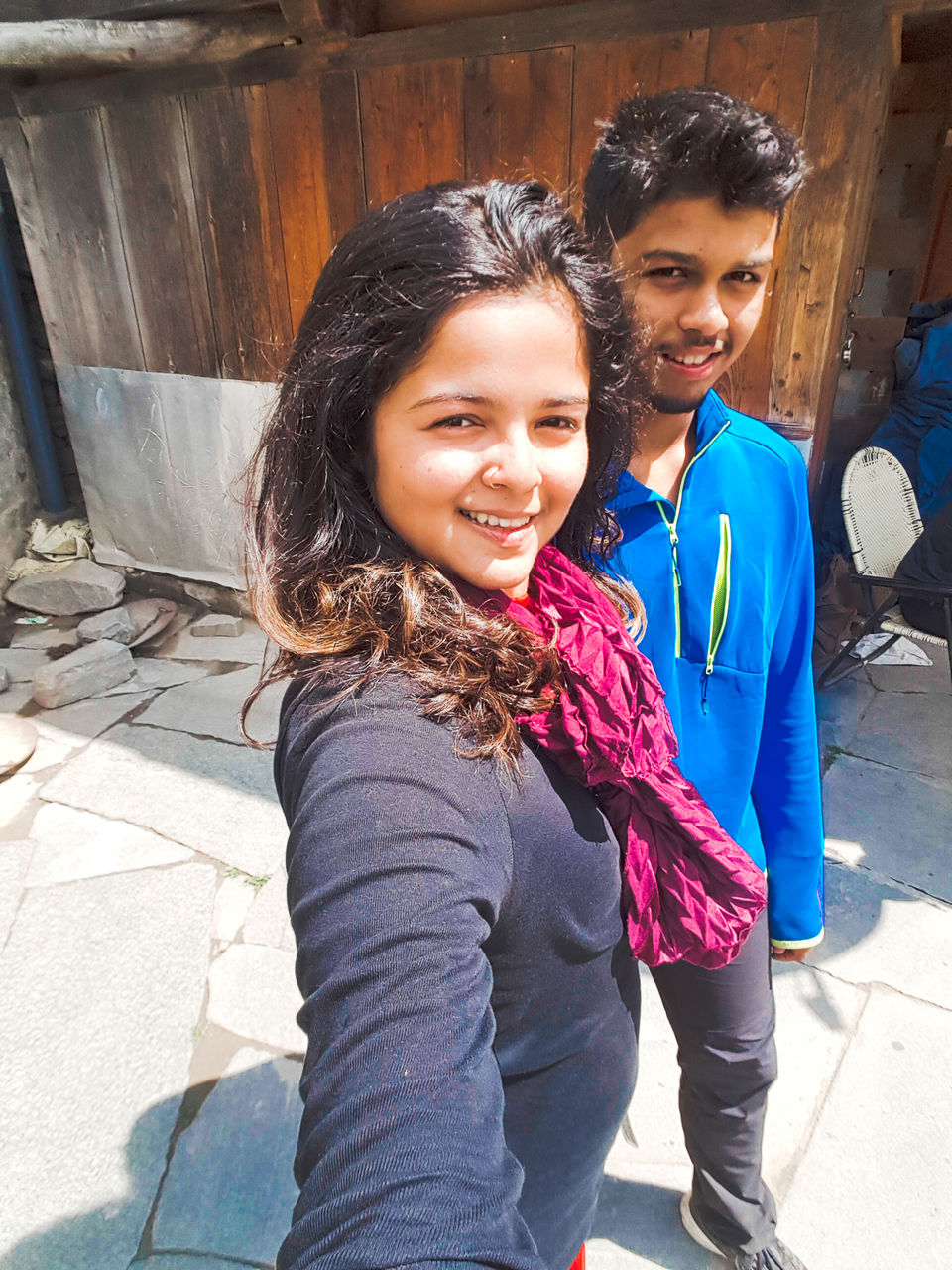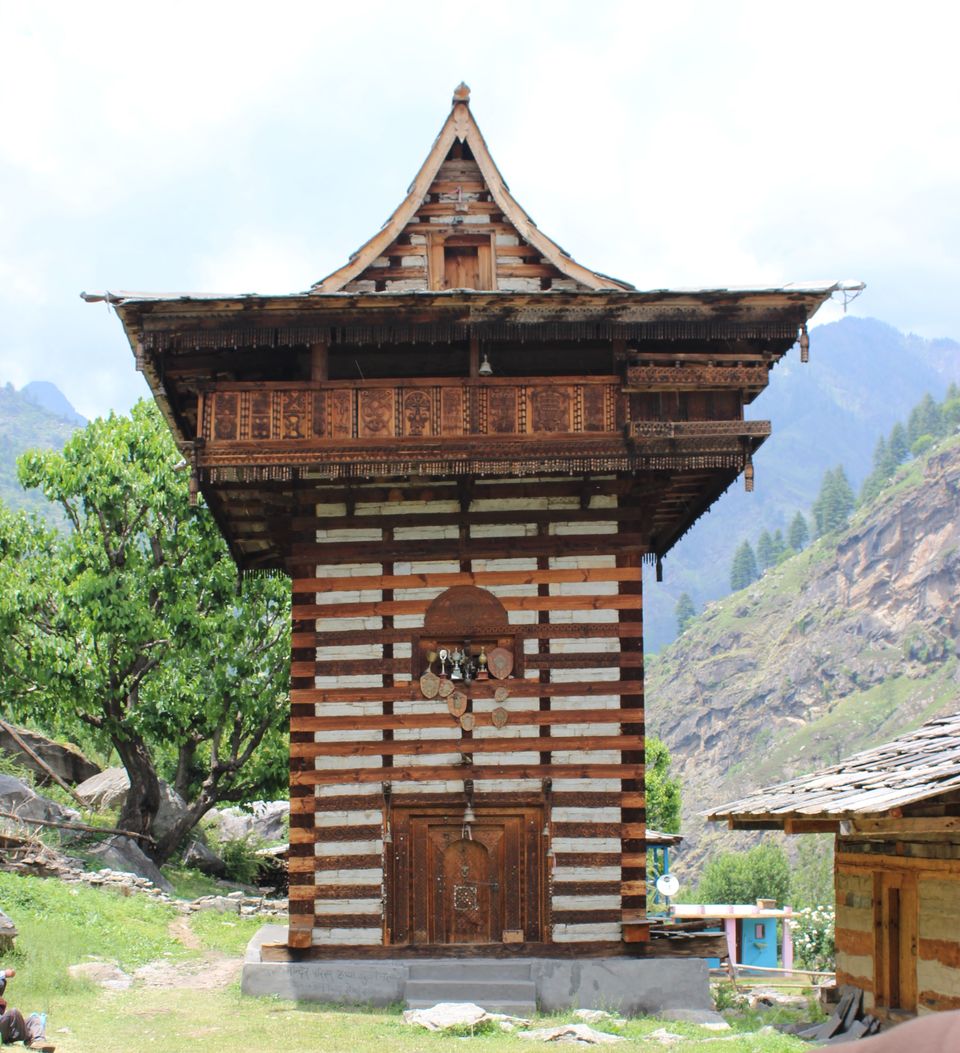 My inner warrior stood satiated as I had battled bleeding and weekness of menstrual cycle.
Post lunch,subsequent journey was accompanied by dry fruits and candies in my pocket.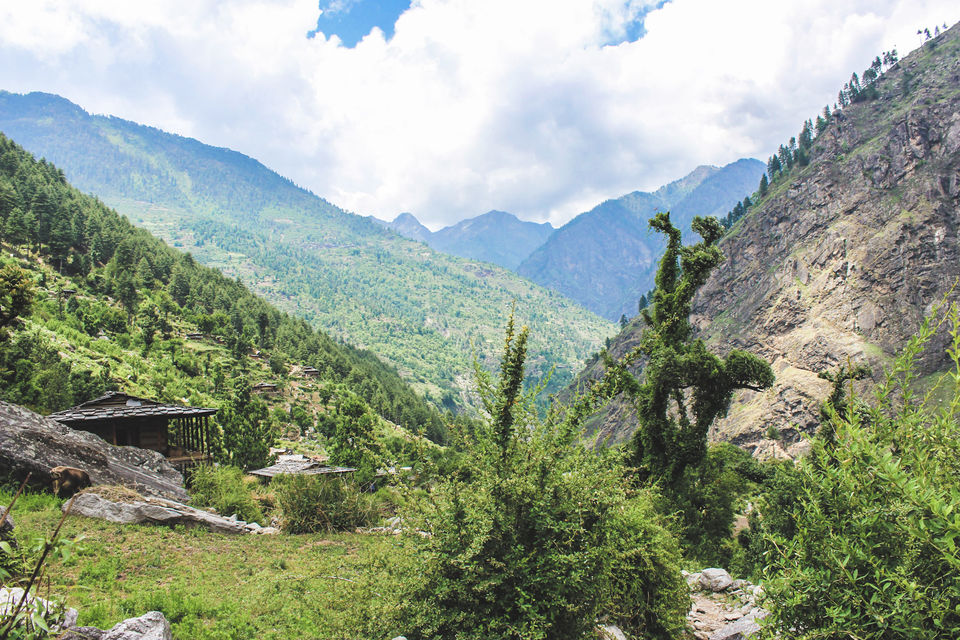 The picturesque view as if walking around the wallpapers.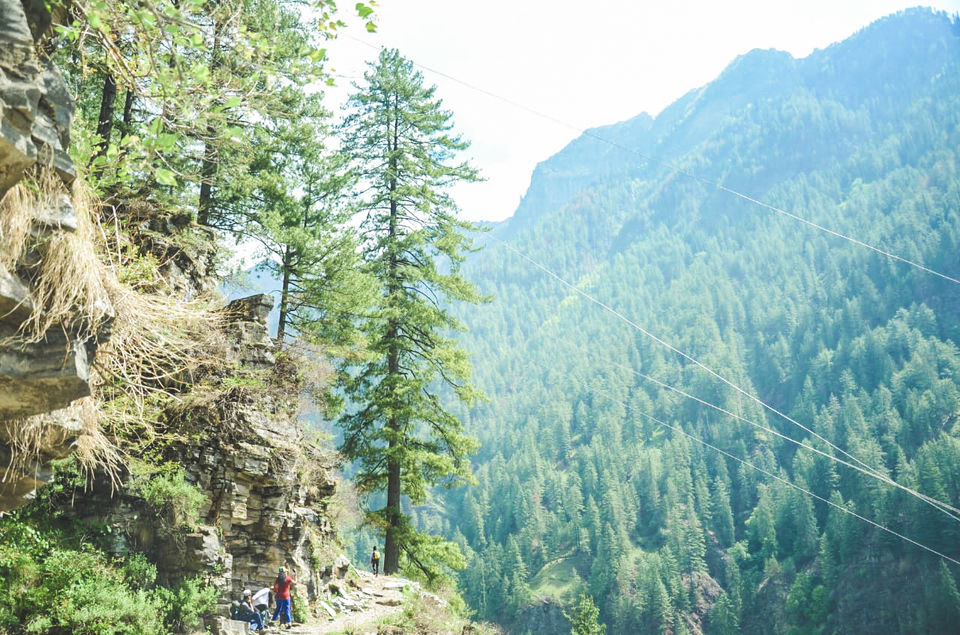 I didn't know how to take them back home...I wish i could grab them and relive as I wished yet the reality compelled me to click and frame it.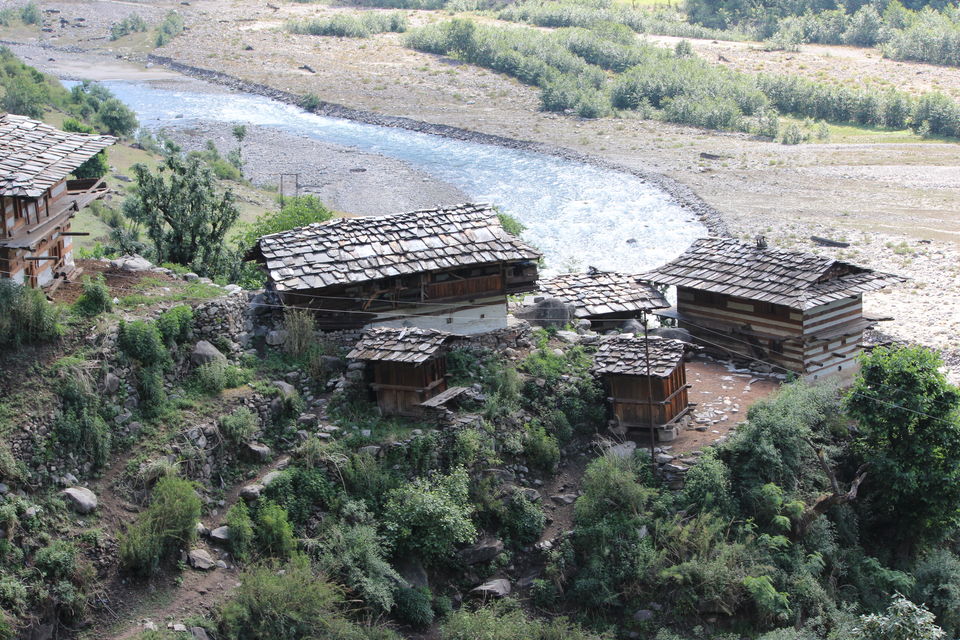 The journey was calmed by a brief hault at godsangu.The camp was set beside the river and the group admired the guide of the trek Mr.Meghraj pawar.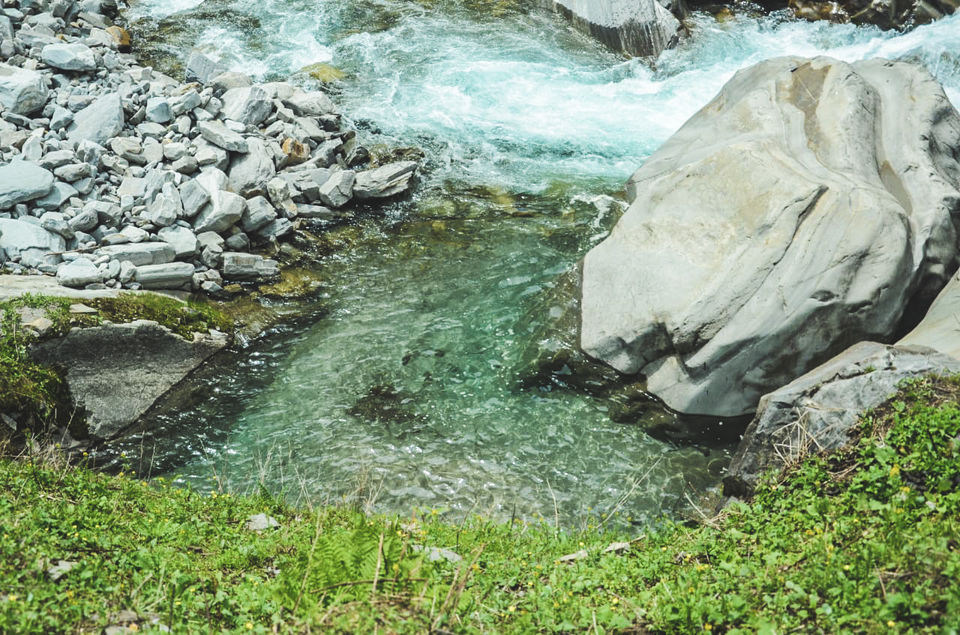 I felt beautiful there .Todays route was not difficult.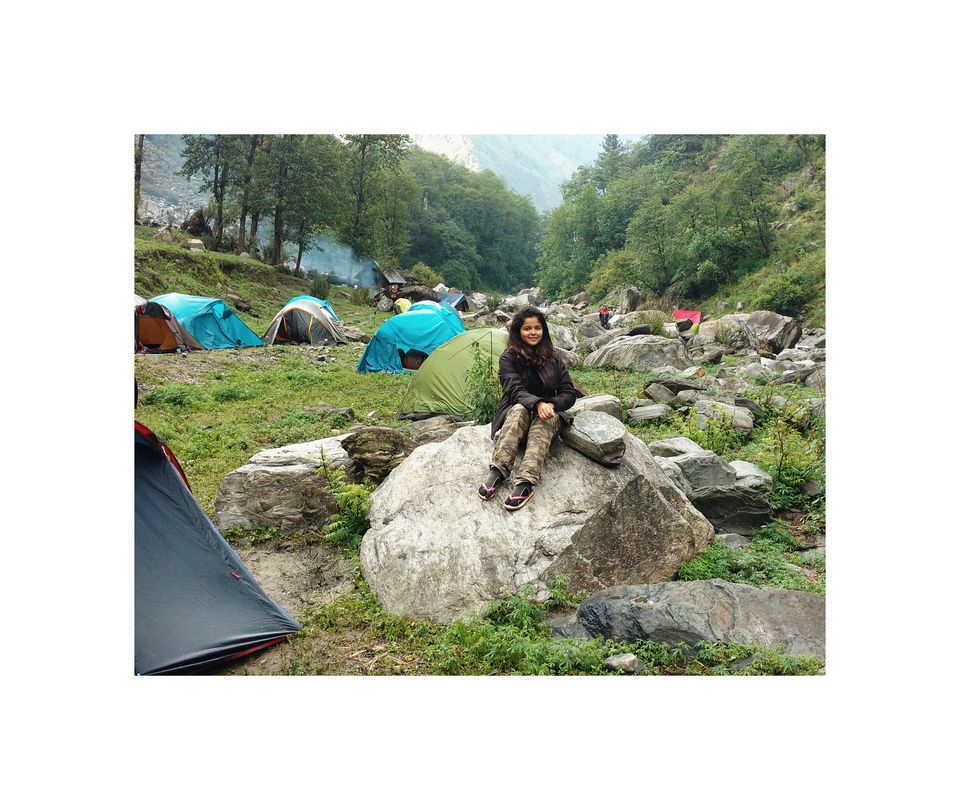 There was equal climb and walk . Our trek was completed by 3.30pm.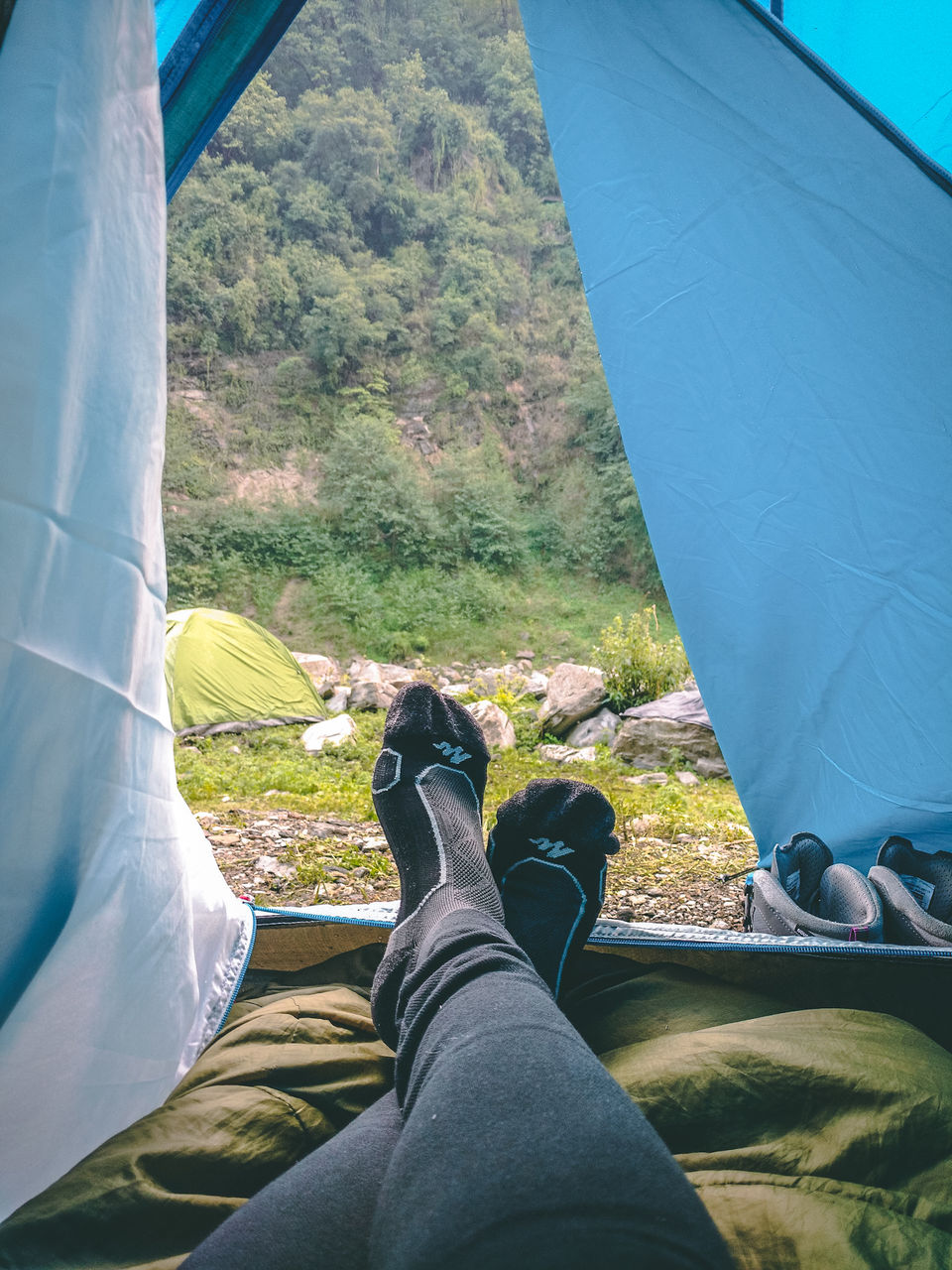 The most testing journey and heavenly lanscapes brought the ultimate rest in a cozy sleeping bag.The day was lived and not spent.
DAY 3 - Sewa to jhaka(12kms)
Butterflies in the belly for the words that i had received regarding the beauty of jhaka village.I stood as excited as a kid receiving candy.I was happy for the pleasent weather and the day as I was feeling much better than yesterday,we started our trail at 8.am .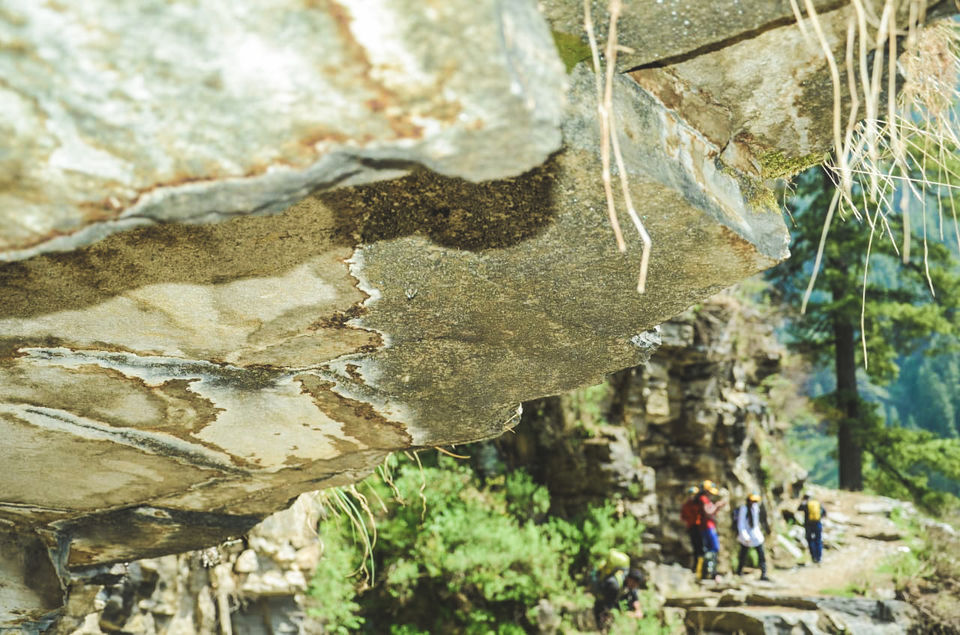 The route was via jiskun village ,I found the route a little tiring or maybe because we didn't take much break .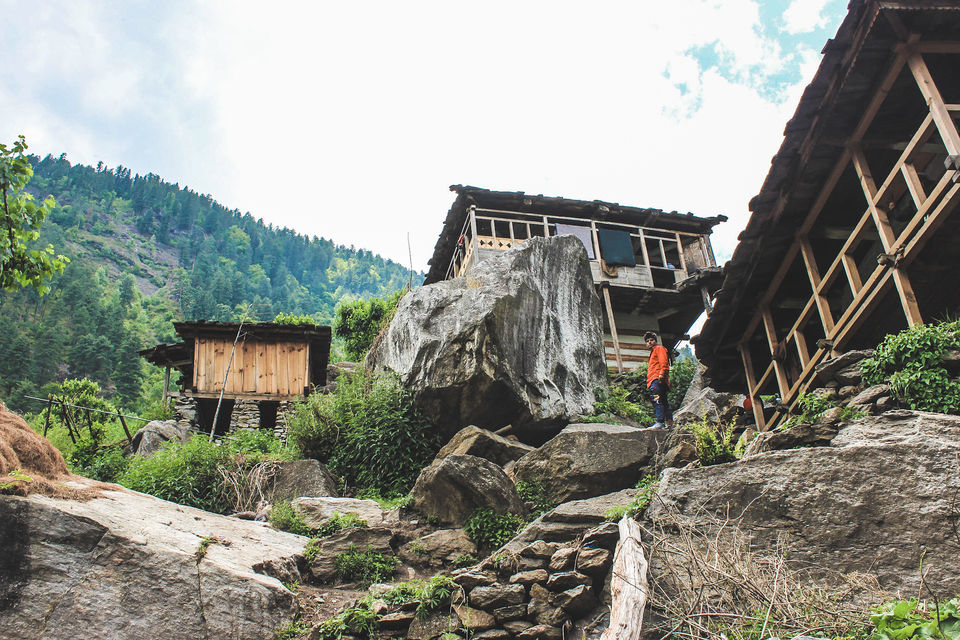 We reached jhaka village for lunch,as heard before about it,it was actually a kind of hanging village ,the houses built on those steep mountain valleys,you feel beautiful ,crazy and equally scary at a time like how is it possible .It is a very beautiful village and as we reached,we were greeted by some furry dogs and their fluffs.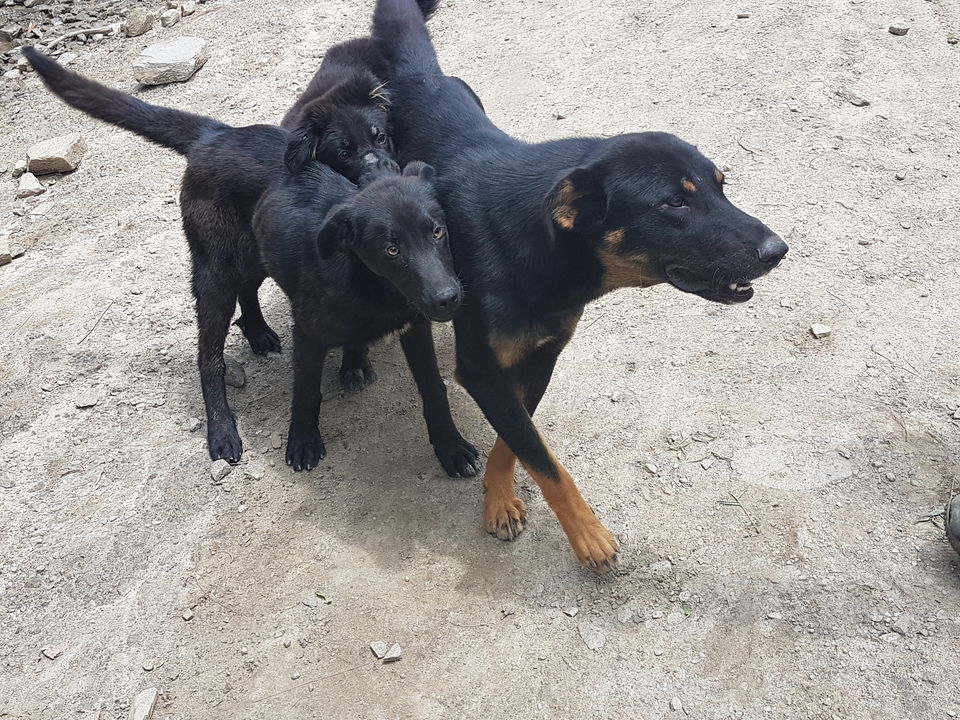 We reached our site by 2.30-3pm.we had our lunch I.e khichdi and pickle .So here we had a complete half day to hang around and explore the village.
As we were starting the day ,something uniquely textured and pleasently colored grabbed my attention.A frozen pale pink coloured woollen coat worn by our porter.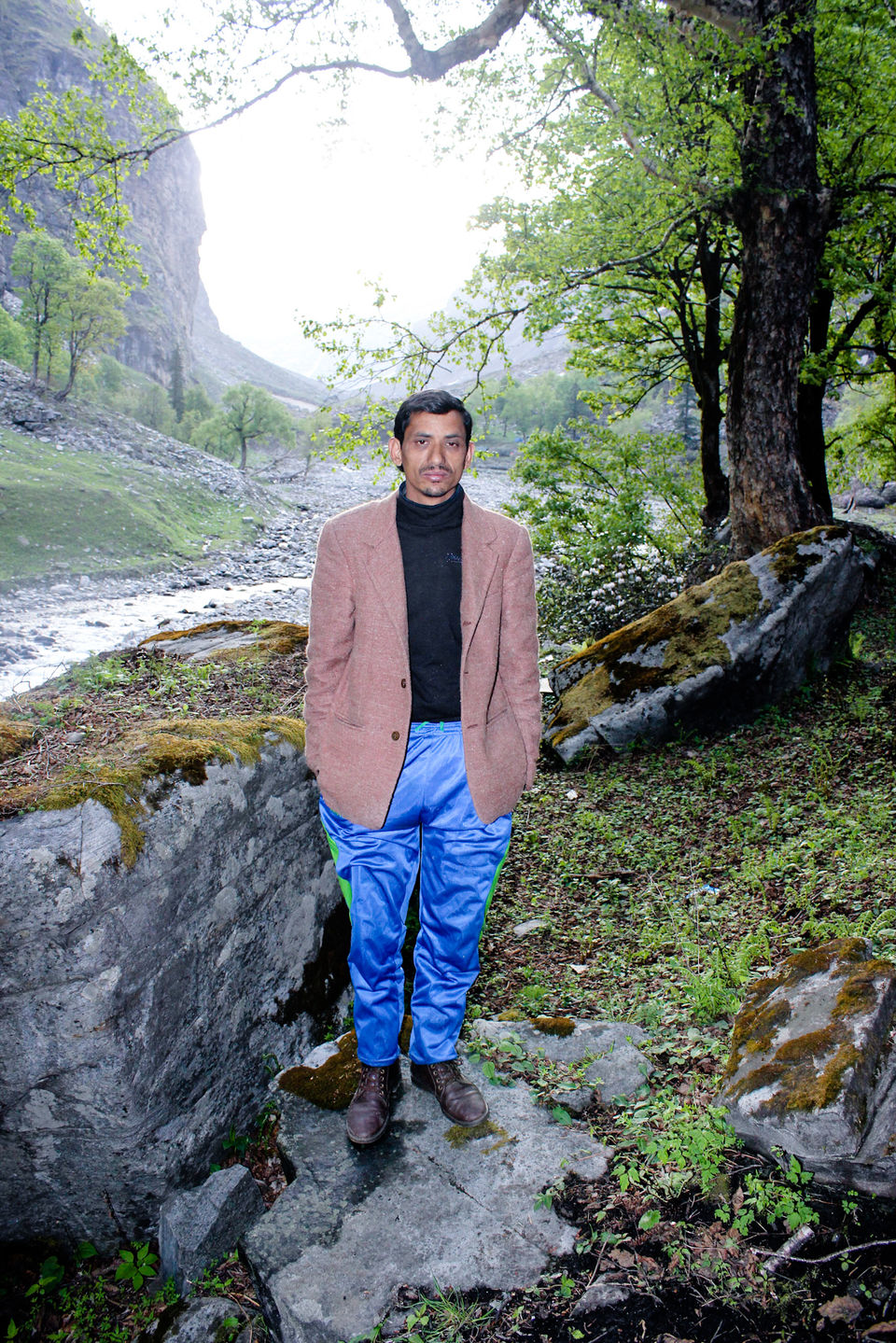 When asked,Pink coat reflected PINK blushes to know that the fabric was weaved by his wife and stitched in sangla.
I was surprised and excited to ask him more about it but then I learned that he happened to hail from the same village we were travelling to.The Gent was nice enough to take us to his home to introduce us to his family .
It was a small and beautiful home with some sheep,hens and a cow of their own.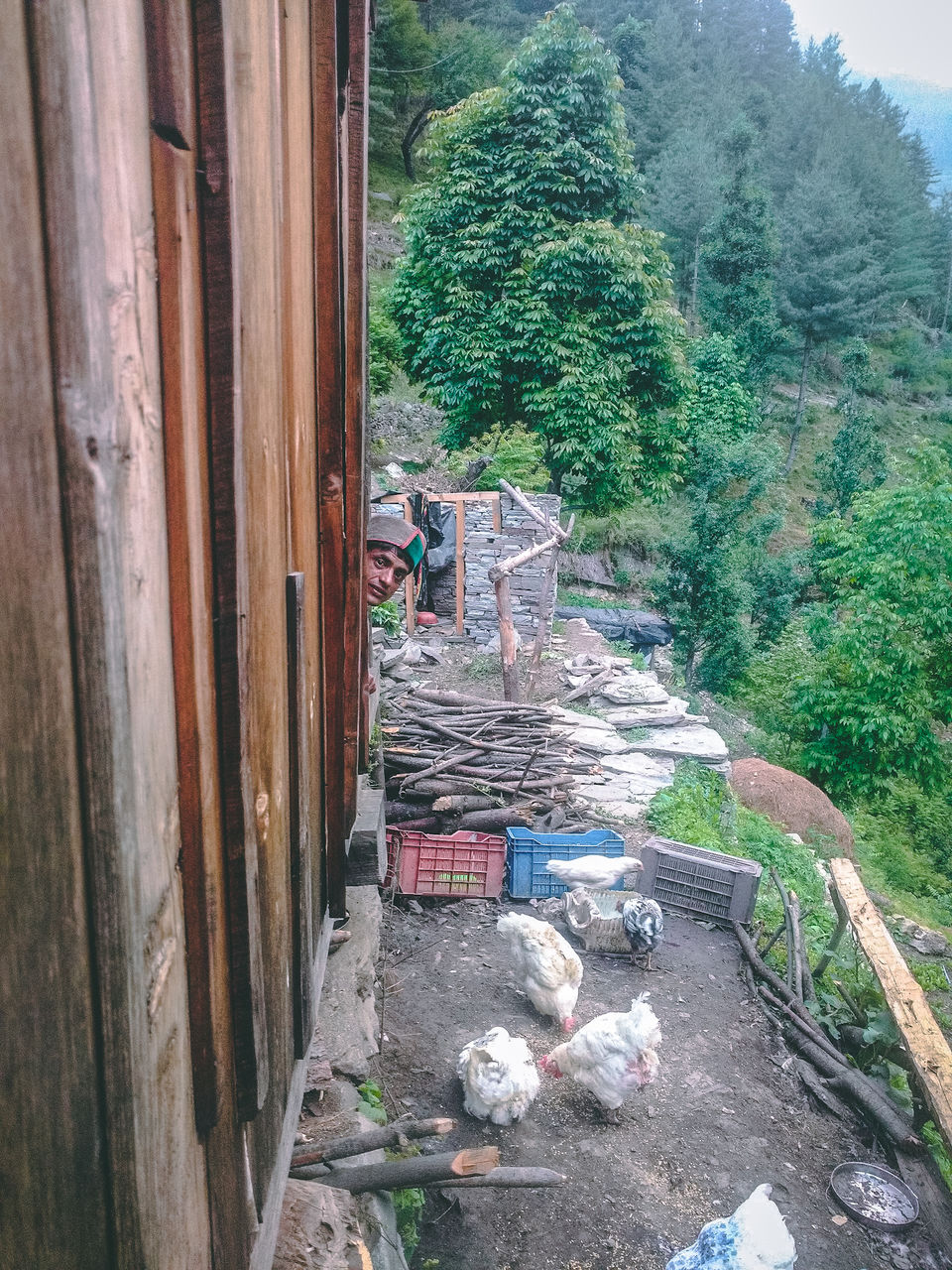 I asked his wife that From where did she get the wool and how did she make it.So here I would like to write it in a poetic form ....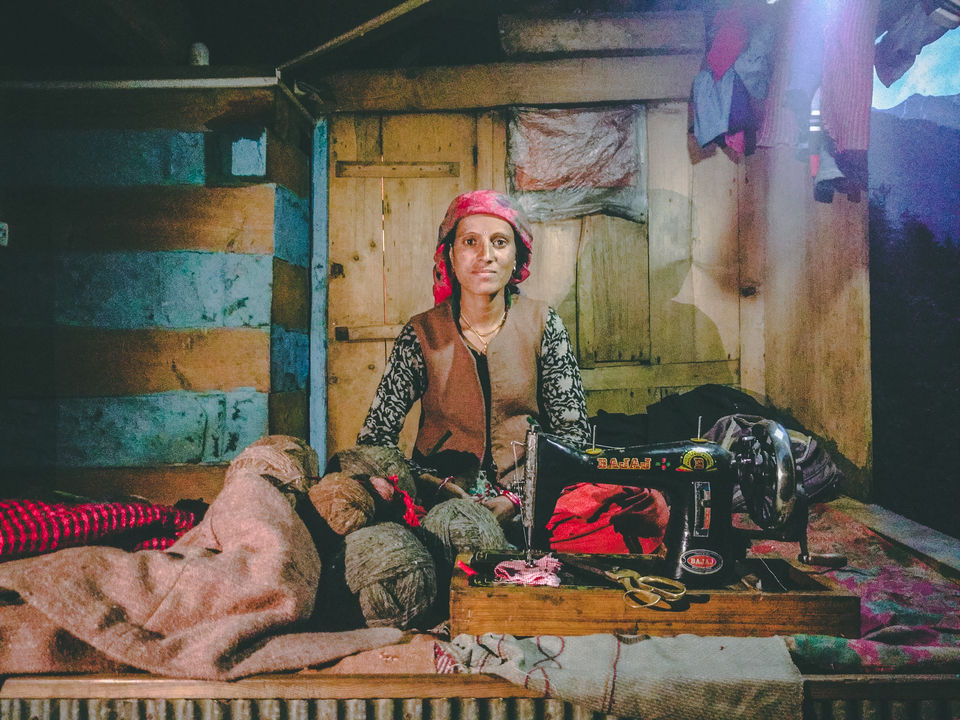 She'd shave her sheep and make her wool, She would make her needle and every tool, Weaving the wool with spin and spool, With stars in her eyes and peace around, As if she is asking me..... Y aren't you dreaming you fool???????
She is such a beautiful lady and so much grace and innocence that even after barely knowing us,they allowed us into their homes,served us with warm and fresh creamy milk.
We thanked them for everything that they provided us .
We again starting exploring the village because we had a home stay that day.The village had a decent general store which was not expected at all in such remote area.They had most of things that anyone needed .Also we were told that this was suppose to be the last shop to buy anything eatable and basics if anyone requires.He had beautiful pahari caps and sweaters .We all ended up buying caps .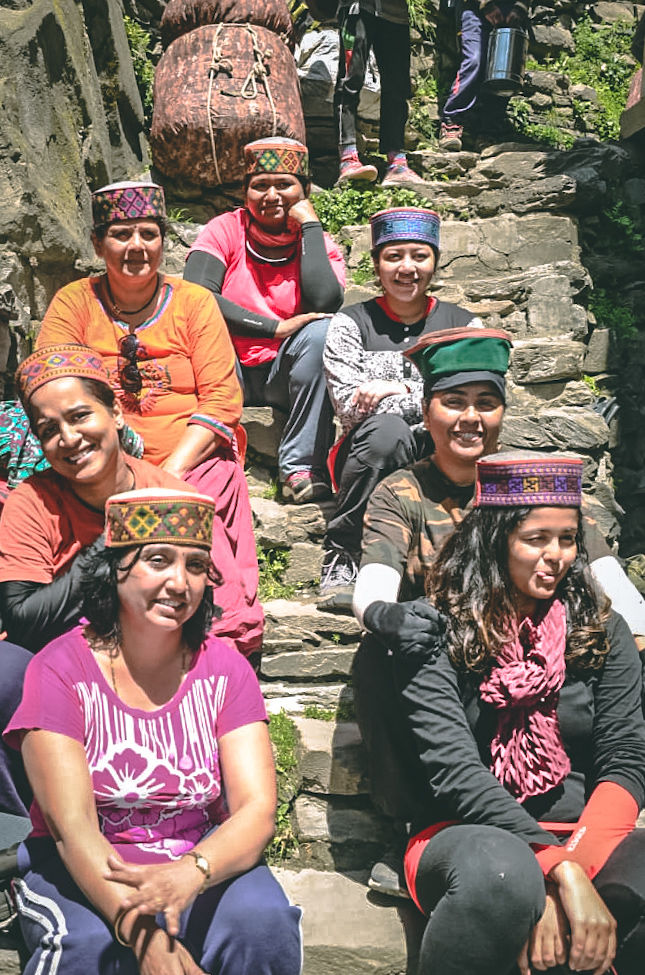 Me and my cousin also ended up buying a woollen fabric and got a beautiful patiala stitched within a day.The tailor master was right beside the shop.
So after we were done with our mini shopping ,I saw a man right on the other side of the shop weaving a fabric.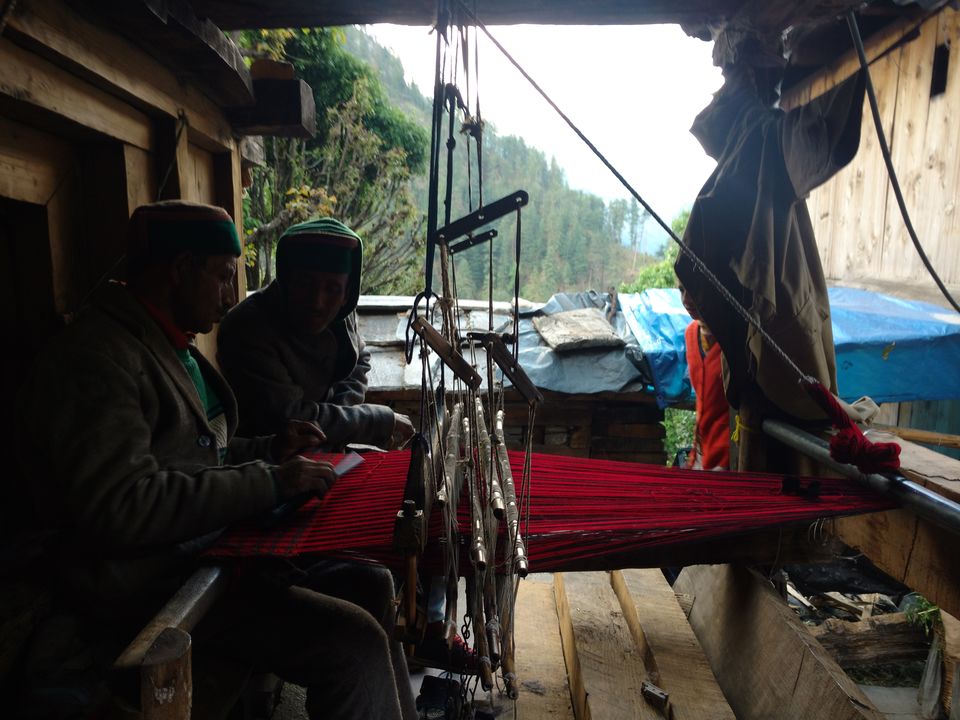 Being a fashion designer ,all this things obviously interest me.We went to him to see what he was exactly doing.He was weaving a beautiful woollen checkered fabric of about two to three metre and I was in love with that beautiful fabric.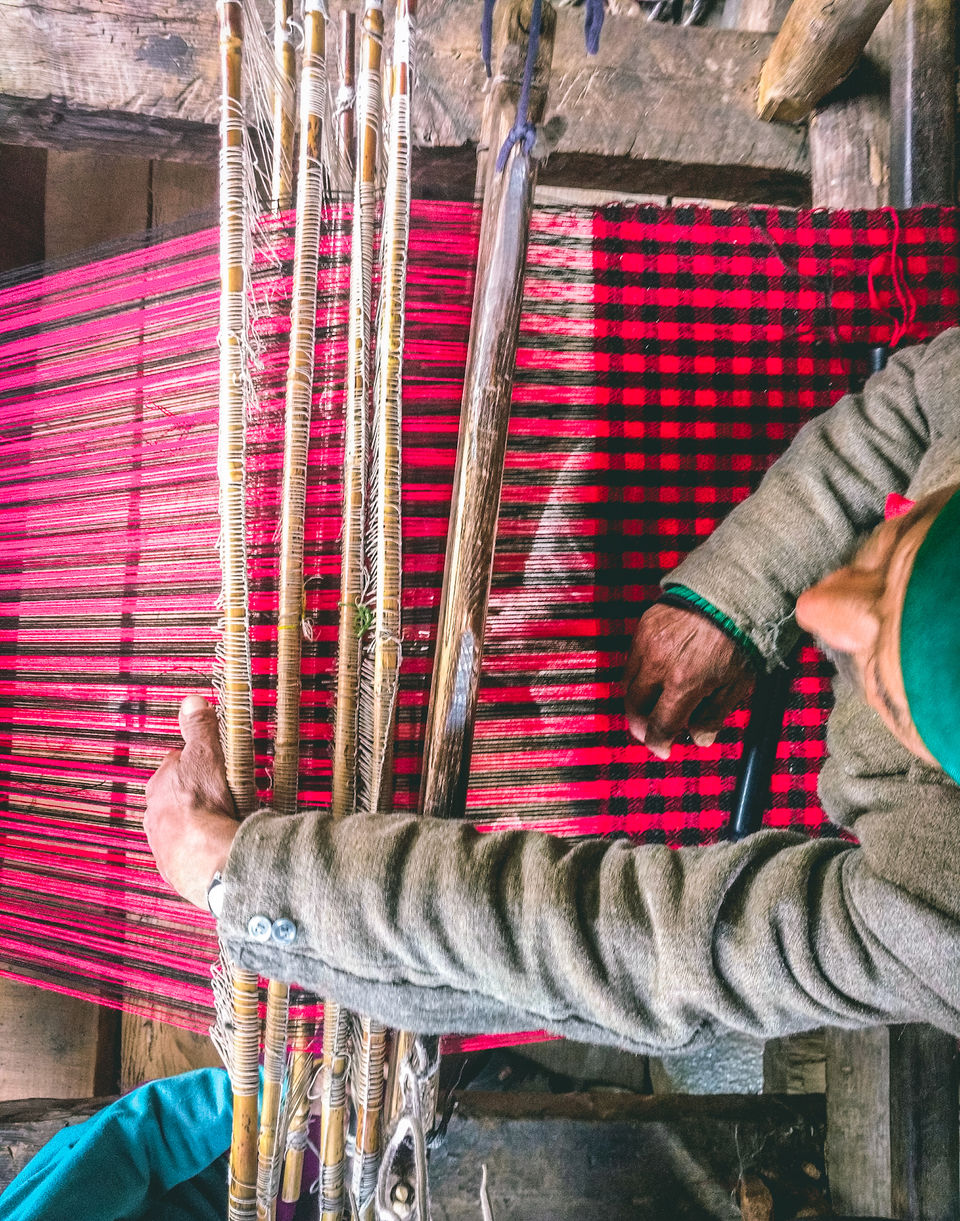 I WANTED IT. I asked him whether he could complete it today and to my bad bad luck ,he said he would take another day to complete.I wanted to buy it so badly though I knew that it was not much of use to me but I wanted to help him,I wanted him to know that how I valued the hand weave that he is carrying it out so beautifully....
He explained me that this was his 3rd day since he started weaving that fabric and it would take him about 1 more day to complete it.This village gave me lots of lessons for life.I realised that and there they were ....
BUNDLE of INNOCENCE
Asking me to click their pictures.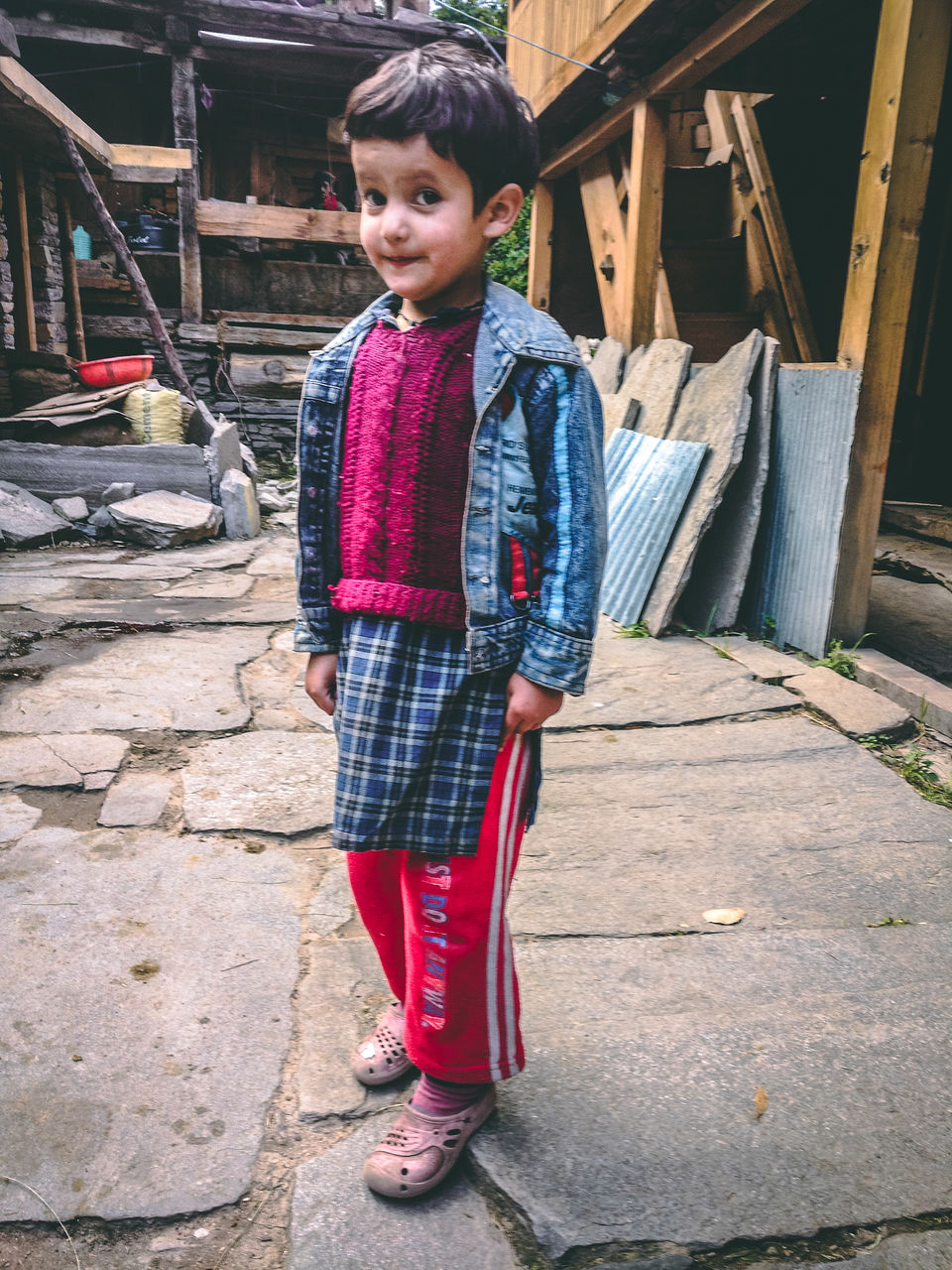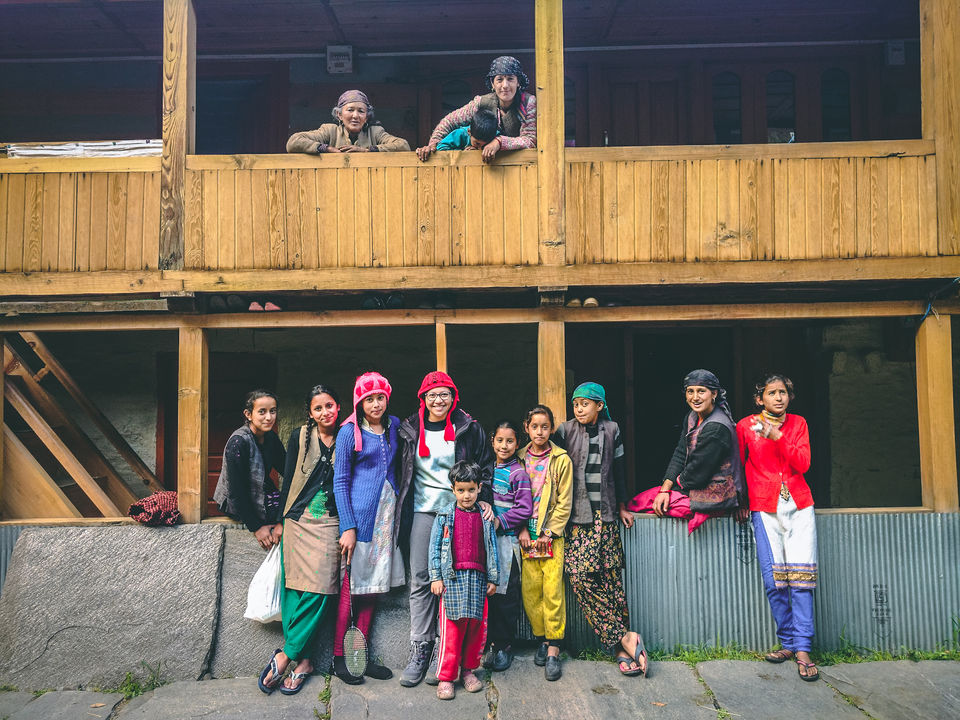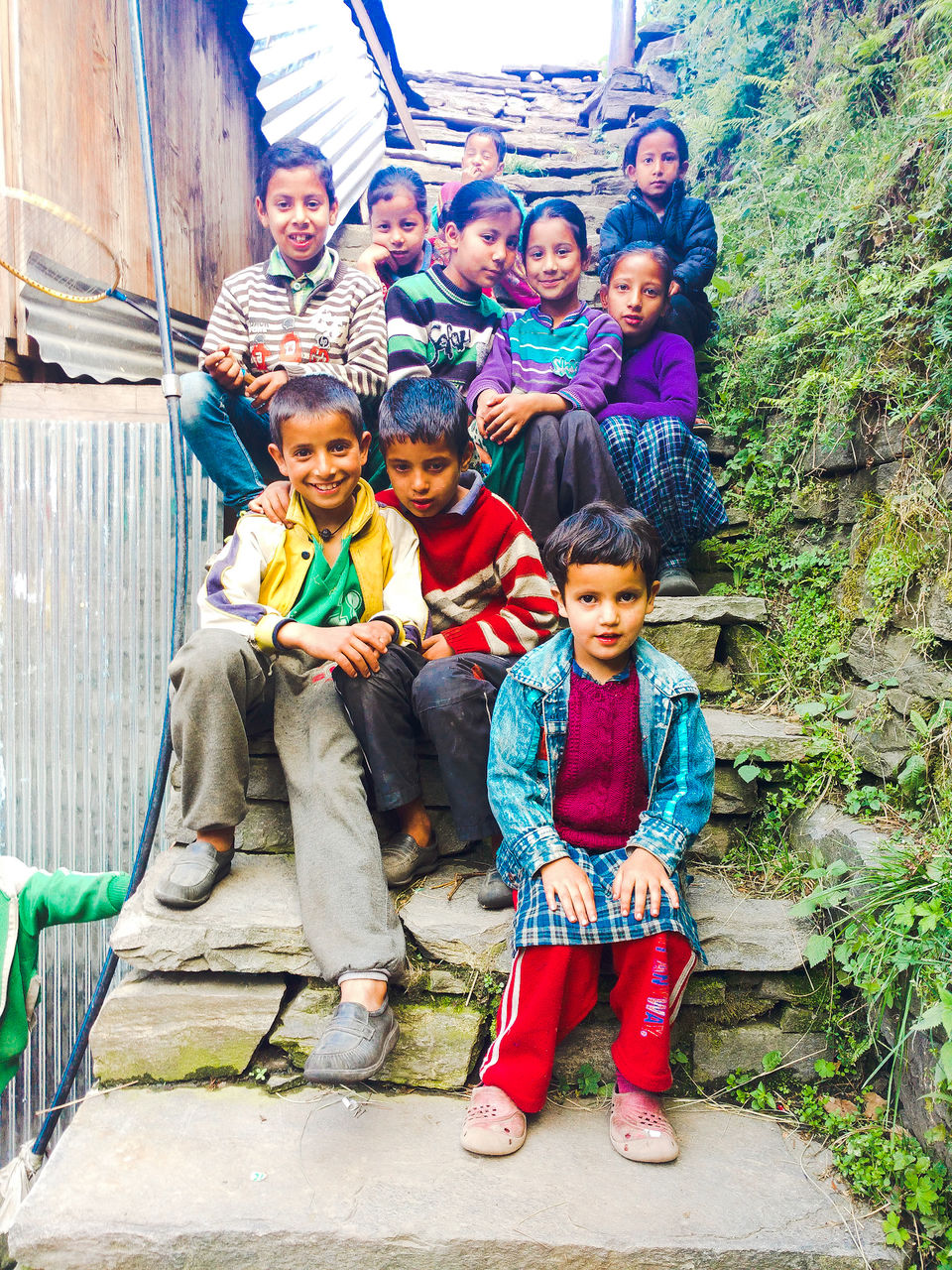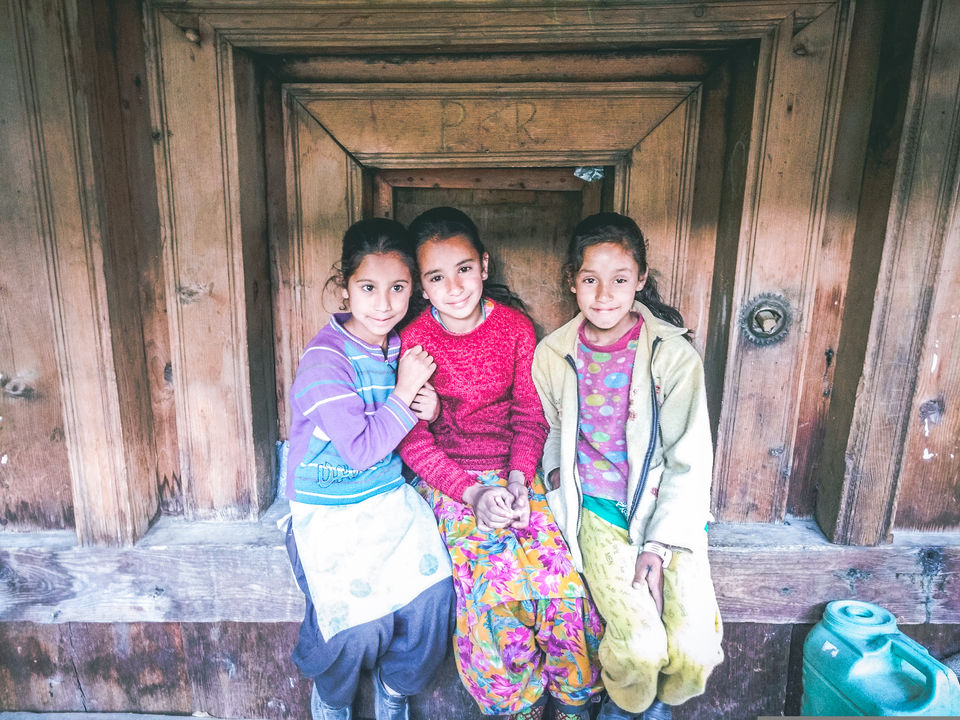 It was a little late and we had to go back to the place where we were suppose to stay that night ,I was happy that it was a home stay .The view was beautiful.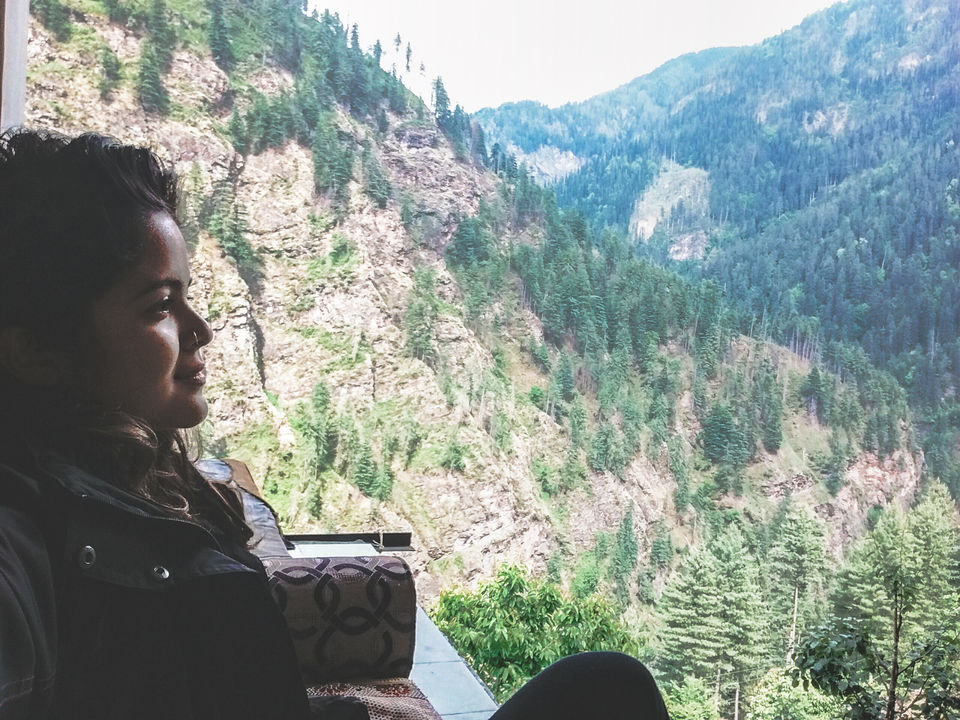 The jhaka village was truely a beautiful experience for us.I would recommend everyone to explore this village.
DAY4 - Jhaka to buraskhandi via pandhar.(approx 12kms)
We moved ahead .
Reaching far,everything seemed contoured,highs and lows.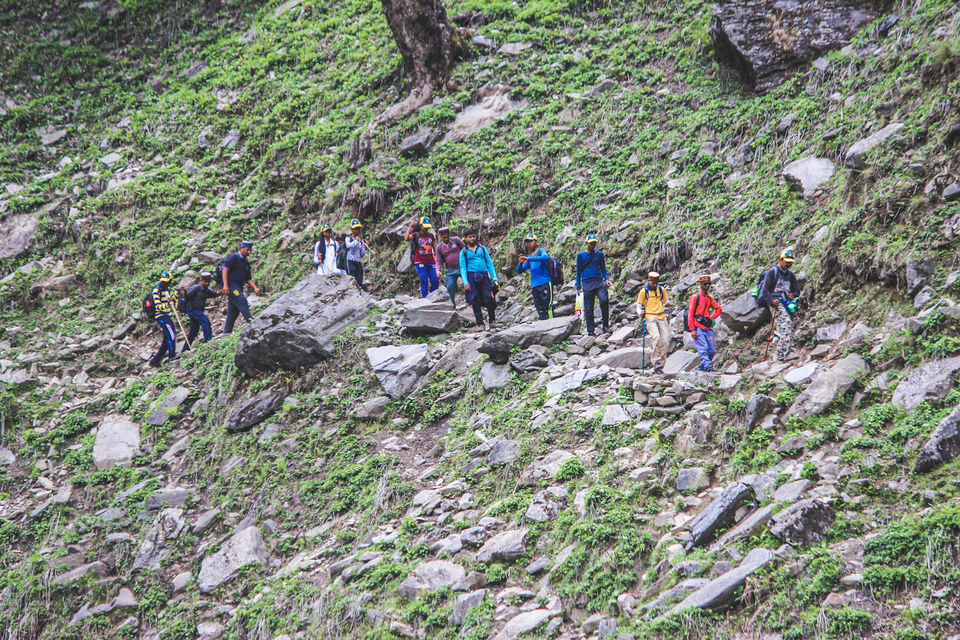 We followed the trail via pandhar.We took a hault.Had our everyone's favourite soupy maggi for our snack.The view was beautiful.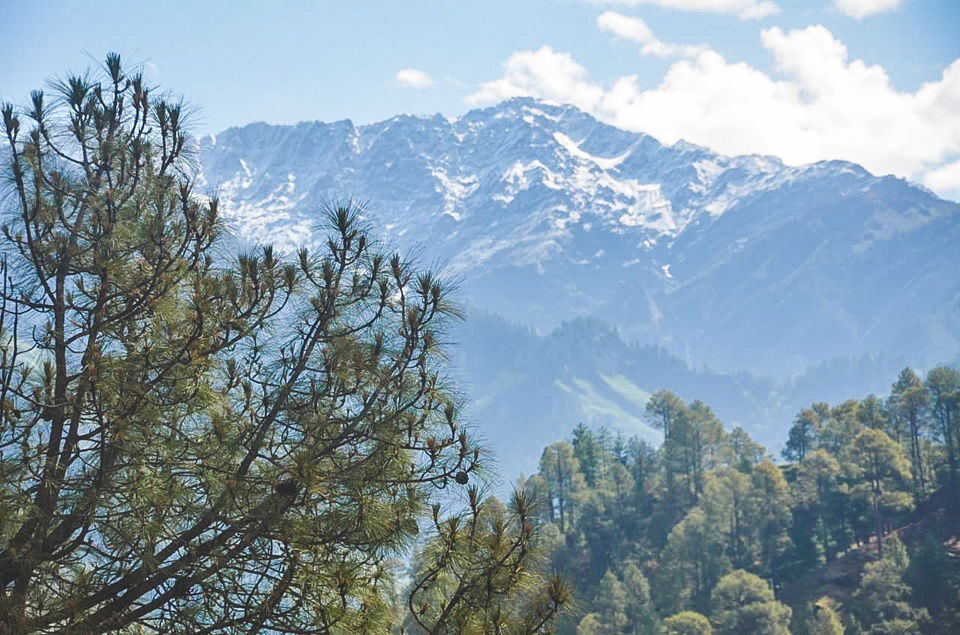 To get into the kinnauri kinda mood I added a nose ring on my face .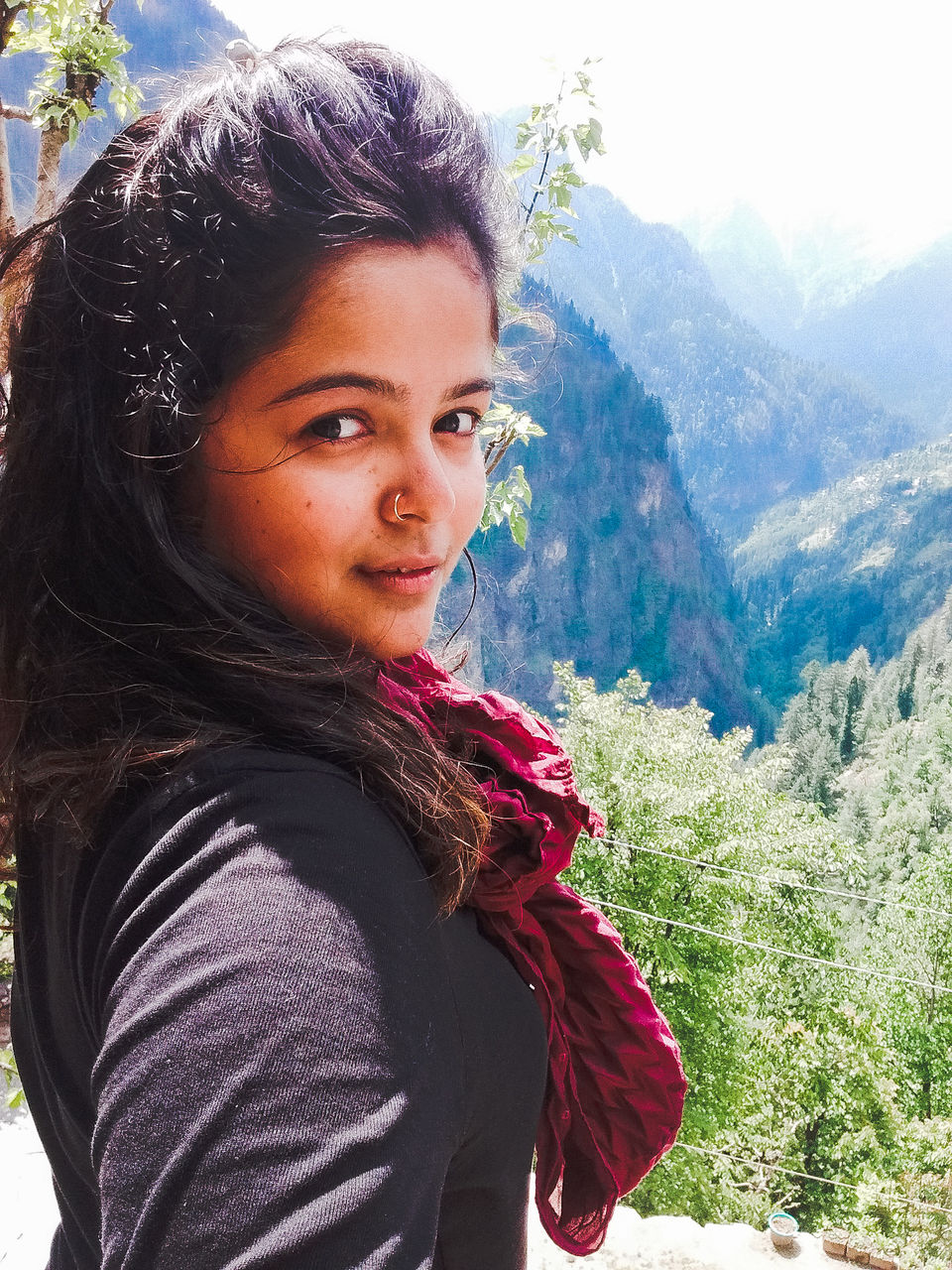 We had about an hour to rest there because we were told that it would be a long and tough route ahead and so rested.
I noticed a lady with a doll,DOLL......NO.......Damn it ,it was a baby...But from far she actually looked too cute to be true resembling a doll.
So we went to see her and her grandma who was carrying her with all the aged grace and beauty.....when asked her about the name of the baby,the reply after a minute of thinking was "I think I dont know",I think i forgot..Haha....She was cute too.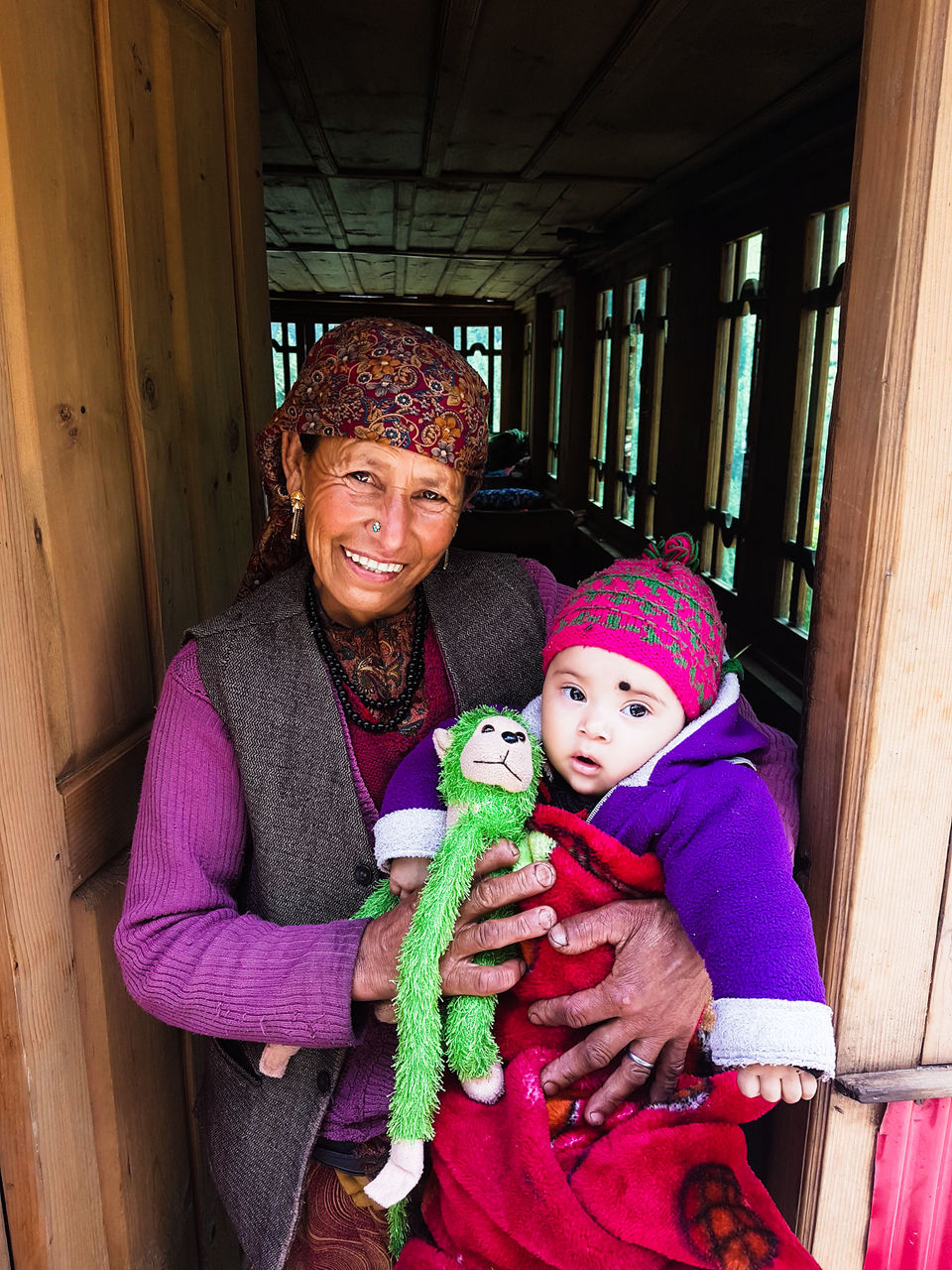 The trail was very beautiful also a bit difficult as we had to get down the mountain and cross the river and again then gradually follow the rising trail.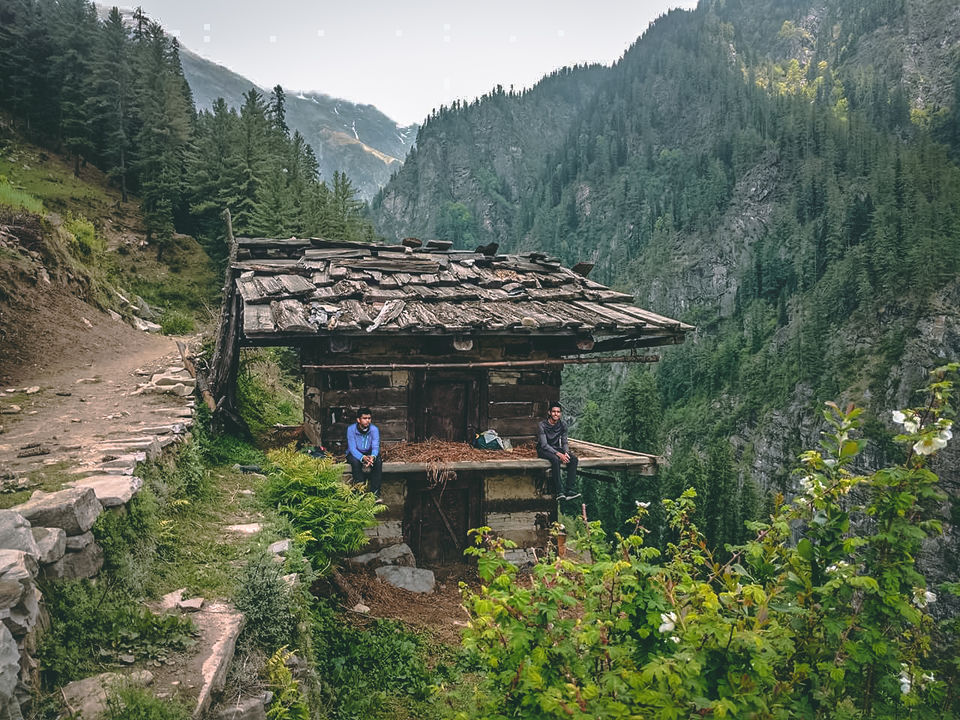 We started walking towards the trails noticing beautiful textures and colors of nature.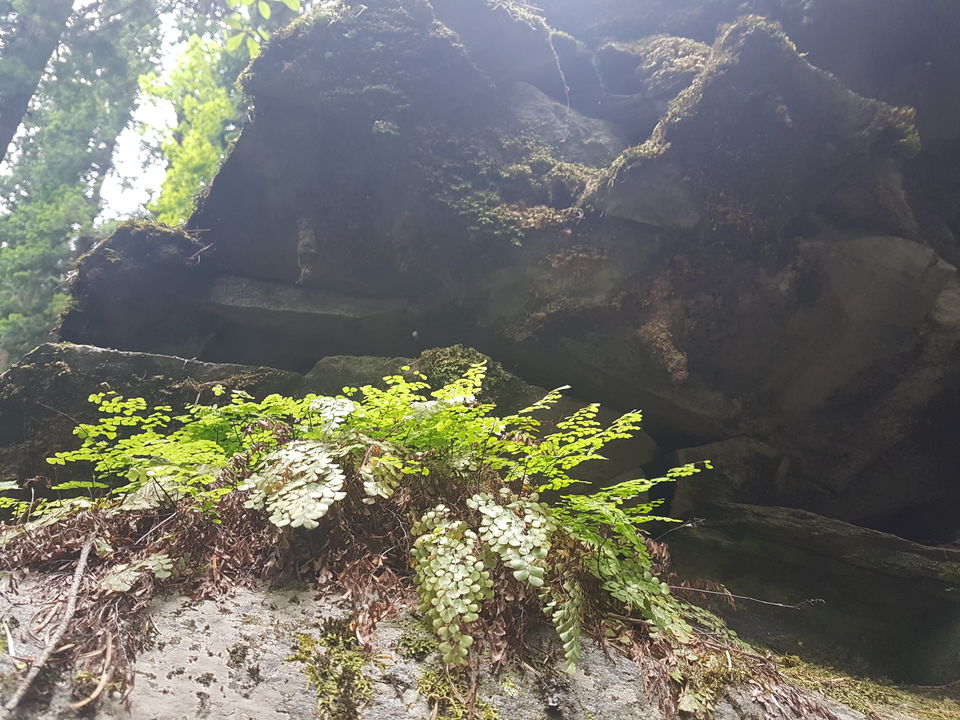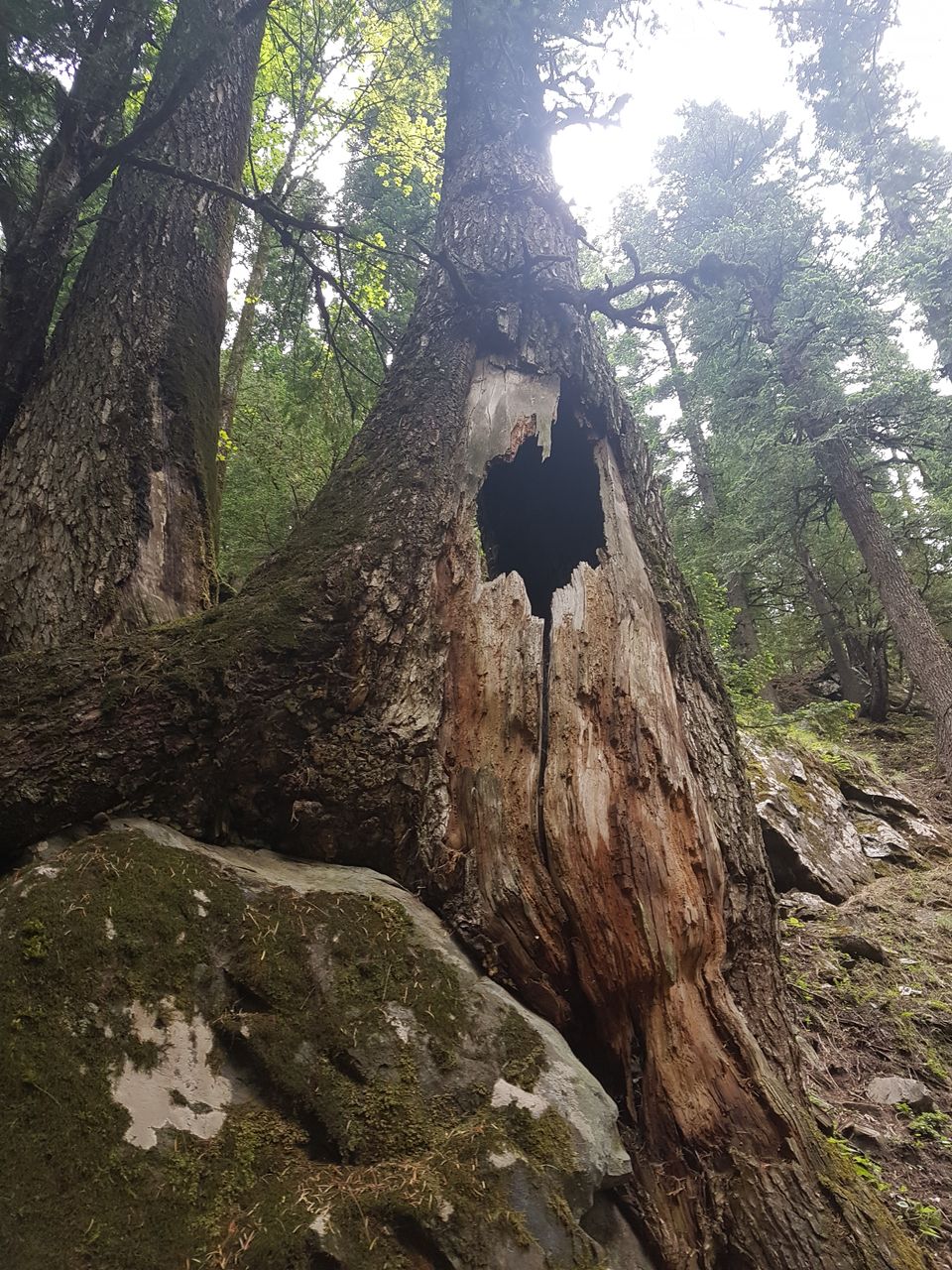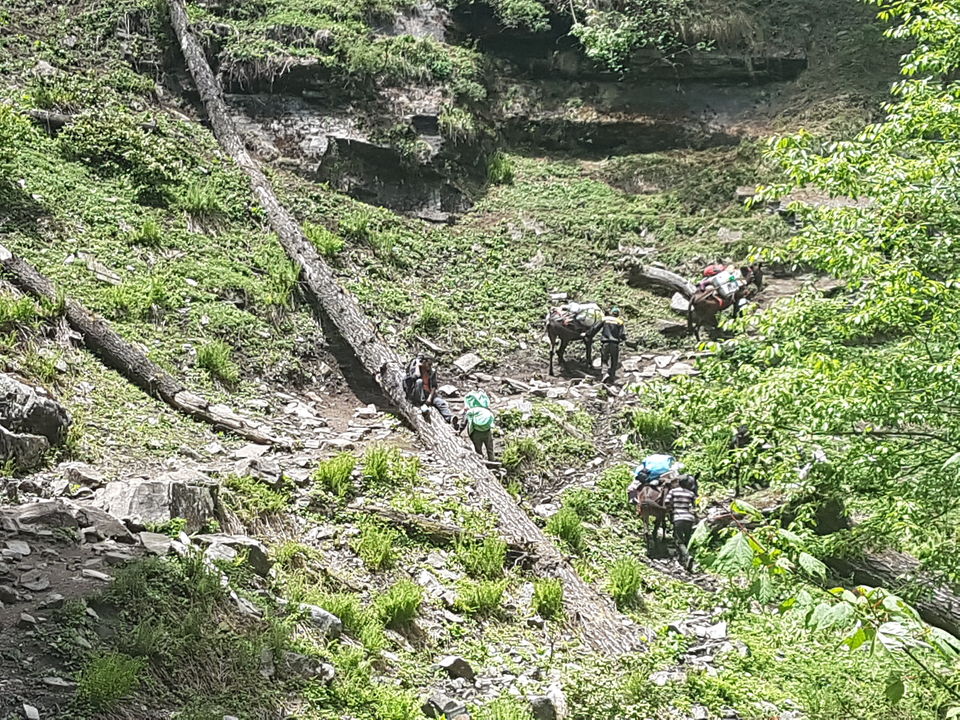 So while getting down we were way ahead of our guide and now we were following our Porter and horses .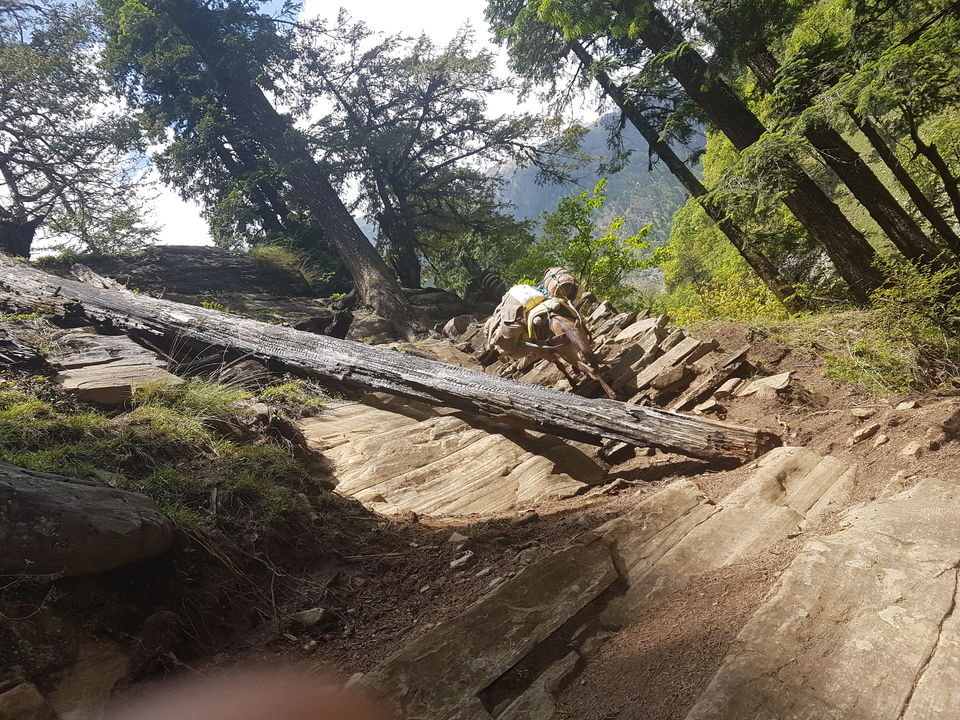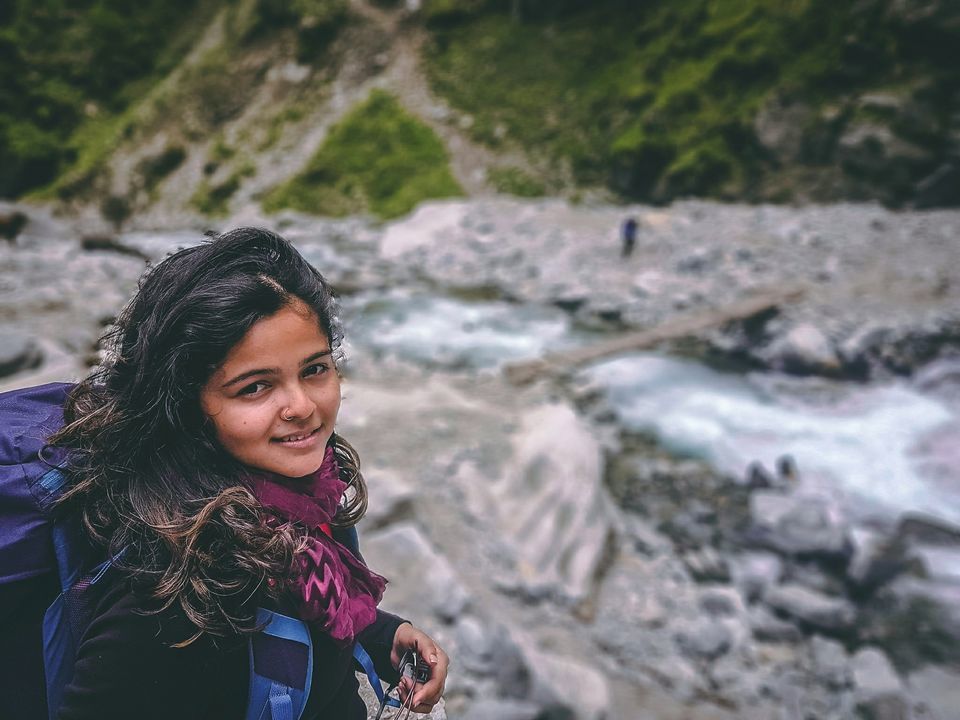 Upon crossing the river,the view enticed us to capture the beauty ,all over.
The picture just speaks of one dimension of the beauty.
The below photograph is from where we got down.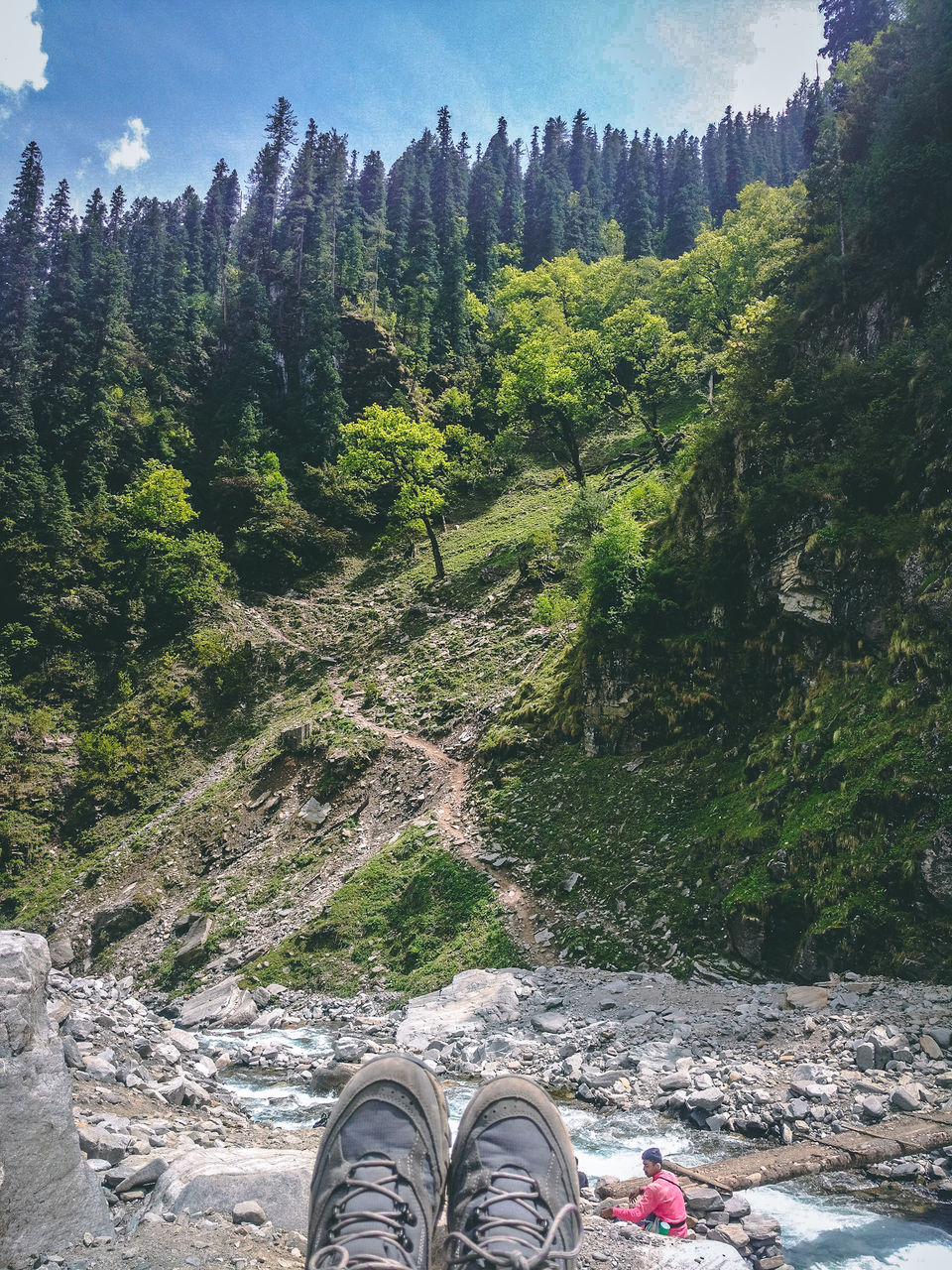 Post lunch ,Full belly and enthusiasm,we proceeded towards buraskandi.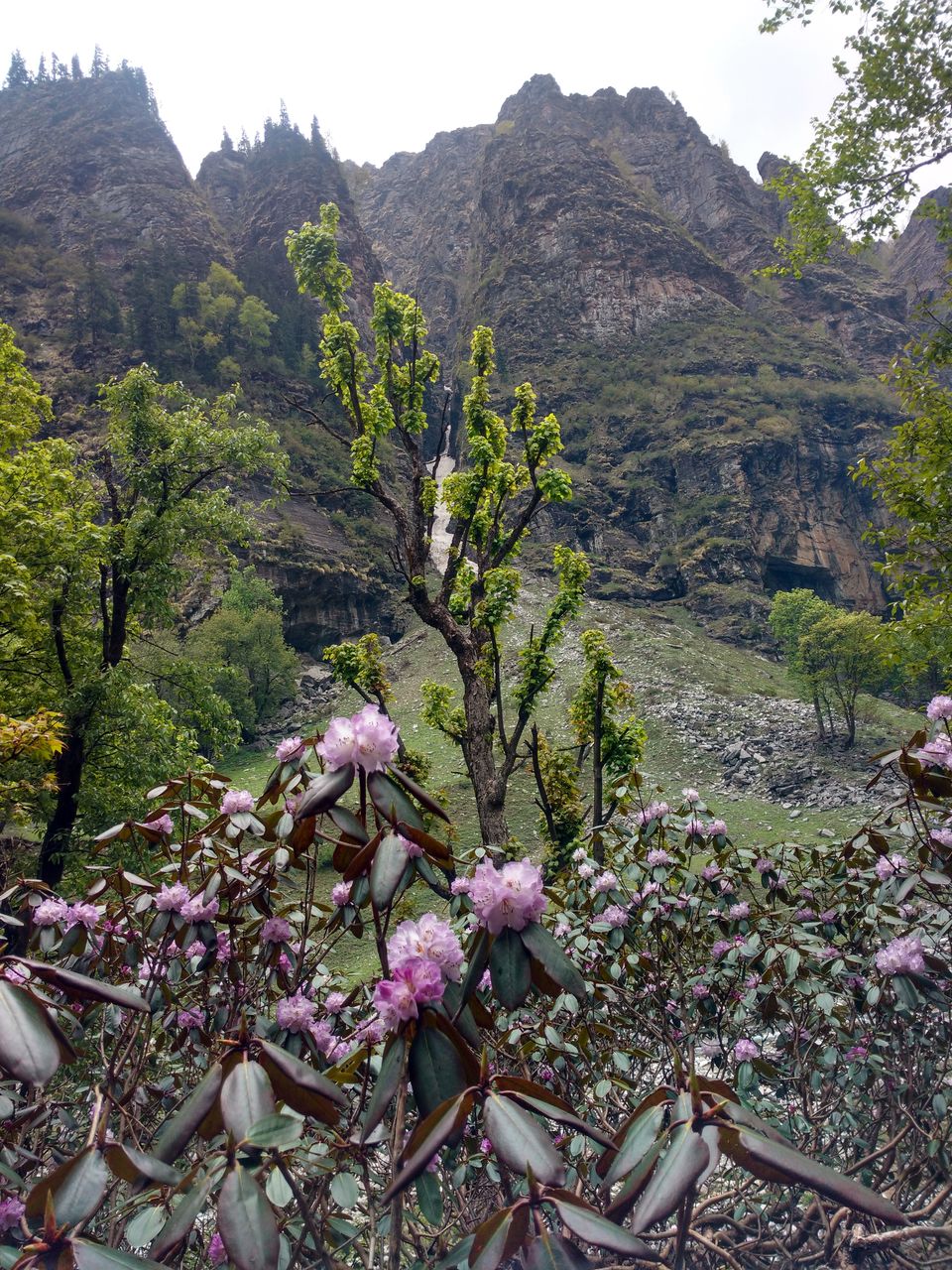 The trail tested us and the destination prolonged to 4.30-5pm.We were tired.But the view ....As usual ,never let us feel tired .We stayed that night among those lavender blushed flowers.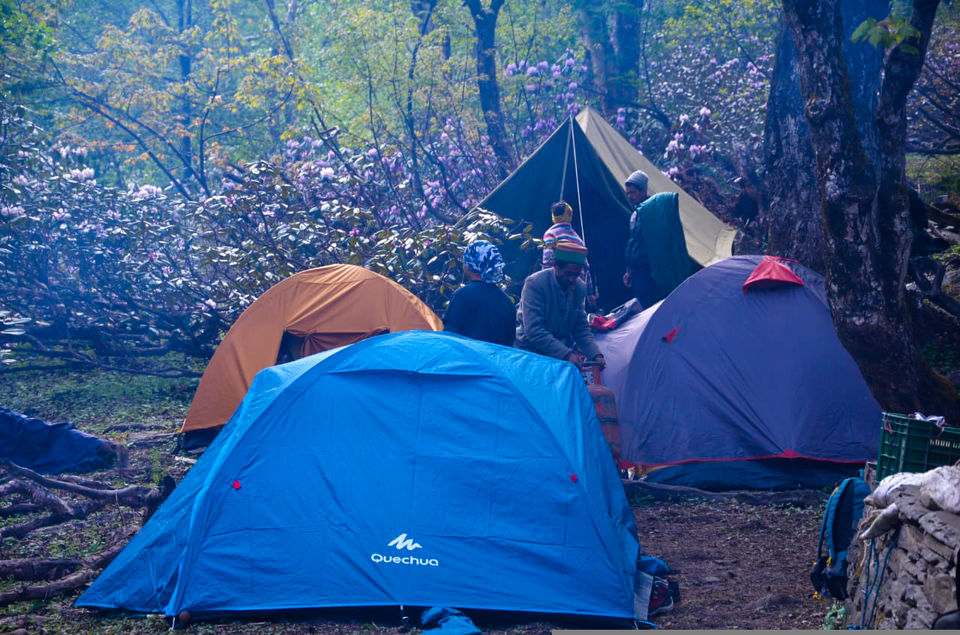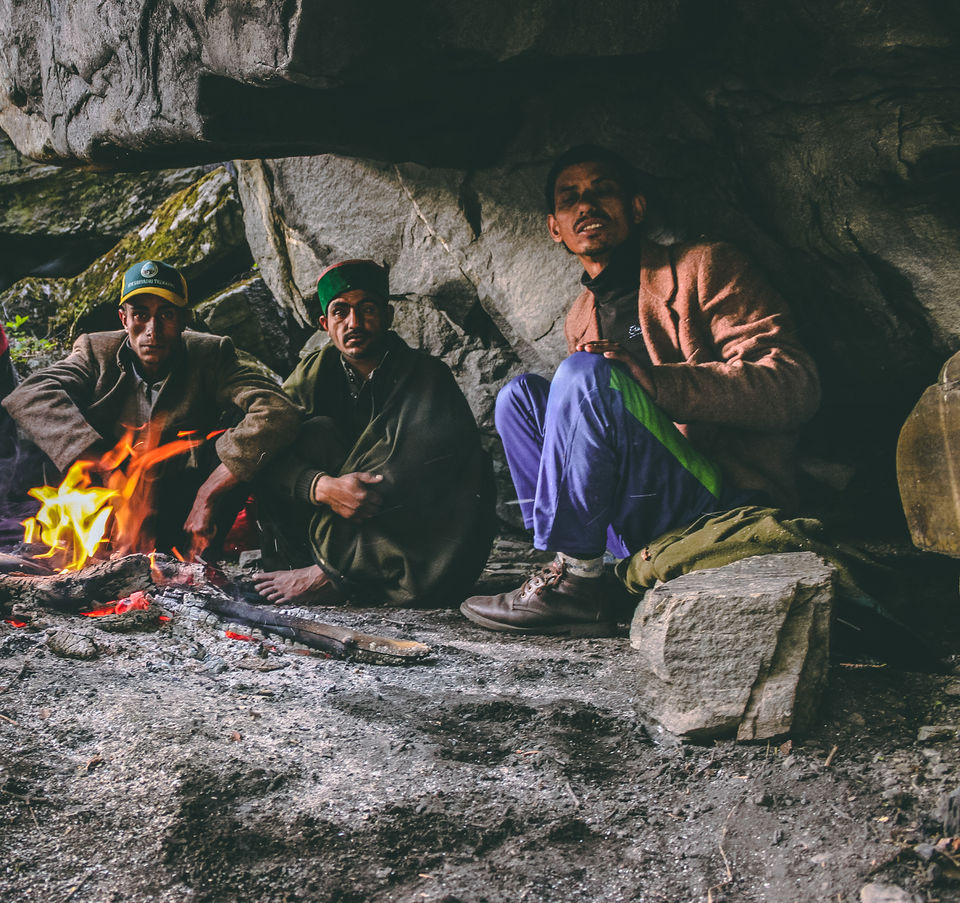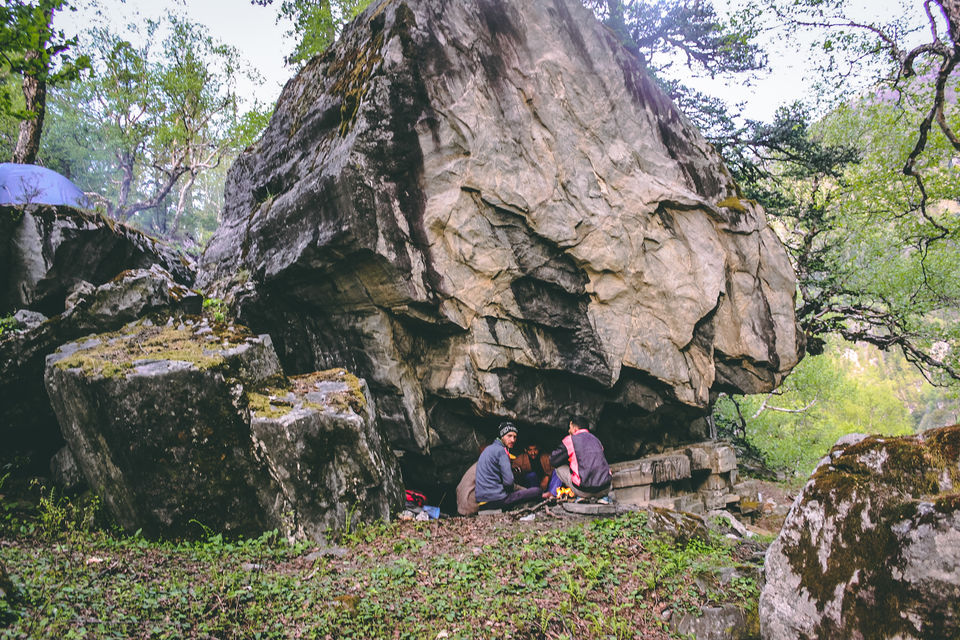 It was cold,we could feel it deep now.We were sitting with porters talking about tomorrows journey.
DAY5 - Buraskandi to dhanderas .(5kms)
Supposedly 5 km i.e 5 hours suggested by our "GUIDE" which I didn't trust after yesterday's 12km.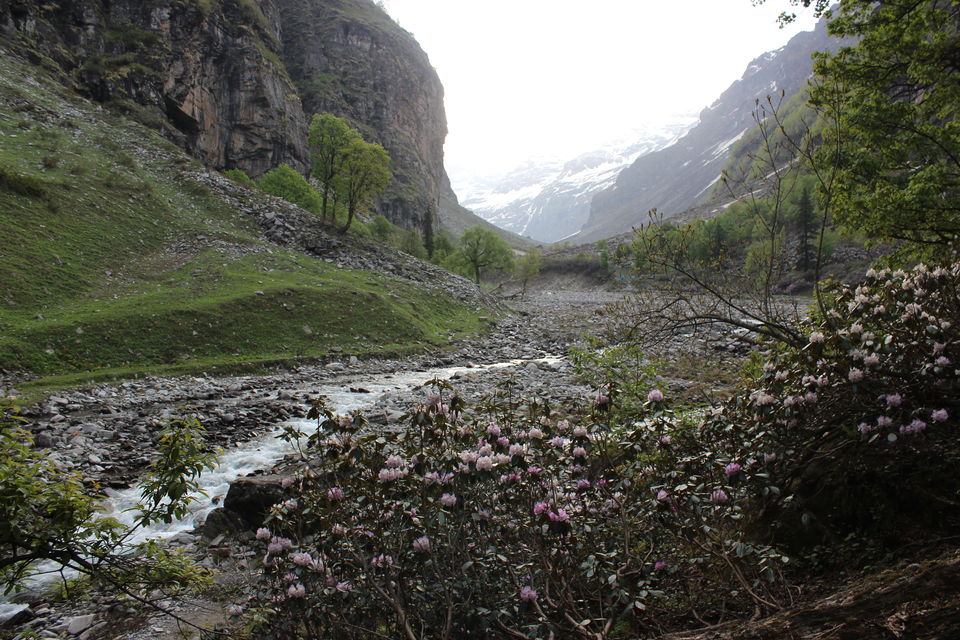 The route today was not that difficult ,we were heading towards north.
We started our trek early today as we had to reach there by lunch to get aclamatised to the temperature and altitude both.
As usual , Rupin never left us alone.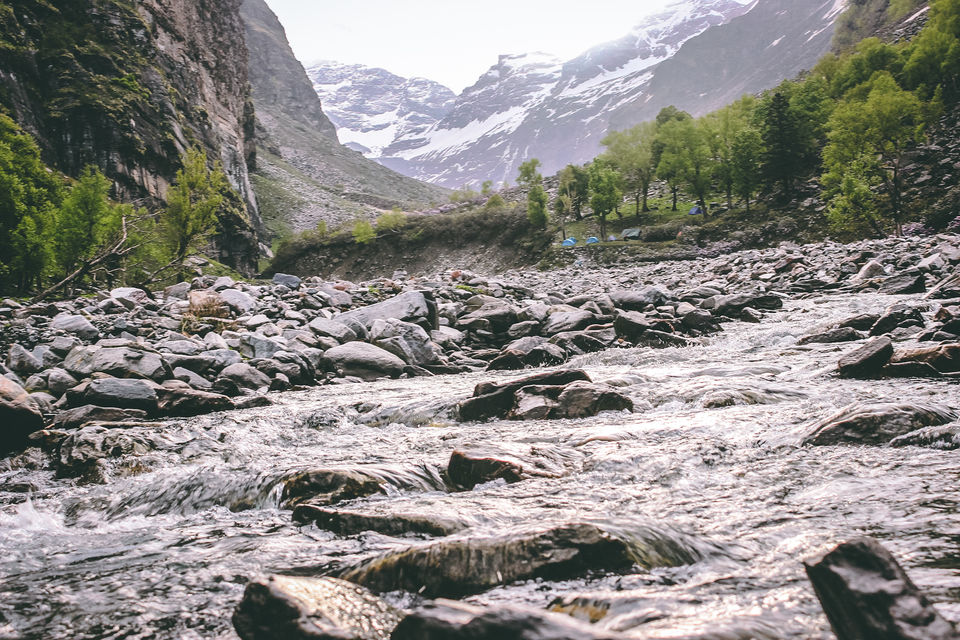 The nature will never cease to amaze you.They were camouflaged I guess????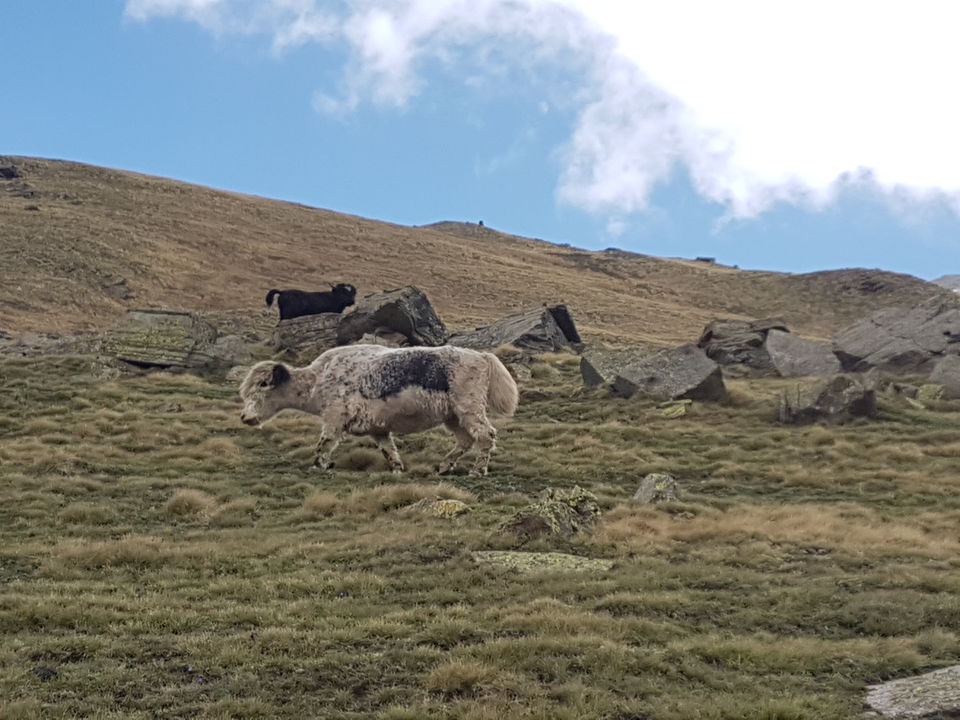 The best part of rupin pass was that the landscape after few hours would always give you suprises by showing u some different view than the hours before.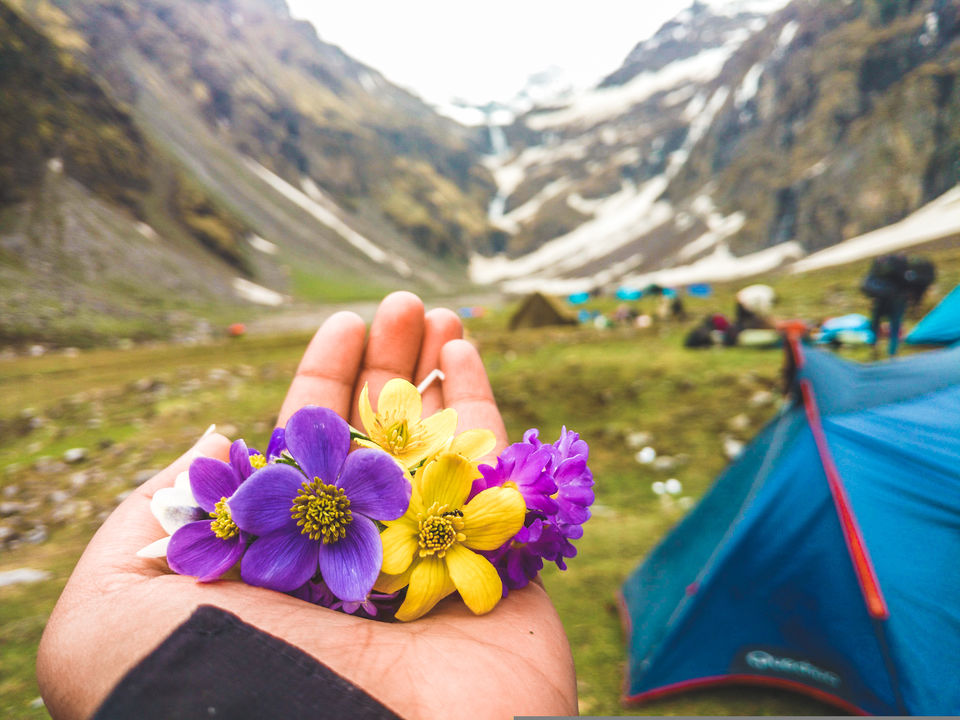 We reached the camp as per the expected time,it was not tiring,but I could feel a little bit of uneasy feel in breathing.We were told not to stay in tent ,so we had to be out all the time to get acclimatized to the weather .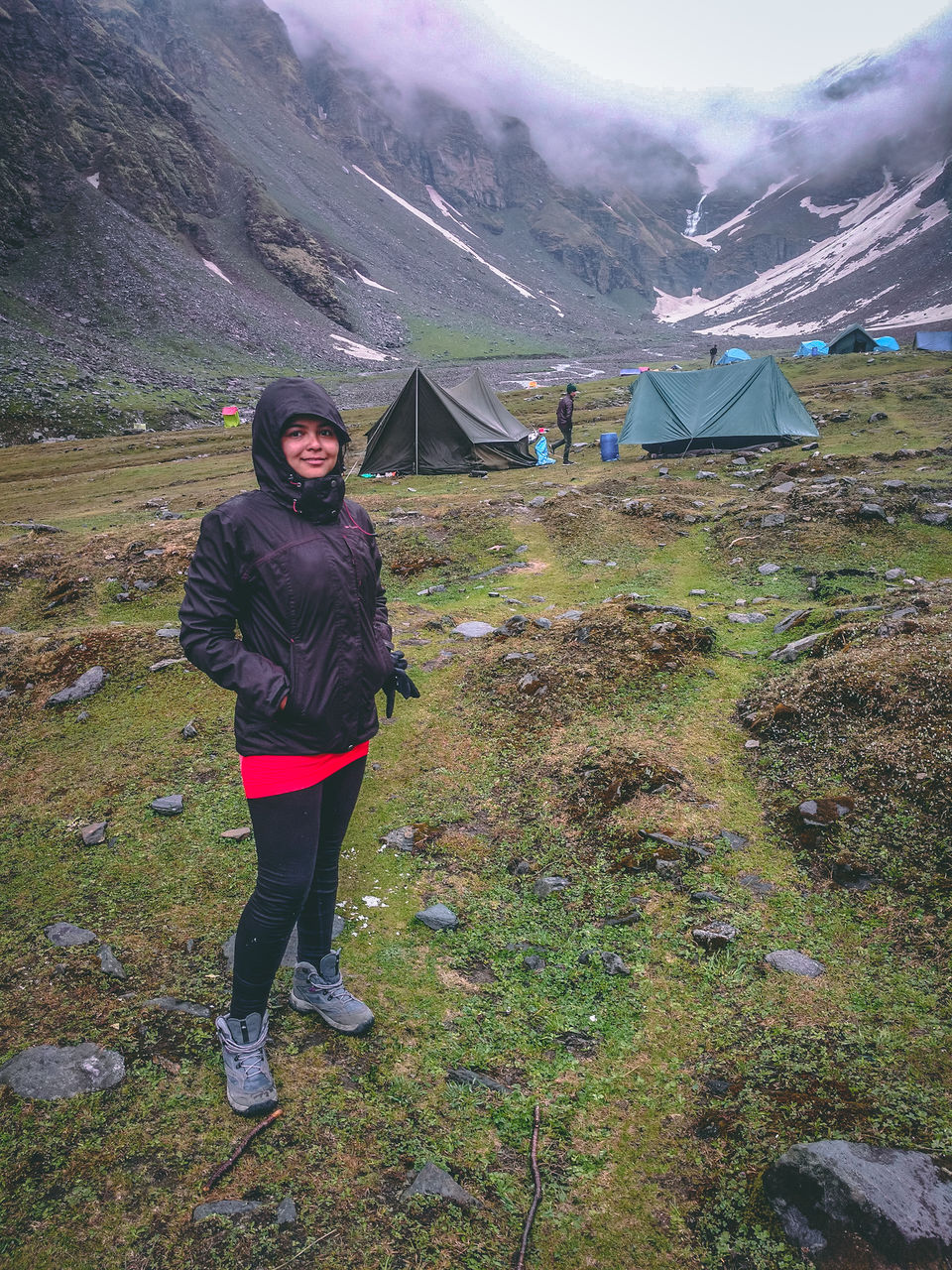 The weather was Ausum ,it was chilling I realised I had to add one more layer of clothing.
So got three layers on my body.
I wanted to click a beautiful pic of view from my tent but was partially succeeded.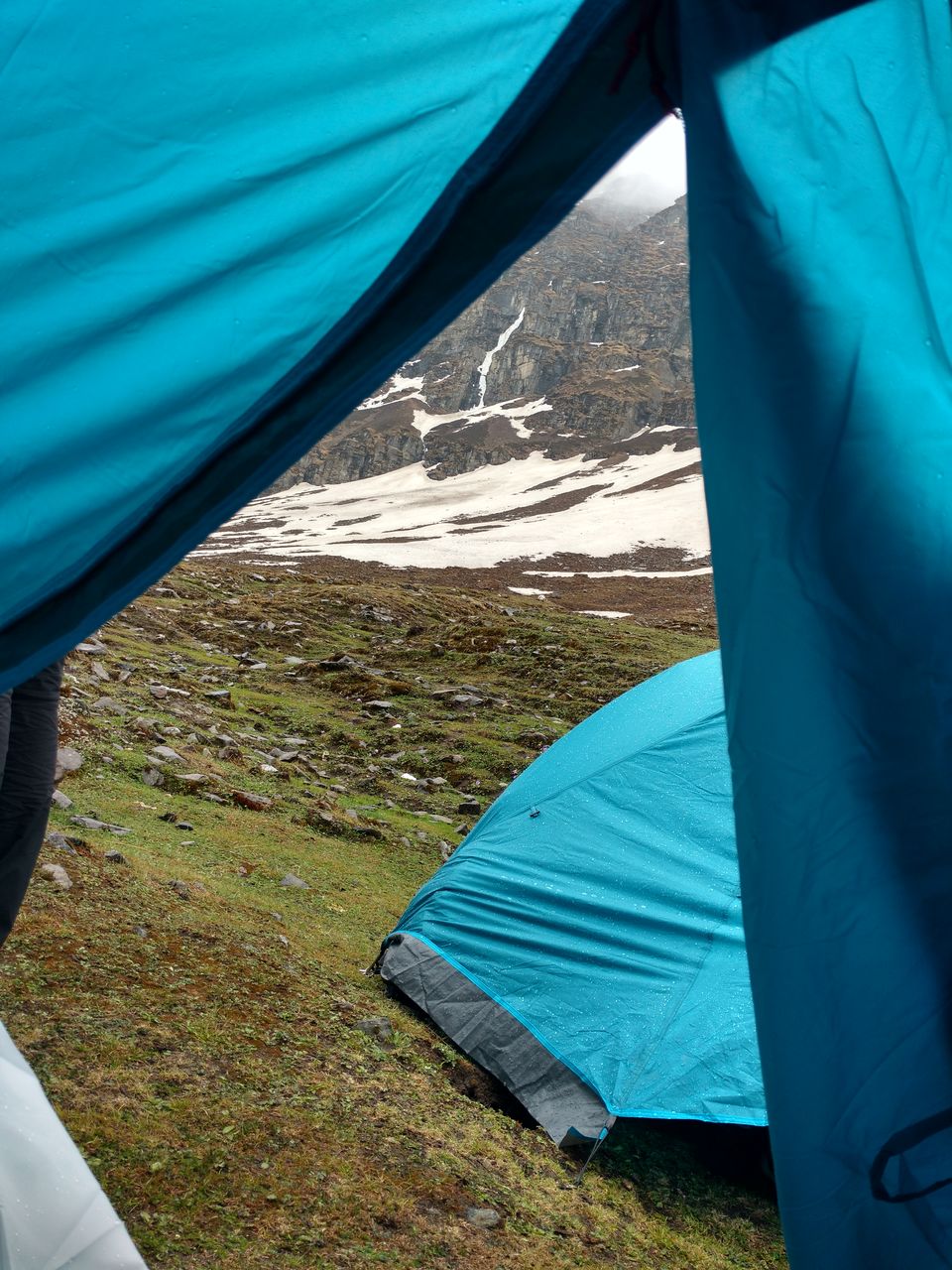 All I could see was just the mountains along with small grass,snow and some cattle grazing.
I was excited for tomorrow as we were heading towards upper waterfall.
DAY6 - Lower waterfall to upper waterfall(3kms)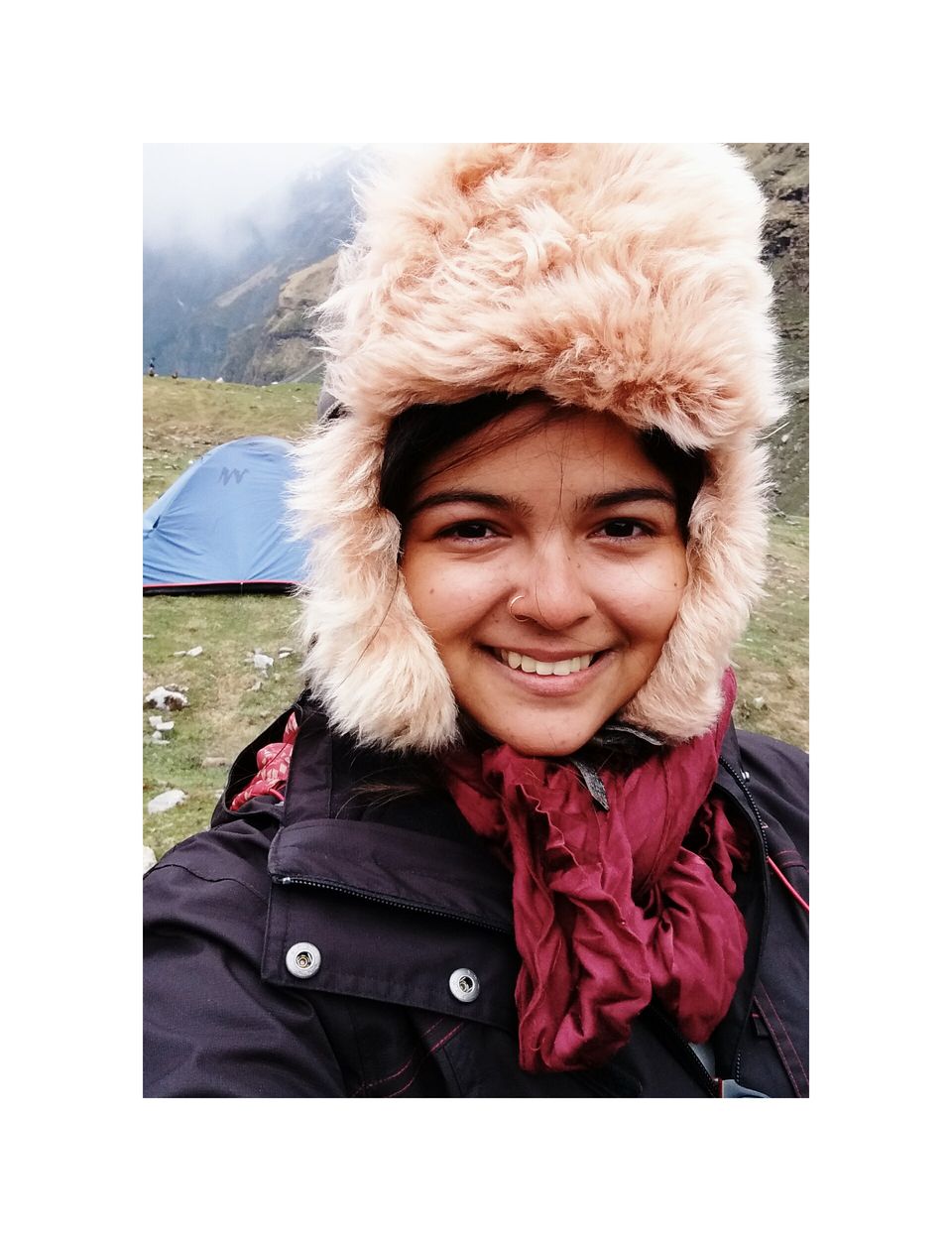 Upper waterfall was just 3 kms I.e it would take about just 3 hours to reach .We left dhabderas at around 9 a.m after a nice soupy maggi.
The trail was moderately difficult .
And we reached .
The beauty couldnt be explained in words.
Atlast we could witness the birthpoint of rupin.
It started snowing so we had to hault our photo session.
I captured the snow ,they were like sabudana .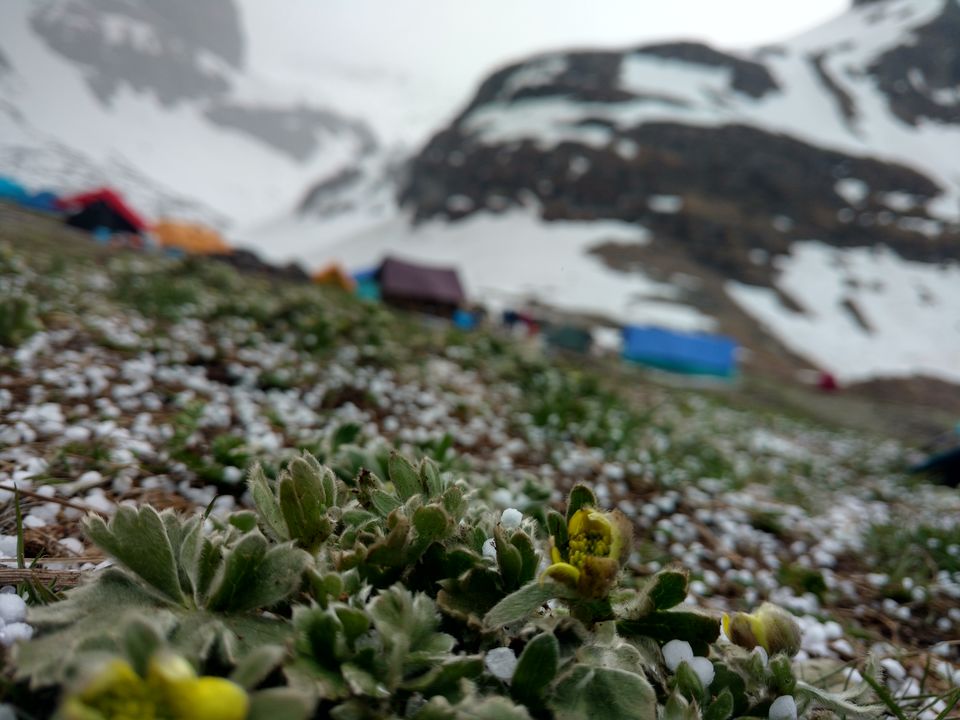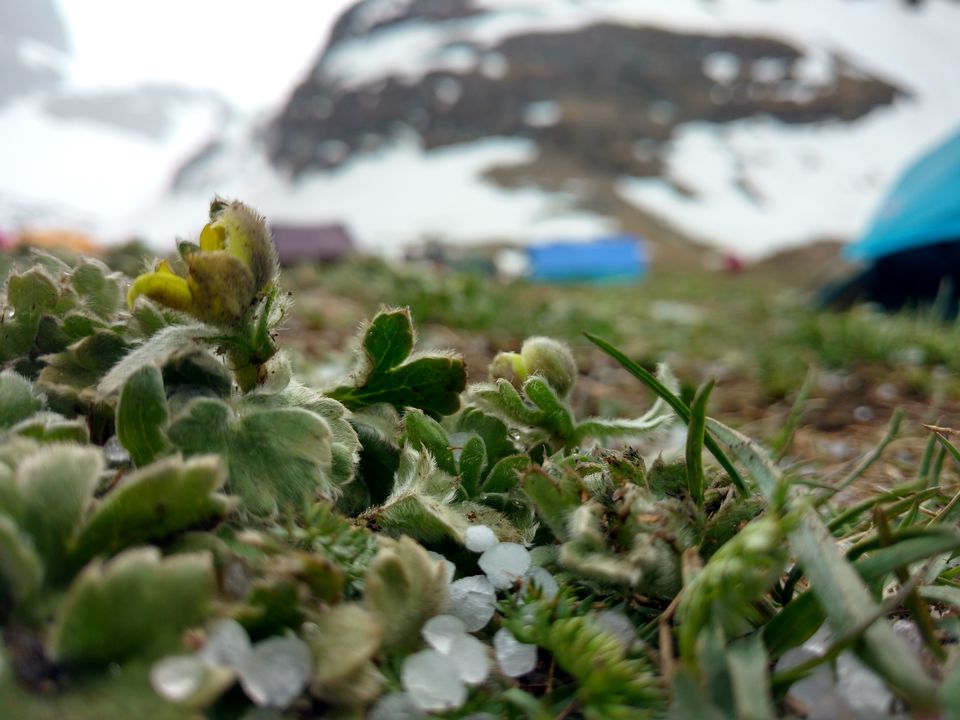 We were served warm food in tent as it was raining .
The food was getting cold before we could put in mouth.
But yeah ,we were lucky enough to get a food atleast.
We were served with lemon tea too.
After sometime when the natural showers stopped ,we were compulsorily told to come out of tents .
I followed my brother.
He was going towards the waterfall.
The shadow of him looked perfectly carved and would make most models envy of such frame.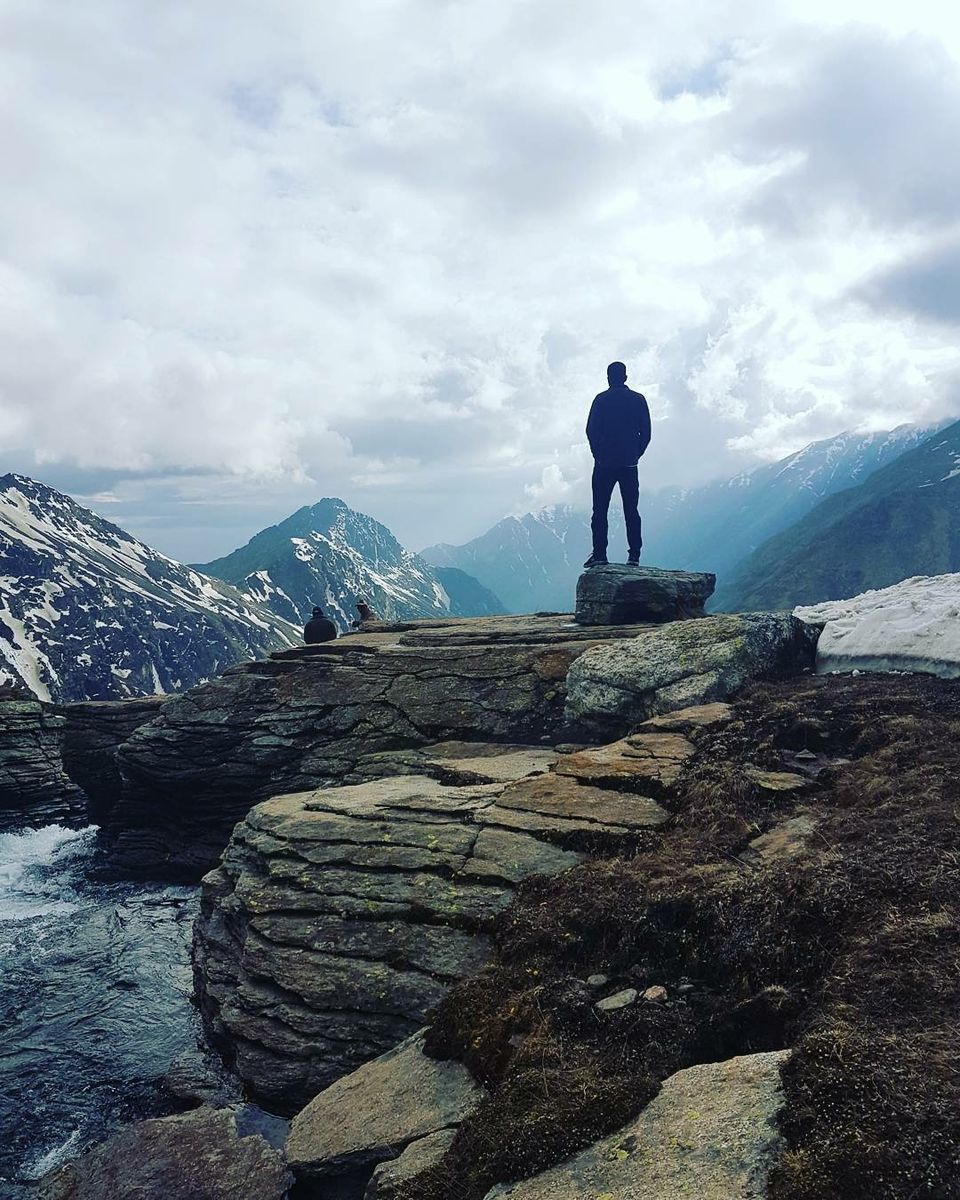 we had reached early than expected ,we were playing cards all time.
During late afternoons,we played in snow.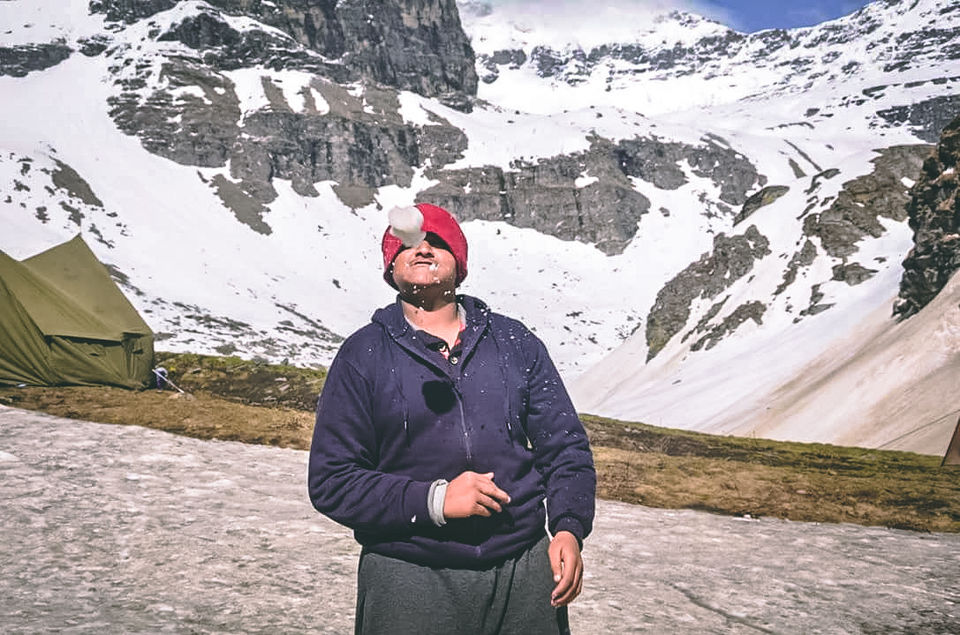 It was a bit difficult for breathing.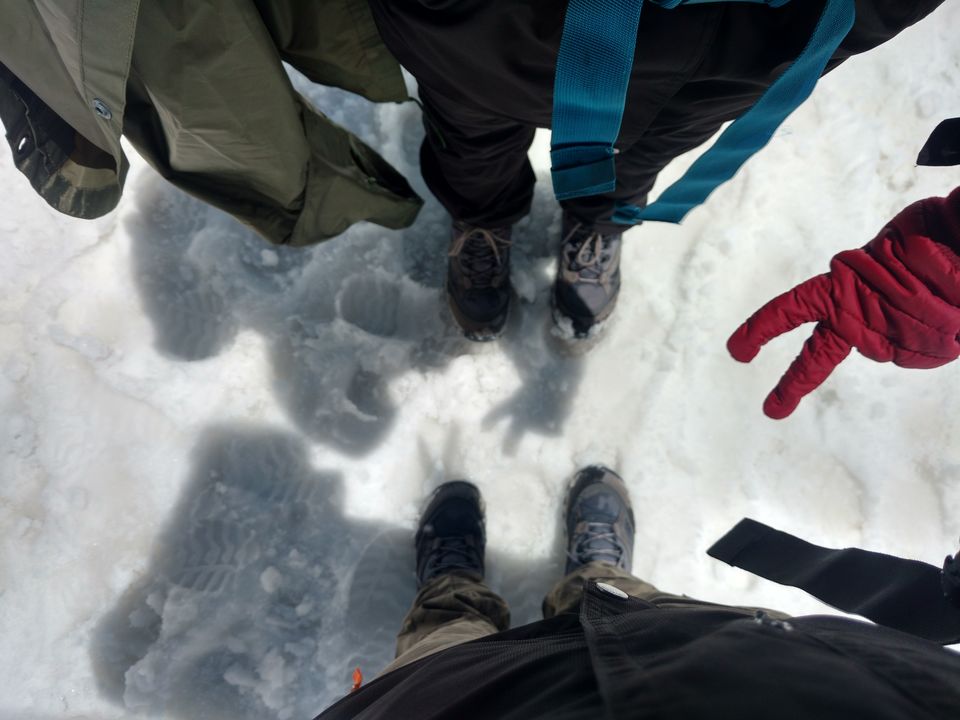 Now we were no more along with the river.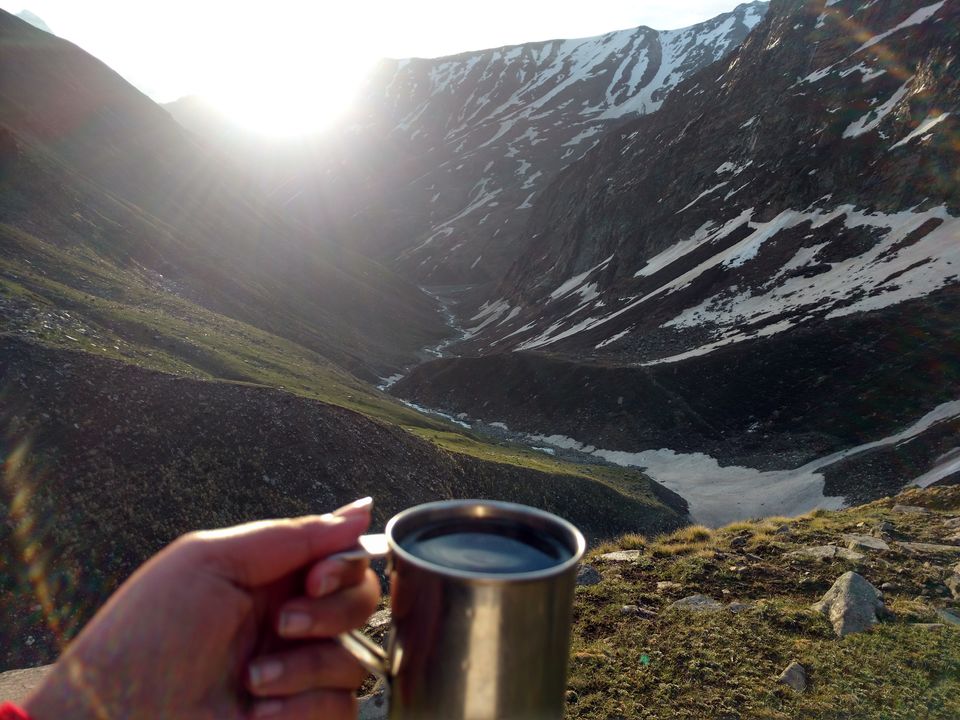 Just when you realise you matter a little too much around your sorrounding,the mighty himalayas showed themselves,the nothingness of self remained,numbing our imagination out of admiration and sheer presence.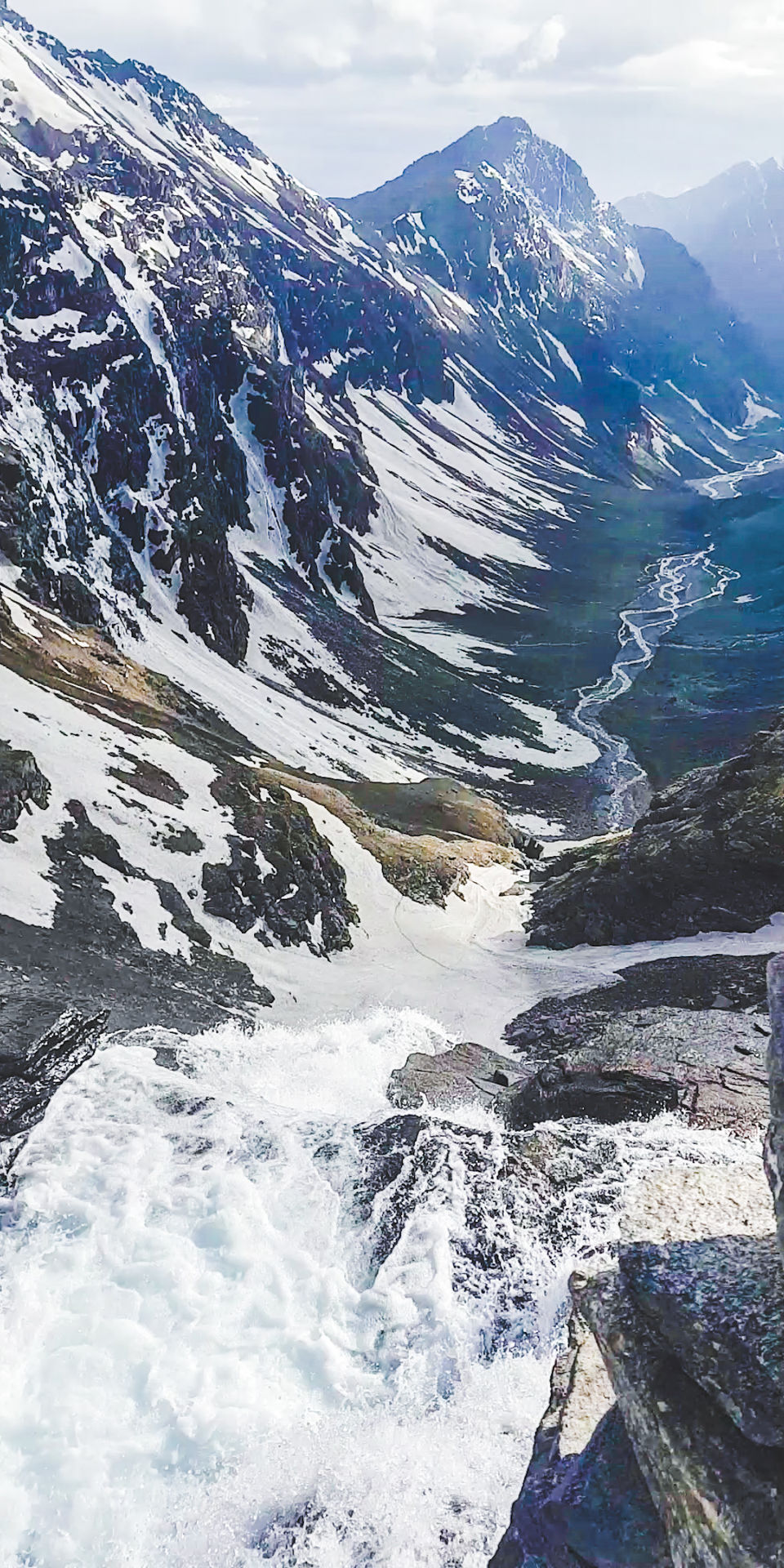 The temperature on upper waterfall was in minus.It was bone chilling cold and I added one more layer on my top.
It was going on decreasing as the day ended.
Tomorrow was an important day for us .We were told to rest today as we had to face a long day trek tomorrow ,also tomorrow would be an important day as we were going to cross rupin pass.
We had our dinner ,as usual played cards and then off to sleep.
DAY 7 -THE SUMMIT DAY (Upper waterfall to roti gad via rupin pass)12kms
We were offered lemon tea as a wakeup alarm for our face to freshen up.No one really had the courage to use water to freshen up and I guess no one did.
We started our summit day at 5.30 am as planned.
It was a difficult trail from the start itself.
After climbing one mountain,followed another and so on until then there was only snow that we surrounded of ....
We reached the toughest trail of the trek which we had to pass...70 degree steep climbing and the cold was unbearable ,balancing your breath at the same time . We hardly had any breakfast,dry fruits to the rescue.The more higher the trail ,the lesser the oxygen.I didn't feel rupin pass difficult until I experienced this 70 degree angle that we had to pass . We were already tired and thirsty.We had to take the rope support to climb that part .After almost climbing 90 percent part,the porters came ahead to help us like some Himalaya sent angels. And there we were THE RUPIN PASSED...
YES!!!I felt heaven .It was all worth it.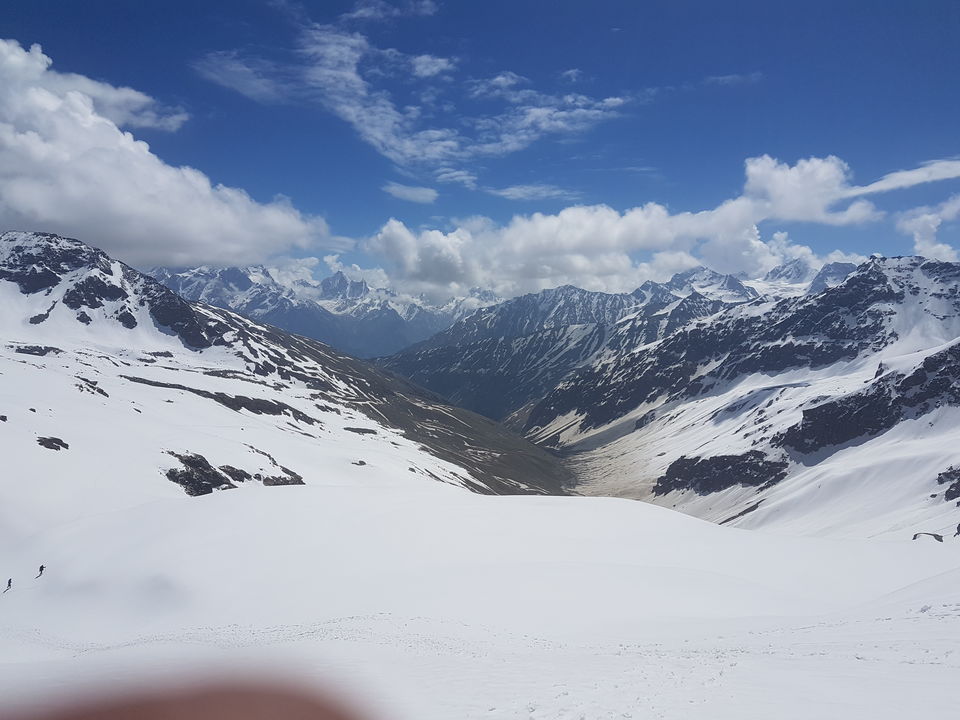 The view for the view.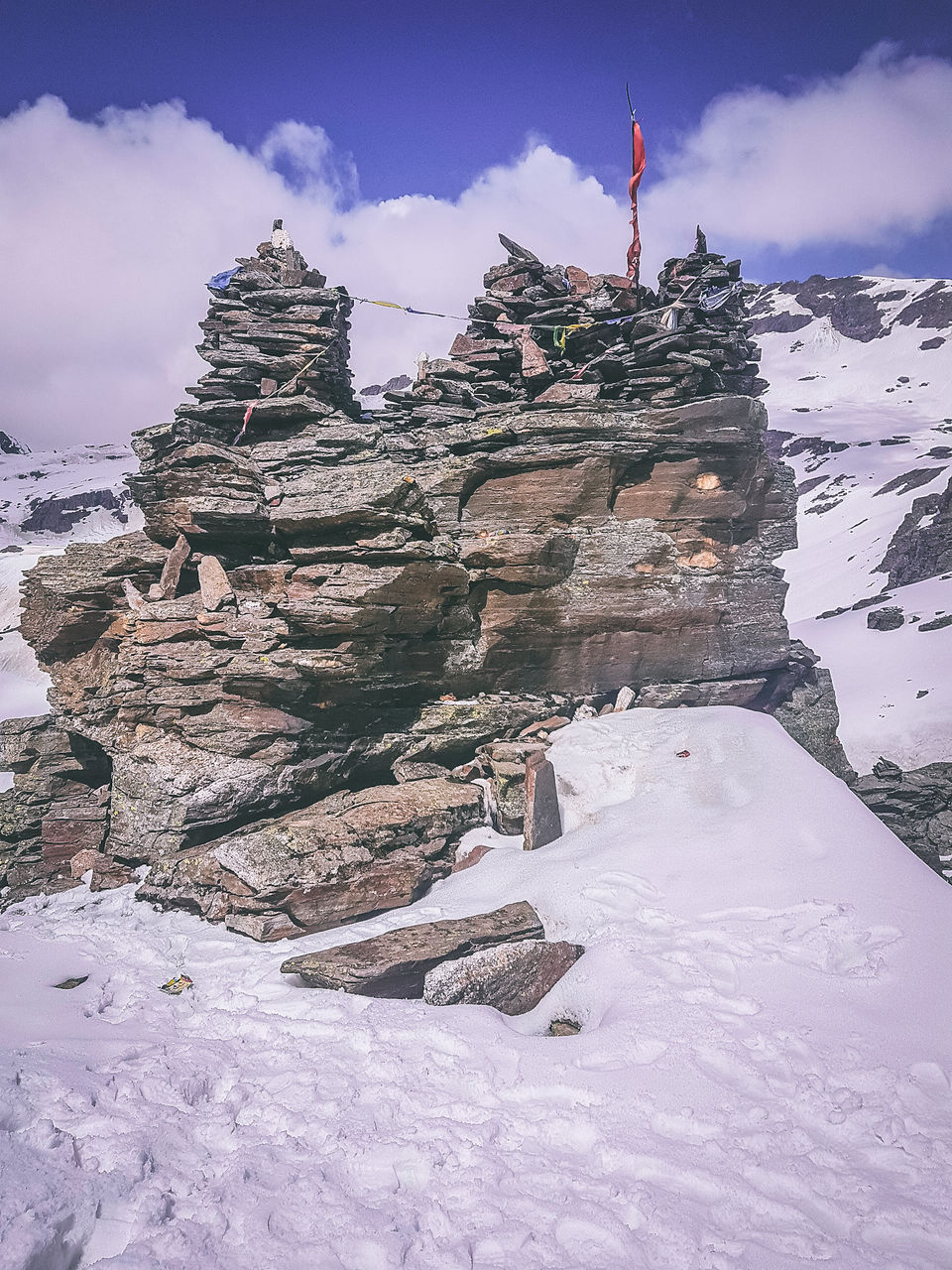 That happiness cannot be expressed,simply felt...
After Huffle puffing the journey,
The best part of experiencing the summit was the national anthem sung by the 15 deaf,dumb and mute kids.The very turning point of existentis crisis and identity crisis,your heart identifies that you are an Indian.
Young , gifted and proud 15 something special kids,with flute and pride.Jana gana mana......the moment is just lived once,the magnanimity of India overwhelms you with the feeling of love, sacrifice and service.
Every quonta of your body makes love to the soul and produces the best Indian Moment ever,the bursting of tears while singing anthem.
The purest form of respect towards the biggest,most forgiving and accepting culture on the planet. I N D I A.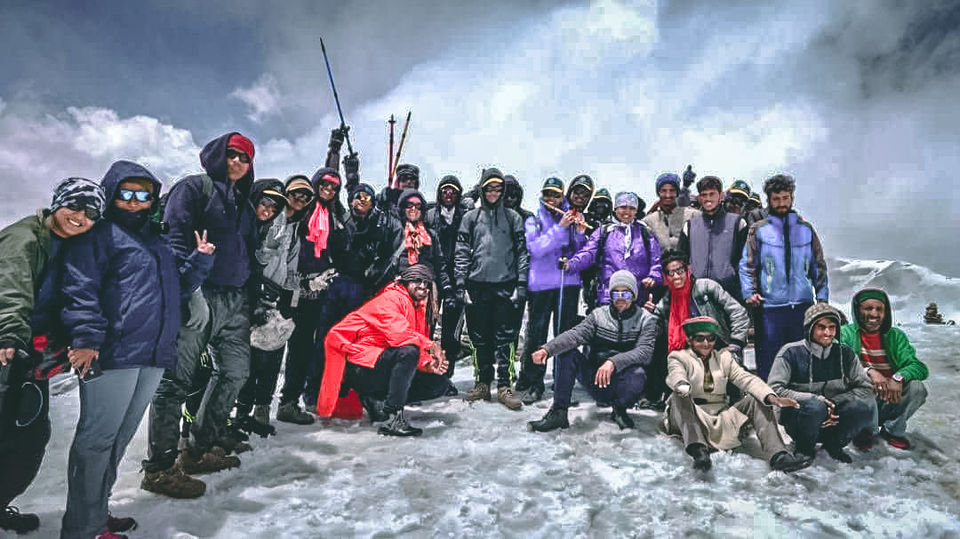 After living the moment of journey,we needed to climb down....the process was exciting and provided us with childlike pleasure of sliding.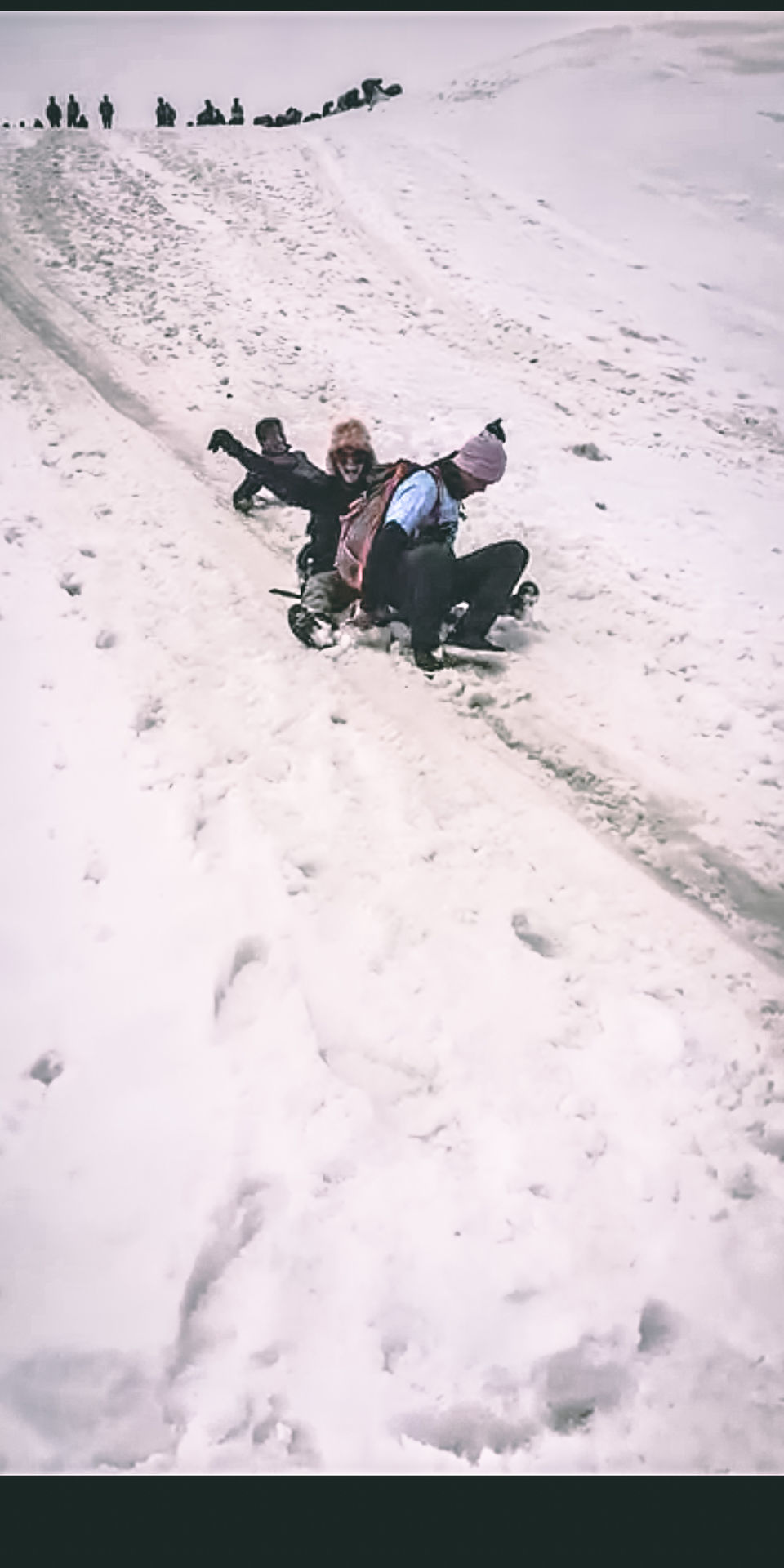 After 15 minutes we had to do it again ,we had to go with a partner. With so much happening around,the craving of stealing the moment and freezing it happened,a random stop for selfie.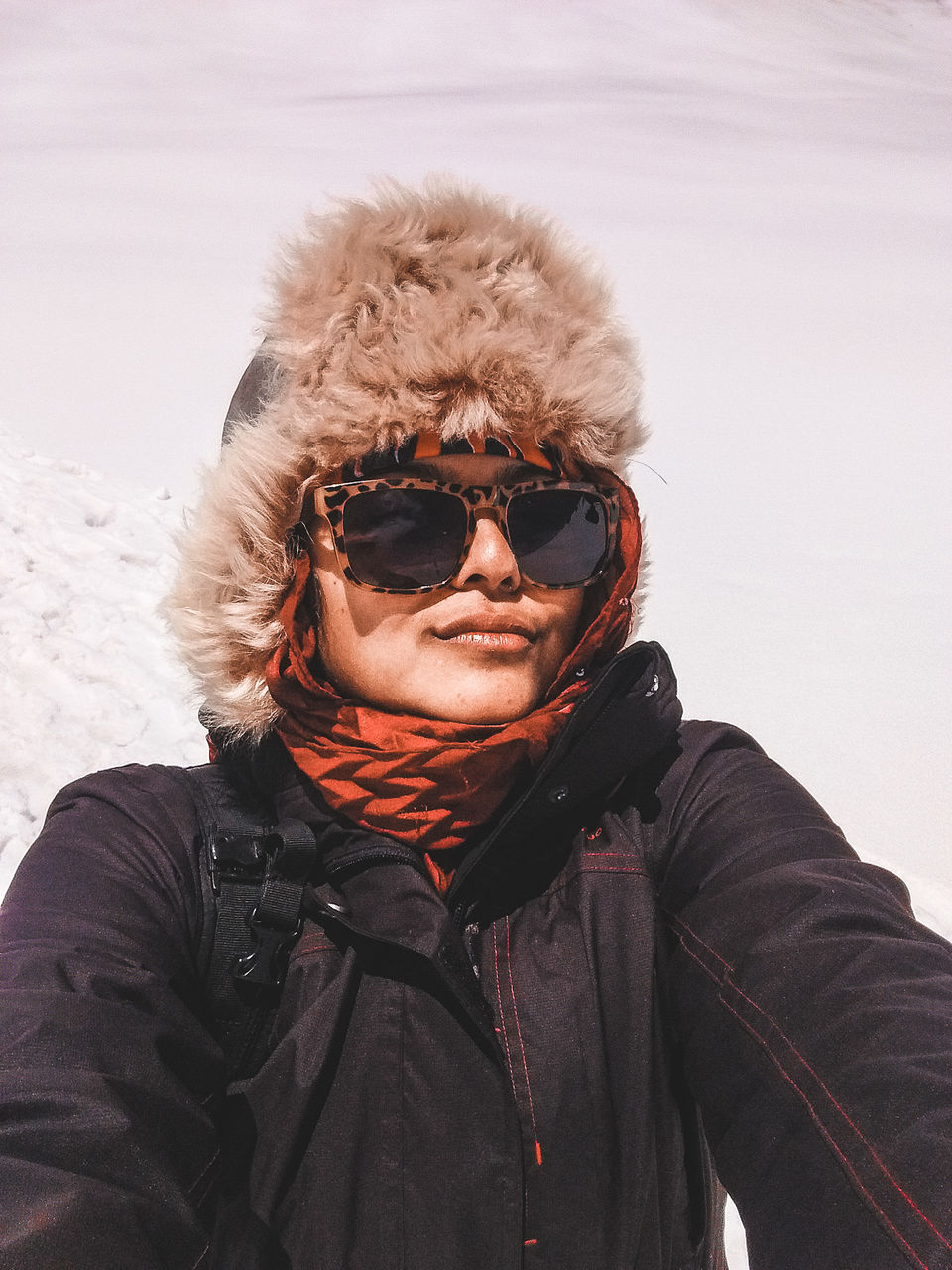 I was thirsty,my water bottle was already empty.
There was snow all around me.Snow was so soft and fresh that every step surrounded my calf length.Me and my cousin simply halted again,fell of on that soft ice fur to feel it and starred at the sky.After sometime we started having that fresh snow that was around us ,clicked a picture of our footwear.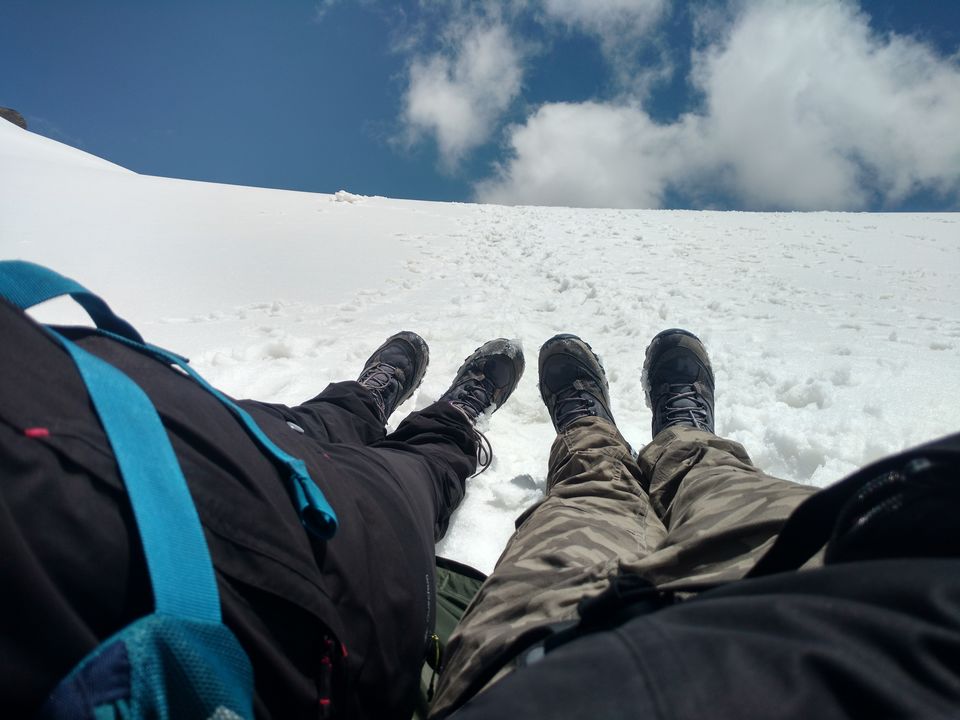 And again we started our journey, I noticed a Porter ready for sliding to move more downwards.They being experts in that ....I went and sat behind him for sliding and on half way we both fell off getting separated...
It was damn funny as all I could see was that Porter rolling somewhere in off direction.
So I started following his route .
We didn't have lunch for that day,it was 12 pm,The sun was harsh,I Intentionally didnt wear sunscreen as i wanted a good tan.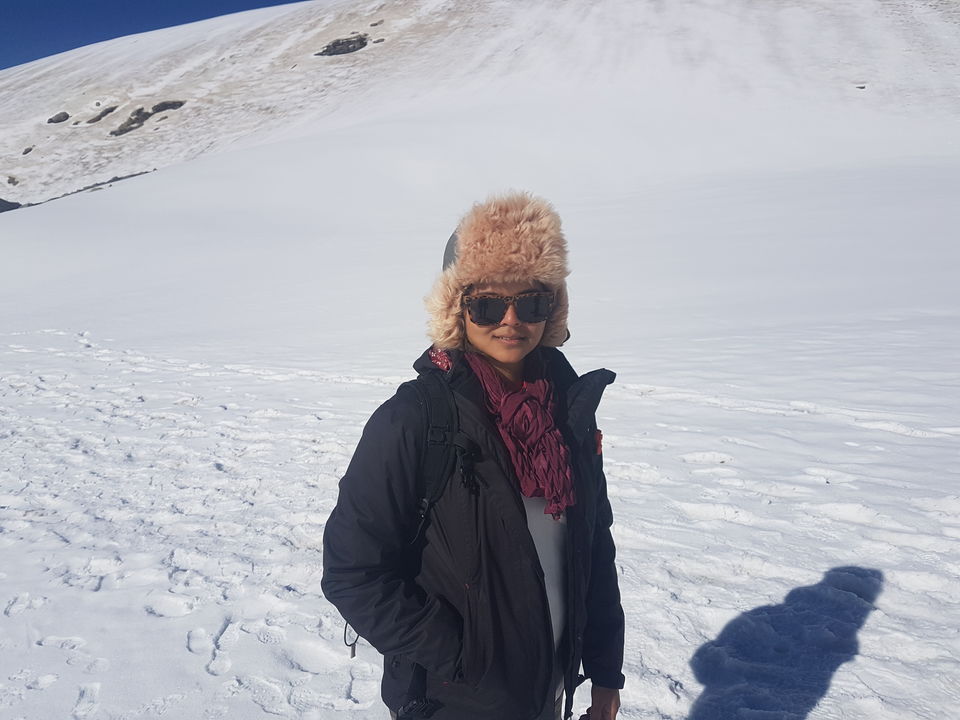 The last Hurrah,rotigad. We reached our camp site at around 4.30.pm.
It was the most difficult and tiring day .I could hardly feel myself ,but the camp site was beautiful.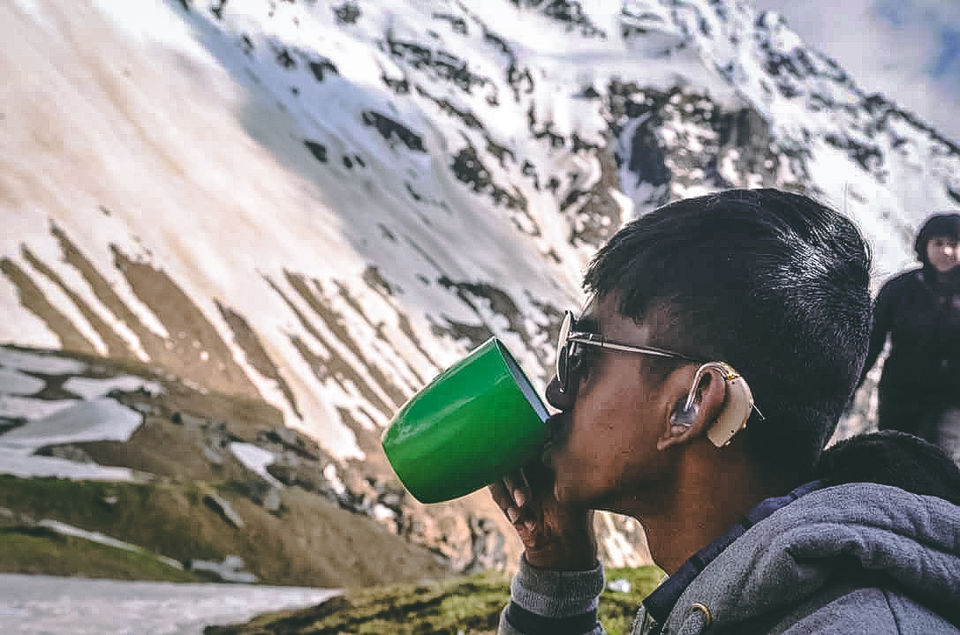 Rotigad was our last camp site.Exhausted yet with abundance of rain made us spend the day inside the tents,sipping on lemon tea.
It was our last night in tent ,the temperature was decreasing slowly .As usual,our porters never forgot to pamper us.We all stood besides the fire for some warm up.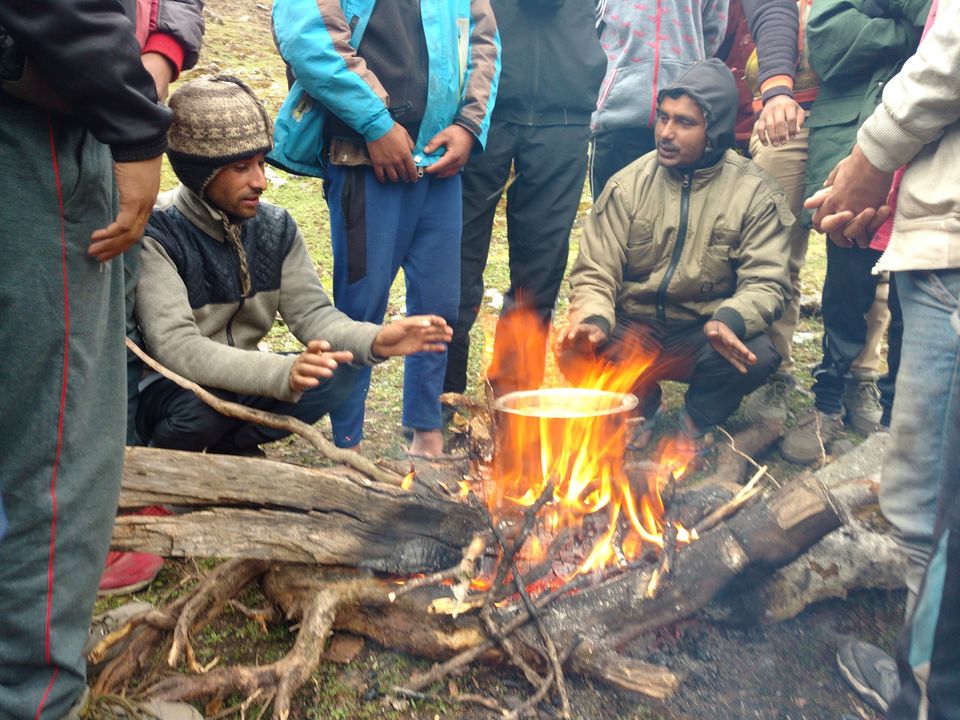 We were treated with best delicacies that night.we had chole puri and gulabjamun for dessert.Everyone were damn tired but equally happy about successfully passing the rupin pass.
DAY 8 - Rotigad to Sangla(12kms)
The last hurrah!The Journey,the introspection,the lessons and the dream life was about to end.I was excited to live the every moment of it yet emotional that few hours of heaven.Well....it began with bitter sweet feeling.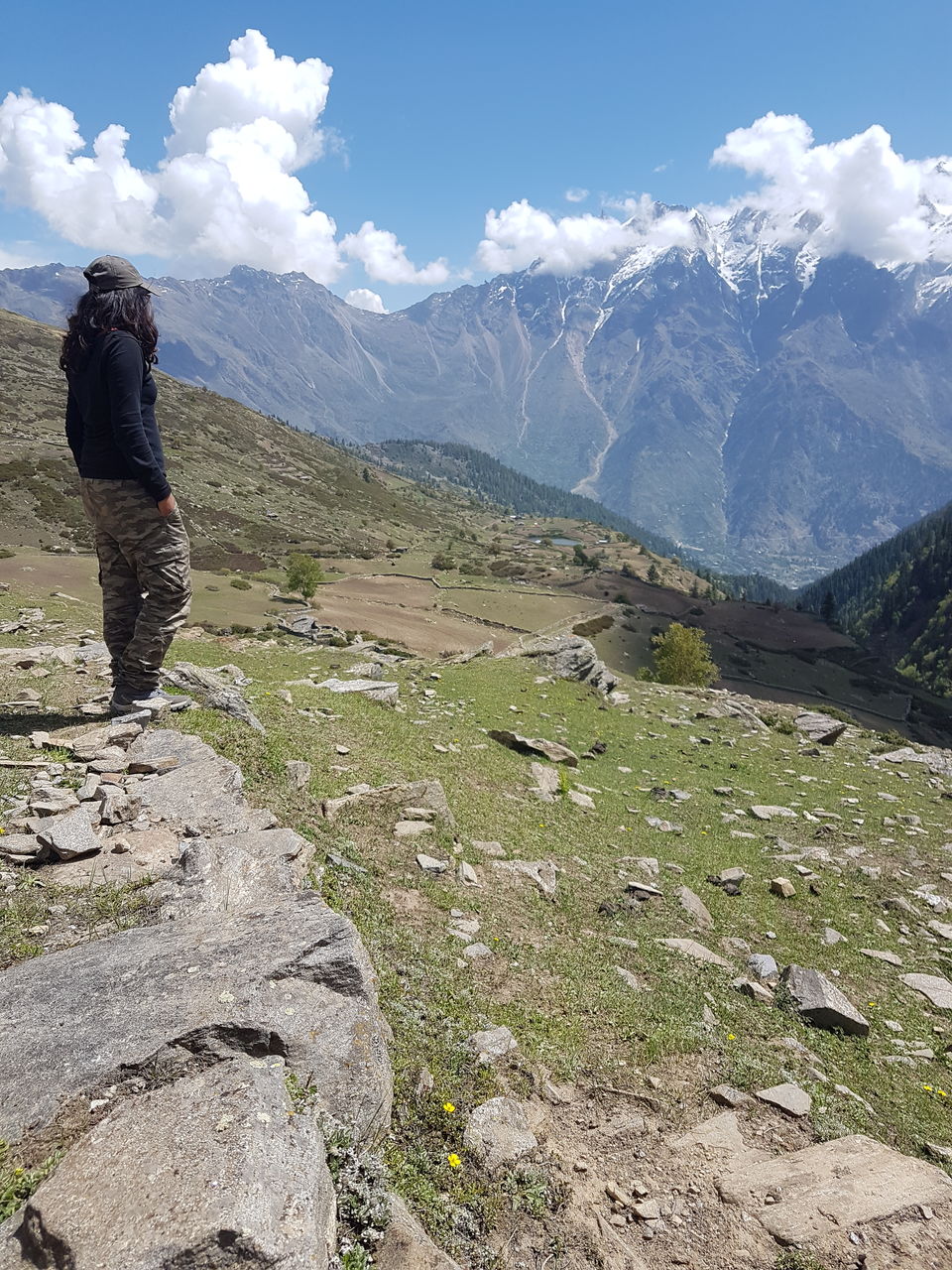 The downwards .As they say its easy going down,yet its very tough to get down once you are on the top of the world.
12 kms they said.......skeptically.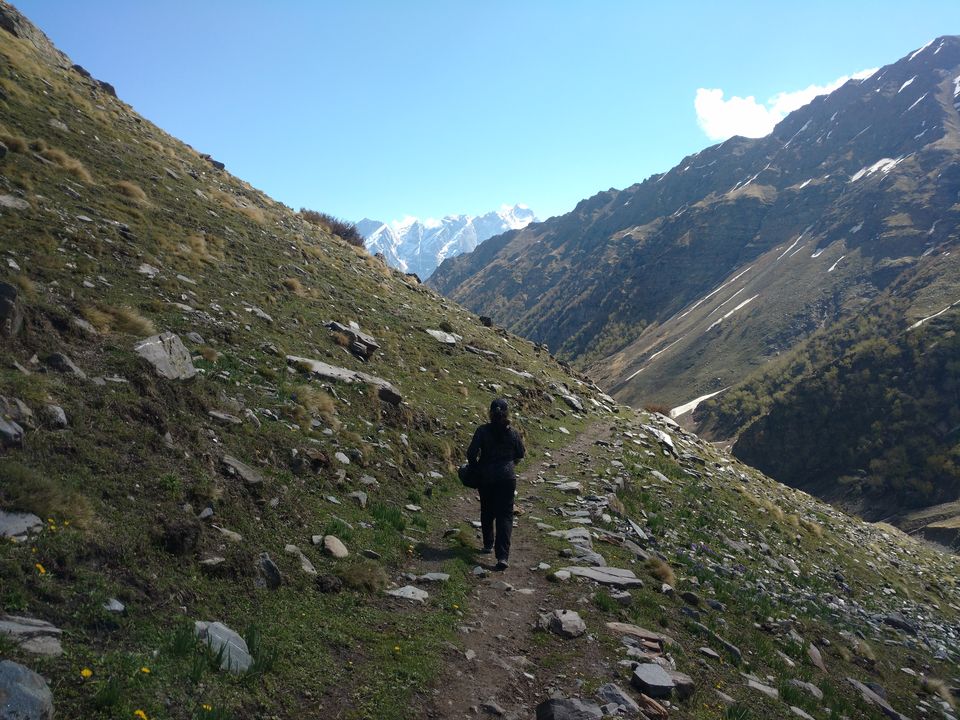 Going downwards with a contour like this,yea we made fool of ourselves thinking that it was an easy task.It was not.Picture speaks the volume.
We stumbled,we gathered ourselves,we were more than elated to find the human foot prints here,a small cozy village with the richest of humans living the life with stunning view.
Envy and Impressed.
We had a small break there to fill our water bottles .It was a beautiful village.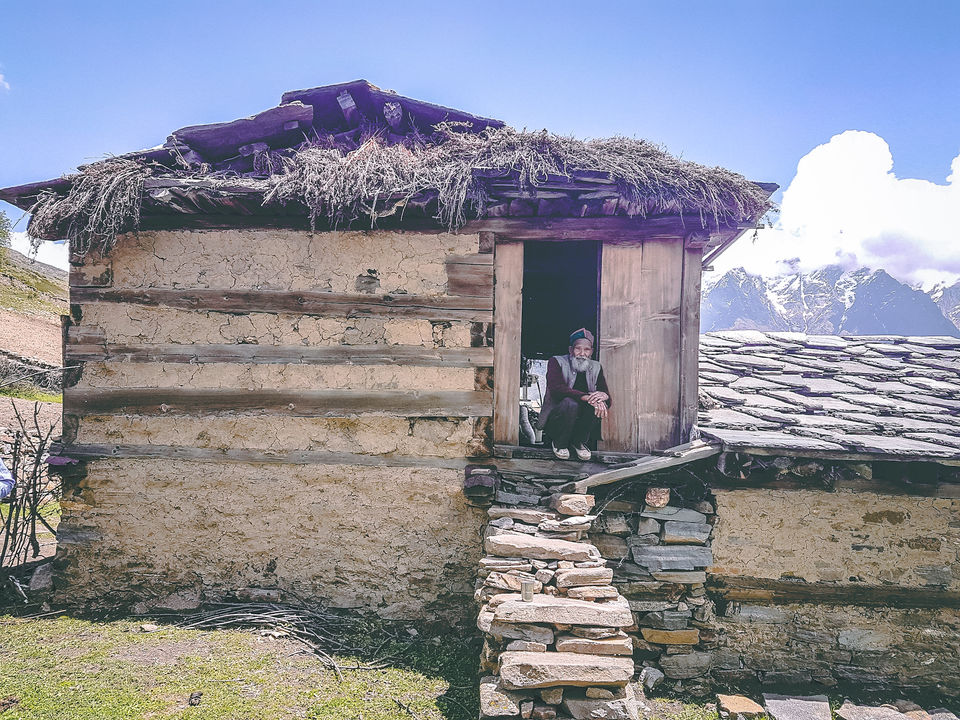 We sipped a glass of milk and then again started our journey towards the downward trail.
The beauty surrounded all around us never failed to make us fall in love repeatedly.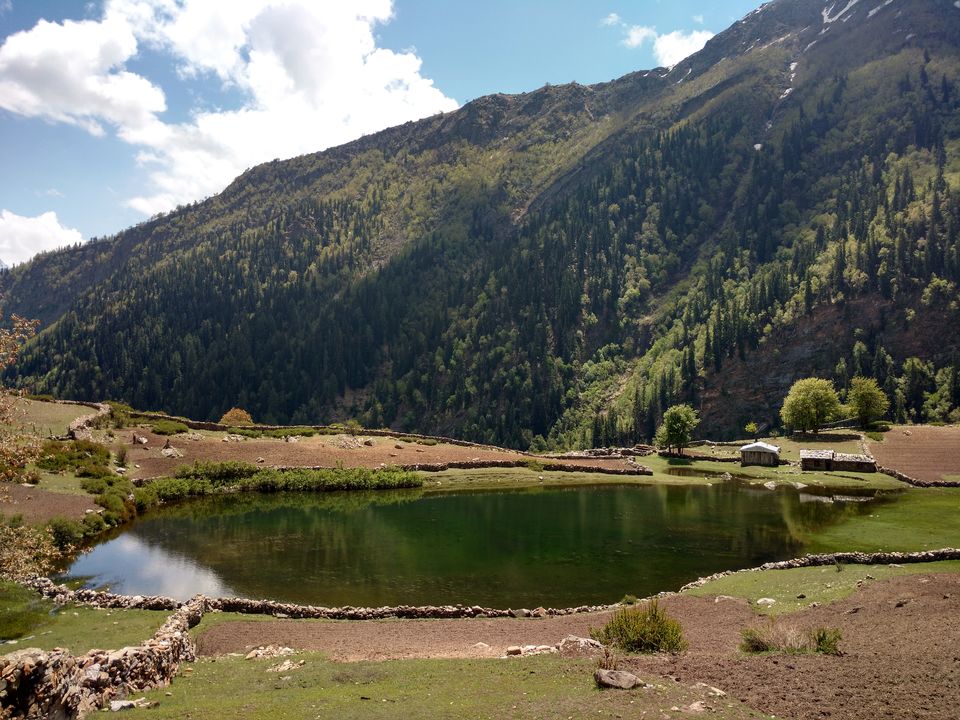 The vision of our last endeavour ,SANGLA. The tired legs and gasps of breath couldnt stop till we reached the destination.We march on....It was noon ,we could hear more voices of humans.
A Sigh of relief.
Upon reaching ,the sense of achievment......sense of self belief.....I had found myself capable,independent and humanatarian to the core.I had enjoyed solitude and struggle.
I found myself and I felt proud.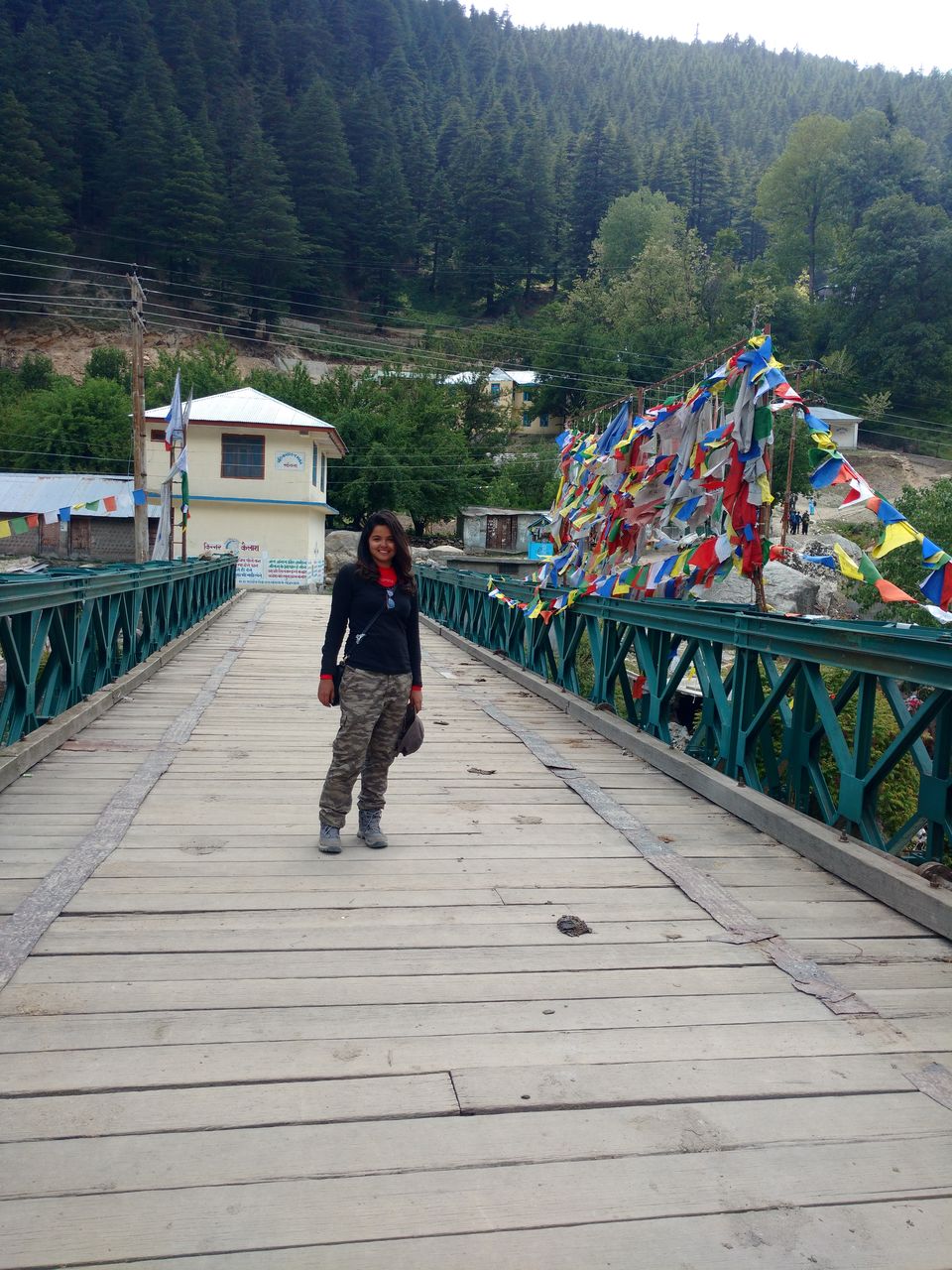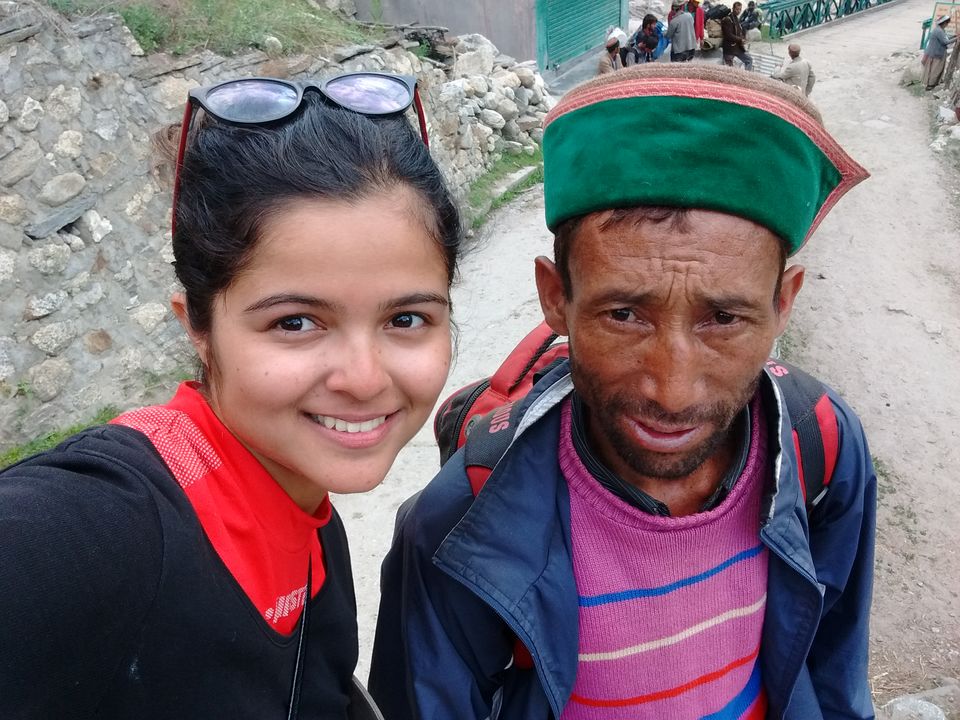 I felt emotional ,looking at the porters,without whom our trek would never have been that successful and fun filled.
No matter how tired they were,they never left us alone.They helped us at every difficult time.
They were our true heroes throughout the trek.The unending support,unquestionable dedication and purest human soul. Thank you.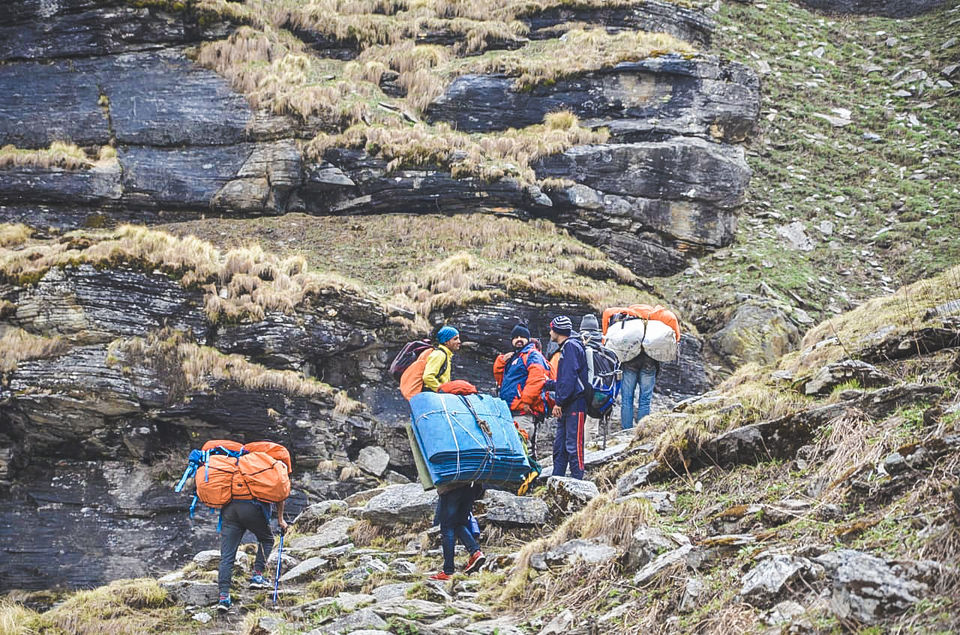 MY EXPERIENCE.
The Rupin Pass. The life changer.As an experience ,how do i describe it?The scenic beauty and the majestic himalayas were just enough to make you spell bound.Yet if I were to describe my journey with the most modest of adjectives......I would say I medicated within my soul. I witnessed the infinite nature in fullest of colors.I endured the most physical tasks which i couldnt have attempted otherwise.I can safely say that I have experienced the hustle bustle of busiest city life and I have looked within inside myself at the most peaceful of places on the planet.I see the life in between.I started this journey as a traveller and came back as a story teller.
Singing the national anthem at the peak of the world with tears in my eyes,I did it.
Understanding of the human nature ,hardship in simplicity,survival and stories of people up there.....I lived it.
I remembered the day when i had started preparing for Rupin pass trek,climbing 1200 steps and getting down back with same numbers within a time period without a break.
Rupin pass trek is an easy trek,if u prepare yourself well.
It was my first trek and then i never stopped my feet............
My Suggestions according to my experience other than the basic things:
1.Please carry special trekking socks that are available in decathlon and also other branded stores to avoid blisters.
2.Carry hot water bag(rubber bag) for warmth for your feet during night,it helps a lot.
3.Make minimal use of trekking stick,use only if its neccessary,its more adventurous when you use your both the hands.
4.Never be in last phase,if you are a first time trekker,walk most of the time right behind the guide or a leader,this will help you gain his speed.
5.Carry a butter paper to put over your plate and have your meal over it,to avoid dish wash incase when the weather is too bad.(Do not throw that waste paper on your way anywhere).
photo credits: Sally lopes,Silvon lopes,Atharva koli.