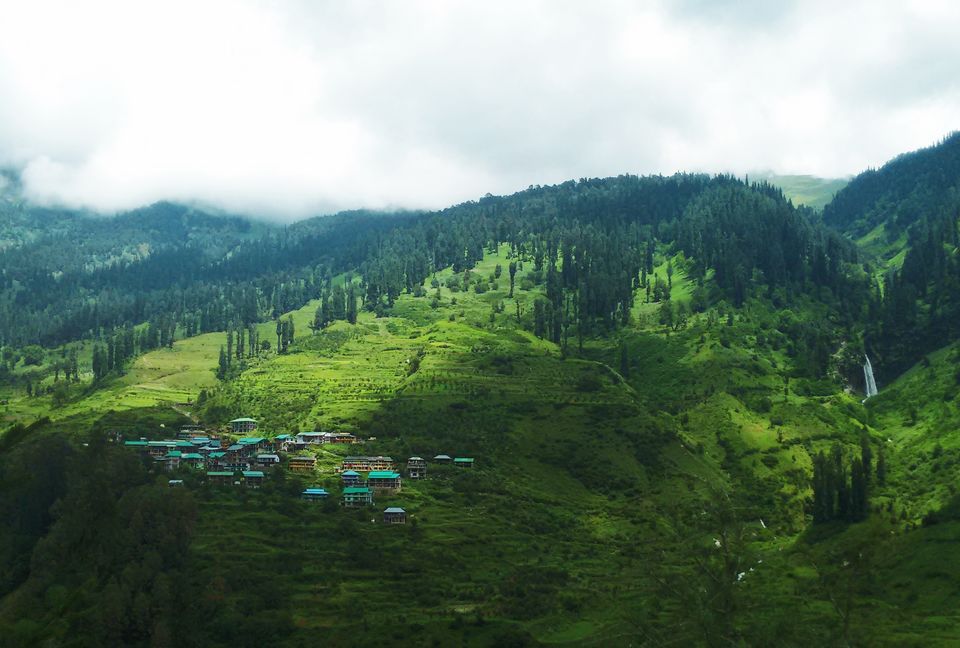 It was time to quench my long extreme thirst of being close to nature after leaving my job. A day before the Independence day of India, I bought a bus ticket to Manali.
I had travelled solo earlier albeit to very close places (Bangalore-Hampi and Bangalore-Pondicherry). But this time, the pre-solo-travel feeling was, surprisingly, different. I felt no tight knots in my stomach, no fear of where I would end up alone and no worries of how I would enjoy amidst unknown people. Because this time I was not escaping (from the loathsome desk job) but living reality, because this time I had nothing to lose and was excited to cherish every adventure that awaited me.
It is not advisable to trek during monsoon but I went ahead anyway. I planned to pursue the relatively less popular Beas Kund trek because the complete trip takes a minimum of two days and one night which was exactly what I could afford. Beas Kund is a small glacial lake nestled among the Himalayan ranges from where the mighty Beas river originates. I could not find much blog content around this trek but there are a lot of professional groups that do this trek. I gathered all the information I could, packed my bag and off I went. The route was very simple.
Delhi -> Manali -> Solang Valley -> Dhundi -> Bakarthach -> Beas Kund.
I caught my bus (~Rs 600) from Kashmiri Gate, Delhi at around 7pm. While the bus maneuvered among Delhi streets, I listened to Ed Shereen, my head practically out of the window. The guy sharing my seat was leaving Delhi to attend to his seasonal job at an apple orchard just before Manali. I was glad to meet him not only because he told me a great deal about his life and Manali but also because I had some good laughs at how he made a good use of the seat as his pillow and the floor as a seat to sleep at night. I, myself, fell to a sound sleep later in the dark. And around 80 kms before reaching Manali, I woke up to this.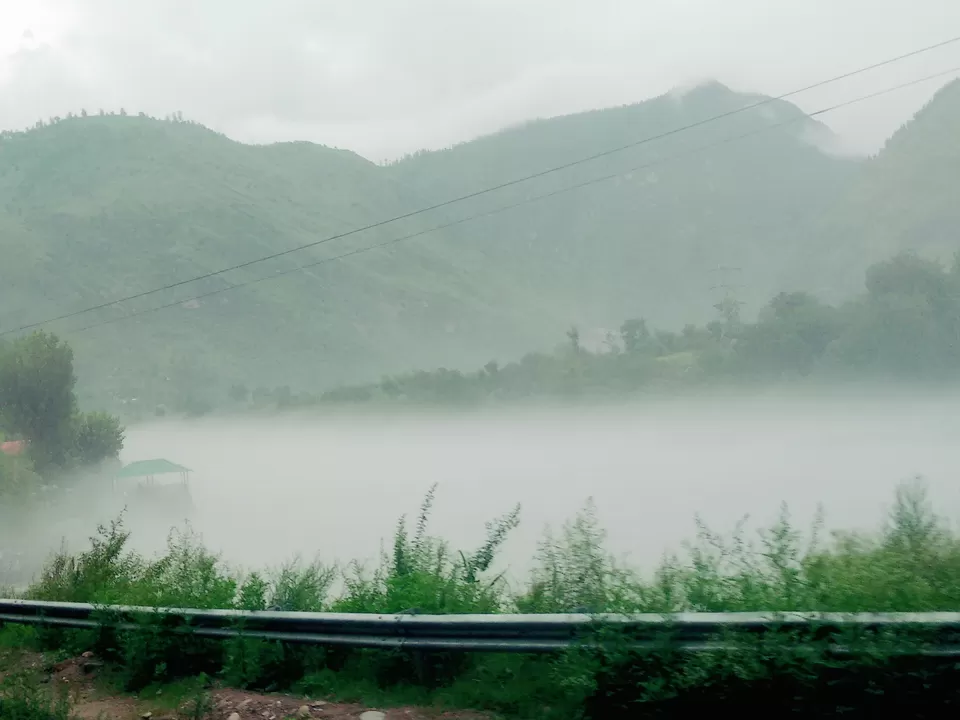 80kms from Manali
I instantly regretted not waking up earlier. I took my head out of the window and breathed in deeply. "Wow. It's magic." The cold air hit my face and I shuddered. While the air was hissing past my hair and ears, I slowly opened my eyes to feel the cold and drive the leftover sleepiness away. It still felt like a dream, felt like inhaling the combination of aromas of earth, leaves and moisture was purifying my inner self. Such a clear atmosphere with the backdrop of numerous mountain peaks, infinite greenery, smiling sunburnt faces of mountain people, kids galloping and hitchhiking their ways towards school, people jogging and running and cycling up and down, herds of sheep and cows and goats blocking the tourists and apple trees passing by every now and then made my heart skip a beat. It was breathtaking. I was mesmerised. I could not believe my eyes, could not believe that I was miles away from the hustle bustle of Delhi, could not believe that after such a long time, I was once again surrounded with love, with mountains.
After the fortunately uneventful and comfortable overnight bus journey and the last lovely eighty kilometers, I finally reached the beautiful and, wait for it, crowded city of Manali. Manali was nothing like I had imagined but the last time I had been here, I could barely walk. I was on a tight schedule because according to my research, if all went right, I would reach Beas Kund by evening. I went to a Sulabh Toilet Complex (thank you God!) and then had a breakfast of Masala Dosa and a cup of tea (Rs. 120). Then I started for the 16km journey to Solang Valley. There were no shared taxis to Solang and the next bus was to leave in two hours. So, I had to hire a cab at Rs 300 :( .
Solang Valley is a hub of adventure sports. It also has a cable car ride that takes you among clouds. As soon as I reached there, I stuffed my backpack with some snacks and water bottle and started for Dhundi. Dhundi is a little village around 8kms from Solang Valley but the road connecting them is blocked for public vehicles because of the ongoing construction work. Only the commercial vehicles working on the site are allowed to commute. I went to the beginning of the road, almost hopping with excitement when the guards suddenly blocked my way. Apparently, it was too risky to trek in monsoon. Damn! I was so disappointed. But I did not want to give up so easy. He did not let me through despite a lot of persuasion. I looked him in the eye one last time and chose to climb the mountain instead of walking on the road hoping that I might reach a point where I would be invisible to the guards and hopefully slide down back to the road. I went further up and up battling possibly harmful plants and moist soil keeping the road in sight as much as possible. I must have walked around 1km when I saw a tractor on the road. Apparently, the driver was trying to fix the broken thing. I decided I would come down now and ask for a ride. I asked him if I could help him out somehow and whether he would be kind enough to give me a ride to Dhundi. He gladly said that he didn't give a damn where I went (:D). Yay! To put in simple words, he offered me the ride and I hopped on.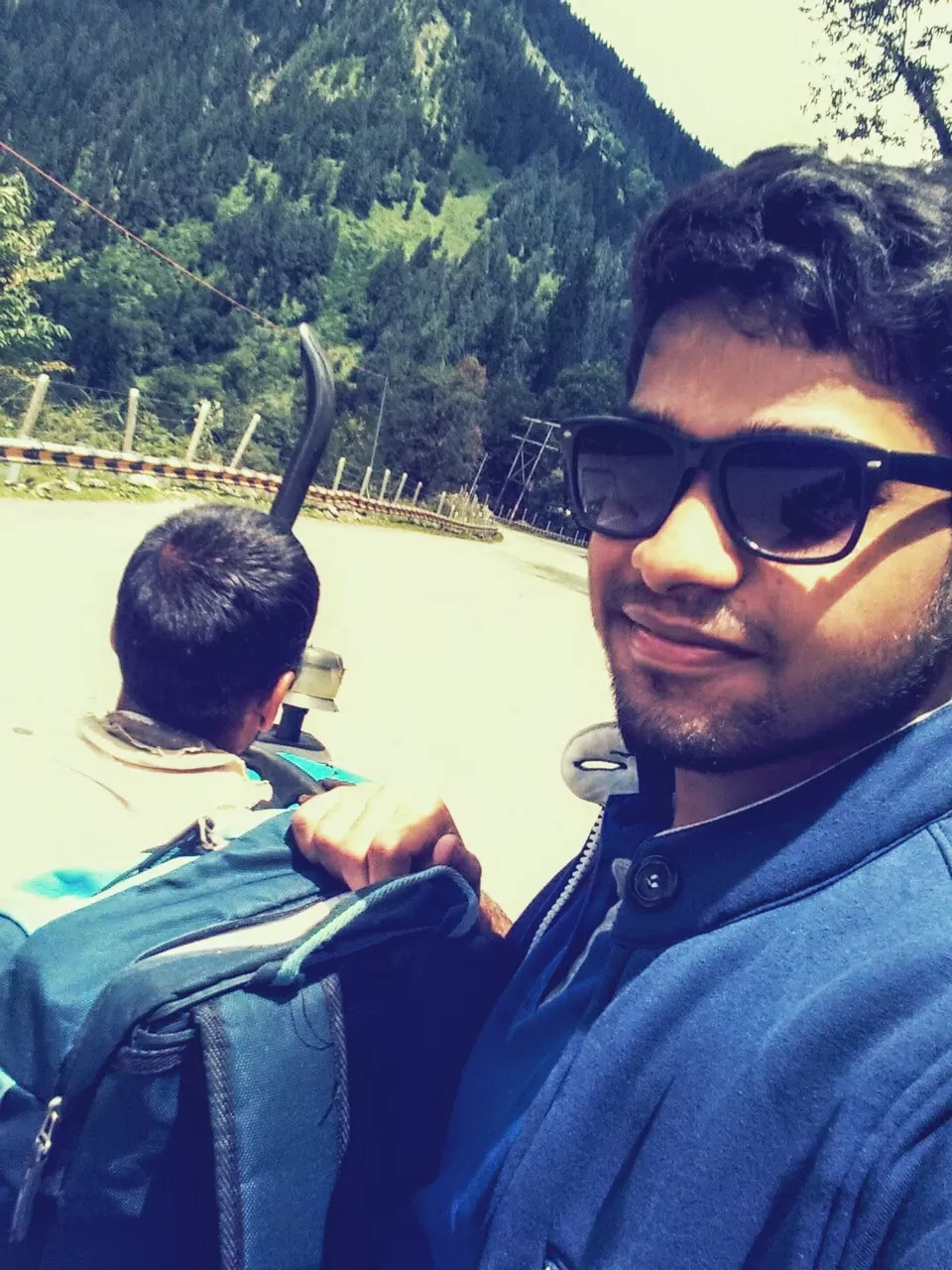 But he dropped me only 2 kms ahead, his destination. I still had around 5 km to go. I walked for a km when I saw an approaching truck and they gladly offered me a ride as well, this time all the way to Dhundi. And that's how I covered those 8kms and saved energy for the trek ahead.
Dhundi had me rolling over the rocks with joy. It was so beautiful around. I stopped at Beas to fill my water bottle. I splashed my face with its cold water which drove all my fatigue away. I was alone. I could scream, I could dance, I could sing, I could get naked for Christ's sake and nobody would mind. I could hear nothing except for the sound of wind and the river. It was around 1pm. Without wasting any more time, I started for Bakarthach. But where was it? I had no idea. The information I had was insufficient. There were no roads anymore ahead. It was only grass and stones and river. It was a maze.
When I tried crossing a river..
Let me paint a picture for you. No wait, just see the image below. :P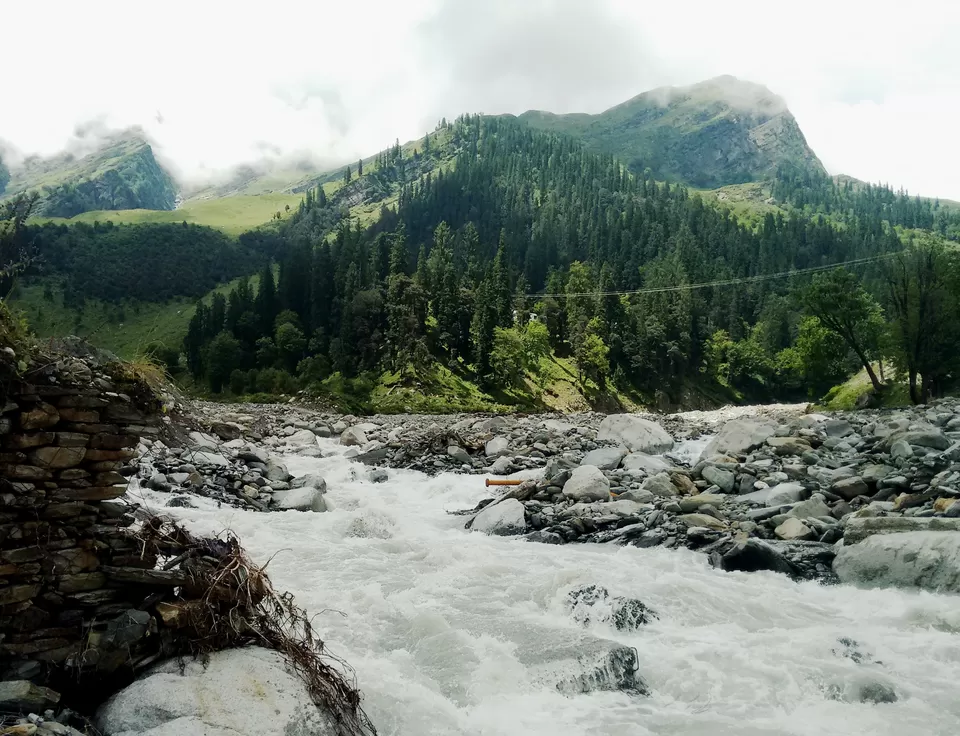 I was on the left. Beas was in the middle. And I had to cross the river to reach the right where, I was around 70% sure, my trek was supposed to start. And I was again 70% sure that there was supposed to be a snow/wooden bridge to get me to the other side according to the blogposts I had read. Well, my search for the bridge started. I kept climbing the mountain on the left side of the river but I could not spot any such bridge. Where was it? Time was ticking, the river was getting angrier and it was getting increasingly difficult to walk because of stones getting fewer in number and river sticking to the side of the mountain. After spending around one hour which had taken me around 2-3kms further, I gave up my search and decided to cross the river without a bridge. It did not seem that difficult after all. But, well, I was WRONG. That's where the river gets you. Let me tell you that however much you like nature, you have to know that it kills. A river is a treacherous beauty. It lures you into its trap. Its curves are an illusion, its flow a mirage. It seems to tread calmly, as if slithering over rocks like a serpentine but it is as much vicious, quick and agile, ferocious and furious, ready to gulp you down and vanish. I spent almost two hours trying to find the perfect spot to cross the river but I never found one. The river played mind games with me. Every other minute, I would squint to look beyond few metres where the river would seem perfectly wide and laid with rocks to step over and cross the river but after reaching it, I would curse under my breath for the stones would be too far from each other and river too wide to cross. I also thought of throwing my bag to the other side and then jump into the river and watch out for the nearby rocks, grab them and land on the other side somehow but the river was freezing, numbing my body the second I dipped in. I felt incredibly stupid and adventurous at the same time. I was mad over myself for letting myself down. But then I felt more stupid for cribbing and fretting so much when I could simply enjoy for trying something new in my life. I gave my last attempts and then started heading back, my hopes shattered but enjoying the failure. The way back was so tiring that I had to rest on boulders every now and then. Sometimes I felt stuck in the middle of nowhere, a bit scared as well. But I would tap my heart three times while saying "All is well" and kept myself going. (It works!) I was half wet already and the fog was settling in. Clouds were gathering as if to haunt me, to tell me that I had had enough for the day. I was retreating while touching the same flowers I had touched while coming up. But suddenly, I spotted something. Voila!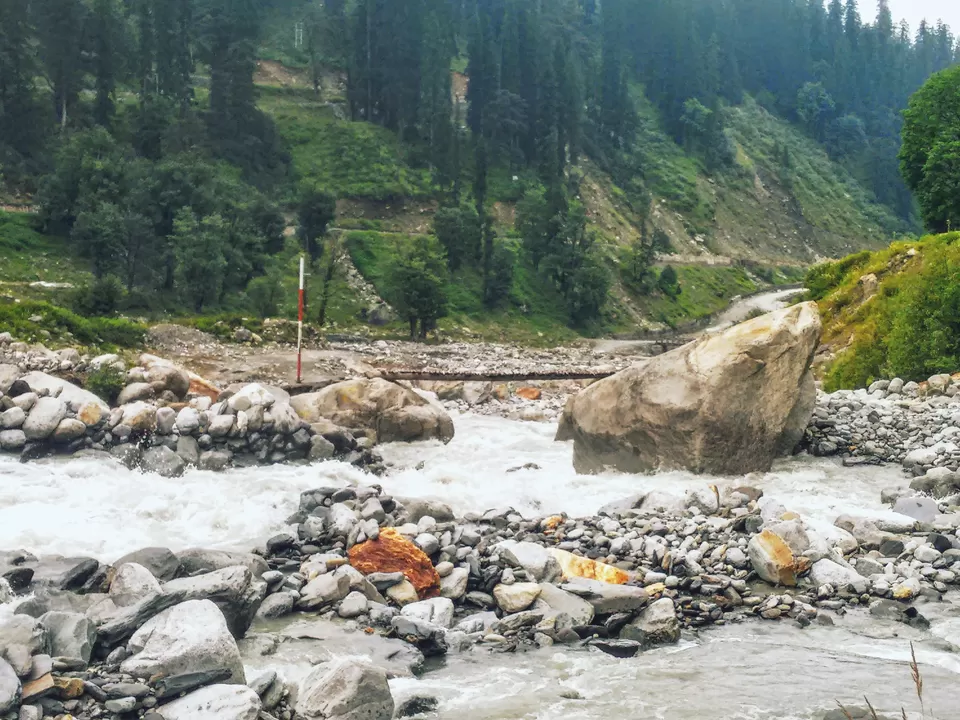 My happiness knew no bounds. I walked towards the bridge as fast as my legs, heavy with wet pants and remorse of having lost too much time to complete the trek, could take me. I crossed the river and found some tents around one km up from there. "That's where I will pitch my tent."- I said to myself.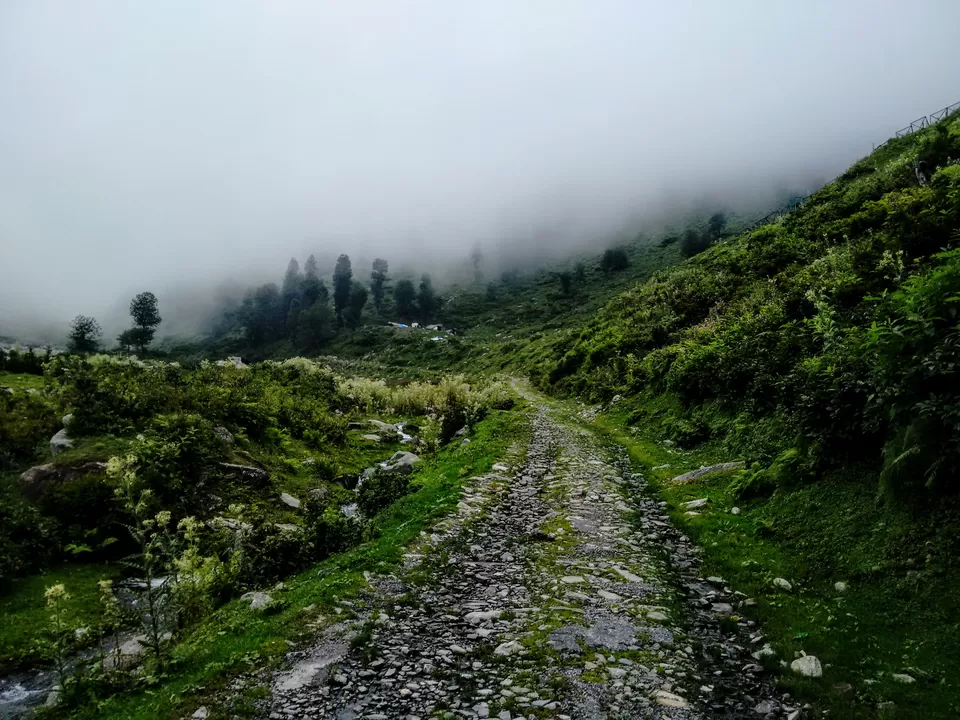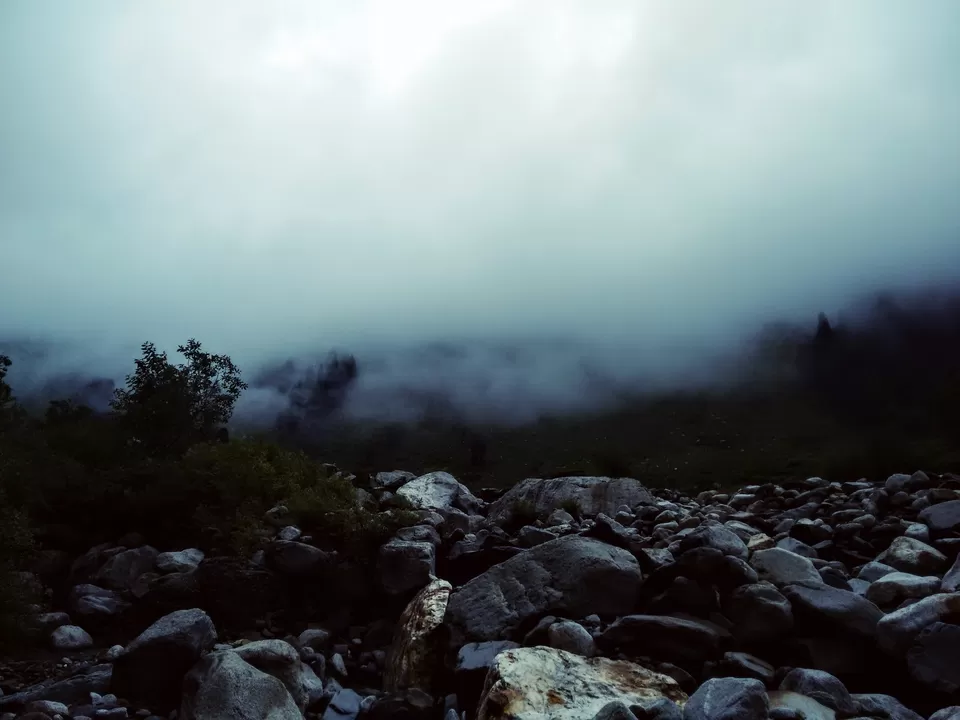 I met the family around 4pm when it had started raining and I was wet from head to toe. I greeted them and they welcomed me into their humble abode.
The Gujjars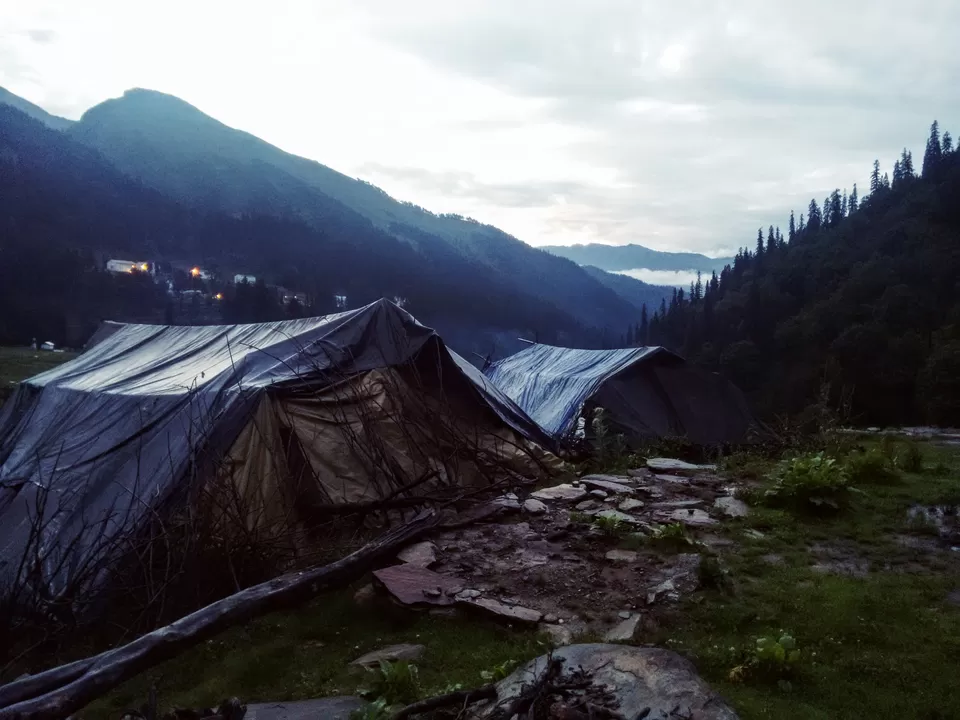 I did not click their photo. It felt like intruding their privacy, their dwelling which deserved what they had - a sound peace that we city people crave every weekend. I entered the rather warm place and the family offered me a cup of hot tea and stories of people losing their way around Beas and bears trotting the valley beyond Bakarthach. I was suddenly happy for losing my way. I can't imagine what would have happened to me in that foggy valley had I not found them just in time. They provided me with a shelter to dry my clothes in, fire to sit by, food to eat and a blanket to cover myself up with on the chilly night. I was so not prepared to face the other side of nature with what I had brought in my backpack. They advised me against solo travelling or at least hiring a guide before starting. I told them about my love for solo travel and they laughed :( .
They were a very welcoming bunch of people and their lifestyle was exactly what I was reading about in the book I was reading then and thus, I craved to live there for at least one more month before I returned to my ordinary life. I befriended Salim, the youngster in the family, who looked my own age. He helped me pitch my tent. And that was that. I was happy and smug in my tent with my book and biscuits.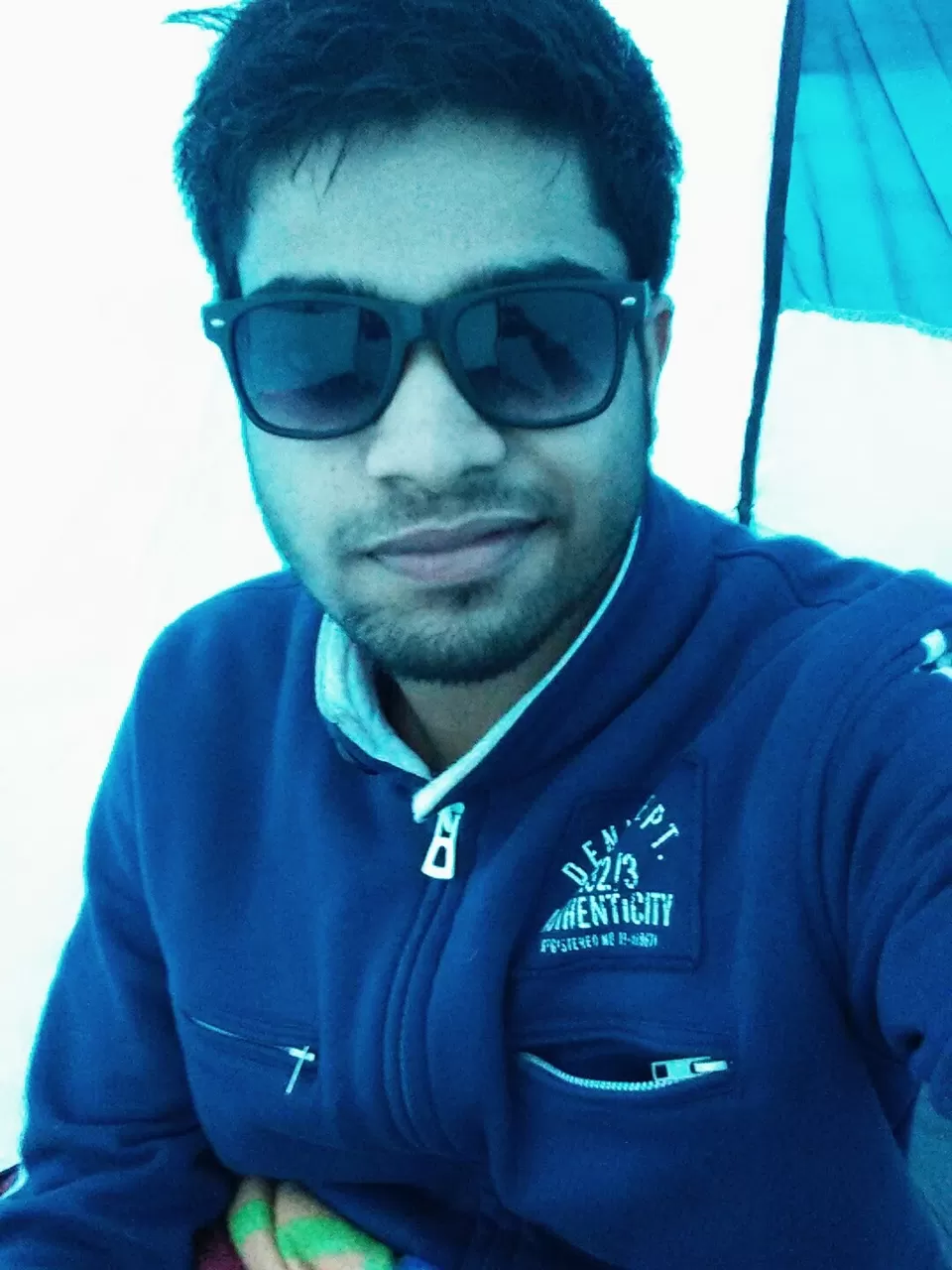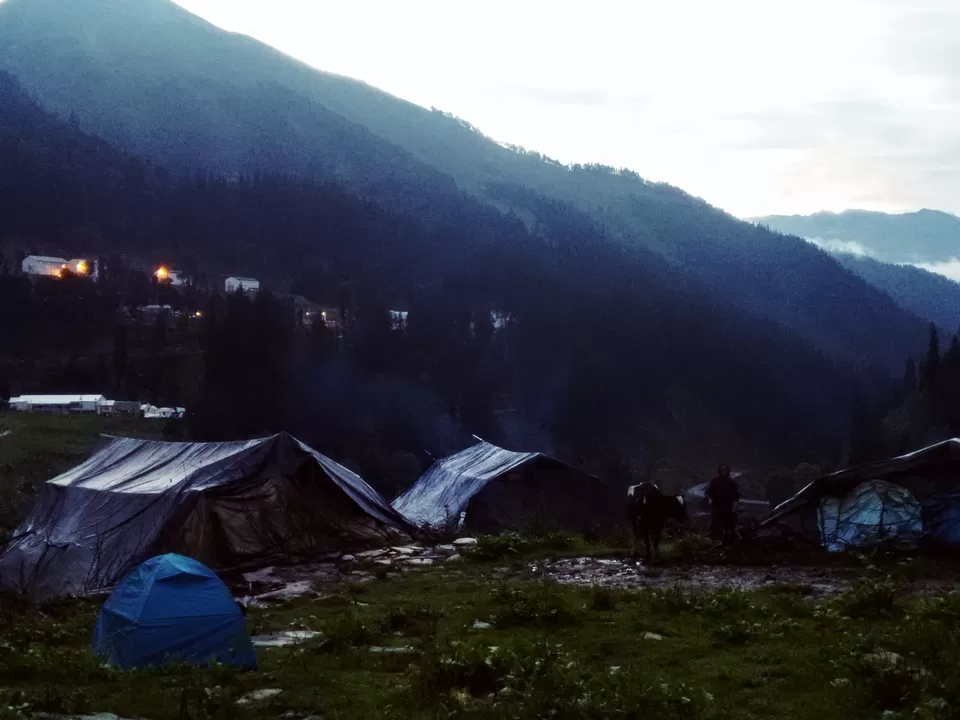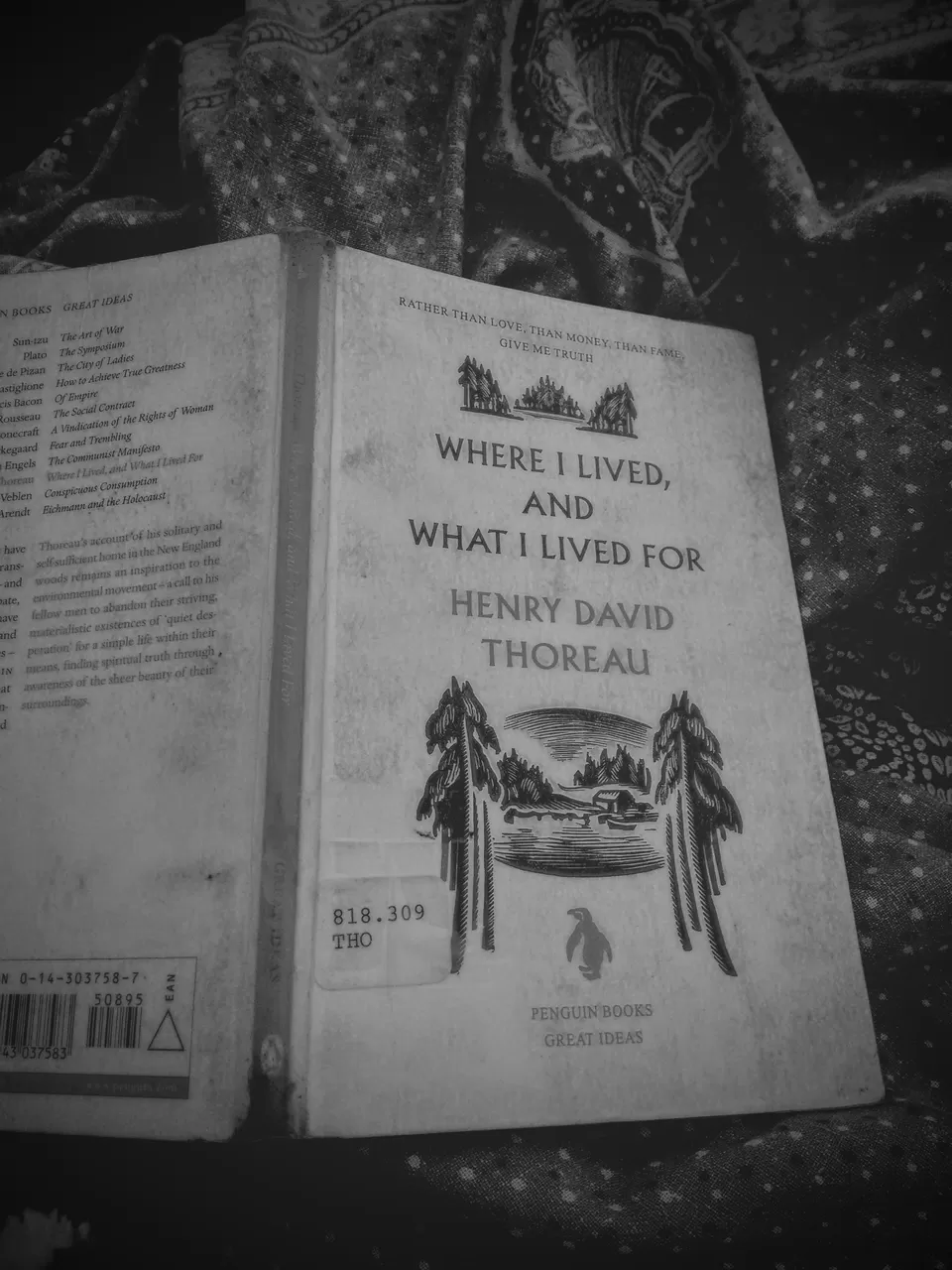 I fell asleep after reading a little and woke up to Salim's call for dinner. It was pitch dark outside when I zipped out of my tent. With our torches, we slid into the main tent and served ourselves the most delicious dinner I have ever had, the taste of which I can still feel on my tongue. We ate what the mom of the family proudly called "Gujjar roti" with aalo-subzi and makhan. We traded stories once again and then sleep clouded me. I was hoping to see stars but the sky was cloudy. I got back to my tent and drifted into a beautiful dreamless sleep.
The Morning
Thoreau has something nice to say about mornings -
"The morning, which is the most memorable season of the day, is the awakening hour. Then there is least somnolence in us; and for an hour, at least, some part of us awakes which slumbers all the rest of the day and night. Little is to be expected of that day, if it can be called a day, to which we are not awakened by our Genius, but by the mechanical nudgings of some servitor, are not awakened by our own newly-acquired forces and aspirations from within, accompanied by the undulations of celestial music, instead of factory bells, and a fragrance filling the air - to a higher life than we fell asleep from; and thus the darkness bear its fruit, and prove itself to be good, no less than the light."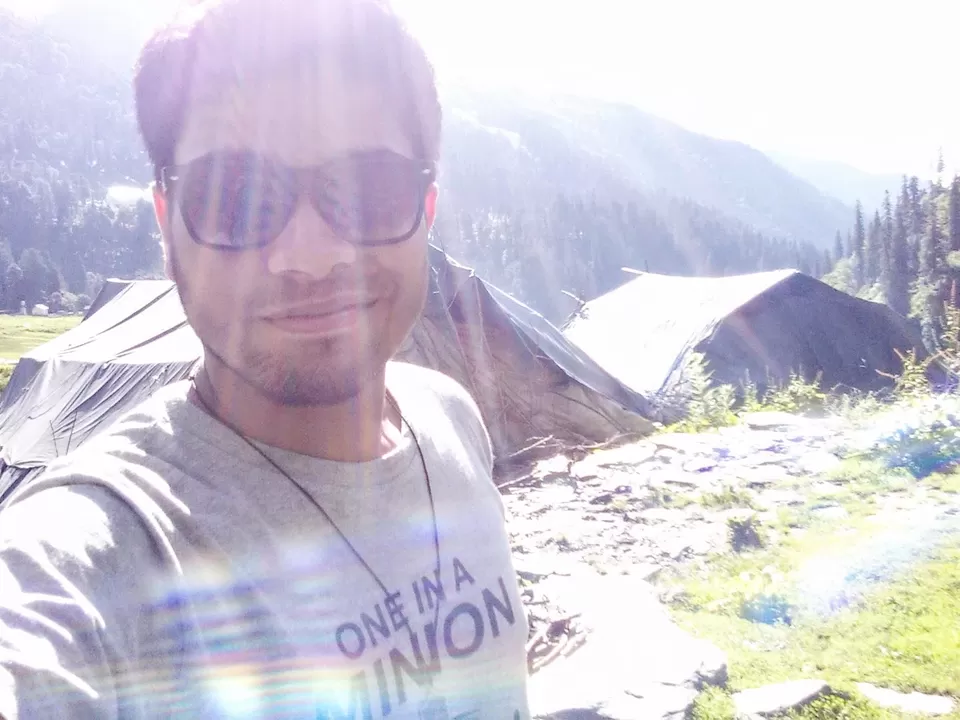 I went in search of cell network nearby to inform my family that I was still alive, passing by and saying hello to cows and buffalos.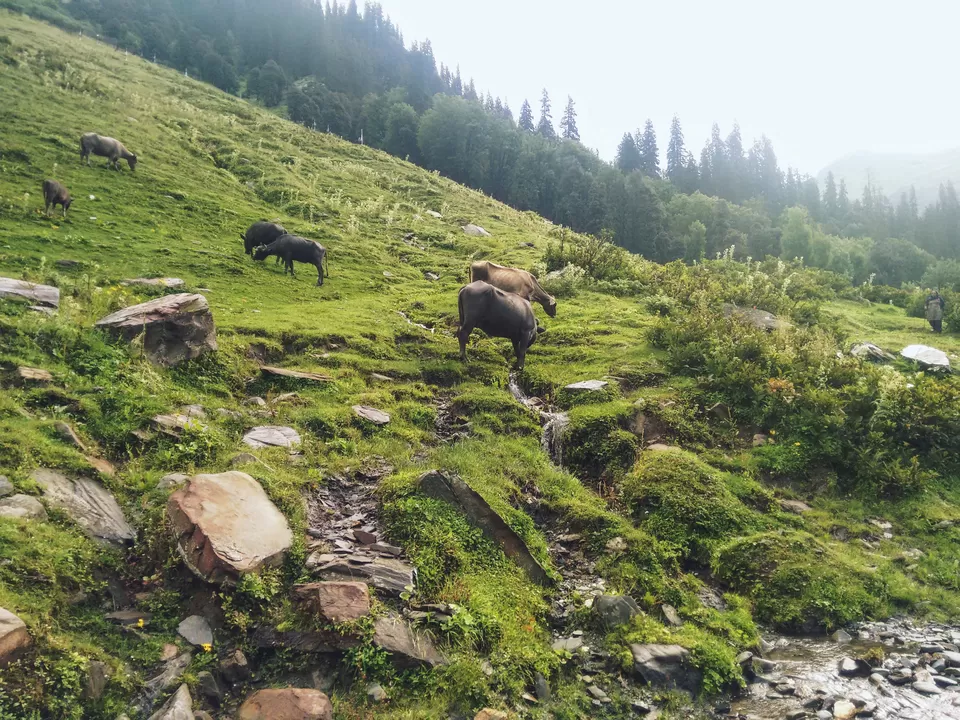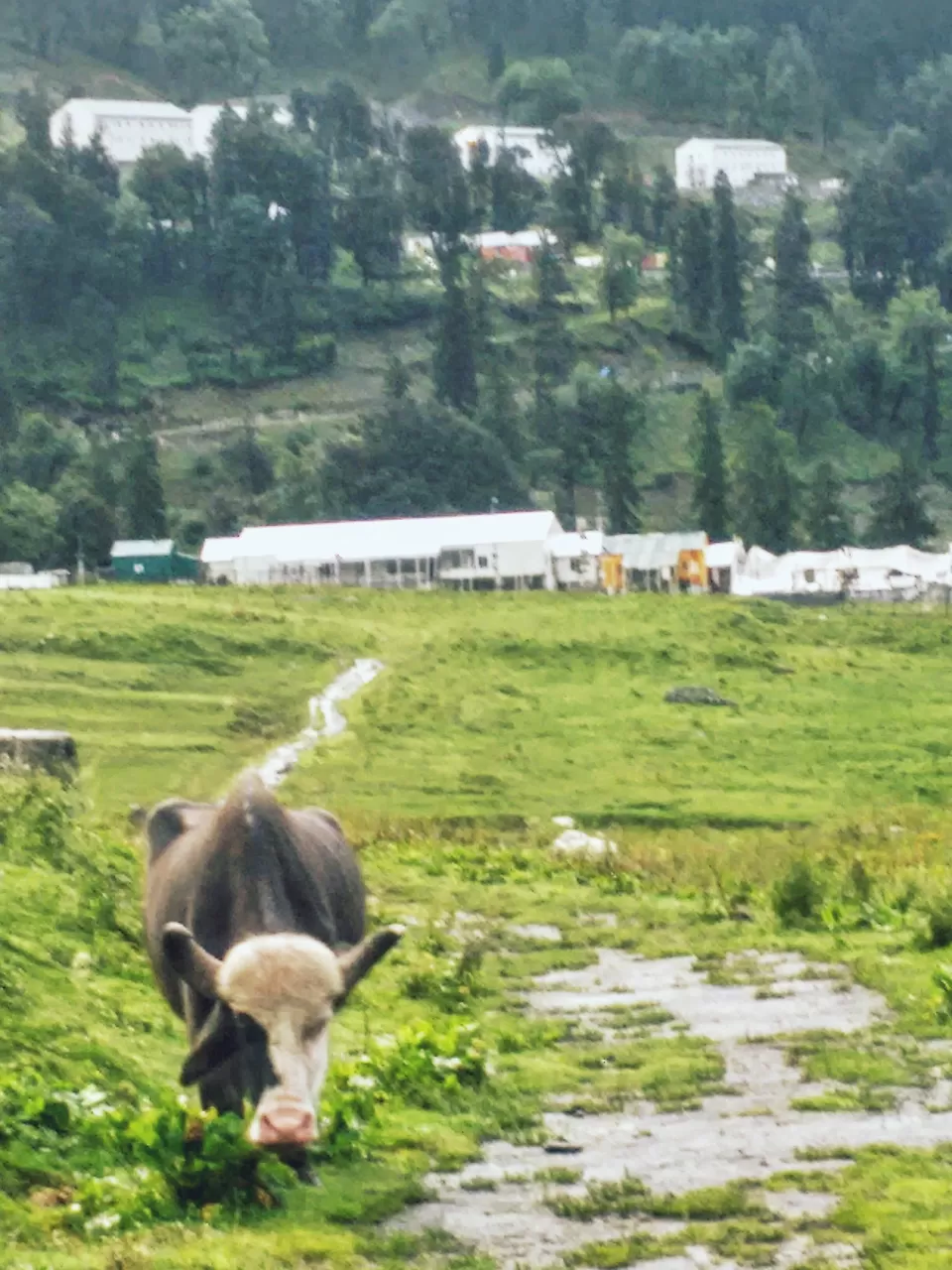 Salim called me into his tent after sometime and we sipped the customary morning tea and talked while a sheep nodded to our conversation and a calf went out bored and disappointed.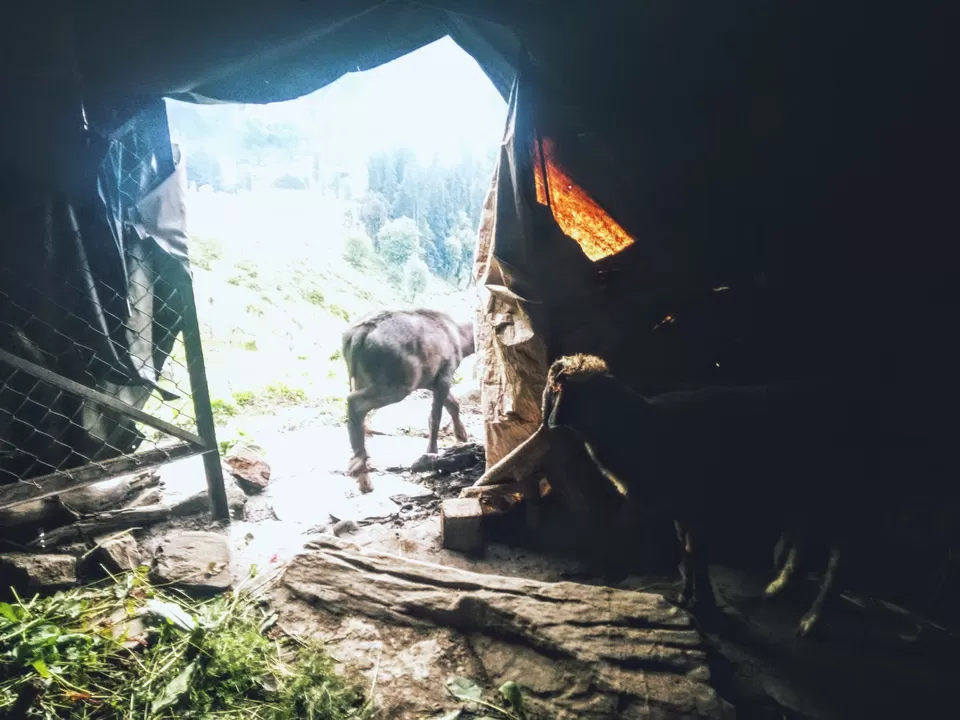 It was the Independence day. My bus was already booked for the night, so I could not continue my trek any further. I said goodbye to the guys and started on the way down to Solang Valley. I had to go through the maze again and Salim told me to simply follow Beas. It still was difficult. I again lost my way but this time, I found the bridge in only half an hour.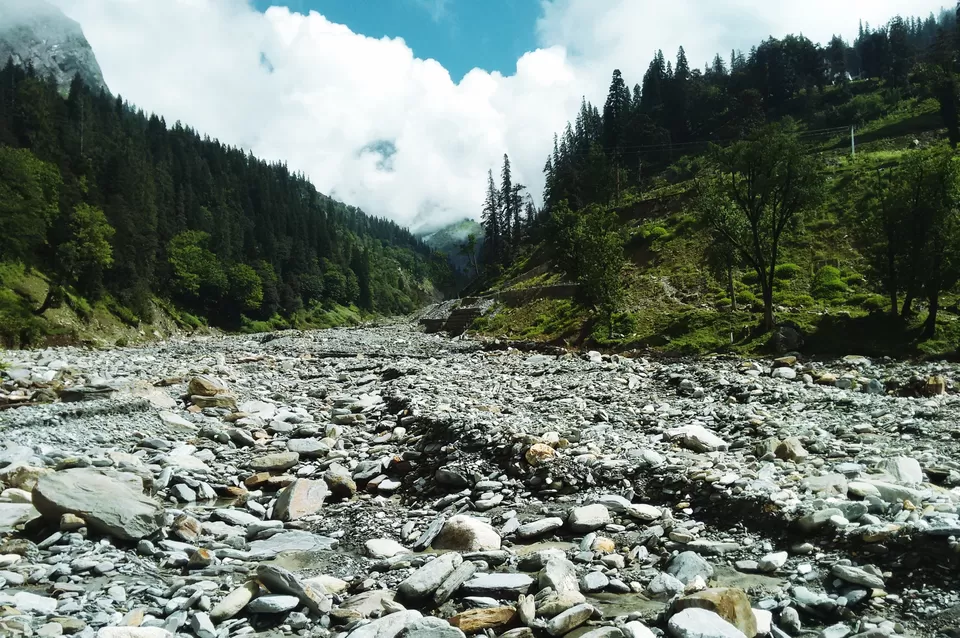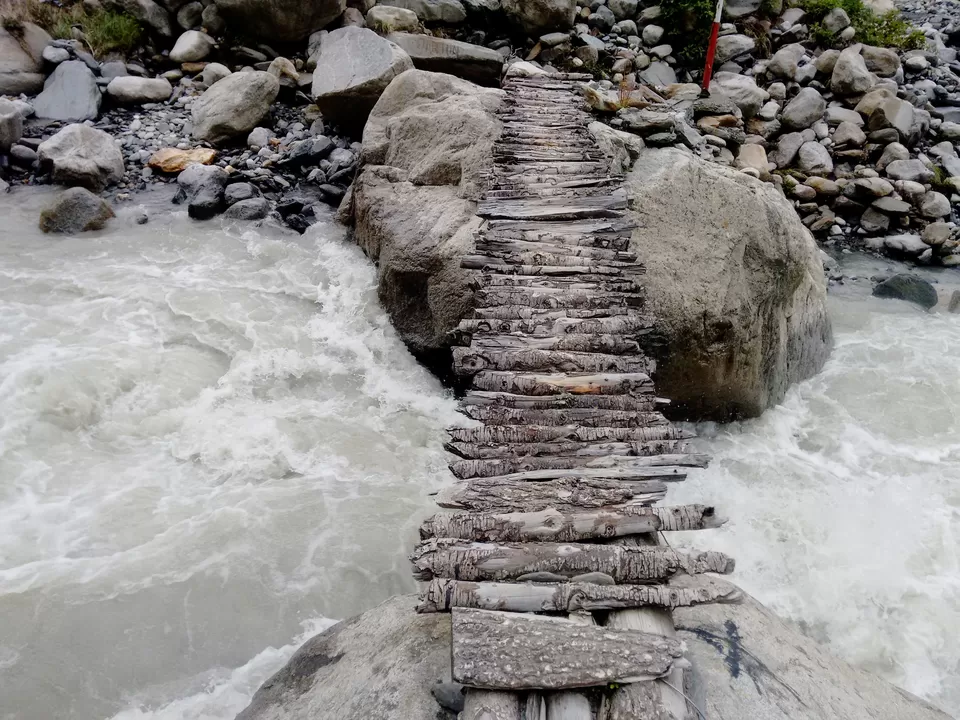 My companions
This time I could not hitch a ride down to Solang Valley because of the Independence day. So, I walked 8kms. Why is it that when you are hiking, you are always followed by a dog? I met two companions. Companion no. 1 did not seem much interested. He kept his distance from me and walked with me for 1km. But he introduced me to my companion no. 2. She did not follow me as soon as she met me but it was after walking for 2-3 kms that I saw her coming towards me and I was delighted to have her around. She accompanied me for the last 5kms refusing to walk in front of me. It was the best walk ever.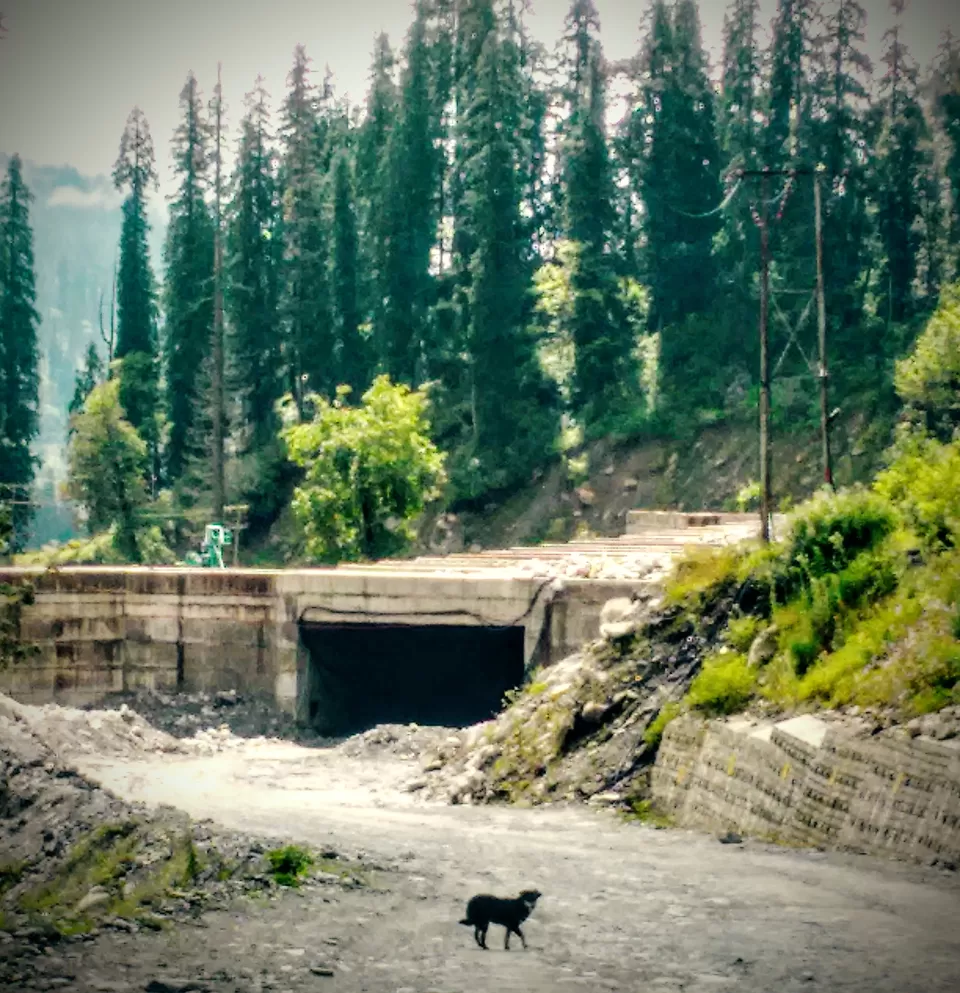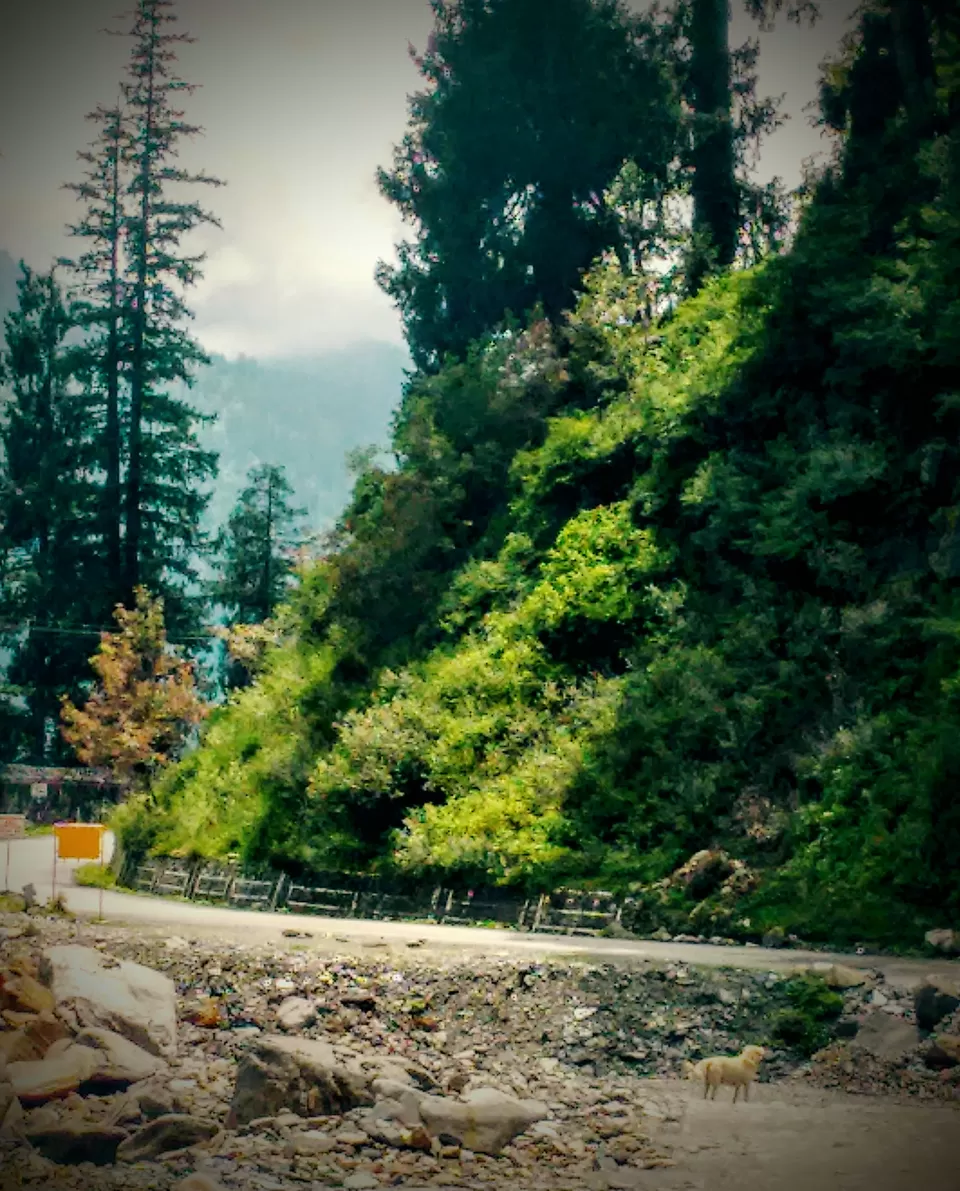 Road from Solang to Manali
I reached Solang, had some rest, ate a bowl of maggi (Rs 80) and finished reading my book. Then I headed for Manali. Since I had a lot of time, I decided to cover the 16kms on foot soaking myself completely in the beauty of mountains. I was enjoying the same collection of music that bored me at home. I walked and contemplated on life and met people and walked till I reached Manali. The road from Solang to Manali is very beautiful. One comes across tiny waterfalls and Beas river never leaves you alone.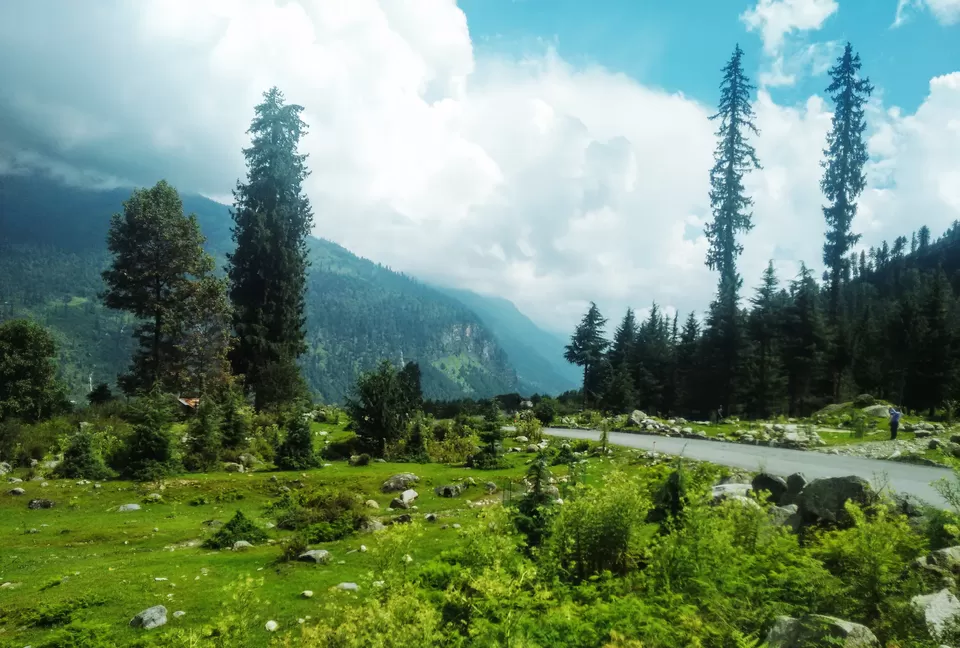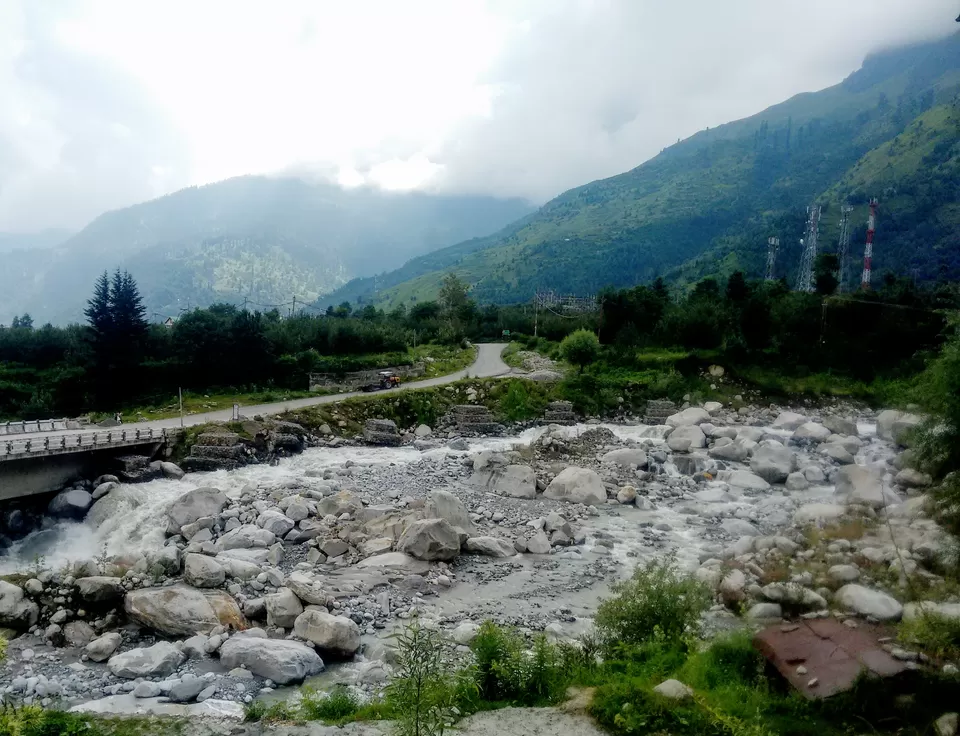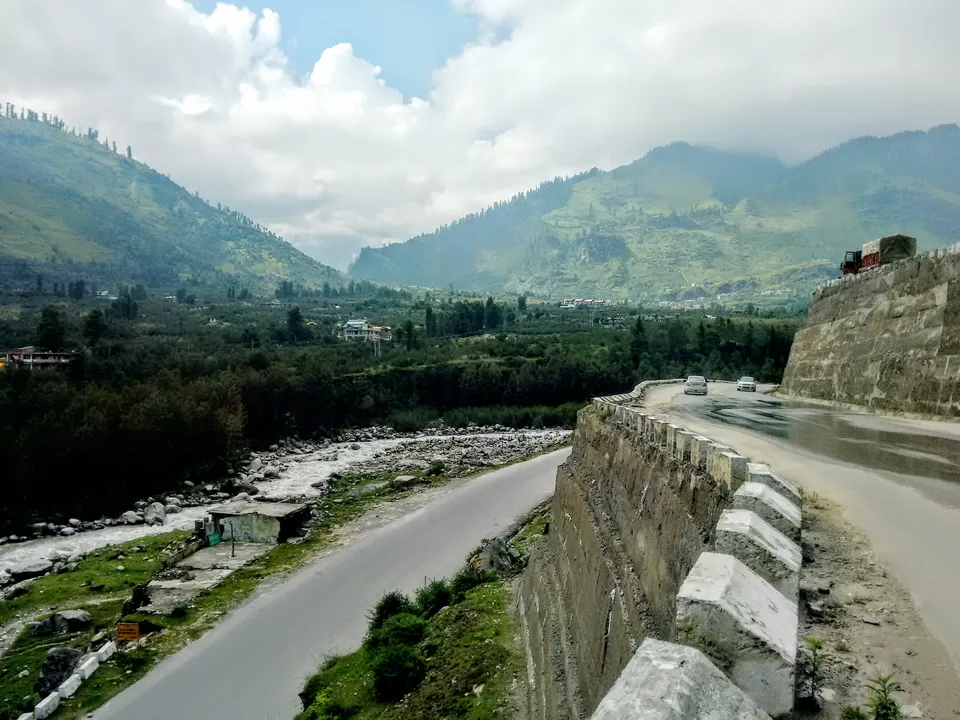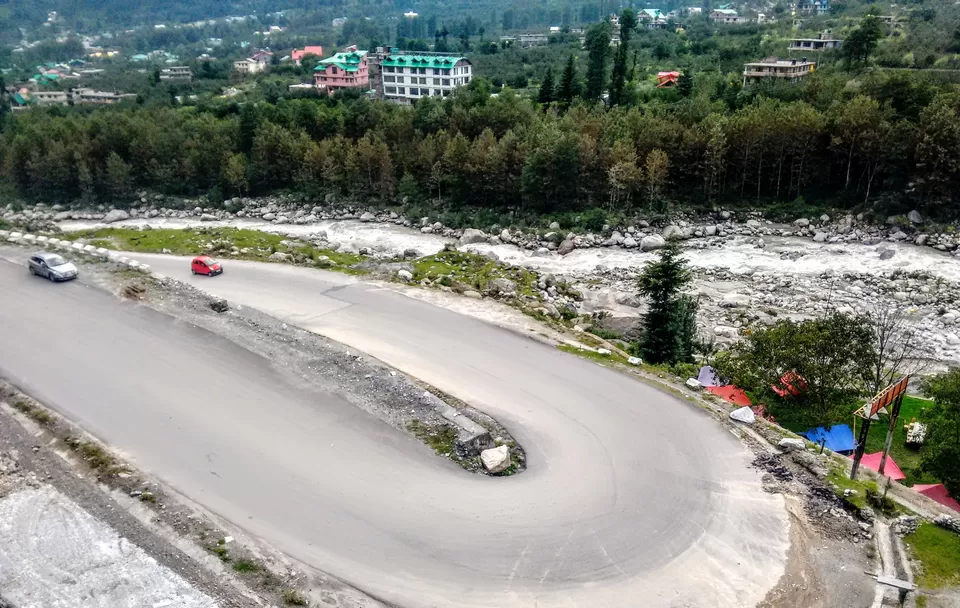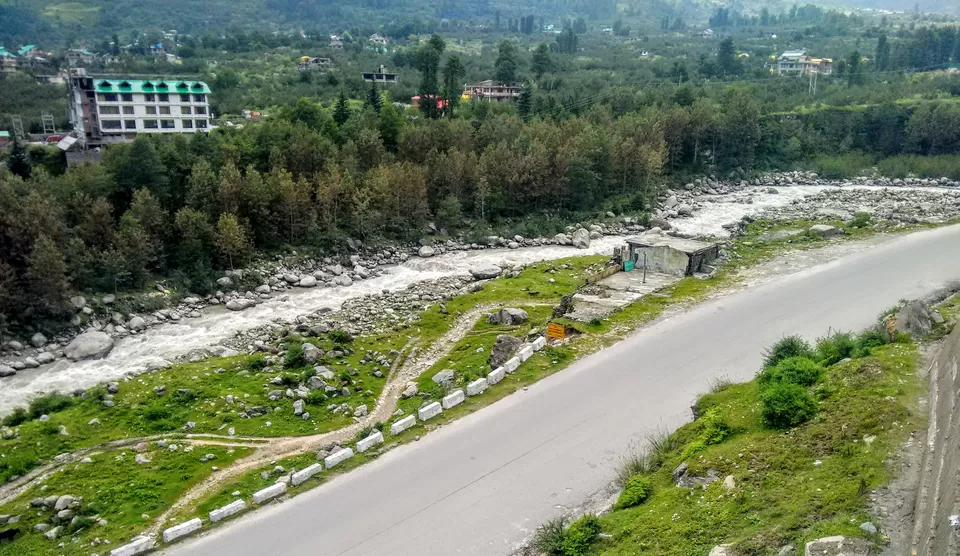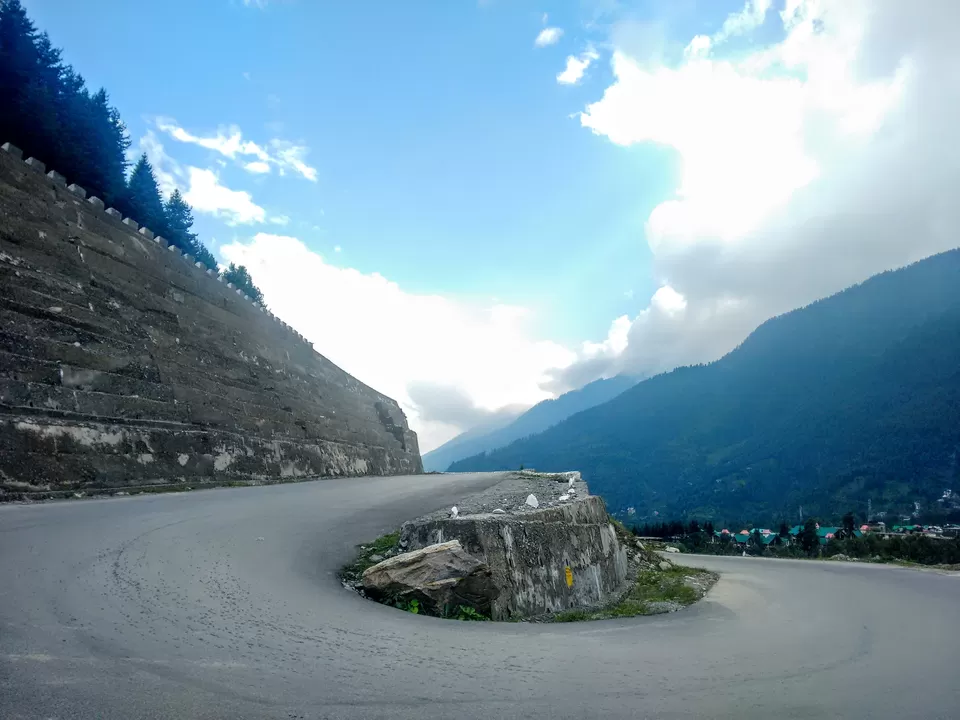 I reached Manali around 6pm after having lunch (~Rs. 100) somewhere on the way. My feet were sore and aching. I rested on a bench for around 45 minutes with bare feet and did some people-watching. That is one of my favourite hobbies - watching people walking around living their lives. I pick a random stranger and create a funny story on what his life might be. After that, when darkness started settling in, I stood up to explore the Mall Road. It was very beautiful in the evening, so many people walking in all directions talking and buying and laughing and playing and eating and reading. I explored a lot of shops and listened to a guy playing guitar. I then ate an ice cream and headed to my bus back to Delhi.
Well, that was it. My sweet little experience. The highlight of the trip is that I tried a lot of new things. It was my first time hitchhiking, first time trying to cross a river, first time carrying and pitching my own tent and first time walking so much in one day. I learnt some serious backpack travel lessons and will look forward to going on many more adventures soon. :)
Cheers!