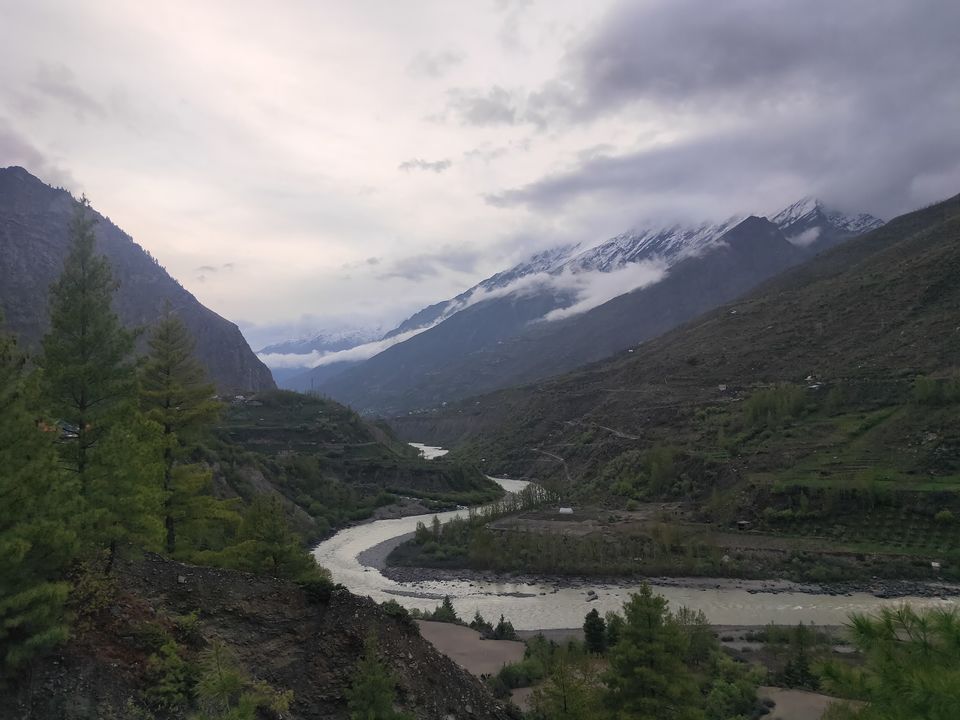 In a world of full of notifications, sometimes for a while, snoozing it off is a good practice.

With this thought in mind, I embarked the journey towards exploring the Lahaul Valley in Himachal Pradesh.

Before diving into my story, let's know more about Lahaul Valley.
About The Region
Lahaul Valley encompasses a much smaller valley and has some of the most stunning views of glaciers, rivers, monasteries, deep valleys, and high peaks. Of course, Lahaul forms one-half of the Lahaul-Spiti district. But, Lahaul is separated from its sister Spiti by the gigantic Kunzum Pass.
But, if you have been mesmerized by Lahaul on your short visit – I am sure you will fall in love when you explore the place extensively! So, if you are looking for a detailed and common itinerary for the Lahaul Valley trip, then look no further, this article deep dives into all the required details for you.
A Day Before Visiting This Gem
Initially I was planning to go to Tirthan/Sainj Valley. and booked the ticket from Delhi to Aut Tunnel, for 28th April, '22, but just 12 hours before, I called one of my friend Deepanshu, and discussed with him about the place, he directed me towards Lahaul Valley and it turned out to be one of the best solo trip of my life, though it was my first solo trip.
So, after an arduous journey of 17 hours from Delhi, I reached Manali by 2:00 PM and without wasting any time, I just got freshen up and ate the lunch.
After enquiring with the local people there, I came to know that local bus stand is in Mall Road, and went to find the bus which can take me towards Rashil.
How to Reach Rashil?
1. One can take a private cab, which will cost approximate 3,000 Rs from Manali to Rashil, which is (83.5) Km away.
2. One can take a bike from Manali, as it is convenient and that starts from 700 in off season to 1500 in busy season.
3. Other option, which I prefer is to travel with locals via road transport. I was lucky enough to get the last bus standing at the bus stop around 3:00 PM, it cost me 150 Rs until Tandi.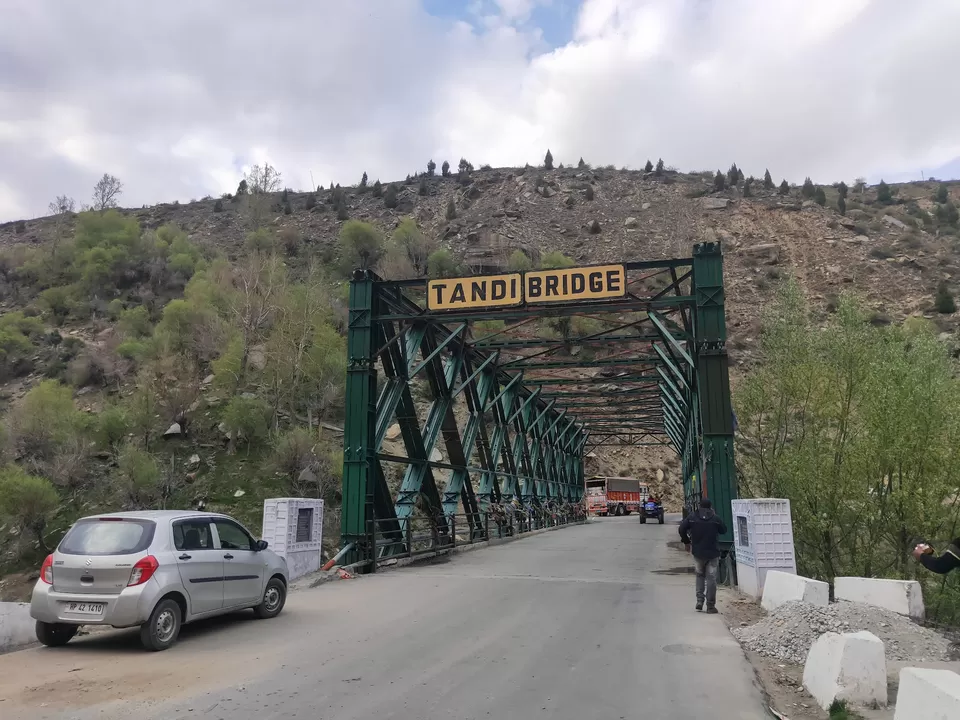 Now, Tandi is situated at junction for Udaipur (Not Rajasthan one) and Keylong.
If you cross bridge and take a left, you will enroute towards Udaipur Or taking a right will take you towards Leh, via Keylong -> Jispa -> Darcha.
So, bus will cross via Atal Tunnel and it will take approximate 2 hours to reach Tandi, which is 65 Km from Manali, and the moment you cross Tunnel, you will be amazed with the gigantic glaciers lad mountains.
After reaching Tandi around 5:30 PM, our Manoj bhai ji, (owner of Zostel Rashil), came to pick me up, as there were very less frequency of buses that go in the villages after 5:00 PM.
After an 1 hour scenic drive, I reached our beautiful place - Zostel Rashil.
Lahaul Welcome Tradition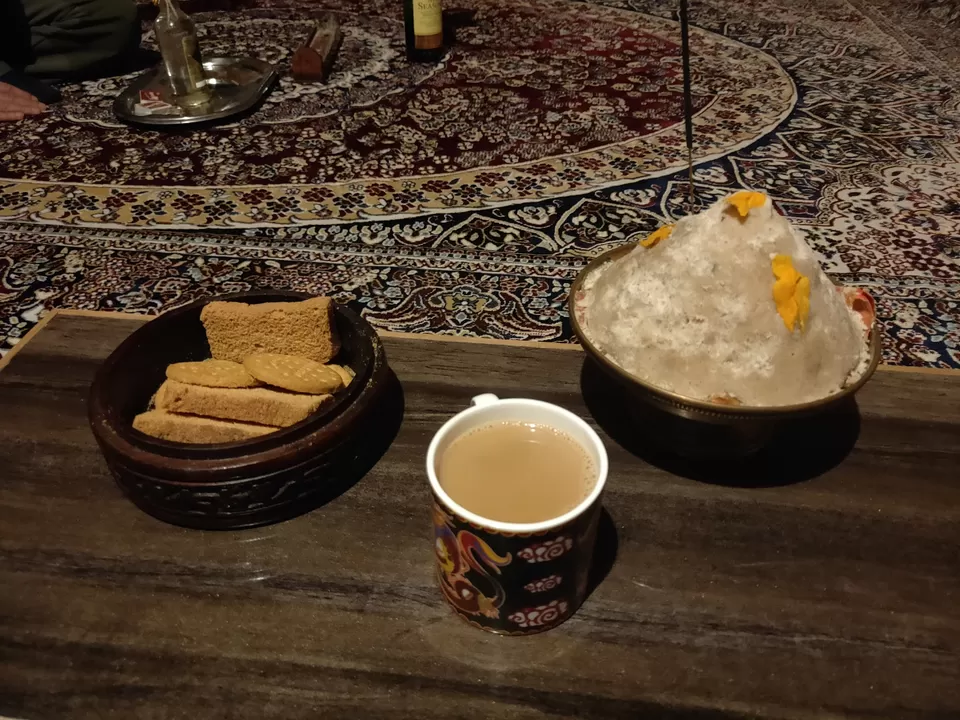 After doing 26 hours journey from Delhi, I was blessed to meet so many people from different part of India, who share the traveller perspective and a couple of them were doing work from mountains since 1-2 months.
I was greeted with Lahaul Welcome tradition, which was done by our Manoj Bhai Ji and in Himachal, when we want tea, we say, (Chai-Chui pite hai) :).
But before, sleeping, I thought let's capture some lensball picture of the dorm light.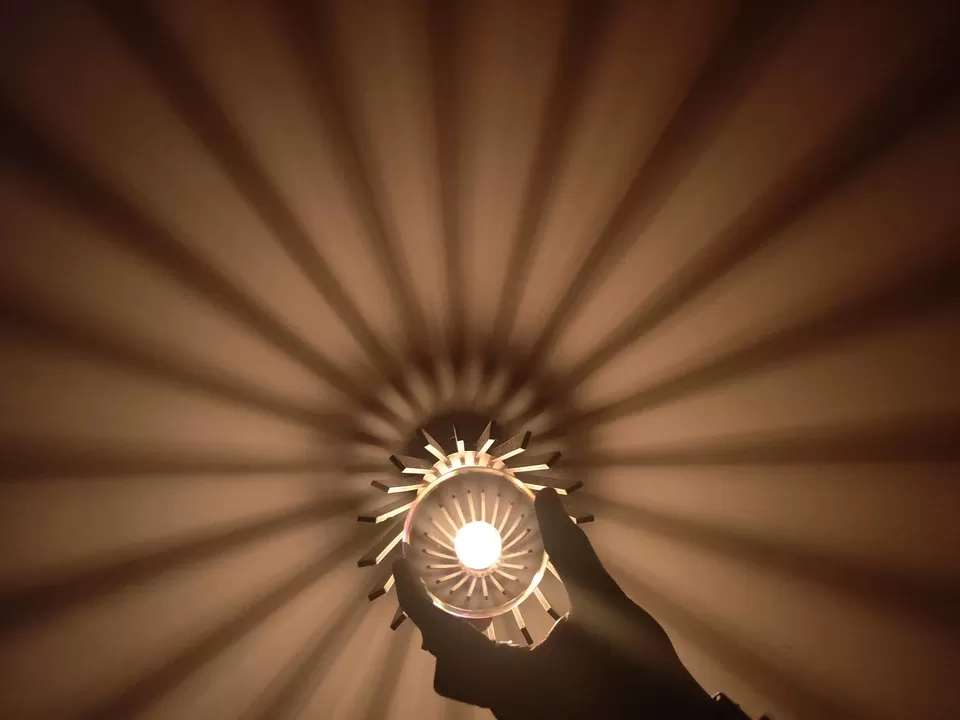 If I explained, how we 4 people clicked this pic, it would be hilarious, but it was very funny incident, and my friend Sumit, hold this ball, while I was clicking from the down, so other people were laughing, seeing our pose.
After having dinner, I went back to our Dormitory and had a great sleep.
Secret Pond Site
Early morning views of this place are out of the world, where you will listen birds from varied kinds and here the national bird of Pakistan also resides i.e. is Chukar.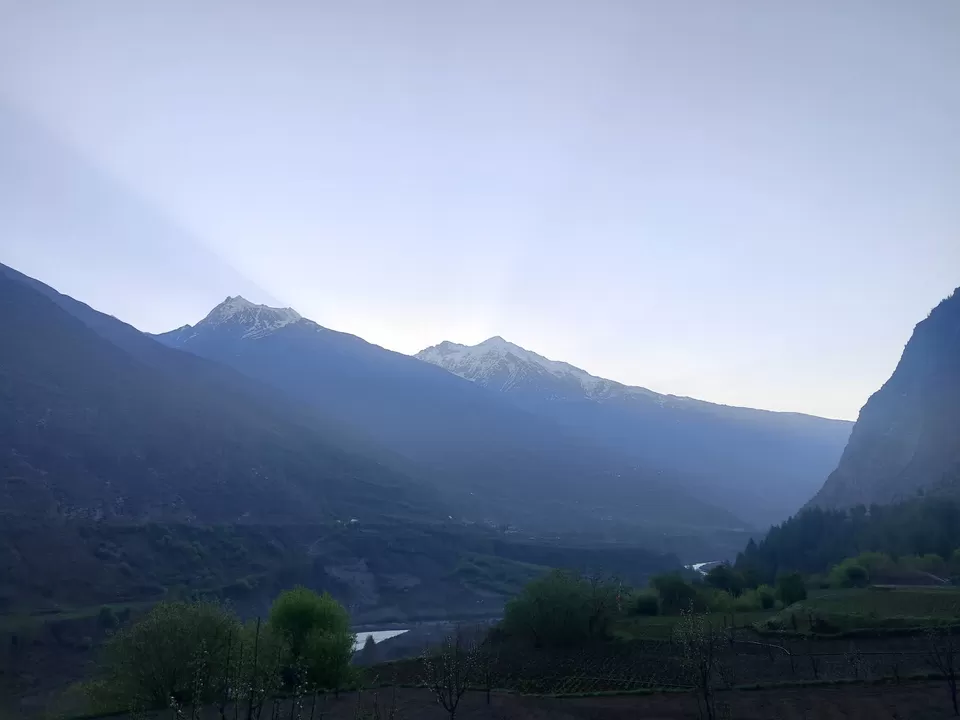 So, a couple of my dormitory friends and Manoj bhai, went for exploring Pond side to Rapay Village.
After a 15 min bike ride, we started hiking towards secret pond side view.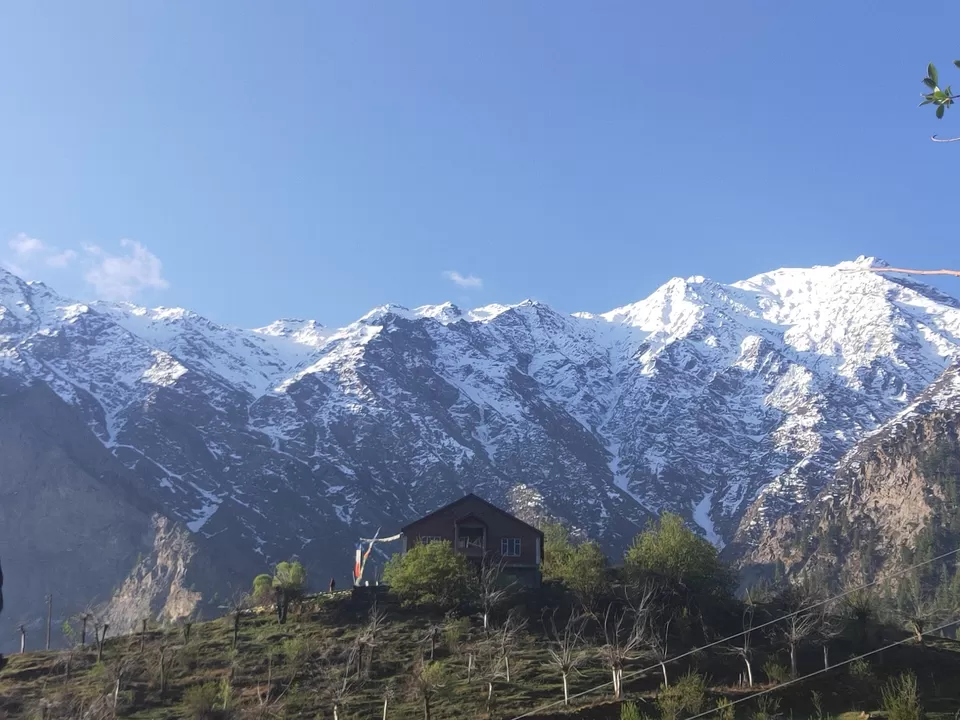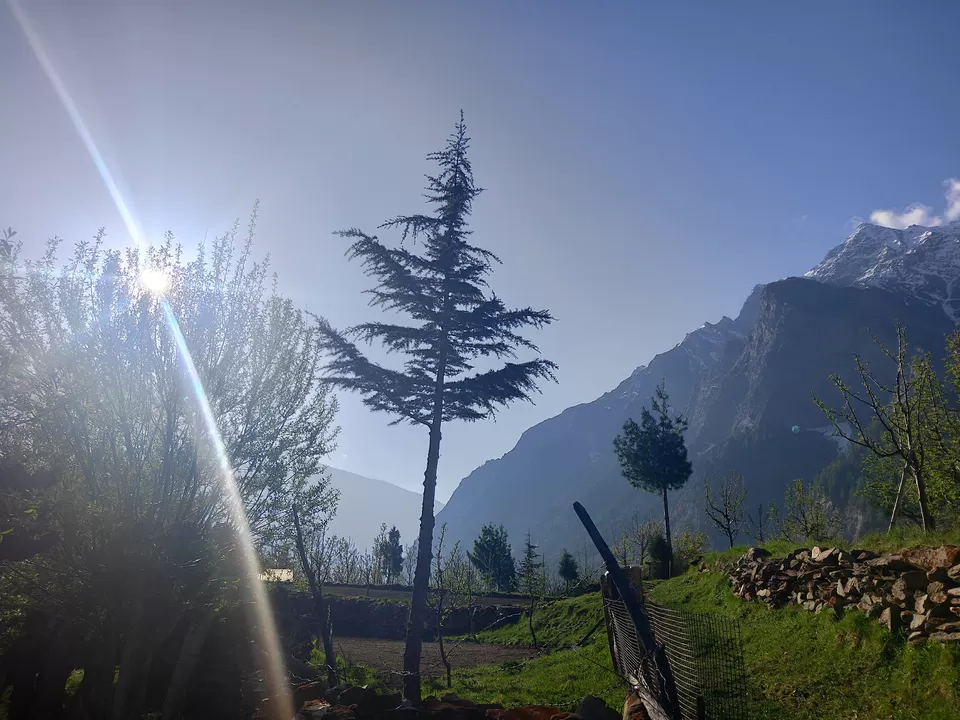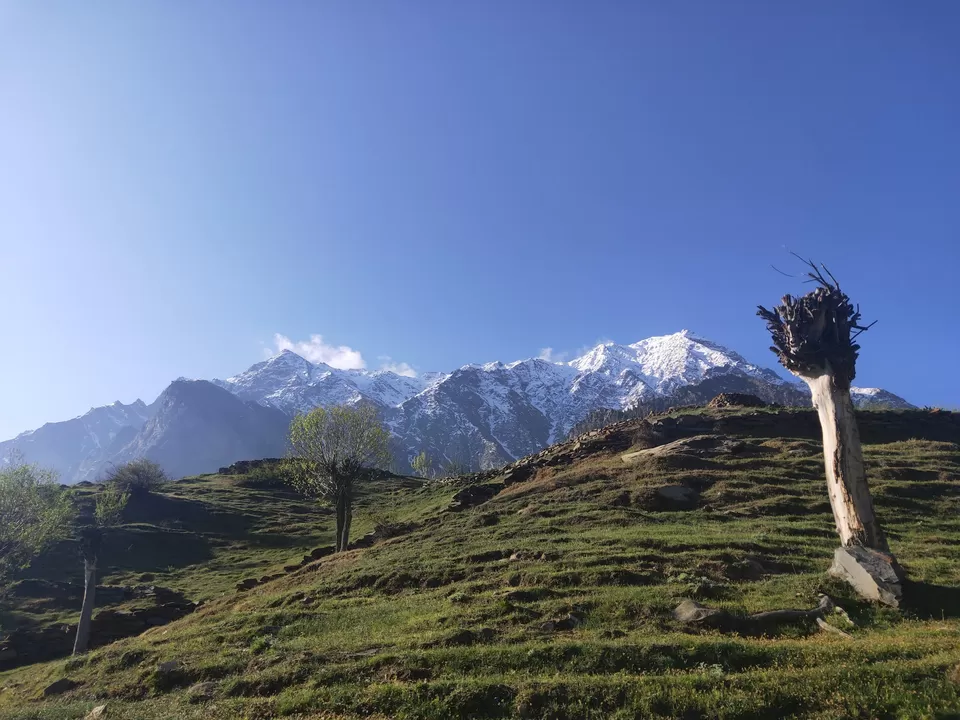 After a 20 minute walk, we were surrounded with a nice view of the lake, where everyone started clicking pictures.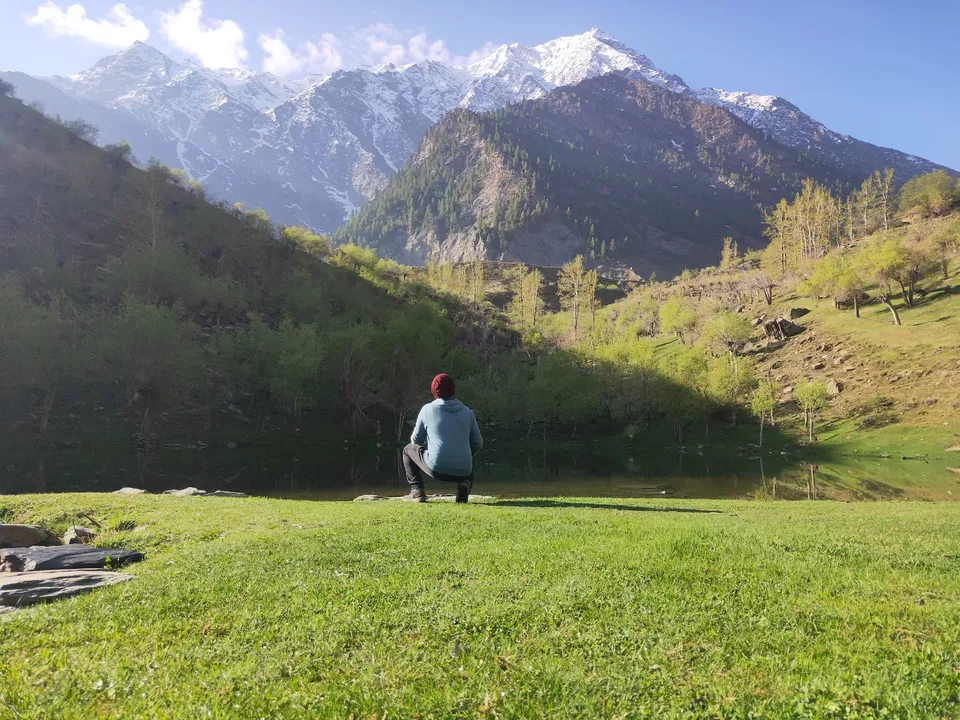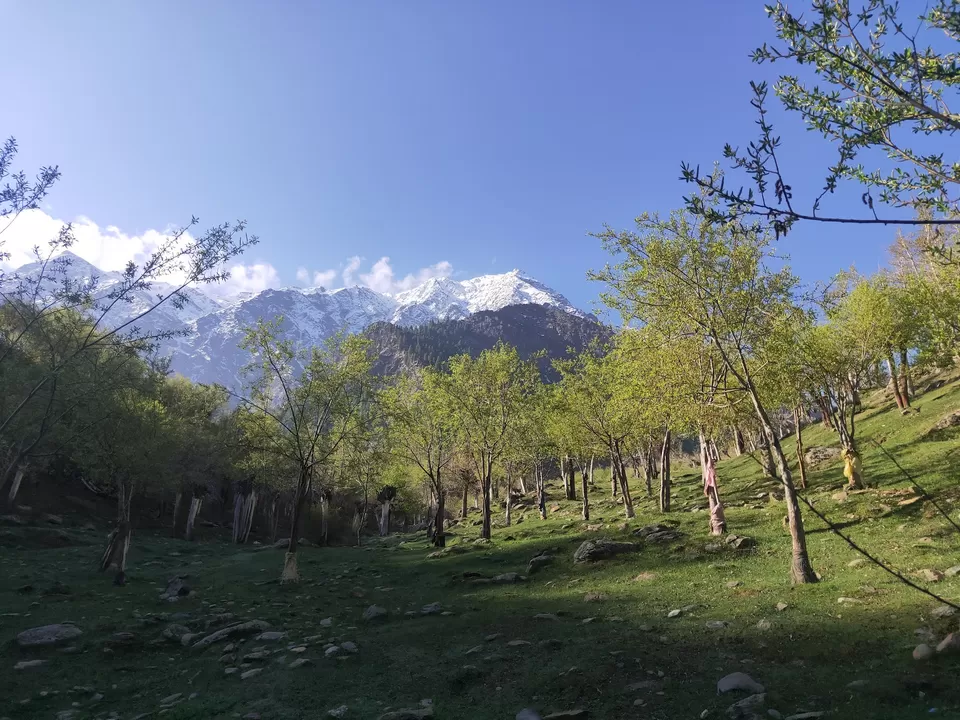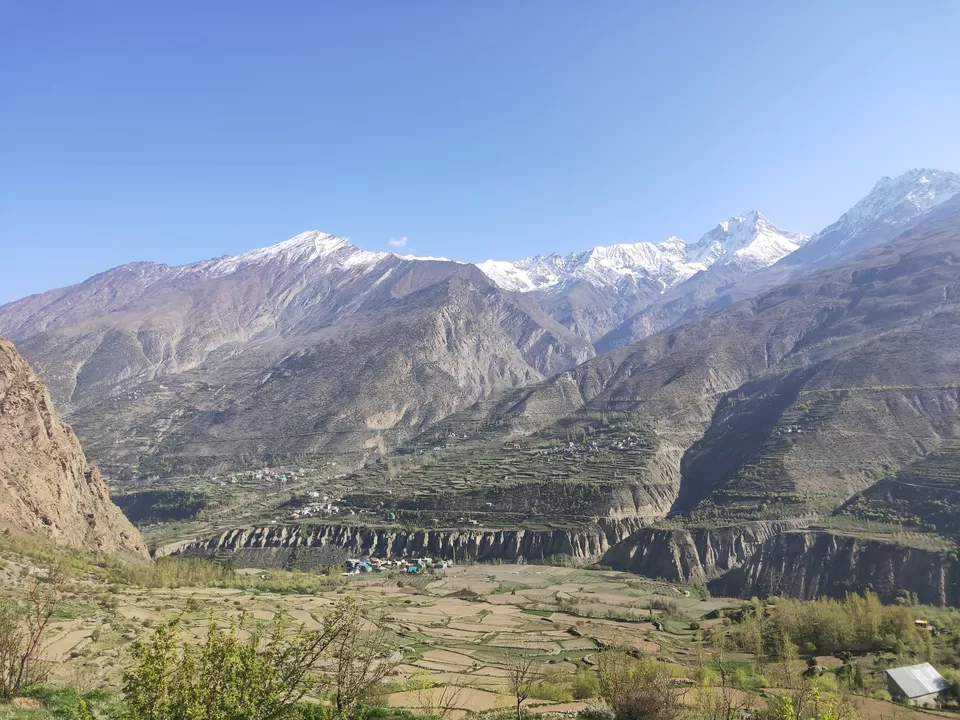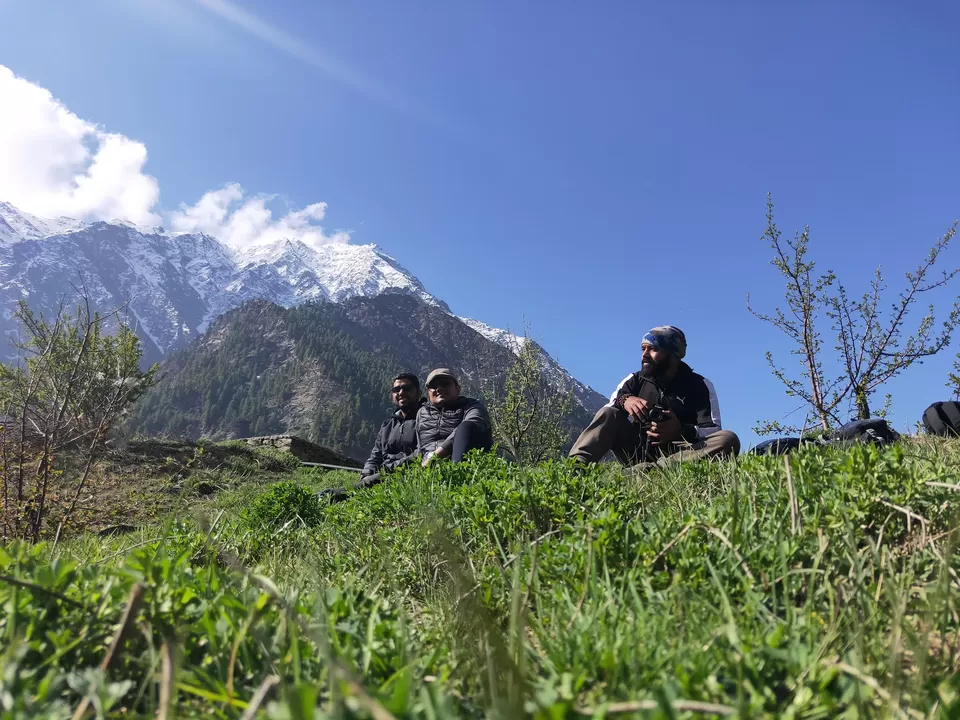 Out of nowhere, Manoj Bhai found some Gucchi, that holds medicinal properties and sold 35-40k, per KG.
And he was making jokes, that I will give a Gucchi omelette for 500 Rs :).
After spending some time, we started our descend back to Rashil, via Pond side.
This time, sun was clearly visible and making a clear reflection of the mountains couple with some sheep grazing.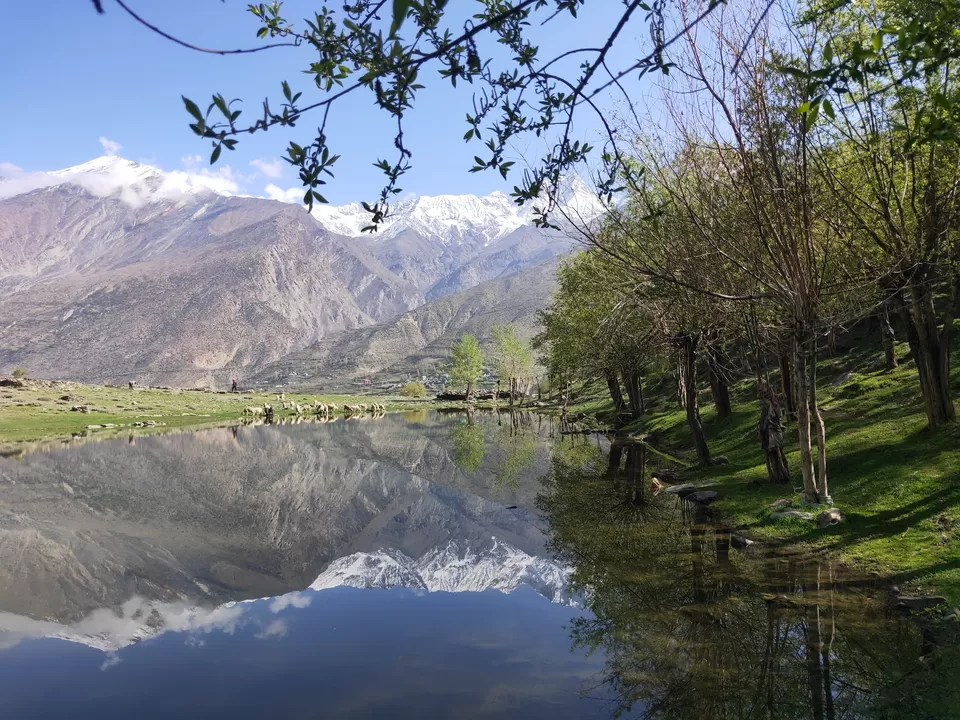 We took some more shots and went back to Rashil for the breakfast.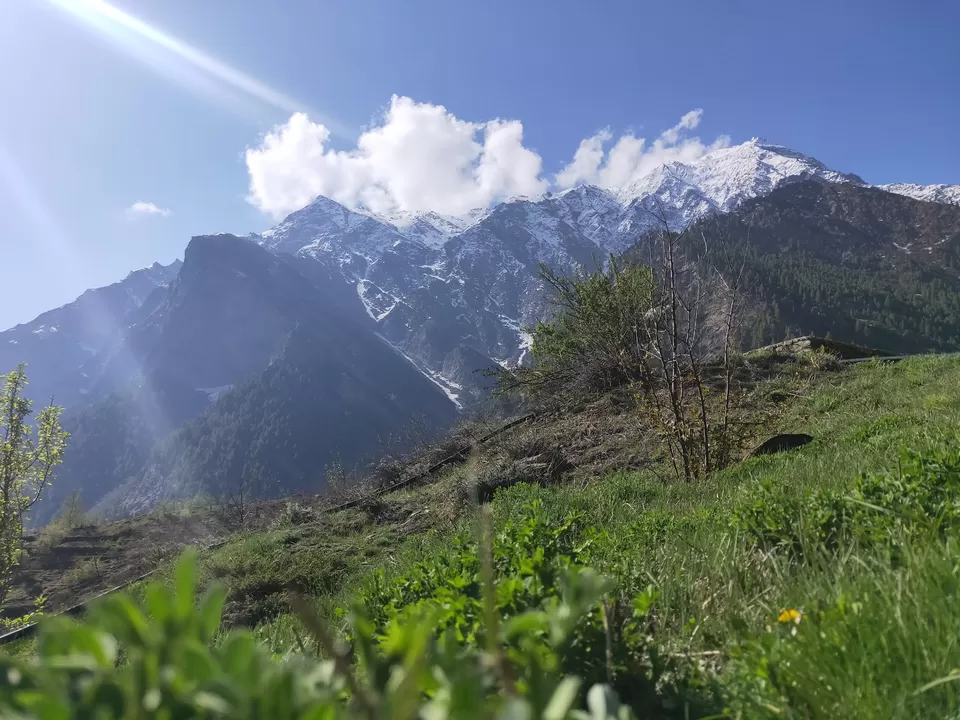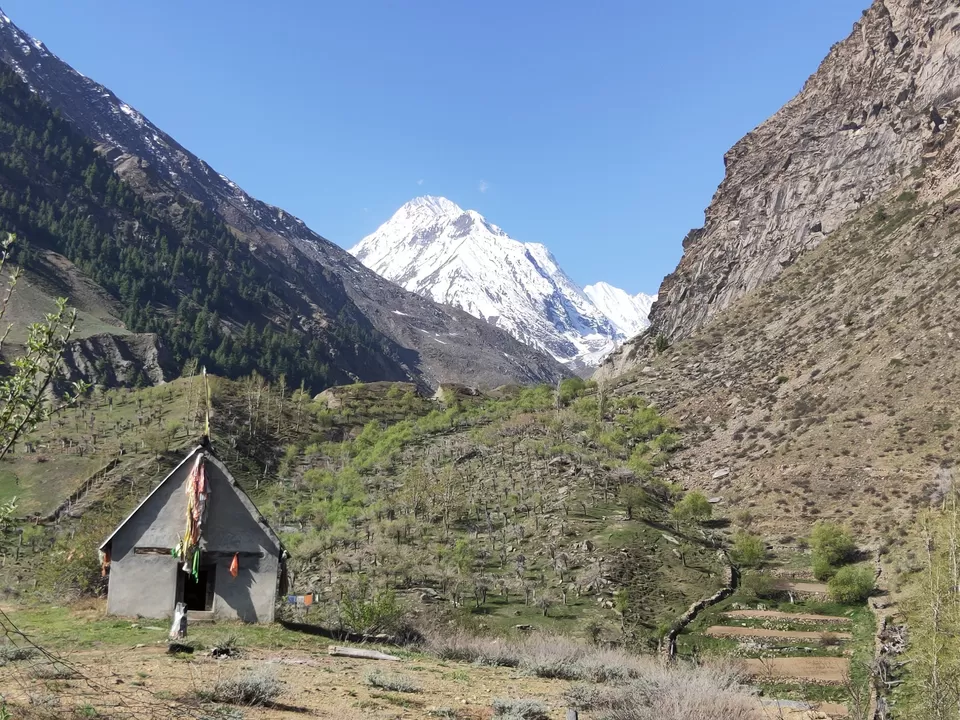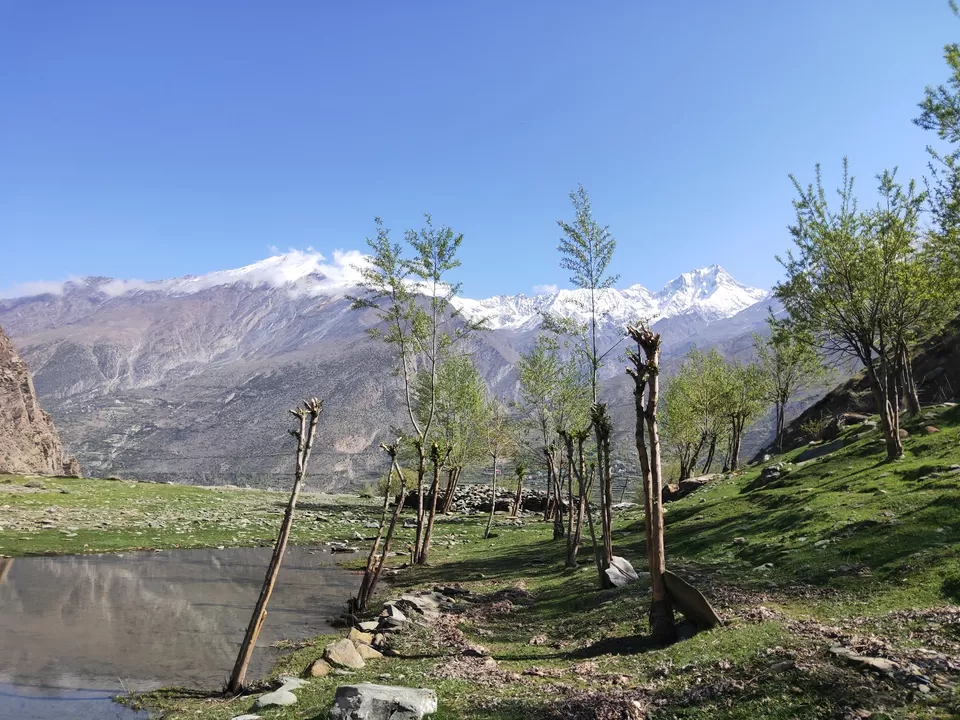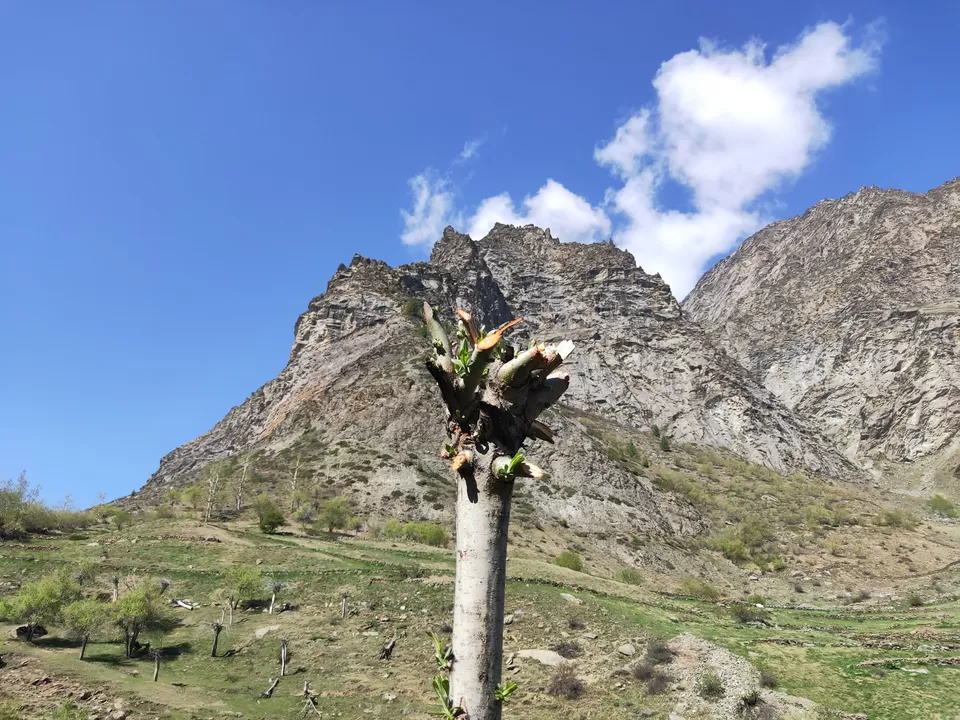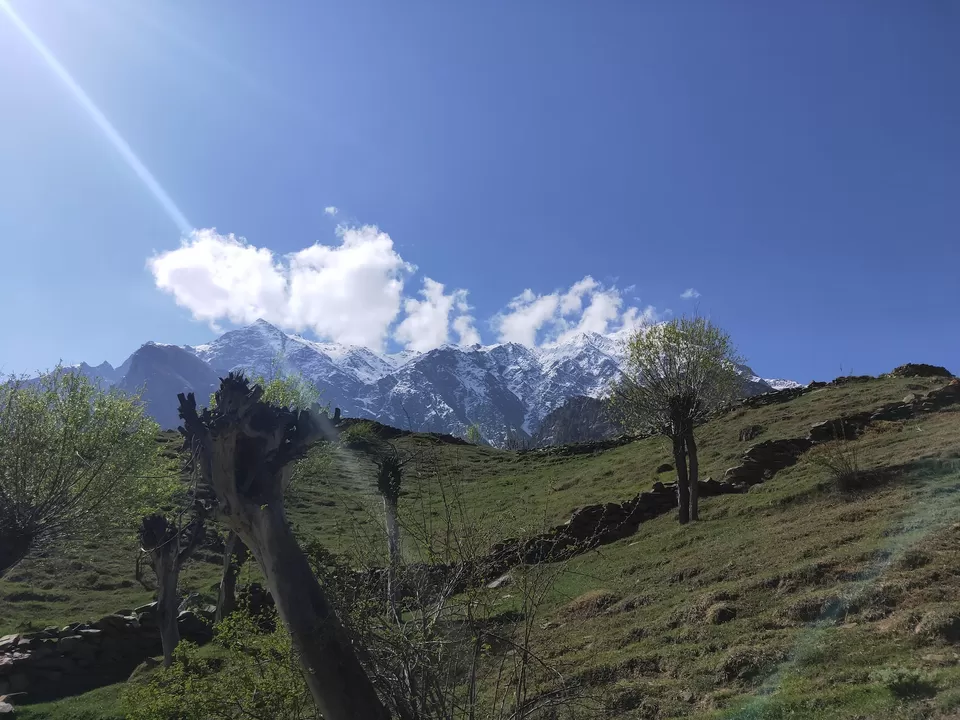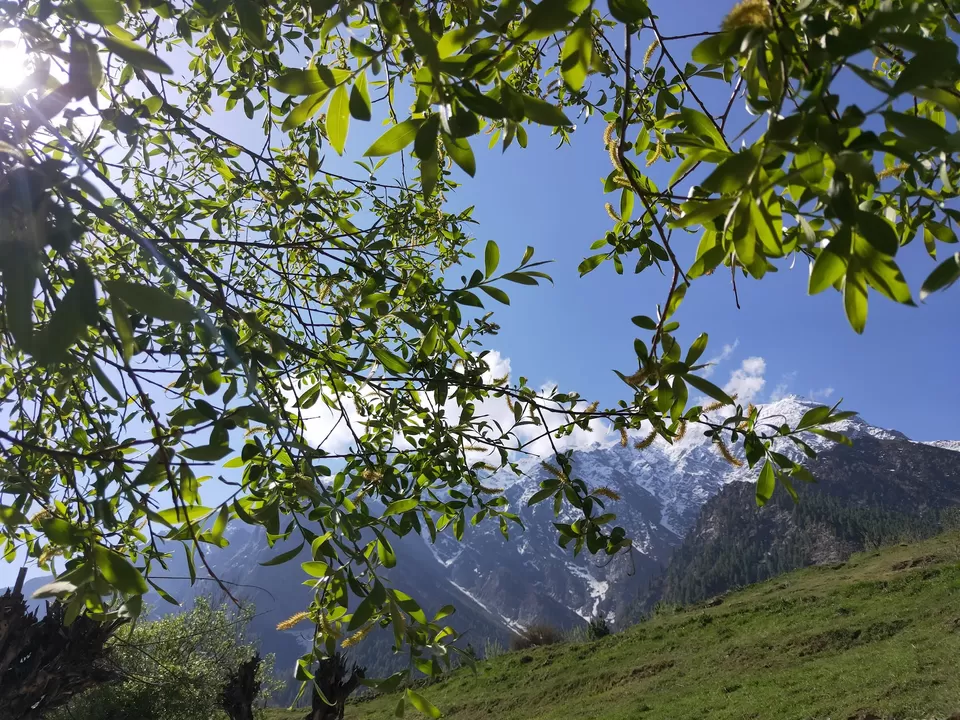 Miyar Valley
So, after having breakfast, we went towards Miyar Valley which is around 80 Km from Rashil.
On the way, we saw very beautiful valley and huge mountains with glaciers.
After crossing Udaipur, there is no network zone, only BSNL works after that, and the route also become little bit risky, as cliff hanging road begins from here.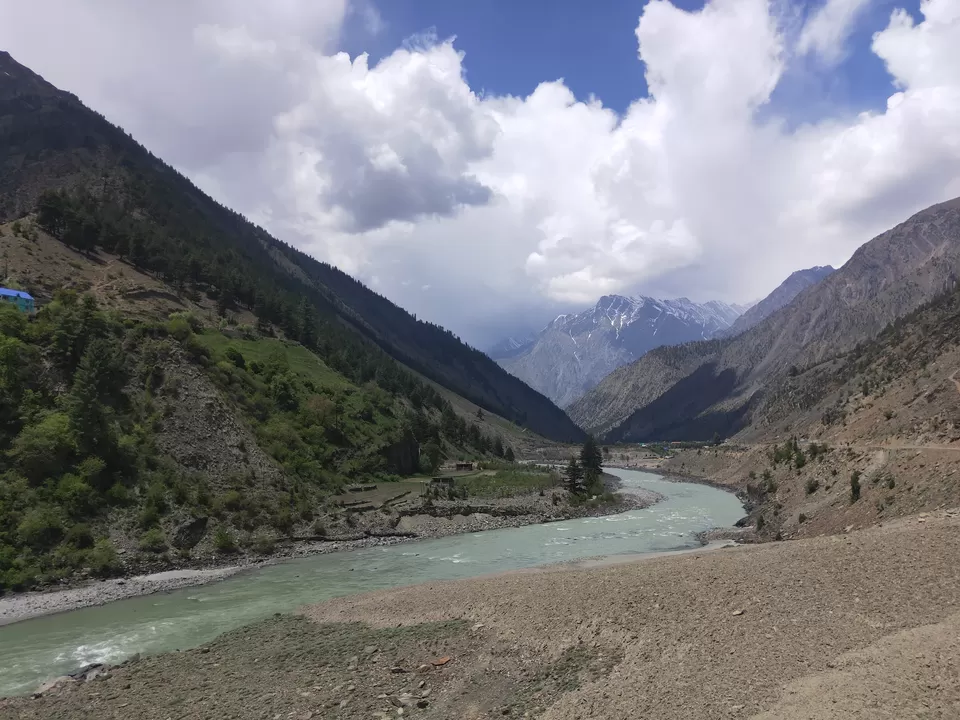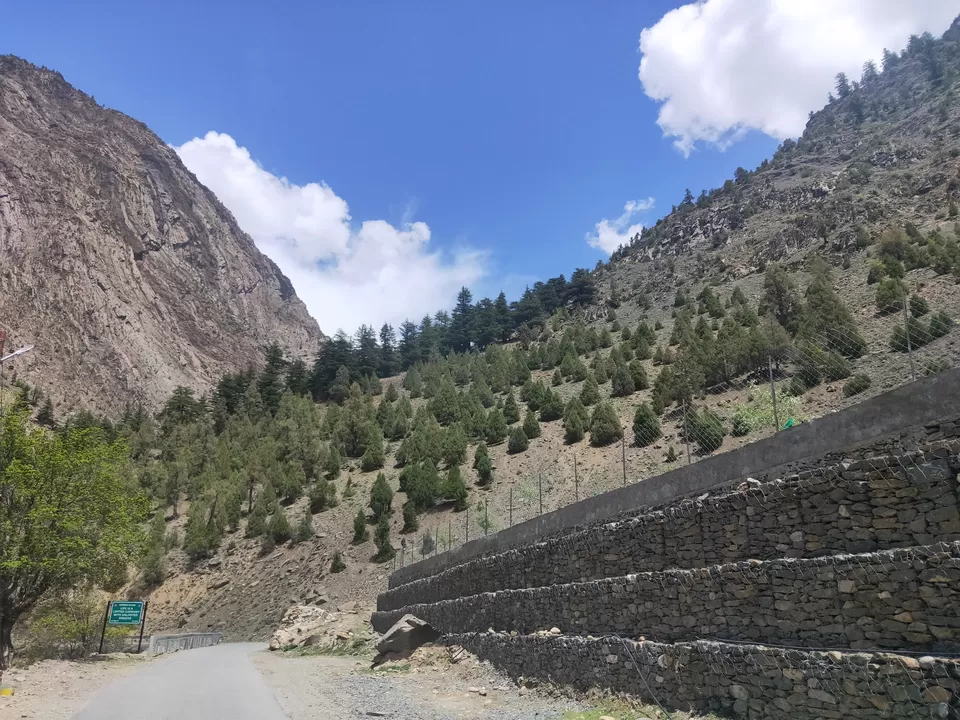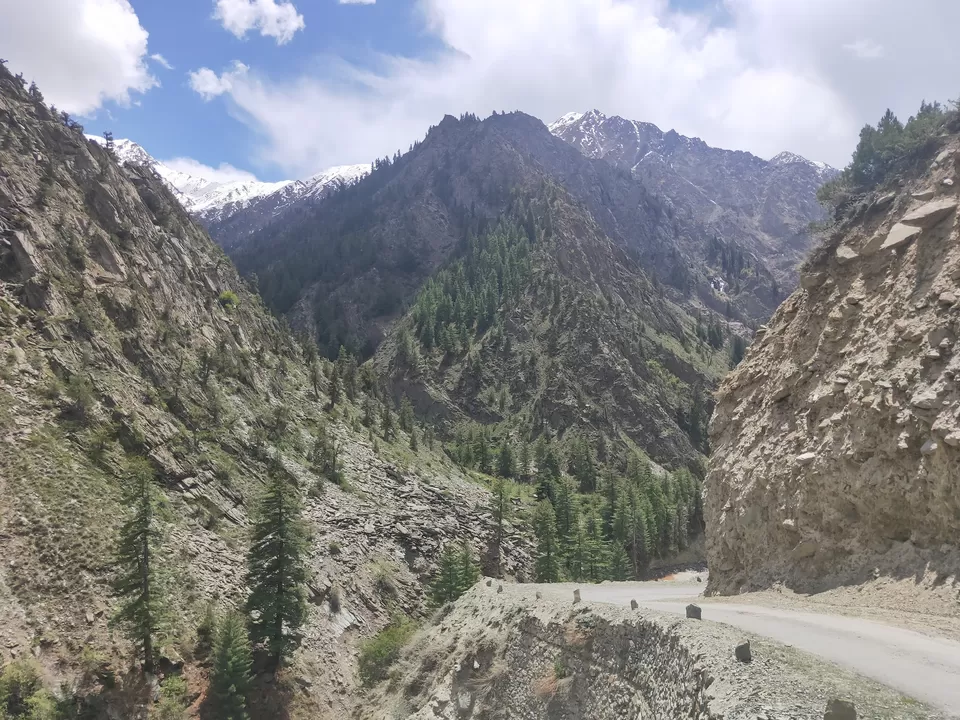 We halt for a few minutes and took some pictures of the valley.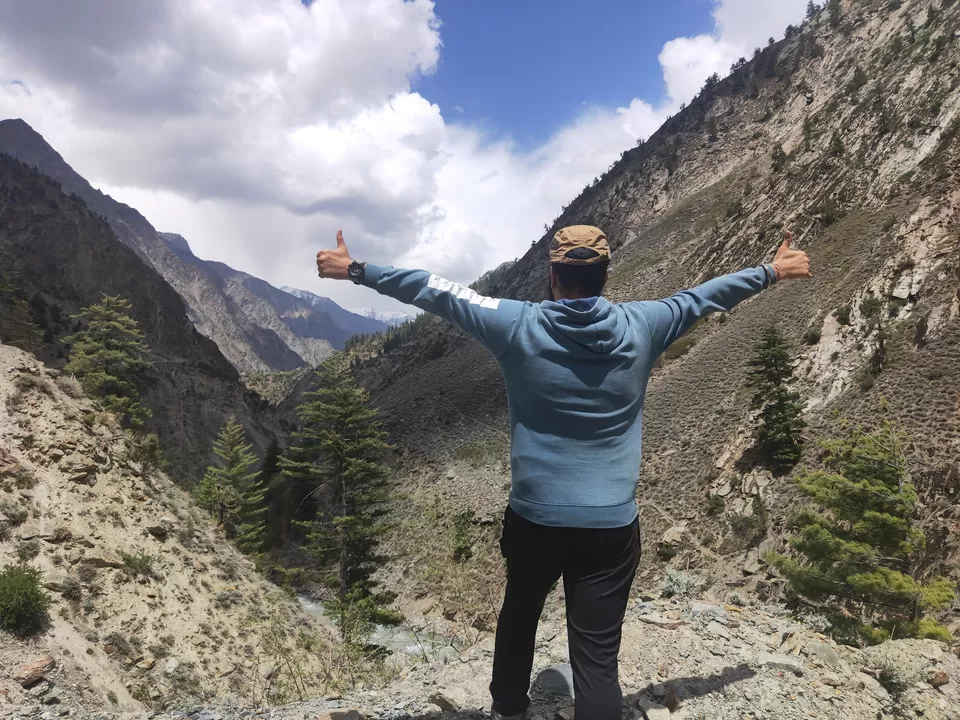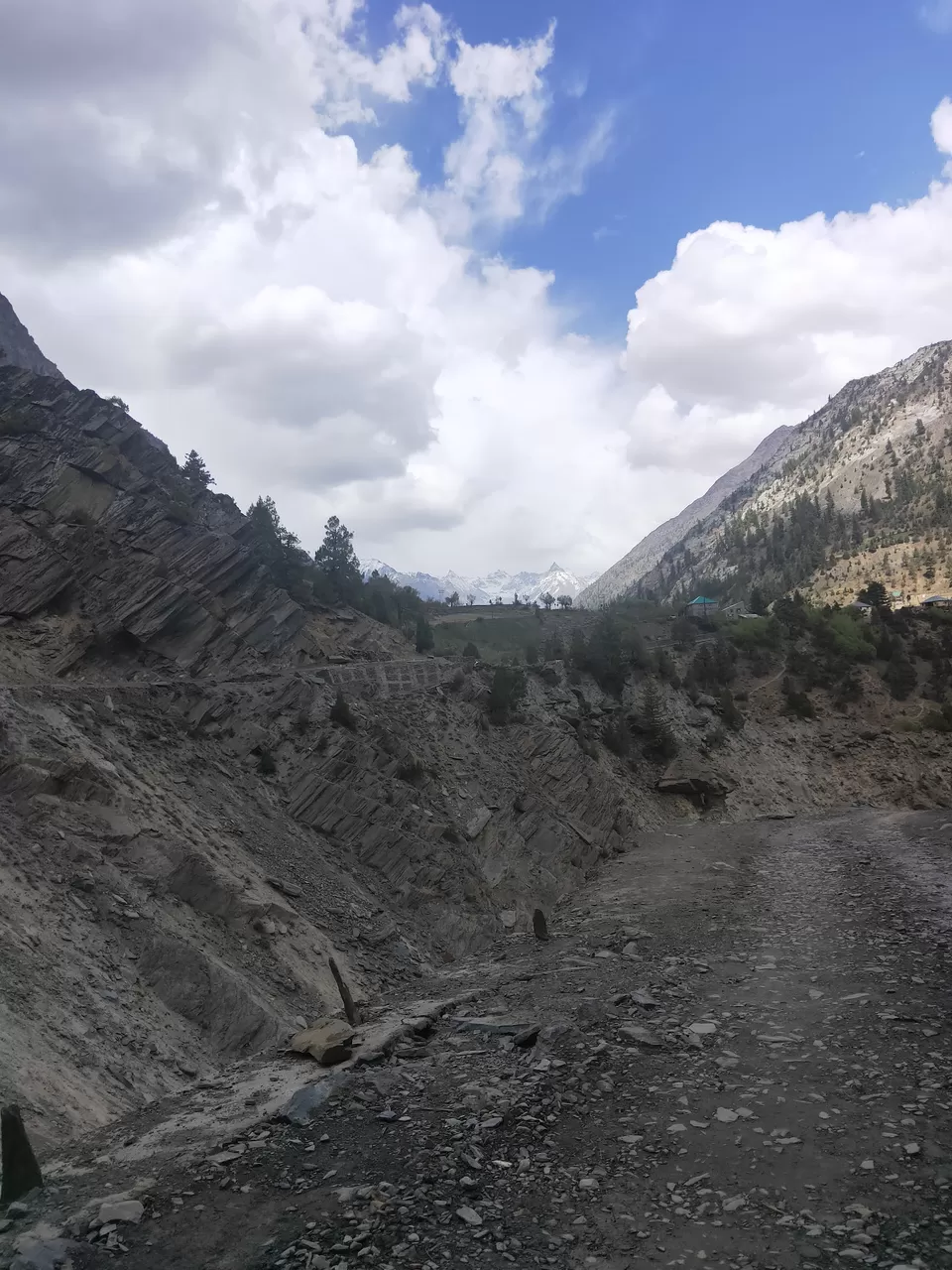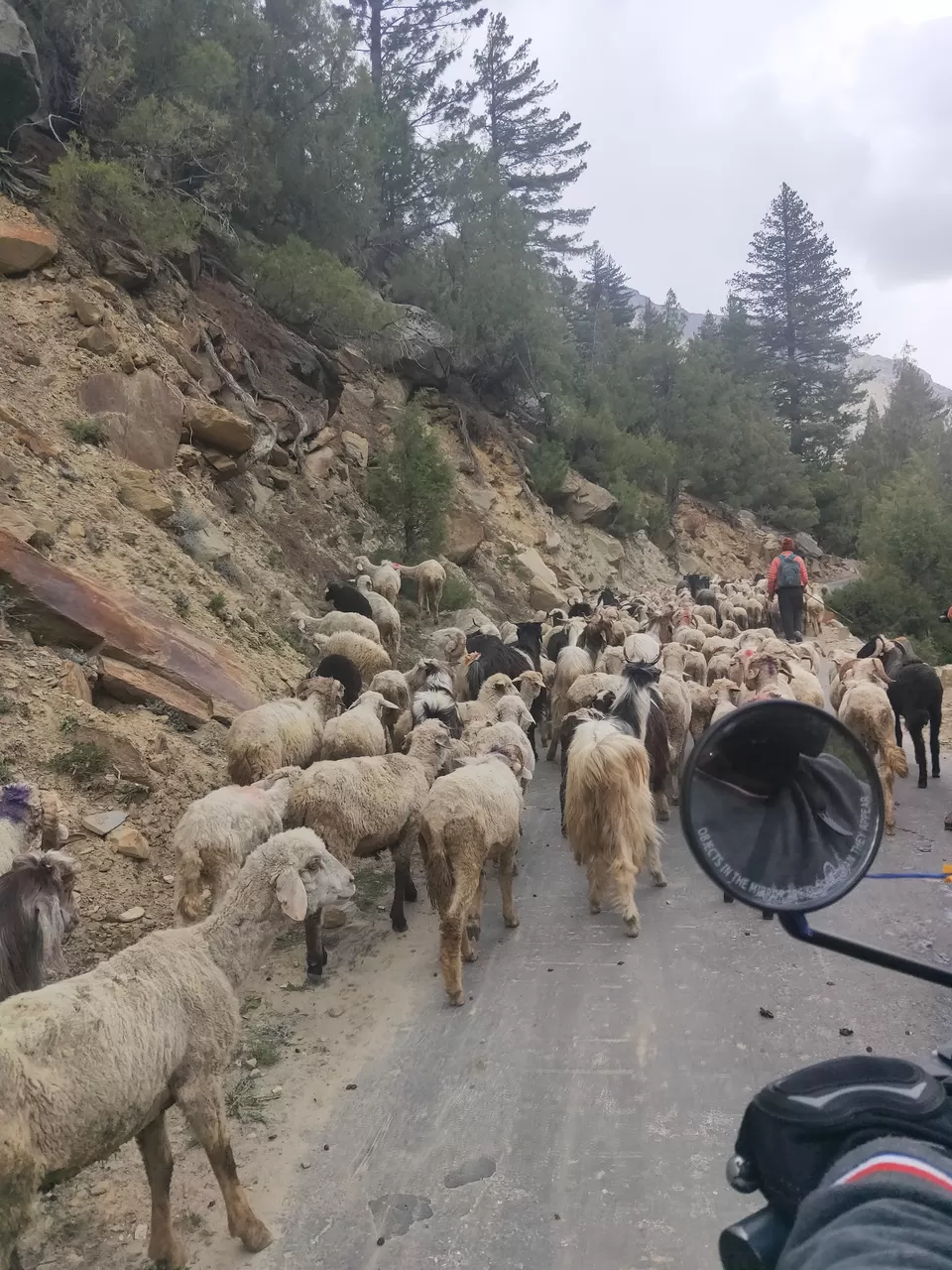 The last village towards Miyar Valley is - Changut Village.
From there, the motorable road ends and you have to trek further to see the Miyar Valley.
It is believed that foreigners were exploring this place since 1940s, on the other hand, people like us just started exploring.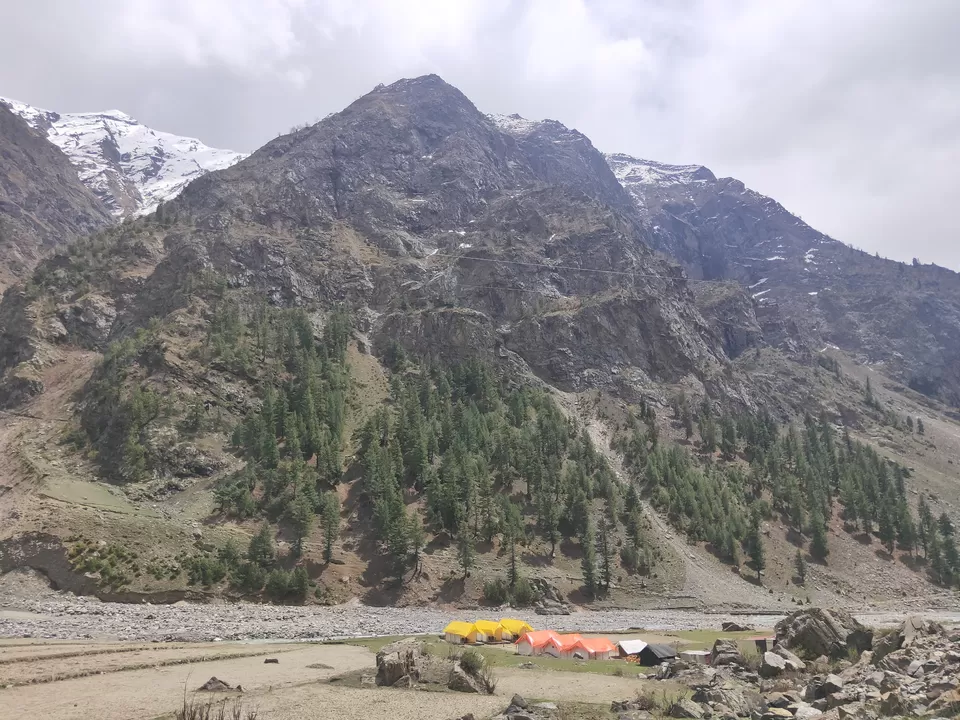 The camps are of Kangla Camps, which is managed by Neeraj Bhai, if you want to explore this place via trek, then he can provide you the service.
Contact No. - +91 9418 9016 91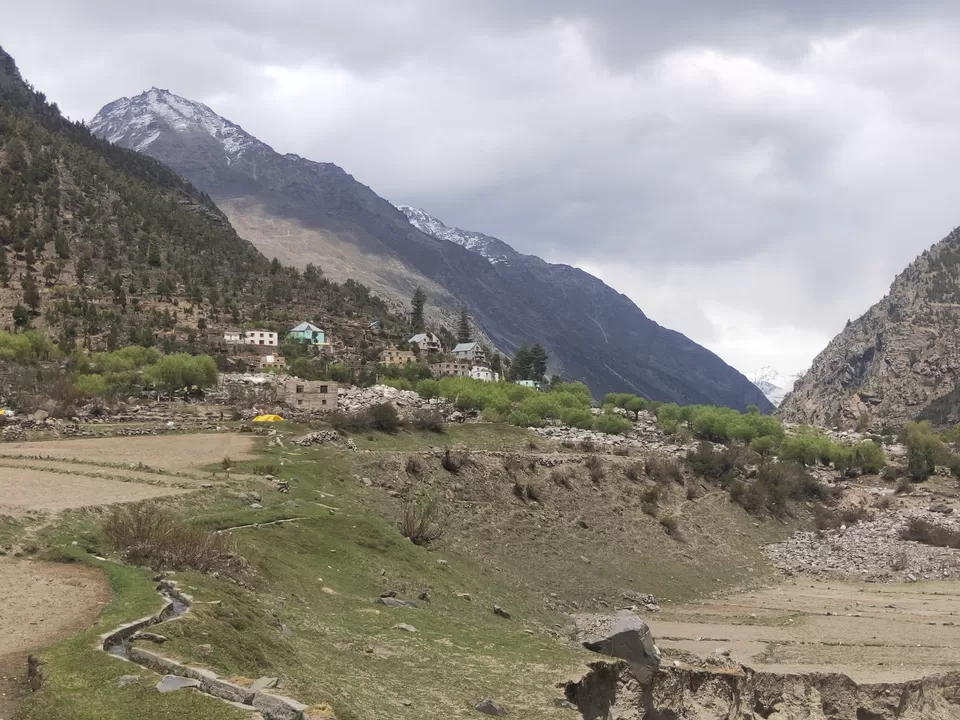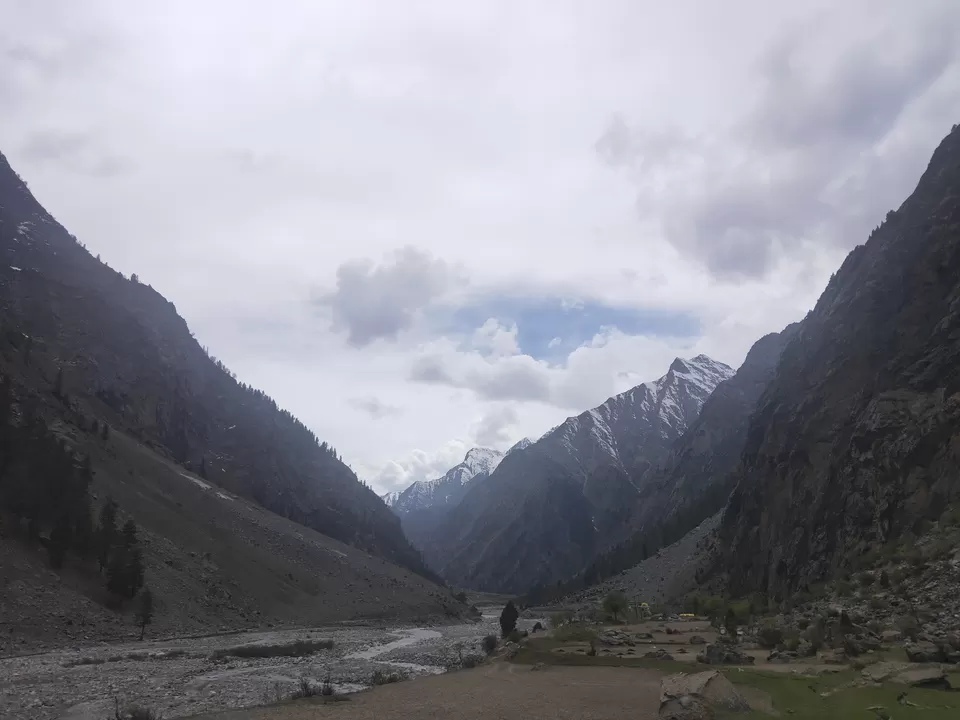 After having Chai-Chui and some gupshup with Neeraj Bhai, we started our journey towards Udaipur.
After an hour we reach Udaipur and went to oldest temple in Lahaul -
Mrikula Devi Ji Temple - It is believed that this temple was created by Vishwakarma Ji in 1 day, with a wood of a single tree, which was provided by Bhim Ji in the Dwapar Yug, and it is 5000 years old.
When you step inside, you will be amazed to see the wooden carvings, which were done by Vishwakarma ji and he has illustrated all the events of Mahabharat through his wooden art.
Note - When you visit this temple, never say - (Chalo Chale).
It is believed that, some negative energy will go along with you, so please avoid saying that.
Clicking inside pictures were not allowed, so you can see how it looks from outside.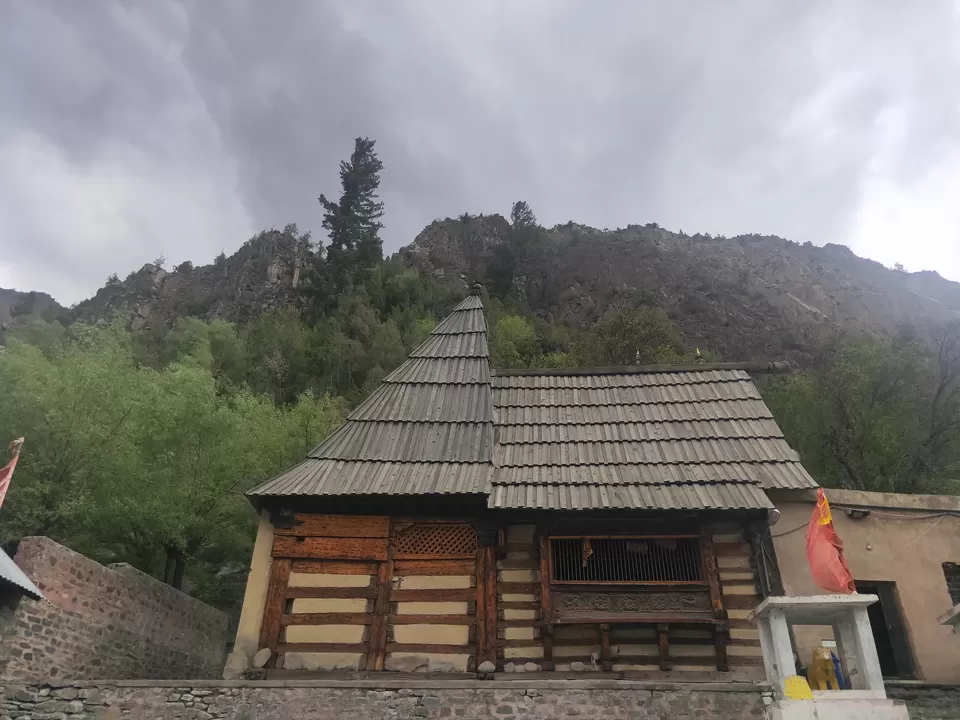 After taking blessing from here, we had some Chai-Chui with momos and went back towards Rashil.
On the way back, we stopped for having jacket, but I was blessed with this scenic view, so I captured it.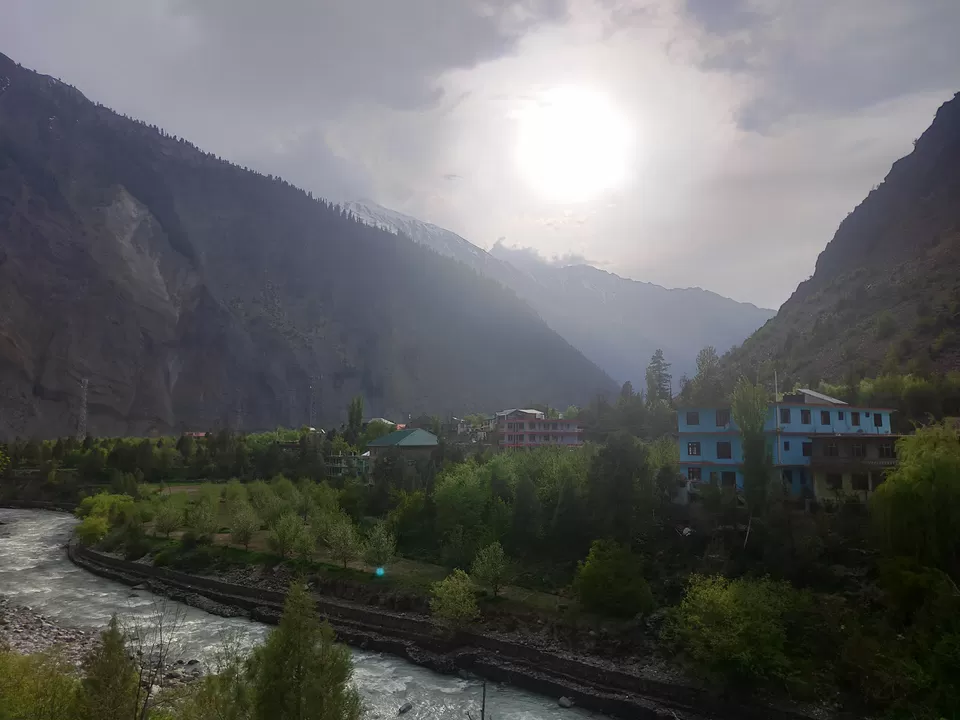 A Walk Amidst Nature
After completing a visit to pond site on Day 2, a couple of us went towards left side of the home, where you get the view of the ChandraBhaga river.
Note - Chandra River flows from Chandratal lake & Bhaga flows from Baralacha Pass, they both confluence at Tandi, so there name is ChandraBhaga and the same river enters into Pakistan via Indus Valley by the name of Chenab.
After walking a certain distance we reach a deadend, where boulder section was situated and got some of the amazing views of the river.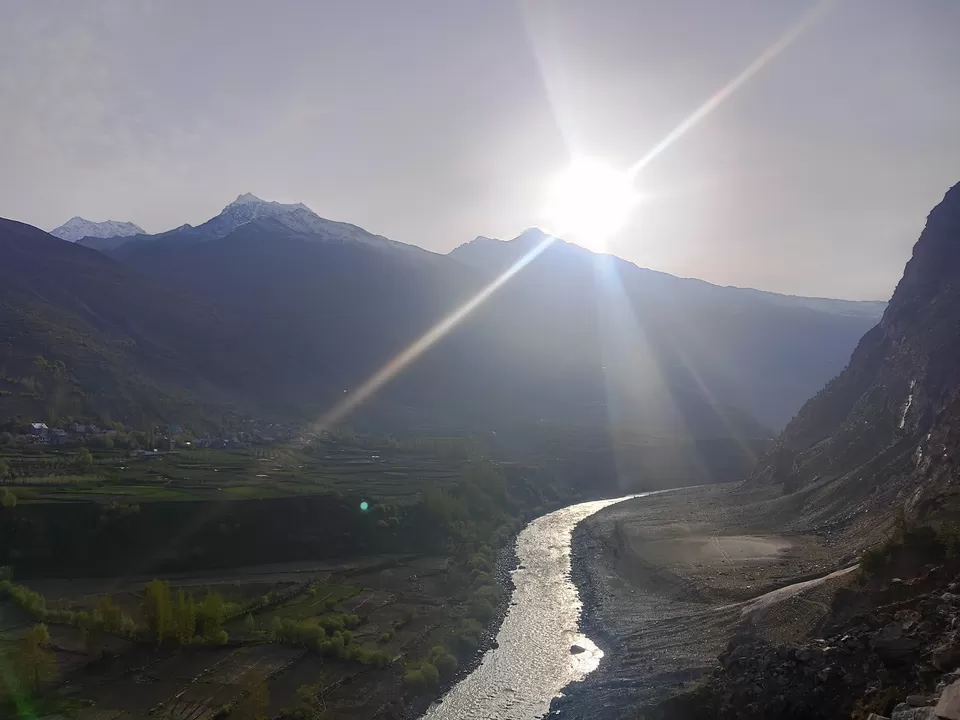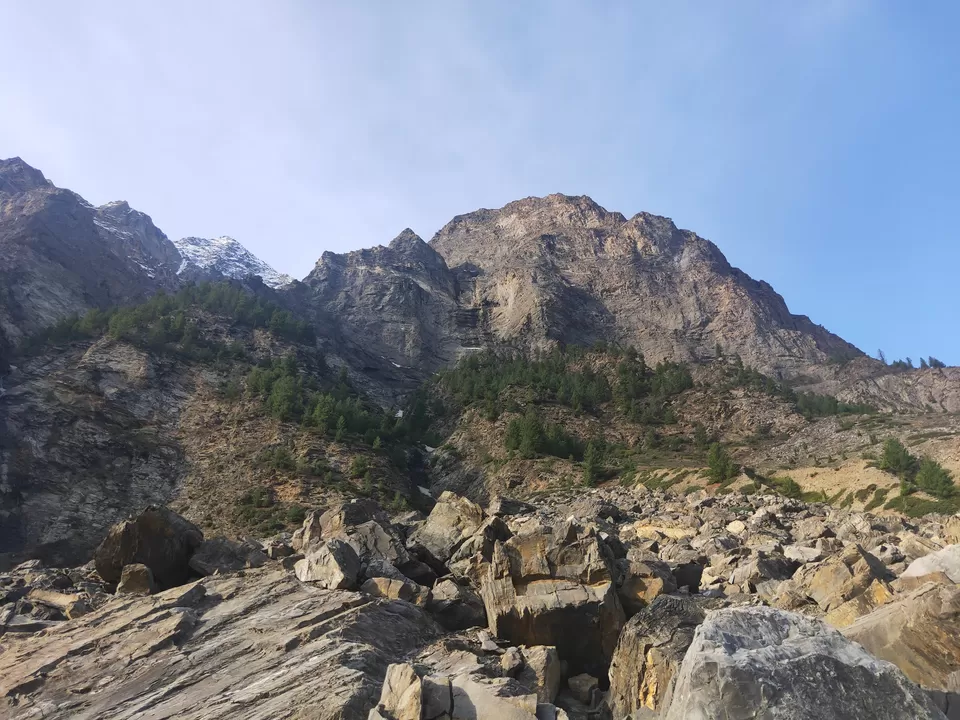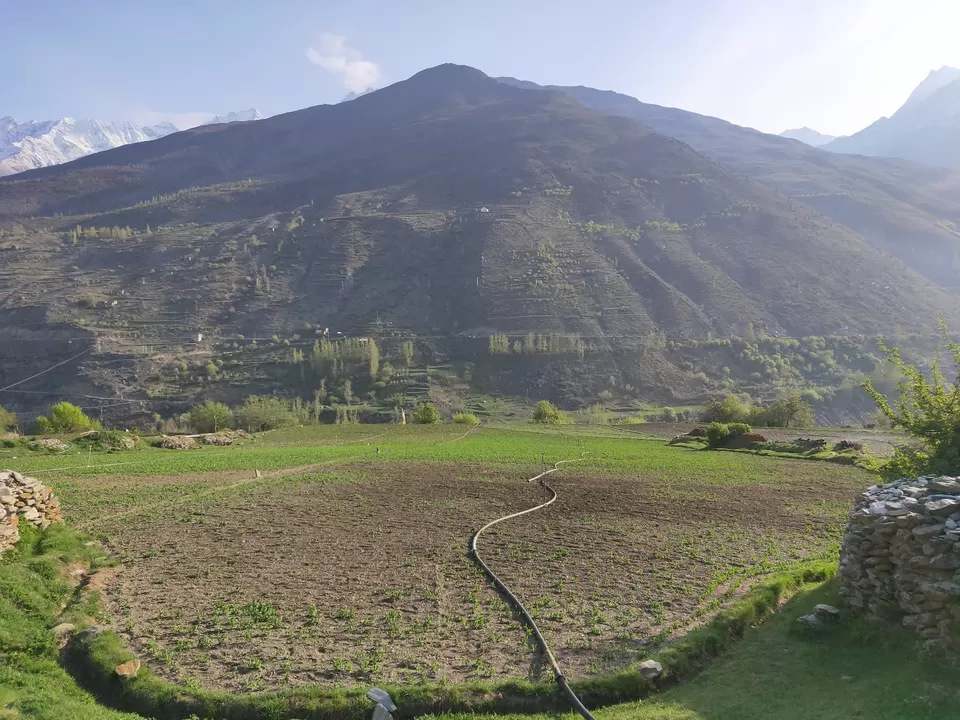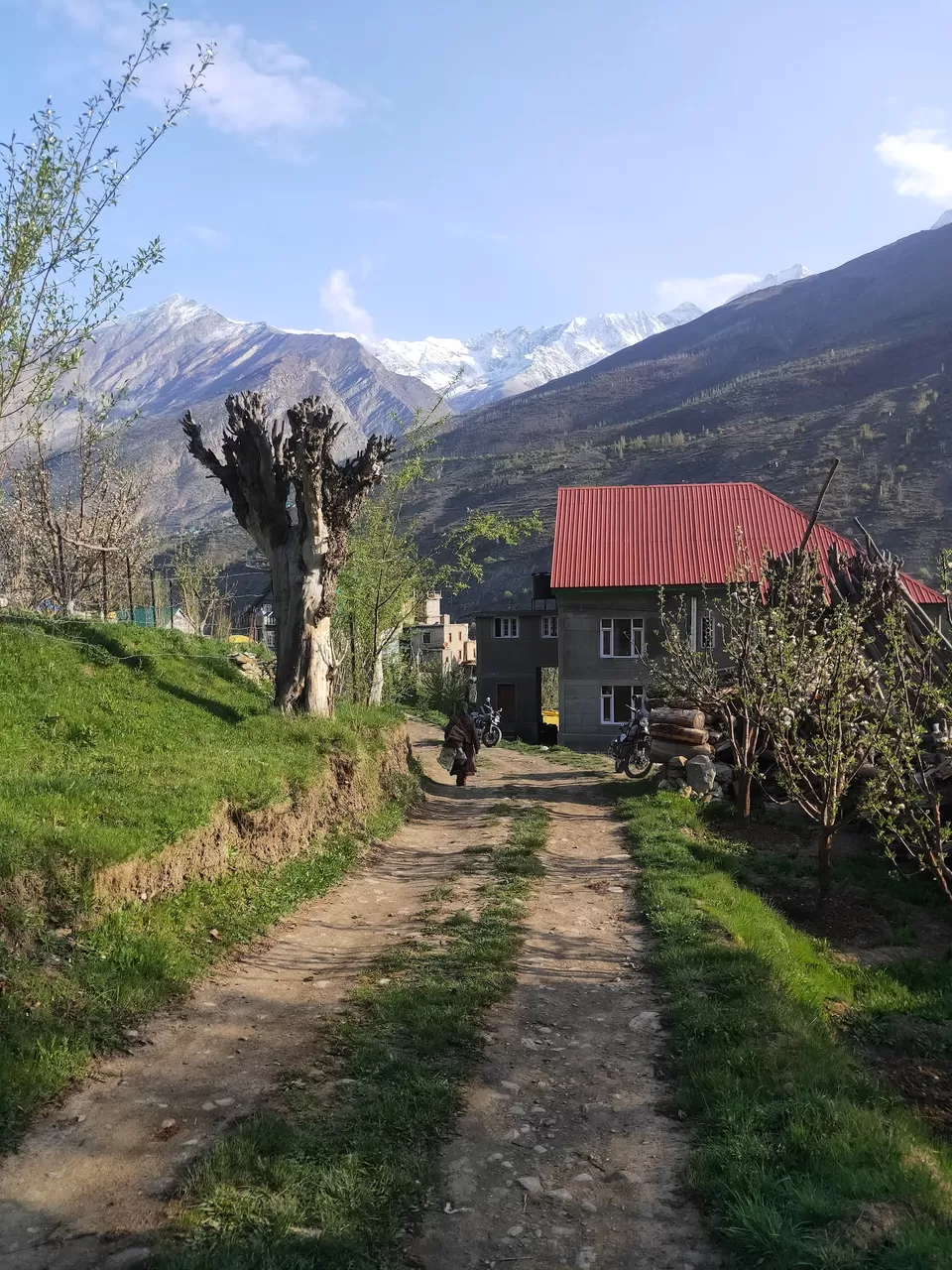 After having breakfast, I saw most of my friend has a checkout and a couple of them were going towards Miyar Valley.
So, I was left alone in the Zostel, and I thought, let's capture the natural beauty of this place.
I asked Manoj Bhai, about the waterfall, and he told me to take a path which is at the back of a school and from there, follow the stream, you will reach the waterfall point.
After walking for an hour, I reach the point from where, whole valley is visible in its panoramic view.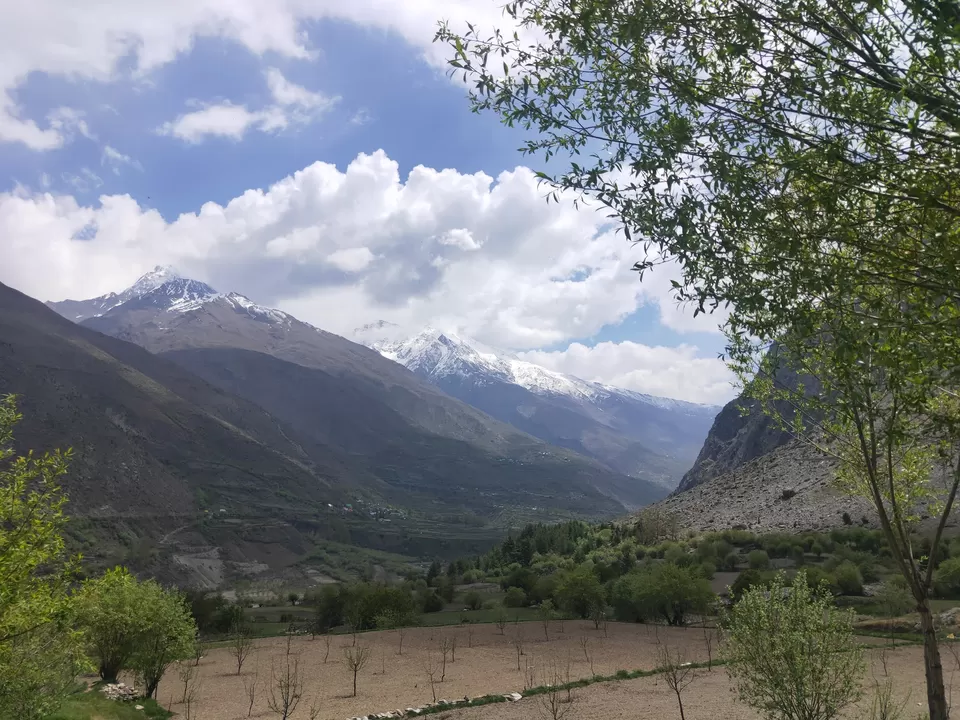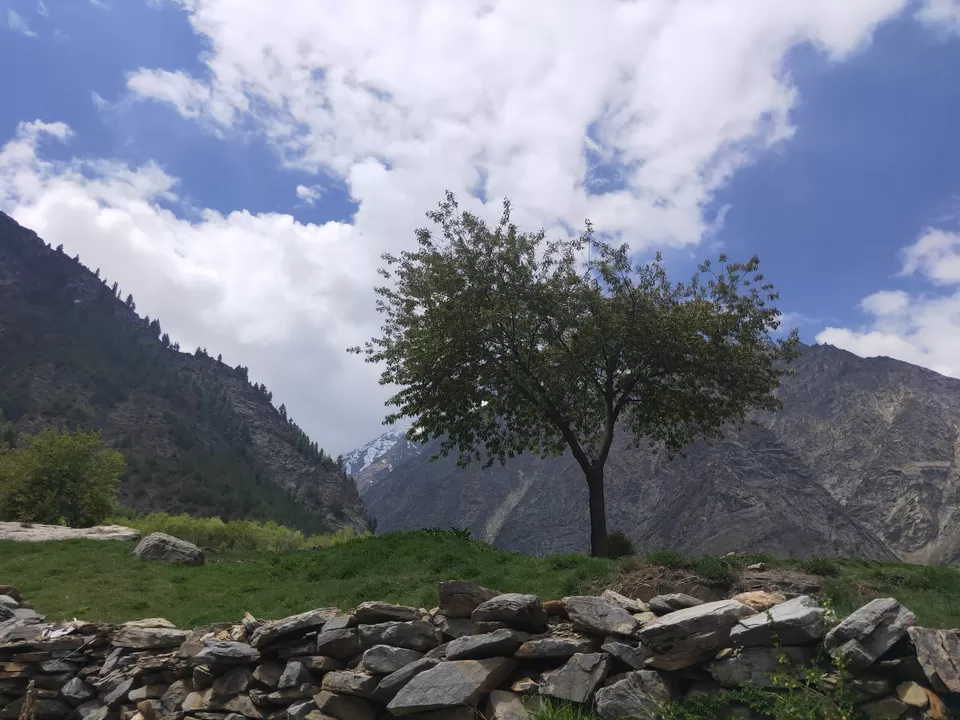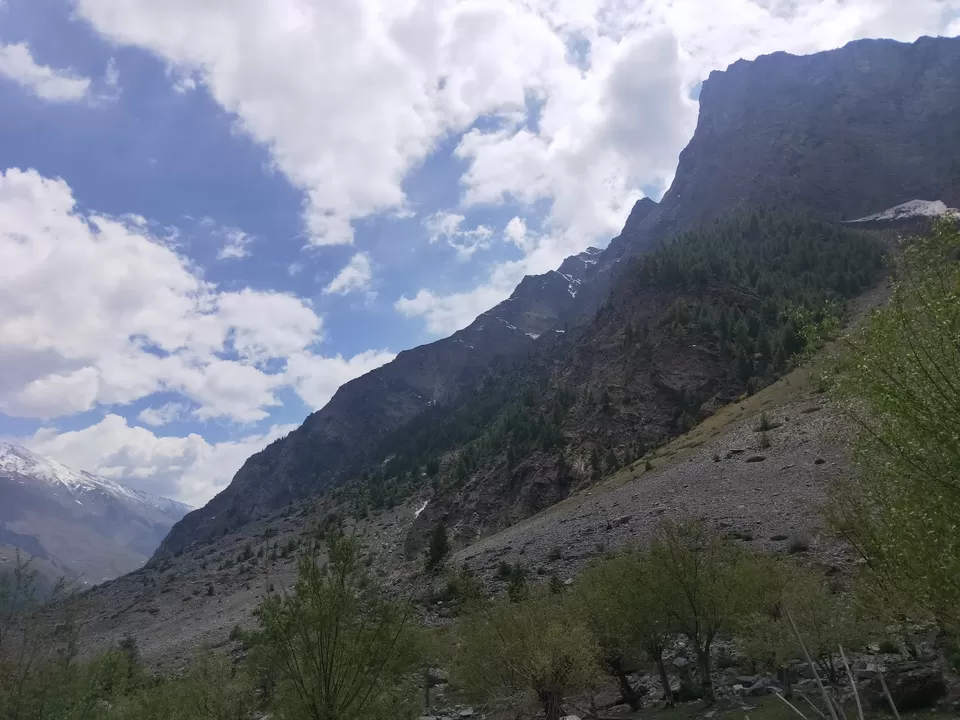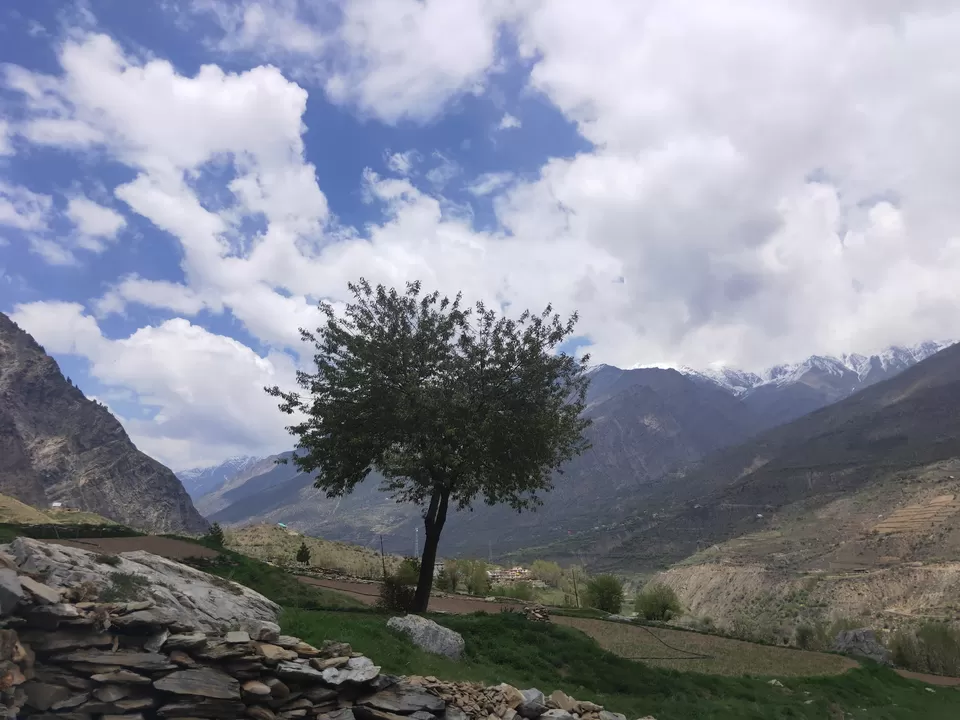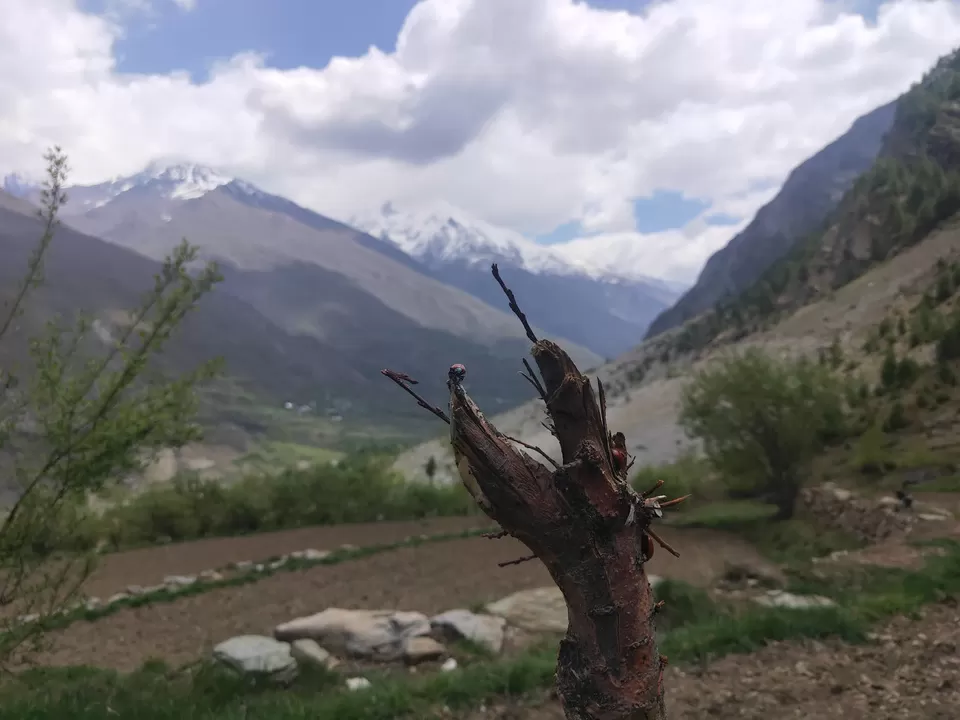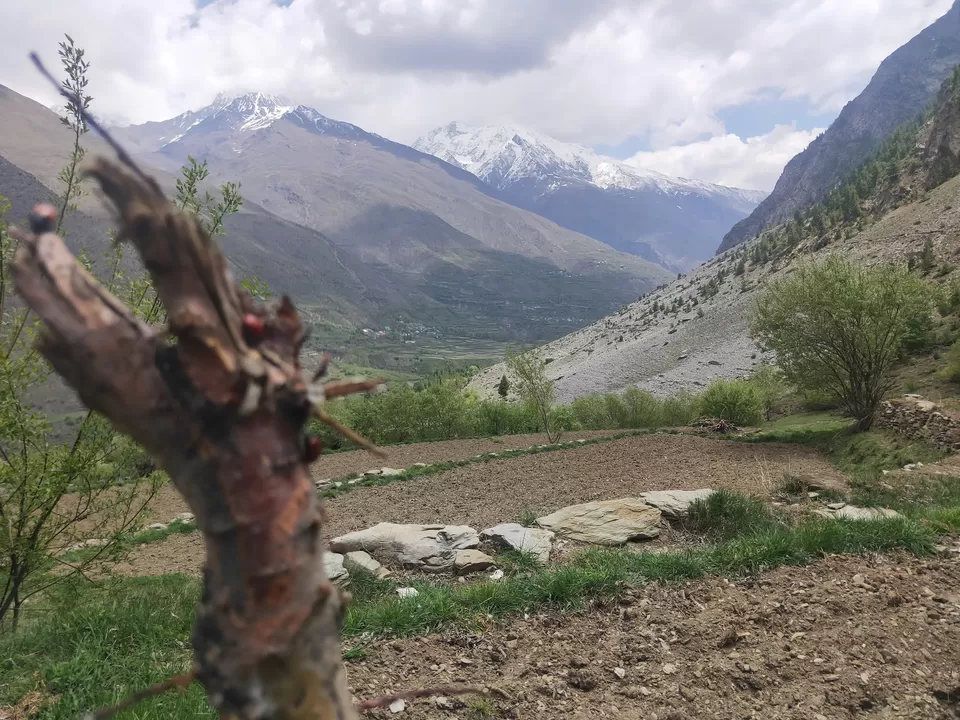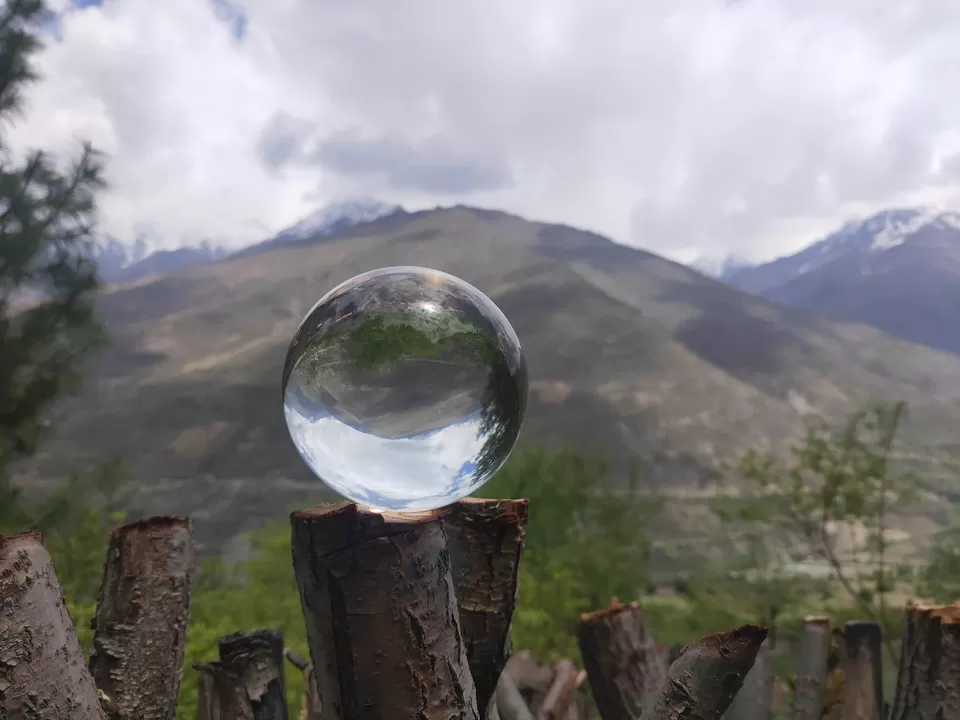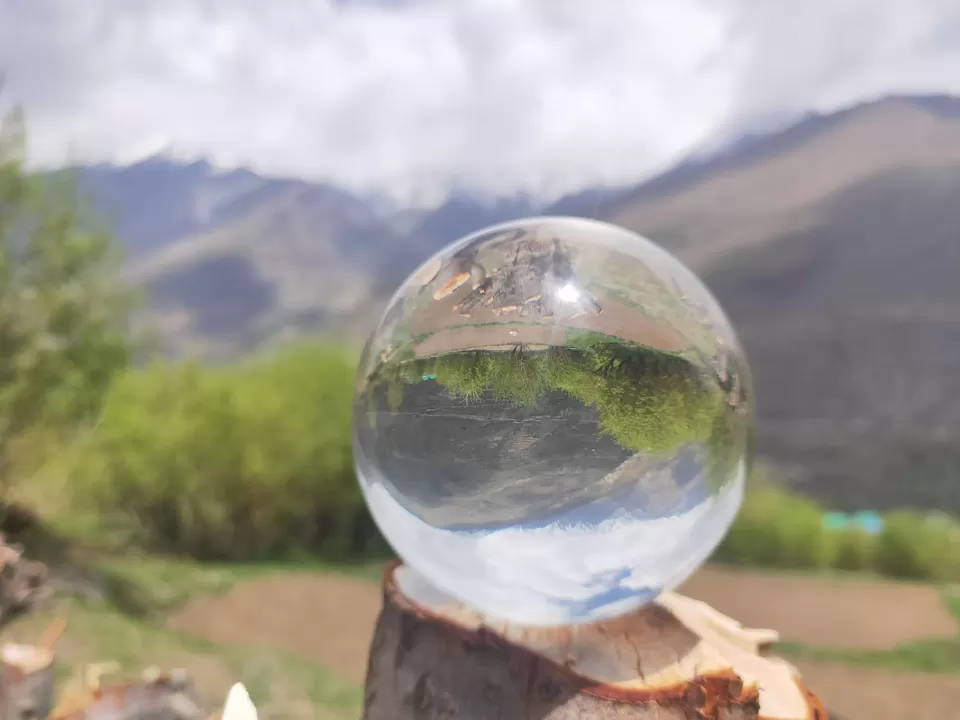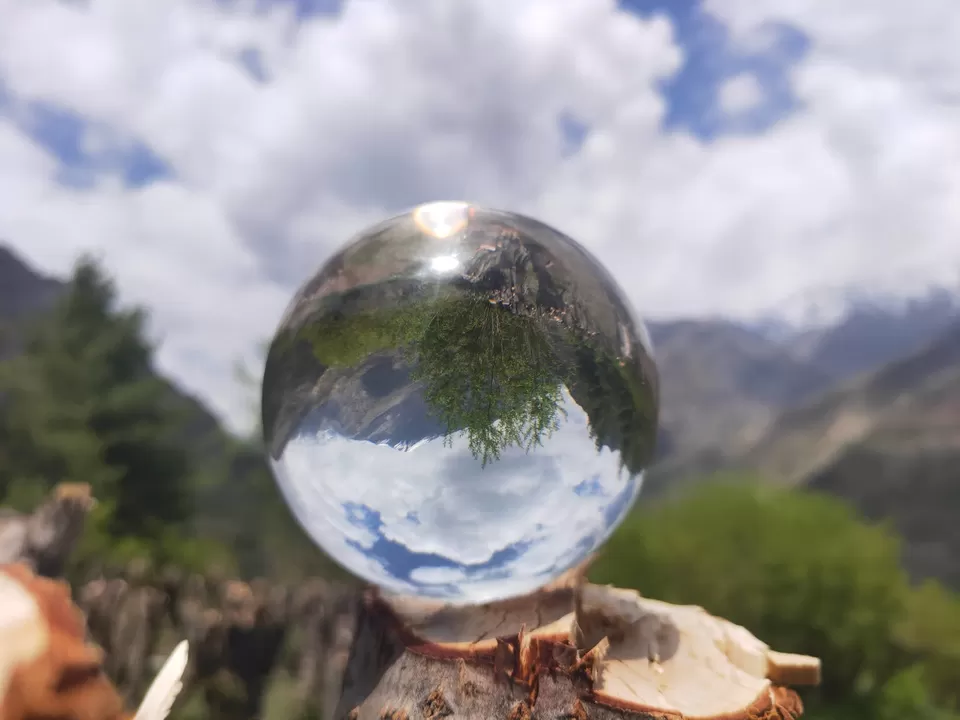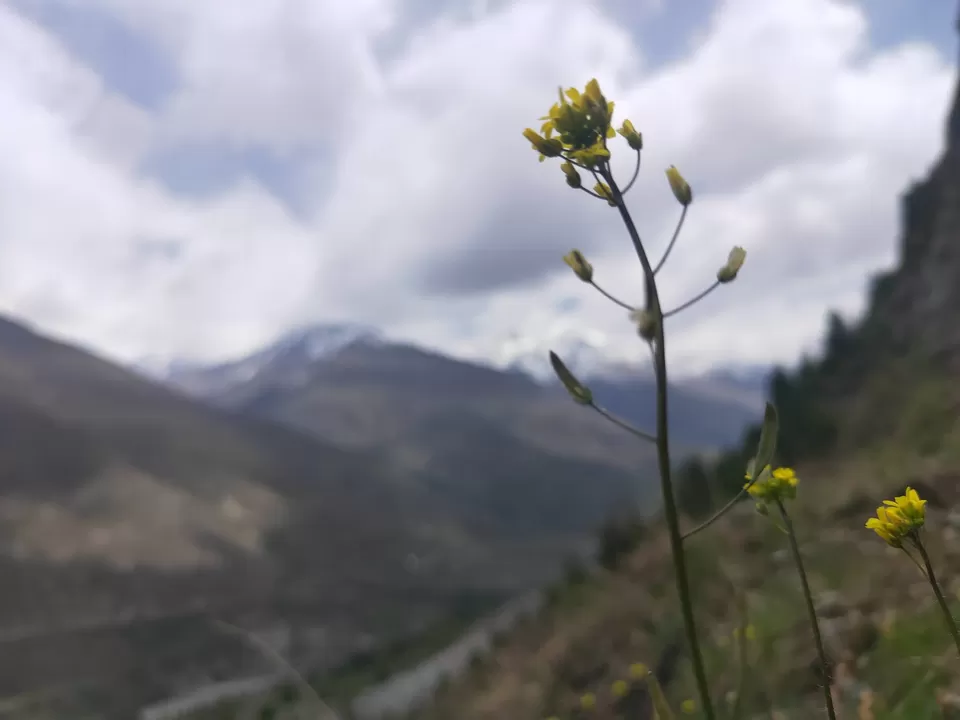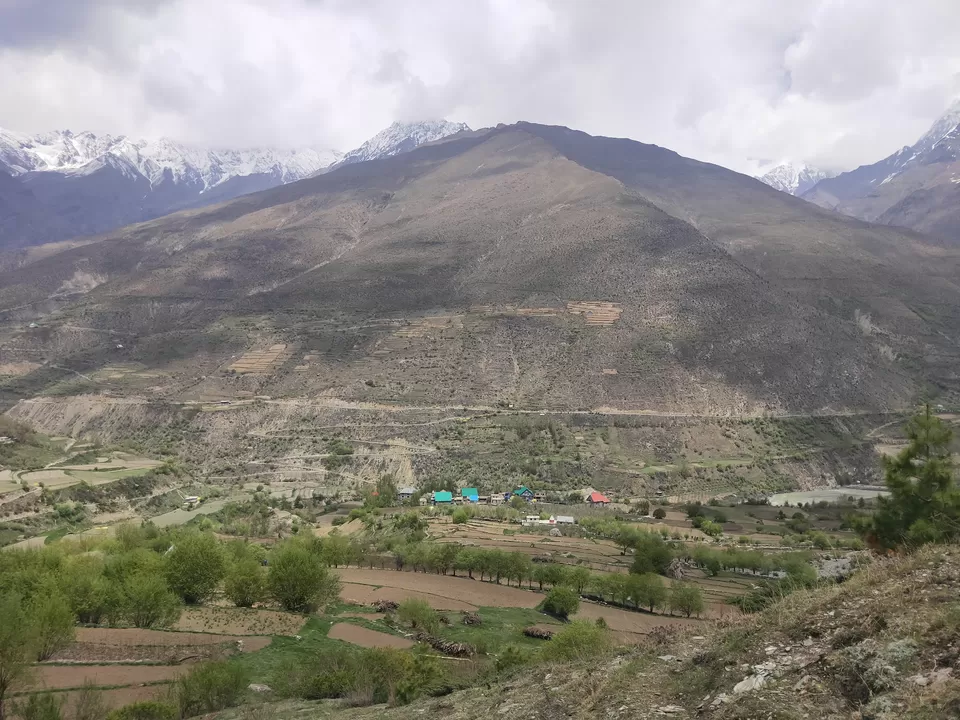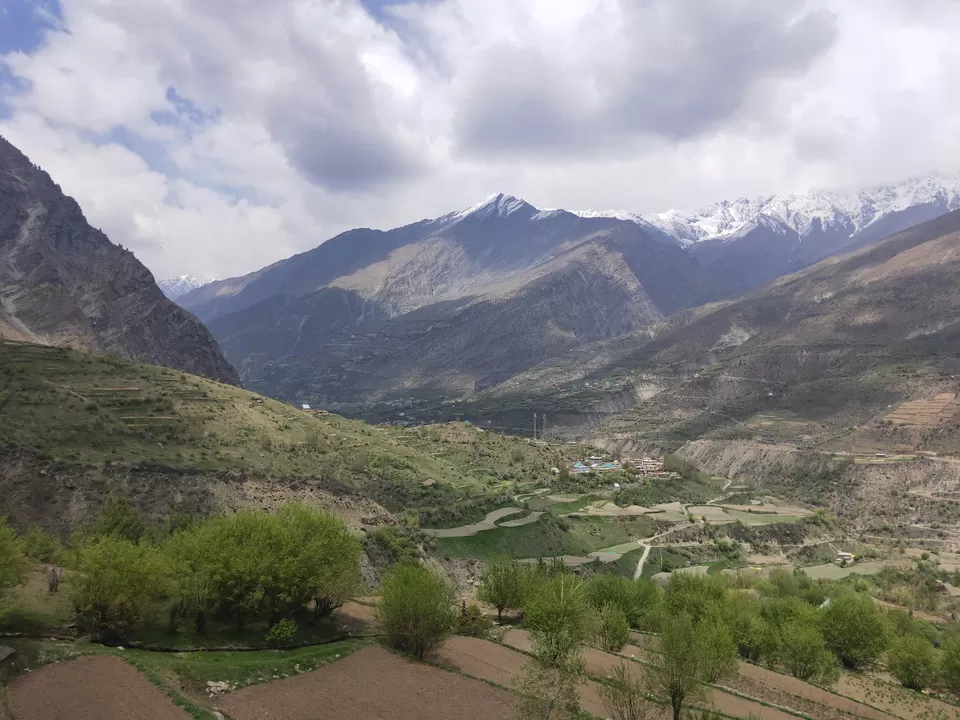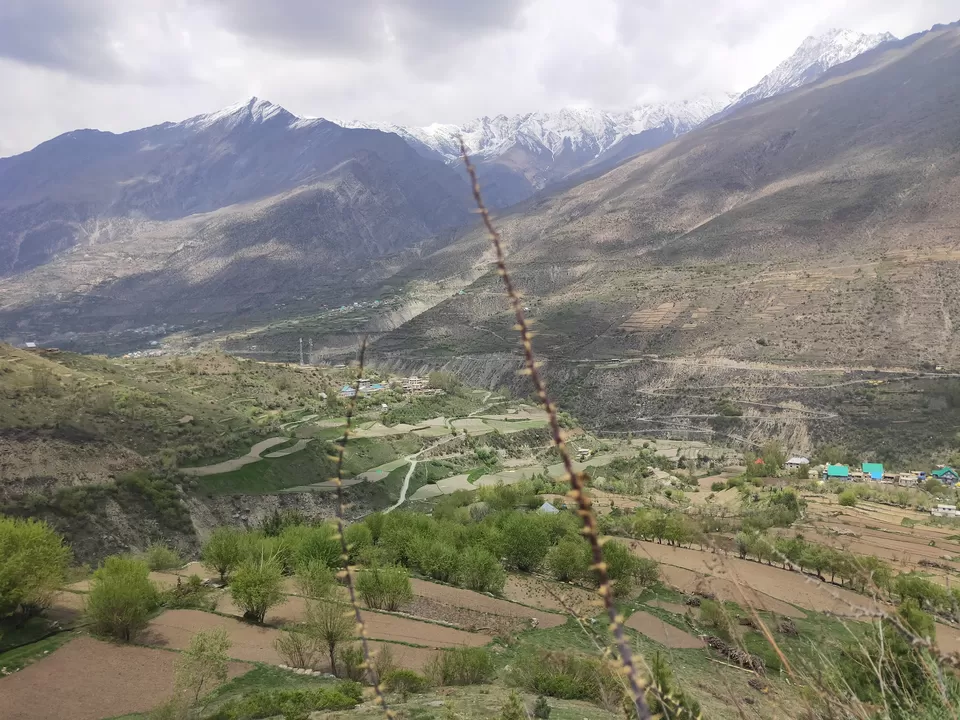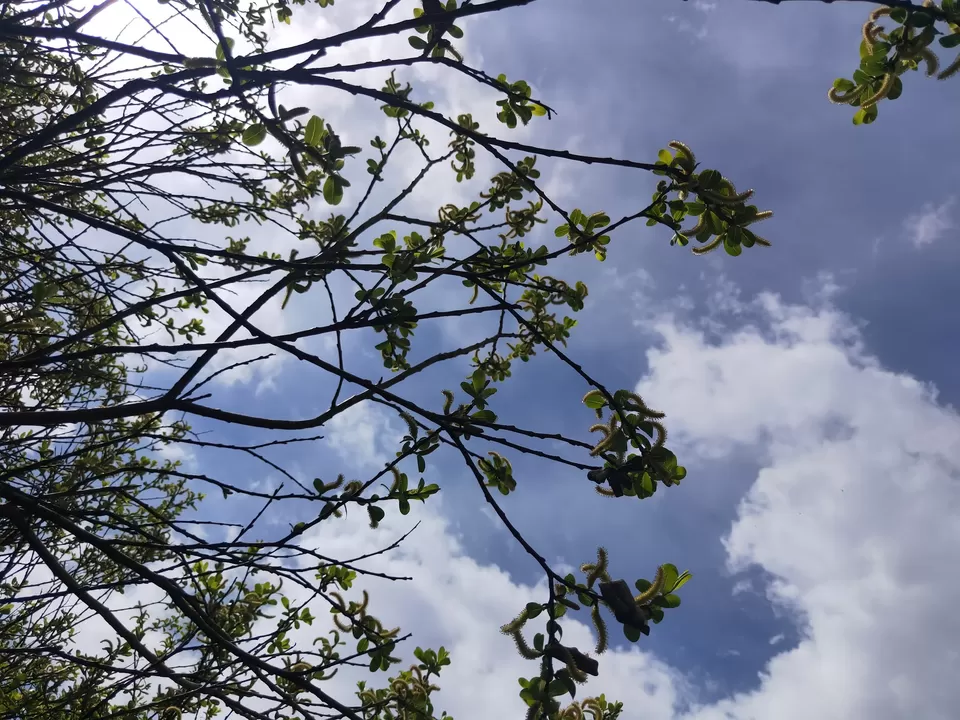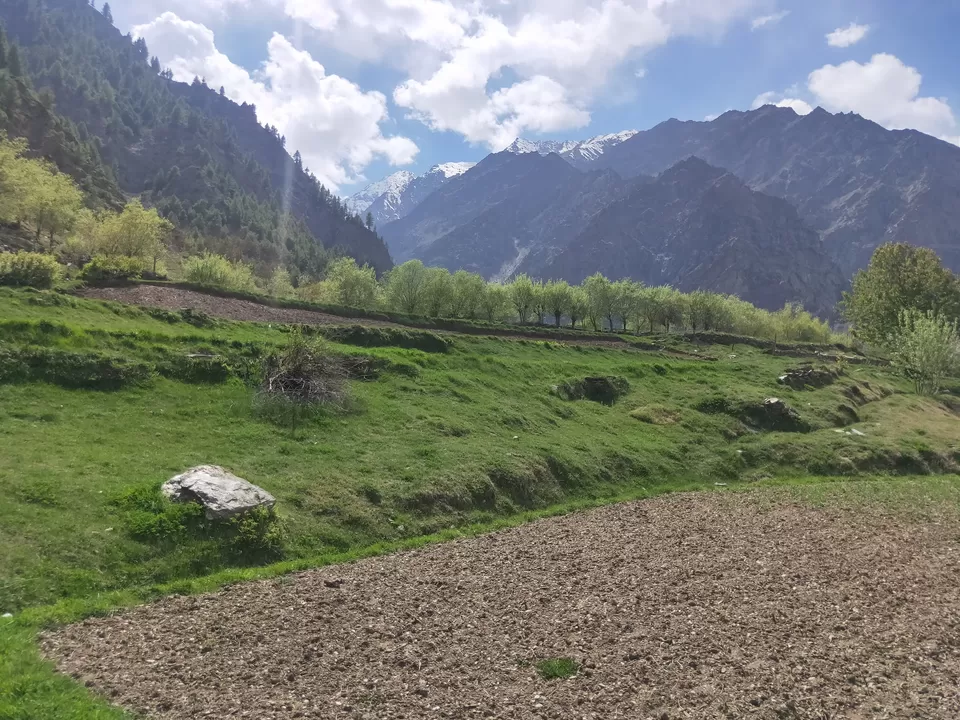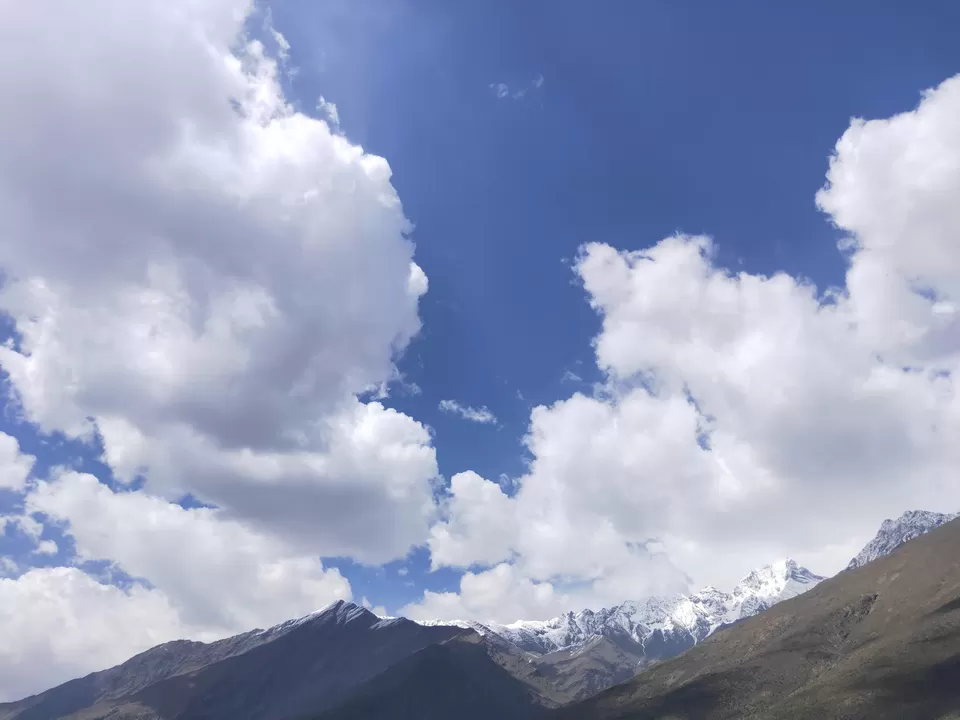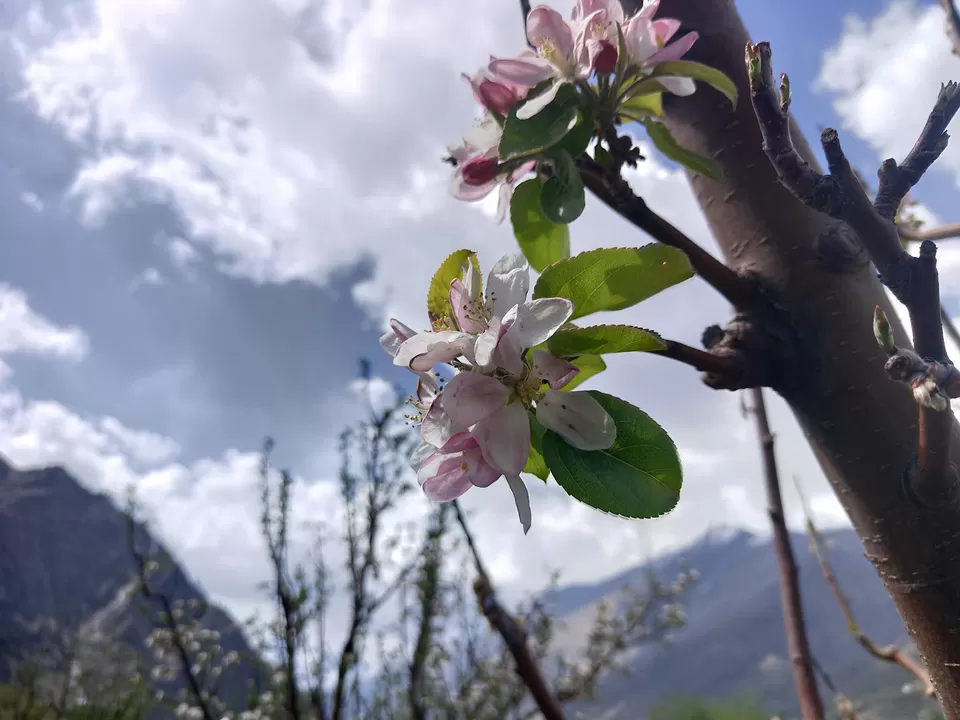 I sat there for an hour and did a video call to a couple of friends from there, to showcase how beautiful the valley is.
After 3 hours, I came back to Zostel and ate a lunch.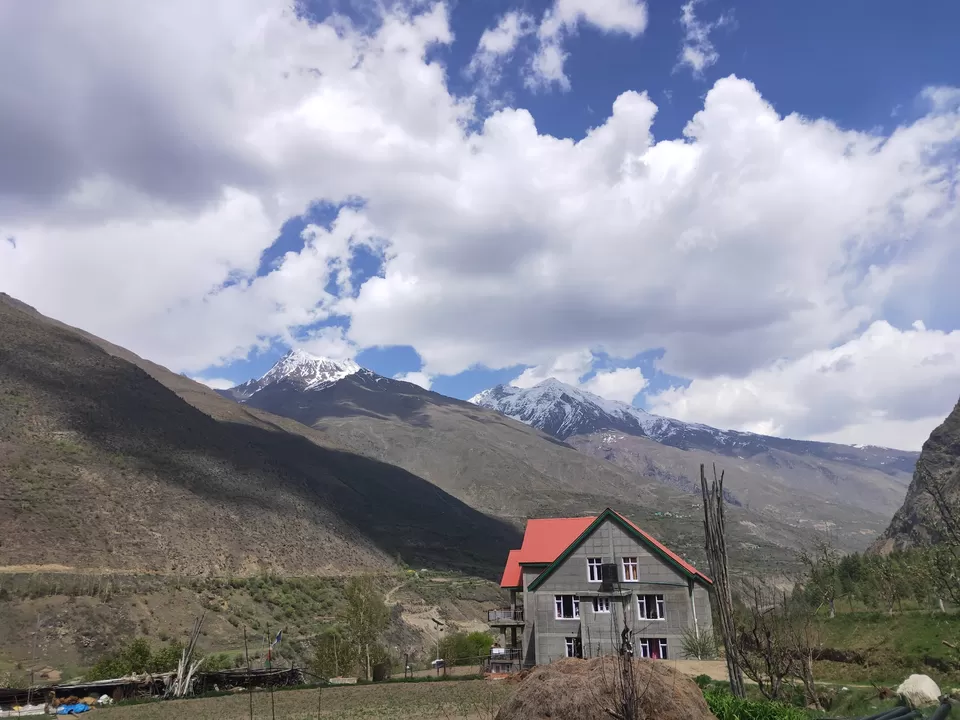 After having some rest, I and Pradeep Jain, thought to explore the waterbed side that is down hill and have a very steep descend.
After walking for 20 minutes, we reach the riverbed view.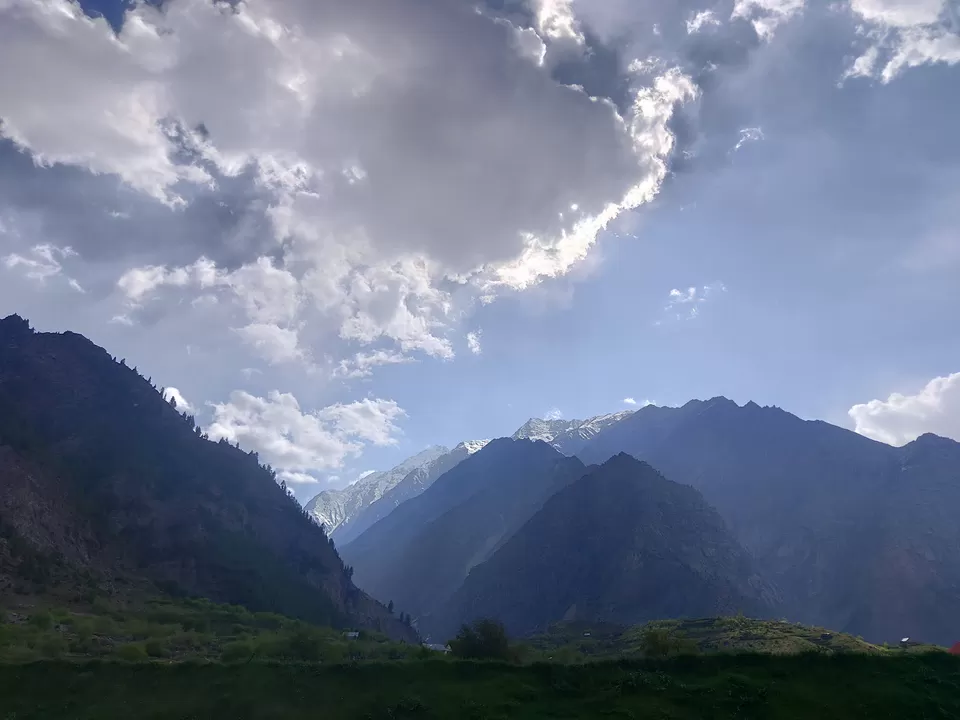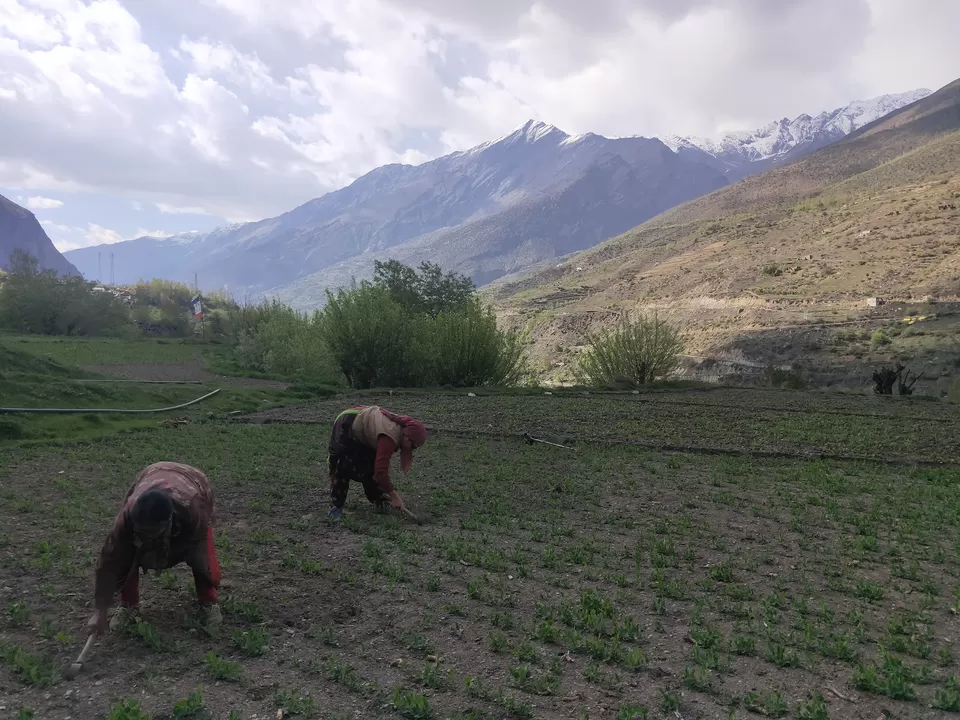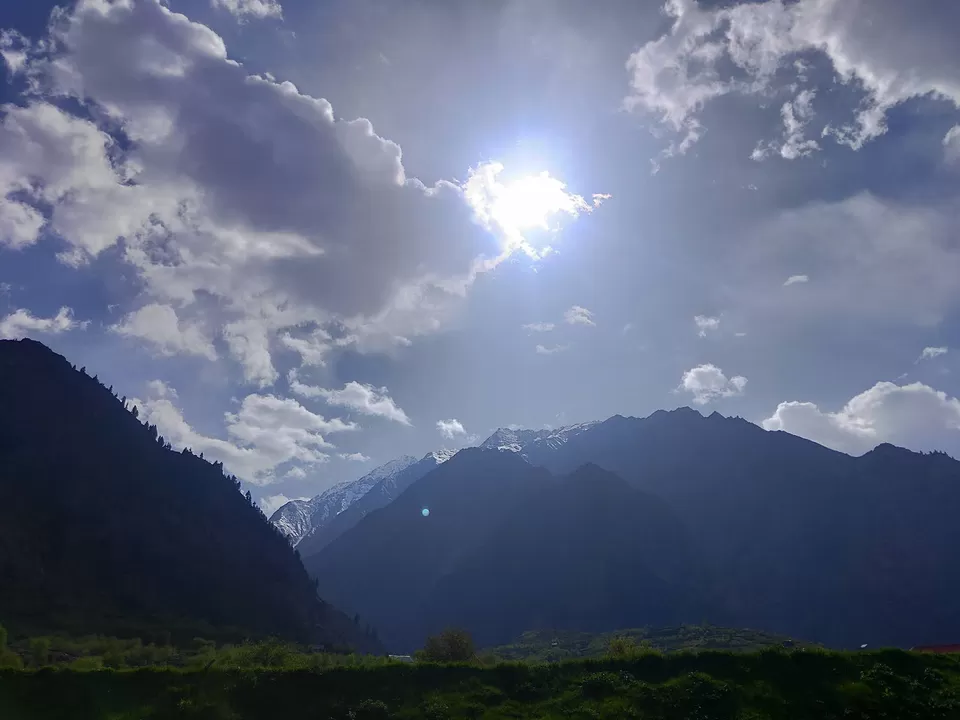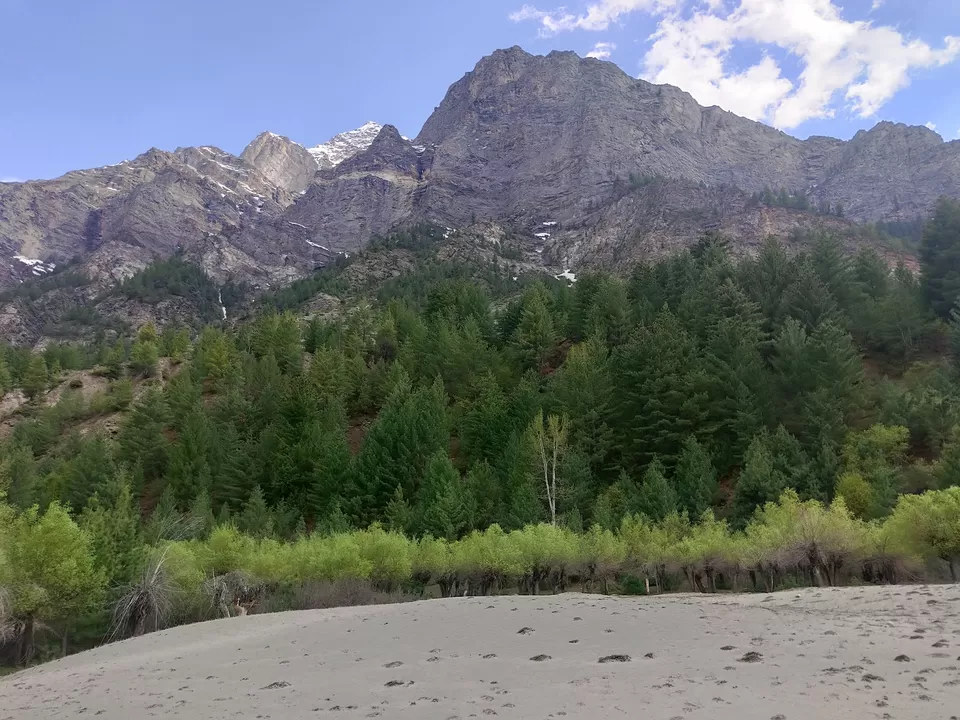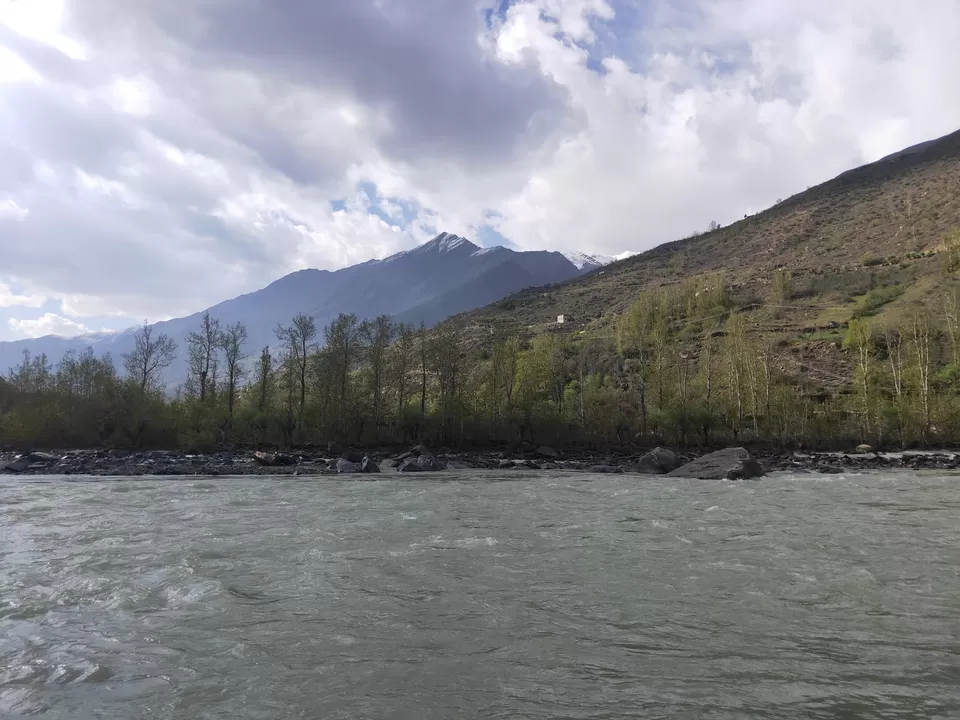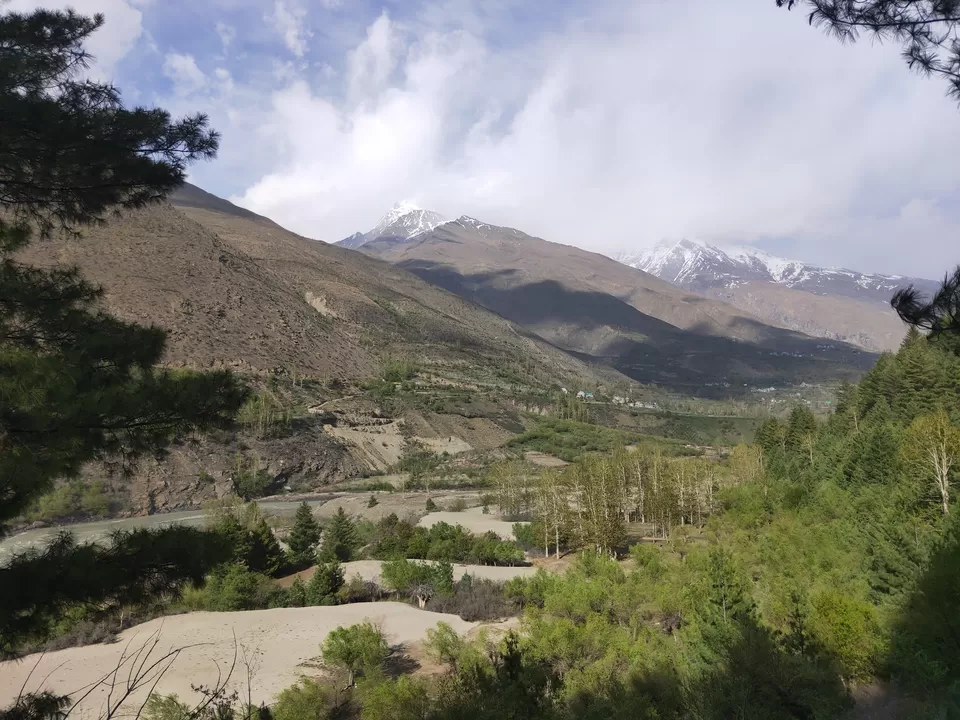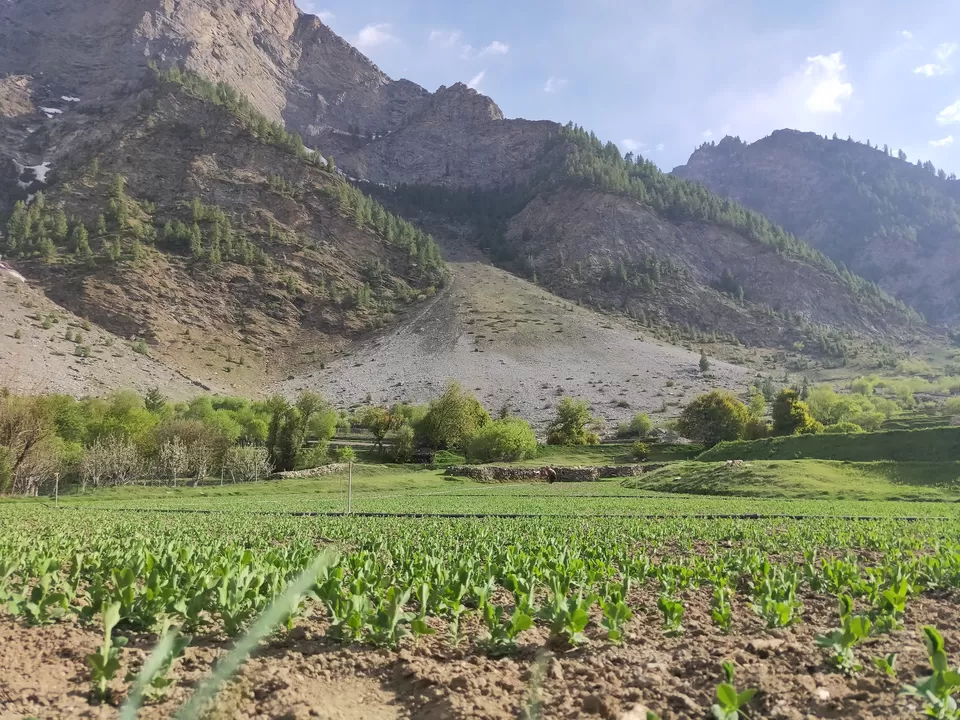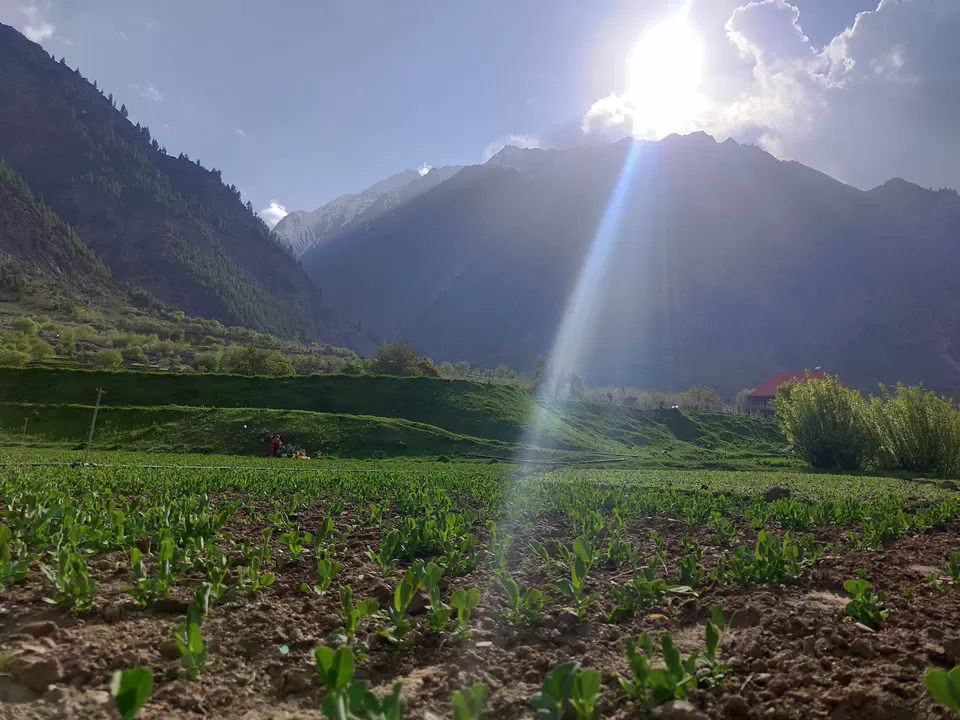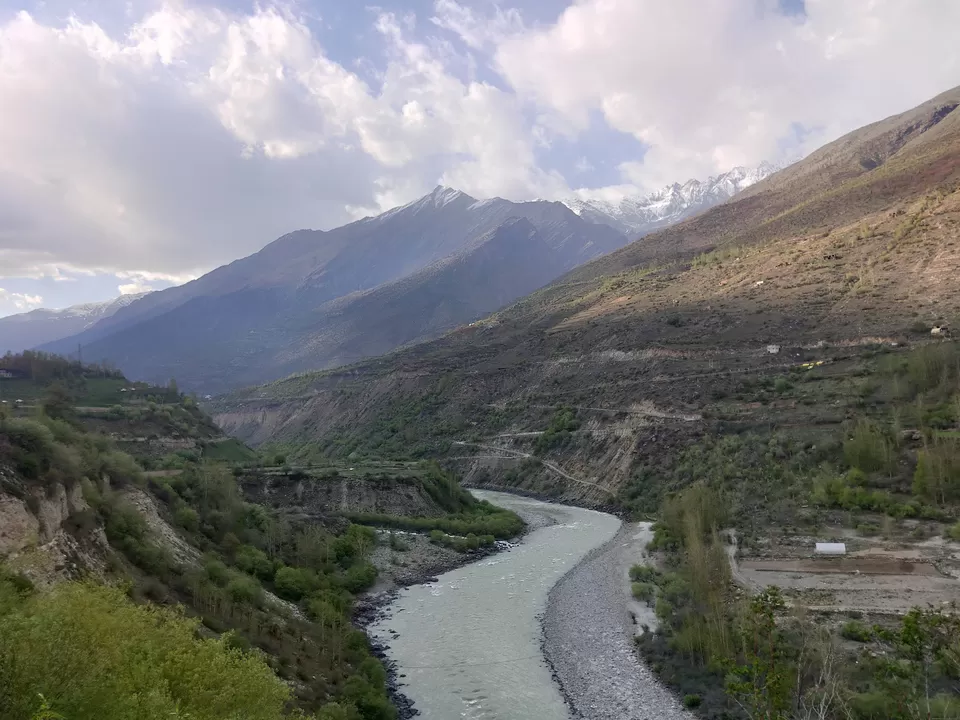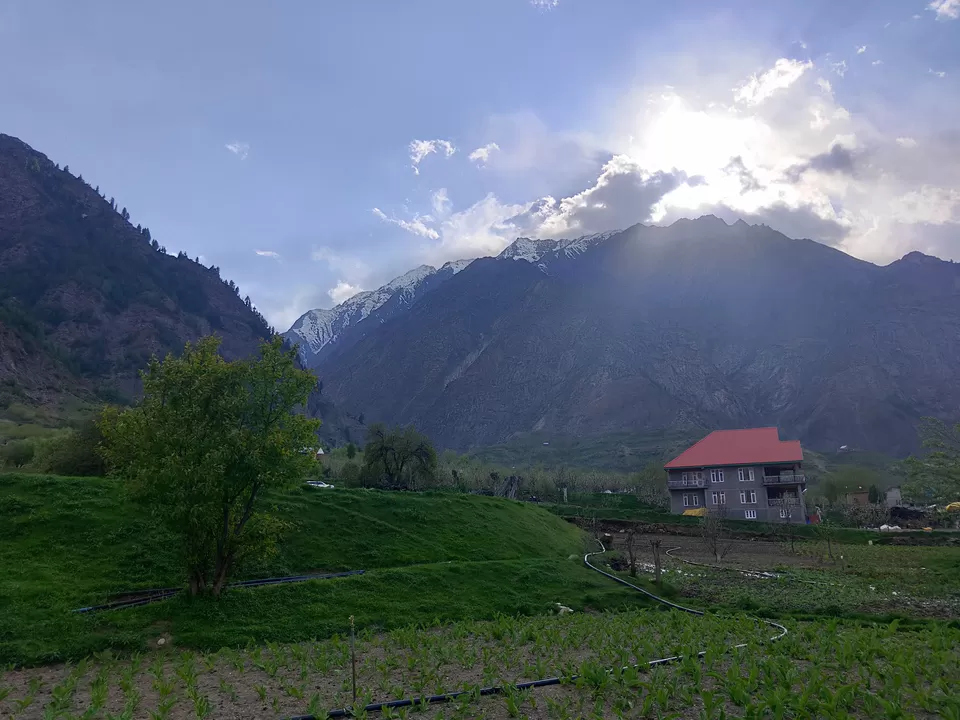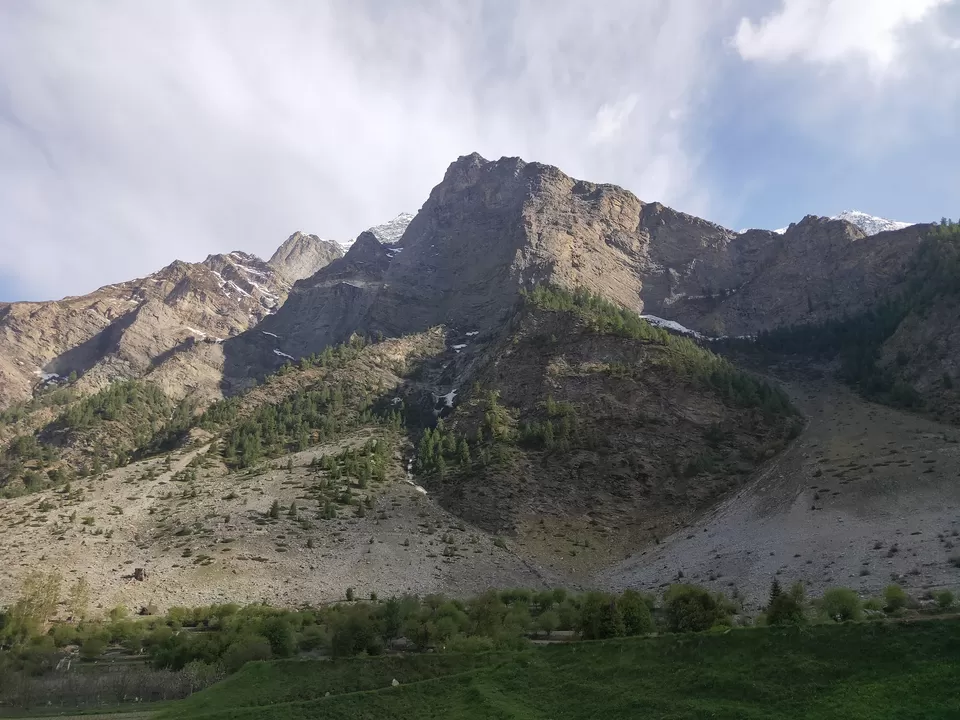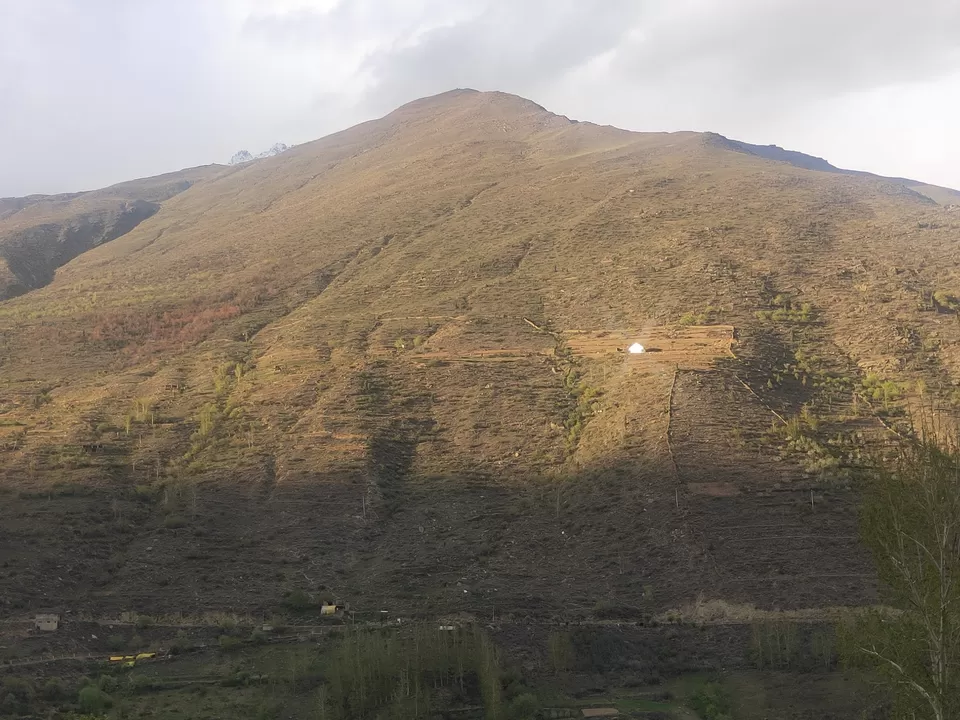 In the evening, we all had a great time together and I slept early, because I have to do checkout on 2nd May.
On The Way To Jispa
Today, after spending a good time here, I was thinking to not go to Jispa, but I had made an advance booking, so I have to go.
After having breakfast and saying bye to everyone, Manoj Bhai dropped me at Jobrang Bus stand, from where I got the bus in 55 Rs till Keylong.
It took around 90 mins and I reach Keylong, from there the Volvo comes from Delhi to Manali and same Volvo arrives here around 10:30 AM, and I got the bus in 90 Rs till Jispa.
Jispa is just 22.7 Km away from Keylong and from Jispa, the rugged mountains landscape started to visible.
I stayed at Ibex Hotel, Jispa which charged me 2750 Rs per day with meals excluding Lunch.
But after coming here, I found that Airtel is not working only Jio works here because the Airtel tower is placed at Darcha, and at 3rd floor, I got some signals.
I was extremely bored because coming from Zostel home and here, I was all alone, so I tried to find the network after walking upto 2 km towards Darcha and I got some signals and called up my friend Prashil, who was staying at Keylong.
And luckily, we met in the evening and I insisted him to stay for an overnight and I reduce my 2 days stay to only 1 day and next morning I checkout and went back to Rashil :).
Few of the pics from Jispa -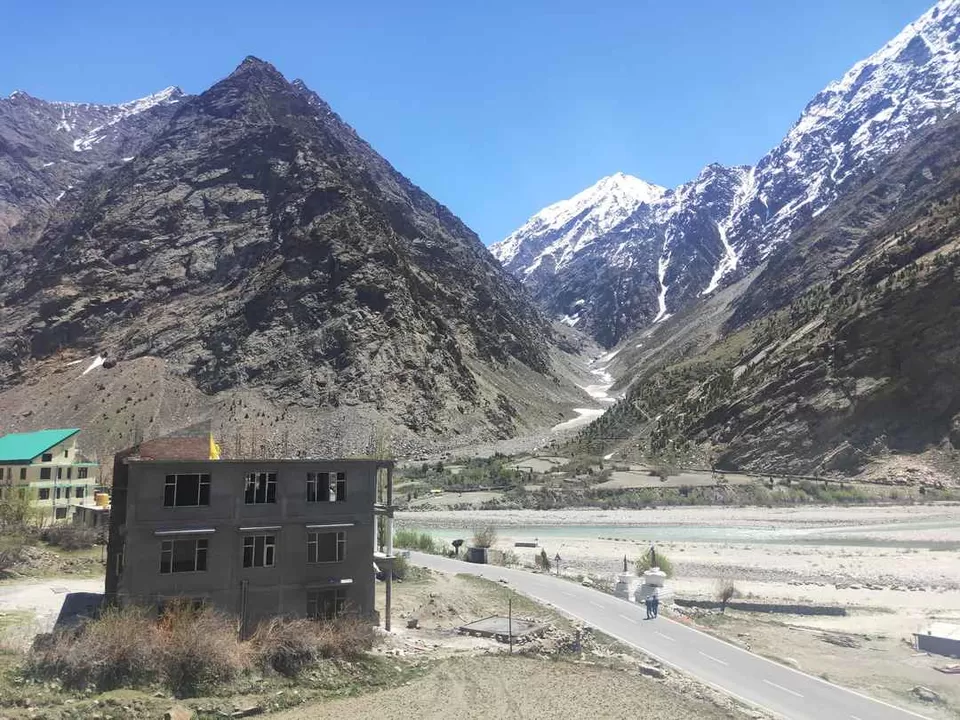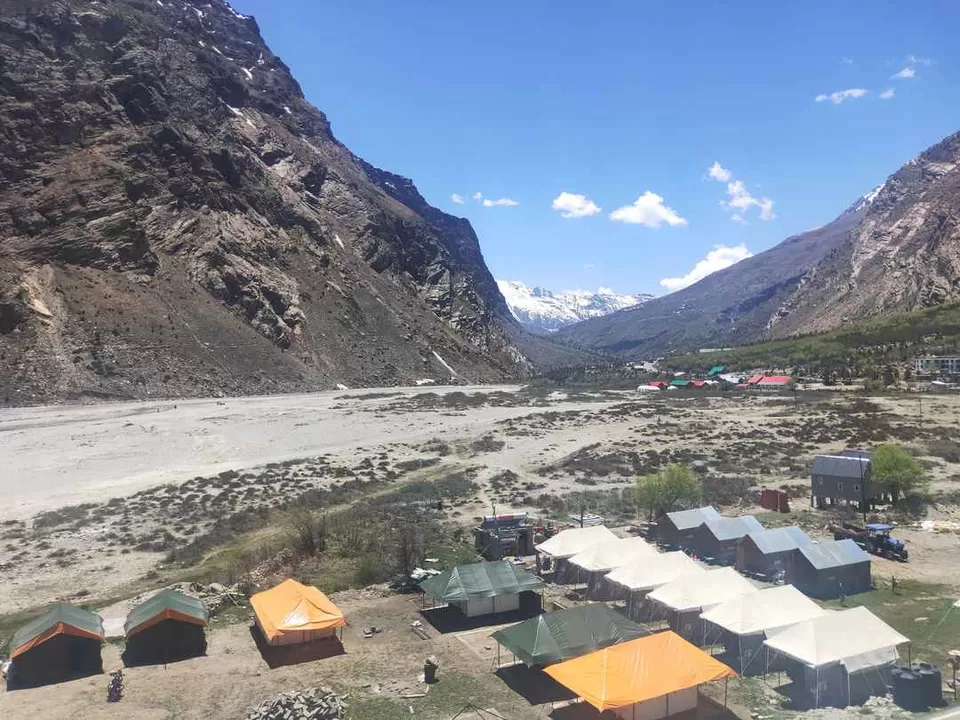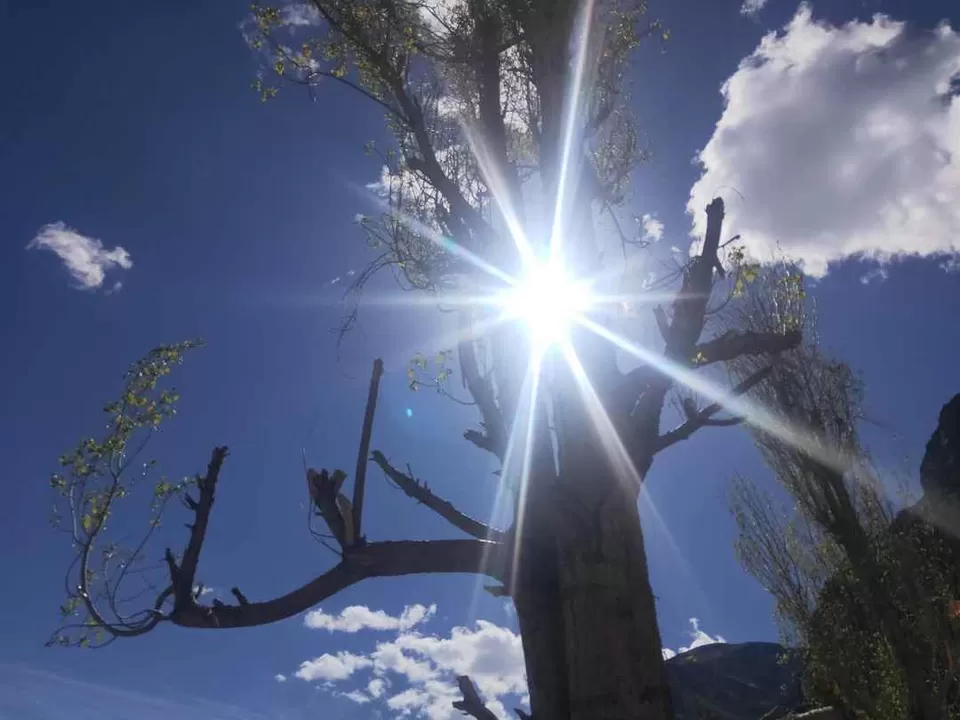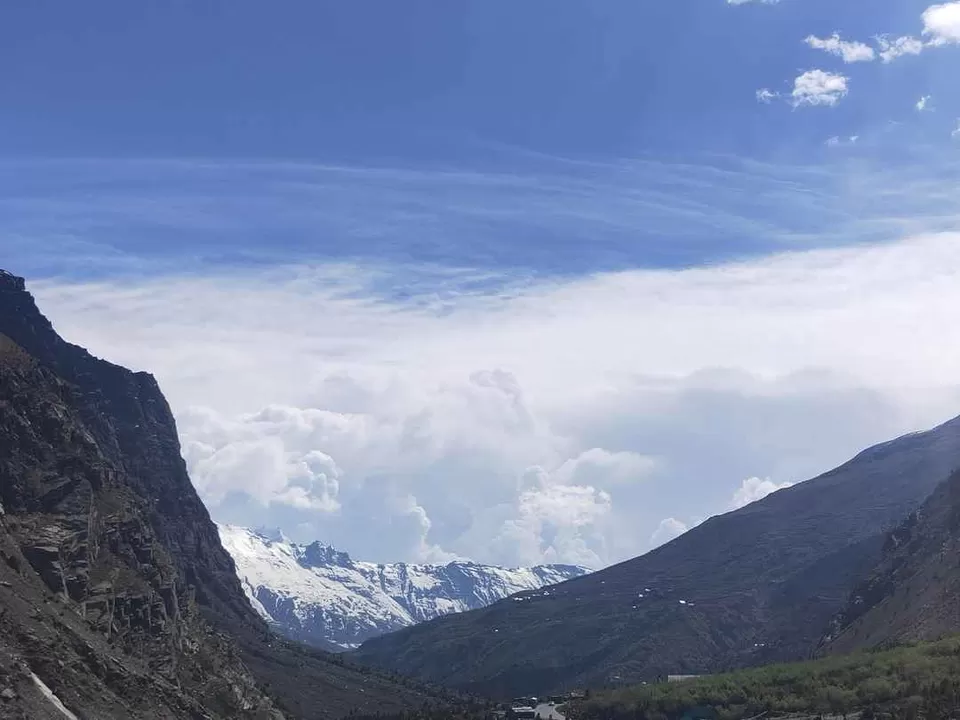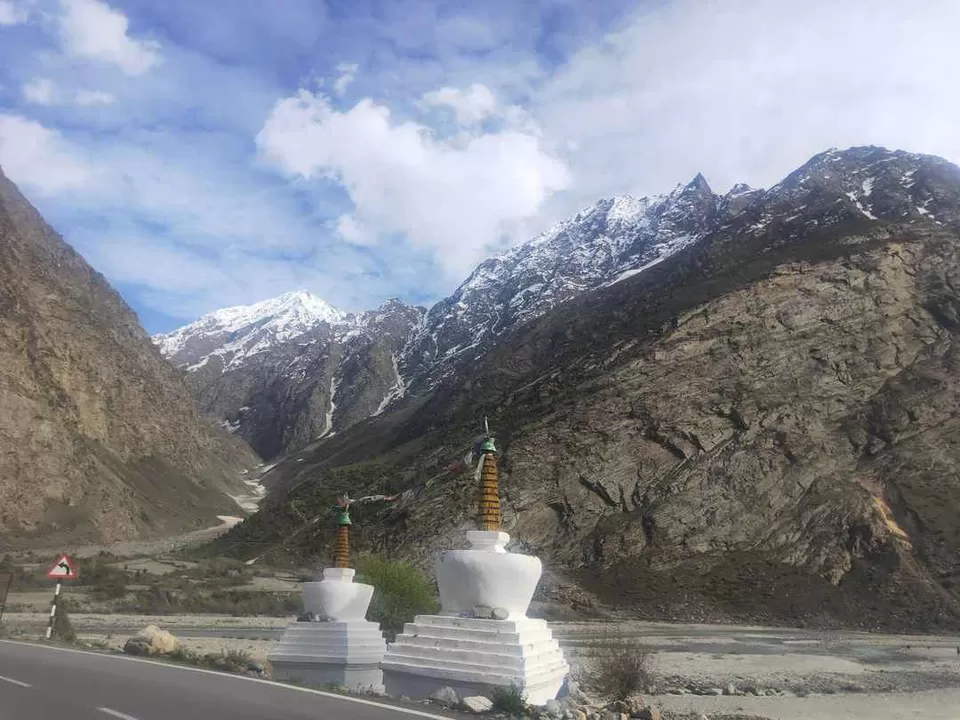 My checkout experience with Ibex Hotel was not great, they were charging for the buffet item also and I insisted that, it is not correct as per your words.
But for my friend stay, they also charged and it was around 2100 Rs per person.
So, I paid 4640 (440 Lunch & 4200 Stay) for 1 day, for 2 people.
Note - There are camps around Jispa, so just be cautious while staying there, because there is no lock and some incident related to theft took place, so always book locked premises for your stay.
There were ample of hotels there in Jispa, since it is on the way towards Leh, so a lot of people take a halt here.
Back To Rashil
On the way back, we went till Darcha, he took me just to experience the bike route towards Leh and it was very scenic.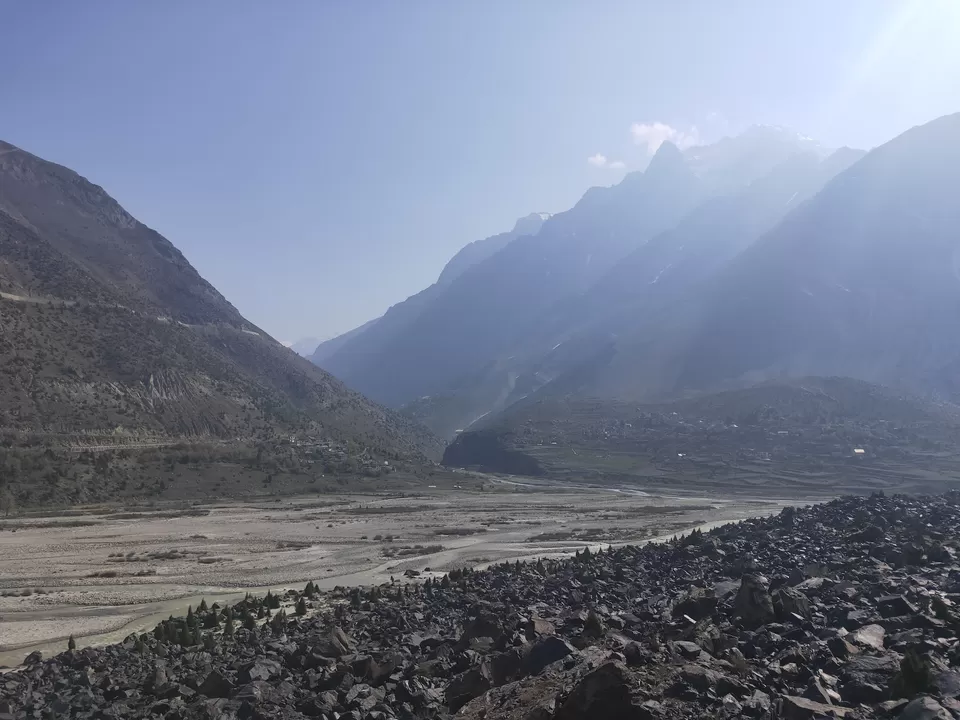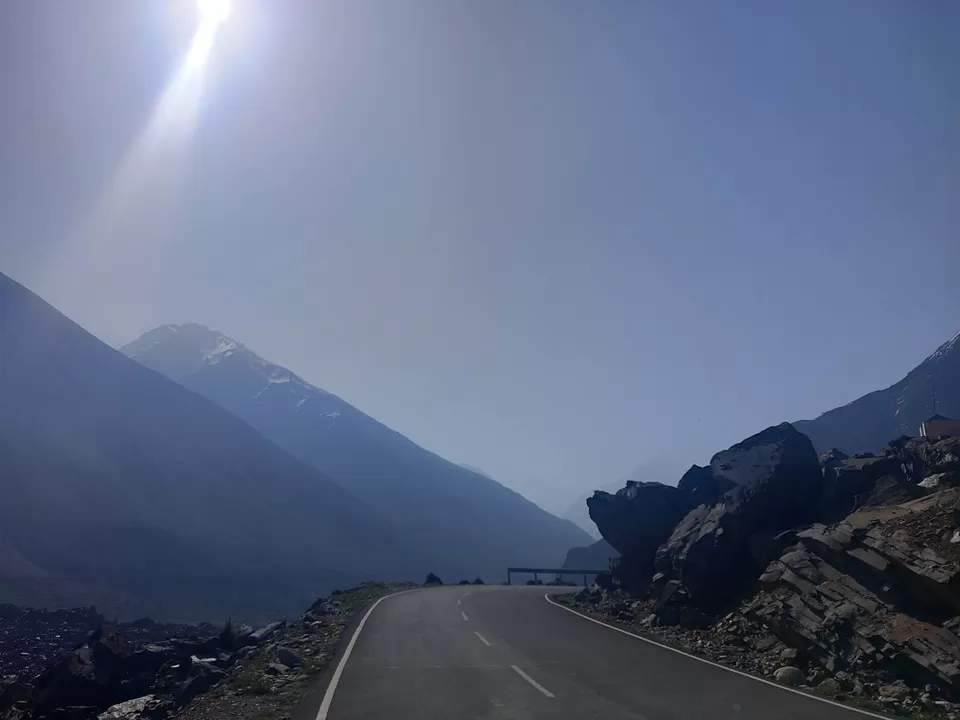 While we were coming back, we saw great post written by our B.R.O and we immensely thanked them to make the route so clean and constructing the roads at such an high altitude for people like us.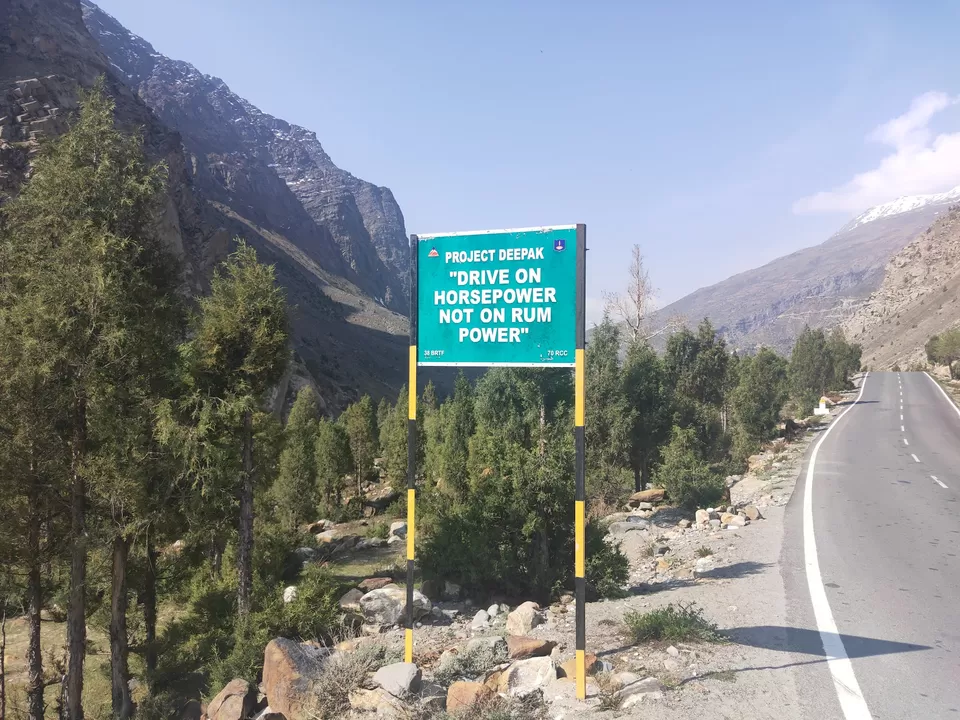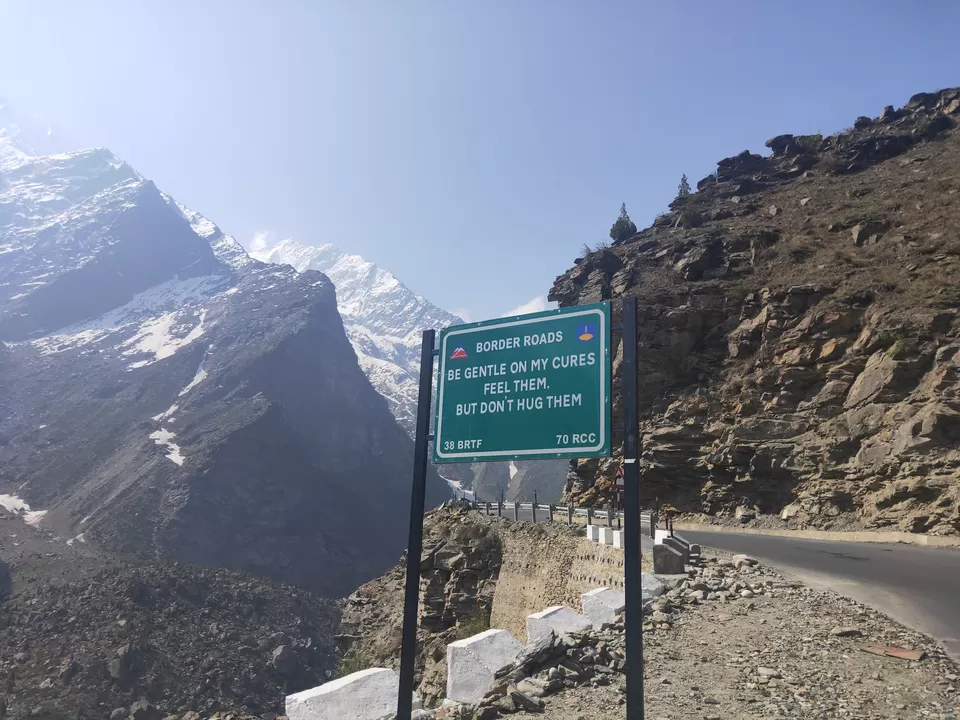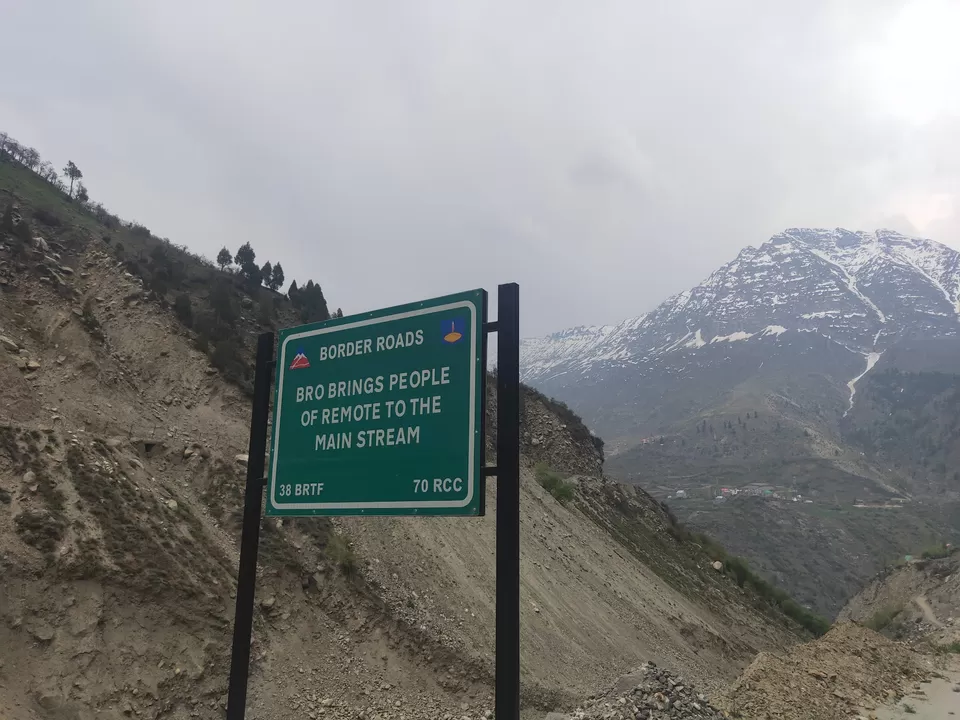 We reached back to Rashil and Shanti Massi Ji were suprised to see me back, it felt like I am back to home.
After having lunch, there was a light drizzle in the evening and that make the whole valley beautiful.
Prashil was carrying the tea stove and he knows, one place where we can get the perfect view with the black tea/coffee.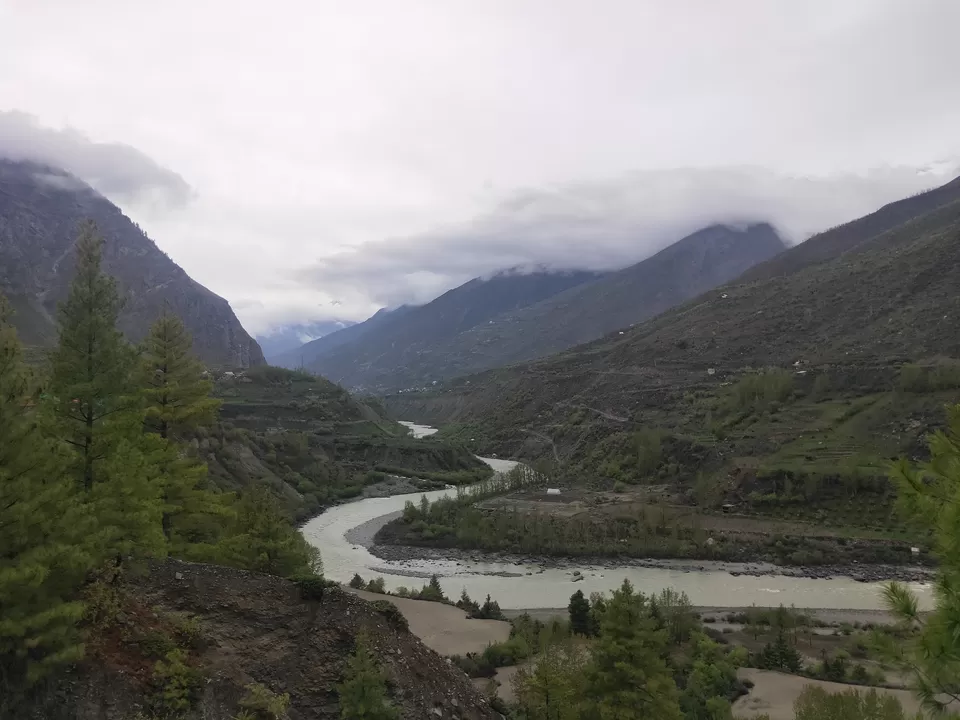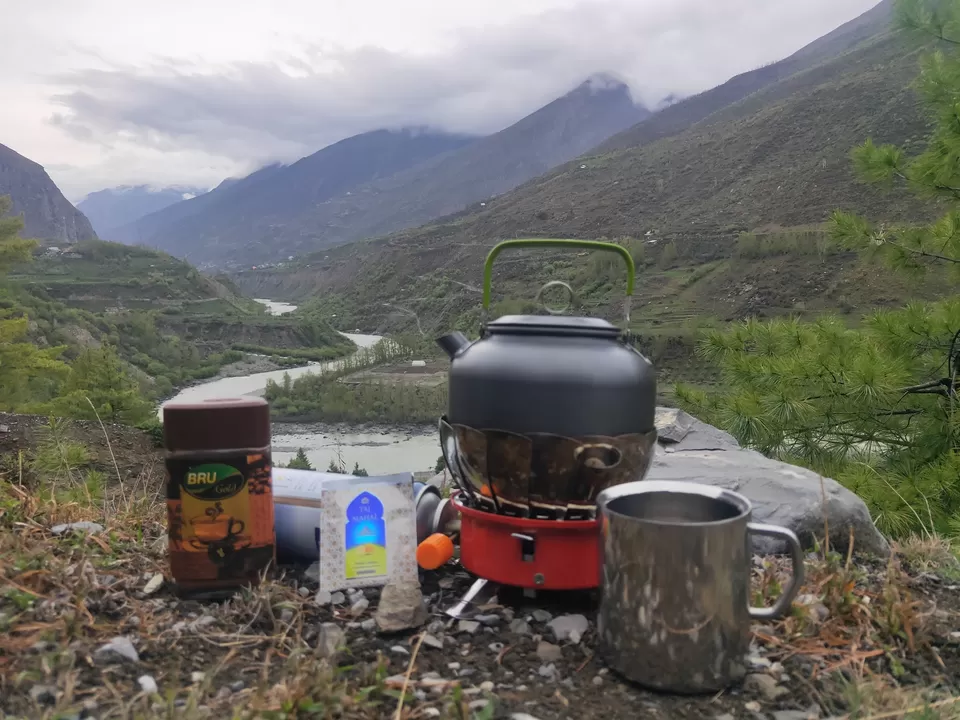 We played some ghazal and enjoyed the evening with Black Lemon Tea & Bru Coffee.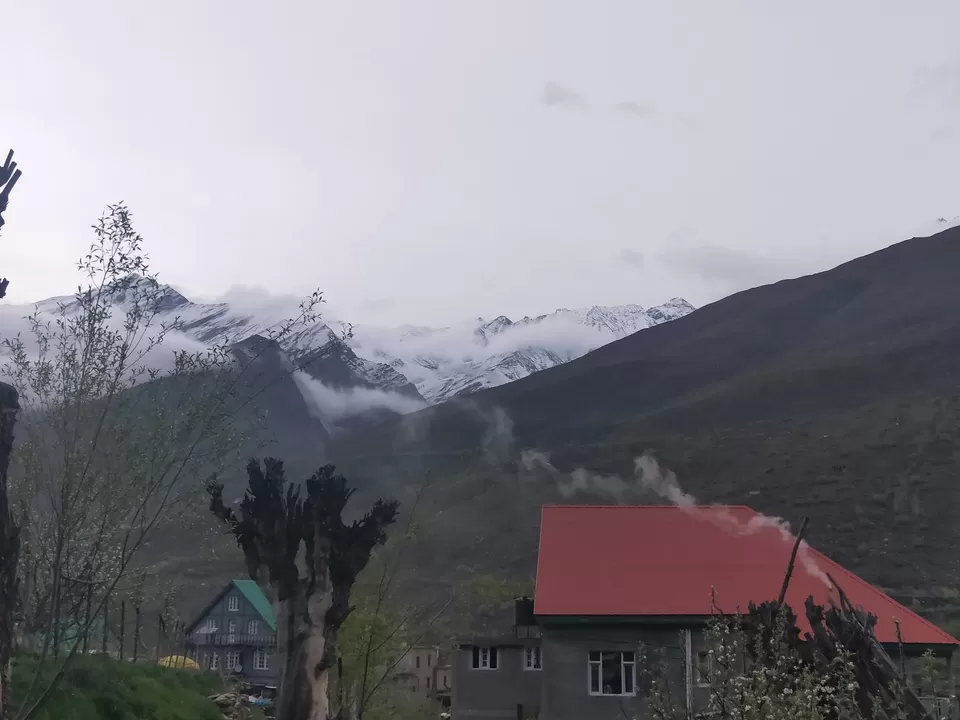 This smoke indicates, that food is getting prepared :).
Note :- It is not advisable to stay in the dark away from the Zostel, because sometimes Bear comes and they might attack you, but nearby the people they don't come, so we packed up our stuff and reached to Zostel before it gets dark.
After dinner, we sat for star-gazing and enjoyed some of the beautiful views of the galaxy.
Enroute Pangi Valley -> Trilokinath Temple
In the morning we took an early breakfast and left for Pangi Valley.
But after crossing Udaipur, the weather was turning rainy and cloud was just on our head, along with that, after crossing Mudgram Village, we started to enter Tindi village, which is 20 Km from Pangi Valley.
But on the way, on our right, there were big loose boulders hanging on our head, couple with rain and thunderstorm at some instance, from there we were seeing a river flow getting narrowed, as we are gaining height.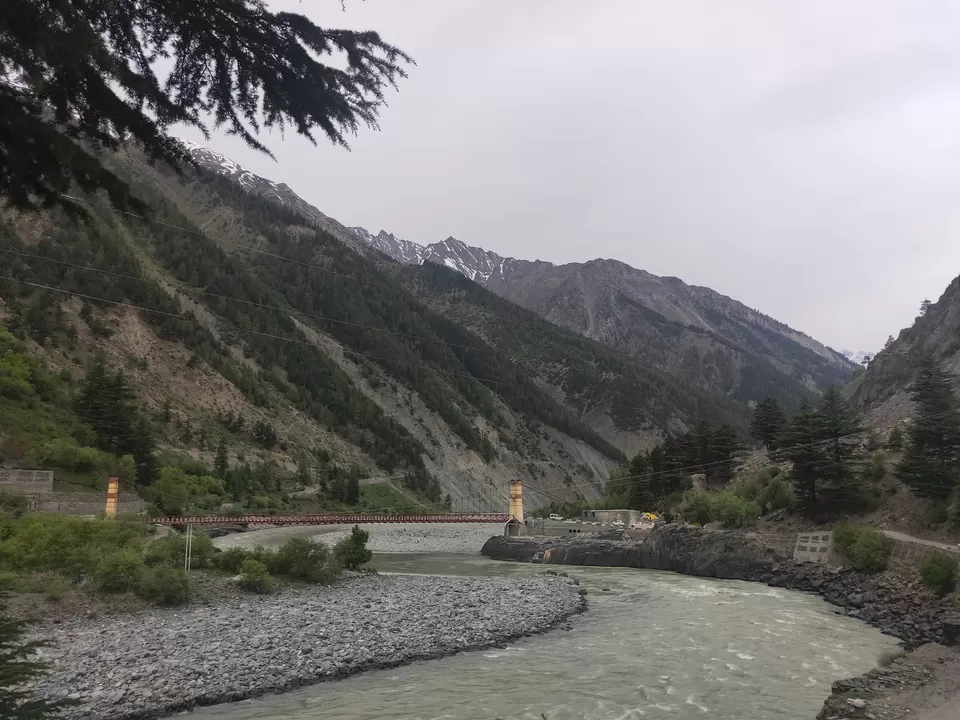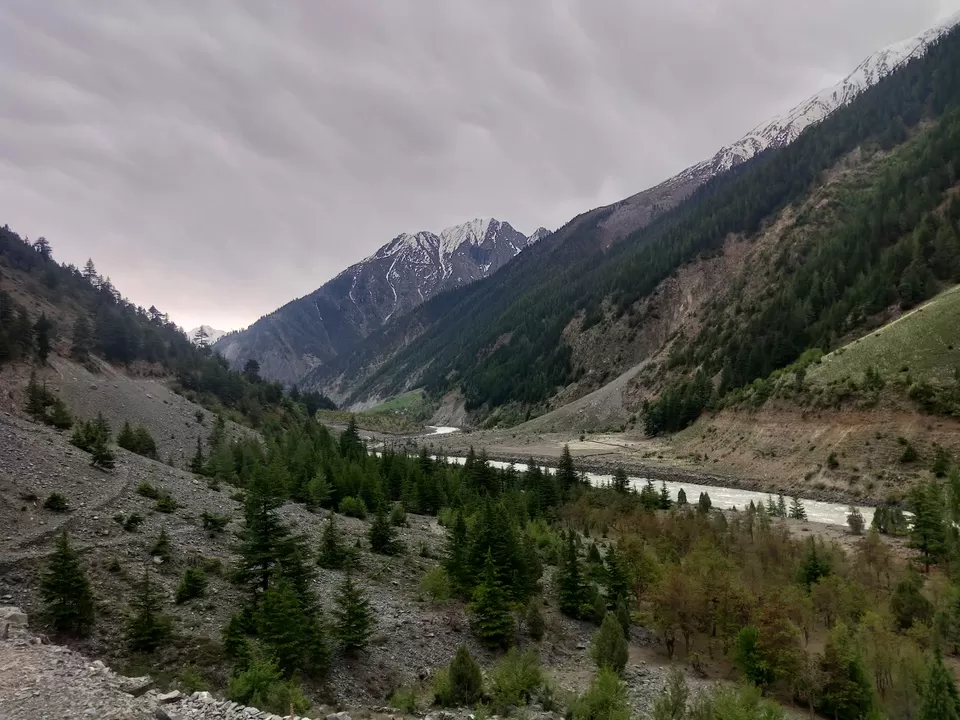 We were only able to travelled 10Km in 1 hour, because the way was filled with rocky boulders and at some point, we met few people who advised not to go further, because there was a landslide in Pangi valley and people are stuck from last 2 days.
We discussed and turn back from there, as it was getting more cloudy, so any moment cloud can burst and we can fell into the valley, plus loose boulders and cliff hanging route was making the whole moment scary.
After reaching Udaipur, we went to Trilokinath Temple, which holds value for both (Hindus & Buddhist), an idol of Shiv Ji and on top Buddha ji is placed inside the temple.
I thought it was Mahadev, who wanted us to visit, that's why we didn't went ahead from Tindi to Killar.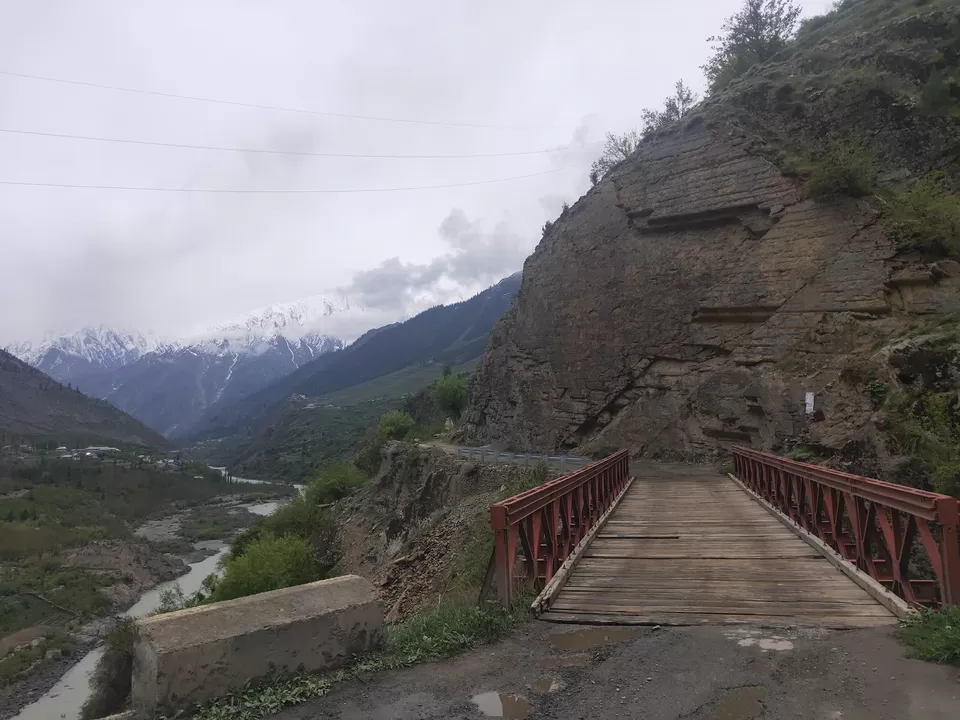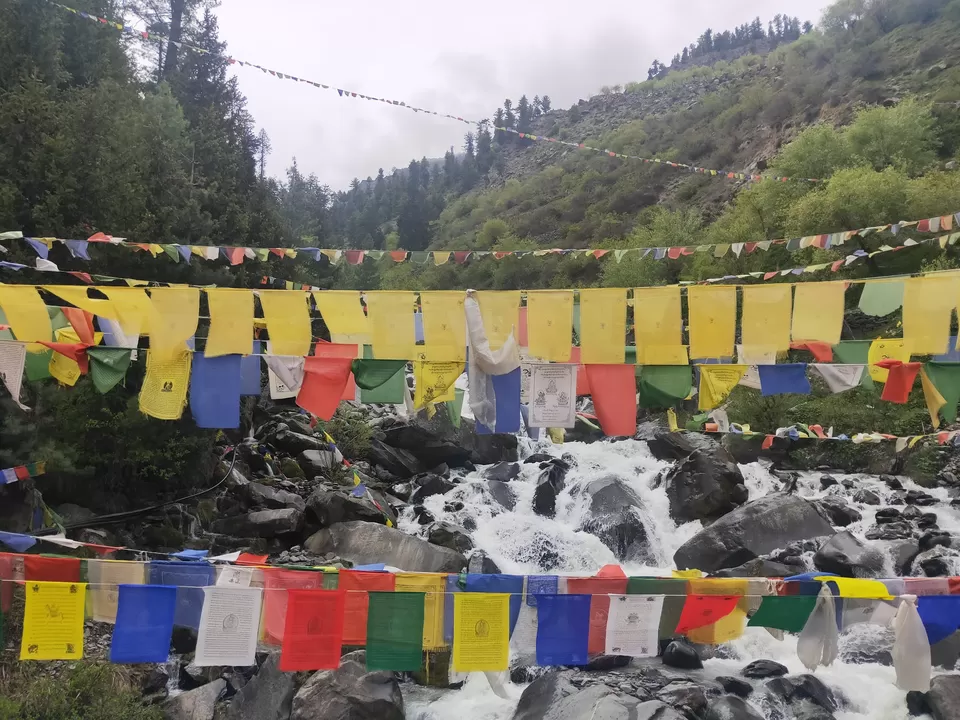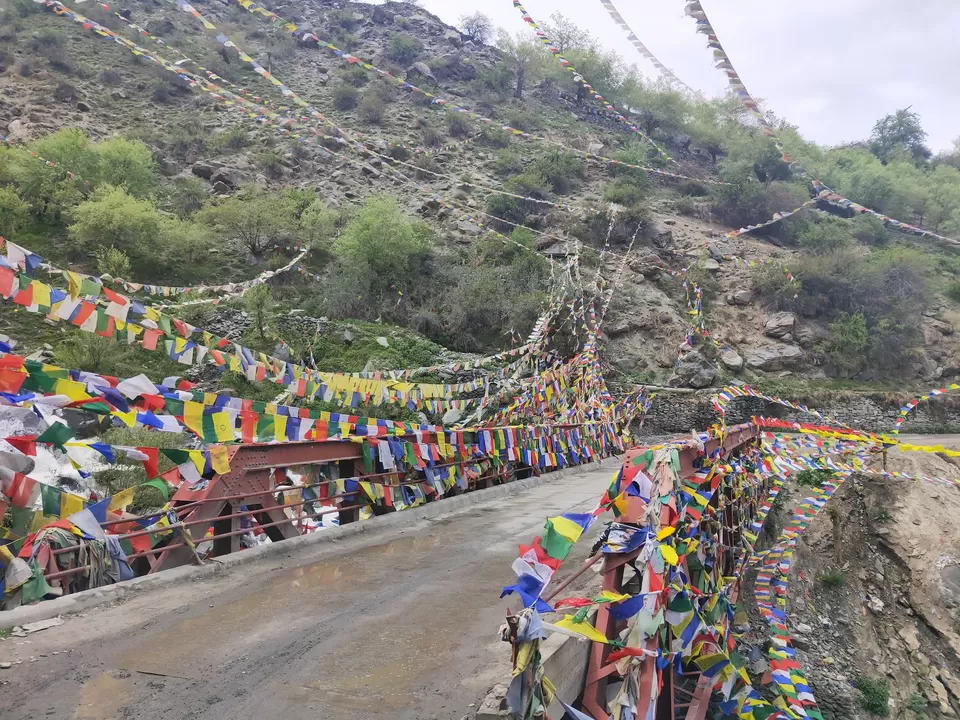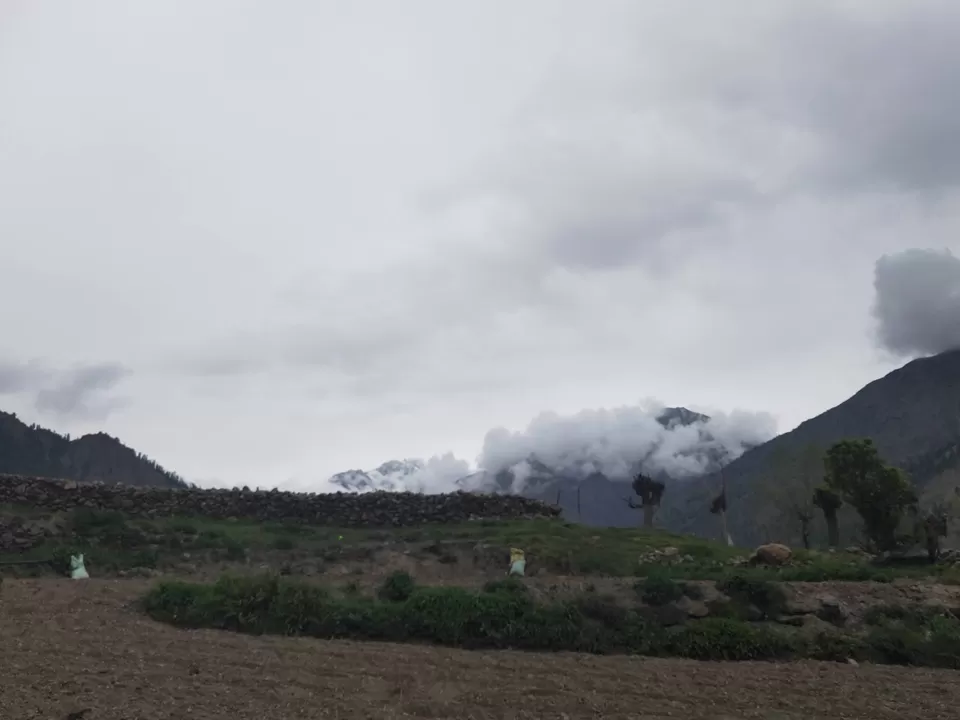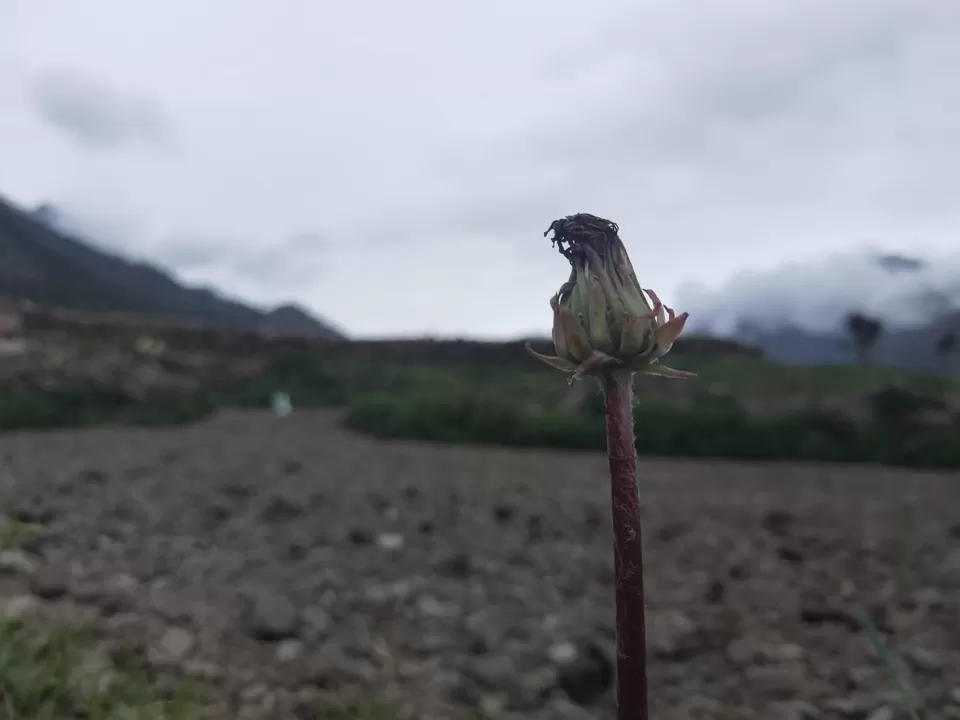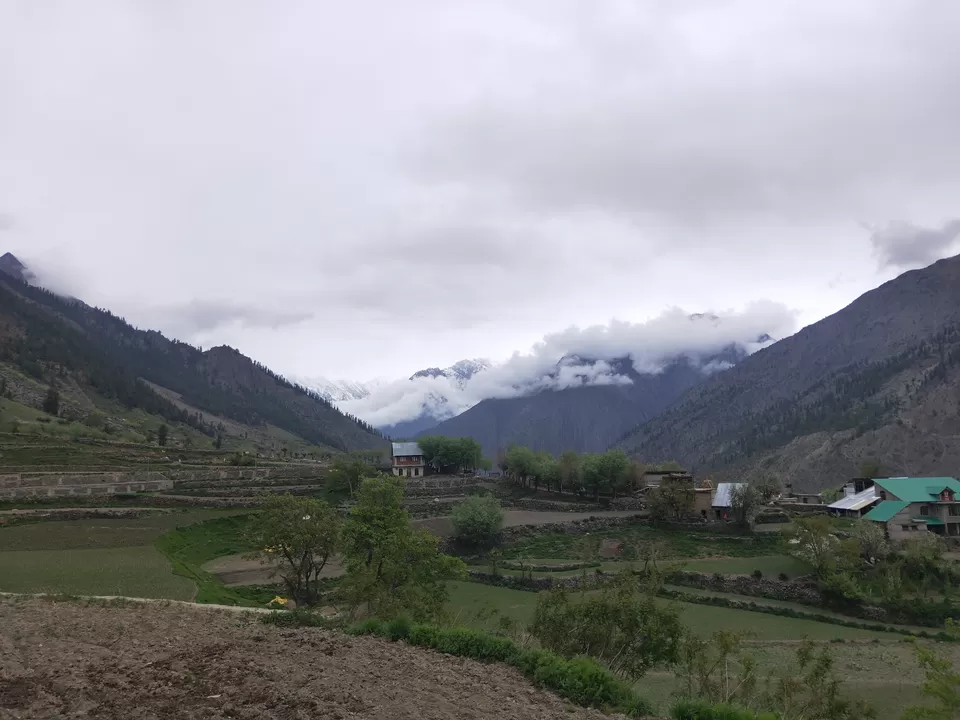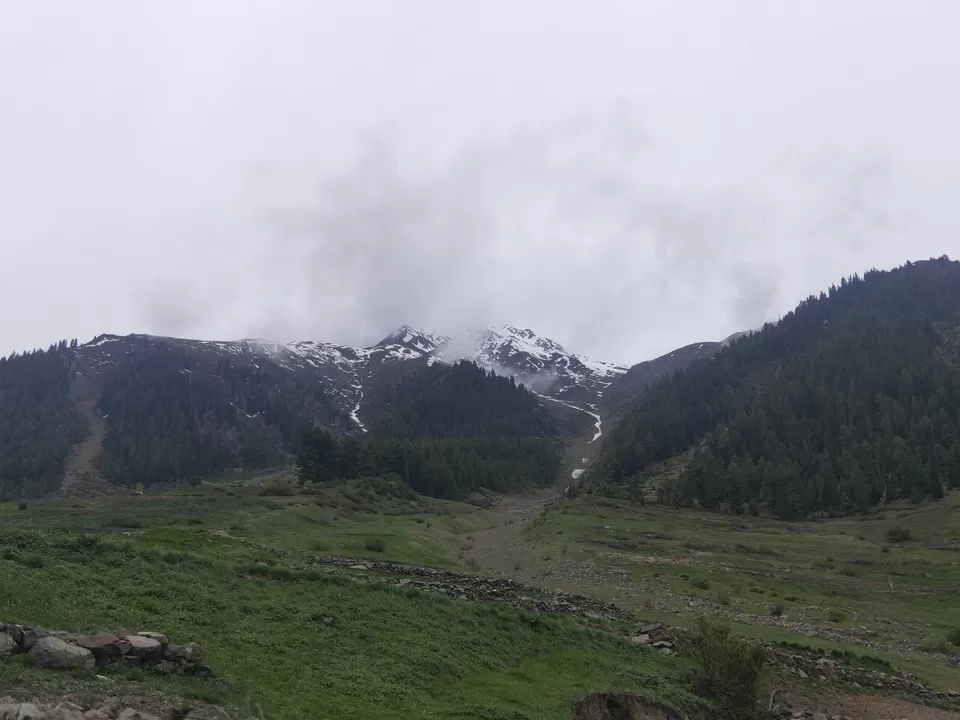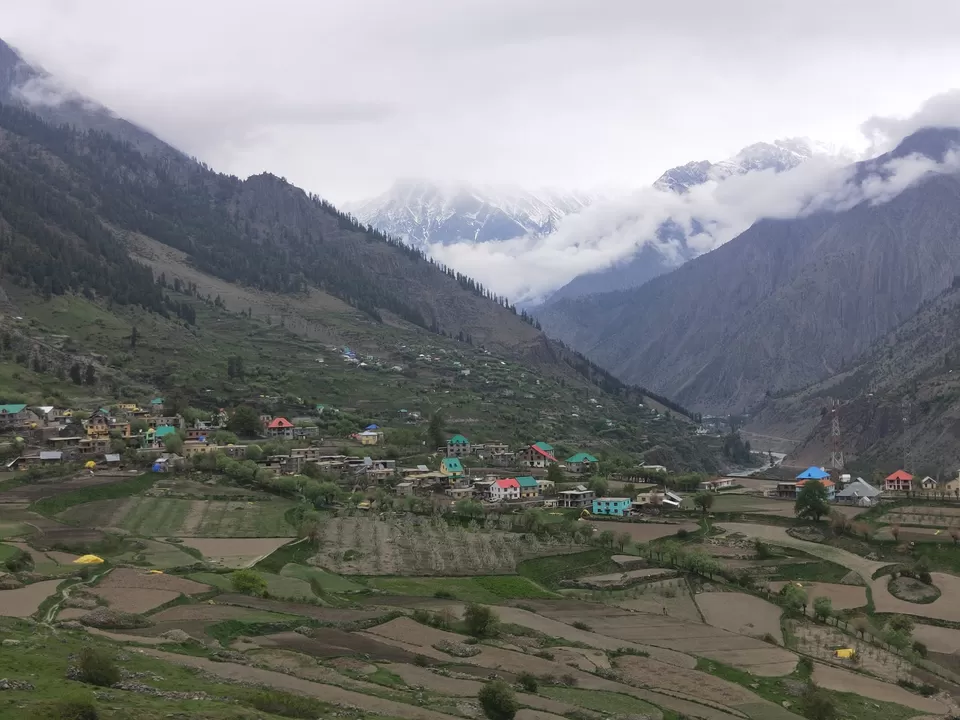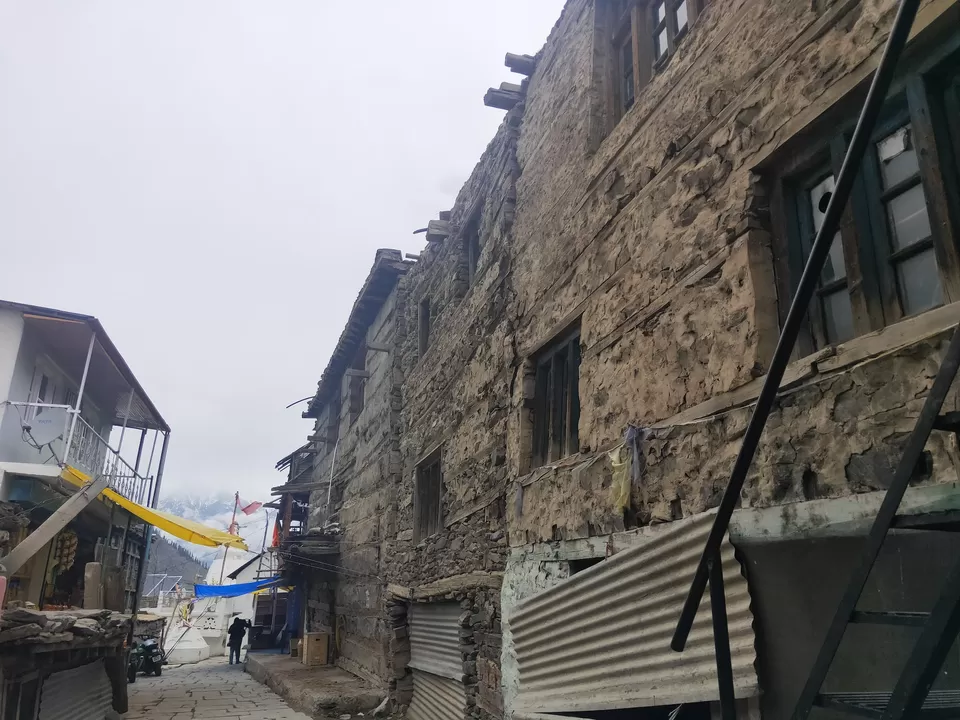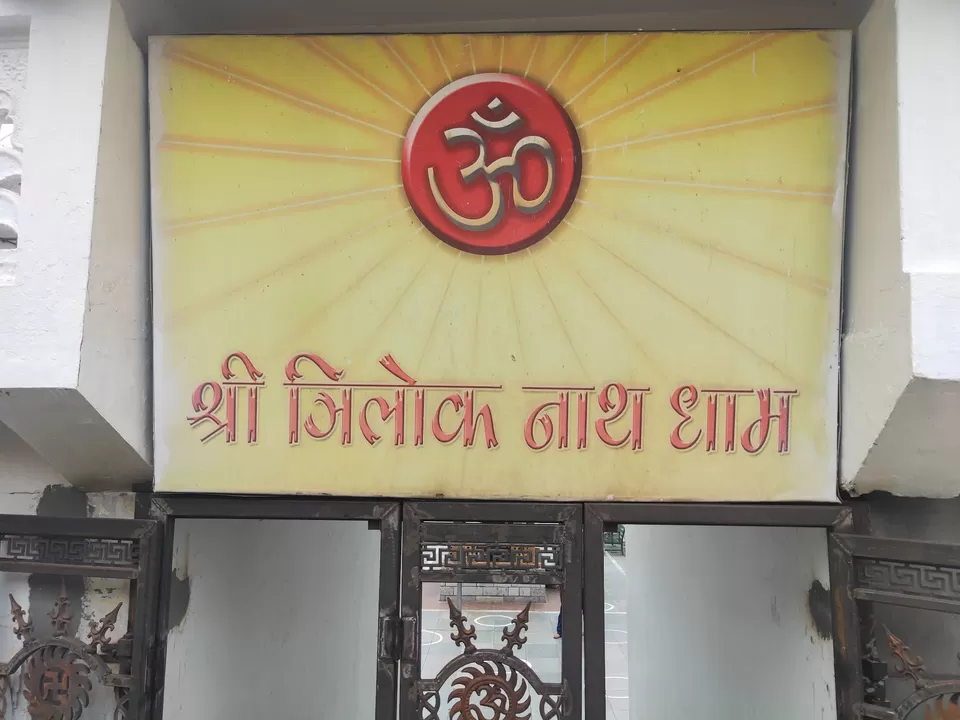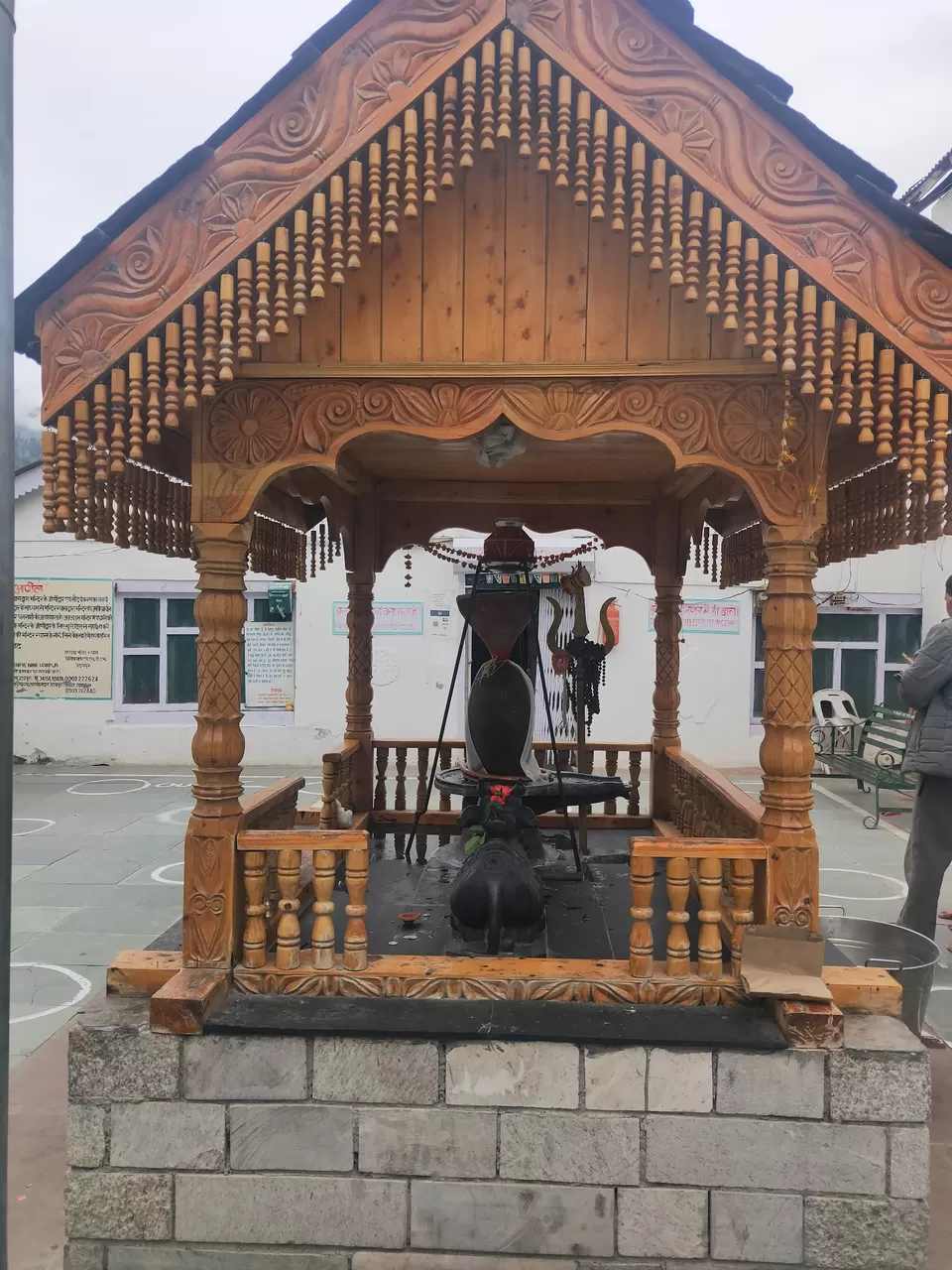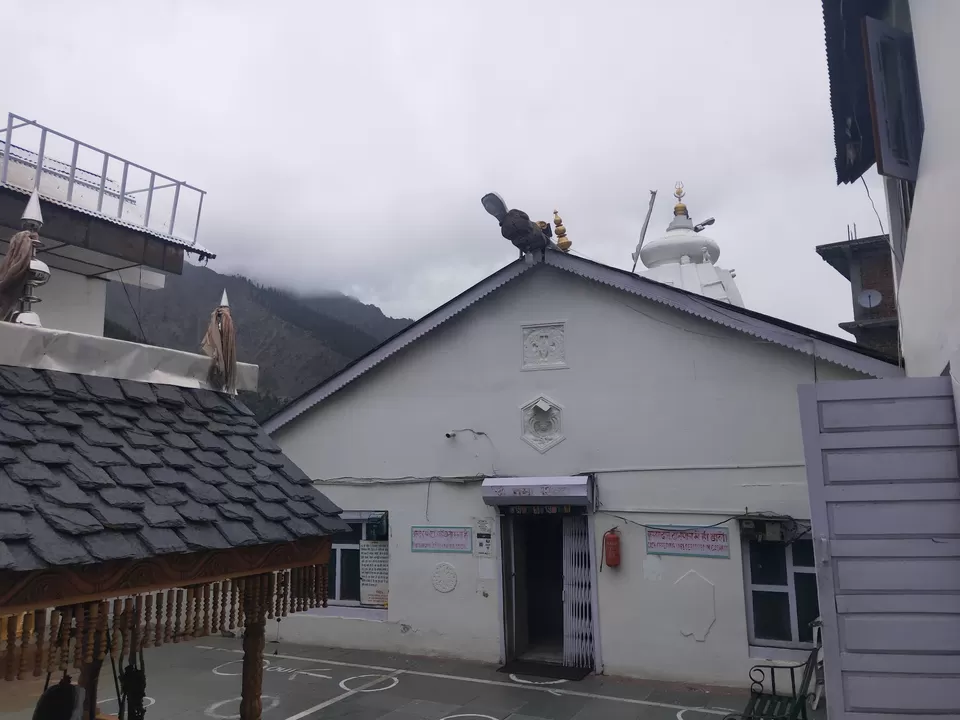 Note :- Clicking pic inside the temple is not allowed, so we just sat for a while and asked few questions to priest and headed back to Rashil.
In 2 hours, we reached Rashil and greeted with an amazing sunset.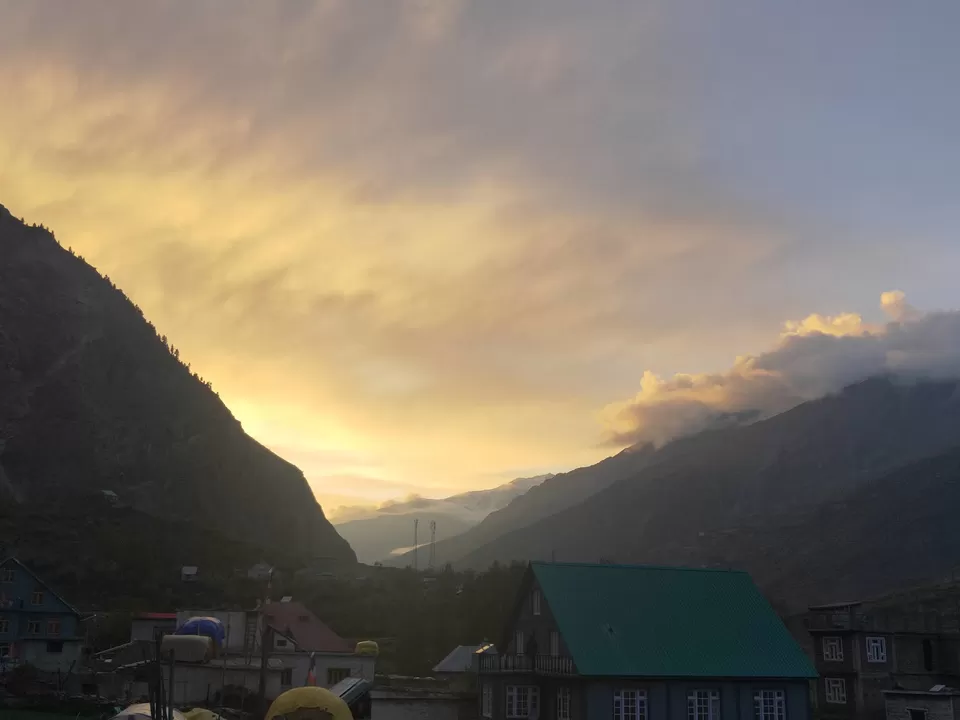 We had some snacks with tea and some gupshup about Tindi and Prashil showed them some of the GoPro footage and all were shit-scared.
So, we had a dinner and then slept early for next day checkout.
A Day In Sissu
So, early morning we went for a walk to Pond Side and left Rashil to reach Sissu, as I was having a booking at Zostel Sissu for 3 days.
Few of the pics from Rashil - Last Day.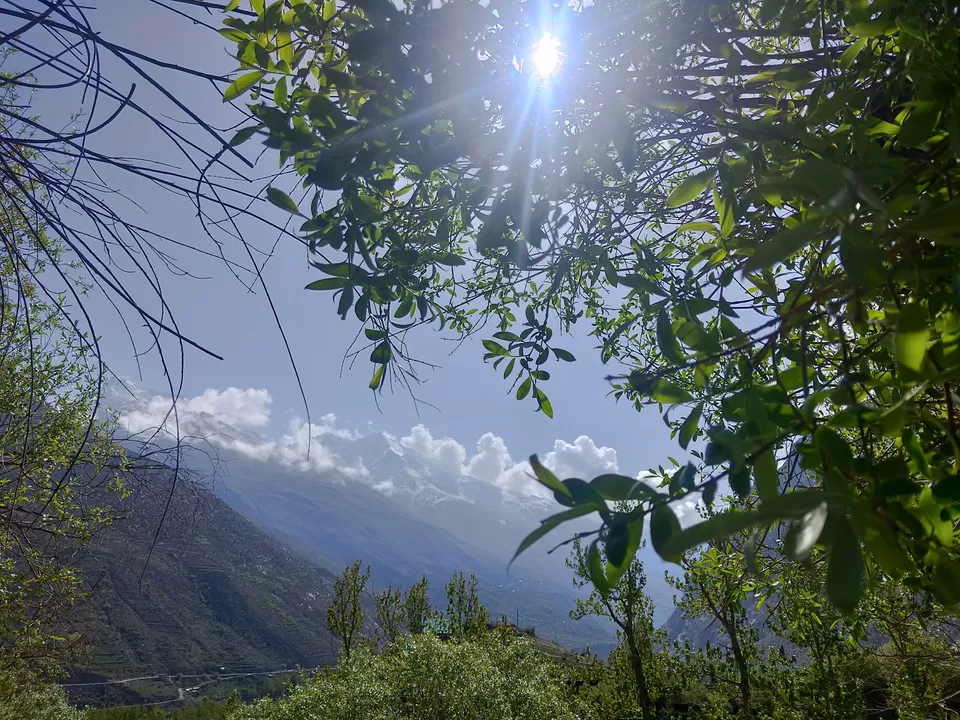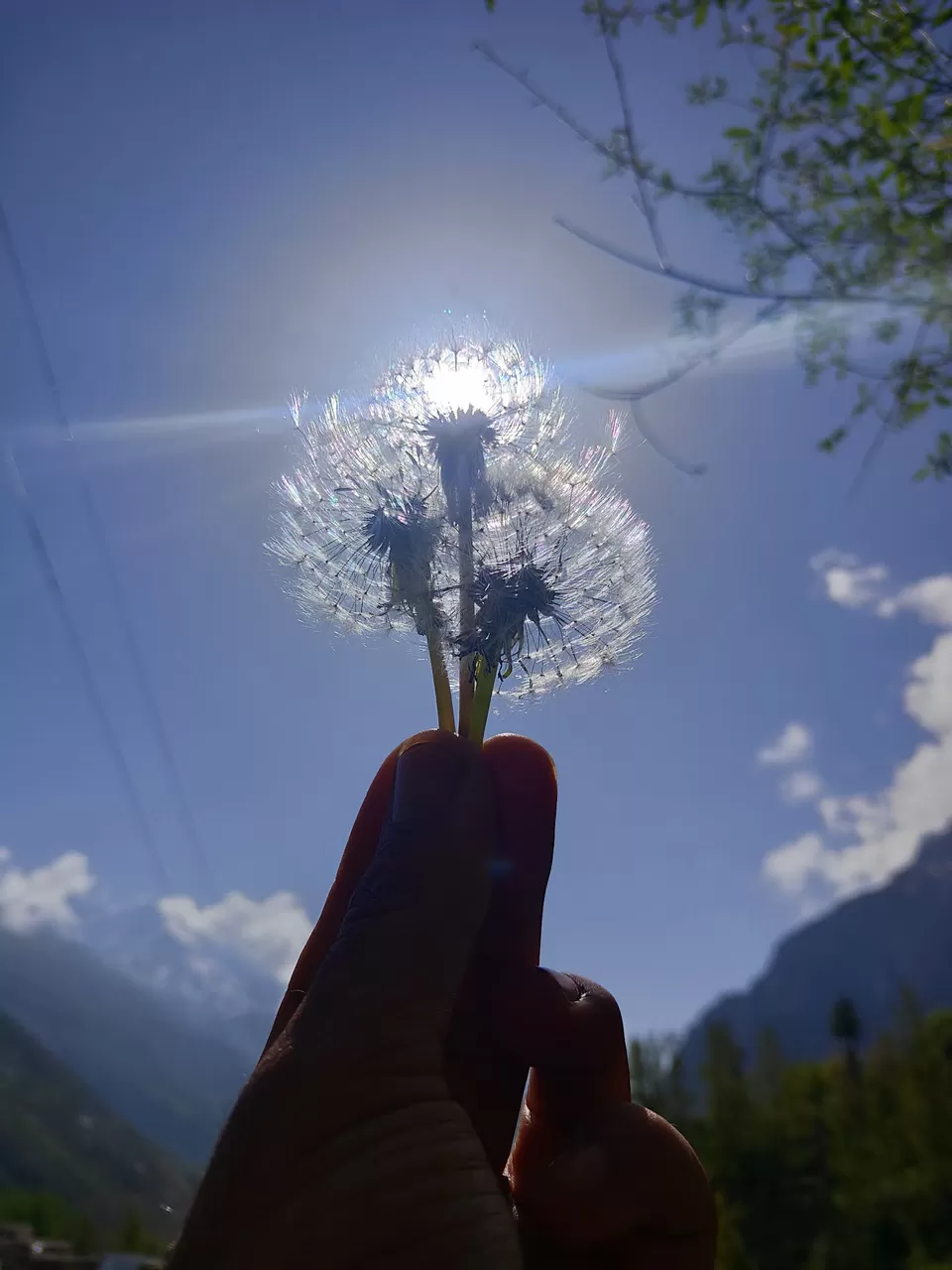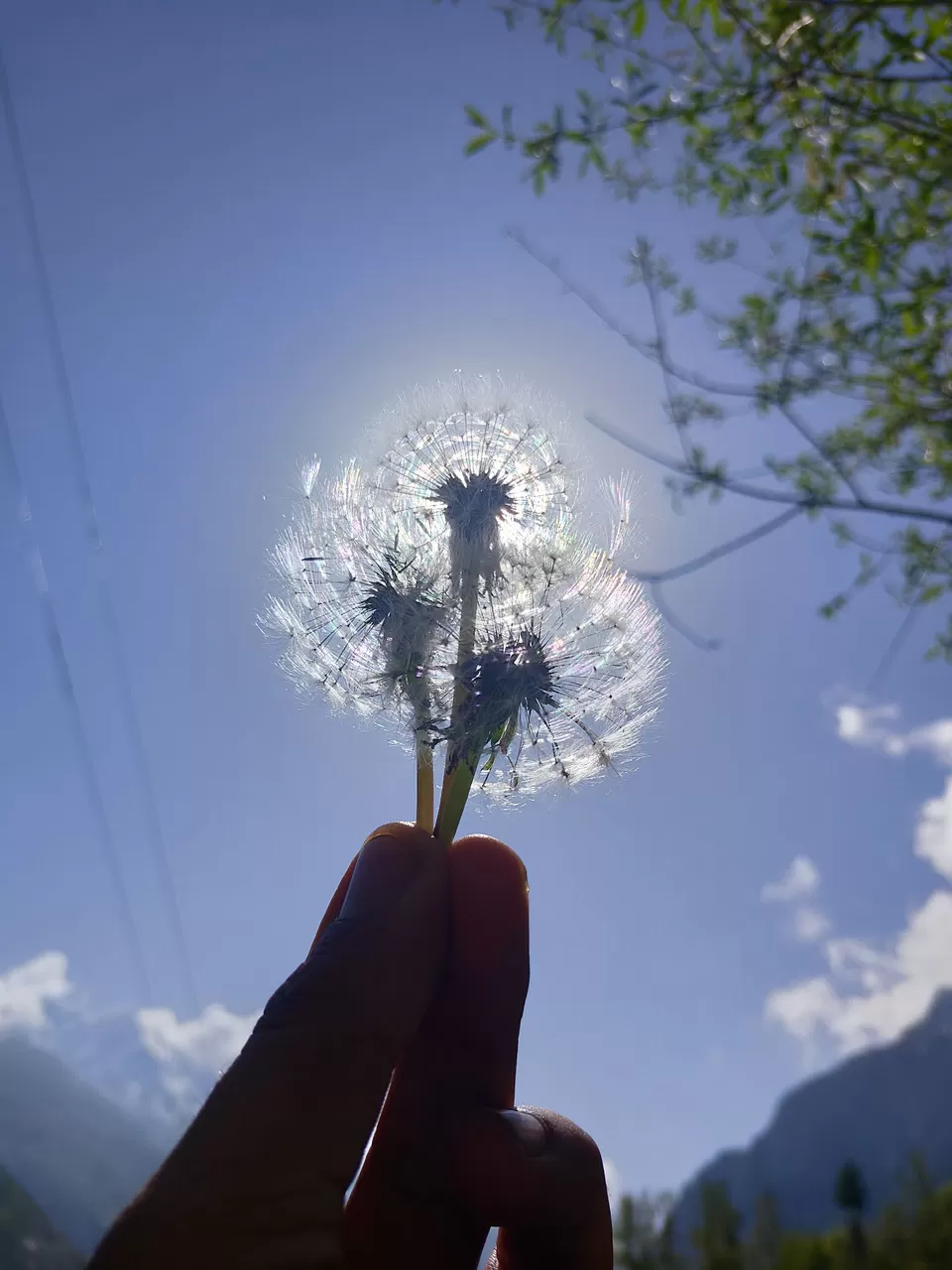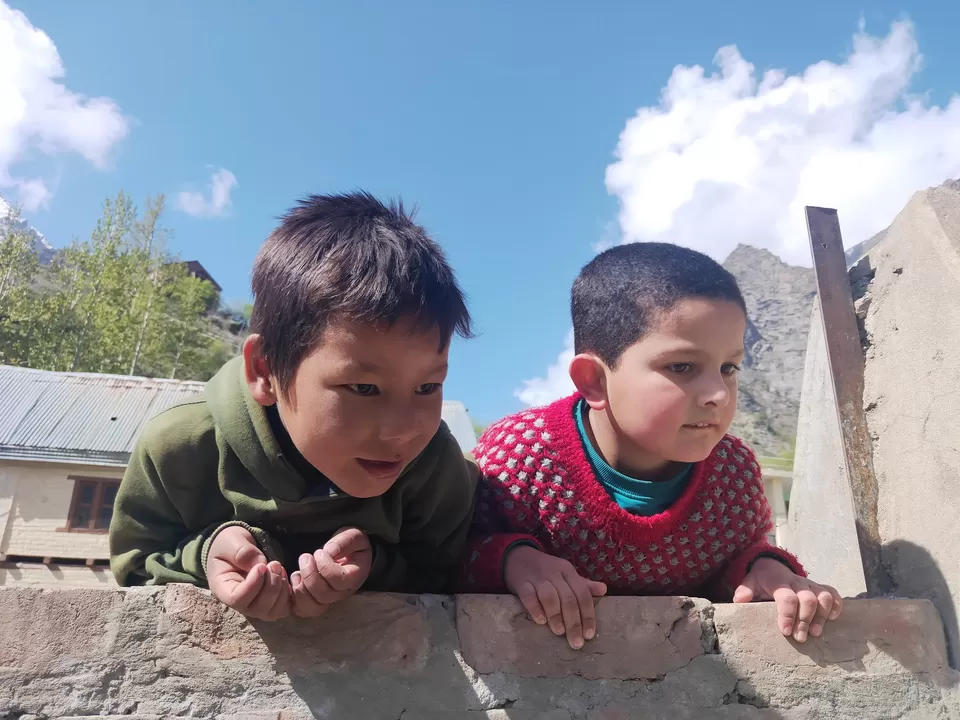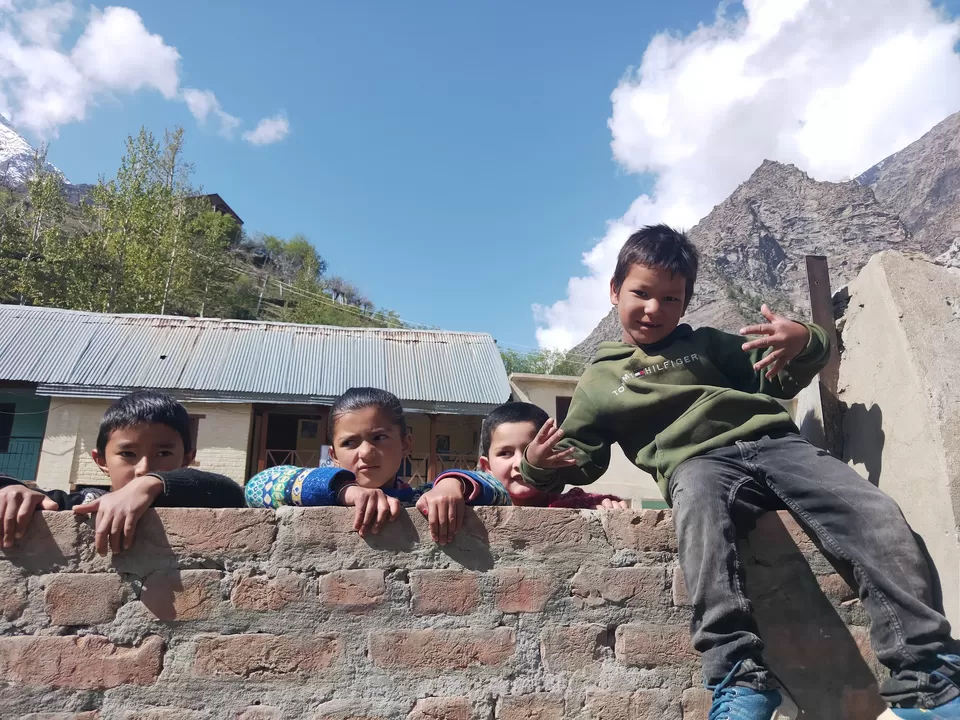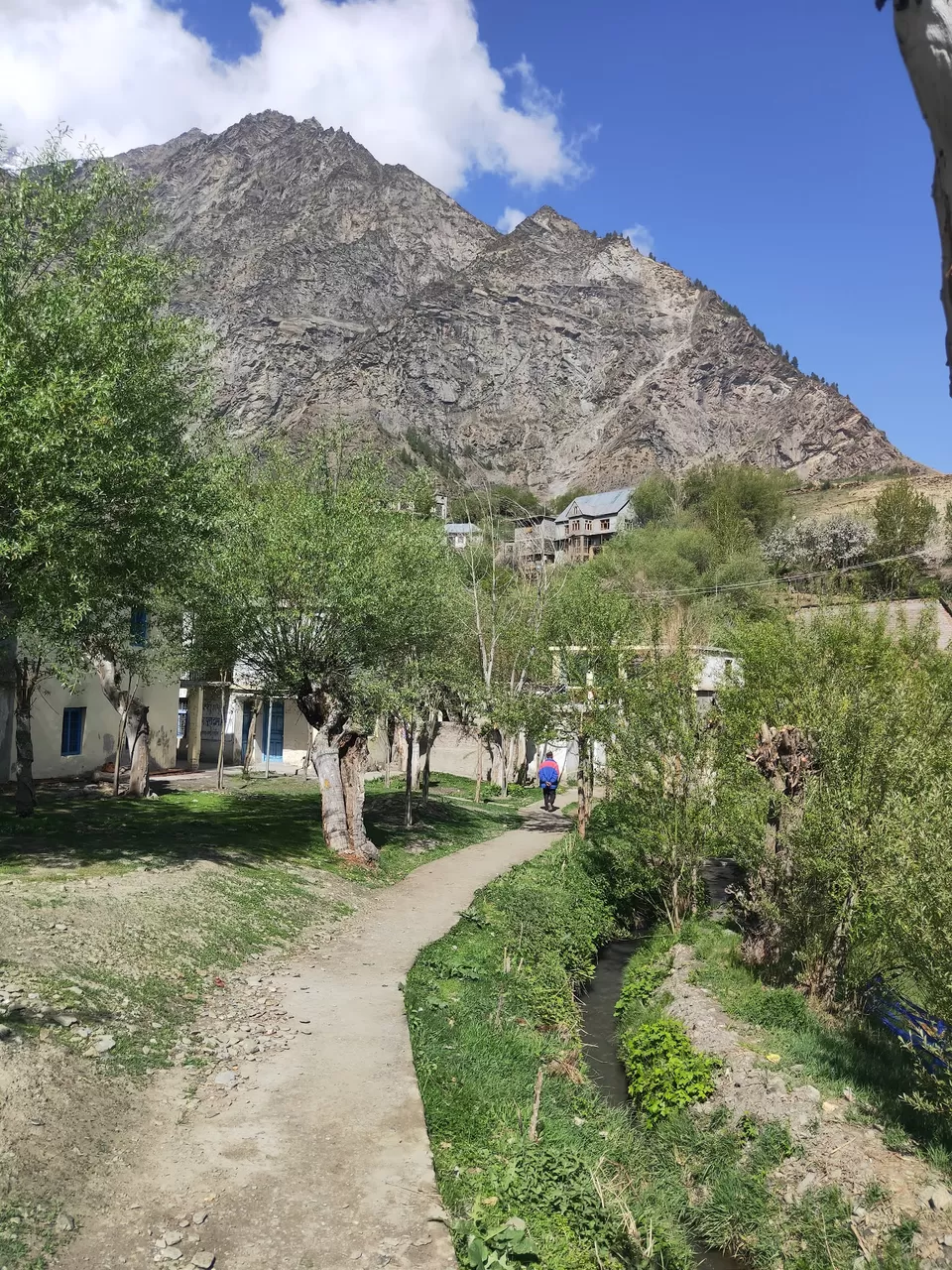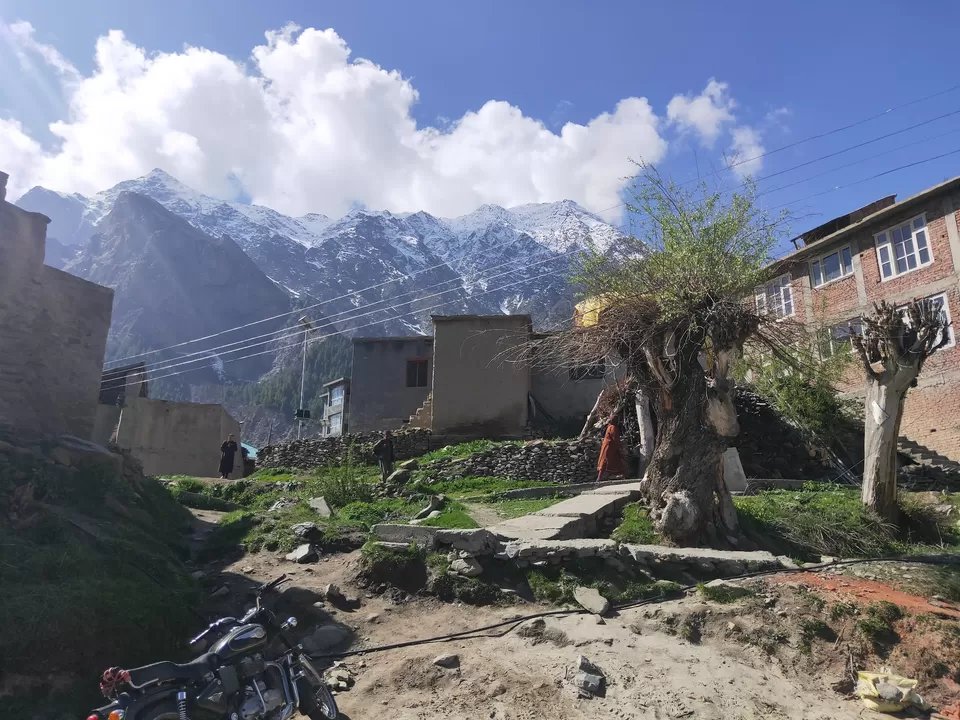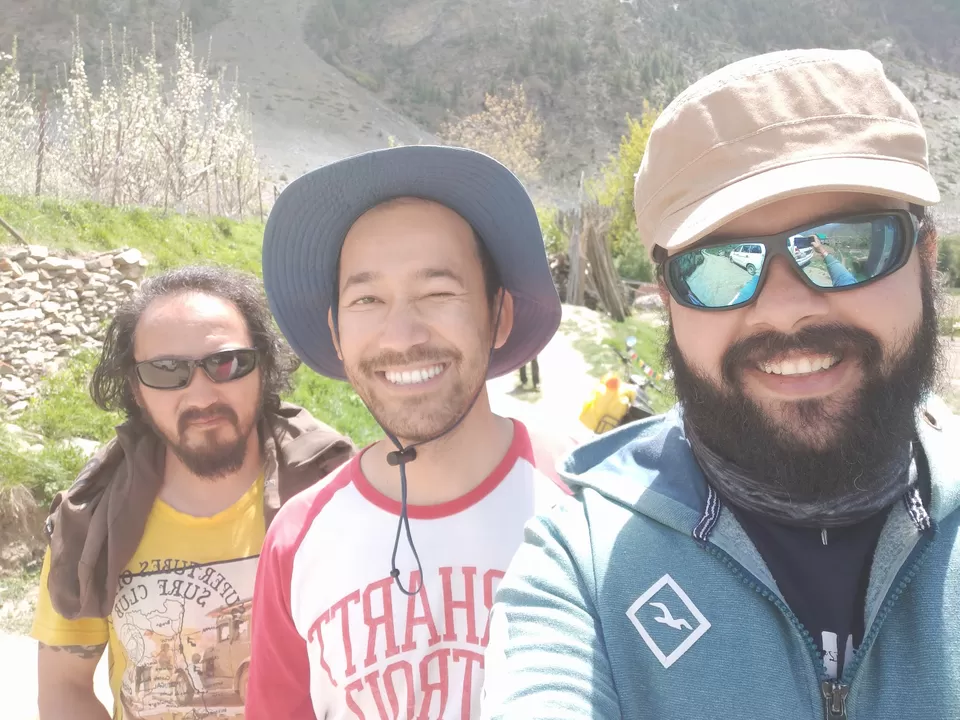 But, after reaching there, I did not get the good vibes, so as Prashil was only staying for 1 day and then I also pre-pone my bus ticket for Delhi and left Sissu next day on 6th May, leaving 2 days booking invain.
A few things, which I do not like at Zostel Sissu, the constant music playing from 5:00 PM till late 10:00 PM.
That's why I thought to leave this place after staying only for a 1 day.
On the next morning, before checkout, we went till Koksar & Gramphu.
After reaching there, we saw unlimited vehicle from all parts of India and people were standing on glacier, taking pics.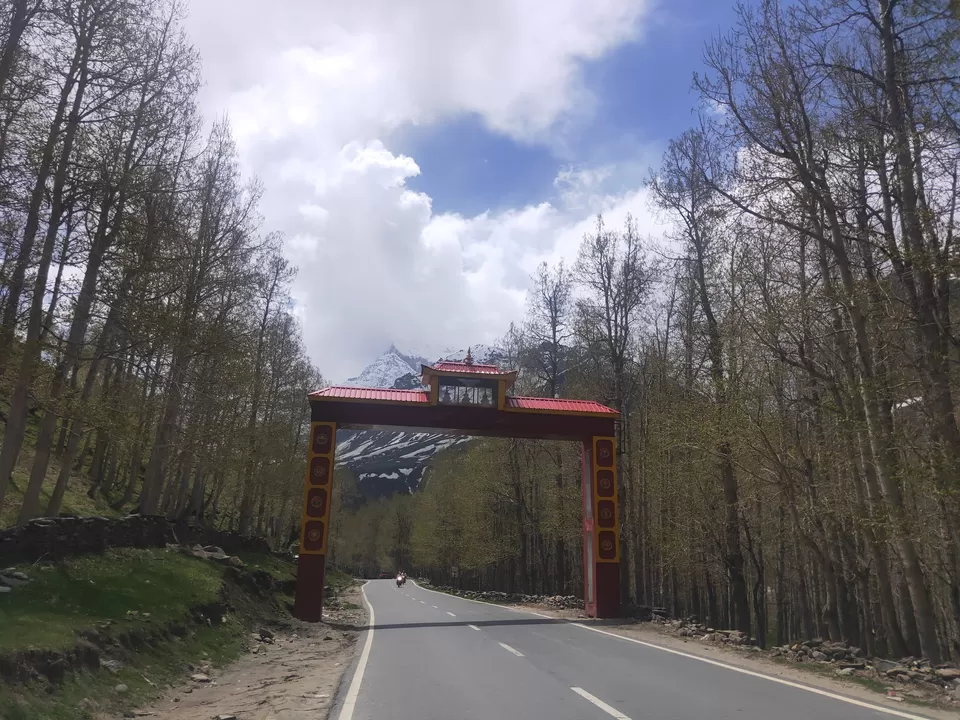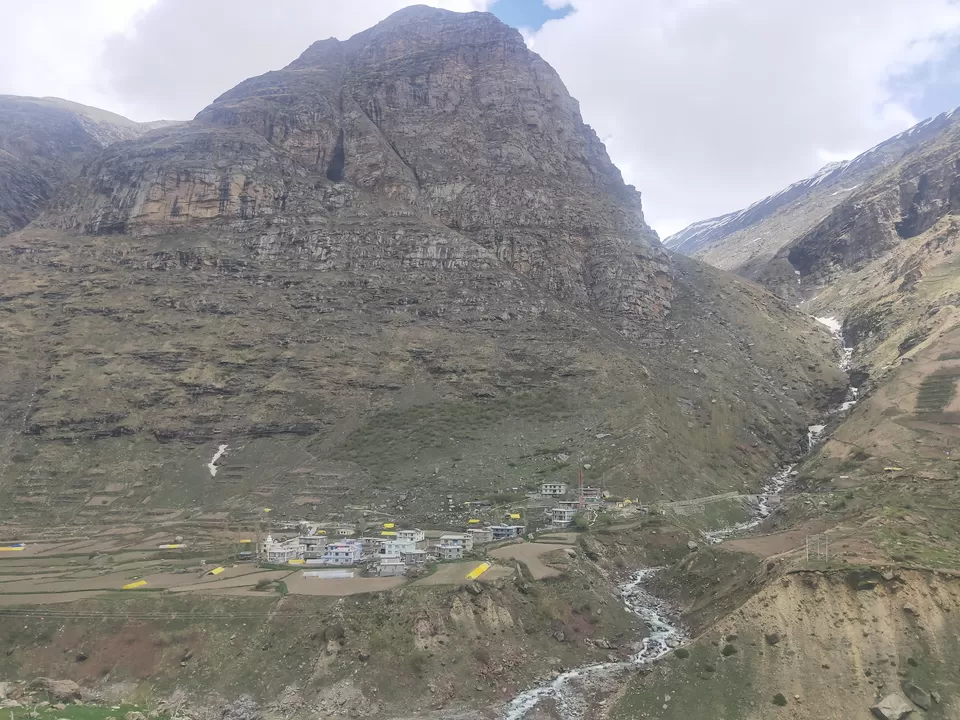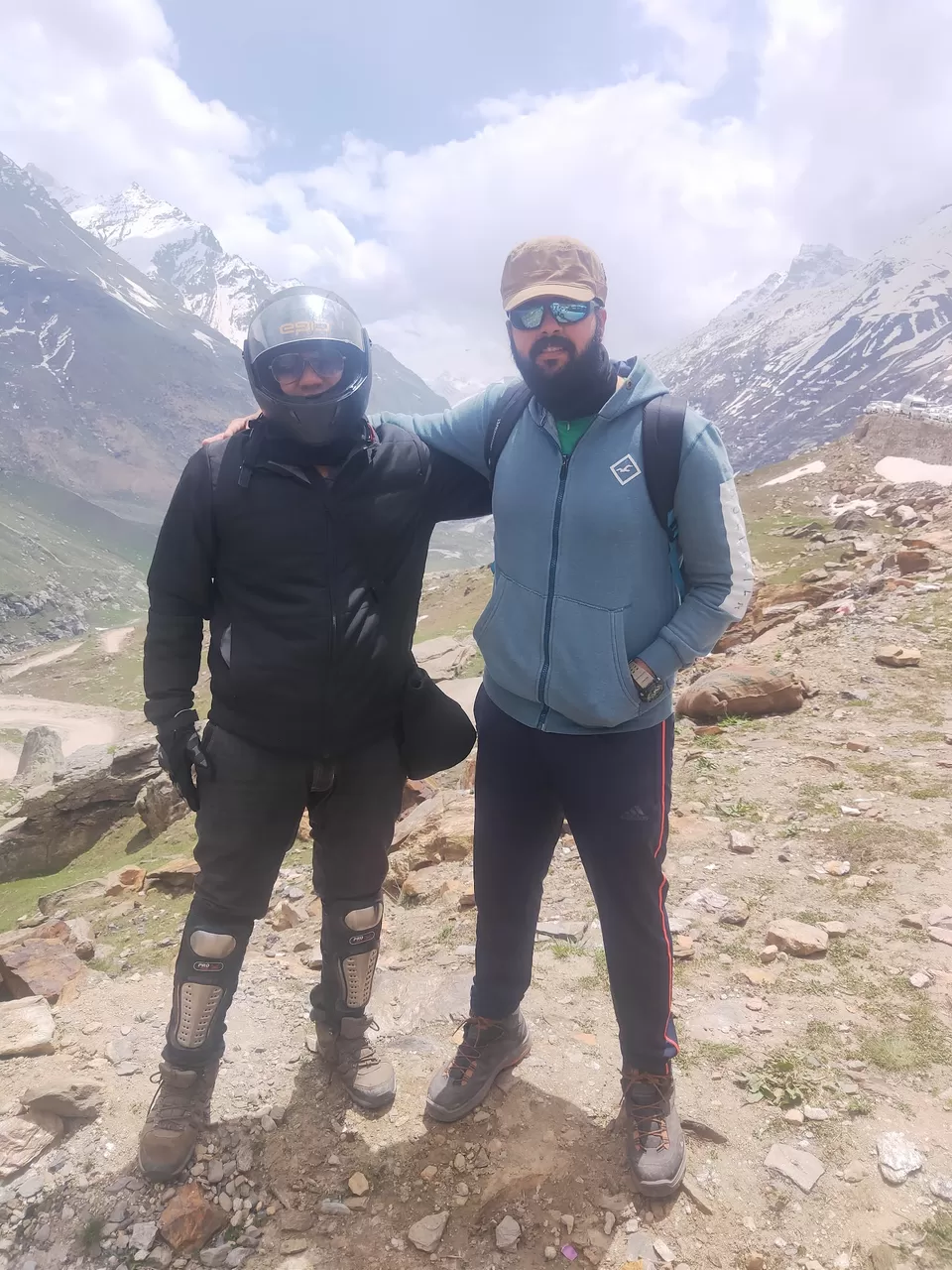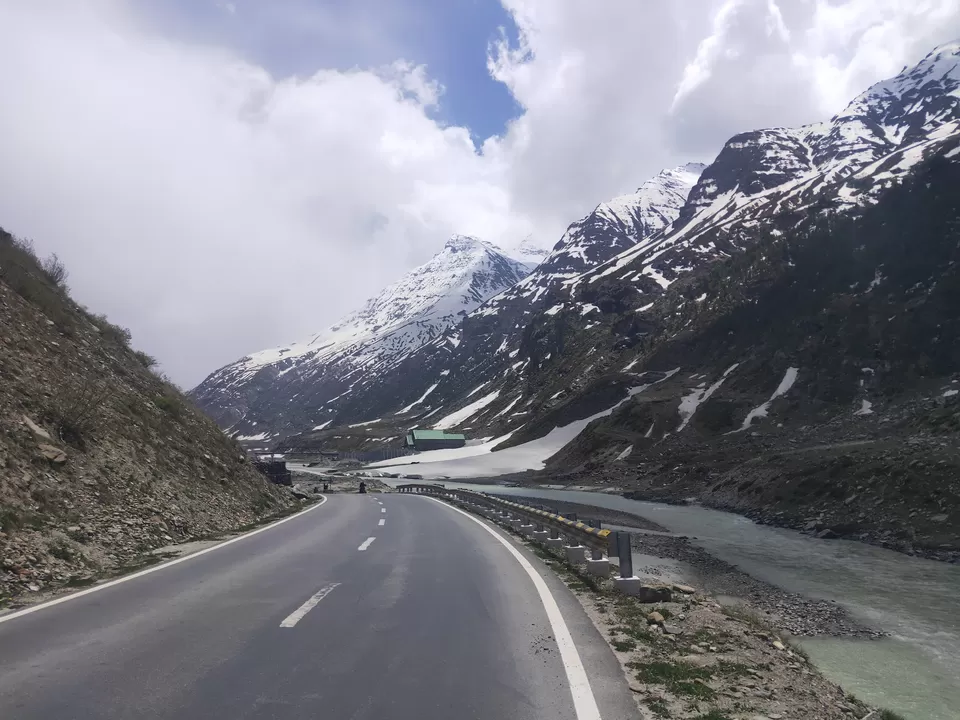 So, after exploring the Koksar & Gramphu, we reach Manali by 2:00 PM and after having lunch, we boarded our bus for Delhi around 7:30 PM.
Overall, the journey was very beautiful in terms of kind of people I met and special thanks to Zostel Rashil and the people who are managing this property.
It was one of the best stay in my life, both in terms of cultural and picturesque experience.
I am highly indebted to say, Shanti Massi ji at Zostel Rashil is very sweet lady who took care of everyone, may god bless her with loads of happiness.
I am dropping Manoj Bhai contact details, in case you want to connect.
Contact No. - +91 8219 5413 61
Happy Note - If you my fellow traveller going to Rashil, then please carry some chocolates for our pyari "Shanti Massi Ji" :).
Happy Travelling :)