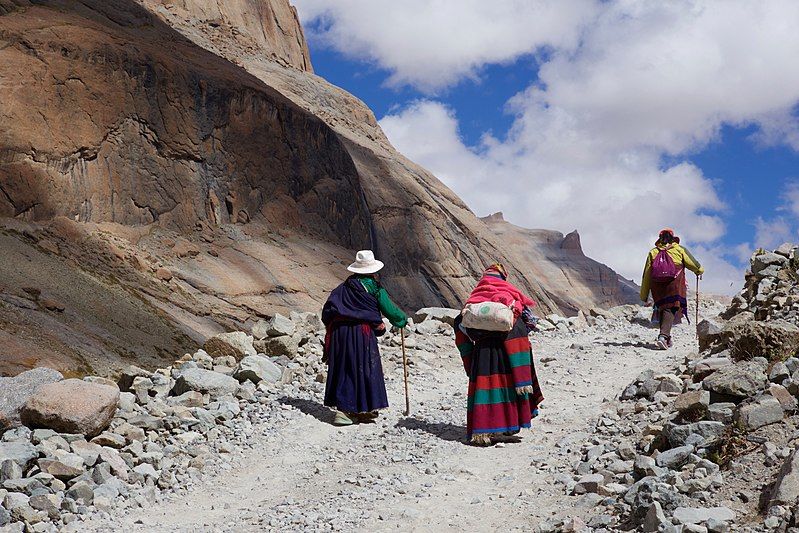 Mount Kailash is considered as the world's holiest mountain and it attracts pilgrims from across Asia who trek here to pay homage. Sacred to over a billion Buddhists, Hindus and Jains, the mountain is accessible despite its altitude.
The clockwise trek around the mountain takes about three days and takes you to high altitudes. The trek started at the Drölma-La pass at an altitude of 5650m so you can be well acclimatised and physically fit. You can hire yaks or porters to carry your luggage and for camping you can choose pilgrim accommodation at the monasteries of Drira-puk and Zutul-puk.
As per the religious beliefs, Kailash has the spiritual power that it can erase the sins of a lifetime in a single circuit. There are pilgrims who go for 108 circuits.
Best time
During the Saga Dawa festival, from May to June, is the best and the most popular time to start the trek. This is when thousands of pilgrims (and many tourists) descend on the mountain to celebrate Buddha's enlightenment.
How to get to Mount Kailash
To get to Mount Kailash, take a flight or train to Lhasa from China or Kathmandu. You should ideally stay there for a couple of days to allow your body to acclimatize.
What to see around Kailash
While Mount Kailash in itself is a spectacular sight, there are ample of attractions that can add charm to your trip. At the foot of Mt Kailash is stunning Lake Manasarovar. Near the lake are the charming monasteries of Seralung, Gossul, Trugo and Chiu. Also worth a visit is Thöling Monastery and the ruins of Guge, located just a day's drive from Kailash. On your drive to Mount Kailash you can stop at Drapsang Monastery, Dargyeling Monastery and Tradun Monastery to behold some breathtaking beauty.
Permits to Tibet
If you are a foreign tourist, you can get a permit Tibet Tourism Bureau permit to enter Tibet by booking your tour through a local Tibetan agency. Make sure that you have a permit before arriving Tibet.
Think we missed out on something? Tell us about it in the comments below. Or write about it here on Tripoto and earn Tripoto Credits!
Watch travel stories come to life with Tripoto on Youtube!