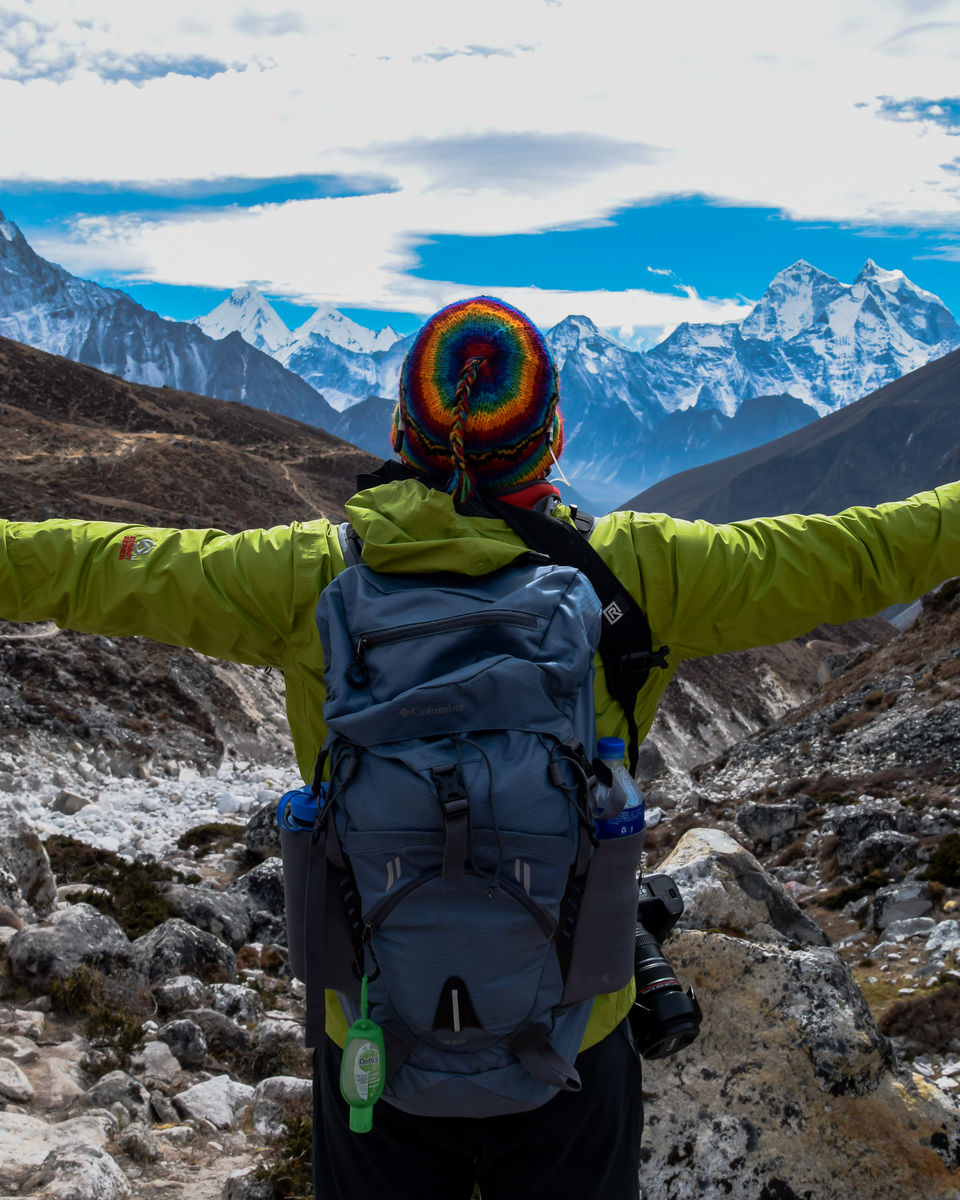 Climbing the Everest is like a dream of every aspiring mountaineer including me but we can only take step by step. So, even seeing it in the front of me is not less than a dream and yes, I have fulfilled my dream last year. All thanks to Columbia Sportswear. I was planning it from last so many years but because of one or another reasons I used to miss the chance, sometimes because of finances(yes, it is expensive) or sometimes because of stupid reasons(which we all make and then regret about it) but I guess that Universe knows what we want. Columbia Sportswear organises various competitions where you can take a part and win their products. So, I got a chance to win this all the sponsored trek to the EBC(Everest Base Camp) and products of around(1.2 lacs) which includes my backpack, all trek related stuff, shoes and what not. ;)
I started from Delhi with 8 unknown people including 6 guys and 2 girls, I was all set happily, ready to fly and yes, with my light backpack with all the essential stuff. Things which I was carrying -
Columbia Sportswear Elite Trail Backpack 55L
3 half sleeves T-shirts
1 full sleeves T-shirt
1 Full Sleeves warm shirt
2 Base upper layer
1 Base down layer
1 Cotton trek pant
1 Anytime outdoor trek pant(warm)
2 Columbia pairs of warm socks
1 Beanie
1 Buff
1 Warm Fleece
1 Down Interchangeable Jacket
1 pair of Gloves(Yes, I can use my phone even after wearing it)
and my beast pair of Columbia Trek Shoes
14 days of trip and yes, with all the excitement, I was on cloud 9.
Day 1 (Kathmandu - Lukla - Phakding)
You can actually feel cloud 9 from Kathmandu to Lukla. Because Flying from Kathmandu to Lukla is the scariest and the most thrilling one, I have ever experienced. It was one hell of a ride with all the nerve-shaking experience and yes, the closest one to my heart till date. From Lukla to Phakding is just 9kms and mostly down hill so it was en easy peasy day but quite colder than Kathmandu so one can manage in a fleece.
Day 2 (Phakding - Namche Bazaar)
Altitude - 3450 meters, Distance - 17 kms approx, Time - 7 hours, Elevation gain - 1000 metres approx
Actual craziness starts from here because the fun part is that this trail is full of ups and downs, you cannot decide that you should be happy or not, because the more you go down hill, the more you have to climb up in the end but totally green trail so it is equally fun also. My favorite part was crossing those suspension bridges. Temperature is fine when the sun is up but it gets colder in the evening. So, wearing 2 layers are fine. Don't try to cover up your ear as you are gaining height and acclimatization is very important. Don't forget to experience Namche Bazaar's(Hiker's paradise) market and yes, pubs too. Last spot where you should enjoy non veg(if you are a non vegetarian).
Day 3 - Acclimatization Day at Namche Bazaar
After gaining 1000 meters in a day, it is important to take rest, eat good and acclimatize your body well. As, I have already said the EBC is expensive, so try to carry extra batteries and power banks because even charging your phone is not free but my advice is free so take it, do take care of the battery of your gadgets. So, we went up for acclimatization walk till 'View point'. View point is the point from where you can see the first glimpse of 'The Mount Everest' with other famous peaks like Ama Dablam, Lhotse, Nuptse and other 7000 meters peaks.
Day 4 - Namche Bazaar(3440 meters) - Tengboche(3860 meters) - Deboche (3820 meters)
Distance - 14kms, Time - 6 hours 30 minutes
So, after a good acclimatization day, we started for our next beautiful spot named 'Deboche', the initial climb was almost flat and then downhill but actual climb starts after lunch and that too till Tengboche(beautiful old monastery which has its own history), this climb seems never ending and there are points where you have to walk along with yaks. So, be very aware and try not to use headphones. We reached Deboche just before the sunset and it was cold so the interchangeable jacket which works as a wind cheater also, was my savior.
Day 5 - Deboche (3820 meters) - Pheriche (4285 meters)
Temperature - Max: 8 degree Celsius and Min: - 4 degree Celsius, Time - 5 to 6 hours
So, it was very cold when we started in the morning, it was around - 4 degree. The trail was beautiful, gradual climb and yes definitely the most beautiful one till date. Weather was cold but clear, after ascending we could see all those huge pristine mountain peaks clearly including The Everest, Ama Dablam, Nuptse, Lhotse, Island peak etc.
The thing which one should keep in mind is that going 4000 meters above comes with lots of responsibility which is-
Keep sipping water,
Eat good,
No smoking and no alcohol,
Cover yourself properly including head(try not to cover your ears, it helps to acclimatize well),
Walk slowly and don't exert yourself,
And yes, rest properly.
Day 6 - Pheriche(4250 meters) - Lobuche (4925 meters)
Duration - 7 hours, Month - October, Temperature -Maximum: 7 degree Celsius and Minimum : - 10 degree Celsius
No tree line, only wide landscapes, surrounded with beautiful n number of peaks and one can be amazed on every single turn. The EBC trail is not that tough but altitude is the biggest challenge. You can feel low oxygen so keep sipping water is the only option left and I still remember each and every moment of this day and why not because I had not experienced such beautiful landscape before this date. The key was to reach safely to Lobuche but after lunch it was a steep climb, though trek was not that tough and we were not even tired but because of oxygen level and wind, it gave some of us a mild headache but we kept on drinking water.
We also got a chance to visit 'Sherpa Memorial' where all sherpas who climbed the Everest just to make en easy way for other mountaineers and sadly who are no more now, have their graves decorated with colorful flags and carved with beautiful words. Hats off to these beautiful souls.
Day 7 - Lobuche (4925 meters ) - Gorakshep (5162 meters ) - Everest Base Camp (5360 meters ) - Gorakshep(5162 meters)
Temperature - Maximum 6 degree Celsius and Minimum -> - 2 degree Celsius
Oxygen level was actually dropping down. I could see my fellow mates are having headaches, so I decided to drink water on every break. I didn't want to stop myself.
I could see Khumbu glacier in front of me while walking on those moraines. I would love to add one thing that trail is not tough but altitude is. So, people who say that Everest Base Camp is a piece of cake then trust me, you gonna miss a lot if you're not attempting it.
After lunch at Gorakshep, we moved for the Everest Base Camp. It was windy, very windy, though it was quite sunny that day but yes, taking each step at above 5000 meters is actually a challenge. When we were almost a km away, I could see the base camp, while walking on that ridge every single big decisions of my life striking my head. Leaving my job, when I was broke, fighting with society, depression, panic attacks, people who said my dreams are crap, phewwwww and what not. I have realised it that these things don't even matter to me now but I am going to use this pain as my shield because the Everest, I was climbing in my heart is very close to me now.
Finally, the moment I was there, I got so emotional that I started crying with a smile on my face. I hugged my team tight and felt so damn grateful to this Universe for everything, for this life, for every single decision of my life, for all the love I have ever received.
Day 8 - Gorakshep(5162 meters) - Kala Patthar (5614 meters) - Gorakshep - Lobuche (4925 meters) - Pheriche(4520 meters)
Time - 2.5 hours( to reach Kala Pathar), Temperature : -10 degree Celsius
Here comes the most challenging day even more than the EBC one.
Before starting it, let me tell you something about 'Kala Patthar', Kala Patthar is a short but yes definitely not an easy hike as the altitude is 5614 meters.
Why Kala Patthar?
Because you cannot see the Everest clearly from the EBC but from Kala Patthar.
So, we woke up at 3:30 am (that is one of the most difficult part) after having tea and biscuits we left for it with our headlamps on. Walking at such height and that too with freezing cold and that too with 5 layers on was actually a task and yes, because of altitude sickness only 5 of us decided to go for Kala Patthar.
So, because of verglas, rocks were slippery, I could feel the moisture of my breath was freezing on my buff, water in water bottles had turned into ice, snow on my backpack, cap and collar and yes, we all could hear the heartbeats of our own and breathing very heavily due to low oxygen but we kept on walking because of that one beautiful sight which was in our head from the day 1 - 'The Everest'. It was actually tough but again those flashes made me walk. I was missing my NIM(Nehru Institute of Mountaineering) days and trust me, NIM actually made me a strong person. I knew it that it is in front of me and here came the dawn. Sky was changing its color and then 'Dhan Kumar' said that was the Everest. The rays were coming out just behind it and we all were mesmerized by its beauty. The moment we reached to the top of the Kala Patthar was totally beautiful, sun rays were touching those peaks and we hugged each other with all the love. That beautiful sight will definitely remain in our heart for forever.
Day 9 - Pheriche - Debuche - Tengboche - Namche Bazaar
Day 10 - Namche Bazaar - Phakding - Lukla
Last but not the least, all thanks to Columbia Sportswear because of them, I am one step closer to my dream i.e Climbing The Everest.
Things which you should carry from India:
a) Cash (because that's how you can save additional charges)
b) Medicines including diamox and water purification tablets(because medicines are quite expensive in Nepal)
c) Chocolates (Yes, they are also very expensive)
d) Extra Batteries and Power Banks.
e) Trail mix, Dry fruits and Soups packets(because it helps to keep you warm and hydrated).
Last but not the least good hiking stuff(including shoes, clothes and backpack).
Btw, I am in love with my Columbia stuff if you really wanna spend on good hiking stuff then go for it and you can thank me later. ;)