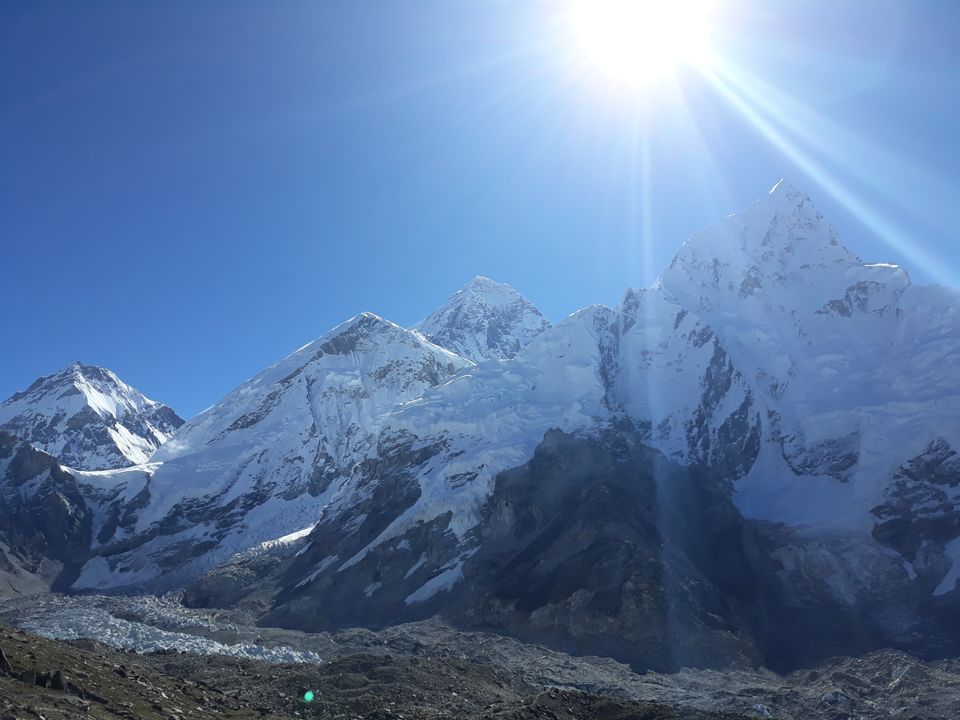 https://www.instagram.com/a_boho_girl/?hl=en
All the birds have flown up and gone,
A lonely cloud floats leisurely by,
We never tired of looking at each other,
Only the Mountain and I.
Early in the morning, at Kala patthar top these lines flashed into my mind when I saw The Everest for the first time and instantly fell in love with that mountain.
Note: Before starting day to day journey I want to highlight some important points about EBC trek:
1) Keep buffer days for flights from Kathmandu to Lukla and back as flights from Lukla are weather dependent. Lukla airport remains closed if the weather is not clear.
2) Carry cash as there is no ATM on EBC trail. I used my card at Namche but don't be dependent on cards as there may be no electricity at times. 2500 NPR per day is a safe bet.
3) Now TIMS card is no longer valid for Everest base camp trek. The new local permit system is enforced and it can be obtained only in Lukla. This will cost 2000 NPR for both organised and individual independent trekkers. You don't need photo to get this permit.
4) Its a well marked trail so like me if you also want to make it solo to the base camp, you can. Although its a well marked trail and there are signpost on the trail you still need to carry a map.
5) Acclimatization is necessary so better to take rest days after every 3000 feet. A lot of people feel altitude sickness after Namche so better to read about AMS before going on this trek. To avoid mountain sickness drink minimum 5 liters of water on daily basis and carry Diamox if you feel altitude sickness and some pain killers if you feel minor headaches during trek.
6) Accommodation is cheap on the trek, it will cost around 100-200 NPR except Lobuche where you'll have to pay a fixed amount of 500 NPR. Food is expensive all over the trek so plan your budget accordingly and carry some extra cash just to be safe.
7) Carry raincoat and wear waterproof trek shoes as you can't predict weather in mountains.
Thamel:
I had booked my flight for 3rd Sep as I was not sure about TIMS card. Thamel is a good place if you want to purchase trekking gears. Everything is available here for the trek but you'll have to do a lot of bargaining. Have a good time here as there is a lot of bars. I stayed at 327 Thamel hostel for NPR 550.
Day 3: Lukla(2860m) - Monjo(2835 m) - 13 km - 6 hours
Easy day of trek. Most part of the trek is descending as you'll lose altitude on this day. You'll pass through a lot of villages. Mostly people stay at Phakding but as I reached Phakding around 12 pm so I continued to Monjo. Stayed at Namaste lodge for NPR 100.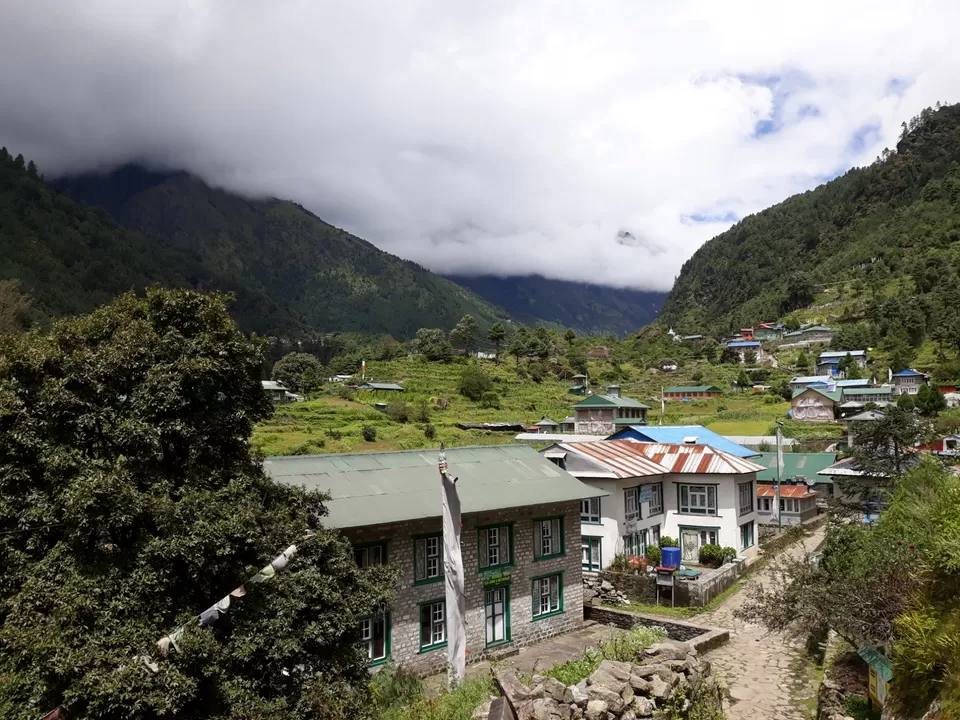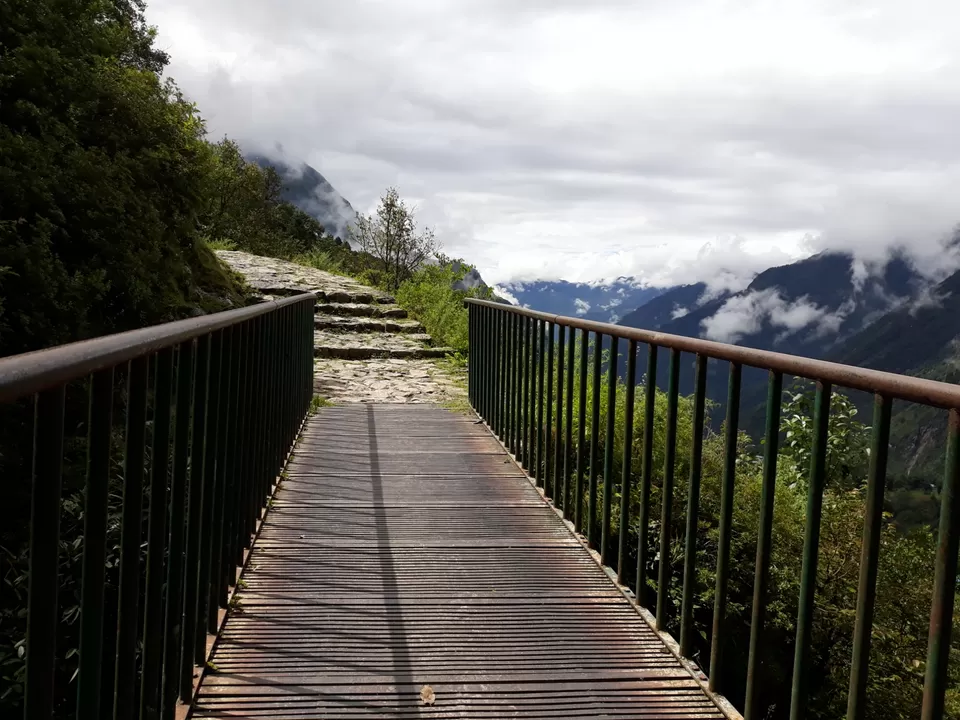 Day 4: Monjo(2835m) - Namche Bazar(3440m) - 8 kms - 5 hours
Trek is easy and has a lot of hanging bridges and small cafes to have tea and delicious momos. After the last suspension bridge hike to Namche is really tough as you'll gain 605 met of altitude. Namche is a town so you'll find everything here from coffee shops, ATM, post office, grocery etc. I stayed at Namaste Lodge for NPR 100 and I had a very nice view from my room.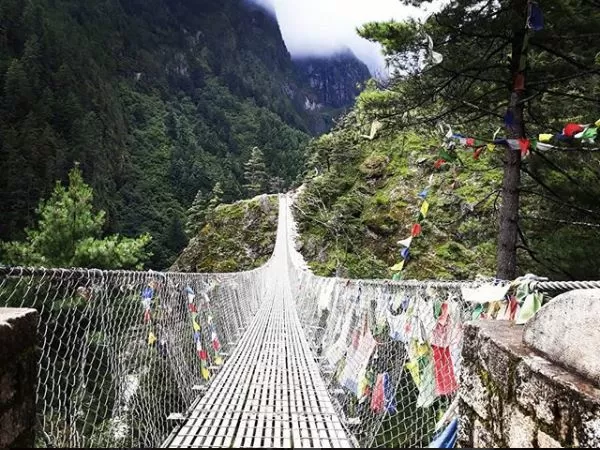 Day 5: Namche Bazaar - Acclimatization Day
Acclimatization is the key for this trek. You can hike to Everest view hotel(3962m) from where you'll have the first view of Everest, Ama Dablam and Mt Lhotse. Roam all day around the town and enjoy good coffee and free wifi at Everest bakery. Main purpose of hiking to Everest view hotel is to acclimatize as Everest view hotel is at higher altitude than Namche so by walking to the hotel your body will be used to of altitude.
Day 6: Namche(3440m) - Debuche(3700m) - 6 Hours
This is the most scenic day of the trek. For first 2 hours you'll walk on a straight path and another half an hour there is a sharp descend to the river. Last two and a half hours will be a tough hike from the river to Tengboche. You get a view of Ama dablem on the way and can enjoy a cup of coffee with the view. I always spend good time on the way enjoying the views with the cup of coffee. This is the best thing about solo travel, you follow your heart. The trek is kind of tough but as there is good views on the trail so it does not feel tough. I stayed at Debuche instead of Tengboche. Its half an hour downhill from Tengboche. I stayed at Rivendell's for NPR 300.
Experience Tengboche monastery as it was built 2000 years back and destroyed 2 times: one in earthquake and once in fire.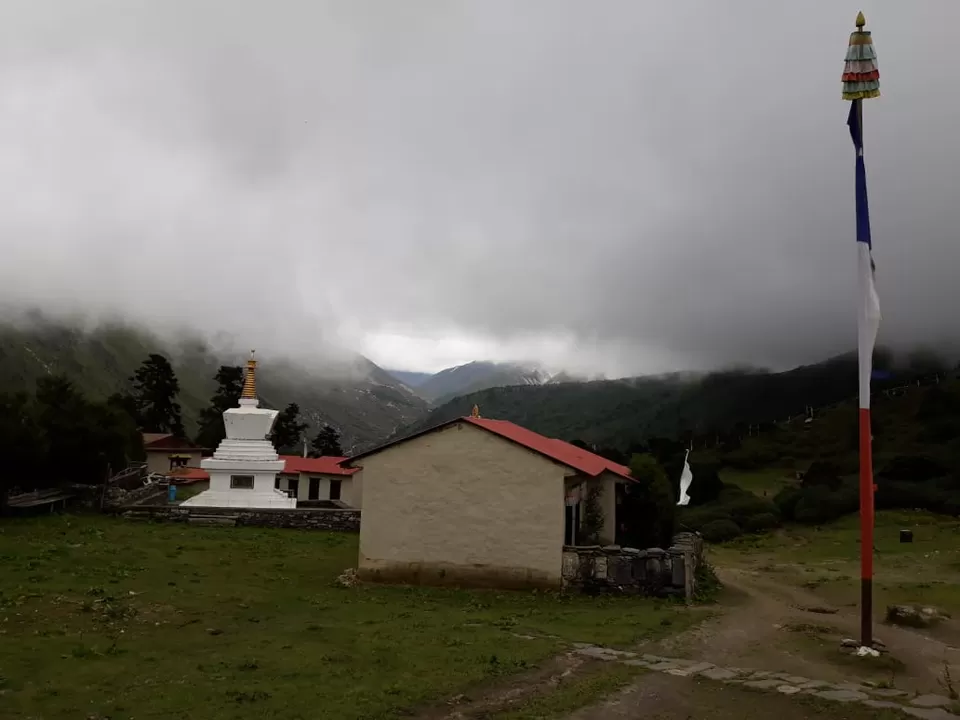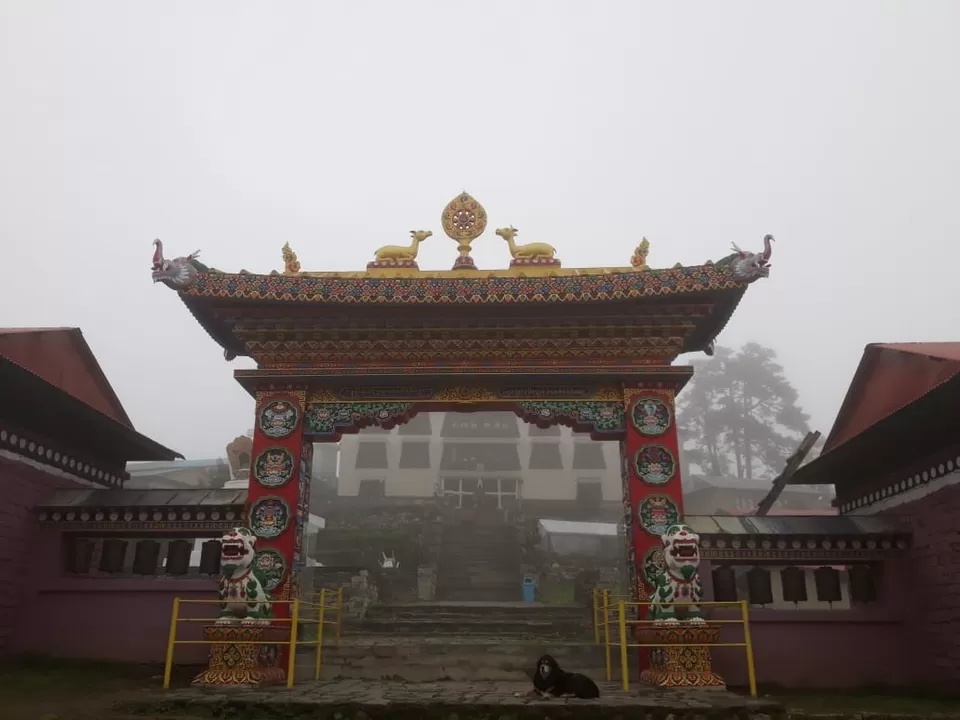 Day 7: Debuche(3700m) - Pheriche(4371m) - 5 hours
The trail from Debuche to Pheriche is very scenic and kind of easy. At any point you'll want to stop and enjoy the view. After walking for 2 and half hours you'll reach Pangboche, vegetation will start get changing after Pangboche and you'll find Yalks on the way. I stayed at Panorama hotel for Rs 100. I was supposed to stay at Dingboche but the town of Dingboche was closed as they people have some ritual that they can not lit the fire in the town for two months.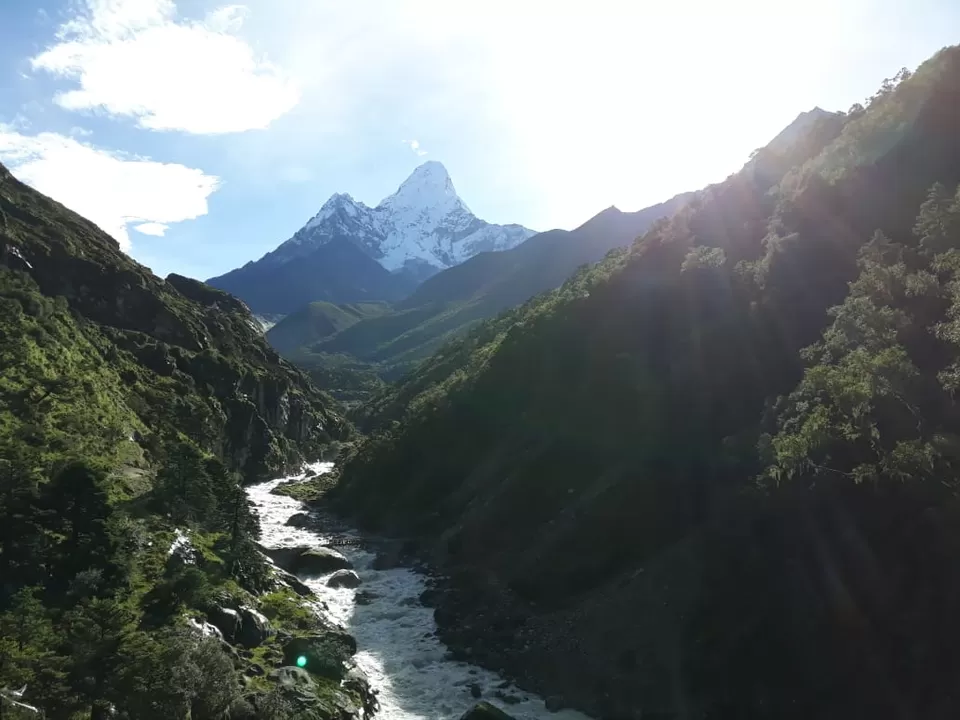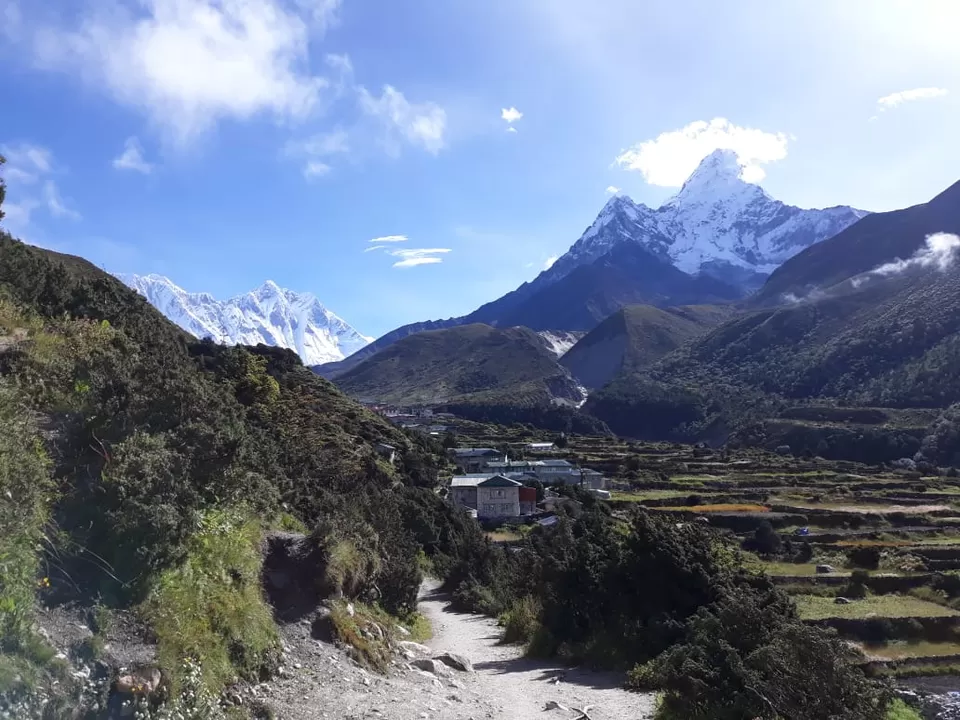 Day 8: Pheriche - Acclimatization day
Go for 1 hour hike to the memorial uphill and from this hill you can clearly see Dingboche as its behind the hill. Sit at this height and you'll see 360 degree views of snow capped mountains. Roam in the village, it was the most beautiful place I've ever stayed. Someday I'll come here and will live here for some time. There is peace and silence, the kind of silence that will let you hear your own thoughts.. Sit riverside and enjoy the serenity of the place.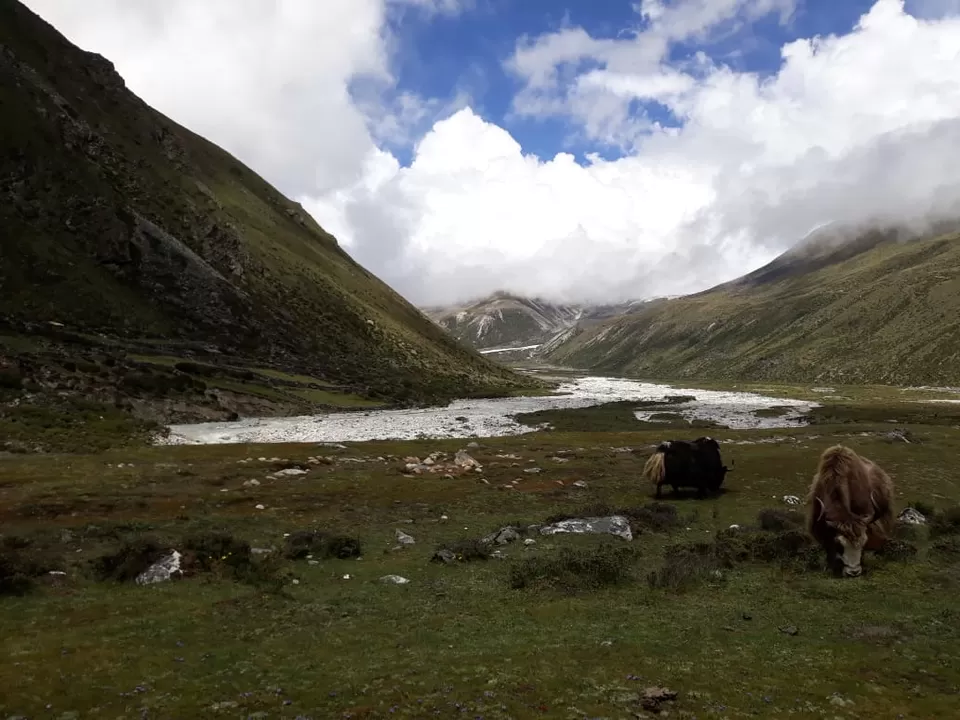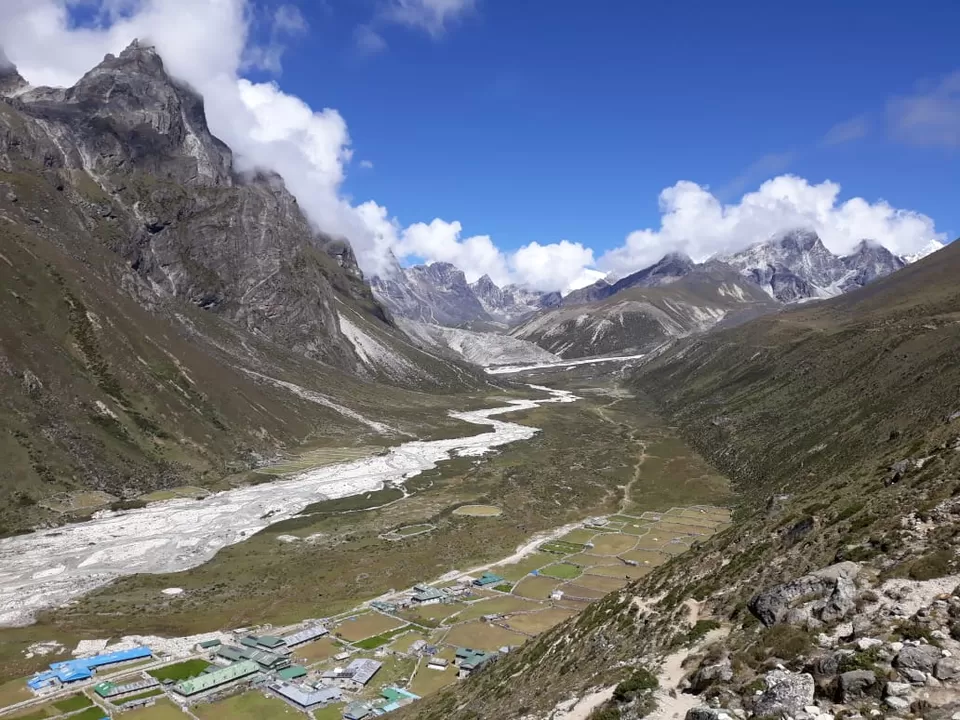 Day 9: Pheriche(4371m) - Lobuche(4940m) - 5 hours
Easy and scenic trail. You'll enjoy walking on this day. The trek is easy for first 2 hours till Thukla but after that there is a sharp ascend to Scott Fischer memorial and trust me its kind of tough as you'll start feeling the dearth of oxygen after this point. Stop at the memorial and as you'll sit there you'll realize that walking to the summit of Everest depends on a lot of factors.
Here there are cairns, prayer flags and memorial monuments everywhere, honoring all the climbers and sherpas who have died attempting to climb Mt. Everest. This puts the whole thing into perspective really, the madness of mountaineering and the length people will go to try and reach the summit of the worlds highest mountain with no guarantee of coming back out alive. I did EBC which is a walk in the park compared to what these people are doing, you'll have to admire them.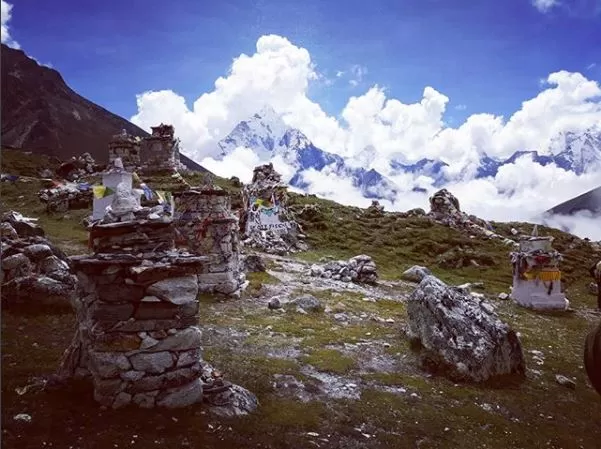 Day 10: Lobuche(4940m) - Gorak shep(5164m) - EBC(5389m) - Gorak shep - 7 hours
I was waiting for this day for a very long time. I was very excited to be there at the base cam. It took 3 hrs to reach Gorak shep from Lobuche. Although the distance from Lobuche to Gorakshep was just 3 kms but due to less oxygen at that high altitude it took 3 hours to cover the distance. The trail goes up and down on the glacier and you'll feel difficulty in breathing due to altitude. I put my rucksack at Buddha lodge and continued to EBC. it took me two and a half hours to reach EBC from Gorak shep.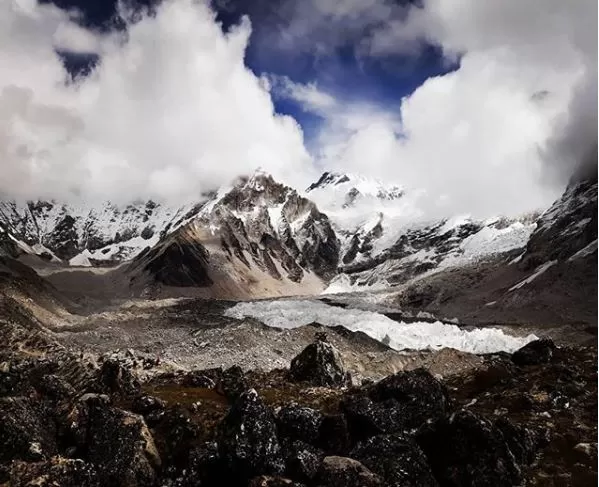 After crossing Lobuche you'll walk on Khumbu glacier.I have seen a lot of pictures of Khumbu glacier and walking on a glacier was a breathtaking experience. You'll see snow everywhere and will hear the sound of glaciers. After walking on the glacier for almost 6 hours finally here it was, The Everest base camp.. I was so happy to reach there as I made it to EBC all by myself. I sit there for 2 hours, I can't explain what I was feeling at that moment of time.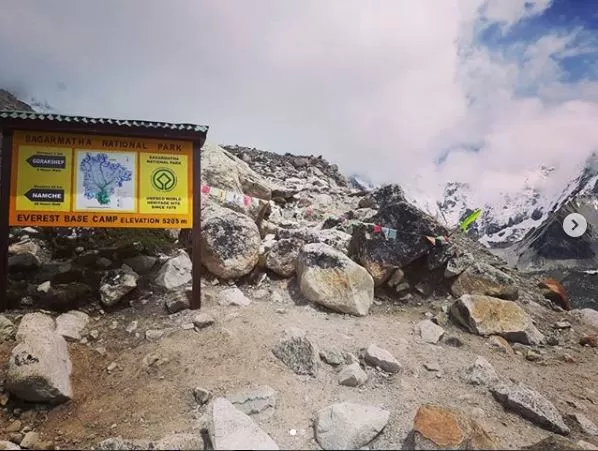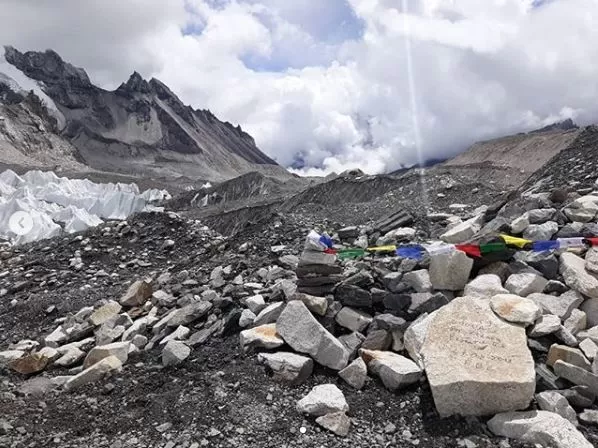 Day 11: Gorak shep(5164 m) - Kalapatthar(5643 m) - Shomare(4010 m) - 9 hours
You'll have to wake up early in the morning if you want to see the sunrise over Everest. I started at 6:30 in the morning and witnessed a spectacular sunrise. I spent some time at the kalapatthar top watching Lhotse, Everest and other beautiful Himalayan peaks. Hike to kalapatthar is steep but easy. It took me 2 hours to reach at the top. I carried the view in my mind and thought of coming back there, someday higher than this time.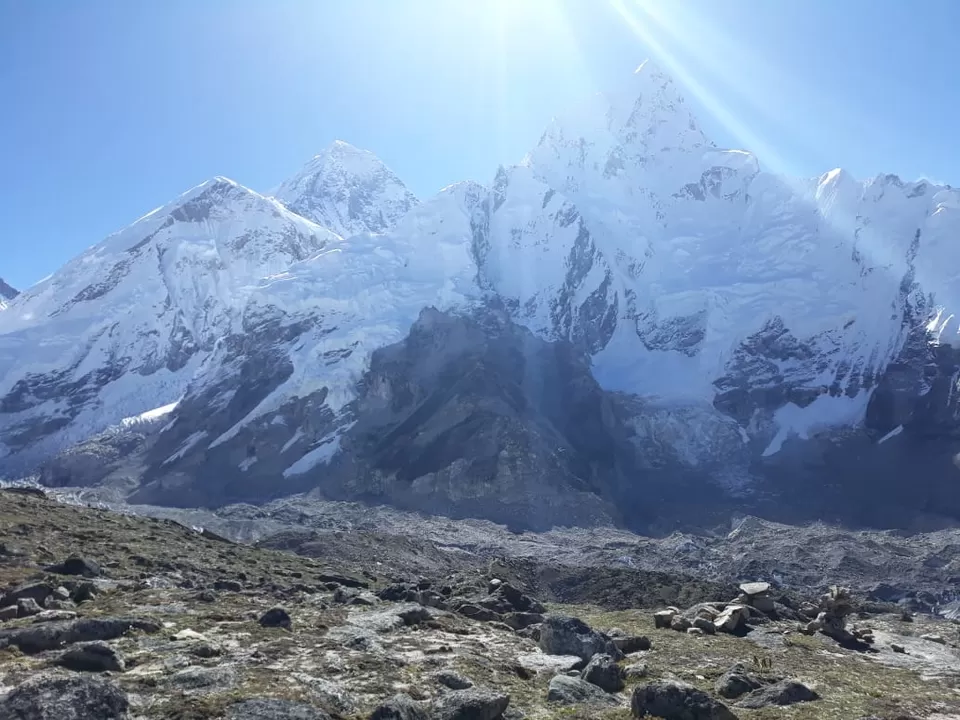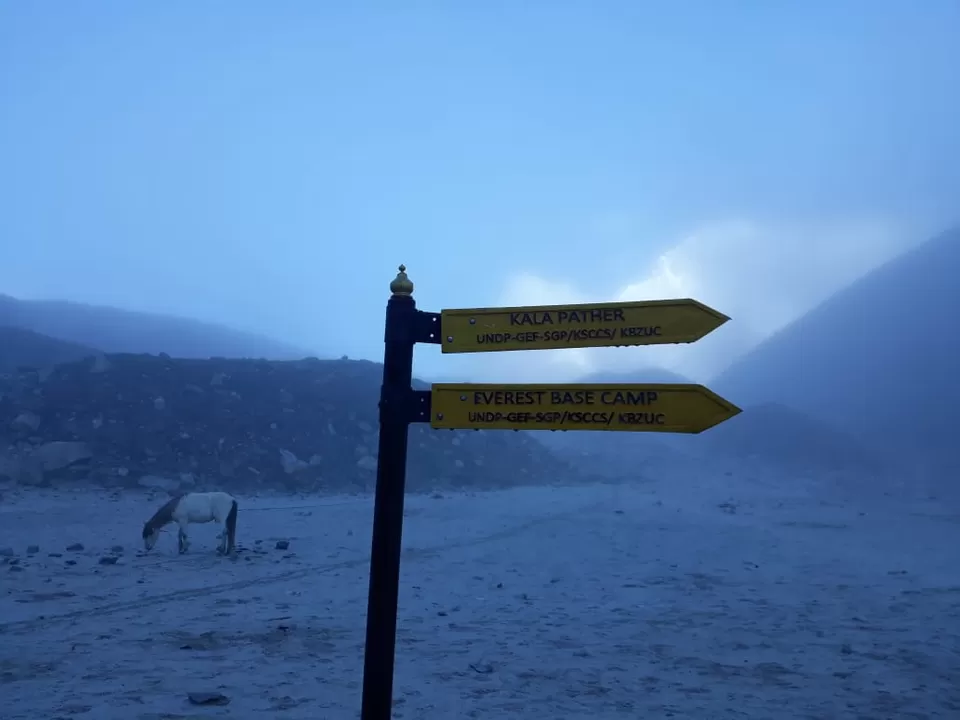 I started the trek to Shomare at 10 am after having my breakfast at Buddha Lodge. I was in no hurry as I was travelling solo and I didn't have any particular destination. This is the thing about solo travel, you can stay wherever you feel like staying. No worries about anyone or anything. I reached Shomare around 3:30 pm.
Day 12: Shomare(4010 m) - Tengboche(3860 m) - 2 Hours
This was kind of rest day for me. I stayed at Tengboche because on my way to EBC I didn't stay at Tengboche so couldn't see the Monastery from inside as it opened at 3 pm. I waited the whole day to witness the prayers by monks but may be it was not my day. Like me if you also want to see the prayers then please remeber that prayer time in monastery is from 7 am to 8 am. I stayed at trekkers lodge for NPR 200.
Day 13: Tengboche(3860m) - Jorsale(2740 m) - 7 hours
Day 14: Jorsale(2740 m) - Lukla(2840 m) - 8 hours
Day 15: Lukla
Have a buffer day as there is a lot of chances of flight cancellation. My flight cancelled for 2 days.
Day 16: Lukla to Kathmandu
Day 17: Kathmandu to Delhi
So finally I made it to the Everest base camp, completely on my own. I had my adventures and misadventures but I did it with no guide and porter.
Always remember, don't ever wait for someone else to go with you because someday someone may accompany you but I believe that someday is a synonym of never. I returned back with the idea of being there yet again, somewhere higher than this time.