well, we all know that singapore is renowned for it's delicious cuisine specially for it's sea food we get numerous varieties cuisine like singaporean chinese cuisine, singaporean malay cuisine, singaporean indian cuisin, seafoods and many more.
I visited singapore with my family. In gujarati families like mine some of the people do not prefer non-vegetarian food so for them we need to find vegeterian food.
we stayed at The elizabeth hotel,24 mount elizabeth singapore 228518. at first day i asked manager of the hotel that where can i get vegetarian food near the hotel? he recommended LITTLE INDIA.
How we reach to little India??
there are three types of transportation available: you go by either bus, taxi or train.bus charges are low as compared to taxi but need to understand the location and schedule of them and if you don't have language issue then you can easily choose train or bus.and if you want more comfortableness to reach to exact destination then choose rental car. taxi is easily available at taxistand.
here i share route of my hotel to the little India.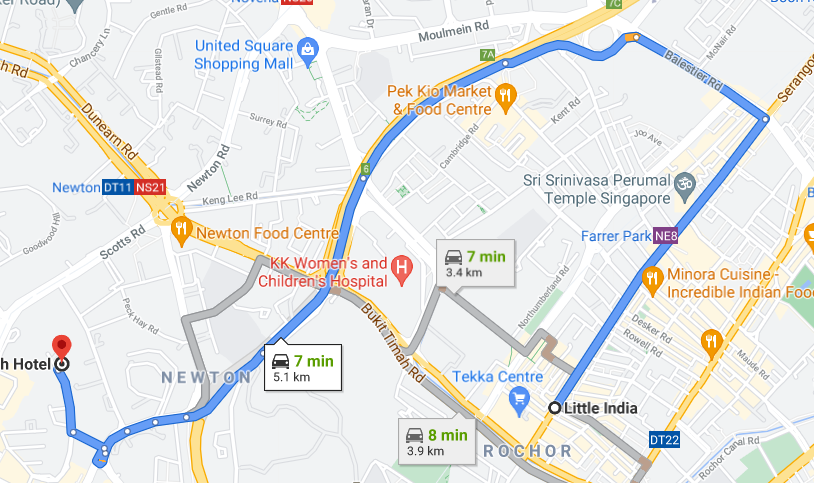 little India is a place which remind us India. people ,food,views are almost reminds us india. taxi took only 7 to 8 minutes to reach little india from the place i stayed.
Rent charges for taxi is around 17 sgd - 24 sgd for 7 people.which is quite affordable.on the 1st day we went to a south indian restaurent placed infront of mustafa shopping mall , that place was nice but the food was not good.
next day while walking on street outside of mustafa centre, one of the staff member of restaurants is sitting outside and asked to visit their place so my eyes rolles over the minora cuisine.
The environment of that place was nice and clean so we decided to go and taste one dish so i ordered noodles.The noodles was so delicious,the quality and prices are also good, we ordered full meal, my mouth was watering from smell of food. we had great dinner over there as it helped to release all tiredness as we went through flight, bookings and waiting and all. the total bill amount of 7 people was around 80 sgd to 120 sgd.
Staff was courteous and owner is so polite and very generous with us. after 2 days owner become familiar to us he personally come talk to my brother and we came to know that he is from tamilnadu
while he converse to my father, he was missing India badly but Indian people who visit Singapore and meet him make him felt like he is in india as numerous indians visit that place and Singapore.
in trip of 7 days all the day we visit same place for dinner as the amazingness of food and quality served by restaurant.In foreign country we baldy miss our indian food but that place calms hunger of indian taste as we got there dal,chapati,rice and even bhindi (ladies finger).
here i am sharing few photographs of food i enjoyed there i dont have all photos but still sharing some of them: