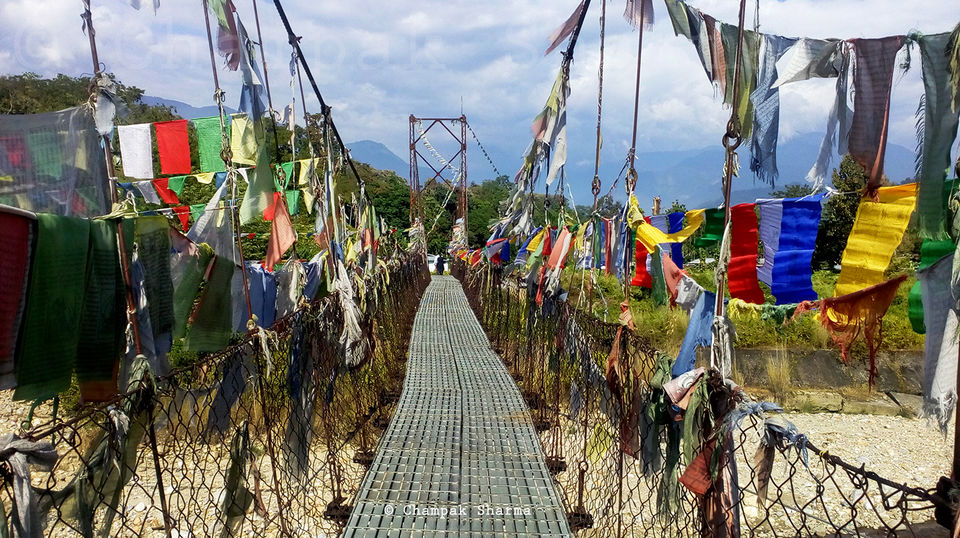 Want to explore more road trips that you can take in 2022? Head to Road to Explore to find your next favourite holiday!

A stretched stay at home was long due. I grabbed my stuff and headed for Guwahati in the last week of November. Reaching home, I realized that my parents were even more excited than I was and were waiting with a plan set for a road trip the very next day. Mom had been keeping herself busy 'researching' nearby places worth visiting, and had shortlisted a few to be explored during my stay. Was kind of in a shock being made to pack stuff and get the car ready for the trip almost as soon as I arrived at home (initially expecting a lot of pamper and food)!
And a tragedy was that I had decided to give myself a break from the camera for this vacation and left it behind in Kolkata – so this was to be my first trip without my partner ever since we got hitched.
Kindly bear with my budget smartphone pics!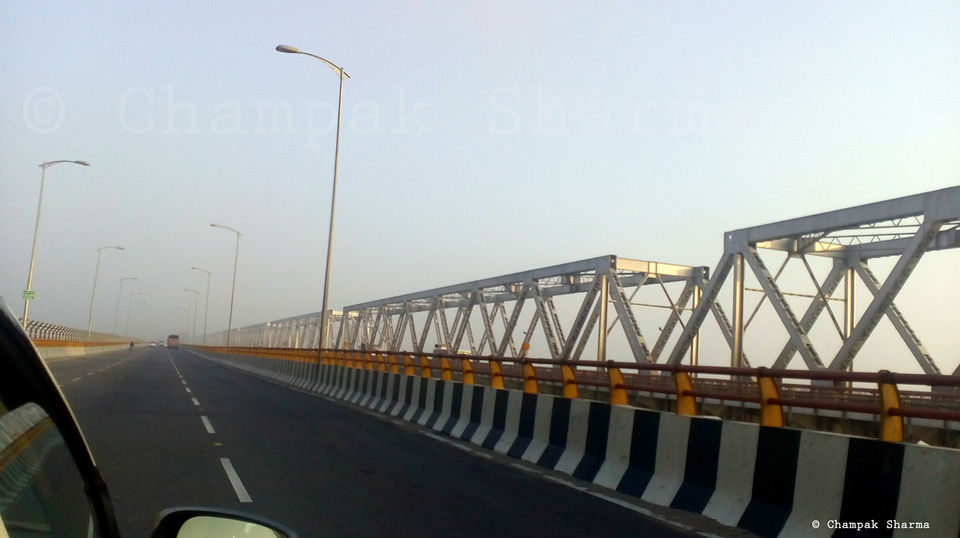 With Bhairabkunda as our destination, we were up early on the Sunday morning and started off around 6.30 am. The winter dawn made the ride a pleasant (but risky) one with a thick cover of fog narrowing the visibility. Soon we were in the outskirts of the city and driving ahead on NH15. Although slow, the ride was a treat with expanse of agricultural fields and woods on both sides (check out the videos below for a glimpse).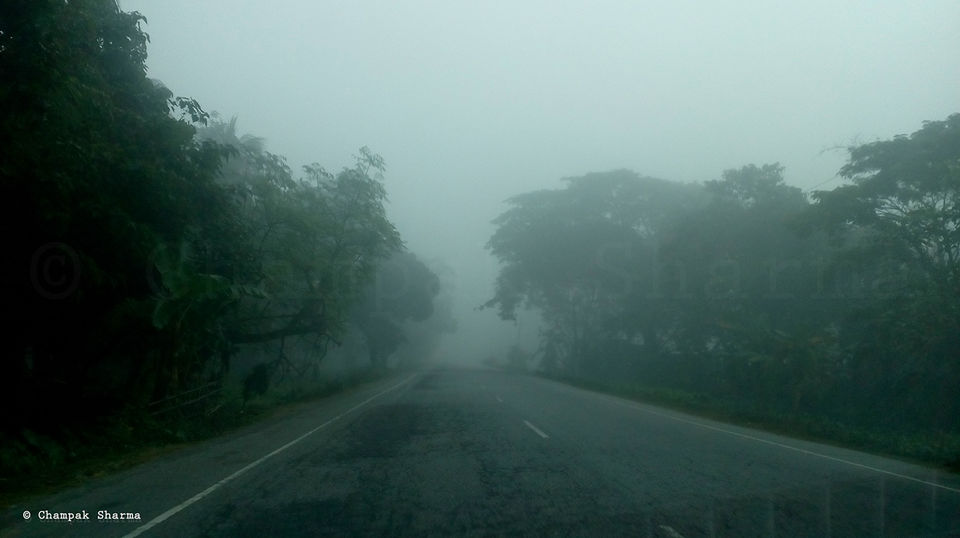 After about two hours we stopped at Mangaldoi for breakfast. Vicinity of the town's bus stand has a number of eateries and we quickly gulped down the delicious hot poori-sabji with cups of tea. 20 minutes later we were back on the road.
The remaining one hour drive took us through a quiet rural setting and woods with few people to be seen. Bhairabkunda, situated in the tri-junction of Bhutan and two Indian states of Assam and Arunachal Pradesh, is a popular picnic spot and a sacred place for devotees of Lord Shiva. This is not only the meeting place of geographical borders but also Jampani River (originating in Bhutan) and Bhairabi River merge here to form the Dhanshiri River. The point where the three rivers merge is in the shape of a 'kunda', which is a place of worship of Lord Shiva and this is where the name 'Bhairabkunda' comes from – 'Bharaib' being a name of the Lord.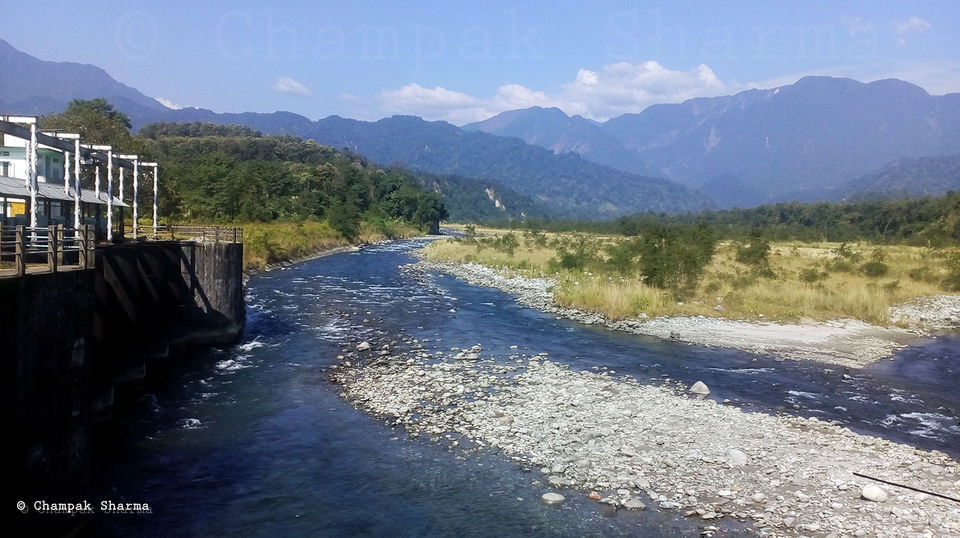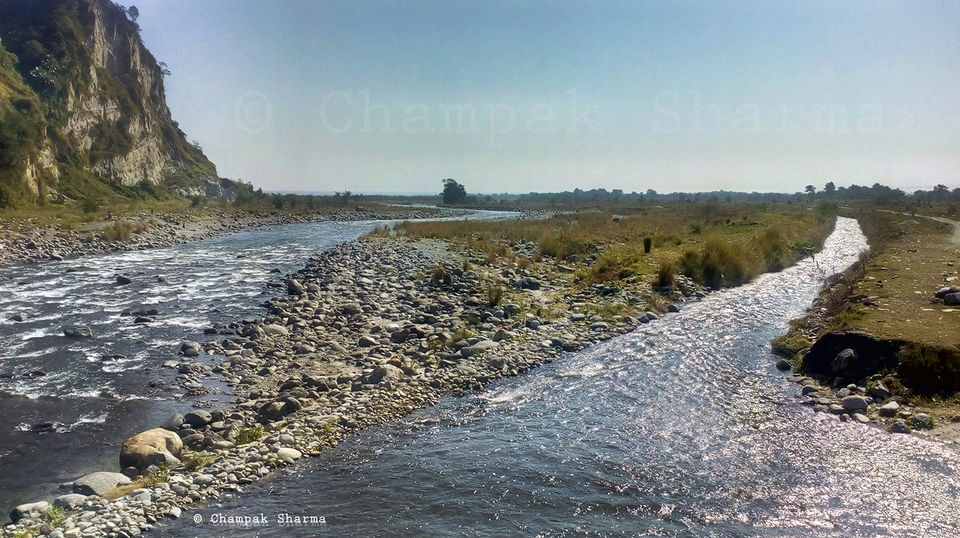 Pilgrims especially visit the place during 'Makar Sankranti' to take a dip in the meeting point of the three rivers and offer pujas in the Shiva temple, which geographically lies in Bhutan's territory. During winter the area comes alive with picnic goers. We noticed a deserted park, small playground for children and a rest area are at one side of the road. The graffiti on walls displayed cultural dance forms of Bhutan as well as Arunachal and Assam (and a human sized Lizard holding a Whiskey bottle!).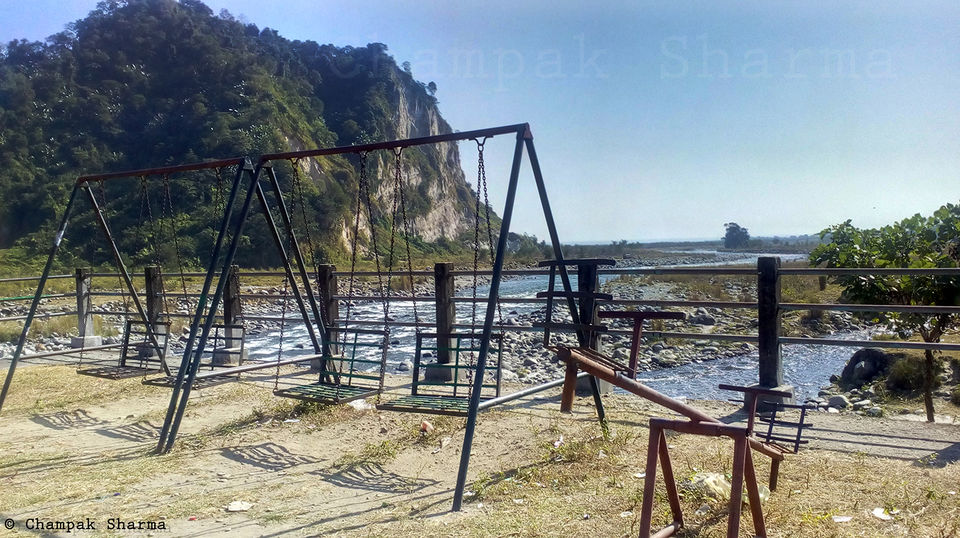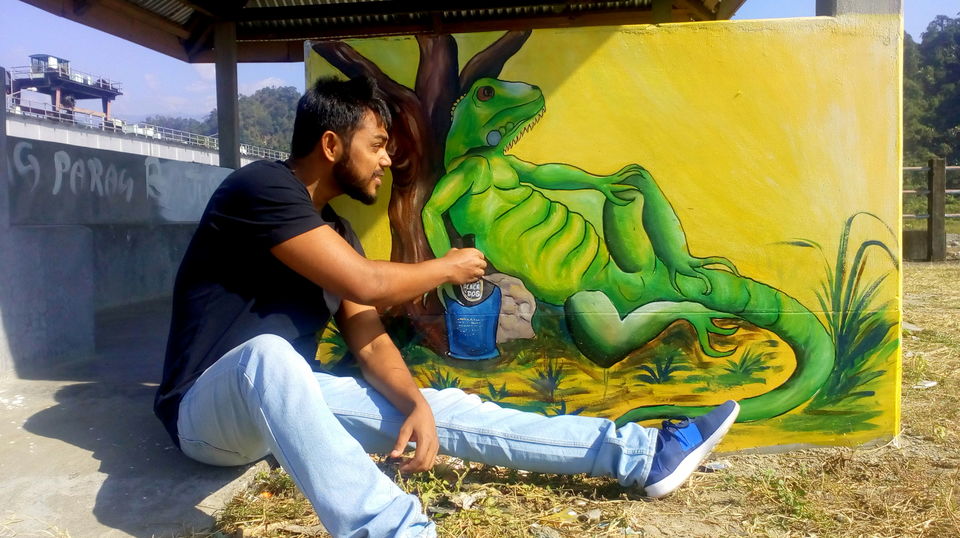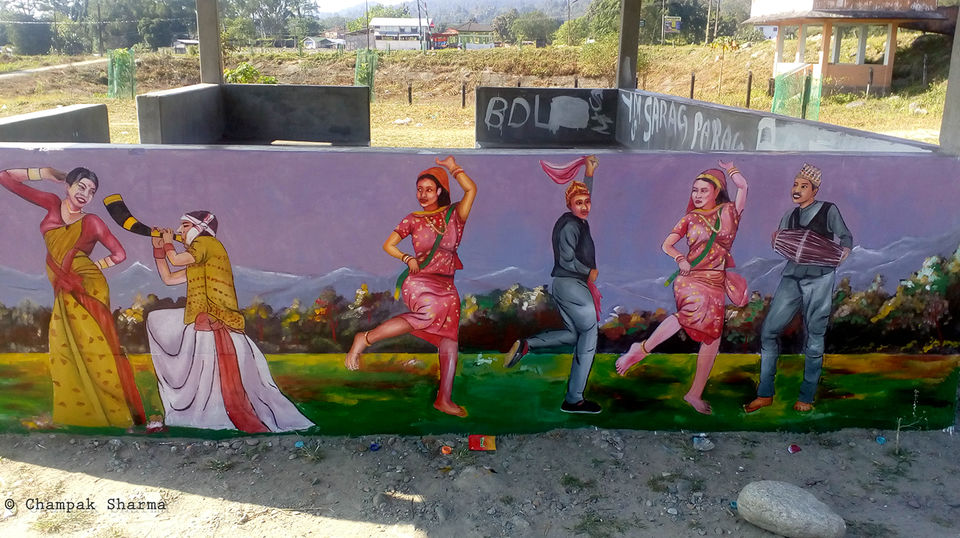 A dam project had been started here a few years back but is closed as of now. The structure still remains and you have to drive across this bridge to get down to the river bed (and into Arunachal).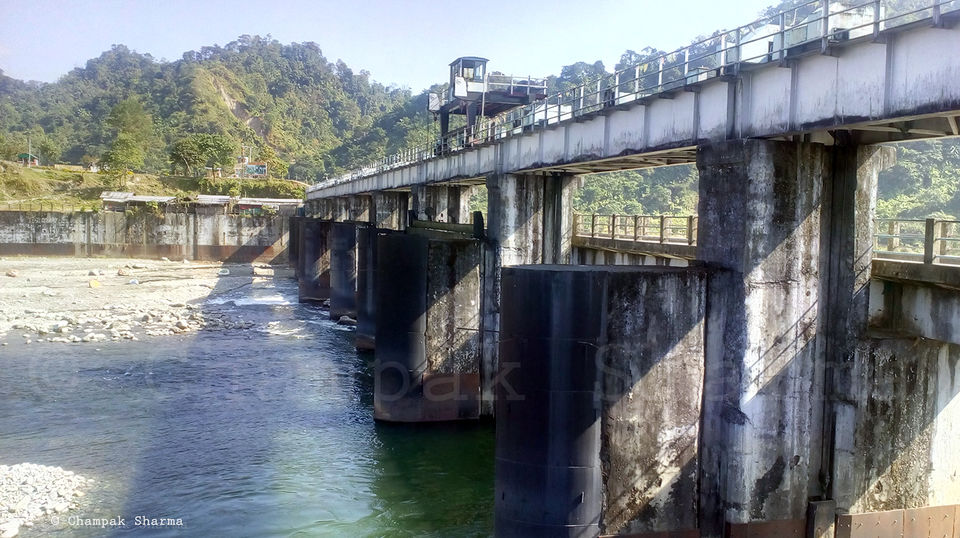 A couple of SUVs were already parked on a dry stretch of the river bed and we could see people making arrangements for their picnic lunch! Mom and I aimlessly roamed around the area – clicking photographs, while Dad went to get the oranges and bananas being sold by the locals of Arunachal.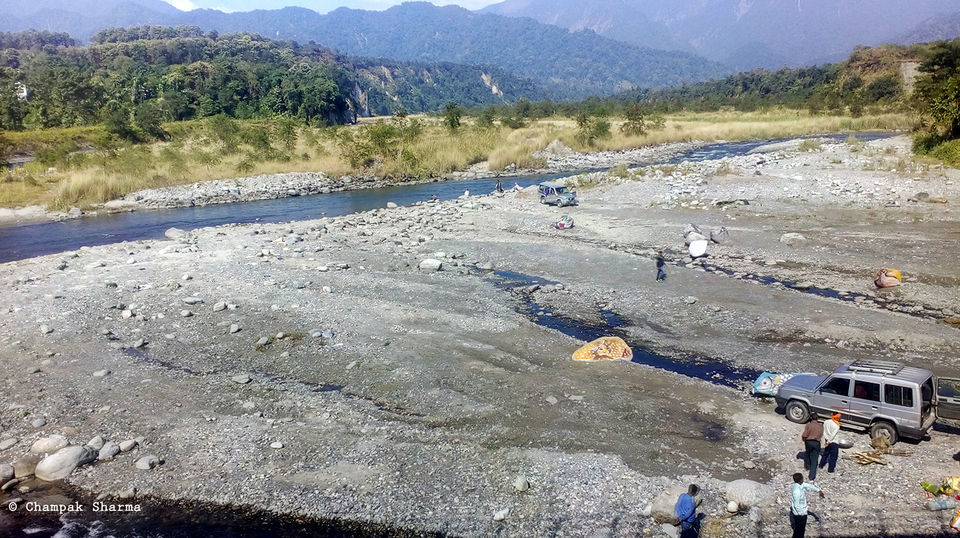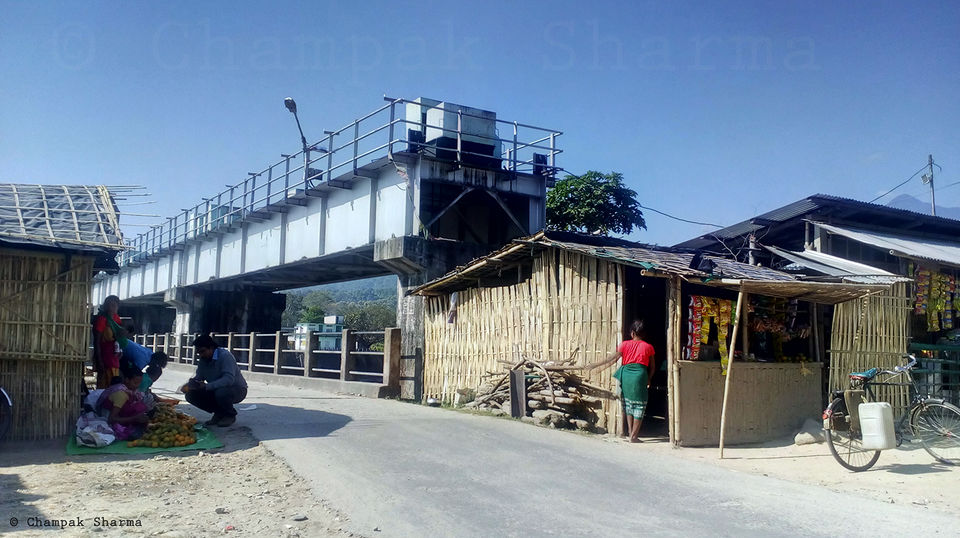 ILP (Inner Line Permit) is required for visiting Arunachal Pradesh. If allowed at the check post you can visit the adjoining village in the state and drive through the hilly terrain.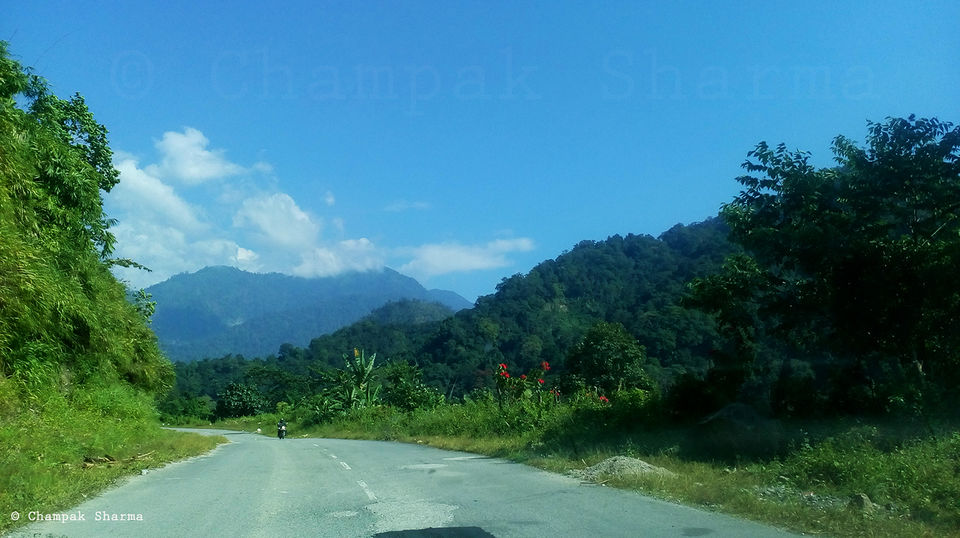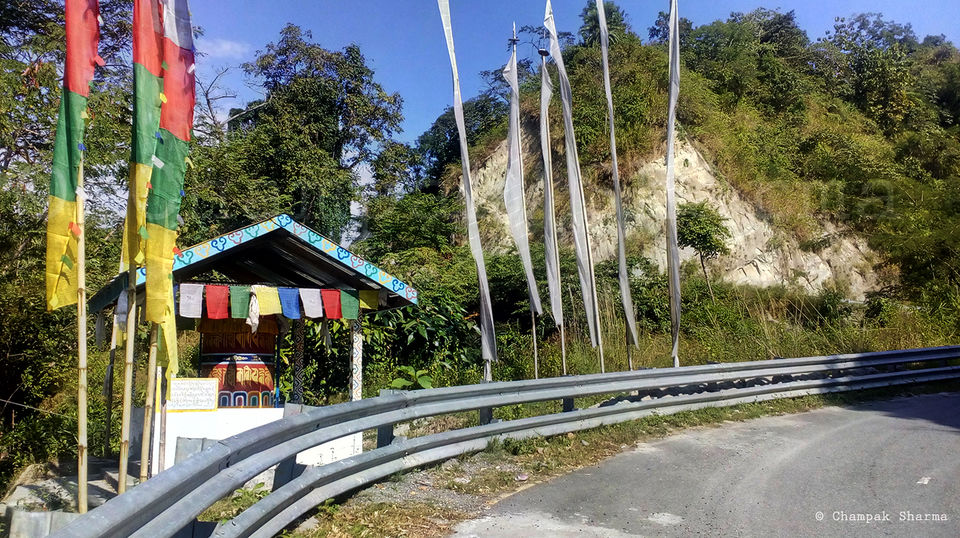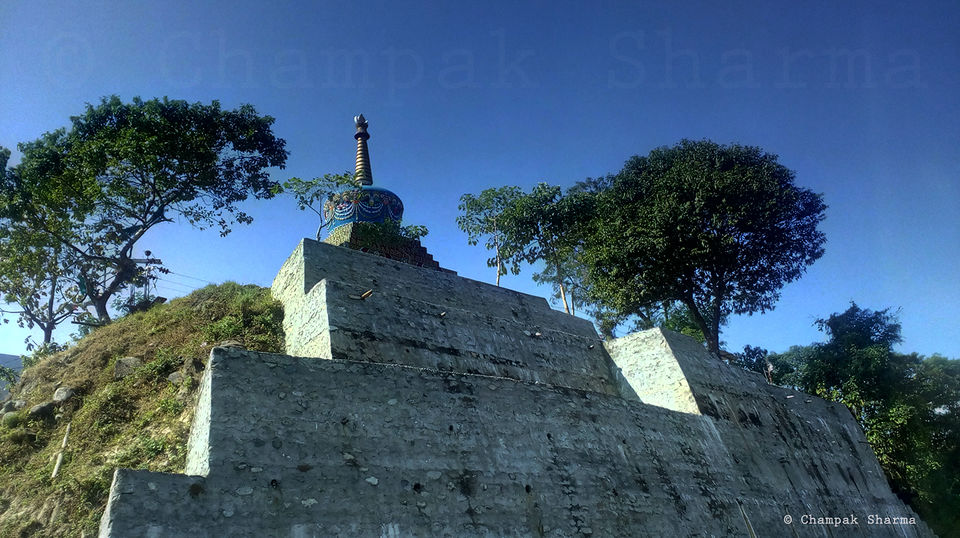 For entering the Bhutanese territory, we crossed the bridge back and took the first right. Our vehicle number and few other details had to be registered at the SSB check post and then we went ahead towards Bhutan.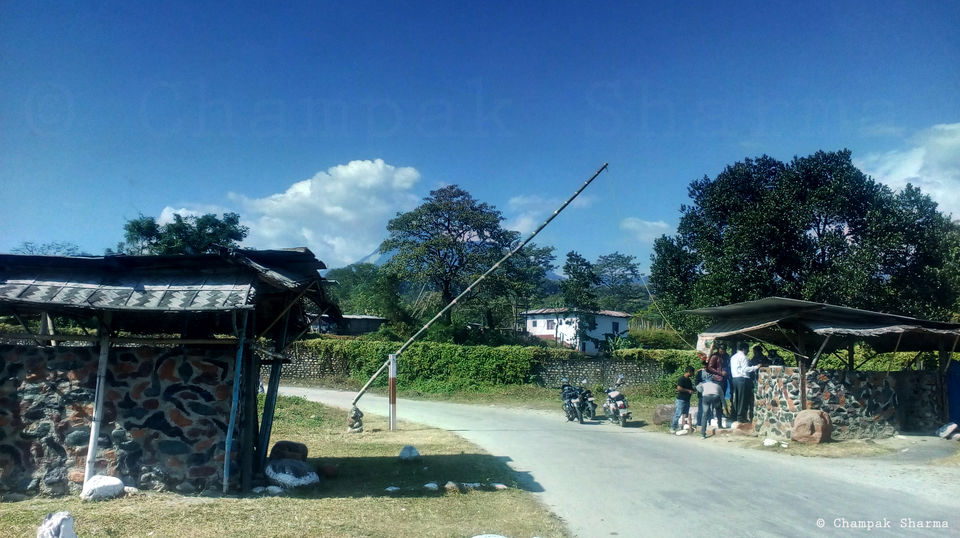 Once at the Bhutan check post we again registered the car details and were allowed to proceed. 20 minutes' drive led us to the quaint town of Jomotsangkha.
Although in a small scale, the distinct architecture of the buildings in this part is easily noticeable. We drove through the town and reached a river crossing which had a hanging bridge with colorful prayer flags fluttering in the wind. The hues and calm brought in a peace indescribable in words.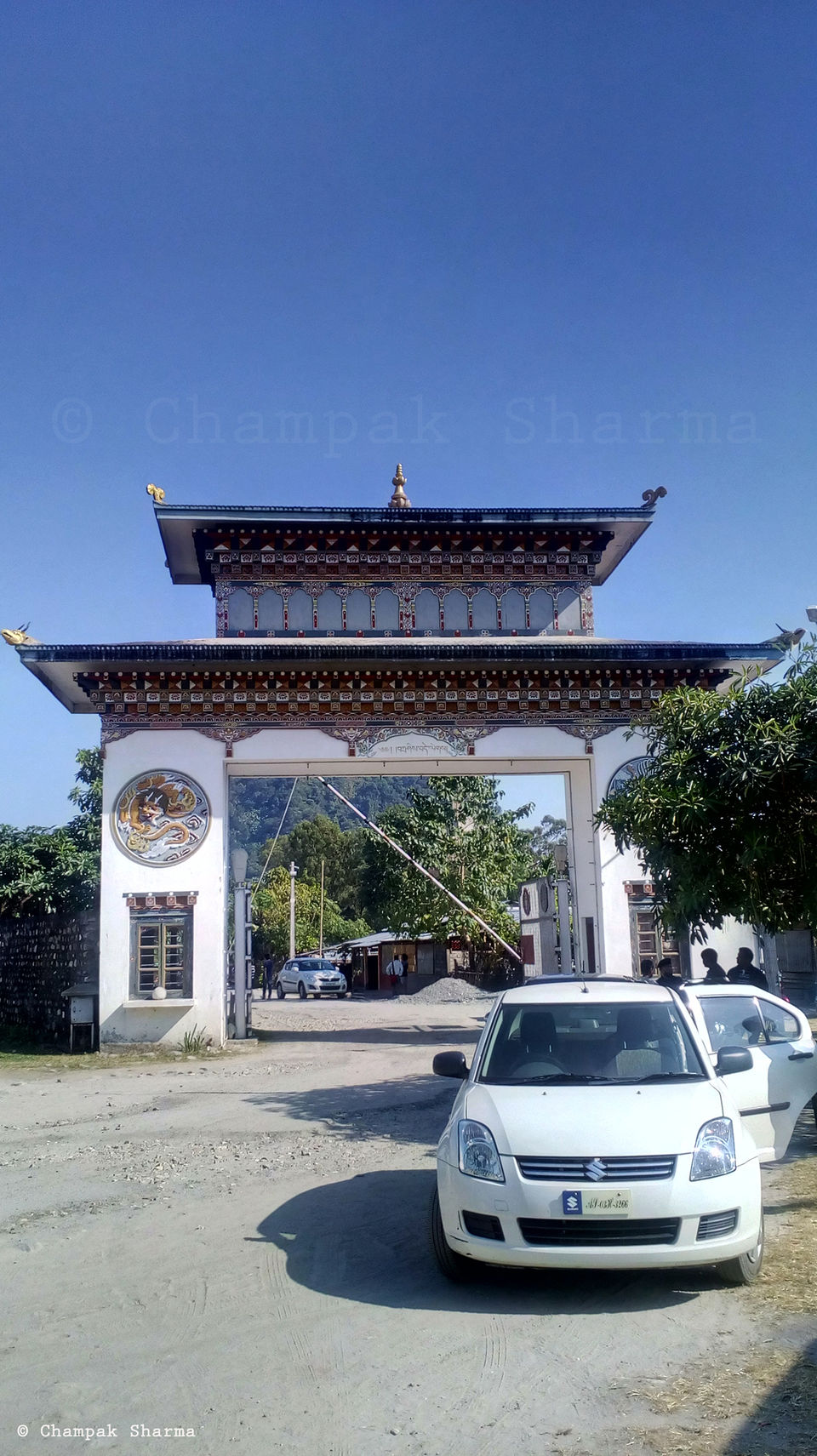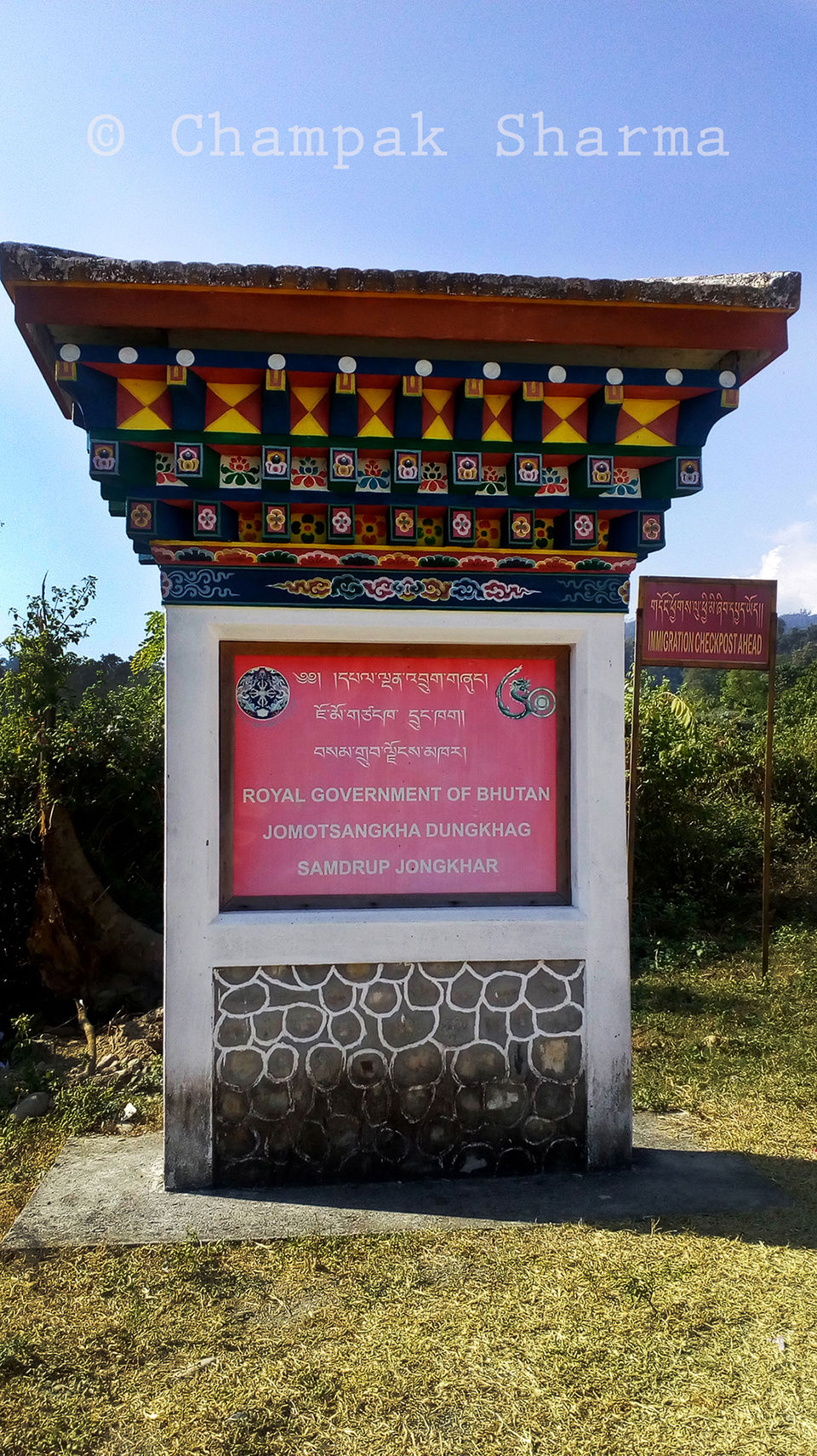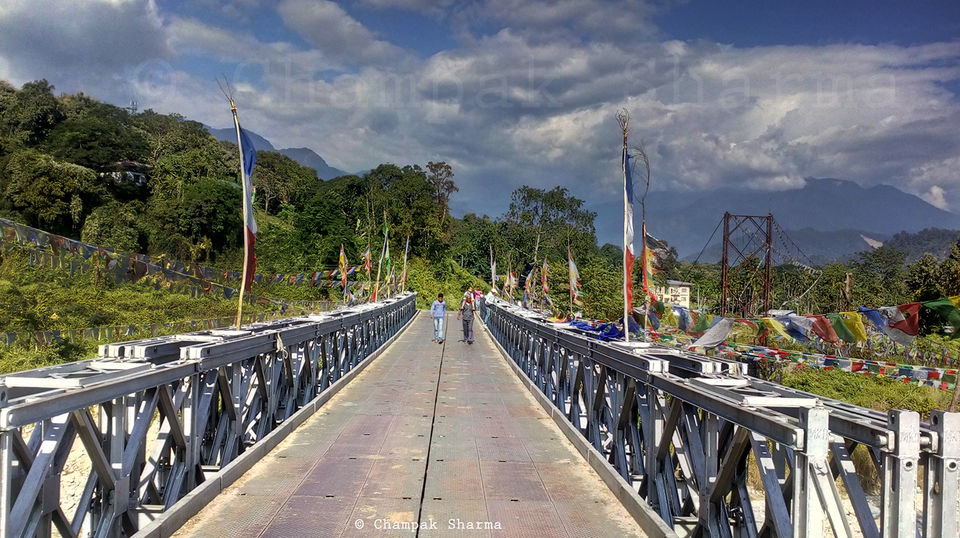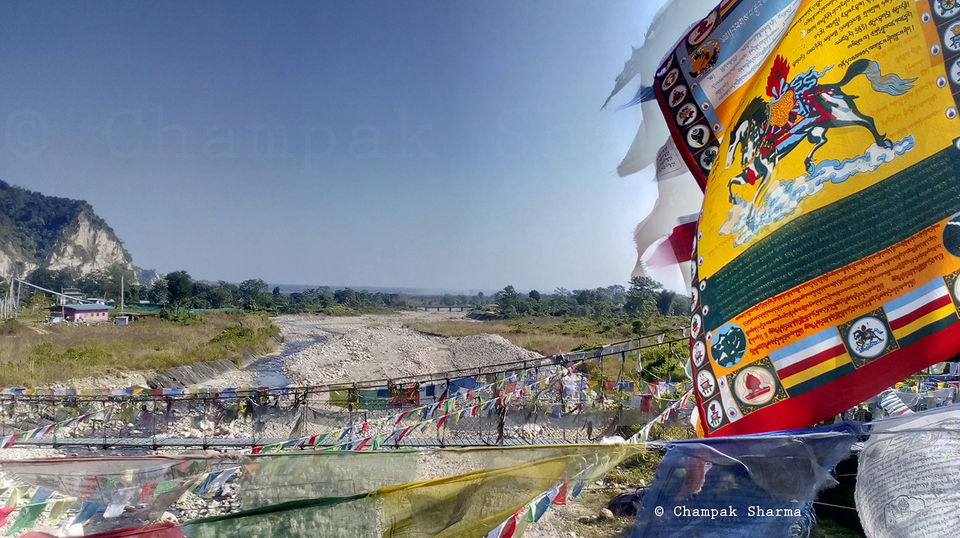 We stayed here for some time and then headed back for the town. The previous night we had packed quite some quantity of food for the trip. But in the end, the eateries lured us and we checked in to one.
I was craving for a bowl of Thukpa, but the owner informed that only momos and rice thali were available at that moment (with beer and scotch!). We settled for three cups of tea and three platters of momos (which soon became six!). For the liquor fans – alcohol comes startlingly cheap (won't vouch for the taste as haven't tried any myself).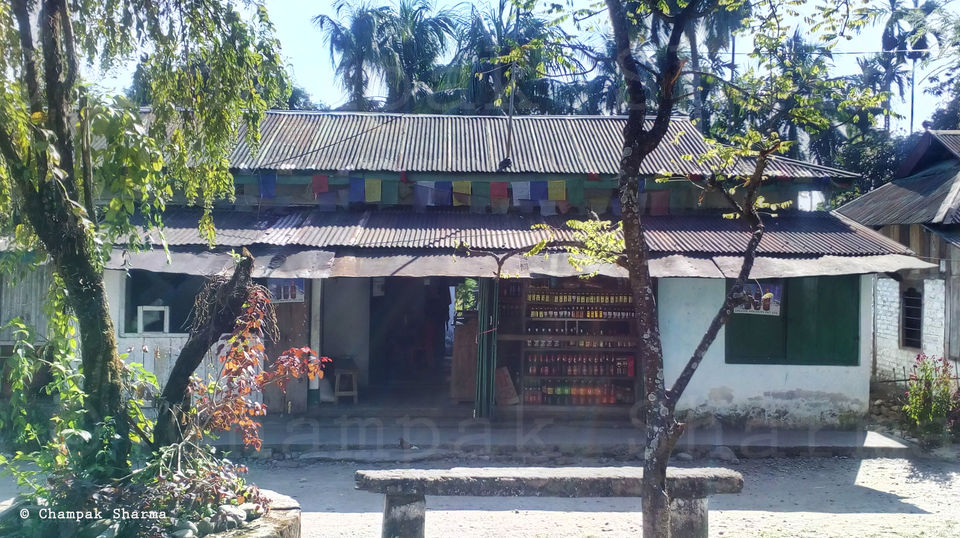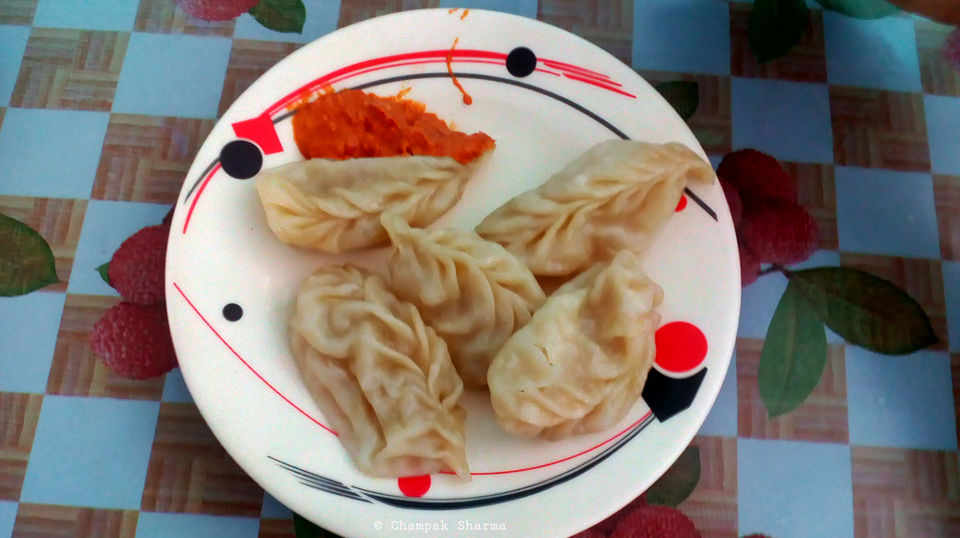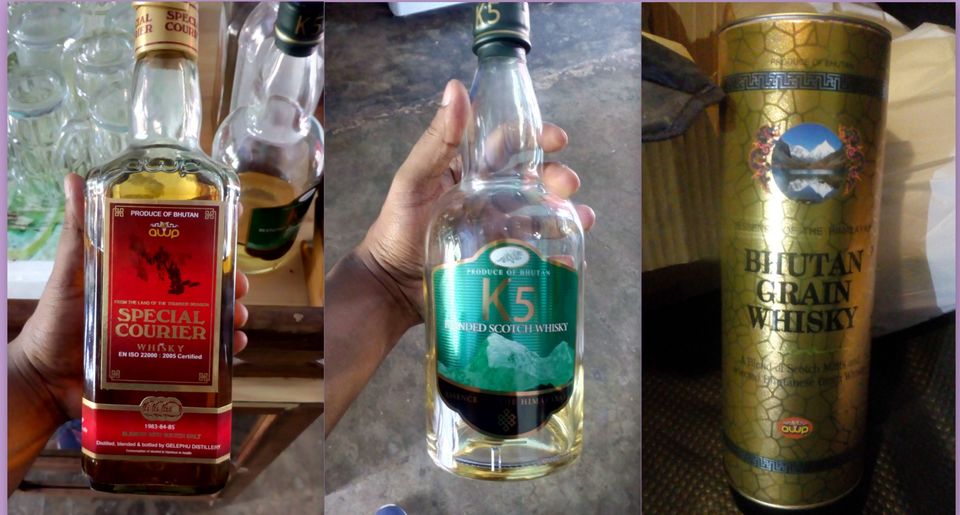 We explored the place on foot and came across places of worship with big prayer wheels inside. The people in the town appeared to be as calm as the atmosphere was…no one was in rush and every face we came across seemed relaxed and content.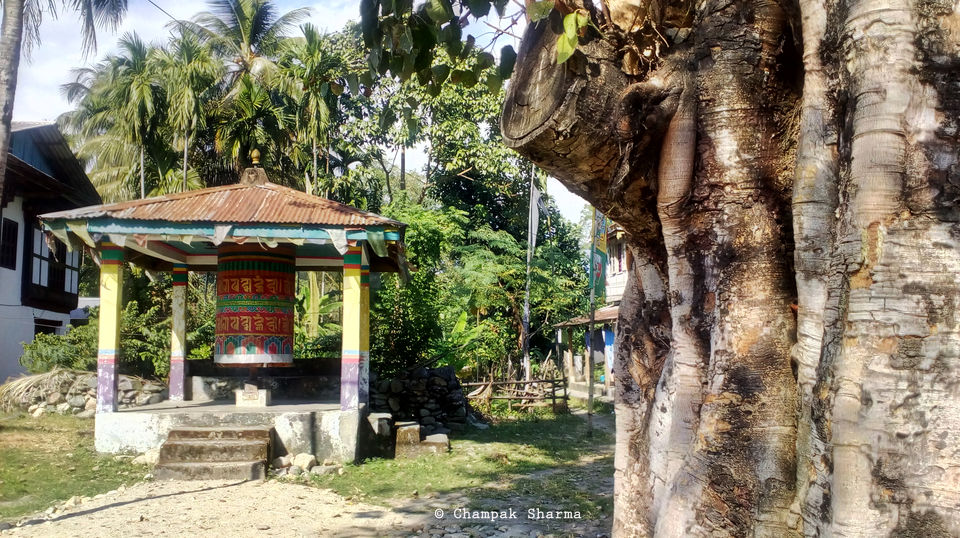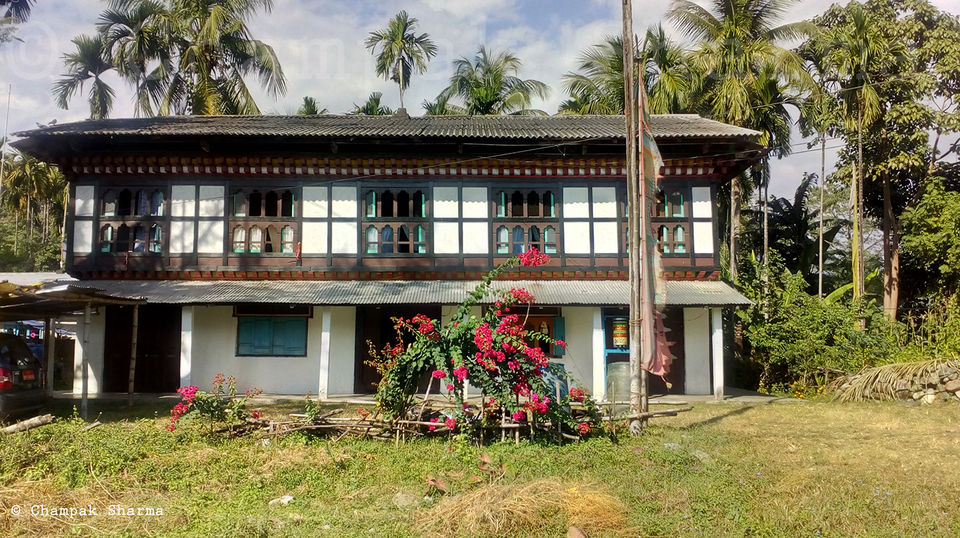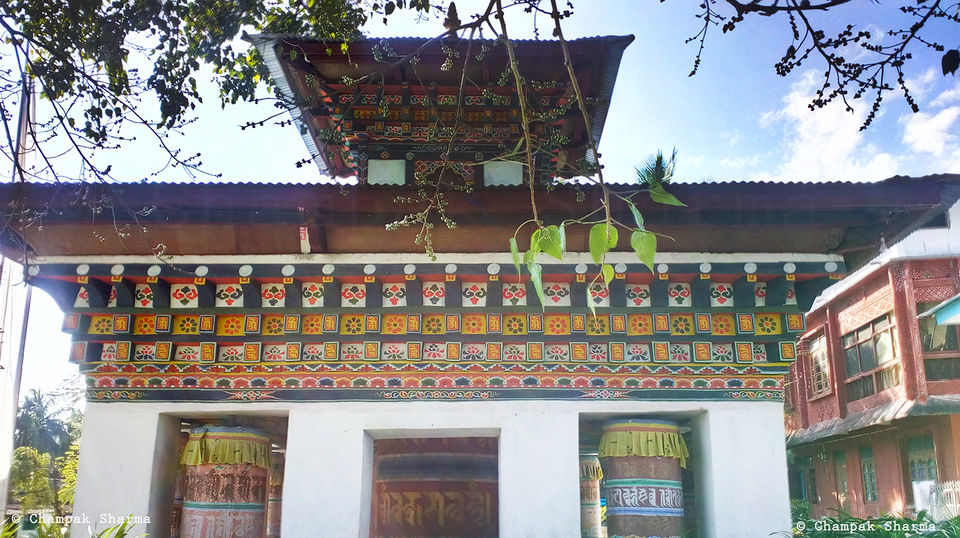 With a serene feeling within, we started our journey back.
In case you want to know more about the trip, please feel free to reach out to me at champographie@gmail.com and if you wish to share your road trip experience on Tripoto, click here.
Frequent searches leading to this page:-
cost to visit Bhutan, Bhutan private tour, holiday in Bhutan cost, best holiday packages for Bhutan, Bhutan family tour packages, Bhutan packages from Mumbai