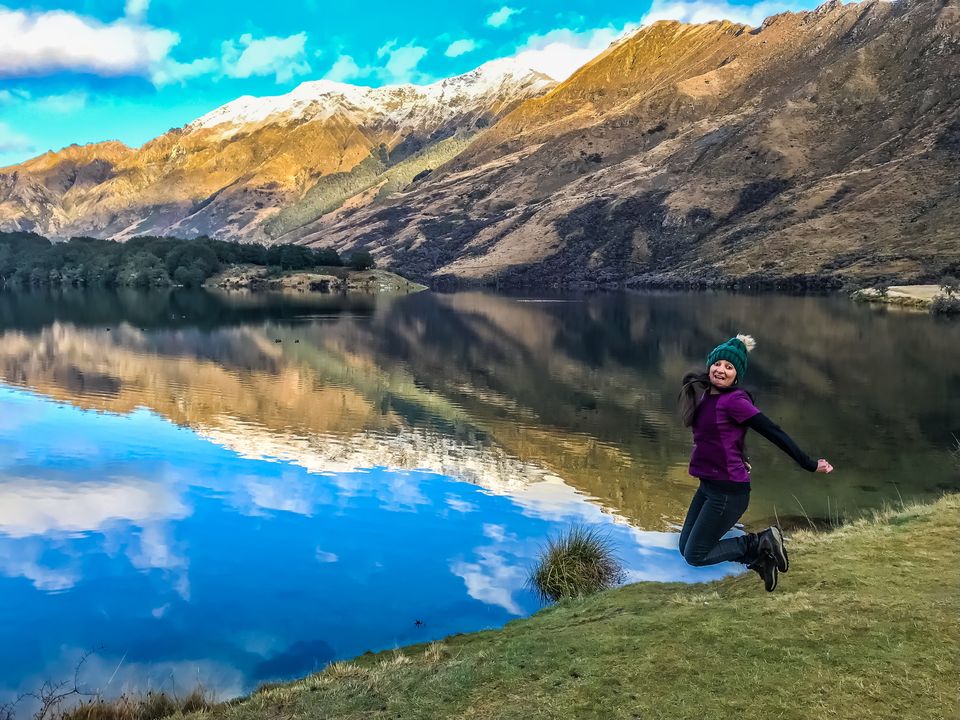 I am finally ready to write about the best trip we ever did as a couple (my solo trip to Iceland will be an all time favorite).
After 36 countries across 6 continents, I can honestly say that THIS road trip around Middle-Earth was a journey like no other.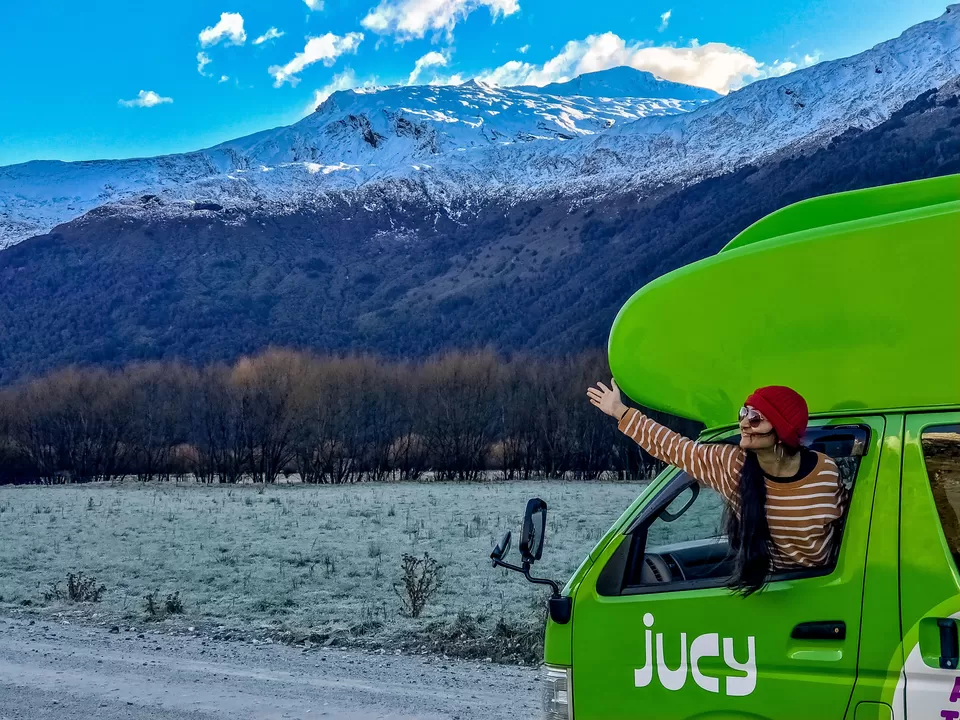 Traveling in New Zealand was a humbling experience. The vast plains, zigzagging highways weaving their way past towering mountains is enough to impress even the most hardened traveler. It's not just the natural beauty that impressed me but also the people. Extra points for the kiwis who are some of the kindest people we have ever met.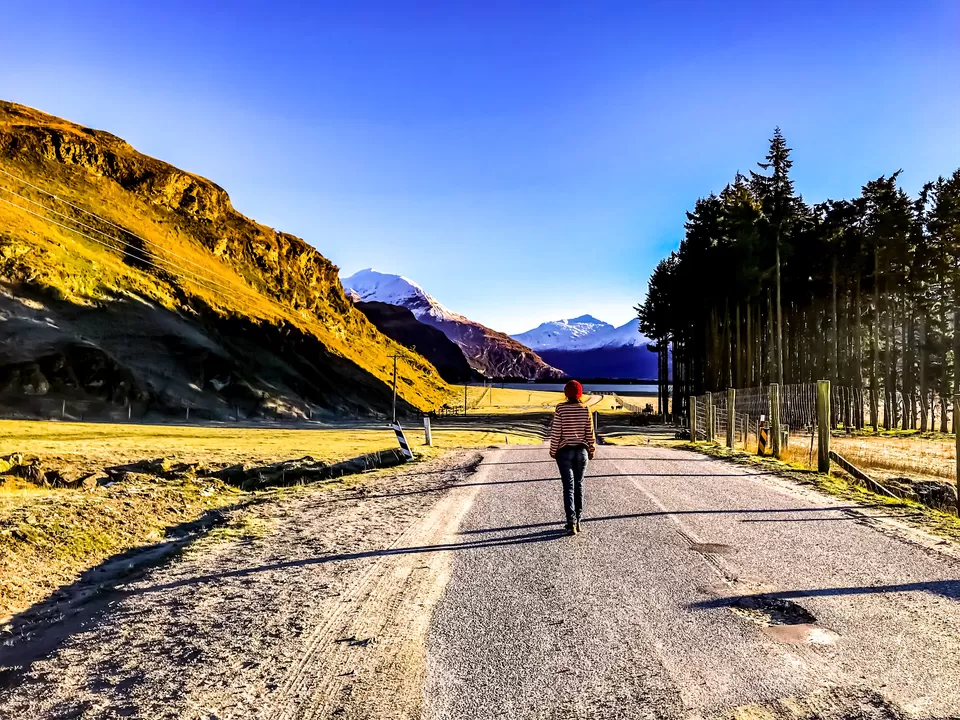 I also loved how incredibly sustainable they are. From recyclable packaging on every single product to supporting locally owned stores to going that extra mile to preserve their beautiful country, they have pulled all the stops. Massive respect. Everyone should learn from this tiny island.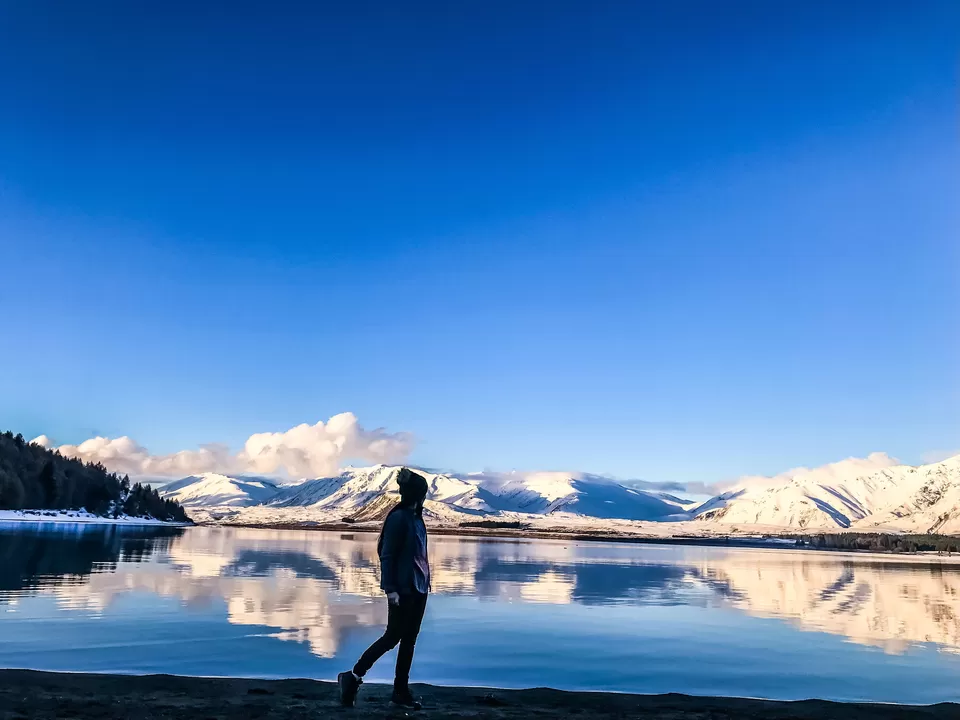 There is SO much to see in New Zealand. 2 or 3 months won't suffice - and that was the biggest issue while I was planning. I had to really resist trying to squeeze in every hike and every lake. Nevertheless, in 14 days we managed to cover a fair few stunning places with judicious planning and research while crafting our itinerary/route-map.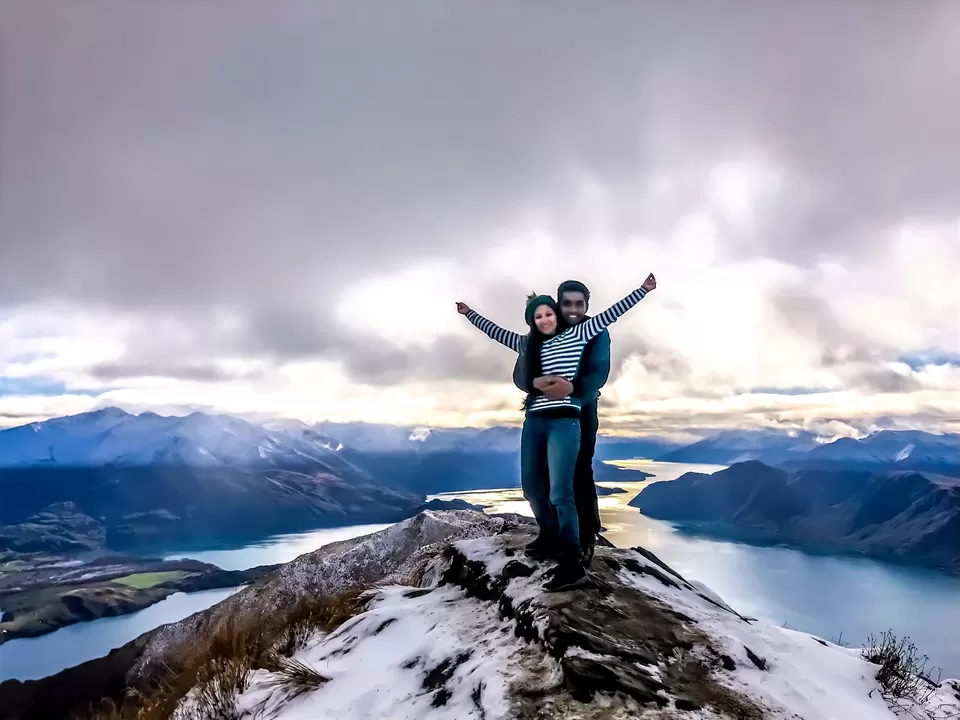 New Zealand was even more stunning than we thought it would be. Welcome to the Middle Earth: one of the most beautiful places on earth. This was our two week itinerary:
Day 0 - Dubai to Auckland
Day 1 - Auckland city. Cathedral Cove.
Day 2 - Matamata. Hobbiton.
Day 3 - Christchurch to Hokitaka. Drive through Arthur's Pass.
Day 4 - Hokitaka to Glacier Country
Day 5 - Glacier Country to Haast
Day 6 - Haast to Milford Sound
Day 7 - Fiordland to Queenstown
Day 8 - Queenstown - Moke Lake Hike
Day 9 - Wanaka for the Roy's Peak Hike
Day 10 - Wanaka to Twizel for the Rob's Roy Peak Hike - Wanaka City and That Wanaka Tree
Day 11 - Lake Pukaki to Mount Cook
Day 12 - Lake Tekapo and Church of Good Shepherd
Day 13 - Tekapo to Christchurch Airport hotel
Day 14 - Auckland to Dubai
Best time to visit
I am sure it is wonderful to visit throughout the year with every season providing a different but memorable experience.
We decided to do this trip in winter to avoid the high prices and the massive crowds... while it wasn't easy living in a tiny van with the crazy weather, it definitely paid off while on the road. Fewer camper vans, empty campsite and on most days, there were hardly 4 or 5 people with us on the hike. Just what we like.
Flights and Visa
The visa process was straightforward. Applied online and got our passport verified with the local office. Got our visa in 5 days.
We flew with Singapore Airlines to Auckland and back. LOVED the service, the food and the entertainment. Beautiful experience on a 19 hour journey.
Language
Though they have their own native language, everyone speaks English.
Travel and Medical Insurance, Currency
Travel and Medical Insurance is always recommended.
Cost
New Zealand is expensive. Period. North or South. East or West. There is no two ways about it. The food, grocery, gas, everything is pricey. So if you think you can do this trip "on a budget", you might want to consider having a sizable budget. Plan well in advance and yes, traveling during off season does help cut down the camper van cost substantially.
Renting A Camper Van
Another reason we did this trip during winter - the cost of the camper van. I did a LOT of research on camper vans before finally settling for our little girl from JUCY. You can find details on all their vans on the website. We went for the self-contained Jucy Chaser. This camper van is designed for three so it was pretty comfortable for the two of us to move around. We used the additional space for our trek bags and jackets. The kitchen comes with a small fridge, pots and pans, ladles and mugs. Since it is self-contained, it also comes with a restroom - it was TINY for my tall hubs but it helped us big time during the cold long winter nights. I would definitely recommend going for this one if you are looking for a spacious camper van for two.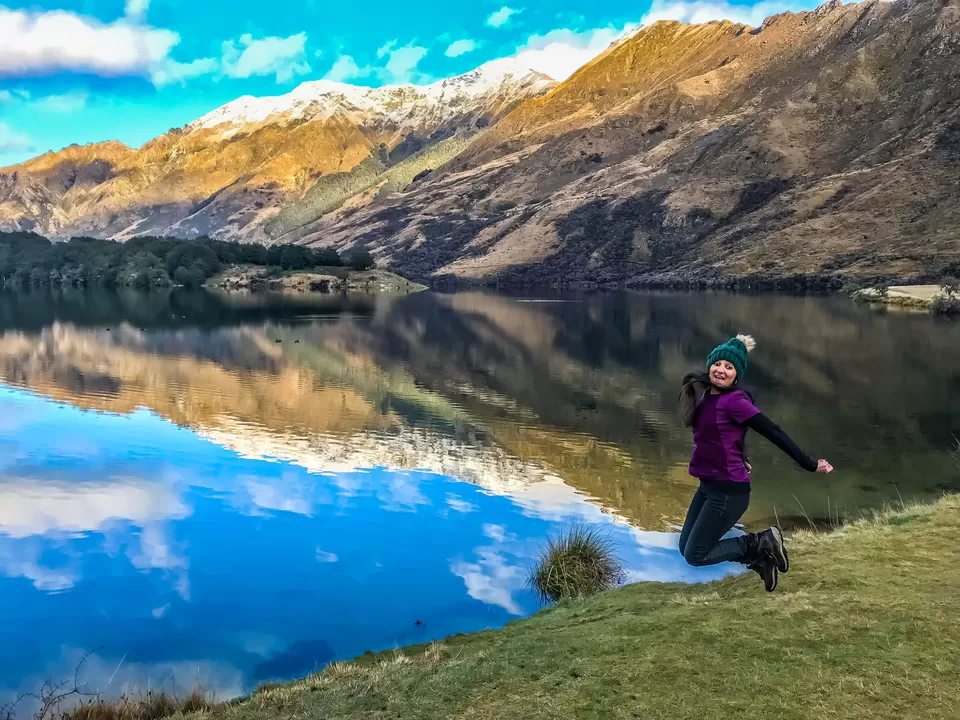 Somethings to keep in mind while choosing a camper van - number of people traveling, do you need a toilet, how long are you traveling for?
TIP: Don't forget to ask for your airport pick up and drop when you book your JUCY van!
Ten things to keep in mind if you are traveling with a camper van:
1. The Campermate app - this is the only guide you will ever need to get around the country. Download it before your trip. Save everything offline. Treasure it. Follow it to the T. From gas to free campsites to restaurants, it has everything.
2. The roads are long, endless and windy. If you decide to drive long distances along the west, be sure to take at least 2 or 3 stops - not just for you, but for your van too. At one point, there was smoke coming out of the tyre because we drove up the mountain for 6 hours non-stop. Lesson-learned!
3. Before going for a camper van rental, make sure you are comfortable driving stick. The bigger camper vans are not automatic. The vans, while not huge, are bulky. It does take a bit of getting used to while turning, backing up or parking.
4. Grocery - as soon as you pick up your camper van from the Jucy branch, next to the Christchurch airport, the first thing you will want to do is head to the nearest grocery store to stock for the week(s) ahead. We went to PakNSave - a short 12 minute drive from Jucy. While buying grocery, think easy, quick, ready-to-eat meals. You will be exhausted after your hikes, so you won't really be in a position to cook an elaborate meal. We picked up vegan burgers, pasta and vegan sauces, Quesadilla wraps, and vegetables that we could cook in 10 minutes or less.
5. If you travel during the winter like we did, be prepared for COLD nights. I do think you can rent a heater - but I didn't read this anywhere and I wasn't informed by Jucy. Any way, if you happen to find yourself without a heater, dress in layers even as you sleep. Trust me, you will need it!
6. Bring your own AUX for charging phones and music. Also, buy a matchbox to light the stove. You will need it - especially in winter.
7. Irrespective of the time of the year, the west coast is going to be wet. So pack towels, poncho and an extra pairs of socks.
8. You will find plenty of free campsites everywhere you go BUT during peak season, these will get crowded by 3 p.m. In winter, this wasn't an issue but since the free camp sites won't have any light, you will need to arrive by sun down to find the place in the middle of nowhere. Also, you will need a paid campsite if you intend to charge your DSLR cameras, laptop and the likes.
9. Every third day, you will want heat and a long shower. You won't find these at a free campsite. So splurge a little for that beautiful paid campsite - free wifi, hot shower, a BIG kitchen to cook and clean. It will also give you a chance to wash/dry your damp clothes.
10. If you do the itinerary we did, there won't be a lot of connectivity along the road, especially at night. You will be too excited to sleep Bring a book. Download movies. It's going to save you on those rainy nights in the forest.
Safety
Despite the recent attack on Christchurch, this is still one of the safest and most beautiful countries on the planet.
Connectivity
The wifi is paid in most places and not very fast. Get a sim card as soon you land, the data should last you for 2 weeks, depending on usage.
Final thoughts
Three reasons why I loved it so much: grand views, perfect silence and enough time to take everything in.
He likes history, I like planning for the future. He likes to relax, I like to rush. He doesn't care for coffee, I live for it BUT the one thing we both agree on though is that we love the mountains. The rougher and more majestic they are, the more we love them. That's why New Zealand became one of our absolute favorite places on earth.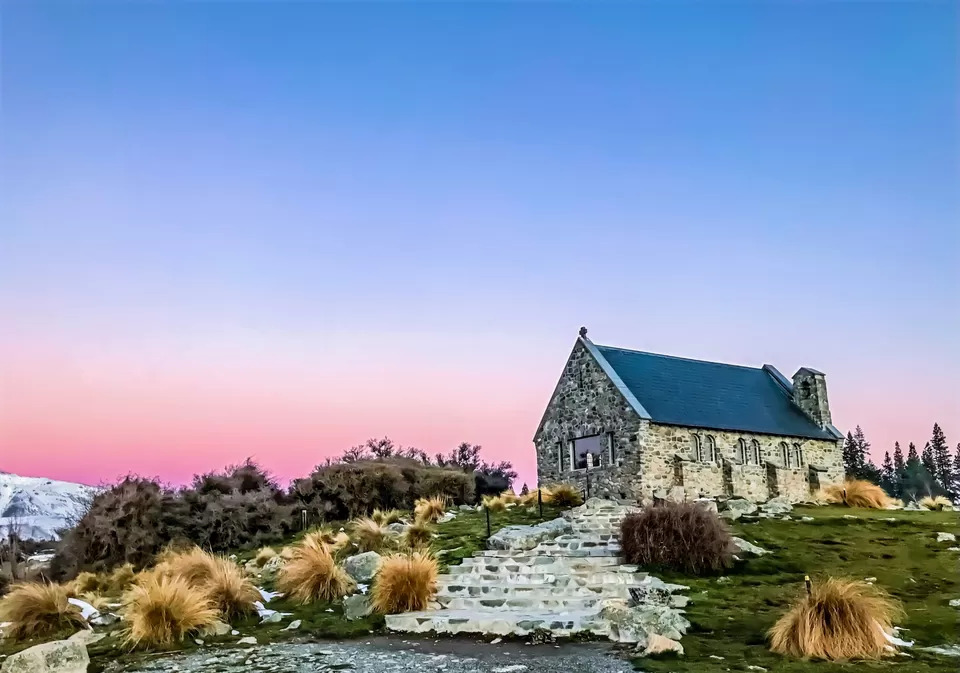 There isn't an inch of New Zealand that we didn't love but these glacier lake reflections were straight out of a fairy tale. Most of these lakes are fed by melting snow, the colors and the reflections on a clear day are beyond breathtaking. It was by far one of the most amazing sights we have ever seen in our travels. We tried to do as many lakes as possible and each of them were more stunning than the next.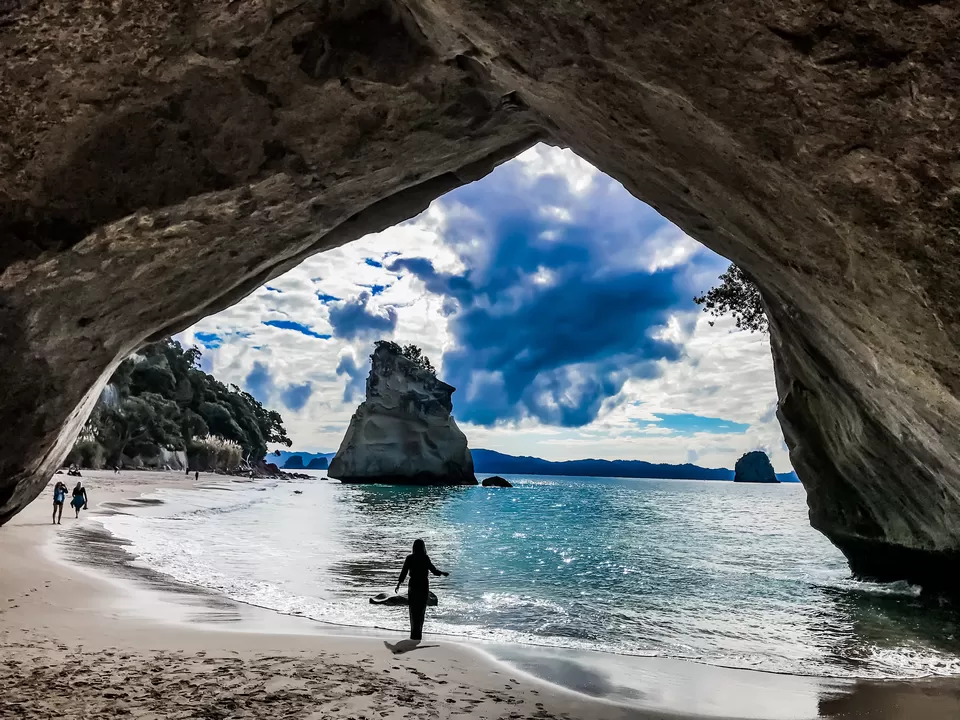 When we first laid eyes on our van, we were a little overwhelmed since it was all too new for us. We just stepped in hoping for the best but nothing could have prepared us for the whirlwind adventure we were about to have for the next two weeks. From sleeping under the stars in campsites by pristine lake, to driving through unbelievably scenic roads or just having this amazing feeling of "living on the go".
I'll be honest, it was not always fun and games inside a tiny van.. especially so during the winter when we had to sort out your van twice a day or cook in the biting cold... BUT if you are planning a road trip in winter I can assure you that it will be a once in a lifetime experience.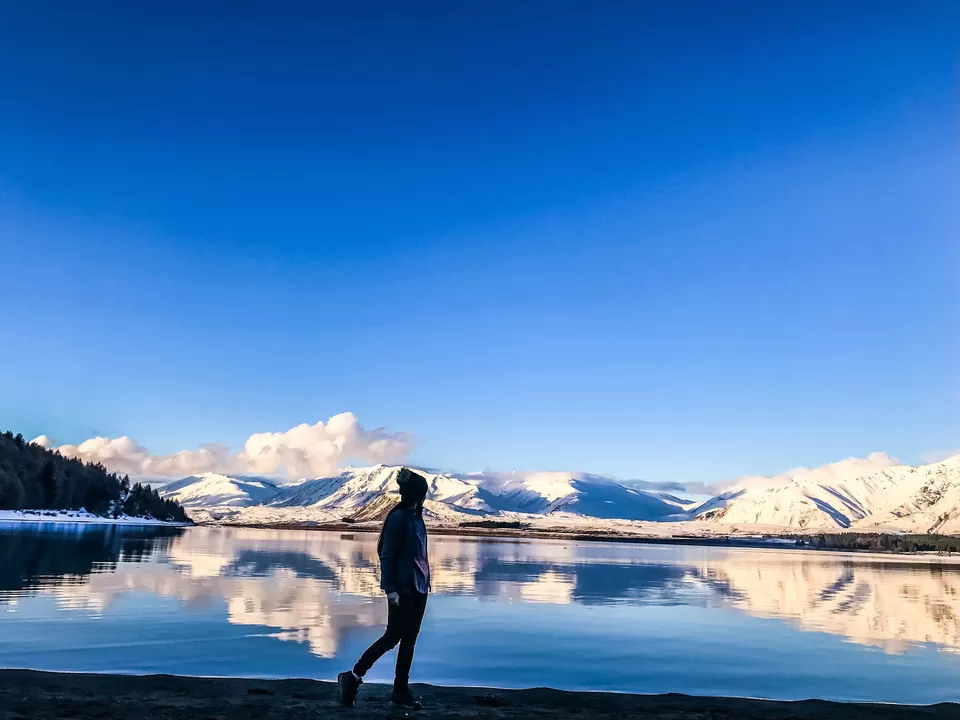 There will be a few tears, plenty of laughter and over a dozen adventures but nothing can compare to those little moments of pure magic like when you wake up to the first rays of sunlight gleaming through your frosted window, or when you sleep under the milkyway, or when you have to cheer for your little van as it huffs and puffs it's way through yet another hill. Along the way you will create memories that will last through your lifetime.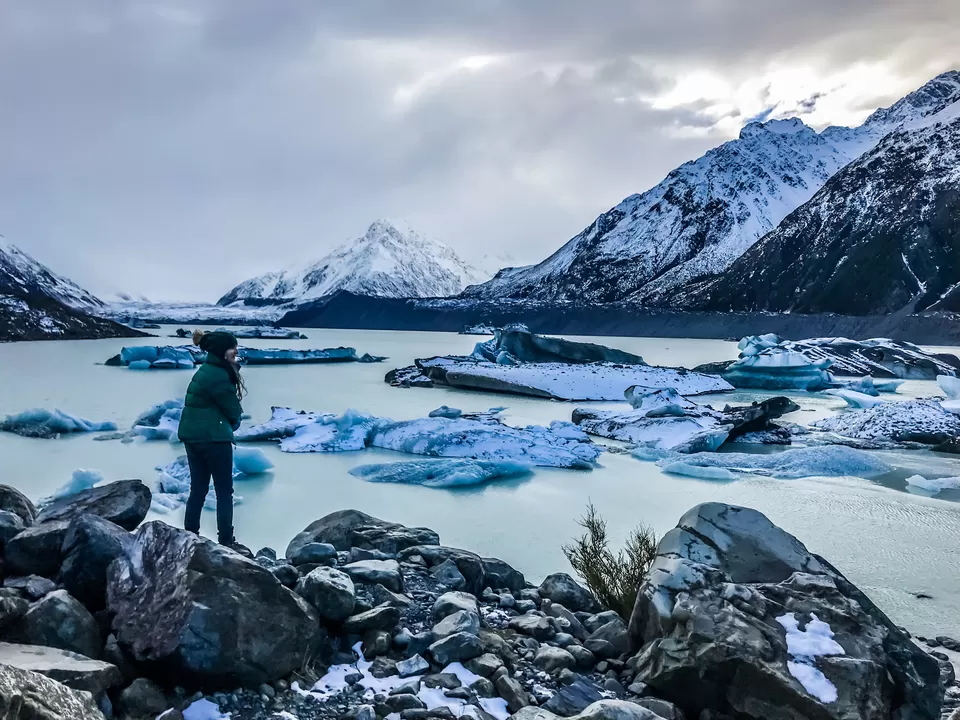 That's how we spent 2 weeks in Middle-Earth and what an absolute adventure we had. New Zealand, here's to your unparalleled natural elegance and beauty. You are now our all time favorite place. We can't wait to be back. Ka kite, you wonderful thing.