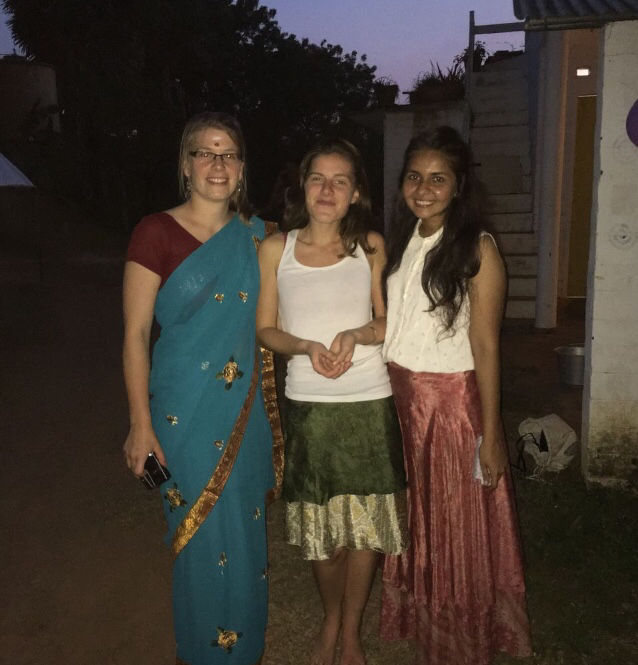 Auroville is an experimental township in southern India, located in Tamil Nadu and very close to Pondicherry. It is easy to reach there from Chennai or from Pondicherry.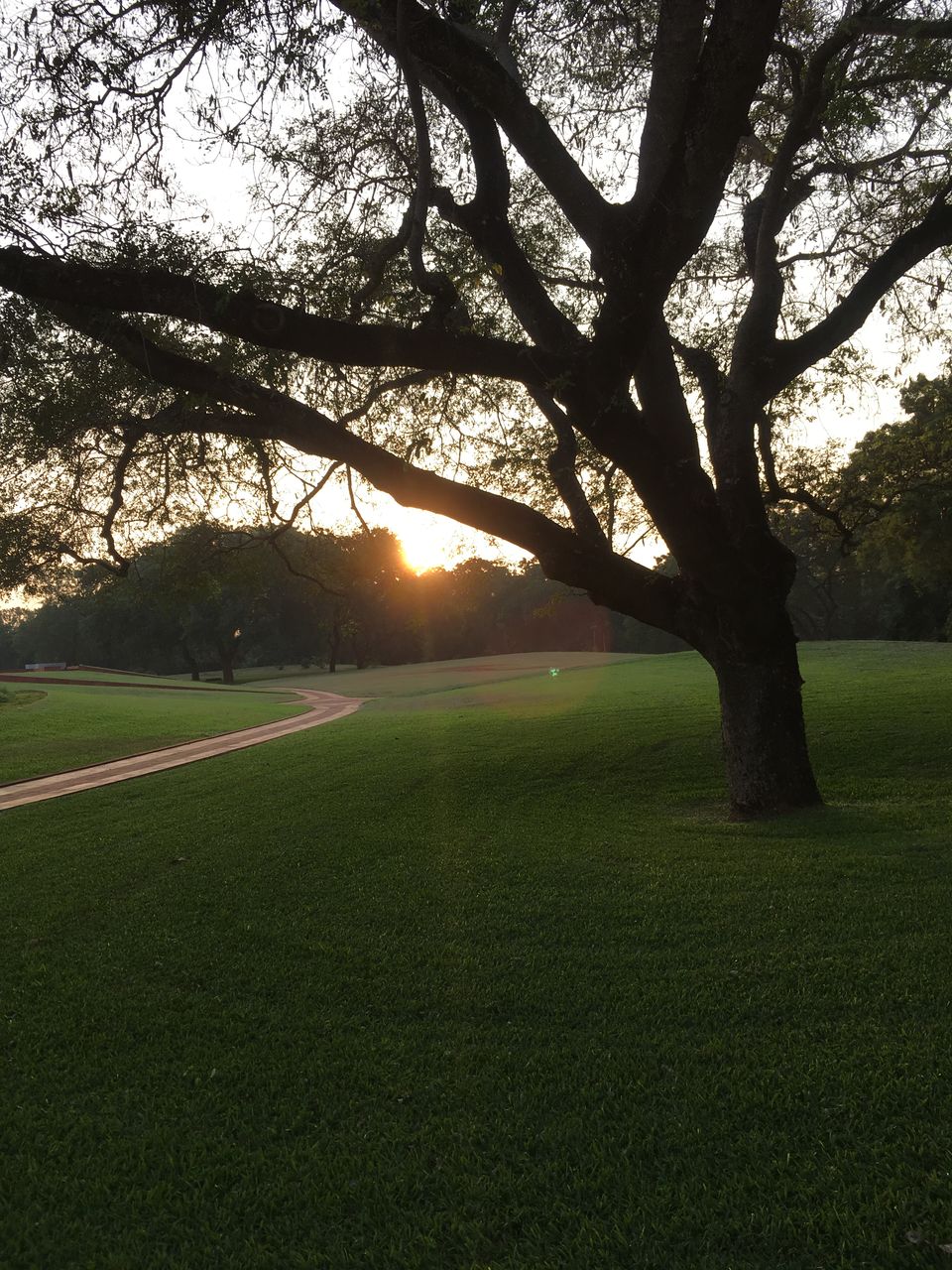 Ever since I left my job to travel, I was looking for a volunteering experience in India. I registered with WWOOF India (World wide opportunities on an organic farm). Through this I got in contact with an organic farm in Auroville. (However, it is possible to volunteer here even if you are not registered with wwoof or any other organisation)
This farm was called Buddha Garden and I went there in the month of January 2018. (Best months to visit Auroville are from October to February)
I signed up to volunteer at Buddha Garden for 2 weeks which is the minimum period they ask for if you also want to stay on their premises. Since this was my first ever time traveling solo and also my first volunteering experience, I was quite unsure of how it would work for me.
On 5th January, I reached there really early in the morning, and the dogs welcomed me, continuously barking at me until I reached the reception at Buddha Garden. There I met Rajan who basically is the caretaker and manages all the registration process at this place. He showed me the dormitory and asked whether i would like to work from today itself or rest for a day. I settled in the room that I was sharing with 4 other volunteers and then I decided to go and work so that i could talk to a few people.
In all, we were around 12- 15 volunteers on most days (I being the only Indian for majority of the time) and we worked from 6:15 am to 9 am everyday except Saturdays and Sundays (Yesss, that's it!!) . We did activities like sowing seeds, weeding, watering, making a compost,picking vegetables, washing and packing the fresh vegetables for sending them to the market. It was more like an experience than work and I enjoyed every minute of it. It gave me a chance to connect with nature every morning. Post work there was healthy breakfast for everyone (usually local south indian preparations). After 9:30 am, we were basically free to do whatever we wished to for the rest of the day.
Although we were volunteers, we had to make a contribution of Rs. 250/- per day towards accommodation, breakfast, access to wifi, access to communal kitchen and auroville guest contribution. This is normal everywhere in Auroville, since their economy is kind of depended on the contribution made by the members and the guests.
All the payments are to be made directly at the Auroville Financial Services at Town hall. You can also take an Aurocard if you are a guest and use this card at various places to make payments.
I had the best time volunteering here that I extended for a week more. I had rented a moped to commute within auroville. I made really really good friends here that some of them even visited me home in Mumbai. We usually went out for lunch and in the evening all of us prepared dinner together. Evenings were always eventful since there was either a concert or a movie night or a party happening somewhere in Auroville and we never missed it. During daytime, I would sometimes go to the beach, swim and then read; other times I attended workshops, usually dance or yoga.
Thursdays were my favorite since there was a musical sunset meditation happening at Matrimandir at 5.00 pm. Soft music, cool breeze and sunset in the backdrop, my five star experience!! And post this there was drum circle at the African Pavilion, around 100- 150 people dancing around a huge bonfire to the beats of African djembes.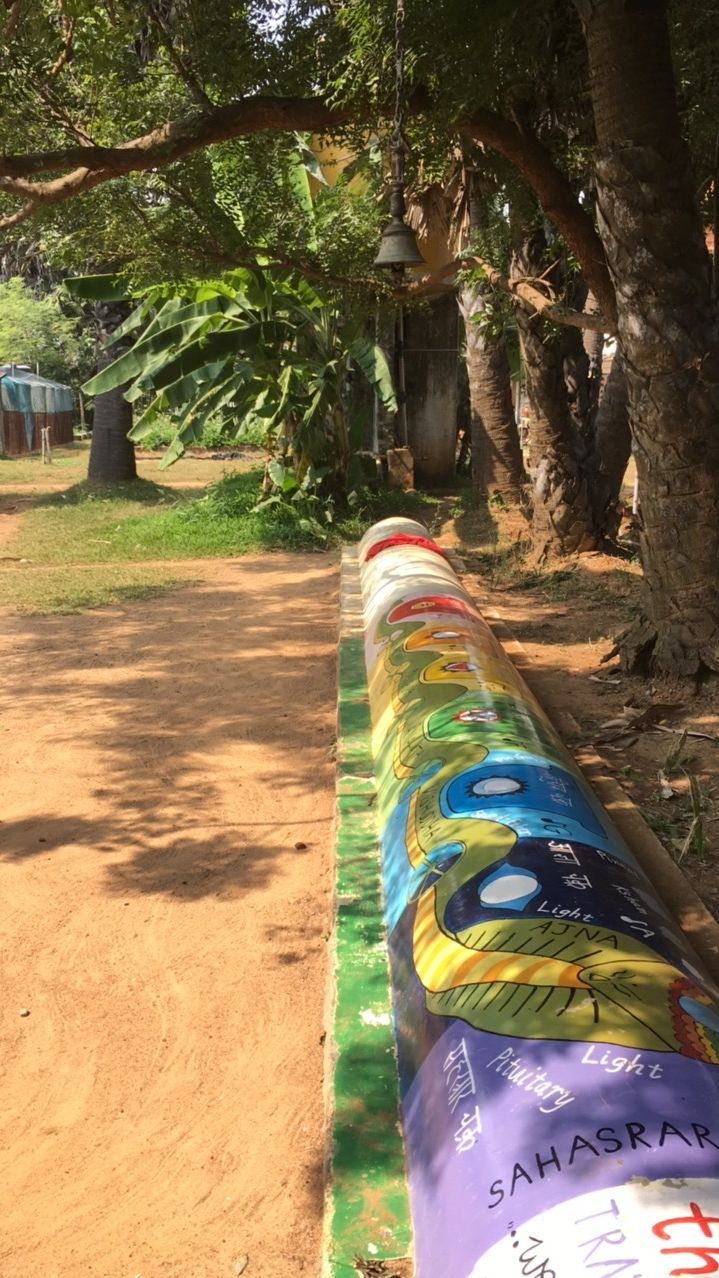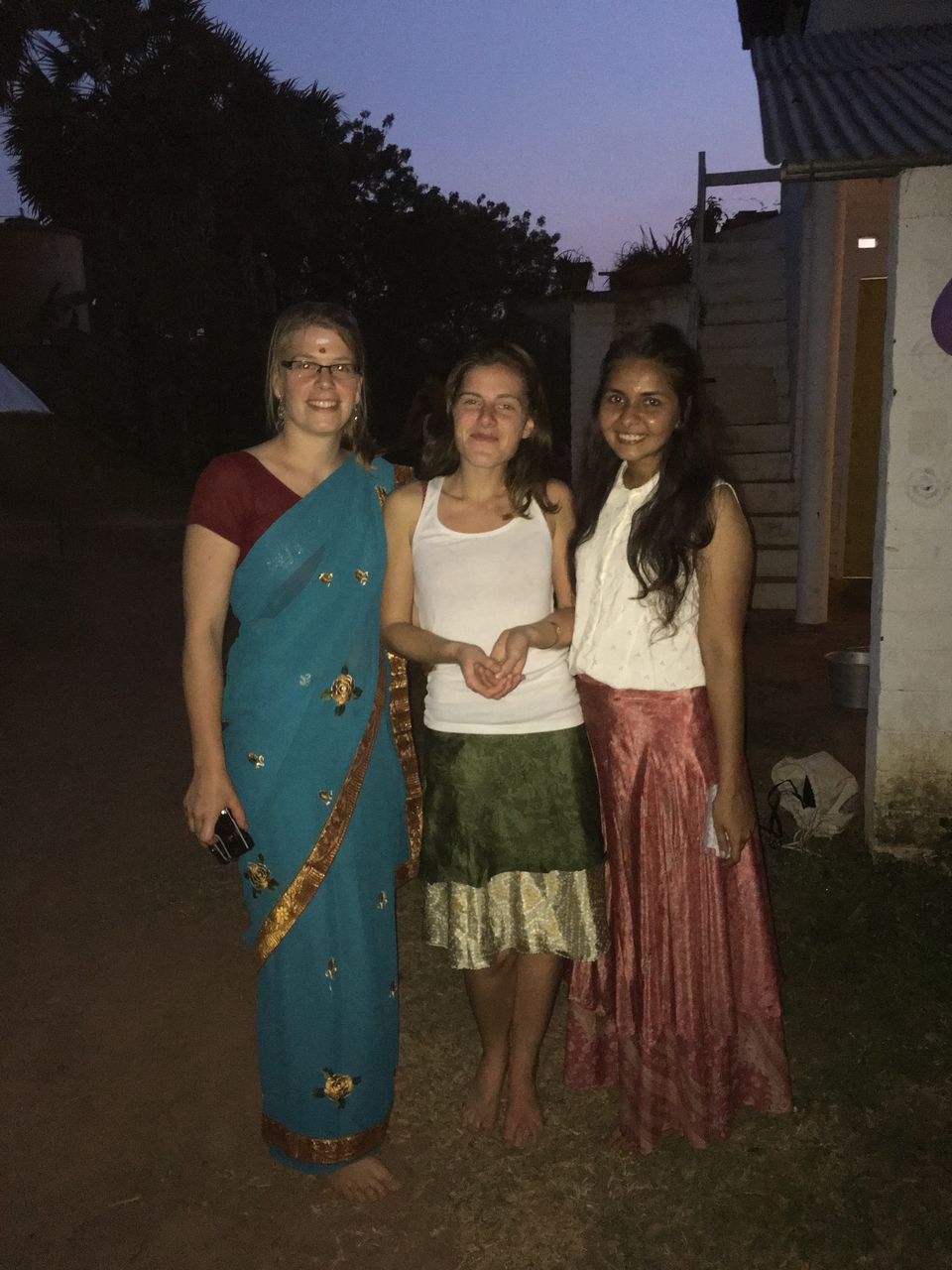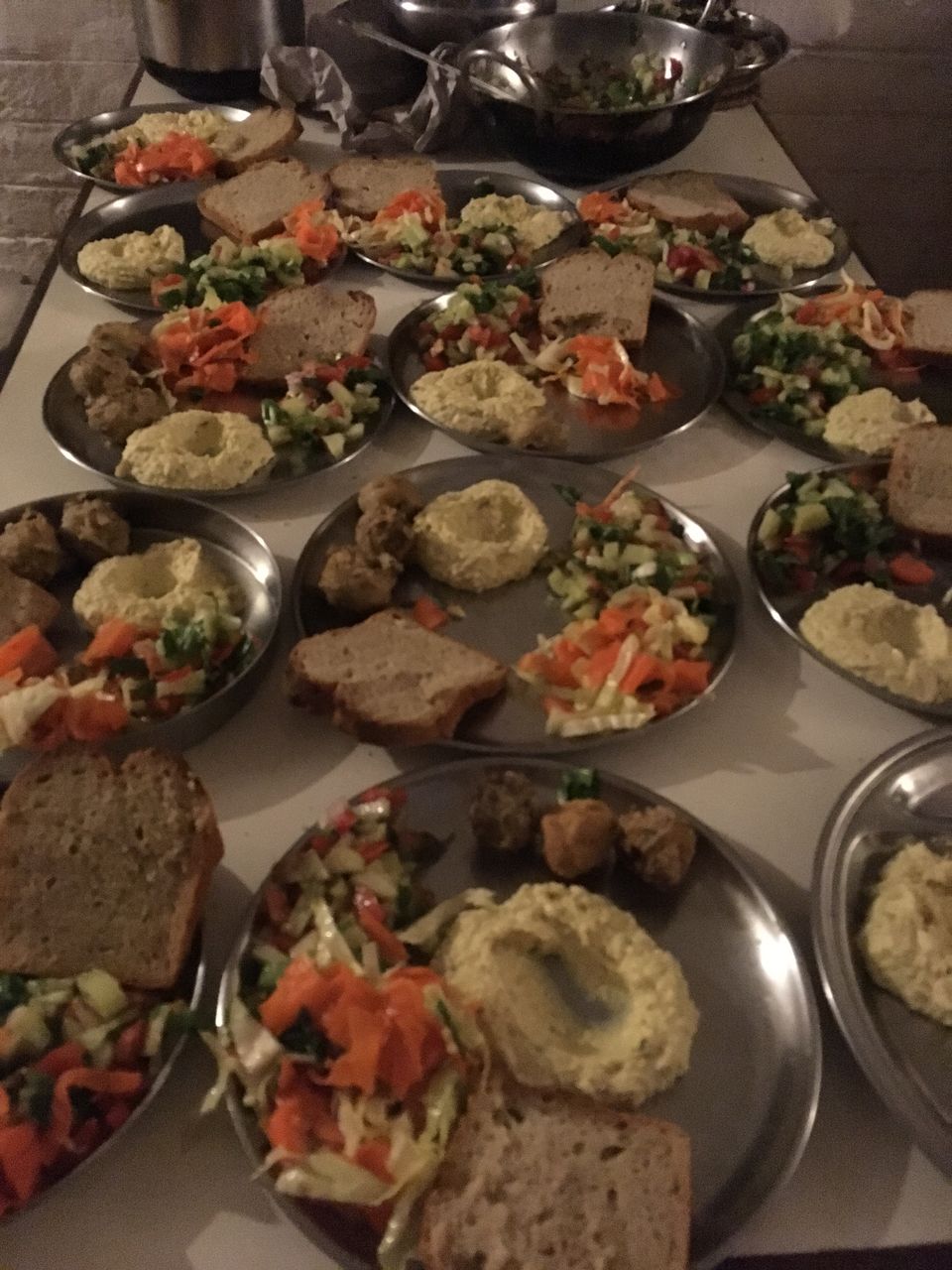 What to do throughout the day?
Apart from various workshops and the beaches, these were my favorite go-to places.
Every Thursday evening: Drum Circle at African Pavilion followed by African Dinner. (Donation for entry Rs. 100/- and Dinner Rs. 200/-)
Every Friday evening: Sadhna forest tour followed by screening of an Eco Film and Vegan dinner (free of cost) The bus leaves at 4 pm from Solar kitchen.
Visit the matrimandir : This was by far the best meditative experience I've had in my life. To go inside the Matrimandir, you have to register at the Visitor's centre booking office. You will usually get an appointment for the next day or day after.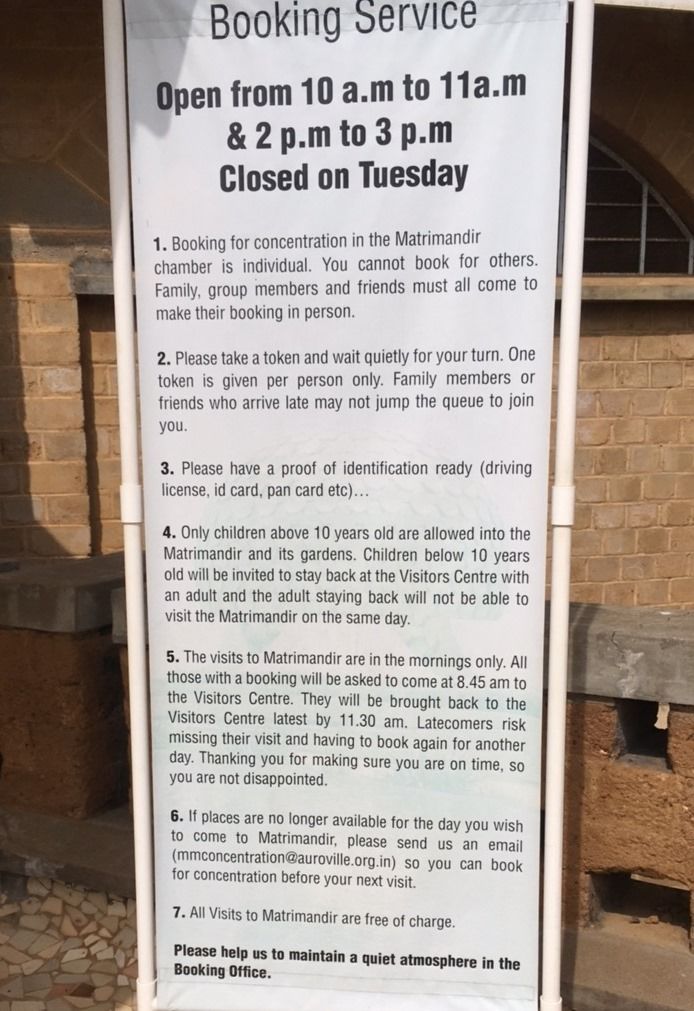 My favourite food spots:
- Visitor's Centre cafe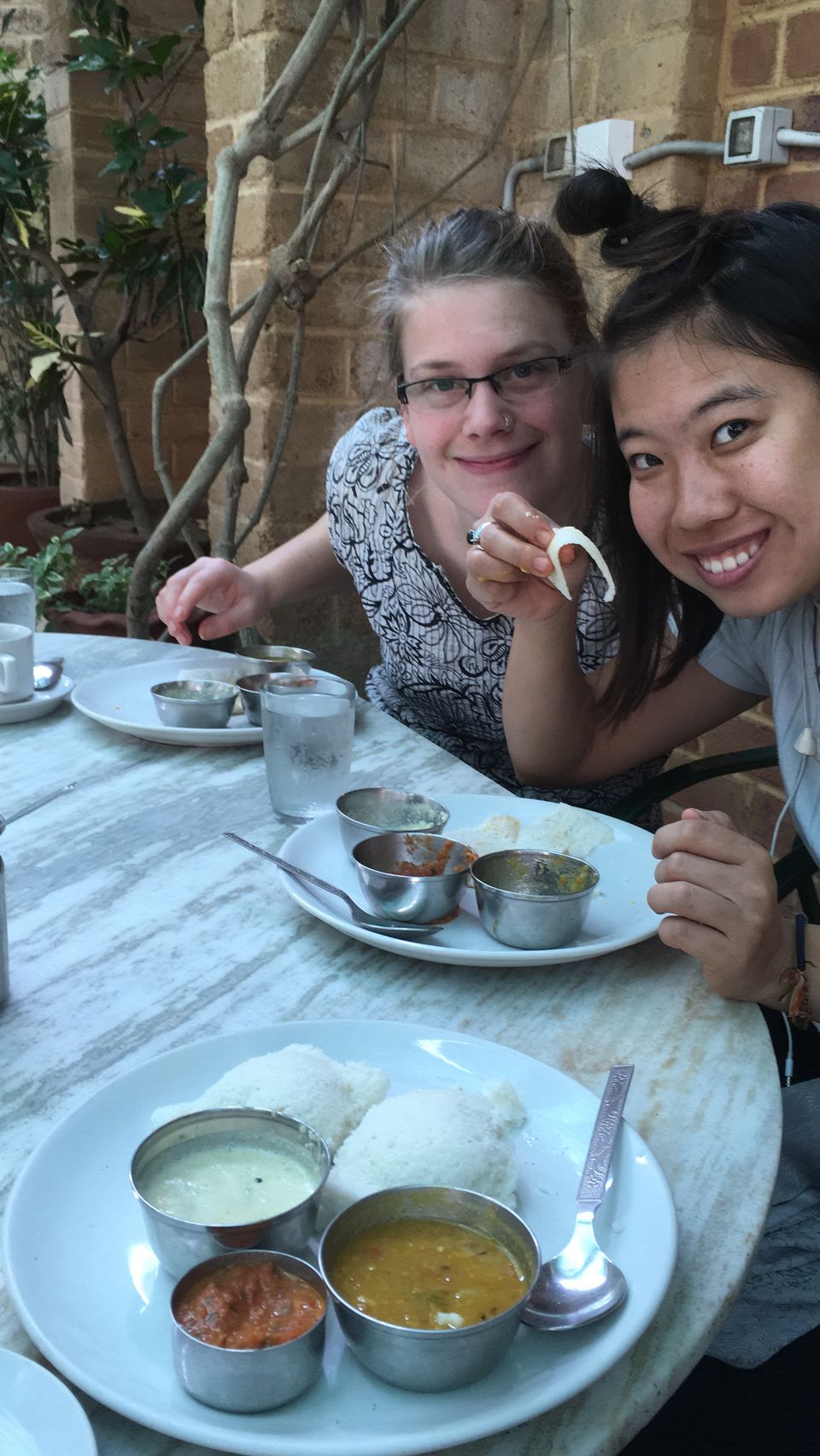 - Solar Kitchen (For the most amazing organic lunch) You need an aurocard here.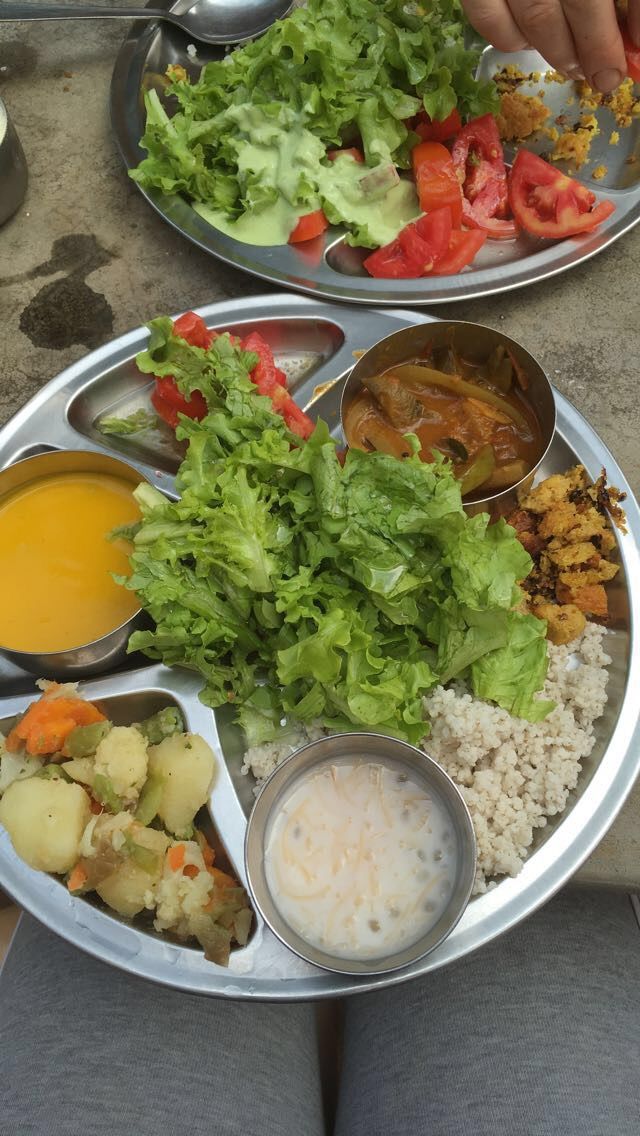 - Bro's Plan B (For North Indian food)
- Auroville Bakery
- Marc's cafe (For chocolate croissants and coffee)
- Sustenance (Enjoy lunch on a banana leaf)
Other Volunteering opportunities in Auroville:
You can volunteer at many places here , I'll just list a few of them. All of them have their websites or FB pages through which one can contact them and register.
And in case you're visiting Auroville only for few days, you can still volunteer at any place even for one day only to experience the culture :)
- Buddha garden - Organic farm, Rs. 250/- per day (includes breakfast), minimum stay 2 weeks. http://buddhagarden.org
- Solitude farm - Organic farm , permaculture farming
- Sadhana forest - Reforestation projects, Rs. 500/- per day (includes breakfast and lunch), minimum stay 2 nights for Indian residents and one month for Foreign residents.
- Sacred grooves - Ecological housing project, Rs. 300/- per day, minimum stay 1 month (a lot of Indian architects were doing their internship here) And it is possible to volunteer here even if you have no such background but wish to learn and experience ecological construction of houses.
Check https://www.auroville.org/
I still feel that 3 weeks were not enough and I will definitely go back to this place soon!! Hope you like it too:)
Happy traveling!