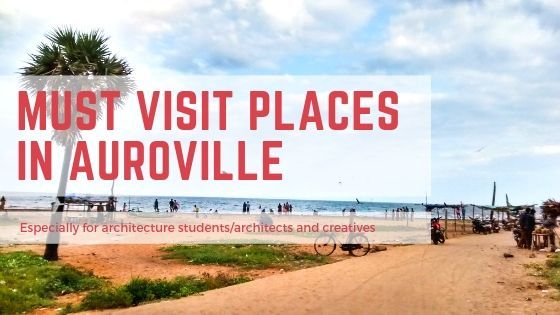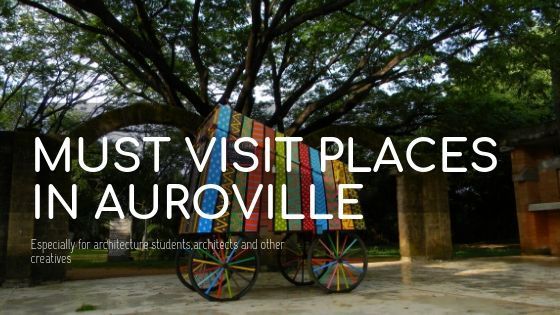 So if you're any of the above creatives, you'd know what Auroville is and what the concept behind this unique place is.
Now, before writing this blog, I researched on the internet for Auroville itineraries, but couldn't find one focused on Auroville or dedicated to the places of interest for the creatives. So I decided to write one, purely for the creatives like me. If you're like me, you would get excited and jump off in glee seeing the interesting, quirky, not the run-off-the-mill kind of piece of work: be it art,architecture, fashion or any sort of design!
I visited Auroville in 2015 for a workshop at Earth Institute, Auroville for a period of one week. My workshop took most of my time during the day, so I could explore the place only in the evenings and the weekend. But I had researched and had MANY places that I had planned on going, of which I could fulfill only a few. So here I am, sharing my list of MUST VISIT PLACES FOR CREATIVES in Auroville and around Pondicherry (Puducherry).
You can reach Auroville by a bus/cab/auto from Pondicherry. Pondicherry has a railway station and an airport, but the connectivity is very poor so you can check and book accordingly. What most people is take a flight to Chennai because it has a very good connectivity with other cities. From Chennai you take a bus from CMBT( Chennai Mofussil Bus Terminus). Make sure to take the ECR (East Coast Road) route bus to Pondicherry, it has amazing views. The buses ply at a good frequency, so you can hail a bus easily. There are lots of buses (govt. and private) plying at all times on this route but check the timetable once before booking your transport.
PLACES TO GO
1. For getting a feel of the place:
Auroville Visitor's Centre : The visitor centre is an expansive, flowing building housing boutiques, cafes and amphitheatres. You can get all your information from here.
Matrimandir: Matrimandir literally translates to "Temple of the Mother". It stands as the symbol of the 'Universal Mother' , according to the teachings of Shri Aurobindo. The concept of 'Mother' stands for evolutionary, conscious and intelligent principle of life. The concept behind the monument was to portray a dawn of new consciousness, hence a part of the sphere is below the ground.
You can visit the places inside Auroville with more ease if you're staying at Auroville. I'm not sure what their visitor's policy is, since I was staying at Auroville for a week and attending a course there, I could go around places easily. Always ask permission/ check any instructions before entering any of these properties that aren't public.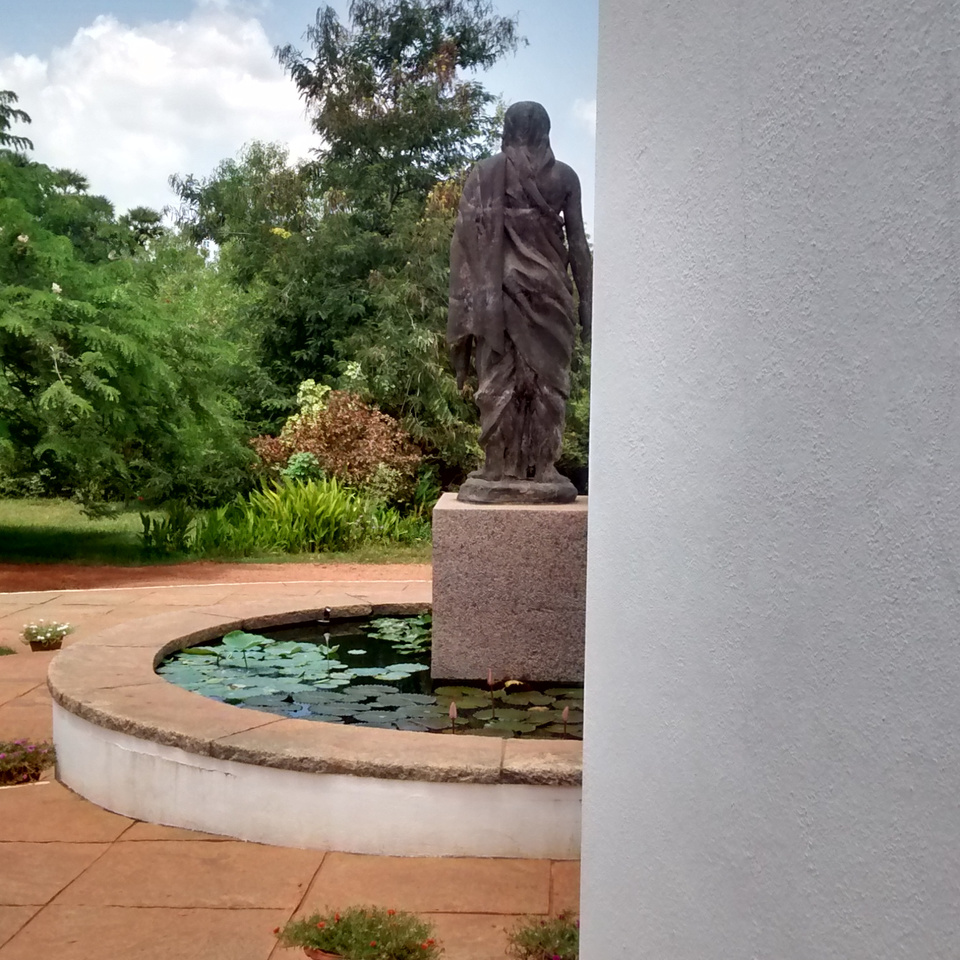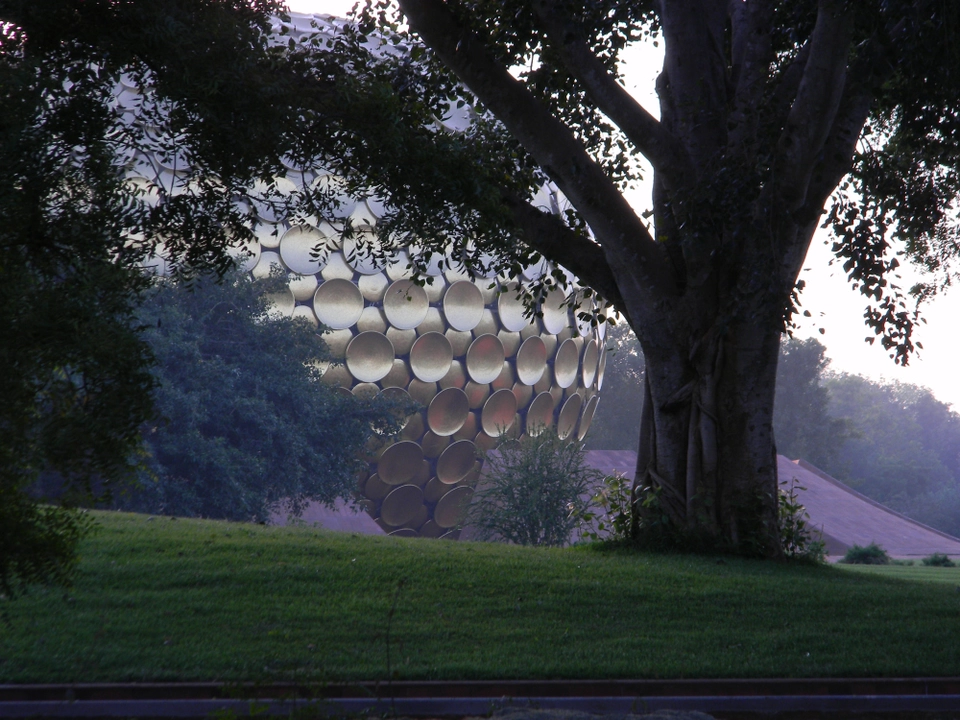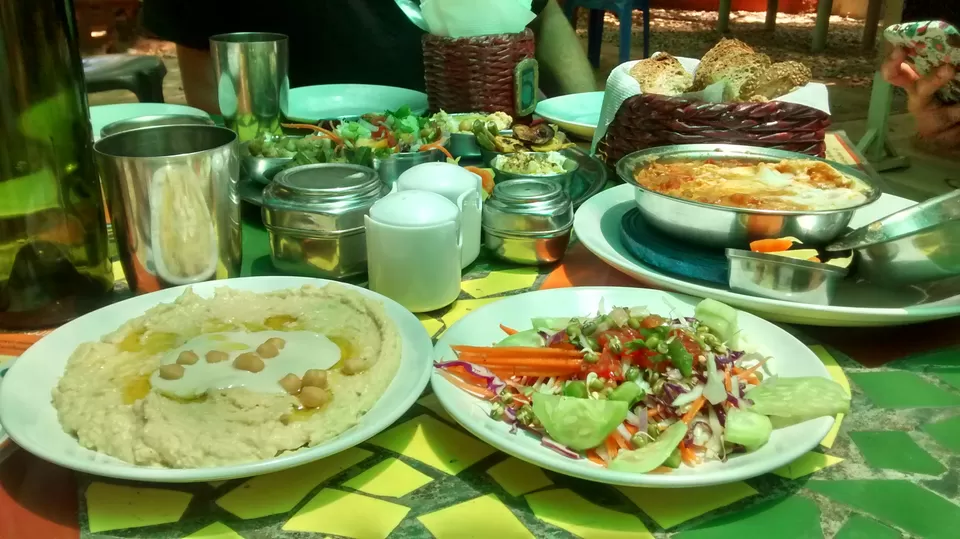 2. To check out what the locals are doing: Workshops/Activities like meditation/yoga/Salsa/Movie Screenings
Auroville Town Hall: So once or twice a week, they screen interesting,off-beat, thought provoking films/documentaries. When I was at Auroville, we saw a documentary on "Earth after Humans" and it was so very fascinating. You can check about the activities happening at the Visitor's centre.
Savitri Bhavan : It is such a tranquil place to begin your day with. Clear white walls, with the wooden doors and louvre windows are so welcoming. They conduct yoga/meditation classes; but as far as I know, they're for a longer period of time. Information can be found at Savitri Bhavan itself or at the Visitor's centre.
Unity Pavillion: Loosely put, it's a convention centre where people from all the pavillions and entire of Auroville can come and enjoy the activities being conducted.
Saadhna Forest : Sadhana Forest is forest community based on volunteers coming to work there around the year from India and all over the world. Volunteers are provided with free accommodation in huts built from local, natural materials. Energy is provided by a solar system; other sustainable practices implemented in the community are vegan organic nutrition, recycling and waste minimization, biodegradable toiletries, composting toilets, a grey water system, and, very importantly, positive and supportive emotional attitudes. To know more about their work, you can check this site: https://www.auroville.org/contents/2894
Auroville Youth Centre : It's an open-air meeting place for informal events like local artists performing, a party or just gathering around.
Mandala Pottery, Dana : They have such a cool pottery and ceramics collection. If you're interested in pottery, you should definitely check their studio.
Skate Park, Concrete Jungle, Mattur : If you're into skateboarding, this is your place! Earth Institute : They offer courses on earth construction; both practical and theoretical. The courses are of one to two week. Check out about the work they do here.
Mantra Pottery : Another gorgeous pottery studio, check beforehand if and when they allow visitors.
Colours of Nature : It's a cloth-dyeing workshop and if you're lucky you can check out their process. They've adopted 100% natural indigo dyeing process.
Eco-femme : It is a women empowerment initiative and they make eco-sensitive, environment friendly menstrual hygiene products.
Svaram : They make and sell musical instruments like flutes and such and they have a very nice campus which is worth visiting if you're a music lover.
Auroville Bamboo Centre : If you're an architect, this will interest you. At the Bamboo Centre, they work on sustainable construction techniques using Bamboo as a primary material.
Kala Kendra : This large space houses an exhibition space, Gallery Square Circle and studios for resident artists, where visiting artists can work and stay. There are spaces for art workshops for Auroville and visiting artists, which hopes to become the hub of activities to foster art and culture and a space where all artists can meet, interact and work together.
Bharat Niwas : Just for that cantilevered extrusion, it's worth a visit. After all, you gotta do it for the gram! Bharat Niwas is the centre for all the cultural activities held at Auroville by the community.
Sacred Groves : There is a dearth of affordable housing in Auroville, deterring new people to join the community. Sacred Groves is an ecological community living project that uses sustainable construction methods. Architectural interns get a very good hands-on experience working with them. To learn more about them click here.
Pitanga Cultural Centre : Again, this one is a centre for physical and cultural cultivation of the youth. Not sure if visitors are allowed in except for an event, but it's still worth it for the architecture. More information here.
Libraries : For the bookworms, or the curious ones, Auroville has many libraries.
3. Best Food Haunts
Auroville Bakery and Boulangerie : Some of the best breads you'll ever find. GP Cafe : This one is near the Earth Institute and they have a unique beverage known as "susprella".
Naturellement : Breakfasts are their thing. Garden Cafe :They serve goood Italian. Ganesh Bakery : It is local's favourite joints for food. They have good and cheap food with a variety of organic bakery items. Dreamers Cafe : It is by the Visitor's centre and serves snacks. Their coffee and fruit juices/milkshakes were awesome. Solitude farm : Haven't been here, but they have a farm to table concept. Super healthy! They serve Vegan, sugar-free, gluten-free food. Tanto's : You have to try their pizzas, I haven't had such good thin crust pizzas anywhere. Their seafood platter was quite amazing as well. Well's Cafe : They serve Mediterranean and local cuisine. I've had the best shakshouka and Tahini here. The hummus was delish as well!
4.Best places to stay in Auroville
Sve-Dame homestay :Located near Earth Institute.
Auromode Apartments : Only 0.5km from Matrimandir.
Verite guest house : Another comfortable and amazing option nearby Matrimandir.
Afsanah Guest House: It is a very well designed guest house. For the architecture lovers, it's your place.
Atithi Griha Guest house : This one is near Matrimandir as well and has beautiful campus.
5. Things to do around Auroville
Auro Beach: It's a nice serene beach near Auroville.
MG Road, Pondicherry : Walk through Sunday market and find books, antiques, etc. Promenade,Pondicherry: Gingee Fort Pondicherry Light House : You can climb up the lighthouse and enjoy the views of the beach. The entry fees are quite low.
Arikamedu : Arikamedu means 'eroding mount' in Tamil. It's an ancient Roman trade centre which used to be occupied by the French, Romans and the Cholas.
Port of Pondicherry: Perfect for your instagram, the port of Pondicherry has a rich history. Enjoy the sunset and a serene walk by here.
Golconde : Especially for architecture students/architects and creatives, it's a beautiful building in the Aurobindo Ashram campus.