Almost 80 percent of Australia's rich and fascinating wildlife cannot be found anywhere else in the world, making it every nature lover's dream. With dazzling white beaches, marshes, lush rainforests, towering cliffs, vast deserts and snow-capped mountains, the island continent boasts an equally diverse array of birds, mammals, reptiles and more to keep you captivated. Step into Australia's zoos, wildlife parks and sanctuaries to admire the wildlife present here and leave with a deeper understanding of the need to protect this precious biodiversity.
Koalas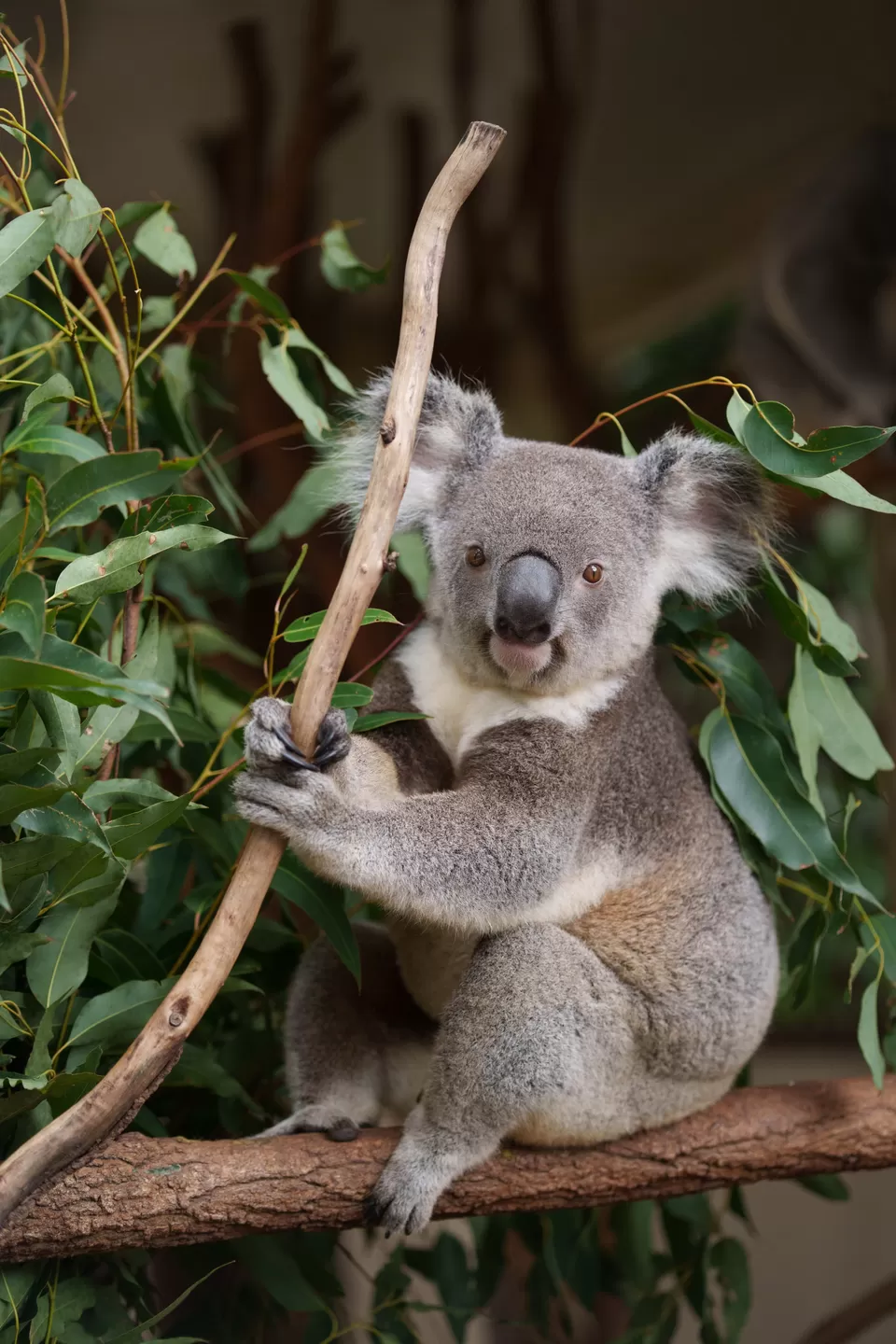 Known for their laid-back persona, koalas are typically spotted alone or with a joey (a young koala), clinging to eucalyptus trees. They're picky eaters and favour eucalyptus trees for their water content. Finding them in the wild may require planning or luck, but they are easy to spot in almost every zoo.
Another place to find them would be on Kangaroo Island. Located 13 km off the coast of the glittering and cosmopolitan Adelaide, the island is so pristine that it feels like one has stepped a million years back in time. Take a ferry from Cape Jervis or a short flight from Adelaide Airport to Kangaroo Island. Known as 'nature's playground', you can spot koalas, sea lions, bird species and of course, kangaroos in the wild. Better still, take the Great Ocean Road trip from Melbourne and make a stop at Kennett River and Cape Otway to admire koala colonies and their way of life. Visit Tidbinbilla national park in Canberra to catch a glimpse of a variety of Australian animals in their natural habitats.
Kangaroos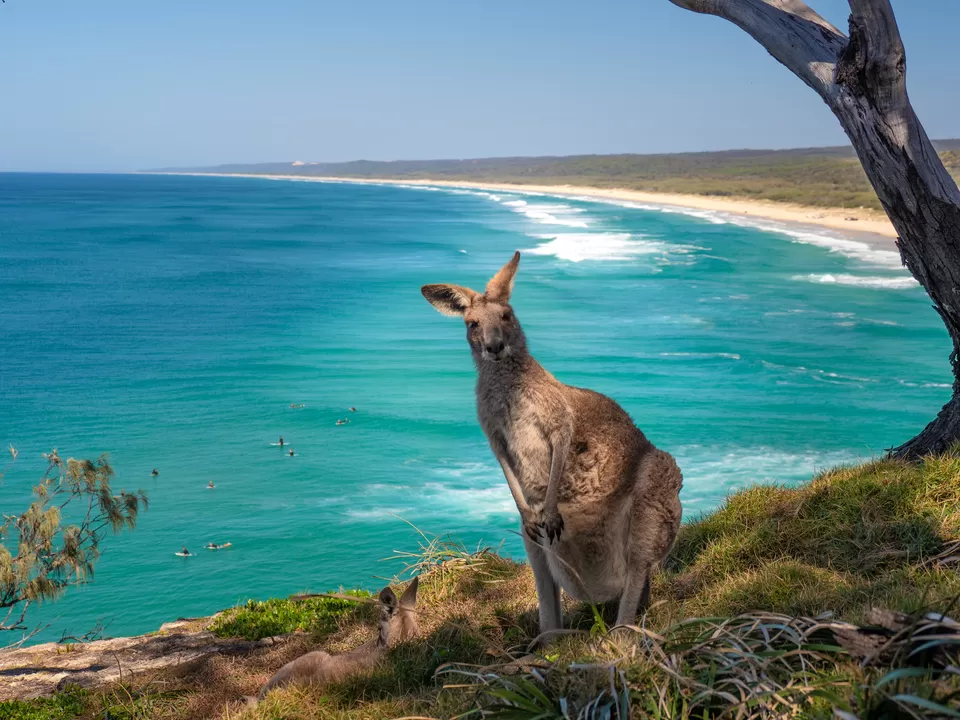 Did you know that kangaroos in Australia outnumber their human residents by almost double? There are 50 million kangaroos in Australia, fondly called 'roos' by the locals. These herbivorous marsupials are social in nature and are known for their hopping gait. They rest during the day and graze at dawn and dusk, making these times the best for spotting them.
Kangaroos are found on land and are often drawn to beaches such as Lucky Bay in Western Australia, Pebbly Beach south of Sydney, and the beach near Diamond Head Campground in Crowdy Bay National Park, owing to their fine sand and inviting waters.
You'll spot them hopping around in the wine regions as well, particularly in Margaret River, Western Australia. Hunter Valley in New South Wales offers wine tours with kangaroo sightings. Barossa Valley in South Australia and Canberra's vineyards will have you heading there for its natural beauty and kangaroo spotting, but stay back for some exceptional vino experiences.
Quokkas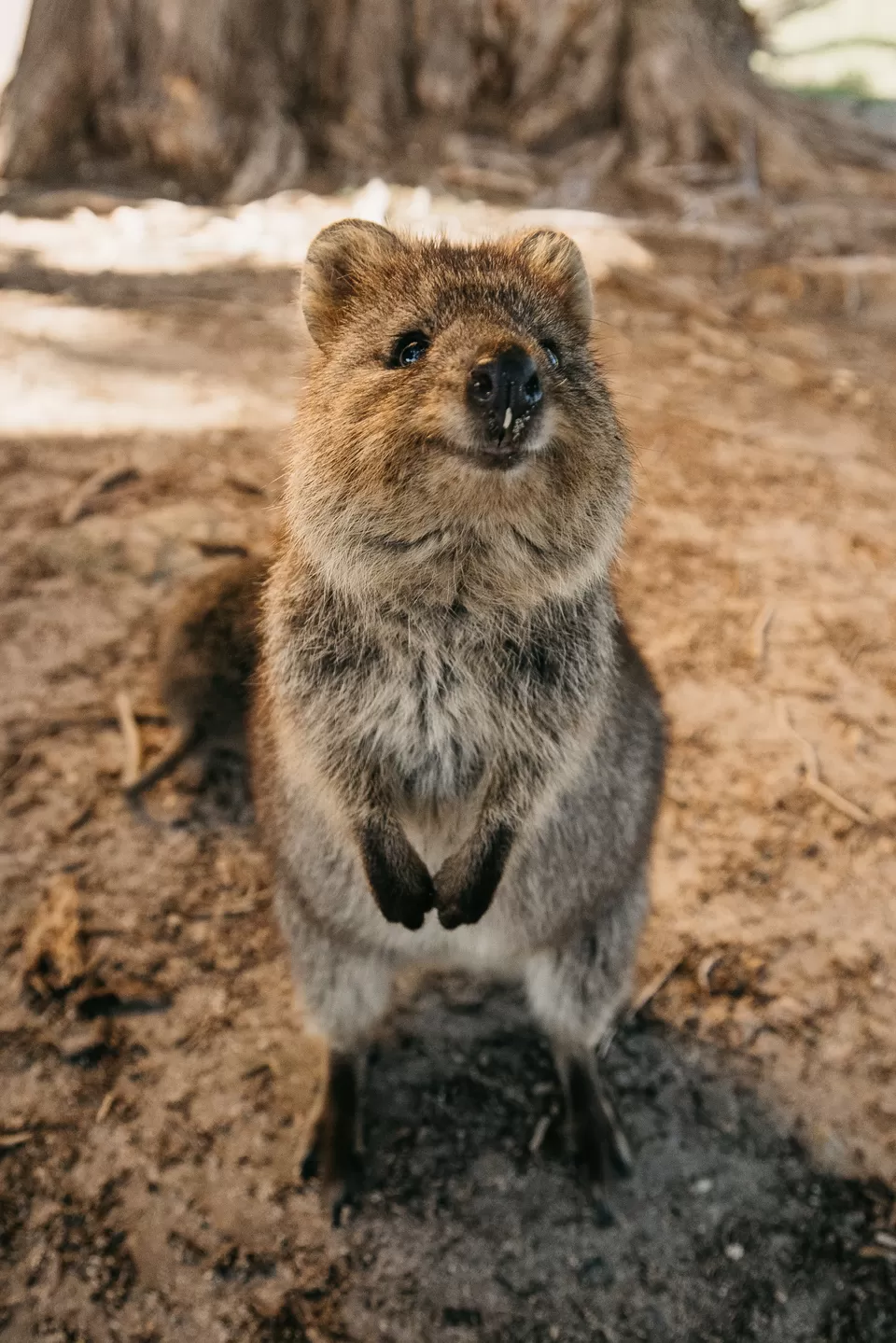 Monikered the 'happiest animal on Earth' for their photogenic smiles, quokkas are arguably the country's most adorable furry inhabitants. These friendly marsupials are found on Rottnest Island located a 25-minute ferry ride from Fremantle, near Perth. The best time for a sighting is mid to late afternoon.
Tasmanian Devil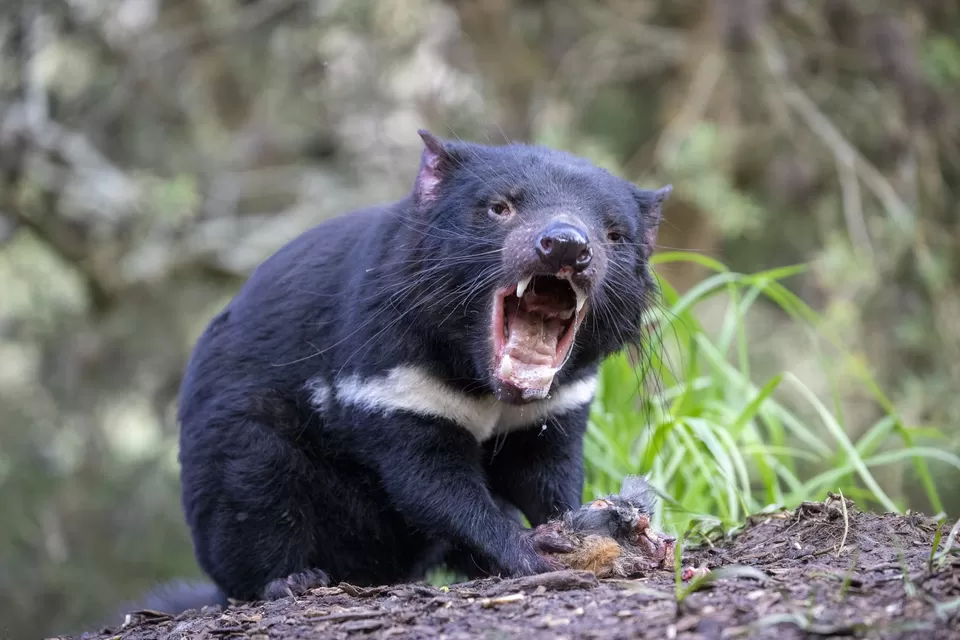 To see the Tasmanian devil, visit Tasmania, its namesake island, albeit they're commonly sighted in zoos throughout the country. For an interactive experience with these critters—named after their unearthly screams— visit the Tasmanian Devil Unzoo, known as a zoo without cages. One of the best ways to come close to them is the Devil Den, wherein you crawl through an underground tube and pop your head into a bubble that acts as a barrier between you and the ferocious little marsupial.
Penguins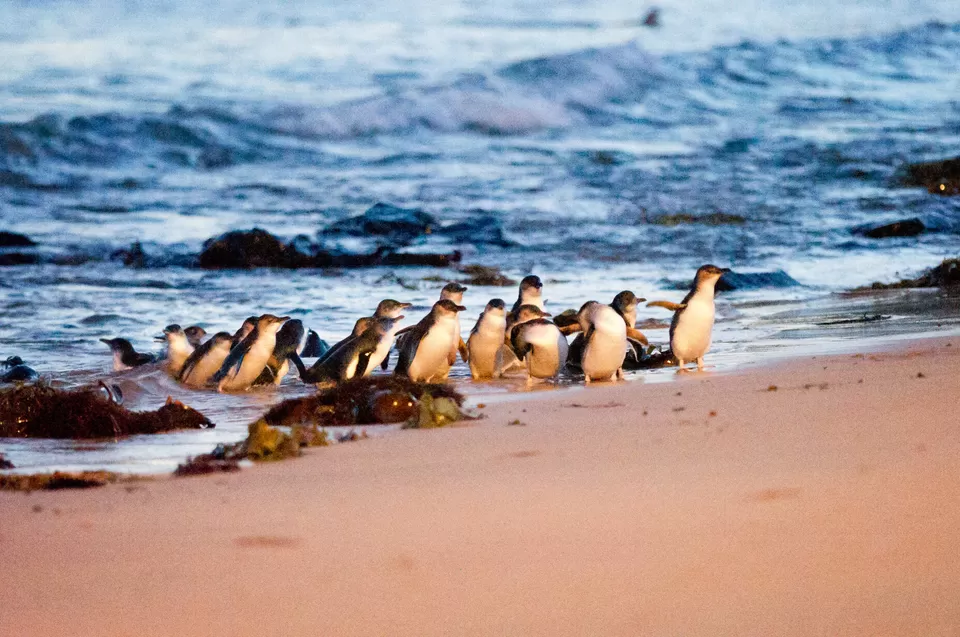 Phillip Island, located south of Melbourne, is home to over 32,000 native penguins. It's also the venue of a spectacular Penguin Parade wherein the island's aquatic residents swim ashore after a day of fishing and waddle back to their burrows at sunset. Summerland Beach allows 180-degree viewing of the parade on their tiered seating. So, settle in to view these fascinating creatures. For an up-close viewing and ranger commentary, opt for VIP and guided tours.
Wombats
A stubby tail and short legs lend these Australian natives their distinctly adorable characteristics. Unlike other marsupials, wombats have their pouches facing backwards, protecting joeys (young offspring) from being sprayed with dirt, while their mother digs in the ground. The best time to spot these herbivores is at night when they are busy digging tunnels and searching for food. Their days are spent resting in their burrows, but they may occasionally emerge to bask in the sun.
While they are commonly found in zoos across the country, your best bet is Tasmania, particularly Bonorong Wildlife Sanctuary, which is a 30-minute drive from Hobart Airport, and Maria Island, east of Hobart. Partake in the renowned Maria Island Walk and spot baby wombats along the way.
Whales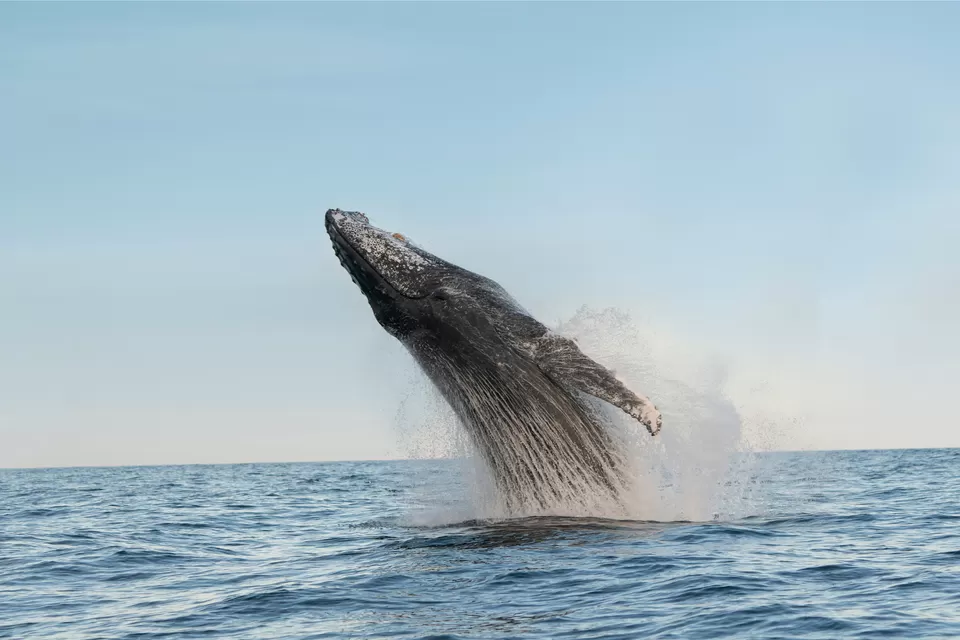 Twice a year, whales migrate to and from Antarctica to feed on fish, krill, and plankton. If you're lucky enough to visit in late June or early July, you'll be treated to the sight of humpbacks heading north from the Bondi to Coogee coastal track in Sydney. Come early September, mothers and calves turn back south from The Gap at South Head in Watsons Bay.
For an exceptional viewing experience, reserve a cruise with Whale Watching Sydney, Oz Whale Watching, Ocean Extreme or Manly Ocean Adventures, who will transport you on their small, speedy boats to viewing locations where whales leap out of the water in full glory.
Hervey Bay, north of Brisbane, is a prime spot for humpback mating, breeding, and nursing. Lady Bay and Logans Beach in Warrnambool become a nesting grounds for whales from May to September. Settle down on the sand to witness precious mother-and-calf interactions.
Though this was just a glimpse of Australia's unique wildlife, there's plenty more to discover and marvel over. So, head to Australia and say G'Day!
In association with Tourism Australia.