While the impact of the recent bushfires has been devastating, Australia continues to be a safe tourist destination and majority of the country remains untouched by the recent bushfires.
Both affected and non-affected areas and communities continue to welcome visitors with resilient smiles. Your presence, a smile, a few kind words and a lending hand will go a long way in helping these communities back on their feet.
As Tourism Australia adds,

"Australia is filled with hidden gems – make sure you stop and check them out! Whether it's a local artisan, a café between towns or a historic pub, by spending locally you're supporting the recovery of those affected and indirectly affected by the bushfires"
Here's what you can do to help Australia heal:
1. Reschedule, don't cancel
If you've booked your tickets for a trip to Australia, you can reschedule your plans rather than cancelling. If your itinerary includes bushfire-affected areas, tweak your itinerary to include alternate destinations. There are plenty of attractions that are safe and untouched by the bushfires that you can explore.
Visits to affected areas will give you opportunities to aid the locals directly. Be a mate and spend time talking to locals, share a laugh or a drink with them and help them retain their natural optimism.
Your trip will keep the country's tourism industry steady and go a long way in the recovery work. You can keep a track of bushfire developments here to better plan your travel itinerary.
2. Now is the time to plan a trip to Australia
Trips to Australia within the next 6 to 12 months will boost the recovery process. People who depend on hosting you and enabling experiences for you need these visits, now more than ever.
A social initiative called @EmptyEsky is urging people to go out to afflicted areas, tip their hat to locals, eat a meal with them, stop at a charming cafe and stay a night at their homes and resorts. They'll be grateful for your efforts. Stock up on stories and souvenirs for loved ones back home and leave with more friends than you arrived with.
3. Spend at local businesses
Local businesses and communities are still up and running even as they rebuild affected areas. Drive up to these areas and buy their wares and produce. Purchase that bottle of jam you always pick up at that pit stop, buy some trinkets from that friendly lady at the corner shop and fuel up at their shops.
These actions will help boost the local economy and enable communities to unite in healing as well as sustain their livelihood.
The 'buy from the bush' movement provides an online platform for buying merchandise online from rural communities. If you're looking to pitch in, you can start here. Pick up some yummy vanilla-iced biscuits from Sprinkle & Bake in Inverell, buy some bottles of jam and pickles from The Dill Tickle in Mendooran or spend a night savouring drinks at The Armatree Hotel.
4. Help wildlife as you travel
Australia's wildlife is one of the major victims caught in the bushfires. Organisations are hard at work healing injured animals, and rescuing and rehabilitating them to new homes. You can chip in by simply visiting the country's wildlife sanctuaries and parks. Volunteer to foster or care for animals or donate to assist in boosting the conservation of invaluable species.
Choose from an array of wildlife experiences and connect with the cutest of Australia's animals. You're guaranteed to have fun and will help those in need in the process.
Drop by Taronga Zoo in Sydney, which is working to treat animals affected by the fire. Watch cute koalas munching on eucalyptus leaves or wave at tree kangaroos hanging out on branches above.
Wildlife conservation organisations like Zoos South Australia and Zoos Victoria are involved closely with bushfire recovery efforts as well. Learn about how you can sign up for conservation work or simply visit their zoos to befriend a smiling quokka or marvel at the Tasmanian devil.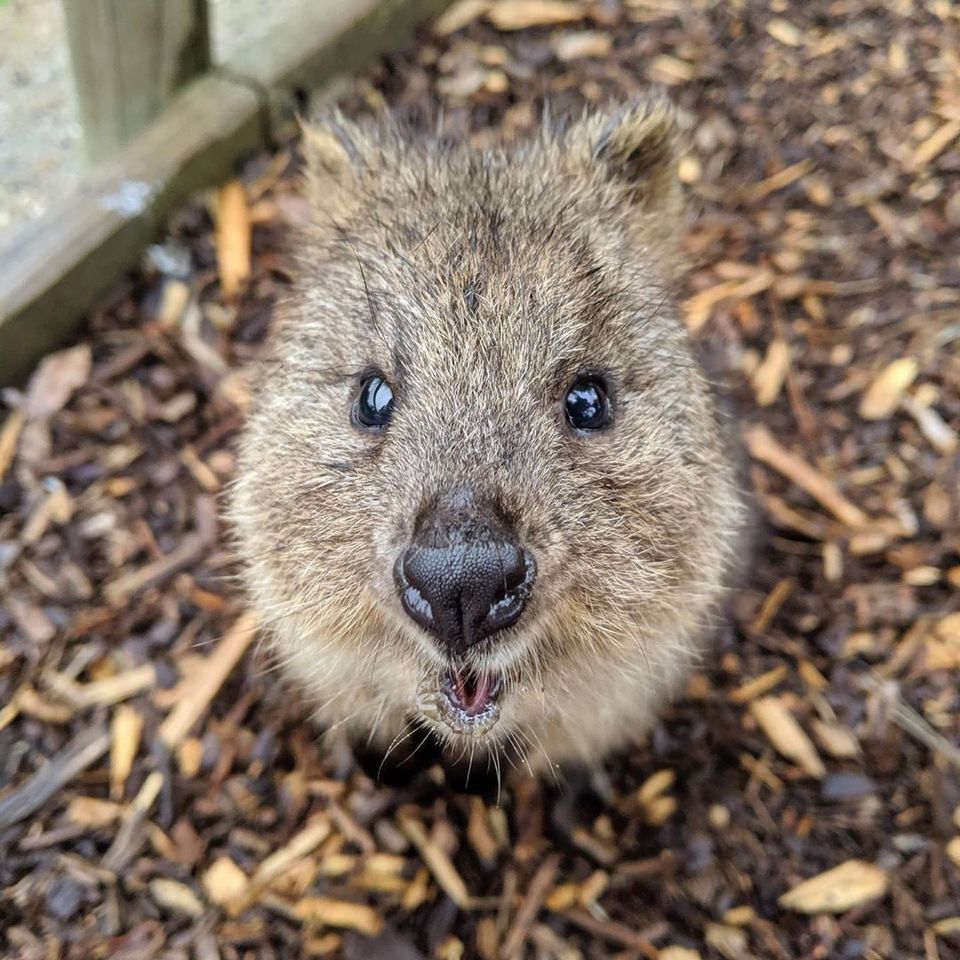 Head to Victoria or across the Great Ocean Road to play with cuddly koalas or watch rotund wombats dig up roots with their twitchy noses.
5. Share love and positivity online to inspire
We cannot begin to estimate the power of a few kind words. Love and positivity motivate, inspire and help communities heal faster. Ignore misleading posts which affect the recovery of afflicted areas and as responsible travellers, ensure that you spread accurate information. By helping people acquire the right information and by encouraging, not criticising, we can show respect to the victims of the blaze and the volunteers and firefighters hard at work trying to help and protect Australia.
Share true stories that ooze warmth and love and post pictures from your visits to Australia to motivate someone else to do the same. A little love costs nothing and brings about miracles we can scarcely conceive.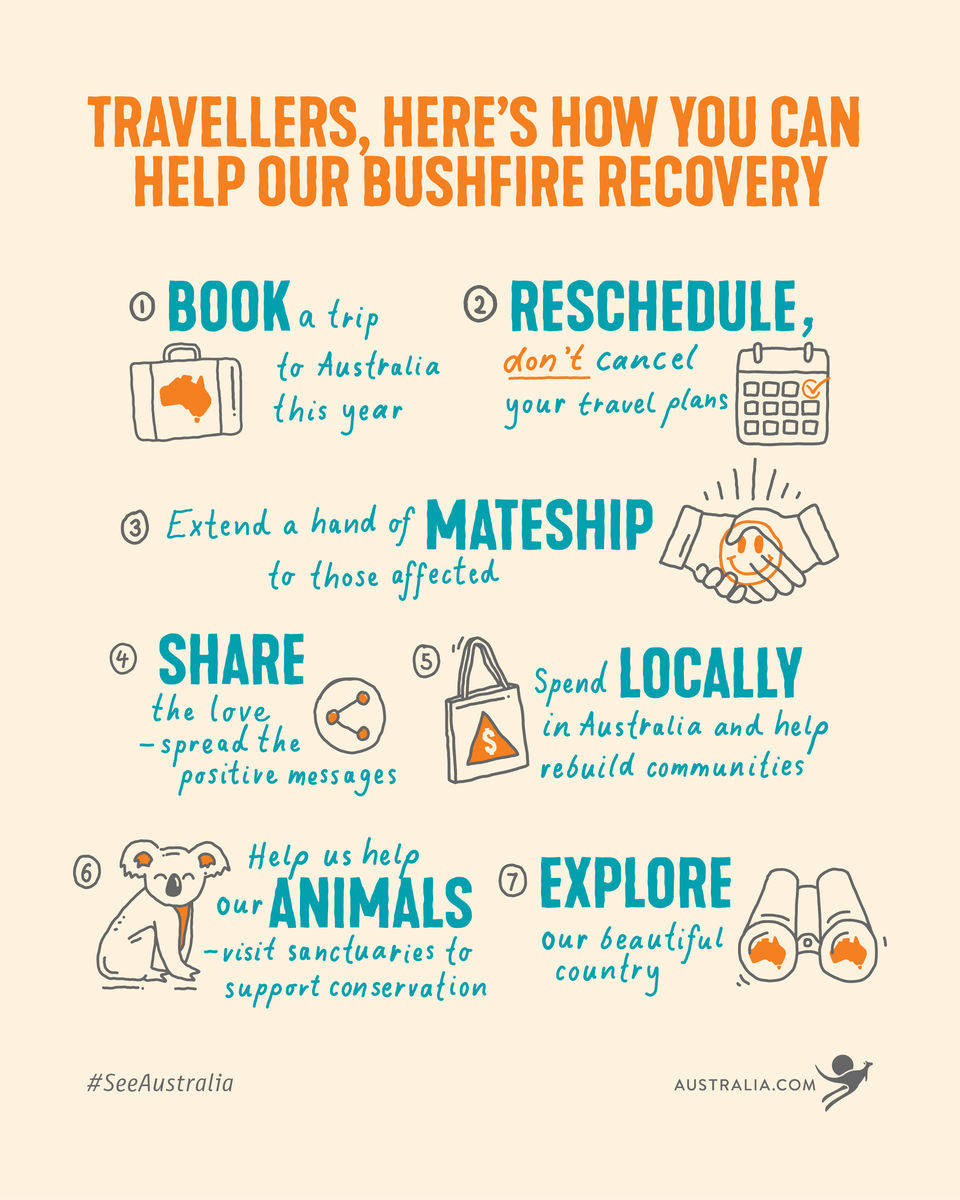 Let's do our bit to help Australia rebuild their home.
In association with Tourism Australia