I am waiting patiently for my turn at the immigration queue, at Delhi International Airport. Occasionally frowning at how Indians do not know the concept of personal space, especially in queues. Someone bumps their bag on me or themselves(ugh) every now and then. Finally, it is my turn. I step ahead, face flushing with professionalism, I hand over my boarding pass and passport. Immigration officer looks at me, then passport, then me and then passport again. He asks me "Where are you going?". I respond, "Iceland" in a neutral tone. He looks at me and says "What? Is it a country?". I am dying inside trying to control my laugh but I nod respectfully. He then asks me in Hindi, "Denmark ke visa se Iceland chale jaoge?" [With Denmark visa you can go to Iceland?], I politely educate him, yes Denmark embassy processes visas for Iceland. The interview is followed by some more questions like, "Are you going alone?", "Where do you work?", "How long are you going?". I answer these questions with resourcefulness, "Yes going alone", "Currently not working, taken a break to travel" and "Coming back in 15 days". To all these he raises his eyebrows beyond his forehead, smirking in Hindi- "Ghumne ke liye job choda"!!, (left her job to travel) and eventually stamps "departed" on my passport.
I am sure this wouldn't be the case in next few years. As more and more Indians, make big advances in the ways they travel and to the countries they are heading to, immigration officers, will eventually be educated of what countries are their on the world map, right? Having said that, shall we proceed and see how easy it is to get Iceland visa, yes for us Indians, as long as you take care of few essential things.
We will take a look at everything that you will need to get your Iceland visa processing smooth and tension free. In my previous Iceland travel posts, I highlighted why you should go to Iceland and what should you know before you go there. Once you have made up your mind, it is a matter of few months, to get everything sorted. For me actually it took merely 15 days, and then there was painful wait of one month before I could actually fly.
Now-now, I am not going to spoil you all my smart readers by spoon feeding everything, but I will add here important notes and tips to understand the visa processing. To travel to Iceland you will need Schengen visa of type Tourism. You will have to go through VFS Global, which is a government approved service provider for visa and passport issuance and operates in more than 100 countries.
You can easily look up on google the nearest VFS Global office and what embassies they provide visa processing for.
Iceland is one of the 26 European countries who have agreed to abolish all the passport and border control at their mutual borders. Meaning with a valid Schengen visa you can travel to Iceland. Iceland doesn't have its own embassy and hence you will have to apply for Iceland visa at Denmark Embassy. To understand the step by step visa processing of Schengen visa, please visit their Denmark visa processing page at VFS global website here.
Note: Please do thorough research if you plan to visit other Schengen countries, along with Iceland. There is a good website in my opinion, that will answer many of your queries on how to apply Schengen visa for Indians.
* I visited Iceland and France during my 15 days of Schengen travel. Hence Denmark embassy was the right choice for me.
I had many queries when I was working on my visa, but had to pour in hours of research. However, you do not need to worry, I will elaborate this posts in a question-answer pattern.
1. Is it absolutely necessary to go through agent to get your Schengen visa?
Nope. Not at all. I wanted to travel to Iceland somewhere around end of March 2019. I reached out to one of the famous tour agency - Thomas cook. I explained them that I want to travel to Iceland and may be club one more European country like France. I explained, I am currently unemployed, because I left my job to travel for sometime. I told them, I am unmarried but I do have some savings to show, which I was able to earn as I worked for few years in the US. After listening to my story, they told me it is extremely difficult to get Schengen visa for an unemployed, unmarried female. Logically, I was shocked and sad by this. They told me that lot of Indian females travel to Europe on such terms, get married to European man and it is an easy way to get European citizenship. This was heartbreaking as my only intension was to sincerely travel.
I decided I will take matters in my hands, and in 4 working days, I had my visa stamped on my passport.
With little patience, it is quite easy to do it on your own, trust me. However, if you are employed, traveling with family and do not have much time to go through hassle, Thomas Cook, SOTC, Cox and Kings are good agencies to start with.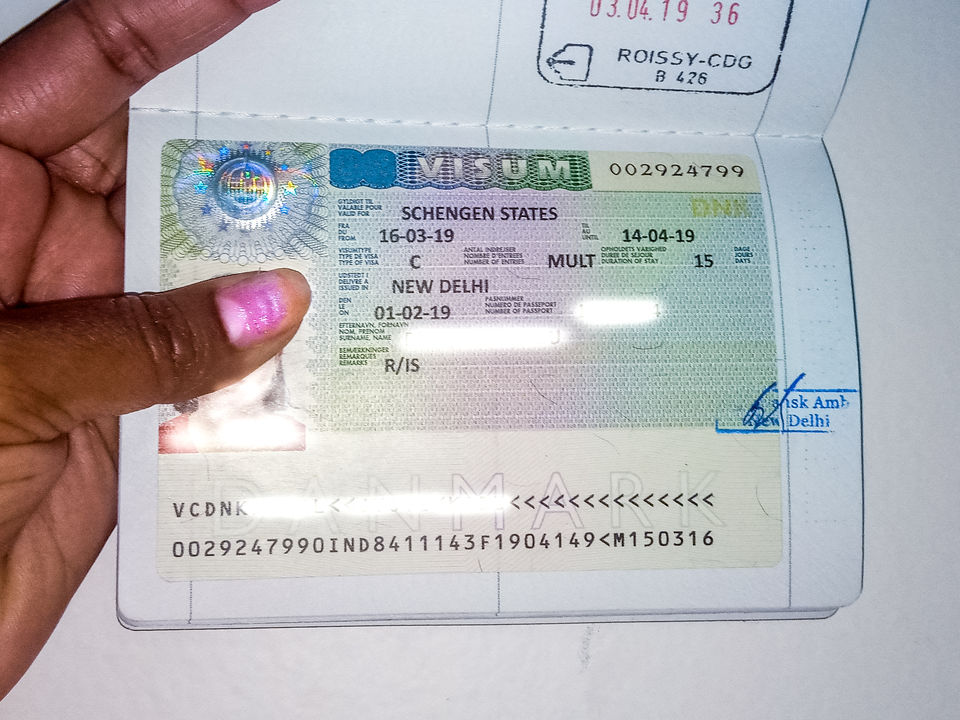 2. How to prepare the documentation, what all are the pre-requisites?
You might have already heard that financial proof and strong ties to come back to home country are one of the two main documents that will decide your Schengen stamp. It is true. Whoever asks me about Schengen travel, I tell them one thing. Start saving now, if you don't have enough bank balance, you will be in jeopardy.
Financial proof:
For each Schengen country, the amount of means of subsistence is defined and details are available on the above mentioned website. For Iceland you should have liquid money of around 2300 INR per person per day, in the form of cash in savings account, hard cash or travelers prepaid card. Along with this you should also have 12000 INR per person while entering the territory.
Note: Kindly understand that these are baseline figures. You should have lot more money than this, in your bank. I was told about 1.5 lakh per person, minimum should be shown while submitting your bank balances.
Ties to return to home country:
I will be honest about this. On embassy website it does not say anything about this specifically however you are asked for employment contract, a leave letter from HR or registration of the company if you have your own business. I had neither of this and hence I didn't know what I could do.
I tackled this situation by crafting a genuine cover letter which explained that I have left my job and I am on career break because I love to travel and it is my dream to spread the knowledge about beautiful and culturally rich countries like Iceland. I mentioned where all I have been to so far and also made sure I pointed out how I have all this money to travel.
I had attached my relieving letter, previous salary slips and IT returns for past 3 years.
However, in your case, if you are employed it is straight-forward, but if you are unemployed, you could attach all the above mentioned documents and some more documents, if you have, like a property that you own, joint ownership with parents or a business ownership.
Every individual case can be different, hence if you have more doubts, please leave a comment and I will be happy to answer your queries in my capacity.
3. Do we have to provide confirmed flight tickets?
Absolutely not. I asked the same question directly to embassy. I was told in clear words that only reservation of the flight itinerary needs to be attached.
This itinerary can be obtained by any of the travel agents over email, most of them do not charge any fees for this. Just casually enquire them to send you itinerary and quote for the travel you want to undertake(wink).
However, remember that visa officer will approve only those many days(+/- few days) that you will apply for. I applied for 13 days and I was given visa validity of 15 days only. Schengen is one heck of a tricky visa.
If you want to cover few other countries after Iceland accordingly add those flight routes and itineraries in your documentation. I had a flight from Reykjavik to Paris, hence I had attached that itinerary as well.
4. What about travel insurance ?
Travel insurance is mandatory for travel to European countries. Minimum coverage of €30000 is needed to enter Schengen region.
ICICI Lombard is a good and hassle free insurer that I use for most of my international travels. The policy can be purchased online easily.
Note: You will have to buy the policy upfront even if your visa is not yet done and trip is not final. Worry not, if your visa is denied, you will get full refund of your unused policy. Also if your actual travel dates change you can easily amend your policy online.
5. How to write a cover letter for Schengen visa?
Cover letter is one of the important documents for Schengen application. I am attaching the sample of my cover letter here. In my opinion it should be honest, comprehensive and crisp. Your cover letter should explain your background in short, motive to travel, outline of your itinerary(brief day-wise itinerary), reason to return to your home country.
You can explain family ties, your job/business, as the legitimate reasons to come back.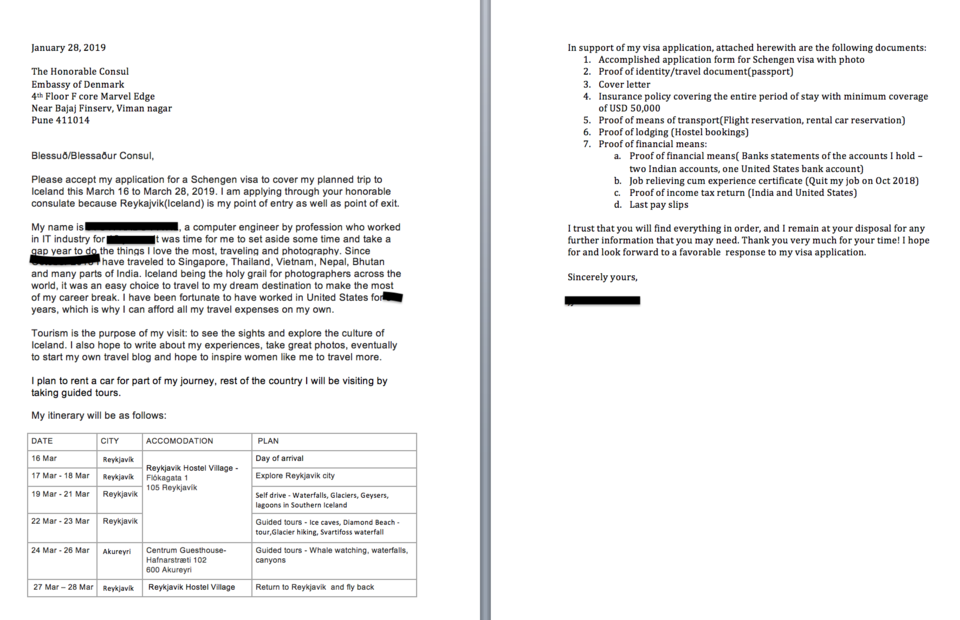 6. What about accommodation details?
You should have booking for all the days you are going to stay in Schengen region. You can do free-cancellation bookings from www.Bookings.com. Take print out of Day 1 of accommodation and keep rest of the bookings handy in case you are asked for at the port of entry.
7. Do I have to go for face to face interview?
Yes and No. When I submitted my document at VFS Global office in Pune. I appeared for biometrics. This is basic, you don't have to worry about anything. However, after document submission I was told, in case the Visa officer is not convinced by your documents, you could get a call on your registered mobile or you might be asked to appear for interview in person at Delhi Embassy.
In my case, I got a call next working day from Delhi Embassy at 9.00AM. This was a telephonic interview. I was asked a series of questions related to my travel. Questions like these:
What is your background? Why are you going to Iceland? Who are you going with? Where will you stay? What all places in Iceland will you visit?
I had no difficulty in answering any of these questions. The interview was over in less than 10 mins and on the second day after interview, I received my passport stamped with Schengen visa.
Bottom line, make sure your documents are perfect!
8. What if I change my plan and along with Iceland I want to go to more countries in the same trip?
Schengen visa allows you unrestricted movement within Schengen region. Keep your initial itinerary simple, during visa application. Once you have the visa, if you wish to add more countries but within the validity of approved days, you can definitely visit other countries. Just make sure that the number of days don't exceed than your approved travel days.
Initially my itinerary had more of Iceland days than I actually traveled. Later I changed my number of Iceland and Paris days based on my actual flight reservations.
Moving on to some more critical things to remember.
My port of entry was Helsinki Airport in Finland. At Helsinki I was asked quite a few questions and some of it felt embarrassing. It hurts to belong to a third world country. Solo female travelers are still rare and the ones who dare are questioned at times. The officer asked me to show all the documents, as if the visa on my passport didn't mean anything.
I was asked to show bookings for ALL the days of my travel. Return tickets and internal travel tickets from Iceland to Paris. Hotel bookings in Paris. I was asked to show my Prepaid Travel card, he took it and asked his colleague something about it, that I couldn't figure. He asked me to show him all the cash I had. I had €500 in cash, about 1700 USD in the travel card and some more in Indian currency. Yes, I was asked to put it out all on the counter. Not only this, the officer for some reason got mad that my old and new passport were stapled together(it was done by Indian embassy at San Francisco when my old passport got expired). Asked me to separate them, am telling you it was quite embarrassing especially everyone including me has a connecting flight in 30 mins. So make sure you absolutely do your homework, trust me it just sounds big deal but it is not.
Note: Above mentioned details are purely for informational purposes, mentioned in good faith. Please cross check the details on official website, always. You should always refer embassy websites for up-to date information on visas and foreign policies.