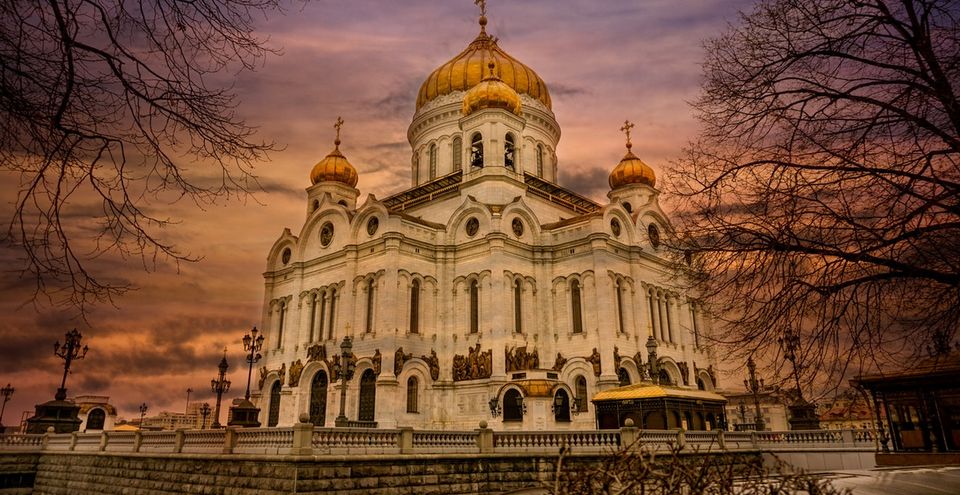 I was dreaming to visit Russia from the day I first laid my eyes on Saint Basil Cathedral's image for my Social Science project work in school. I was extremely fascinated about the land of Stalin.
So, I was finally all set to board the flight to Saint Petersburg and to start my first Foreign trip with my wife and my kid who was only 1.5 years old at that time. I was excited but I was also nervous because of the fact that I have to be responsible for everyone that too in a country where people don't understand English and have a reputation of not smiling (believe me smiling part is wrong).
Anyways I will all my experience with you guys starting from Visa process, immigration, registration and things to remember etc. So here we go....
Visa Process
Getting a Russian Tourist Visa is really easy. I never heard such an easy process. There are few conditions you have to meet before you can get Russian Visa. The conditions are as follows;
1. You should have an invitation from a travel agency who is registered with the Federal register of Russian Federation
2. You should have a passport which must be valid for at least 6 months after intended departure date from Russia and have at least 2 blank pages
And that is it. Isn't it simple? It really is. Unlike other countries where you have to submit your trip itinerary along with confirmed flight tickets, hotel bookings, funds statement etc. Russian consulate doesn't require anything except an Invitation letter, your passport, Visa fee, Visa application with your travel dates and photographs. Russian Visa is only valid for travel dates that you will mention in your application and on the Invitation letter.
If you are thinking about the invitation don't sweat. Getting an invitation from a travel agency is again a fairly easy task. You can visit https://www.russianvisahelp.com/travel/ , enter your information like Passport information, itinerary etc. and pay $19.99 (US) per person which comes to around INR. 1400 and within 24 Hrs (if applied within business hours) you will get the invitation on your email. Invitation letter can then be printed on an A4 sheet which can be used with your Visa application. Consulate doesn't require originals. The format of Visa invitation letter may change but mine looked like this;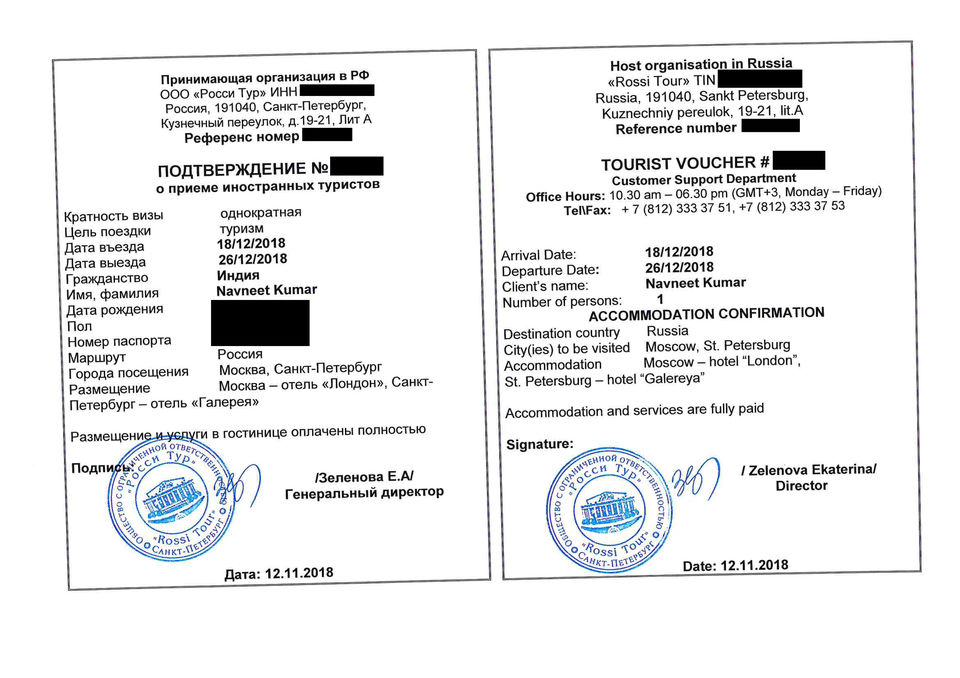 Once you get the invitation letter you have to schedule an appointment to submit your Visa application. Unfortunately Russian consulate doesn't accept Visa application directly unless you are a diplomat. So you have to schedule an appointment online by visiting https://visa.kdmid.ru/PetitionChoice.aspx?AspxAutoDetectCookieSupport=1 . Your Visa will be processed by the Russian consulate, however all your documents needs to be submitted at VFS Global which is the Visa application center for Russian Visa. Take a print of your online application along with the appointment receipt.
Visit the application center with your original and copies of your passport, one color photograph with dimension of 3.5 x 4.5 cm with light-colored background, Invitation letter and a fee of INR. 3,630 per person. Fee includes Consular charges of INR. 2,130 and VFS Global charge of INR. 1,500. If processed successfully, you will get your Visa within 2-3 days. If you need it within a day you need to pay INR 2,130 extra. The success rate for Russian tourist Visa is over 85%.
The earliest date when you can apply for your Russian visa is 90 days before your date of departure. My suggestion is to apply at least three weeks before your travels, in order to prevent any unpredictable delays that may occur due to the embassy's visa processing.
Flight Booking
As I mentioned earlier, Russian consulate does not need any flight confirmation for Visa processing hence you can wait till you get your Visa. Once you have the Visa you can use couple of online tools to find cheapest flight tickets.
You can use Skyscanner and Momondo to skim through numerous e-ticketing websites to find the cheapest flight. Some of the e-ticketing platforms even offers special discount for Skyscanner customers.
Note of Caution: If you are taking a connecting flight from any city within Russia make sure you have atleast 2.5 hrs to 3 hrs of connection time as some of the airports in Russia are very big especially Sheremetyevo Internation Airport Moscow.
Hotel Booking
If you want you can book your preferred hotel from Booking.com and same can be mentioned in the invitation application, however please choose to pay at the hotel so that in case of Visa rejection you do not waste your money.
If you have your Visa with you, I would recommend going with hotels comparison websites like kayak.com or trivago.com as they help you finding great hotel deals available.
After you land
Russia is one of the country where the English speaking population is really less. Even the airport officials have little command on English, so it will be a bit challenging for you initially however use of technology will help you for sure.
After you land in Russia, you have to go through the passport control. Just like other international airports, Russian passport control also have different counters for international travelers and for Russian travelers. Once you will reach the immigration officer at the counter they will scrutinize your passport carefully and may ask you few questions before they hand you over your immigration slip. It will be a printed slip that you need to keep with you all the time as it needs to be deposited back while leaving the Russian federation.
At the airports of Domodedovo and Sheremetyevo in Moscow, immigration officers are in charge of filling the immigration card in printed form, whereas in the airport of Pulkovo on Saint Petersburg, this card is usually filled manually by immigration officers.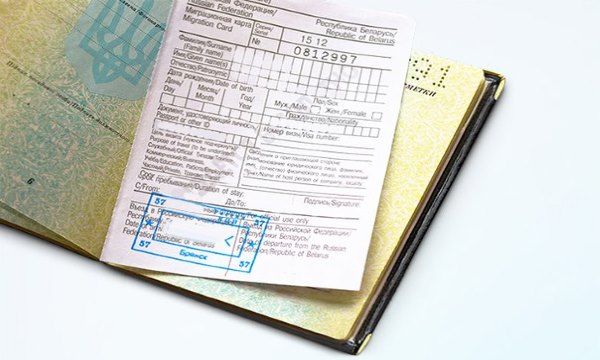 Once passed the passport control, you have to go to pick up the luggage (in the case that you have checked in luggage). Next you will go through customs control: go through the green corridor if there is nothing to declare and the red hallway if you have something to declare.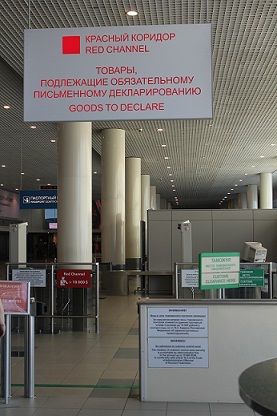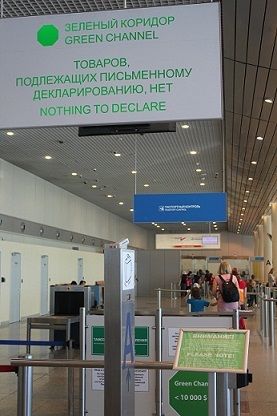 Upon clearing the custom control you will exit into the arrival hall. Here you will find much needed services like Taxi, ATM, Mobile Sim store etc.
Note of caution: If your hotel is offering you airport pick up it's good, however if you are thinking of commuting on your own then make sure you book your taxi from service providers inside the Airport as Russia doesn't have Uber. They use Yandex which is in Russian and 99% of the drivers speak only Russian and it will be really hard to explain your location. However, the airport taxi service providers have a dispatcher who will escort you to your taxi without any extra cost.
Registration
The registration is basically the process by which the Russian authorities are notified, after your arrival in Russia, of the place where they can find you if needed.
It is generally seen as a process of the Soviet era, when authorities monitored the migratory movements of people and could limit their movement throughout the country.
The good thing is that since 2011 the registration procedure for foreign citizens visiting Russia has been simplified and now is much easier than before.
When is it not mandatory to register?
If you are staying in Russia less than 7 business days, you don't need to register. For example, if you arrive in Russia on Saturday, August 1 and leave on a Monday, August 10, then you don't need to register since your stay will be 6 business days. Weekends (Saturdays and Sundays) or the holidays don't count as business days.

When is registration required?
When you are going to be more than 7 business days in Russia. If you cross the border on a Monday, then you have to register if your stay is extended beyond Tuesday of the following week.

If you are visiting multiple city then you have to register in each city.
How registration process works?
1. If you are staying at a hotel: Majority of the hotels take care of the registration process of their guests. They will take your passport and the immigration card and will return you upon registration. It usually takes 24 hrs to complete the process. Some of the hotels may charge you a nominal fee e.g. 200-250 Rubles per person for this.
2. If you are staying at a private apartment: In case you stay in a private apartment (e.g. Airbnb apartments), the host is obliged to make your registration; however, they are more likely to charge an amount for this procedure (between 500 and 2,000 rubles) and they may even refuse to do the proceeding (even though they have the legal obligation to do it).
Before making the payment for the stay in the apartment, ask your host if they make the registration and the price they will charge you. If they don't offer the registration service or they charge a very high price, then look for another apartment that does offer the service or applies a more reasonable fee.
If none of these things works you can visit to a local post office and you can register on your own however be ready for confusions due to Russian as the primary language of officials there.
Note of Caution: The registration is really important. The Russian police are not authorized to request proof of registration on the streets. If they ask you for this in the street (which is extremely rare) it is best to call the consulate immediately. Registration accreditation is not necessary to leave the country, though the immigration card is required.
I hope this article will help you in planning your vacation to Russia.
I am going to share information about ways to get around and places to visit in my next article along with my personal travelogue. So stay tuned....
Frequent searches leading to this page:-