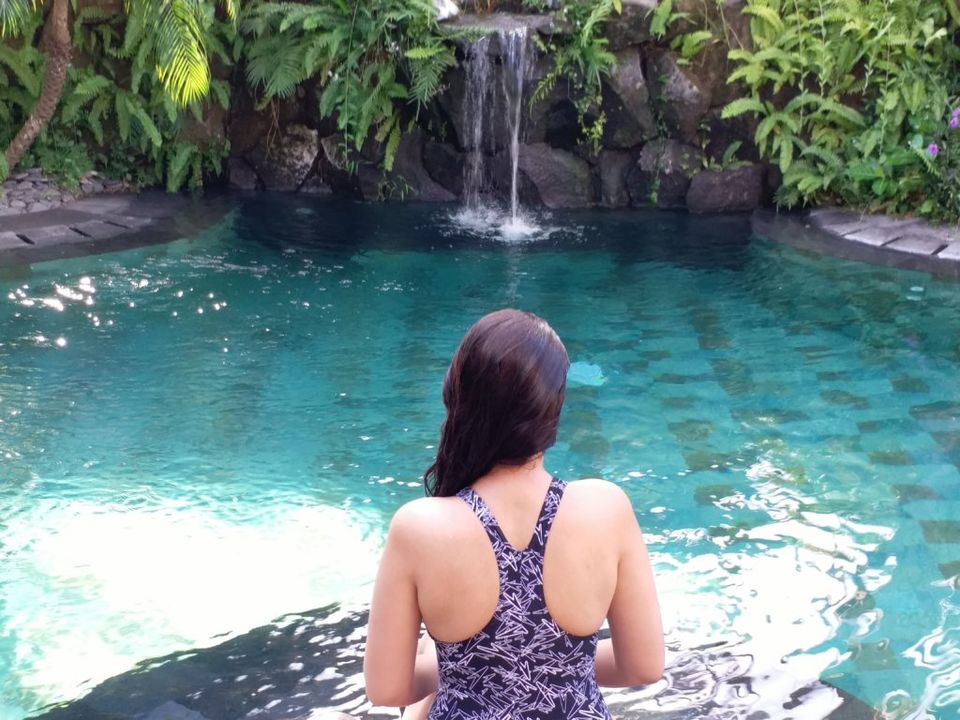 Hotels are very important to me. Especially if holidaying in Bali is synonymous with luxury villas that are close to nature and have the best services to offer. If travelling to Bali this year (or the next!), do consider Dea Villas, Canggu.
Read on to find out about more about Villa Sati and Villa Amy as well as Dea Villas' services and prices.
Dea Villas, Canggu, Bali: Hello to our humble abode
Most people who go to Bali usually stay in the center of the city or else head to the countryside for picturesque views of rice plantations or Bali's twin waterfalls. But we were staying in Canggu, or Badung Residency. Since we were a family of 15, the idea was to book 8 bedroom villa with enough privacy and exceptional services. Already disappointed when I was told we were nowhere near the beach (which turned out to be a lie by the way), Bali traffic took 75 minutes and a small accident to reach our villa.
A 400-meter walk inside a small gulley, Dea Villas welcomes you like a small estate would in Sainik Farms. Hamptons for all of you Americans.
First impression: Dea Villas
You're struck by the aesthetics and the vibe of the estate. Lush green lawns, little ponds with goldfish and water elements everywhere, this was the Balinese vibe I'd hoped for.
We were greeted by friendly faces who escorted us to the pavilion also known as the joglo according to Balinese architecture. Three magic words, lunch is ready, got everybody in high spirits.
Stoked to see the place, I was told we're sitting in Villa Sati: a four bedroom villa with its own swimming pool and sundeck area.
Dea Villas has 4 villas: Sati, Amy, Parvati and Radha, all of which were previously booked for my big fat Indian family. But after a few cancelled, our family was nestled in Sati and Amy.
With 8 bedrooms to each family (with 2 members per room), most of us were stoked to see our villas.
Balinese Architecture and Design: In Harmony With Nature
Based on Hinduism and Balinese philosophies, an ideal Balinese house or retreat will focus on four things.
Space
A huge problem we deal in our banalities, Balinese houses value space. Since I value both outdoors and indoors, I absolutely loved my room! For starters, it was not just big in size (it could easily house 3 more people) but also had high ceilings. With a sitting area, a study table, the room's highlight had to be the most comfortable and pristine four poster bed with a beautiful canopy. If you're going with children, you can stick to renting 1 bedroom since the daybed converts into a sofa-bed, making ample space for 2 more people. The next part of the room had a dresser, two cupboards, and a rocking chair. The dresser had all essentials (including a jewelry box and a hairdryer) could easily fit 3 people getting ready simultaneously.
Our walk-in closet was in the middle of the room. Plush with hangars, shelf-space, and other amenities, the closet had a glass door leading to you to the garden bathroom. Twin basins, walk-in rain shower, a hamam-bathtub and an open WC, this was a unique experience for me.
Ventilation
Since Balinese strongly believe that we should be in harmony with nature, my room, Mawar (name of a flower) had sliding glass doors and a huge yard which was the source of natural light and fresh air. I think that's the reason why the walk-in bathroom also had an outdoor feeling. We were in NO mood to switch on our 32 inch TV but the room came in equipped with satellite channels, DVDs and book collections.
Dea Villas also has a gym (that my cousin made most of) and a spa (we got massages at the pool) with an option of calling masseurs to your Villa room itself. There is a small boutique where you can pick up souvenirs from.
I got my share of exercising by exploring Bali when we were out for our excursions but also in the pool and taking long walks on the property. With so many things to do in the villa, you could easily plan a staycation for as long as 10 days without getting bored.
Villa Sati also has its own Amphitheatre-like space where we enjoyed two traditional Balinese performances. Villa Amy was equally beatific: our families enjoyed the best of antiques, lily ponds, swimming pool, and sundeck area. Unlike Villa Sati, Villa Amy had 1 master bedroom (it was palatial, I must say!) along with two smaller guest rooms. I cannot review Amy since I didn't stay there.
What didn't work: Dea Villas
As much as the kids had fun chasing snails, the glass doors in the room had a chink which worked as an open gate for mosquitoes and frogs. In fact, I woke up in the middle of the night to go to the bathroom but some frogs just didn't let me make it.
Given the weather in Bali, you have to shower twice a day. And if you plan on going swimming, make that three times a day. The outdoor, garden bathroom is swimming with fauna at night and the weather (hot, too hot and then cool) can make you fall sick. This is exactly what happened to my mother.
Barring these, you could only face a long commute IF your plan is to explore Ubud or Kuta a lot more than Canggu or even Seminyak.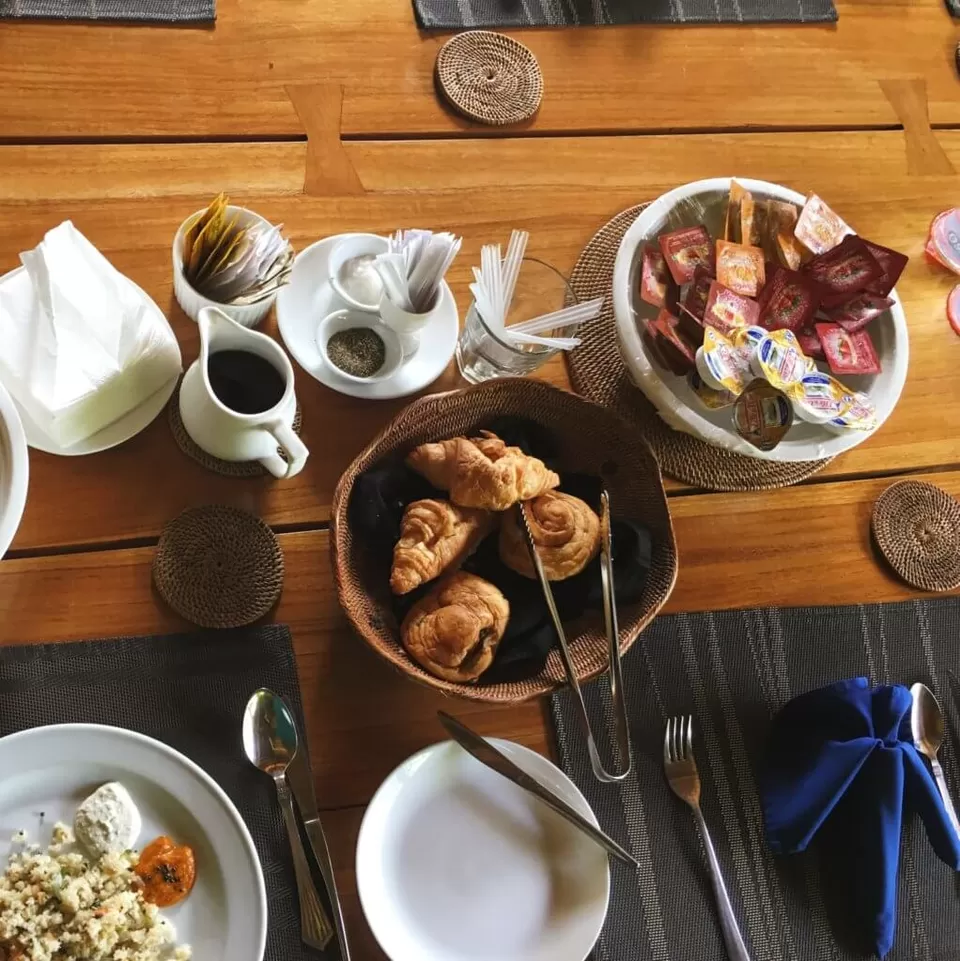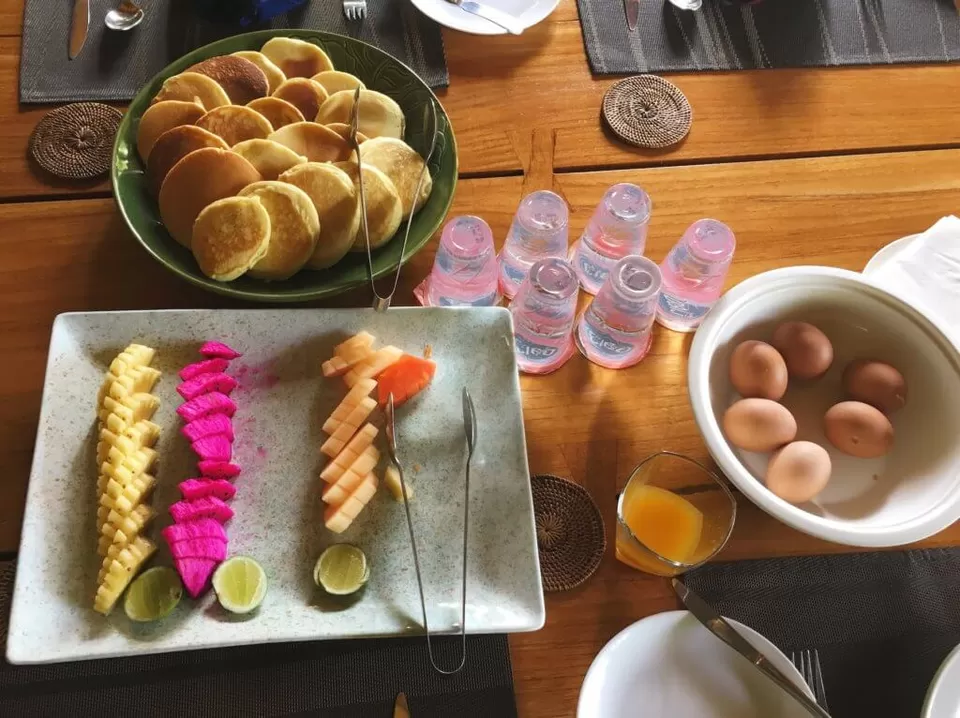 Breakfast at Dea Villas
I believe in a good breakfast and was very happy with the choice of breakfast at Dea Villas. A glass of fresh juice (watermelon, orange or mousambi), I dug into pancakes (banana pancakes are my favorite), croissants and eggs made-to-order. After this, I helped myself to citrus fruits like dragon fruits (best thing I've ever tasted), pineapples and melons. Since we had a lot of vegetarians traveling who couldn't do without Indian food, Lushescapes had arranged for Indian food catering who offered best breakfast dishes every day for 5 days.
Service and Staff at Dea Villas
People in Bali are very friendly, there's no denying that. The butlers and wait staff at Dea Villas, Canggu are a hardworking set of members in the hospitality industry. Apart from minor snags and language barrier delays, the experience was exceptionally good.
Pricing and availability, Dea Villas
According to their website, Villa Sati with 4 bedrooms (all same sizes) costs about USD 650 for 2 nights and Villa Amy costs USD 490 for 3 bedrooms (1 master, 2 guests). Since we went as a group and had 8 bedrooms on rent for 4 nights, the rates could be around USD 1235 per 2 nights (without discount) simply costing about USD 100-110 per night. Since all our bookings were done for us by Lushescapes, I thought it'd be unfair to give you an unrealistic number.
Look up our entire costing in our travelogue account here.
Photo Credits: Be For Beauty and Dea Villas
Fact File, Dea Villas
Five Star Luxury Property in Canggu 12 bedrooms, 4 villas Ideal for families, couples Female traveler friendly High deliverance on service Distance from Airport: 15.8 km Distance to Ubud: 27 km Distance to Seminyak: 8 km Cost USD 650 for 2 nights
Don't forget to pin and share!
Follow us on Instagram: Manavi Siddhanti I Pragati Siddhanti
Follow us on Facebook I Join us on Twitter and Pinterest I Roposo