Honeymoon, like a wedding, is something that only happens once. Yes, you can travel with your partner throughout your life, but the thrill of a honeymoon is something that cannot be replicated.
In the past few years, Bali, Indonesia has emerged as one of the most preferred destination for honeymooners. Pristine beaches, an active volcano, dense forests and a hoard of activities to do has made Bali a sought-after destination. However, that has also made it one with too many people and tourists. Therefore, it makes sense to pick a place where you can spend your newly married days in peace, away from the crowd! Just the two of you and the achingly beautiful scenery will make for an unforgettable time in this little paradise.
Behold, the Sunrise House
Sunrise House, nestled on the edge of Ayung River Valley, is the perfect place to start the next chapter of your life.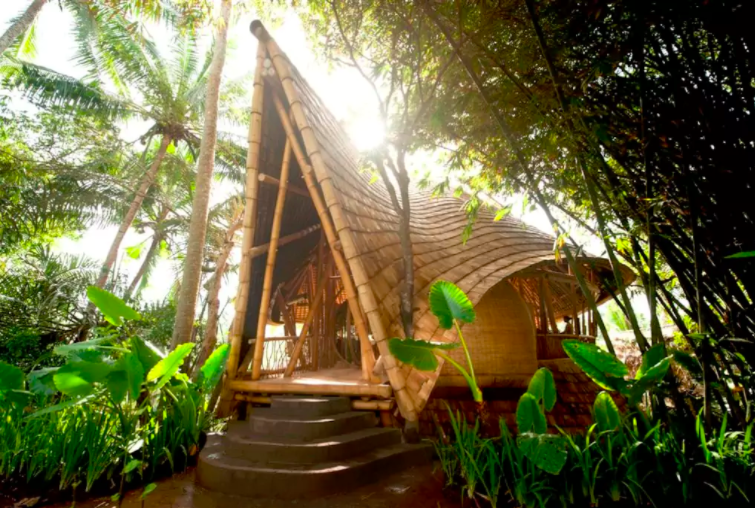 Ideal for
Newly-married couples looking for some peace and quiet in the middle of a dense forest, and outdoor enthusiasts who love the sunshine and the idea of being surrounded by natural beauty.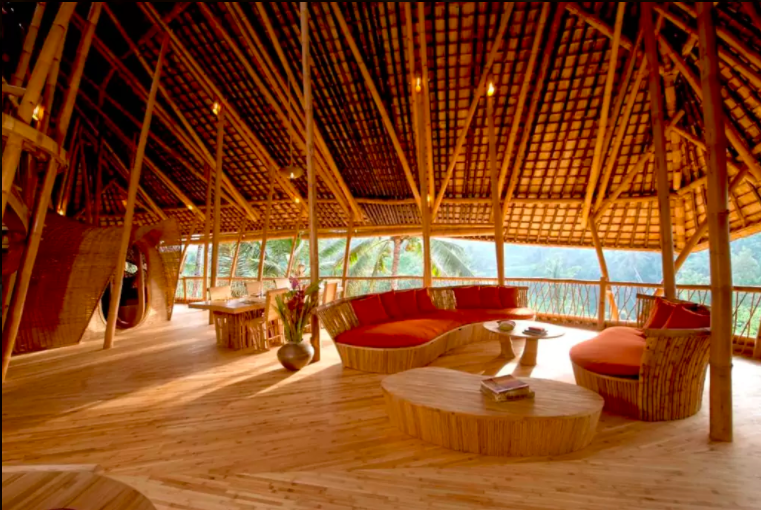 About Sunrise House
Sunrise House is an all bamboo house designed in the shape of a leaf, built to face the sunrise in the east. Set on the sacred Ayung River Valley, this place is an idyllic destination for some quiet time together. From the moment you arrive at this villa, the chirping birds and gurgling river will ensure that your time here is special.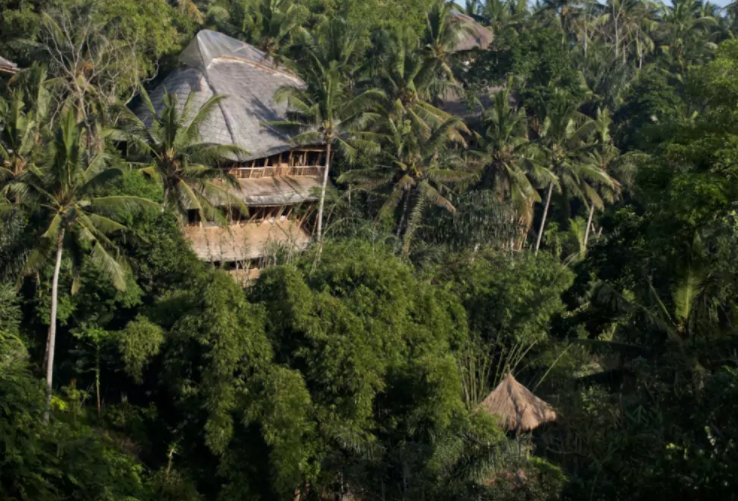 Designed and situated in a spot where the sun rays hit as soon as the sun rises, the villa is a feast for the eyes. Aptly named the Sunrise House, the villa is a great example of how different types of bamboo can come together and create a stunning space, with different shapes and patterns and luxurious floors, walls, ceiling, stairs and railings, this villa is what innovation looks like. The villa has four storeys and three bedrooms, with each level offering panoramic views of the river valley and the surrounding landscape.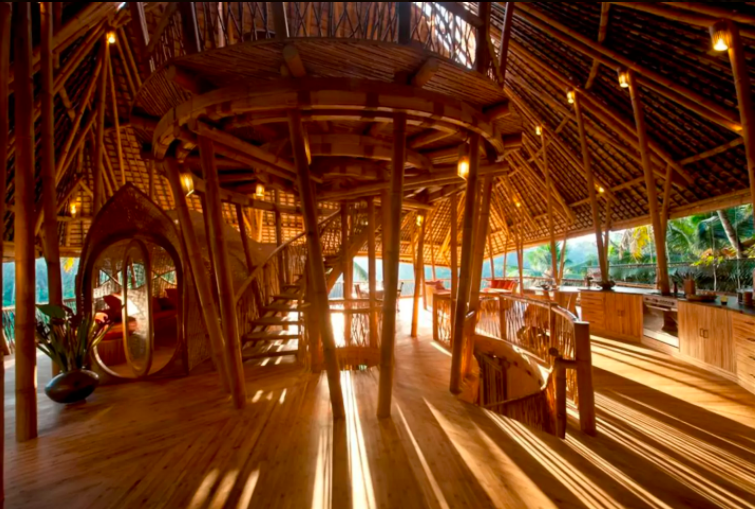 You enter this grand villa from the third floor and are greeted by a vast open area overlooking the surrounding greenery. A plush couch lies in the middle of the room, tastefully upholstered to provide the best comfort. A quaint little dining space, with views of the forests and sunshine grace your platter early in the morning. There is also a fully-equipped kitchen in the house, where you can cook delicious meals or even indulge in some fun baking with your partner.
This is a place where afternoons can be spent lazily either just soaking up the sun or lounging on sofas and watching your favourite movies. The third floor is artistically designed and provides stunning views; it will be your go-to place for some fun during your stay here.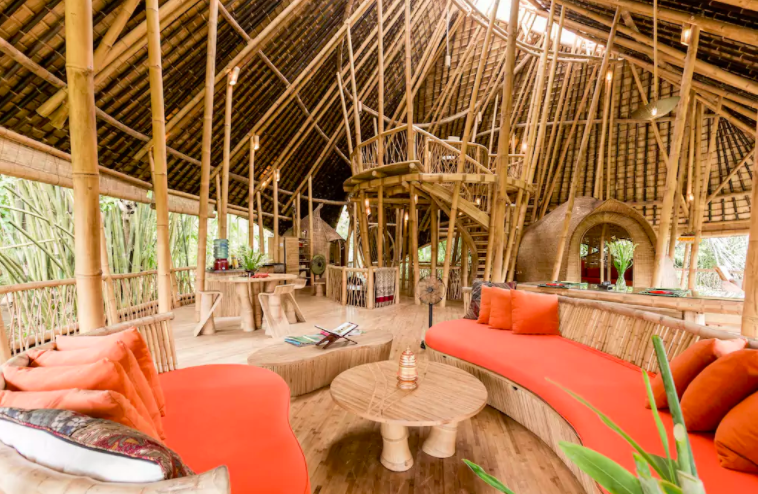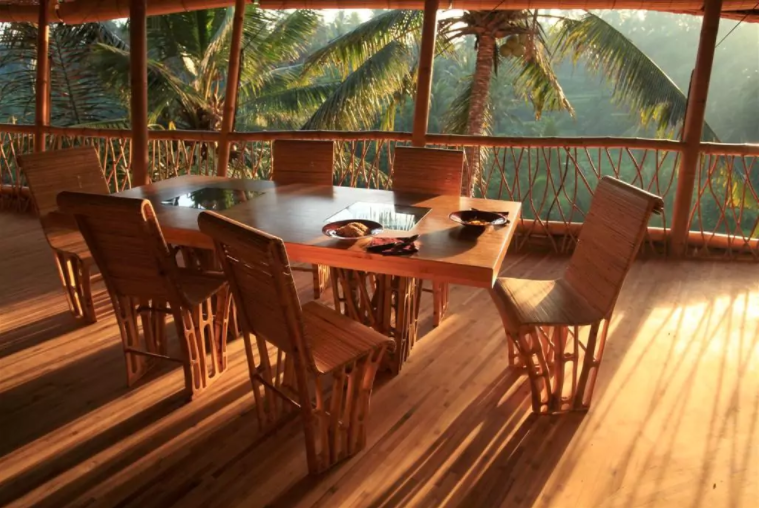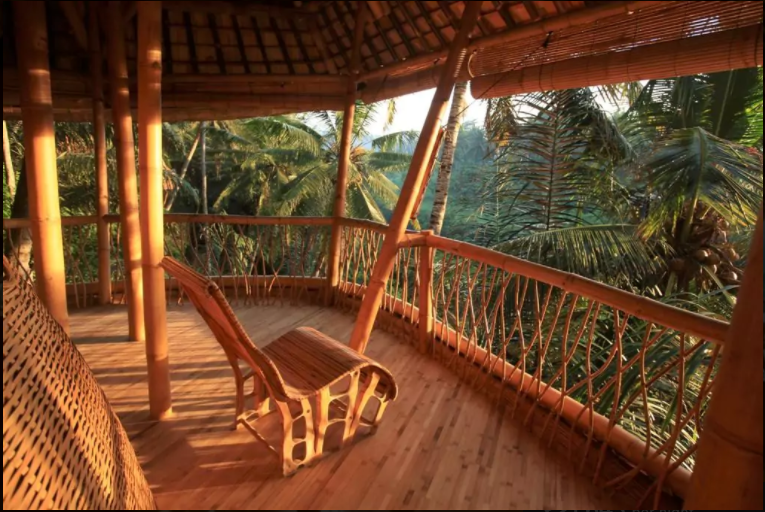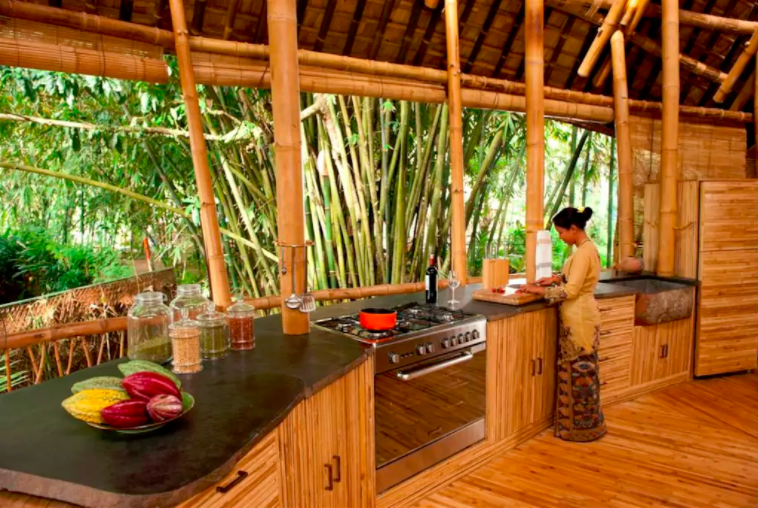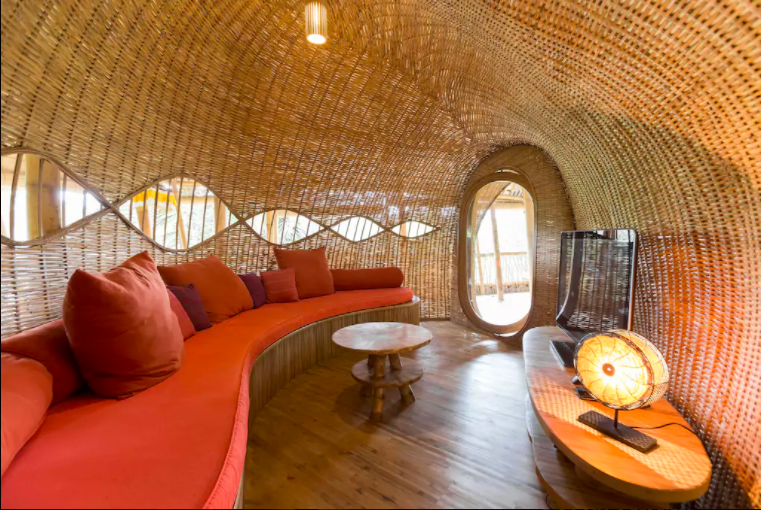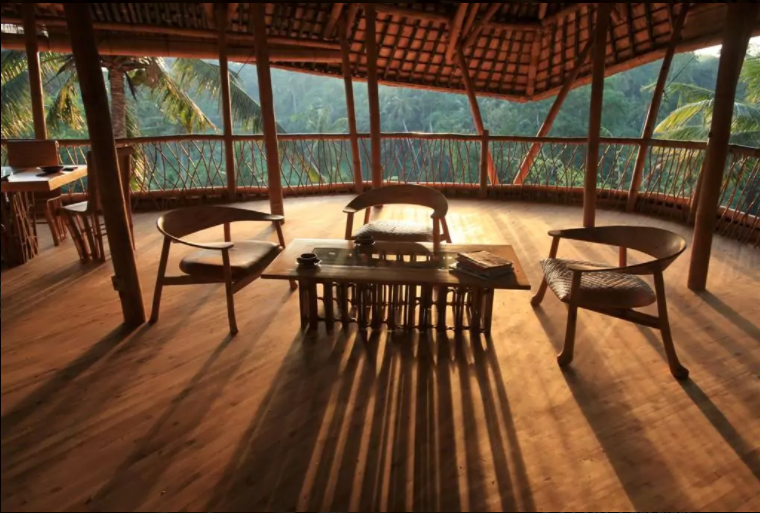 Going down the stairs leads to two floors with bedrooms. There are two bedrooms on the second floor, while the lowest floor has one master bedroom. The bedrooms on the second floor have cooling fans and ensuite bathrooms. The master bedroom has air-conditioning and a drying room with a de-humidifier. All the bedrooms have wind-down bamboo blinds for privacy.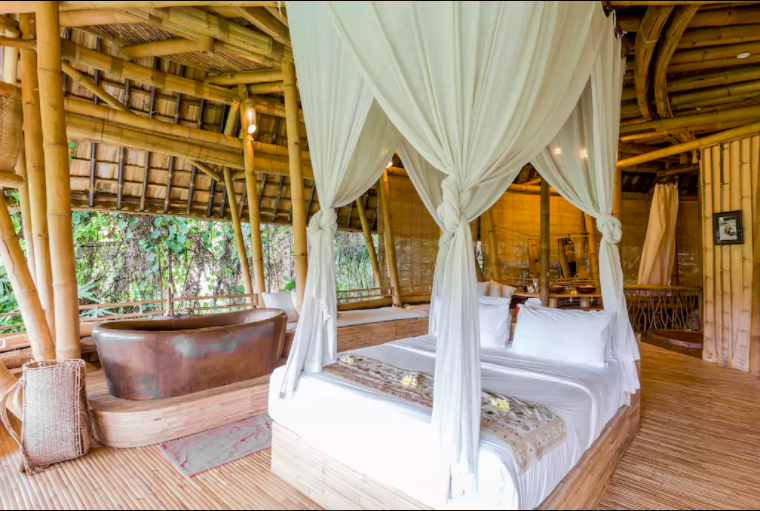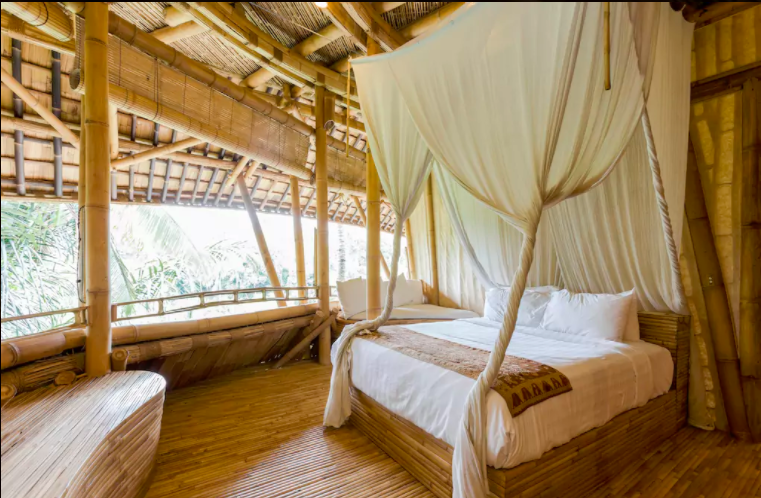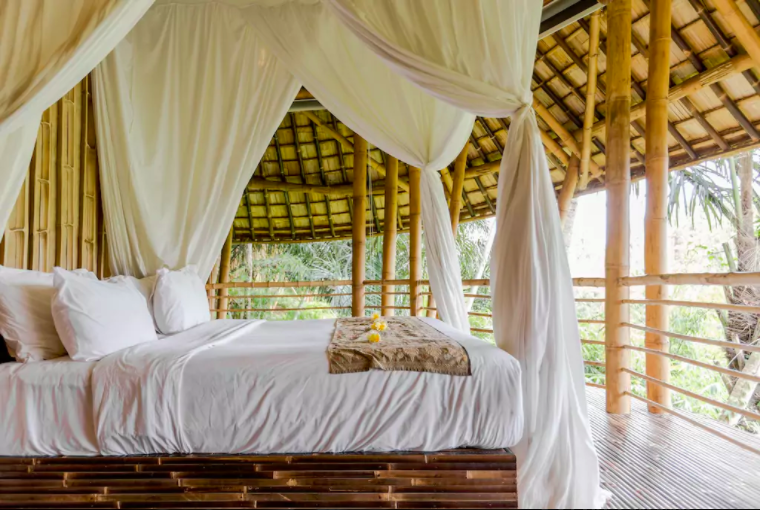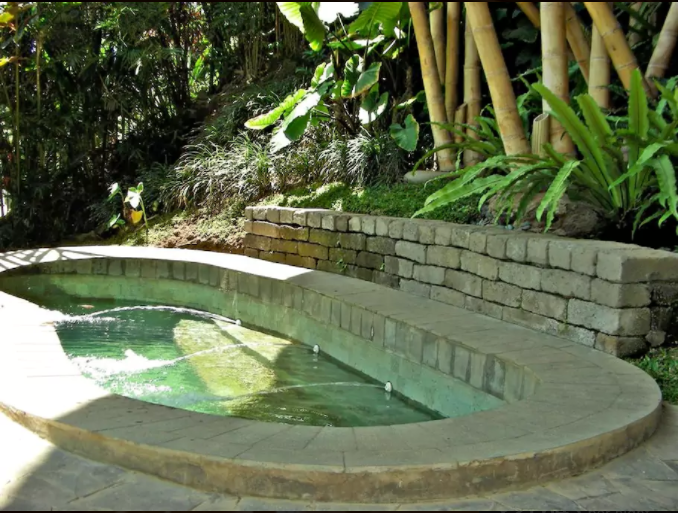 The fourth floor has a designated work space or home office with wireless internet. A spiral staircase leads you to the top floor where there is a craftily designed table, black and white bamboo floors and a comfortable chair. So even if you can't afford to switch off their lives while on a vacation, or want to pen down the memories, this place has you covered.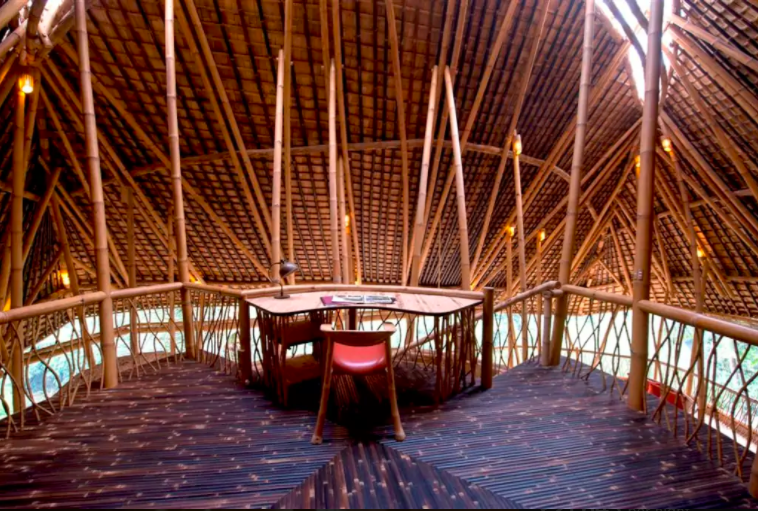 From the lowest floor, you can access the private garden, and the plunge pool, perched quite literally on the edge of the river valley.
The house has WiFi, TV with a DVD player (no DVDs, you can bring your own) and satellite TV. Access is also available to the communal space, which includes a natural pool, pavilion and a restaurant.
Now, if you are wondering, how a place with three bedrooms is ideal for some quiet time with you and your better-half, worry not! This is actually a great chance to experience three different places in one single property!
Food
The villa comes with a fully-equipped kitchen and great opportunities to cook together! If you don't want to bother with cooking, some dining options are available as well. For your first morning, a Balinese or western breakfast is complimentary. For the following meals, you can order from a menu. You need to inform the staff a day in advance for any meal that you wish to order. There is also the option of having a Balinese cook come to your villa and make traditional meals for you. For those who wish to order take out, restaurants from nearby deliver to the villa and menus are available in the villa itself. Though only basic supplies are available near the villa, groceries can be brought in from Ubud. You can buy them yourself or ask the people at the villa to get them for you.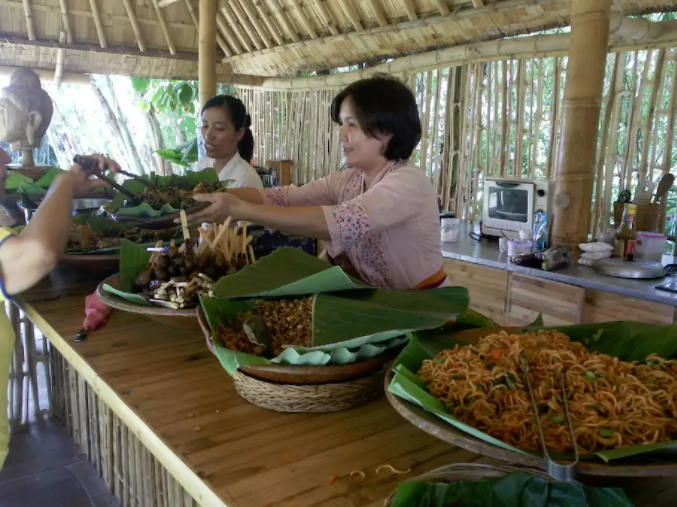 Cost
A night at this villa costs Rs. ₹21,643 for a couple. You can book the entire villa for this price. This includes one complimentary breakfast, served on your first day at the property.
Best time to go
Bali is a tropical paradise with warm and humid climate all year round. There are two distinct seasons here, dry season and rainy season. April, May, June and September are the best months to visit Bali. It's still dry season, but slightly less humid. These months are also the best time to enjoy the water sports offered on the island. Major attractions and fun things to do such as visiting the Bali Zoo, Monkey Forest and others see less visitors, which can make the experience far more enjoyable.
What to do at Sunrise House and around it
There isn't much to do at the house because it is meant for a relaxing getaway. However, there are still some things you can do here:
1. Swimming – There is a community pool that you are free to use. You can swim in it to your heart's content. For more private time, there is a plunge pool right by the villa. This is available free of cost.
2. Massages – The villa offers massages on request. You can book a relaxing massage for yourself or as a couple and let the wedding stress fade away under the expert hands of the masseur. Price on request.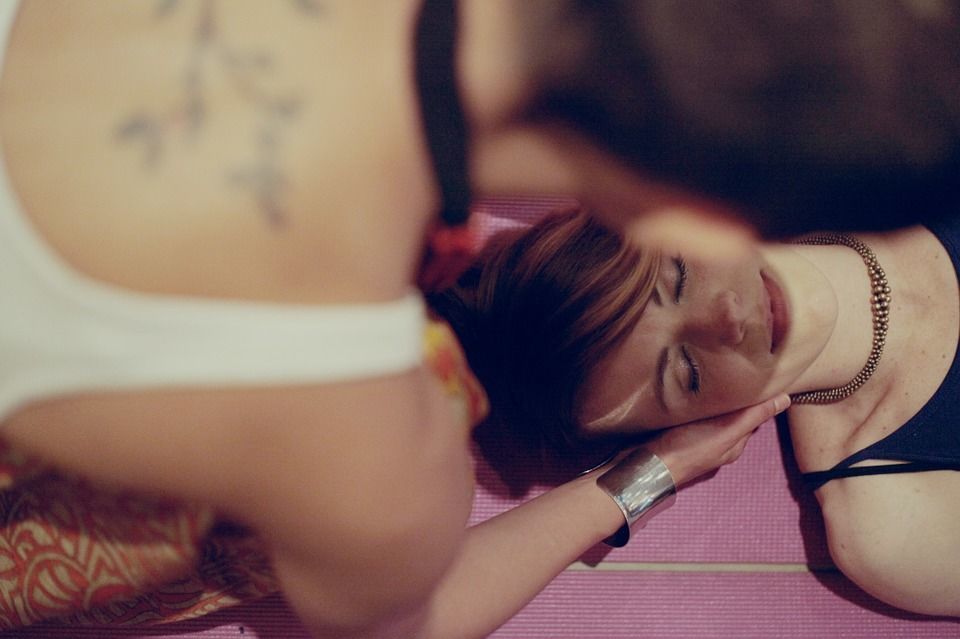 3. There are also bamboo workshops and tours available on request. These tours focus on understanding the properties of bamboo and the workshop teaches you how to make bamboo souvenirs! This is a great activity to do together as a couple and will result in loveable mementos to carry back home. Price on request.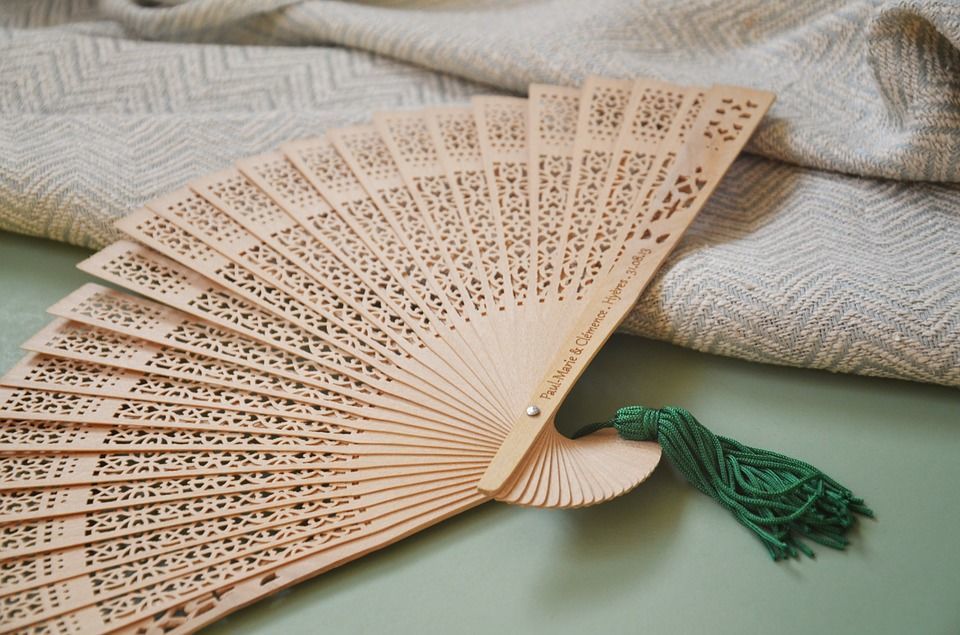 If you wish to venture out of this luxurious piece of heaven, and explore the areas surrounding it, there are many things to do. Bali is a small island, so you can pretty much reach anywhere within half an hour to an hour and a half's drive. However, Ubud and Sanur Beach are the best options to explore, one for the traditional highlands of Bali and the other for the famous beaches of Bali.
Ubud is known as Asia's wellness destination and is a 30-minute drive away from Sunrise House. Framed by rainforests and terraced rice paddies and dotted with Hindu temples and shrines, Ubud is the prime example of Bali's most famous landscapes. While here, enjoy a performance of the traditional Balinese dance of Kecak, walk on the Campuhan Ridge, shop for local handicrafts, visit the Goa Gajah Temple and the Monkey Forest. To know more about what you can do in Ubud, read this.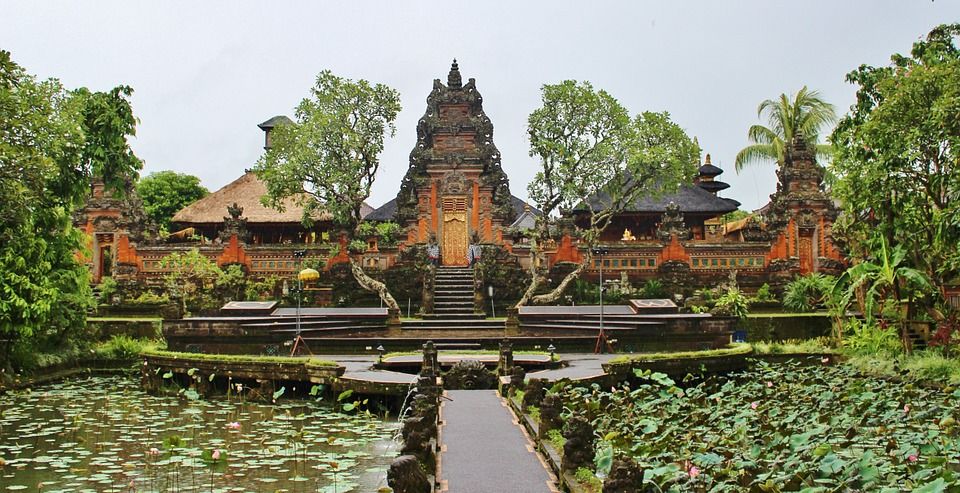 Sanur Beach is for those who wish to enjoy the beach life sans the rowdy crowds. Also a 30-minute drive form Sunrise House, it has a relaxed coastal ambience and is the opposite of Kuta, both in characteristics and nuance. An eclectic mix of restaurants, shops and bars with innovative and modern entertainment venues makes Sanur Beach an ideal destination for some laid-back beach time. While here, do pay Pura Blanjong Temple and the Serangan Island Turtle Conservation Centre a visit.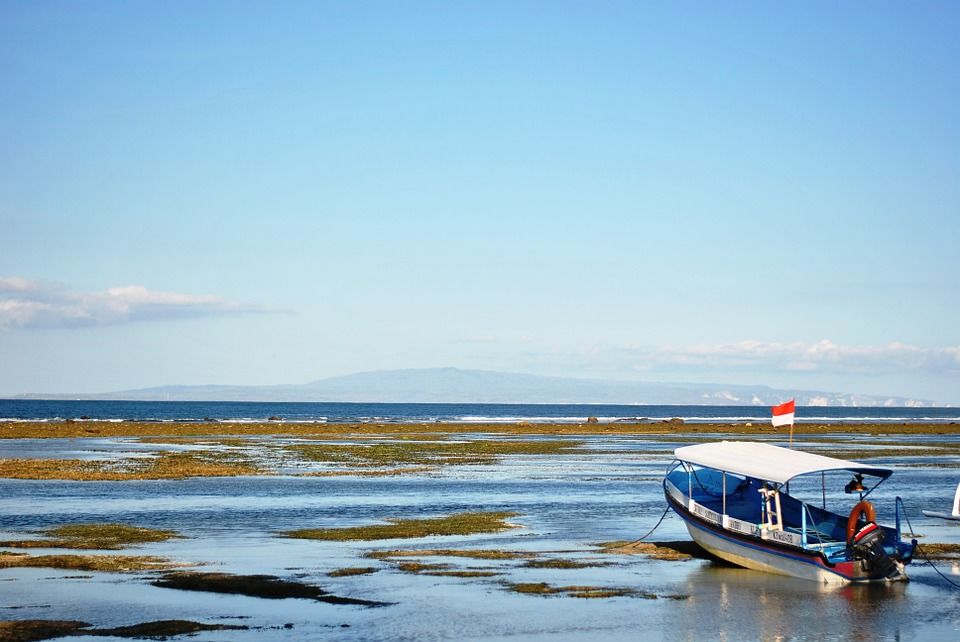 Getting there
The airport nearest to the Sunrise House is Depansar, Bali. Average round trip tickets from Delhi cost Rs. 16,000 per person.
From the airport you can request to be picked up by the property owners or take a cab. It is 27km away and takes around an hour to reach. If you take a taxi, it will cost around Rs. 1,500, one way.
Know of such a getaway that made your honeymoon all the more special? Write about it here and help other newly-married couples get a romantic start to their married life.
Frequent searches leading to this page:-
bamboo house Bali, Bali honeymoon package, Bali tour package for couple, Bali Indonesia package tour with airfare, Bali Indonesia tour package, Bali tour package from India, Bali honeymoon places, Bali honeymoon package cost