We decide to venture out on a four hour Dainkund trek from the Aamod resort. The resort had a guide to accompany us and we set off after breakfast by 9:30 am. There is a nominal charge for the trek. Meanwhile, we saw many guests opting for a one hour trek before breakfast. Our guide told our driver to meet us at the Dainkund hill by 1 pm, as he was sure we will not able to retrace our way back to the resort after the four hours of walking one-way.
We set out first into a forest of deodars. There is a well cut path and as our guide explained, it's a short-cut to the town, frequented by the locals. We meet a few along the way, but most of way it was only the three of us and the magnificent trees. There is no tarred road to his village, he was reminiscent about his school days, when they had to walk 5 kms to school in the mornings and back the same way in the evening. Exhausted by the time they reached home, where is the time to study…..Most locals do not complete school and opt instead to join the armed forces or find a menial job.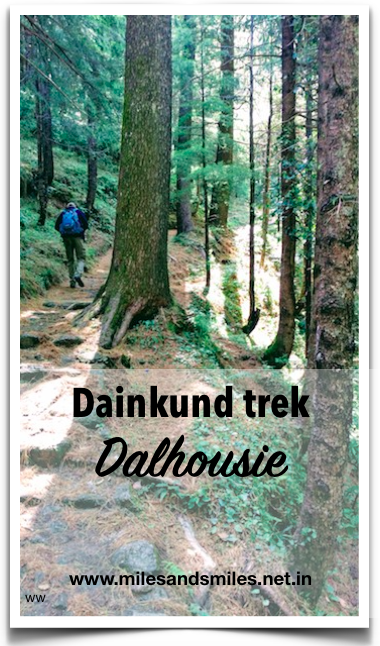 The way was beautiful and we started taking pictures of every tree and boulder we saw along the way. It all looked so glorious and spectacular. Our guide was amused; he kept urging us to move as he said there are lot more similar sights ahead. He probably couldn't fathom our fascination with all the greenery and trees; he probably has not seen the concrete jungle we see everyday back in Bangalore.
We climbed up from the forest to a clearing with a tea shop. The man there had milk boiling in an open iron kadai to make khoa ( a condensed form), used to make Indian sweets. After a tea break, we set off on the second leg of the trek.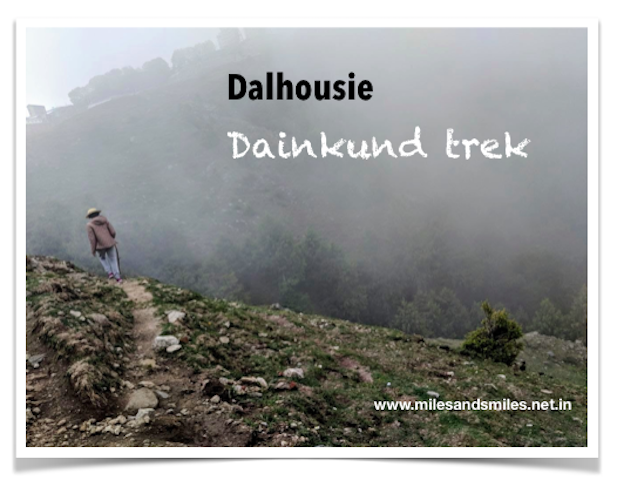 From here the path was rocky and shrouded in mist. We loved it. Again we started going gaga over the surrounding mist and the valley below. We were very near the Air Force base and managed to climb over the walls and continue on the journey. The mist cleared and soon we reached the Dainkund peak. 
As our guide explained; Dain means witch and as per the folklore, in the old days, there were witches living here and troubling the villagers. They prayed for help and Devi, an incarnation of Goddess Kali, killed the witches. There is a temple called the Pholani Devi temple, 900 meters from the Dainkund peak to worship the Devi. Pholani was derived from the word Pehalwan meaning wrestler or strongman in Hindi, as the Devi killed the witches.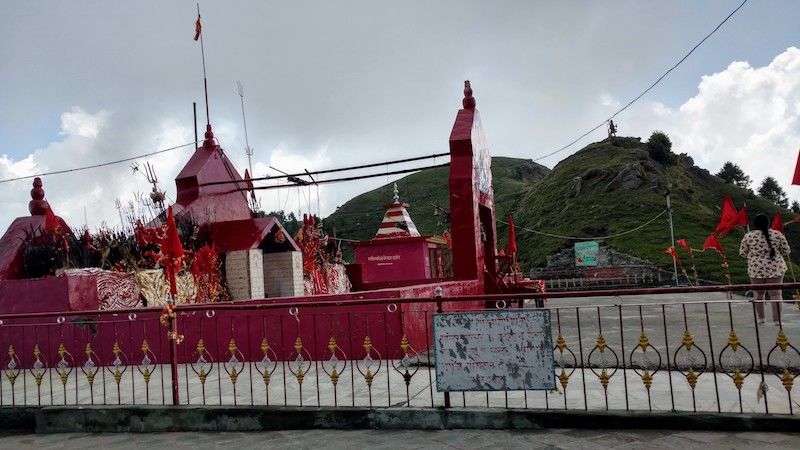 Alternatively, to reach the Dainkund peak and the temple, there is a tarred road leading to the Dainkund hill and from there it's a 30 minute walk to the temple.
To know more about the travel to Dalhousie, please visit my website www.milesandsmiles.net.in

Happy travelling,
Anju