A drive, a walk and a breathtaking view! Yes this is the route to Dainkund Peak, Dalhousie. Being the highest mountain peak in the region, it offers a complete 360° view of the entire valley. So fasten your seat belts and be prepared for an amazing experience hidden in the lap of the mighty Himalayas. The road enroute the peak is embellished with flowers on both sides that are a treat to the eyes. One has to put on one's walking-shoes to cover a good 30-40 minutes on foot to reach atop the peak.
As you make your way through the valley, the wild daisy blossoms and fluttering butterflies will simply take your breath away. The tiring and difficult trek is wonderfully soothed by the mesmerising valley-views. If you are lucky, then you could catch a glimpse of the Kailash Mountain on a clear day. The top of the Dainkund Peak is home to the Pholani Devi Temple which houses nothing more than a trident. One can hear the pleasant breeze blowing through the trees creating a musical serenade.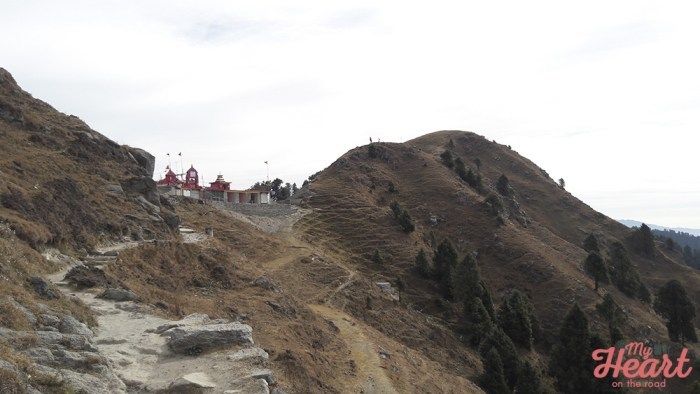 Dainkund Peak Trek Details
Starting Point: Dainkund Peak trek starts from the entry gate of Base of Indian Air Force (IAF). IAF base is 12 km from Dalhousie which is easily reached via a Taxi and that could cost around 500-1000 rupees for to and fro route.
Trekking Trail: The 1 km takes you through lush green woods of diodar and a spectacular ridge. We parked our car there and started the trek. There is well paved path for 1 km, which is maintained by temple authority.
Trekking Difficulty: Easy.
Best Time for Dainkund Peak trek: April-November
Few points to be kept in mind before planning a trip:
The peak is positioned at a height of 2,755m above sea level.
Vertex of the peak is occupied by the Indian Air Force and a left bend from there takes you to the temple.
It is fondly known as the Singing Hill.
Pleasant climate welcomes tourists all-the-year-round.
A number of accommodations are readily available in Dalhousie.
This post was originally published on My Heart On The Road.