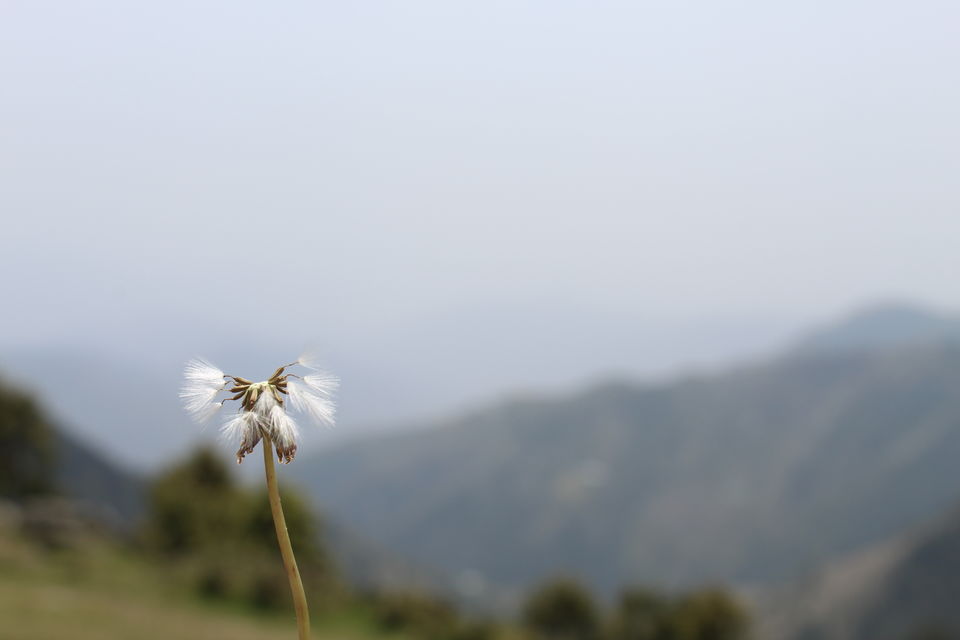 When I moved to Mumbai it was only a month before my birthday, and I thought that year would be exciting. See, I am the kind of person who never got excited about her own birthdays, so was looking forward to doing something 'fun' in a new city, with new friends. But as luck would have it - I fell sick. And my birthday was 'thanda'.
But that is when I decided, that the only way I can assure that I am happy on my birthdays is if I am traveling, so the next year, I found myself on my first solo-trip in Bali and the very next year, I was closer to the mountains and the year after that, well I spent my birthday eve on a beach :)
The story I am about to tell you is of my 25th birthday, when I convinced my best friend to come on a trip with me and we soon found ourselves in Dalhousie, India. My best friend and I have never really gone anywhere beyond our little neighborhood, and 25 was a year that I felt we should do something 'grown up' together. And this was our little 'Frenaissance' like Phoebe Buffay called it. :)
So after a lot of back and forth on where to actually go, we had finally settled on Himachal Pradesh. A cooler climate in the peak of Indian summer was indeed tempting.
Dalhousie was a hill station I had heard a lot about and had always wanted to visit. So, we booked those tickets. I'll be honest, after booking those tickets and the hostel I started having doubts about the hill station. No pictures that I saw on Instagram from what others were posting looked appealing enough. But you know what's well when you visit a place without having too many expectations? You are pleasantly surprised and taken aback by the beauty it has to offer.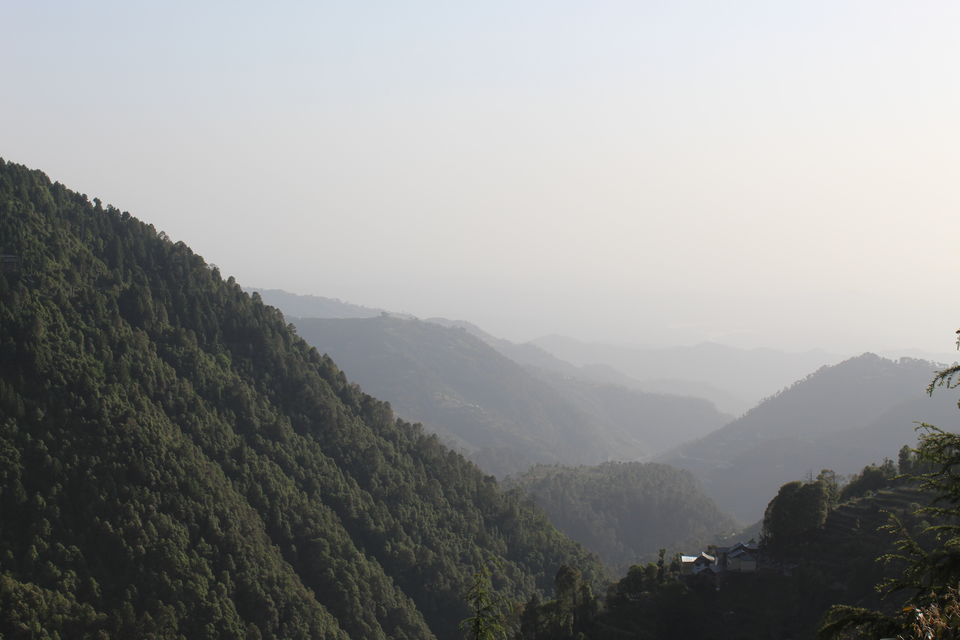 We stayed at Zostel Dalhousie and our little hostel was - well "away from the civilisation". It was about 3 Km from the main Gandhi Chowk of Dalhousie. And despite the isolation - we really loved it. The backdrop was beautiful and I wished I was there on a snowy day the minute I stepped in. My friend called the beautiful lush backdrop 'an ideal Microsoft wallpaper' and it was.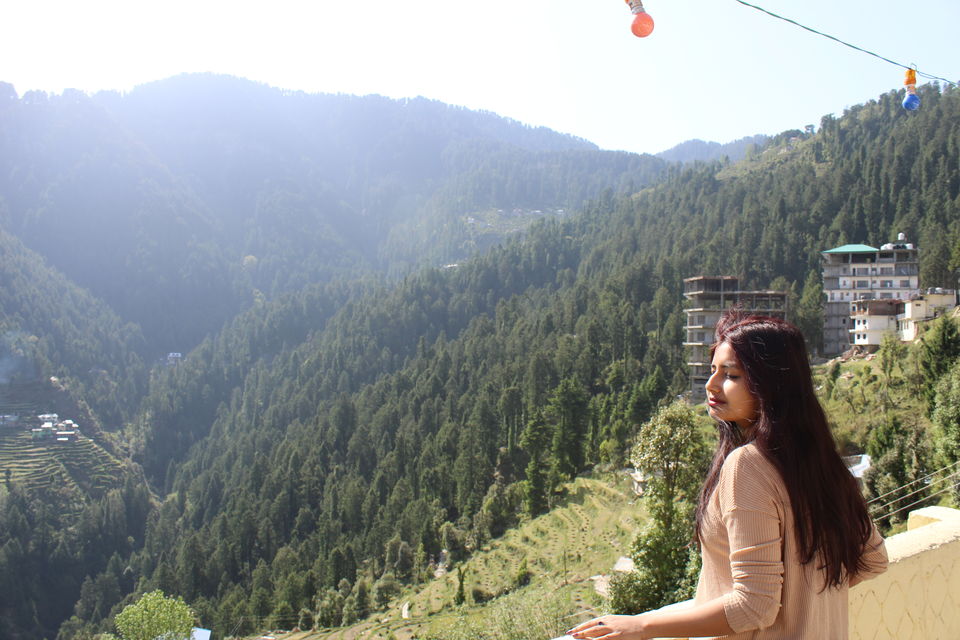 That day all we did was walk from our hostel to the city centre, Gandhi Chowk. The Chowk itself took us not more than 20 minutes to explore. It's a tiny circle and only 1 'cafe' stood out - the 'Cafe Dalhousie' - but unfortunately from the inside, the 'cafe' was not very impressive. (Luckily I got to satisfy my cafe culture dose at Mcleod a few days later)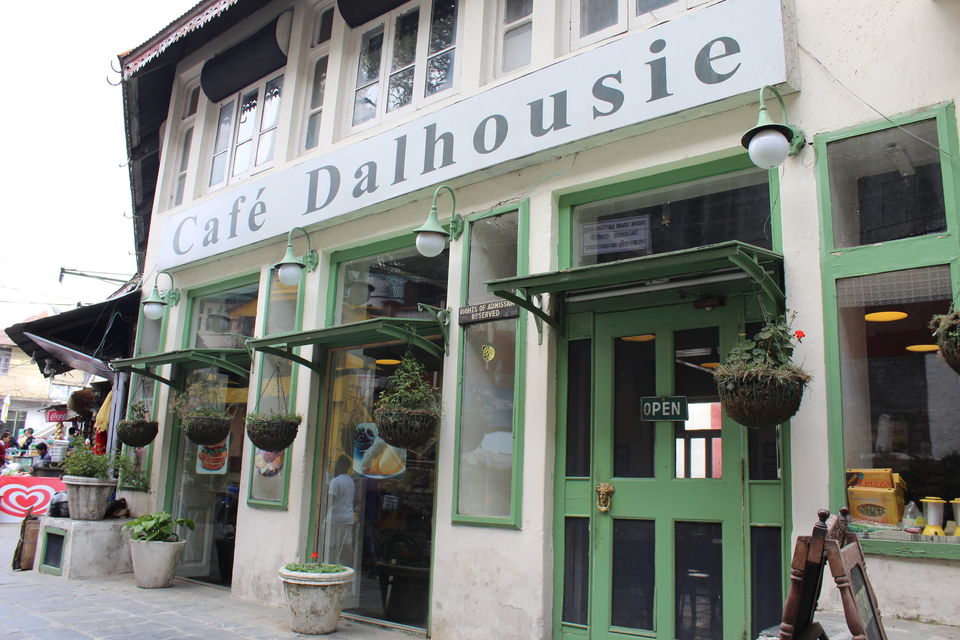 Looking around and realising there was nothing much left for us, we decided to walk another 5km to a waterfall called 'Panchpula'.
The road and the walk was pleasant and didn't feel tiring at that point. Once we reached 'Panchpula' and climbed the stairs the fatigue (at least for me) started to set in. After that little hike I did hope to see some gushing water. Now, I wasn't expecting Niagara falls but what we saw was like someone forgot to turn off the knob of a tap in a washroom.
Of course, since we did take effort to reach here, we decided to sit there with a cup of coffee and a plate or two of Maggi.
When it comes to food - I did my usual research but all I found was how the 'Karahi Chicken' was so famous - well we tried that too - and the only thing it made us realise - that let's stick to the simple meals at the hostel.
But hey, the photo I managed to take looked tempting. No?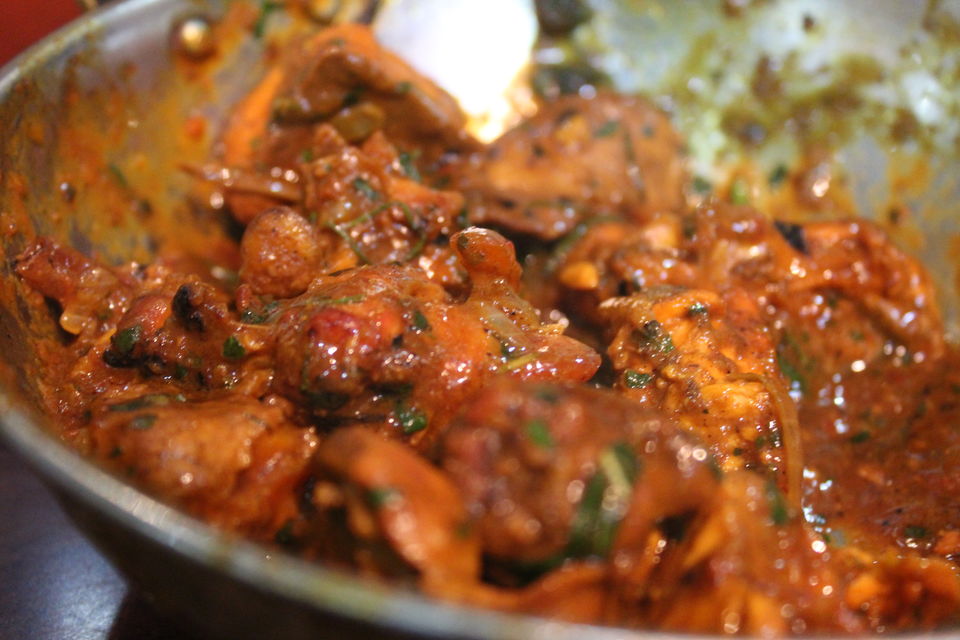 Our highlight - was of course our Dainkund Jot Valley Trek
My friend and I knew that we had to do at least one trek while at Dalhousie, didn't want a place that would be packed with other people or one that would be a bit too difficult for us. (We never pretended that we were expert hikers)
When the people at the hostel we were staying at suggested Dainkund Jot Valley trek my interest peaked, especially when they convinced us that it was a beautiful but 'easy' trek.
What they didn't do was over sell it. Cause, what I saw was so beautiful that it filled me with this positive and happy energy.
At a point I remember standing away from my small group of 6 people and take a long breath and think nothing. My mind blank in a good way. Cause all I was doing was soaking in the moment.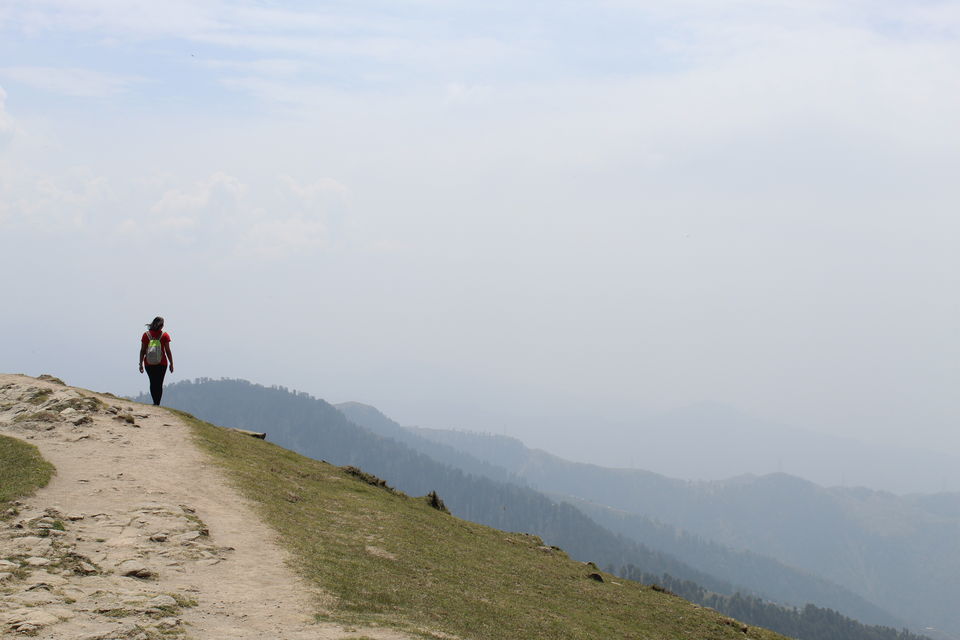 The Dhauladhar range looked at me closely as I started walking, with the thick forests all around me, but my path was clear ahead promising me an easy enough trail. Our friendly guide started explaining how Dainkund got its name. Something about how this hill was a place for witches who used to sing but then one day all of a sudden a 'Devi' (goddess) appeared and saved the village from these 'Dayans' (witches) – the temple dedicated to this Devi is on top of Dainkund peak.
But of course, why it's called 'The Singing Hill' is also because of the breeze that passes through the trees and echoes a musical when it passes your ears. I felt like Julie Andrews and almost even sang 'The Hills are Alive' till I notices my fellow trekkers looking at me like I've gone mad.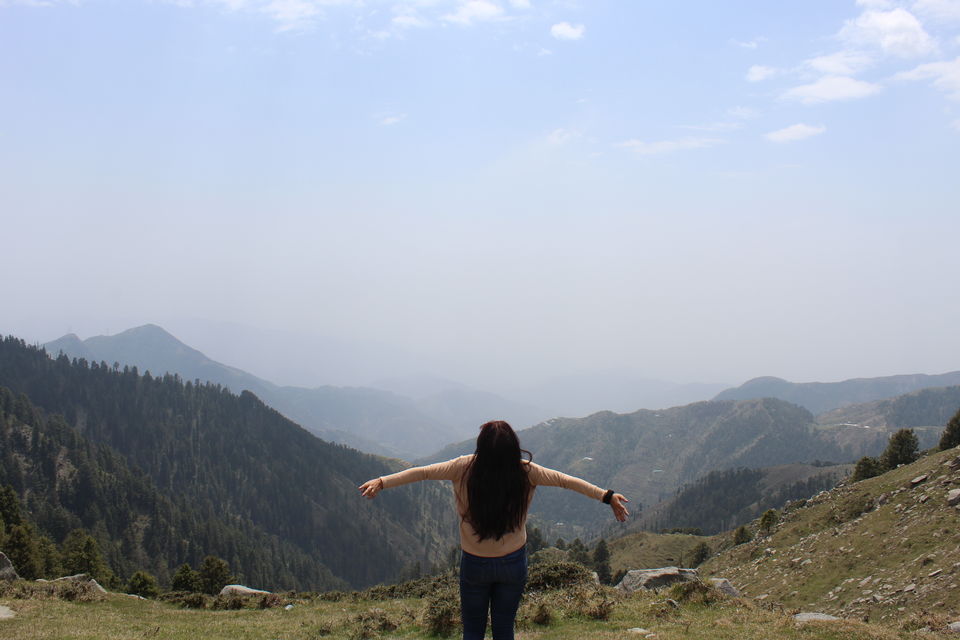 This walk from Dainkund through Jot valley was the most beautiful 4.5 hours of this trip. I walked and took photos and sat and then walked again. Got hit my hailstones at a point and sang out loud old Bollywood songs because I was in my happy place. It felt like it was us and nobody else in the world (the beauty of a trail uncrowded with rowdy manner less tourists)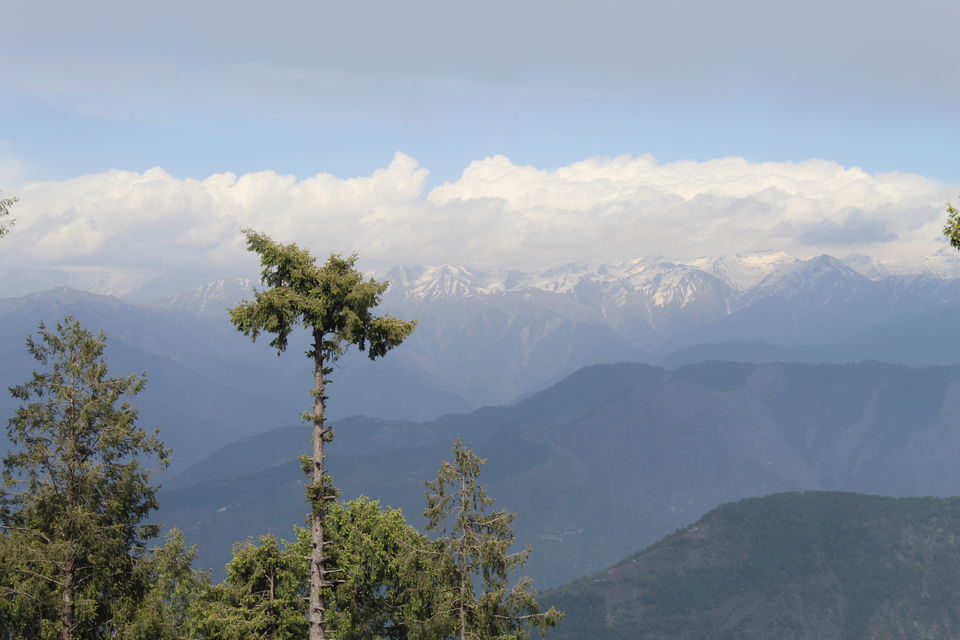 The Dainkund – Jot was a little more than a half day trek, approximately 15 odd kilometers and truly offered some breathtaking landscape of the 'Peer Panjal' range and the 'Chowari Jot' Valley. It felt pure. And it filled us with that pure energy that at least I desperately needed. It reminded me why I feel the need to escape and travel. It assured me that no matter how lonesome I get or what life brings to me, if I have a new place to explore, I will be okay.
Apart from this, we also checked out the 'Switzerland' in the area - Khajjiar - which was a stunning meadow but would probably look nicer with fewer tourists around. I think I loved the Dainkund trek so much, is because we actually felt lost in the hills - it felt like a true escape from the crazy and into a serene natural landscape.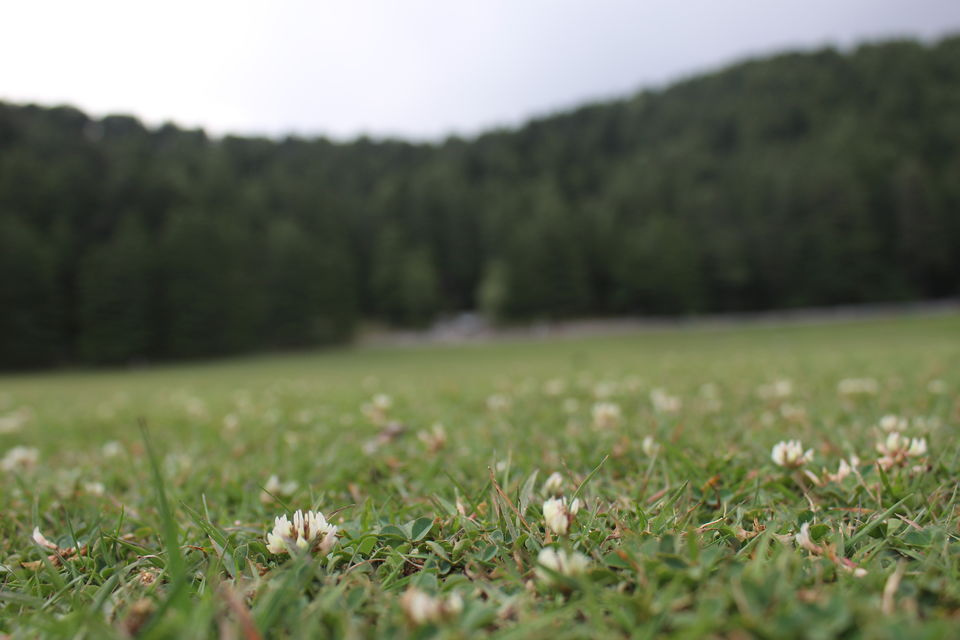 Have you ever felt the need for such a place? I am sure all of us do, at some point. And these days, the only way I can find an escape like this - is through my memories and daydreams. :)