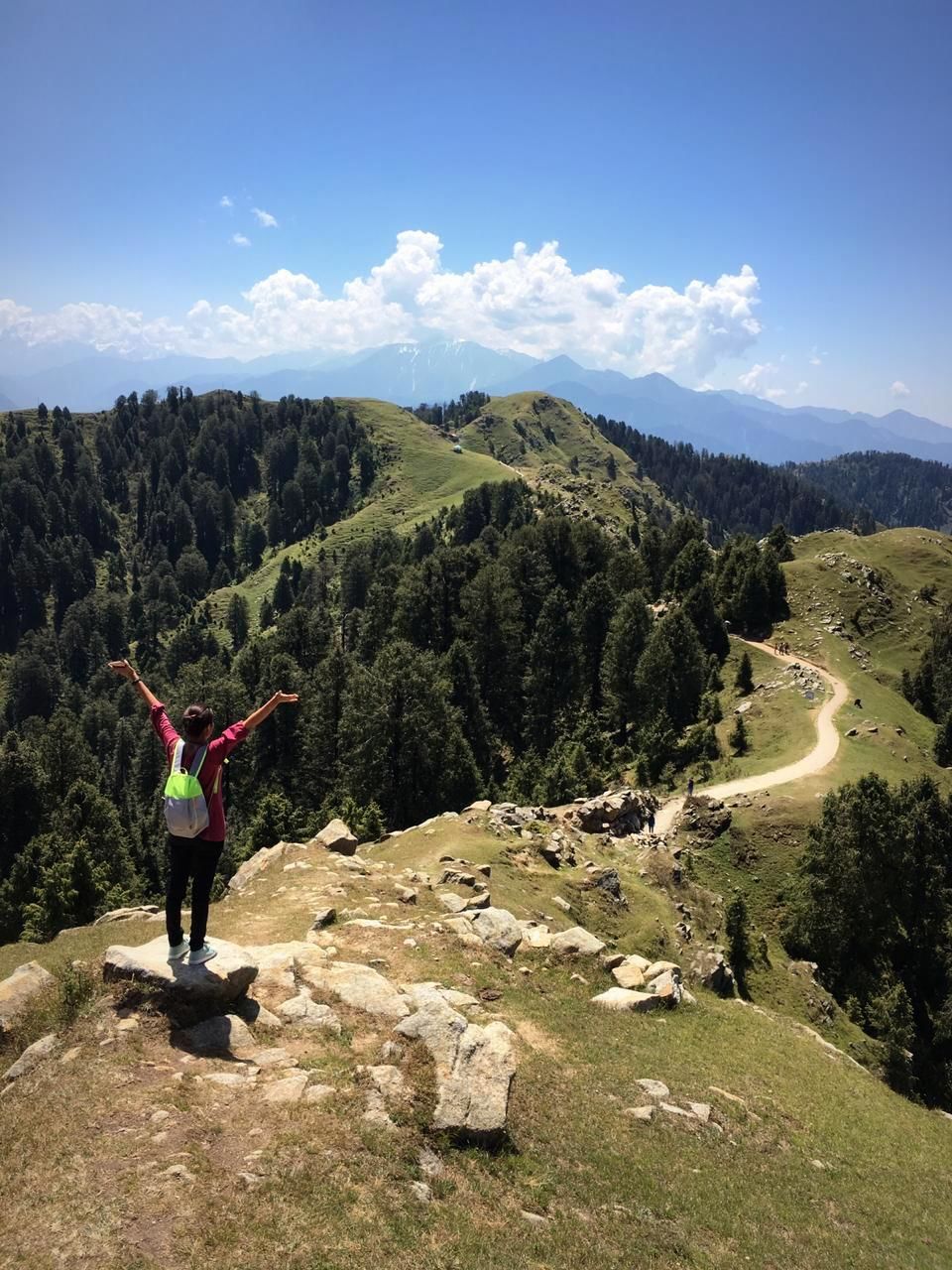 Dalhousie- we all know this place because of Khajjiar, which is popular due to its 'Mini Switzerland in India' tag. Because of its striking resemblance to Switzerland's topography, most of the tourists plan to visit Khajjiar only, thereby completely ignoring Dalhousie, which is a high-altitude town near the Dhauladhar mountain range. Last month, I travelled to this beautiful hill station without any plans at all and got to know about not-so-famous yet superb Dainkund Peak trek.
Going for at least one trek each year, I found this one to be relatively less exhausting and a lot more gorgeous. I realised that this trek is the perfect choice if you are someone who hasn't hiked before and are a bit afraid of walking on the uneven terrain as well.

Other than this new trail, you can also witness the most stunning sunset in Dalhousie. I spent two days in this glorious place amidst nature and had a peaceful time in the lap of nature. What made this trip special was that I met very friendly, funny and interesting solo travellers in my hostel (Zostel Dalhousie), who made my vacation unforgettable.
I was in the common area of the hostel when a cute girl came to me and asked me about my travel plans. An engineering student, she was doing an internship there because of her unique interests. I told her that I am blank as of now. So she suggested that we do the Dainkund Trek together. Of course, I was interested! She was to be the guide on this trip. For the day, she recommended that we stroll around the Gandhi Chowk and get back early so that we could go for a small trek and watch the sunset.
She also told me about the hostel celebrating its second anniversary the next day, and they had a few fabulous activities lined up for everyone. Of everything, I was the most curious and excited to attend the baking workshop where cookies were to be made without using the oven.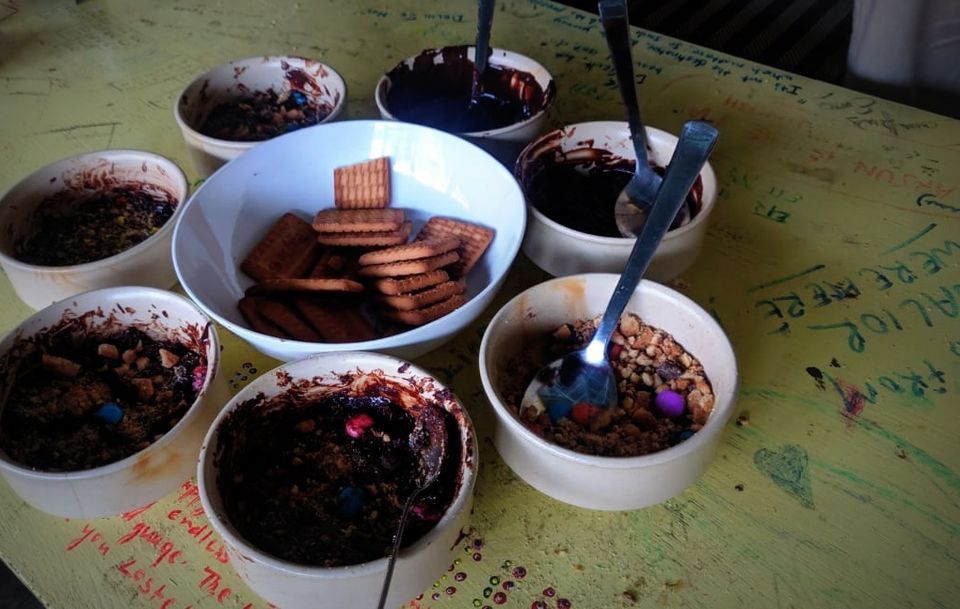 My plan was set for couple of days in just 15 minutes, and this is how I spent my time in Dalhousie:
It is the central area of the town, and has a number of souvenir shops, traditional item shops, Tibetan market (selling a variety of jewellery, jackets, shawls, handicrafts, cardigans, rugs, carpets, woollens, etc.), restaurants and cafes. Also, you can visit St. John's Church here.
Nothing like a beautiful sunset to end a happy day!
In the evening, the girl took us (me along with other travellers) to enjoy the view of the sunset. We walked in Guniala (a village) for nearly half an hour and by then, it was the perfect time for the most beautiful sunset. Such a soothing dusk that appeared as if someone had painted a marvellous picture in front of us!
And in the meantime, I found our guide to be the greatest nature-lover when I saw how she smelled the inner bark of a fallen tree, saving a small piece of it inside her bag, and the way she got excited looking at the sunset. People like her are difficult to find these days who are still interested in cherishing small joys of life with absolute love.
Not much of a trekker, but I make sure that I go for trekking at least once a year. I had never heard of the Dainkund trek before, and while climbing those mountains, I realised that this trek would be perfect if you are planning to go on a hike for the first time. We were a total of seven hikers, who went for this 10-kilometre long, of easy to moderate difficulty level trek with our guide.
The trekking starts from Dainkund, passes the Pholani Devi Temple and ends in Jot. While starting, you will see an Indian Air Force base station up at a tall hill, and I found it quite amusing because that was giving an uncanny look to the place.
After trekking for about 2 kilometres, you'll reach the Pholani Mata Temple. Locals believe that Dainkund (Dain means witch and kund means lake) was an abode of a powerful witch. As per the legend, an incarnation of Kali Mata arose from a stone at the site who slayed the witch. This incarnation is worshipped by the locals as Pholani Mata. Nearby the temple area, you can enjoy tea, maggi, momos, and other snacks. After this point, the real hiking starts. We didn't find anyone else on the whole trail after that.
The whole route is scenic due to green, deep valleys and extraordinarily blue sky tucked with the whitest, giant clouds resembling huge cotton candies. You will see the great white range of Dhauladhar Himalayas that originates from here. It means that you can see snow-covered mountains, which are enough enormous to make you forget any unfortunate episode of your life, at least for a while!
The peak is surrounded by thick forests in all directions. The winds crashing on the tall trees make it seem as though the sky and the sea are whispering to each other.
On the way, you will meet different animals as well. I made friends with goats, sheep, cows, buffaloes and horses.
My tip: Make sure that your body is covered and you have proper trekking shoes. This was a random plan and so I was not prepared properly. I came back with a severe sunburn on my body and extreme pain in my toes. Also, ensure that you carry enough water with you.
So, stop staring at the mountains. Climb them instead. Of course, it is a harder process, but it will lead you to a better view.