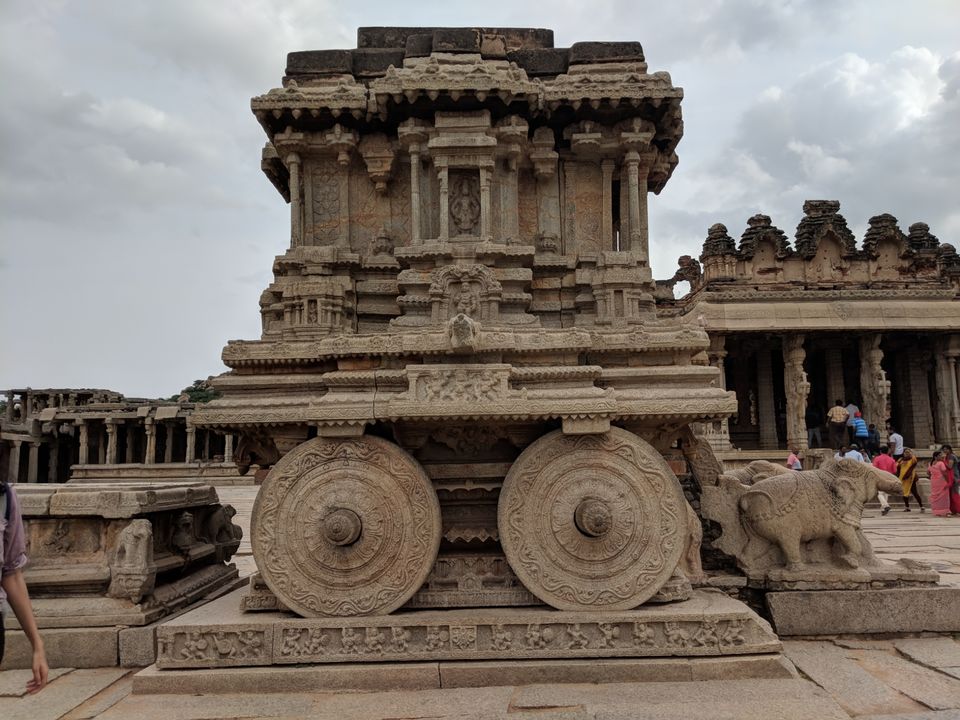 Hampi- The city of ruins is a UNESCO World Heritage Site. Situated in the eclipsed depth of hills and valleys in the state of Karnataka, this place is a historical delight for travellers. It is surrounded by myriad ancient monuments, enchanting temples, bustling street markets and captivating remains of Vijayanagar Empire. Hampi is an open treasury with numerous locations to explore and a cool way to see the city from the perspective of its history.
Hampi was the capital of the Vijayanagar empire around 1500 AD and the second largest city in the world at that time. Now you can explore the ruins of a lot of temples and other structures spread out over a vast area. The land around Hampi is quiet baffling as the city is surrounded by boulders of various sizes and you can climb to the top of them with a little effort to get a stupefying view of the entire town. It is located on the banks of the Tungabhadra River. It is generously famous for its massive, beautifully carved temples, especially the Virupaksha Temple, dedicated to the patron deity of the empire. You can also find remains of the old aqueducts, canals and military barracks and stables here. Hampi was declared a UNESCO World Heritage site in 1986 and many efforts have been taken to restore the lost glory of the place - very limited modern establishments are allowed in the main area, which gives an authentic feel to the ruins.
Getting to Hampi
Well, you may opt to drive all the way to Hampi from Bangalore or Hyderabad as it is equidistant from both the cities with a distance of around 350 KM. Alternatively you may choose to go via train/bus. The overnight journey via Hampi Express is the best means to reach Hampi from Bangalore. It is a 9 hour journey from Bangalore Junction to Hospet- the nearest station to Hampi. From there you may take an auto rickshaw/taxi/bus to Hampi which is a further 30 minutes journey.
You may also opt for KSRTC A.C/non A.C buses but make sure to book tickets well in advance. The bus drops you in Hospet town which is 13 km away from Hampi so you can take an auto rickshaw or a bus to Hampi from there.
If you choose to take a road trip to Hampi, take the NH48 (old NH4/ also called Tumkur Road) out of Bangalore. Bangalore to Chitradurga you will be using the NH48 (old NH4). From Chitradurga bypass take the NH50 for Hospet and then drive 13km to Hampi from Hospet. It's a 6 to 7 hours drive from Bangalore. Alternative route would be to choose the Bangalore Hyderabad highway and then go via Bellary.
Where to stay in Hampi
If you love luxury and and plan to travel by your own car to Hampi, go for Hyatt Palace Hampi as it is the best leisure hotel in Hampi and situated 35 km away from the main Hampi. It's quite an experience to stay in the calm and peaceful Vidyanagar Township and if you got time, you may explore the area around the township as well which consists of Kaladham primarily. Visit to Hampi is considered incomplete without a peep into Kaladham. It consists of pictures of Hampi taken by an Australian photgrapher and the 3D show is also quite impressive. The area around is well maintained and very peaceful.
If you wish to stay in proper Hampi or Hippie island, then you have various options of resorts like Gopi Island Guesthouse, Shanthi Guest House, homestays and camp stays as well.
We left early morning from Bangalore in our car, got our fuel tank filled to full and took the Bangalore Hyderabad Highway. We stopped over for breakfast at Indian Parantha Company as once you cross Devanahalli, you may not find any stopover for breakfast. The paranthas there are worth a shot along with its aromatic ginger tea. The journey was around 6 hours long and we landed in Hyatt Palace Hampi at around 1.30 pm. Without second thoughts, we chose to have the buffet meal at the hotel restaurant itself as we were starving of hunger. After lunch, we took few hours of rest as it was a tiring journey and towards evening, we moved out to visit Kaladham. The place is beautifully maintained and I simply fell in love with the peace and calm environment of the entire complex. After Kaladham, we visited the OPJ Museum Park, Panchwati temple and the Parking Lot Shopping Complex for dinner. After dinner we took the bicycles available at our hotel (free of cost) and just cycled around the neat and clean town for an amazing feel and experience. Day 1 came to an end and we slept in time to get up early the next day.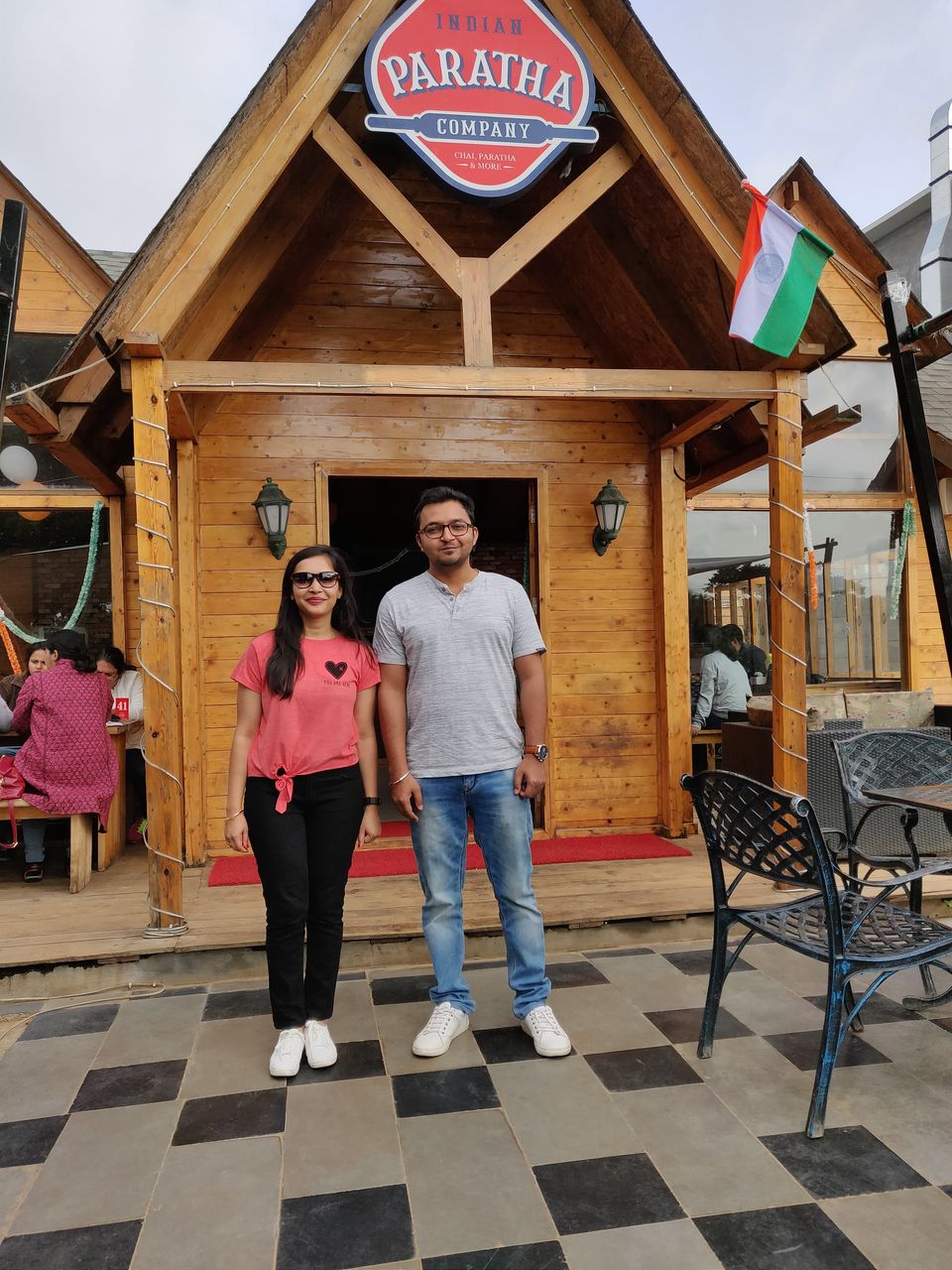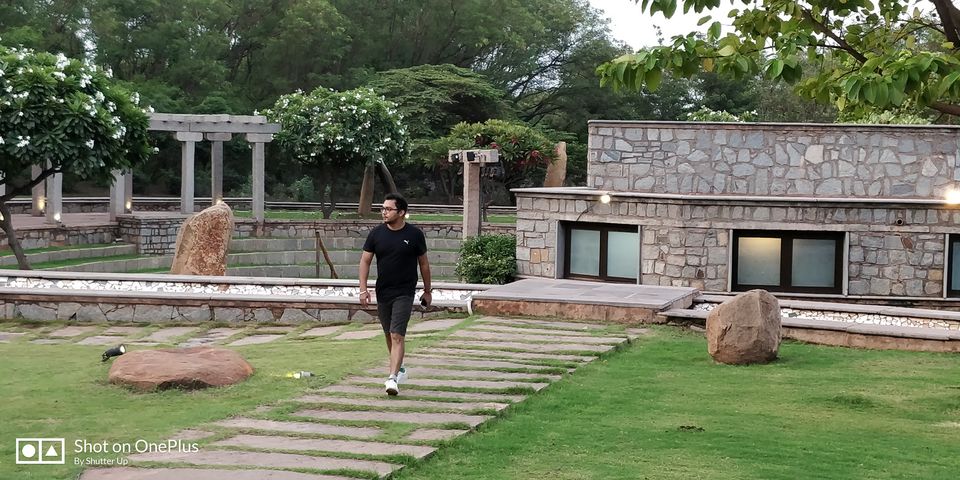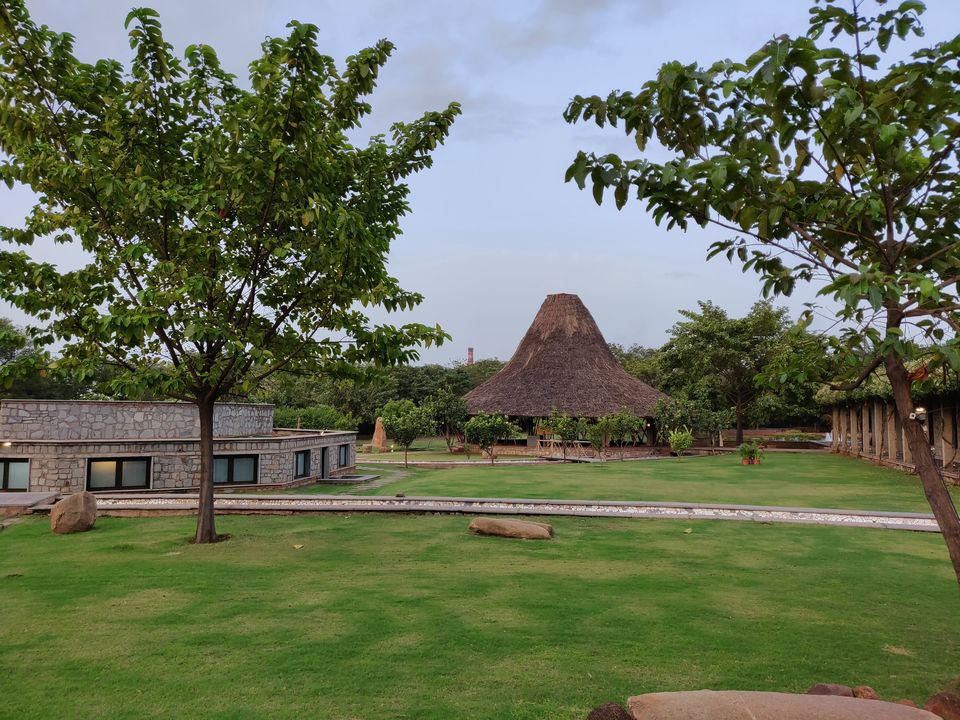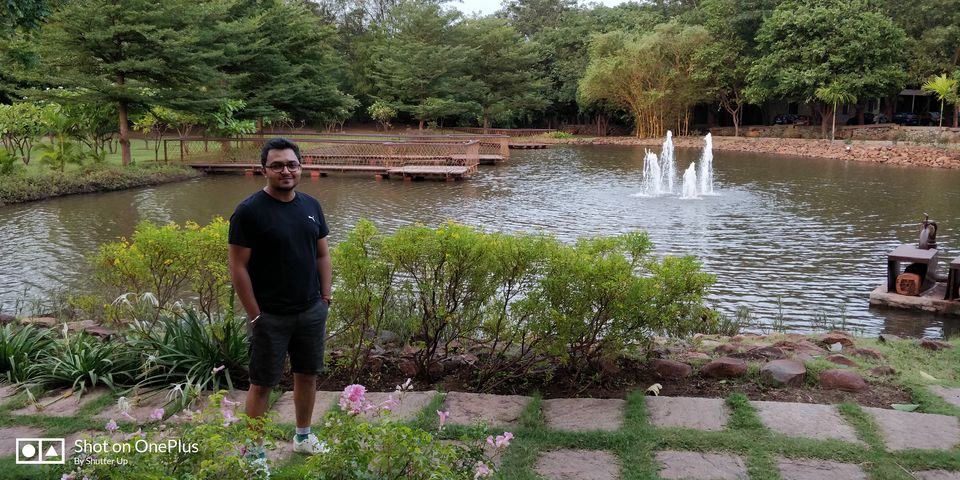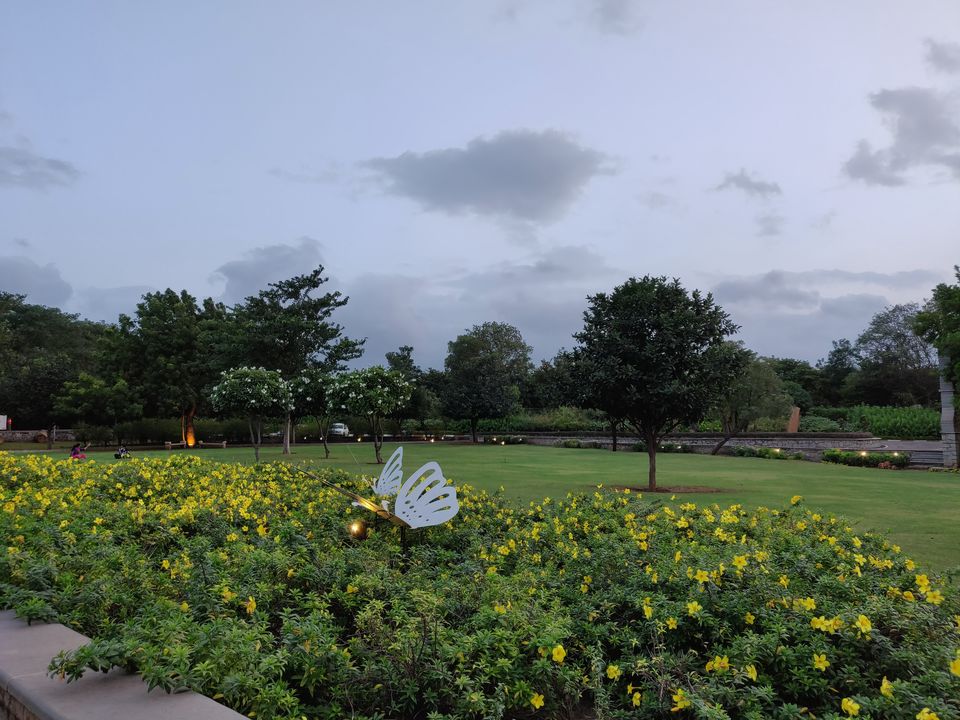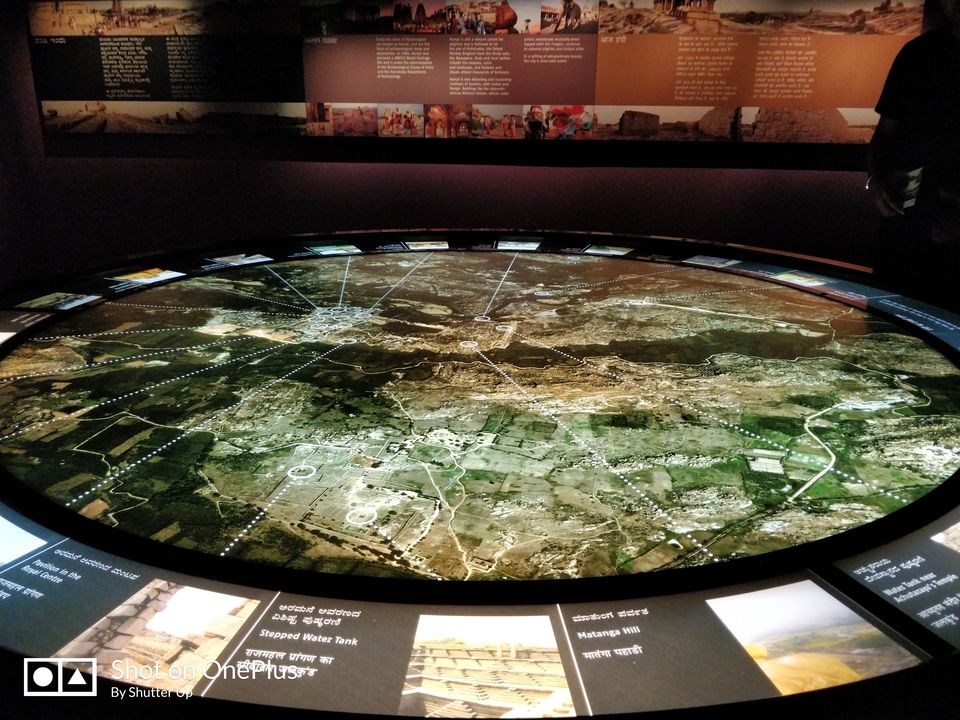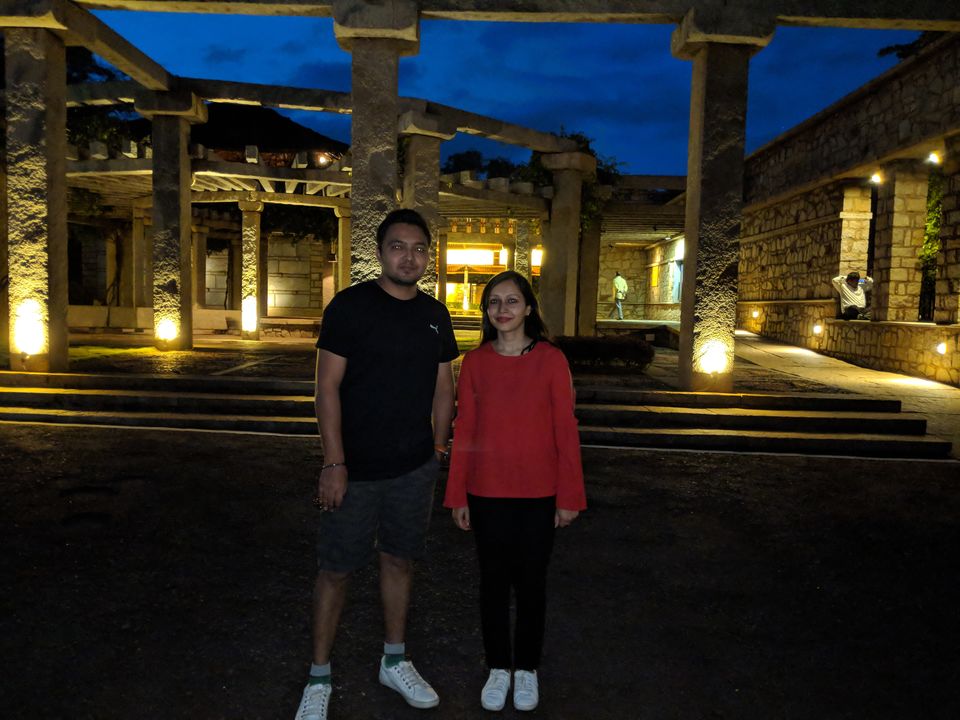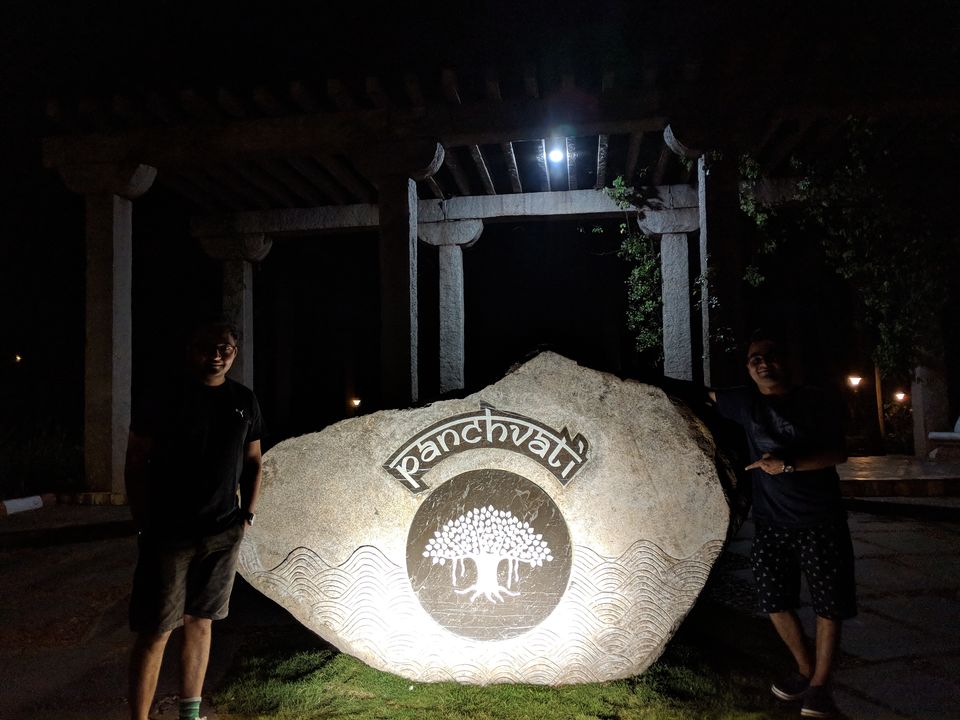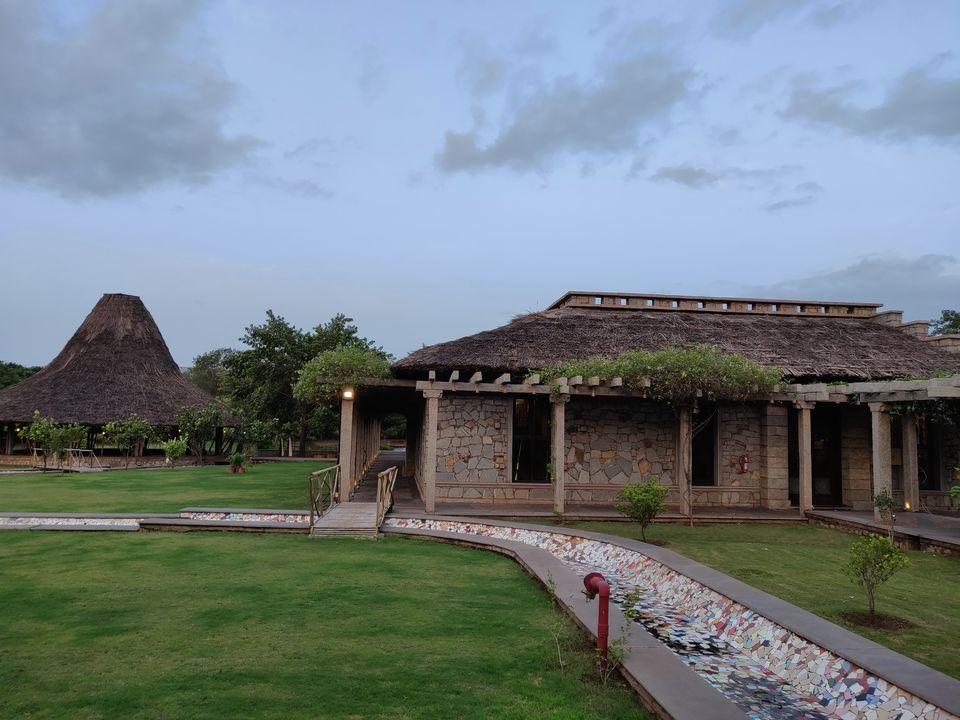 Day 2 began early ,we enjoyed a hearty buffet breakfast at our hotel and off we drove to Hampi !!! It was almost an hour long ride from JSW township to Hampi. We parked our car and headed to Virupaksha Temple - Located at one end of the city, this is the place where most people begin their tour. I would recommend hiring a Tour Guide in Hampi if you really wish to comprehend the significance of each and every ruin, temple, statue, almost everything. If your idea of roaming in Hampi is just to check out the massive structures and click some pictures then you don't need a guide at all. Personally, I prefer to peep into the culture and history of any place that I visit so I wasted no time and hired a guide from outside the Virupaksha temple who explained us in detail what each and every area, building and idol symbolises. Mind it, you will have to bargain with the guide for his fee. This temple is abode to one of the forms of Lord Shiva called Lord Virupaksha. While it is located at present day in Hampi, it was once a smaller shrine in the middle of the ancient and majestic Vijayanagara empire.
Hampi Bazaar is next stop which faces the Virupaksha Temple and is also known as Virupaksha Bazaar. Various artifacts are available here including antique coins, shawls, bags etc. Most tourists purchase souvenirs here. It is said that during the reigns of Vijayanagar Empire, precious stones, metals and ornaments were sold in open at this Bazaar.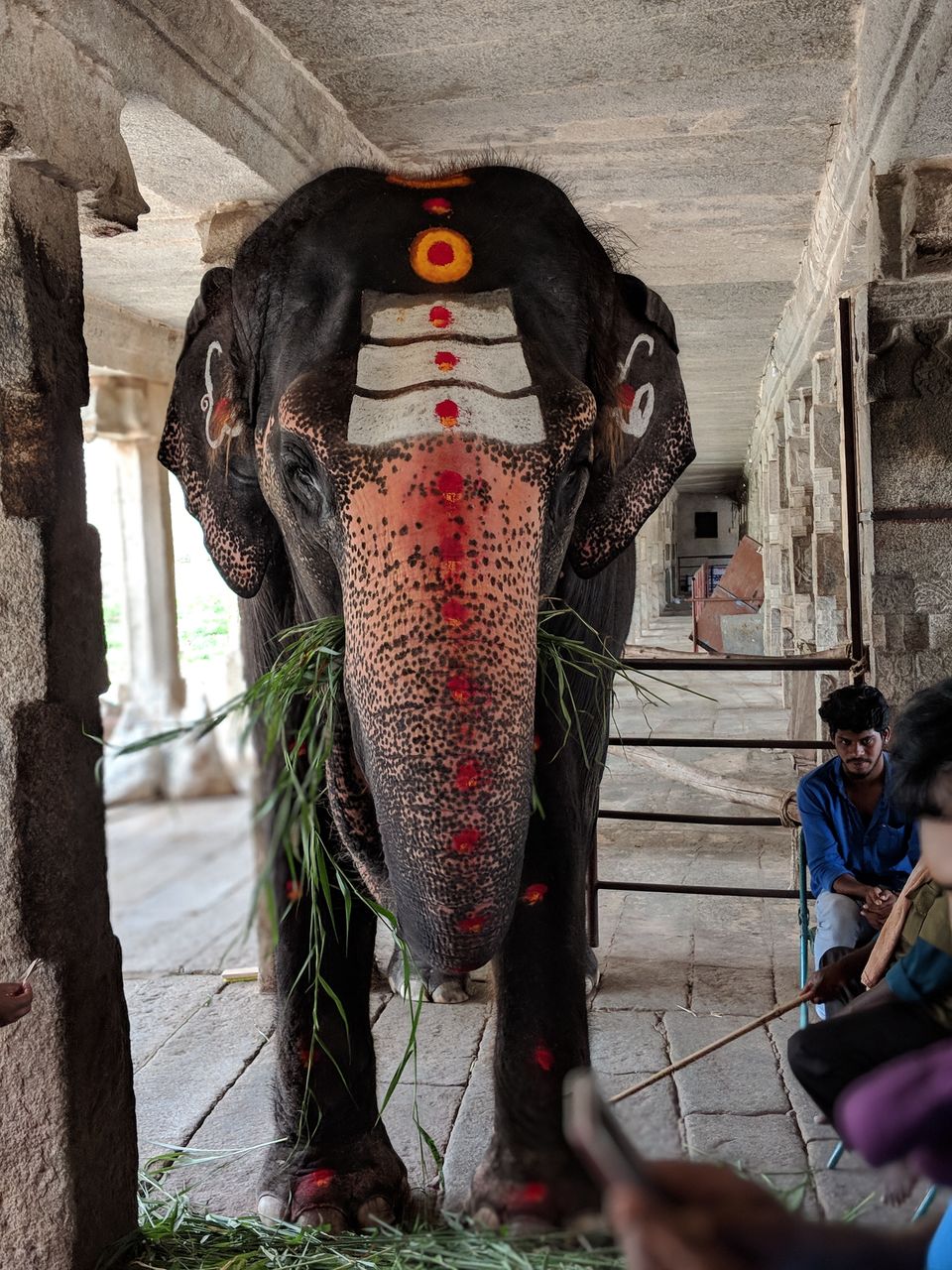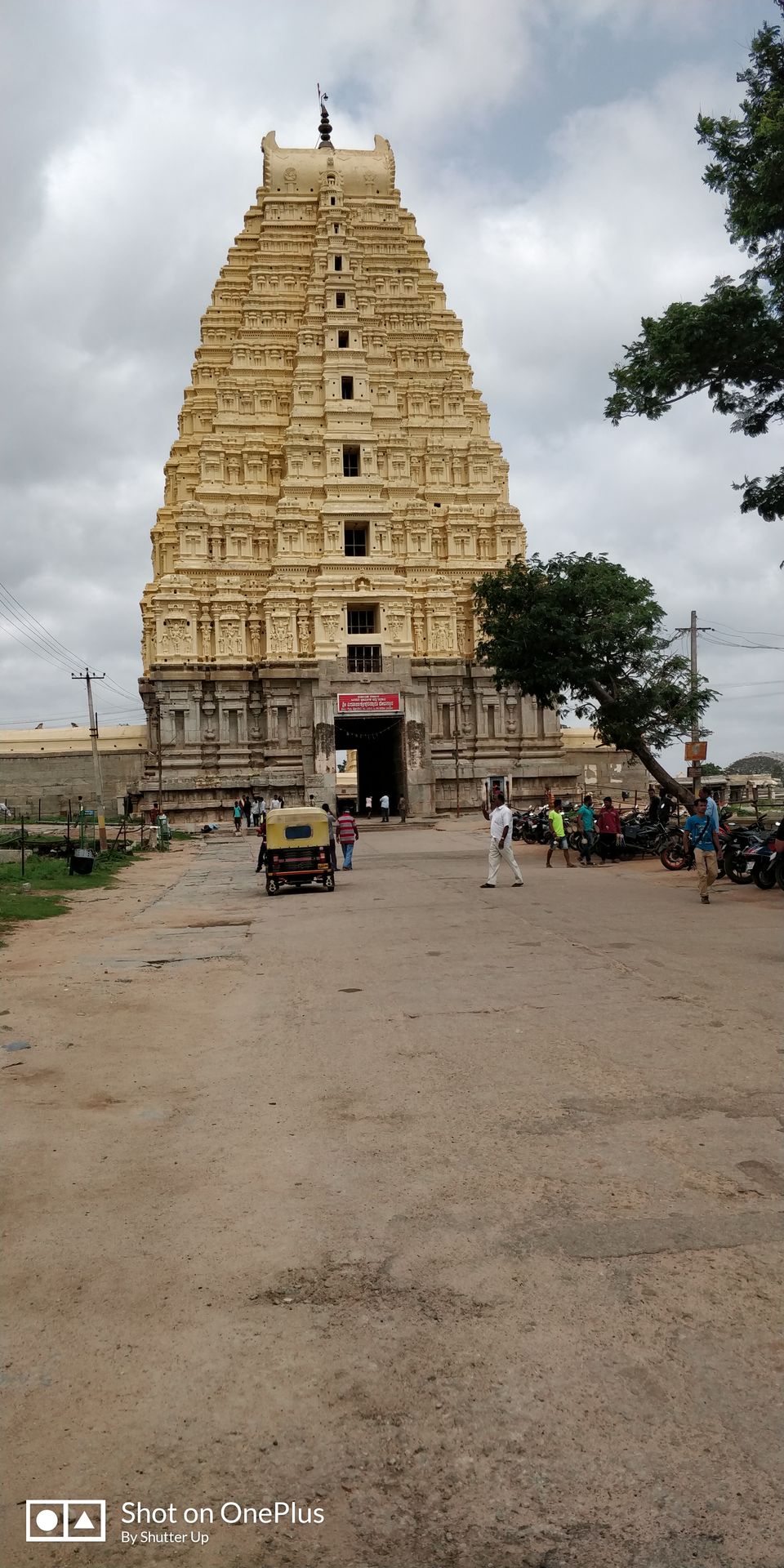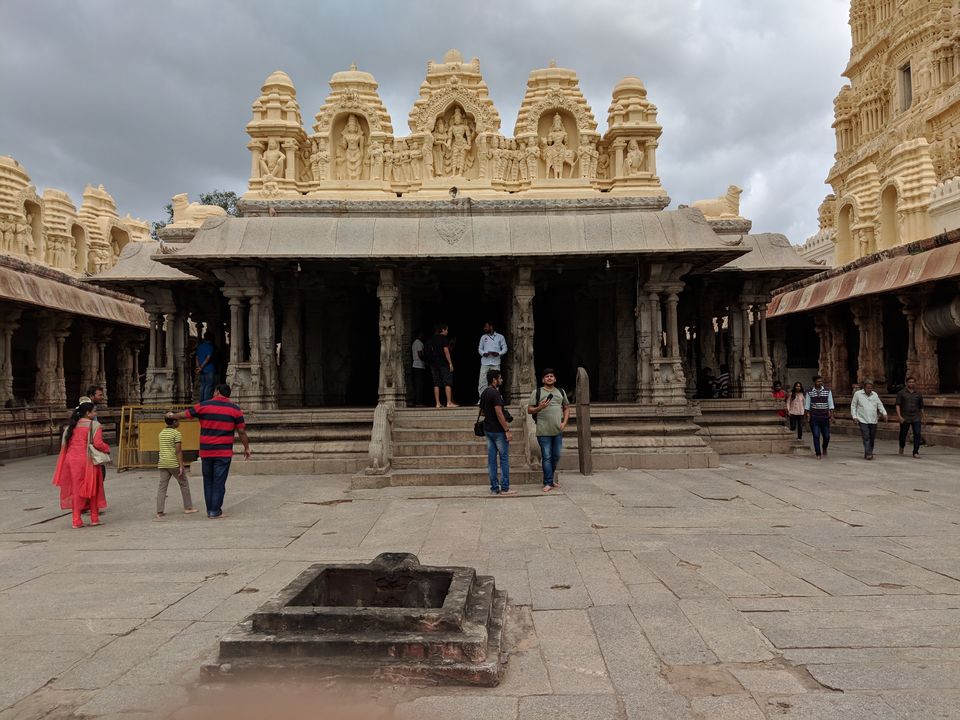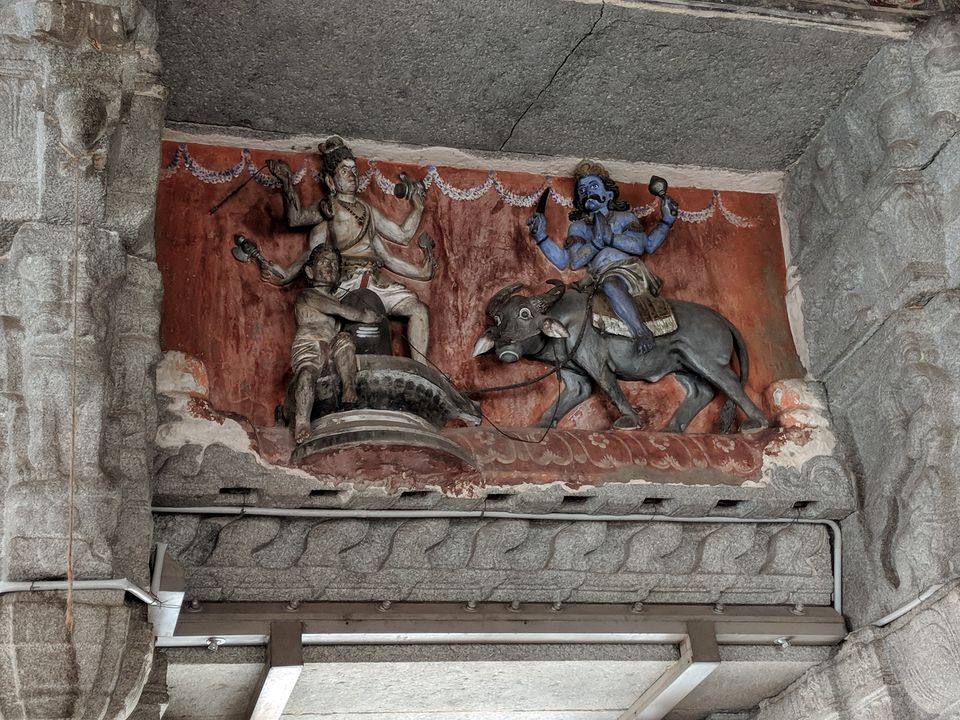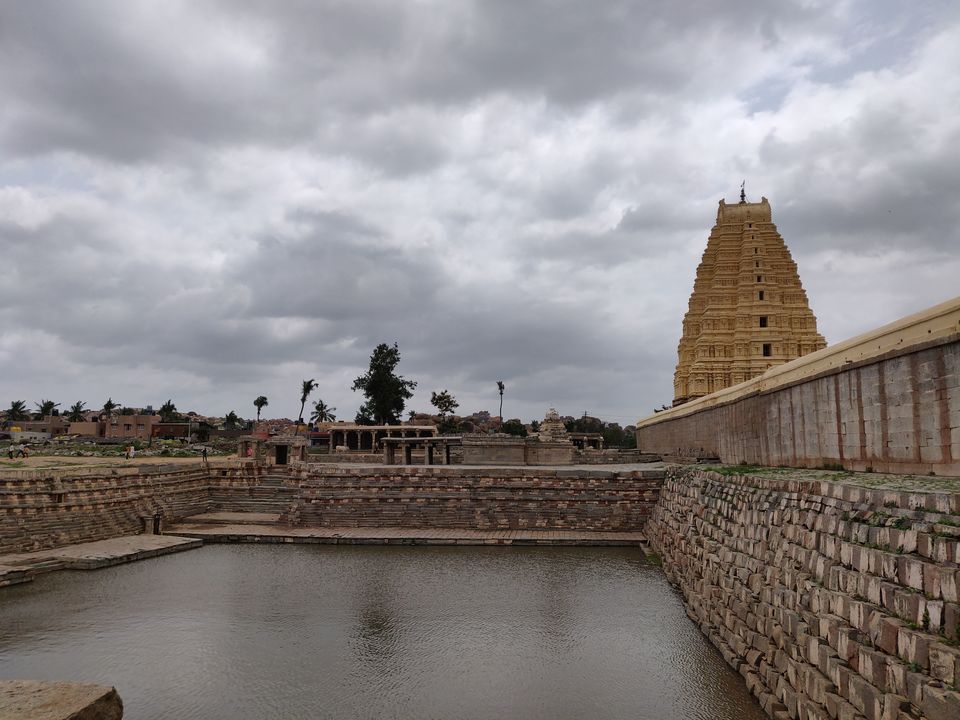 Hazara Rama Temple, a beautiful temple dedicated to Lord Rama, attract tourists from all over the world. It is a World heritage monument that dates back to the 15th century and is located in the centre of the land area that belongs to the Royals. It is one of the most preferred locations for photography in Karnataka. The intricate craftsmanship looks almost unreal with illustrations from Ramayana that have outlived the tests of time. The irresistible magnificence of the temple complex and its surroundings were even featured in several Bollywood and Kannada and other regional films like The Myth and Hampi. The intricate carvings of Gods and Goddesses on the brilliant structure are proof of cultural and religious significance in India.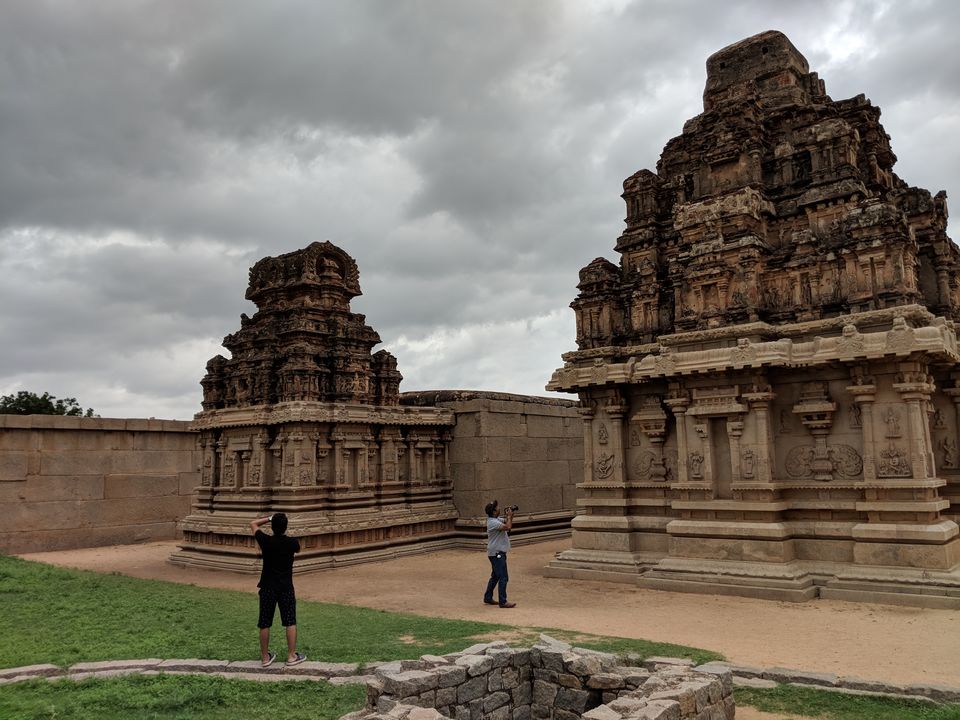 Next, we went to The Elephant Stables which served as an enclosure for royal elephants back in the day of the Vijayanagara Empire. Eleven domed chambers are seen here with a particularly decorated one which served as an enclosure for the musicians during any performances.
Queen's Bath , Hampi was our next stop. A part of the Royal Enclosure, this was the Royal bath during the times of the Vijayanagra Empire. It was built in such a way that no one from outside could enter the bath.
Mahanavami Dibba- This structure served as a focal point from where the Vijayanagara kings ruled their Kingdom. Various aspects of courtly life are depicted on this huge structure, including a gem studded throne.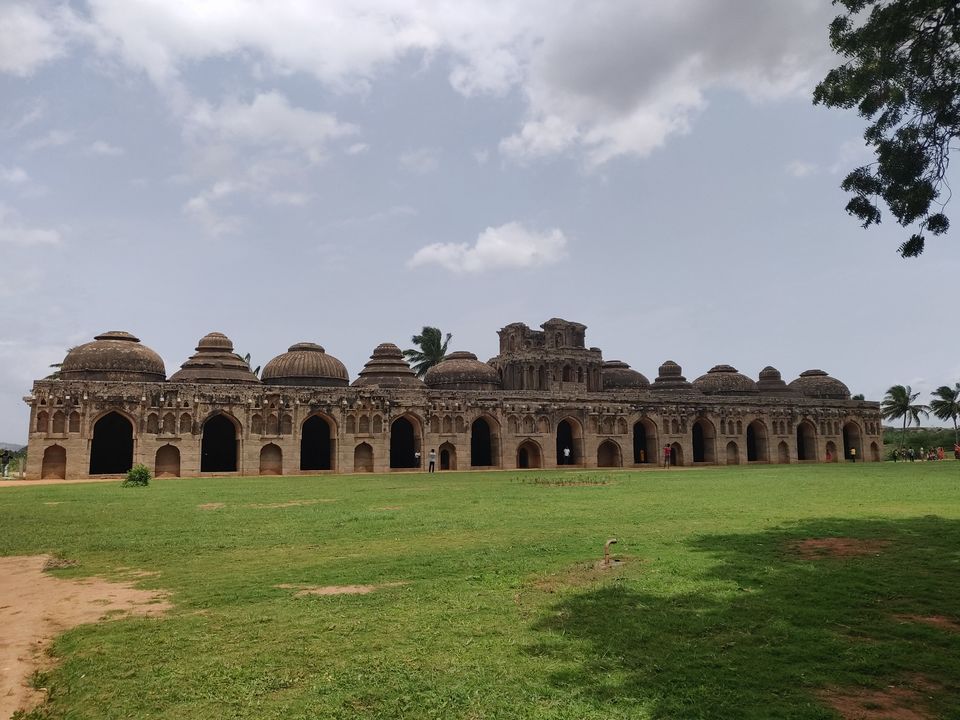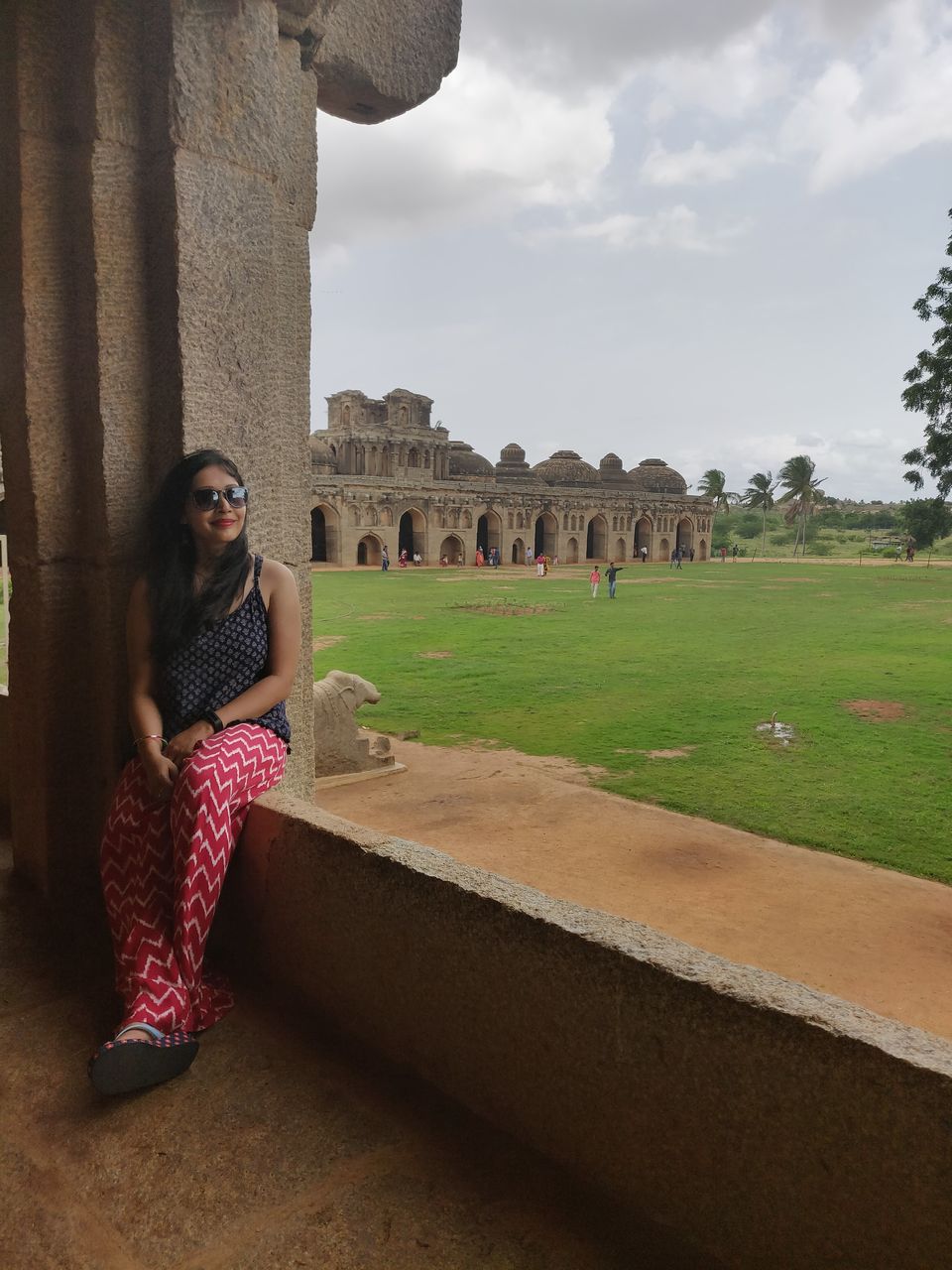 Big Shivlinga - Carved out of a single rock , this Shivlinga stands at a height 3m amidst water.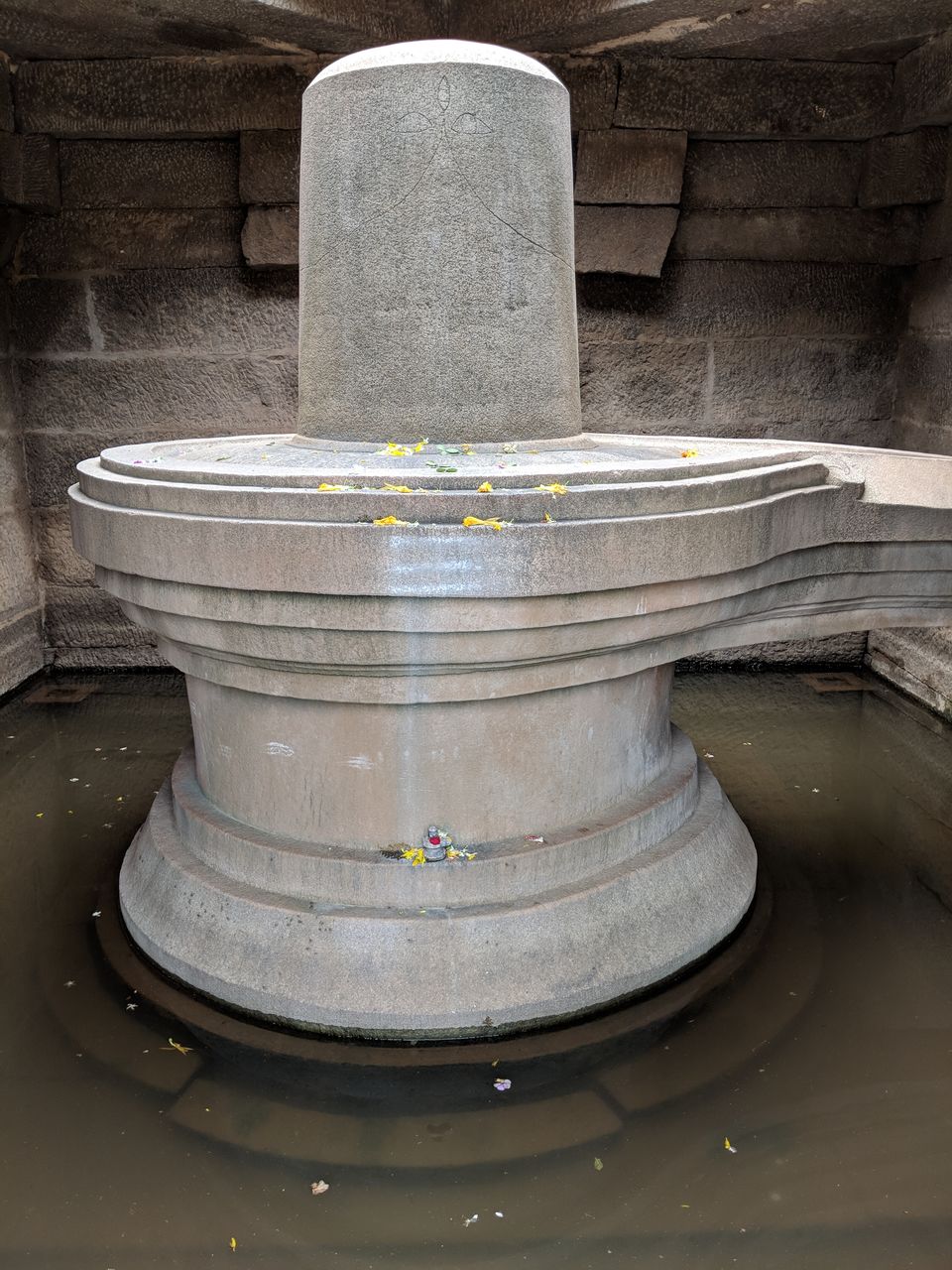 Riverside Ruins have a splendid cluster of Shivalings carved on flat rocky surface, in addition to several shrines dedicated to Lord Vishnu and other Hindu deities, some of which are partially submerged. These Ruins are in a row of 108 lingas and a sqaurish 1008 lingas and can be spotted all across the gorge. The excitement of identifying the idols is an experience to remember.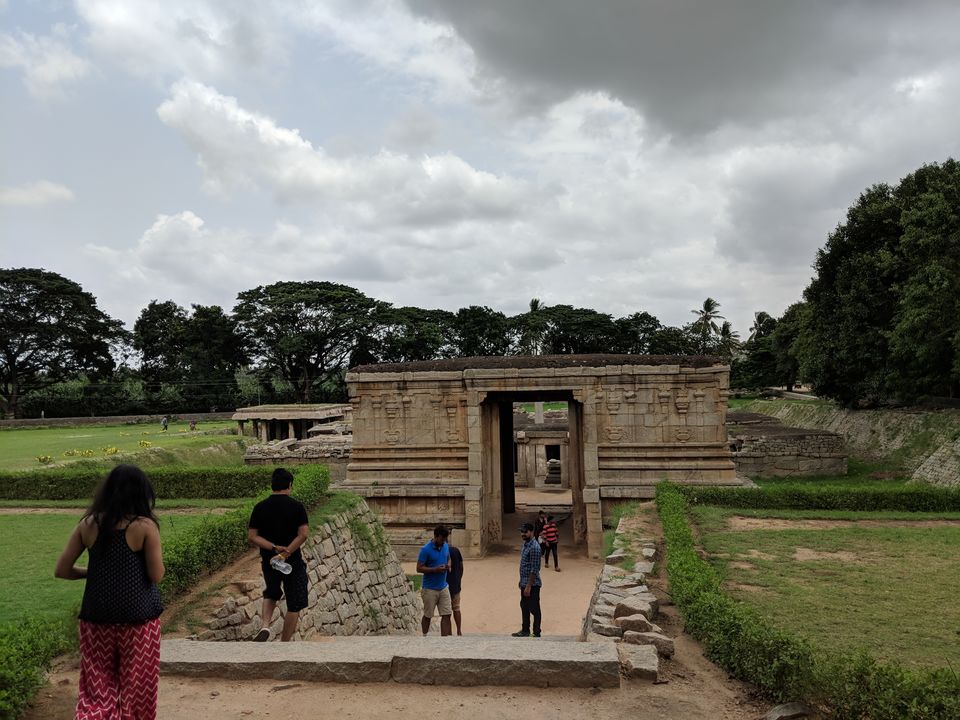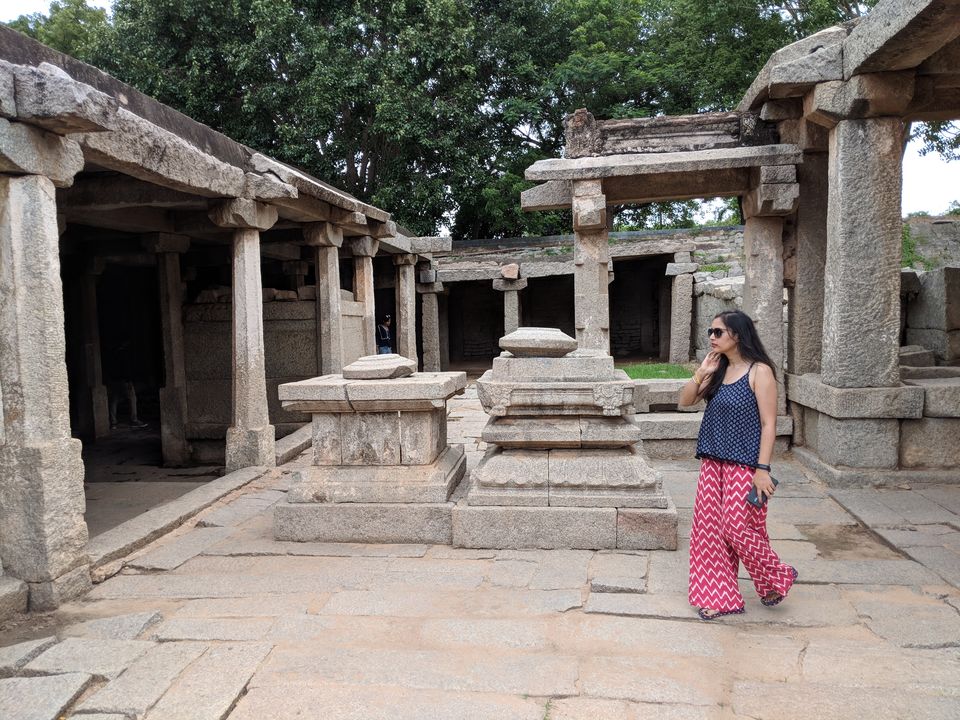 Lakshmi Narasimha Temple- This temple features the biggest sculpture in Hampi, of Narasimha sitting on SeshaNaag i.e. the seven headed snake acting as a shelter to him. The idol of Goddess Lakshmi is placed along with that of Narasimha.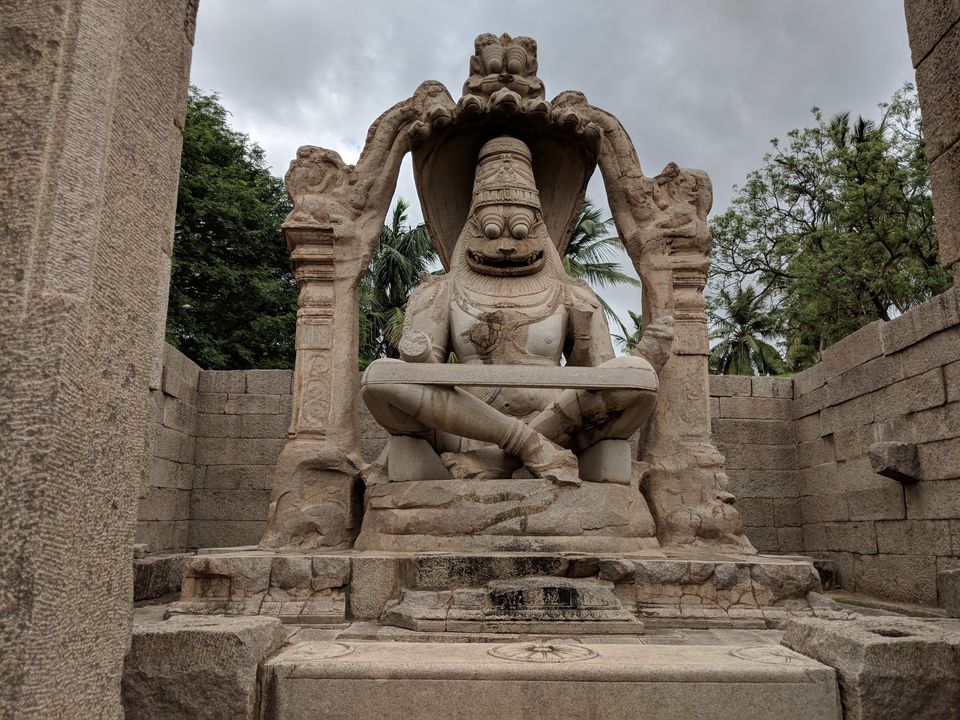 Kadalekalu Ganesh- Kadalekalu Ganesh is another important religious attraction in Hampi. The temple has traditional stone architecture and is located on Hemakuta Hill and has a huge 15 feet monolithic statue of Lord Ganesha which is a believed to be one of the largest in the world. The reason why the attraction is called Kadalekalu is because the belly of the deity is chiselled to look like Kadalekalu (Bengal gram).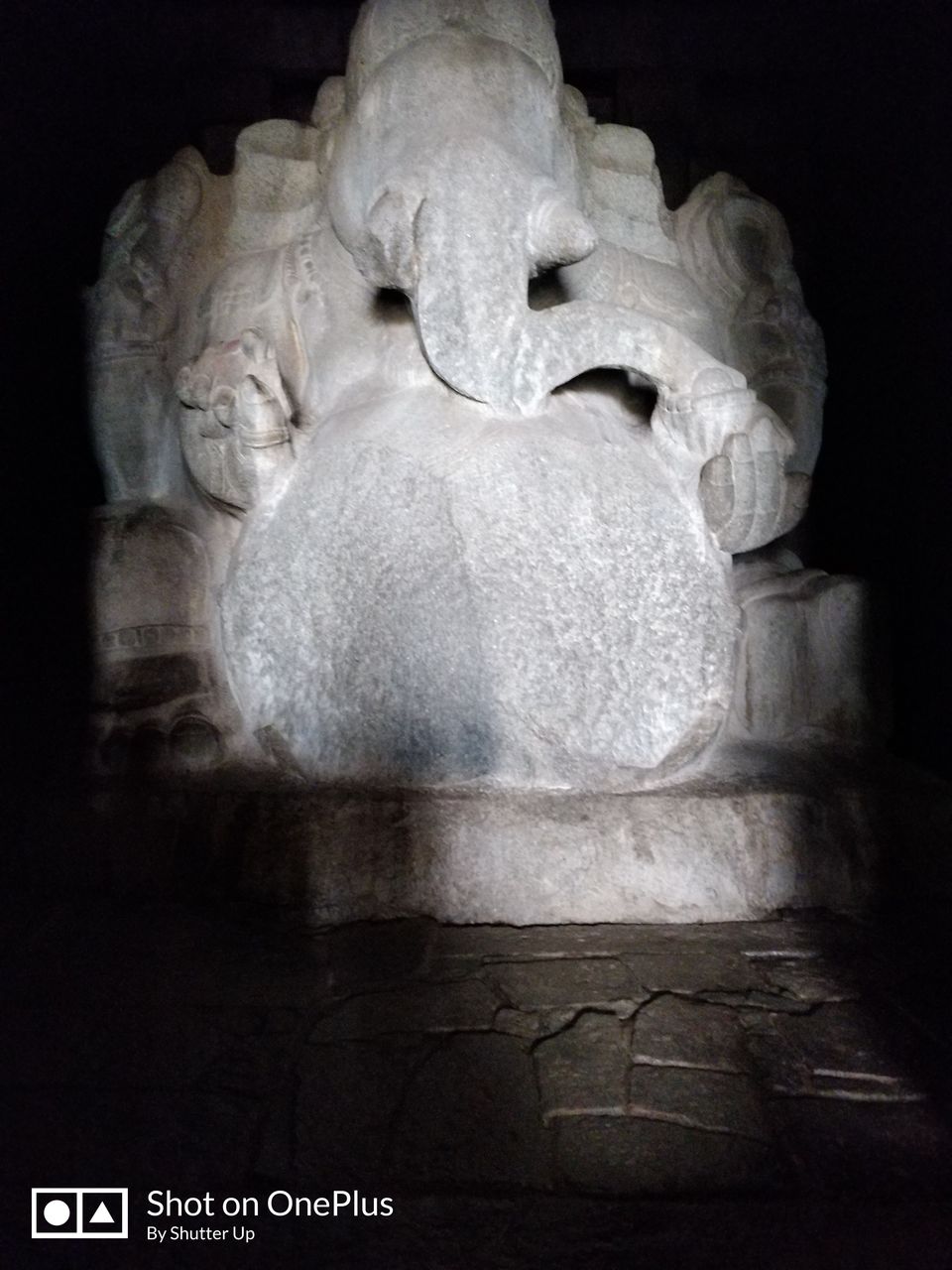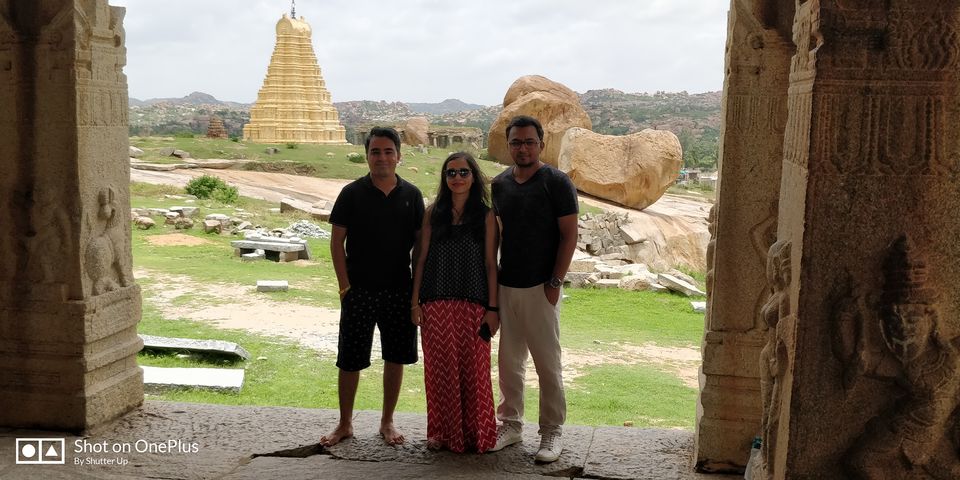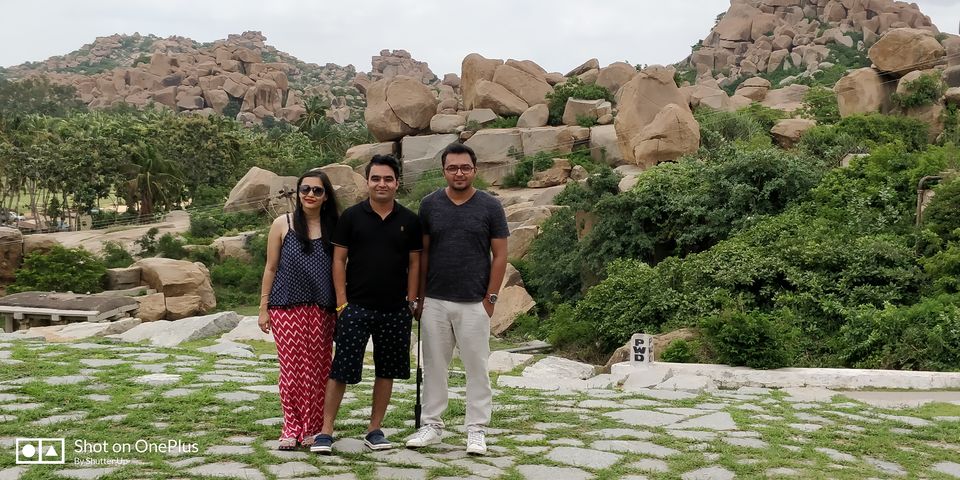 Lotus Palace- Close to the Zenana Enclosure, is a monument that stands out in its design and style from most of the structures of Hampi. Another complex, for royal women, this one gets its name from the lotus-like dome.
King's Balance is an ancient 15th century attraction which was used to weigh the king with the royal Jewels every year on special occasions. The jewels were then donated to the temple priests. The structure has intricately carved pillars. It is made of granite and the pillars support a stone beam that has hoops which were used to suspend the balance.
Vithala Temple- The most impressive structure in Hampi, the Vithala Temple dates back to the 16th century and is a truly splendid example of rich architecture. The famous stone chariot, which has become an iconic symbol of the architecture of Hampi, is located inside the premises of this temple. The temple complex is spread over a huge area. The main gate has an impressive arch with carvings, and opens in a large courtyard which has the famous stone chariot in the center. The main temple is located just behind the chariot and has beautiful carvings. There are also several other smaller temples inside the courtyard, all of which are definitely worth a visit. The carvings on the walls/pillars of these structures depict various gods in different forms.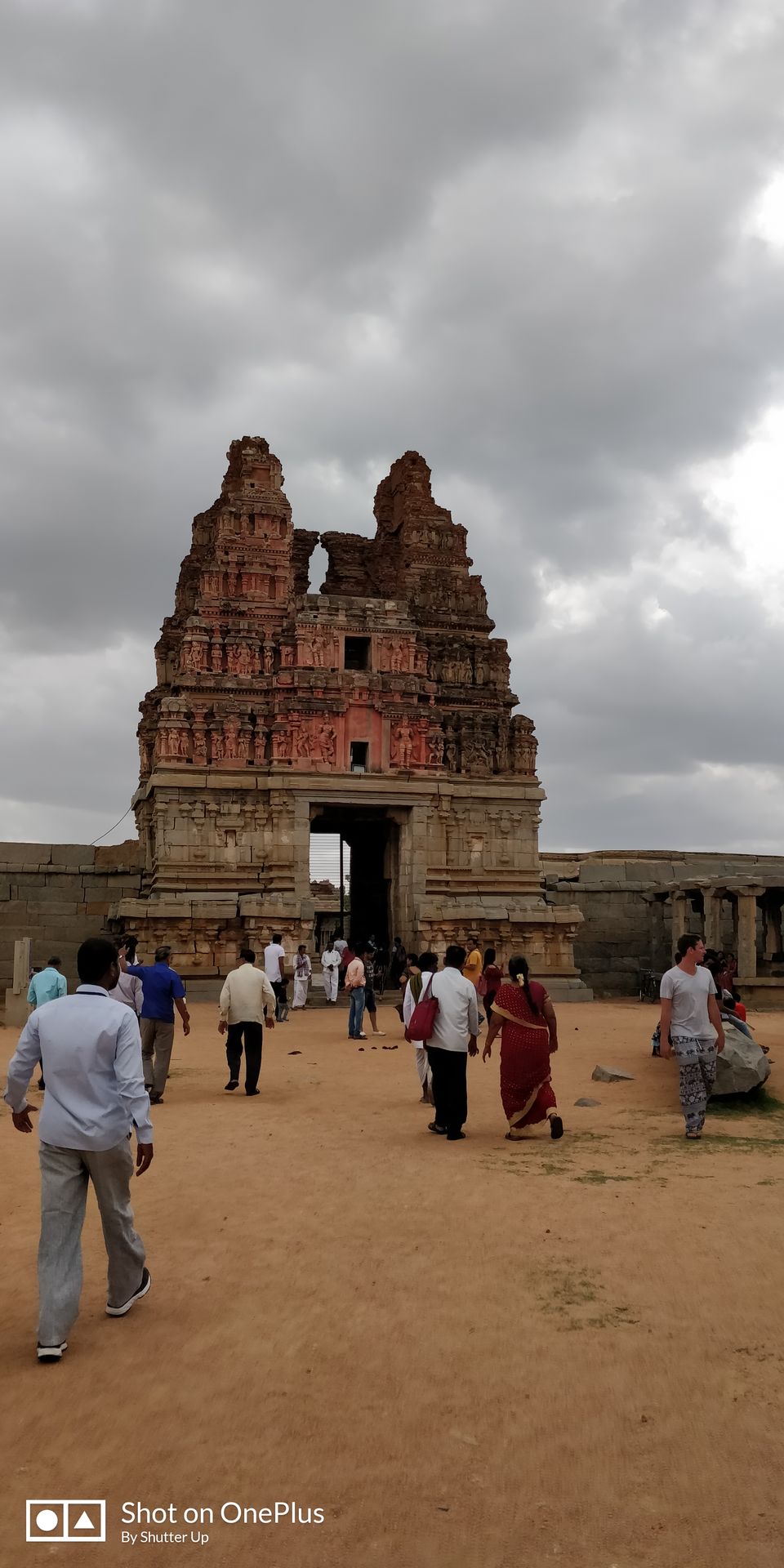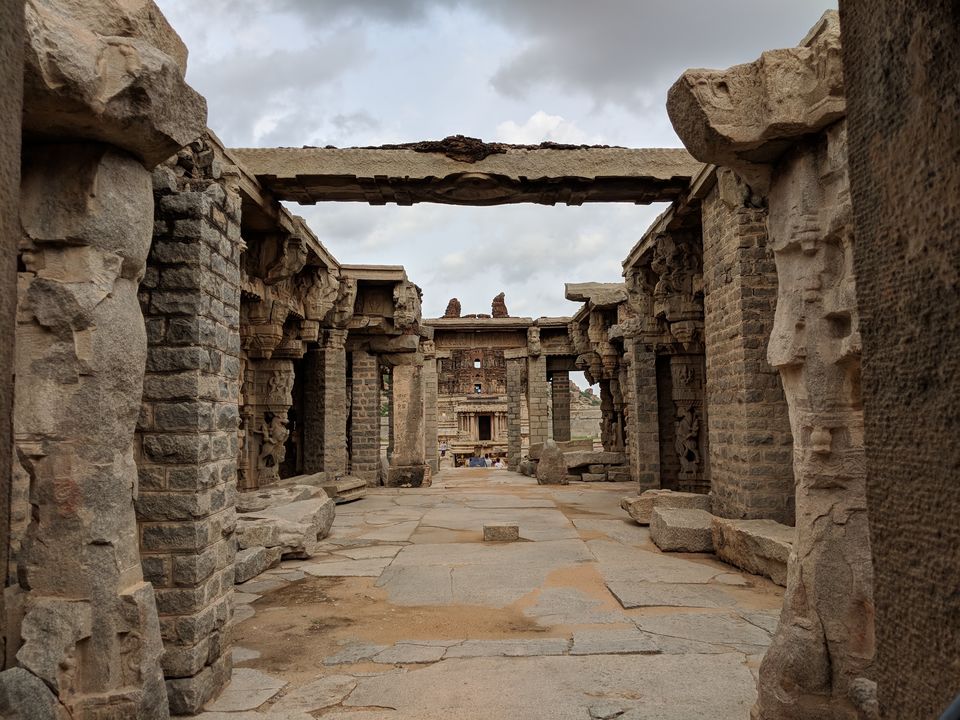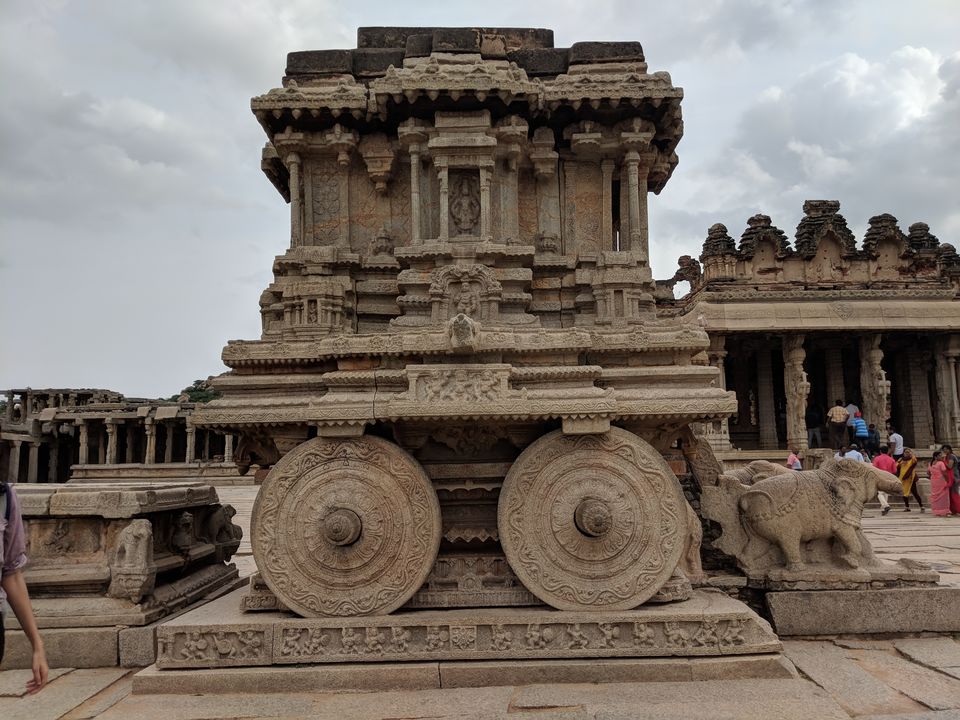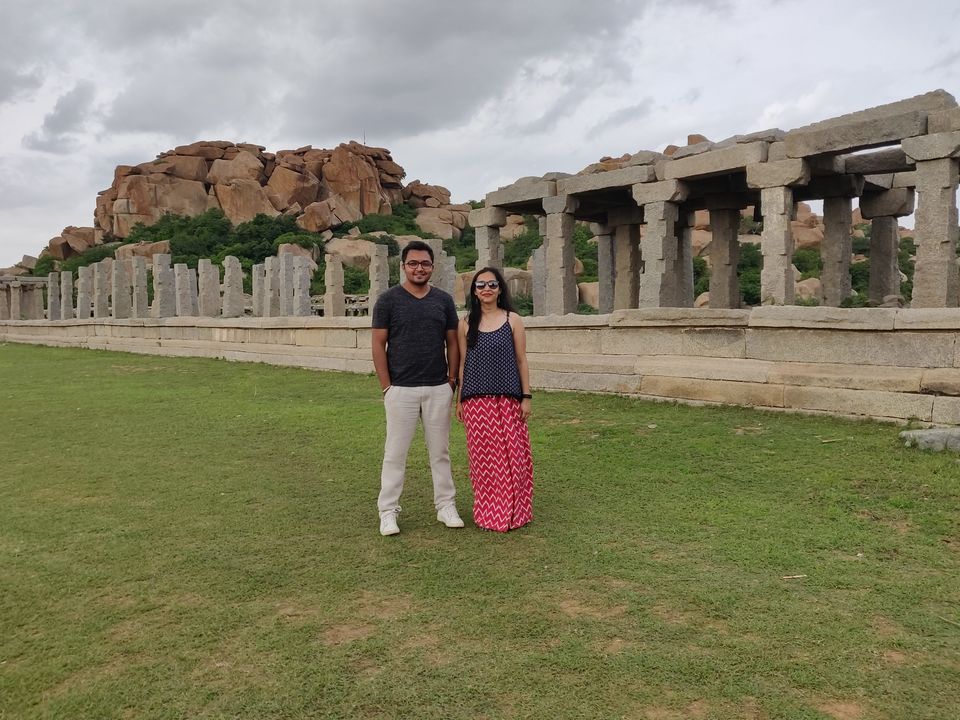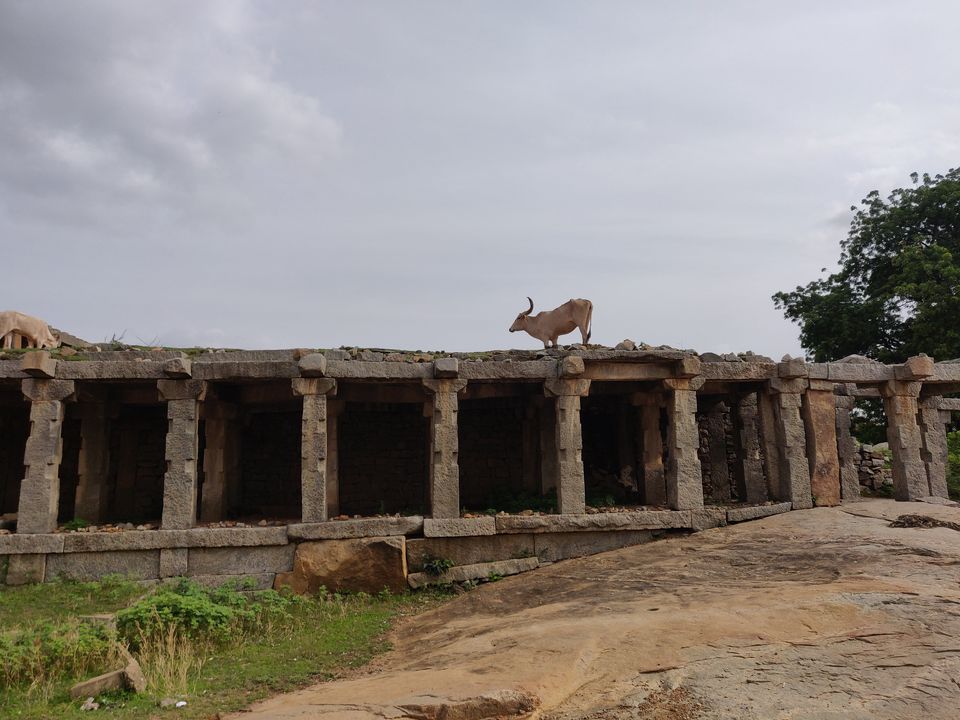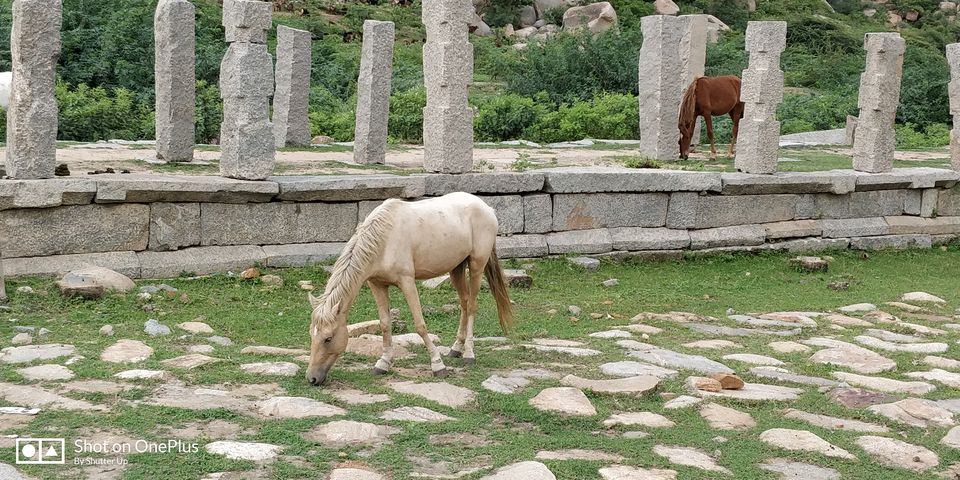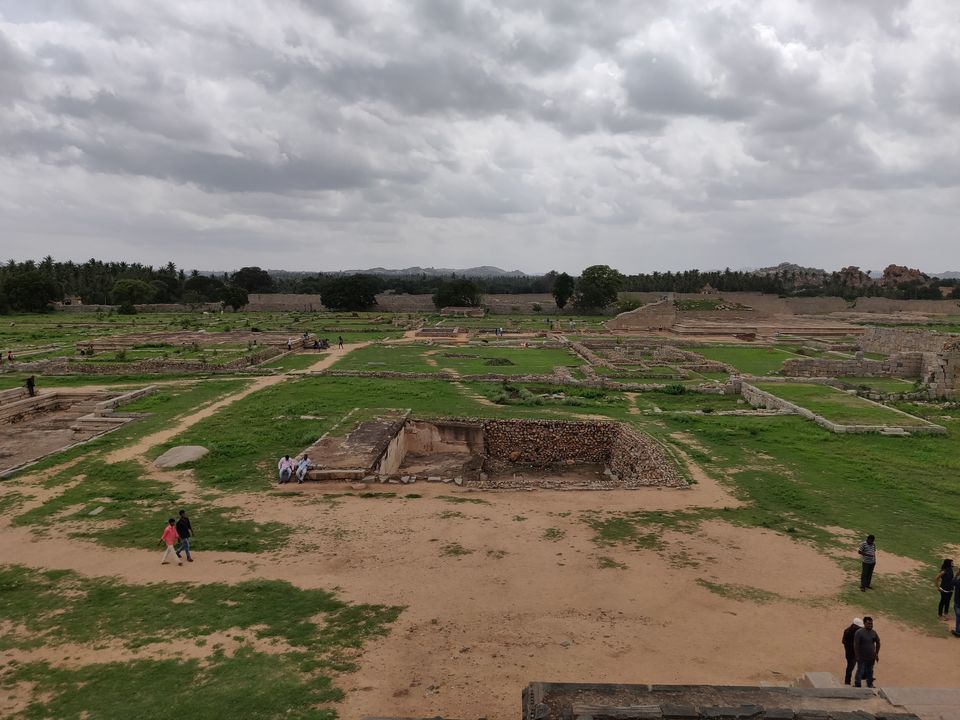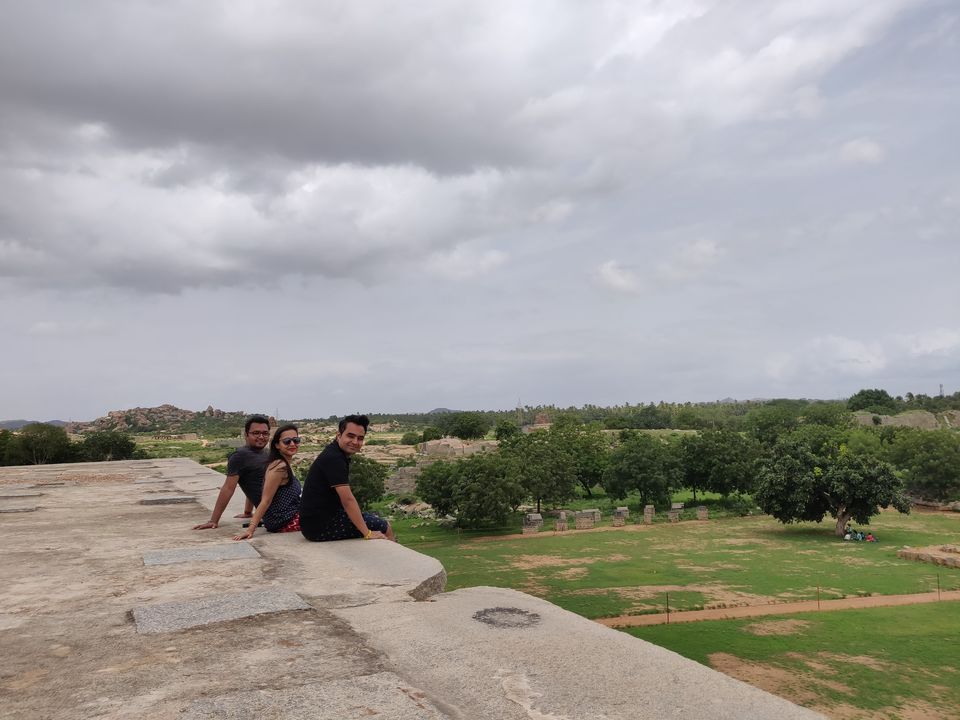 For lunch, you can choose from a variety of restaurants located in the Hampi Bazaar Street like Mango Tree, 1985, Tamarind Tree, Funky Monkey and many others. Try indulging in a typical North Karnataka meal atleast once during your stay at Hampi.
If you have some time left, visit Matanga Hill which is described as the location of the hermitage of the Saint Matanga during the Ramayana. This is an ideal spot for those looking for some trekking excitement, as it is the highest peak in Hampi.
Other attractions include Monkey Temple, Old Palace, a shopping experience at Hampi, Achyutaraya temple, Archaeological Museum, adventures of rock climbing and cliff jumping and a Coracle ride which you can take when you travel to Hippie island. Do not forget to take home a souvenir of stone carvings from Hampi.
After an exhausting tour of the Hampi ruins, we headed back to our hotel and went to a nearby restaurant- Eon Seven Days Restaurant for a dinner which was light on both stomach and pocket. It was a tiring day and I don't remember during which hour I fell asleep.
Day 3 was the time to leave this beautiful city of Hampi. We did not have another day in hand so we could not go to Hippie Island.
If you have an extra day in hand, do not forget to visit the Hippie Island especially if you visit Hampi between October and March since it hosts a vibrant environment during that period. While most tourists stay to the south of Tungabhadra where most of the ruins are located, some prefer the north banks which have a vibrant hippie culture. Virapapur Gadde or Hippie Island is a small island situated across the Tungabhadra river. It takes 5 minutes to travel to the island via coracle or boat. The last boat for the island leaves at 5.30 pm. During the monsoon season, it is advisable to take a taxi to another end which is 40 km away. The backpacker's delight, Hippie Island is an epitome of scenic beauty and is known for laid back ambiance and lodges.
It has shacks and cafes which operate from October end to mid-March. They serve awesome food along with chilled beer, and most of these have a great view of either the river or the beautiful rice fields. A lot of these cafes also serve as guest houses and you can get simple rooms here at cheap rates. Away from the luxurious life, living in small huts, savouring the taste both Indian and Western cuisine and lying on the banks of the river you will definitely develop affection for the place. The shacks and cafes are a joint venture by Indians and Foreigners. Virupapur Gadde is full of backpackers who are on their way of exploring the remains of ancient times in the modern age. Therefore, you may find many for your company.
You can also visit the Tungabhadra dam if time permits and also the Chitradurga Fort on your way back if you are going by car.
So come on, start planning your next weekend getaway to Hampi , explore the outstanding architecture of the historic era, appreciate the incredible talent of the craftsmen who created this marvel on earth and ruin yourself in Hampi for one weekend!!