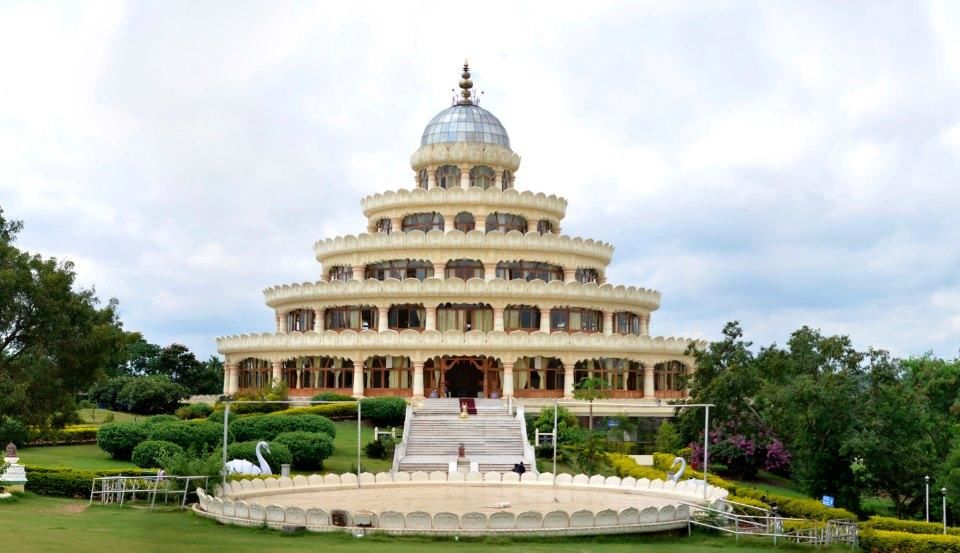 Bangalore, third most populous city in India, with a traffic that can test your patience every time you step out, growing leaps and bounds owing to its recognition as the Silicon city of India, needs a getaway that can bring you some peace of mind!
One good thing about bangalore that every person residing here raves about is its weather and the greenery. But, you still need to get out of the city a little to get closer to your own self.
There are two such places that I have visited and do it quite so often -
1) The Art of Living International Center is the headquarter of the Art of Living Foundation.
The Center was established in 1986 by Sri Sri Sri Ravi Shankar to offer a base for his Art of Living Foundation.
It draws a lot of followers from all over the world. It also offers the courses of Art of living wherein the followers can stay there and complete the course.
Distance - It is around 30 kms away from central bangalore. But, the distance will change depending on which part of Bangalore you are starting from.
It is a huge place and has various parts to the center. it can easily be accessed through the frequent shuttles within.
Vishalakshi Mantap
Vishalakshi mantap is a meditation hall consisting of five tiers with designs of lotus petals surrounding it. Symbols of all major religions of the world are depicted inside the hall.
Radha Kunj
Radha Kunj is a beautiful garden that could well be one of the serene places in the ashram.It is a tribute to the well known original garden in Vrindavan.
Ayurveda hospital
Sri Sri College of Ayurvedic Science & Research Hospital is a 172 bedded multi-speciality Ayurveda Hospital covering over 1 lakh sq ft area. It offers super speciality clinics in each branch of Ayurveda.
Guru Paduka Vanam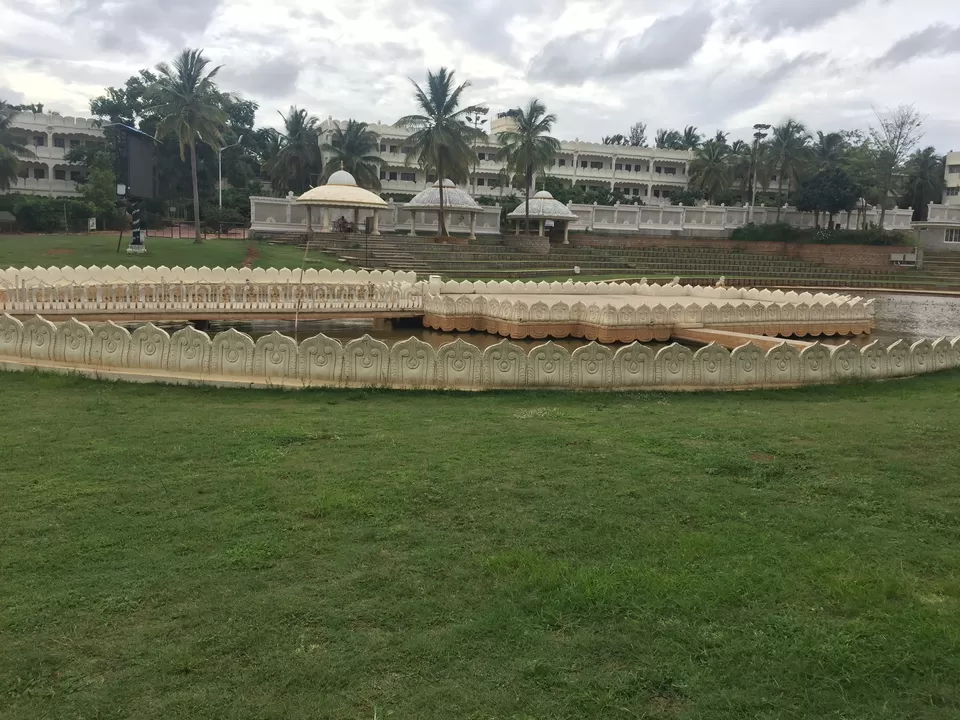 The Guru Paduka Vanam is designed in the shape an open amphi theatre in the shape of a Paduka with a capacity to accommodate two lakh people.
Annapoorna Kitchen
The food is Satvic (food that induces a calm mind) and cooked with steam produced from environment-friendly boilers. The followers themselves get an opportunity to serve and anyone can have food there. Around 700,000 meals are served per month, and close to 8,400,000 (8.4 million) meals are served every year in the kitchen.
Sumeru Mantap
The Lotus shaped Sumeru Mantap is a must-see sight for all visitors to the ashram. Geographically located at the highest point in the Ashram, this open air auditorium with an upper balcony yields a breathtaking view of the Ashram grounds and the surrounding areas.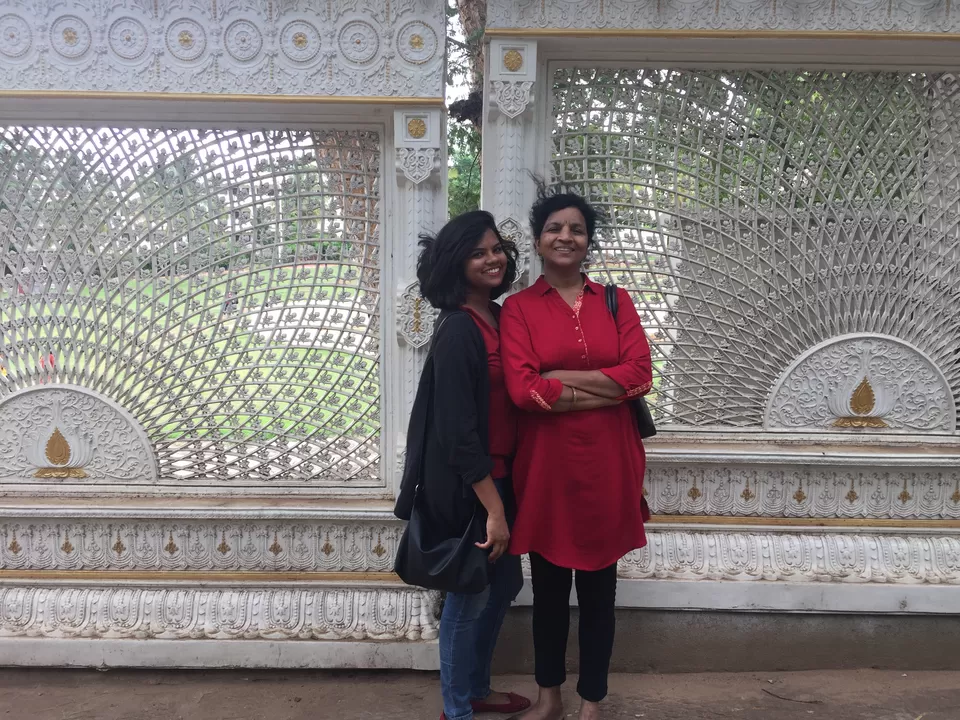 Goshala
The Goshala means a "place where cows are cared for". The project's primary aim is to protect indigenous cows from slaughter and to increase their numbers.
Ashram Schedule
6:00 AM – 8:00 AM – Morning Sadhana
8:00AM – 9:30AM – Breakfast
9:00 AM – 12:30 PM – Seva
12:30 PM – 1:00 PM – Afternoon Meditation
12:30 PM – 2:00 PM – Lunch
2:00 PM – 6:00 PM – Seva
6:30 PM – 8:00 PM – Satsang
8:00 PM – 9:30 PM – Dinner
Depending on what time you reach the center, you can participate in various avtivities - meditation, satsang or even food!
There are bus services that can take you on a tour inside the center, book yourself as soon as yoy reach there so as to avoid long waiting.
2) Pyramid valley International
Distance - 45 kms from Central Bangalore
The central attraction of the Valley, the magnanimous Maitreya– Buddha Pyramid, standing 102 ft tall as a solid rock and surrounded by the hillocks in the unfolding terrain of twenty six acre Valley campus is, where Art, Science and Spirituality blend seamlessly, making one spellbound.
Maitreya-Buddha Pyramid, with a capacity of 5,000 people, is the World's Largest Pyramid built solely for practicing intensive meditation. It has a base area of 160ft x 160ft. and is as tall as a ten storeyed building at 102 ft. height.
This Pyramid is constructed on the principles of Giza Pyramid, oriented exactly in the North – South direction, having the golden angle of inclination at 51° 50' and the King's Chamber located at the center at 1/3rd the height of the Pyramid.
Meditate inside this pyramid and free yourself of all the worries for a few minutes or perhaps hours!