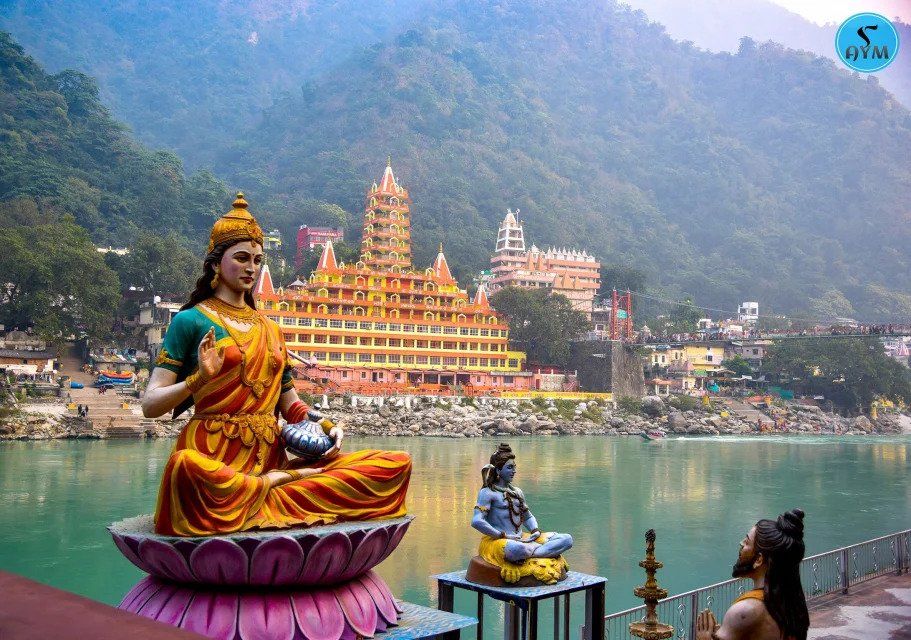 Are you at a crossroads where you feel overwhelmed, lost, and helpless? Do you think that despite a good career and all the success you've achieved, you still feel empty inside? Often, despite everything we've ever hoped for, there's a constant sense of unease. While you may laugh about it, you may need some spiritual intervention to reach your inner self.
you can also see the top active mindful retreats
If you're one of those people who doesn't believe in knocking down the doors of a temple or church in search of peace and answers, then you should go into a spiritual retreat!
This post highlights the top 10 spiritual retreats in India.
1. Yoga Vidya in Karnataka
This is a great place for both beginners and advanced yoga practitioners. Yoga Immersion Retreat is a two-week program designed specifically for beginners. It teaches yoga theory and provides detailed instructions. The basics of Patanjali's yoga sutras and Ayurveda are also taught. Yoga Vidya also offers a meditation retreat where yoga is combined with art. This is one of the most famous spiritual retreats in India.
Address: AyurYoga
JP Hundi Eco-ashram Village, Kannenur Post,
Hulhalli Hobli, Mysore District,
Karnataka - 571314
Contact number: (+91) 99866-99849 (for foreign guests)
(+91) 95674-42239 (for Indian guests)
Highlights: Yoga courses that include asanas and pranayamas, detox kriyas, chakra balancing practices, yoga and art therapy retreats, comfortable rooms with Wi-Fi, and more.
2. Tushita Meditation Center in Himachal Pradesh
Located in the hills of Northern India, the Tushita Meditation Center in Dharamsala is known for studying and practicing Buddhism. While not really a retreat, it offers you the perfect environment to learn and practice this religion. The center offers 10-day introductory courses, as well as individual retreats for people who have experience in practicing Buddhism and want to focus on discipline and silent meditation.
Address: Tushita Meditation Center
McLeod Ganj,
Dharamsala,
Himachal Pradesh-176219
Contact number: (+91) 8988-160-988
Highlights: Personal retreats, group retreats, programs with courses on introduction to Buddhism, discovering Buddhism, and more. Movie days are also provided for participants.
3. Ashiyana Yoga Retreat in Goa
It's a great place to relax, offering comprehensive therapies, yoga, and other programs to help you overcome the stress of a hectic lifestyle. The recreation center offers 3 different packages to meet individual needs, and you can choose from 7, 14 or 21 day stays. The retreat focuses on using yoga and other approaches to reduce stress and restore balance in life.
Адрес: Ashiyana Tropical Retreat Center,
Junas Waddo,
Mandrem, Goa
Contact phone number: ---
Email address: contact@ashiyana-yoga-goa.com
Highlights: Ashiyana Elixir program, yoga therapies, Ayurvedic detox retreats, Groove Yoga Festival, luxury eco-tree houses, villas, beach huts, suites and cabins, and more.
4. Ananda in the Himalayas
This spiritual retreat will bring you the scenic beauty of the Himalayas combined with yoga and meditation . Ananda teaches yoga techniques at the Bihar School and offers classes in a wide range of forms of meditation and shuddi kriya, which are yoga practices that help purify the body and mind. You will find a full-service spa where you can relax and recuperate. Ananda also offers special retreat packages such as yoga detox, weight loss and stress management. It is an ideal place for relaxation and spiritual awakening.
Address: The Palace Estate,
Narendra Nagar Tehri-Garhwal,
Uttaranchal - 249175
Contact number: (+91) 1378 227500 (calls from 23: 00 to 08: 00 IST)
Highlights: Detox Yoga Package, Weight loss package, more than 80 Ayurvedic beauty and body treatments, Satyananda yoga techniques, Ayurveda-based nutrition, exclusive vacation packages, luxury accommodation with all amenities and much more.
5. Satvik Sadan in Uttarakhand
This is a yoga retreat known as the Vedic Wellness Retreat. Satvik Sadan focuses on the power of yoga, and participants are taught how Ayurveda can bring powerful effects to everyday life. This retreat offers lifestyle management advice, Ayurvedic massage, etc.
Address: Sri Kailash Muhi,
Talla Dungsil, Nainital,
Bhimtal,
Uttarakhand - 263136
Contact number: (+91) 97600 95451
Highlights: Luxury and spacious rooms, library, yoga theater and more.
6. Yoga Ashram in Uttarakhand
Rishikesh is one of the most popular destinations in India when it comes to spirituality. The yoga ashram here offers a variety of yoga retreats, as well as wellness packages aimed at improving the soul. Apart from this, it also offers a comprehensive yoga travel program, with which you can travel to various spiritual retreats across India. Individual retreats are also available for those who want a package tailored to their specific needs.
Address: Tapovan Village (Rishikesh)
PO Tapovan Sarai (near Badrinath Road),
Tehri Garhwal district - 249192
Uttarakhand
Contact number: ---
Email address: namaste@himalayanyogashram.com
Highlights: Ayurvedic healing programs, Satsang and meditation, yoga classes, comfortable accommodation with daily vegetarian meals and much more.
7. Blue Mango Retreats in Himachal Pradesh
Located in the picturesque Spiti Valley, Blue Mango Retreats is one of the most famous spiritual retreats, attracting visitors from all over the world. This retreat is perfect if you are looking for peace and privacy. This is a 6-day retreat where your mind is refreshed, your spiritual understanding deepens, your spiritual development is strengthened, and your soul is healed.
Address: Corporate Office
F-301A, 1st floor,
Lado Saray,
New Delhi
Contact number: (+91) 94860-16600
Email address: contact@bluemangoretreats.com
Highlights: Om Tibetan Meditation, Guided meditation, moonlight and starlight meditation, green therapy, yoga, comfortable living with fresh organic products for daily healthy eating, and much more.
8. Ashtanga Vinyasa Yoga Center in Karnataka and Kerala
You'll find this hideout in Mysore in Karnataka, as well as Varkala in Kerala. The center offers various retreats, programs that are designed to help participants in their spiritual development. In addition to yoga and meditation classes, Osho Meditation classes and a 3-week comprehensive pranayama course are also included. This is a wonderful retreat that will help you focus on your inner self.
Address (Karnataka): G19, Kingsdale,
Sathya Marga,
Siddhartha Nagar,
Mysore
Contact number: (+91) 93422-56593
Address (Kerala): Abhijna Yoga School,
Vrindavanam,
Kurakkanni, Varkala
Thiruvananthapuram, Kerala
Contact number: (+91) 85920 87378
Highlights: Ayurvedic spa and treatment, tours and excursions, retreats and yoga courses, comfortable accommodation with a nutritious, well-balanced daily diet and much more.
9. Shreya's Karnataka Retreat
Located in Bangalore, this is another very popular spiritual center that offers you Ashtanga Yoga, Hatha Yoga, and various Ayurvedic massages such as Shirodhara Ayurveda and Chorna Pinda Sveda. This spiritual retreat in India focuses on using yoga as a way to restore the balance of body, mind, and spirit, and offers quiet retreats where you can calm your mind and re-prioritize your life goals.
Shreyas Yoga Retreat Santoshima
Farm, Gollahalli Gate, Nelamangala, Bangalore
Contact number: (+91) 9916-117-773
Highlights: Ashtanga and Hata Yoga retreats, an Ayurvedic rejuvenation package, a wellness package for the soul, a "Joy of Giving" package, and much more.
10. Isha Foundation Ashram and Yoga Center in Tamil Nadu
This is a center that has been visited by people from all over the world for 20 years. It offers a 3-7-day introductory isha yoga program that focuses entirely on yoga. You can also opt for a rejuvenation course that focuses on health and well-being. Featuring yoga, meditation, and wellness programs, this center is the perfect place to rejuvenate your mind, body, and spirit.
Address: Isha Yoga Center
Isha Life,
No 117, Luz Church Road,
Near Nageshwara Rao Park,
Mylapore, Chennai - 600004
Contact number: (+91) 4 424-981-185
Highlights: Isha Kriya Meditation, Sacred Walks, Rejuvenating Isha Retreats, and more.
By embarking on a journey of spiritual solitude, you can bring balance to your life and focus on your spirituality, something that not many people can do. You can find peace of mind and improve your life by bringing balance to it through yoga and meditation.
These were some of the best spiritual retreats India has to offer! I hope this post helps you!