I've travelled on the Bangalore-Mysore more times than I can remember. The one thing I've consistently seen on the route every time I travelled on it was a series of sign boards that pointed to Heritage Winery and promised a session of wine tasting classes. My curiosity grew with each trip and finally, I caved. I don't drink but I do know that wine tasting is a skill of its own; most wine connoisseurs would agree with me.
One day, I pulled a friend along, hopped on a bike, and decided to try the wine tasting session. It's about an hour's ride away from Bangalore. If you don't closely follow the breadcrumb-like trail of sign boards, you'll miss the turn that goes off the highway to Heritage Winery. 
A small village road leads past fields and finally, you reach a grand gate. The cost per head for a wine tasting session + tour of the wine making process in their factory is Rs 250 per head. They had another activity called wine crushing which is 500 per head.
When we reached and bought our passes, we had to wait for the guide to come back from his current batch. An elderly, polite man walked up to us and said that we could follow him to start the tour.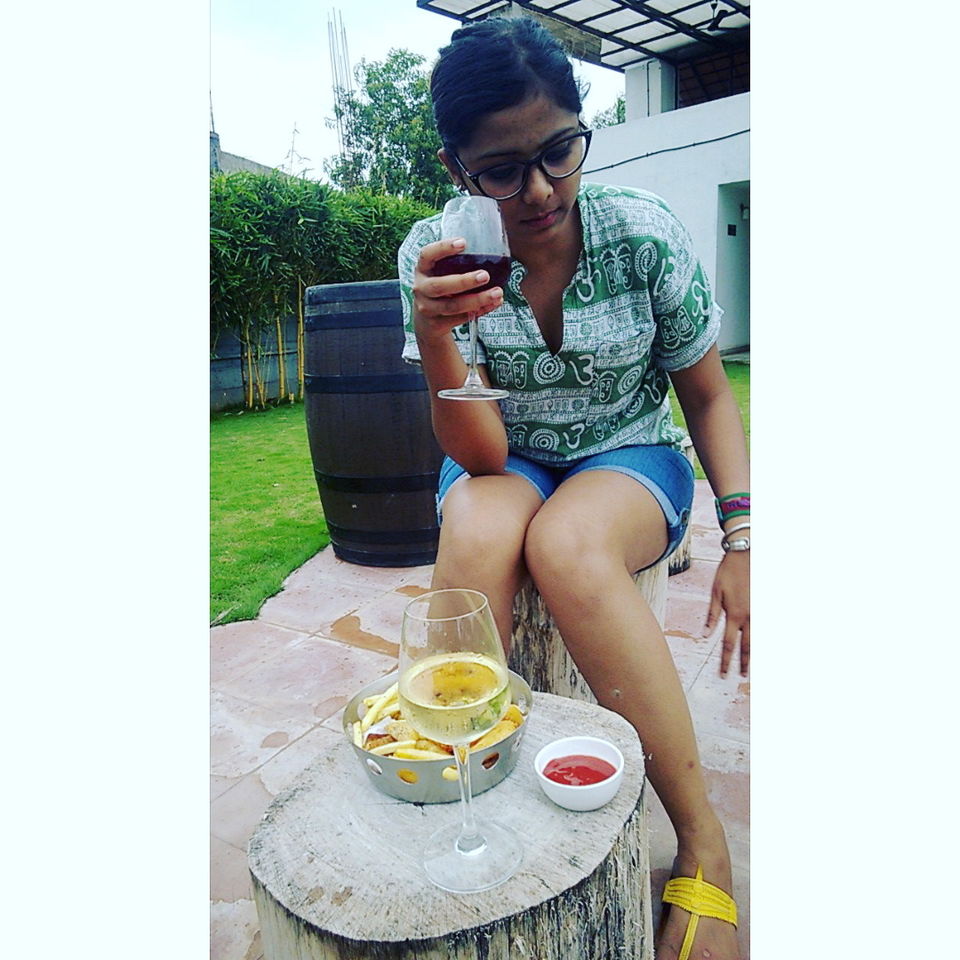 We walked past a posh looking building and several stacked boxes. Since we had reached during lunch time, the workers at the factory had paused work to eat lunch. This gave him enough time and space to walk us through the aisles of new wine bottles being bottled and massive containers. He explained the process right from picking the right grapes to how they were crushed, cleaned, let to ferment, and how they were then processed to end up in different types of wine. 
After half an hour of the tour, he walked us to a small wine tasting room where he gave each of us a wine glass and places several bottles of wine before us. We weren't allowed to take any pictures of the entire tour or record any video since it was part of Heritage's proprietary process of making wine.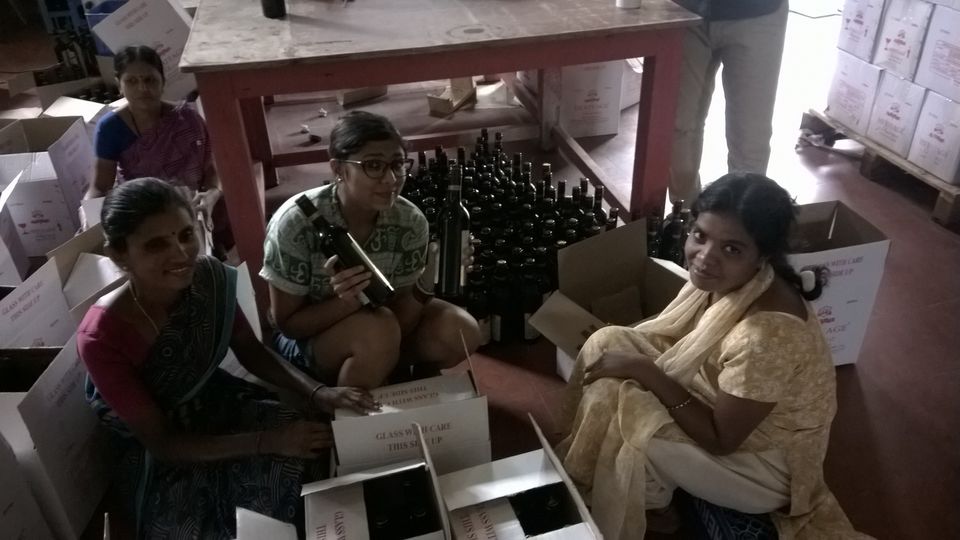 He began to small portions of different kinds of wine into our glasses and explained to us about how to hold the glass, swirl the wine to smell it, and what to look for in the smell. With the smell itself, you should be able to identify the age, type, and make of the wine. Every kind of wine has its own variant: sweet, non-sweet. Red, white, fizzy. I had tasted white wine once long ago and complained to him that I found it too bitter.
He smiled at me, poured some white wine in my glass, and asked me to follow his instructions of how to drink it. As I followed every step closely and took some wine into my mouth, I swirled it around with my tongue, swallowed, and exhaled out the way he asked me to. I didn't taste a shred of bitterness. He said, "Was it bitter now?" I smiled and said no.
He was very polite and helped us through several portions of wine. After the session, he thanked us for our time and told us a few key points to remember about wine. As much as I'd like to list it, I fear that it may be taken in the wrong sense and context. I recommend this activity if anyone's in Bangalore; it's best experienced first-hand.
They have a restaurant that also serves wine. Wanting to try out my newly acquired skills with potato smileys, fries, and white sauce pasta (for added authenticity), we ordered two glasses of white and red wine. I have never enjoyed a continental meal that immensely!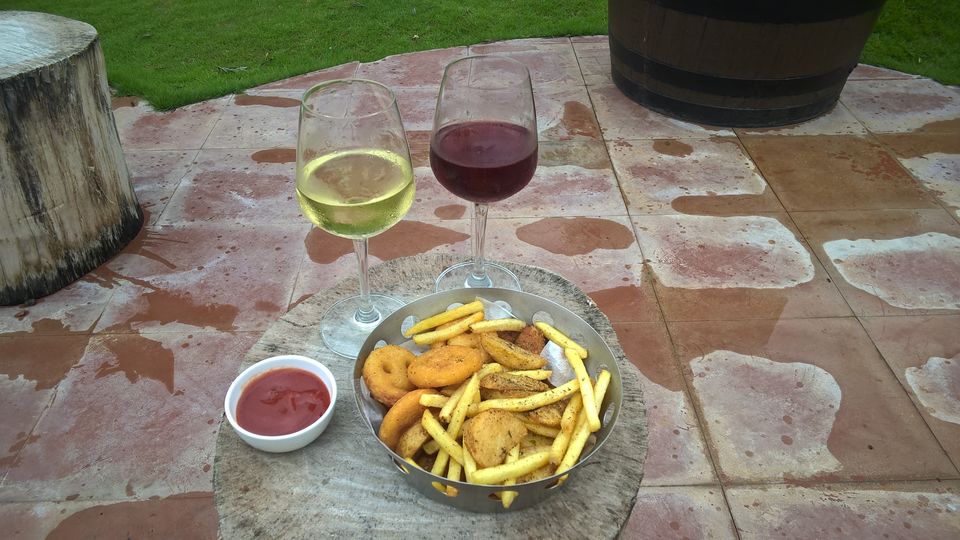 After lunch, we signed up for the grape crushing activity. They walked us to huge vat with purple grapes. The vat was at least 10 feet across. We had to step in and crush it with our feet until all the juice was extracted. Of course, they didn't actually use that extract for wine: it was just for the experience.
We crushed grapes (with music) for half an hour, washed our legs, and headed to the farm outside the factory where they grew rows of grapevines. We posed for several photos, walked out, spoke to the wine tasting specialist, and rode back to Bangalore.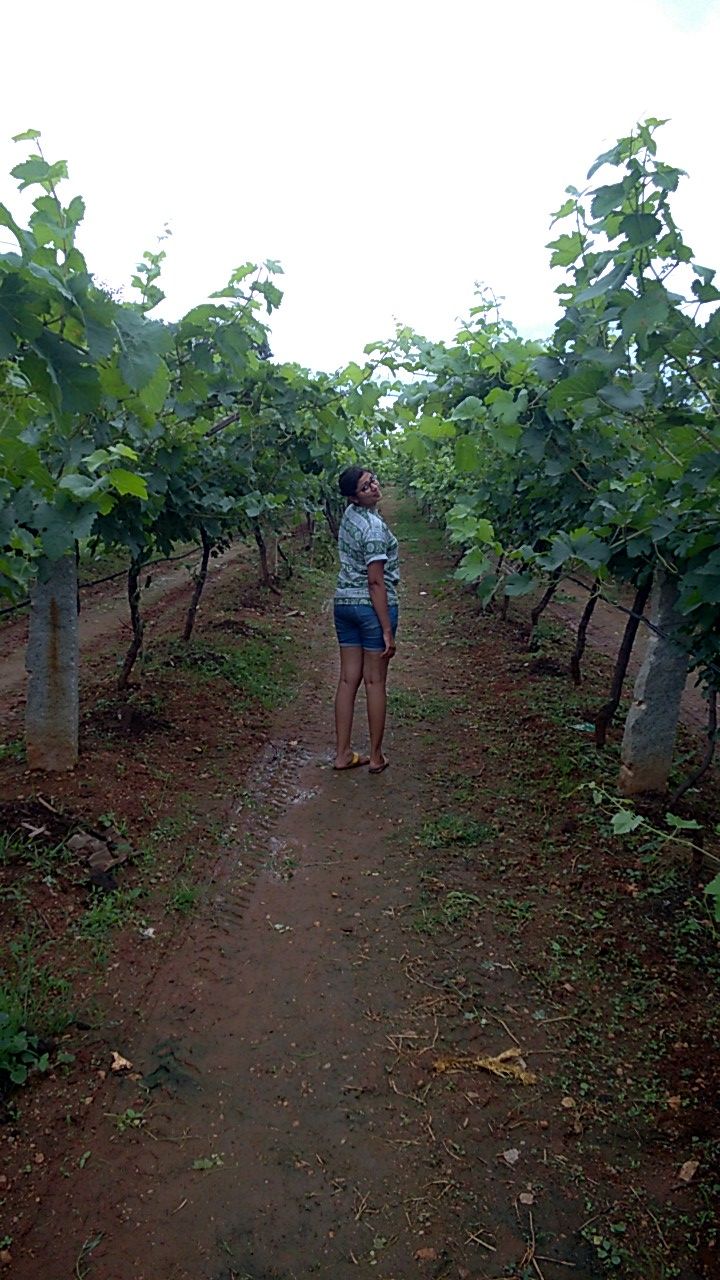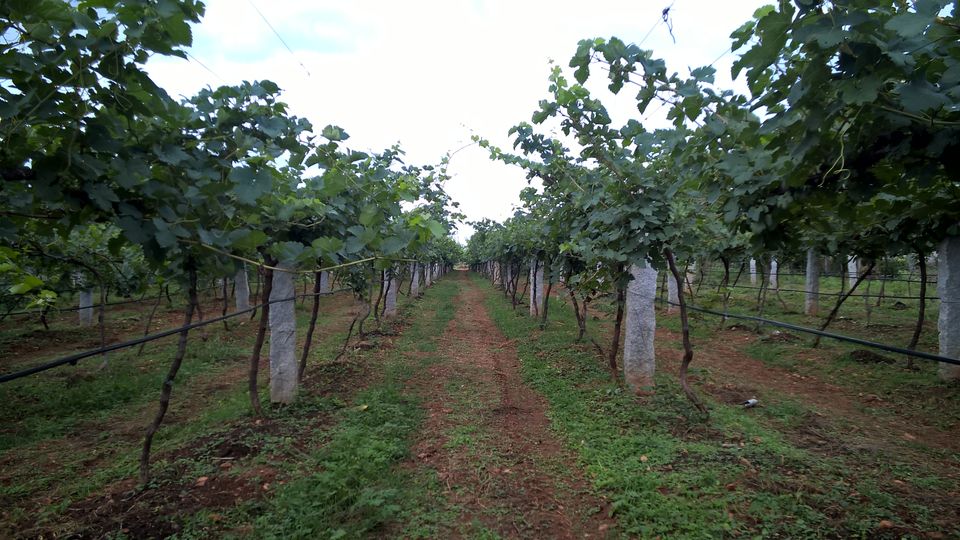 It was a short and amazing experience. A lifetime of a skill acquired in just a day and a lifetime to hone the skill. He particularly told us that we should maintain our class; wine is not meant to gulped down like other drinks. It's meant to be enjoyed, and consumed with class. It's an elite person's drink and not because of the cost. Even the cheapest wines - if drunk right - can open a whole new world of flavour. It also makes you appear more sophisticated and knowledgeable.