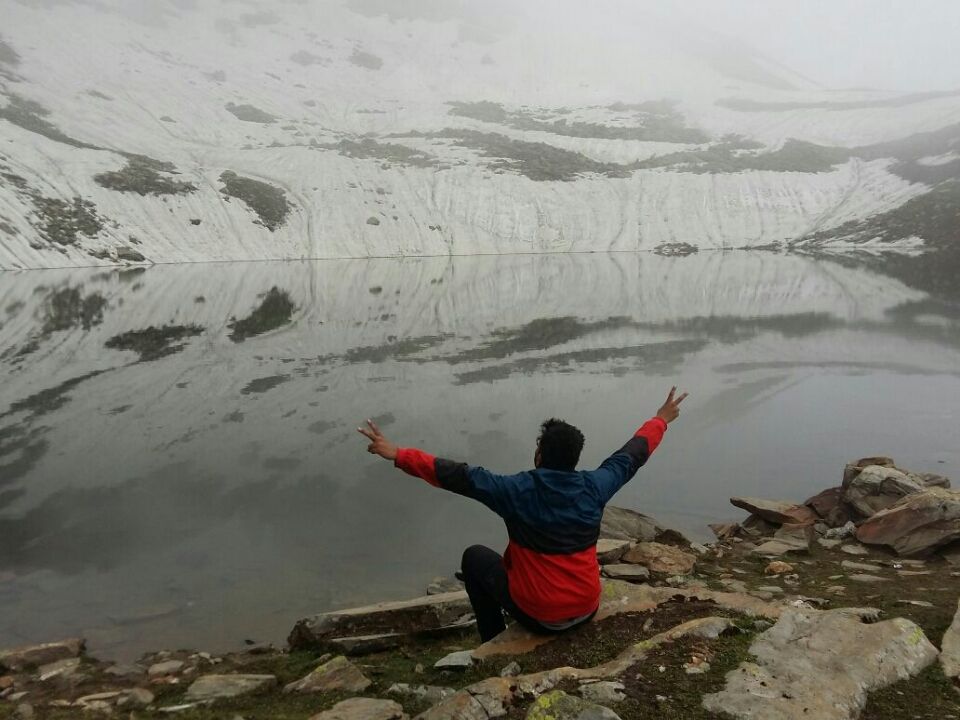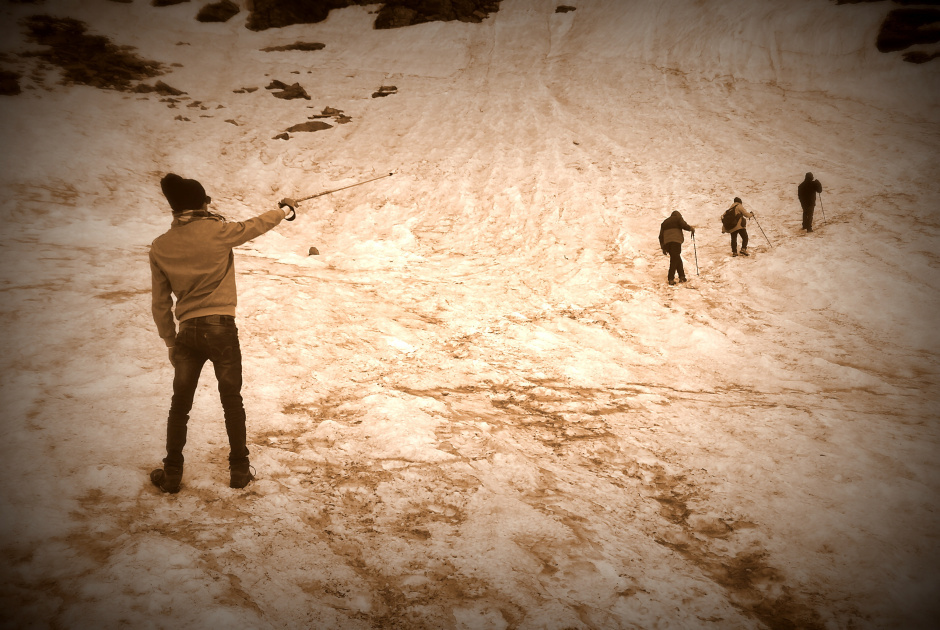 "Ma! Please let me go for this one!! Trust me, I won't ask for another one till the next month. I promise!" I pleaded. If I am smart, Maa is even smarter. "Till the next month? You won't stay at home for next 15 days I bet" she challenged me without giving in to my demand. Finally, there was light and she said " Jaa Adii Jaa..Jaa jeele apni zindagi " (Go and have a time of your life). Adrenaline rush!! I could imagine myself climbing up those high-plain-high mountains.
It was almost 2 PM when 7 of us were accompanied by a trekking guide and Nishant, started our trek-up from Gulaba. Progressively moving ahead to our destination, all huffing-puffing, chit-chatting we reached half-way through our trek, only to see we were running 2 hours late. While Nishant led the way through the green meadows, I followed him to his new-found hide-out which he had just discovered. He almost threw his bag beside a huge rock. Comforting himself on the warm protruding rock, he hung his legs and breathed beauty of the place. I somehow managed to second this mountaineer and lost myself. Amidst these green meadows, was a flock of around 100 sheep grazing the afternoon meal with a handsome brown mule while another poker-straight-haired grey mule joined them. Down there on the greener side of the grass was a yellow tent set up from where smoke rose up to the pine covered mountains and the milky-white river that carved its journey to meet splashes of river Beas.
Mesmerized by the beauty of the place, I could only breathe in the calm surroundings and told everyone, I just wish to stay here. Trust me, I did NOT want to move any step further. Our base camp was another 3 kms from here. By this time, the sun had started to set behind those large mountains, it started getting cold. "Hurry up team! We need to reach before it gets dark" ordered our guide as it was already getting dark by now. Breathing heavily, we panted our way to the narrowest walk-way to the camp. It was a full-moon cold night, covered with a sheet of stars. While a few romanticized the surrounding, I could only dread a werewolf running behind me to have me for dinner. I DID NOT LOOK BACK!! I just did NOT!!!! "There team, just 5 minutes more" shouted the guide. Alright Mr. Guide, I have a sixth sense that tells me we still need to walk for at least 40 minutes from here.

We crawled our way to the camp in the moonlight, crossed a mountain, then another, on-the rocks, a few waterfalls and FINALLY saw some light. I saw Akanksha and rushed to hug her tight. So TIGHT! that I almost squeezed her to death!!!! " Arey bhai kar paaye..ho paaya(You were able to do it) !! Am so glad you made it up here darling!" She cheered me up. "It was worth that hug! jaaneman!!" We both giggled and marched to have the freshly served home-cooked dinner.
This is going to get more difficult from now on. Stay strong! and you will survive!! I told myself. As the clock struck mid-night, it started to get cold. I cozy-ed myself in my sleeping bag. Relaxed!!
The next morning would get even tougher but stunningly beautiful. I convinced myself. Instead of technology, a horse neighed to wish us a sunny morning. Ah! Thank you life!!. Our grumbling tummies were answered with a call for breakfast. Everyone got seated around and had the early morning meal. Soon after, our trek- captain Gopal Ji (CEO, Founder of Manali Adventures) gave us a crash-course on 'hiking on snow' and way back. WE WERE READY! The entire group of amateur hikers geared up for another 6 kilometers trek from Kothi Theli to the reflective Bhrigu-Lake. Though it seemed challenging, a step ahead and more beautiful it was. Everything on this trek was carved like blocks of puzzle which could perfectly fit into each other. From wild yellow-pink flowers to the clear puddles of river-water that would flow down while you hiked up. This was just perfect!! Marching ahead we could see a huge patch covered with snow.
"Adi climb up! I would capture you in the lens forever!" called Chandu. While I got captured, there I saw a young man sporting his reflective blue-colored glares, wearing summer shorts and a backpack to guide us through the snow-peak and the reflective lake. " Madam main aap logo ko lekar chalunga. Aap chinta mat karo(Don't worry I will take you all up there. Don't worry. Keep moving)". He shared his name to be Bobby, there after about his life, his love for trekking and his life's lessons it has taught. While we stomped our feet on the glistening white snow we marched our way and reached Bhrigu-Lake. Stunningly beautiful, spotless frozen lake. A few meters ahead of lake I found a spot to experience the graceful valley. The clouds teased my hair, the insects cricketed their sound to do the talking, I sat calm on that rock smeared with green moss. My bare eyes could only see the sun-rays struggling with clouds to reach the surface. No wonder travelling helps you see, experience and realize the lessons of life!
Now was the time to trek-down the snow peaks and have a ball! Bobby probably felt us to be a chunk of crackpots and he gave in.
"Would you all like to slide down or walk on snow?" he asked. All of us became the jumping jacks and screamed in unity, "Let's slide!" Amrit opened his bag to take out large poly-bags which were supposedly brought as 'bin-bags' but turned to be our make-shift slide-planks. He handed over one to each of us. We tore one end of it and tied around our waists and ZOOOOOPPPP!!!! By now, we had skied almost 3 such mountains. Sigh! Confession time!! I could neither feel my hands nor my lower body. Everything was FROZEN!
While travelling has stressed my muscles, it has relieved my senses. It has healed my inner strength that was earlier torn apart by a few. I have been able to gather strength to stand even stronger to fight back! However, my trips have gifted me with opportunities to meet people new people, connect and learn from these beautiful unknown souls about their life, experiences and personalities.
There is Much I know, and more I wish!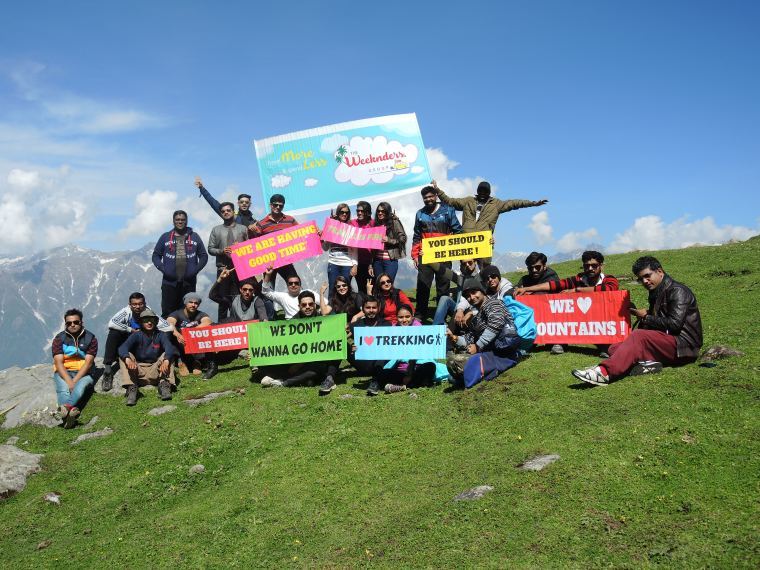 The Weeknders' gang!!