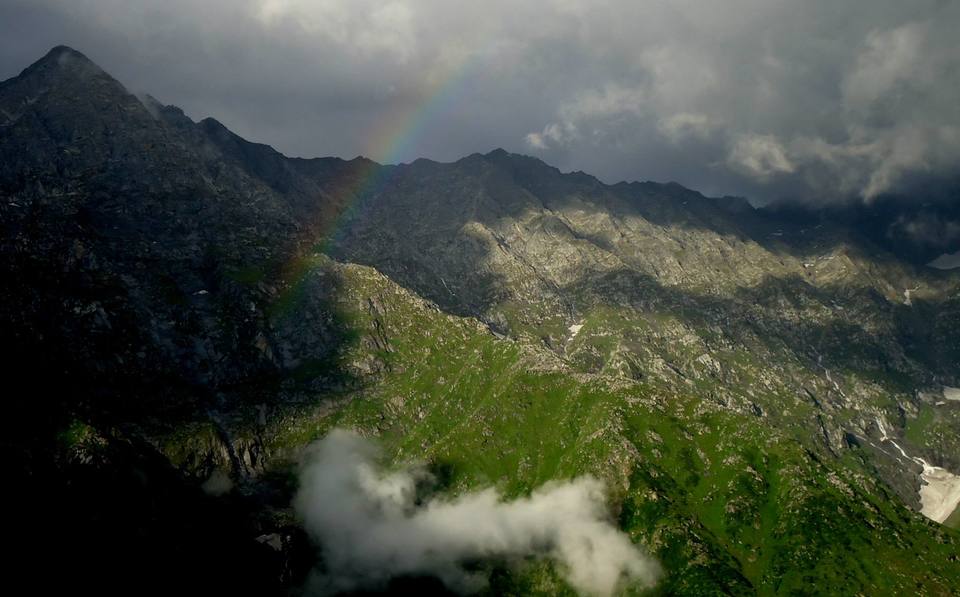 Hi guys ! It's been over 2 years since I last published my post on my blog or here on tripoto . With crazy events taking place in my life, I have seemed to reach a writer's block for this long . But today I just happened to get across some photographs of my trip to Triund and Lahesh caves which I took last year in September and although I am sitting here in my safe cabin in Bangalore I still got the chills of one of my most crazy trips up in the hills , besides others to tosh and manikaran ( Which I shall write about in my other post) .
So cutting the un-necessary details, I am going to make this post short on words and more on pictures which I took myself during the trip .
So I have already discussed in Part 1 of mcleod ganj about the journey details and routes etc. Part 2 includes a journey beyond Mcleod. Now I am sure atleast 60% of tripoto readers must have already been to Triund atleast once . Now it is more of a commercial spot than how it used to be 5 years back when I first had my trek there.
Day 1 - You should try and start early from Mcleod main square , you can either take a cab / auto which costs your about 100-200 INR till Gallu Devi temple, which is often considered the starting point of trek . OR you can start walking right from Mcelod main centre, which will add another 6 km to your walk . If you ain't a pro , I recommend to take an auto and save your energy for the real trek.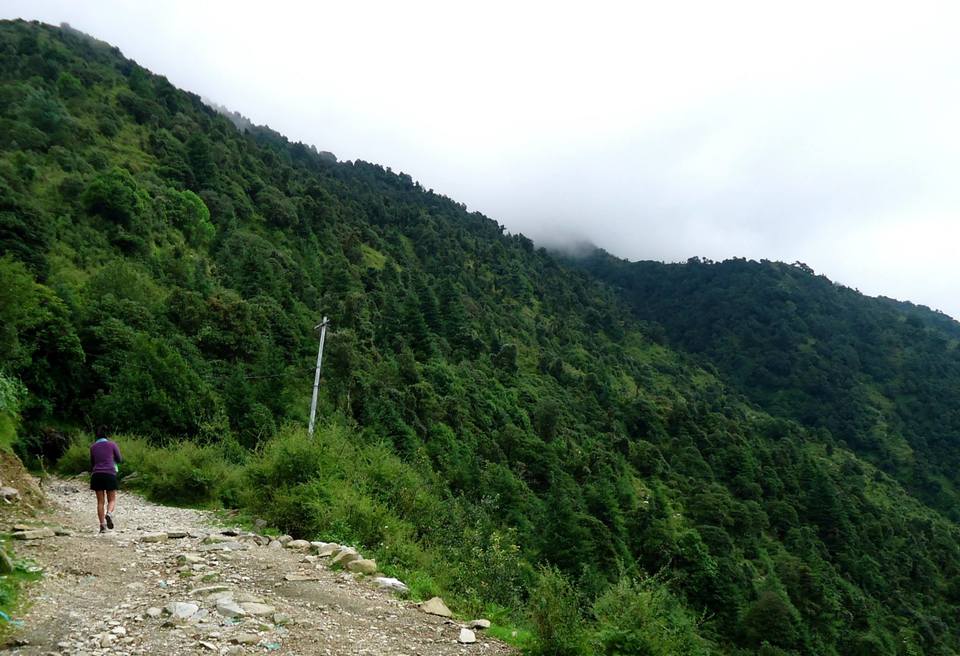 So I was accompanied with one of my friend from India , and we started the trek at about 11 am . I am a veryyyy slow hiker / trekker / even walker ! It takes about 3 hours on an average to reach Triund top from the base point covering a distance of 6 km . First 5 km are still fine , the last 1 km stretch is the real test of your endurance. There are about a dozen small chai and maggie vendors on the way to give you enough pit stops . But prefer not to take too many stops as it kills the rhythm and only makes you a slower snail .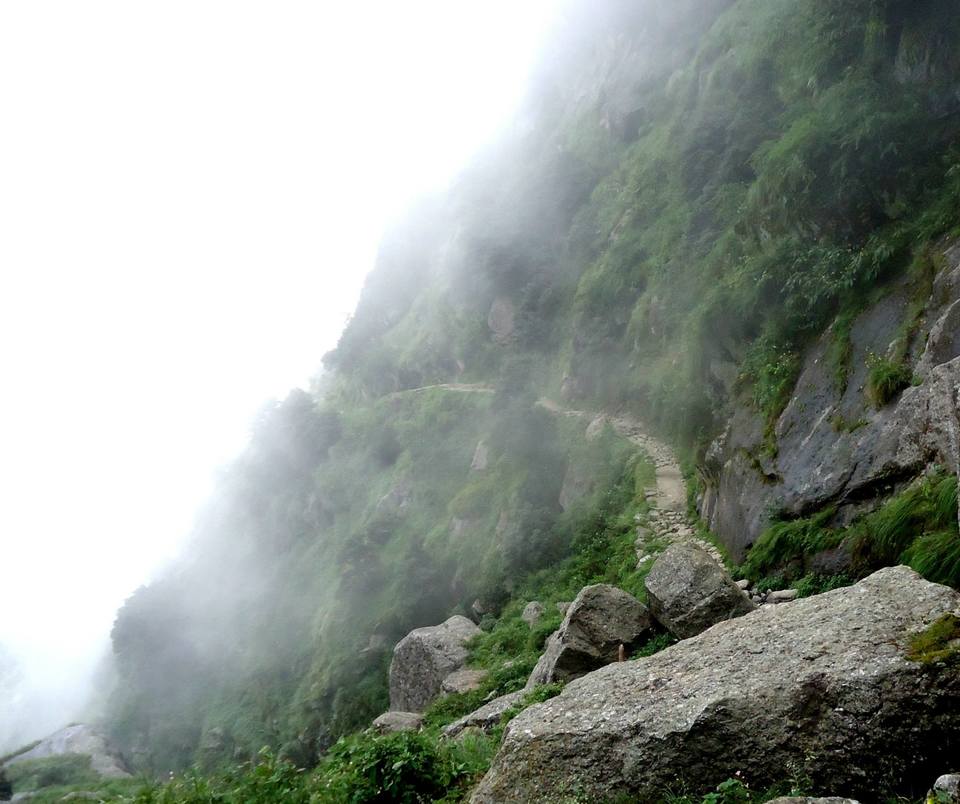 September is the final session of monsoon rains in the hills before the onset of winter , and that is exactly when I was there. By 1 pm , we could see heavy clouds above us and chilly wind, we knew we are damned ! Within minutes it started raining ,although it stopped after 15 minutes, it left the trail wet and harder to walk now . At about 5 pm , after 6 hours , 3 chai stops , 1 rain stop , 5 give-ups and a zillion awe-times to the beauty of the nature, we both reached one of my fav spots- Triund .
Since it was off -season ,we were lucky to not be surrounded by dozen other trekkers. To our surprise we only had one family from Australia there to accompany us . A cool family of mother, father and a daughter on their South-Asian tour, having the final leg in India before flying back to kangroo land . Chilly night, raging thunder , and on-off rainfalls, we 5 people kept ourselves warm with bonfire and some rum !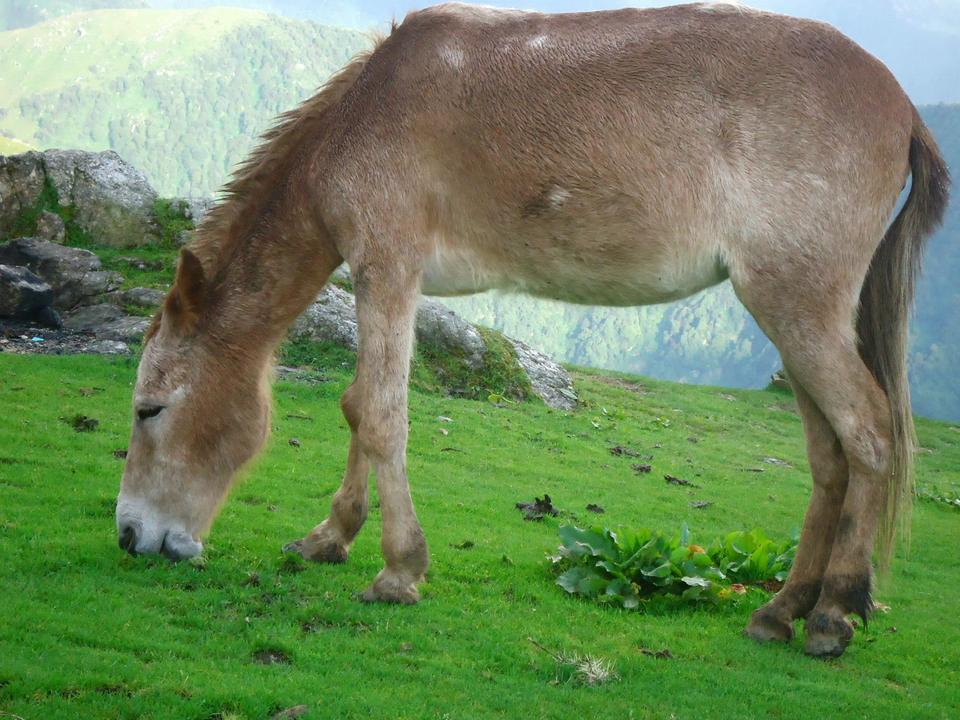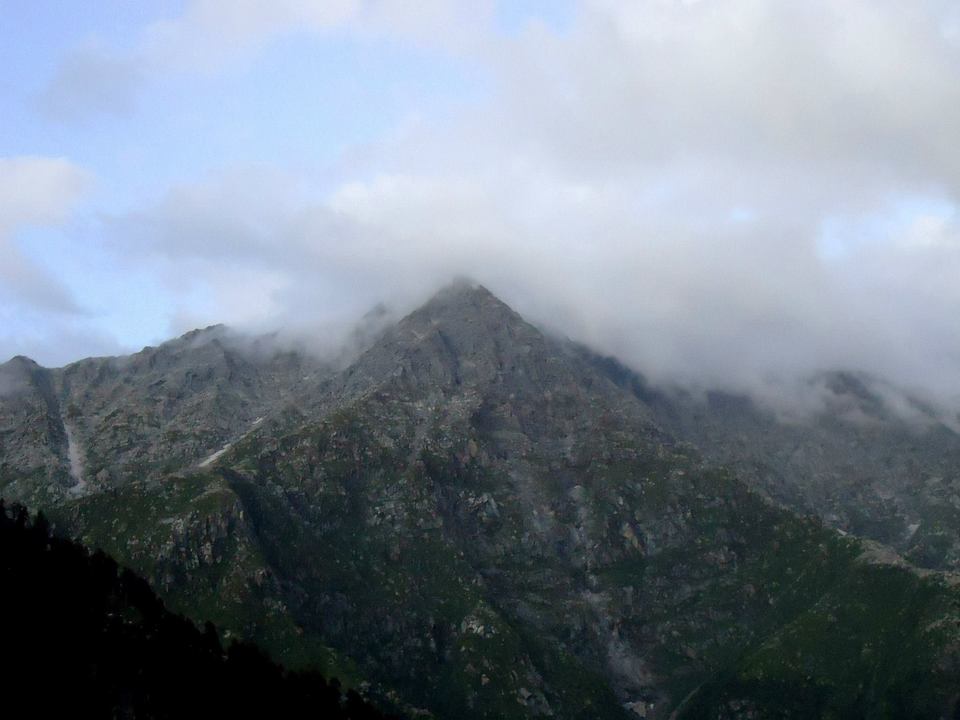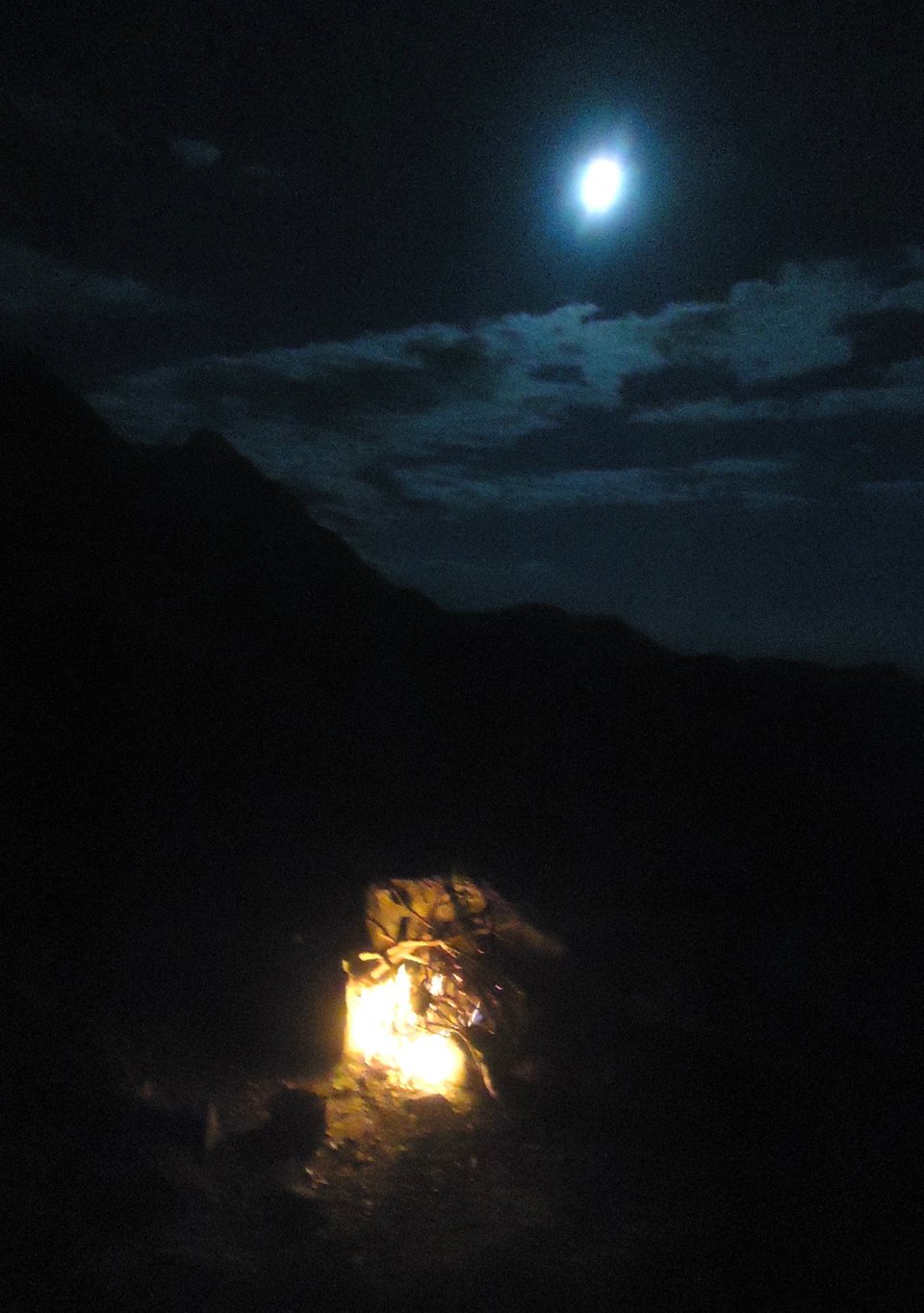 Me and my friend had been to Triund many times before, but every time it seems to have a different experience to offer and an entirely different beauty to it . This time we had planned on heading ahead to the Lahesh caves, en route to Indrahar Pass on the Dhauladhar range . So we took an early night , to get ready for the next day early morning trek .
Day 2 - We woke up by 6 am to start our trek by 7 am , since the distance to lahesh cave is approx 3.5 km and the trek difficulty rate is considered high . But at 7 am there was no sign of sun-rise, we understood it was going to be a hard day . As we rolled our tents , put on our warm clothes , picked up our bags, we hear the daughter of the Australian family asking us to wait as she too wanted to join us in the trek ahead. Since 3's a party ,we waited 10 minutes for her to pick her stuff and continued our journey ahead.
The trek from Tirund to Lashesh cave is pretty steep ascend and I was getting exhausted after 500 metres itself . But, I continued . Just after a while, a local man descending down to Triund met us on the way and warned us about the bad weather condition and suggested that we go back since we were moving without a guide . But we are young bloods, we decided to keep moving up . Soon after we reached a place called Snow Line . It has a small cafe run by a Himachali man who seemed to have trekked across the Himalayas , the sun burns on his skin , his rugged shoes , his snow -safe jacket and his words made us believe that he is not just any other cafe owner . It was raining heavily and he suggested us to stay there till rain stops .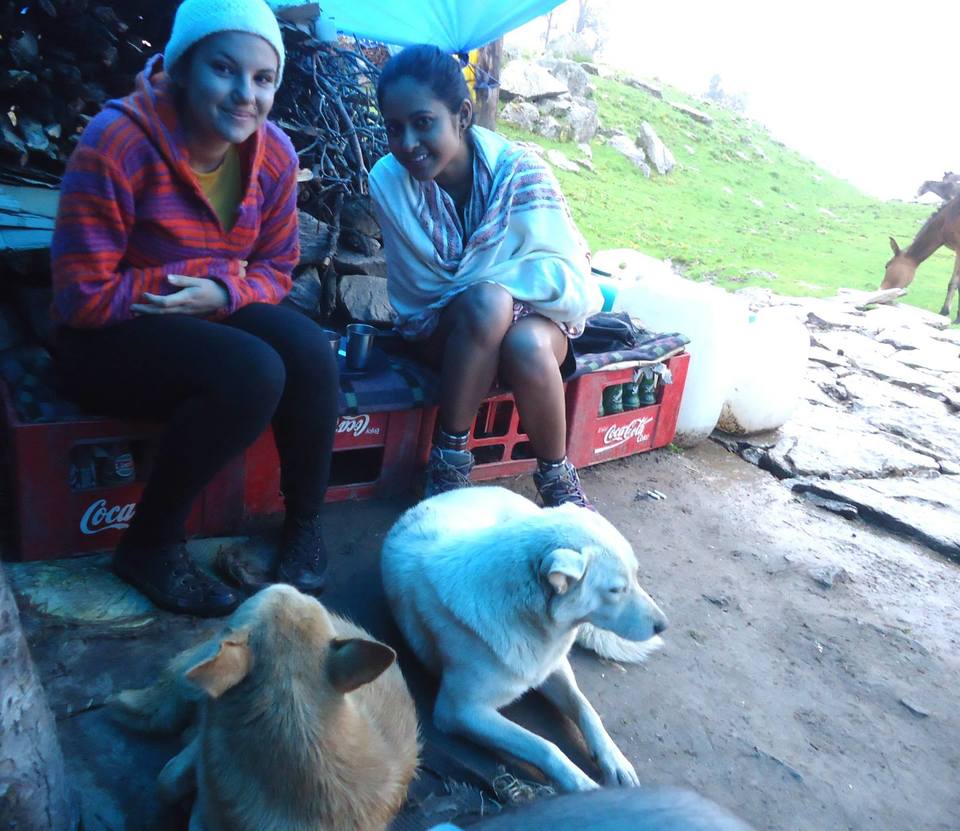 I forgot to mention, we had 2 dogs with us who were working as our guide , from triund onwards . But sadly, one of our dog didn't seem to like the cafe owner and his constant barking at him , made the cafe owner really pissed , pissed to a point where he got up and said in hindi " Isko le jao yaha se nahi toh aese kaat kae maarunga pata bhi nahi chalega ki kaha gya" - meaning " Take this dog away from here else I will chop him in pieces and kill him and no one would even know" .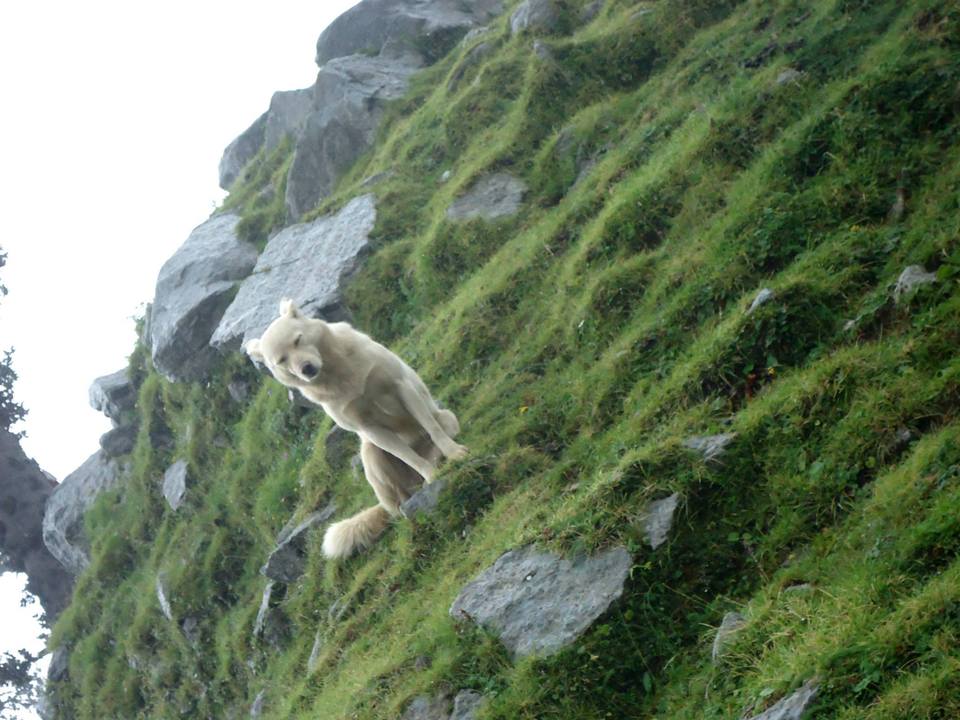 That scared the hell out of us, and we 3 immediately paid the bill and left to save our dog life, or maybe even ours ! I am sure he was a nice man, but he seemed to be on a different trip that day !!
So we left, and started ahead for Lahesh caves, a ridge area came after about 200 metres from Snow line, where suddenly we were engulfed in clouds, so much so that the visibility reduced to zero metres . We warned each other to stay where ever we were till the clouds clear , because one wrong step and we could have slipped from a mountain which is at about 15,000 feet ! After 15 difficult minutes , the clouds started to reduce, and we started questioning our decision of moving ahead or not . We surely could not go back to the snow line cafe !! So either Lahesh Caves or back to triund .
After 10 minutes of thinking , we agreed to move back down , as the weather was getting worse and we were all alone in the trek it seemed ! And after 30 minutes we realised how good our decision was, as we started hearing crazy loud noises from the region of lahesh cave route. As we investigated further , we realised , there was a major land slide happening on that side of the mountain . We thanked Lord for making us return back as we could have been a part of the land slide had we continued.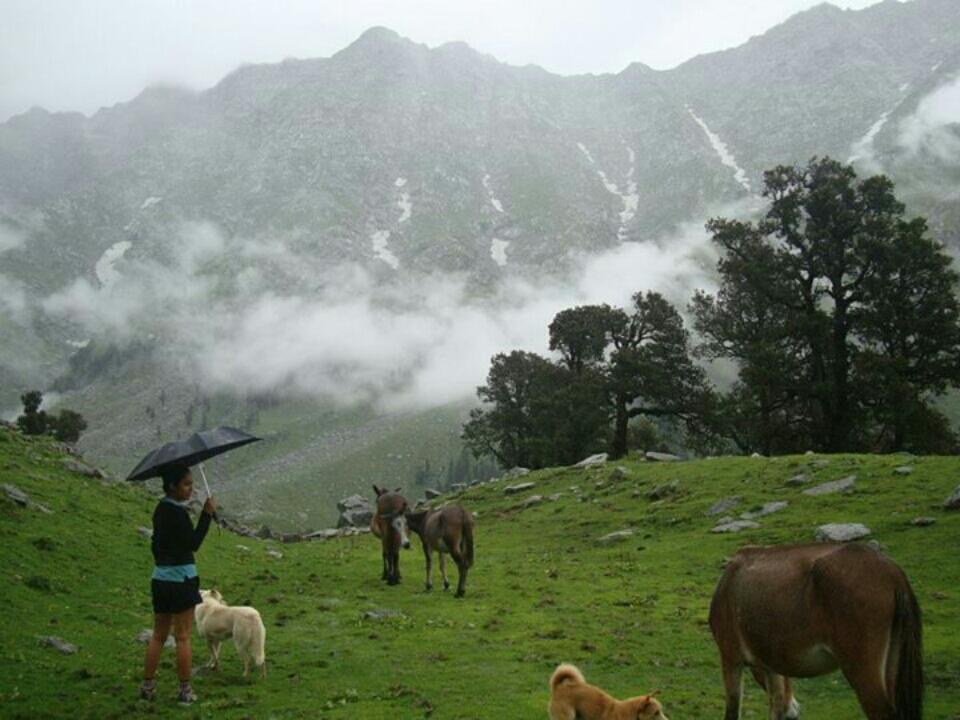 By 4 pm we were back to Triund , and we decided to keep walking back down to Mcleod . By 6:30 we reached Gallu devi and by 7:30 we reached our guest house . 2 days, 1 night , crazy experience . new people , mad people , beautiful scenery , dangerous weather , snow, rain ,sun , rainbow, faithful dogs , major slipping, minor self doubts , although we couldn't reach Lahesh cave, but the journey was worth sharing !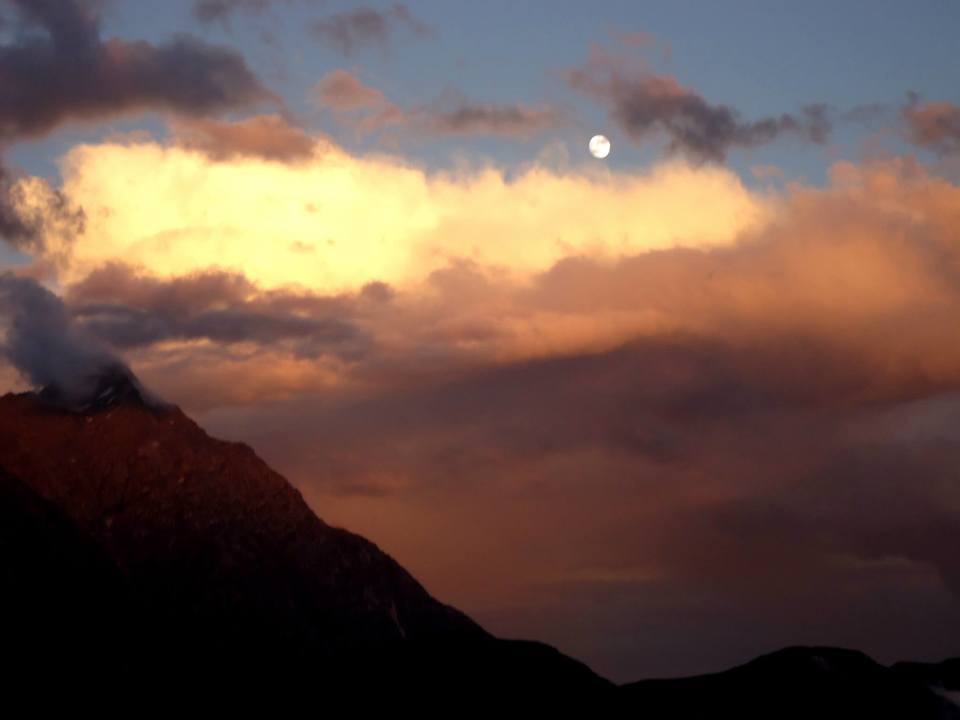 #trek #mcleodganj #triund #lahesh #caves #himachal #india #people #mountains #rain #snow #nature #camping #bonfire #serenity #real #loveforthehills #experience #beauty