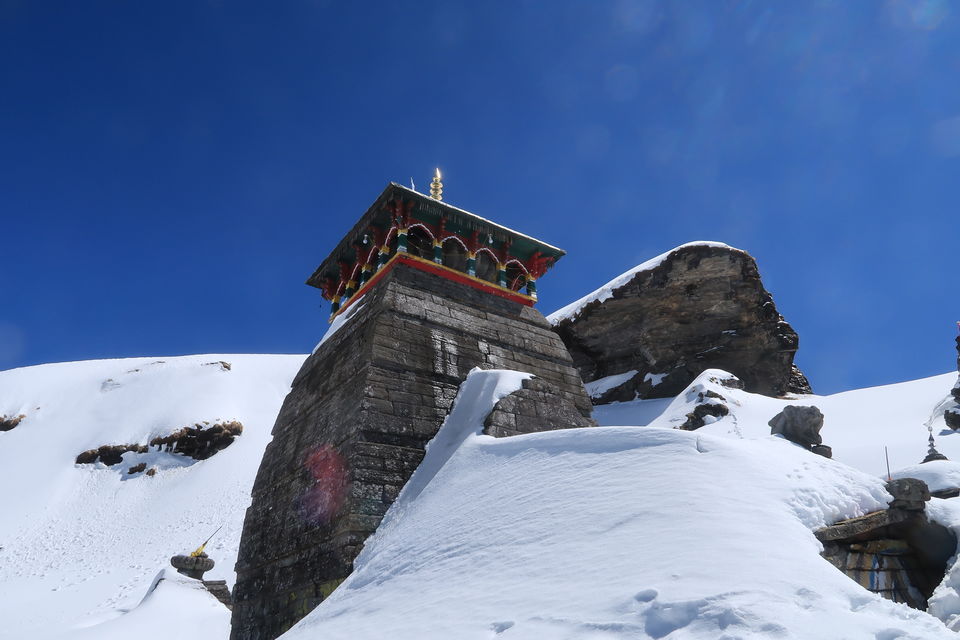 "The mountains are calling and I must Go" (John Muir)
So Chopta Chandrashila Deoriatal it was this time, more because of a friend who wanted to get introduced to the world of trekking, than what perhaps what I would have ventured otherwise. Since 2016 i have been trekking in the Himalayas – atleast once a year was the commitment that i started with. And somewhere that commitment became a love, an endless love for the mountains.
Left to me perhaps i would have gone for trekking sometime in Feb but since my friend, H wanted to join it got postponed to March admist the Corona virus scare!
As the date of journey was coming near, the news started getting even worse so somewhere between the heart and the head we decided to say our prayers and leave for the trek (with a last moment entry of 2 participants from UK as well – OOPSIE!). I was not well since the last few days so prayers were even stronger.
DAY 1 - Bangalore to Haridwar
Finally, it was time to take the flight with a mask to cover the nose and the mouth, which we took off only once we were in the cab to Haridwar from Jolly Grant Airport (Dehradun). The journey through the mountainous road was not new (since for all treks in Uttarakhand we have to reach Dehradun Airport) yet the beauty of these paths never fails to impress. Dehradun greeted us with some chill in the air and then it suddenly started raining. The pitter patter of the rain and the mountains drenched in rain was a sight to behold. As we were almost close to our hotel the sound of rain seemed much stronger and we realised it has started to hail!
On reaching the hotel we freshened up and post some meal my partner wished to see the Ganga aarti in Har-ki-Pauri. I was in two minds with the COVID very much hanging in my head. A bit reluctantly however, i gave in and off we went to the ghat. Last i came here was during my first trek (Valley of Flowers).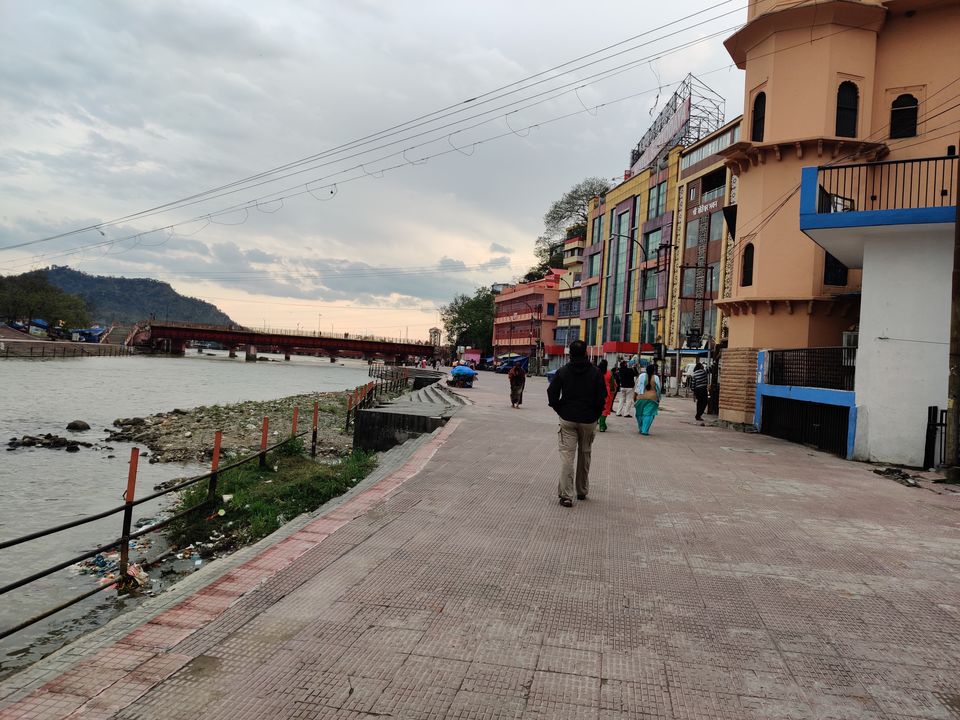 On reaching Har-ki-Pauri we stayed a bit away from the crowd and saw the aarti from a distance. We could have perhaps enjoyed the aarti a bit more if not for the constant pestering by the guards to donate something for the puja and the hovering tension of Mr. Corona. Still the aura of the Ganges, the prayers and puja by the priests, the somewhat madness of the crowd to witness the aarti makes off an atmosphere that does not fail to rub anyone of its magic.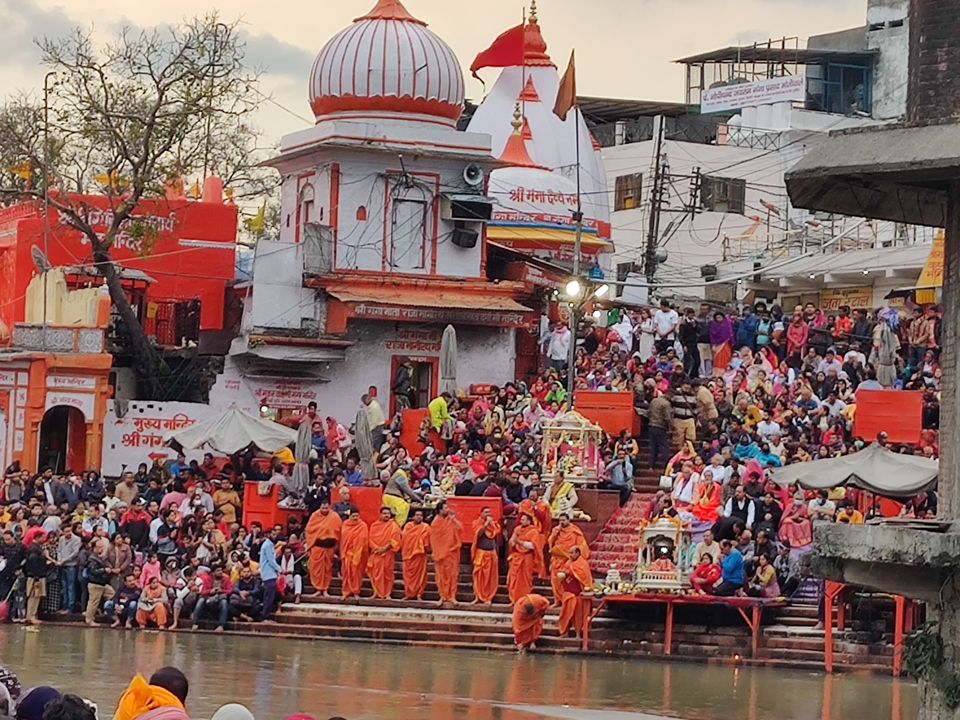 Post the aarti we started walking away from the Har-ki-Pauri ghat and on our way sat at a small restaurant for some hot cup of tea (the air was quite chilly).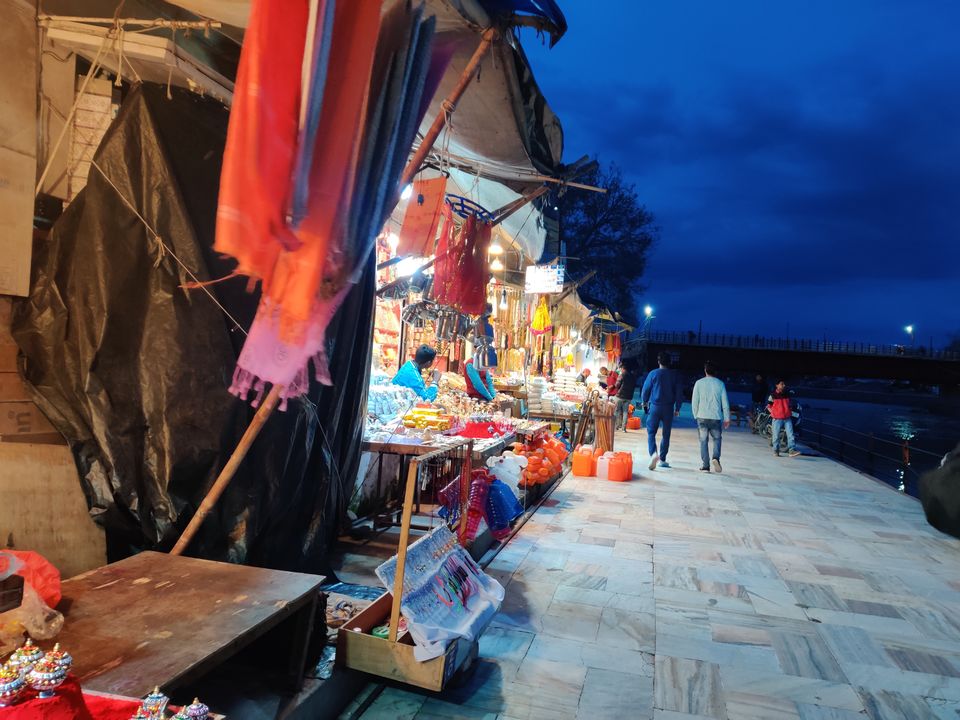 Soon after we were in our hotel preparing ourselves for an early night since the pick up from Trek the Himalayas(TTH - the trekking company we had chosen) was at 7 am from Haridwar Railway station.
DAY 2 - Haridwar to Sari (our base for the trek)
We reached before 7 am and post the initial hi-hellos, we a group of 11 ( 4 Bengalis comprising of 3 IIT Guwahati Professors and 1 NIIT, Patna Professor, 2 Maharashtrians from Nasik, a college student from Chandigarh, 2 from UK and us) began our journey towards our base – Sari. Throughout the journey the river was our constant companion but the roads were quite bumpy on account of the road widening work in progress. TTH had arranged for a tempo traveller for the journey.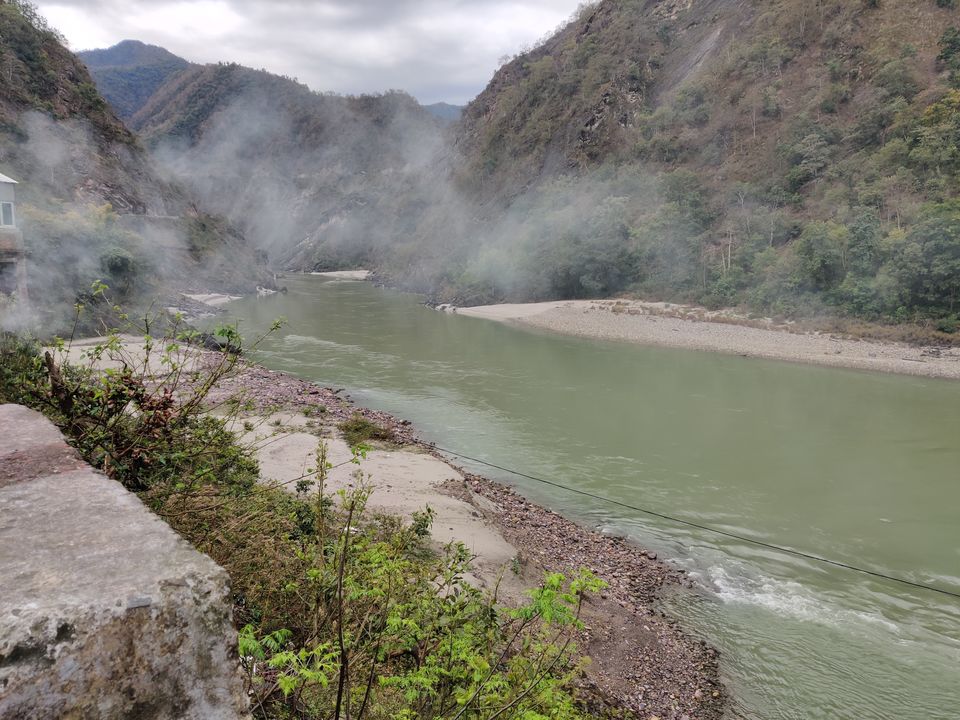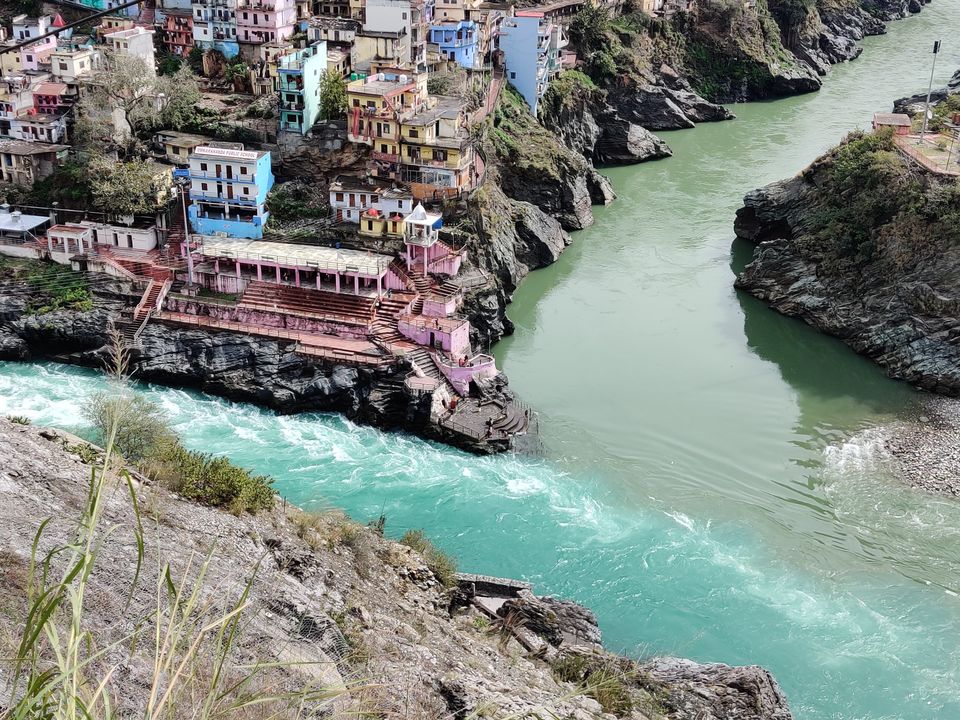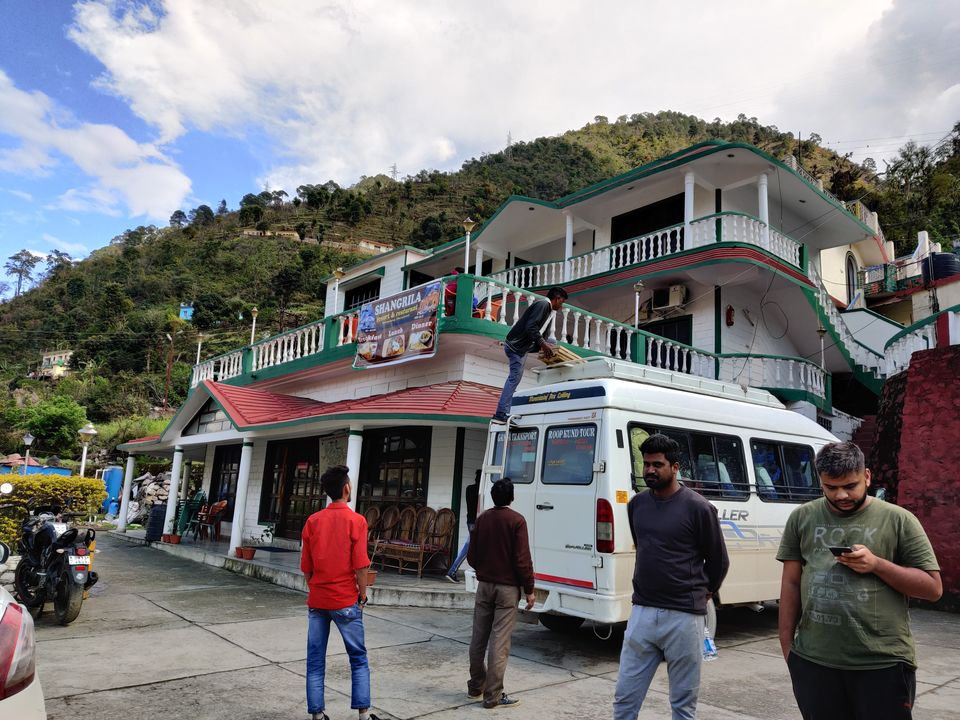 As we were progressing through an uneventful day through the mountainous road our tempo had an accident trying to overtake a big lorry. Its windshield got broken and the left door completely jammed, the 2 poor Bengali ladies sitting in the front seat got hurled almost to the driver seat. In a bout of bravery, instead of accepting the mistake our driver drove like a maniac, overtook the lorry and braked in front the truck, then the thin old man jumped like a lion and suddenly he was up the huge truck holding the collar of a well-built much younger fellow. Yes, it did seem like a scene from the movies! While the argument went for quite sometime we started wondering when exactly we will reach Sari! As slowly things started coming under control and our driver much to our delight started the tempo again, he reversed and banged a Maruti car. With that things came to a standstill again for sometime. After the turn of events we finally reached Sari around 6 pm mostly and met our trek lead Sudhansu.
After the long day's journey we were too tired, so quickly freshened up in our allotted shared rooms and wore something warm as it was already too cold for us. Then, over a cup of tea and some biscuits post the initial introductions and sharing a bit of our previous trekking history Sudhansu briefed us about the trek and also gave the bad news that because of heavy snow in the Bugyals(the meadows) the Day 2 of the trek through Rohini Bugyal to Baniyakund stands cancelled and we will be taken to Baniyakund in a car. In short the Chopta trek for us got chopped. Dinner got served around 8pm.
My digestion was already giving me problem even before coming so i took medicine before sleeping, only to get up in the middle of the night with an uneasy feeling and vomited. Temperature (based on Google) was -4 degree (Yes phone network was still there) Post that fell into a disturbed sleep for a while.
DAY 3 - Sari to Deoriatal
Got up around 7am and was greeted by a beautiful morning with the sound of birds and the warm rays of the sun and saw Sari, first time properly.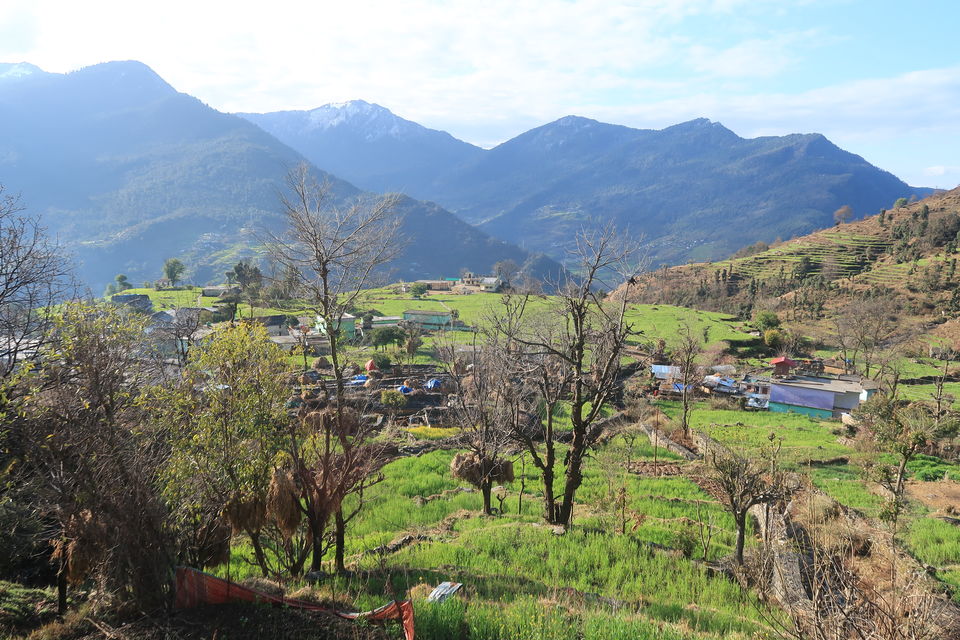 Sari (6, 600 ft)– posed a pretty picture with little houses across a mountain backdrop lined with green patches of agricultural fields. 2 of the trekmates were running around to capture photos of the different birds chirping around. I was just standing enjoying the warmth of the sunrays and H's company while clicking a few pics of the mesmerising view from the balcony.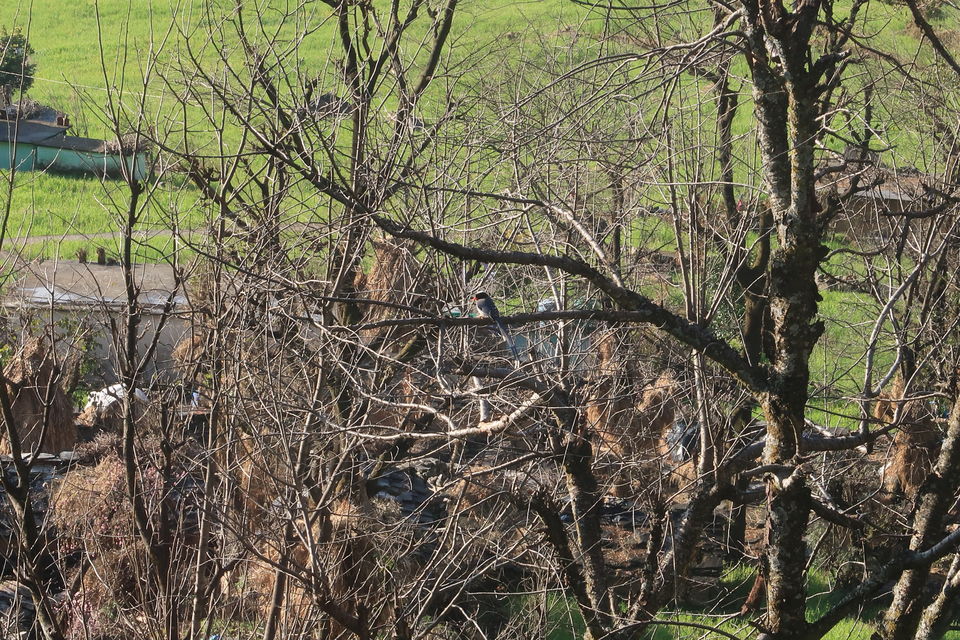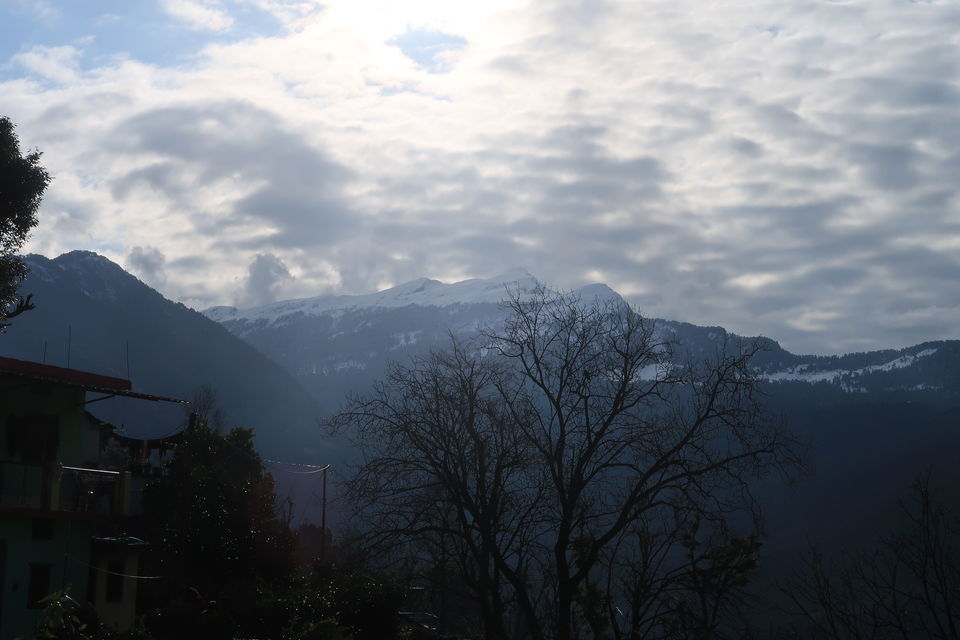 Plan was to start around 10 am. Today's trek was a short one - 3 kms to Deoriatal.
All were excited and ready much before the scheduled time. Breakfast was served and while people had parathas, I satiated myself with some bun and butter. And then we started.
It was a well-defined rocky trail all along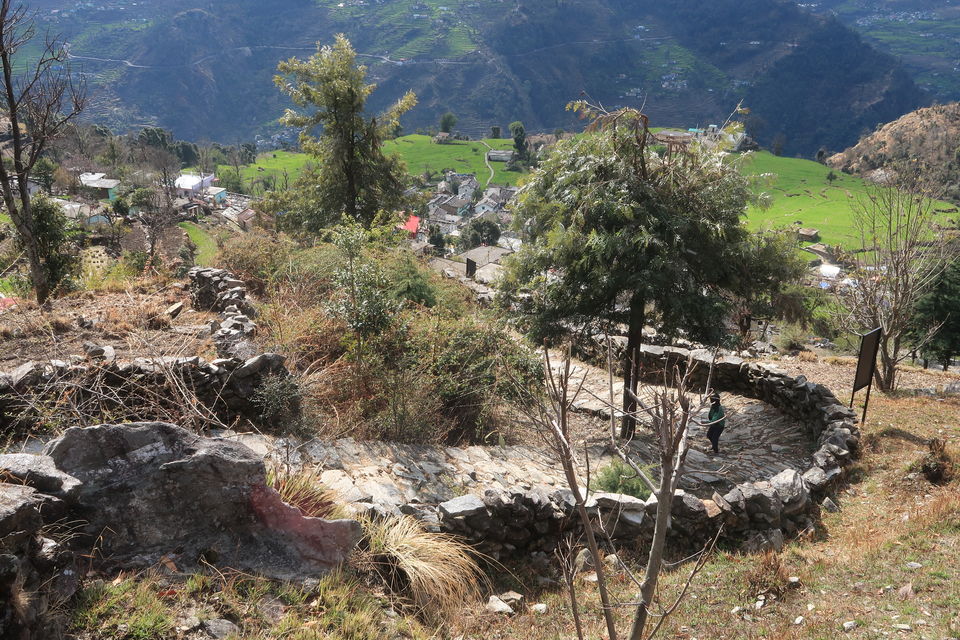 and since the distance was small, breaks taken were longer and all the time we sat happily chit-chatting and soaking in the beauty of the mountains.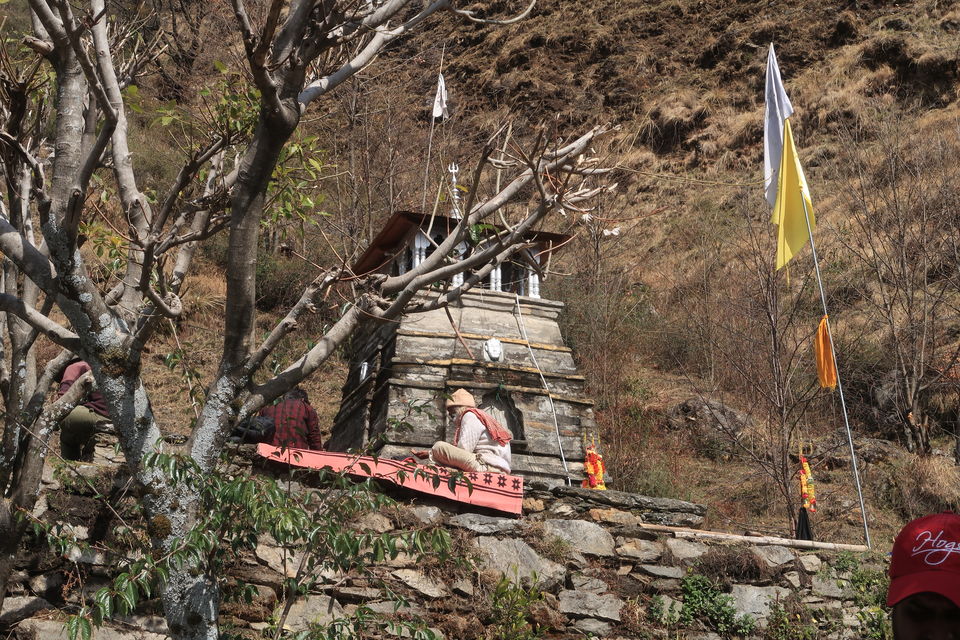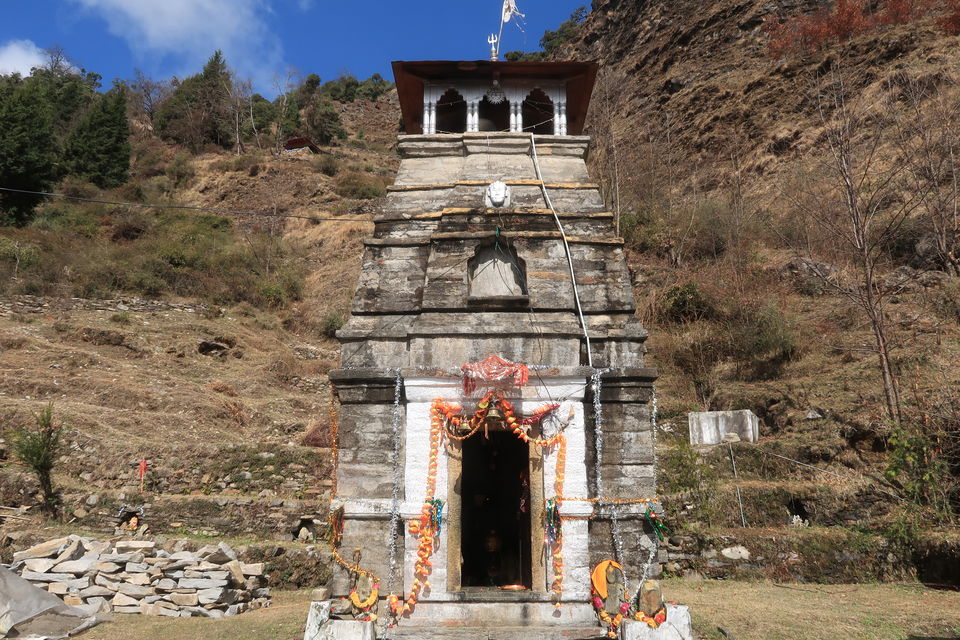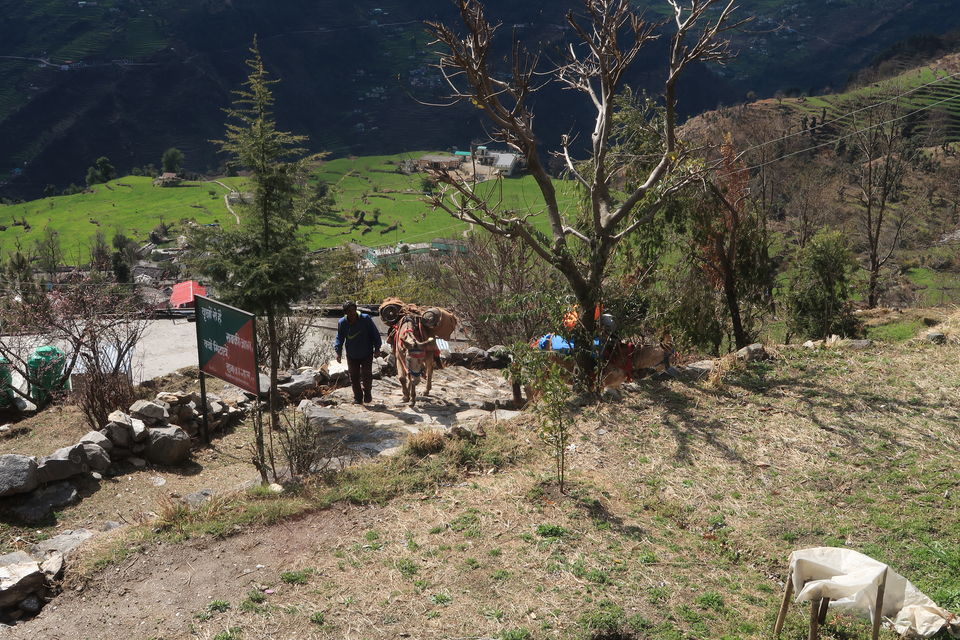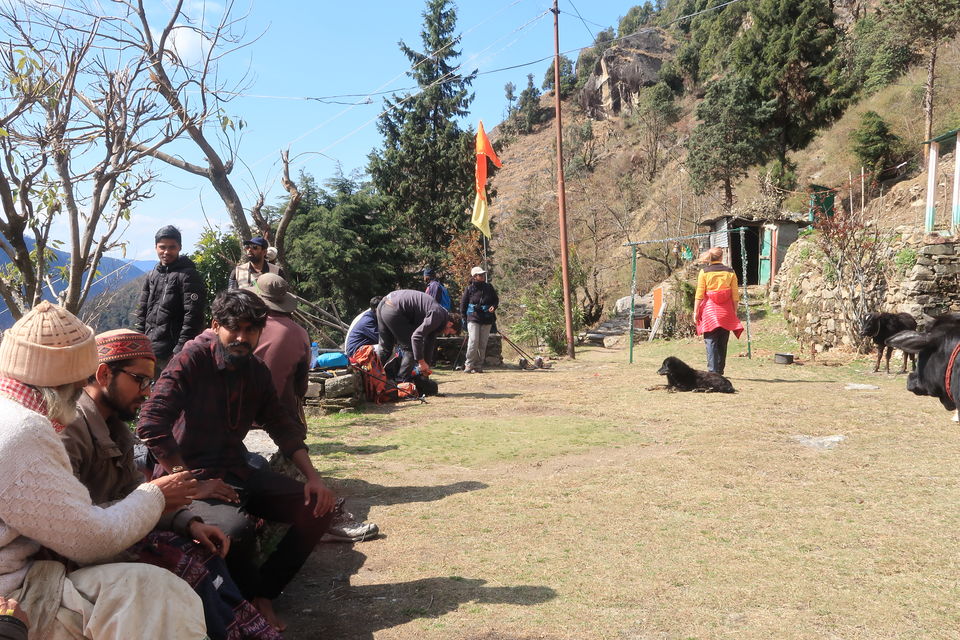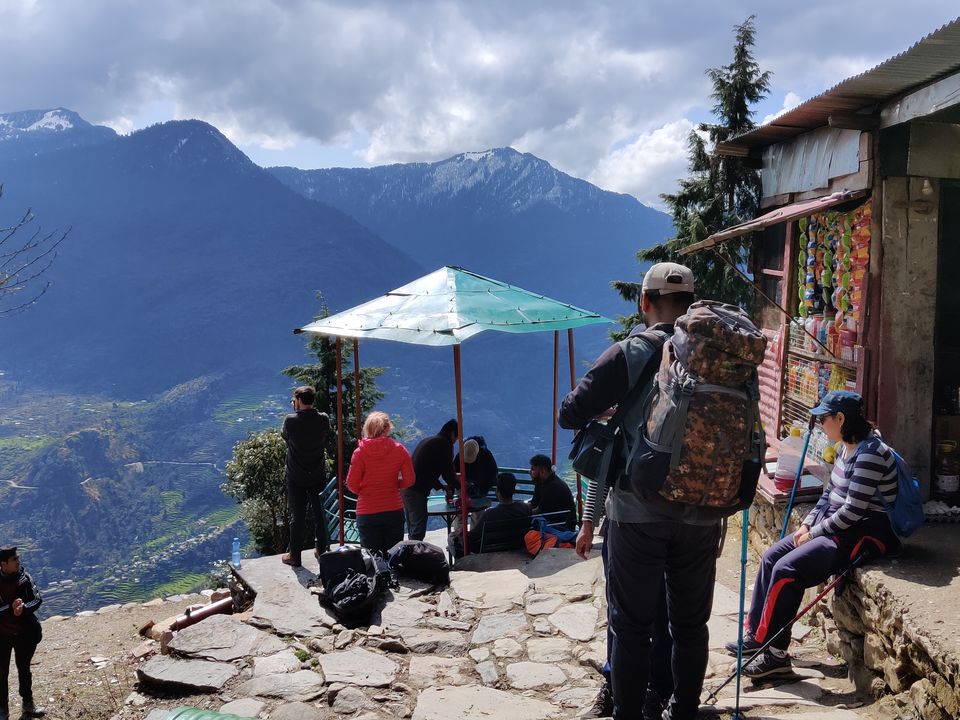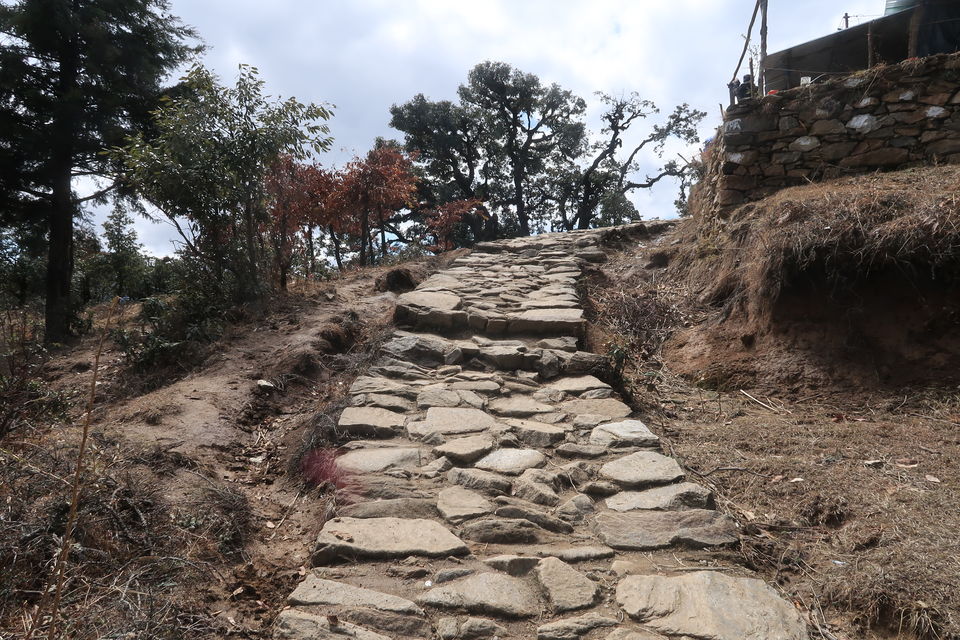 Some 10-20 mins from our last stop from here was Deoriatal.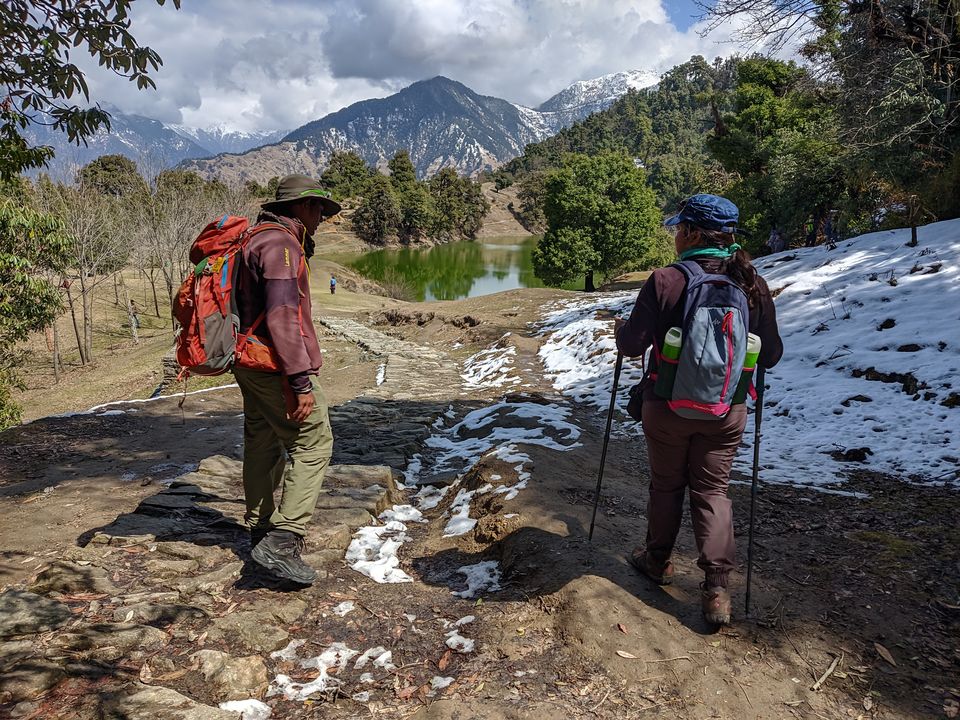 Soon we were standing infront of the glistening waters of Deoriatal (7,841 ft) with the first glimpse of snow around and the gigantic mountains rising at the backdrop.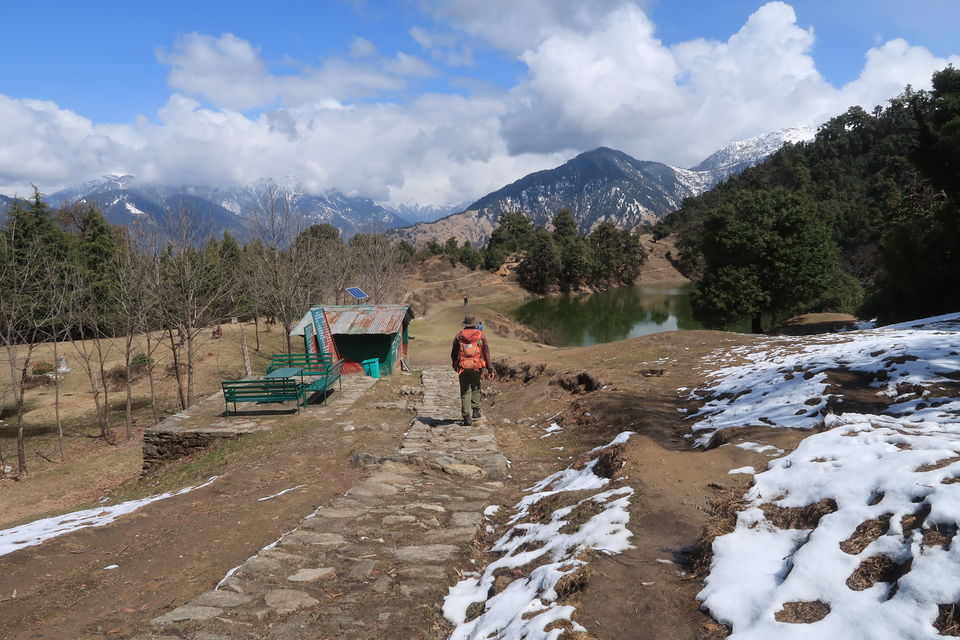 With all the breaks it took almost 2.5 hrs for us to reach. The cloud cover blocked "Chaukhamba" from our view. We had the entire day to ourselves.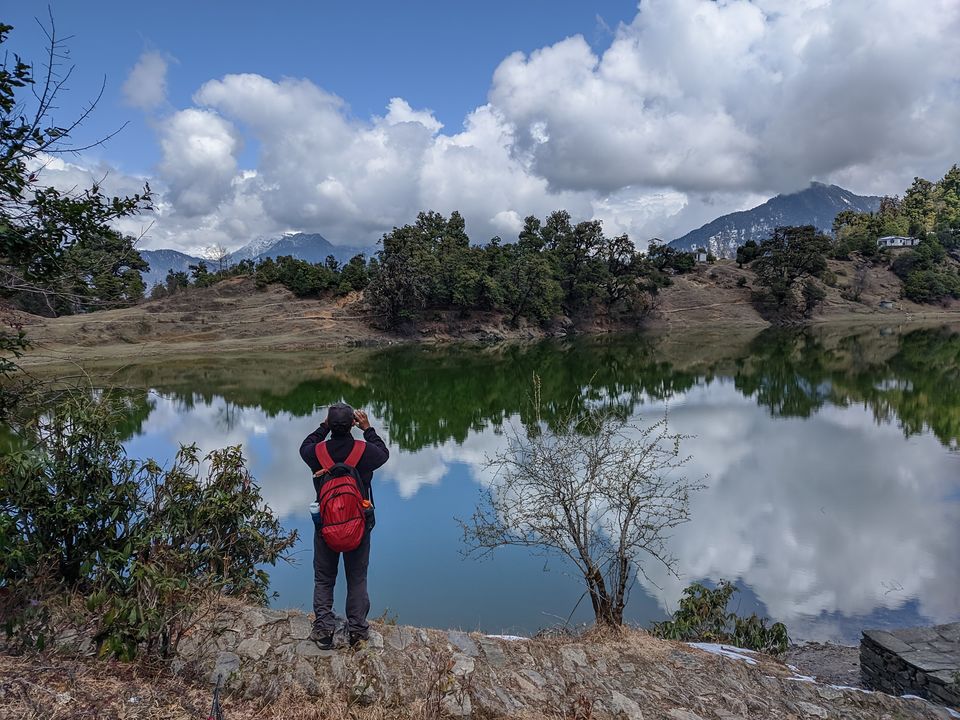 Deoriatal trek from Sari is one which any beginner can do. The path is well-laid, in between breaks can be taken in plenty, the trek is a short one and the reward is the beautiful lake surrounded by the tall beautiful mountains. We spend sometime here and then we headed towards our camp, a km from here to have our lunch.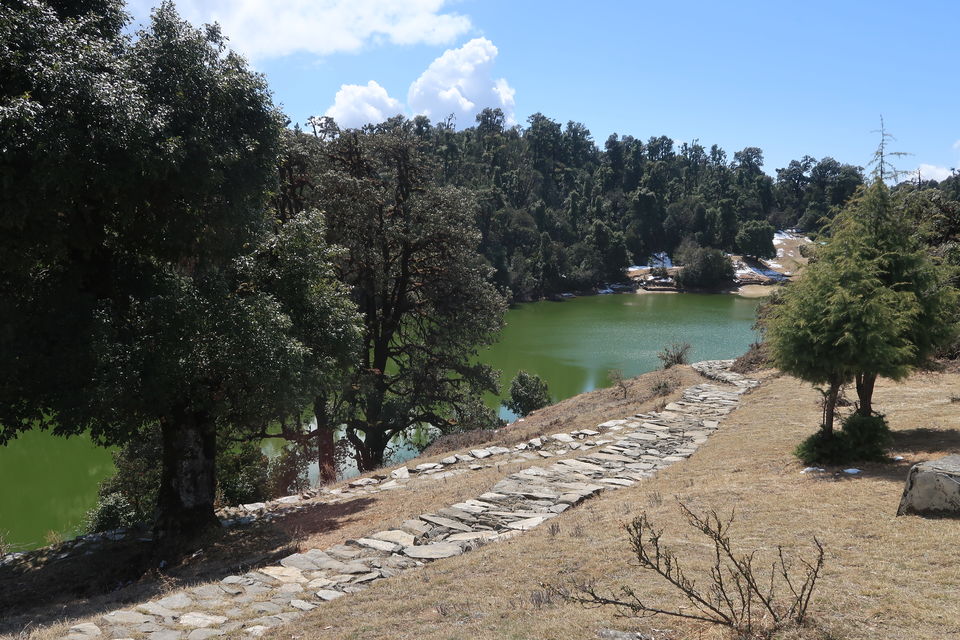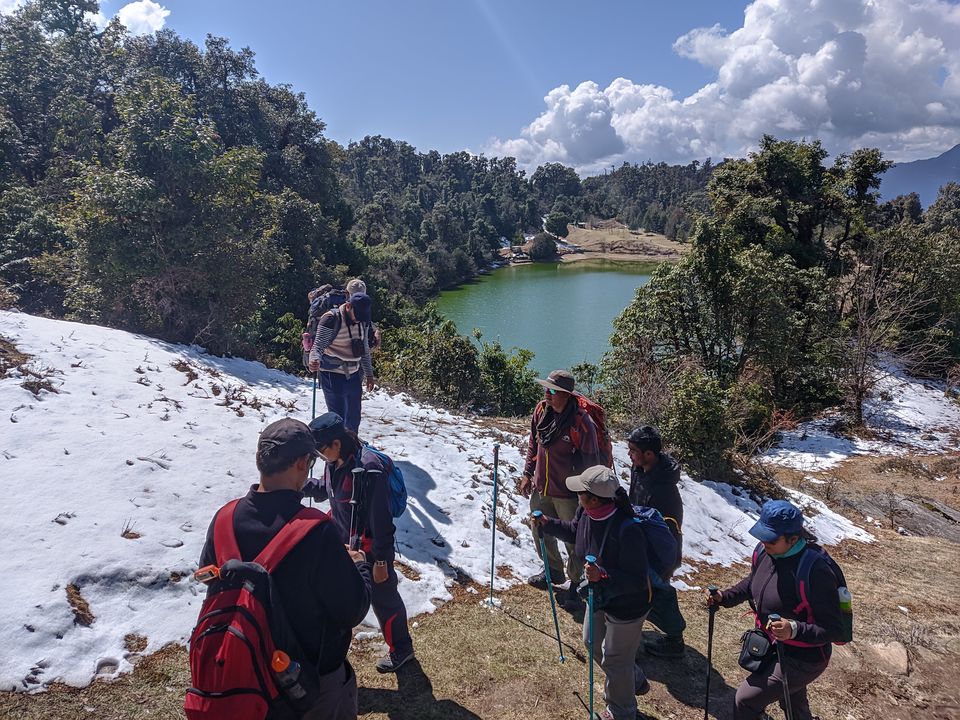 After lunch at the camp, me and H started off towards the lake. A few people were exploring the lake mostly clicking pictures. We found a shady place and sat overlooking the lake chatting happily without any worries in our heads. But the shady place because of the breeze soon started feeling chilly, so we shifted in some sunny place but still it was chilly. Suddenly it started to hail. Off came the ponchos in rescue and we stood under the shade of a tree watching the entire magical set-up. As the hail dint seem likely to stop anytime soon, we decided to head back to our camp and for a brief time as I was a bit confused of the way back , H did not even remember the way at all!
The hail stopped as we reached our camp and soon it was tea-time. Post tea, we all went to the view point nearby. The clouds were still thick and Chaukhamba, Kedar Dome, Kedarnath, Mandakini was still hiding from our views. However, on the other side Chandrashila was visible.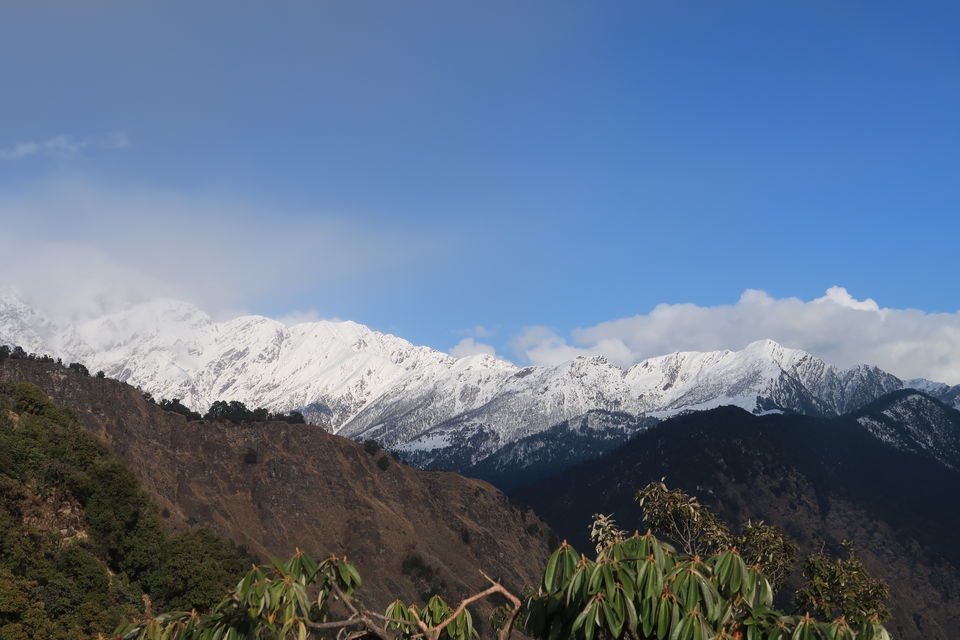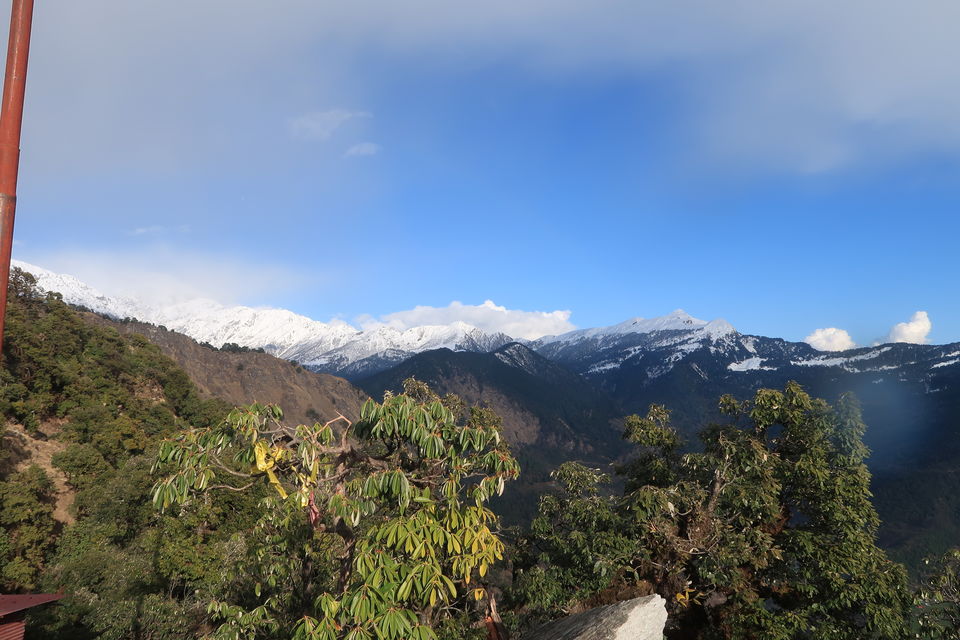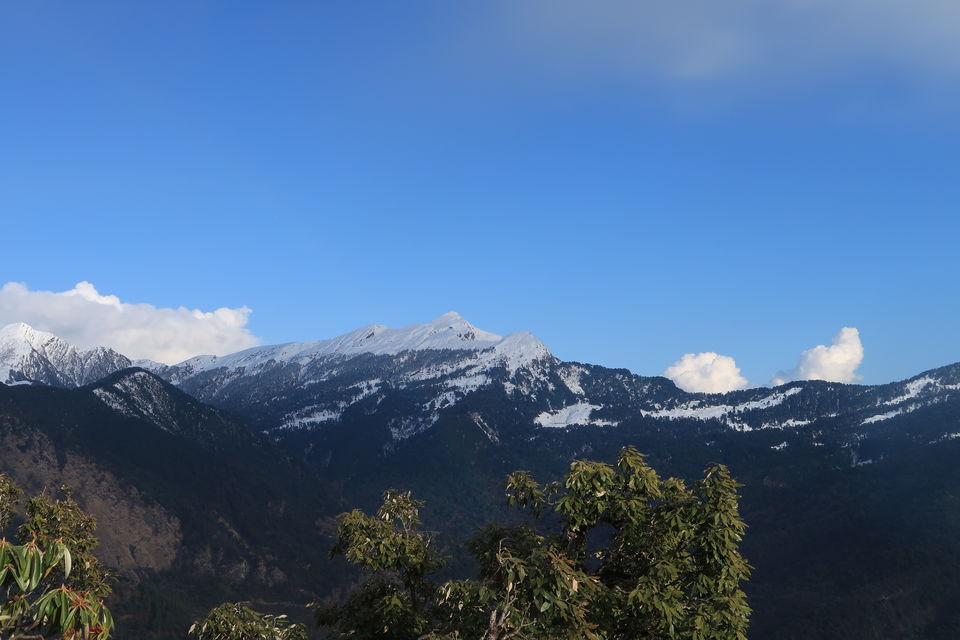 And then slowly the cloud lifted a bit on the other side...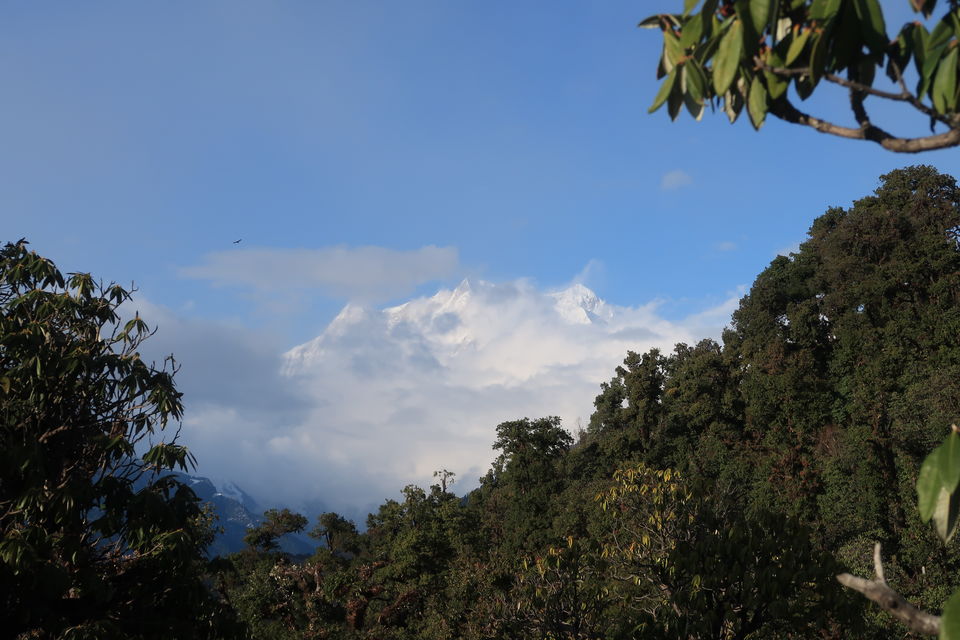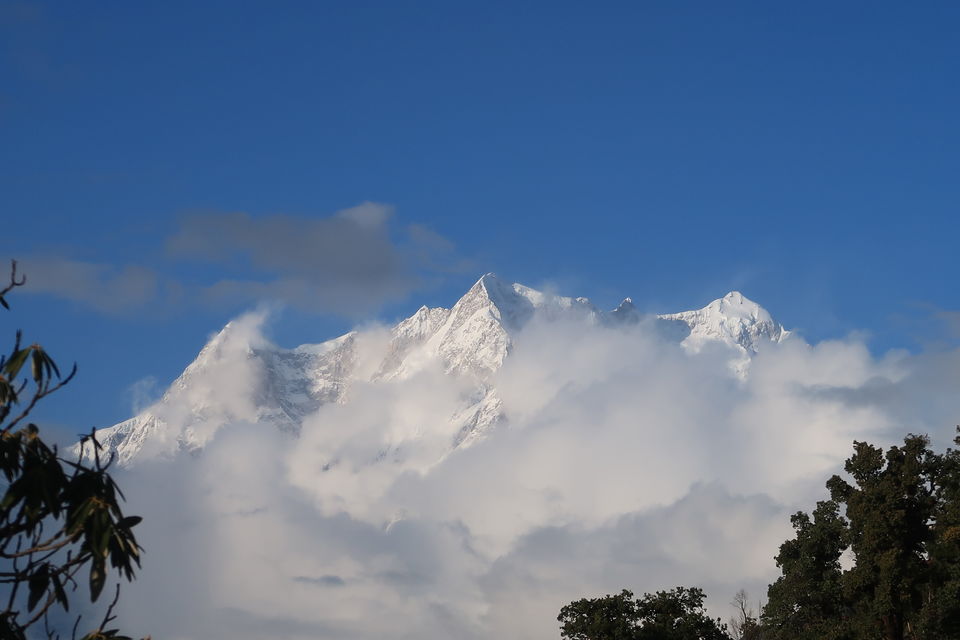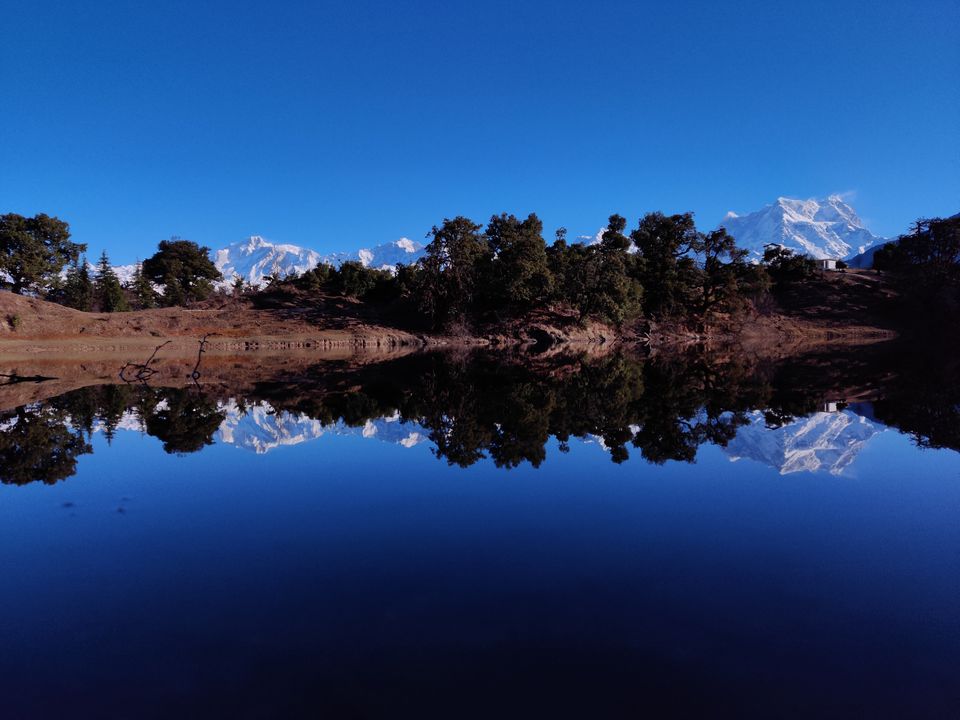 The camp – The tents were twin-sharing and we were told to choose our own buddies. So me and H became tent buddies. Unlike the other trekking camps where we used to have a toilet-pit, we had 2 proper toilets (Indian style) and a dinner tent with plastic chairs and table! Luxury in the trekking world!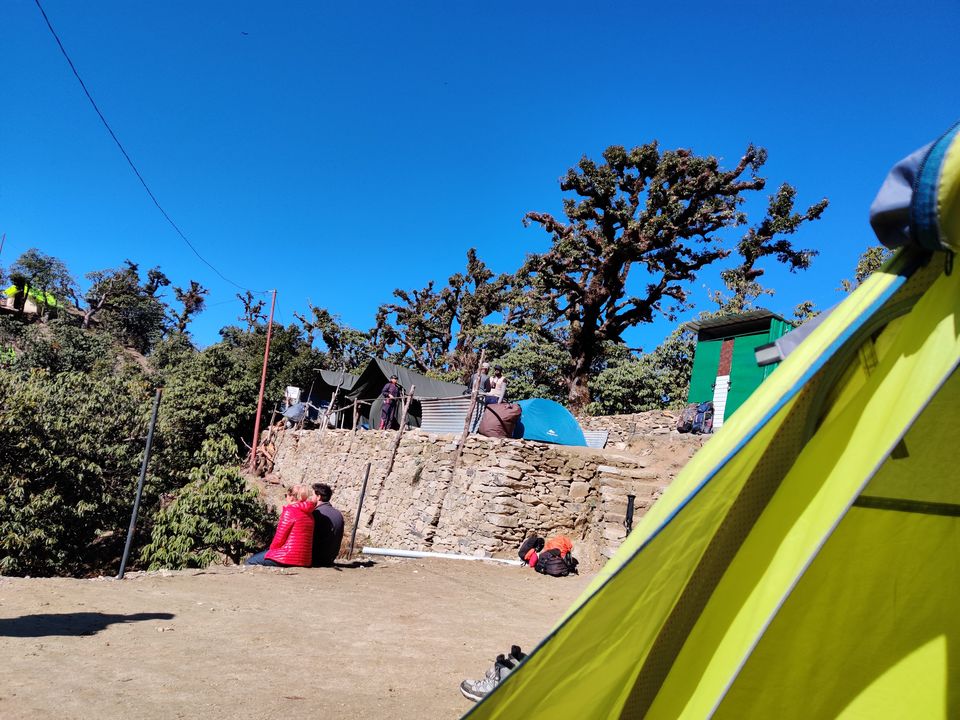 Soon it was dinner time and after a few minutes outside we decided to go and rest in the warmth of our sleeping bags. It was cold and I was already in four – layers of clothing (thermal, tee-shirt, fleece and down jacket) and ofcourse socks!! My feet refuses to get warm and I had occasions in other treks where I wore even 5 socks and still had a cold feet. This time it was 3 socks for me. As we came to our tent, I took off the down-jacket and zipped myself inside the sleeping bag. My partner was having a hard time though with his first time experience of a sleeping bag.
Sometime in between feeling cold and feeling sleepy and trying to keep the sleeping bag fully zipped I managed to fall asleep while my partner shared his sleepless night experience in the morning with me. And now when I think back, that's the best night's sleep that I had in the entire trek.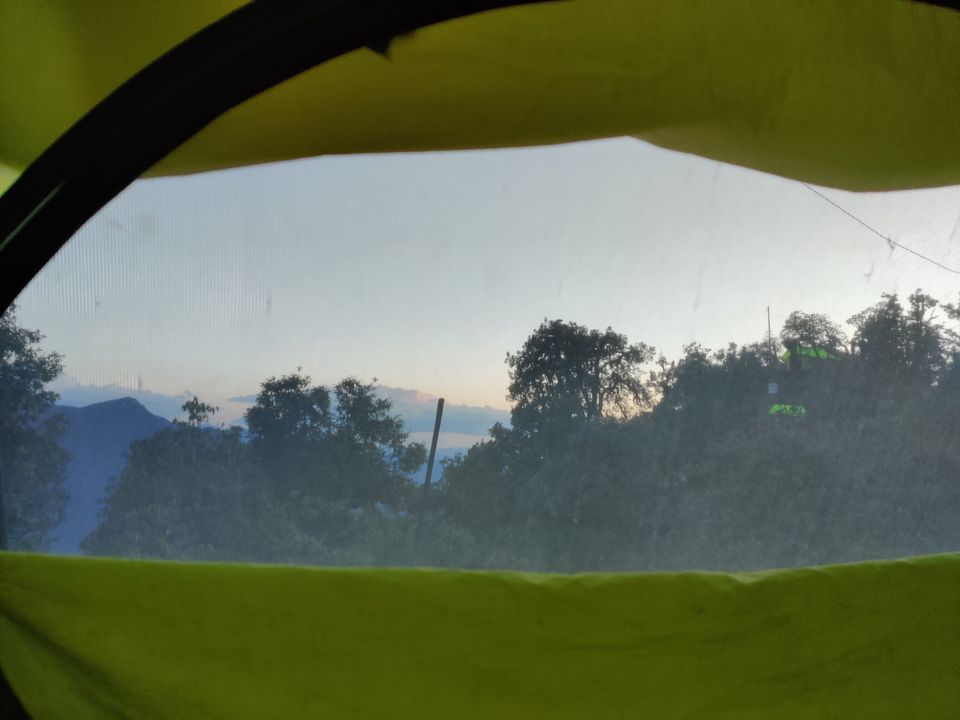 DAY 4 - Deoriatal to Sari(trek) & Sari to Baniyakund (in tempo)
Morning woke up with the sound of my trekmates gearing up to go to the lake really early to take some snaps, however I was still happily tucked inside the sleeping bag. Slowly I got up and got ready. We were again to start by 9.30-10am. Since today we were only to go down to Sari, from where the car will be taking us to Baniyakund. That's in short the day's activity planned for us.
After breakfast we packed up and walked to the lake. This time Chaukhamba was visible in full glory and what an amazing sight it was!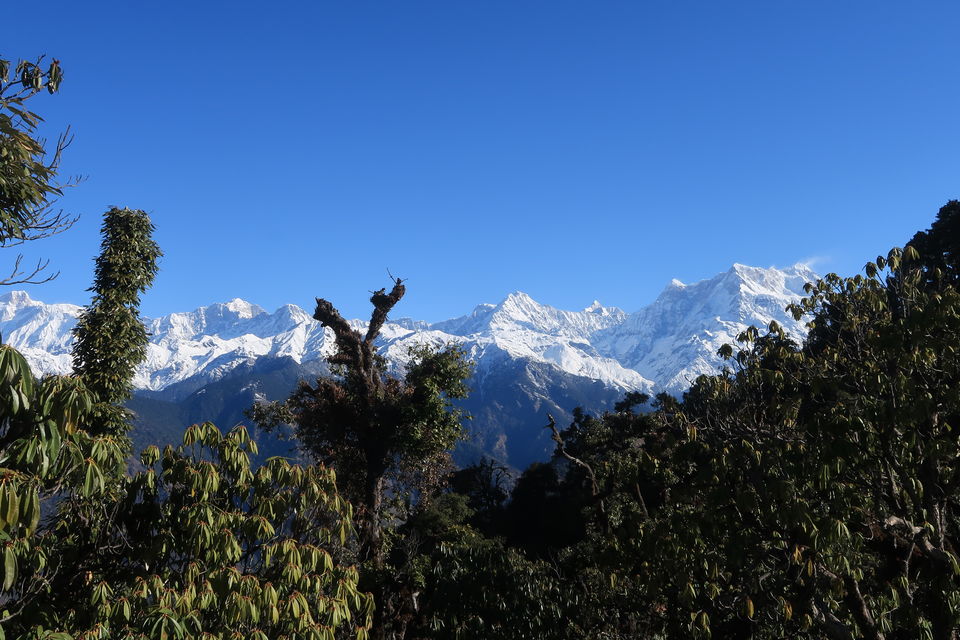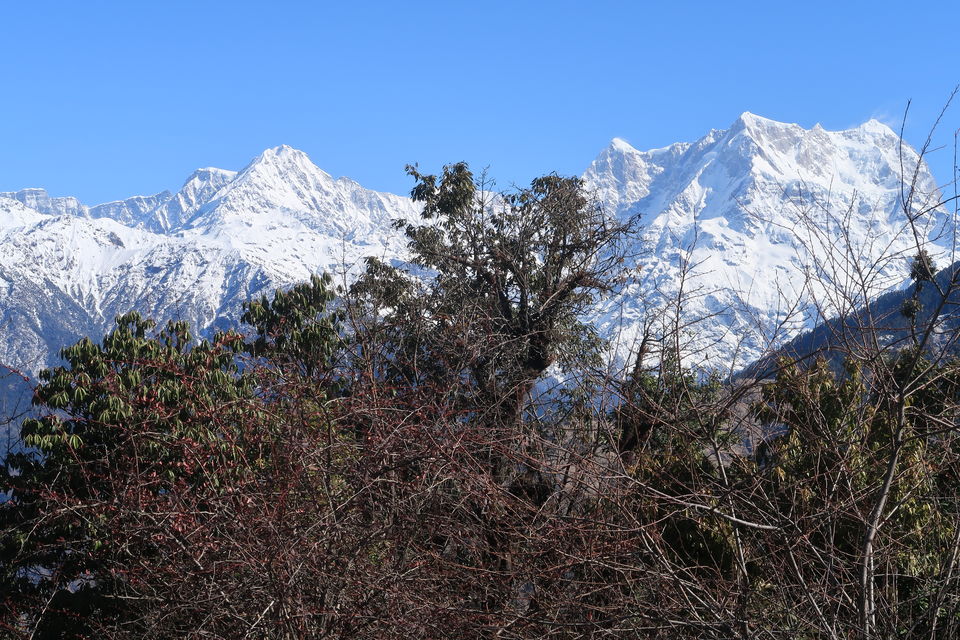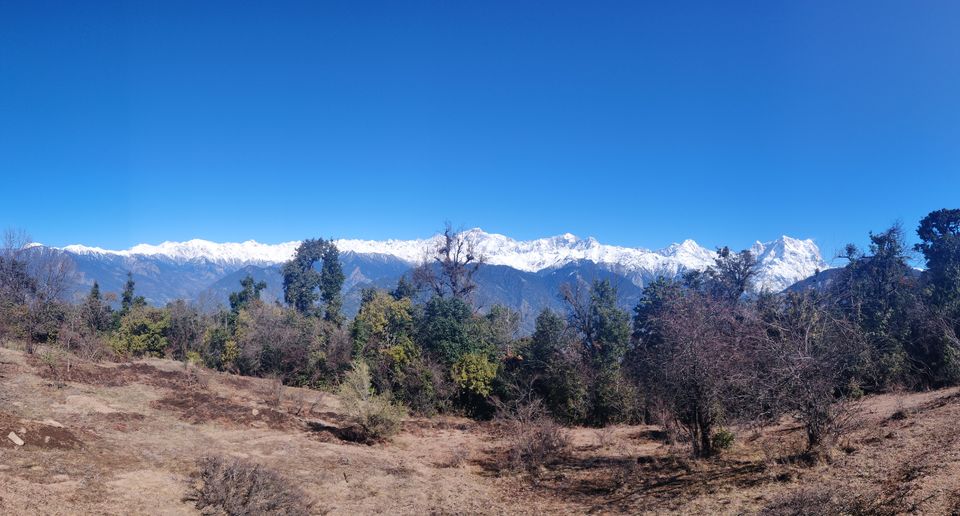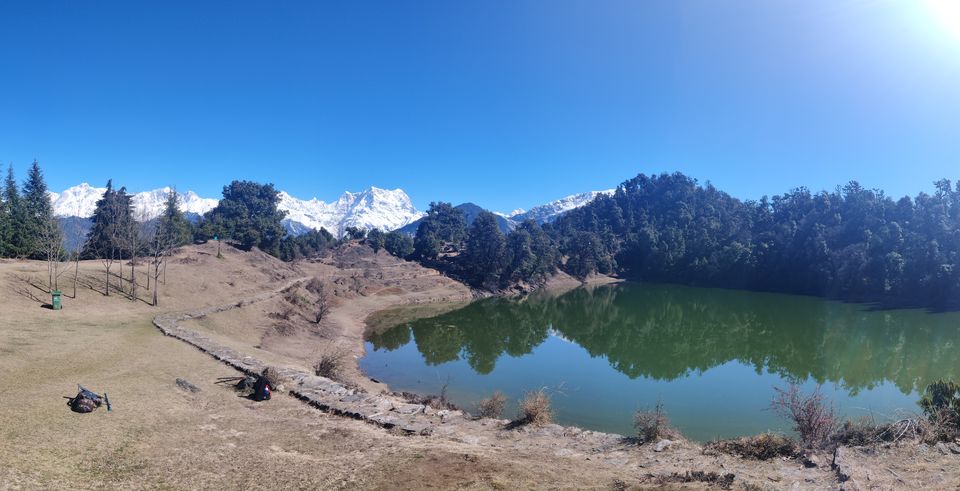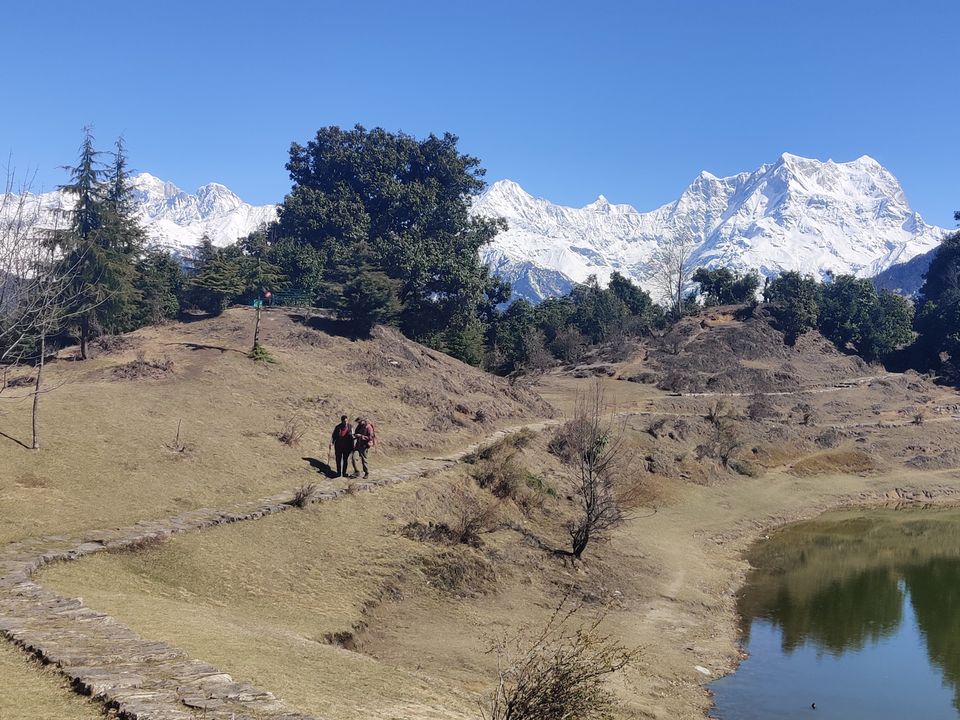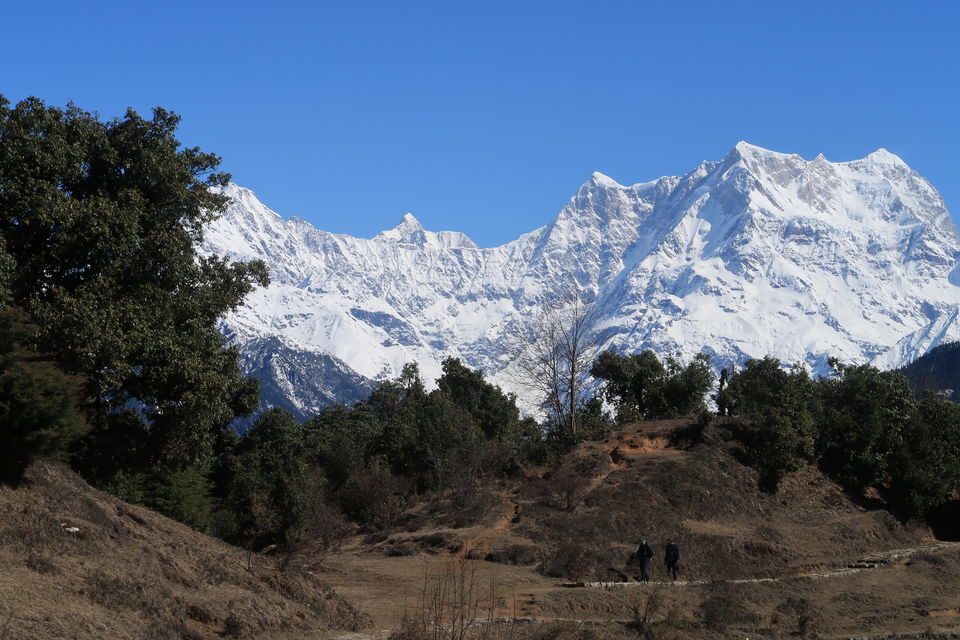 We spend some time at the lake and then traced our footsteps back to Sari with our packed lunch.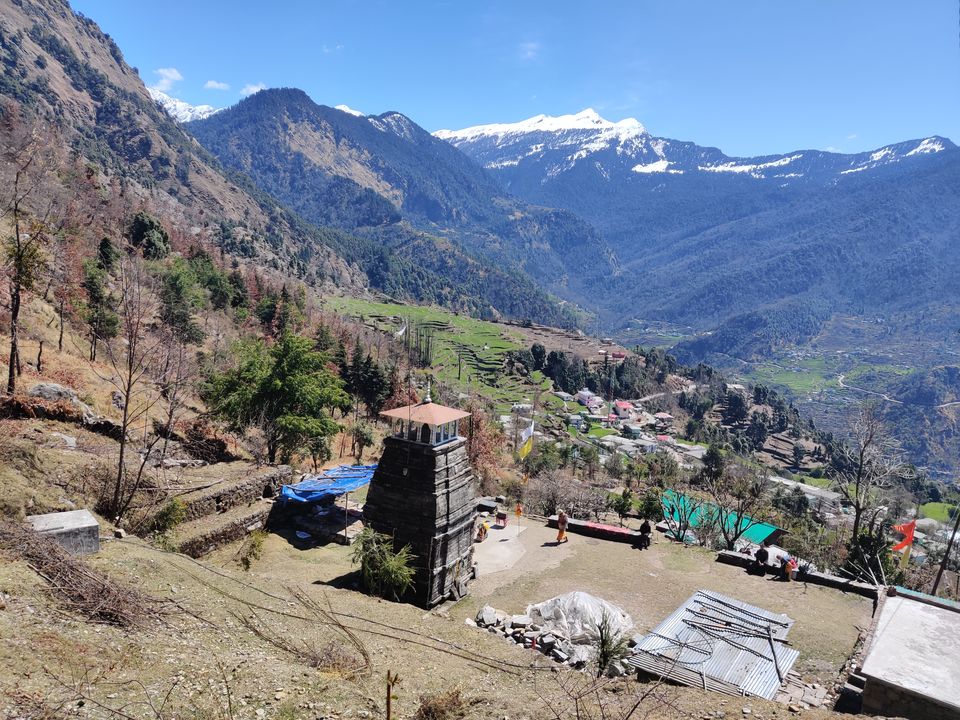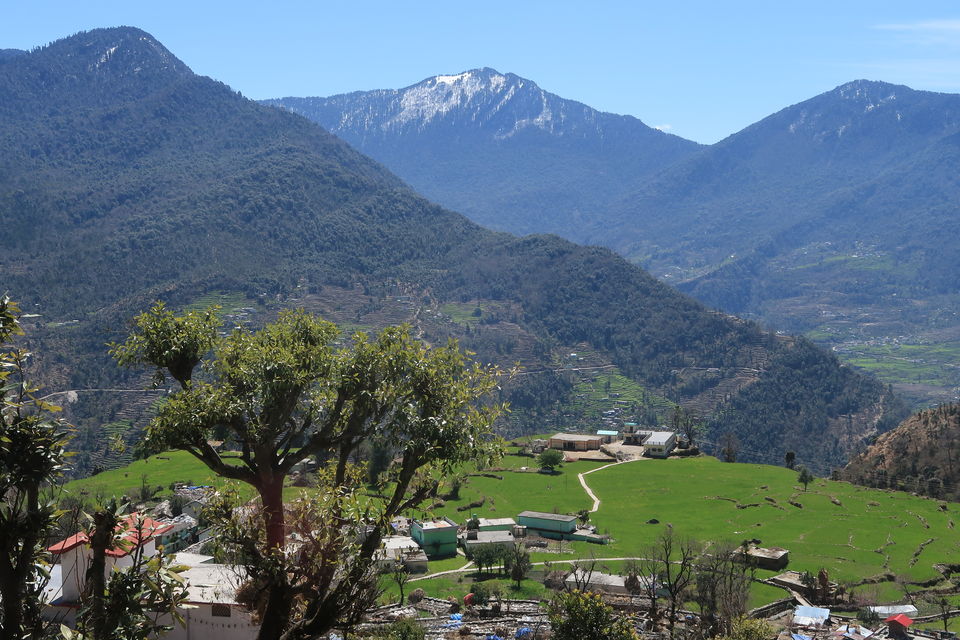 Reached Sari around 12pm and had the packed lunch. It was time to leave for Baniyakund which was 30 mins from Sari by car. So off we went in our new tempo traveller with a new driver.
It was in Baniyakund (8,562 ft)where the snow cover started becoming thicker on the adjacent hills.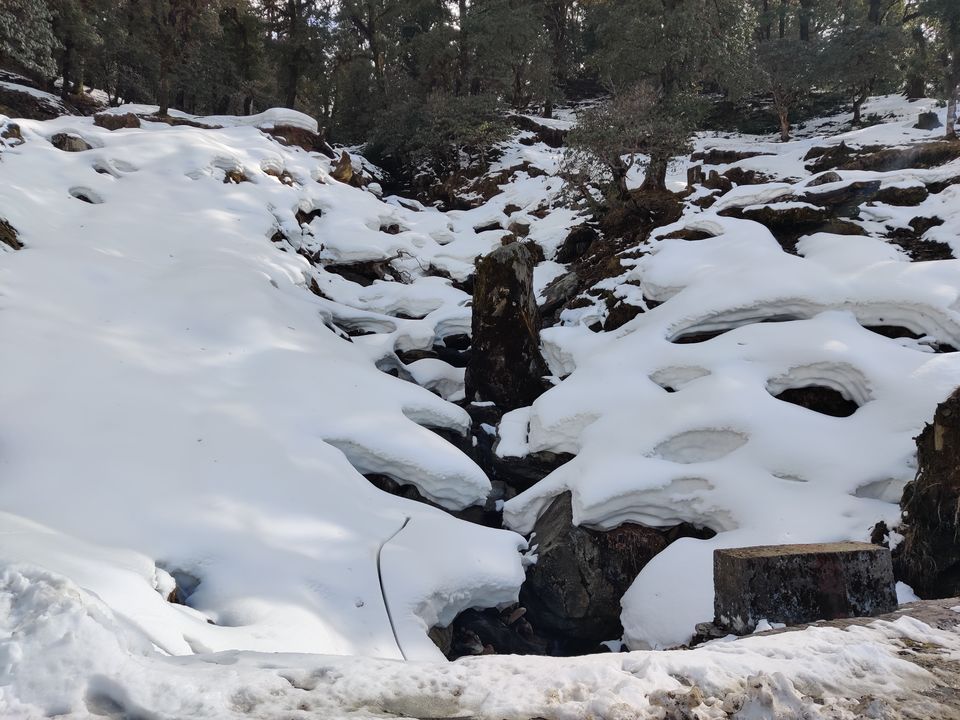 We were not camping today and had rooms at our disposal. 2 rooms were allotted – 1 for 4 ladies and 1 for 7 men! Since I was not doing too well with my indigestion I decided to take a room(separately paid by me @ Rs. 1,000 per night – pretty steep price for the place) and offered H and the trekmate from Chandigarh("S") to join in. These rooms had attached toilets as well.
After settling in a bit, all of us went out exploring. Me, H and S went up the nearby hills just for some fun and found 3 of our trek mates also there. Just did some time pass there and came down. It was coooooolllddd here.Too cold and to keep ourselves a bit warm we started going up and down the road until snacks time.
Next day was summit day and still our trek lead was not sure if we will be able to go till Chandrashila (the summit), given the snow condition. The snow this time in the Himalayas was the heaviest as witnessed in a long time and many of the previous batches were not able to reach even Tunganath (this was in Feb last week –not too far back). So the plan was to take a call post reaching Tunganath. At dinner time, Sundhansu explained how to wear gaiters and spikes and told us to be ready by 5 am so we can have a quick breakfast, reach Chopta (3 kms from Baniyakund) by 6am and start the trek.
[Gaiters – this is like a raincover worn on the legs and goes upto the knees mainly to keep the trek pants dry from snow and yes it works wonders else the legs will be frozen and spikes are to be worn over the shoes – these are chain like and have spikes underneath to give one enough balance in snow.]
Dinner was by 7pm today so we can all sleep off early and gather enough energy for the next day trek (to and fro 16kms is what was told to us). Electricity was there till 8.30 pm and then it was all dark.
I tried my best but couldn't sleep. I was nauseated, tried to vomit but dint happen. Had Eno, pudin hara and still no sleep. The plan was to get up around 4 am and start getting ready. By 2 am I was already considering if to go or call it off and try sleeping at Baniyakund instead.
Day 5 - Baniyakund to Chopta (in tempo traveller).. From Chopta to Tunganath to Chandrashila & back to Chopta(trek)
It was 4 am soon and others in the room woke up. I shared my thoughts on how it is better for me not to go, being apprehensive of returning from somewhere in between. Both my roommates suggested to come along and to see how it goes. Frankly, the call was ultimately mine. I thought of taking things one at a time and so concentrated on the task of getting ready first.
It was extremely cold and we were sleeping underneath 2 warm blankets wearing our thermals and fleece as well. So coming out of the cosy cocoon while trying to get ready in the dark in our torch lights only was the task of what to wear or rather how many layers to wear. From my previous snow trek experience I knew a tee-shirt with one fleece will be sufficient as the body starts getting warm and warmer with the climb. However, this time additionally wore a wind jacket over the fleece just to keep myself protected from the wind chill.
My second step was to come out for breakfast, fully ready with day pack, still unsure if to go or not. I have done a no. of treks before for a longer duration (as long as 10 days walking for 100 kms almost and Chopta was a beginners trek with 3 days of walk, of which 1 day was cut short as well for us), in higher altitudes, in much difficult terrains, I was familiar with snow treks but never ever did I feel this sick and weak before. It was like fighting my own self and just give in to the tired sick body. I was not scared but worried, worried that I wont be able to make it to the top.
As I told about my condition to my trek lead, he told me its better probably if I take rest as the 16 kms walk on snow is not going to be easy. This definitely was not a confidence booster for me. It was then that one of the trek mates mentioned that he was sick and vomiting all along right upto the summit in Roopkund trek and still he was able to make it. This helped.
I always believed that trekking is more about the determination to make it than about the fitness to make it. I guess I re-learnt my lesson and decided to go and try and leave the rest.
Did not have much breakfast, 1 toast and 1 chocolate and carried some dry fruits with me. Did not even carry the packed lunch and gave mine to one of the other trek mates. Prayed a bit, gathered all the will power and got on to the tempo traveler for the 3 km journey to Chopta.
It was covered with snow all around. And was a sight to behold. We reached Chopta and our group was the only one there at that time. 6.30 am we started the trek. A few mtrs of walking and it was time to wear the spikes. Gaiters were already worn at Baniyakund.
The massive mountains all around covered in white snow with the soft first rays of the sun touching the tops was a sight that is indescribable and no photo can ever do justice to this. It needs to be experienced.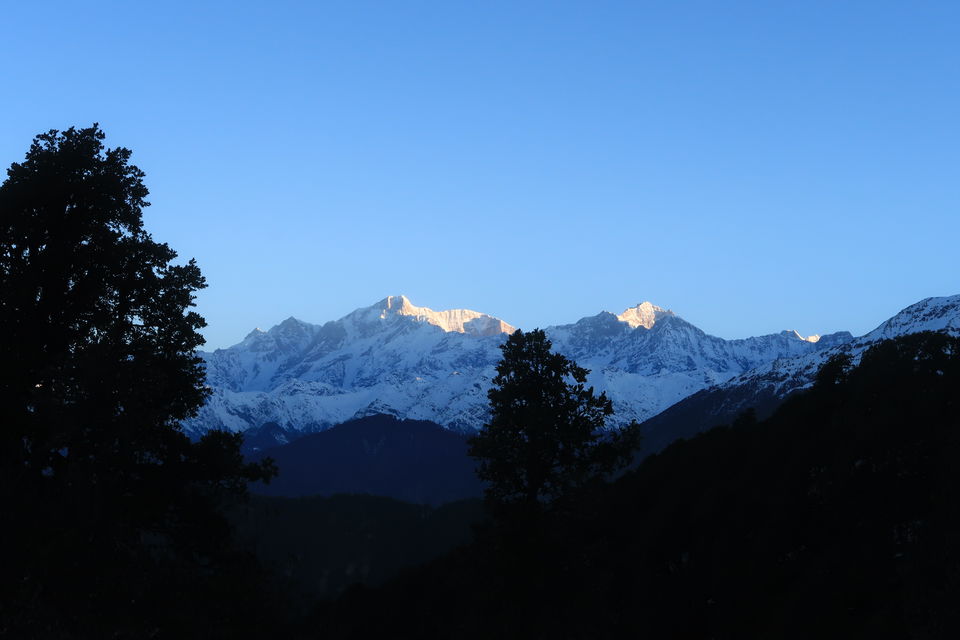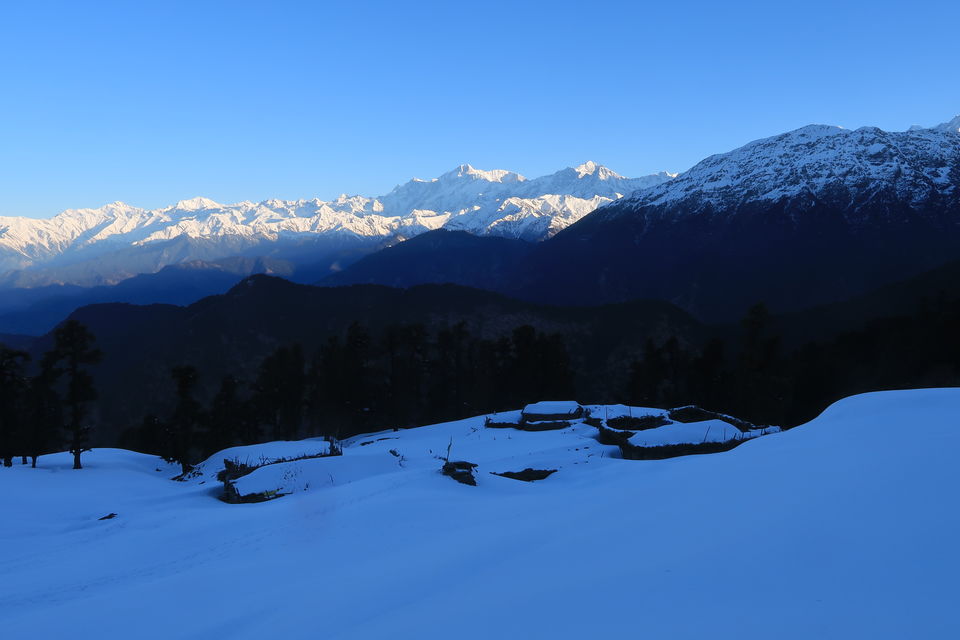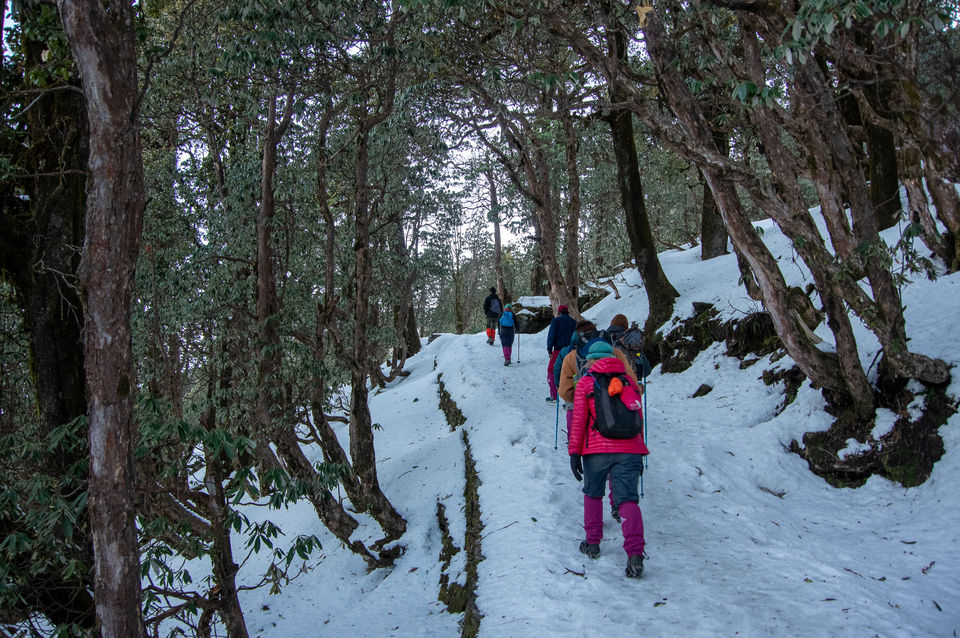 As I started walking, slowly the determination seeped in and I knew even if a bit slow I will be able to make it. So I carried on.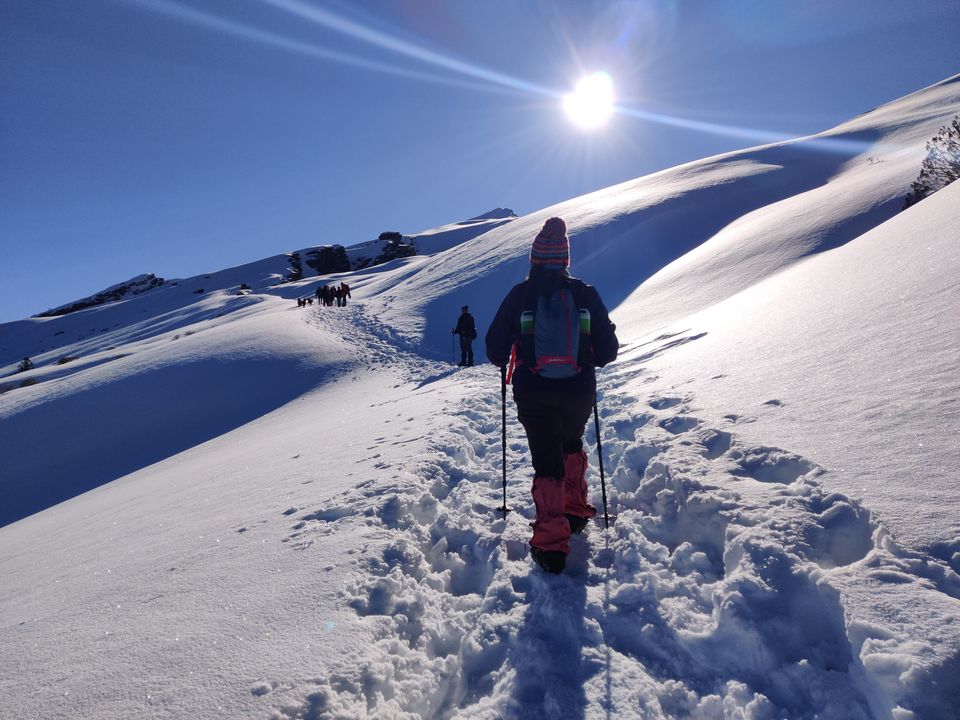 The group got clustered in 3 with a gap of some 20-30 paces in between. The first few a bit fast walkers and Mahinder (one TTH guide was leading), the middle ones trying to keep up (Sudhansu was there to assist) and the last cluster, of which I was a part of, taking things slow but steady, enjoying the view and gleefully taking snaps as much as possible while walking (Dhani – another assistant was there with us). The breaks were very few, only to catch our breaths.
Without snow, this is a well laid path, just like Deoriatal and you don't need a guide to be around. The walk would have been pleasant even though steeply ascending all along via a series of 11 scissor bends. However, it was walking on 6-7 ft(or even more) of snow was what makes the entire game different. Mahinder, who was leading and showing us the path or rather should I say, making the path with an ice axe since except for the railings at few places the path was not visible and entirely covered under a thick blanket of snow. Sometimes we just went on climbing the mountains in a straight line rather than the zig-zag of the invisible trail. So frankly we did not know how many bends we managed to pass through.
We could see the small shops, which sells maggie and other drinks and items for the pilgrims who come to Tunganath, during the season all buried under snow and at times the guides told us we were walking on top of some huts, yes the snow was that high and deep.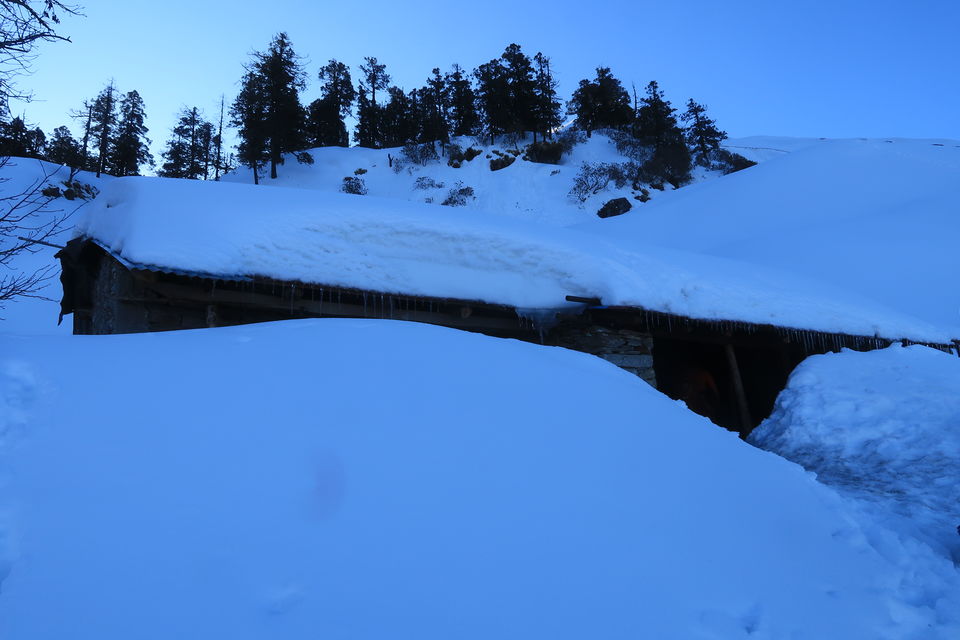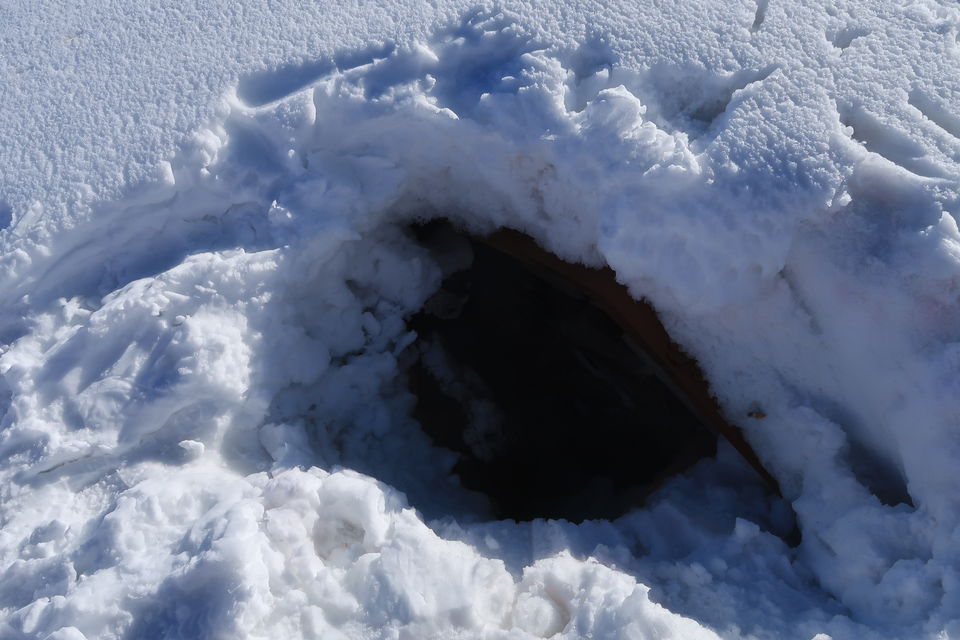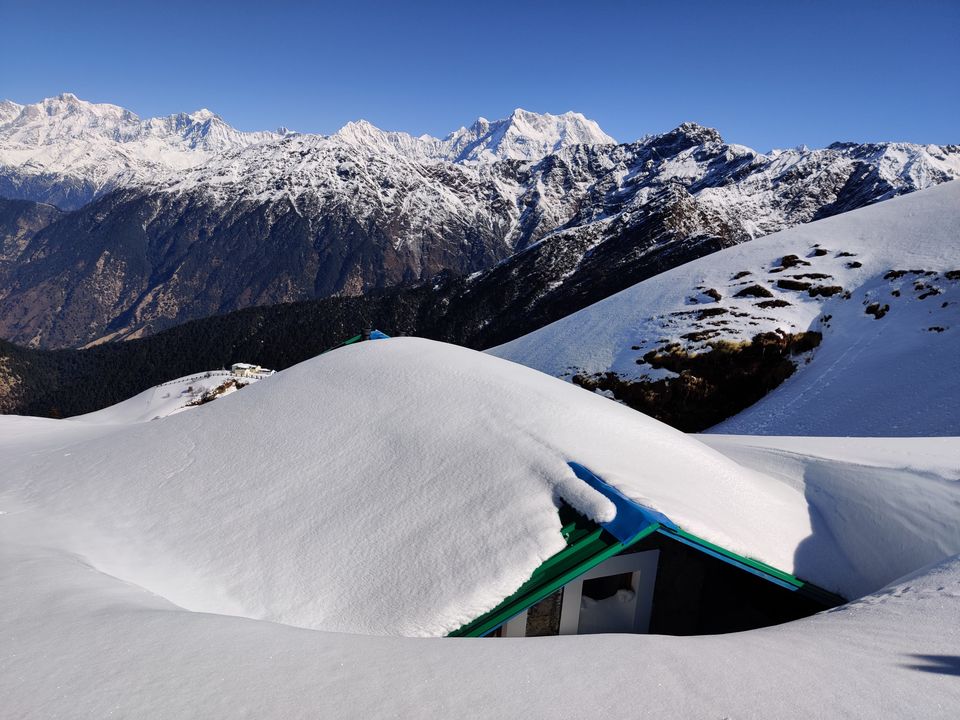 The halfway mark is reached at a point called Jhandi top, there's a yellow colored flag here. And this was the trickiest part of the entire stretch where we could slip and fall down. We were told, even if we slip we wont get hurt since we will be cushioned by the snow, only difficulty will be to climb back again! The snow was upto the railing and the path was narrow and one by one we made it while Sudhansu gave cover at the edge. Crossing this we sat on the roof of a hut and took a break of some 5-10 mins here.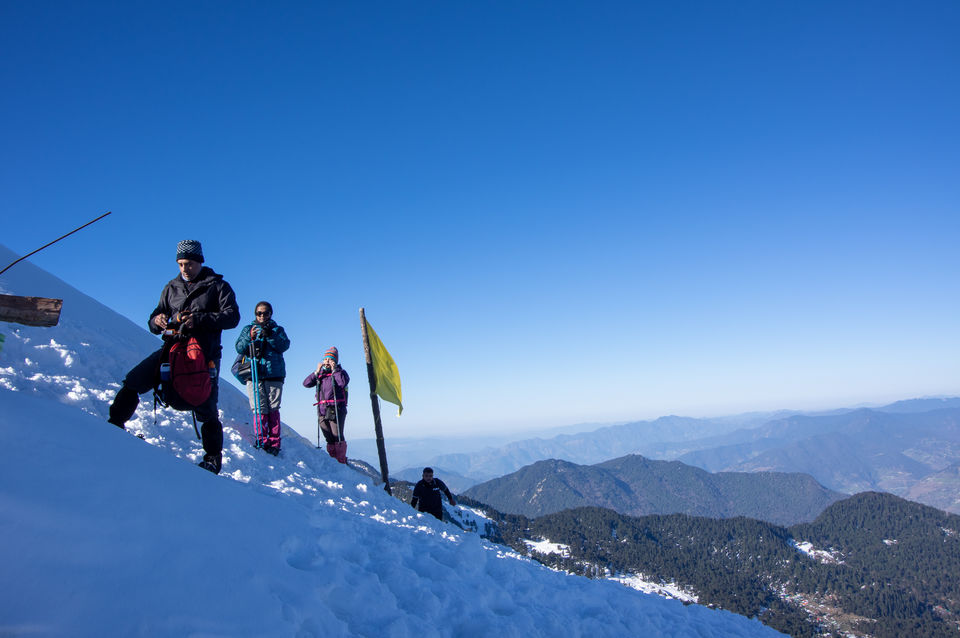 Whenever we stopped to catch our breath almost every time we kept sipping water. There was no water source on the way and 2 ltrs of water was all we had, to sip in the 16 kms walk. So we sipped just enough to keep the mouth from getting dry. It was important sipping in water more to save us from getting dehydrated and to keep us from AMS (Acute Mountain Sickness) since today we climb from 8,700 ft to 13,000 ft apprx.
It was from the 10th bend (as our trek lead & local guides told us) that we could see the Chandrashila peak and Tungnath temple complex at the base of the peak. A connecting peak leading to Chandrashila, known as Ravanshila was also visible.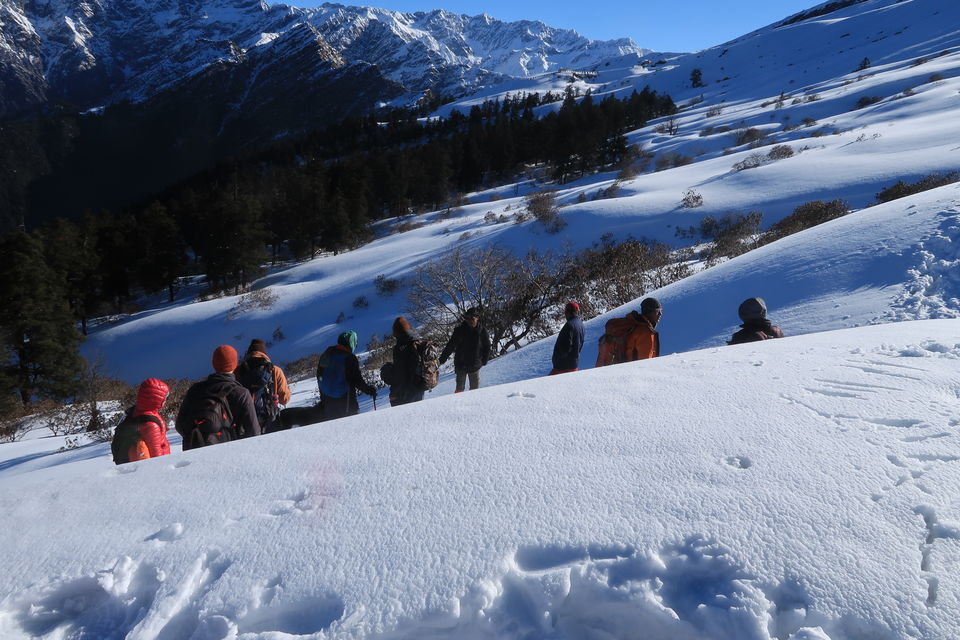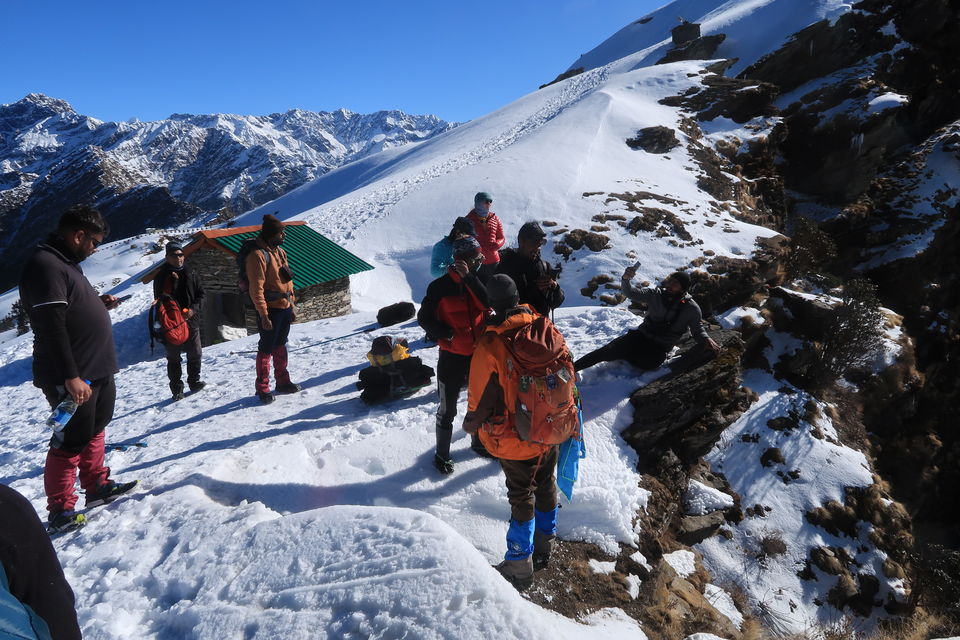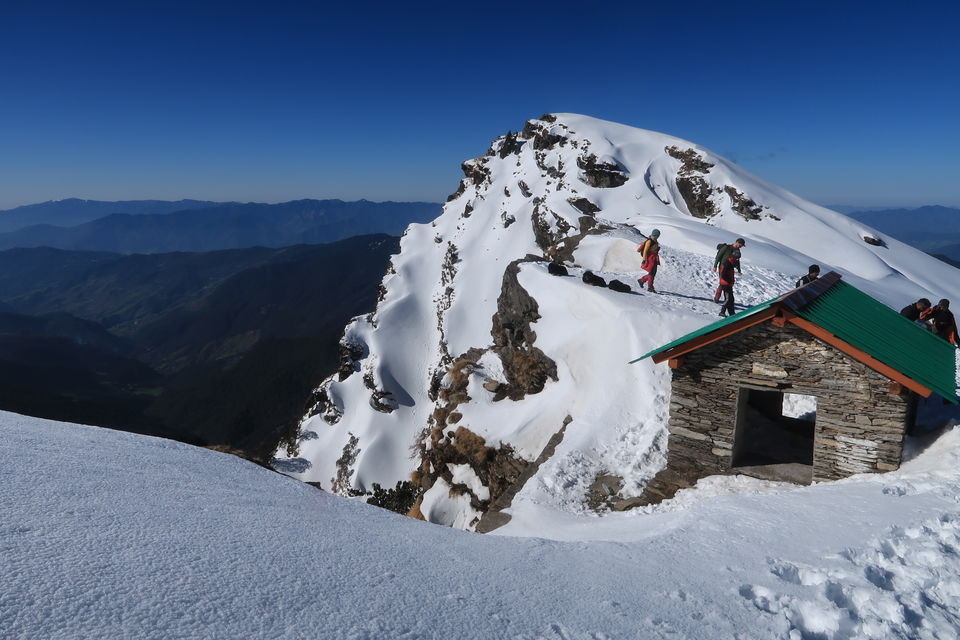 It was around 9.30am when we were close to reaching the temple our trek lead announced that we will be able to make it to Chandrashila (apparently we reached much ahead of the time that they were expecting from us) Between the guides and the trek lead they decided we would first go to the peak and then on our way back go to the temple. This was more so because Mahinder, our local guide said that its not possible to reach Chandrashila from behind the temple complex, which is the usual route since that was too deep under snow and would be extremely difficult. He suggested, we take an alternate route, the route which was through top of a frozen stream buried deep under the snow. And if walking on snow so far was not enough then what we were about to climb now was another level up in the scale.
Honestly, when I started I thought that let me atleast reach Tunganath and then I can rest there while people can go to Chandrashila, if at all. And now as the plan changed to first Chandrashila I was like "ok so far I have walked pretty decent, now all I need to do is just follow others and keep moving up".
The trail was steep, steep may be an understatement plus the snow. Our knees started getting buried in the snow. Mahinder did a fantastic job with his snow axe making the route and we followed. I remembered at times looking up and wondering if this will ever get over. At times I asked Dhani – Is that the peak? Or How far is the peak? The answers were never satisfactory and we all kept going one step at a time. Me especially whenever I looked towards the top, stopped myself from repeating the mistake as the distance seemed enormous.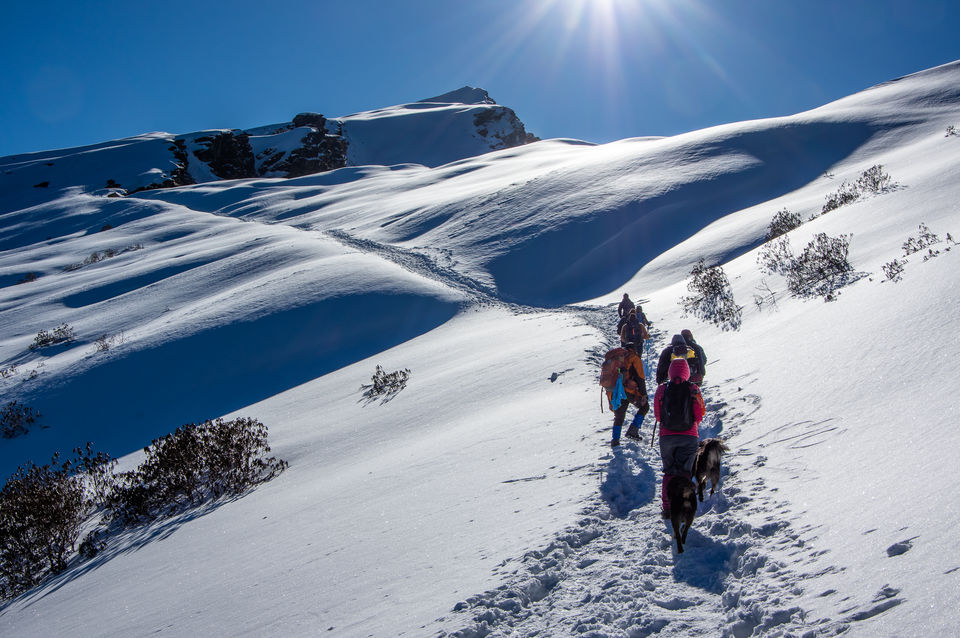 The middle group of which H was a part of had another Bengali lady ahead and I could see a lot of motivation going on from Sudhansu and H – 10 steps at a time was the mantra they were trying with her.
For me, the mountains were a motivation enough, so I kept walking. The cameras stopped as all energy was being concentrated on the walk.
Finally around 11 am we all made it to the top. Its rightly said that "The best view comes after the hardest climb".
With some of the tallest Himalayan ranges in view all standing one after another in full display(too difficult to capture in any camera what we witnessed) - Nanda Devi, Trishul, Nandaghunti, Kamet, Dunagiri, Chaukhamba, Kedar dome, Thalaysagar, Gangotri ranges, Jahanukut, Mandakini and more. Our timing was perfect and there were no clouds just the mountain ranges rewarding us for the arduous climb.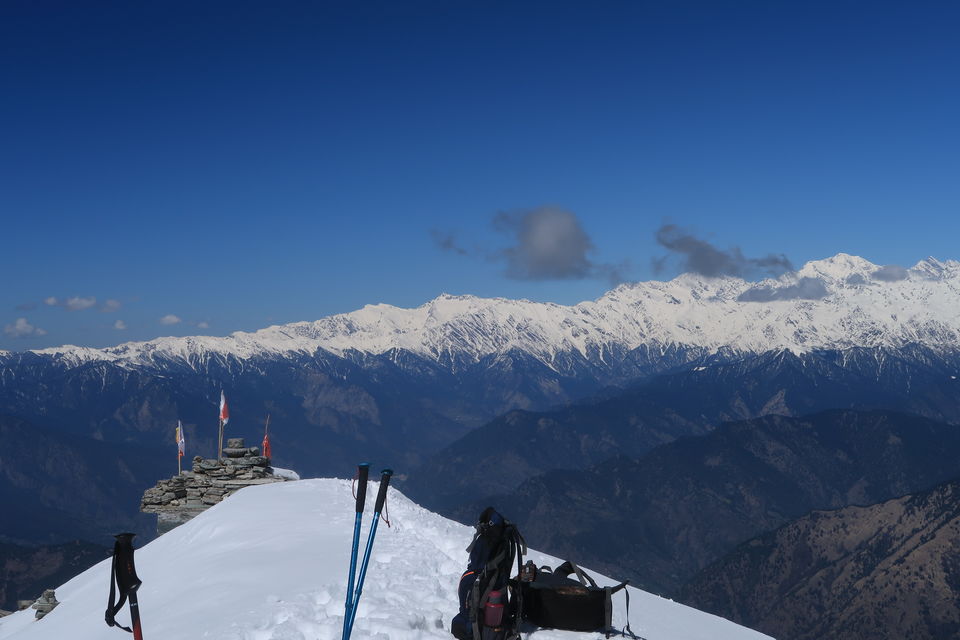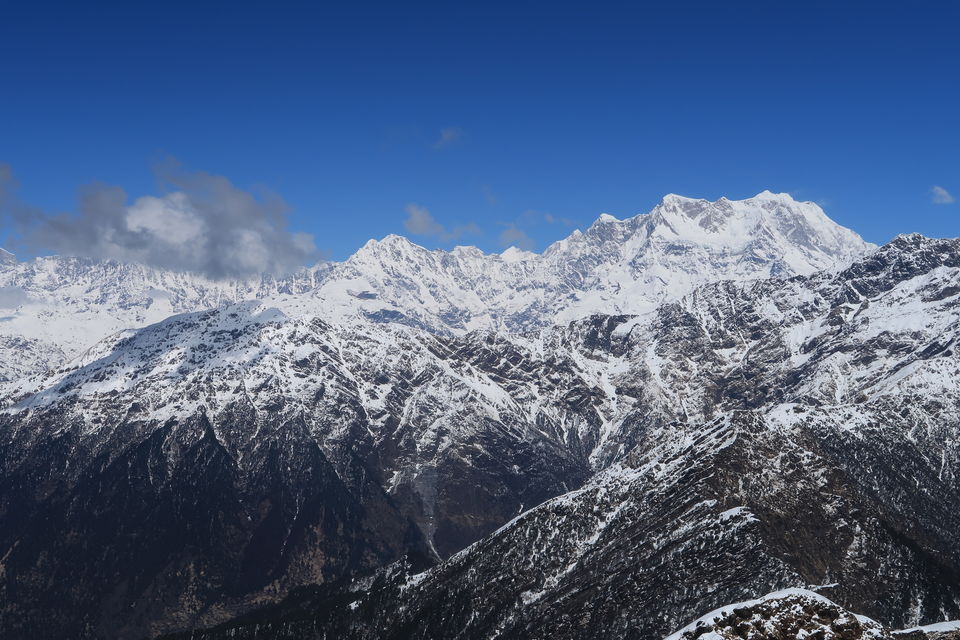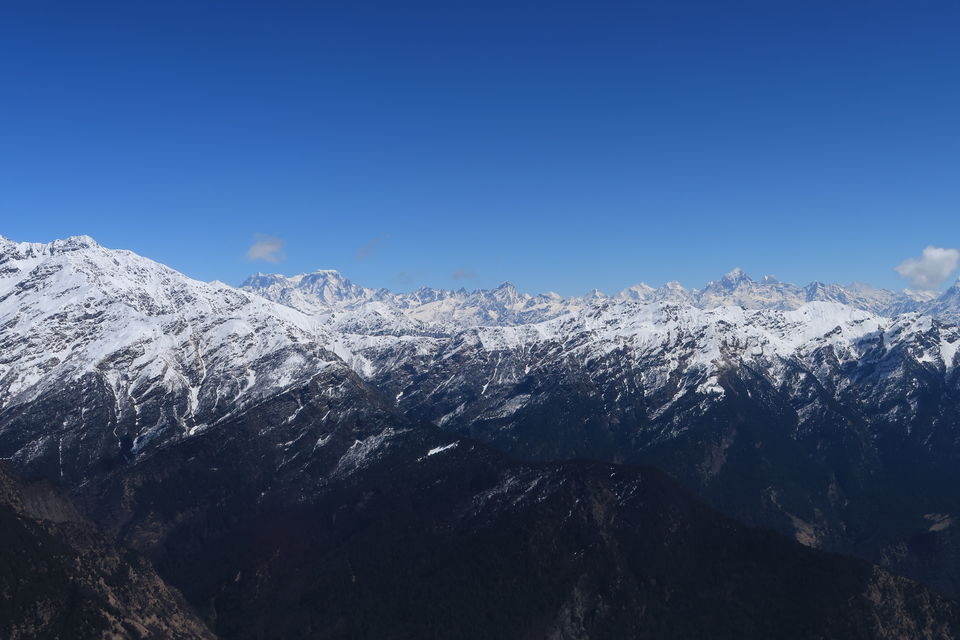 At Chandrashila there was a small temple dedicated to Shiva. It is believed that it was built by Rama to atone for the sin of killing Ravana. This was also deeply immersed in snow and we could only bend and ring the bell.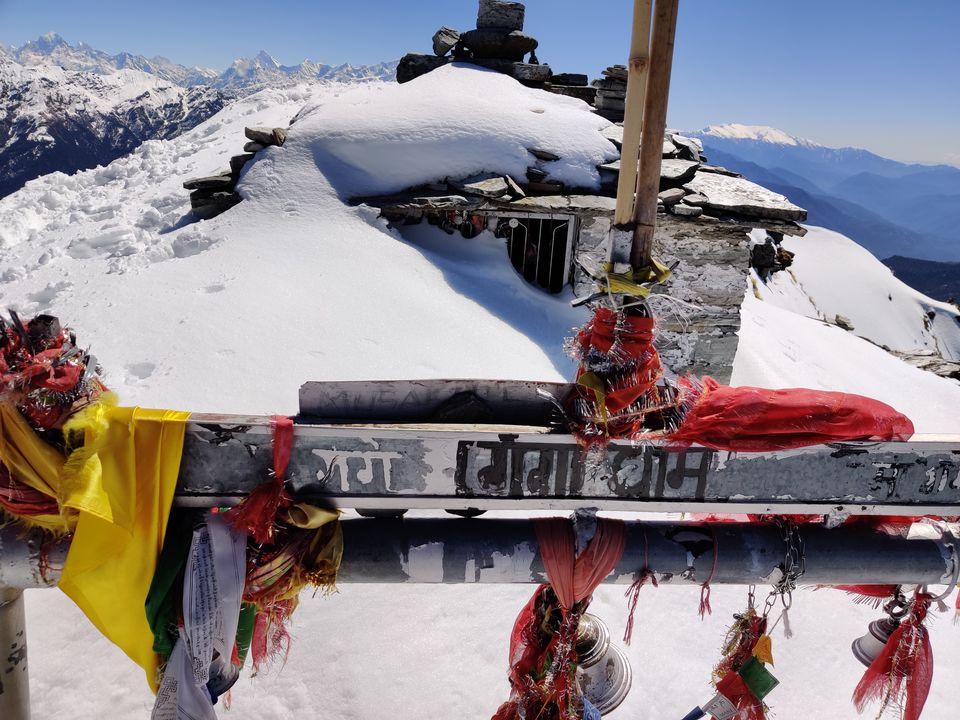 We spent almost half an hour seeing the mountains, clicking pics at 13, 100 ft. All were super excited and super happy!!
Then we started down for Tunganath.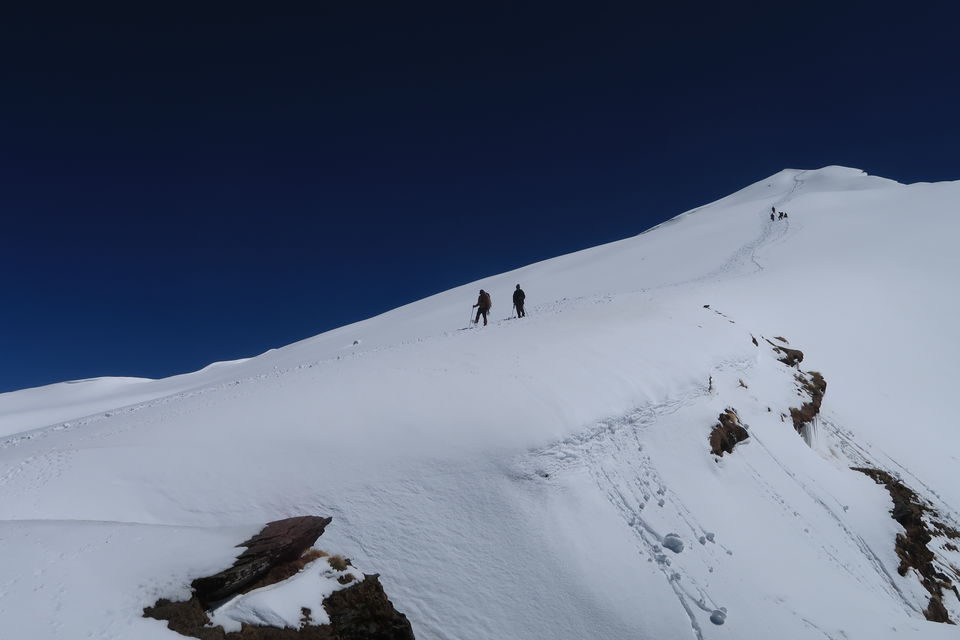 If coming up was not a challenge enough going down was more. The sun was up and the snow was melting so legs were going down even further deep in the soft snow and keeping balance was difficult.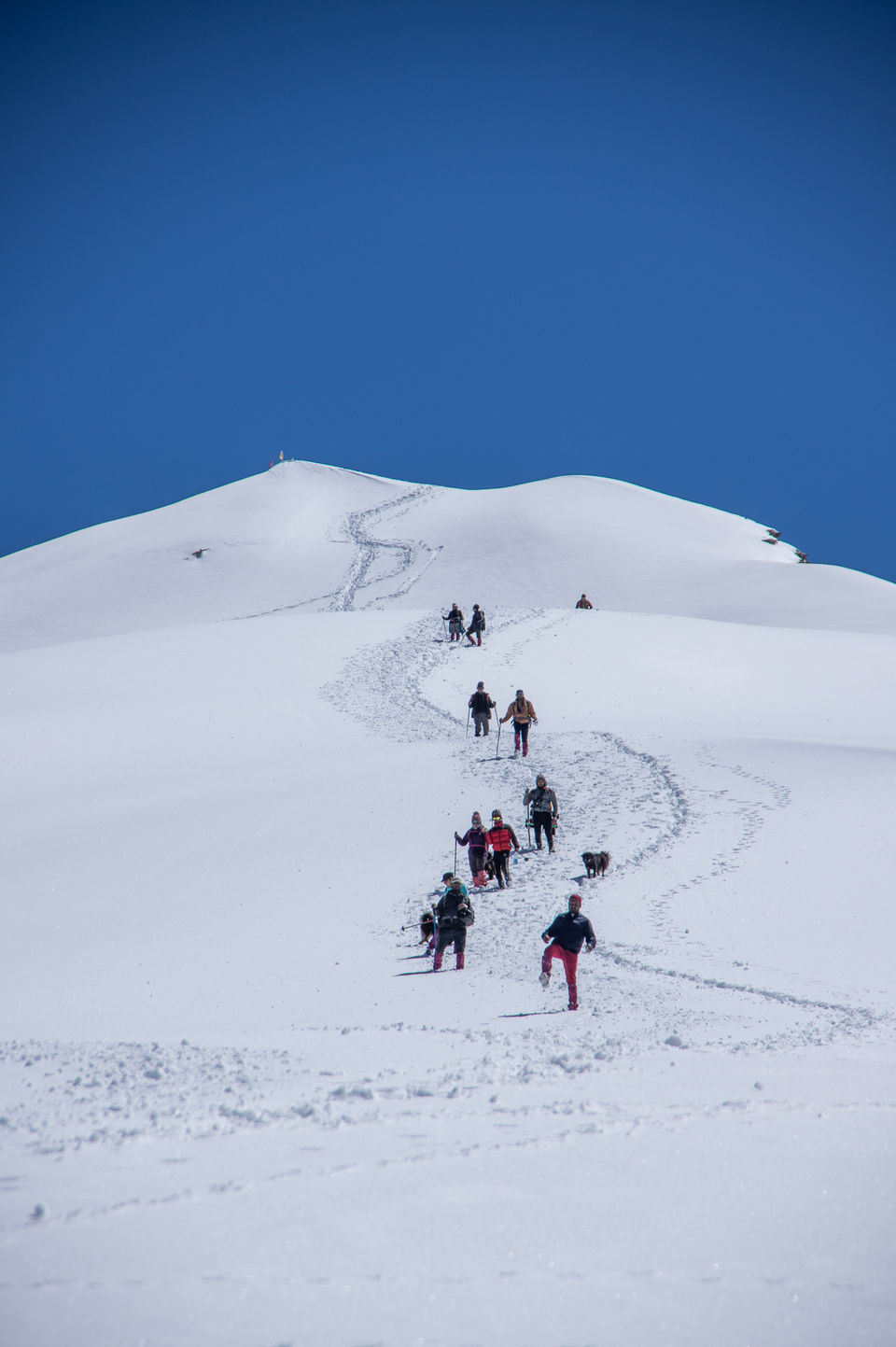 Dhani, one of the assistant became my companion and he taught a great deal to me on how to come down properly in the snow. I lost my fear as I held his hand and we started running on snow. Oh it was fun!! We overtook everyone and went off!! And when I was not holding his hand I was cautious and taking measured steps. Not because I was not able to walk properly but because I was scared. Fear is one of the things which the mountains teach us to overcome, if we keep persisting.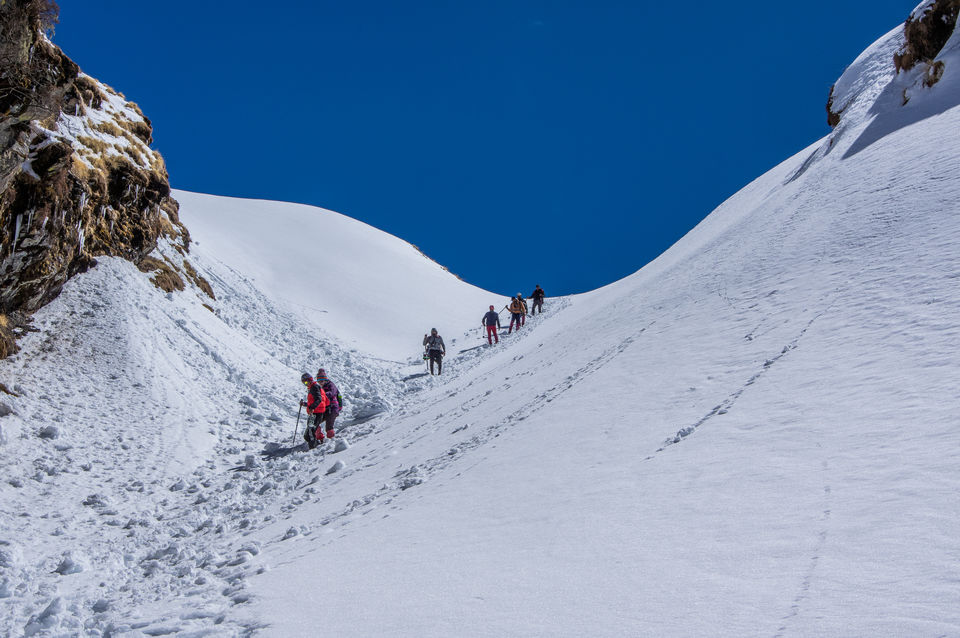 Soon we were standing infront of the temple bell of Tunganath, the highest Shiva temple in the world.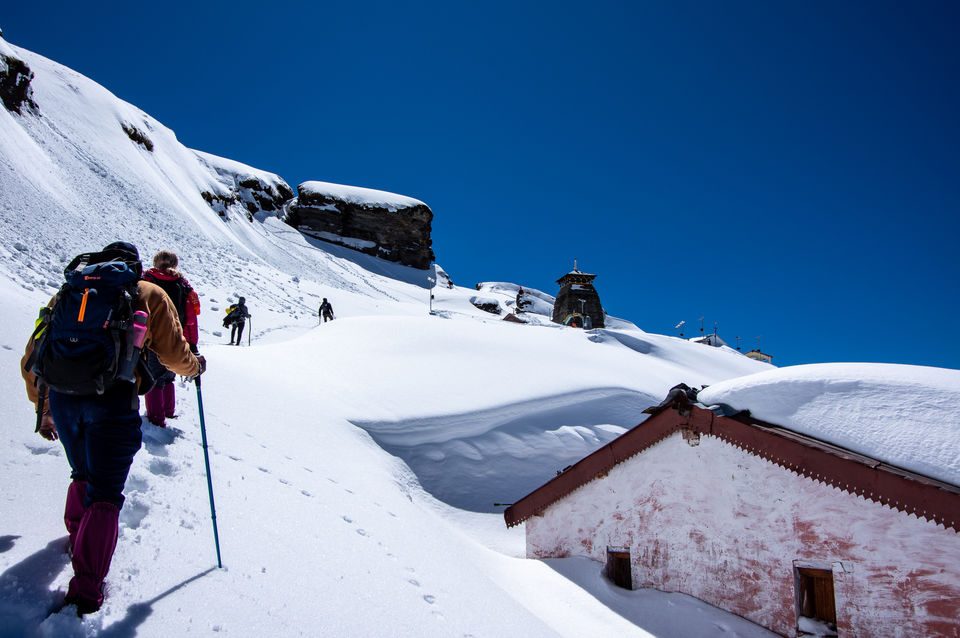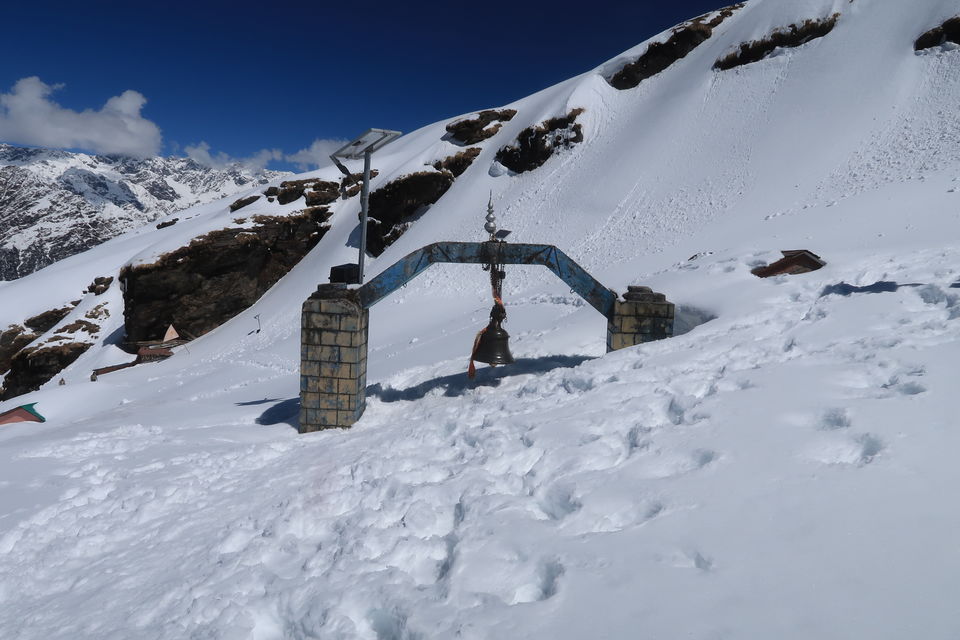 The temple was half immersed in snow. It is closed in winters and opens the same time as for Char Dham yatra (In 2020 the date is fixed for 7th April)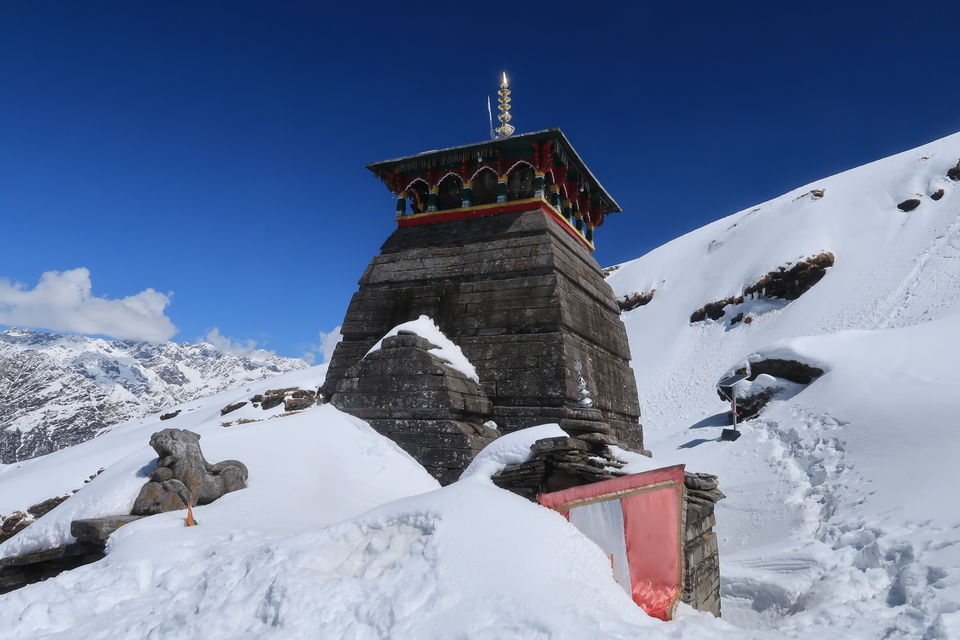 Tungnath temple is the third of the Panch Kedars. These are 5 temples believed to have been built by the Pandavas to atone for the sins of killing their kin and Brahmins in the Kurukshetra war in the Mahabharata. Lord Shiva, whose forgiveness they sought, disguised himself as a bull. Parts of this bull appeared in 5 different places, each of these identified as a Panch Kedar. Tungnath is where his hands and chest are said to have appeared. This place has the distinction of being the only temple in the world to be located at such a high altitude (12,083 ft).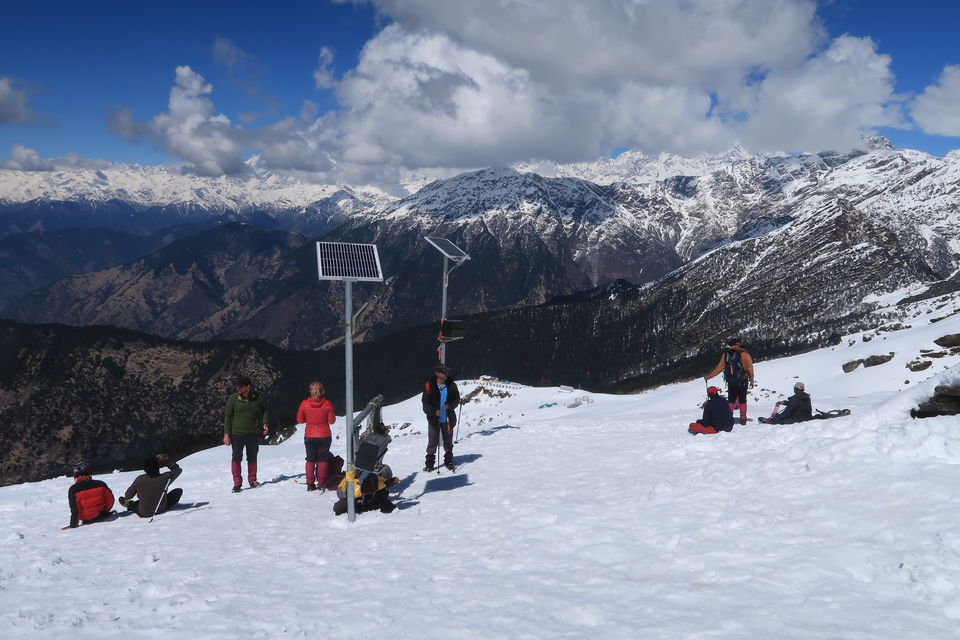 We sat infront the temple for sometime before we picked a spot a little further away from the temple and while everyone opened their packed lunch of rice, I opened my packet of dry fruits and with that lunch got over and it was time to down from where we started.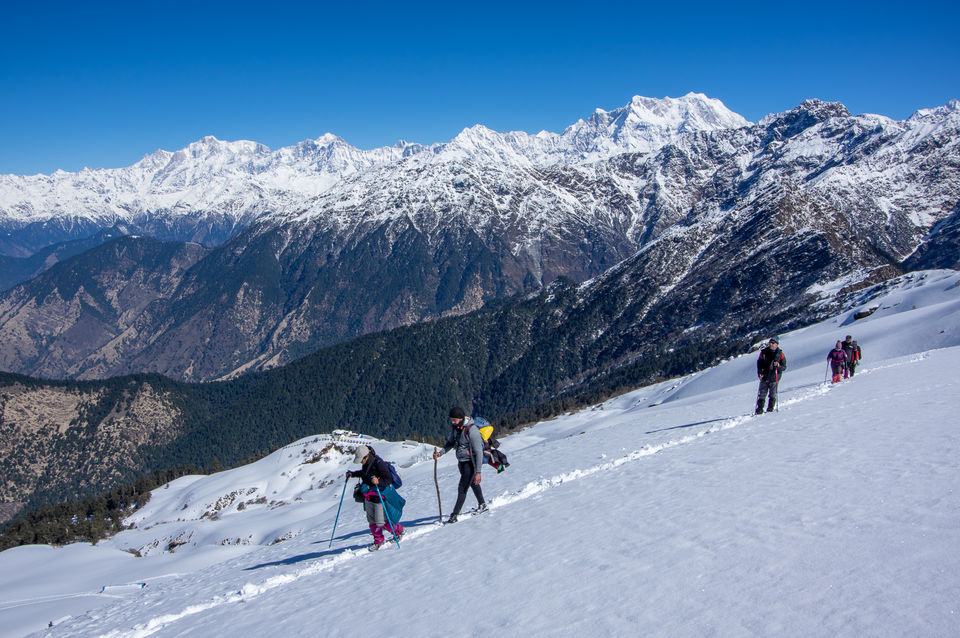 The best part of descending was we were allowed to slide in the snow thrice. This not only reduced the distance as we cut through the bends but was extremely fun to slide in the snow. Not everyone was willing to slide, so they chose to walk. But I was excited and made H slide with me also.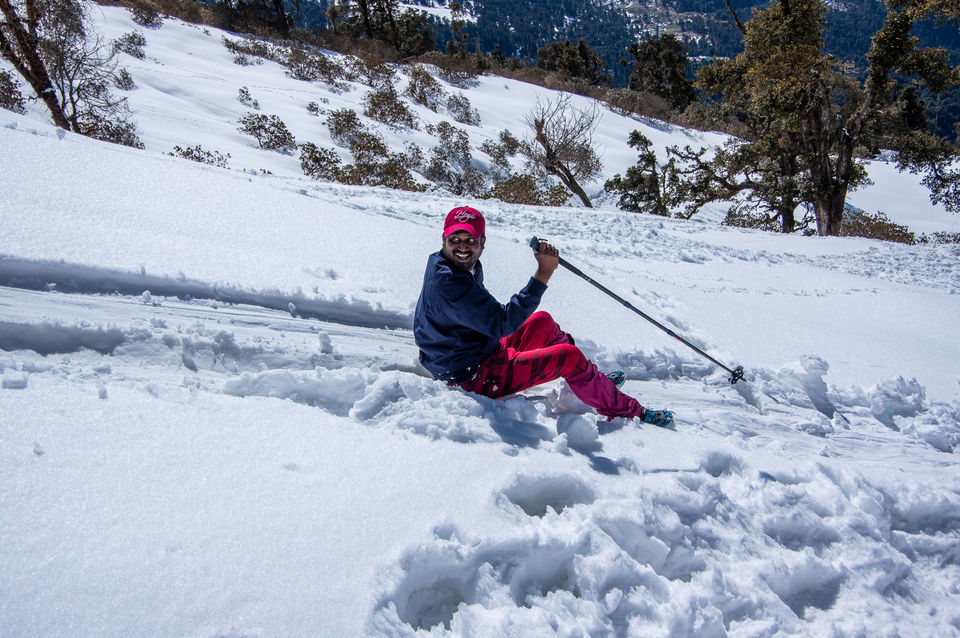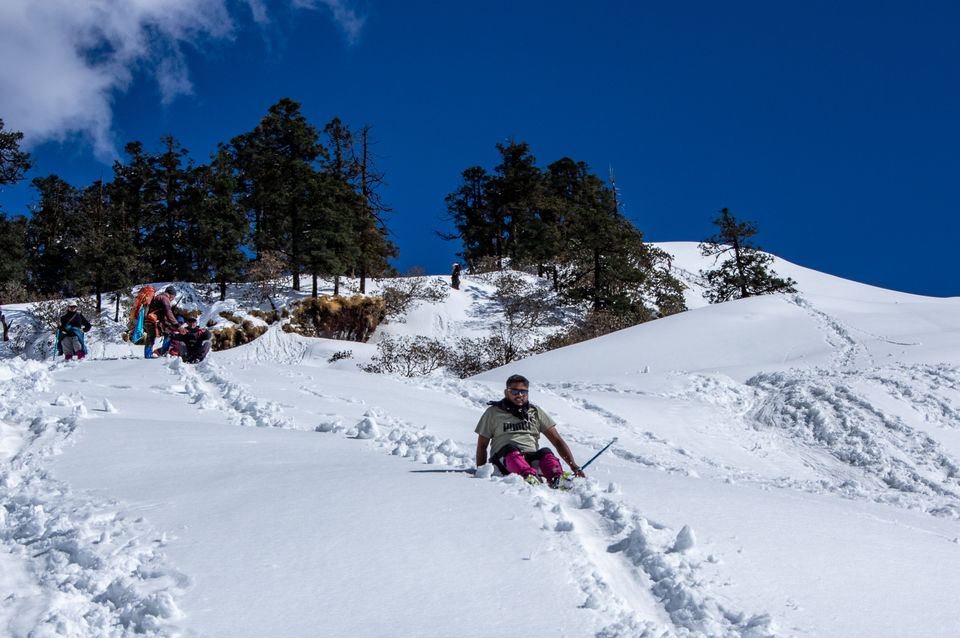 I think it was 5 pm when we reached from where we started. Boarded the tempo and was back in Baniyakund. Strangely, none of us felt exhausted. We were still high on our successful climb to the summit. The remaining time was spent chit-chatting until dinner. Today the Bengalis (and that included me as well) had some chicken curry, on our special request, the eggiterians had bhurji or omelets and the rest had the sumptuous veg prepared by the wonderful cook. I continued my medicine but tonight finally I had the much needed sleep. By 8.30pm I was fast asleep.
DAY 6 - Baniyakund to Rishikesh
Morning we started around 6 am towards Rishikesh, where me, H and 2 others had our hotels booked for the night and the rest had their train/bus from Haridwar, that night. Roads were pathetic, extremely dusty and bumpy since the road widening work was in progress and also some recent landslides. We were stopped multiple times on the way while the workers cleared the roads and gave us way. Mostly, we slept or listened to some music with our eyes closed. Except for lunch we dint stop anywhere and it was almost 12 hrs later that we reached Rishikesh.
Back to civilization we were getting news that the COVID condition was getting worse and rumour was that the govt will be soon imposing lock down. Reaching the hotel, we just rested, had some little dinner and slept off early. Flight was next day morning at 9.45.
DAY 7 - Back to Bangalore
We left Rishikesh around 7 am, spend sometime in the airport wearing our masks. Soon I was back in Bangalore sanitizing myself and my stuffs, quarantining myself for the next 14 days.
Until next time let me sign off with one of my favorite quotes – "Somewhere between the bottom of the climb and the summit is the answer to the mystery why we climb."