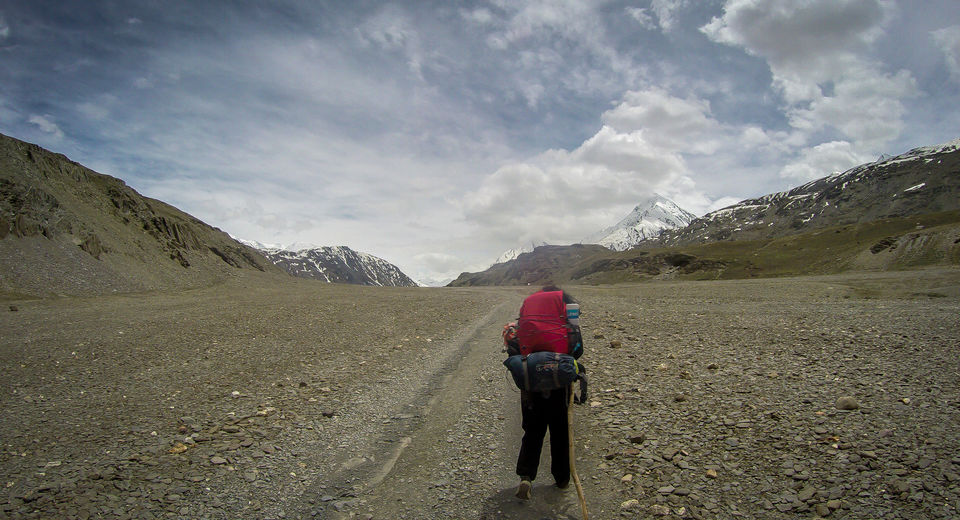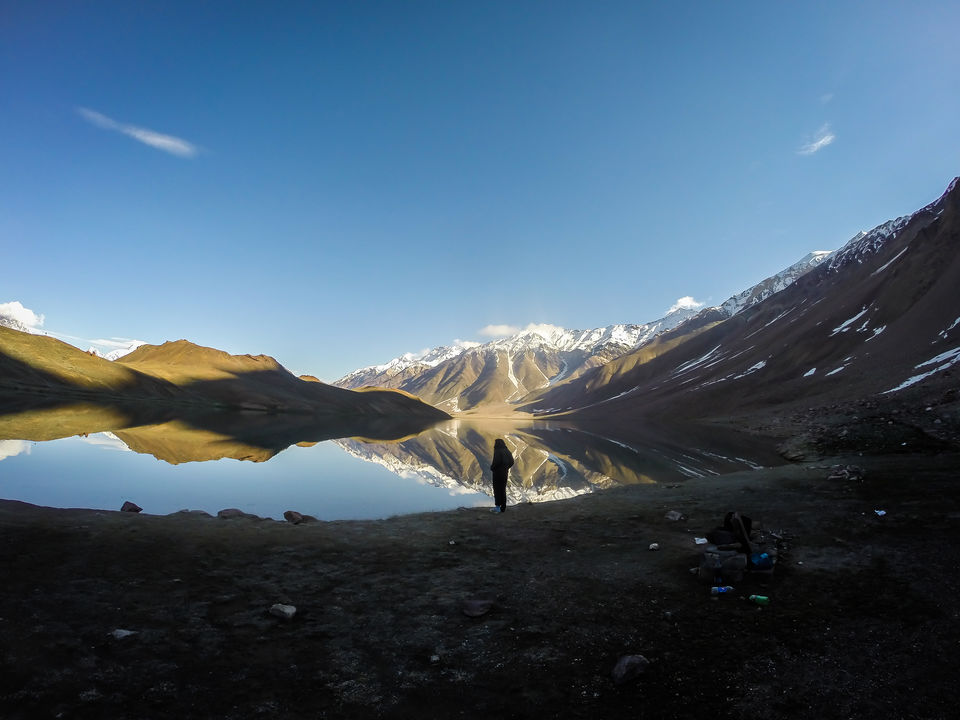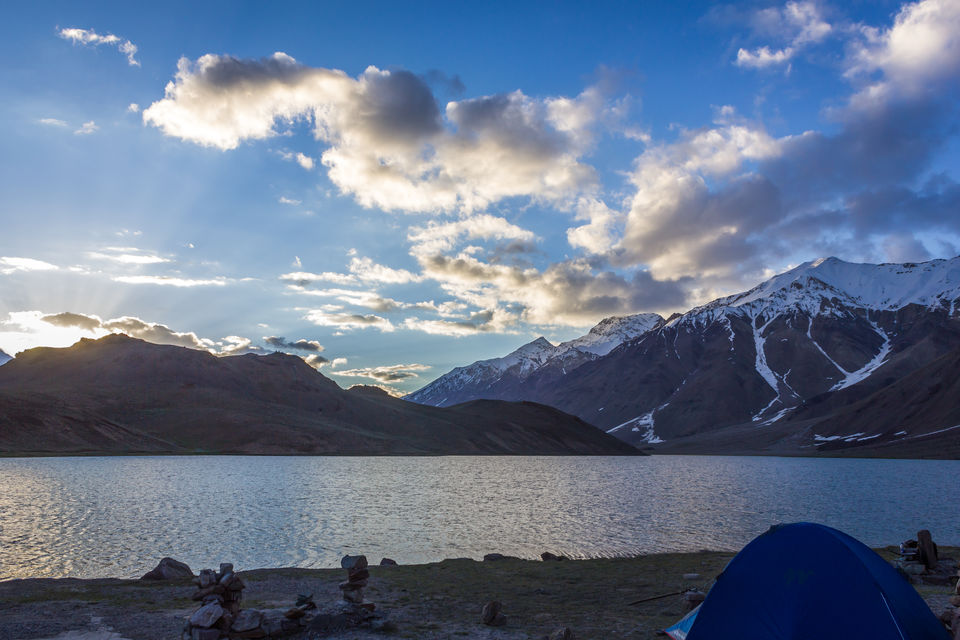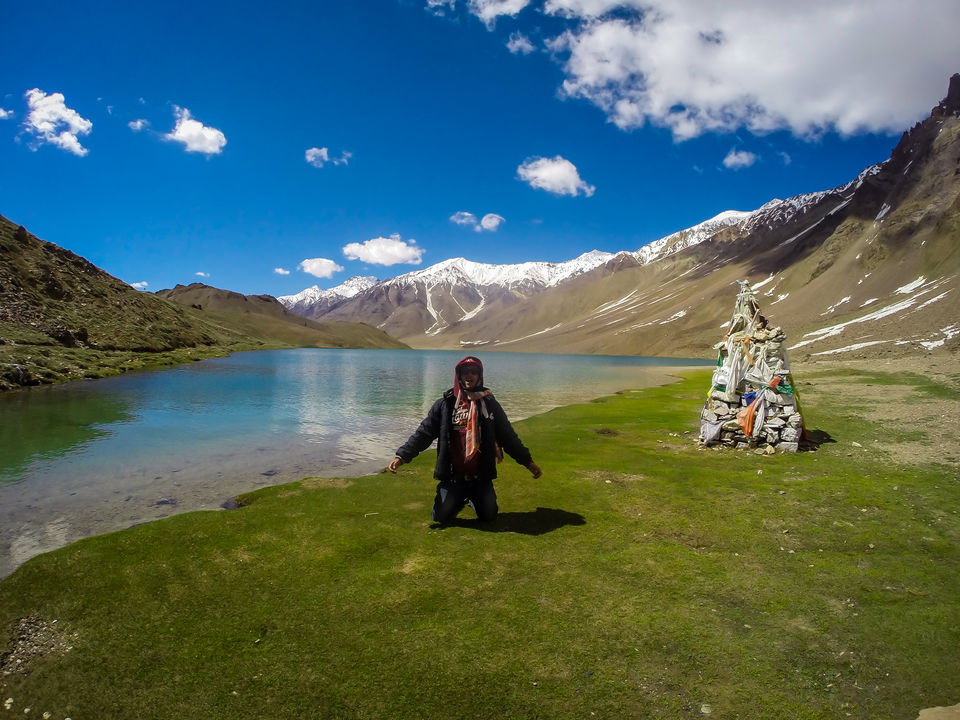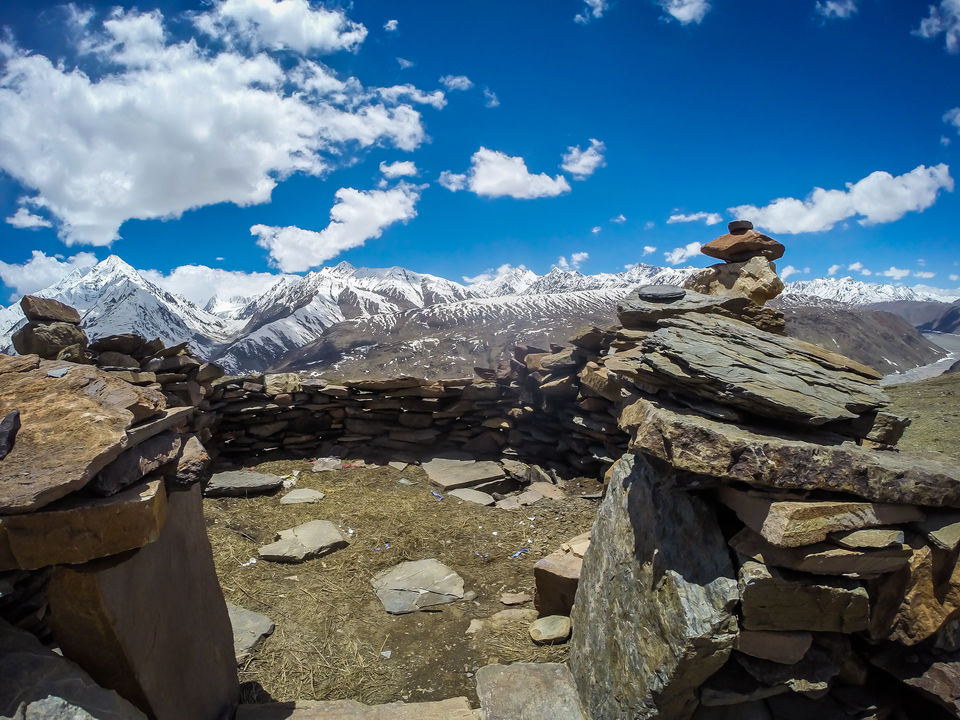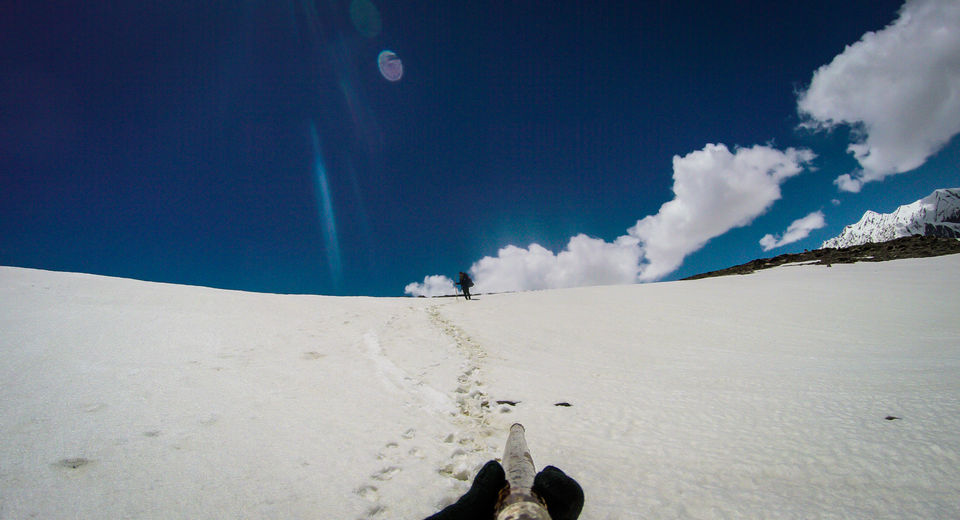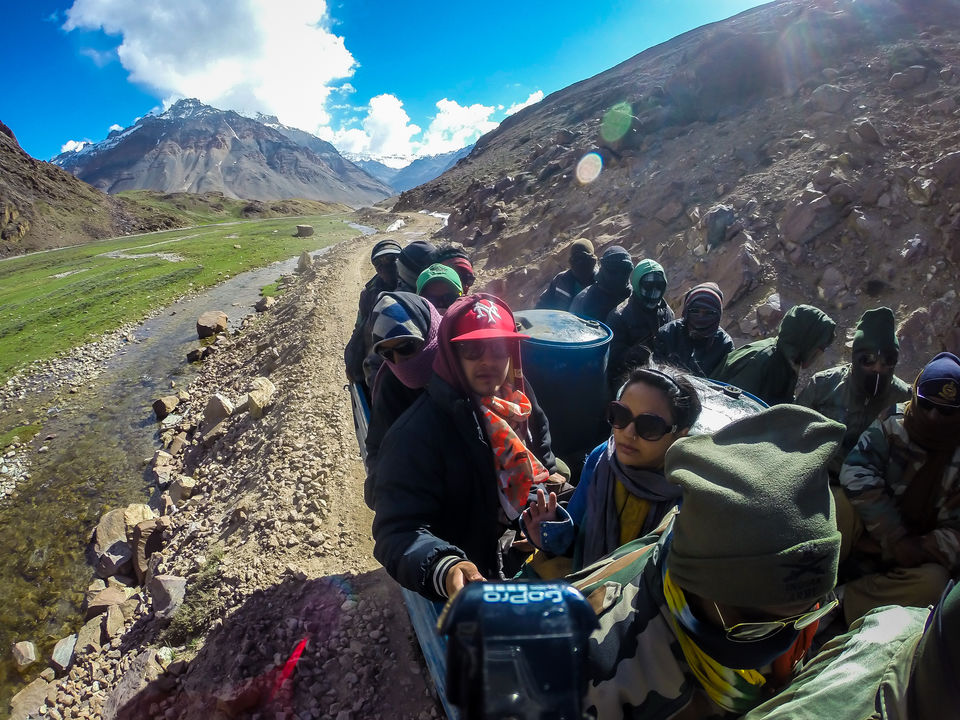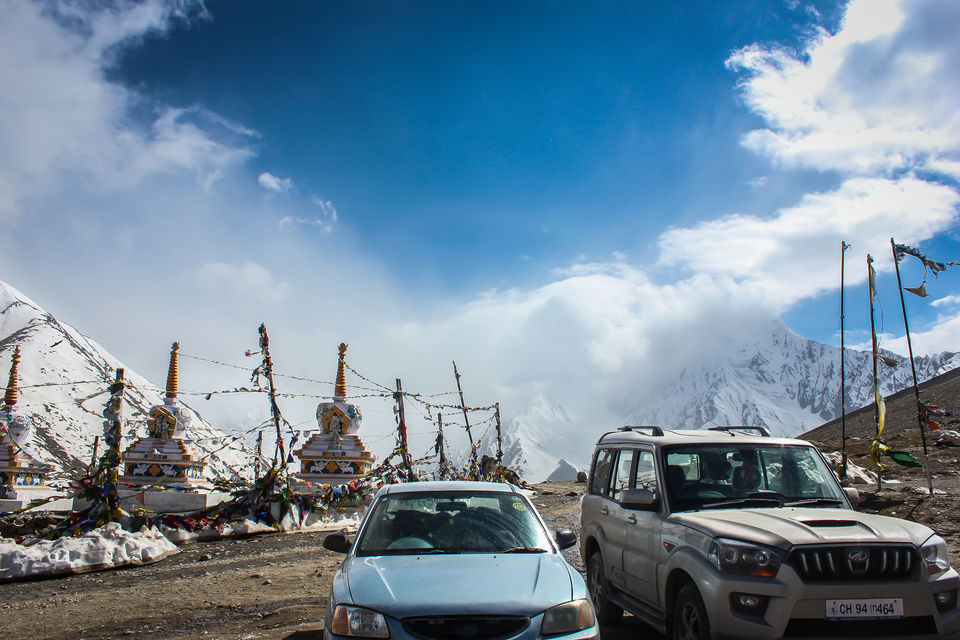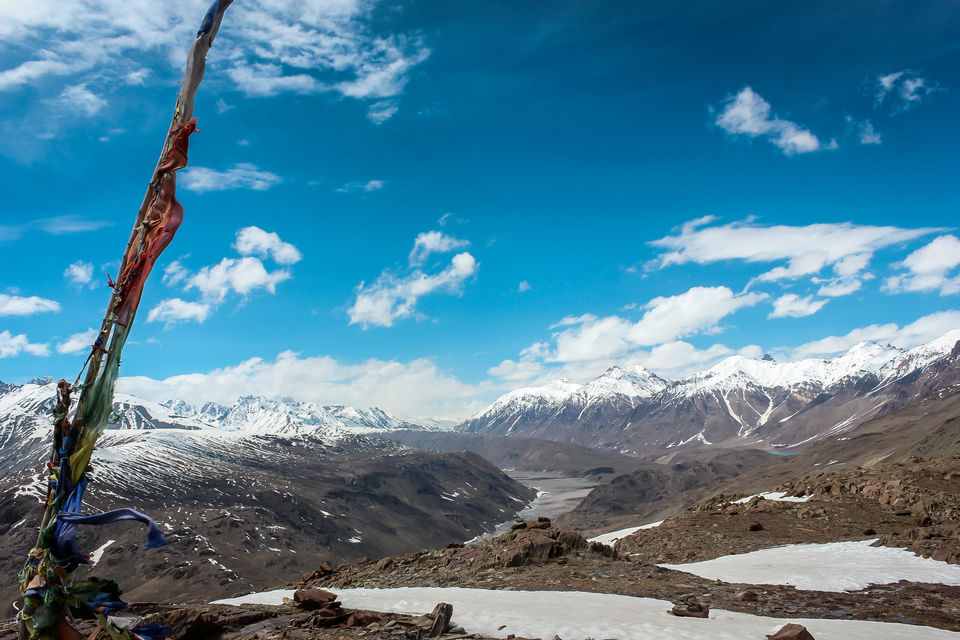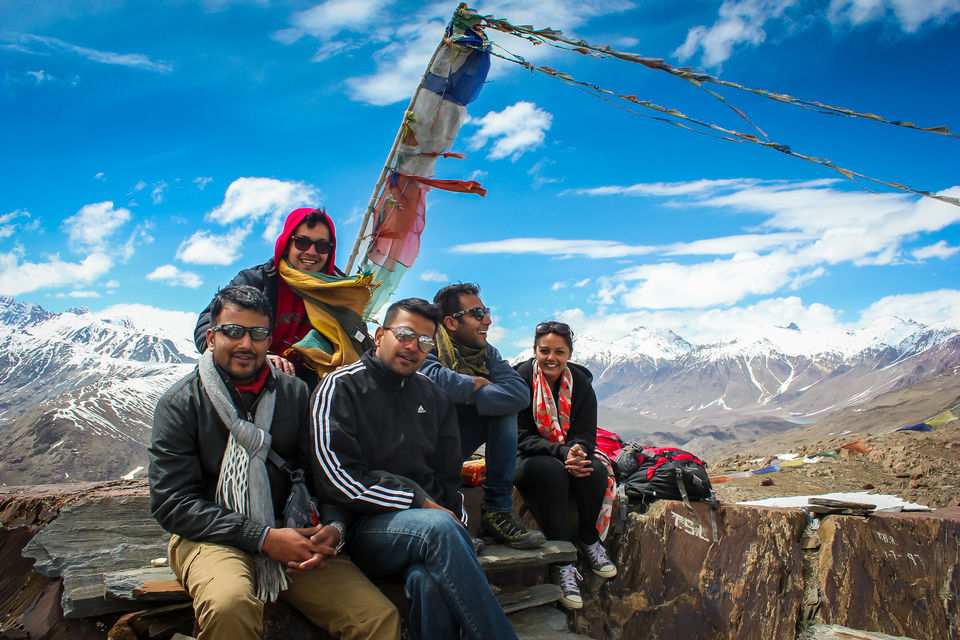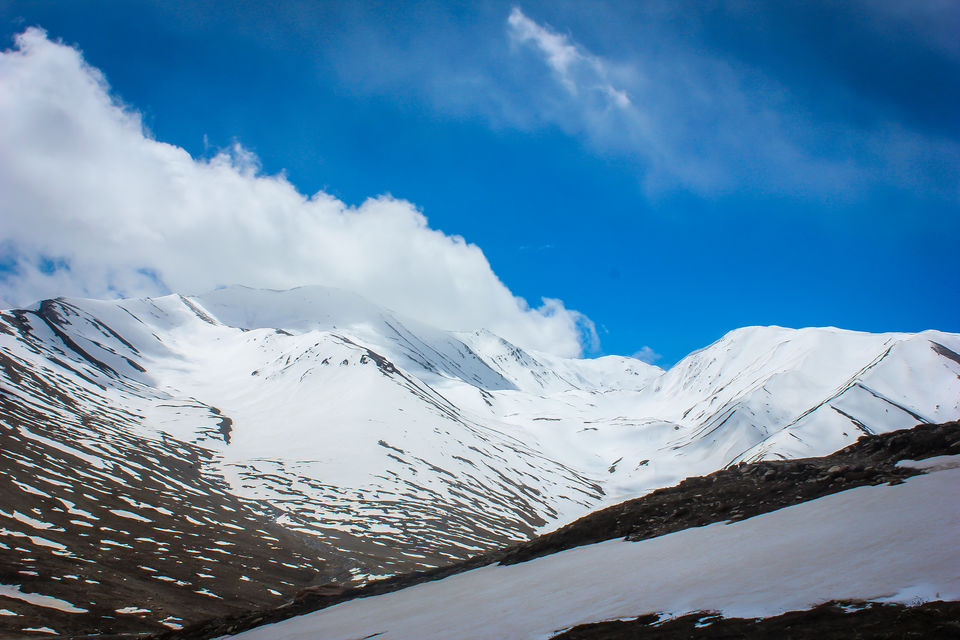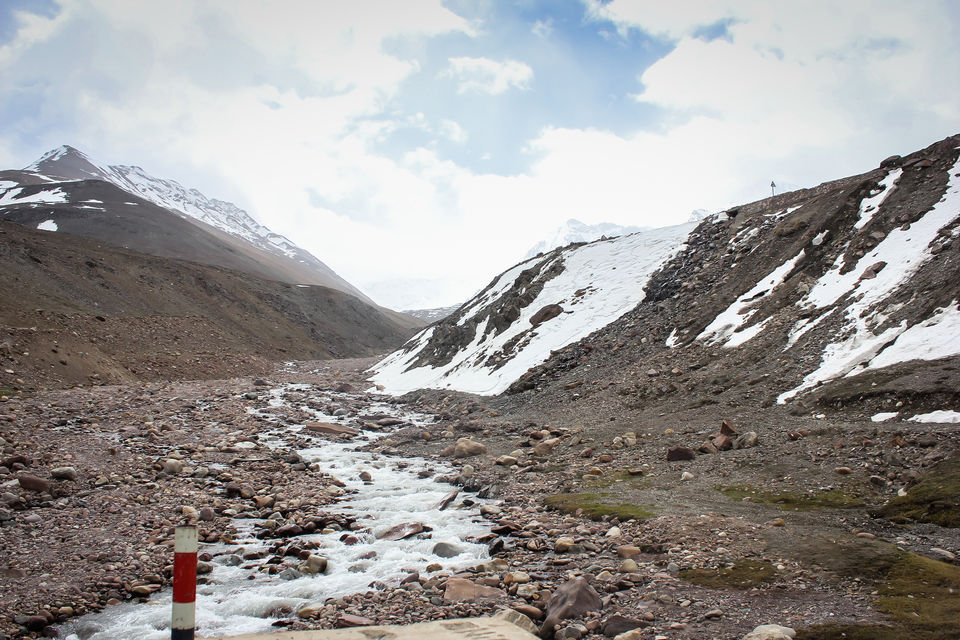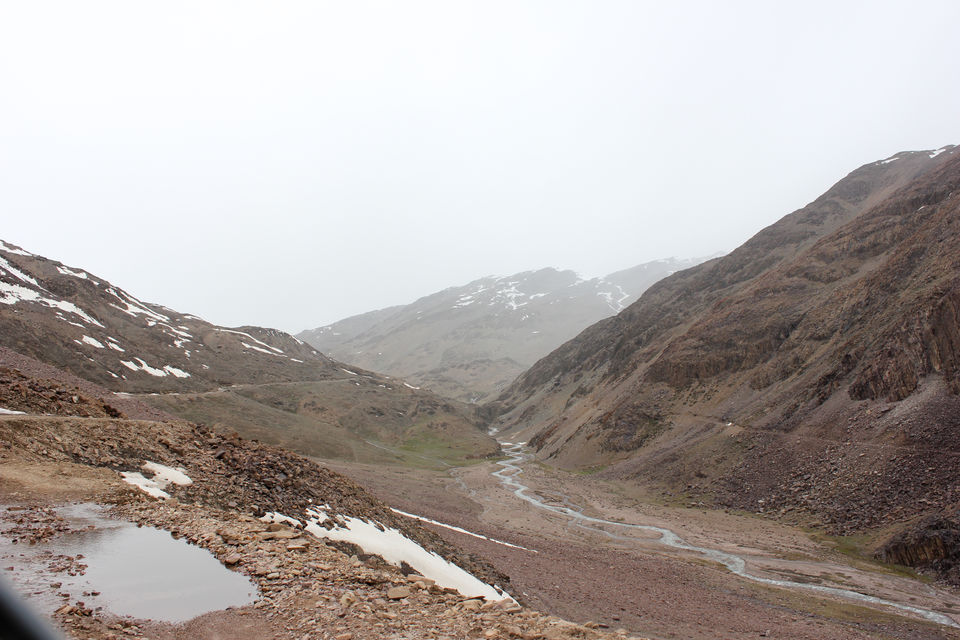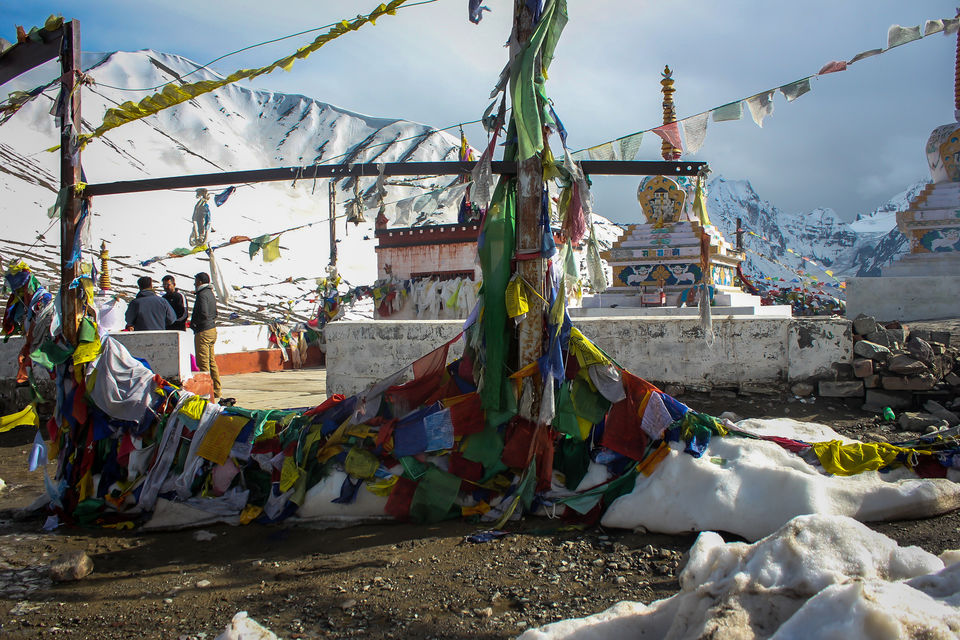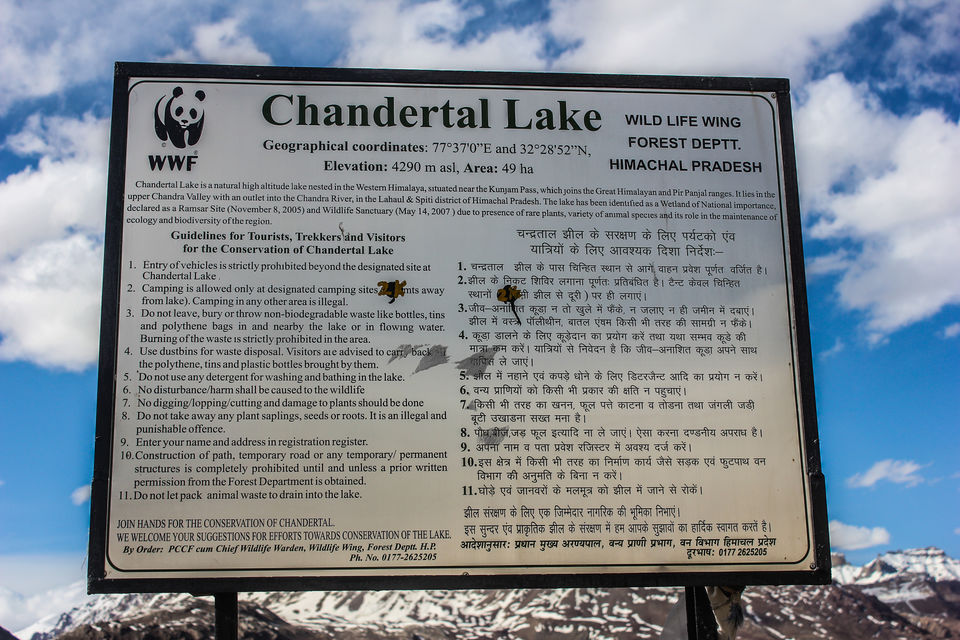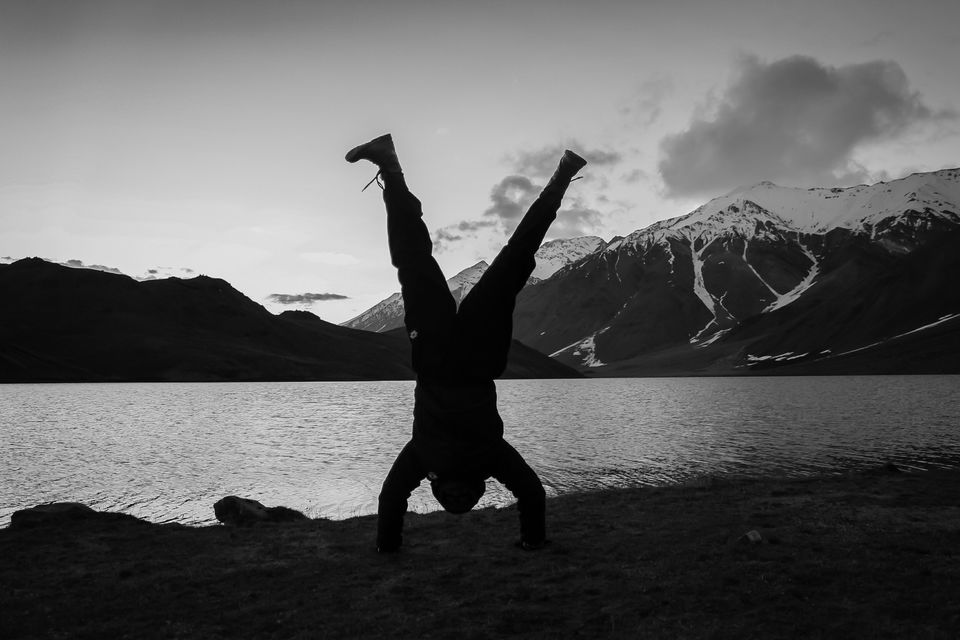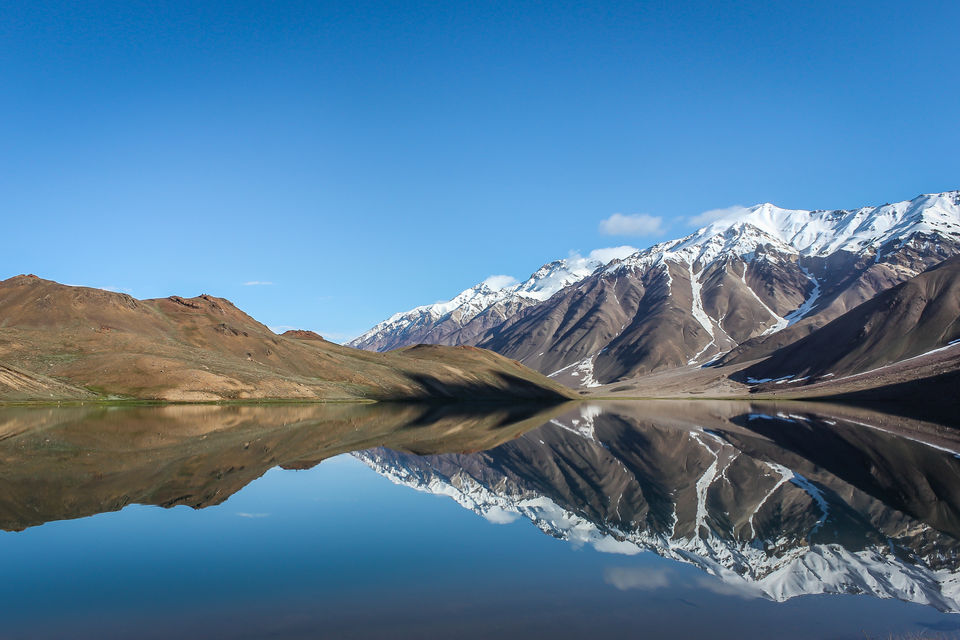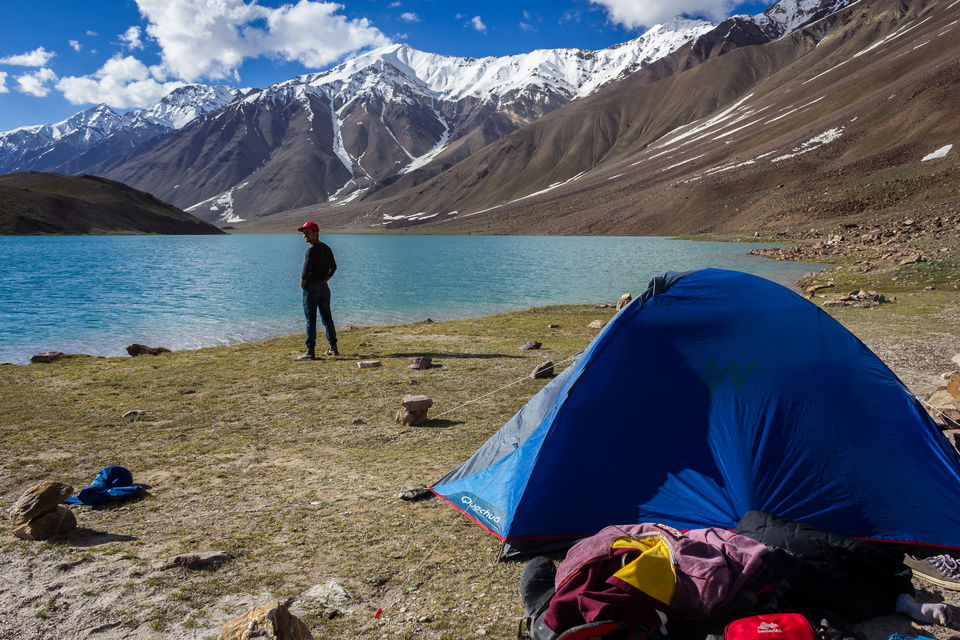 This story is for the faintest and the strongest of the hearts. It is a long one, but I hope you read till the end. There is nothing I could have omitted since it is a story of revelation, a personal revolution and REALLY living through a journey. This story has something for every traveler.
Day 1: (New friendships)
Anunay & I had arranged for a tent and two sleeping bags and a load of determination to reach the lake. All the locals in Kaza village advised us to think it through and ultimately not go to the lake with such little preparation. But the heart wants what it wants, right? So we took off and decided to spend a day in Losar village(the last civilized area in the region) and talk to the locals to brace ourselves for the journey. We reached Losar, found a place to have lunch and sat there silently, still contemplating whether or not to do it. We had just ordered when a fellow traveler introduced himself and started a conversation. They were a group of friends from Chandigadh as we further came to know. Before we knew it, we were in their car heading toward Kunzum pass, one of the highest motorable roads of Himachal. Going there was one of the best things to happen to me on this trip because I experienced my first snowfall. Tiny flakes of pure white soft things had given me an ecstasy of which I had never known before. At the top, we spotted a board of the Chandra Taal lake, asked around for the direction of the trail and went back home with our new found friends.
At Losar, we came across a blue truck full of men coming back from work. Our luck was shining brighter than the hidden sun. A Roads Organization truck in charge of clearing the roads full of snow stood to work through initiating the tourist season. We asked them if we could hitchhike with them to reach our great destination. We shook on it and celebrated the night under the starlit sky of Lossar. We bid our friends Good night and slept still having packed nothing much.
Day 2: (Unprepared foolishness)
Now Anunay has always been a morning person and he proved it to me that day. His decision to leave the car behind had changed as soon as he came out of the room and we left for Kunzum pass in the car, leaving the bags in the truck and driving slowly behind the truck to be safe. Challenging as it was, because of the condition of the car, Anunay kept his vow of 'Till death do us part' to the car(Dhanno). We reached Kunzum top and(still unsure), set out for the 9 kilometer trek ahead. We walked for around ten minutes on snow and sludge. I, in my converse! (Yes, a crazy stupid thing to do) and Anunay better off than me, in his not meant for the snow boots. Just ten minutes on the snow with those shoes had scared the shit out of me, making Anunay terribly impatient. A little crying, a little drama and we decided not to go further, this unprepared. We had never been on a trek, just the two of us, let alone such a long and treacherous one. We hadn't even any means to cook up there, or stay warm enough. We quit and walked back to the Kunzum pass area, spotted a safe mountain to climb up, see the view and forget about our failure. Just as I had started to climb up, Anunay spotted a Scorpio coming toward the pass. It was the group of boys we had become friends with! We told them our story and they decided to take us on the much talked about trek. They said we all could go to the lake and come back since they had to leave for home on the same day. We climbed up the mountains for a good 2 hours covering just a meagre 2 kilometers and we were already exhausted.(Anunay and I) They were all trained soldiers from the NDA and surely weren't even slightly tired. We saw a great spot to chill with a view after a tiring walk. We could see a little glimpse of Chandra Taal but decided not to go further as advised by a group of three boys returning from the lake. They were the first ones to open the trek to Chandra Taal and had taken a guide with them. Any which way, our short trek was worth the view, so we weren't disheartened. We sat there eating raw maggi, smoking and lighting cigarettes against the wind and listening to music. This was where I saw my first snow storm, thankfully from a distance. We rushed back down the hill and soon reached our cars, Anunay having hurt his leg on the way because of walking too fast(and drunk), another bad decision for a trek. We drove back to Losar and rested for a while. Our army friends after mocking our daring attitude which would lead to nothing but a 'bad trip' told us to pack everything from knives to our own utensils, cow dung, wood, etc. and we set out in the village in search of the necessities. We borrowed cowdung and kerosene from a restaurant owner, took maggi, a pan, some coffee, chocolates, etc. and had dinner in packed satisfaction.
Day 3: (The successful trek)
After having prepared thoroughly through experience and experience only, we were finally welcomed by the early 6 o clock sun into the roads of the valley. We reached Kunzum top in about an hour and set out on foot for the lake. The second ones to go for the trek, today we were prepared to the fullest and nothing could stop us, not even my converse! We walked and walked and walked, and trust me, even the use of the word walk 3 times is a 0.001 % of how much we walked. Sure, 9 kilometers doesn't sound much, but over snow and sludge and the cold, vast silence in the void of the valley is bound to take your already lessened breath away. Anunay was much faster than I. All that kept me walking all those miles was his spirit. We walked through windy mountains, snow capped mountains, green mountains, and what have you. The change in terrains makes you think if you really are existing there, in that time and space. Not a person, not an animal, not even a bird in sight! It's you all alone in the vastness of the mountains. You don't hear anything but the faint hissing of water flowing way beneath you, and the winds roaring in open bottle mouths. I was scared that I could get used to the haunting silence on top of the entire world. We followed the footsteps of the group we met the other day, and walked through everything that made me shit my pants. There came places where we had not a slightest clue of where to go because the footsteps had fainted but we went on. We walked through it, we walked through life and we walked through death. I remember passing out for 5 minutes on a deserted mountain with Anunay far ahead of me, jumping with joy on having seen the starting of the lake. His presence slowly faded and the next thing I saw was my head resting on my sleeping bag. The silence that I woke up to could have swallowed me whole. I was hotter than I had ever been and in desperate need of water. But in that moment, somehow nothing mattered. I was all alone. It was like I was Adam. I was the first human being. I had a whole lot of genius generations to look forward to, slowly realising I had seen it all and had come back to save the dying lost generation that we have become. I was infinite. I somehow managed to walk another 2 kilometers or so, terribly thirsty and with dying cold feet. I could only think of how I would just reach the lake and submerge myself in the chilly water. So I walked and walked and walked again and finally reached to see Anunay chilling by the lake waiting for me. We had started the trek at around 9 am and reached at 3 30 pm. We put our feet in the water, put up our own tent, drank the local alcohol to keep ourselves warm, cooked maggi on cowdung and kerosene that we lit ourselves. All in all, we were pretty proud of ourselves of not having brought a guide along and surviving just on each other's support and some food. The primitive way of living! We sat under the night sky full of shooting stars like little explosions in space and saw the water change it's color and the surroundings. All the while I could only think-'This is what life was created for.' I had started to feel alive in all the seclusion and the infinity of the Earth. We pulled up the zipper of our self manned tent and slept shivering under the cold night sky of the lake. But this was not it. There was the life changing turn of events awaiting our arrival.
Day 4: (The way back)
We had finally spent an entire night in Chandra Taal, all alone and lost in the dense mountains. We were ready to reach the village and finally say we did it, but did not in the least want to leave the lake behind us. If we had been a little more prepared, it would have been a much longer excursion. Any way, we started to walk and walk and walk again. The route we had taken while coming was a little too treacherous for our liking with the steepest snow clad mountains and trails just a foot wide. The locals had told us of another route from Baatal which we decided to take although it was a longer one. The road hadn't been fully cleaned up yet and we thought we could easily reach Losar by it. After walking a little while, we saw a great waterfall and happily went forward to chill and fill our bottles and our energy. As we moved further, the water ceased to make us happy. It was a melting glacier of the valley throwing ice cold water with unbeatable force. We were stuck. We started moving downhill thinking there has to be a place where the lands meet. We were on one mountain and had to get to the consecutive one to make it home. We kept walking downhill to find a connect between the mountains but found none. After hunting for a while, Anunay saw a big boulder closer to the mountain than any other and jumped from on top of the big boulder and landed on the destination mountain. I stood on the stone he had jumped from about two feet away from the other side, with the fast flowing river beneath me and all I could see was the tip of his hand he held out and his voice echoing in my ears saying jump! I just could not bring myself to do it. I kept convincing my mind to do it, but I stood there and imagined the jump a hundred times without making a single great effort to actually land on the damn mountain! Someone once told me that I am too comfortable with my thoughts than the action of the thought. And what can I say, thoughts are the comfortable bed we sleep on, aren't they? We are transcended into a place where everything dreamt of is real. Our mind can always manage to reach the places we never actually can! How do I not get comfortable then?So I stood there waiting for my thoughts to deliver me to the other side. I wasn't afraid of death. I wasn't afraid of the world, but I was just static. Disappointed, Anunay came back to my side and all I could read on his face was the regret of taking this journey with me. I was helpless, devoid of any motivation and full of self loathe for the next hour or so. We had decided to take the original route from where we came to avoid such circumstances and we walked on. I was still full of self loathe and he, full of disappointment. Again a little crying and a little drama, but way intense than any. I could not walk uphill any further with such less food and such less breath and I couldn't stop crying over my little rock jumping failure. I cried and cried and cried like I walked and walked and walked and we decided to take the Baatal route again. We came across a skeleton of a dead animal. We were so dazed that there was no conversation about it. We looked at each other and walked on, leaving it on any higher power over us to make our life's decision. We reached the jumping stone again which had gained more river water over an hour making it impossible to jump from it and we had no other choice but to cross the melting glacier waters at the top. I stepped into the waist length water and convinced Anunay to do the same. We held on to each other and our sticks and our bags and our lives and walked through piercing water into nothing but more water. The whole stretch was impossible to walk through because of moss filled stones and we had no other choice but to crawl over the melting snow and reach to the other side. We crossed another mountain hoping we could walk in peace further. Soaked in cold water now hugging us in the dampest way, we came across roads piled with rocks, snow so steep that one wrong step and we would slide into the valley and more melting glaciers. I could only take so much in, with the wind gushing against my body like I could fly with the irony of being a child of gravity. All I could do was walk and walk and walk. As soon as I was ready to give up on all my self pep talk, I saw Anunay standing with two officers from the blue truck. Everything else was a daze. All was blacked out from the time of the snow crawling to that moment. I was pulled back into reality with a pat on the back by the officers saying we did good. They told us they had waited for us for an hour hoping we would come back. We DID good! Everything was beautiful thereon. Snow was under our truck wheels and the truckmens prayer was our background score. There seemed to be a very slight thin line between nature's beauty and it's test of survival. The snow pushed us back and forth into the extremest of life and death. The same water that brought us back to life had given us a glimpse of death. But we were back on the road in the truck. We had come back oscillating between life and death holding the greatest value for both. We had come back with a new life with a whole new point of view to live it with. Asked at any given time, I would do this all over again to feel that alive! To get lost was the only way to be found!Best time to visit: Mid June to September(Once the roads open)Height: 14, 100 ft
4079 Mts. above sea level, the village offers seclusion from all of civilization with dim lights, good natured people and the beautiful trees all around the village. The trees stand erect with no leaves but beautiful beige colored branches. 18 kilometers away from Kunzum pass, it is a very friendly village with an open road ahead of you.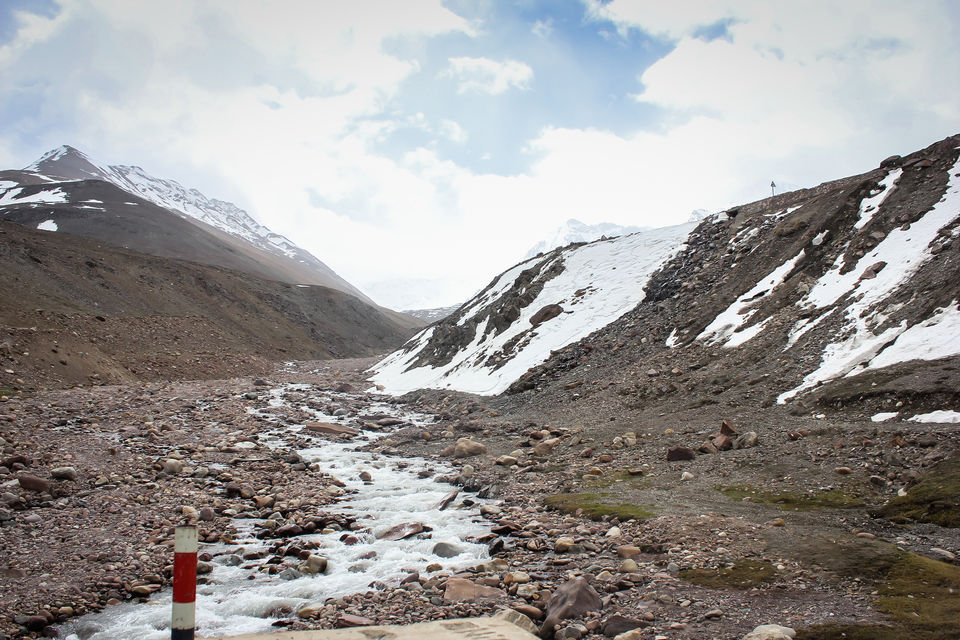 4551 Mts. above sea level, it is one of the highest motorable passes across the Kunzum range. The pass welcomes you with a temple right in the centre, which you are supposed to take an entire round of in your vehicle to prevent mishaps. If a believer of atheism, it is best to follow the culture to avoid disrespect to the locals. The pass offers a view of snow capped mountains surrounding you in a sort of envelope. Nothing beyond the view exists and you are somewhere on the top of the world!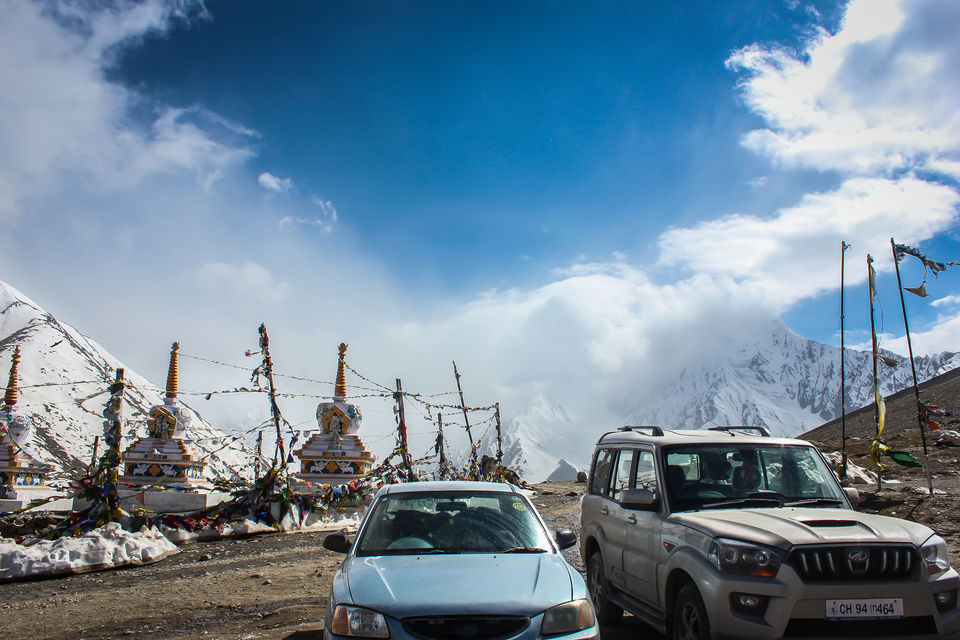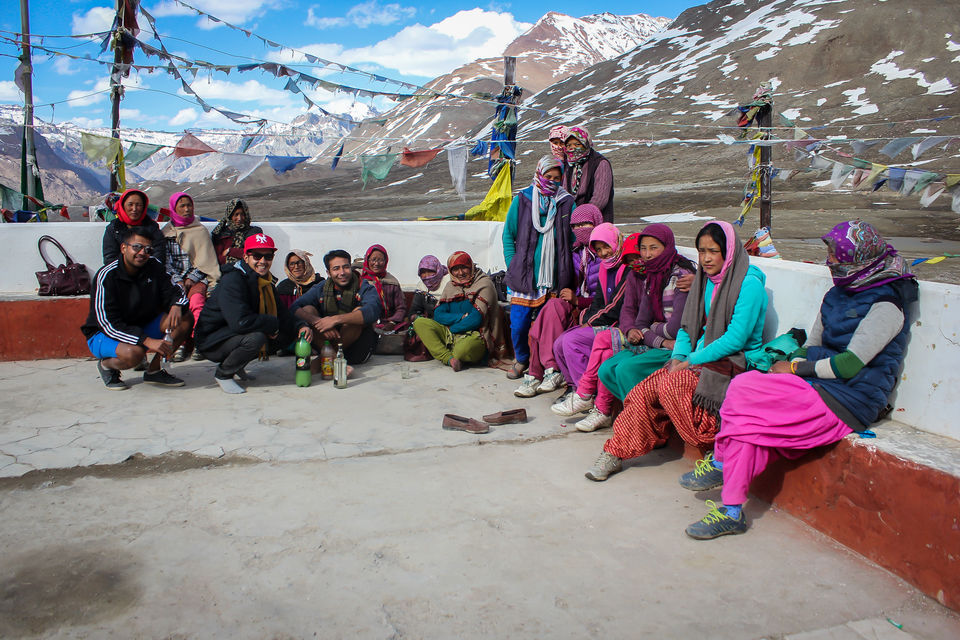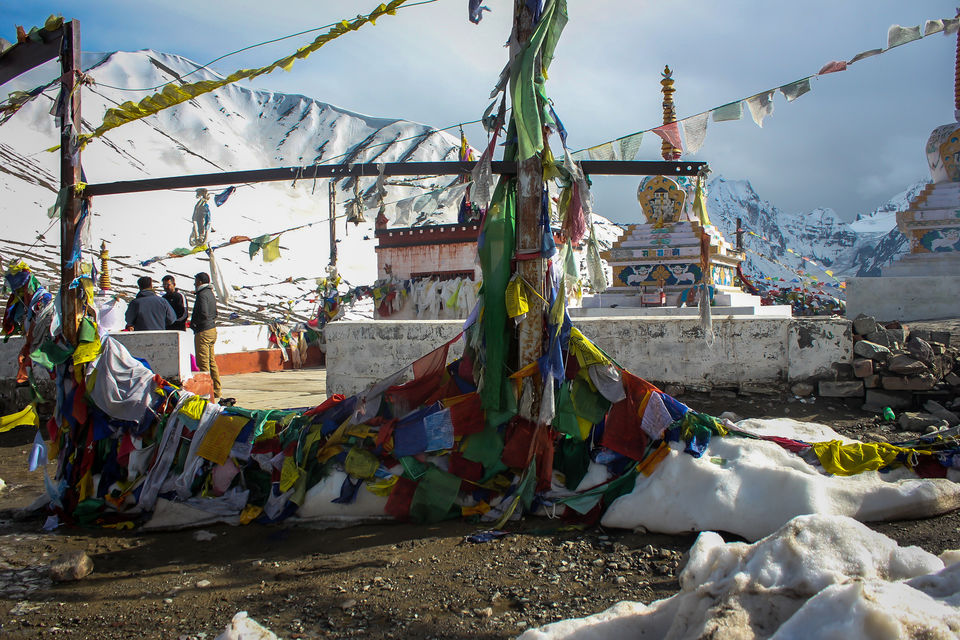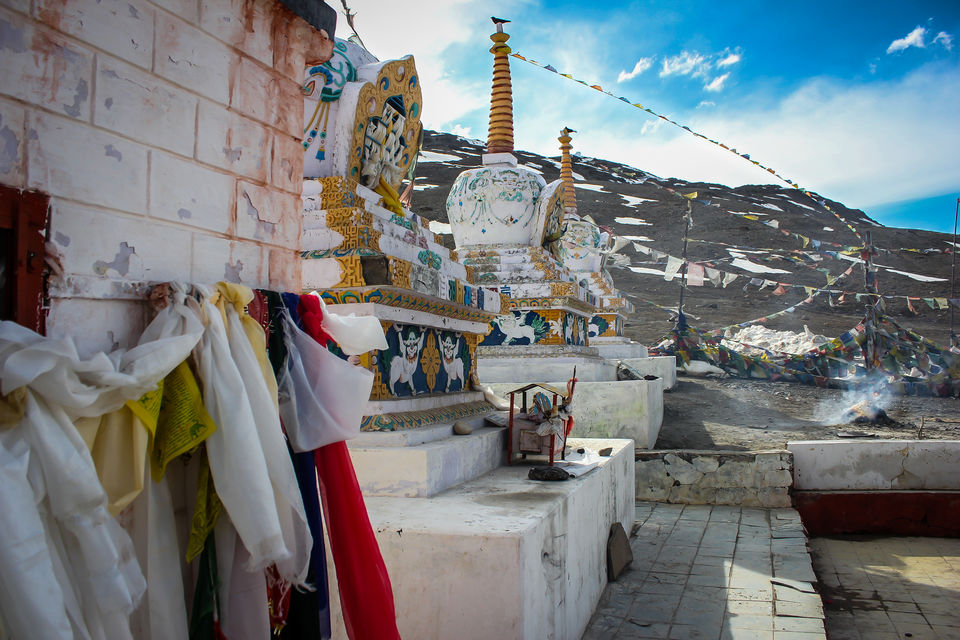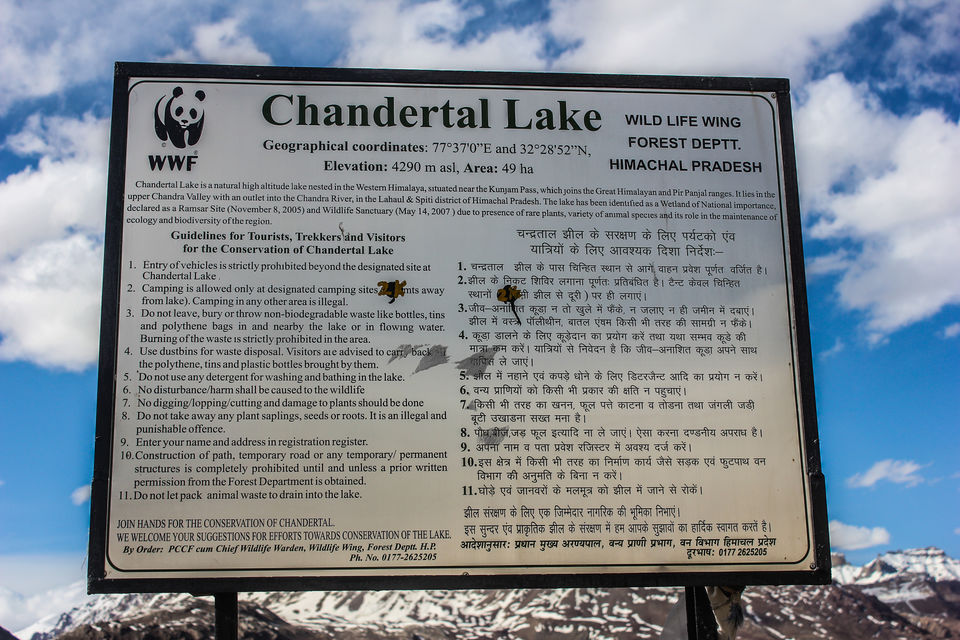 At an altitude of 4300 mts. Chandra Taal lake is an unclaimed lake in the Spiti valley. The open sky, the lake that freezes at night, temperatures dropping to -7 degrees in mid June and an unforgettable journey to the lake. It is a guaranteed life changing location. The water of the lake shines blue in the afternoon and translucent in the morning sky reflecting the whole surroundings like a mirror. The lake stretches upto about 2 kilometers. If you're an adventurer you might want to visit before the roads are open to tourism. Tourism allows a lot of camps near the lake. Going there before any one will fill you with a sense of pride. You will be lost in the vastness of the mountains with complete ecstasy. You can choose to take a guide along with you to make the journey safer and simpler or leave the guide and the comfort behind to really explore and connect with yourself on a deeper level. The choice is yours to make! Some do's and don'ts in and around the lake for your safety: DON'T: • Try to swim in the lake; There have been reported deaths of people who have tried to. • Litter; Let's help preserve whatever's left of our beautiful planet. • Trek under influence of alcohol. You need to have massive control over your body. DO: • Take a lot of food with you, it is most important. • Take all necessities from a knife to whatever you think will keep you safe, cowdung kerosene and matchboxes are a must, to cook and stay warm. • Carry the warmest jacket you have. • Have the proper gear to trek through snow, water and sludge. • Stargaze; The best view you can get of the infinite space! • Carry music; The silence really is deafening! Here is a list of things necessary for camping: Dried Cowdung+Kerosene+Lot of Matchboxes(Lighters don't work)+Dry twigs(Found near the lake-the dry bushes with purple flowers) Gloves+Cap+Windcheater(Basically everything of the warmest kind, but just the necessary ones, You want to keep your bags light) Torch+Knife A pan+A plate+forks+Maggi+Coffee/milk/sugar sachets+Chocolates(Lots of)+Anything else full of carbs+A lot of water+Local alcohol(Ignore the taste/Drink for keeping warm) Camera+Music+Two walking sticks(Helps for walking on snow and sluge) Tent+Sleeping bags(With mattresses)+Paper soap+Medicines