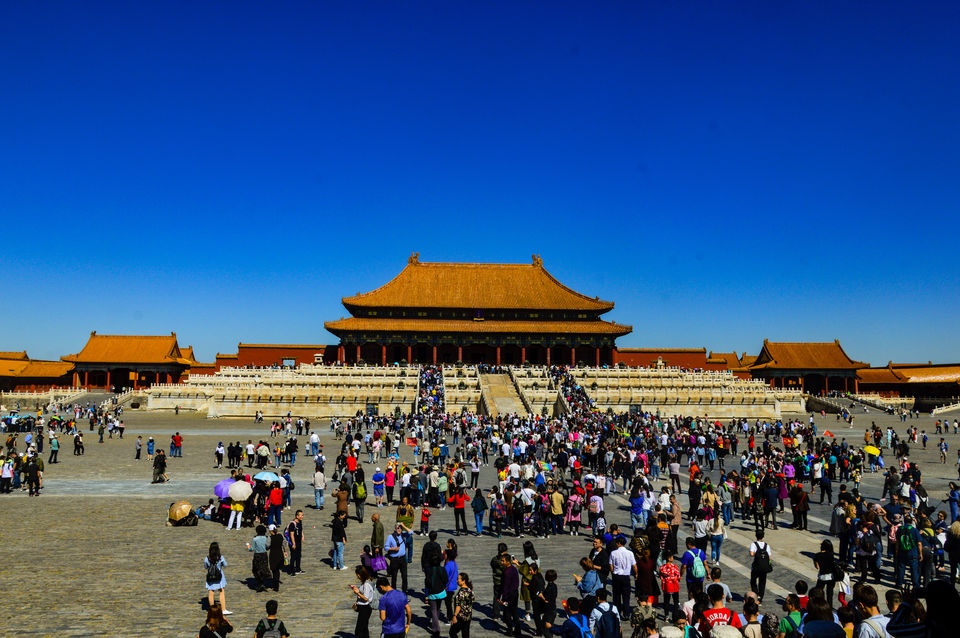 Our trip to Beijing was off to a hectic start. We had run out of currency and had to exchange money. Unfortunately no one was ready to accept Indian currency post demonetisation and even the Indian embassy told us that no one would exchange Indian rupees and if someone agrees they might be frauds hence beware and carry enough local currency when you are headed to PRC. We had some US dollars that proved helpful and the exchange procedure at a Bank involved some paperwork. It was time consuming but finally we had some yuan in our hands.
We headed to Beijing Zoo to see some Pandas. The Beijing Subway is very efficient just like that of Hong Kong and consists of multiple lines. It's cheap and there are English translations available hence it is recommended for travel. The Yikatong Card (Transportation smart card) had cost us 50 yuan and it was available for use on buses and S2 trains as well.
The nearest subway station for us was Dongsi. After buying the Yikatong card we took line 6. The train was a bit crowded and it was unusual as we were the only foreigners there. We were indeed travelling just like the locals. We had to get down at Ping'anli and change to line 4. We didn't have much difficulties as there was a station dedicated to Beijing Zoo. It was close to the actual zoo and it didn't take much efforts to get there.
The zoo was large and had a special dedicated section for the Pandas which had cost extra. It was 15 yuan for the entry and 20 yuan including Panda house.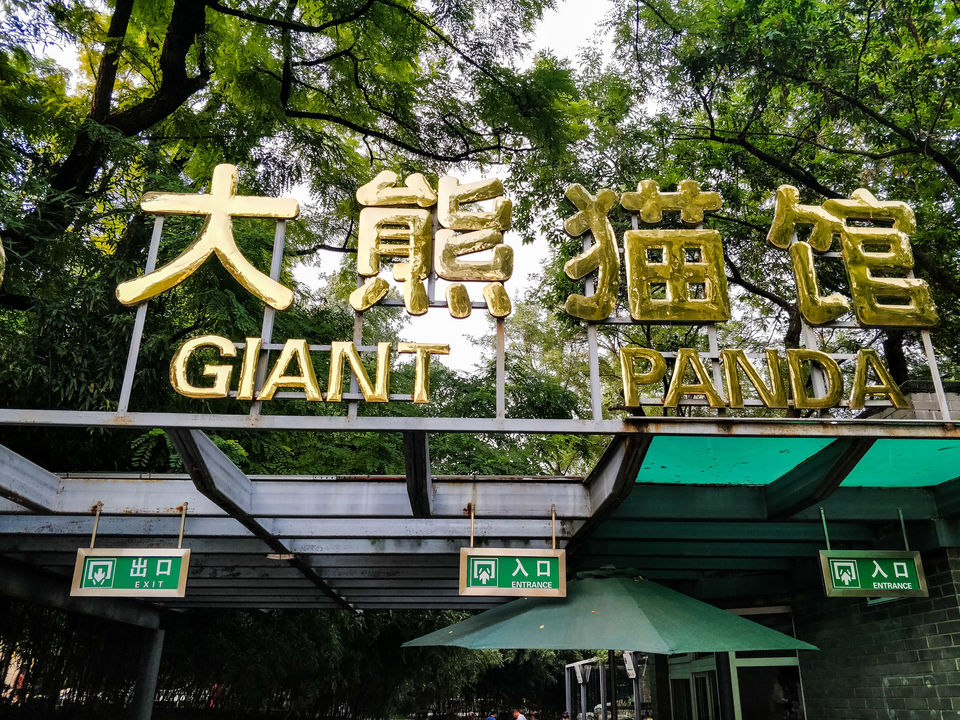 We had come there to see the Pandas hence we took it. The experience was disappointing as the enclosures were not so clean and the Pandas were dirty and were simply napping around. Pandas are not so athletic creatures but to see them simply lying around lazily in such dirt was not worthwhile.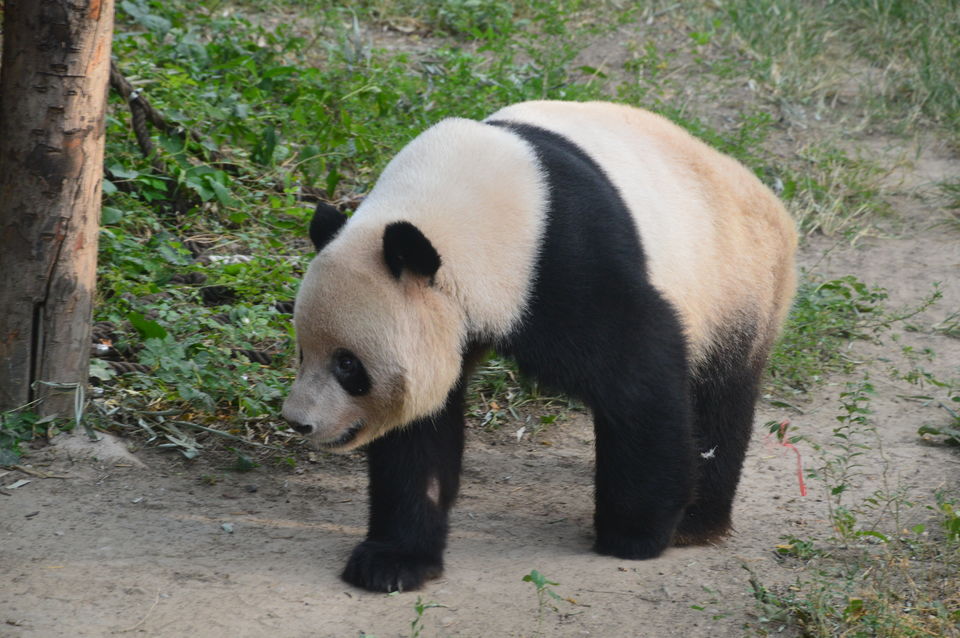 We had spent some time in the zoo and unfortunately it didn't seem to appealing. Maybe because we have already seen so many zoos in Singapore, Thailand, UAE etc so it didn't seem to be special. The complex was big and it would take up to a couple of hours to view most of the attractions.
We headed towards the Temple of Heaven. The route was simple, we had to go back to Dongsi and then switch to line 5 and get down at Tiantandongmen station. It was a long journey to get there but was an easy one. We took exit A and had to just cross a road after taking to get there.
The ticket price was 15 yuan for the entrance and 34 yuan for the total price including the main attractions inside. The price changes during November to March when it's cheaper. The timings for the attractions are 8 am to 5.30 pm local time. Unfortunately we had reached late and hence had to be content with leisure walk inside the park premises.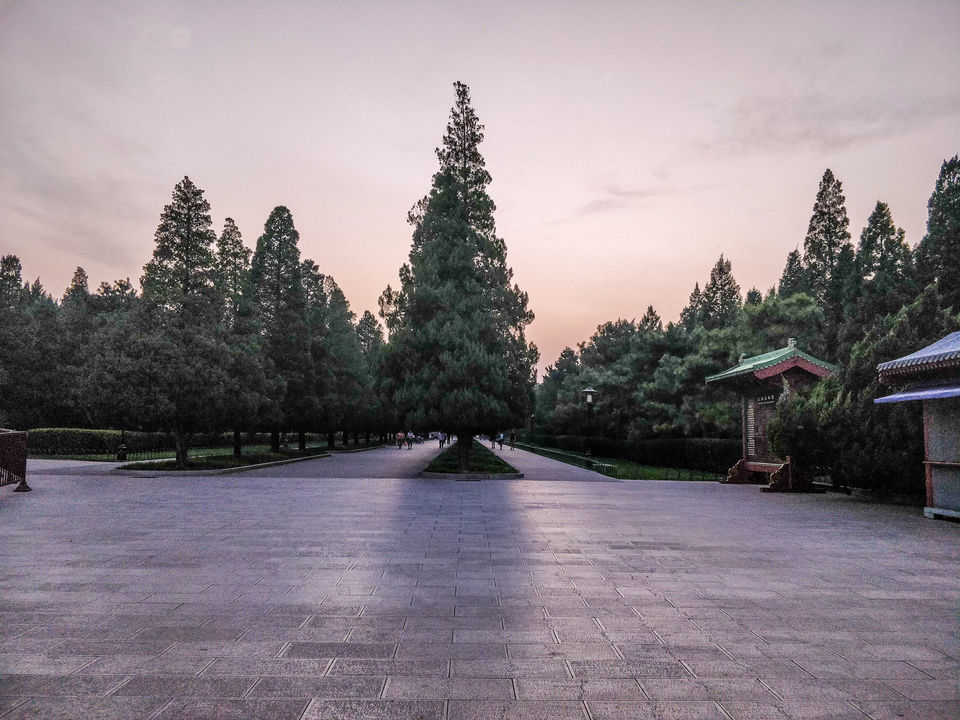 The park was wonderful for an leisurely evening walk. The trees and the pathways were systematically built. There were many people out there who were strolling and jogging around.
After strolling for a bit we headed back to Dongsi for our dinner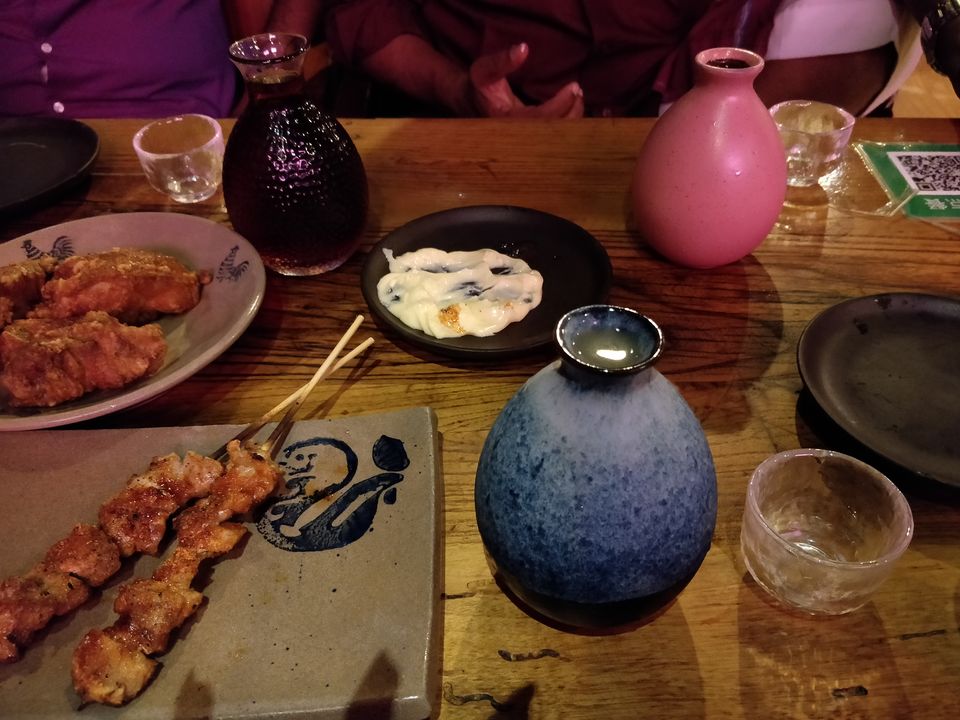 The restaurant had a variety of wines and we decided upon Watermelon, Mint and Ginger. We had them along with fried chicken and called it a day.
It was going to be a long and tiring day ahead as we were going to travel to the Badaling section of the Great Wall of China which was about 80 km away from Beijing. The Badaling section of the Great wall of China was the most easily accessible and the preferred route by the tourists. Most of the foreign tourists including Indians prefer to go by tourist company arrangements but we chose to go on our own. It was not so difficult since we have managed so far on our own.
The route was pretty simple, travel to Huoying station on the subway, take exit G4 and walk towards Huangtudian Railway Station and then catch an S2 train and get down at Badaling Railway station which was the destination stop for the Badaling section of the wall.
There was no problem at all in getting to Huoying station, the journey seemed that we are venturing out towards the suburbs and then outside the city premises. The clearly marked signboards in English on the subway system made it really easy to get there. We didn't have much difficulty in finding the exit G4 either and we had walked a bit until we reached Huangtudian railway station.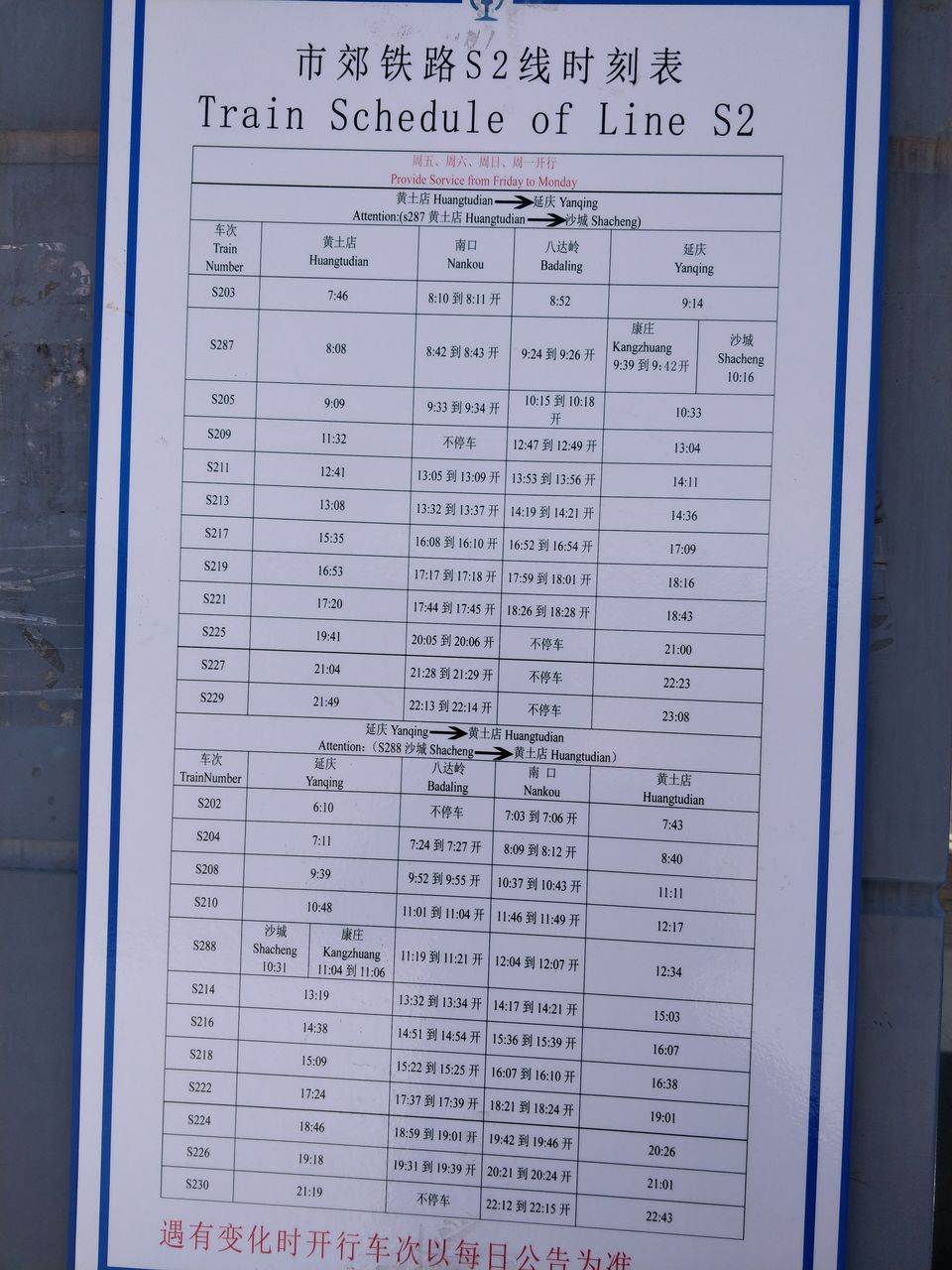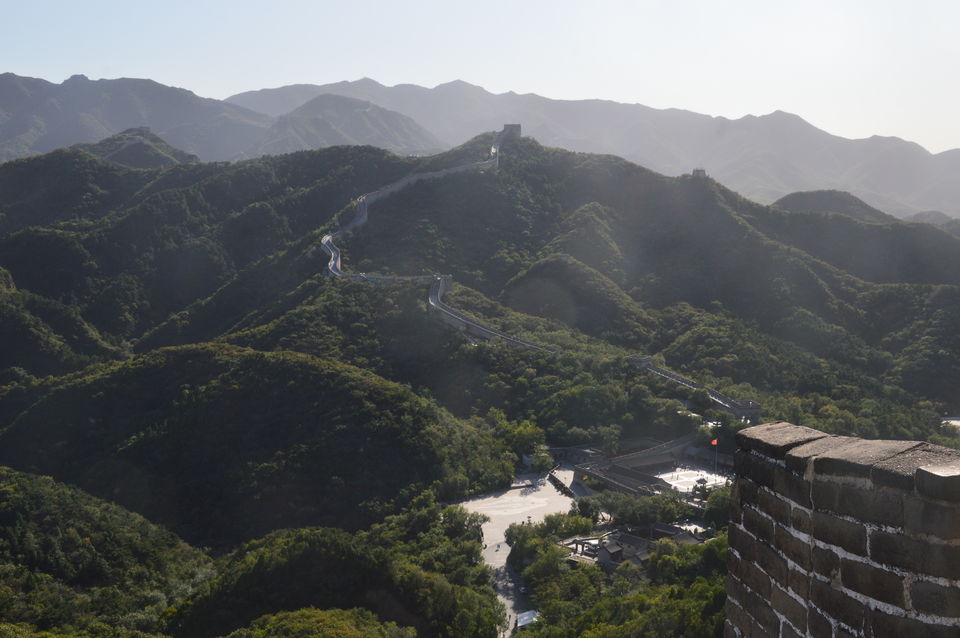 Our Yikatong card wasn't working while other people with same card were gaining access. The security personnel were unable to speak English hence we had to purchase the tickets which had cost us 7 yuan per ticket. If the Yikatong had worked it would have cost 6 yuan per ticket. The old person issuing tickets didn't understand English either but we were used to it.
The waiting room inside the Huangtudian railway station was crowded with tourists. It was a small station with basic amenities and just one big hall which acted as the waiting room for the passengers. The next train was set to arrive at 12.40 pm and the journey was supposed to take almost more than an hour. It was still some time to go for the scheduled arrival time of the train but people had already queued up to get the best seats possible. The crowd consisted mostly of Asians which I assume might be mostly Chinese people as they travel a lot. The train was delayed by about 15-20 minutes as the crowd kept piling on and the queue kept on increasing.
Finally the train arrived and a few men in uniforms came to handle the crowd. They didn't open our gates till the entire crowd that alighted had dispersed. As soon as the gates opened people started running towards the coaches like a racing competition; it reminded me of the dash to catch local trains in Mumbai. We too participated in the madness and rushed towards the coaches in the rear end before entering a compartment.
The train took off after some time and it was dead slow. There were a few people selling snacks in the trains reminding about trains back here. I had expected the train to pick up speed after some time which didn't happen. The train looked like a bullet train and was really spacious inside. The seats were comfortable and I laid down on the window seat watching the landscape change from buildings to empty plains.
After the painfully slow journey we had finally reached Badaling. We tried asking people about the buses or cable cars but again the language problem had stuck. We walked down along the crowd while asking people and after 15-20 minutes we reached the entrance.The ticket price was 40 yuan per person and we had two options, either take the north end or the south end of the wall. After walking for some more time we were there and chose the north side.
It was a steep climb, despite of being the easiest route it was still a steep climb, we couldn't imagine what the difficult route would be like. There were uneven steps, some were large steps some were small, there were railings on both sides to help people ascend and descend. Some people were climbing effortlessly while some were panting and gasping for breath.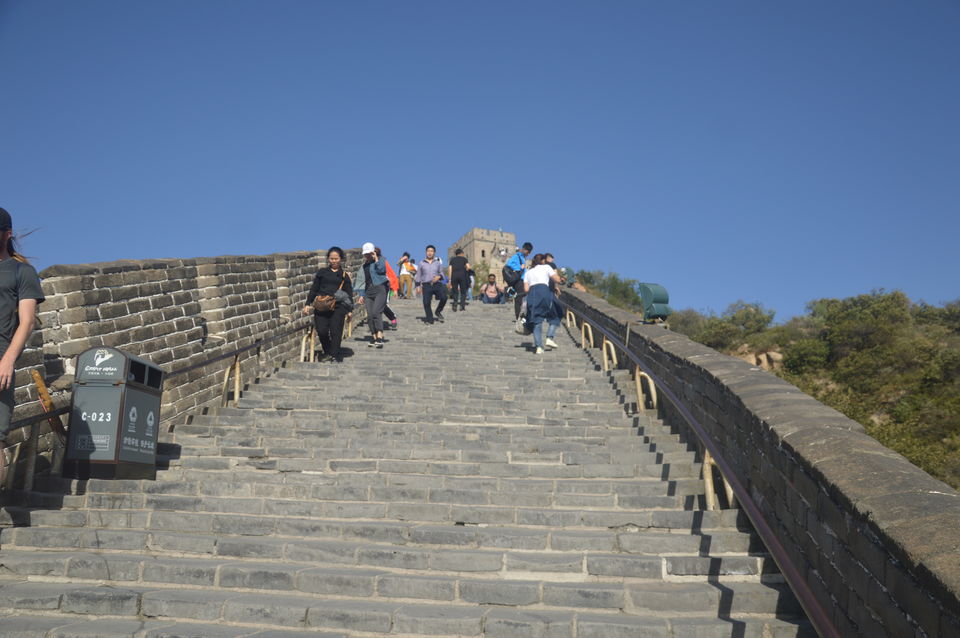 The view however was great, to add to the view there was a gentle cool breeze flowing that provided a great relief.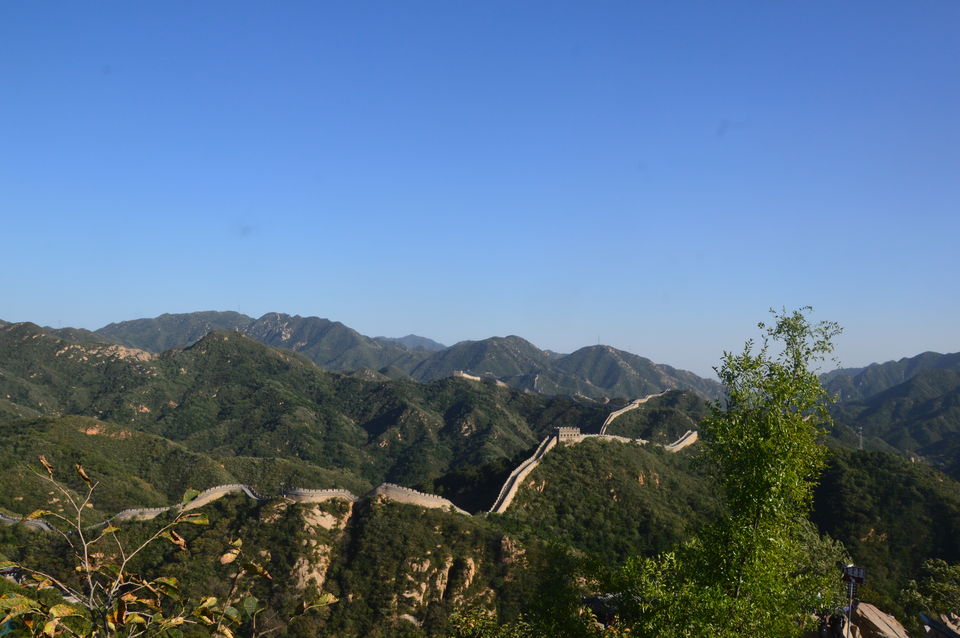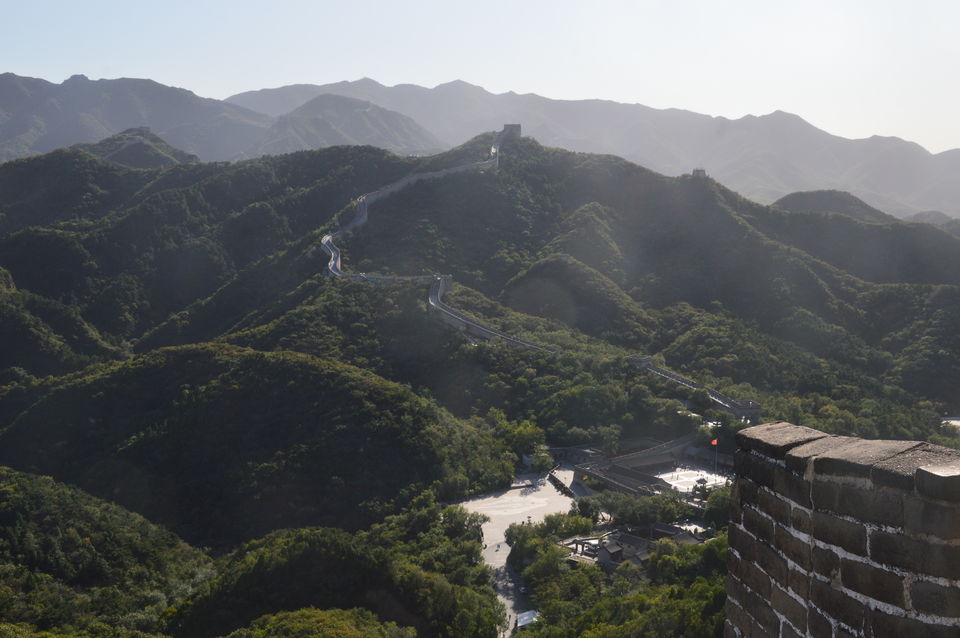 The Great wall was too long and would have took a lot of time to explore. We decided to return and catch the 5.37 pm S2 train. While returning we encountered the same problem of communication and ended up walking once again to the station. We were already tired and had no clue about the problem that was yet to come.
Upon reaching the station we had purchased the ticket and were waiting. The train was late by one and half hours. For whole 90 minutes we were standing in a queue after spending the whole day walking and climbing. It was a grave ordeal and we had no option left as communication was a big problem hence trying to take a bus would have been a problem. After we had given up hopes the gates had opened and people rushed to take spots. Finally the train had arrived.
It was 7 pm in the evening and there was darkness around. The weather was cold and there was a breeze around. The journey back to Huangtudian didn't seem longer now and the train took us there in an hour. It was again back to using the subways and enduring the long journey back to Dongsi. No shopping or fancy dinner this time as it was late and most of the restaurants had closed by then. Luckily there was a noodle resturant open so we had to be content with a noodle dinner for the day.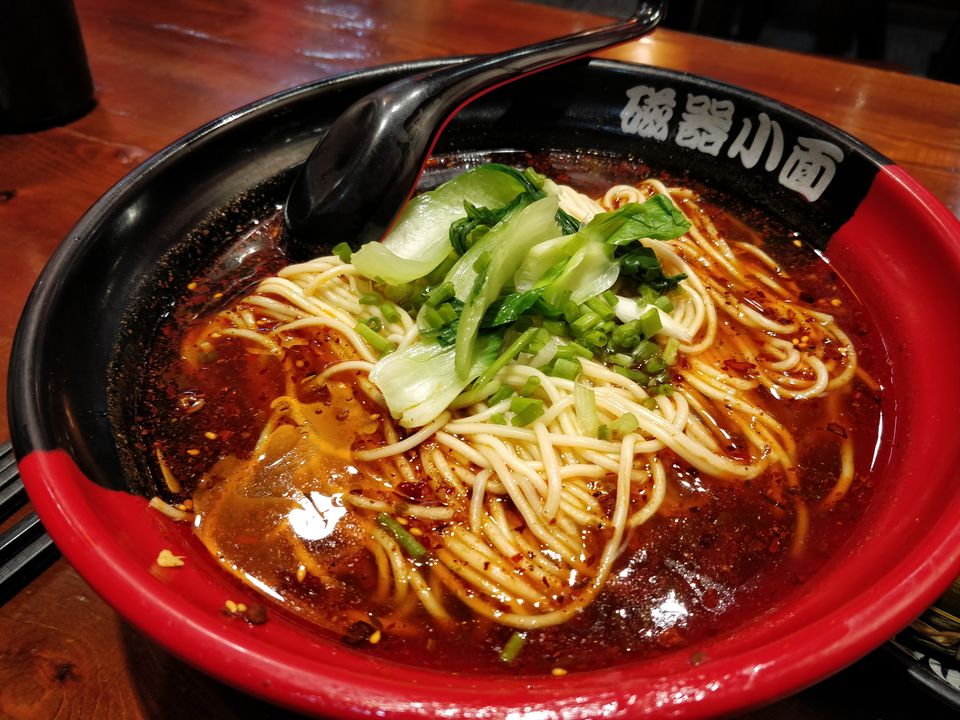 It was the last day in China and we had decided to visit Tiananmen Square and Forbidden city. We got down at the Tiananmen East Station on Line 1 of the subway. As soon as we exited the station we saw lot's of people around us, it was too crowded out there. It was Saturday and it was expected to have too many tourists out there.
We walked along with the crowds and had visited the Mao Zedong memorial first and then headed towards the Forbidden city.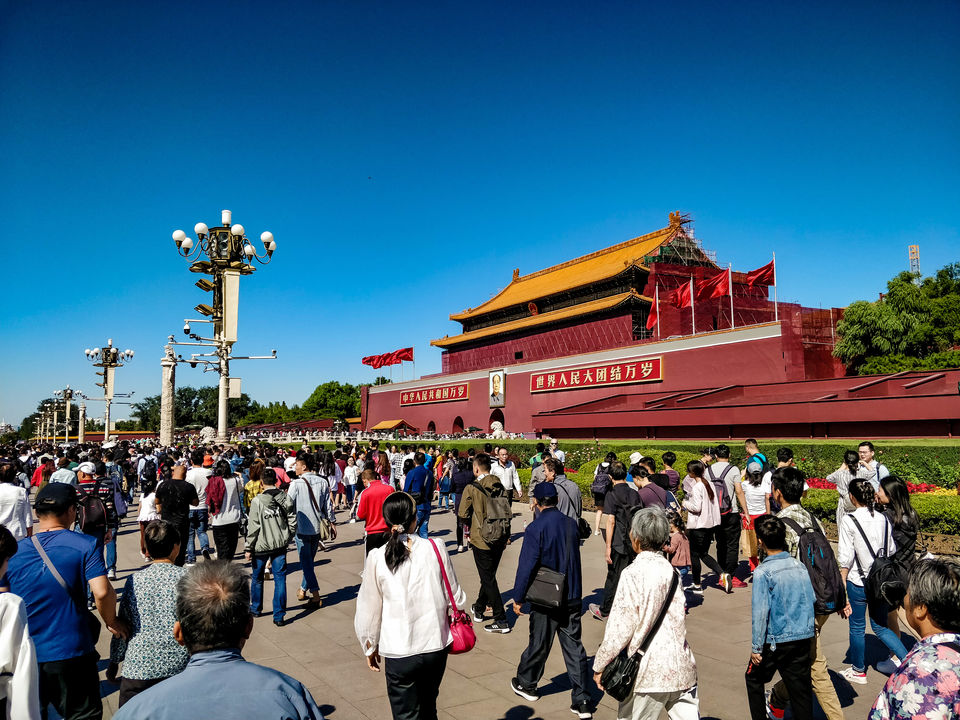 Entry is allowed only through one side i.e. the south side. The ticket price was 60 yuan and they didn't issue separate paper tickets and instead had to use our Passports for entry. There were long queues as expected however the movement was swift.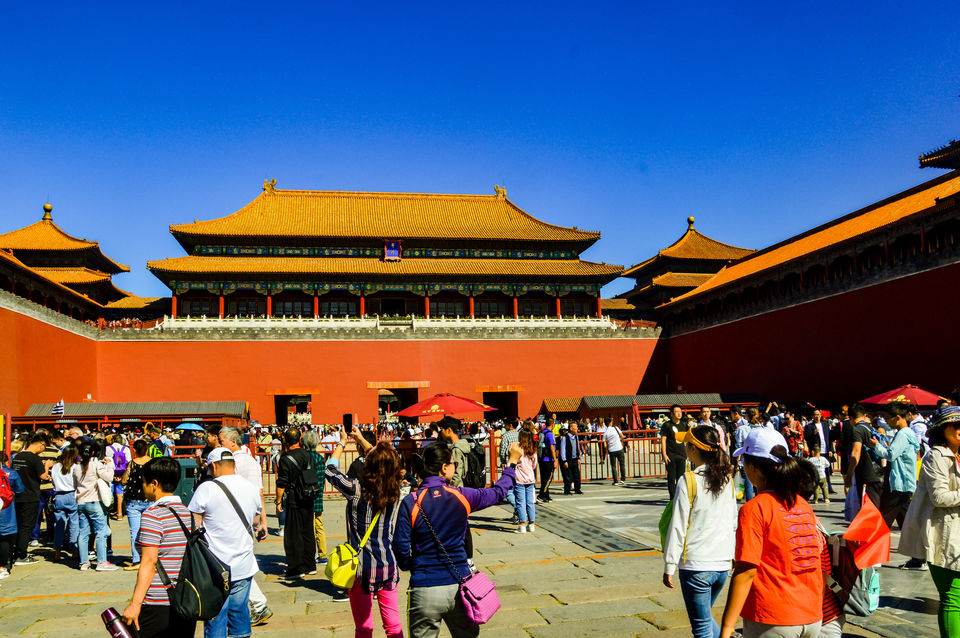 As we began our sightseeing inside the forbidden city we were greeted by crowds which had lots of foreign tourists as well. We could see some beautiful architecture showcasing the rich Chinese history and culture.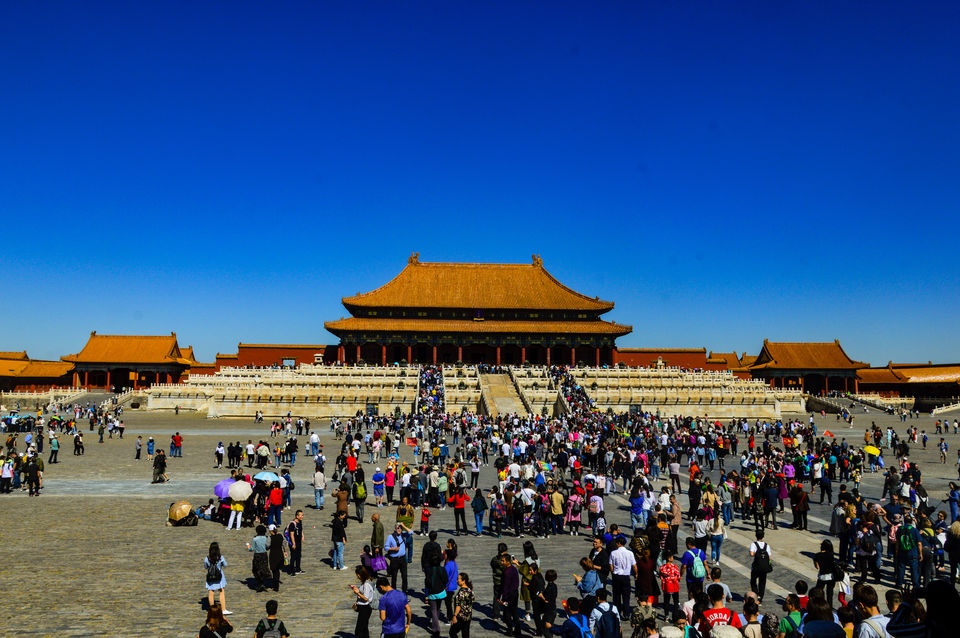 There are lots of galleries, halls and alleys to see here however tourists were not allowed inside the rooms. You have to spend atleast a couple of hours here to view most of the attractions.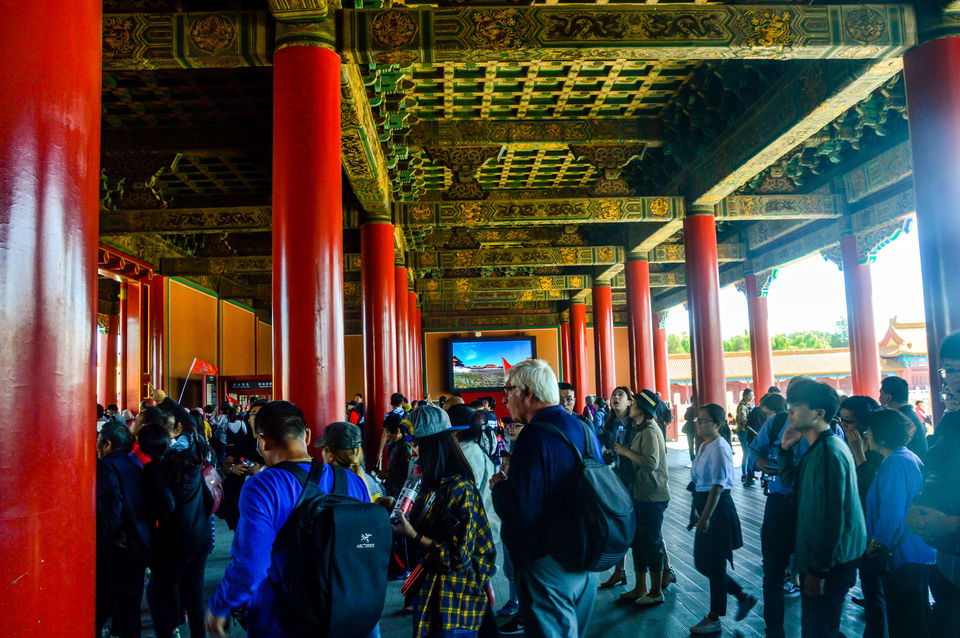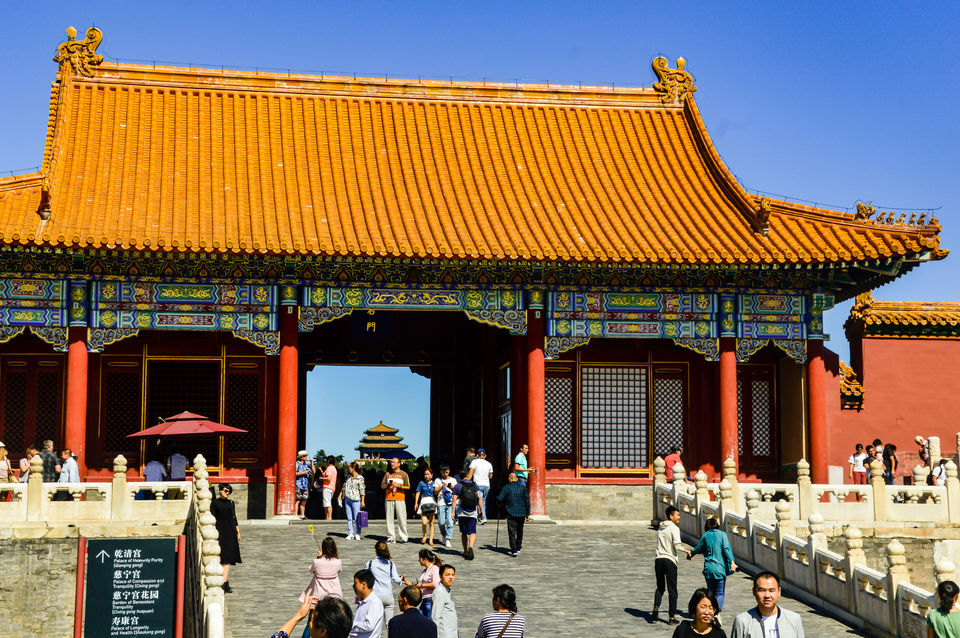 After exiting the forbidden kingdom we headed to the pearl market for some shopping. Hongqiao Market which is popularly known as pearl market is located near the Temple of Heaven so we had no problems in locating the place.
The Hongqiao Market is a multi-level shopping complex that sells pretty much everything from food to clothes to souvenirs. We were hungry so headed straight to the food court where there was a Indian Restaurant. The food we ordered didn't look or taste like Indian food, Paneer Tikka Masala came in orange coloured gravy and was sweet to taste. Well here in India we consume Gobi Manchurian and Schezwan fried rice in the name of Chinese food so it evens out.
You should not shop there if you can't bargain, we bargained everything and final purchase price was 1/10 of original quoted price. Bargaining can be justified sometimes when the quoted price is way too much than it deserves.
So our tour of China comes to an end here. We proceeded to pick our luggage from hotel and went to the airport to catch our evening flight. The best part about Beijing airport is that we could flawlessly speak to the staff there as they had no problems understanding English or our accents.