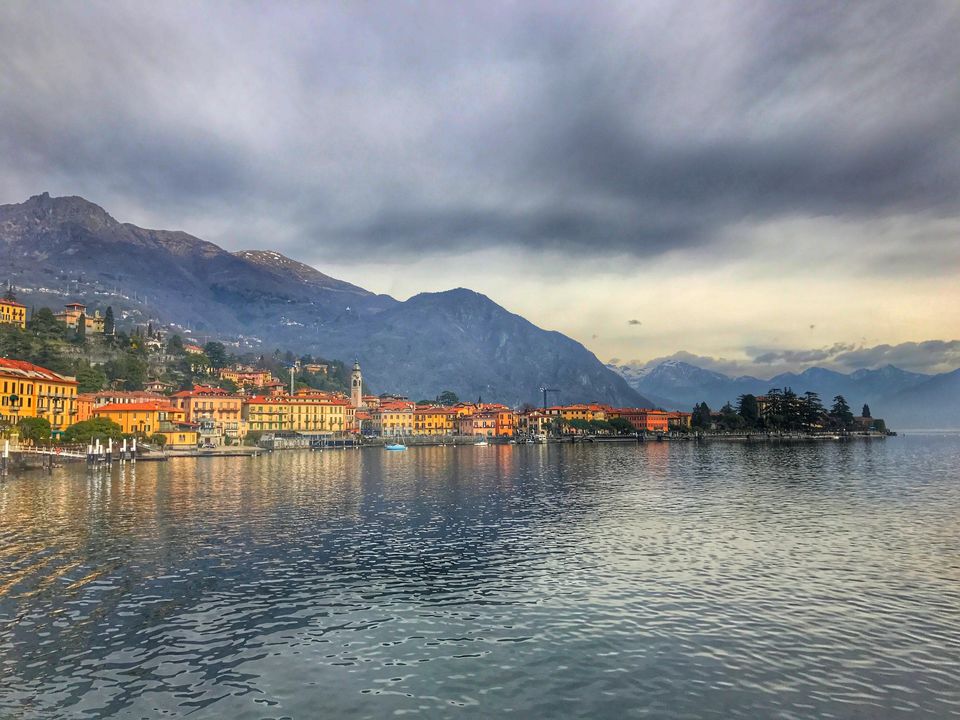 Imagine holidaying in a lakeside home surrounded by the Alps with ferries connecting the cute little villages surrounding the lake and trekking trails! That's Lake Como in Italy for you. It is a glacial lake with an area of 146 square kilometres, which makes it the 3rd largest lake in Italy. Shaped like an inverted Y, the lake is surrounded by a number of small towns like Como, Varenna, Bellagio, and Menaggio. There are ferries linking these gorgeous towns which carry vehicles and passengers, both.
Lake Como and the stunning landscapes:

Lake Como region is known for its stunning landscape, spending 2-3 days here and exploring the cute little towns is such a treat for eyes and mind.
Why ferry is the best way to explore Lake Como

It is absolute fun to take ferry rides and explore the small towns located around it. I was greeted with spectacular scenes while waiting at the ferry terminal.
In fact, taking a boat is the best way to explore Lake Como region and enjoy its stunning beauty. Just jump aboard a boat, relax, and enjoy the views.

Gorgeous little towns near Lake Como

There are a number of towns near Lake Como that are equally beautiful and worth visiting like Varenna, Menaggio and Bellagio. Enjoy taking a walk along the cobble-stoned streets and do little bit of shopping at the stores around.
Hiking and trekking near Lake Como

There are lot of hiking and trekking options around Lake Como region as well. Based on your preference you could pick one and enjoy the adventure. I did the hike to Castle Vezio. It was steep and I was the only person in the trail for some distance, but it gives you some gorgeous panoramic views of the lake, alps and small towns. Definitely a must try.
Is it safe to travel alone:
Lake Como is absolutely safe to travel alone. I travelled solo for two days and felt completely safe all the time. I stayed at Lake Como Youth Hostel in Menaggio and I think it is the best option to stay, especially if you are a budget solo traveller in Lake Como region.
Amazing food and Gelato:

The best thing about visiting Lake Como is the local food and gelato. Enjoy some pasta, pizza and gelato with the amazing views of lake.
So yeah, Lake Como has a lot of things on offer for travellers and is a year-round destination. Do add this beautiful place to your Italy itinerary, you won't regret it.

All pictures have been clicked by me.
So, when are you going to visit this lesser known tourist attraction in Italy? Share your thoughts in the comments below.
And just like me, you can also create your own travel blog and share it with travellers all over the world. Start writing now!
Subscribe to Tripoto on YouTube for exciting travel videos.
Get travel inspiration from us daily! Save our number and send a WhatsApp message on 9599147110 to begin!