Goa, What does the word bring to one's mind? Parties, Beaches, booze. But that's not just it. The sheer natural beauty of the quaint little villages in the southern part of the state is nothing less than an elixir for the eyes. Anyone looking for a stay amidst the greens and the chirping of birds, South Goa is a place to be. In a weekend trip to the beautiful little state I fell in love with the rustic feel of these villages and skipped most of the "party hotspots" in the North. Few people I talked to felt that I had just wasted my trip and getting bored but I felt this to be one of the most rewarding experiences. For a couple of days you can just switch off from civilization and feel the sea kiss your feet with a glass of Feni in hand and that's precisely what I love about this part of the state, one can just sit there reflecting, contemplating or just getting amazed at the simple beauty of mother nature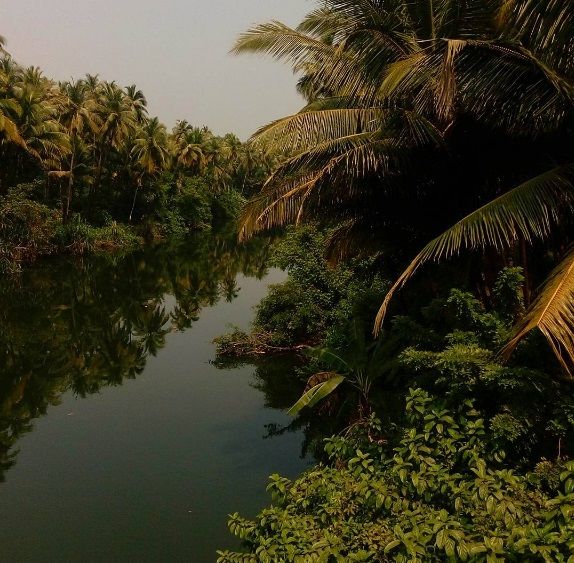 Some of the beautiful places to see are:
Benaulim:
A tiny beach town located within 10 kms of the bustling Madgaon is a must visit. It has a white sand beach which is relatively empty and has only a couple of shacks to eat. It is a place where you can sit under the beautifully clear night sky and spot the uncountable stars and galaxies in awe and admiration. It is so beautiful that you sometimes fear this is too good to be true and you are either hallucinating and It is just a huge painted ceiling you are stating at. One can also make an occasional wish on a falling star in the quiet and clear night. The village itself is located among green rain kissed coconut trees and small, beautiful and clean houses with a garden on the porch adorn the countryside. The feeling is that you have been transported to a time gone by as you sit and reminiscence about where you are, what you have achieved and most importantly what could have been.
Varca Beach:
Personally this is one of the most pristine beaches I have ever visited with clear blue water and white sand. The only comparable beach I have seen is the pitch black volcanic beach in the coastal town Vik in the country of Iceland. This beach has very less people and they are generally no regular shacks. The road to Varca is just exquisite in one word. A straight road with coconut trees swaying on both sides seems so enchanting that you want the road to never end as for me personally it is always about the journey and not the destination.
Dudhsagar Falls: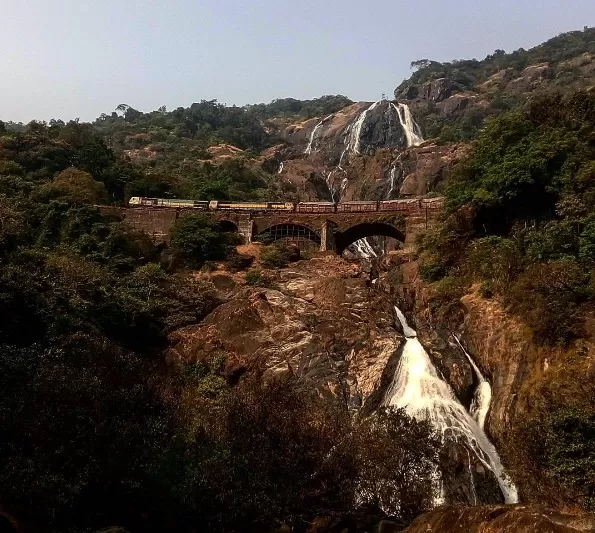 Dudhsagar Falls and a train crossing the falls is one of the most iconic travel images from India. Located 54 kms from Benaulim , the Dudhsagar Falls act as a natural boundary between Goa and Karnataka. The majestic white water rapid falling from a considerable height is an awe-inspiring sight. The travel to Dudhsagar falls involves travelling across multiple small Goan villages and beautiful curves on the Western Ghat roads. We also crossed a enchantingly backwater river whose dark looked ominously like a huge python slithering across the dense jungle. One can drive till upto 9 kms of the actual falls after which one needs to take a local 4X4 jeep as the real jungle safari begins. On the way to the falls the jeep travels through treacherous jungle pathways negotiating multiple waterfalls flowing straight through the way. This jeep goes to about a kilometer of the falls from where one needs to trek to the waterfall. The majestic fall is a sight to behold in itself and once a train crosses the waterfall it is not tough to decipher why this is one of the most photographed sights. One can also have a swim below the falls, Life jackets are provided which ensure an experience for even the people who do not know to swim
Martin's Corner:
A travel to a place is never complete until you taste the local cuisine and I think there are very few places which can serve up the authentic Goan cuisine with an amazing ambience. Live music, lobsters and glass of Long Island Iced Tea make this place in Betabatim a must visit.
All these makes me wonder why is South Goa so less popular than the touristy North but then another voice reminds me that probably its better left untouched.