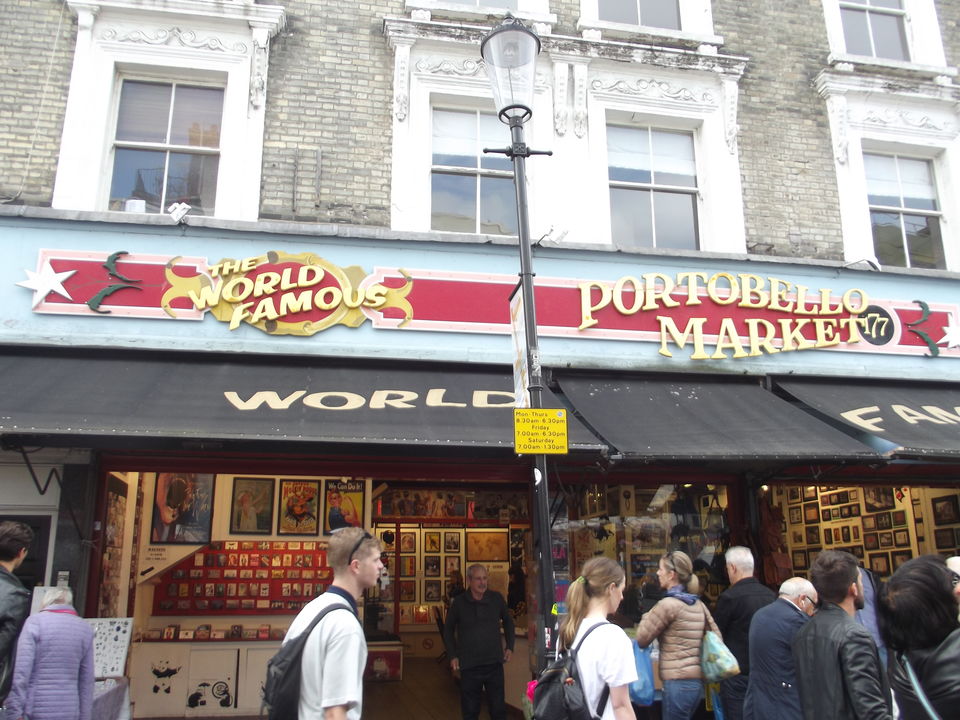 Before I walked through Portobello Market, which is London's largest street market, and the world's largest antiques market, I saw it on the TV. In a movie, which had Hugh Grant and Julia Roberts as main leads. Yes, that iconic movie Notting Hill, which made famous both this market and that travel bookshop (owned by Grant's character William Thacker) painted blue. It is STILL painted blue (pic below).
So, what's so special about this market? It's special because of its location and spread. First the location: from one end of Portobello Road to around the corner of Golborne Road, a total distance of about 1 km, this street market winds its way around the natural curve of Notting Hill and offers many photo ops for trigger-happy types. And now for the spread: although largely famous as an 'antiques' market, there are also stalls with second-hand fashion, floral crockery/pottery, old-world cutlery, steel tumblers, jute rugs in geometric patterns, and a lot of other household furnishings stuff you might want to buy.
Then there are street-food stalls, freshly-pressed juice kiosks, gelato shops, fresh veggies and fruits sellers, dried roots and medicinal herbs stalls.
What really works for Portobello Market is that it offers a break from the impersonal luxury of London's high streets and makes you feel like you are in a time long gone, atleast in the West. This is a shopping experience like no other and everyone who visits knows that well.
And of course, there's the added appeal of those inimitable candy-coloured houses on Notting Hill, which never fail to cheer you up. Many 'famous' people have made these lovely buildings their home. From the real-life novelist George Orwell (real name Eric Blair) to the fictional but equally-impactful William Thacker (played by Hugh Grant) of the Notting Hill Travel Bookstore.

"You live in Beverly Hills, I live in Notting Hill...." Once you see Notting Hill and its Portobello Market, you will know what Hugh Grant's character really meant. Happy Wandering!