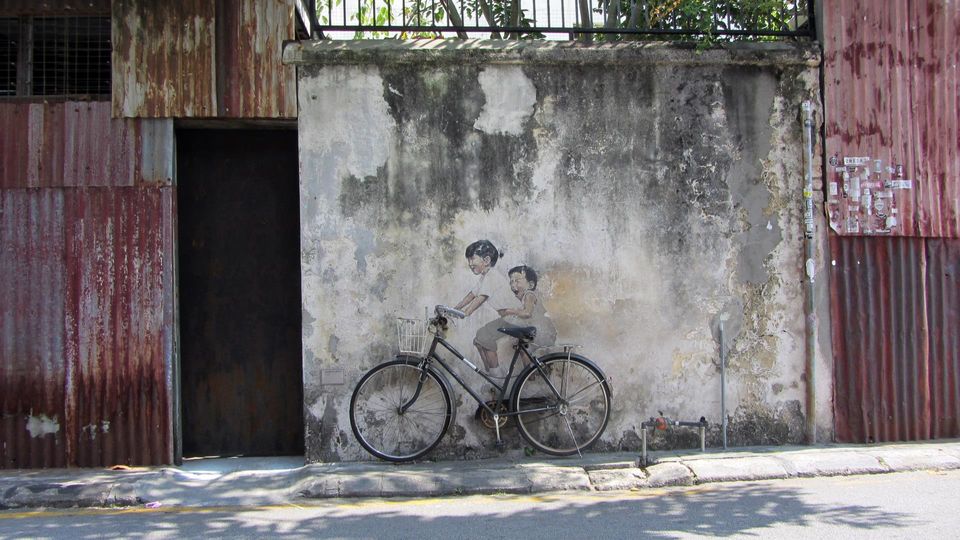 There can be no better way to escape the humdrum of daily life than going on a holiday. So, this January, when my husband and I got some leeway from our busy schedule, we decided to pack our bags and head off to George Town, a lovely coastal city in Malaysia.  
Located just a few hours away from Kuala Lumpur, George Town is the capital of Penang, a north-western state of Malaysia. Named after King George III of England, the city is a popular tourist destination and is known for its pristine landscape, multicultural heritage and mouth-watering cuisine.
We reached George Town in the afternoon of 23rd of January. We had arrived at the Malaysian capital the previous night and took an early morning bus to the city. It was a bright sunny day and though it was January, thanks to Malaysia's equatorial climate, it was pretty warm. We liked the balmy weather. Not wearing sweaters in January was a new experience for us!
My first impression of George Town was that of a city that had withstood the test of time. It bore an air of tranquillity and had dollops of old world charm. On our way to the hotel, we passed several majestic colonial-era buildings that bore testimony to the 171 years of British presence in Penang. We also saw several examples of Asian and modern architectural styles. This juxtaposition of the old and the new, the occident and the orient makes George Town a unique city. No wonder, it is inscribed in UNESCO's list of World Heritage Sites.
Our hotel was located near many points of interest in George Town. After a quick lunch and siesta, we walked to the inner part of the city. It is the oldest part of George Town and encapsulates within itself the multifarious cultural influences that shaped Penang's identity. We saw ample proof of this in the historical street names. We discovered that the Armenian Street derives its name from the Armenian Orthodox Church constructed by Armenian immigrants in the 19th century. Lebuh Chulia (Lebuh in Malay language means street) is named after the Tamil settlers who were called Chulias after the Chola Kingdom.
The inner city is also known for its rich street art. On day two of our arrival, we set out to explore this aspect of Georgetown's streetscape. And it was a treat to say the least. The most innovative and anecdotal caricatures and paintings adorned the walls of the city. Several of these amazing murals were painted by Lithuanian artist Ernest Zacharevic. His "Kids on Bicycle" at Lebuh Paintai and 'Boy on a Bike' at Ah Quee Street were perhaps the most popular murals. What made them interesting was that while the human figures were painted, real vehicles were affixed at strategic positions to create the whole effect. My favorite, however, was the Bruce Lee painting and I lost no time in getting snapped with the action hero!
It was almost noon when we finished touring the central part of George Town. We were famished and ordered a hearty lunch at 'Kapitan', a popular restaurant at Lebuh Chulia. One of the best things about the city is that it is a foodie's heaven. You get the most amazing food at unbelievable prices. If you are a seafood lover, then this is the place to be. I remember seeing an interesting tagline in one of the restaurants' menu "If it swims, we can cook it for you". So true!
This city has a bustling street food scene. In areas like Macalister Street and Gurney Drive you will see rows of food-stalls selling freshly prepared delicacies day and night. I saw quite a few stalls selling Assam Laksa. Intrigued by the name I asked one of the vendors what it meant. He replied that it is a sour fish- based soup. Assam in Malay language means sour. No wonder we Assamese people are so fond of 'Tenga'!
After lunch, we decided to explore other parts of the city. We hopped on to the 'Hop On Hop Off' city route bus that covers the important tourist spots within the city. 
We got down at Fort Cornwallis. Named after Charles Cornwallis, Governor General of Bengal from 1786 to 1794, this star-shaped fort is said to be Malaysia's largest standing fort. It is situated on the north-eastern coast of Penang and it was quite a sight to see the waves of the sea splashing against the shore and ebbing away.
Our next destination was Penang Hill. It is one of the oldest hill stations established by the British in Malaysia. The summit can be accessed by means of funicular railway from Air Itam. The ride to the hill top was quite thrilling. As the train chugged along the inclined route, I could feel my heart beating fast. Penang Hill offers the most outstanding panorama of George Town. At sunset, the city shimmered like stars in the sky. This beautiful view of George Town will be etched in my memory forever.
As some construction work was also going on, we didn't get much of a chance to explore the hill. But we went to a Hindu temple dedicated to Lord Murugan. It was originally built by Tamil labourers who built the railroad. We also saw a Giant Black Squirrel, a native of this part of the world, which made my day!
Next morning, we zeroed on spending the day at Batu Ferringhi, a well-known beach area; but not before paying a visit to Chowrasta market. It is an amazing farmer's market where you get everything from spices to sea food. There I saw something quite unique - black eggs! Considered a delicacy in Malaysia, these were regular duck eggs packed in salted charcoal clay that gave them their extraordinary colour.
Batu Ferringhi is a beautiful white sandy beach. We saw some people parasailing and decided to give it a try. My husband and I were attached to a parachute-style canopy and were towed behind a speedboat by a tow rope. As the driver sailed the speedboat we were carried into the air! I flew! I could see nothing but the deep blue sea under me. It was one of the most exhilarating experiences of my life. Unfortunately, the flight lasted only for a couple of minutes and soon we were back on the ground. We spent the rest of day at the beach lazing around.
We returned to Kuala Lumpur the next morning. Though we had spent only three days in George Town, we carried back memories that would last a lifetime. With its colonial architecture, historical streets, lovely beaches and relaxed ambiance, this city certainly gives its visitors a lot to reminisce about.
George Town is the beautiful capital city of Penang, a state located in north-western Malaysia.