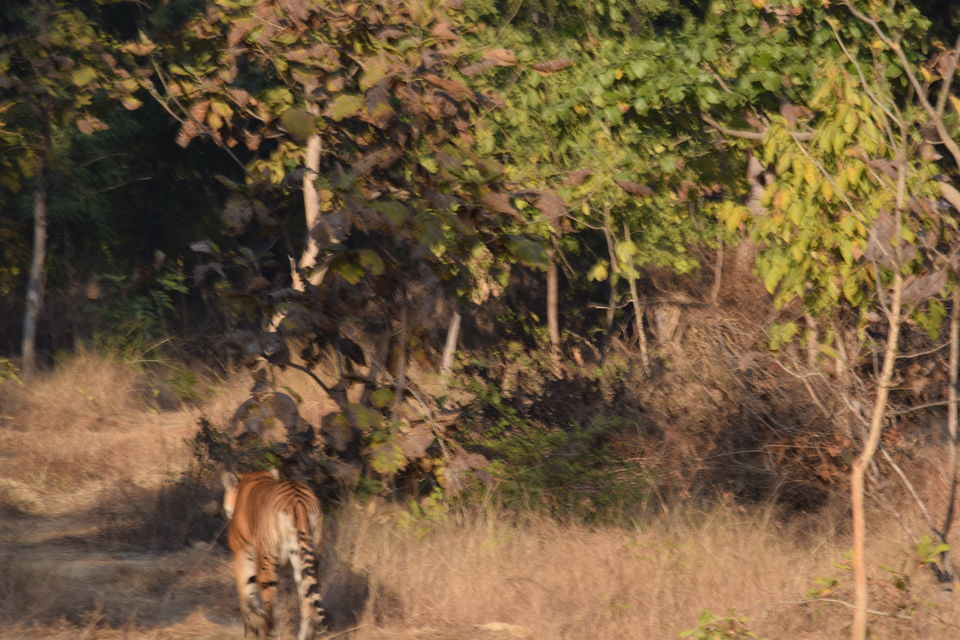 Nestled 150 km from Bhopal is the Satpura Tiger Reserve lying in the Satpura mountain range running from Gujarat to Chattisgarh. It isn't known to a lot of people but that is changing slowly. More and more people are flocking to this reserve to experience the varied flora and fauna. I'm going to talk about my experience.
In December 2017, it was my third time in the reserve - the first in 2015 before the tourist season began, the second on the first day of the season and the third on the 28th and 29th. Out of these three times, I only got to cross the river once but each time was an experience in itself. From spending time with family to living in a luxurious lodge ( Reni Pani Jungle Lodge) in the arms of all things lavish to staying in the Madhya Pradesh Tourism 's Bison Lodge, each time was special.
There are morning and evening safaris that are offered at the reserve where you can explore both the core and buffer zones taking your own sweet time. The minimum duration of a safari is 3 hours and it's quite cheap compared to Kanha, Bandhavgarh or even Jim Corbett. The best part is that there are no 'jacks'; you need to book everything online and there are no middlemen. I suggest you book one well in advance since there are less than 15 slots available for each safari, morning and evening. Also, try your best to get an elephant safari if you want to go into the core of the core area. Here's my third journey and the best so far...
Our day began in Bhopal where my family and I packed up for our one-day adventure trip. We were to travel 150 km to MP Tourism's Bison Lodge in Madhai. We started at 0830hrs and made two stops on the way out of which one is a must - samosas and mawa batti in Obedullaganj. This is an absolute must since they serve the best in the state of Madhya Pradesh. The second stop was for chai which is again an Indian staple. No driver can drive for more than 100 km without having a kulhad of chai. Once we reached our destination, I was, again, taken aback by the beauty of this place. Like I said, it's an experience, not a destination. Our lodge was nice and spacious with balconies overlooking the river. The beds were neat and clean but unfortunately there was a TV in the room and fortunately, there was no cellular network. The silence of the phone is sure a bliss and it offered a respite from every mail from work.
We proceeded to our rooms to relax before lunch and our evening safari in the buffer zone. Mind you, I was traveling with a bunch of photographers, my father and sister, and to them, everything was a subject from the flowers to the birds and at times, us. Take an American Plan, it sorts your meals when staying overnight and is a cheaper option as well compared to a la carté. We were served a variety of things and it was quite delicious considering our experience with MPT before; that's a story for another time. After lunch, we had about half an hour to pass before the safari began. The window for registration opened at 1430 hrs and we flocked to it to be assigned a Maruti Gypsy. Once done, we left for the buffer zone of Parsapani. With our fingers crossed we hoped to catch a glimpse of a leopard since they are found in abundance in the region.
At the beginning, we only saw wild boars, also known as Honey Singh in the region. There were no deer to be seen, only boars and peacocks. We couldn't stop laughing at the fact that the boars are called Honey Singh because of the original Singh's hairstyle is similar to a boar's. We caught a couple of kingfishers and owls on film but nothing much and by the end of the second hour my granny started complaining and saying that Van Vihar National Park in Bhopal is the best place to catch a glimpse of a leopard and even tigers. What she didn't know was that in the buffer zone there was a tiger ready to greet her and us, lurking in the tall grass, hidden from view unless someone has as sharp a eyesight like my father. Before the naturalist could spot it, my father did and he says " I could feel it in the air that the tiger was close by and that the silence was so deafening that he could hear the tiger breathing". Fun, right? Oh, it was! We followed the tiger for a good 100 m and the bumpy ride only added to the experience and the best part was that out of 13 vehicles that had entered the zone, we were the only one to see it to tell the tale.
There were people who didn't believe us at first but when we showed them the photographs you could see the jealousy on their faces and their anger directed towards their naturalists. The safari was successful; mission accomplished but is it too much to ask for a glimpse of a leopard too? Sadly, that didn't happen. Anyway, we came back feeling like we'd just won a war and a glorious one at that. After the safari, we chilled around the resort and proceeded for dinner, tired but happy. The food again was good enough to satisfy us. The beds were comfortable enough and we snored our way into the night.
The next morning began lazily since we weren't doing the morning safari in the core zone (we didn't get a slot). Instead, we chose to go for a boat safari and more adventures awaited us, trust me. Half an hour into the safari, our boat broke down and we were left stranded in the middle of the river with nothing but one bar of the phone network. Somehow we called the shore and they told us that rescue was an hour away, that's good we thought — more time to wait for the crocs to come out.
And wait we did, for good 45 mins till we finally saw one and how! A crocodile went under our boat and we were lucky not to be a part of the Lake Placid series, but would've been cool though. The second part of the continued excitement was that we had to switch boats in the middle of the river when none of us knew how to swim and we were surrounded by crocodiles on two sides. After the switch, it was pretty uneventful with just us enjoying the sights of different birds like kingfishers, eagles and egrets.
Our boat ride came to an end and we lived to tell the tale.
We proceeded to breakfast which was, as all other meals, good. After that we packed up our bags and began our journey back. On the way back, be sure to look around for seasonal fruits and local artifacts. All-in-all the entire trip was a good one and I look forward to going back soon, if only to this time cross the river again, this time with my family.
If you're reading this, then I'm going to assume that you've read the entire thing and if not please go back and do so. Thank you for reading. The picture credits go to Anoushka Mishra (sister) and Lt Col Pranav Mishra (father). If not for them, then this article wouldn't have survived. Thank you again for reading. Please share if you'd like to inspire someone to make a quick trip. Cheers!