Finally one more place becomes a part of our memories and the experience that adds to our life, the country called Bhutan. We had heard and read so much about the country that it felt like we already had visited the place. After two years of cancelled plans and a year of planning, we were in Bhutan.
The country reminds me of Himachal back home but what sets it apart is how the country has preserved its cultural identity over the years. Bhutan's cultural experience is something that you soak in once you have travelled through the country. When in Bhutan, there is peace and tranquility for those who are looking for it. You can happily get lost here and thoughts of retiring from the hectic life back home will come to your mind. When in Bhutan you set foot in a monastery, the desire for material possessions fades away. When in Bhutan, sitting by a river and soaking your feet in it seems to wash away your worries. When in Bhutan, the climb uphill (Tiger's nest) doesn't seem difficult but an act of faith. No wonder Bhutan has "Gross happiness index" for benchmarking countries prosperity because when in Bhutan happiness is right round the corner.
Bhutan is not an expensive place to travel as it is made out be when you look up packages online. You just have to plan and decide what all you want to do/see in Bhutan. So here goes our itinerary for five days-four nights & everything you need to know about travelling to Bhutan.
Getting There:
By Air: Booking Tickets: We preferred taking flight to Paro from Delhi. The tickets can be booked online on https://drukair.com.bt or from their authorized travel agents (list of which can be found here: https://drukair.com.bt/images/Include/OurOffices.htm). The flight prices remain constant almost throughout the year except they get sold out quickly. We booked through a travel agent.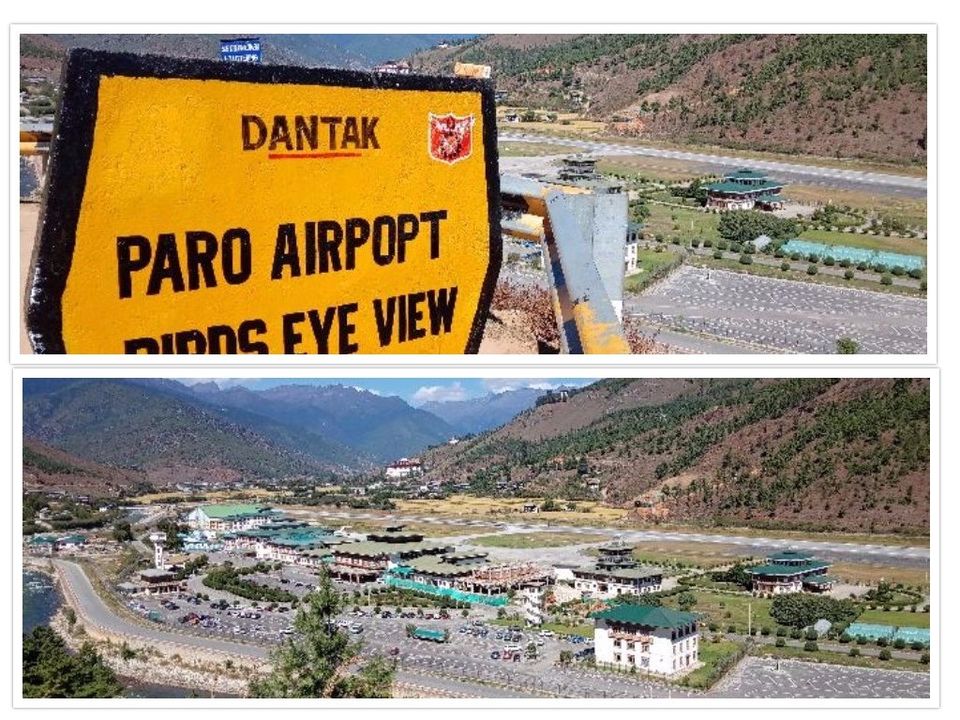 If travelling by air, ask for window seat on left from Delhi to Paro and while coming back on the right to get a clear view of the Mt. Everest.
Visa on Arrival: You would need your voter ID or Indian passport to get visa on arrival. Nothing else is needed, no itinerary or return ticket details are asked for at the immigration counter. Naba got the Bhutan visa on showing her passport while I got it using a voter ID. No problems here whatsoever.
Getting to Thimpu: Paro airport is about an hour and a half away (50 km) from Thimpu. At the airport, there is prepaid taxi counter where you still need to bargain for a personal cab to Thimpu. Initially, I was quoted 1600 INR and finally negotiated it down to 1200 INR. We took a Wagon R, which was comfortable enough for two of us (we also had three bags). The price goes up depending on the type of car you hire.
By Road:
Taxi/Bus/Self Drive: Since we had decided to travel by Air, we didn't do any research on the Bagdogra/ Phuentsholing road route to Bhutan.
What about money?
Currency: All Indian currency notes are accepted everywhere you go which includes 500 & 2000 as well.
ATMs: You will find enough in Thimpu and Paro. But you will get Bhutanese currency if withdrawing from an ATM with bank charges as 200 INR for each transaction.
Credit/Debit Card: If paying via a credit or debit card, MasterCard's work at more places than Visa. No AMEX.
Kindly note 1 Bhutanese Ngultrum = 1 INR
15th & 16th October 2017: Arrived in Thimpu from Paro airport. For 15th & 16th we hadn't included a car in our package & hired one as required on the go.
Our Stay: Hotel Wangchuk Resort, Thimpu: Good rooms and service with a very good spa. Location is also central. The hotel is walking distance from the Clock tower square. We only had breakfast at the hotel which was also good. We would recommend this place to stay in Thimpu.
Places to eat/drink: Lot of cafes and restaurants around Clock Tower Square depends on what you want to eat/drink. Do try some Bhutanese local dishes like Ema Datsi, Phaksha Paa etc & drinks like Ara, Suja, Druk11000, Zim Zim Peach white wine etc.
Recommended: San Maru for authentic Korean food
Get a Bhutan telecom SIM: Highly recommended to get a SIM as it will help you co-ordinate with the drivers you hire especially when you go to Tigers nest in Paro. The connectivity is surprisingly very good considering it's a mountainous region. Getting a SIM is very easy & costs about Rs.100 which comes with talk time of 100 BTN. For an additional Rs.100 recharge, you get 800 MB of 4G data. (Call charges to India: Rs.4/min). Documents required is one photograph, passport/voter ID along with Bhutan visa copy.
Road permit / Inner line permit – Where to get: Immigration office in Thimpu near Tashichho Dzong. Workday timings are 10 am to 5pm. Documents required is your passport/voter ID along with Bhutan visa copy and then you will be required to fill an immigration form. Post submitting the form, you will get the permit in maximum one hour.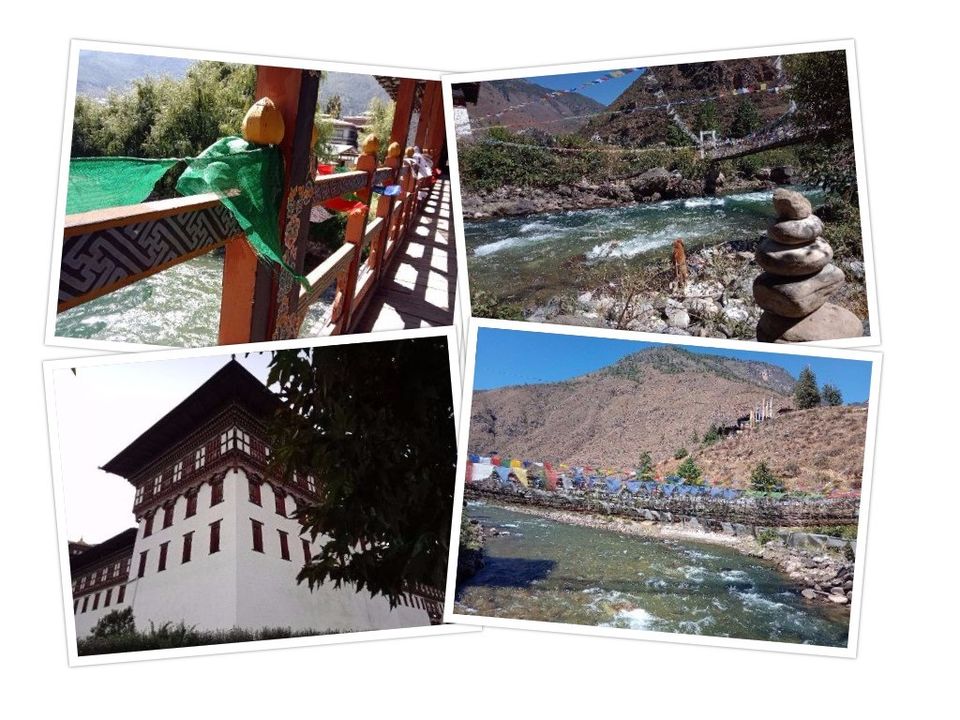 Places to see: Sightseeing on our own:
1. Tachogang Lhakhang or the Iron Horse temple: is located along Paro-Thimphu highway on the base of a mountain across the Pa Chu River.
2. Memorial Chorten : Free entry
3. Tashichho Dzong: Charges are 300 INR per person; Holidays 10am to 5pm & workdays 5:30pm to 6:30pm. Disappointing part was only a small part of the Dzong is open to public as it houses government offices.
4. Changangkha Lhakhang : Free entry
5. Buddha Point (Kuensel Phodrang) : Free entry
6. Simtokha Dzong : Free entry
7. Traditional Bhutanese wooden bridge leading to the handicraft market and opposite to it is farmers market
8. Changlimithang Archery Ground : Free entry
9. General post office: You can send Bhutan postcards for 30 INR (extra for postcard) to your loved ones anywhere in India.
10. Handicrafts market on the way to Tashichho Dzong: Free entry
We covered the whole sightseeing within a day as the places were not very far from each other (though they are in opposite directions). We hired a Wagon R (cost 800 INR) from the Thimpu taxi stand for sightseeing (places we covered using the taxi are from 2 to 6 in above table).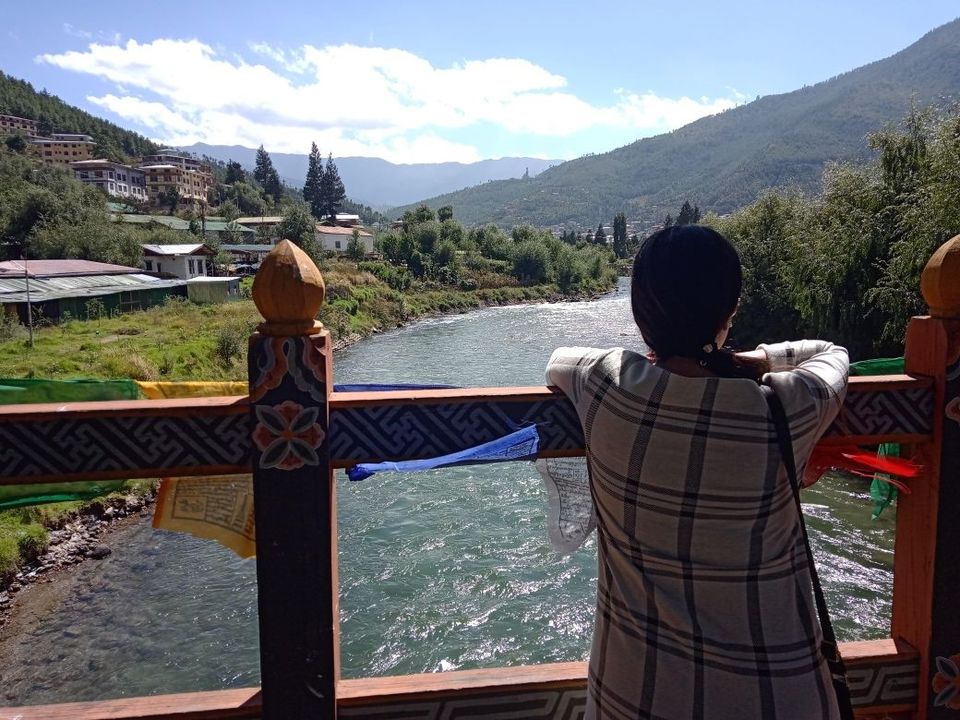 Please note as there are no traffic lights in Thimpu, the police are very strict about pedestrians using zebra crossing for crossing the road. You can be fined for Jaywalking.
17th October 2017: We left Thimpu for Punakha which is approx. 62 Kms/ 1hrs 30min drive. We had included a car only for 17th & 18th October in our package as it was more cost effective. Along the way we got a glimpse of Mt. Everest after passing Dochula pass as well.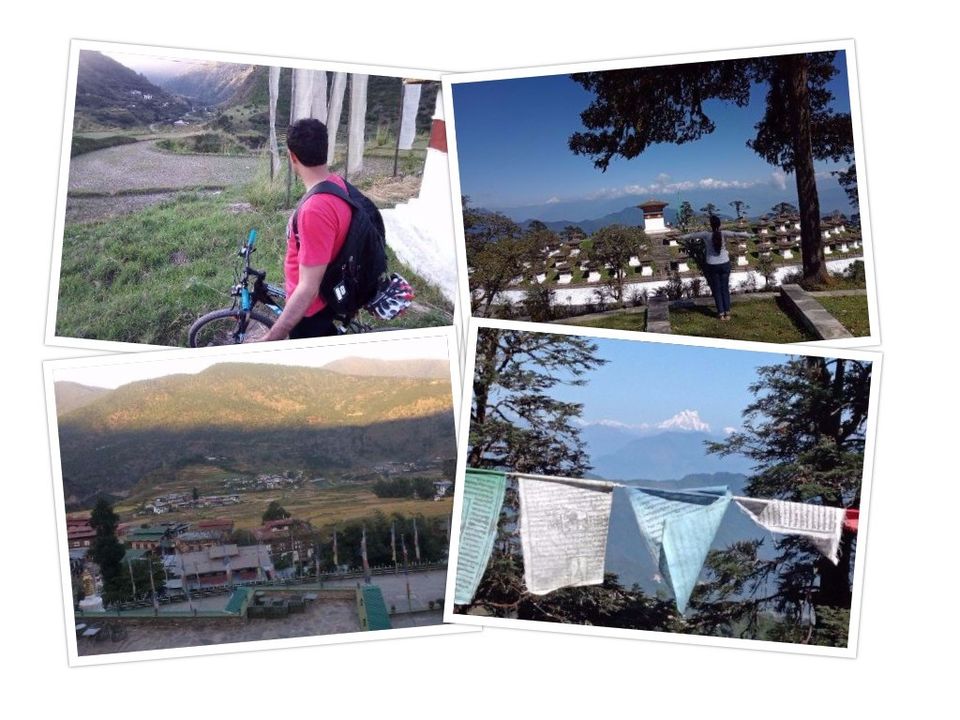 Following was our sightseeing itinerary for Punakha:
1. Dochula view point stop: On the way to Punakha
2. Punakha Dzong: Entry 300 INR per person; Don't miss going to the beautiful cantilever bridge behind the Dzong
3. Khamsum Yulley Namgyal Chorten : Hike is required to this point
4. Chimi Lhakhang (Fertility Temple): Hike is required to this point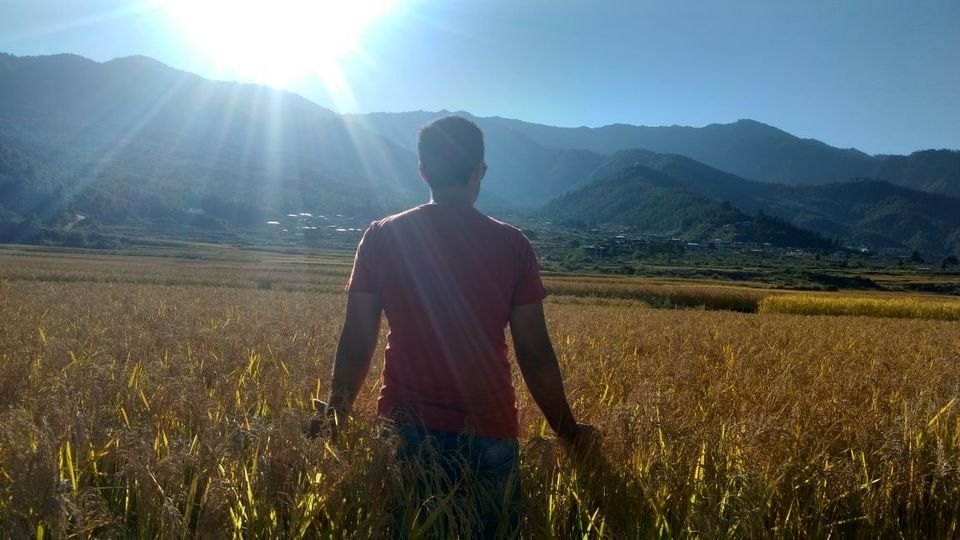 Our Stay: In Punakha, we stayed for a night at RKPO Green Resort before moving on to Paro. The property is amazing & if you are travelling to Punakha you must stay here for a night. The resort also gives out dirt bicycles for 420 INR/ hour which you can hire to explore Punakha. There are not many options for eating out in Punakha, so we preferred eating at the resort.
18th October 2017: We left Punkha for Paro which is approx. 130 Kms / 3hrs drive. On our way to Paro, we also got a good view of the Paro Airport & on entering the town, you get to see the Paro market. The eating options are very limited and we found the quality of food was far better in Thimpu. Though there are lot of handicrafts shops in Paro market, we would recommend to wait till you get to parking lot at base of Tigers nest. Before starting your hike to the monastery, there is handicrafts market which has the same quality of goods at considerably lower prices.
Our sightseeing for the day included:
1. National Museum : Entry 20 INR per person
2. Rinpung Dzong : Entry 300 INR per person
3. Kyichu Lhakhang : Entry 300 INR per person
Our Stay: In Paro, we stayed at Rema resort. Though the rooms were good, the service at the restaurant was very bad. We would recommend it only for the stay and not for eating in.
19th October 2017: Tiger Nest's: Since we had included the car only for 17th & 18th October, we again hired a Wagon R for going to Tigers Nests. Luka (the driver) agreed a return journey for 700 INR to Tigers nest.
Tiger nest (10,200 ft. approx.) is precariously perched on the edge of a cliff, this monastery creates an impressive sight, and is the unofficial symbol of Bhutan. It is about 2.5 hour up-hill hike. You can also ride a horse from the parking lot to the Cafeteria. Start as early as possible to avoid the sun.
Tiger's Nest trek has four landmarks:
1. The parking lot: This is where the pick & drop happens and also where you get tickets for entering the monastery. You have to buy an entry ticket for 500 INR per person for entering the monastery. In case, you just want to hike up to the monastery, no need to buy the ticket. The handicrafts bazaar is also here.
2. The cafeteria : Hike from parking lot to cafeteria is uphill and will be bit difficult if you haven't been doing some physical activity lately
3. The viewing point: The best and the only place to get the iconic shot of Tigers nest. Hike up to here from cafeteria is easy.
4. The Monastery: This involves climbing up & down a lot of stairs for reaching Tiger's nest. Again people who haven't been doing some sort of physical activity will not find it easy.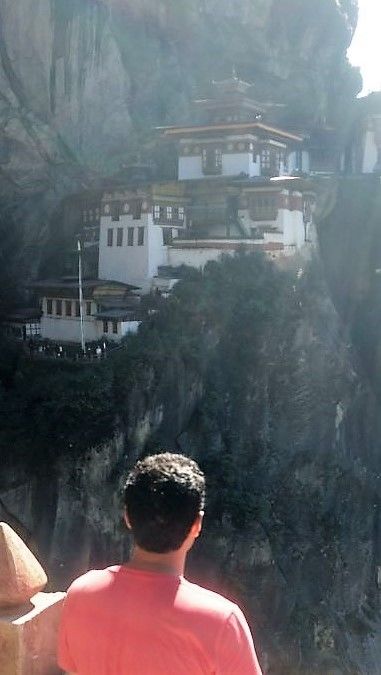 We had kept a whole day for Tigers nest though we did the trek in half a day. We started at 7:30am in the morning and came back to Paro by 2:00 pm. Rest of the day was spend soaking our feet in the Paro river and reflecting on the days spend in this beautiful country.
20th October 2017: Last day of our amazing trip, we checked out of our hotel to catch an early morning flight to back home. Luka again did the honour of driving us to the airport. The ride to airport from our hotel cost us 500 INR.
If you planning to visit Bhutan, get in touch with Luka (the driver) at +91-17623527 (Luka gave permission for his number to be shared in a blog). He drives a Wagon R & is a pleasant company to have you driving around in Paro for a very reasonable price.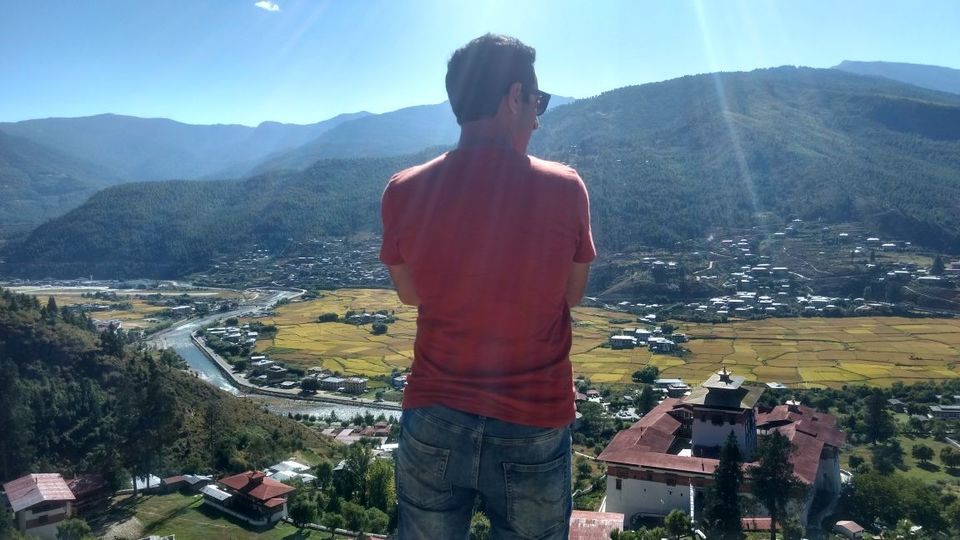 We would highly recommend a trip to Bhutan, especially to first time travelers, as it is very safe and a beautiful place to experience. Who knows this might just be the place you always wanted to visit. The thing is to soak in as much of the Bhutanese culture you can to get the real feel of the place. And believe us this "happy" Himalayan kingdom won't disappoint you.
About Us: We are two travelers, Naba & Imroz, trying to travel the world. Our paths crossed 19 years ago and have been travelling together since 2015.