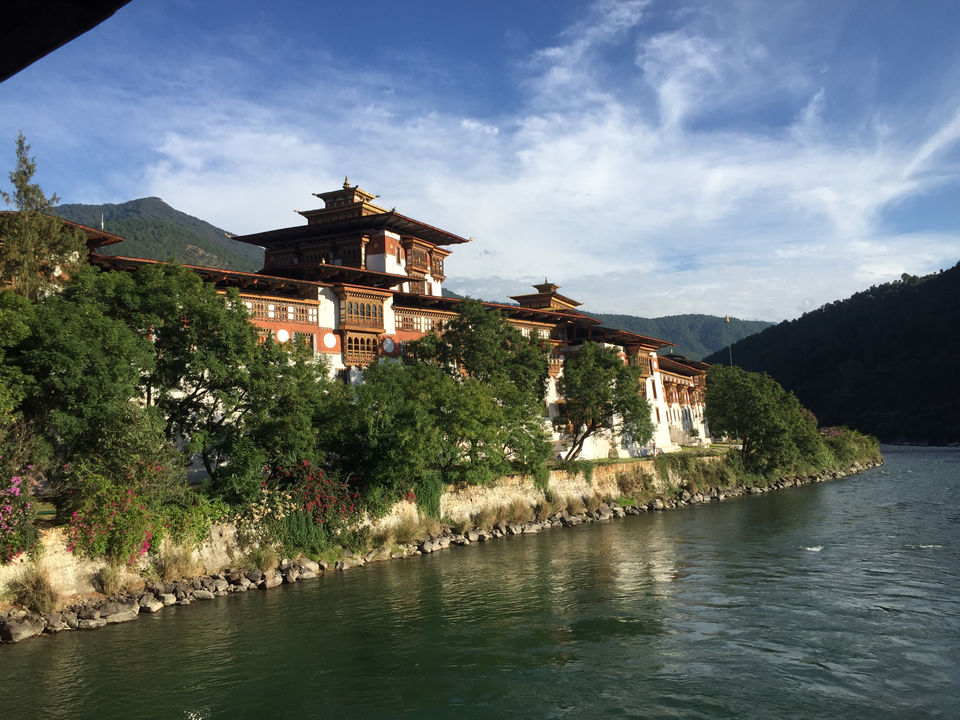 Kingdom of Bhutan – a country that is still ruled by King and that measured development on a unique philosophy of Gross National Happiness(GNH)
I recently visited this place and no words can do justice to this tiny clean happy place.
Me & my husband did this small trip in approx. INR 80,000 and I hope my itinerary and descriptions will help you in planning your Bhutan trip.
Phuentsholing is border town of Bhutan connected by road to the Indian town Jaigaon .
There are many ways to reach Bhutan-
1.Take flight to Paro – the only international airport in Bhutan(One passenger round trip flight cost around INR 55,000)
2.You can fly to Bagdogra, in West Bengal, from there take a cab to the Phuentsholing
3.Take train until New Jalpaiguri in West Bengal,and then a cab (5 hr drive ) to Phuentsholing.
4. Take flight till Guwahati, from there, take a train to New Alipurduar. From the railway station take a tuk tuk which will drop you to the bus stand from where you can get the direct bus till the India border town, Jaigon. You can also check train till Hasimara.
We choose the route through New Alipurduar.
How to get permit for Bhutan:
After reaching Phuentsholing, visit the immigration office located just 200 meter from the border gate. Fill the form available at the office along with the following documents:
- Passport / Voter ID card along with Xerox copy
- 1 passport size photograph
- Detailed Itinerary of your travel plan
- Hotel booking copy of your first place of visit(One can book hotels without payment on your traveling dates and take printout for submission)
Note: The immigration office at Phuentsholing opens only on working days (Monday to Friday) from 9:00 AM to 5:00 PM Bhutanese Standard Time(BST). Please check for Bhutan public holidays in advance as office remains closed on public holidays. Lunch hours are from 1:00PM to 2:00PM BST.
You will only get permit for Thimpu and Paro from Phuentsholing immigration office valid only for 7 days. For any other place like Punakha or extension of stay in Bhutan, you have to apply at the RTO office in Thimpu.
Get the permit entry at all the check posts on your way to Thimpu and Paro. Bhutan taxi drivers usually guides you when the check post comes.
You can also get Tashi sim from the immigration office itself.
Itinerary:
Upon getting the permit, we headed towards Thimpu by hiring a shared cab. The shared taxi takes INR 700 per passenger from Phuentsholing to Thimpu. If you hire a private taxi, it would cost you around INR 2800 - 3000. Travel from Phuentsholing to Thimpu takes around 4.5 hours.
We stayed in Hotel Bhutan in Chubachu area. The hotel was good with vegetarian food facility. RTO office is just 5 mins from this place . The Bhutan textile academy is also just opposite to this hotel. Also the much talked about handicraft market is at 2 mins walking distance from this place.
For food one can visit AMA restaurant, Ambient café.
Places to visit in Thimpu: Memorial Chorten, Buddha Dordenma, Thimpu dzong,Cheri monestry, Handicraft market, Thimpu post office
You can visit Memorial Chorten on the way to Budha Dordenma. If you love walking you can walk upto Memorial Chorten and then hire a private taxi from there to Budha Dordenma which will cost INR 250 one side. To reach Cheri Monestry, there is trek which takes around 2-3 hours for beginners. The view from top is just breathtaking.
Thimpu post office offers a different experience by letting you buy the stamp of your own picture in addition to regular Bhutan stamps.
After spending 2 days in Thimpu, we headed for Punakha by hiring a private cab which also took us to Chimi Lakhang (Fertility temple), Punakha dzong(second largest dzong in Bhutan). On your route to Punakha, you can ask the driver to stop at Dochula pass from where u can get the view of snow covered Himalayas.Punakha is a very small town with not much to do. One can do up and down from Thimpu to Punakha but we decided to stay over in Punakha and spend one day in the resort (Damchen Resort) enjoying own time in the lap of Himalayas on the river side. The indian food of this resort is very tasty and even they give good options in breakfast.
From Punakha we went to Paro in a cab which took INR 2700 for both of us. Paro is not happening as Thimpu is but surely is more expensive than Thimpu. On our way to Paro, we visit Chelela Pass( the top point of Bhutan). Make sure you take the permit of it from Thimpu .Avoid going to this place if you are asthmatic as oxygen level is low there. The place gives you the view of snow covered Himalayas with chilly wind.
If you are prone to travel sickness, don't forget to take vomit control pill as the route to this place have loads of hairpin bends.
Next morning we started our journey for the Tiger Nest. You can easily find a taxi for reaching to the trek place from Paro taxi stand. It cost around INR 400 one way(750 round trip). You can ask the same driver to pick you up. The trek takes 3 to 5 hours to hike. You can also hire a horse which covers 2/3rd of the trek. The trek also includes staircase in the end which takes all the energy before you enter the beautiful monastery.
From Paro we headed back to Phuentsholing via shared Taxi costing INR 1500.
Things to buy:
You can buy baby yak wool stole from Paro for around INR400 and shawl of around INR1000. They are extremely soft and warm too.
The beer and wine is extremely cheap in Bhutan and even taste good.
If you want to buy souvenirs for gifting, there is a shop just opposite to the Phuentsholing immigration office. The price offered by this shop is cheaper from other shops in Bhutan.
If you want to buy stuff like honey, hangings, magnets buy them from Thimpu handicraft market as it is cheaper from what you will get in Paro.