Let me take you to a tour of Unexplored pilgrimage Hindu destination of my home state Bongaigaon Assam Northeast India.
About Temple:
Maa Bagheswari Temple is dedicated to one of the oldest 51th shakti Peeths of Maa Parvati which is situated near Birjhora Hill Bongaigaon town and is surrounded by Birjhora Tea Estate. The hills and tea estate with its lush greenery and serenity adds to its beauty of the temple and leaves the feeling of spirituality in the mind of devotees.
Belief of the Temple:
According to Hindu historical significance, the Trishul (Weapon) of Goddess Durga Maa fell down when Lord Vishu cut her body in to pieces with his Chakra (Weapon) to clam down Lord Shiva after Dakshayani (Religious rituals).
Why do people visit this temple:
This is one of the most visited pilgrimage tourist spots in Assam because of its power to connect humans with spiritual beliefs. It has a great importance during Duga Mahaastami which is observed during Durga Pooja one of the biggest festivals of Assam after Bihu( Baisagu) which comes during the October season where the buffalos are sacrificed and devotees from several parts of Assam visit this temple to witness it's power of religious rituals.
How to reach:
Bongaigaon-It has 2 railway stations.
1) New Bongaigaon Railway Station. It is the 2nd largest railways junction in Assam and almost all the trains stops here.
2) Bongaigaon Old Railway Station. This is the 2nd Railway Station in Bongaigaon.
By Air :
1) Guwahati Airport Assam then by Bus or train till New Bongaigaon Station or Bongaigaon which takes approx 3 to 4 hours.
2) Another nearest airport is Bagdogra West Bengal. Train or Buses from there which will take approx 5 hour till New Bongaigaon Station.
I would suggest you to travel by train rather than bus which is more faster, smooth and frequent.
Where to stay:
There are many hotels available in Bongaigaon to make your travel more luxury and comfortable. To name a few of the Good Hotels from my knowledge and experience are Hotel Jahnaee Regency, Hotel Kanishka, Cygnett Park Meghna and so on. The last one which I mentioned is the newly constructed and 3 star hotel.
Few clicks of the Temple: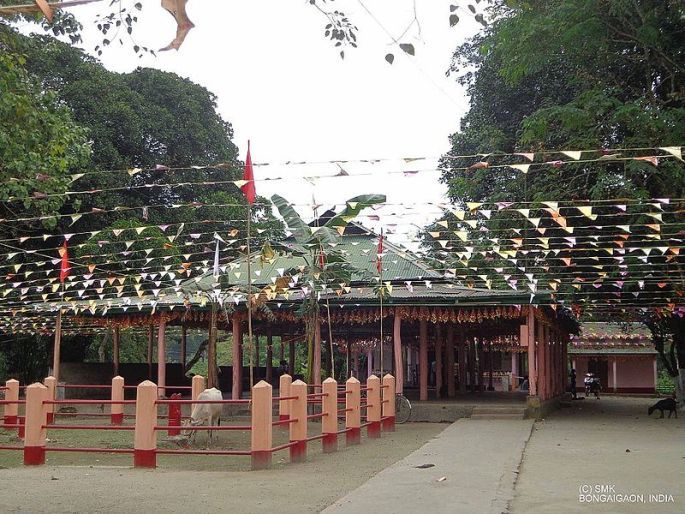 Scenic Beauty nearby Temple:
As you know India is the 2nd largest producer of Tea in the world after China where Assam is the major contributor of Tea among all the states in India. So after your religious rituals here you can have a glimpse and tour of the Birjhora Tea Factory and Estate of Bongaigaon Assam which is surrounded by the hillock of Northeastern India and it's lush greenery and beauty will leave you mesmerized.
Here are the few clicks from my travel:
Timing and Address of Temple:
The Temple remains open from 6am to 9pm.
Address is Maa Bageshwari Hill Temple, Bongaigaon, Mayapuri Assam 783380.
Do visit the temple once in your lifetime if you love visiting pilgrimage tourist destinations and make your soul gain Moksha!!!
Happy Maa Bagheswari! Happy Blogging! Happy Exploring!
Published at https://unwindnortheast.wordpress.com/2017/07/31/maa-bagheswari-temple-bongaigaon-assam-one-of-the-oldest-shakti-peeths/
Frequent searches leading to this page:-
Trip Itinerary for Assam-Meghalaya-Arunachal in 7 days, Assam Meghalaya Tour Packages‎, 7 Days 6 Nights North East Highlights Family Tour Package, Meghalaya,Assam & Arunachal Tour Itinerary