Nothing makes me happier than the sight of trees putting forth new fresh leaves, lush green grass with blooming flowers, lucid blue skies, sounds of birds chirping everywhere and the smell of freshness in the air. Spring is definitely my favourite season which is when I always plan activities that let's me stay close to the nature. You and I both must have been to places with a lot of expectations which ended up being over-hyped, way too crowded with lost tourists and simply not worth the effort that had been made to be there! But thankfully, Hallerbos is not one of them and I am really not exaggerating here. I promise that you will come back very contended!
History: "Bos" is the Dutch word for forest and "Halle" is the place where it is located. With around 6 square kilometres area, Hallerbos is like one of that purple-blue kingdom coming straight out of a Disney movie film making you question its existence in reality! The uniqueness of Hallerbos lies in its natural phenomenon of blooming blue bells (wild hyacinths) that blossom everywhere in the forest between late April and May making it look like a blue carpet (check my video here).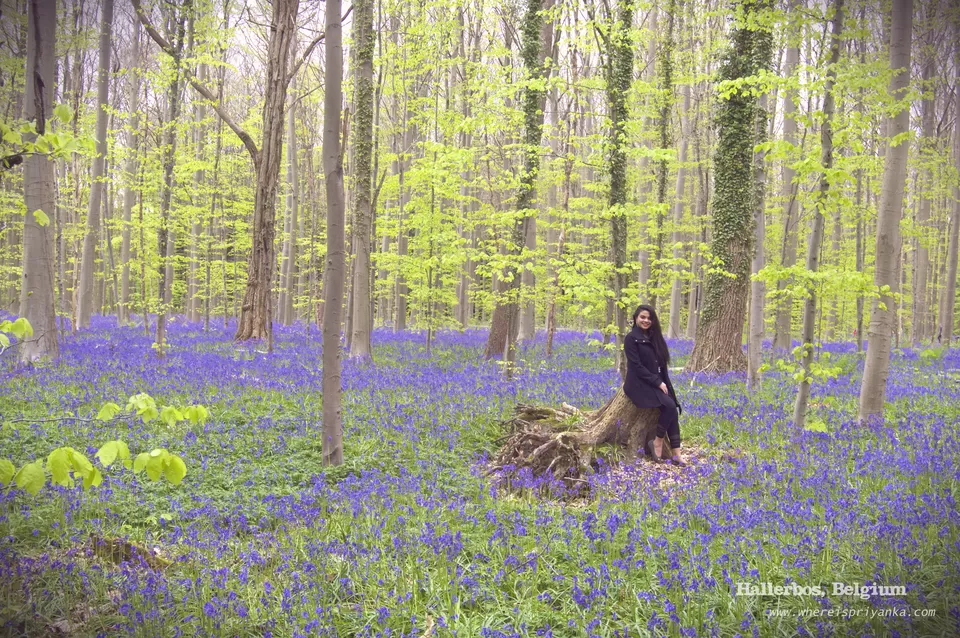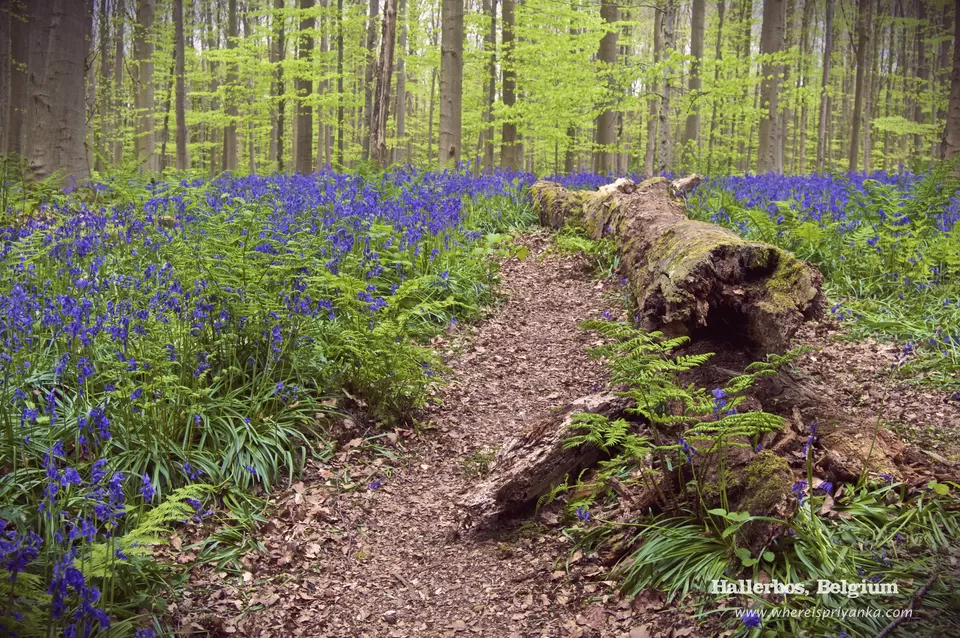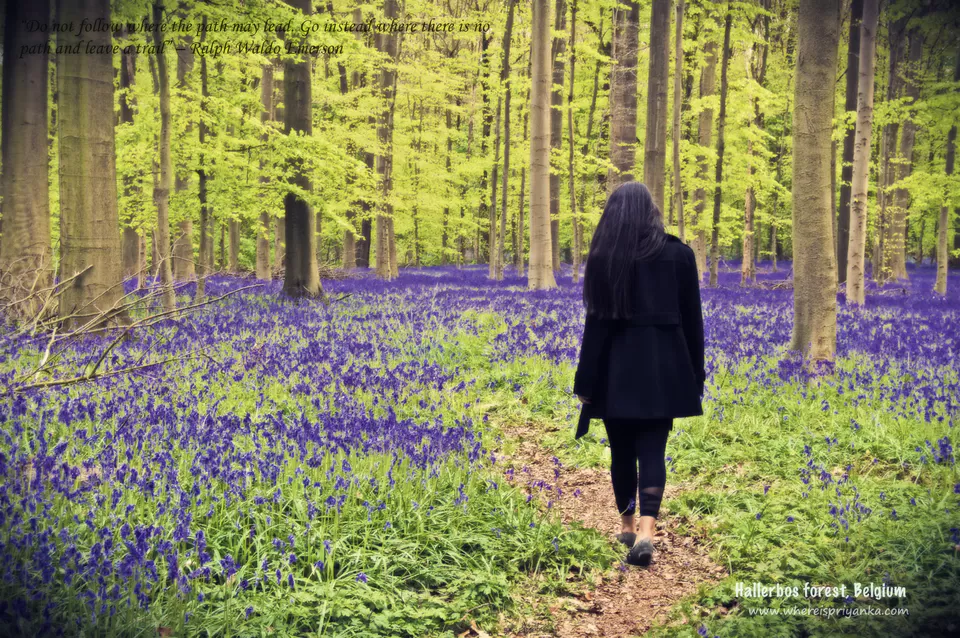 How to get there:
Bus: It's not much of a detour (25 kms from Brussels), rather a fun getaway from the hustle and bustle of city life, if you are planning to be in Brussels during spring. There is a direct bus from de Lijn (115A) that takes you from Halle to Vlasmarkt from where you walk uptil the Vlasmarktdreef in the forest.
Car: Fairly easy to reach with the E10 (Brussels-Mons) highway and usually parking is never a problem as there are arrangements even on very busy days in the forest. You can't enter the forest with your car and have to park outside. Just use the below mentioned address as your destination in your GPS: Vlasmarktdreef 4, 1500 Halle
Map: The map can be found here (print it before you head there) and you can avoid going to the museum in the entrance of the forest, which usually has a big queue and not much extra information. There are mainly two trails that can be done depending on your fitness level and whether or not you are traveling with kids. Sequoia trail (marked in blue in the map) and the Buck trail (marked in yellow). I strongly suggest finishing the yellow loop because even though it is the longest trail in the forest (7-10 kms), it takes you to very offbeat places and you are always surrounded by the blue bells making it look like a blue ocean beneath your feet.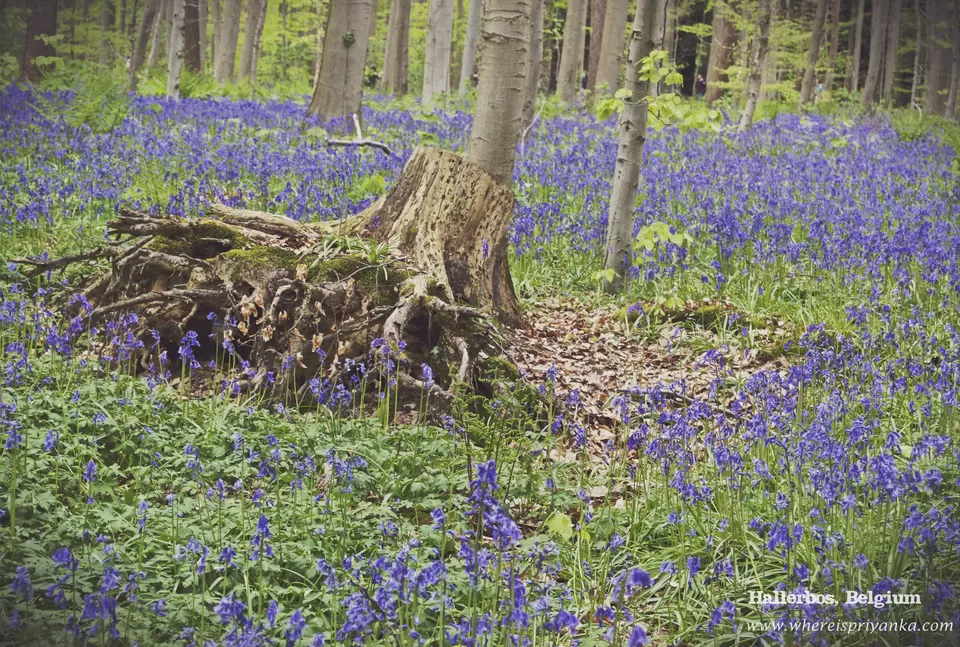 Tips:
Live video feed: Belgian Agency for Nature and Forest preservation has a great website now which gives you a lot of information, but I highly recommend checking out their webcam which is updated 2-3 times a week to give the visitors updated live feed of the bloom.
When to go there: Off course end of April till May is your only chance to see the blue bells of Hallerbos, but that shouldn't be the only time to plan a visit. Hallerbos is beautiful all the year round. You can go hiking in Hallerbos also in late summer and autumn when the forest is vibrant with fall colours and you can go mushrooms hunting in the forest.
Food and drinks: Even though there is a nice Italian restaurant at the entrance of the forest (Il Sorrento), I recommend the traditional Belgian tavern t' Krisktse with local food and a great collection of Belgian beers (address: Kapittel 10 – 1500 Halle and make a reservation at +32 (0)2801421).
Flora and Fauna: Obviously, blue bells steal the show when you are in the forest, but there is so much more to look out for like the white blue bells which are very rare, wild rabbits playing around, deer peeping through the woods and the definitely the magical bird songs in offbeat areas of the forest.
So what are you waiting for? Check WHEREISPRIYANKA.com ( facebook page and travel website ) to know more. Go discover this fairyland and let Mother Nature surprise you in her own way!
"The day the Lord created hope was probably the same day he created Spring." – Bernard Williams