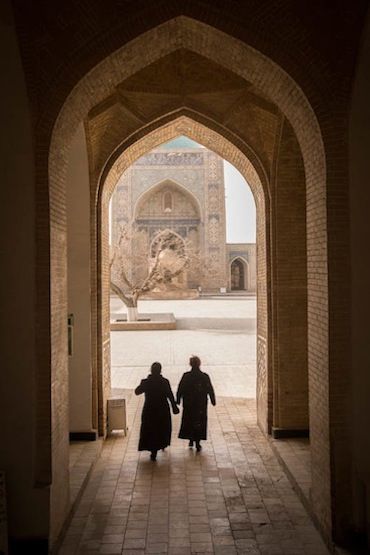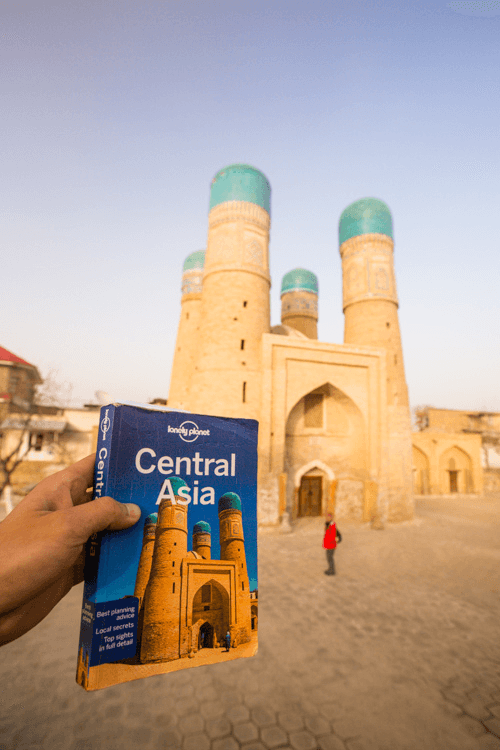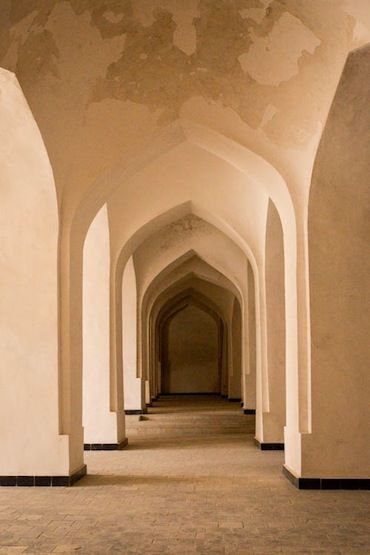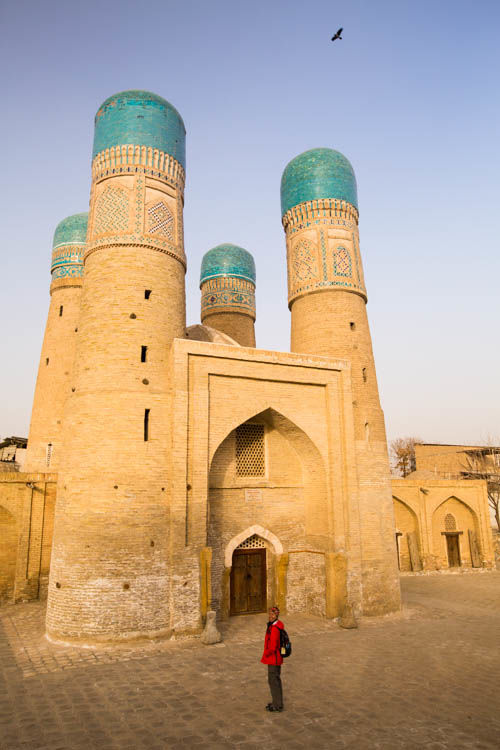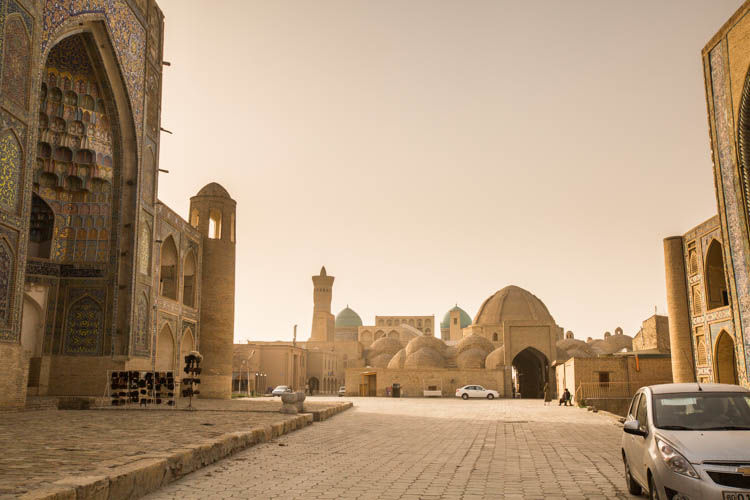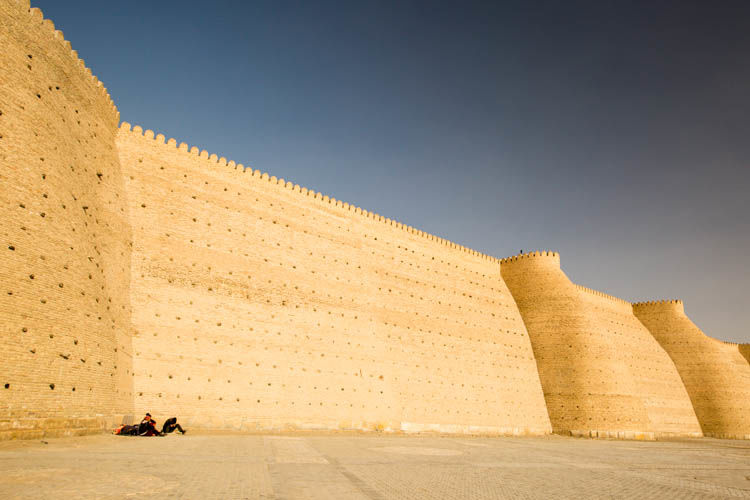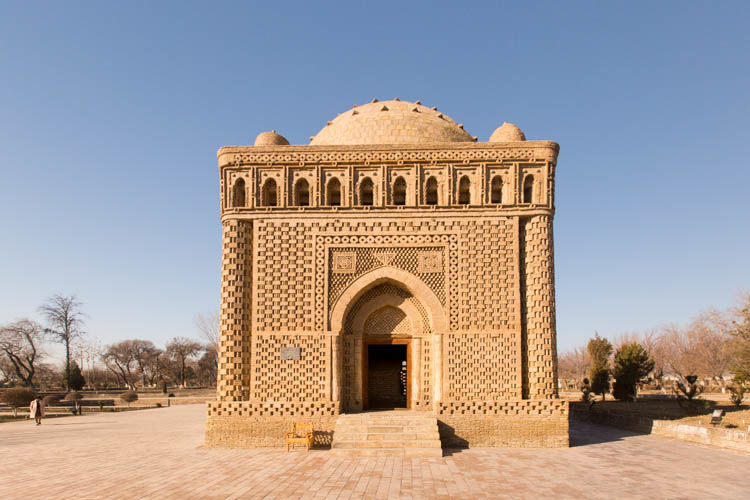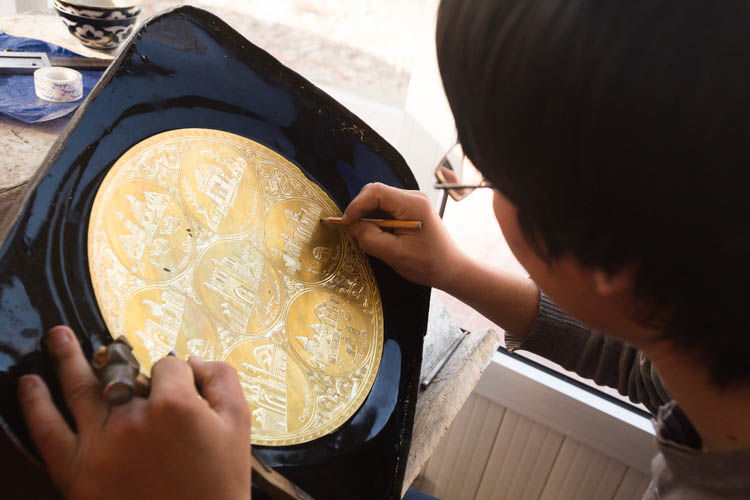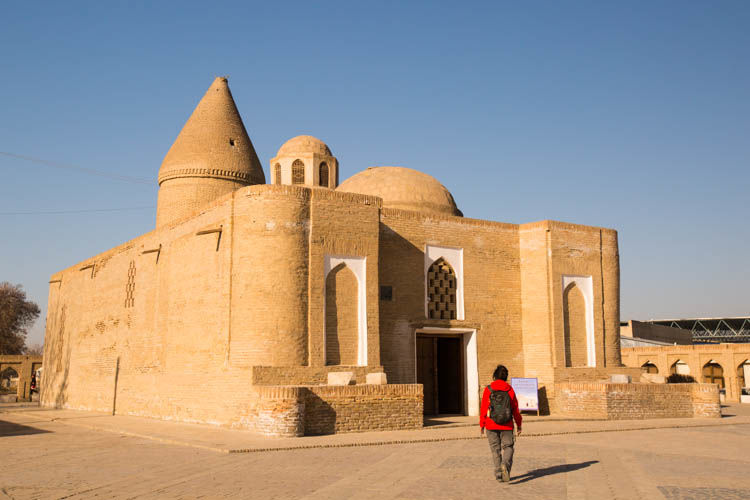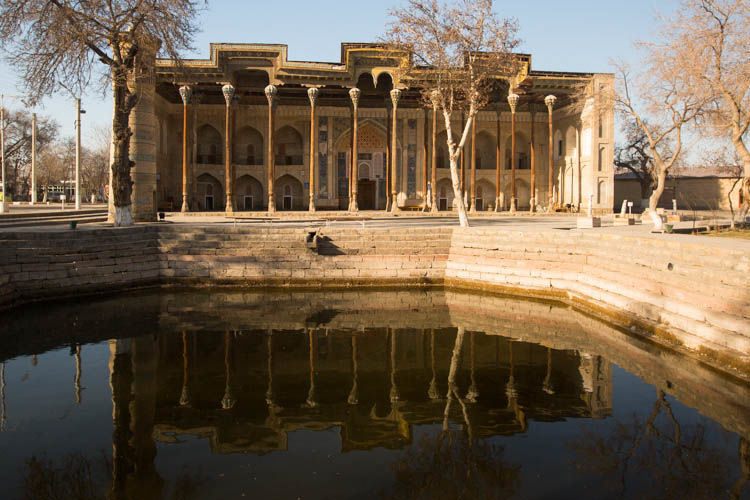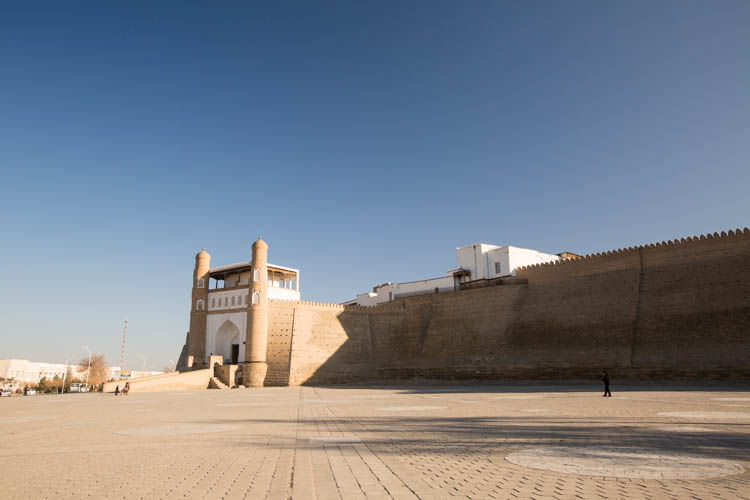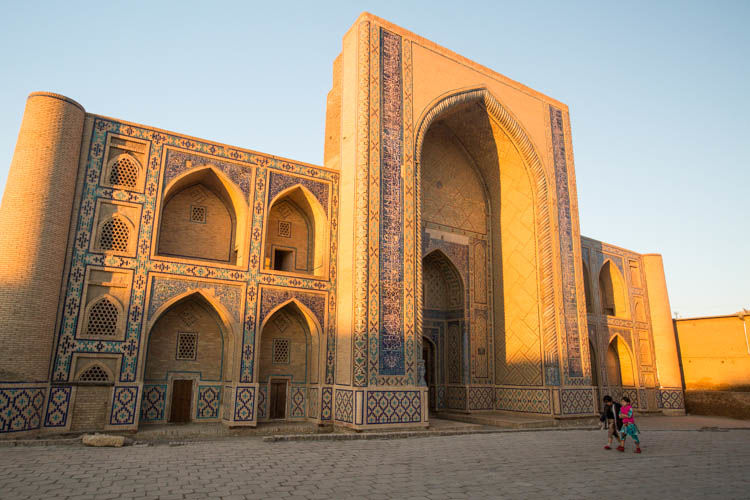 Bukhara was one of the most anticipated cities that we look forward to visiting in Central Asia. With a history of more than 2,000 years and its prominent location on the Silk Road, we were very excited to experience this trading hub of strong economic and cultural influence in Central Asia. One major highlight of this city would be its exotic architectural splendour albeit it being very touristy and commercialised with countless of souvenir shops and peddlers lined up along the streets.
Somehow this place felt very surreal, it almost felt like we were in a theme park! With the ancient mud walls, jagged stone tiles and colourful mosaic tiled mosques, we were blown away by the beauty and charm of this picturesque city. Strangely there was almost no police patrolling the streets at all in Bukhara and it felt weird that for once, we were not stopped by any police to get our passport checked!
Bolo-Hauz mosque

Bolo Hauz Mosque also means "Mosque of the Bolo Lake", which refers to the octagonal pool in front of it. This mosque is also known as the "Forty Pillars Mosque" because of the 20 tall magnificent columns at the front of the mosque and its reflection in the pool adjacent to it. It was built in 1712 as a royal chapel but has since became an important site due to its close proximity to the Registan Square.
Po-i-Kalan complex
Po-i-Kalan (which also means "The Foot Of The Great") complex consists of 3 parts, Kalyan Minaret,Kalyan Mosque and the Mir-i Arab Madrassah. Interestingly, the Kalyan Minaret was also known as the "Tower Of Death" as criminals were executed by being thrown off the tower (from 45.6m!) during the early centuries.
Fees: 6,000som (no longer 2,000som as stated in the Lonely Planet guide 2014)
Chor-Minor
Actually we decided to check this place out because it was a starred location on Lonely Planet guidebook. This mosque in our opinion was a little disappointing as it wasn't as grand or interesting as the others. Also, it was nestled in the midst of a neighbourhood with shops and houses next to it which sort of reduced its charm factor. But what was cool was that while we were resting on the bench opposite Chor-Minor, we were looking at the cover of our Lonely Planet guidebook and was wondering where the photo was taken at as we still have not found it yet despite being to most of Central Asia, when we realised that the photo was actually taken at Chor-Minor! It seemed larger on the book though.
The Ark (Fortress of Bukhara) & the Museum of Law & Legislation
This is one of Bukhara's oldest structure and after being bombed by the red Army in 1920, it's left with 80% ruins inside. Unfortunately we didn't get to see much of it inside as only a small section of the fortress was open to tourists. We also didn't get to go to the museum as it was closed on the day (random Wednesday) that we went. We did check out the Museum of Law & Legislation at the back of the Ark though. Quite interesting, there's a torture chamber inside it complete with shackles used on prisoners and also a bug pit (a 6m deep hole dug into the ground) where the worst kind of criminals were kept inside. It's a very small museum though and you'll be out in probably 15 minutes or less. There are some very cool old photos near the Kassa (cashier) depicting the ancient ruined state of Bukhara.
Fees:
The Ark – 6,000som (1 day option). There's a 3 day option which costs 11,500som. We don't think that's necessary though, 1 day is more than enough to see the entire ark since most of it is unaccessible anyway.
Museum of Law & Legislation – 3,000som
Samani Mausoleum
This mausoleum is interesting because for the past 1,000 over years, it has never ever needed any significant repair! It's one of the oldest and best preserved monuments of Bukhara with 2m thick walls that explained its sturdiness. The intricate terracotta brickwork of the mausoleum also makes it stand out from the other monuments in town. Apparently its design changes according to the shadows casted by the sun at different times of the day. We didn't stay long enough to witness that though.
Chashma-Ayub Mausoleum

We like how this mosque stands out because of its pointed roof compared to the usual rounded roofs of the other mosques. It's currently a Museum of Water Supply where it houses some old photographs of the way people carried water in the past and display of some traditional water carriers (inflatable leather bags). Interesting but again, it's a very small museum and you can probably finish seeing everything in 10 minutes.
Fees: 1,000som
One thing that we really admire about Uzbekistan is their talented local artists. They have tons of stalls selling handmade artwork by the local artists and it was intriguing to watch them in action. We would have bought some of these beautiful souvenirs back if we weren't travelling for such a long time as it would be cumbersome to carry them around. So, we could only gaze covetously at the intricate art pieces.
Places that you can give a miss

Another place of interest that was starred by Lonely Planet was the Museum of Carpets which we did not take any photos of as it wasn't that interesting or fascinating. Entrance fees wasn't expensive though, cost us 3,000som per person. But the museum was really small with not much information about the carpets. The range of carpets was also quite limited and overall we weren't very impressed by this attraction. We feel that it's okay to give it a miss if you're in a rush.
Oh and if you happen to come across this Zoo (forgot its name) near the back of the The Ark, we think that you can give it a miss. We were curious and decided to enter as we thought it was free and also didn't know what this place was about. Once we entered, we regretted it immediately as the animals looked so pitiful and pathetic in their dirty and uninhabitable enclosures! We felt so sorry for these animals. The best part of all was when we exited, the "friendly" staff suddenly demanded 5,000som from each of us and repeated the word "business", which we guess that he was trying to explain that he was running a business here and that they needed income for the workers and animals. Definitely not worth going!
Overall, Bukhara is still one of our favourite cities in Uzbekistan as the feel of it is just so different from the other cities. This is definitely a place that you must visit if you're every travelling to Central Asia!
Essential Information

Where we stayed
Hotel Rustam & Zuxro
Clean and new rooms with double beds and a nice dining area where breakfast was served. Good wifi connection at the dining area and limited connection in the rooms. Good location, right next to Lyabi-Hauz.
Cost: USD24 for a double room with free breakfast (we managed to bargain with the owner as it was off peak)
How to get here
We took a Sharq train from Tashkent to Bukhara (around 7 hours). Train departs daily from Tashkent at 8.30am.
Cost: 46,000Som (USD13)
Tip: For cheap and delicious food, avoid the cafes at Lyabi-Hauz. Head out and explore behind the ark where you'll see a local bus interchange with many small local cafes. We ate at one of those local cafes and had the best fried laghman ever (similar to tomato pasta with egg)!
Originally published on Sunrise Odyssey.